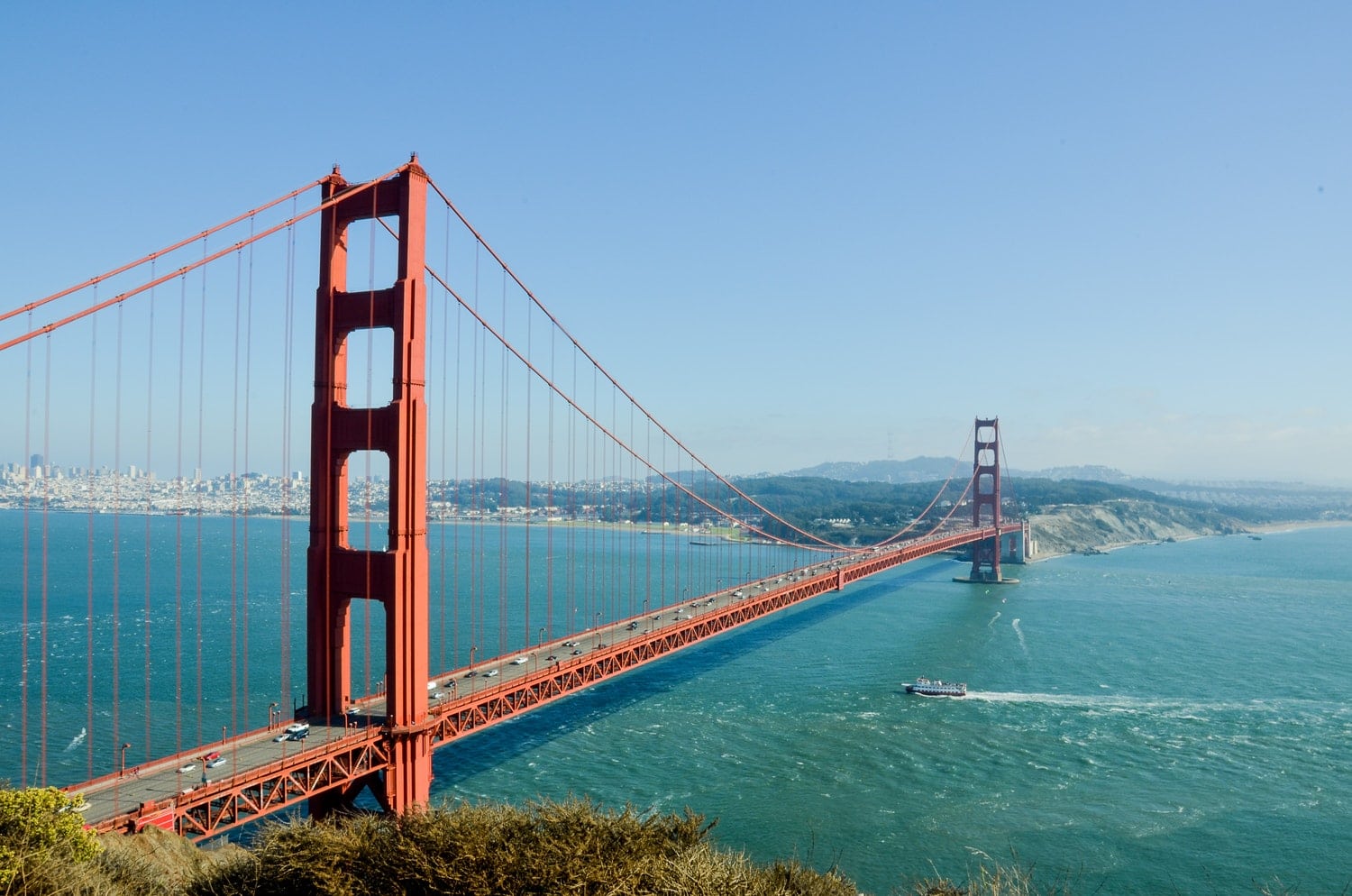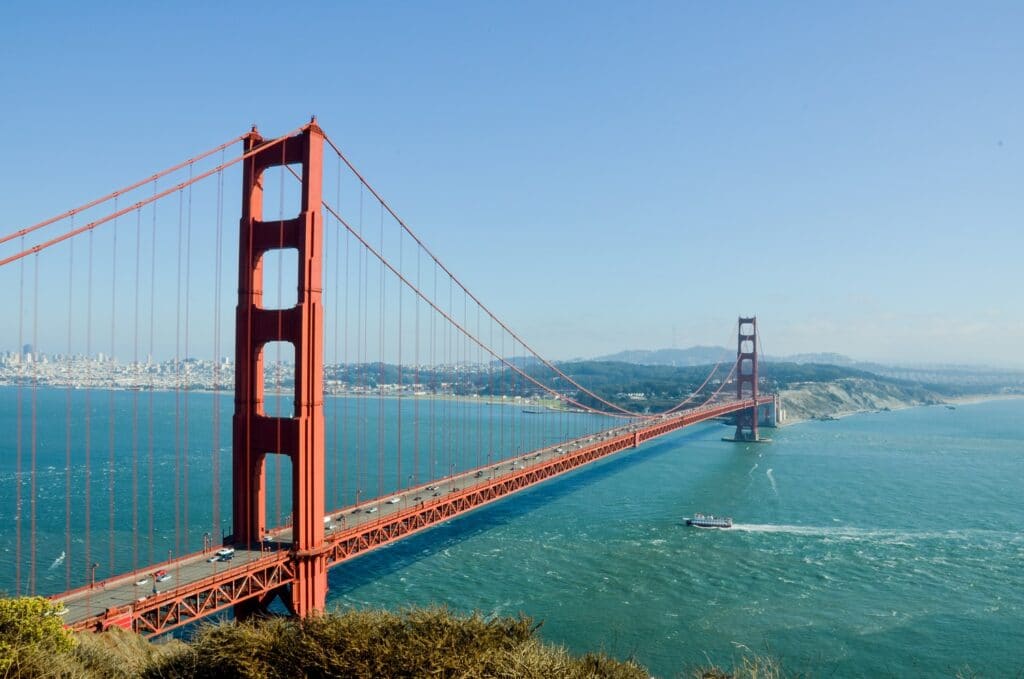 San Francisco, California
A Digital Nomad Guide to San Francisco
Located in eastern California, San Francisco is the fourth largest city in this state. It was founded in 1776 by Spanish settlers who built a fort in what is now the Golden Gate. It belonged to the Viceroyalty of New Spain until the independence of Mexico in 1821. In 1848 it became US territory along with the rest of Alta California.
In San Francisco, several social revolutions began throughout its history. From the gold rush of 1848 to the gay liberation movements, which emerged after the dismissal of several soldiers accused of homosexuality during World War II. The city also saw the birth of the hippie sociocultural movement, one of the most important in the history of the 20th century. The Summer of Love was a great cultural event attended by thousands of people from all over the country, Canada and Europe, filling streets and parks. Those gatherings in Golden Gate Park were the germ of outdoor music festivals as we know them today.
San Francisco is also the epicenter of the explosion of social media, mobile apps and biotechnology. Silicon Valley is home to many of the world's largest technology corporations and thousands of start-ups.
From Union Square to Japan Town, you'll find intriguing neighborhoods at every turn. It's also one of the world's great gastronomic destinations, thanks in part to the diverse cultural influences. A metropolis of contrasts in constant evolution: old and new, cutting-edge and laid-back, urban and pastoral. With such iconic sights as the Golden Gate Bridge, Alcatraz Island, Fisherman's Wharf, the city becomes truly unique.
It doesn't matter if this is your first visit or your third; San Francisco always surprises in the best way.
Nomad Friendly
Value for Money
Internet
Workspace
English
Food
Safety
Health
Transportation
Friendly
Quality of Living
Living in San Francisco Overview
Digital Nomad Personal Experience in San Francisco
The peninsula where San Francisco is located makes the city beautiful and nice for
living (in spite of the windy, foggy, and not very warm weather). Naturally, I visited the
bridges, parks, worked out my legs on the steep slopes of some streets, rode the cable car and got fascinated by San Francisco's diversity on any aspect you can imagine. This city shines by itself. 
There are people from all over the world (Korea, Saudi Arabia, Switzerland, Germany, Argentina, Thailand, China and much more). The metropolis gives you the perfect chance to learn about the different cultures they have. 
The respect and politeness of its inhabitants makes you feel at home from the very first day. They are very quiet, even when the Muni has a delay in the morning or when it's so crowded they have to push each other outboard. 
In the neighborhood I live, most of the inhabitants are Asian and there's no sign of discrimination anywhere. This city is also a paradise for the homeless because the winter is not as cold as in the East Coast, but they are accepted by most of the population, including the government, which has created some institutions to aid them. 
San Francisco for me was as charming as it is expensive.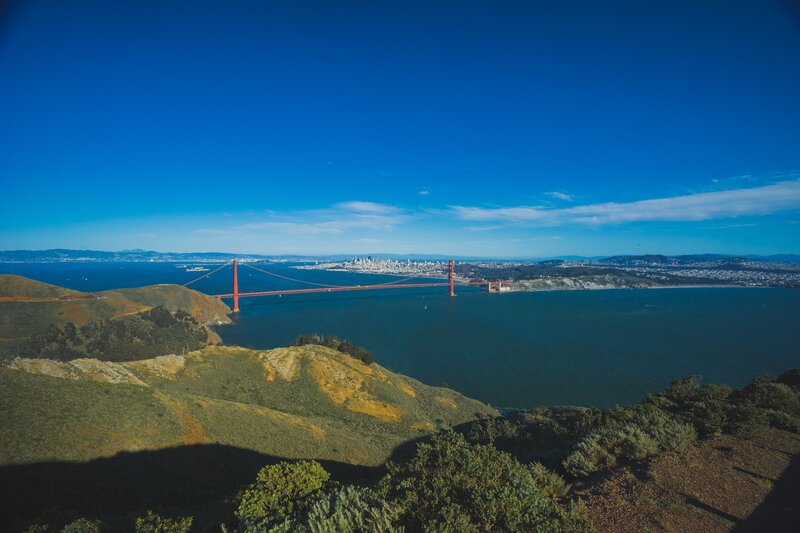 Work in San Francisco
Let's be honest, working from home sometimes lacks luster, and there are only so many hours you can hole up in a cafe before going absolutely mental. What you need is the design  and facilities of an office with the feeling of home and the coffee and snacks of said cafe.
Luckily, the days of punching in and punching out office culture are numbered do to the rise of the digital nomad and remote working lifestyle; especially here in San Francisco.
The city is a famously expensive place to live, but it's also a famously affordable place to find a coworking space. Today, companies that began in San Francisco as scrappy startups are major household names, and coworking has expanded to include all kinds of workers and companies, from small organizations to enterprise companies. The camaraderie is still there, but with the added bonus of flexibility for all types of businesses.
Best Places to Work in San Francisco
Covo
Between the coworking spaces is Covo (981 Mission St.), situated in a repurposed industrial office. Covo is all West Elm furnishings, meditation and yoga spaces, and full-service cafe open to the public as well as to members. Memberships start at 4 USD per hour or 440 USD per month. 
Golden Gate Theatre
Another option is Golden Gate Theatre (25 Taylor Street), built in 1922 with arched windows and elegant original cornices. Up top, the building features sun-filled private offices, expansive lounges, and connected meeting rooms. Its location (downtown and near lots of transportation) is highly desirable for its easy commute to and from the rest of the city. The price for a hot desk starts at 400 USD per month.
Waterfront Plaza
Waterfront Plaza (50-60 Francisco Street), at the Financial District, is a gorgeous coworking space on the waterfront in North Beach with art-filled lounges, modern meeting rooms, and productivity-fueling private offices. Hot desks start at 480 USD per month.
AvantSpace
AvantSpace (2181 Greenwich St.) blends San Francisco's high-tech atmosphere with upscale, boutique amenities in a warm, indoor/outdoor space equipped with high-speed WiFi, concierge services, and bottomless Blue Bottle Coffee in the fully tricked out kitchen. Memberships start at 440 USD per month.
If you still want to get you work done while sitting in a coffee shop, then Beacon Coffee & Pantry (805 Columbus Ave.) is a good option. It has adequate seating, good wifi and a fair number of plugs. You can choose to sit at the bar facing the large window, or snag a table away from the distractions of the outdoors.
Also, Verve Coffee Roasters (2101 Market St) has almost everything you need for a full day of work. You'll find a bunch of comfy couches, group tables with lots of laptop space to exploit the wifi, and some of the best coffee around. Just know that there is only one plug here, so make sure you're charged up beforehand.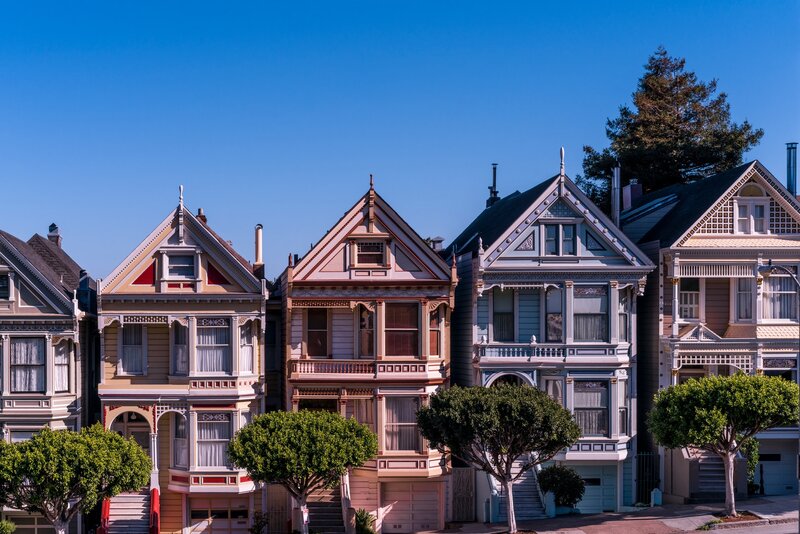 Best Places to Live in San Francisco
Best Neighbourhoods
San Francisco is a city as diverse as the people who live in it. Neighborhoods are very different from one another, and even the weather can change in a matter of blocks.
North Beach
In North Beach, known as the Italian Quarter, the price of apartments is relatively lower than in other parts of the city. One of its most outstanding charms is the set of Victorian-style houses built in the 1920s after the 1906 earthquake. It has tourist attractions very close by, such as Fisherman's Wharf, Coit Tower and China Town. For those who are going to study at Hult International Business School, it is a good option due to its proximity.
Fisherman's Wharf
Fisherman's Wharf is the North neighborhood's waterfront that begins at Ghirardelli Square and ends at Pier 35. The views of Angel Island, Alcatraz, the Golden Gate and the Bay Bridge are the natural attraction of the place. It is one of the most touristic areas of the city, so if it bothers you to live surrounded by tourists, it is not the right place for you. Also, the rental prices are a bit higher than other neighborhoods but you can find relatively large apartments. The mobilization is quite easy since you have the F and buses.
SOMA
SOMA is the acronym for South of Market. It is a fairly central area from which you can walk to the Financial District. It has access to the metro and the train network that leaves the city. You can enjoy the gardens of Yerba Buena Island, a perfect place for a family picnic, or walking in front of the sea. It's full of startups and companies like Twitter, Google, and FireFox, among others. The price of housing can be quite high in some buildings, but there are also more affordable options with a good price / quality ratio.
Mission
Mission is probably the only neighborhood in the city where you can normally live without speaking English. The Latino community has a large presence, although in recent years it has been filled with hipsters from the Tech Industry. Prices for rentals, products and services are noticeably lower here. It also has lodging options in Co-livings like 20 Mission. 
Nob Hill
At Nob Hill you will have all the essentials close by (supermarket, gym, restaurants, etc.) and housing prices are similar to those in the city center. If you take the Cable Car you can get to Market Street in less than 20 minutes. Keep in mind that if you are not a lover of climbing steep streets, this is not a place for you.
Marina District
Marina District is one of the most beautiful places in San Francisco. It has beautiful houses, the marina and views of the Golden Gate Bridge and the Fine Palace of Art. The large number of bars, restaurants and nightclubs make it a favorite area for young people and singles. However, if you don't have a car, access can be complicated since it is only connected by buses.
Castro District
Castro District is the LGBTQ neighborhood of the city, famous for being the place where the entire gay movement in the United States began, it welcomes people of all origins and cultures. The houses are very well maintained and have good restaurants.
Noe Valley and Twin Peaks
Noe Valley and Twin Peaks are two ideal developments for young families who want to raise their children in a quiet and safe environment. The downside to this neighborhood is that housing prices are higher than in the rest of the city.
Sunset
Sunset, always full of mist and with low temperatures in summer, is very close to the sea. It's a perfect neighborhood for surfers who want to live near the sea at a cheaper price than in other coastal areas of San Francisco.
My best recommendation is that, before closing a contract that binds you to an apartment for a year, do some research on the area and see if it suits your needs and tastes.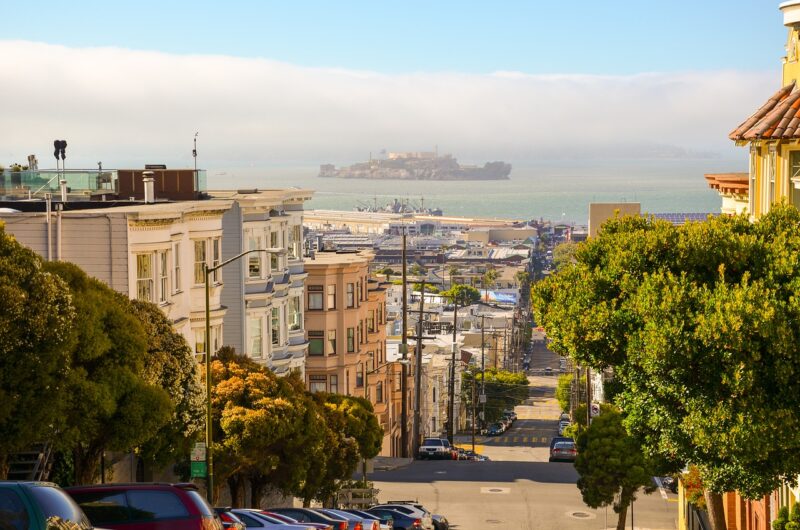 Find an Apartment in San Francisco
San Francisco is a small city with a finite number of houses/apartments. Couple that with the fact that real estate is extremely expensive and places are often old/quirky, finding a place that checks all your needs can be difficult and competitive.
Don't waste your time trying to find something when you are not in the area. Places go so fast that something that you see today might not be available tomorrow. You have to act quickly if you want to get a place. Contact the landlord immediately and try to schedule a time to see it ASAP. If there is an open house, try to arrange to see it beforehand. Get in early and have all your personal information ready like phone numbers for your employer and former landlords, credit reports, offer letters/pay stubs, scanned copy of our drivers' licenses and your CV. Also consider that you'll need a solid credit score. Almost every landlord will ask to conduct a credit check before considering you as a potential leaseholder. 
Also, apartment hunting in different seasons can yield different results. Sometimes, rents in winter can be cheaper, as there aren't as many people moving in and out of the city. Summertime can bring an influx of families moving when school is out.
You don't need a broker here. San Francisco renters have traditionally been more do-it-yourself. Walking neighborhoods will help you spot for-rent signs that aren't listed online. The Internet is your second-best resource. Look at Craigslist, Apartments.com, Zumper, Apartment List, Padmapper, Hotpads, Roomiematch, Roomster, and Facebook's Marketplace. 
Be prepared to pay 3.500 USD for a one bedroom in City Center. Although, a given pricing is also relative. We can split San Francisco housing into: Rent Control vs No Rent Control. Rent-controlled homes limits on how much rent can be raised every year. This means that tenants that live in buildings built older than January 1979 pay much less than they might have otherwise over the long term. The true advantage of rent control lies in apartments on Craigslist and Facebook groups that are renting out rooms instead of entire apartments. If you have a limited budget, it is a good idea to check rooms and roommates.
Landlords require a deposit at the lease-signing. This can be any amount they decide, ranging from a few hundred dollars to two-month rent, but they must pay you interest annually. 
Last but not least, in order to have a good time, try to take it as a game. Also, a good smile always helps!
Cheap Places to Stay in San Francisco
The average one-bedroom apartment in San Francisco rented for 3.400 USD according to rental database Zumper. Two-bedrooms went for 4.400 USD. If you require only one bedroom for yourself, don't start from scratch and attempt to fill an emptied apartment. Wiggle into a pre-existing household with a room vacancy and you'll probably save big. 
Obviously, this doesn't work for all city renters, and it's unviable for families and most couples. But if you're up for the task, the monetary payoff can be immense. You should start looking at Craiglist and Roommates.com. San Francisco neighborhoods have room rentals averaging 1.800 USD in pre-existing households.
Also, consider that about 170.000 units in San Francisco are protected by rent control. Thus, neighborhoods with a higher number of rent-controlled units, like Haight-Ashbury and the Tenderloin, will yield the cheapest rooms for rent in already-established households compared to rentals in new or empty buildings.
The opposite is true in districts with lots of new development like Dogpatch, where you can find only a 19% decrease in rent for rooms in existing households versus rooms in new households.
United States Visa for San Francisco
Depending on your nationality or the duration and reason for the trip to the United States, you will need to issue or not a specific visa. A visa waiver program is available for visitors from Andorra, Australia, Austria, Belgium, Brunei, Chile, Czech Republic, Denmark, Estonia, Finland, France, Germany, Greece, Hungary, Iceland, Ireland, Italy, Japan, Latvia, Liechtenstein, Lithuania, Luxembourg, Malta, Monaco, Netherlands, New Zealand, Norway, Portugal, San Marino, Singapore, Slovakia, Slovenia, South Korea, Spain, Sweden, Switzerland, Taiwan and the United Kingdom. The visa waiver is valid for a maximum of 90 days.
In order to use the visa waiver program, you will need to apply for The Electronic System for Travel Authorization (ESTA). ESTA costs 14 USD per person and can take up to 72 hours. If you have visited or a national of Iran, Iraq, Libya, Somalia, Sudan, Syria, or Yemen, you are not eligible for the Visa waiver program.
Passport holders from American territories, Bermuda and Canada may visit without a visa. If you don't have a United States passport expect to be fingerprinted and photographed on entry.
Everyone else can line up at their nearest embassy or consulate to ask prices and needed documents for every kind of visa. Tourist visas start at 160 USD and can take quite some time to sort out. Each consulate has its peculiarities and sometimes they are very hard in terms of the documents they request, it is better to consult with time.
On the other hand, the non-immigrant visa allows you to work and / or travel to the United States for more than 90 days, with the intention of returning to your country when this visa has expired. It includes different types of visa that vary depending on the reason for your trip, your personal characteristics and other aspects, so you should check which visa you need and what specific documents you need to process it.
On this website you can decide what type of visa you need to travel to the United States since at the time of making an appointment for the interview they do not inform you about this issue.
Culture and Food in San Francisco
San Francisco is considered one of the cities with the highest culinary quality in the world. Its gastronomic history began in the 70s when it was considered the culinary capital of the United States. Trendy places used to serve traditional steak dishes accompanied by French wines, all products of foreign origin. Later, several restaurants began to have a more regional cuisine and fresh and organic products. At this time, the so-called "culinary revolution" began in the country, with the aim of unifying the local farmers with the large restaurant chains.
The main dishes of its gastronomy are Dungeness crab (boiled crab that is usually served with Chinese noodles, spinach and dressings), Crab Cioppino (soup of Italian origin that is prepared with crab, shrimp, mussels and clams), popsicle (sandwich of ice cream with ice cream and chocolate coating) and clam chowder (thick clam soup accompanied by celery, carrot and bacon), among others.
If you make a stop in Chinatown, grab a cup of coffee at Four Barrel and a Dynamo Donut (fresh ingredient flavors include rhubarb and cranberry cornmeal), have lunch at Great Eastern Restaurant, one of Obama's favorite restaurants, and stop to enjoy a luxurious dinner at Mister Jiu's.
In Castro you can have oysters for lunch at Foreign Cinema or have a taco at one of the district's Taquerías. At Mission I recommend trying the artisan cocktails at Trick Dog and the "slow food" from Northern Italy at Delfina. At Fisherman's Wharf, clam chowder in a bread bowl is a favorite, along with strolling through Ghirardelli Square for chocolate sandwiches. Scoma's, chosen by the locals, has extremely fresh seafood.
Another option for the morning is the Ferry Building Farmers Market where you can enjoy fresh fruits and vegetables, baked goods, iced coffee, and beautiful views of the bay. In the evening, you can also sample small portions at State Bird Provisions (James Beard Foundation Award-Winning Restaurant) or a rustic meal at Rich Table.
From quality street stalls to some of the best restaurants in the country, San Francisco has it all.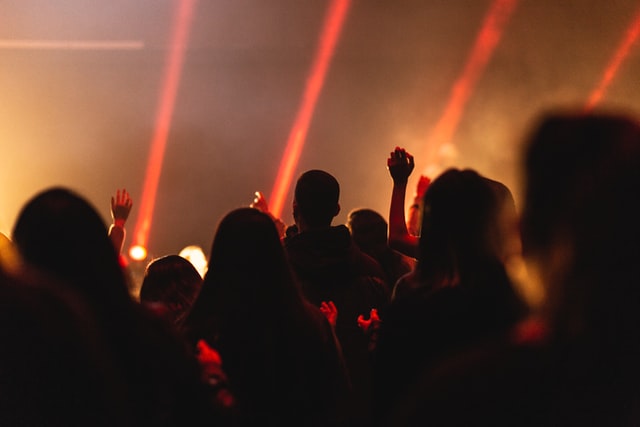 San Francisco Nightlife
One of the most attractive things about San Francisco's nightlife is that there is a great variety of possibilities. Also, unlike other tourist cities, with 30 USD you can enjoy an unforgettable night.
It's an ideal place both for lovers of live music and drinks in quiet places, as well as for those who want to spend the night dancing. One of the best ways to find out what the hot spots are, is to read leisure magazines like San Francisco Bay Guardian and San Francisco Weekly.
If you take Market St. and walk southeast you can find everything from cheap and simple, to elegant places. The South of Market (SOMA) is, in fact, the most popular area in the city and it's one of the busiest at night.
Along Columbus Avenue you can find a series of places that extend from North Beach to Chinatown, where you can enjoy interesting options. Union Square also has a lively atmosphere. Here you will find the best Irish bars in the city and shows brought from Broadway.
Castro is the most non-traditional neighborhood of ​​the city where you can find places with a hippie and gay atmosphere. Counterculture sites, karaoke bars and drag shows are also popular here.
Marina is the most recommended neighborhood for singles. It is an area with a luxurious atmosphere with a clientele of all ages. A good place to spend a night of drinks in the most elegant way you can think of in San Francisco.
The bars I recommend to start the night are The Saloon (1232 Grant Ave) with its 70's vibe, Redwood Room (495 Geary Blvd.) if you can find a table and Cobb's Comedy Club (915 in Columbus Ave.) where you can enjoy comedy shows.
Among the best nightclubs in the city to continue your night you will find August Hall (25, USD, 420 of Mason St.) representing electronic music, 1015 Folsom (15 USD,) with house style music, The Endup with its LGTB atmosphere, Temple SF with four rooms with different styles, Monarch with techno and deep house and Bootie SF famous for its Mashup Shows.
Things to do in San Francisco
San Francisco is a huge city and people often don't spend enough time here on their West Coast route. If I recommend you to stay at least 5 days in the city.
Golden Gate Bridge

Golden Gate Bridge. Photo by Athena

One of the first things you can do is cross the 1.7 miles of the Golden Gate Bridge by bike. Its fame, architecture and the mist that it usually has around it turns the crossing into a magical activity.

Golden Gate Park

From there you can go to Golden Gate Park, a huge urban park 20% larger than Central Park in New York. Explore the Japanese Tea Garden and visit the tea house for a variety of hot teas, light meals, and small desserts. Later, explore the Young Museum, a world-class art museum that also blends architecture and outdoor beauty in its Harmon Observation Tower.

Haight-Ashbury

Golden Gate Park borders on the eastern end with the hippie district of Haight-Ashbury. Named for the intersection of Haight and Ashbury streets. During the 60s, this district was the epicenter of the city's most bohemian current and became home to the hippie movement. You can enjoy its multi-colored facades or buy vinyl records.

Painted Ladies

Speaking of multi-colored facades, the most famous Victorian houses in the world are the Painted Ladies of Alamo Square. They became famous by appearing at the head of the Full House series. It is one of the most taken photos in the city.

Chinatown

Chinatown, San Francisco. Photo by Kae Ng

Chinatown in San Francisco is home to the largest Chinese community outside of Asia. In addition, it was the first Chinatown in all of North America. It was founded during the gold rush around 1860. I advise you to take a walk to the fortune cookie factory that has been operating since 1962 in a small workshop in the heart of the neighborhood. You can write your own fortune if you buy a cookie, or even buy a giant fortune cookie. For authentic dim sum, stop at the Great Eastern Restaurant and order the lobster sashimi and mushrooms stuffed with fish paste.

Coit Tower

The Coit Tower is within walking distance from Chinatown, although you can also go by bus. It is located on the top of a hill and has one of the most privileged views of the city. You can see pretty much everything, even the Golden Gate in the distance. The upload price is 9 USD.

Pier 39

The journey from Coit Tower to Pier 39 is downhill. Pier 39 is one of the most famous piers in San Francisco for being a leisure center with restaurants and shops, and for the sea lions that sunbathe in front of the pier.

Fisherman's Wharf

If you keep walking you will arrive at Fisherman's Wharf, a fishing port but also a very touristy area. Here is the Musée Mecanique, filled with coin-operated mechanical musical instruments and old gaming machines that still work.

Ghirardelli's

Ghirardelli's, the second oldest chocolate shop in the world, was founded by an Italian immigrant and today sells one of the best-known chocolates in the United States. In the factory you will find several stores including an ice cream parlor.

Sausalito

A little further you find Sausalito, a very picturesque town next to the sea. If you go by bike I recommend you return by ferry because the return slope is very steep. Also, you will have a different perspective of the city. The last ferry returns at 7:20 pm.

Alcatraz

Alcatraz, San Francisco. Photo by David Vives

During your visit to the city, you cannot miss Alcatraz, the most important and well-known prison in the world. In this case it is very important that you make the reservation because it is usually impossible to buy the ticket for the same day. The visit will take you two hours. After doing the tour you can stay as long as you want.

Mission

When you get back to the port you can go to Mission, the Latin quarter where it is easier to speak in Spanish than in English. You will find a lot of taquerías and Mexican restaurants, small supermarkets and a lot of urban art concentrated especially in the Clarion and Balmy alleys.

Castro

Castro, also nearby, is the gay neighborhood where the first movements in defense of the gay community in California were born at the hands of Harvey Milk. Milk was the first openly gay politician to fight for his rights. Here you will find the rainbow crosswalk, a pedestrian crossing with the colors of the gay flag. Also, the Castro cinema: an icon of the neighborhood.

Twin Peaks

From Castro you can take a bus and go up to Twin Peaks, one of the best viewpoints in San Francisco. The best views are from the Christmas Tree Lookout.

tram

To complete your visit, you should get on a tram. Take the Powell-Hyde at Union Square to the top of Lombard Street, then down this famous steep and crooked street. The large number of multi-colored hydrangeas are an additional attraction for flower lovers and people who use Instagram.

Baker Beach

My recommendation is that you end the afternoon at Baker Beach to watch the sunset. Sights include the Golden Gate and sometimes even dolphins on the horizon.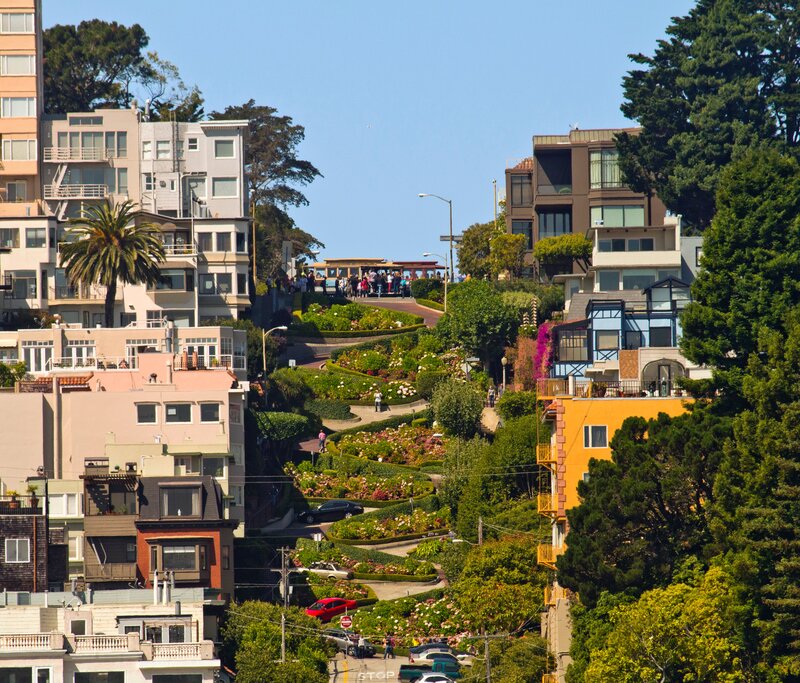 Best Time to Visit San Francisco
San Francisco is characterized by its Mediterranean climate with mild wet winters and dry summers. The water that surrounds the city acts by moderating the climate, so there is very little seasonal temperature variation.
The city is usually covered by fog in any season of the year although during the summer it rarely persists during the day. The reason these fogs are created is because the arid winds from the deserts of Arizona collide with the cold winds of Alaska just over the San Francisco Bay.
Summer is not very hot with temperatures that usually oscillate between 10 and 21 °C. It is possible that at night you need a light coat.
Winters are cold, especially during January and February when the city's temperature drops to 5º C. They are also humid, rainy and the wind becomes unbearable.
The best months to visit the city are from May to September. During this time, you will have less rain and less cold, without feeling hot. Keep in mind that, although the day is somewhat hot, at night it is cool so you will need a coat as well as summer clothes. It is best to dress in layers because it is not the same to climb hills on foot than to look out over the bay where the breeze can be very cold.
San Francisco for Families
The average rent for a three-bedroom apartment in San Francisco is over 4.500 USD. The cost can be much higher than that for not much more space, depending on the neighborhood. There are a bunch of wonderful, family-friendly neighborhoods all over the city like Noe Valley and Twin Peaks. Never less, consider the whole expenses before choosing a neighborhood.
Finding childcare can be tough and nurseries cost around 1,000 USD per month. Instead, San Francisco has many wonderful public schools but the process of getting into them is a lottery system. I recommend you to visit the San Francisco Unified School District website and Parents for Public Schools for an abundance of clearly explained information on the process. You'll tour schools the year before you're ready to enroll and rank them on a school choice form, then you wait with bated breath for months until schools are assigned. If you're not happy you have multiple rounds of appeals to try to get into a different school. If you're moving here mid-year, the process is a little different, and that's why you want to read up on the websites mentioned above.
Plenty of parents also send their kids to private independent and parochial schools. You'll have tours, applications, mixers, and interviews for these, too. Check out Independent Schools of the San Francisco Bay Area (ISSFBA), or the resources of your religious institution to find private school options.
Living in San Francisco
San Francisco Transportation
If you are going to use public transportation at least two times a day, the most profitable thing to do is to purchase the Muni Pass card at the Information Center (749 Howard St.), inside the Moscone Center. There you can also obtain useful maps of the transport lines. This card is available in one-day passes for 22 USD, three days for 33 USD and seven days for 43 USD, allowing you an unlimited number of trips on any of the means of transportation in San Francisco, with the exception of BART. Keep in mind that it's necessary to pay with the exact change for all individual trips, so with the Muni Passport card, apart from saving, you will have much more comfort when riding on any public transport.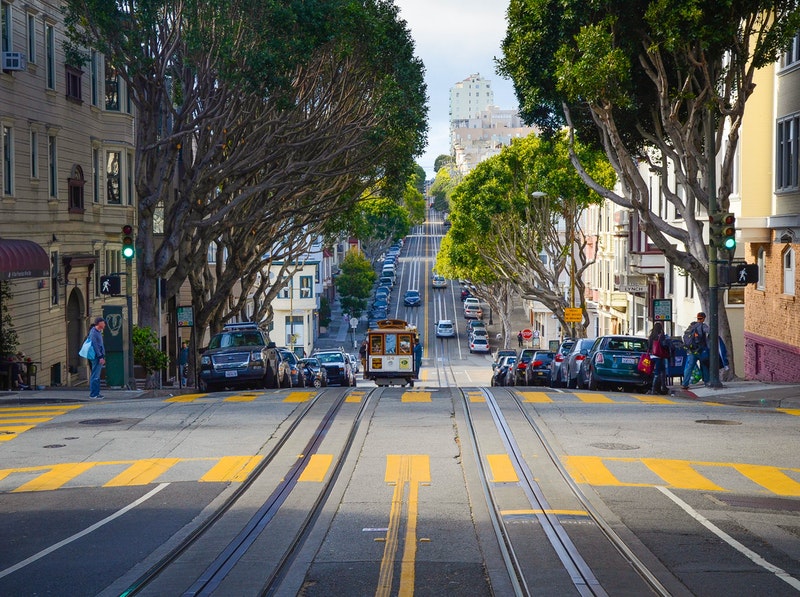 The city has 55 bus lines. Thanks to the fact that the city has many steep hills, the buses have a special rack to put your bike in the front.
The metro has 6 lines throughout the metropolis. Each line is identified with a letter. Its hours are from 5 am to 1 am and the price is 2.50 USD including transfers for 90 minutes.
Cable car is a means of transport but also an attraction that you will surely want to get on. Since 1964 it has been declared a National Historical Heritage. Its price is 7 USD each way, while with the Muni Passport you can get on unlimitedly in any of its 3 lines (Powell-Hyde, Powell-Mason and California Street).
On the other hand, the historic line operates with streetcars brought in from all over the world and runs between Castro and Fisherman's Wharf, with stops every few blocks along Market St. and The Embarcadero. Its price is 2.25 USD, including all transfers within a space of 90 minutes.
If you are going to drive your own vehicle, you should know that you will have to pay for parking. They say that the third part of the circulation of this city is continuously looking for where to park. You can pay with a card at the parking meters or with your mobile phone by downloading the PayByPhone parking application. The good thing about this app is that you can extend the parking time before it expires without having to go back to the parking meter.
Fitness and Health
According to the 2020 Wellness Index released by Mindbody, San Francisco has 16 gyms and other wellness businesses per square mile. The report ranked San Francisco the third-healthiest city in the US, largely thanks to its residents' dedication to wellness businesses, which encompasses gyms and fitness studios, salons, spas, and integrative health businesses.
The luxury gym chain Equinox has four different locations by the bay. There are also countless yoga studios, four Barry's Bootcamps, three SoulCycle studios, three OrangeTheory Fitness centers, six Fitness SF locations and so on. 27% of its residents attend classes like Pound or Zumba making dance fitness the most popular activity in the city.
San Francisco wellness is not only about working out, you can also find a huge variety of supermarkets with organic products, vegan restaurants and healthy food options. You'll want to sample as much local flavor as possible but that doesn't mean you have to throw good habits out the window. 
Check Nourish Café (189 Sixth Ave.) in the Richmond for full plant-based meals. The veggie wraps with hummus and avocado are delightful. Also, Plant Café Organic has a few locations around the city, including neighborhoods like Dogpatch and the Marina. You can fill up with quick meals that include white-meat burgers, salads, and gluten-free sides.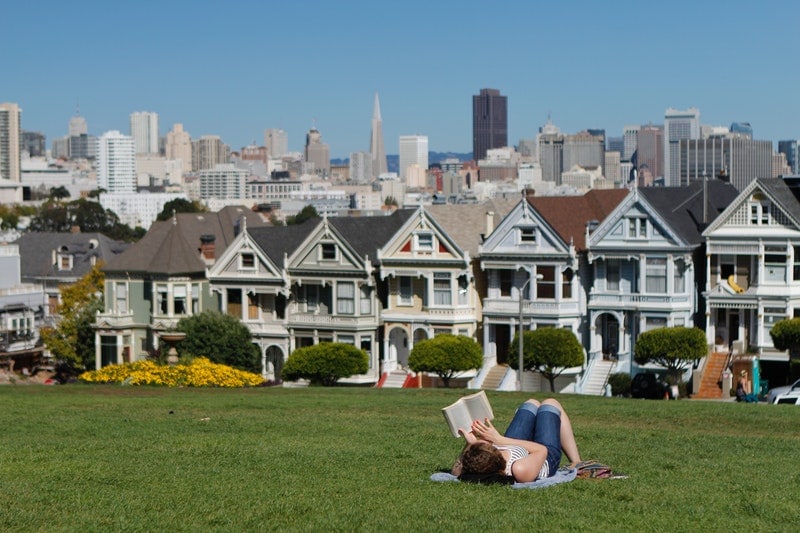 San Francisco People
California is the healthy-state of the US and it is not difficult to find yourself within days of landing in a Whole Foods supermarket buying kale, maca or açaí. Complementing the healthy diet there are also sports for all tastes.
In the city you meet people from all over the world. Cultural diversity is mostly breathed in neighborhoods like Mission, Chinatown or Japan Town. In addition, in its neighborhoods you find mostly thirty-something people prepared to take on the world. Relaxed and unpretentious style abounds. Forget about looking at suits and shirts, here jeans are the daily uniform.
In San Francisco it is common for its inhabitants to describe people by the neighborhood in which they live. Each neighborhood has its own personality so where you live often says a lot about you.
The residents are very friendly. It is common that when you arrive in the city, people welcome you as if you have lived there for years.
Being late is socially accepted and all kinds of excuses are valid, even saying that they didn't mean to be late and that "it just happened". If this happens to you, do not be offended.
Here you can start, fail and reinvent yourself without being judged. Employment is based on your own merits and not on contacts. This can be as difficult as it is incredible, because of the high competition. The good news is that there is always room for those who want to make an effort.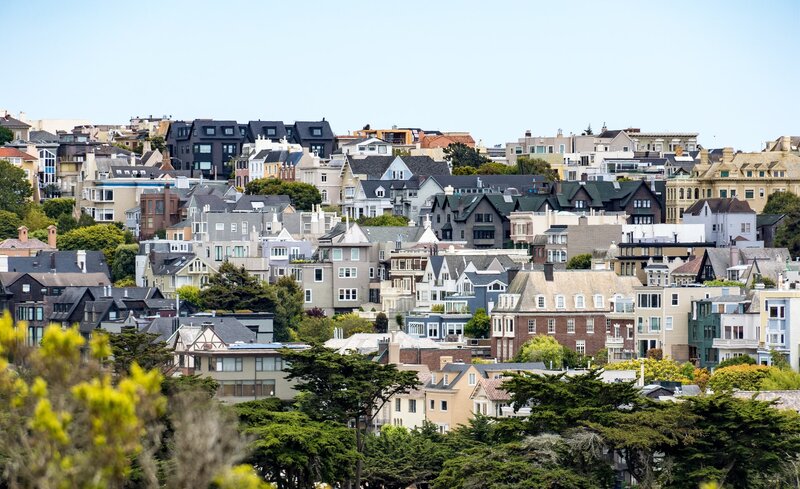 San Francisco Insurance and Medical Care
There are no mandatory vaccinations to travel to the United States, although it is convenient to keep the official vaccination schedule updated. Depending on the duration and conditions of the trip, the advisable vaccines are: hepatitis A, hepatitis B (if you have not had the disease before) and tetanus – diphtheria.
The US public hospitals aren't free of charge. The patient is responsible for his medical expenses even if he has an American passport. The cost of healthcare is extremely high and a hospitalization could bankrupt a family. The alternative for residents who do not have government support is to take out private health insurance, although it also comes at a high price.
According to the KFF study, the average cost of the annual health insurance premium in 2020 was 7.470 USD for individual coverage and 21.324 USD for family coverage.
Without purchasing insurance, an emergency room visit can cost up to 6.000 USD, 20.000 USD for a normal delivery, 100 USD for a medical consultation, 300 USD for a specialist consultation, more than 1.000 USD for an MRI, 50.000 USD for intervention for appendicitis plus postoperative attention and 600 USD for an ambulance transfer. With basic insurance the cost is reduced by at least half.
Therefore, whoever can afford it chooses to have health insurance, expatriate insurance or travel insurance.
Healthy San Francisco is a relatively new program in the city that is working hard to change this. Qualified residents can obtain low-cost insurance through the city, which focuses on preventive care rather than treating sick patients.
If you don't qualify for Healthy San Francisco and you work for a company that doesn't provide health insurance, you can purchase it independently. Check the plans carefully and what kind of co-payments you should make.
The costs of expatriate insurance depend on your age, where you live and the countries you want to cover. Travel insurance is a good option if you are traveling as a tourist. There is even specialized travel insurance for long-term trips. It is convenient to hire them so as not to expose yourself to high financial debts and to be able to travel in a more relaxed way.
Make sure you are fully covered by reading our full Digital Nomad Travel Insurance guide.
Jobs in San Francisco
Since the days of the gold rush, San Francisco has been the financial center of the West Coast. This constant economic activity has produced a wide range of industries; the largest of which are technology, medical science, and commerce.
Residents have one of the highest income levels in the country. However, San Francisco is currently facing an extreme shortage of affordable housing, which can pose a challenge for those hoping to relocate to this area.
Also, finding a job in San Francisco is a difficult task, especially for people without a work visa. The process must be initiated by a sponsoring employer. Therefore, you must have a job offer before you can begin the visa application process. Few companies are willing to hire foreigners without visas because the process can take 6 months and costs between 3.000 and 5.000 USD including legal fees. One of the easiest ways to seek a sponsor visa is to attend a university in the United States as a step towards a great job.
The five largest employers in San Francisco are Bechtel Corp, California Pacific Medical Center, Deloitte, Ernst & Young, and the Federal Reserve Bank, covering the engineering, healthcare, accounting and government sectors. Still, new and small businesses with fewer than 10 employees make up more than two-thirds of San Francisco businesses.
Also, nearly a third of the world's biotech jobs are in San Francisco, and the top companies are leaders in pharmaceutical research and development, genetic engineering, and medical equipment.
For potential job searches, some of the top job search sites are: the San Francisco Chronicle or San Francisco Gate, sfgate.com, careerbuilder.com, jobs.com, indeed.com and monster.com.
Check out our Digital Nomads Jobs Postings to find the best jobs available for Digital Nomads.
Nomad Friendly
Value for Money
Internet
Workspace
English
Food
Safety
Health
Transportation
Friendly
Quality of Living
Cost of Living San Francisco
As I have said several times, San Francisco is expensive. While the median salary in the city is 72,947 USD, renting a studio can cost 3,500 USD and a two-bedroom apartment 4,400 USD per month. On the other hand, if you are willing to share your living place to reduce your costs significantly, you can find good room rental options in central neighborhoods between 2.000 and 2.500 USD.
Regarding transportation, a metro ticket costs 2.50 USD and the Muni Pass for 7 days 43 USD. Assuming that you use the Muni Pass and other times some additional means of transport, your commute expenses can range between 200 and 300 USD.
In terms of entertainment, an entrance to the museums ranges from 15 to 35 USD per person, visiting Alcatraz costs 38 USD and a dinner without wine for two in a standard restaurant starts at 40 USD.
Are you a tourist? Expect to pay at least 90 USD a night for a double room in a centrally located hotel.
Personally, I would recommend moving to San Francisco only if you have a savings safety net. With such a high cost of living, it is always good to know that we have money to turn to.