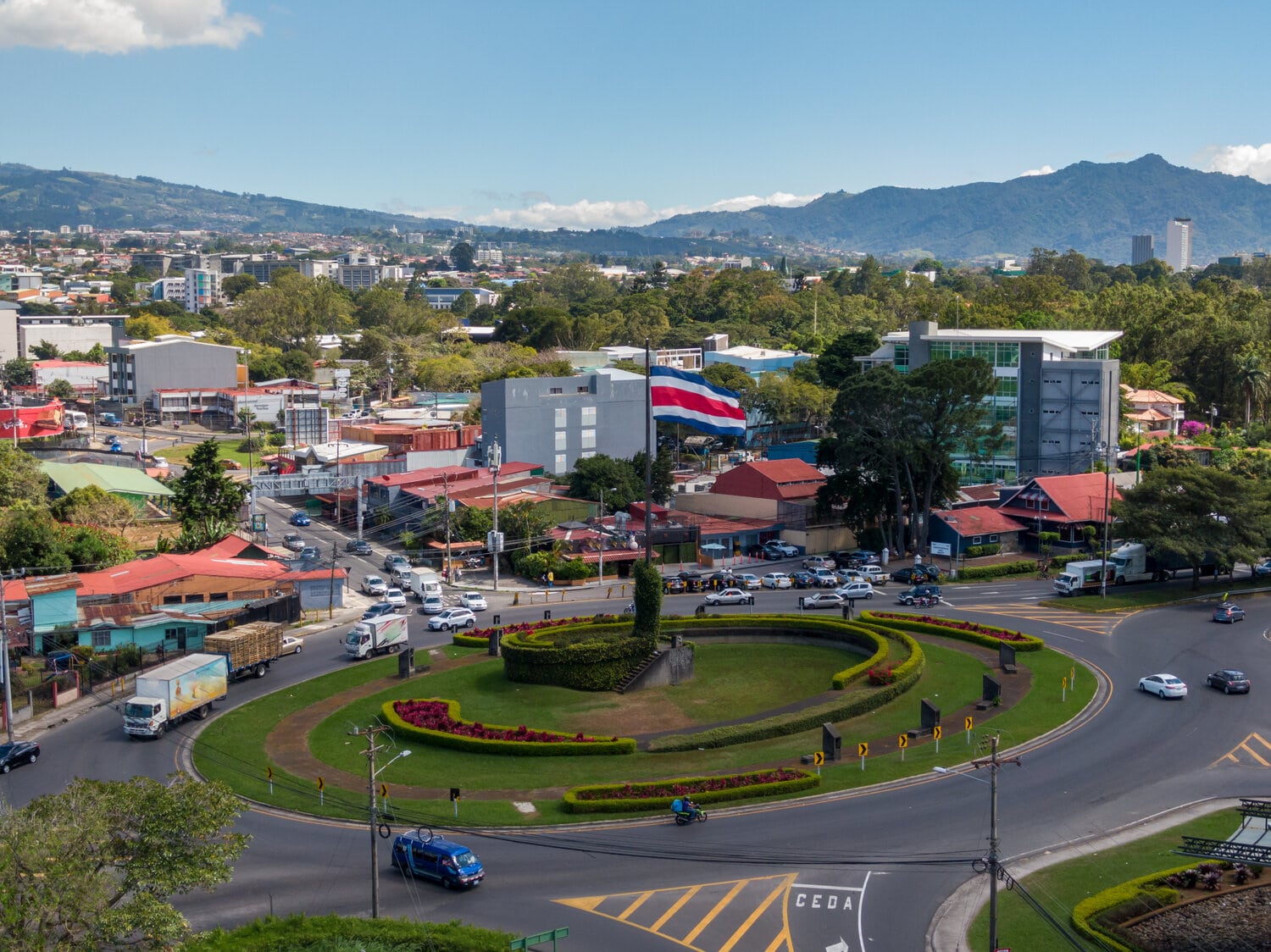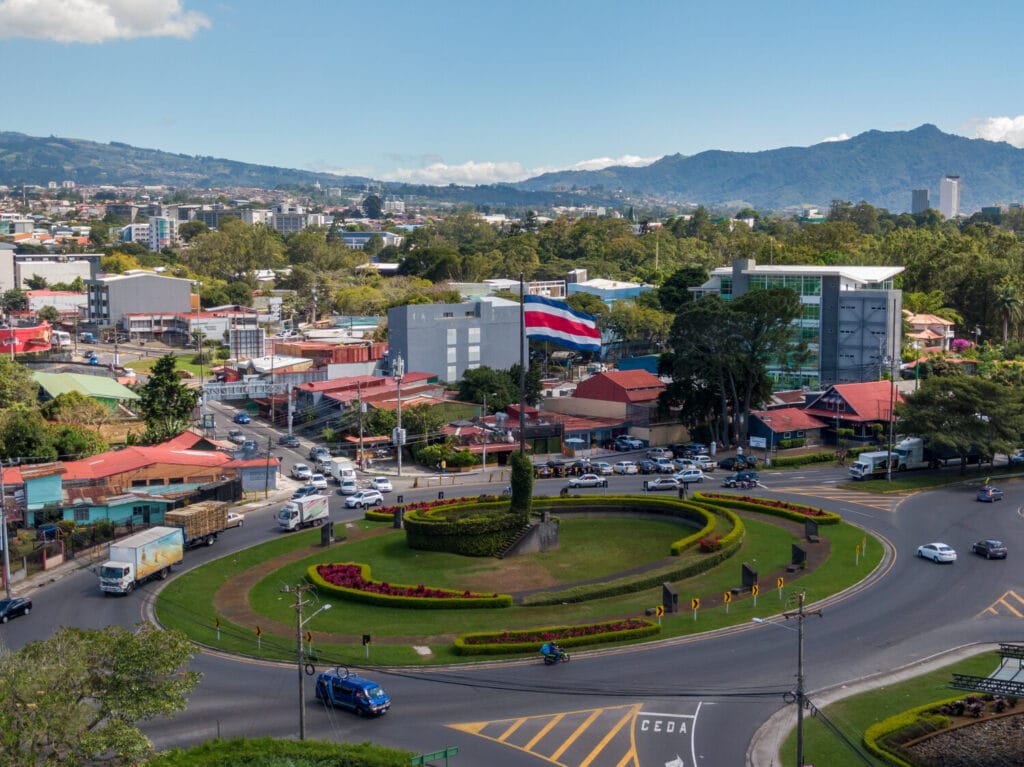 A Digital Nomad Guide to San José
San José, capital of Costa Rica, is located on the inter volcanic plateau called the Central Valley with the Talamanca Mountain Range to the south and volcanoes to the north. Its metropolitan area is the most important political, economic and social center of the Costa Rican territory, as well as the main hub for transportation and telecommunications.
The city is distinguished by its Spanish colonial buildings, such as the decorated National Theater of Costa Rica, in a neoclassical style, which overlooks Plaza de la Cultura, a popular meeting point. Culturally it can be considered of European influence, especially Spanish and Italian. This can be seen in the layout of the city, which grew up around the current cathedral.
Surrounded by mountains, volcanoes, beaches and virgin forests, San José offers easy access to all and it is the ideal destination to enjoy nature without straying from urban attractions. While it's true that Chepe, as San José is affectionately known, doesn't make a great first impression, with its concrete buildings and tireless traffic horns, it's worth exploring a little deeper into the city to discover its many charms.
Nomad Friendly
Value for Money
Internet
Workspace
English
Food
Safety
Health
Transportation
Friendly
Quality of Living
Living in San José Overview
| | |
| --- | --- |
|  Meal, Inexpensive Restaurant | $7.80 |
| Domestic Beer (1 pint draught) | $2.34 |
| Cappuccino (regular) | $2.44 |
| Loaf of Fresh White Bread (1 lb) | $1.20 |
| Water (1.5 liter bottle) | $1.88 |
| One-way Ticket (Local Transport) | $0.78 |
| Basic Utilities (Monthly) | $52.58 |
| Internet | $51.36 |
| Fitness Club (Monthly) | $51.31 |
| Apartment (1 bedroom) in City Centre | $624.57 |
[erw_exchange_rates_widget lg="en" tz="0″ fm="EUR" to="EUR,USD,GBP,AUD,JPY,RUB" st="primary" cd="" am="1″][/erw_exchange_rates_widget]
Max Withdrawal: €400
Use of Credit Cards: Widely Accepted
Digital Nomad Personal Experience in San José
The experiences that Costa Rica gives you make the positive things far outweigh the negative things. On the one hand, it is an expensive country compared to its neighbors and many Latin Americans countries. In addition, the road infrastructure is a disaster and public education as well. On the other hand, 98% of the population is literate, the university education has a very good level, all the provinces have their job opportunities, the food is good and it is excellent as a social, family and cultural development as it is a very touristic country.
Ticos are tremendously happy people, they always have a reason to celebrate and if they don't, they make it up. In these years I met very supportive people: from the anonymous person who helped me with the addresses, to people who have become friends until today.
In addition, San José, although it is a city without a coast, has everything close by: the beach, the mountains, the Caribbean and the Pacific. During the weekend you can go to see a volcano, explore the jungle or enjoy the sun and the sea. Having everything close by gives a whole new meaning to routine life, because it is possible to escape and return in the same day with a low cost.
In summary, you have to discover what you like about San José and give more importance to the freedom and joy it brings to your life. 
Work in San José
Costa Rica, in addition to being one of the greenest countries in the world, also has a lot to offer to digital nomads, remote workers and entrepreneurs. With a lot of coworking spaces popping up, it became the ideal place to work and live in paradise.
However, it is not one of the cheapest places. On average, prices in coworking spaces range from 2 USD an hour for a shared desk, to 10 USD an hour for a private office. Meeting room options or spaces for talks and workshops range from 30 to 45 USD per hour.
Best Places to Work in San José
Creasala Coworking Cafe
Among the leading coworking spaces, Creasala Coworking Cafe offers different price options from 3.9 USD per hour to 226 USD per month in one of the best neighborhoods in the city. It has private spaces for meetings, rooms with complete workshops or courses, white boards, free coffee and high-speed Internet.
Impact Hub
Impact Hub is a hidden gem with cozy hidden spaces and hammocks to relax. With entrepreneurship programs, innovation consulting and creative spaces, Impact Hub also offers equipped rooms for meetings and small events.
Selina Cowork San Jose
Selina Cowork San Jose has a large number of coworking spaces in Costa Rica and throughout Central America. You can find Selina CoWork in San José, Jaco, La Fortuna, Santa Teresa (north and south) and other places in the country. Selina CoWork allows you to eat, sleep and work, all in the same place and in community. It is known for its high-quality office spaces with dining options, rooms to stay in, bars, swimming pools, high-speed internet, air conditioning and free coffee and tea. The day pass cost around 10 USD.
Gracias Coffee and Cowork
Gracias Coffee and Cowork stands out for offering a recording studio, graphic design space, fast and reliable internet and digital printers. It is an ideal place for those who have to do creative work. The common workspace costs 10 USD a day and also features meeting and workshop spaces (with projectors and televisions) that can host up to 10 people.
Other coworking space options that you can investigate are colaboracr.com, coworker.com and www.thetrain.biz.
Check out the Free Pass Day offered by some of these spaces and have the experience of meeting new people and expanding your contacts, not only personal but also professional.
Best Places to Live in San José
Best Neighbourhoods
San José de Costa Rica is a small city but with several housing options such as huge condominium complexes, student sublets and single-family residences. It is not a 100% safe city, and therefore, it is important to choose the neighborhood in which to live well. In addition, mobility must be considered. Where you live needs to be determined by if you have a car, if you prefer a life in the country or in the city, and where you will spend most of your time.
Amón and Barrio Escalante
Among the recommended neighborhoods are Amón and Barrio Escalante which are part of the historic area of ​​the city. Here you find excellent restaurants, beautiful parks, cultural centers and museums. It is perfect for someone who prefers an urban existence and likes to get around on foot. Keep in mind that this area is also the capital of Costa Rica's sex tourism industry, and prostitutes and transvestites abound.
Belén
The western suburb of Belén has been recognized by various entities as the best-managed municipality in the country. It is located near the airport and it is the headquarters of many of the multinational companies. Belén is primarily for families looking for safe neighborhoods and single-family homes.
Escazú and Santa Ana
Escazú and Santa Ana, to the west, have stylish condo buildings and apartment complexes. Both neighborhoods boast some of the most expensive real estate in Costa Rica. In the area you find luxurious shopping centers and high-end restaurants.
Heredia
Instead, Heredia primarily attracts college students. It is a single-family residential community with high traffic. Expats often rent houses with panoramic views on the mountainside away from the hustle and bustle of the city but you need your own transport.
Los Yoses
Los Yoses is a quiet residential neighborhood in San José de Costa Rica. Here you find many embassies and offices of non-profit organizations. This neighborhood is perfect for someone who wants a quiet area that can be explored on foot and close to supermarkets, bus lines, and cultural activities.
Rohrmoser and La Sabana
Rohrmoser and La Sabana are full of young professionals who flock to their bars and restaurants. This area is ideal for young people between 20 and 30 years old who like to have fun and love nightlife. It is located near the center so if you do not have a car, taxi rides will be short and you can also opt for public transport.
San Pedro and Curridabat
San Pedro and Curridabat are home of two main universities: University of Costa Rica and Latin University. Many students and young English teachers stay in this area, sharing the rent in three- and four-bedroom houses. Ideal for singles in their 20s, San Pedro has many cheap restaurants and bars. Both areas have several bus lines, their distances are long and their streets have a lot of traffic. 
Find an Apartment in San José
If you plan to rent for a short time I recommend looking at Airbnb, where you can verify the comments and opinions of who has stayed before.
To rent apartments for a long time, I recommend looking for your next accommodation once you have arrived. It is important to visit every possible apartment or house. In the ads they usually put very inaccurate locations that can vary from the real one by kilometers. Also, some or all of the images may be CAD (Computer Aided Design) graphics instead of photos. Sometimes the photos can be of a similar unit but in better condition or simply omit in the description the noises of the clubs nearby, the highway or the neighbors' dogs. The same thing happens with smells. You will be surprised how often you will encounter any of these problems and how quickly you will discard some properties that seemed perfect in the classified ad.
In addition, when renting you also have to learn some terms that have different meanings. Unlike rentals in other parts of the world, the definition of "furnished" in Costa Rica can include a refrigerator, oven, stove, and nothing else. Unfurnished may mean none of the above are supplied. It is convenient to check even the most ridiculous item. Regarding hot water, ask if the department has it in each tap or which one, including the shower and bathtub. Also, how is the water heating system, because some are extremely slow. Additionally, do not advance money until you have read the lease. If it is in Spanish, request a translation from your real estate agent or a digital copy so that you can do a translation online. 
Traffic in San José is heavy at all hours, so try to find an apartment as close as possible to your children's work or school. Also, ask exactly where the air conditioning is. Sometimes they have it in the bedroom but not in the dining room, or vice versa.
Some of the sites to find apartments or houses for rent are: Encuentra 24, Properties in Costa Rica, olx, TodoBusco and InmoTico.
Cheap Places to Stay in San José
Short-term rentals are usually more expensive than long-term ones. Also, if you are looking for a long-term rental, you should wait for the rainy season, from May to November, where occupancy in tourist areas drops considerably and the owners give up to 70% discount. During the high season, furnished apartments are usually rented to tourists for high prices.
In addition, the areas further from the center are cheaper. Also, at the university areas you can find shared rentals or room rentals, although they prefer young people and those who are in university. If you go to universities you will find billboards that offer spaces for shared housing. You can also try to find them at Encuentra 24, Properties in Costa Rica, olx, TodoBusco and InmoTico.
San José Visa
Citizens of the following countries do not need a visa to stay up to 90 days in the country as tourists: Germany, Andorra, Argentina, Austria, Australia, Bahamas, Barbados, Belgium, Brazil, Bulgaria, Canada, Vatican City, Chile, Cyprus, Croatia, Denmark, Slovakia, Slovenia, Spain, United States of America, Estonia, Finland ,, France, Greece, Hungary, Ireland, Iceland, Israel, Italy, Japan, Latvia, Liechtenstein, Lithuania, Luxembourg, Malta, Mexico, Montenegro, Norway, New Zealand, Netherlands, Panama, Paraguay, Poland, Portugal, Principality of Monaco, Puerto Rico, San Marino, Serbia, South Africa, United Kingdom and Northern Ireland, Czech Republic, Republic of South Korea, Romania, Singapore, Sweden, Switzerland, Trinidad and Tobago and Uruguay.
Citizens of the following countries do not need a visa to stay in the country for up to 30 days (extendable to 90) as tourists: Antigua and Barbuda, Belize, Bolivia, Dominica, El Salvador, Philippines, Fiji, Grenada, Guatemala, Guyana, Honduras, Northern Mariana Islands, Marshall Islands, Solomon Islands, Kiribati, Maldives, Mauritius, Micronesia, Nauru, Palau, Kingdom of Tonga, Samoa, Saint Kitts and Nevis, Saint Vincent and the Grenadines, Saint Lucia, Sao Tome and Principe, Seychelles, Suriname, Tuvalu, Turkey, Vanuatu and Venezuela.
People who have visas valid for three months in the United States, Canada, South Korea, Japan or the European Union (or Schengen visa in the passport) or have legal permits (residence, work, study or refugee) from these countries, can enter Costa Rica without a tourist visa.
Citizens of the countries not mentioned need a tourist visa when entering Costa Rica and a valid passport for at least six months. This visa allows them a stay of 30 days, extendable to 90 days. I recommend contacting the embassy.
If you are not a Costa Rican citizen, you must have a work visa or a residence permit in order to work. If you apply for residency, you cannot work without prior authorization and approval.
Culture and Food in San José
In addition to its landscapes, Costa Rica also has the ideal growing season throughout the year for any ingredient a chef desires. Therefore, it is a good place for foodies.
Furca is among the best restaurants in San José de Costa Rica. Located in the Rohrmoser district of San José, Furca is a farm-to-table restaurant that supports local farmers and maintains a large urban garden. It specializes in homemade steaks and creative seafood dishes. Its dining room is modern and elegant, with an open kitchen.
Kalú, in the Escalante neighborhood, has a modern mid-century cafeteria. Its chef, Camille Ratton, serves French fusion dishes such as white ceviche, octopus with smoked potato salad and drowned quesadillas.
At the northern end of Parque Metropolitano La Sabana de San José, Park Café is housed in a mansion that also serves as an antique shop. Here Michelin-rated chef Richard Neat makes tapas of scallop wrapped in Serrano ham with Torta Español and Vichyssoise sauce or octopus braised in white wine with parsley sauce and grilled chorizo.
Andiamo Lá is a contemporary Italian restaurant, located on the outskirts of the capital. It offers an extensive menu of classic Italian dishes. Its interior dining room is spacious and contemporary, with a patio surrounded by fountains and lush vegetation.
The Grano de Oro restaurant makes you travel to a past covered in luxury. Located in a Victorian mansion, it is considered one of the best dining experiences in the country. French chef Francis Canal prepares a European menu with strong local influences that contains options as varied as chicken, beef, duck, rabbit, lamb, fish and seafood. Some of the stellar dishes are the corvina encrusted with macadamia nuts or the filet mignon stuffed with gorgonzola.
La Terrasse is a restaurant specializing in French cuisine. Sitting down for lunch or dinner here will be like doing it at home, thanks to the homely atmosphere of the restaurant. The classic recipes of the gastronomy of France are reinterpreted with typical Costa Rican ingredients, so nowhere else in the world will you try similar dishes.
Doris Metropolitan serves local dishes. She differentiated herself from others thanks to her alliance with a cattle farm in southern Costa Rica that feeds her cows grass and pineapple, which gives the meat a different flavor and texture.
Tin Jo is another classic of the Costa Rican gastronomic scene. Located in a beautiful colonial hacienda, the menu here includes flavors and ingredients from China, Thailand, Vietnam, and Japan, with multiple vegetarian options and exotic desserts.
San José Nightlife
From craft breweries to 24-hour nightclubs with huge dance floors, you will discover many new adventures after a busy day exploring San José de Costa Rica. Full of vibrant people and places, this fun-loving city comes alive at night. The nightlife of San José de Costa Rica revolves around three areas: Escazú, El Pueblo and San Pedro.
Escazú, to the west, is called the pink zone for its elegance and high prices. There are restaurants such as the Pocket, bars to listen to live music such as La Central, or fashionable nightclubs in the capital such as Rouge (famous for its theme parties and creativity).
El Pueblo has a spectacular atmosphere, both day and night. Just ten minutes from downtown by car, it has good restaurants and nightclubs that are full of young people, attracted by its varied offer and cheap prices. The Friends or the Ebony Club are some of the best ones. 
San Pedro comprises a lot of neighborhoods. Very close to the University of Costa Rica is Calle de la Amargura. The area is popular among students for its many bars and restaurants. To start with something quiet, Pub Piso 3 (on Calle 2) is an excellent option. The Hoxton pub (Boulevard Los Yoses, 75 East of Old Subaru) has a very British style with English rock and fish & chips. It is housed in an elegantly decorated Victorian house and the DJs mainly play hip-hop, dubstep and house. Jazz Cafe set the standard for concerts and remains one of the best places to see artists and bands from around the world. His stage has welcomed people like Scott Henderson, Dennis Chambers and Frank Gambale.
Other recommendations are The Public House Irish Pub (150m north of Toyota, Paseo Colón) with its long list of Costa Rican craft beers and creative cocktails. The place has a modern hipster vibe, with vintage telephones decorating the wall, and an outdoor patio to enjoy warm nights.
Club Vertigo (Centro Colon) is one of the best places with high-ceilinged dance floors to dance until the sun comes up.
With three levels of hardwood floors, Castro's Bar and Discoteque features music from salsa to reggae to electronic.
Costa Rica's Craft Brewing Company is located an hour from San José, and is a restored factory that serves the best craft beer limiting itself to whole grains, hops, yeast and water in the creation of its beers. From 4-6pm, they offer a tour of the factory explaining the process and offering tastings of more than seven different types of beer.
With funky beats and a nice diversity of musical styles, Rapsodia Lounge and Nightclub (40 Calle 40, San José) is one of the most fashionable nightclubs in the city. It is also one of the largest, with multiple rooms and levels to explore. 
Things to do in San José
San José de Costa Rica is not the main attraction of the country but it still has its charm and a lot of places to visit.
National Theater of Costa Rica

The National Theater of Costa Rica has been the emblem of San José since 1897. You will realize that they spared no expense when building it. The theater is still in operation although there are also guided tours from Monday to Sunday from 9 am to 4 pm to appreciate its beauty and its historicist architecture.

Melico Salazar Popular Theater

In front of the Central Park is the second most important theater in the capital: the Melico Salazar Popular Theater. This public theater's main function is to democratize culture. His name refers to the world-renowned Costa Rican tenor.

National Museum of Costa Rica

If you are interested in history, you can visit the National Museum of Costa Rica in the historic Bellavista Barracks. There you can see curious objects such as the car in which the Pope traveled when he visited the country. It also has a butterfly farm and an exhibition of insects. Instead, the Jade Museum houses the world's largest collection of objects made from jade.

Pre-Columbian Gold Museum

The Pre-Columbian Gold Museum contains 1500 objects made in gold dating from between the years 500 and 1,500 and that belong to the Costa Rican pre-Columbian people. It is a museum that is very well documented and explains the importance of objects in people's daily lives.

Metropolitan Cathedral of San José

Among the most important religious buildings is the Metropolitan Cathedral of San José, which began to be built in 1825. After several earthquakes, the Cathedral, of neoclassical and mud style, has undergone many changes in its short history.

Iglesia de Nuestra Señora de la Merced

Although for me the most beautiful of all is the Iglesia de Nuestra Señora de la Merced with neo-gothic style and columns painted by hand in various colors. It is unlike any I have ever seen before. Its details make it different.

Central Avenue

Central Avenue is the oldest street in San José and constitutes the central axis of the economy, culture and commerce of the capital. It has 12 pedestrian blocks with more than 220 clothing stores, shoe stores and restaurants. It is the ideal place to go shopping.

Correos

The Correos building, designed in a neo-renaissance style by a Catalan in 1917, is also a must see in San José de Costa Rica. Right behind him is the Central Bank building, which at 80 meters was the tallest building in the country until 2011. San José is a city characterized by low-rise architecture and when one sees such a construction, it stands out.

Central Market

The Central Market, open since 1880 and declared Cultural Heritage, is another recommended site. It has more than 200 shops, stalls and restaurants. Without a doubt, a good place to get to know the local atmosphere.

Chinatown

The city also has a Chinatown. The area began to develop at the end of the 20th century when restaurants and supermarkets run by Orientals were created. It was the first Chinatown in a Central American city.

SJO Vive

One of the most touristic sites is the modern SJO Vive letters in which foreigners stop to take a picture. If you know Amsterdam or New York you know what I'm talking about. These giant letters are intended to affirm the identity of its people and their pride.

La Sabana Metropolitan Park

To disconnect from the chaos of the city, you can visit the 72 hectares of La Sabana Metropolitan Park, which is located 1.100 meters above sea level. Here it is very common to see people practicing sports and playing football.

Irazú Volcano

A day trip from San José de Costa Rica is the Irazú Volcano, one of the most beautiful in the country. Be mindful of the weather forecast because fog can cover it and block the view. With 3.432 meters of altitude and five craters, Irazú is the highest volcano in Costa Rica. It still remains active, although no significant eruption has been observed since 1994. Its volcanic water lagoon, in the main crater, has a turquoise color that will make you have to lower the saturation of your photos. You can go both by public bus and on a tour that includes a visit to the Orosi Valley and the Lankester Garden. 

Cartago

At the base of the volcano is Cartago, one of the most important cities in Costa Rica. The city was founded in 1563 by the Spanish conqueror Juan Vázquez de Coronado. From then until the independence of Costa Rica in 1821 it was the residence of the governors and the Costa Rican elite.

Morazán Park and Poás volcano

Another short excursion to consider is Morazán Park that has the Temple of Music, declared an Architectural Historical Heritage. Also, the Poás volcano and its national park. Its main crater, 300 meters deep and 1,32 km in diameter, is one of the largest in the world. The park offers incredible trekking trails and a wide biodiversity.

La Paz Waterfall

If you still have days off, La Paz Waterfall is approximately an hour and a half from the capital. The cost of entry includes a conservatory of animals and gardens with more than five waterfalls. 

Tortuguero National Park

Tortuguero National Park, located on the Caribbean coast, can also be visited from San José in just one day. If you have little time in the country, there are excursions that pick you up at the hotel and return you on the same day. Enjoy it!
Best Time to Visit San José
The climate in Costa Rica is tropical due to the location between the Atlantic and the Pacific Oceans. It can be divided into a dry season (summer) and a rainy season (winter). The average annual temperature in San José is 24 °C and the average annual rainfall is 2299 mm. It does not rain for 66 days per year. The average humidity is 84% ​​and the UV Index is 5.
During the dry season, from December to April, it is mostly dry and warm. There is a difference between the temperatures in the plains, in the mountains and on the beach. On average, temperatures during the dry season in Costa Rica range from 25 °C to 30 °C.
During the rainy season, from May to November, there are more rains, cooler temperatures, and high humidity.
The best time to explore Costa Rica is from December to April, during the dry season. Although if you want to go deep into the jungle or surf the Pacific coast, the rainy season is the best option, from May to November. During the so-called green season the prices are cheaper.
San José for Families
The public education system in Costa Rica has improved a lot in recent years and is among one of the best in Latin America. However, if we compare it with Europe and the United States, the level of education is very low. As an alternative, you can find private international schools which offer a higher quality of teaching, despite the fact that the level still cannot be compared.
Universities, on the other hand, have a lot of recognition in Latin America and many people from neighboring countries come to study at Costa Rica's universities.
Another factor to consider is that children will have the possibility to grow up in a natural environment, surrounded by cultural diversity and values. Costa Ricans are very nice people and they welcome children. In addition, here you can hire a babysitter and help to clean the house for very low prices, which will allow you to have a balance between work and quality of time with your children.
Living in San José
San José Transportation
If you want to live in Costa Rica, you should think about buying a car or a motorcycle to have freedom of movement. In the city there is usually a lot of traffic during business hours but this also applies to public transport. Instead, a car will allow you to easily get out of the city at your leisure. Keep in mind that the speed limit on most roads is 80 or 90 km/h, that most roads are not in good condition and that you will find many unpaved roads with a bad sign system. Get all the information on the website of the Road Safety Council of Costa Rica.
If you are in a central area, within San José de Costa Rica, walking is going to be your best option. The center is small enough to be explored on foot and in this way you will avoid vehicular traffic, which can be extremely chaotic.
Public buses have cheap fares of around 0.82 USD per ride or 44 USD for a monthly pass. It is your best option besides walking, if you have a limited budget. However, the drivers of the public buses do not speak English. if you do not speak Spanish, you should research how to get to the final destination before starting the trip.
If you are in a hurry or you prefer to have more comfort without having to deal with traffic, taxis in Costa Rica are the best option. Taxis are red and they are organized in cooperatives. The rate is ¢ 670 the first kilometer and the additional kilometer ¢ 625 for urban rides and ¢ 650 for rural rides.
To go out from the capital, the urban train is a fast and cheap way. Some of the urban train destinations are Pavas, San Pedro, Curridabat, Belén, Heredia, Alajuela and Cartago. You can also travel by tourist bus. La Coca Cola bus terminal, located in the center of San José de Costa Rica, is the main one in the entire country. This terminal offers internal travel transportation to all parts of the country and it also offers transfers to destinations such as Panama, Guatemala, Nicaragua, Honduras and El Salvador.
Fitness and Health
In San José there are 31 gyms with various activities and classes to choose from: bodybuilding, Zumba, Crossfit, Pilates, yoga and more. There are also bouldering and climbing gyms such as Mundo Aventura with specialized trainers and all the necessary equipment so that you can live the experience safely.
There are also full-service workout and fitness centers that provide personal trainers, classes or schedule aerobics with modern facilities. After sweating out that 6-pack, sit in a sauna or Jacuzzi for a while. Whatever your poison for fitness, Costa Rica has it all, including women only programs like Curves, the fitness franchise for women that has more than 8.000 centers around the world.
A recommended but not cheap gym is World Gym Escazú. The subscription prices are 20 USD per day, 50 USD per week or 120 USD per month. Here you will find a huge well-equipped gym, separate dedicated rooms and timetables for cycling, HIIT and yoga as well as a main studio for a wide range of classes, a dedicated stretching area, and full-length swimming pool. Take a padlock for the lockers and bring your own towel.
Arena Trek Gym is located in the Plaza Paco and it offers weights, Yoga, lifting, power jump, salsa and Pilates classes.
Multispa, unlike the other gyms, was created from the need to find a balance between our physical, mental and spiritual parts. It has personal trainers, gym, spa and other appropriate services. 
Newton Center offers a wide range of equipment for practice and athletic training. It also has sport and health experts offering the following services: nutrition, sports massage, cardio-respiratory, rehabilitation and physiotherapy.
San José People
The local people are actually one of the country's greatest assets. Costa Ricans are well known around the world for being very friendly and cheerful, both with compatriots and with foreigners. They always receive you with a huge smile and if you have a problem, you will surely receive help quickly. The greeting "Pura vida" (pure life) is very common, which gives a sense of joy to the meeting.
Spanish is the official language, although in tourist areas they understand English which makes it an easy country to travel.
They are also normally peaceful and non-confrontational, perhaps due to the fact that Costa Rica has not had an army for almost 60 years. Racial confrontations are extremely rare and prejudices, although they exist, are shown indirectly.
The official religion of Costa Rica is the Roman Catholic religion, which is practiced by approximately 80% of the population. Other major religions are Protestant religions, Asian religions, Jehovah's Witnesses, and The Mormon Church. There is no law that prohibits the practice of another religion.
Costa Ricans find themselves caught between the old and the new cultural forces. They still have very conservative values, but are beginning to adopt some North American cultural traits. However, they are still conservative when it comes to family matters. Family ties are very strong. Traditions revolve around the family from the moment of birth to the moment of death. Some immensely important family traditions are: baptisms, first communions, engagement parties, weddings, and funerals. These events are attended by the entire family, as well as a large number of friends and family members. Also, most live with their parents until they get married. It is still very rare to leave the family home to go to college or to have a home of your own.
In addition, they have a very high level of education and the literacy rate is 96%, which differentiates Costa Rica from other neighboring countries.
San José Insurance and Medical Care
Health is one of the most important points to consider when moving to another country. The health system in Costa Rica is among the six best countries in health care according to the International Living rating agency.
There are two health systems that can be accessed: the government-run one called Caja Costarricense de Seguro Social and known as La Caja, and the private health system.
In order to have social security, you can get the insurance with the INS (National Insurance Institute) called Seguro Voluntario, for around 50 USD per month. In this way, you will have access to public health. If you work for a company in Costa Rica, they must take care of registering you.
The other option is to pay for private health insurance from companies like AXA or travel health insurance depending on how much time you will stay and why. Private health care is expensive so it is always advisable to have private insurance or access to the public health system.
Make sure you are fully covered by reading our full Digital Nomad Travel Insurance guide.
Jobs in San José
Costa Rica is a small but booming economy. However, this labor economy is extremely difficult for expats. It has a law that states that a company cannot hire a foreigner for a position if it can be filled by a Costa Rican citizen. This means that foreigners are very limited in terms of available jobs. If you have a university degree you will have an advantage.
You will need to speak Spanish to work in the country, although English is an extra that could help you. I recommend that you look at the job offer options for your profession and get a job interview online and be hired from your destination country. If you don't get any of this, you can come to Costa Rica as a tourist and hand out CVs. The areas for which the most foreigners are hired are tourism, diving, language teachers, engineers and hospitality in high season. Another option is to work as a freelancer in Costa Rica. In this way, you will be able to register with the Costa Rican treasury, work and make your bills legally without having residency. But, keep in mind, that by not having the residence you will have to renew your tourist visa every 3 months.
If you are not a Costa Rican citizen, you must have a work visa or a residence permit that allows you to work. If you apply for residency, you cannot work without prior authorization and approval. Again, you will likely need to have a job within a company before applying for a work permit. Ultimately, it is the employer's responsibility to ensure that their employee is legal to work within Costa Rica. If you are a foreigner, that means the company has to sponsor you and help you get a visa or a legal work permit.
Consider that wages are extremely low. The average salary in Costa Rica is about 450 USD per month.
Some good websites to start searching for a job in San José de Costa Rica are CostaRicaJobSearch (exclusively for English speaking people), Monster, Indeed (with many international companies), Glassdoor, TheTicoTimes, Craigslist. Be careful with the offers because there can be scams, but there is a chance you can still find reliable work.
Check out our in-depth Digital Nomads Jobs Postings to find the best jobs available for Digital Nomads.
Nomad Friendly
Value for Money
Internet
Workspace
English
Food
Safety
Health
Transportation
Friendly
Quality of Living
Cost of Living San José
Living or traveling in Costa Rica is expensive, probably the most expensive country in Central America. In San José de Costa Rica you can find one-bedroom apartments for 400 USD in a nice and safe neighborhood. For 1.000 USD you can get a two-bedroom house. If you want luxury, then the rent can go up to 3.000 USD.
The price of the supermarket is another thing that must be considered. If you want to eat like in Europe or North America, the prices of the products are high. Instead, the prices of local food are lower. For example, 1 liter of milk costs 1.5 USD, olive oil of 500 ml USD 6.56, a bottle of cheap wine 11 USD, a national beer of 473ml 1.65 USD, national rice 2.60 USD, potatoes bulk 0.45 USD, one kilo of tomatoes 2.28 USD, one kilo of oranges 5 USD, one kilo of green apple 1.56 USD, 15 eggs 3.47 USD. Calculate between 250 and 300 USD per month in food without giving yourself luxuries.
The electricity bill is usually 20 USD although if you use the air conditioning every day, it can go up to more than 100 USD. The water bill is usually very cheap, around 13 USD.
To have internet at home, the most common company for foreigners is Tigo and the prices are around 30 USD per month. Also, there are other internet companies with greater power such as Cabletica, Coopeguanacaste, ICE and Telecable, with prices from 40 to 65 USD.
Everything will depend on how you want to live, the comforts you want to have and what you want to eat. If you want to adapt to Costa Rican life, live in a local house and eat local food, then you will need about 1.000 USD per person. If you want a house with more comforts or eat imported food, then your monthly expenses will be between 1.500 and 2.000 USD. For luxuries, even more money.