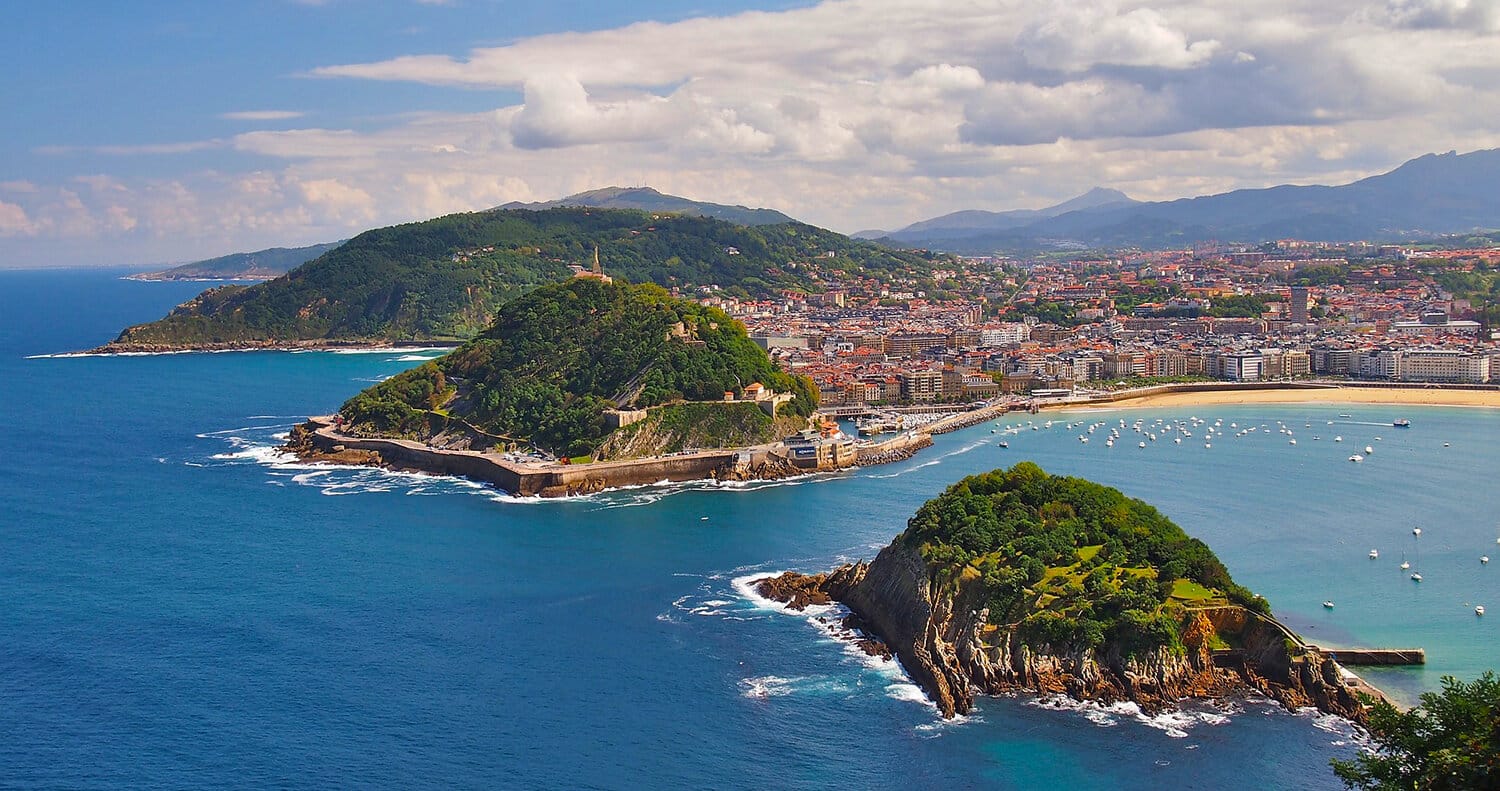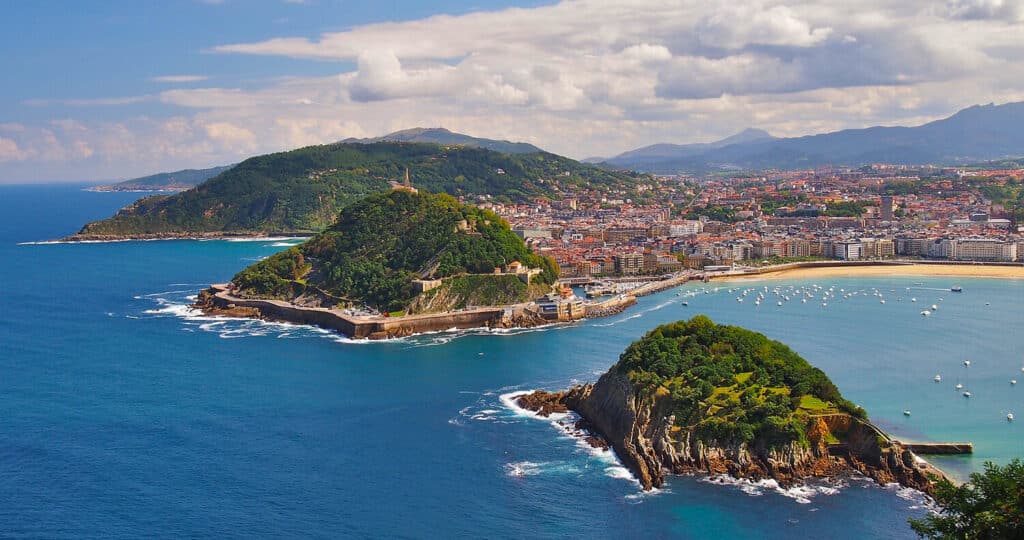 A Digital Nomad Guide to San Sebastián
San Sebastián (in Basque called Donostia) is a Spanish city and municipality located on the coast of the Bay of Biscay, 20 kilometers from the border with France. The city is the capital of the province of Guipúzcoa, in the Spanish autonomous community of the Basque Country.
Its origin is due to a monastery consecrated to San Sebastián that was in the current location of the Miramar Palace, next to El Antiguo neighborhood. The medieval town was founded by the Navarrese king Sancho el Sabio around 1180 in the vicinity of the monastery.
Its main economic activities are trade and tourism, constituting in the past one of the most famous tourist destinations in Spain. Its landscape and its modern architectural development started in the second half of the 19th century, which formed a city with a French and gentrified style, fostered the development of tourist activity. It is also the venue for international events such as the San Sebastián International Film Festival, the San Sebastián Jazz Festival, the Musical Fortnight and the Horror Film Festival.
This beautiful city has a lot to offer from its wide variety of cultural events, to its acclaimed gastronomy with several Michellin stars.
Nomad Friendly
Value for Money
Internet
Workspace
English
Food
Safety
Health
Transportation
Friendly
Quality of Living
Living in San Sebastián Overview
| | |
| --- | --- |
|  Meal, Inexpensive Restaurant | $15.27 |
| Domestic Beer (1 pint draught) | $2.83 |
| Cappuccino (regular) | $2.09 |
| Loaf of Fresh White Bread (1 lb) | $1.41 |
| Water (1.5 liter bottle) | $1.20 |
| One-way Ticket (Local Transport) | $2.09 |
| Basic Utilities (Monthly) | $119.69 |
| Internet | $44.10 |
| Fitness Club (Monthly) | $51.54 |
| Apartment (1 bedroom) in City Centre | $1,121.22 |
Currency: Indonesian rupiah (Rp)
[erw_exchange_rates_widget lg="en" tz="0″ fm="IDR" to="EUR,USD,GBP,AUD,JPY,RUB" st="primary" cd="" am="15000″][/erw_exchange_rates_widget]
ATMs
Max Withdrawal: Rp 3,000,000
Withdrawal Fee: Rp 30,000 – Rp 50,000
Use of Credit Cards: Mostly Cash
Digital Nomad Personal Experience in San Sebastián
Among all the main Spanish areas and cities, the Basque Country receives a large number of visitors and expatriates every year, especially due to its shared borders with France. San Sebastián is probably the best city to settle down because it is the one that has the most to offer in terms of services and cultural events. It is a small and safe city with beaches and within walking distance of most of the attractions in the area.
What affected me the most was the weather, generally cold and rainy. In any case, even if the sun does not come out for many days, it is quite comforting to be able to walk the beach and look at the sea.
If you manage to put yourself before it, you will discover a happy city, with many meetings between friends and outdoor activities. There is also a lot of young atmosphere thanks to the universities and on Thursdays the bars are packed.
There are many options for hiking, biking, kayaking or other sports in nature. In San Sebastian you can lead a healthy lifestyle and eat well with organic products. In general, locals have a well-balanced lifestyle, with time for themselves and their friends despite the expensive cost of living here.
I like the classic-looking buildings in the center, and the port area and the old town are quite cozy, and what about the pinchos that are eaten there!
Work in San Sebastián
Tired of loneliness and working in coffee shops? More and more people know about Coworking spaces and enjoy its flexibility in a professional environment. Many are open around the clock, provide a well-equipped office at a low price, and allow work interactions between people from different backgrounds in a natural and daily way.
Best Places to Work in San Sebastián
Impact Hub
Among the coworking space options in San Sebastián is the elegant Impact Hub Donostia (Plaza Cigarreras 1, 3rd floor). Impact Hub Donostia is located in the famous and cultural building of Tabakalera, next to the bus station and train stop. Its spaces are designed to encourage co-creation and shared work. Since it is an international coworking network, it does not limit you only to San Sebastian, but you can work in any Impact Hub in the world. If generating a positive impact on society is among your values, this is your space in the city.
Galerna Studio
Galerna Studio (Ametzagaña K., 25), in the Egia neighborhood of Donostia, is the cheapest in the city and, nevertheless, very complete. For 180 € they offer you an individual work table with a good Wi-Fi connection and the possibility of using the meeting room and the photo studio once a month. In addition, it can be accessed 24 hours a day, 7 days a week, giving you flexibility to organize your working hours according to your needs.
CospaceSS
CospaceSS (Federico García Lorca Pasealekua, 2, Bajo A), located very close to the center, offers a very pleasant work environment with limited, comfortable spaces equipped with everything you need to concentrate on your work. They have fast internet, lockers, coffee area and parking. They also have a business meeting room and a training room for courses. It has 24 hour access, 7 days per week.
Estudio La Colmena
Estudio La Colmena (Bermingham Kalea, 33, 35), is a cozy workspace located in Gros in Donostia-San Sebastián. Here you have shared offices with large workstations and a confortable and nice meeting room for your clients or your team. It is characterized by its large windows, its natural light and its two independent entrances by Plaza Txofre and Calle Bermingham respectively.
As San Sebastián is small, I recommend you visit them all to be able to choose the one that best suits your needs and tastes. Without a doubt, the choice will be difficult.
Best Places to Live in San Sebastián
Best Neighbourhoods
Almost twenty neighborhoods make up the map of San Sebastian, a city that is always among the most expensive in terms of housing. Beach or mountain? There is no reason to choose, the city has a bit of everything and leads the ranking of the best cities to live. Its per capita income is among the highest in Spain and its quality of life is privileged. The rental price depends on the area, usually the apartments in the center and those near the beach are more expensive.
Antiguo
The Antiguo neighborhood, very close to Ondarreta Beach, can be a good option if you are going to study at the UPV / EHU, since its campus is located in this same area. It is full of shops, bars and restaurants. However, you must bear in mind that you will be far from both the Center and the Old Town. You will always have the option of moving by public transport during the day or buying a bicycle with which to move around the city. A positive point for this area is that rents are usually slightly cheaper.
Gros
Surfers and students usually choose to live in Gros, especially for its tranquility and its proximity to Zurriola beach. In this neighborhood, prices depend on the street you choose to live in, so I recommend you consult different options. Flanked by the Kursaal bridge and Mount Ulia, it is characterized by being a young, dynamic and cosmopolitan neighborhood. The transformation of the area began two decades ago and, since then, it has not stopped evolving to become one of the most popular in the city. Here every Thursday the Pintxopote takes place: the meeting in the bars to eat pintxos and drink with friends at cheap prices. If you want to be close to the best area to go out for a drink on Thursdays, Gros is your neighborhood.
Old Part of San Sebastián
The Old Part of San Sebastián is where the city was founded. Over time its walls were demolished and Donostia expanded. At the foot of Mount Urgull and on one side of La Concha Bay, its cobbled streets are visited by thousands of tourists every year. The high concentration of pubs and the number of tourists can complicate your night's rest. However, the prices are high because the apartments end up being transformed into tourist rentals.
Egia and Amara
The neighborhoods of Egia and Amara are very good options. In them it is possible to find larger flats than in other neighborhoods for lower prices. In addition, they are still close to the Center and the bay, it has excellent communications, a variety of entertainment venues and extensive services that make it an accessible and comfortable neighborhood for its inhabitants.
It is no secret that the center of large cities is usually home to the most expensive properties, and Donostia is no exception. With an average price per square meter that has reached more than 7.000 €, it is one of the most exclusive neighborhoods in the city. The imposing views of the sea from Calle Hernani or the elegant homes on Paseo de Miraconcha are just a few examples. In addition, as in most urban centers, parking is one of its biggest problems, although its benefits include the tranquility of the area.
Find an Apartment in San Sebastián
If you are going to look for accommodation in the capital of Gipuzkoa, I have to warn you that it is the most expensive provincial capital in Spain when it comes to renting and buying a flat. Living in Sebastián can be out of the question, since the square meter is paid at an average of almost 4.000 €. Airbnb and other vacation rental websites have completely revolutionized the Spanish rental market by raising prices even for locals, making it difficult for expats to find a furnished rental apartment at a decent price for the medium term, despite the local government efforts to regulate the market.
In San Sebastián, as in most cities in Spain, there are traditional rentals, vacation rentals, student housing and shared flats.
Today, there are still more than hundreds of vacation rentals on Airbnb, but this number is constantly decreasing and prices do not drop below 1.600 € for an apartment with just one room.
Traditional real estate agents often offer empty and unfurnished apartments for rent with a minimum stay of one year. For less than 700 € a month you will not find anything in a decent neighborhood and of course you have to add the expenses and the month of rent that the agent takes. Community costs are generally included in the rent, but you will have to pay for wifi, water, electricity, etc. And if you don't speak Spanish or Basque, forget it!
My recommendation is to look at idealista.com that has an automatic English translation tool. Idealista is handled in the local market and has publications from both real estate agents and owners. A 40 square meter apartment in Gros costs at least 650 €, a 50 square meter apartment with two bedrooms have a minimum price of 700 € and, if you are lucky, you can find studios with private parking for 700 € per month. The web site even gives you the phone numbers so you can call and ask what you need, although keep in mind that most will not speak English. On this page you can also search for houses for sale, if you plan to move for a longer time.
Cheap Places to Stay in San Sebastián
The Antiguo neighborhood has cheaper rents and is usually chosen by UPV / EHU students. Also, the neighborhoods of Egia and Amara have lower prices and the possibility of finding larger apartments. 
But if your budget is really low, I recommend you to look for shared flats. In Spain, given the employment crisis for young people and the price of rents, it is very common to share a flat with strangers. Even in the same traditional rental websites you often have the option of looking for a shared flat or a room.
In general, they will do an interview to show you the apartment and see if your lifestyle and tastes are compatible with the other people who live in the house. If you are chosen, you will be able to negotiate the price.
One of the web pages used in the country to search for a shared apartment is pisocompartido.com. Prices, however, start at 370 € even when the flat has several rooms or it is in a less central area.
To search for a room rental you can also try at idealista.com, although in general it does not have the same dynamics and the people who rent are owners of the house and not so much roommates. Finding a cheap and nice place in San Sebastian can be difficult but not impossible. Good luck!
San Sebastián Visa
As part of the Schengen area, citizens of any other state of the European Union or Switzerland, Norway, Iceland and Liechtenstein can enter Spanish territory for stays of no more than 90 days during the same semester only with the national identity document. On the other hand, citizens of Bulgaria, Croatia, Cyprus, Romania, Ireland and the United Kingdom must present their passport as they are countries that do not belong to that area.
The rest of the residents of third countries are required to obtain a permit known as a Schengen visa for any visit of the same duration. The only exception will be the case of foreigners who are in possession of a valid residence permit or long-term visa issued by a Schengen state, which automatically accredits them to move freely around the rest, again for 90 days and in any 180 period.
The Schengen states have reached a series of agreements with certain countries according to which their nationals are exempt from the obligation to present a visa to cross their borders, including those of Spain, when traveling as tourists.
The countries exempt from the visa requirement to enter the Schengen area are: Albania, Andorra, Antigua and Barbuda, Argentina, Former Yugoslav Republic of Macedonia, Australia, Bahamas, Barbados, Bosnia Herzegovina, Brazil, Brunei Darussalam, Canada, Chile, Colombia, South Korea, Costa Rica, Commonwealth of Dominica, El Salvador, United Arab Emirates, United States, Georgia, Grenada, Guatemala, Honduras, Israel, Japan, Kiribati, Malaysia, Marshall Islands, Mauritius, Mexico, Micronesia, Moldova, Nicaragua, New Zealand, Palau, Panama, Paraguay, Peru, Solomon Islands, Samoa, Saint Kitts and Nevis, San Marino, Saint Vincent and the Grenadines, Saint Lucia, Holy See, Serbia, Seychelles, Singapore, East Timor, Tonga, Trinidad and Tobago, Tuvalu, Ukraine, Uruguay, Vanuatu and Venezuela.
However, for some countries such as Argentina from 2022 it will be necessary to obtain an ETIAS permit through a very simple procedure that will be carried out online.
However, for longer trips it will be necessary to apply for long-term visas, either to study, work or live in Spain.
In any case, these regulations change time to time and it is advisable to consult the embassy before making the trip. 
Culture and Food in San Sebastián
San Sebastián may not rank first on the list of European gastronomic destinations, but there is no denying that its prestige is growing rapidly thanks in part to an impressive series of international awards. Its unique tradition, its excellent ingredients and the creativity of the dishes have contributed to making San Sebastián an essential destination for foodies.
The menus are marked by the calendar of seasonal products, key pieces of Basque cuisine. Fish and shellfish directly from the Cantabrian sea, meats, vegetables and cereals from the inland gardens are the stars here.
Among the typical dishes is bacalao al pil pil, one of its best ambassadors. The success of this dish does not only lie in the freshness of the cod, but also in the sauce based on garlic and olive oil. You should also taste the Marmitako generally served in a clay pot and accompanied by potatoes and an onion, tomato and pepper sauce.
Txangurro a la Donostiarra is another of the great exponents of Basque cuisine. The meat of the spider crab is extracted and made together with a selection of vegetables. Once the filling is done, it is placed back in the shell and covered with breadcrumbs and butter.
You will surely wonder where to try these dishes and where are the best chefs. The Michelin guide is probably the most prestigious in the world in terms of gastronomy, and its famous stars are a universal indicator of quality. To date, there are six restaurants with one star, one restaurant with two stars and three restaurants with a total of three stars in San Sebastián and its surroundings. Together they add up to more stars per square meter than Paris, London or New York.
Among the restaurants with three Michelin stars is Arzak since 1989 with chefs Juan Mari Arzak and Elena Arzak. They specialize in experimentation around flavors, textures and concepts that surprise the foodies.
Pedro Subijana works in Akelarre, on the slopes of Mount Igueldo. Here the three Michelin stars shine since 2007. He is one of the protagonists of the so-called new Basque cuisine.
Kokotxa is the project of Dani López, who after studying at the Luis Irizar cooking school and working in southern Spain, returned home in 2002 to open his own restaurant. In 2007 the French guide recognized his work with raw materials of the best quality and with a strong attention to seasonality.
Amelia appears in the guide since 2021 as a new star, which is due to the recent change of location to the Hotel Villa Favorita. The inspectors also reward the cuisine of Paulo Airaudo, in full view of the diners and where the creative seasonal menus mark the step. Sustainable and fresh products are pursued.
El Mirador de Ulía is located in a privileged area with complete views of the city, inside a villa where unique creations with the best seasonal products are shaped by chef Rubén Trincado. He returned to the restaurant as the third generation in charge of the family to obtain the star in 2010  with his dishes of traditional inspiration.
San Sebastián Nightlife
San Sebastián is a city to visit in broad daylight, to admire at sunset and to enjoy when night falls. The city has four nightlife areas: Old Town, lively and busy both day and night; Reyes Cátolicos street, the chic and modern area with design venues and alternative music; the Gros neighborhood, the quietest and most youthful area and, finally, the Zurriola area, with a youthful atmosphere and a meeting place for surfers. The bars in these areas close around two or three in the morning.
You can start your night at the Whiskey Museum, a classic cocktail bar decorated and set in the style of an English pub with a large collection of bottles of whiskeys from all over the world. Starting at 11 PM there is usually live music in their underground floor, also featuring karaoke. A very special and original place to have a cocktail, a whiskey or a coffee while enjoying a good musical atmosphere.
La Gintonería Donostiarra Bar is another place where you can enjoy an excellent cocktail before or during a night of fun. La Gintonería has a terrace, air conditioning, free wifi and it is an excellent place for private celebrations. It opens from Tuesday to Sunday from 3 PM until midnight.
To enjoy a chill-out atmosphere, the Arkaitzpe pub is located in the Old Part of the city and has two floors with different atmospheres. On the first floor and on its terrace, you can have a drink. The party begins at 11 pm.
If you want to continue the night in style, Le Bukowski offers live concerts, festivals, theater, DJs, exhibitions or any other type of cultural event depending on the night. Located in the Egia neighborhood, this place will meet your expectations.
Another trendy place not far from there is Dabadaba. It is an underground place on Mundaiz street 8 that offers concerts, theme parties and DJs at night. In Dabadaba you can dance to the rhythm of funk, house, disco, techno, soul, world music and a great variety of musical styles.
The iconic GU San Sebastián nightclub adds glamor to the night plus views of the beautiful Bahía de la Concha. It is located in the old building of the Real Club Náutico, a unique building in the shape of a ship that looks out over the bay from a beautiful glazed viewpoint and a magnificent terrace. At GU you can enjoy the best cocktails and excellent DJ sessions.
The Bataplán is also located near La Concha beach and will surprise you with its beautiful views of the bay and its electronic music. Here you find artists of the stature of Bob Sinclair, David Guetta, Martin Solveig, Roger Sánchez or Ron Caroll, among others. Bataplán Disco is also a place of reference for the great festivals and other events in the city.
Another good option to go out partying in San Sebastián is to attend the Miramar Nightclub. Located in the Hotel Barceló Costa Vasca, it is a place for any type of public in which dancing and parties of different musical styles are offered, but especially Latin music. In its spacious, elegant and comfortable lounge of more than 700 square meters, you will find tables, chairs and also much more intimate areas with sofas to chat.
Things to do in San Sebastián
The capital of Guipuzcoa, called San Sebastián, Donosti and Donostia, has a wintery and sophisticated charm different from other cities in Spain. 
The Port of San Sebastián is the reason why the city was founded in 1180 by the King of Navarra Sancho el Sabio, who was looking for an outlet to the sea for his lands. Just 20 years later, Guipúzcoa and the city together came under the rule of the powerful Castilian crown. Today the Port of San Sebastián houses both fishing boats and a docking area for sports boats. Around 5:30 pm the fishermen weigh the fish in front of the public.
During the summer, the bravest people swim in the Cantabrian Sea. La Concha Beach is the most beautiful in the city. If the water is very cold for you, you can walk along its promenade. At the foot of the beach you can see the impressive La Perla Spa that was built at the beginning of the century during the Belle Epoque of San Sebastián, where Queen María Cristina used to spend the summer. In summer you can take a boat to Santa Clara Island, just in front of the Bahía de la Concha.
One of the symbols of San Sebastián is the Peine del Viento, a group of sculptures by Eduardo Chillida that can be found at the end of the Bahía de la Concha, on Ondarreta Beach. When you are there, be quiet and pay attention to the sound produced by the waves hitting them.
Another urban beach in San Sebastián is Zurriola Beach, the perfect place to learn to surf or enjoy watching those who dare.
A good starting point to get to know the Old Quarter of San Sebastián is the Calle Mayor (Kale Nagusia) and the Basilica of Santa María del Coro. The entire tourist environment of the city is concentrated in the Old Town: it is full of shops and taverns for all tastes. Here you can also visit the Plaza de la Constitución where the balconies are numbered because they were formerly used as boxes during bullfights. The last stop in the Old Town is at the City Hall building, one of the most charming buildings in the city.
Calle 31 de Agosto is the only survivor of the destruction of the city in 1813, caused with unnecessary fury by the British and Portuguese troops who attacked the defeated French who had been saved from the debacle of the Battle of Vitoria.
Calle 31 de Agosto ends at the Church of San Vicente, which is considered the oldest temple in San Sebastián. It dates from the 16th century, and is one of its oldest buildings.
The Urumea River Mouth is ideal for a romantic walk. Here you will see the María Cristina Bridge that was inaugurated in 1905 and from which four huge obelisks stand out, two at each end. 
The Miramar Palace was the summer residence of the Spanish monarchy at the time of María Cristina, at the end of the 19th century. Today it is one of the most famous and elegant buildings in the city. You cannot enter, but you can visit its incredible gardens with sea views for free.
Another of the most important places in San Sebastián is the Buen Pastor Cathedral, in a neo-Gothic style, which was inaugurated in 1897 by Manuel Echave, an architect from Gipuzkoa. The Regent Queen María Cristina and her son, the future King Alfonso XIII, at the end of the 19th century laid the first stone of the construction.
On the other hand, the most beautiful religious temple is the Basilica of Santa María del Coro built on a Romanesque style church with Baroque, Gothic and Neoclassical elements.
The Kursaal Congress Center is also worth a visit. Made up of two translucent glass cubes especially striking at sunset, it hosts events of all kinds.
Another of the most emblematic buildings in San Sebastián is the Hotel María Cristina. Famous people such as Mata Hari, Coco Chanel and Mick Jagger stayed here. It is currently managed by the The Luxury Collection division of the Starwood hotel chain.
If you are a theater fan, the Victoria Eugenia Theater is one of the most important artistic centers in Spain. You can visit it from outside, or attend one of its shows. The theater began to be built simultaneously with the neighboring Hotel María Cristina and was inaugurated on the same date. Both buildings expanded the appeal of San Sebastián. The building, with a neo-Renaissance Spanish and Neo-Plateresque façade, in addition to the San Sebastián Jazz Festival, has until very recently been the main venue of the San Sebastián Film Festival.
One of the most curious places in San Sebastián is Mount Urgull from where you can see the Statue of the Sacred Heart, with a certain resemblance to the Christ the Redeemer of Rio de Janeiro. To go up the best thing is to use the funicular, which costs about € 3.15. The panoramic view is spectacular. Here you will have Donosti and its bay at your feet. 
Best Time to Visit San Sebastián
San Sebastián is 17 meters above sea level and has a tundra climate. In San Sebastián, summers are not very hot; winters are long, cold, rainy and windy and it is partly cloudy throughout the year. During the course of the year, the temperature generally ranges from 6 ° C to 25 ° C and rarely drops below 1 ° C or rises above 29 ° C.
From March to May, during the spring, the weather is unpredictable and sometimes very rainy, although for this reason there are fewer crowds of tourists.
On the other hand, during the summer, from June to September, prices go up, many tourists come to the city and there are countless festivals. It is undoubtedly the best season to visit the city.
Between October and November, during the fall, the cold and rains begin. Colors turn greener and mornings are sometimes foggy.
In the winter, from December to February, many places of interest close. Temperatures drop and it rains even more.
San Sebastián for Families
The Basque Country dedicates more money to education than the rest of the communities. The Basque education system is achieving spectacular successes, so your children will have an excellent education. For example, the school dropout rate is 7.2% when it is 11.1% in the EU, and 21.9% in Spain as a whole. Almost 38% of people who are of working age have a university degree, a level similar to that of Finland or Norway, and half of them studied a career related to science, mathematics or engineering.
One of the characteristics of the Basque system is that it has organized its model according to the famous scheme proposed by Delors: learning to know, learning to do, learning to live together, and learning to be. In fact, in the UNESCO book that continues the Faure and Delors (Rethinking the Education) reports, the educational system of the Basque Country is the only one mentioned for its application of this scheme.
Education in the Basque Autonomous Community is completely free from 3 years of age and is compulsory between 6 and 16 years of age. Upon completion of this level of schooling, students with satisfactory grades have the option of continuing their education for an additional two years. Students will pursue academic studies in preparation for college exams or pursue a vocational training course. Those who do not achieve satisfactory qualifications can attend career induction programs as precursors to entering the labor market. 
In addition to many institutions specialized in vocational training, the Basque Country has 4 universities. The public University of the Basque Country and the private University of Deusto, owned by the Jesuits, are two of the most prestigious in Spain. The University of Navarra, governed by Opus Dei, has a campus in San Sebastián. The newest is the University of Mondragón, which is part of the Mondragón Corporación Cooperativa.
There are four types of schools differentiated by their language teaching models, the most popular being those that have their education system entirely in Basque and Spanish as a compulsory subject. There are also schools in Spanish with the Basque language as a compulsory subject.
However, if you want your children to have a good level of English they should opt for a British or American international school because, otherwise, their level of English will be very low.
Living in San Sebastián
San Sebastián Transportation
San Sebastián is a small city, in which most of the trips become pleasant walks. Despite this, it has a public transport system that connects the different parts of the city efficiently.
If you are going to move around San Sebastián, I advise you to buy the Mugi card in advance that will allow you to use the different means of transport in the city and the province at a lower price than paying each trip in cash. You can check more information on how to obtain your Mugi card and how to recharge it on its official website.
In addition, if you visit the city as a tourist, you can also research the Tourist Card that gives you access to public transport and allows you to enjoy unbeatable discounts in museums, restaurants and shops.
Donostia Bus or Dbus, is the company that is in charge of the bus lines that connect the different neighborhoods of San Sebastián. These city buses allow you to move around quickly and effectively. You can check the bus lines on the Dbus website. The hours vary depending on the lines. Most begin to circulate at 07:30 am and end their service at 10:30 pm. The stops include the schedule of each line and the frequency.
Dbus also has a night bus service, called "Búhos". Most of the night bus lines start operating at 00 a.m. and end around 4 a.m. The Owls lines operate exclusively on Fridays, Saturdays and the eve of holidays. All of them have as their starting point the Boulevard de Donostia.
The San Sebastián Metro, popularly known as Topo, connects San Sebastián with different surrounding municipalities. Currently, works are being carried out in the city in order to provide more stations.
Dbizi is the electric bike loan service offered by the San Sebastián city council. Dbizi has a large fleet of electric bicycles deployed throughout the city. If you want to move around the city quickly and ecologically, you can get one of the vouchers offered through their website: dbizi.com.
The city also has a modern fleet of taxis that operate 24 hours a day. The rates are official and are metered. Taxis do not usually stop on the street, so it is best to go to a taxi rank or call Taxidonosti (943 46 46 46) or Vallina Teletaxi (943 40 40 40). Remember that you will not be able to use the Mugi card as a form of payment for a taxi ride.
Fitness and Health
Among the favorite places to practice outdoor sports is Mount Ulía. Although it takes effort to get to the side of the sea, it is worth it.
The Promenade of the Priests, located at the foot of Mount Urgull, owes its name to the long and quiet monastic walks that not so long ago, shepherds of nearby religious spaces did. Today it offers the possibility of entering a mountainous space in the heart of the city.
Inside the city, El Paseo de la Concha is the sports space par excellence in San Sebastián. Here you will see runners, walkers and cyclists every morning and afternoon.
Zurriola beach is the favorite for surfing but also for cycling, skateboarding or running.
As for gyms, Sparta Sport Center (Julio Caro Baroja Plaza, 1) offers a variety of exercise machines, fitness advice so you can achieve your goals in the shortest time possible and a large number of different classes and programs. In addition, it has its own nutritionist to help obtain the best results.
The AltaFit Donostia gym (Peña y Goñi Kalea, 12, 14), has facilities of more than 1.800 square meters, 200 training stations and excellent experienced professionals. It offers around 113 different activities apart from its group classes.
The Easo women's gym (Easo Kalea, 53), is located in the heart of Donostia. It has more than 700 square meters dedicated to the care and health of women. Its multidisciplinary team of professionals is trained to provide a comprehensive solution to women and improve their quality of life. It has two rooms for activities and has additional sauna and solarium services. It offers Powerpump, Pilates, hypopressive method, indoor cycle and various types of dance, zumba, hip hop, among others.
Gyms BETiFIT (Portuetxe Kalea, 23A) is a gym that is committed to innovation and technology. It has 3 locations, one of which is located in Igara. It has very complete facilities, cardio areas, machines with monitors, a weight training area, indoor cycle classes, free weights and Pilates. It also provides physical therapy and nutrition services.
San Sebastián People
The people of the Basque Country tend to have a high cultural level of education and you can talk with them about almost any subject. However, you have to be careful about calling them Spanish, because not all of them are in favor of the region belonging to Spain. Bear in mind that they have another language, another culture and for a long time they remained isolated in the mountains.
If you go first to another city in Spain, you may hear many opinions about the Basques and their personality that also have a political tinge. It is convenient to go with a blank mind and form your own opinion. The Basques are one of the kindest and most beloved people you will find in the country.
Although they have some customs similar to the other regions of the country, they are quite different in character. They are usually rough at the beginning and it is difficult to make them feel confident but once achieved, they are attentive and very good friends. Camaraderie and friendship are two important things in their culture.
When they welcome each other, they kiss each other on the cheek twice as a friendly and warm sign, like the rest of the Spanish. However, with strangers they usually greet in Spanish or Basque but without touching.
Basques are very respectful of everyone, including tourists. Local residents are in no rush, they will gladly answer questions of interest, show the way and even accompany you. However, they appreciate and respect personal space. Nobody gets in the bus skipping the queue, and everyone is extremely polite. Unlike the inhabitants of the other provinces, they are considered people of few words. They are also very punctual people, unlike the rest of Spain, and in general they are people who can be trusted since here complying with what is said is culturally important.
San Sebastián Insurance and Medical Care
In Spain, there are two systems: the public health system, which is free, and the private health system.
Depending on where you live, you will have to register with the health center in your neighborhood. Registration is done with your Social Security number and your address. At this health center, you will be appointed a family doctor. It is to this doctor who you will have to contact for any consultation and who will then refer you to a specialist if necessary. To get an appointment, you will have to go to the health center or call the center by phone.
Although the Basque Country has one of the best health systems in Spain, the country is in 18th position in Europe for the quality of its health system, behind countries such as Croatia, Estonia or Macedonia.
The only way to avoid long waiting lists and to avoid queuing at the hospital or visiting your doctor is to have private health insurance. Private insurance offers a choice of doctors and hospitals and fast and direct access to specialists. It also entitles you to additional services that are excluded from the public health system such as preventive check-ups, acupuncture, podiatry, dental services, etc.
In addition to the classic guarantees (hospitalization, primary medicine and specialties) it is important to verify well if the insurance we are contracting is adapted to our needs. For example, if you travel regularly through the European area, you must check if it covers other countries.
Keep in mind that doctors here do not usually speak English and you will need someone who speaks the local language if you do not speak Spanish or Basque.
Make sure you are fully covered by reading our full Digital Nomad Travel Insurance guide.
Jobs in San Sebastián
The Basque Country is considered an economic power since it has one of the most developed Spanish economies despite the global economic crisis, making it one of the most important Spanish regions after Madrid and Catalonia.
It has its own economic, fiscal, educational and industrial structures. Therefore, it attracts young professionals seeking job opportunities, as well as foreign investors. Almost 9% of the Basque population is of foreign origin, the majority coming from Latin America, followed by the EU countries and North Africa.
Industry, services, commerce, tourism, construction, agriculture and fishing are the main economic pillars of the region. Industry, by itself, contributes around 30% of the Basque GDP. Steel, textiles, aviation, automotive, medical sector, pharmaceutical sector and handicrafts are the main industrial fields. Over the years, tourism has also become one of the main economic pillars.
The labor market in the Basque country is quite open to local and foreign labor compared to other Spanish regions. Most of the jobs available are in the fields of industry, construction, commerce, and services. Those with strong language skills are more likely to be employed in tourism, hospitality and catering.
 Companies such as Grupo Arteche, Aernova, Euskaltel, Gamesa, Iberdrola, Ibermática, Mondragón Corporación and Sener often require skilled labor.
I recommend sending spontaneous job applications to the main companies operating in the region, looking in the classifieds of the main newspapers and in Linkedin. Also in: Servicio de empleo del País Vasco, Opcion Empleo and Mil Anuncios.
Keep in mind that in order to work in Spain you will need a working visa. 
Check out our Digital Nomads Jobs Postings to find the best jobs available for Digital Nomads.
Nomad Friendly
Value for Money
Internet
Workspace
English
Food
Safety
Health
Transportation
Friendly
Quality of Living
Cost of Living San Sebastián
San Sebastián is expensive but it is also one of the cities with the highest average salary in all of Spain, which means that those who live in the city enjoy a great purchasing power.
Being a major tourist destination, it is often difficult to find available accommodation. Renting a furnished one-bedroom apartment has an average cost between 685 and 960 euros per month. However, you always have the possibility of sharing a flat with other people paying around € 400 for your own room.
As for the expenses associated with housing, expect to pay between € 150 and € 200 per month. The broadband internet rate has an average cost of € 45 per month.
If you want to buy a property, keep in mind that the square meter costs around € 3.700 and € 5.900 in the suburbs and the center, respectively.
The cost of the one-way ticket in local urban transport is set at € 1.70 but you can buy a monthly pass for € 42.5. If you want to take taxis, it will charge you € 5.33 with an average increase of € 0.71 per kilometer traveled.
Staying in shape requires an expense of € 49.5 for the monthly pass to a gym, well located and with modern equipment.
The expenses in the supermarket are always directly related to your preferences. A basic monthly expense would be € 250. Eating in a cheap restaurant will cost you at least € 13 while in a good one you will spend at least € 30 per person.