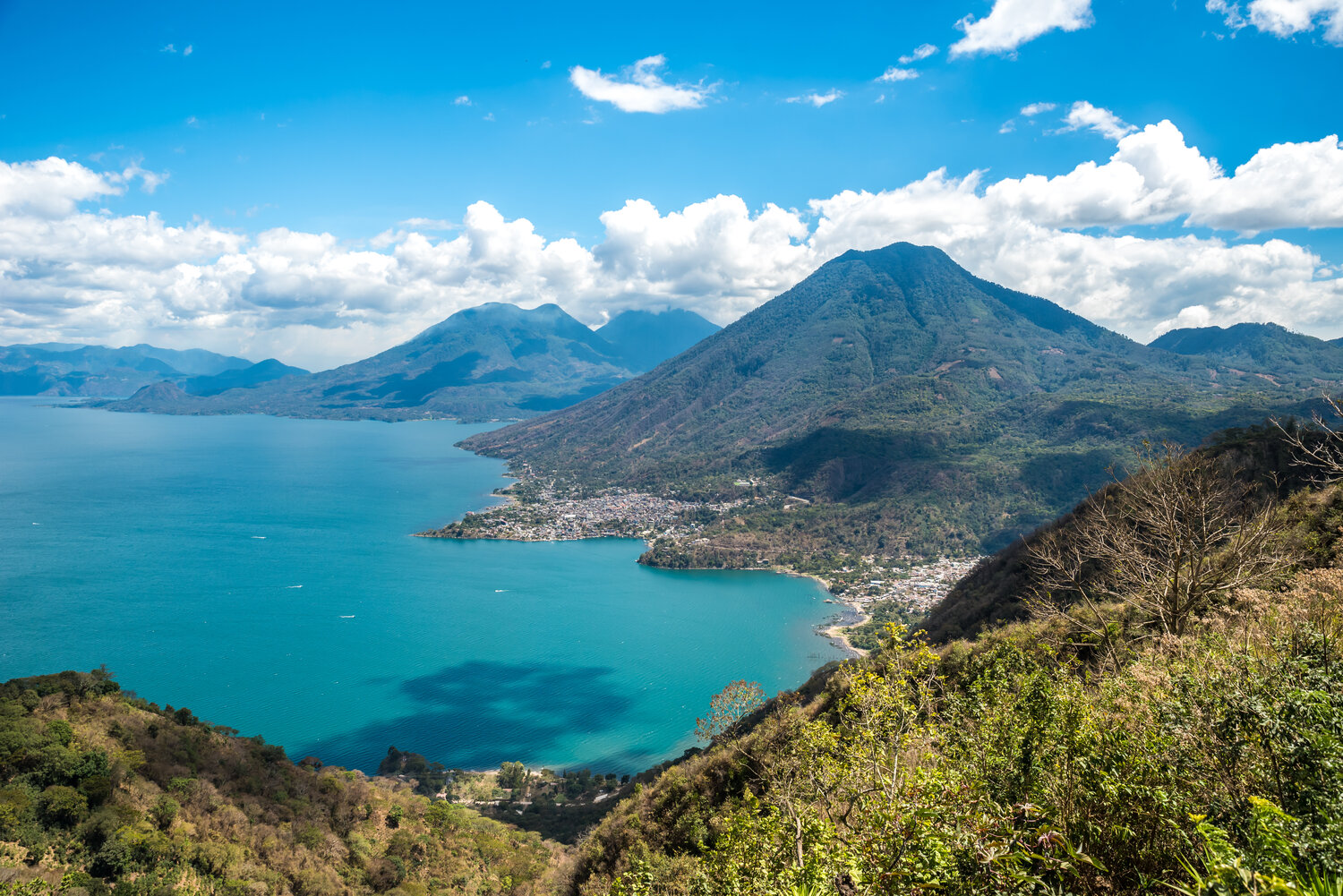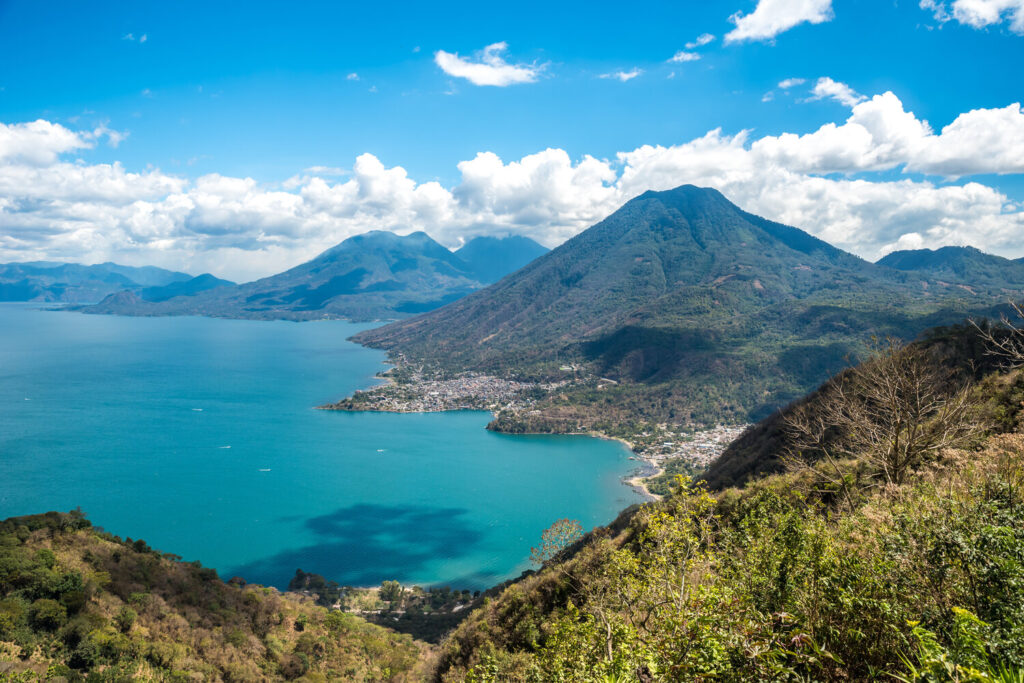 A Digital Nomad Guide to San Pedro
Guatemala is located in the Northern Hemisphere and is situated in Central America between Mexico, Belize, El Salvador, and Honduras. This beautiful country is covered in tropical jungles, volcanoes, and stunning mountain ranges, and the weather is warm all year round.
This ancient Mayan country has much to offer, from exotic flora to some of the world's rarest animal species, so it is a great place for nature lovers. Guatemala is still a developing country with infrastructure developments in the process which means it is easy to find an authentic way of life across Guatemala, but it is sometimes more difficult to travel within the country.
San Pedro La Laguna is located on Lake Atitlan in southwestern Guatemala. Lake Atitlan is situated in the Guatemalan Highlands of the Sierra Madre mountain range, and it is considered one of the most beautiful lakes in the world. It is also the deepest lake in Central America. There are many small towns and villages around the lake where the locals live in a traditionally Mayan way of life, and tourists come to visit, and some even stay to become ex-pats and part of the village.
Lake Atitlan is known for its unreal sunsets and dramatic volcanic surroundings, and it is a nature lovers and hikers paradise. There is so much to do in San Pedro itself, as well as in neighboring towns around the lake.
Nomad Friendly
Value for Money
Internet
Workspace
English
Food
Safety
Health
Transportation
Friendly
Quality of Living
Living in San Pedro Overview
| | |
| --- | --- |
|  Meal, Inexpensive Restaurant | $3.89 |
| Domestic Beer (1 pint draught) | $2.60 |
| Cappuccino (regular) | $2.60 |
| Loaf of Fresh White Bread (1 lb) | $1.18 |
| Water (1.5 liter bottle) | $0.50 |
| One-way Ticket (Local Transport) | $0.65 |
| Basic Utilities (Monthly) | $ |
| Internet | $51.90 |
| Fitness Club (Monthly) | $ |
| Apartment (1 bedroom) in City Centre | $337.36 |
Currency: Indonesian rupiah (Rp)
[erw_exchange_rates_widget lg="en" tz="0″ fm="IDR" to="EUR,USD,GBP,AUD,JPY,RUB" st="primary" cd="" am="15000″][/erw_exchange_rates_widget]
ATMs
Max Withdrawal: Rp 3,000,000
Withdrawal Fee: Rp 30,000 – Rp 50,000
Use of Credit Cards: Mostly Cash
Digital Nomad Personal Experience in San Pedro
I had the opportunity to be based in San Pedro on Lake Atitlan back in 2017 for around one month. The town is a great place to be as a digital nomad as there are many like-minded people in the area as well as backpackers. 
I stayed here while on a road trip around Central America, so I entered from Belize by car, and the country was difficult to cross, so I highly recommend flying in. The drive took quite a few days, and the roads were difficult to drive, but it was an epic adventure. I got to see some of the most unique and remote villages on the way to San Pedro. 
I chose to stay for around one month in San Pedro because I had a friend living in the town and had heard that it was a popular place to stay. There were great bars, restaurants, and places to stay, and it was a great place to be located as there were many excursions from San Pedro. I spent a lot of time hanging out in cute coffee shops and enjoying the natural sites around the lake. 
There are many towns around the lake that are popular with ex-pats, and there is always something going on, so while it was small and remote, there were a lot of activities and people around to keep you entertained.
Work in San Pedro
As of 2021, there are no official coworking spaces in San Pedro itself, but there are many around Lake Atitlan. When I visited back in 2017, the area was bustling, and there were many backpackers and ex-pats setting up in the area. There is plenty going on, so as long as you are happy to work from a hostel or from a café, then you will have plenty of choices. I will list below some of the coworking spaces around the lake as it is very easy to take a boat between major hubs, so you may choose to visit another town for a few days. Just remember to take a dry bag as the boats can often go quite fast, so the last thing you want is for your laptop to get wet.
San Pedro La Laguna is very popular with backpackers and is a vibrant town considering its size. It is the perfect place to be if you want to relax and have fun while working casually. I wouldn't suggest that San Pedro La Laguna is the right place for someone who needs consistent high-speed internet and a quiet workspace. The town is better suited to a digital nomad who has smaller working hours and relies less on internet access. For example, I am a writer, and I enjoy working from buzzing cafés, so for me, this was a great location; however, I imagine for a software developer or similar, it may be more challenging to work from San Pedro La Laguna.
During the rainy season, there are often power cuts, meaning power and wifi are down, so make sure to charge up as often as possible and consider getting a phone plan with data. When I was in Guatemala, I took out a pay-as-you-go sim plan with Tigo. It costs me very little to have a set amount of data usage for one month. Although it didn't work in rural areas, it worked well when I was at Lake Atitlan and in cities. Here are some of the best places to work as a digital nomad in San Pedro.
Best Places to Work in San Pedro
Sababa
Sababa is a really relaxed café in San Pedro with two levels, the top giving beautiful views of the lake. The café is simple and offers a great variety of food for breakfast, lunch, and dinner. This is great to work from; however, there are unlikely to be power outlets available, and it can get very busy at peak times. 
Fifth Dimension
This is more of a restaurant than a café, but during the day, it has stunning views across the lake and can be a great place to work from. They also offer some of the healthiest food in town, so if you want to be based somewhere where you can eat, drink, and work all day, then this is a great place to be. There may be power outlets in the inside areas, but it is unlikely, so make sure to charge everything before. 
La Terraza
This is close to Sababa but is often quieter and not as popular, although still good quality. If you want a quieter environment with fewer people, then this might be a better option for you to work from.
Idea Connection
This is a cute Italian-style café and bakery, which makes a relaxed setting to work from. As well as a nice atmosphere you will have great coffee and food while you work here.
There are many more cafes in San Pedro that you can check out when you are there, as this will help you to find a vibe that suits your working needs. The biggest problems you will find are the lack of power outlets in cafés and the quality of wifi. Most cafes will offer free wifi, but it isn't always fast. 
There are a number of other towns around the lake that attract digital nomads, so here is a little about those areas. 
San Marcos is just across the lake from San Pedro La Laguna, and it is known as the 'zen' village. This is where many go to meditate, practice yoga, and relax. There are lots of ex-pats here, but it may not be so practical for working from. However, it depends on what you require to be able to work.
Panajachel is the most popular town for digital nomads around the lake, and you will find a few coworking hubs here. Selina is the biggest one in the town, and it is a global chain of coworking and coliving venues. They offer great coworking space, with excellent facilities and a variety of membership options. This is a great place to be if you want to be part of a like-minded community. It is possible to base yourself in San Pedro and commute to Panajachel every day as the boat ride is only 30 minutes and costs just over $3 USD each way. If you were in need of a serious workspace, then the Selina in Panajachel is a great option. So if you can deal with the commute and added costs, then this may be a good option for someone on a higher budget and who enjoys an adventurous commute.
Best Places to Live in San Pedro
Best Neighbourhoods
San Pedro is relatively small, so it makes it very easy to choose an area to live in. Generally speaking, there is the 'tourist area' where most visitors stay, and then there are more residential areas for locals. 
Most of the accommodation is based by the waterfront, which tends to be the tourist area. This is the safest area to be in as it is designed for tourists so you will find many ex-pats with businesses along there. It is still suggested to walk around in groups at night or at a minimum in pairs. Along the waterfront is the safest place to stay in the city as it is a hub for tourists.
The waterfront is the best place to stay as you will have everything on your doorstep. There are areas that are quieter than others, and this is mainly due to the fact that most of the bars and clubs are located on the waterfront. For example, there are pockets of areas on the waterfront that have a few bars in a row, for example, where Sublime Bar is located. This is a little bit of a party street, so it can sometimes be loud at night. But the further you head east along the waterfront, it will get quieter. But you will still come across some bars along the way.
Above the waterfront, as you start to go uphill, you will notice a change from touristic shops and cafes to local markets, and this is where most of the locals live. It slowly becomes a traditional Maya town, with women making fabrics and the men working hard. It is unlikely that you will find accommodation in this area as it isn't really designed to accommodate tourists. It is great to visit during the daytime, and tourists are welcome, but it is unlikely you will stay in this area.
Find an Apartment in San Pedro
Finding accommodation in San Pedro is fairly easy as it is a small town. There are the usual websites such as Airbnb and Booking.com, and these will most likely be your best option for finding an apartment. It is not common for locals to own second homes to rent out as apartments, so the most common accommodation type you will find is hotels and hostels. There are some places available on Airbnb that are advertised by ex-pats in the area. If you are happy to be based on the edge of the town, then you will also come across eco-lodges which could be another accommodation choice for you.
Airbnb
There is a good selection of accommodation on Airbnb in San Pedro, so making a decision will most likely come down to budget and location. It is possible to find private apartments on Airbnb for as little as $540 USD per month. Most of the apartments on Airbnb are at least one bedroom; some sleep more, which would be perfect for a group of digital nomads traveling together. The great thing about Airbnb is you can communicate with the owner before to check internet speed and facilities. You can also find small houses or apartments with multiple rooms for rent. This is a great way to get some fantastic accommodation for a group. For example, on Airbnb, you will find a beautiful four-bed apartment totaling around $2,888 USD per month. If you are a group of four, then that drops to around $722 USD per person for one month. 
Hotels
There are many hotels and guest houses which offer private rooms in the building. This is a good option if you are happy not to have access to a kitchen and want to be around others. There are a variety of hotels, some cost up to $40 USD per night; others can cost as little as $15 USD per night. It all depends on location, facilities, and quality. The best way to find a hotel is via booking.com as they have a great selection and sometimes you don't pay until arrival. One of the best hotels to stay in is Hotel Mikaso, which offers private rooms and dorms. Private costs around $30 USD per night depending on the view you want; Hotel Nahual Maya, Sababa Resort, Casa Blanca, and Hotel Xetawaa´l are other good hotels to stay in.
Eco Accommodation
It has become increasingly popular to offer more tranquil accommodation around Lake Atitlan as it has become a destination for people to unwind and relax. This means there are some great places to stay in the area which are a little more zen. They are often located just outside the town and a little more remote, but it is very easy to travel to and from these areas of tranquility to the town. Two of the best eco-lodges are Eco Hotel Uxlabil Atitlán and Eco-Hotel Mayachik'. Both offer private and share accommodation with prices starting at around $15 USD per night.
You may find it difficult to find all available places to stay as not all hostels and hotels have websites etc., so you may find when you get there that you find somewhere that you would prefer to stay. When I went, I had nothing booked and waited to see what was there. For me, this was great as I got a real budget deal in a small guest house, which I would never have found online. However, there are risks that come with this style of travel. I found the Lonely Planet website had a good summary of hotels and hostels in the area, so if you want more of an idea of accommodation, then this is a great resource.
Cheap Places to Stay in San Pedro
The best low-budget accommodation in San Pedro would either be staying in hostels or in locally-owned guest houses. When I stayed, I had a private room and bathroom in a guest house which was perfect for me as I wasn't bothered about having access to a kitchen as eating out was a lot always cheaper than buying ingredients and cooking. It was also a great way to get to know other nomads who happened to be staying there too. For me, the social element drew me to communal living. I think if you don't need access to a kitchen, then this is a great way to save a bit of money and to be immersed in a community.
Hostelworld
Hostelworld has a few hostels listed in San Pedro, and these tend to be the busier and more popular ones. Two of the most popular are Hostel Amigos and Mandalas Hostal. Both are great places to stay if you are looking for a community and a central location. Hostel Fe is known as a party place, and it is very affordable. If you want to be immersed in an energetic vibe, then this will be a good place for you to stay. They offer beds in dorm rooms for around $9.50 USD per night, which would total to be around $285 USD per month. Mandalas Hostal is a better option if you are looking to have your own space. They offer smaller dorm rooms or private rooms for around $21 USD per night, which would be around $630 USD per month.
Other hostels in San Pedro are Mr. Mullets which offers privates for $26 USD per night, Zoola San Pedro, which offers a bed in a dorm for around $9 USD per night, which is $292 USD per month.
San Pedro Visa
Guatemala is fairly easy for most nationalities to visit as they offer visa-free travel to a handful of countries, and it is part of the Central American Border Agreement. This means that anyone with EU, UK, Canadian, Australian or American nationality can enter Guatemala visa-free for up to 90 days. You will not need proof of exit either; however, due to the CA-4 agreement, you can only stay a maximum of 90 days between the countries in the agreement. For other nationalities, it is best advised to contact your embassy in Guatemala to find out your requirements for entry as it varies between countries.
If you want to stay longer than the 90 days, once you are in Guatemala, it is possible to apply for a visa extension of 30 days if the application is made before your 90 days is up. You must submit your application to the Migration Directorate in Guatemala City. Overstaying your visa or your allocated total of days will result in a penalty fine which must be paid before you leave the country.
If you do need to obtain a tourist visa before entry, then a single entry visa will cost around $25 USD, multiple entries will cost $50 USD, and for a business visa, it will cost around $50 USD. But please check with your embassy for country-specific information. 
If you decide that you want to reside in Guatemala, then you can apply for a long-stay visa which will last for up to two years. In order to do this, there are certain requirements that you must fulfill, and this is easiest done with an employer in Guatemala as you will need a Guatemalan guarantor.
Culture and Food in San Pedro
Guatemalans are passionate about food, and they serve up a great variety of both traditional and fusion foods. There are many traditional Guatemalan dishes that you have to try when visiting and many specialties of the region too. Some examples of popular dishes are tostadas, empanadas, papusas, chuchitos and boiled corn. The great thing about San Pedro is that there is something to suit every budget, and the food is very affordable. The pricer food tends to be western-style restaurants serving pizzas and burgers, but there is a great variety of international cuisine that is affordable for everyone.
Street Food
This is what I mostly ate when in San Pedro as it was very affordable, delicious, and great value for money. I would visit the local produce market where you can eat like a local and pay local prices. This is the best way to really get under the skin of a culture and understand its people. I always believe that food connects people, and the best way to experience this is through street food. I remember you could get delicious sandwiches from the market that were packed full of fresh vegetables for around $0.50 USD. Although I didn't eat there every day, I tried to visit every few days as it had a huge impact on reducing my spending and allowed me to experience something new. Popular street food includes tomales, tostadas, empanadas and Elotes locos. You will find that many street food stands pop up around lunchtime to serve their delicious homemade foods for the day.
Fusion or Foreign Cuisine
There is a great selection of foreign foods in San Pedro, so if you have a craving for something, it is likely you will be able to find a restaurant serving it. From Mexican to Japanese, you will find a mix of different eateries for such a small town. Here are some of the best restaurants serving up something a little different from traditional Guatemalan cuisine. Yakitóri de Cava is a small casual restaurant serving Japanese Yakitori, TacoMex serves up some great tacos, Pita Sabij makes pita and falafel wraps, and The Fifth Dimension is known for its fantastic pizzas.
Traditional Food
There are a number of cafés and retsurants serving a selection of traditional Guatemalan dishes such as Café Tz'utujil, Coffee Espresso, Pizzeria El Callejon, Restaurante Hanny, Café Atitlan and Café Las Cristalinas. You will find the best places to try traditional cuisine is by taking part in a cookery class. There are a handful of cooking schools offering classes to locals and tourists in the town. Check out things to do for more information. 
Special Diets
San Pedro is a backpacker's paradise, and as a result, many businesses cater to all sorts of dietary needs. It is a little more challengeing if you want to eat locally, but there is still a great selection. Some of the best vegan and vegetarian places to eat are Fifth Dimension, Sababa, Restaurante Shanti Shanti, Samsara's Garden, The Clover, Circles Café and Bakery, and Idea Connection.
San Pedro Nightlife
San Pedro is known as a party town, and it has buzzing nightlife for a town of its size. There is always something going on, from laid-back evenings playing games to dancing the night away on the deck of a bar overlooking the great Lake Atitlan. There is something to suit every digital nomad and every budget too. Here are some of the best places to go and how to find the best events in town.
Bars
Depending on what vibe you are after, there are many bars that have different atmospheres, catering to a variety of needs. If you are after a sports bar, then Alegre Pub is the best in town for watching live sports while enjoying a beer or two. They also serve up some great pub food too. If you are after cocktails, then Mixology Lab is a great bar to visit as they serve up some of the best and most inventive cocktails in town. For smaller, more relaxed bars, then check out Bar la Esquina, The Clover, and The Blue Parrot.
Nightclubs
There aren't really any nightclubs as such in San Pedro, but there are a few late-night bars that have smaller dance floors and play music into the early hours. The top locations where the party is are Sublime Bar, El Barrio, and The Deep End Bar. Most bars close before midnight, but some will play music into the early hours on weekends.
Events
Many bars will have weekly events during peak tourist season. This usually includes things such as pub quizzes, game nights such as beer pong tournaments, movie nights, and themed evenings. The best way to find out about events is directly through the venues, as they tend to advertise on their social media pages or websites. You can find all sorts of fun things going on, from pool parties to yoga and meditation events. 
Things to do in San Pedro
While San Pedro is a relatively small town on Lake Atitlan, there is plenty to do both in the town and in the surrounding areas. You will find a wide variety of activities that suit every budget and every need, and most excursions will cost between $10-$30 USD, so it really is possible to do a lot while there on a small budget. Here are some of the best things to do in and around San Pedro.
Markets

There are some fantastic street markets in San Pedro, located just up the hill from the waterfront. This is where you will get a true feel for the way of life on the lake, in the hustle-bustle of the produce markets where you can eat and drinks alongside the locals.

Cooking Lesson

A popular activity around the lake has become cooking classes. This is a great way to get to know the local cuisine and understand Guatemalan cooking. There are many tour companies offering cooking classes, but Mayan Kitchen is one of the best cooking schools in San Pedro.

Learn Spanish

San Pedro has a fantastic Spanish school, and it is a popular place for people to go to learn Spanish. You can book onto courses or just go for a few classes. They offer a 20-hour Spanish language course for around $190 USD.

Thermal Baths

Los Thermales is the thermal bath and spa in San Pedro, so if you are looking for a day of relaxation, then why not try out the volcano-heated waters.

Coffee Farm

Café Cristalinas offers a variety of coffee tours, so head over to the café to enquire for more information. San Pedro is surrounded by coffee farms as it is a mountainous region, so there is a great selection of tours.

San Pedro Volcano

If you want a serious hike, then why not make the journey up the 3,020-meter high Volcán San Pedro. The hike takes around 4 hours, and it is recommended to take a guide with you. You can also go by horse if you don't think you will be able to make the full hike. A guide will cost you around $13 USD per person for the duration of the hike.

Festival of San Pedro

If you find yourself in San Pedro in June, then make sure to check out the festival of San Pedro on June 24th. It is a day of celebration, food, dancing, and fun.

San Marcos

This is a small village across the lake from San Pedro, and it is a great place to go if you are looking for a zen experience. There is a community of ex-pats there that have created a relaxed hippy haven for anyone looking for a spiritual experience, to practice yoga, or for healing. There are hostels and cafes in the area, so it is possible to visit for a weekend.

Atitlán Women Weavers

Guatemala is known for its colorful and unique fabrics and weaving techniques. In 2014 the Mujeres Tejedoras del Lago Atitlán was formed to help local women weavers to preserve their traditional techniques and generate a sustainable income from their work. If you visit the center, you can take weaving classes and watch the women create some beautiful fabrics.

Tzunun' Ya'

Tzunun' Ya' is a small museum showcasing traditional Mayan culture and life. If you like history and want to learn more about the culture, then this is a good place to check out. Most tours are in Spanish, but it is possible to make an inquiry for one in English.

Shopping

You may not think of San Pedro as being a hub for shopping, as it doesn't have any shopping malls or major high street stores. However, it is abundant in local craftspeople selling a wide variety of handmade goods. There are some unique crafts techniques in Guatemala, and this fusion with a hippie nature has created some really unique products. When I stayed, I loved walking along the craft shops on the waterfront and seeing what unique things I could find. One thing that stood out to me was a lady making shoes from leftover fabric. She had a selection of shoes in her store, and she could custom make any shoe style for you. What was fantastic was the fact she was using what would usually be discarded alongside used tires for shoe soles. There are some beautiful crafts in San Pedro, so if you are looking for souvenirs, then this is the place to be.

Kayaking or Paddle Boarding

San Pedro Paddle is one of the best places to rent a kayak or board from. Many venues along the waterfront offer rentals at an hourly rate, and it can vary depending on how long you want to go out for. When I was there back in 2017, it cost around $3 USD per hour, but I expect it has changed now. It is best to ask around and try and haggle or make a bargain, especially if you want it for a long duration.

Hike Indians Nose

This is one of the famous small peaks on Lake Atitlan, and it is popular to visit for sunrise. The hike takes around 35-45 minutes from the town of Santa Clara La Laguna. I took a bus to the town and hiked by myself, but it is also possible to book tours too. I suggest going in a group as the hike begins in the dark before sunrise.
Best Time to Visit San Pedro
I visited San Pedro in February, and for me, it was a great time of year to visit. We had mostly dry sunny days, and the temperature was nice but a little humid in the afternoons. The most popular months with tourists are January through to March and then from May through to December as these months experience the best weather. Average temperatures for these months hover around 20°C (68°F) and 25°C (77°F). 
If you don't want to visit during the rainy season, then you are best to avoid May, June, July, August, and October as these months have the highest chance of rain. The warmest month is April, with an average maximum temperature of 26°C (78°F) and the wettest month is September. 
The dry times of the year at San Pedro La Laguna are in January, February, and December being the driest. And the coldest month is January, with an average temperature of around 22°C (71°F).
Due to the subtropical climate, humidity is often high, and there is often rain and storms. Along with this climate comes regular power cuts, which is something to keep in mind as a digital nomad.
San Pedro for Families
San Pedro is a great town for backpackers, but it may not be so well suited to families. This is mostly due to the lack of facilities and the party-like vibe. While it may be fun to visit with a family for a few days, it is unlikely that you will enjoy the atmosphere longer term. The best option is to get in contact with ex-pats in the area to find out what facilities there are and how they like it. When I visited, I took a boat over to San Marcos, which I would say may be better suited to families looking for an 'off grid' lifestyle. There was a large ex-pat hippy community there with children, but not many families in San Pedro itself. 
If you want to try it out, then I would recommend staying in a quieter hotel or perhaps one of the eco-lodges as you are more likely to have a more enjoyable time. It can be very noisy at night along the waterfront, with the bars and restaurants running through the evening and early hours. But if you are located in a quieter area and have a hotel with onsite facilities, then you are more likely to have an enjoyable time. 
There are plenty of activities to do in the area that are child-friendly such as cookery classes, hikes, and more. Expat.com and Expatexchnage.com are great places to ask foreigners in the area about facilities such as schools, daycares, and accommodation for families.
Living in San Pedro
San Pedro Transportation
Getting around San Pedro itself is simple as it is a fairly small town. Although I had a car while there, I actually walked almost everywhere as the main strip is not very big. I also used the tuk-tuk taxis from time to time as these can be a very cheap and quick way of getting around town.
Tuk-tuks
The tuk-tuks are the most common form of 'taxi' in San Pedro. You will see them mostly parked up by the main dock on the waterfront. Small single journeys cost around $1-2 USD, so it can be a very cheap way of getting around. 
Boat
Traveling by boat is the most efficient way to get across Lake Atitlan. If you want to visit another town or village that is across the water, then make sure to check out the boats as an option. The road quality in Guatemala is very poor, so driving can take a long time when compared with crossing the Lake. Known as the public water taxis, you will find the timetables at the dock and information about tickets. There are many routes across the lake, and most will cost you around $1.30 USD to $3.20 USD.
Chicken Bus
All across Central America, you will see the beautifully and brightly painted school buses. These are used as public transport by locals to connect villages and towns. They are very cheap to ride, around $0.25 USD per ride, but they can get very overcrowded.  Most locals will cram in and fill the buses so much that you can hardly move. This can sometimes get quite uncomfortable for long journeys, especially in the warm season when humidity is high. They will often have a route that they run daily and a rough schedule which can be found at the bus stop. 
Shuttle Bus
There are many mini-bus/ shuttle services that run between major towns and cities. This is a great way to travel to and from surrounding areas. For example, if you fly into Guatemala city, then you can take a shuttle very cheaply to Antigua or to Panajachel for around $30-$40 USD. If you are traveling from the airport, then it is better to go to Panajachel and then take a boat across Lake Atitlan rather than drive to San Pedro as the road condition worsens and the boat is quicker.
Fitness and Health
Keeping fit in San Pedro can be easy if you are open to a variety of forms of exercise. The town is fairly small, so you won't find many major gyms, but there are a few fitness centers in the town. The area has become very popular with yoga retreats, so there are a number of yoga studios in the area and a handful of gyms. Below are some options for staying fit in San Pedro.
Yoga Studios and Gyms
Yoga is a popular form of exercise on Lake Atitlan, and the best studio in San Pedro is Yoga San Pedro. There are a number of classes available, but you will have to enquire when you arrive as there is no website or social media pages. As for gyms, there is Destroyer Nufos GYM, San Pedro Gym, and Fitness Mania are the best. Most have contact phone numbers but will possibly only speak Spanish, so it will most likely be easier to communicate when you get there. Monthly membership is very affordable in Guatemala, and it will cost around $15 USD. Yoga classes can vary in cost depending on if you want to sign up for multiple sessions or if you want to just join for a one-off class. You should expect to pay anything from around $5 USD upwards per class.
Running and Hiking
One of the best things about being based in San Pedro is having access to nature. You are literally surrounded by volcanos and are in a mountainous region. This means that hiking can be a great form of exercise and you get to see some incredible views of the lake. There is also the option of running along the waterfront and around the town. There is a small incline that can make a great workout for those who are interested in trail running.
Watersports
Lake Atitlan is great for watersports such as kayaking and paddleboarding. This is a great way to keep fit while seeing the area and exploring the lake. Some people may choose to swim in the lake as exercise, too; however, there are some areas that are a little more polluted than others, so make sure to be vigilant of where you enter.
San Pedro People
Guatemala is known as being the heart of the Mayan world, and you will see that this ancient culture still lives on across Guatemala. Their cultural fusion of Mayan, European, and Caribbean influences has created a very unique, vibrant population. Traditions from all parts of their heritage play important roles in everyday life, and this is celebrated through carnivals, festivals, and food.
Although Spanish is the official language of Guatemala, there are around 22 different languages that are spoken around the country. Most of these derive from Mayan culture, and many of them are still used in the more mountainous and remote regions of Guatemala. Each language comes from an indigenous Maya group. The population of Guatemala is evenly spread between indigenous Mayan groups, mestizos who are a mix of Mayans and Europeans, Europeans, and finally, ladino's who are of Mayan descent but choose to dress and live a westernized lifestyle.
San Pedro is a unique town as it is located on the high mountainous Lake Atitlan. Here you will find that more Mayan traditions are followed in the way of living. You can see evidence of a more rural way of life as there are no major cities nearby. One of the main jobs in the area for locals is fishing on the lake, and another is running coffee farms in nearby villages. 
The area has become quite a tourist hotspot due to a drive from the tourism board to encourage foreigners to the area. Many facilities and attractions have been created to draw people to the area to help create more of an economy for locals from tourism. San Pedro has become popular with hippy types from around the world, and there is a visible difference between the local's way of life and ex-pats in the area. In some ways, it is a shame that there is such a clear definition between the 'tourist area' and where the locals live, and while it is a safe and fun place to be, you can't help but notice this disconnection. 
Many of the locals don't speak English, but it is easy to get by in San Pedro as there is a high volume of English speakers in the area.
San Pedro Insurance and Medical Care
As always, it is advised to have travel insurance for both medical and belongings, and I would advise having it for Guatemala. Guatemala as a whole is pretty safe, but petty crime such as pickpocketing and having items stolen is quite common. 
I had my phone stolen from my hotel room, and a friend was pickpocketed in San Pedro; however, they were both scenarios where we had either left the room unlocked or had not been fully discreet. It is understandable being in a country that has a high level of poverty to experience these kinds of situations as a tourist, and I was never put in danger or threatened. They were simply 'easy' wins for the people in need. So always make sure to be vigilant and take out insurance on your valued items.
For medical care, it is suggested to take out insurance for Guatemala. This is mostly due to the lack of access to healthcare and reduced services due to the country's infrastructure. Whilst you will find that minor problems are easily taken care of, bigger issues may result in being flown to a neighboring country for treatment which can cost a lot of money if you don't have insurance. 
Most doctors or specialists are based in Guatemala City, which means that you may have a long journey if you are seeking medical help. There are medical facilities around Lake Atitlan, but the quality is very poor, and it can be difficult to travel around the lake due to bad infrastructure. Another consideration is language, as the most common language spoken by doctors is Spanish, so if you need help, you may need to take a translator with you.
It is advised to always carry a small first aid kit with you with essentials as resources are lacking in Guatemala. Always carry mosquito spray and protect yourself from mosquito bites as they can be carrying a variety of diseases in Guatemala.
Make sure you are fully covered by reading our full Digital Nomad Travel Insurance guide.
Jobs in San Pedro
Guatemala has many options for finding jobs; however, it will most likely be in the form of voluntary work. San Pedro is known as a party town, so it is possible that you may find bar work in exchange for accommodation or food, but it is not common to find paid work in this form. The smaller the town, the more difficult it will be to find work, so you may want to check out other places around the lake if you are looking for a paid job.
If you are looking for paid work in Guatemala, then your best option is to look online as there are many industries that will take on forgeries in Guatemala, such as working in the travel and tourism sector. The best place to look for jobs within the tourism sector is via websites such as goabroad.com, tecoloco.com.gt, overseasjobs.com, and opcionempleo.com.gt/. It is unlikely that any of these will be based in San Pedro as they tend to be jobs based in the capital Guatemala City.
Another option for paid work is through teaching English; however, you must be a native English speaker. Websites such as transitionsabroad.com /workinlatinamerica and eslemployment.com are good places to look for teaching jobs. Again it may be difficult to find a position in San Pedro as it is a small town.
There is also the option of volunteering, and there are many projects in Guatemala that require volunteers, and it is a great way to contribute and give something back to a country of its beauty. There are multiple conservation projects, various educational charities, and you will find a lot of volunteer programs through websites such as workaway.info, volunteerworld.com as well as visiting the Guatemala Tourism board website for registered volunteer programs.
Check out our Digital Nomads Jobs Postings to find the best jobs available for Digital Nomads.
Nomad Friendly
Value for Money
Internet
Workspace
English
Food
Safety
Health
Transportation
Friendly
Quality of Living
Cost of Living San Pedro
The expected cost of living in San Pedro is relatively low when compared with other popular locations in Guatemala; however, it really comes down to your lifestyle choices and needs. I was able to live for a very small amount because I walked everywhere, which was my transport and exercise, I worked from my guest house or cafes, and I ate street food. I went on a few excursions, but they never really cost more than around $20 USD because I chose the smaller, more local experiences.
On a low-end budget, you should expect to be paying around $885 USD per month. That is broken down into $310 USD on accommodation in the form of a bed in a dorm, around $300 USD on food per month providing you eat street food on a regular basis, $50 USD on coffees in exchange for a workspace, $60 USD on transport, assuming that you mostly walk around San Pedro and are happy taking buses, $15 USD on exercise and finally around $150 USD on leisure.
On a higher-end budget, you should expect to be paying around $1,513 USD per month. That would be around $550 USD in the form of private accommodation, $450 USD on food, which includes eating at mid-range restaurants daily, $118 USD on Selina coworking space, $180 USD on transport which would cover a daily commute to Panajachel coworking space and back, $15 USD on exercise and $200 USD on leisure.