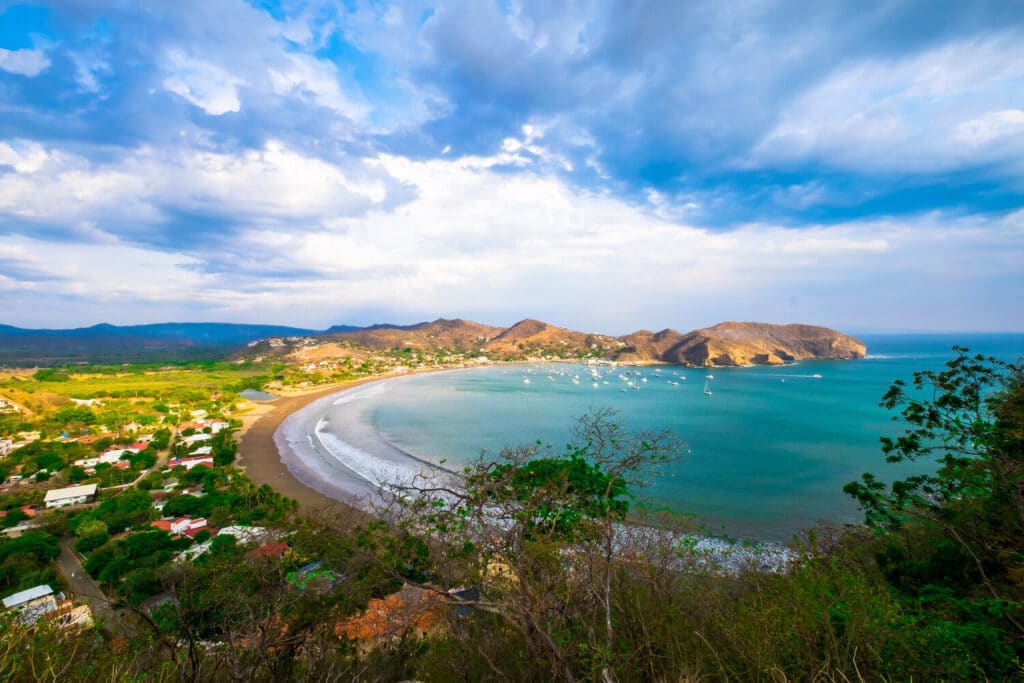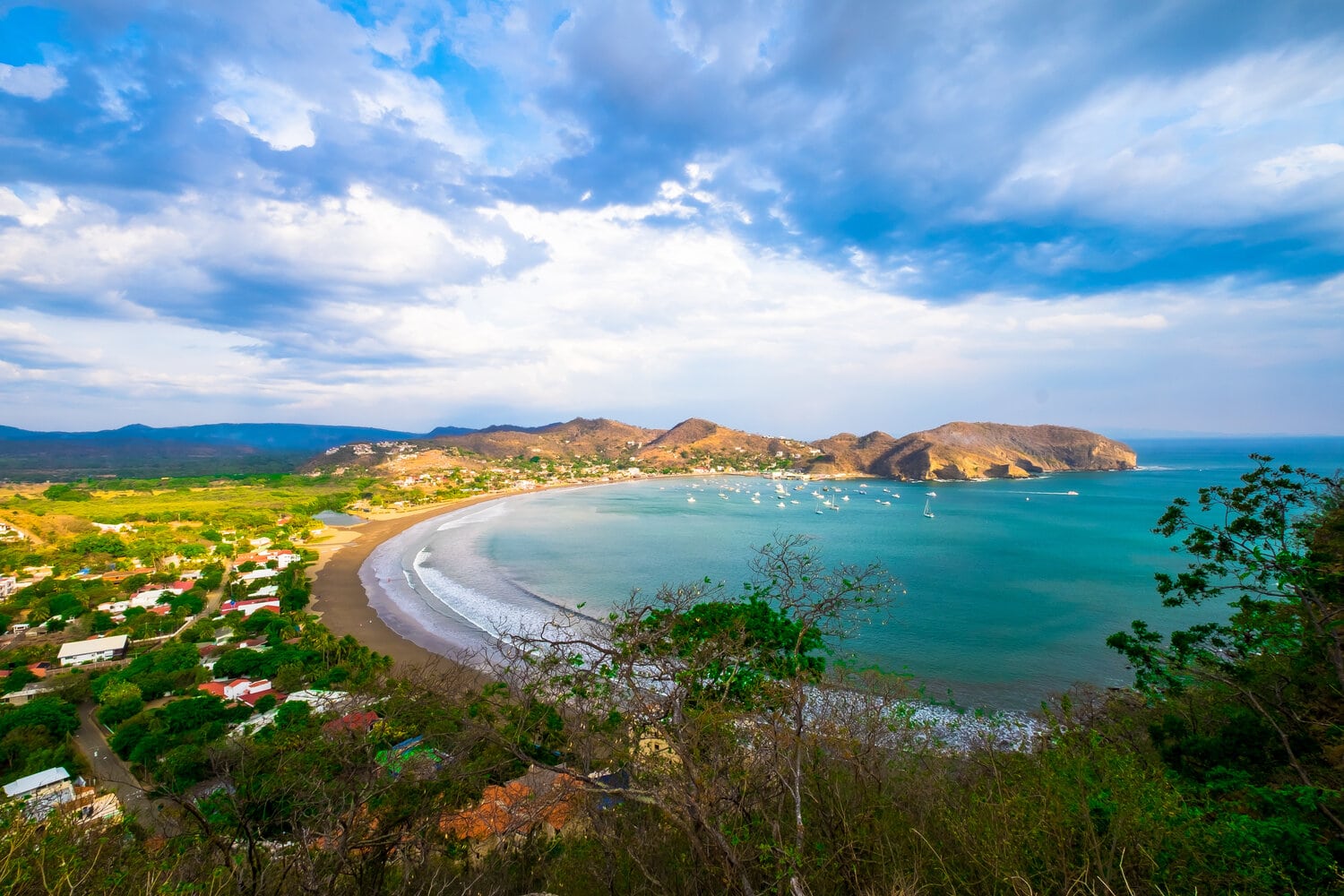 San Juan Del Sur, Nicaragua
A Digital Nomad Guide to San Juan Del Sur, Nicaragua
San Juan del Sur is a tiny beach town located on the Pacific side of Nicaragua. Known as "Port of San Juan del Sur" and a "Tourism City of Nicaragua", the town is very popular with surfers from all over the world, as well as vacationing local families from Managua. 
The town sits on a crescent-shaped bay, protected by hilly jungle. On top of one of the highest hills, on the north end of the bay, stands the Christ of the Mercy statue. This Jesus statue is one of the tallest in the world, standing over 400 feet tall. At the bottom of the statue is a small chapel that you can visit. The town also has a lighthouse that stands 15 feet tall and is solar-powered.
San Juan is the main location for all the Survivor: Nicaragua seasons including, Survivor: Nicaragua (2010), Survivor: Redemption Island (2011), Survivor: San Juan Del Sur (2014), and Survivor: Worlds Apart (2015).
However, most people come to San Juan for two things: the beaches and the parties. Known for their legendary Sunday Funday Pool Crawl and world-class waves, San Juan del Sur is vibrant and full of life. Not only is the town remarkably beautiful naturally, but many of the buildings, businesses, and homes in town have also been painted with bright, colorful murals adding to the electric feel of this magical beach town. 
Nicaragua sometimes has a reputation for being unsafe and while the country has seen some civil unrest in recent years (2018), the country as a whole, including San Juan del Sur, is generally safe. Petty theft is the most common type of crime reported and that can easily be prevented by taking certain precautions. For example, keep your important documents and cash locked away and out of sight. Don't leave anything unattended, especially in the car or the beach.
Keep in mind that Nicaragua doesn't have Uber or similar services. The easiest and most efficient way of getting around Nicaragua is by renting your own car. However, there is public transportation available, referred to as chicken buses, and many people take advantage of that to get the full Nicaraguan experience.
Nomad Friendly
Value for Money
Internet
Workspace
English
Food
Safety
Health
Transportation
Friendly
Quality of Living
Living in San Juan Del Sur Overview
| | |
| --- | --- |
|  Meal, Inexpensive Restaurant | $4.35 |
| Domestic Beer (1 pint draught) | $1.50 |
| Cappuccino (regular) | $2.88 |
| Loaf of Fresh White Bread (1 lb) | $1.78 |
| Water (1.5 liter bottle) | $1.75 |
| One-way Ticket (Local Transport) | $ |
| Basic Utilities (Monthly) | $157.00 |
| Internet | $96.67 |
| Fitness Club (Monthly) | $ |
| Apartment (1 bedroom) in City Centre | $412.50 |
Currency: Indonesian rupiah (Rp)
[erw_exchange_rates_widget lg="en" tz="0″ fm="IDR" to="EUR,USD,GBP,AUD,JPY,RUB" st="primary" cd="" am="15000″][/erw_exchange_rates_widget]
ATMs
Max Withdrawal: Rp 3,000,000
Withdrawal Fee: Rp 30,000 – Rp 50,000
Use of Credit Cards: Mostly Cash
Digital Nomad Personal Experience in San Juan Del Sur
I personally loved San Juan del Sur. This small beach town has a lot of things to offer in many different forms. There are endless outdoor and adventurous things to do, perfect waves with beautiful beaches. There are various bars and restaurants with live music and excellent food. 
San Juan del Sur is breathtakingly beautiful, the beaches are ideal and they get some super fun waves. While I was only there for a short time, the town totally stole my heart. I have since recommended it to anyone I know who is traveling through the country. I went there to surf and experienced so many more amazing things.
Work in San Juan Del Sur
It's getting easier to keep up with the digital nomad lifestyle in San Juan del Sur. For now, they have only a couple of official co-living and co-working spaces. One called Outsite and the other named Selina Maderas. 
Outsite has offices all around the world and including San Juan del Sur, which they deem one of their most scenic locations. This gated community includes two large homes with four bedrooms in each, private and shared bathrooms, and a studio apartment. Each house also includes a pool! The workspace is on-site and air-conditioned. From the workspace, you'll have the most incredible views of the ocean, garden, and locally painted murals. 
While staying at Outsite the amenities include reliable Wi-Fi, a fully-equipped kitchen, towels and bedroom linens, toiletries like soap and shampoo, and hair dryers. There are laundry services available, parking on-site and there are work desks in each room.
Best Places to Work in San Juan Del Sur
Selina Maderas
Selina Maderas is located 20 mins from San Juan town center and is a beautiful jungle getaway where you can hear howler monkeys with a beautiful view of the rolling hills and the Pacific Ocean. Selina Maderas offers various different room styles. 
There are specialty rooms, private rooms, private plus rooms, shared dorms, and private rooms with a shared bathroom. Guests can also enjoy a pool, surf lessons, shared kitchen, a bar, live music, and free parking. They offer yoga classes and happy hours as well. Selina Maderas is also pet friendly! 
coffee shops
San Juan del Sur also has various coffee shops and cafes with Wi-Fi available if Outsite isn't available, outside your budget, or just isn't your scene. Some of the best shops to check out are:
Best Places to Live in San Juan Del Sur
Best Neighbourhoods
San Juan del Sur is a pretty small town and not technically set up with "neighborhoods". Instead, they are called departments. As a tourist or visitor, you'll want to stay as close to the center of town or the beach unless you have your own car.
As mentioned previously, San Juan del Sur isn't broken up into typical neighborhoods. The closer you are to the beach, the better the accommodations and restaurants. However, it will be slightly more expensive. If you decide to live away from the beach, it would be in your best interest to have your own form of transportation.
Find an Apartment in San Juan Del Sur
Similar to most places in the world, a simple search online can bring many options of places to stay. There are many options when looking for a longer-term apartment, so shop around so you can find what is perfect for you. When you're looking for the right spot, keep in mind the location and if you will have your own mode of transportation if the house comes with Wi-Fi, etc. 
The most popular websites to use are:
Cheap Places to Stay in San Juan Del Sur
There are dozens of more affordable accommodations in and around San Juan del Sur. Since it's a tourist hub, hostels can be found everywhere. You can pretty much find any type of hostel you are looking for. There are loads of party hostels as well as more laid-back hostels if that's more your style. 
The best party hostels:
More laid back hostels:
San Juan Del Sur Visa
Nicaragua is pretty laid back when it comes to visas. Once you enter the country, you automatically get a travelers visa that is good for 90 days. If you plan to stay longer than 90 days, there are several options you can choose from to extend it. Citizens of Canada and Japan are given a 30-day visa. 
Border Runs
Especially from San Juan del Sur, many people take a border run to Costa Rica. Once you cross the border and cross back into Nicaragua, you are good for another 90 days. From San Juan del Sur you can drive or take a bus to Costa Rica. 
The border is open 6 a.m.–10 p.m. Monday–Saturday, Sunday closes at 8 p.m. You will have to pay a fee for exiting ($2–5) and entering ($10–13) Nicaragua. You will need your passport and cash as well as stamps on your passport from each side of the border.  
Sometimes the bus is easier but more time-consuming. There are always plenty of people making border runs so you can make a day of it and spend some time in Costa Rica. 
You can also plan trips to other nearby countries like Panama or El Salvador and get a new visa when you fly back into Nicaragua.
Lawyer
If you end up doing work for a trade job, working at a hostel, for example, many times the business owner can hire a lawyer to extend your visa so you don't have to leave the country. 
Culture and Food in San Juan Del Sur
The food and culture in Nicaragua are both very vibrant! There are brightly colored murals painted on many buildings in town and you can hear live music most nights. 
The traditional food you'll find in Nicaragua almost always comes with rice and beans called Gallo Pinto. They will come with breakfast, lunch, and dinner. Meals almost always come with some sort of meat or seafood. For example, chicken, pork, and/or fresh fish are your usual options to choose from. 
Must-try meals and snacks:
Chicharrones are a deep-fried salty pork skin snack. They are super salty and crunchy and can be quite addicting. 

Vigoron includes chicharron, yucca, and a cabbage salad.

Nacatamal is a corn flour stuffed with meat, usually, pork, mashed potatoes, and/or veggies, tied together in a plantain leaf then boiled.

Indio Viejo ("Old Indian")is a stew-like meal made with shredded meat, onions, tomatoes, and peppers and it is usually eaten with a tortilla.

Quesillo is a tortilla stuffed with cheese and served with cream, onion, vinegar, and chile.

Tostones are crunchy deep-fried plantains.
Beer is also a huge part of Nicaraguan culture. Toña and Victoria are the two competing brews in Nicaragua. Nicaragua is also known for its rum, Flor de Caña. This rum has won awards all over the world. Most nights you'll find both locals and visitors catching a beach sunset with drinks in hand.
Sunday Funday is legendary in San Juan del Sur. It is Nicaragua's biggest pool party. This pool crawl happens every Sunday and is a huge draw to the area.
Markets
San Juan del Sur doesn't have many of the typical markets that other places in Nicaragua have. In other areas, you'll find big open-air markets with lots of crafts and homemade jewelry and art, clothing, anything you can ask for really.
There are only a few markets in San Juan del Sur. The biggest and most useful are the Seafood Market and La Esquina where you can get and find your basic food and drink needs.
San Juan Del Sur Nightlife
A night out in San Juan del Sur is filled with good vibes. You can find places with live music and DJs where you can dance the night away. While it is more laid back than going out in the city, going out in San Juan del Sur is an unforgettable experience. 
The best places to go for a night out:
Just like going out in any other town or city, stay aware of your surroundings and don't leave your drink unattended. If you can avoid walking home alone at night, especially after you've had a couple of drinks, that would be wise.
Things to do in San Juan Del Sur
San Juan del Sur is not just partying, there are endless things to do in the beautiful beach town. 
Surfing
People come from all over the world to surf here. Whether you're an advanced surfer or just starting out, San Juan del Sur is a surfers paradise. There are four main surf breaks listed below. Many places offer lessons if you've never surfed before and want to learn how.
Playa Hermosa

–

This break has a private entrance with a $3 fee. The beach stretches over a mile and it makes plenty of space in the lineup. People can spread out and catch waves everywhere so it always seems less crowded than some of the other beaches. It's a great wave for any level of surfer. Located about 20 mins outside the town center, you can rent a board from Mango Rosa, grab food, use showers and hammocks. You will get the best waves at mid-tide.
Playa Maderas

–

One of the best and most consistent waves in San Juan del Sur, Playa Maderas is super popular with all levels of surfing. The best time to surf here is on a mid to high tide. It's 25 minutes north of the main town and can get a little bit crowded. There are also options to rent boards if you don't have your own.
Playa Yankee

–

Another private beach, Playa Yankee is also about 25 minutes from the town center. This wave is reserved for more advanced and experienced surfers. This spot can also be a bit more localized than the other surf breaks. There is nothing around at this break so make sure you pack everything you might need for the day.
Playa Remanso

– This break is the closest to town and super user-friendly. There are bars and board rentals on the beach so you can pretty much spend the entire day here and not get bored. The wave works best at a mid-tide.
Catch the Sunset
One of the most popular things to do in San Juan del Sur is to watch the sunset over the ocean. Locals and tourists all flock to the beach, usually with a drink in hand, to watch the spectacular show.
Hiking
There are a few hiking trails in and near San Juan del Sur that are worth checking out. 
Playa el Toro

is the beach that was featured in the Survivor series. From Mango Rosa, you can take a guided hike through the jungle, down the coast, and onto a breathtaking beach.
Parque de Aventura

has guided and non-guided walks through the jungles and beaches. Taking a guided tour is recommended because they will point out flora and fauna native to Nicaragua as well as the real locals like sloths, monkeys, and different birds and reptiles.
The Jesus Statue

is one of the largest in the world and you can hike to the base of it as well as a tiny chapel located nearby. There are two ways to get to the statue. You can follow the beach and climb a long set of steps or you can go through the neighborhood which has signs heading towards the statue.
The Lighthouse and Fortress

are less popular than some of the other hikes but just as beautiful. There are also signs around town pointing the way to the lighthouse. As these paths are less traveled they are slightly harder to find.
La Flor Beach Park

is known for its sea turtles. There is a small entrance fee to the park with endless things to see. They offer guided tours and are home to hundreds of plant and animal species. There are several trails throughout the park with some going along the beach and others going deeper into the mangroves and jungles. 
The Petroglyph & Waterfall hike

is absolutely stunning. You have to get permission to go here as it's on private land, just check in at the front desk of Da Flying Frog Adventures. Along the trail to the waterfall, you will find a large rock with a hunting scene carved into it. It's rumored to be nearly 1500 years old. At the end of the trail is a waterfall but depending on the season, it could be anywhere from a small trickle of water to a gushing one.
Another waterfall hike is called

El Encanto

. The trail follows the river bed where you might have to climb over some boulders. Similarly, this waterfall is more impressive during the rainy season. 
The

Radio Antennas

hike is a bit longer than the rest but takes you to the top of a mountain, rewarding you with indescribable views. The head of the trail begins on the road leading out of town.
Sunbathing
This is a very popular activity. The beaches are filled with people relaxing and soaking in the sun with a cold drink next to them. The beaches in San Juan del Sur are intoxicatingly beautiful. 

A majority of the hostels and hotels also feature pools and/or sun decks to lounge around if you're not a big sand fan.
Swimming
There is no better way to cool off during a sunbathing marathon than by going swimming. The beaches and ocean are inviting and offer a great place to swim (or surf). 
As also mentioned before, many accommodations have pools where you can swim and cool off from the blazing Nicaraguan sun.
Rent a Quad
Riding a quad is always fun, especially when you can trek through the muddy jungles. You can take a guided tour or rent one and explore on your own.
Take a Yoga Class
Yoga is almost as popular as surfing in San Juan del Sur. It pretty much goes hand in hand. There are dozens of classes in all sorts of styles, times, and locations. 
La Flor Nature Reserve
This reserve was set up to protect the Olive Ridley sea turtles who come to lay their eggs year after year. The best time to see sea turtles here is from July to January with the most active months during October and November. 
From town, you can take a bus or taxi. The reserve costs $200 cordobas (USD$5) to visit.
Take a Spanish Class
If you are keen to learn some Spanish, San Juan del Sur is an excellent place to take Spanish classes. There are many places that offer daily classes and most hostels will hold classes right on site making it super easy for travelers. 
Take Day Trips to:
Isla de Ometepe

– Definitely a must-see when traveling through Nicaragua, Isla de Ometepe is hard to describe in words. Made up of two volcanoes in the middle of Lake Nicaragua, Ometepe is one of the most beautiful places in all of Nicaragua.
Granada

– This super colorful city is a good change of pace if you need a break from the beach for a day, especially if you are a history buff. This is where you'll find all the local markets, historical buildings, museums, shopping, and galleries. 
Masaya Volcano

– Not far from Granada is Masaya Volcano. This active volcano is one of the coolest in the country to visit because you can almost always see burning lava. 
Horseback Riding on the Beach
Riding horses on the beach is incredible. The tours last about five hours and you can book them at any time. Sunset is obviously one of the most popular times for a good reason. 
Go to the Chocolate Cafe
The Chocolate Cafe and Museum offers two-hour tours daily. You can book them at 11, 2, 4 and 8 pm. You'll get to make and taste your own chocolate as well as take some home for family and friends as a tasty souvenir. 
Go to the Local Brewery
The Cerveceria brews their beer right on site. The craft brewery is one of the only ones in the area and serves up more than just the classic Toña or Victoria.
Sailing on a Catamaran
One of the more unique adventures you can have in San Juan del Sur is sailing on a catamaran. This can offer you all the beauty of Nicaragua from the perspective of the water. You can make it a whole day trip complete with lunch, swimming, and snorkeling.
Best Time to Visit San Juan Del Sur
Most people like to visit from November through April. The warmest month is April, June has the most daylight while March has the least amount of rain. If you're heading to the town to surf, you're in luck because there are waves year-round here.
San Juan Del Sur for Families
There are plenty of things for families to do when visiting San Juan del Sur:
Zip Lining – Flying Frog Canopy Tours is a really great family activity. They have 17 ziplines that take you over and through the jungle. While zip-lining you will have the chance to see monkeys, sloths, birds, and a waterfall. Flying Frog also offers to repel and a Tarzan swing.
Parque de Aventura – A fun place to visit with your family. They have several adventure tours you can choose from including taking a ride in a Polaris to the highest point of San Juan del Sur, a playground, and a reptile sanctuary. You can also find zip lining, walking trails, and a private garden you can wander through.
Surf Lessons – A family surf lesson is always a good challenge. 
Frisbee Golf Course – Located close to San Juan del Sur where there is also a pool on-site you can make use of.
Living in San Juan Del Sur
San Juan Del Sur Transportation
Transportation is scarce in San Juan. It's easy to get around if you have your own car and many people end up getting dirt bikes or motorcycles to get around. Most people walk in and around town. Some buses go to and from town and you can sometimes get a taxi, however, they don't have Uber or Lyft. 
Many hostels and hotels offer transportation and shuttles to and from different places and activities.
Fitness and Health
Surfing and yoga are the two most popular ways to stay healthy and fit. It is also easy to eat healthy here if you can avoid all the sweets and drinks so easily available. There are loads of vegetarian options and of course loads of fresh fish. You can also find fruits and vegetables, rice and beans and sometimes fresh juices.
It's easy to stay active in this town whether it be with the aforementioned yoga and surfing, hiking, swimming or anything else you might find to do.
San Juan Del Sur People
Both the locals and tourists who visit San Juan del Sur are some of the happiest and welcoming people. The town is washed with good, beachy vibes. While it may be considered poor in monetary value, San Juan del Sur is rich in kindness and hospitality.
San Juan Del Sur Insurance and Medical Care
The medical care in San Juan del Sur is not the best. There are no major hospitals, and only some clinics. It is a good idea to have travelers insurance as there isn't any in Nicaragua. It's also recommended traveling with a small first aid kit, fully stocked. This is a good practice to get into no matter where you're traveling.
Make sure you are fully covered by reading our full Digital Nomad Travel Insurance guide.
Jobs in San Juan Del Sur
Many jobs that are found in the San Juan del Sur area are related to hospitality and tourism. There is a huge turnover in hostels, bars, and restaurants as people move about and travel through the country. 
Many of these jobs are work for trade, meaning you won't make a lot of money but some of your living costs, like rent or food could be included.  
If you are a surf instructor and/or yoga teacher, you might also have an easier time finding a job as these are always high in demand.
Useful website for job searches:
Check out our Digital Nomads Jobs Postings to find the best jobs available for Digital Nomads.
Nomad Friendly
Value for Money
Internet
Workspace
English
Food
Safety
Health
Transportation
Friendly
Quality of Living
Cost of Living San Juan Del Sur
The cost of living in San Juan del Sur is relatively low and definitely affordable. For a month in San Juan, you can expect to need at least $1,500.