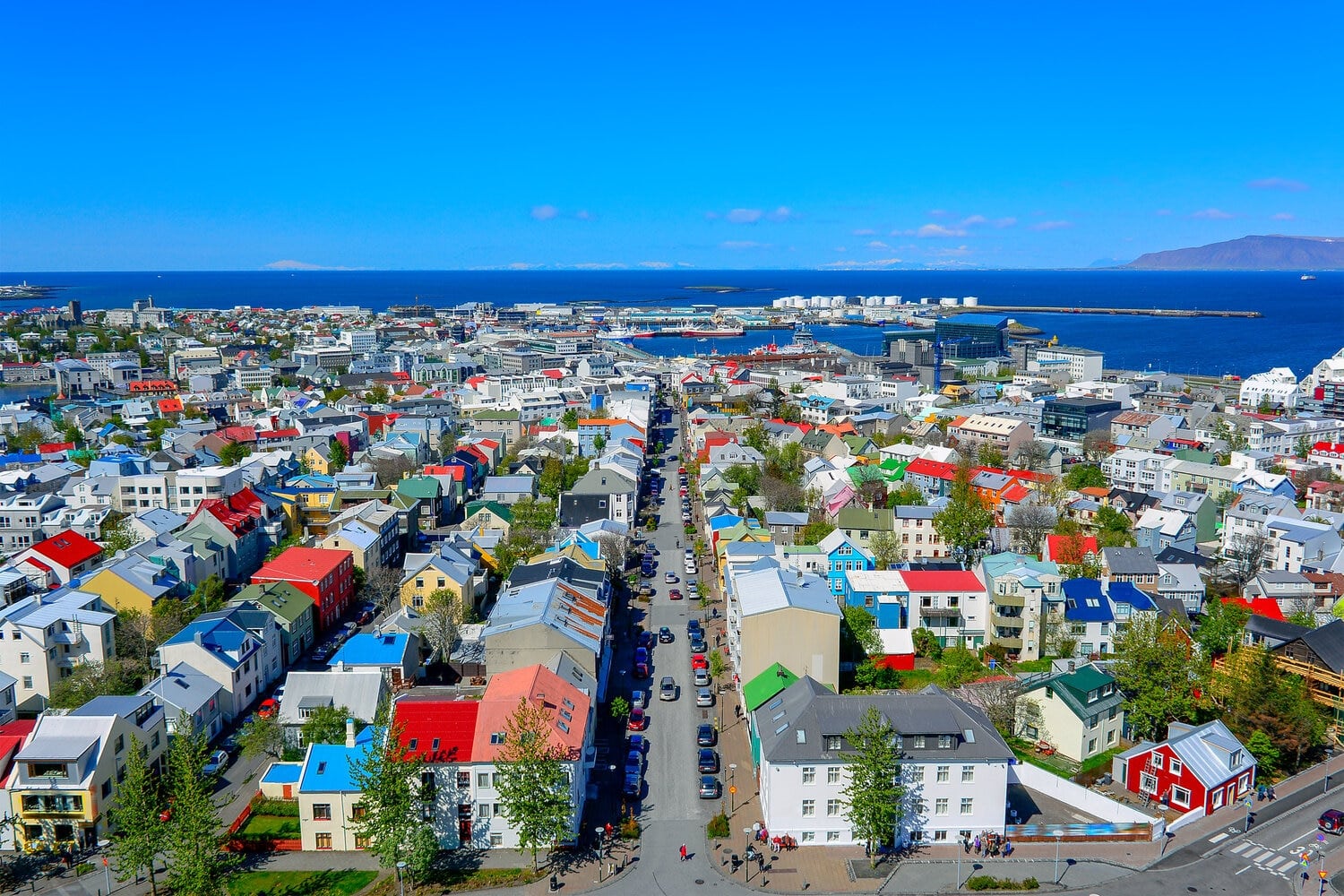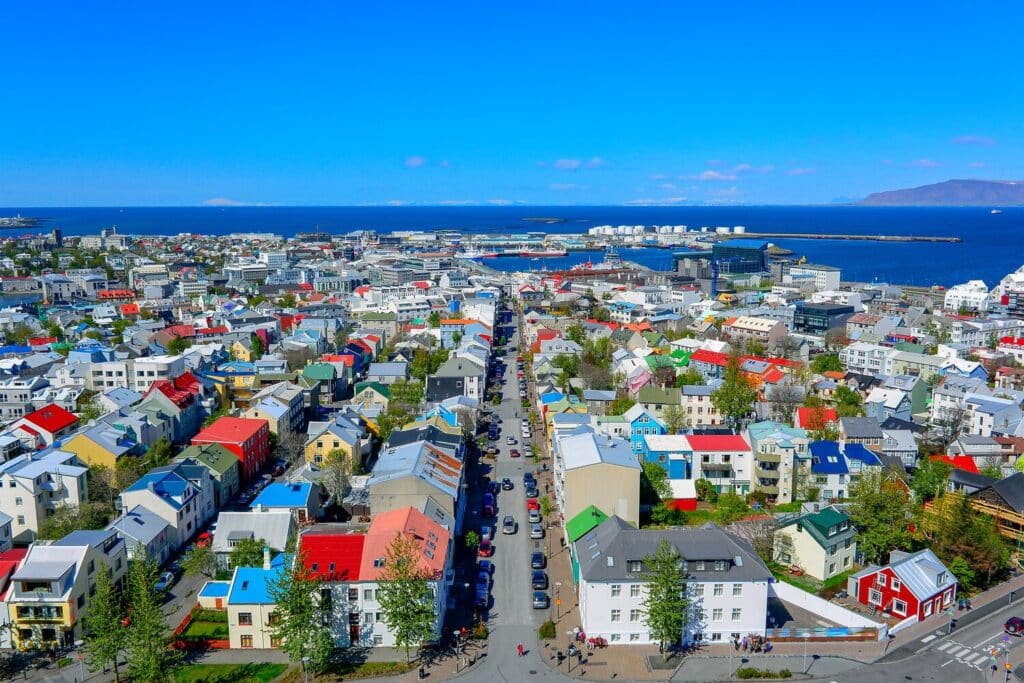 A Digital Nomad Guide to Reykjavik, Iceland
Reykjavik is the capital city of Iceland, and it is the world's most northerly city. The countries rich history entwined with Viking tales and its unique landscape makes it one of the world's most fascinating places to visit. The landscape is almost alien, with baron vast empty spaces and natural wonders, and this is one of the main reasons why people visit Iceland. The name Reykjavik translates to mean "Smoky Bay," and the city was given this name due to the high number of geothermal vents and hot springs in the area. 
Tale tells that when the Vikings landed during the 12th century, they foraged the island of all its resources, which left future generations with very little material. The Vikings cut down almost every tree alive on the island, which meant that wood for building was scarce. The lack of resources fueled the creativity of the country and encouraged the inhabitants to think outside the box. You can still see some of these unique building techniques in Reykjavik, such as turf roofs and natural homes. 
Reykjavik is home to around 123,000 people and is the only capital city in Europe not to have a McDonalds'. This quirky city is a fantastic place for a digital nomad who is close to nature and is curious about geography, geology, and natural wonders. The country is home to 60% of the world's Atlantic Puffins, with a huge colony in Reykjavik. As well as the large population of puffins, Reykjavik is also home to dolphins, humpback whales, and cormorants. 
Although Reykjavik may be one of the smaller cities in Europe, it boasts a unique setting for the nature-curious digital nomad.
Nomad Friendly
Value for Money
Internet
Workspace
English
Food
Safety
Health
Transportation
Friendly
Quality of Living
Living in Reykjavik Overview
| | |
| --- | --- |
|  Meal, Inexpensive Restaurant | $19.14 |
| Domestic Beer (1 pint draught) | $9.18 |
| Cappuccino (regular) | $4.58 |
| Loaf of Fresh White Bread (1 lb) | $3.59 |
| Water (1.5 liter bottle) | $1.54 |
| One-way Ticket (Local Transport) | $3.75 |
| Basic Utilities (Monthly) | $109.57 |
| Internet | $69.61 |
| Fitness Club (Monthly) | $57.55 |
| Apartment (1 bedroom) in City Centre | $1,506.31 |
Currency: Indonesian rupiah (Rp)
[erw_exchange_rates_widget lg="en" tz="0″ fm="IDR" to="EUR,USD,GBP,AUD,JPY,RUB" st="primary" cd="" am="15000″][/erw_exchange_rates_widget]
ATMs
Max Withdrawal: Rp 3,000,000
Withdrawal Fee: Rp 30,000 – Rp 50,000
Use of Credit Cards: Mostly Cash
Digital Nomad Personal Experience in Reykjavik
I had the opportunity to visit and stay in Iceland twice in 2016. Reykjavik is a great city to be based out of, as it has a good selection of coworking spaces, general facilities and is the heart of Iceland. It is also a fantastic place to take excursions as most tour operators are based here. I stayed in a little Airbnb in the center during my time here and rented a car from the airport so I could take myself around the countryside to see all the natural wonders. Iceland, in general, is fairly expensive as being an island means that most goods are imported, so prices are driven up. 
Although it is considered a very expensive country, it is possible to keep costs down by cooking at home, renting your own car and taking yourself on trips, and just generally being mindful with money. I actually filled my backpack with some long-life food such as noodles etc., just to help with the expense. I did find a few restaurants that were affordable to eat at, but in general, expect everything to cost a little more than the average price in capital cities in Europe. It is comparable with prices in Oslo, Norway.
I loved being based in Reykjavik for a short while, as it allowed me to live a slightly quieter life and be completely surrounded by nature. I am not sure it is somewhere that I could base myself long-term, partially due to the high costs and the quieter feel; however it was great for a short time.
If you love the outdoors, are interested in geology, and want to be somewhere where this is on your doorstep, then Reykjavik is the place for you. I found most of my entertainment in the landscape by visiting the hot springs, geysers, and natural wonders.
Work in Reykjavik
There are a small number of coworking spaces in Reykjavik, and it is becoming a popular little hub with digital nomads as it is unique. There are few coworking spaces in the city, and there are a few cafés that could also be a good location for a digital nomad to work from. Here is a little more information on the coworking space in Reykjavik.
Best Places to Work in Reykjavik
FRAKTAL Reykjavík
FRAKTAL is a worker-run coworking space for individuals that share political and creative passions. It is a space that is vegan-friendly that hosts cultural, political, and artistic events. Prices start at $121 USD per month for coworking, but you can pay more to have a fixed desk space too. This is a great space for a digital nomad who is looking to be part of a conscious community.
MINØR Co-working
This is a cute coworking space with just 12 desks available for hot desking. It is a small creative space that is better suited to digital nomads who work in the creative sector. The space is very modern and is designed well to optimize space; however, some might find it a little claustrophobic. Membership costs around $283 USD to have access to the coworking space. This also has the option of being used by two for an additional cost of $121 USD, which totals $404 USD. This would be fantastic for a couple or for two business partners as your individual cost would be reduced to $202 USD to become members. It is unclear how much access you get to the space, and for how long, so you need to enquire beforehand. 
Regus – Kalkofnsvegur 2
This is one of the bigger coworking spaces in Reykjavik, with 48 private offices, 23 hot-desking spaces, and four meeting rooms. It also has an onsite gym and lounge area to allow members to relax and keep motivated in the workplace. Monthly membership costs around $500 USD per person for the use of the coworking area. There is a couple of other Regus coworking space in Reykjavik; however, they have been closed due to CIVID-19, and it is unclear as to whether they are and will still be operating.
Innovation House
Innovation House was set up as a space for entrepreneurs and startup businesses in Iceland. It has been the home to many innovative projects, and there is an area for coworking. It is unclear exactly on the costs of using the space, but they have great facilities and love working with startups. This would be a great place for any digital nomad entrepreneurs or those who are looking into forming a new business. 
Hitt Húsið
Hitt Húsið and Ocean Cluster House are two more coworking spaces that are great for startups or creative digital nomads. 
Cafés
There is a good selection of cafés in Reykjavik for digital nomads to work from. Depending on your preferred work environment, whether you like a bustling café or a quiet, more relaxed place, there will be something for you in Reykjavik. One of the best choices for a digital nomad is  Reykjavik Roasters, also known as Reykjavík Röst, which has three locations in the city, each giving very different vibes. Other cafés include Café Rosenberg, Iða Zimsen, and Café Babalú, which are cute, quirky cafés to work from. Mokka Kaffi, Sandholt, Te & Kaffi, and Kaffitár are slightly more formal and basic coffee shops, but they are great if you want to get down to some serious work. Always make sure to buy a coffee and lunch if you are working from a café as it can be seen as rude if you stay to work and do not purchase anything.
Best Places to Live in Reykjavik
Best Neighbourhoods
Reykjavik is fairly small, so when it comes to choosing where to stay, it's not very hard as it is broken down into ten districts. You will find hotels, hostels, and Airbnbs dotted around the city, so you will most likely end up in a neighborhood due to the fact of it being where the accommodation is. Reykjavik is a relatively small city, and it takes just a little over an hour to walk from one side to the other. This means that wherever you end up being based, you will most likely be within walking distance of most things in the city.
Hlidar
This is a great place to stay if you are on a budget as accommodation is a little cheaper here than in the center. It is also where you will find Galaxy Pod Hostel, which is one of the best in Reykjavik. It is also known as the student district and is a nice residential area to stay in.
Midborg
This is the heart and soul of Reykjavik and is known as the downtown area. You will find most entertainment in this area, and it is a popular location with first-time visitors to Reykjavik. It can be a little more expensive to stay here when compared to Hlidar.
Vesturbær
This is an up-and-coming area of the city located in the north. It is a great place for someone who wants to be within close proximity of the city whilst being close to nature. It is a slightly quieter and sophisticated area that is close to the water.
Laugardalur
Laugardalur is a neighborhood that is best suited to families as it is very residential and slightly further away from the city center. It has great public transport connections to get you into the city, and it is a nice quiet and relaxed area to stay in.
Find an Apartment in Reykjavik
Finding an apartment in Reykjavik can be challenging as there isn't a huge choice, and it doesn't cater to every budget. There are a few websites such as Airbnb and boking.com that have the best selection for apartments in Reykjavik; however, there are also some more specific local websites too which offer great places to stay. It is common in Reykjavik for locals to purchase their own homes rather than renting, so this means the market for rentals is quite small. However, the demand for tourism has encouraged people to rent their homes when they are away, and as this trend becomes more popular, there are more places to rent. 
Airbnb
Airbnb is a reliable go-to website for finding accommodation as there are certain elements that are guaranteed to meet a certain standard. This can make your trip planning so much easier because you know what you are going to get and what to expect. You can also chat with the owner directly and ask questions like internet speed and what facilities are available. In Reykjavik, you can find one-bedroom apartments for around $2,900 USD per month. Considering this includes bills, it is a great price to have a private place close to the city center. This is also beneficial if you are visiting during the winter months, when you may be spending more on heating bills. 
Hometogo
This is another price comparison website, and it is another great way of finding accommodation in Reykjavik. The common price for rentals on Hometogo tends to range between $3,000-$4,000 USD per month. This is mostly because many of the listings are for multiple-room homes or larger apartments in the city center.
Icelandic Websites
There are two localized websites called Visir and Icehome, which are great places to find accommodation directly from landlords or agents. There are also a number of Facebook groups where you can communicate directly with landlords to find the perfect accommodation for your stay. Leiga á Íslandi – Rent in Iceland is one of the most popular Facebook groups to find apartments in Reykjavic.  
Cheap Places to Stay in Reykjavik
Finding lower-budget accommodation in Reykjavik will be challenging as Iceland is one of the most costly cities to live in in Europe. However it is possible to find cheaper ways of living, and if you are happy to compromise on accommodation, then there are a few options. If you are happy staying in a hostel or perhaps sharing accommodation, then you can very easily save some money.  
Hostels
There are a number of hostels in Reykjavik, and this is a great budget option for accommodation. Most hostels offer beds in dorm rooms for around $30 USD per night, and they sometimes will give a discount for longer stays. Some of the best hostels in Reykjavik are Loft Hi Hostel, KEX Hostel, Bus Hostel, and Galaxy Pod Hostel. Galaxy Pod Hostel is one of the best ones in Reykjavik, and it will cost you around $1,220 USD for a one-month-long stay. This is a good option because each person has their own "pod."  
Nestpick
This is a great comparison site for finding alternative accommodation, and it tends to be a little cheaper than using sites like Airbnb. It is possible to find a private room in someone's home or apartment for around $900 USD per month. Nestpick will charge a one-off fee, which tends to be a percentage of the total of one month's rent, similar to Airbnb's service fee. There are many apartments that will give you a private room, and if you are happy to share a communal kitchen and bathroom, then this could be a great option for you. There are also other options available on Nestpick, which provide private accommodation or your own studio apartment for around $2700 USD per month. 
Housing Anywhere
This is another great website to find cheap accommodation, and the lowest I could find on there was a private room in an apartment just outside the city for $500 USD per month. You have to bear in mind that this is a basic option, some advertisements offer a sofa bed in a room, which may be suitable for some, but others might require better facilities.
Reykjavik Visa
Entering Iceland can be simple if you know what you are required to do before entry. There are different entry requirements for different passport holders, so make sure to find out exactly what you need to do before visiting. If you hold a passport that is part of the Schengen area, then you will not require a visa for entry and can stay for up to 90 days. It is required to have at least three months left on your passport when entering. 
As of 2022, Iceland will be implementing an ETIAS, which is an electronic travel authorization document. This will need to be obtained for any nationalities that are all visa-free travelers but are from outside of the Schengen Area. There will be a fee, and this will need to be obtained before entry. 
As of 2021, there are 150 nationalities that require embassy acquired visas. For these nationalities, a visit to the nearest Icelandic embassy is compulsory regardless of the means of visit. Whether it is for tourism or business, these countries are required to obtain a visa from the embassy before arrival. Check with your embassy or on your government website to see if you fall into this category and require a visa for your stay.
Culture and Food in Reykjavik
Iceland has a unique food scene, with traditional goods as well as a wide variety of internationally influenced dishes across a selection of over 200 restaurants in Reyjavik. Icelandic food culture is based around the survival of the harsh winters and long summer days. There is also a heavy influence from what is available in the area, which is mostly seafood-based and sheep-based products. Iceland is famous for its Skyr yogurt, rye bread, dried fish, and lamb, and there are some dishes that you should try for a true Icelandic experience. As well as traditional cuisine, you will find a lot of international cuisines available. This is mostly due to Iceland being an isolated island that relies heavily on imported goods. 
Traditional Cuisine
The traditional food of Iceland is based on local ingredients and focuses on elements that flourish in the natural surroundings. One of the most popular dishes in Iceland is lamb. It is one of the only livestock that live off the land, roaming free, drinking glacier water, and eating fresh berries and grass. It is said to be some of the best lamb in the world, and it is thought this because of the natural and relaxed lifestyle that sheep have in Iceland. Some of the best restaurants to try traditional cuisine in Reykjavik are Café Loki, Matarkjallarinn, Grillmarket, and Apotek. There is a variety of lamb-inspired dishes from Hangikjöt (Smoked Lamb), Kjötsúpa (Lamb Soup), and Pylsur (Lamb Hot Dog).
Experimental Cuisine
Due to the rise in tourism and Iceland's popularity with many, it has become a hotspot for experimental cuisine, and the locals are cooking up a storm. There are many restaurants that are taking traditional dishes and infusing them, and experimenting with new flavors and ways of cooking. Some of the best restaurants in Reykjavik to try some of this experimental cuisine are Íslenski Barinn, Matur og Drykkur Matarkjallarinn and KOL Restaurant. Here you can try new dishes experimenting with traditional Icelandic ingredients such as lava salt butter and horse jerky. 
Fast Food
There are many fast food bites to eat when in Reykjavik, but you will notice that there are very few recognizable chains. Companies such as Starbucks and McDonalds have not cracked the market in Iceland and will most likely never. Hamborgarabúlla Tómasar is a burger restaurant that is known for driving McDonald's out of Iceland with its fantastic burgers. As well as burgers, other fast food places include Reykjavik Chips, Grill 66, KFC, and Reykjavik Street Dog.
Vegan and Vegetarian
Despite Reykjavik being one of the smaller cities in Europe, it has a surprisingly vegan-friendly food scene. As a country with a heavily meat-based diet, this may be a little unexpected, but due to the high demand from tourists, the food scene has exploded over the past few years. There is a good selection of restaurants in Reykjavik, and you will find that many places that will cater to dietary needs. There are over ten vegan and vegetarian restaurants and here are some of the best; The Coocoo's Nest, Núðluskálin, Gló, Ramen Momo, Jomm and Mat Bar.
Reykjavik Nightlife
Reykjavik is home to some of the best nightlife in Europe, which may come as a surprise for such a small remote country. The nightlife scene in Reykjavik is buzzing, with a good selection, clubs, bars, pubs, and entertainment in a variety of forms. Reykjavik is the perfect city for bar crawls as pretty much all the bars and clubs are close together in walking distance from one another. As well as bar hopping and visiting nightclubs, there are a number of evening activities to do in and around Reykjavik. 
Reykjavik Bar Crawl
If you want to join a group of energetic, like-minded individuals, then this is the event for you. The Reykjavik Bar Crawl is an organized tour that takes around 3-4 hours of hopping between the best bars in Reykjavik. This is a great way to meet new people or enjoy an evening with friends. 
Reykjavik Beer Tour
For the beer lovers, there is a specially designed tour in Reykjavik for you. The Beer tour takes you on tour around some of the finest breweries in Reykjavik, where you get to taste some of the best Icelandic brews. The tour lasts for around 2-3 hours and includes tastings. 
Ís-Rúntur
This is a common activity in Reykjavik, and it means "Ice cream driving." It is common to get ice cream to go and drive to a cool lookout or viewpoint whilst you eat your sweet treat. This is something very unique to Icelandic culture, and it has to be done at least once while you are there.  
Karaoke
Every Wednesday, Sæta Svínið hosts a karaoke night, and it is the place to be! If you need a little confidence, they have great drinks offers, and everyone gets involved. It is a great evening, and there is a fantastic vibe. Even if you don't like to sing you will still have a great evening. 
Nightclubs and Bars
There is a great selection of nightclubs and bars in Reykjavik, and they are all located in the city center. Whether you want to dance or just have a few drinks, you will find somewhere that fits your vibe. Here are some of the best nightclubs and bars in Reykjavik; Dillon Whiskey Bar, Pablo Discobar, Gaukurinn, Lebowski Bar, Stúdentakjallarinn, and Icelandic Craft Bar. Nightclubs in Reykjavik don't charge an entrance fee.
Concerts and Shows
Reykjavik is a cultural hub, and you will find many events such as concerts, art exhibitions, shows, and standup comedy events happening. The best way to find an event is through Grapevine magazine, which can be found in the city and at the tourist information center. They also have a website and app which can be used to find out what is going on in the city. 
Northern Lights
If you are in Reykjavik anytime between August and April, then you might want to try and see the Northern Lights. They can be difficult to see from the city itself due to light pollution, but if you take just a short drive out of the city, you are almost sure to see them. This can make for a great evening activity, and there are even tours that you can book which take you out into the wild where you can gaze up at the night sky and see the green shapes dance across the sky. These tours often cost around $100-150 USD which includes transport out to a remote location, blankets, hot drinks, and a chance to gaze up at the sky in comfort.
Things to do in Reykjavik
Reykjavik is a city rich in culture, history, and creativity. The rugged landscape has shaped the countries history in a unique way, and this is seen not only in the capital but countrywide. Being based in Reykjavik is great because it has the best access to the rest of the country, so you can very easily take excursions on weekends and enjoy city life during the week. There is plenty to do just within the city, but there are a plethora of activities just on the doorstep. 
Hallgrímskirkja Church

This building is hard to miss as it stands out in Reykjavik, towering over part of the city. The church was built in remembrance of Icelandic poet Hallgrímur Pétursson, and it is possible to climb to the top of the tower for just $6 USD.

Sun Voyager Sculpture

This is one of the most famous sculptures in Reykjavik, and it is a must-see. It is located on the waterfront and is free to visit. The sculpture, which was designed by Icelandic sculptor Jon Gunnar Arnason to resemble a Viking warship, is a popular site to see in Reykjavik.

Reykjavíkurtjörn Pond

This small park is a popular place for people to hang out for a chilled afternoon and feed the birds. Located in the city and surrounded by traditional houses, it is a nice spot to visit for a relaxed afternoon.

A traditional delicacy in Iceland is Hákarl, which is fermented shark. It has a distinct smell, and it is considered a very Icelandic dish. You will be able to find it in traditional restaurants, so if you are a foodie, then you should try it.

Museums and Galleries

There is a good selection of museums and galleries in Iceland, so if you want to learn more about culture, traditions, and history in Iceland, then you should check out some of the top museums and galleries in the city. National Museum of Iceland, Saga Museum, The Culture House, and Reykjavik City Museum are the best for learning more about the historical side of Iceland. For arts and culture then you should check out The Living Art Museum, Aðalstræti 10, Sigurjón Ólafsson Museum, and Reykjavík Art Museum Kjarvalsstaðir.

Elliðaárdalur Valley

Hidden on the outskirts of Reykjavik is a beautiful place that many tourists don't know about. Elliðaárdalur Valley is a beautiful natural recreation area, with a vast array of wildlife, a waterfall, and the Elliðaá River. It is free to visit, and you can even take the bus from the city center. This is a great day out when combined with a visit to the Árbæjarsafn museum. 

Harpa Concert Hall

This is one of the most futuristic-looking concert halls in Europe, and it is worth seeing a show if you have the chance. The building is home to the Iceland Symphony Orchestra and the Icelandic Opera, so if you are interested in musical arts, this is the place to check out.

Attend Elf School

Magnus Skarphedinsson has set up an elf school, where you can attend for one day and learn about the different types of elves in Iceland. It costs around $65 USD and includes tea and pancakes while you learn about these mystical creatures.

Blue Lagoon

This is probably one of the most popular tourist attractions in Iceland, and it is worth a visit. The Blue Lagoon is located a short bus journey from the city, with regular transport running between Reykjavik and Blue Lagoon daily. I had the chance to visit, and it was a fantastic day out. If you like spas, hot springs, and enjoying a relaxing day in the water, then this is the place for you. Entrance to the spa costs around $48 USD, which includes a mud mask, towel, and a free drink. It is a unique spa in a rugged setting, and this isn't the only one in Iceland; it is just the most popular.

Whale Watching

The best time of year to see whales from Reykjavik is between April and October. The best months within that window are June, July, and August. There are many tour companies that will take you out on whale-watching boat trips, so make sure to check out the different providers and different tours available.

Wild Hot Springs

If you prefer wild hot springs, then there are a few dotted around Iceland. If you are on a budget or prefer to avoid purpose-built spas like Blue Lagoon, then you have to check out the wild hot springs.

Geysir

There is a famous Geysir found in the South West of the country in the Haukadalur Valley. It is less than a two-hour drive from Reykjavik, so it makes for a great half-day activity. The whole area is covered in hot springs, some shooting water out to great heights. The most famous hot spring being Strokkur which is pictured in many advertisement campaigns for Iceland.

Tectonic Plates Meeting Point

Something really fascinating about Iceland is that it sits across two tectonic plates. Meaning that part of the country is in North America, while the other part is in Europe. The country was formed due to the meeting of the Eurasian tectonic plate, and the North American tectonic plate at their joining Iceland was formed. At Þingvellir National Park, you can walk between the two and explore a bridge that joins the two. 

Black Beach

This is a beautiful natural wonder to visit, and there are many tours that will take you there. It is famous for its volcanic and naturally black sand as well as the basalt rock formations that scatter the beaches. There is also the Sólheimasandur plane wreck. The two combined make for a great day out.

Volcano Tour

With around 130 volcanoes in Iceland, you have a great selection to visit. Whether you want a full-day excursion exploring multiple volcanoes, exploring active volcanoes, or just enjoying being somewhere different, there will certainly be a tour for you.

Visit The Arctic Circle

Part of Iceland is located within the Arctic circle, so why not take an epic tour and visit a natural wonder. Grímsey Island is in North Iceland and is situated in the Arctic circle. Tours can be very expensive, but it is worth a trip if you are
Best Time to Visit Reykjavik
The weather in Reykjavik can vary dramatically depending on what time of year you visit. Depending on what you want to do or see in Iceland may affect the time of year you wish to visit. Iceland is located in the northern hemisphere, so the summer months tend to run from June through to September and the winter from late November until March. 
If you want to experience the Northern Lights, also known as the aurora borealis, then you need to visit during the winter months. In order to see the northern lights clearly, you need low light and darkness. This is why it is almost impossible to see them during the summer months as it is almost light for 24 hours a day. The best months are during the winter, from November through until March. It is also said to be highly visible in September and March as these are the months where the equinoxes happen, and this visibility allows you to see the green flashes in the sky. 
January is the coldest month, with temperatures averaging around at 0°C (32°F). It is also the wettest month with an average rainfall of 50 mm, which means there can be a lot of cloud cover, which isn't ideal for seeing the northern lights. 
The hottest month in Reykjavik is July, with average temperatures of around 14°C (57°F). It is also the best month for swimming in the ocean as the average sea temperature is around 11.4°C (53°F). This is a great month to visit if you are interested in swimming or diving between the tectonic plates known as Silfra.
I visited in the summer months, in June, and then again in July, and it was very odd experiencing almost 24 hours of daylight. I found it disrupted my routine, and it was difficult for me to rest as it felt like daytime even when it was late at night. It was cool to experience but not practical for long times unless you have adequate sleeping facilities.
Reykjavik for Families
Reykjavik is a good place for families that are interested in the great outdoors and teaching their children about geology, geography, and the natural world. You have an abundance of natural wonders on your doorstep, so this is going to keep the kids entertained. As for infrastructure, there are good facilities in Reyjavik, but you may find a lack of choice as the city is much smaller than most European capitals. 
International School of Iceland is the only international school in Reykjavik, so if you are looking to put your children in a local school, this is their only choice if they can't speak Icelandic. Finding accommodation for your family is very simple using any of the search engines mentioned above in the accommodation section. You will find many apartments and houses with multiple rooms. Laugardalur is the best-suited area for families as it is a residential district located just outside the city center. 
There are plenty of facilities in Reykjavik, such as daycares, nursery schools, doctors, and hospitals, so you should feel comfortable with having most facilities on your doorstep. There just may not be a wide choice, so your option may be limited to one or two options. Another option for families is to employ an au pair. This is a great way to work with the locals, and you will find that some students are looking for part-time jobs alongside their studies, and they want to interact with foreign families. It is best to search on ex-pat websites or on Facebook groups where you can connect with ex-pat families to find out more.
Living in Reykjavik
Reykjavik Transportation
Iceland is very small in size with a ring road that circles the entire country, which is 1,333 kilometers in total, so your transport options are limited. The country is well connected, but it doesn't have trains, trams, or a metro. The main form of transport on the island is via bus.
Bus
The public buses in Iceland are called Strætó, and they are very distinct with their bright yellow paint. They have buses that run within the city, as well as a rural service that connects smaller towns to Reykjavik. If you are a resident, then you can purchase a bus card which you top up, but for someone visiting, it is easier to just buy tickets. These can be bought in bulk, and for a bundle of 20 tickets, it will cost you $77 USD. 
The buses are very easy to navigate as they have their own app, which displays timetables, routes, and fairs. You can even buy tickets via the app. The app doesn't always work with foreign phones, so the website can be used to access the same information if the app isn't compatible with your phone.
Taxi
Common taxi apps such as Uber or Lyft don't currently operate in Reykjavik, and it isn't common to hail a taxi. Iceland has its own taxi system where you have to get one from one of the designated areas or zone. Hreyfill Bæjarleiðir and BSR are the two major taxi companies operating in Reykjavik, and you can order one by phone, or Hreyfill has its own app, which you can use. Taxis usually cost around $3 USD per 1km, and they will usually have a start price and charge extra for waiting and additional stops. 
Bicycles and Scooters
There are a couple of businesses in Reykjavik renting bicycles, and Reykjavik Bike Tours is one of the best. They rent out a selection of bicycles, from city bikes to mountain bikes, for up to months at a time. They charge around $40 USD per day if you just want it for one day. However, the longer you rent, the more discount you can get, and the price per day drops. For week-long or month-long rentals, you have to enquire via their website. 
Rental Car
It is possible to rent a car in Reykjavik either form the city center or from the airport. Depending on what you want, most rentals will offer a selection of vehicles, some specifically for touring the country for some off-roading. Getting a rental car can be quite expensive as it will cost you around $1,000 USD for one month or around $200 USD for one week. However, it is a great way to see the country, and this is a good option if you are traveling with a partner or group of friends as once the costs are divided, it can be affordable.
Fitness and Health
There is a good selection of gyms and fitness centers in Reykjavik, so you won't have to worry about keeping fit whilst living in Iceland. As well as gyms, there are fitness classes, outdoor sports, and other activities that will keep you moving. 
If you are looking for a gym, then you need to decide what is important to you and what you want to get out of a gym membership. There are over 20 gyms in the city so choosing the right one for you is important. Some of the top-rated gyms are World Class, Jakaból Gym, Pumping Iron, and Reebok Fitness. 
World Class is one of the top-rated gyms in Reykjavik as it has multiple locations, and membership can be used across all locations. They offer day passes which cost around $20 USD, or you can buy monthly memberships for $111 USD. This is a great offer if you are a keen gym-goer and want a place where you can vary your workouts. They also have a section of their website dedicated to English speakers, so this might be one of the better places for foreigners. 
Reykjavik Yoga, Sólir Yoga, and Jógasetrið are amongst some of the top-rated yoga centers in the city. Most yoga classes will cost around $15-17 USD for drop-ins, but they get cheaper if you bulk buy. For example, at Reykjavik Yoga, you can buy an unlimited month pass for $130 USD. This is a great option if you plan on going multiple times a week.
Reykjavik People
The people of Iceland are proud of their heritage and culture, and as a population, they work hard to preserve the countries unique history. Language and the arts are important parts of life in Iceland, and as a nation, this is a focal point in the culture. 
Although the country is physically isolated and fairly remote, Icelanders, as a nation, welcome visitors from all across the world. It is also a popular location with immigrants as the country has a welcoming vibe. The capital city, Reykjavík, is in particular known as an international city because of this openness to a multicultural way of life. 
Most Icelanders can speak a second language, which is often English, and they will only use this to communicate with tourists and foreigners. They are very proud of their heritage and want to preserve their language as much as possible, so foreign languages aren't commonly spoken amongst each other. Another way of preserving their heritage is through naming. When you have a child in Iceland, its name must be approved, and this is why you will see repetitive or common names as the selection of native names is limited. 
The people in Reykjavik are like most city-living people across the world; they work hard and like to have fun. There is a welcoming feel in Reykjavik to foreigners and tourists, and the unique party scene makes for a fun and lively atmosphere at night. The people are passionate about their cultural heritage and will do anything to preserve this and to teach others about their history. You will find the majority of the population in Reykjavik, as this is the business hub, where the universities are based, and where many will go to school.
Reykjavik Insurance and Medical Care
Wherever you travel, it is always recommended to have travel insurance in place that covers both medical and belongings. Iceland is one of the safest countries in Europe, mostly due to its size and small population. Crime rates are fairly low, but even still, accidents happen, so it is always good to have insurance, even if you are traveling somewhere safe. 
Reykjavik has the best healthcare in the country as it is the capital city. There is a good selection of hospitals and doctors, most of which will accept foreigners and speak English. Most insurance policies will cover your medical expenses in Iceland, and the treatment you receive will be to a high standard. You will find that the cost of a medical claim will be higher than other parts of Europe because, again, everything is imported, so if you require medication or an operation ti may be expensive as supplied cost a lot to import.  
While the country is very safe, it is good to have insurance to cover your belongings, especially if you plan on taking some trips or excursions where your camera equipment might suffer in the elements.
Make sure you are fully covered by reading our full Digital Nomad Travel Insurance guide.
Jobs in Reykjavik
Finding a job in Reykjavik will be extremely difficult as the city is small for a capital, which means that there are not many jobs in the city. There are certain industries in Iceland that contribute to the country's economy, and most of it is a travel and tourism-related. There is also the issue of language; while most of the population of Iceland can speak English as a second language, they only use it to talk to tourists. It is possible to find some jobs and companies that use English as their first language, but you will be expected to priorities learning some of the languages.
Citizens of countries in the EFTA and EEA can live and work without a visa or work permit in Iceland for up to three months. If you want to stay and work longer, then you must register with your nearest immigration office, where you will be given an ID number allowing you to stay and work. 
Some of the biggest industries in Reykjavik are finance, creative arts, and design, energy and utilities, engineering, and media. If you are qualified in any of these areas, then you are more likely to find a job in Reykjavik. 
The best way to find a job is to look online before you arrive and some of the best websites in Iceland are Alfred.is, hhr.is, job.is, northstack.is and mbl.is. 
There is also the option of volunteering in Iceland, which can be a good way of seeing a new place, reducing outgoings while still working online as a digital nomad. The best places to find voluntary opportunities are via websites such as goabroad.com and erasmusintern.org.
Nomad Friendly
Value for Money
Internet
Workspace
English
Food
Safety
Health
Transportation
Friendly
Quality of Living
Cost of Living Reykjavik
Reykjavik is a very expensive place to live for a digital nomad as it is a remote island that relies on imports and tourism for sustainability. This means that living costs are often high, and it can be a difficult place to live on a smaller budget. Here is the estimated cost of living in Reykjavik for a digital nomad.
For accommodation, you should expect to be paying around $2,000 USD per month, $20 USD per day, which is $600 USD per month on food. $150 USD should be allocated to a workspace or coworking, $100 USD on your commute, $130 USD on fitness in the form of a gym membership, and around $200 USD on leisure. That totals around $3,180 USD per month.
It is possible to find cheaper accommodation if you are willing to share, which means you can drop the monthly price of accommodation to around $1,000 USD, per month and if you are happy to walk everywhere, then you can cut out the estimated $100 USD on your commute.  That means you could get by on around $2,080 USD per month. 
One of the largest factors of budget in Iceland will be leisure as activities and excursions are quite costly and can quickly add up. If you want to take multiple excursions, then you could be spending around $400-600 USD per month.