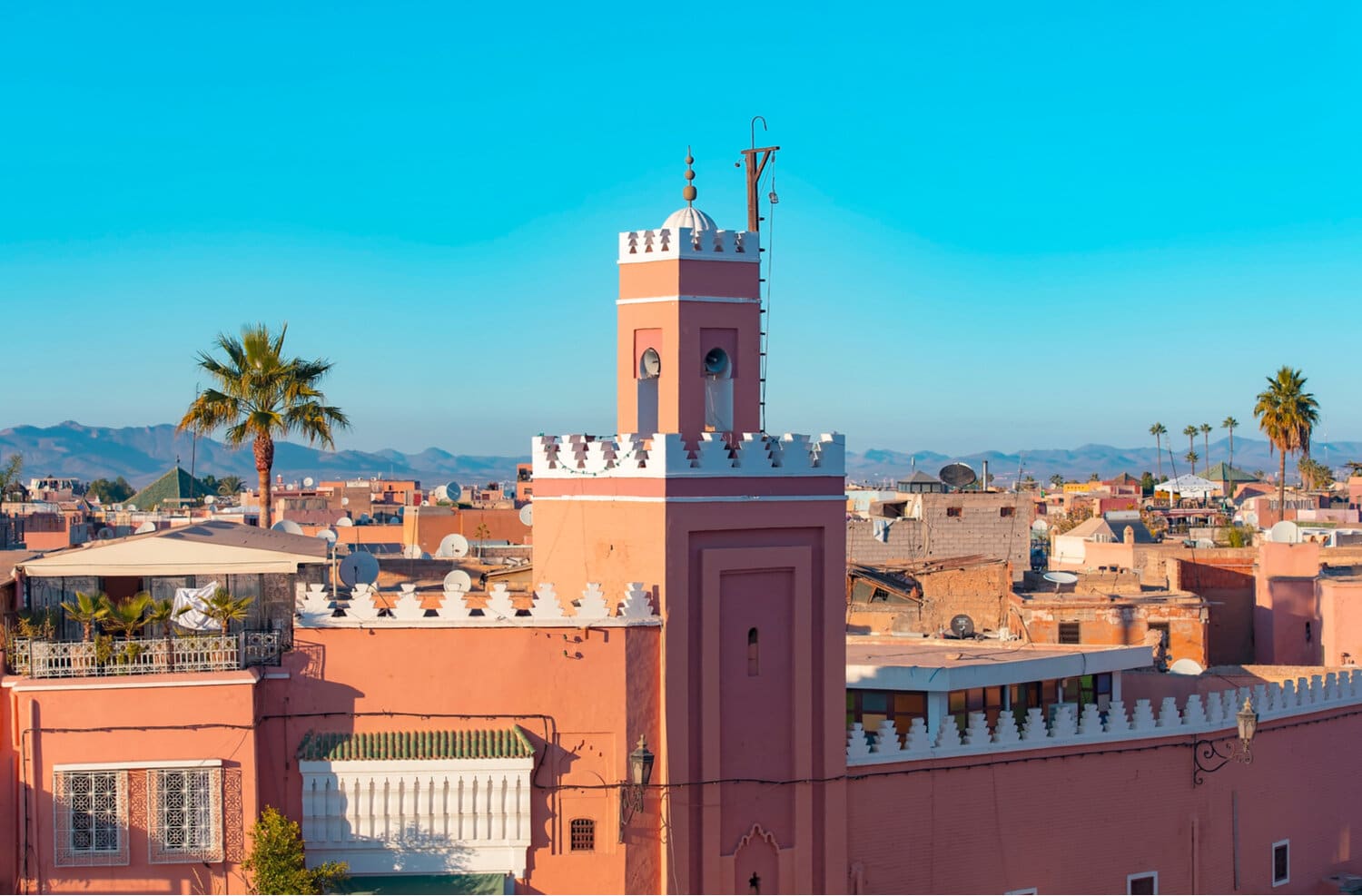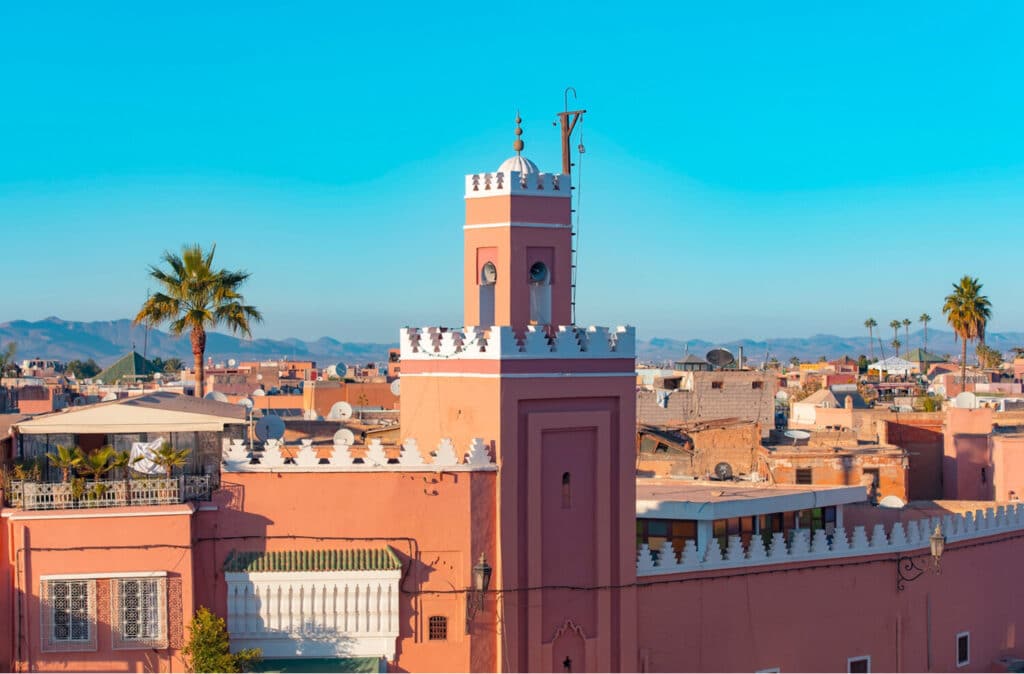 A Digital Nomad Guide to Marrakesh, Morocco
Marrakesh, a former imperial city in the foothills of the Atlas Mountains in western Morocco, is a major economic center that has been a hub for commerce and trade for hundreds of years.
It is home to the ancient UNESCO World Heritage Site Jemaa el-Fnaa Square where storytellers and musicians perform, the Moorish minaret of 12th-century Koutoubia Mosque, Bahia Palace with its large harem and the colossal ruins of 16th-century El Badi Palace. You can also find here beautiful Islamic landmarks like Ben Youssef Madrasa, which is decorated with zellige tile work and carved cedar, and thrilling markets to explore where you'll find traditional textiles, pottery and jewelry. 
Its medina, a walled medieval city dating to the Berber Empire, have mazelike alleys to lose yourself for hours. On the other hand, you can unwind in style in one of the state-of-the-art hammam at the luxury Hivernage district. And, if you still need more to explore, you can go to the surrounding mountains, Morocco coastline or the desert landscapes that this incredibly diverse country has to offer. 
Furthermore, Marrakesh offers a good quality of life at a relatively low price, great people, mild weather, good food, exotic local culture and easy-to-use public transportation. Unlike the rest of Africa, it's a safe country, politically stable, and very accessible.
It has a resilient economy which makes it an attractive destination for investment and startups. There are investment opportunities in a range of fields including industry renewable energy, logistics, and information and communication technologies. But keep in mind that French is necessary for business interactions.
Do you need any more reasons to go? Let Marrakesh hypnotize you with its charms.
Nomad Friendly
Value for Money
Internet
Workspace
English
Food
Safety
Health
Transportation
Friendly
Quality of Living
Living in Marrakesh Overview
| | |
| --- | --- |
|  Meal, Inexpensive Restaurant | $4.44 |
| Domestic Beer (1 pint draught) | $3.51 |
| Cappuccino (regular) | $1.85 |
| Loaf of Fresh White Bread (1 lb) | $0.79 |
| Water (1.5 liter bottle) | $0.65 |
| One-way Ticket (Local Transport) | $0.43 |
| Basic Utilities (Monthly) | $74.67 |
| Internet | $33.80 |
| Fitness Club (Monthly) | $29.00 |
| Apartment (1 bedroom) in City Centre | $413.67 |
| | |
| --- | --- |
| Child Friendly | |
| Cultural Tolerance | |
| LGBTQ Friendly | |
| Traffic Safety | |
| Nightlife | |
| Large DN Community | |
| Young Community | |
| Proper Hygiene | |
| Clean | |
[erw_exchange_rates_widget lg="en" tz="0″ fm="EUR" to="EUR,USD,GBP,AUD,JPY,RUB" st="primary" cd="" am="1″][/erw_exchange_rates_widget]
Max Withdrawal: €400
Use of Credit Cards: Widely Accepted
Digital Nomad Personal Experience in Marrakesh
Moroccan lifestyle was a vast departure from anything I was used to. I was living amid a mostly Muslim culture, where religion is forefront and you can hear the prayer call five times each day starting before the sunrise. This caused me to live my life mainly during the daytime hours and made me admire the perseverance and effort that Islam teaches, but I was also shocked to know that things like homosexuality and sex outside of marriage are illegal. 
Morocco pushed me to rethink some of my priorities and values due to the interaction with people who live, look, dress, think and worship differently than I do. It made me stop putting importance on things that change with culture (like table manners) and think about what words like freedom, love and happiness mean to me. Morocco expanded me in ways I can't explain.
It was also the little things that made it so memorable. Like the slowness of life there, the loud street traffic, finding stray cats in every corner, the labyrinthine streets of the Medina, making Moroccan tagine the main dish on my daily diet, the colors, the smells and the smiles.
Life here is more relaxed and easygoing as things tend to move at their own pace. Remind yourself that nobody is in a hurry. What you are waiting for will happen when it happens. Marrakesh taught me to be patient.
I was told that as a female it is important to be aware of my surroundings but I found it pretty safe. Maybe because of my strong character or the fact that the whole city is full of police officers who are dressed like ordinary people. I felt Marrakesh was a really safe city to live in.
I also took advantage of the hammam, a Moroccan public bath where you can scrub away all the dirt from your day and immerse yourself in the steam. This is one of the things I miss the most. It was a place to take my time to enjoy myself in solitude. 
As you can see, Marrakesh will always hold a special place in my heart.
Work in Marrakesh
The growth and accessibility of the internet turned what was nothing but a dream a couple of decades ago into a reality. People with remote jobs and small companies who want to have flexible and low expenses are starting to choose coworking and coliving spaces as their main place to work and network. These living arrangements create small communities of people with the same lifestyle and interests.
However, Marrakesh doesn't have too many coworking spaces to choose from and finding one with a good internet connection can be a challenge. The first coliving spaces began to emerge and were enthusiastically welcomed by the digital nomad community, even when they are still a little bit basic.
Best Places to Work in Marrakesh
Goworking Marrakech
Goworking Marrakech (61 Rue Yougoslavie, Marrakesh 40000) offers great Wi-Fi and 24/7 access for members. There are also hot desks available next to the window and private offices for an extra fee a month. There is also free coffee and tea available and supportive staff ready to help with anything you need. You can start your day at the MonQuotidian just a few buildings away if you'd like to start your day with a balanced breakfast. 
Cowork in Marrakech
Cowork in Marrakech (Marrakech Plaza, Place 16 Novembre, Marrakesh 40000) is quiet and friendly. Located in the epicenter of the Gueliz district, it offers you an ideal work space corresponding to the expectations of the most demanding entrepreneurs. You will find here fast internet and good private meeting rooms.
Coworking L'BLASSA
Coworking L'BLASSA (38 Rue Tariq Bnou Ziad, Marrakesh 40000) is an excellent co-working space in the heart of Marrakech. The space is very well equipped with the ability to book soundproof rooms and enjoy high-quality Wi-Fi. There is also a terrace on the street to order coffee and meet with friends.  There are a range of workspaces available including private offices, shared desks, and hot desks.  
Cocohub
Cocohub is a web platform that allows you to become a member of the coworking and coliving community in the city. Are you looking for people to hang out with at the end of a productive day? Then this web site will be useful for you.
Best Places to Live in Marrakesh
Best Neighbourhoods
The location in Marrakesh is important. The city has five principal neighborhoods: Medina, Mellah, Gueliz, Hivernage and Chrifia. Each of them has its own characteristics and character. 
Medina
Medina is one of the oldest areas in the city. It offers the most low-priced hotels and riads (inner courtyard, around which the rooms and some common areas are distributed) that usually comes with archaic plumbing and building structure. Here, Jemaa el Fna Square is full with street sellers of all sorts of local food while in Jemaa el Fna you can find music and storytellers that are an introduction to the Moroccan culture. The neighborhood also hosts hectic street markets with everything you can imagine and authentic charming houses that enclose the past of Marrakesh. You will have magic days here if you can deal with narrow overcrowded streets, noisy and traffic.
Mellah
Mellah, near Medina, is another oldest area. It has an old Jewish Cemetery and it is also full of markets. The district isn't safe to live in and you can only find riads here that may not be comfortable enough for you. 
La Palmeraie
However, most expatriates prefer to live in a modern area. The most popular residential neighborhoods in Marrakesh are La Palmeraie, Targa, Guéliz and Hivernage, as well as the northern and northeastern peripheries. These areas are safe, with modern buildings and mostly near the Medina. They are also quite expensive places to live in. 
Gueliz
Gueliz, one of the newest parts of Marrakesh, offers modern restaurants, bars, clubs, supermarkets, small art galleries and many charming places like Jardin de Majorelle (Majorelle Garden) and Matisse Art Gallery where you can enjoy of Moroccan and French art. 
Chrifia
Chrifia is a calm and beautiful middle-class people district, filled with residential buildings and expensive houses with pools. If you move here you will find around everything you need like grocery stores, public and private schools and markets.
Hivernage
At Hivernage you will find pure luxury with mixed vibes between Los Angeles and the traditional Arab style. This is the neighborhood of the wealthiest people and has been the chosen spot for many celebrities such as David Beckham and Julia Roberts. Apartments and hotels are really expensive and you could pay more than 1.000 USD per night.
Find an Apartment in Marrakesh
Relocating to Marrakesh is going to be an exciting adventure, especially finding a property to rent. Marrakesh can be so expensive and at the same time, incredibly cheap place to live in; it all depends on how well you know the local rental market and your connections. 
The best way to find accommodation in Marrakesh is through word-of-mouth; ask friends, your employer and ask around. It is also a good idea to ask shopkeepers in the area if there are any open apartments in the buildings. However, if you don't speak Arabic or French, this task can be a challenge.
Real estate agents are another possibility but the cost will be about one month's rent. You can also check classified ads in local newspapers, Facebook groups such as "Expats in Morocco" and internet. The biggest online advertisement website in Morocco is Avito.ma. You can also check Bastet Property, Espace Maroc, Sarouty, Marrakesh Opportunity, Expat.com. 
In general, prices depend on the facilities, rooms and neighborhoods. Renting a Riad in Medina costs between 500 and 900 USD per month, a studio in Gueliz and Palmeraie around 200 to  300 USD and villas rent prices range from 1.500 to 6.000 USD. In the wealthy neighborhood of Hivernage, an apartment costs between 800 and 2.000 USD per month. Remember that negotiating the prices is part of the culture. 
A foreigner who wants to get a property in Morocco will first have to open an account in Dirhams at any local bank. Then you will need to find a notary with a good reputation in the area. The notary will ask you to provide your Residency Permit and the property's title and plan, among other documents. You should always opt for properties that are titled, even when not all of them are. Finally, you sign a contract with the owner and relax in your new home.
Cheap Places to Stay in Marrakesh
If you have a low budget for accommodation, start looking in non-central areas and avoid modern neighborhoods like Hivernage or Palmeraie. You could also choose to live in a small studio for 300 USD at Gueliz or take a look at the colivings. 
Prices also depend on the facilities: the less luxury you get, the less you expend. Try to look for apartments without aircon or wifi and with more Moroccan style. 
If you are for a short period in Marrakesh, maybe it would be a better idea to search for a budget hotel to return to at the end of a busy day. Check Dar Attajmil (Dar Attajmil, 23 Rue el Ksour), a cute little four-bedroom riad in the medina, with in-suite bathrooms a rooftop terrace and well-maintained gardens. As an even cheaper option, you can find shared rooms in Kasbah Red Castel Hostel (N 3 derb riad kasbah،).
Finally, it could be a good idea to look around and talk to people about the possibility of renting a room in a family house. Maybe you are lucky and you end up living as a local.
Marrakesh Visa
Passport holders from the following countries do not need a visa to enter Morocco as a tourist for a maximum of 90 days: Algeria, Germany, Saudi Arabia, Argentina, Andorra, Australia, Austria, Bahrain, Brazil, Belgium, Bulgaria, Canada, Chile , China, Cyprus, Democratic Republic of the Congo, South Korea, Ivory Coast, Czech Republic, Croatia, Denmark, Spain, Estonia United Arab Emirates, United States, Slovenia, Slovakia, France, Finland, Philippines, United Kingdom, Greece, Guinea (Conakry), Hungary, Hong-Kong (stay limited to 30 days), Indonesia, Ireland, Iceland, Italy, Japan, Kuwait, Libya, Liechtenstein, Lithuania and Luxembourg, Mali, Malta, Monaco, Mexico, Niger, Norway, New Zealand, Oman, Netherlands, Peru, Puerto Rico, Poland, Portugal, Qatar, Romania, Senegal, Singapore (stay limited to 30 days), Sweden, Switzerland, Tunisia and Turkey. If you plan to remain in Morocco beyond 90 days you will need to request an extension of stay.
Travelers who plan to reside in Morocco must obtain a residence permit (Certificat d'Immatriculation). Applications should be submitted to the Bureau des Étrangers of the Prefecture de Police or Commissariat Central. There are a number of ways you can apply for a residency permit in Morocco whether you're a student, married to a Moroccan, employee or pensioner. It's best to inquire directly at the immigration office in your district about what exactly you'll need. Expect to go through a lot of bureaucracy while you're sorting out your paperwork. 
You will more likely have to submit the following documents: copy of your passport and the original, birth certificate, copy of your job/student contract and original, 6 passport photographs, proof of sufficient funds (bank statements), a medical certificate from a local doctor, criminal record check, application forms and a stamp. They could also ask you for a rental contract and a police form, and to translate some of these documents into Arabic or French. You will be issued a 3-month temporary residence permit while you are waiting for your official permit (from 2 to 4 months). 
Culture and Food in Marrakesh
The rich and tasty Moroccan cuisine is another integral part of the local culture. Among its ingredients you will find fish, meat, vegetables, fruits, and many spices. 
Pastilla, one of their main dishes, is a puff pastry made with filo dough stuffed with onion, pigeon meat or chicken, parsley and almonds. It mixes sweet and salty and wraps you with the perfume of cinnamon. You probably already ate couscous, another typical food from here. It is a traditional Berber dish made with wheat semolina, vegetables, chickpeas and red meat or chicken. Moroccans consider couscous as the main dish on Fridays.
The most popular dish in the country is probably tajine. There are many different versions of this Berber dish, but what they have in common is that they are cooked in a clay pot with a conical lid that keeps the steam during and after cooking, preventing food from drying out. Tajine is a meat stew accompanied by fruits or vegetables. It can be made with chicken, tuna, beef, lamb or just vegetables with an interesting mix of spices that achieve a unique flavor.
Tea is a drink that accompanies the inhabitants of Morocco on a daily basis. You can taste it anywhere and even in some shops and public places you will be invited for free. The specialty is mint tea with a good amount of sugar. If you are a tea person, you will love it.
Regarding where to go, the option chosen by many inhabitants of Marrakech as well as the most intrepid tourists, is the food stalls of the Jamaa el Fna Square at night. It is considered a traditional site and the prices are cheap.
If you want to have lunch or dinner in a proper restaurant in Marrakesh, look up because all of the best ones are on the rooftops. Between hundreds of places, Nomad rooftop cafe offers an array of Andalusian-inspired light and healthy dishes, including vegetarian and vegan alternatives. 
If you are looking for a classic Moroccan tajine, a light salad, or more vegetarian food, go to Cafe des Epices. 
At the medina you will find Le Jardin with an extensive menu. The platters are ideal for sharing with friends or your couple. You could confuse this place with Le Jardin in the Royal Mansour. If you end up there, you will have tasty hay-baked vegetables and mint tea for a relaxation day.
Boutique Riad El Fenn has a laid-back brunch café during the day that they transform into an elegant restaurant at night. As they serve Moroccan and European dishes, it is a good spot if you are missing known flavors.
For more charm and glamour, Le Palace is a wonderful place with mahogany walls and ornate chandeliers. This 1920s-themed restaurant exudes elegance at every turn. It takes you back in time and makes you feel like an extra in the Great Gatsby. You can also go to its bar which is the perfect setting for a drink or two.
You can spend an entire year exploring the restaurants that the city has to offer. Marrakesh is an ideal place for going out, get some fun and fill your belly. 
Marrakesh Nightlife
You may presume that with Morocco being an Islamic country, everything begins to quiet down at night but that couldn't be further from the truth. Although, while Morocco isn't a dry country, drinking is generally not allowed in public. Alcohol is served at the hotels, restaurants, bars and discos which are off the street. Between those places, you can also find Beach Clubs like La Plage Rouge (Route de l´Ourika kilómetro 10), a cocktail place with a big swimming pool, Balinese beds to relax while listening to selected DJ's and high quality gastronomy. It has European prices and you will find mostly tourists and expats here. 
Another option to start the night is Churchill Bar (Avenue Bab Jdid، Marrakesh 40040), which has upscale elegance with a funky twist. But I prefer The Lotus Club (Rue Ahmed Chaouqi, Marrakesh 40000) with two quaint bars and a restaurant that offers a unique blend of dishes from Japan, Morocco and France while sounds of live musical performances and cabarets surround the place.
If you are in a dancing mood, the well-known Spanish brand Pacha nightclub has a branch here as well (21 Boulevard Prince Moulay Abdellah, Marrakech 40000). Considered one of the most exotic clubs in the world, it has 2 lounge areas, restaurants, a big swimming pool with views of the Atlas Mountains and an amazing dance hall where the most famous worldwide DJs come to play their music.
The Théatro (Rue Ibrahim El Mazini) is another popular disco in the city. Located in the beautiful Es Saadi Marrakesh Resort, this club also brings every year the best DJs from all over the world and since 2010 it is considered to be the nightclub with the best sound system in Africa.
In Morocco it's normal to go to the discos inside big five-stars hotels when we go out. Another example is The Maj Club that is part of the Les Jardins de l'Agdal Hotel (Boulevard Mohamed VI, Marrakech). The parties that the Maj Club hosts are always full of people and the best music. Expect to listen to a wide mix from pop and techno to Arabic music. This is a place to end the night in the best possible way.
Things to do in Marrakesh
The old and magical Marrakech, known as the red city for the color of its adobe buildings, is one of the Moroccan imperial cities, along with Rabat, Fez and Meknes. This exotic city has a large number of attractions, including mosques, palaces, gardens and places with great charm to discover.
Medina

The old city founded in 1062, is located in the center surrounded by walls 10 meters high and more than 15 kilometers in perimeter. Built in clay, it has 10 impressive entrance doors, including the Bab Agnaou Gate from the 12th century, with bas-reliefs and green colors. Other interesting gates are Bab el Robb, Bab Doukkala, Bab el Debbagh, Bab el Jadid, and Bab el Khemis. The Quoubba Almoravids is the last building standing from the time of the founders of the city: the Almoravids.

Jamaa el Fna Square

All routes through the Medina end or begin at Jamaa el Fna Square. In the morning you will find monkeys, vendors of natural orange juices, improvised restaurants and street shows while at night it fills with food stalls. One of the best places to observe its constant movement is from the terrace of Café Glacier.

Medersa Ben Youssef

Built in the 14th century, Medersa Ben Youssef is the largest Islamic school in Morocco where the Koran was formerly studied. Its central courtyard has an incredible iron chandelier, arches and walls decorated with tiles, and walls covered in handmade panels of zellige, cedar, stucco and marble. You can visit it every day from 8 am to 6 pm.

Saadis Tombs

The Saadis Tombs date back to the 16th century and were discovered in 1917. Located on the right side of the Moulay El Yazid Mosque, near the great Bab Agnaou gate, it is one of my favorite places in the city.

Hall of Twelve Columns

The mausoleum of the Hall of Twelve Columns, with its twelve white marble columns supporting a handmade cedar wood dome, will mesmerize you for a few minutes. Here the members of the Saadí Dynasty rest while in the gardens there are the tombs of servants and soldiers.

Koutoubia Mosqu

Nearby, the 77-meter Koutoubia Mosque minaret is the most famous icon of Marrakech. Although access is reserved for Muslims, it is worth seeing from the outside. The Giralda in Seville was inspired by this minaret. You will have the best panoramic view from Parc Lalla Hasna. Check the atmosphere around the mosque when the calls to prayer start.

The Zoco

The Zoco (market), inside the Medina, contains a maze of alleys full of shops and food stalls. Here you can buy slippers, djellaba, wool, tea sets, spices or clothing, among other things. The artisans are grouped in the streets according to what they sell. Prepare to bargain heatedly. If you are looking for rugs, ask for the Tillis Souk. On Friday mornings they close but the other days you can find them from 9 am to 7 pm.

Mellah

Mellah, the old Jewish quarter, is one of the least visited areas of the Medina but one of the most interesting places. It was created during the 16th century when the kings of Spain and Portugal expelled them. The still-preserved Al Azama synagogue and the Jewish cemetery are its main attractions.

Riads

The vast majority of the riads, small old Arab palaces with an inner courtyard, were converted into hotels. They are usually a good place to relax after a busy day because of the water fountain in the middle of the patio, the smell of the plants and the roof terrace overlooking the Medina. If you're prepared to pay a high price, check out Dar Les Cigognes, Dar Kandi, El Fenn and Riad Jaaneman. You can also go to dinner at a famous riad like Dar Cherifa or visit the Tiskiwin House, an old riad turned into a museum.

Bay Palace

The Bay Palace, from the late 19th century, was built to be the most spectacular palace in the world. It is considered one of the great masterpieces of Moroccan architecture. This set of buildings and gardens made in Arabic style occupy 8 hectares. The decoration of the walls, wooden doors and ceilings are worth a visit. Another interesting place is the El Badi Palace.

Majorelle Gardens

The Majorelle Gardens are the most beautiful in the city. They were designed by the French artist Jacques Majorelle and purchased in 1980 by the fashion guru Yves Saint Laurent. It has more than 300 species of plants from around the world, fountains, lakes and blue buildings. Another green place to rest from the heat is the Palm Grove of Marrakech, with its more than 100.000 palm trees.
Outside the medina is the modern city, partly built during the French colonial period. You can stroll through the shops, malls and cafes of the Guéliz neighborhood, with a more western style. Here are the buildings of the train station and the Royal Theater.
If you dare to leave the city, go see the Ouzoud waterfalls on a day trip. You can also visit Essaouria, a fishing village famous for being picturesque and for the waves among surfers.
To end the day, nothing better than taking a relaxing bath and getting a massage in a traditional hammam. There are so many scattered throughout the city!
Best Time to Visit Marrakesh
The climate of Marrakech is characterized by its mild temperatures during most of the year, with an annual average of 20 ºC. The temperature generally ranges from 6 °C to 38 °C and rarely drops below 3 °C or rises above 43 °C.
In spring and autumn, the temperature is slightly high during the day and pleasant at night. Summers are short, hot, and clear. The temperature rises a lot and can exceed 40 °C during the day. It is undoubtedly the most complicated season for its inhabitants. Winters are cool, especially at night where it can reach 3 ° C.
Any time of the year is good to be in the city if you consider wearing a warm jacket for winter nights and taking care of the sun and heat strokes during the summer.
Marrakesh for Families
While you day to day expenses will possibly reduce by moving to Morocco, your kids are going to have a culture shock at first. If you are thinking about raising bilingual children, this will not hold you back. It won't be easy but you will see the payoff in a fraction of the time it would take in your home country.
In order to enroll in school families must register with the Education Ministry and provide paperwork that they are Moroccan residents. Arabic and French are the primary languages that are taught in the schools. Sometimes private schools teach a third language (English or Spanish) but expect only the basics.
Most people prefer private school to public schools. Public schools are considered underfunded and overcrowded. Private schools require a registration fee that can range from 50 USD upwards of a few thousand dollars if you opt for an international school. Afterwards, there is a monthly fee for attendance starting at 70 USD per month.  
School hours go from 8 am to 12 pm and then the children go home for lunch, returning to school from 2:30 pm to 5:30 pm.  While private schools provide transportation most public schools do not.  
School doesn't give you any supplies. Expect to pay at least 150 USD per year for school materials.  Children who attend public school are also required to purchase their text books and supplies although they are cheaper. 
Some of the schools to consider are: The British Academy Marrakech (English), The American School Marrakech (English), Victor Hugo (French Language), Khalil Gibran Marrakech (English), Elaraki School (Moroccan Private), Les Printemps (Moroccan Private), Establissment Noha (Moroccan Private), Establissment Ezzeitoun (Moroccan Private) and Establissment Sofia (Moroccan Private).
Living in Marrakesh
Marrakesh Transportation
Most of the Red City's must-see sights can be found inside the walls of the medina. Here the best form of transport is on foot since the distances are short and no means of transport enters through its narrow streets. Getting around is difficult and on most maps the names of the streets differ from the names written in Arabic on the street signs. Those who offer to go with you usually ask you for a tip later that always seems little to them. The best way to get to the desired direction is to ask people. Another option is to hire a guide to take you through the winding alleys of the medina. Keep in mind that the guides you will find on the street tend to charge you more than the professional ones that you can contact through a hotel or a local travel company.
Public bus services are available through ALSA Marrakech, but there is no set schedule, and routes can be confusing. One-way tickets cost less than 0.60 USD and you will sometimes wait for an hour.
If you are a tourist, a more convenient and expensive way to get around Marrakech is to use ALSA's Tourist Bus system. This can get you to and from the airport, and they'll also carry you to Marrakech's primary attractions. The prices of tickets start at 1 USD.
You will also have access to two types of taxis: petit taxis and grand taxis. Small taxis go only inside the city and have a meter counter (make sure to remind them to start it as soon as you board in). In general, they cost around 2 or 3 USD. Grand/large taxis cover long trips with a set route and fixed rates. 
Standard rates do not apply to taxis operating to and from the airport and you should settle on a rate before getting in. The trip from the airport to central Marrakech takes about 15 minutes and cost around 8 USD during the day. At night prices are higher and can cost around 17 USD. 
Keep in mind that some drivers will intentionally take you to the wrong hotel in order to receive a commission from them. I advise you to write down the address on a piece of paper to avoid any confusion.
Another alternative are the green horse-drawn carriages called caleche. They charge between 15 and 20 USD for each hour-long ride. However, I advise not to use any means of transport that uses animals.
Fitness and Health
Marrakesh has been climbing in popularity as a tourist destination for years. It's the perfect place to start a wellness trip in Morocco, hiking in the Atlas Mountains or surfing in Essaouira Beach. El Fenn Hotel organizes personalized jogging or cycling tours around the city, and day hikes in the mountains. 
If you are going to stay for a longer time, Marrakech Plaza Spa & Fitness (Marrakesh-Safi, 40000) is a spacious gym with modern machines, a 25 meters long swimming pool, a dietary restaurant and a spa. Marrakech Canal Forme (53 Rue Abou Bakr Seddiq, Marrakesh-Safi, 40000) offers a massive swimming pool, yoga, dance or body combat classes in an atmosphere which is relaxing yet motivating. If you are into boxing try at Fitness Zone (Avenue Hassan II, Marrakesh-Safi, 40000) and at Kaviar CrossFit (Ménara Marrakech, Marrakech-Safi, 40110) for classes filled with energy and adrenaline. You can even try the Miha Bodytec concept which consists of working out while feeling low frequency impulses (appartement n, 8 Boulevard Mohamed VI, Marrakech-Safi, 40000). 
The home of hammams and Argan oil, is also a great place for luxurious relaxation. Royal Mansour Spa is one of the most beautiful places in town with saunas, steam rooms, relaxation pods and hammam Moroccan tradition. Another five-star haven is Mandarin Oriental Spa with three private treatment rooms and two spa suites. The hotel has an indoor pool, fitness center, a yoga studio and an Andalusian mosque to get some inspiration.
Marrakesh People
As the intersection of Europe, Africa, and the Middle East, Morocco has been an ethnic melting pot for centuries. The locals have embraced many dialects and traditions and here you will find Europeans, Berbers, Africans, Middle Easterners and more. 
Arabic is the official language in the country, though Spanish and French are also useful languages. More than half of the population is Arab, with the main religion being Islam. You can also find many other faiths and a harmonious blend of cultures and traditions. 
It won't be hard to interact with Moroccans and adapt, except in rural regions perhaps, but you're still advised to learn some Arabic before moving. 
The culture shock at your arrival is almost inevitable. The laidback Mediterranean lifestyle is really different from the lifestyle of an energetic city. Moroccans tend to be very respectful, honest, quite curious and open-minded, at least in comparison with what most imagine. They often give gifts or offer their help without expecting anything in return. Also strangers help each other sometimes. 
But even though the Moroccan society is multicultural, their ways are very different from western culture. You will have to accept its social etiquette for better integration. I recommend you avoid criticizing religion or the King in public, it can be very offensive to Moroccans. Keep in mind that homosexuality is forbidden and it's also unacceptable for a couple to live under the same roof without being married. You should also research about Ramadan celebration and avoid eating and drinking in public during these days. It is prohibited by religion. 
Even though most of the people are nice and honest, the city has lots of scams too. People may grab your hand for a henna tattoo, or take you to a cheap carpet shop. But don't think that they are trying to deceive you if in some places they charge you a little bit more. Foreigners pay more even in museums. 
Marrakesh Insurance and Medical Care
No specific vaccinations are recommended for Morocco, but you must be up to date with vaccines like tetanus, diphtheria, typhoid, hepatitis A and B, cholera, polio and rabies. 
Be aware that water and food-related diseases such as traveler's diarrhea, typhoid, and intestinal parasites are very common in Morocco. Do not drink tap water and be careful about eating uncooked food. 
The Moroccan health care system is not very developed. There is universal public healthcare as well as a private healthcare system. I recommend to avoid the public hospitals as the wait times are very long and the care is usually pretty bad. 
There are some health insurance plans in the country to help with costs and some will accept international insurance plans. Consider subscribing to health insurance in your country before starting your expatriation project. Some of the leading health insurance providers are: Allianz Care and Cigna Global. If you don't have an insurance, an office visit can cost around 15 USD, medications a few dollars, and surgeries start at 500 USD.
There are general practice physicians and specialists. Some doctors only work with appointments, while others take walk ins. If you need an X-ray or blood analysis you will leave the office, go to a special location that does this, wait for the results a few hours and then bring it back to the doctor. 
If you need to go in for a procedure or surgery, you will need to supply almost all of your own things (drinking cup, bottled water, towels, sheets and pillows). Also, nurses don't help patients very often. Someone will need to buy your medication at the pharmacy, give you the pills at the right hour and help you with anything you need.
Follow-up care is often included in the hospital bill. Make sure to ask about this and expect to pay cash.
Make sure you are fully covered by reading our full Digital Nomad Travel Insurance guide.
Jobs in Marrakesh
My best advice is to work remotely, find the way to transfer your money from abroad or start your own business. In this way you will be in a far better position than having to look for something on the ground. 
Keep in mind that salaries are quite low. A secretary earns less than 600 USD, a beginner professor in the private sector around 800 USD, a beginner engineer of the IT sector over 1.100 USD and an engineer with five years of experience 2.500 USD.
In order to work in Marrakesh, it is indispensable to have good knowledge of French, almost 80% of jobs require it. English and Spanish could be also required. Arabic can be an extra asset but it is not mandatory.
If you are moving to the city, I advise you to look for a job beforehand. There are three main sectors that recruit people: NTIC and Offshoring if your expertise is in new technologies and communication, automotive and aeronautics and Business Services such as Security and Night Guard. The expats are also the favorites of the tourism sector being usually favored in Hotels, Riads, and fancy Restaurants. 
There are many recruitment agencies in Marrakesh and they decide on the ones that would be sent to the company. You can also many websites where companies of Marrakech advertise their job vacancies. You can also try in web pages like Learn4good and m-job.
After being hired, you will have to sign an employment contract. In general, there are three types of job contract in Morocco: CDD (limited period), CDI (normal contract) and Freelance. 
Check out our Digital Nomads Jobs Postings to find the best jobs available for Digital Nomads.
Good luck with the search!
Nomad Friendly
Value for Money
Internet
Workspace
English
Food
Safety
Health
Transportation
Friendly
Quality of Living
Cost of Living Marrakesh
Even though Morocco is far from being the cheapest country in the world, expatriates enjoy a higher purchasing power if they earn in American dollars or euros. The average salary here is about 400 / 500 USD a month but, although it is possible to live with not much money, it wouldn't be comfortable by western standards. It all depends on your income currency and the lifestyle you have chosen. 
Count around 800 USD per month for a fully furnished apartment in the city center plus 90 USD for utility charges, or 350 USD per month if you decide to live in a non-central area. If you work remotely and you need the highest speed internet to work, expect to spend 100 USD per month on internet and cell phones plans. You will expend around 250 USD for food if you like meat and pampering yourself with some western products, another 80 USD if you like to have someone cleaning your house twice per week and at least 250 USD for private school per children.
Using public transportation to get around will cost you about 20 USD per month, a romantic dinner 22 USD and a pint of beer around 4 USD.
If you earn US Dollars or Euros by remote work you will feel rich, but if you earn Moroccan dirhams expect to live within modest means.