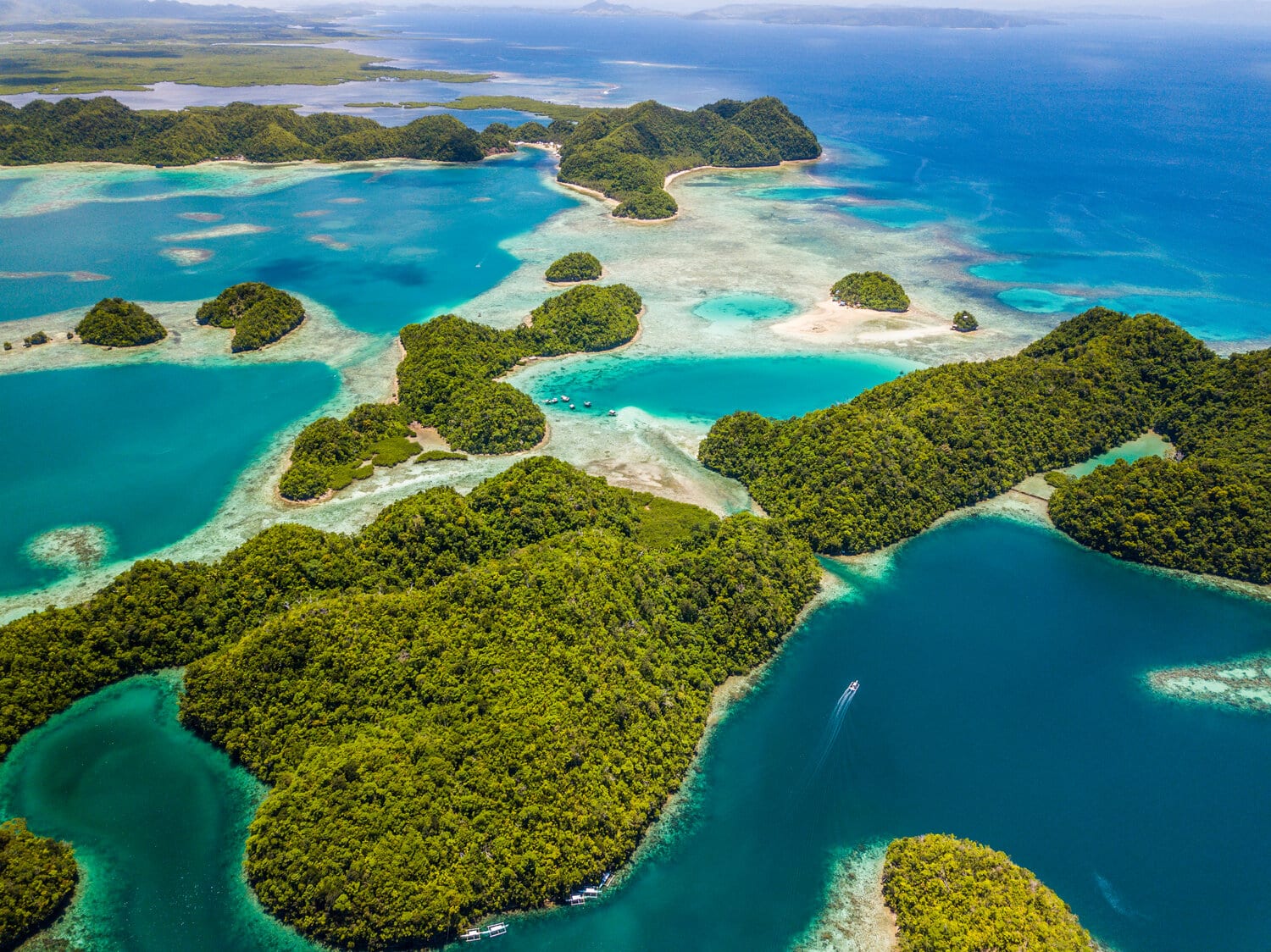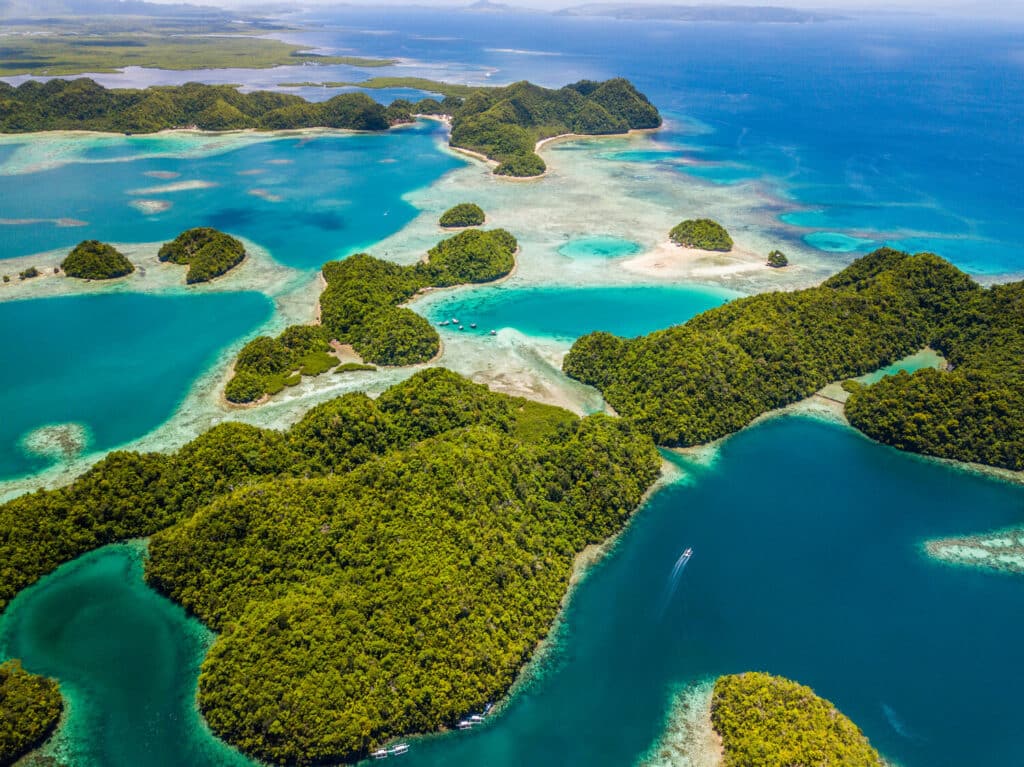 A Digital Nomad Guide to Siargao
When big, barreling, beautiful waves roll out in the pacific, the little surfing island of Siargao instantly turns into a ghost town. Surfers make up the bigger population of the island's travelers. And when the tides are up, ripping against the summer sky, all these half-naked dudes and bikini-clad dudettes jump onto their motorbike, surfboard on the rack, and rush towards the east coast.
In one moment, all roads are roaring with these big bikes. In another moment, the town is just empty. If you arrive in Siargao and find yourself asking, "Where the hell is everybody?", don't worry. They're all just out there, playing in the warm, blue ocean. But whether you're a surfer or not, Siargao is just impossible to forget once you soak in that laidback, raw island feel. Typhoons here may be unpredictable, but summer vibes run the whole-year round.
That said, Siargao isn't just notorious globally for surfing. (It's one of the top 10 in the world.) This teardrop-shaped island in south-eastern Philippines always ranks in the lists of best islands and beaches in the world, along with El Nido and Boracay. The takeaway is Siargao's emerald-green limestone islands scattered in Sohoton Cove National Park, especially when you fly a drone and take a bird's eye view. When you see it, you may need to hold your breath.
Inland, motorbike rides are a thrilling experience. If you're not driving along a scenic coastline, you'd be on a road that cuts right through epic landscapes of coconut forests. Waterfalls, caving, and cliff-jumping are some of the things you can try when the tides are down. During low tide, Magpupungko's rock pools with its crystal clear saltwater also make for a perfect break.
And when the stars come out, Siargao's nightlife turns into one hell of a party. Most people here fall into a routine, riding the swells by day and raving drunk by night, especially during the surf season between July and November. At this time, it's also not uncommon to bump into nomads running away from the winter snow in the West. Some folks have even called the island their home, staying here half the year, and the other half in their home country.
In Siargao, the rhythm and activities of its people are based on the waves. It's best that you install an app on your smartphone that predicts high or low tides. That way you can know ahead of time what to do and where to go next. The internet here may not be the best compared to that in the city, but you can pick up a couple of hacks in the next sections below. With its unmatched surfing experience, island activities, and wild nightlife, Siargao easily slakes that thirst for a few months of tropical adventure.
Nomad Friendly
Value for Money
Internet
Workspace
English
Food
Safety
Health
Transportation
Friendly
Quality of Living
Living in Siargao Overview
| | |
| --- | --- |
|  Meal, Inexpensive Restaurant | $4.30 |
| Domestic Beer (1 pint draught) | $1.20 |
| Cappuccino (regular) | $2.29 |
| Loaf of Fresh White Bread (1 lb) | $1.03 |
| Water (1.5 liter bottle) | $0.85 |
| One-way Ticket (Local Transport) | $0.30 |
| Basic Utilities (Monthly) | $121.74 |
| Internet | $48.02 |
| Fitness Club (Monthly) | $35.05 |
| Apartment (1 bedroom) in City Centre | $500.30 |
[erw_exchange_rates_widget lg="en" tz="0″ fm="EUR" to="EUR,USD,GBP,AUD,JPY,RUB" st="primary" cd="" am="1″][/erw_exchange_rates_widget]
Max Withdrawal: €400
Use of Credit Cards: Widely Accepted
Digital Nomad Personal Experience in Siargao
I'm no surf girl, but I thoroughly enjoyed living in Siargao in 2018. When I arrived, little did I know I dropped right in a week just before a famed international surfing competition. I also didn't know I came in on a month when the swells were at their best barrelling shape, September. Hence, General Luna, where Cloud 9 is located, was packed with tourists and surfers. The town was busy and there was an electric feel of adrenaline rushing in my veins.
September probably was the best or the worst time to come in Siargao, now that all apartments were full. Good thing I found a local boy with a motorbike who knew the best areas to rent a place for a couple of months. The main roads of Siargao were pretty decent, given I was in Mindanao, which was known for the lack of good infrastructure in the country. However, some areas I came to see inland had rocky unpaved roads, which could get really muddy when it rained.
When I did find an apartment, it took only a day to realize that all my neighbors were half-naked hot surfer dudes, all well-built, sun-tanned, and smelled of zinc sunscreen and the ocean. (Yeah, it's hard not to smell the ocean when they'd come in wet and slick every time.) In the compound where I lived, all were men and all of them surfed and I was the only girl. Probably the only terrible experience I had was when one brought in a white chick at 3 am and the two having a wild night screaming each other's names on the second floor just above me.
I made a lot of friends during my stay here, both local and foreign folks. Everybody, if not drunk, was easygoing and good-natured. Drinking alcohol is the norm, even among local residents, who spend the night away tippling rum coke by the seaside. I had a full workload rushing the publication of a thick travel magazine at the time and spent most days holed up writing in my room or at a resort or restaurant. Anyhow, people often invited me to go places and this was something hard to resist, especially when you're in paradise and had a bucket list of things to discover.
The little islands, wonderful lakes, rock pools, caves, and coves were happy road trips I had out of the busy tourist center. Cloud 9 easily became my favorite hangout place to get a sun tan, grab a smoothie, teach yoga, watch surfers flip in the waves, or just relish the pretty sunset. Some newfound friends and I also stayed in Pacifico, quite a dreamy place with gritty white-sand beaches and glass-blue waves for advanced surfers. Thirty minutes away by motorbike, it became my fave spot to destress and detox from all the drinking and the noise of the tourist center. Overall, living in Siargao was a happy, satisfying experience I would gladly do all over again.
Work in Siargao
Siargao isn't the best place to work in when we consider internet connection. Internet speeds run only from 5 to 50 mbps at a handful of restaurants and resorts. And if you rely only on these, you'll be limiting yourself to a few reliable places to work in.
Best Places to Work in Siargao
Globe Tattoo Pocket Wifi
The easiest setup to have is first to get a room or apartment that already has wifi installed (see next section). The second is to have a Globe Tattoo Pocket Wifi in case you fail to get a room with good internet connection, which is common, especially during the surfing season between July and November.
New cell sites were installed by Globe Telecomm in 2019, making data connection a little faster in Siargao. You can get a Globe Pocket Wifi at a local market for $20 and reload it with data connection at the price of $2 to $4 a week. Globe Tattoo has 5-10 mbps speed, and this can go to a frustrating crawl when the waves are down and people are not surfing in the ocean, but surfing the web.
Smart SIM card
The third back-up plan is to have a Smart SIM card installed in your mobile phone just in case the first two fails. And yes, they do happen! Sometimes Globe Tattoo can be too slow for a few consecutive days at a time. With a Smart SIM, you can turn your phone into an emergency hotspot when Globe is down.
With a Globe Tattoo Pocket Wifi and a mobile phone with Smart SIM card, you can work from any restaurant or resort in Siargao without relying on the site's wifi. In any case, here are restaurants with reliable internet connection:
Bravo Restaurant
Serving authentic Mediterranean and Spanish cuisine, Bravo Restaurant has an easy and relaxed ambiance along the beach. You can go here for lunch and then work for three or four hours with swimming breaks in between. The cost can be a bit pricey (around $10 for a meal) but the food, good internet, and swimming by the beach make things a little more convenient. You can also hangout here with your laptop and just order a drink, no problem.
Harana
The Asian restaurant Harana offers a more homey ambiance and affordable food at about $5 a meal. The internet is good during non-peak hours outside lunch and dinner. During peak hours, Harana is often full and many are using the wifi. Harana is known for its delicious shawarma and serves the best halo-halo (fruit cocktail sorbet) on the island, topped with leche flan and ice cream.
Kermit
Italian pizzas in Siargao are the tastiest in Kermit. Its ingredients are shipped all the way from Italy. Like Harana, working online in Kermit is great only during non-peak hours. During peak hours, the internet connection can slow down to a crawl. You also have to wait a long time for your food to be served. They have the yummiest brick oven pizzas for as low as $4. The only peeve here is the mosquitoes. Just put on some insect repellent and you'll be fine.
Buddha Thai Cuisine
If you need some quiet time, Buddha Thai Cuisine has decent wifi combined with tasty Asian food. The food isn't perfect every time, unlike the three previously mentioned restaurants, but that's what makes this restaurant special. There aren't a lot of people! The food can be average and reasonably priced at $4 to $8 a meal, but you won't have anyone to compete with the wifi here.
resort restaurants
For other spots to work in, resort restaurants Kalinaw (Italian) and Karagatan (Asian) have great ambiance while offering the yummiest dishes on the island. These two can be a bit on the pricey side but they make for a good break if you like to try something delicious. Shaka Siargao has good internet as well and goes best with a colorful breakfast smoothie bowl at $5 with free coffee. If you feel like doing laptop work at a cafe, the best options are Fili Beans Espresso, Lunares Cafe, and Kook Kafe.
Siargao Best Places to Stay
Where to stay in Siargo
Siargao is about the size of Silicon Valley in California. At this size, you can go around the main roads and see all the towns for about half a day on a motorbike. The only town you'll most likely stay in is General Luna, which is located at the southeast of the island. This is the tourist center, where all the major surfing spots are.
There's only one main road in General Luna and this runs from the wet market up to Cloud 9. These two are fifteen minutes apart by motorbike. The said main road runs parallel to this lovely, five-kilometer-long white beach, where most of the nicest resorts are located. The best spots to live in are in Cloud 9 area and in Kermit area, which is in between Cloud 9 and the wet market.
The best time to look for a place to stay in Siargao is around June, just before the surfing season kicks in, which is between July and November. During the surfing season, all apartments in the Cloud 9 area are taken. Even if one becomes vacant, it gets filled up pretty quickly within no more than two days.
Cloud 9 Area
This is where the action is at. Surrounding the famed surfing spot Cloud 9 are a few accommodations and plenty of studio apartments. Renting an apartment here averages $300 a month during the high season. At this location you can easily walk towards Cloud 9 or get there with your motorbike in about two minutes.
Before reaching Cloud 9, at the right hand side, there is also a compound with wooden studio apartments, spread over a nice green lawn with spindly coconut trees and a great view of the ocean. Apartments here cost around $400 a month, which you can share with one or two more people. Some of these apartments already have wifi installed.
Along the highway, the cheaper accommodations in the Cloud 9 area can also offer a bedspace with a monthly rental of $200. This one though has no kitchen and the shower and toilet are common.
Kermit Area
A cheaper alternative to Cloud 9 is the area around Kermit Restaurant, which is about 10 minutes south from Cloud 9 by motorbike. The roads here aren't paved but the neighborhood is pretty quiet, except on Friday nights when there is a loud drunken party at Jungle Tattoo Bar.
A basic private room here with a shared bathroom and kitchen runs between $100 and $200. You can also rent a studio apartment with a private kitchen, bath, internet, and air-conditioning starting at $300. What's good about this area is the number of diners and restaurants nearby, all just a walking distance away.
From this compound, you can also cross the main road and walk down a short alley to get to the only long white beach in General Luna. Also across the Kermit area is Agaw Green Living Homestay. It offers cute nipa hut rooms ($150 a month) in a lush camping ground and is just a few steps away to the beach and its amazing sunrises.
Pacifico
Thirty minutes away from General Luna by motorbike is the dreamy and quite isolated surfing spot Pacifico. It has a handful of empty white-sand beaches and one main beach whose waves are the glassiest blue I've ever seen. There are a few restaurants and accommodations surrounding this spot for expert surfers. It's a great area to have a break from the hustle and bustle of General Luna. But if you're bringing your work here, you would need to have a pocket wifi because the establishments here have no internet connection. An accommodation in Pacifico starts at $4 a day.
Find an Apartment in Siargao
The best way to find an apartment is to hire a motorbike with a driver. General Luna is pretty small and you can scout the whole place within two hours, or three hours at most, if there are many vacant apartments available. Tell the driver to find an apartment in the Cloud 9 area first. The cost of hiring a motorbike driver is around $6 or P300 for two hours.
Most of the units in the Cloud 9 area are studio apartments with a kitchen, bath, and air-conditioning, good for two people. The average cost is $300 a month or P15,000. These apartments are often surrounded by nature and are a few steps away from the main road. Cloud 9 would just be 5 to 15 minutes away by foot and under 3 minutes by motorbike.
Around Cloud 9, rooms and bedspaces in hotel and resort establishments may also be rented out on a monthly basis, starting at $200 for a bedspace. Rooms can range between $300 and $600 a month in a mid-range hotel. Some accommodations do not allow this though because they are often full and earn more than long-term stays.
If you're not a surfer, you may choose to look for a place to stay in the area around Kermit. You can find a room here starting at $100, with a shared bathroom and kitchen. These rooms are found in small compounds and homestays, within one to three blocks away from the main road.
You can also find studio apartments here with internet and air-conditioning, starting at $300. Meanwhile, an apartment with one to three rooms can range from $300 to $600, but these often come without any furniture.
The cheapest rooms and accommodations can be found near the wet market. Located 15 minutes away from Cloud 9 by motorbike, this area caters to local residents and people working in restaurants, hotels, and resorts. Rooms and apartments here start at $80 a month.
What's nice about staying in the area around Kermit or the wet market is the availability of a number of diners and restaurants in the vicinity. An everyday meal here can cost between $1 to $3. Basic food in Cloud 9, however, is a little more expensive, starting at $4 a meal.
Looking for a long-term stay on www.airbnb.com can also be convenient. A room with a private bathroom, air-conditioning, and internet starts at around $400 a month. This is good for two people and is quite a good deal if you have someone to split the cost with. Just make sure the location is in General Luna, Siargao. Otherwise, it would be too far and isolated.
If you don't feel like hiring a motorbike driver, you can go around General Luna on your own as well. Just explore within the perimeter of the main road, between the wet market and Cloud 9, and go down the little streets and alleys. These often just loop back to the main road. Any place farther than Cloud 9 or the wet market can feel too isolated.
Cheap Places to Stay in Siargao
There are plenty of hostels and homestays in Siargao. Staying at one of these can be a great way to meet new people to have island adventures with.
The White House Hostel
The White House Hostel is one of the more decent, low-budget accommodations in Siargao. Starting at  $8 a day, it offers clean, wifi-equipped white rooms and a nice balcony with surrounding views. It's located before Bravo Beach Resort and is just a short walking distance away to the beach!
Paglaom Hostel
Paglaom Hostel is an open-air, mix dorm with mosquito-netted beds. The room can be crowded with 10 beds per room, but the free wifi and the common kitchen make this a good deal for only $7 a night. It's by far the cheapest on the island. Paglaom Hostel is near Kermit, just two blocks from the main road, and is a 10-minute walking distance to the beach.
Tres Islas Hostel
Just a five-minute motorbike ride to Cloud 9, Tres Islas Hostel offers basic bunk bed accommodation with air-conditioning, free wifi, and free breakfast. Its close proximity to the beach and Cloud 9 makes this a good offer at only $8 a night.
I Love Siargao Hostel
Meanwhile, the highest rated budget accommodation on the island is I Love Siargao Hostel. Its spaces are clean, comfortable, and fun, with lockers, air-conditioning, and free wifi. At $8 a night, a bunk bed comes with the free use of a small kitchen and a fridge. They have free water too. It's a 15-minute walk to the beach and a 10-minute motorbike ride to Cloud 9.
For weekly and monthly leases, just walk around the area surrounding Kermit Restaurant. This is the best area for affordable rooms starting at $7 a day and $100 a month. A room often comes with a common kitchen and bath, surfboard rack, and motorbike parking.
Siargao Visa
Note: Siargao recently opened its doors to travelers starting December 1, 2020. For the complete list of requirements to the island, please visit this page.
Most foreign nationals can stay in the Philippines without a visa for 30 days. Citizens of Brazil and Israel can stay in the country without a visa for up to 59 days. You can check this website how this applies to your country. Here are the requirements for a visa-free stay in the Philippines:
A passport valid for at least six (6) months

Entry and exit flight tickets

Your hotel reservation or a letter from your host

Identification card
If you're planning to stay in the Philippines for more than the allotted VISA-free period, you can apply for a Philippine tourist VISA at a Philippine embassy or consulate. Requirements include:
Passport valid for at least six (6) months

Duly accomplished visa application forms

Passport photos (2 copies)

Proof of bona fide status as a tourist or businessman

Confirmed tickets for the return or onward journey to the next port of destination

Payment of relevant visa fees
Citizens from more than 30 countries also have the option to obtain their visa upon arrival in the Philippines. You may check this page to know if your country is included.
Once you obtain your Philippine tourist visa, you may extend your stay 30 days at a time up to a maximum of two (2) years at any immigration office. The closest immigration office to Siargao is in Surigao City in mainland Mindanao. To get there, you take a habal-habal to Dapa, the next town, and get onto a ferry to Surigao City.
Bureau of Immigration Surigao
Near St. Paul Surigao University Hospital
Surigao City, Surigao del Norte
(+63) 86 310 0800
Culture and Food in Siargao
Undoubtedly the chillest place in the Philippines, Siargao has a distinct vibe that sets it apart from the other 7,600+ islands in the country. Since its publication in Surfer Magazine in 1992, Siargao slowly developed from a rustic, agricultural and fishing-based island into a bustling, surf town, attracting immigrants from all over the world. Its a mix of friendly people, party atmosphere, and good music, combined with a growing surfing community amidst the backdrop of Mindanao culture.
Its hotspot General Luna is a melting pot of residents, with Filipinos from other islands, especially mainland Mindanao, and foreign nationals mostly from the US, UK, Italy, Spain, France, and Mexico. Surigaonon is the native dialect in town, but English is widely spoken and understood, even by local children. With its Spanish influences, much of the Filipino and Visayan languages also have words of Spanish origin.
The food scene in General Luna, like that in El Nido and Boracay, is predominantly Filipino and a mix of several international cuisines, mostly from Italy. The Filipino fusion restaurant Harana is a favorite for its native-inspired design and unique Filipino dishes such as halo-halo with watermelon and adobo bibimbap. Tasty and affordable grilled meats and seafood are available at Mama's Grill. And if you have the guts, you can also try the grilled pork and chicken intestines called isaw.
Local Filipino favorites sisig (sizzling plates), silog (egg-sided breakfast meals), and sikwate (local hot chocolate) are unique things to try at Habhab. The char-grilled Bacolod chicken inasal is also a famous dish in southern Philippines, and goes best with veggie skewers and eggplant salad at Azuete Siargao. All the Filipino restaurants mentioned above cost $3 to $6 a meal. While this is a common price point to eating in Siargao, you can also eat rice meals at small diners for $1 or $2.
Italian cuisine is also a big hit on the island, with its offerings of pizzas, pastas, and meat-based dishes. Kermit is a popular choice for brick oven pizzas, make your own pizza, and yummy cocktails. Trattoria Altrove is also a favorite for their classic pizzas and pastas such as Pancetta Con Tartuffo and Quattro Stagioni. Meanwhile, best-seller pastas are all fresh and handmade daily at La Carinderia, which serves Filipino and Italian comfort food. A meal in these restaurants starts at $5.
There's also a number of notable, top-rated restaurants that deserve a mention. The Filipino-Peruvian fusion at Ceviches and Kinilaw is cool to try, its best-seller being wild caught fish cured in vinegar, spices, and coconut milk. The Mexican dive bar Miguel's Taqueria offers yummy burritos and tacos from scratch. Authentic Indonesian dishes are also great to try at Warung, while flavorful Japanese food is found at Beach Ramen. The price range for a meal in these restaurants is $5 to $10.
Every September, the people of General Luna celebrate the colorful Siargao Island Fiesta along with the international surfing cup. This covers two weeks of surfing competitions, parades, street dancing, parties at resorts and bars, and live bands. It's a great time to be in Siargao as you mingle with the local residents and surfing community in good cheer and drunken merriment.
Siargao Nightlife
In Siargao, great party music, funky neon lights, and slushy cocktails can turn people into savages. You'll hear stories of drunk driving, sleeping by the beach, and nude body-rubbing scenes by the bar or the dance floor. To keep things fun, bar owners rotate the party every night of the week. (See schedule below.) There's often happy hours and easy live bands until 10 or 11 pm, followed by a party that peaks at 1 or 2 am. Drinks can go from $2 beers and rum cokes to $4-$6 cocktails.
RumBar
On Mondays, we have RumBar, which holds Monday Madness, where you can go dancing, drinking, and socializing. They have live music from 9:30 pm to 11:30 pm, followed by deejays rocking the turntables all the way until past midnight. Do try some tasty nibbles off their incredible Japanese menu.
Viento del Mar
On Tuesdays, there's Art Night at Viento del Mar, where you have jam sessions with great bands and internationally known deejays. The place used to be a private residence that turned into a local favorite hangout place. By 11 pm, you can head to Tattoo Bar near Kermit for the Jungle Party.
Bravo
On Wednesdays, go to Bravo early in the evening for its Pintxo-Pote Wednesdays, or free tapas with drinks. After that you can head to RumBar for the reggae party and live music until 11 pm, and deejays until the wee hours.
Buddha's Surf Resort
For Thursdays, there's acoustic night over at Buddha's Surf Resort or at Kitya's Place. This is often held with live bands over guitars, with slow beer drinking with friends. The party is at Hotspot after that.
Viento del Mar
On Fridays, there's happy hour with international deejays from 9 pm to 11 pm at Viento del Mar. This beachside bar is where people warm up before they head to the wild drunken party over at Jungle Tattoo Bar. Jungle looks like this empty boring barn by day, but come Friday night it becomes the loudest and wildest party on the island.
Harana Resort
Saturdays are reserved for Harana Resort where they hold an Espresso Martini Party around sunset time. Fili Beans sometimes has acoustic sessions on Saturdays too. After that, the party is at RumBar with deejays playing on the tables from 10 pm until the wee hours.
Bravo
Every Sunday, Bravo holds After Surf Sundays, where people party to deejays playing cool music. The Filipino Spanish restaurant-bar is known for its award-winning chef, who prepares best-sellers such as Spanish Tapas and Paellas. After that, head over to Hotspot or Barrell for the party of the night.
Hanigad Beach Bar
For daily 4-6 pm happy hours and sunset sessions you can try Hanigad Beach Bar or Kawayan Restaurant at the Cloud 9 area. Hanigad has some great views of surfers and the sunset at this time, while Kawayan has a good pool table to play with or have your drinks in Japanese seating style.
Things to do in Siargao
Most long-stay travelers I met fell into a pattern on the island. They would go surfing after brunch, work late in the afternoon until evening, and then hang out at a bar after that. When the tides are not so good, some are quick to grab a guitar or ukulele and spend the day playing music, or hop onto a motorcycle and have some adventure time.
Many of the destinations listed below are grouped into one-day tours on the island. You can even visit all of them in just three or four days. With the exclusion of the boat tours, exploring these places on your own with a motorbike is much more ideal, not to mention cheaper. They are easy to find on Google map, with minimal entrance fees. Either way, you can join a big group with a tour service provider for more convenience. 
Surf at over 15 surf breaks

There are over 15 surf breaks around the main island of Siargao, both on and off-shore, each one offering a different skill level. You can find maps of Siargao's surf spots on several restaurants and hotels or you can simply search for it on the web. Surfing lessons run at $20 for two hours while surfboard rental costs $6 per hour. Bringing a longboard to Siargao can be difficult due to the flight transfers. The board selections on the island aren't the best but you can rent the better ones over at Fat Lips Surf Shop. But if you're not picky, there's always a board rental by the beach wherever surfers flock.

Cloud 9

Located north of General Luna, Cloud 9 is the most popular surfing spot on the island, attracting the majority of expert surfers. It offers the most consistent barrelling waves for short, intense hollow rides. It's also the location of the yearly  Siargao Cloud 9 Surfing Cup, an official World Surfing League Pro event, every September.

Tuason Point

Just a walking distance south from Cloud 9 is the legendary Tuason Point, which features thick barrels in medium to large north swells also for expert surfers. While a short walk north from Cloud 9 will bring you to two beginner and intermediate surfing spots Quicksilver and Jacking Horse. This is where you can get lessons if you're new to surfing.

Cemetery

About 10 minutes south by motorbike from Cloud 9 are two intermediate off-shore surfing spots Cemetery and Daku. You can rent a boat with three or four friends or join others at the shore and split the cost at around $5 per person. The boatman will take you out to the surf spot, and maybe even join you, good for half a day.

Burgos

Outside General Luna, there are two more notable surfing spots for experts–at Burgos, which is at the northern end of Siargao, and Pacifico, about 30 minutes north from the tourist center. Intermediate ones can be found at Salvacion, Stimpy's, and Rock Island. These three are huddled near each other about 10 minutes north by motorbike from Cloud 9.

Cloud 9 Boardwalk and Tower

You wouldn't want to miss the sunrise at the popular Cloud 9 Boardwalk and Tower. It's nice and quiet here at dawn and you can have the whole place to yourself. The three-storey tower is also a refreshing place to hangout in the afternoon and just watch surfers ride the waves.

Sohoton Cove National Park

Fly a drone here and feast your eyes. This is the closest you can get to seeing stunning jade islands, if you're not going to El Nido. Sohoton Cove is located in Bucas Grande Island, the big island found south of the main Siargao island. While you can visit this place briefly along with the main island hopping tour, Sohoton is best savored for a full day with an optional overnight stay. The site features the picturesque Blue Lagoon, which is similar to Coron's Kayangan Lake, and a few underground rivers like Crystal Cave and Hagukan Cave. A boat tour in Sohoton costs $40, which you can split with up to 10 people. 

Sugba Lagoon

Another site for an epic drone shot, this 4,000-hectare sanctuary is located in Del Carmen on the west coast of Siargao. You'll be hanging out in one big hut with one diving platform jutting out into the emerald green lake. There are no boat tours here but you can rent a bamboo raft for $4, bring it in the middle of the lake, and create your own hangout and jumping spot from there. You can also rent a stand-up paddleboard on the site. Getting here requires traveling by van to Del Carmen and then a boat to Caob Island. The easiest way to experience this is by booking your tour with Klook, which costs $20 per person.

Island Hopping to Naked, Daku, and Guyam Islands

Island hopping is a standard activity wherever you go in the Philippines, and Siargao is no different. This island hopping tour covers three islets off the coast of eastern Siargao. You can either join a group tour ($25 each) with a tour service provider or rent your own boat at $30 to $40, which you can split with up to six people. As the name suggests, Naked Island is just bare white sand that stretches about 200 meters long. The biggest of the three, Daku Island features a big deck of lovely white sand, backdropped with greenery and some cottages. This is where you have buffet lunch in an open cottage. You can do kayaking and fishing here too. The last in the tour is Guyam Island, another small, sandy island with beautiful coconut trees and a shack to grab some snacks or drinks.

Coconut Road

In Pilar, about an hour away by motorbike from General Luna, you can explore Coconut Road along with the next three destinations in this list. They're all situated near each other. The Coconut Road cuts through hectares upon hectares of coconut trees–another sight to behold when shot with a drone camera. You'll see more of these vast fields at the Coconut Viewdeck further up the hills on the way to the rock pools.

Maasin River

Right after the Coconut Road and Maasin Bridge, you'll find Maasin River. It's a lovely watery landscape, surrounded by greenery and bent coconut trees. You can swim in the water, which goes 6 feet deep, go boating, or try the tarzan swing. Entrance is P20 or about $0.50.

Tayangban Cave Pools

About 10-minutes north from Maasin River is a small but fun caving experience. For a $1.5 entrance fee and a $2-4 tour guide, you'd be wading in chest-deep water in a dark cave for about 15 minutes, aided with nothing but a flashlight. At the end of the cave, you'll reach an opening where you can swim and go cliff jumping. It's best to bring a waterproof bag if you're going here, especially if you're taking a phone or camera with you.

Magpupungko Rock Pools

A ten-minute motorbike ride from the cave pools is a popular hangout place with crystal clear blue water. Accessible only during low tide, these rock pools are hollow openings on a jagged bedrock at a small local resort. You would have to check the tide before getting there, otherwise the waves would just knock you out during high tide. The bedrock here can be pretty sharp. Wearing water shoes is advisable. It has an entrance fee of P20, or about $0.50.
Best Time to Visit Siargao
Unlike the rest of the Philippines which has predictable wet and dry seasons, Siargao's weather has a mind of its own. The island is mostly dry between March and November, but typhoons and rain showers can occur any time of the year. Because there is no specific weather pattern when it comes to typhoons in Siargao, you would have to check the weather forecast two weeks at a time. A typhoon in Mindanao usually lasts two to four days. While the best swells come before and after a typhoon, surfing during a typhoon is not recommended.
If you're coming to Siargao mainly for surfing, expect small waves from April to August, magical swells from September to November, and large, messy waves from December to March. That perfect window for surfing (September to November) is popular among surf spots like Cloud 9, Pacifico, Burgos Bay, and Tuason Point. During winter (December to March) the best chances to surf are at Stimpey's and Pilar, both offering solid monsoon swells.
Meanwhile, the best time to go island hopping is during the summer, March to May, when the waves are at their calmest and the water at its clearest.
Siargao for Families
With its newly opened Sayak Airport, newly paved roads, and several newly opened resorts, Siargao has become more and more tourist and family-friendly in the past five years. And with its high ranking in the world's best islands in some of the most widely read travel magazines, Siargao has turned from a well-kept secret only known to surfers to a major island getaway in the pacific.
If childcare is important for you, you may want to book with a resort that also offers childcare services. Depending on your budget, you can pick one among Romantic Beach Villas, Sailfish Bay Surf, and Nay Palad Hideaway. Booking with a resort with a swimming pool or easy beach access is also a great option to keep kids' boredom at bay. The top family-friendly resorts with a swimming pool include Isla Cabana, Siargao Bleu, and Vivo Inn. If you prefer a beachfront resort, you can look up Bamboo Garden, La Luna, or Patrick's on the Beach.
Children between 12 and 18 years old can easily go for beginners' surfing lessons at the Jacking Horse, a surfing spot right next to Cloud 9. With the exception of Magpupungko Rock Pools and Tayangban Cave Pools, the attractions in Siargao are great for kids, especially the island hopping and Sohoton Cove National Park. The five-kilometer-long white beach parallel to the main road can also make for an accessible and free dip without breaking your budget.
There is only one school in General Luna, the government-funded General Luna Central Elementary School, which is reserved for kids ages five to 12 years old. Enrolling kids here costs only a minimal fee, but the children would be sharing a classroom with 30 to 40 other kids.
It's also good to note that the pharmacy and the hospital are only available in the town of Dapa, which is 30 minutes away from General Luna. Lastly, you may also opt to book a tuk-tuk for $25 a day or a car for $50 a day if you want to get around the island with your family.
Living in Siargao
Siargao Transportation
Getting to Siargao Island
Getting to Siargao Island is a two-flight process. You would first have to fly into the Philippines through Manila or Cebu, whichever is more convenient for you. Compared to Manila, Cebu is the better option. It is less dense, more traveler-friendly, and closer to Siargao. Traveling from Manila to Siargao by plane takes 2.5 hours, while traveling from Cebu to Siargao takes an hour.
The most ideal is to fly in through Cebu, spend a few days of island adventure, and then fly to Siargao Island. You can book your flight ahead of time with Philippine Airlines, Cebu Pacific, or SkyJet Airlines. A flight costs $100 to $180. When you get to Siargao, you'll be landing in Sayak Airport in Del Carmen. This is on the west coast of the island. Just go outside the airport and take a van that's headed for General Luna. Travel time is 45 minutes, with a fare of $6 or P300.
Getting around General Luna
Once in General Luna, a motorbike is the best mode of transport. You can find these motorbike rentals along the main road of General Luna. Price starts at $6 a day for a regular bike, and about $10 a day for a motorbike with a surfboard rack. You can also request for a discount if you're renting the motorbike on a weekly or monthly basis.
If you're not renting a motorbike, you can hop-on and hop-off these local public transport called habal-habal. These are high-powered engine motorcycles with an overhead roof and they take up to two passengers each. Getting from one point to another in General Luna costs $0.50 to $1 on the habal-habal. Renting a tuk-tuk is also possible through Biggoride. Renting one for ten hours (one day) with a driver costs $40 or P2,000. Renting a tuk-tuk without a driver costs $25 (P1,200) per 24 hours.
Exploring the surrounding Islands and Islets
You don't really need to book with a tour service provider just to see the islands or try out an off-shore surfing spot. Wherever you are in General Luna, you can just walk towards the main beach. More often than not, there are local boats called bangka (banca) that are readily available to take in passengers wherever they want to go around Siargao.
Going to an off-shore surfing spot costs about $30 to $40 per boat, which has a maximum capacity of about 4 people, space for surfboards included. You can easily find people to split this cost with during the surfing season. Seeing the islands Naked, Daku, and Guyam with a tour service provider costs around $25 per person, buffet lunch included. Alternatively, you can also rent a private boat for $30 to $50, depending on the capacity of the boat, to go to these three islands. If you want to see other islands, just negotiate with the boatman. Islands that take three hours to reach cost about $60 back and forth.
Fitness and Health
Health and fitness come hand-in-hand with surfing. You have to build strength and stretch properly if you are to improve on your surfing skills. In Siargao, there are four gyms dedicated to strengthening your muscles and three resorts specifically designed for yoga-and-surfing retreats.
Located near Kermit, SurFit Gym is the busiest and most affordable gym in town. With a $30 monthly or $3 daily drop-in rate, you can make use of their dumbbells and barbells, plate-loaded machines, and cable cross. They also offer calisthenics and TRX suspension training. Found across Bravo Beach Resort, CrossFit Siargao offers some intense crossfit classes, cross circuit, weight training, and personal coaching. The gym is half-open to a surrounding vast field of coconut trees. Unlimited access to all the classes and equipment is available at $50 a month. Drop-in rate is at $5.
If you want to learn some classic boxing and muay thai, head over to SOS Gym, located several meters away from Rumbar. You can get boxing and muay thai classes for $70 (P3,500) a month or $7 per class. They also teach Brazilian Jiu Jitsu and Filipino Martial Arts. For a basic clean gym with weights, stationary bikes, and treadmills, you can go to Siargao Bleu Gym. The gym pass is at $70 (P3,500) a month or $7 a day, with free yoga offered daily.
There are several resorts that provide yoga to their guests with a $6 to $8 drop-in rate per class. The top three yoga retreat centers in Siargao are Lotus Shores, Sadhana Siargao, and Buddha's Surf Resort. The first two offer varied yoga classes throughout the day, located in an open-air setup surrounded by a beautiful, lush landscape.
Other resorts only offer yoga to their guests to complement their stay. However these are also open to non-guests for a drop-in rate of $6 to $8 per session. These resorts include Kermit, Bravo, Harana, Kawili, and Greenhouse Surf-Yoga.
Siargao People
The Philippines is known for being one of the friendliest countries in the world, and Siargao is no different. General Luna is pretty small and everyone knows everybody. The same people hangout in the same places, save for passing tourists. The most number of immigrants here are the employees who come from mainland Mindanao and some from the Visayan region. Surigaonon is the native dialect on the island, but most people speak Visayan, which generally is the language of southern Philippines.
Business owners come next and these include a mix of well-off people from Manila or Cebu, as well as other countries, who have made Siargao either their homebase or their second home. Some of them are celebrities, prominent people, or just plain wealthy. And while they belong to some kind of elite group on the island, they are all very friendly and approachable, like everyone in Siargao. Others, meanwhile, stay here only weeks at a time to shortly supervise how their businesses are going.
Cloud 9 area is the chillest spot, with some really cool people worth knowing. Everyone there is just happy, accommodating, and very open. You can walk up to someone and talk about anything under the sun. And because the majority of the people in this area are surfers, you're bound to have sunny people around you all the time. If you're lucky you can even meet unknown celebrities and pro surfers from other countries. After all, Siargao is recognized as one of the top 10 surfing spots in the world, with waves similar to those of Tahiti and Oahu.
Funny enough, Siargao's surfing hotspot, Cloud 9, is named after a chewy chocolate bar. The legendary wave-rider and outlaw Mike Boyum was among the first to rave about the island's perfectly barrel-shaped waves in the late 1980s. When photographer John Callahan published about it in Surfer Magazine in 1992, Siargao became an instant hit. In his article, he mentioned how he and his friends would drink Coke and eat Cloud 9 at their secret surfing spot. Thus Cloud 9's name was born.
Siargao Insurance and Medical Care
Health insurance is a must if you're surfing long-term in Siargao. Some of the surf spots are notorious for their sharp reefs. If you're not careful, this can leave nasty bloody gashes on your skin. Because of the number of non-professional surfing instructors on the island, there were instances where guests were left unattended and got into unsightly accidents. It's best that you have your own first aid kit on hand. Make sure you have a professional surf instructor and never go into surfing areas that are beyond your skill level.
Drunk driving is also a common scenario on the island. Please, don't drink and drive. This happens once or twice a week, especially during the peak season. If you are drinking for the night, just commute by public transport (habal-habal or motorcycle) instead, or ask a friend beforehand to bring you home (unless that friend is also drinking). A motorbike accident can steal several days of your time in Siargao and can leave you temporarily disabled–not a good news if you're going island hopping, cliff diving, or lake exploring.
General prescription medicines can be bought from local pharmacies in General Luna and Dapa. For small emergencies such as those requiring stitches, this can be made in two or three clinics in General Luna. For graver accidents, like mending a broken rib, you will need to go to the regional hospital in Dapa, which is half an hour away from General Luna. For extreme life-threatening cases that cannot be handled in Dapa, you will have to go to Surigao City, which is about 2.5 hours away by boat. There are two regular boat trips to Surigao from Dapa, Siargao, but you can also hire a boat on demand 24 hours a day, at a cost of about $200 or P10,000.
Make sure you are fully covered by reading our full Digital Nomad Travel Insurance guide.
Jobs in Siargao
With its newly opened airport and resorts, Siargao is just about to boom and share the limelight with El Nido and Boracay for being some of the best tropical destinations in the world. The roles of an operations manager and a full-time chef are two of the highest paid jobs among resorts on the island. These often require a university degree and at least two years of good track record in the tourism industry.
The higher paid jobs on the island are travel agents and travel guides, who are often interchanged to receive guests and tour them around in designated spots in town. These are probably the most fun jobs in Siargao as many of these guides and agents are also required to interact with guests and do the activities themselves. You can even structure your work to include surfing time, as most tour agencies allow for their staff.
Marketing and sales personnel are also in demand in Siargao since the opening of Sayak Airport in 2019. Tourist arrivals have increased, more people are heading to restaurants and bars, and most resort owners are looking for the best people to attract the increasing number of tourists streaming in. Along with these, graphic artists, photographers, and filmmakers can make for a good gig creating content for print and online marketing for these establishments.
Other cool jobs on the island include professional surf instructors, master divers, freedivers, and yoga instructors. If you have the skill, bartenders, relations managers, and party coordinators are also fun jobs to try.
Check out our Digital Nomads Jobs Postings to find the best jobs available for Digital Nomads.
Nomad Friendly
Value for Money
Internet
Workspace
English
Food
Safety
Health
Transportation
Friendly
Quality of Living
Cost of Living Siargao
You can live for as cheap or as extravagant as you like in Siargao. A decent studio in Cloud 9 area with a private kitchen, bath, air-conditioning, and wifi starts at $300. But you would have to get there in June or July, before everyone else does. The same quality studio with the same amenities costs $200 to $300 in the Kermit area, which is 10 minutes away from Cloud 9 by motorbike.
Say, you're renting a motorbike with a surfboard rack, this comes to $300 a month. Gas is around $50 a month. Surfboard rental at Fat Lips costs $4 a day for monthly, which comes to $120. Food, drinks, and snacks are around $500 a month, or $16 (P800) per day. This can go cheaper if you prepare your own food or eat at small diners.
Having your own Globe Pocket Wifi costs $30 on the first month and $10 to $15 in the succeeding months. Leisure activities like island hopping, caving, and lake explorations are at $300 a month. Overall, the total cost of living comfortably and leisurely in Siargao comes to about $1,600 a month.
When I lived here, I rented a $100 room in a compound, with a shared kitchen and bath, in the Kermit area. The island was cool and windy at night so I thought I didn't need air-conditioning. I prepared my own food, sometimes ate at diners, and stayed only in restaurants for long days of laptop work. This reduced my food budget to around $200 a month. I skipped the motorbike rental and took the local commute, thus incurring only about $50 a month for transportation. Leisure activities came to $200 a month, occasional surfing lessons included. My new friends brought me around the island and I didn't have to rent any motorbike. Overall, my expenses came to around $600 a month.