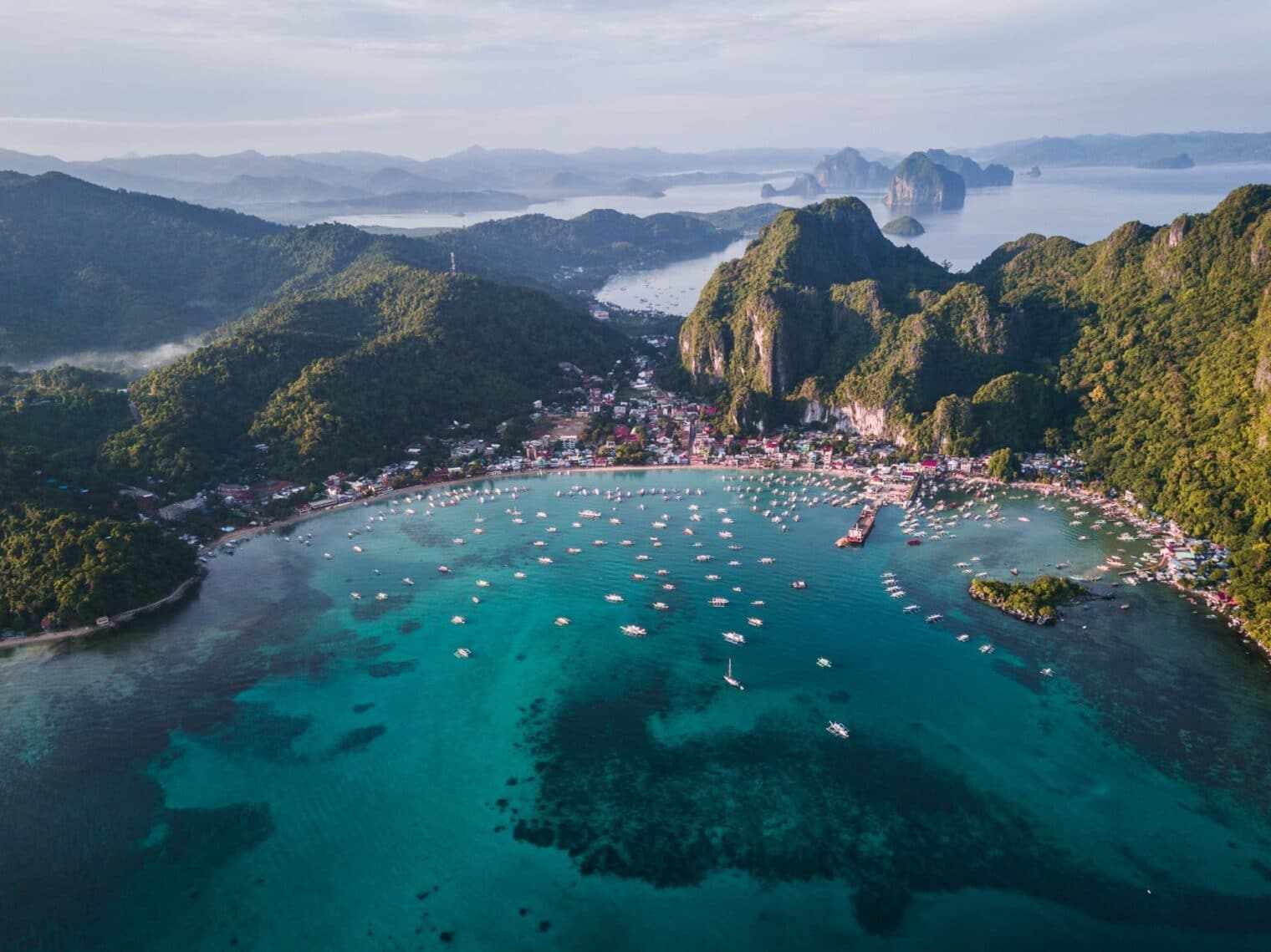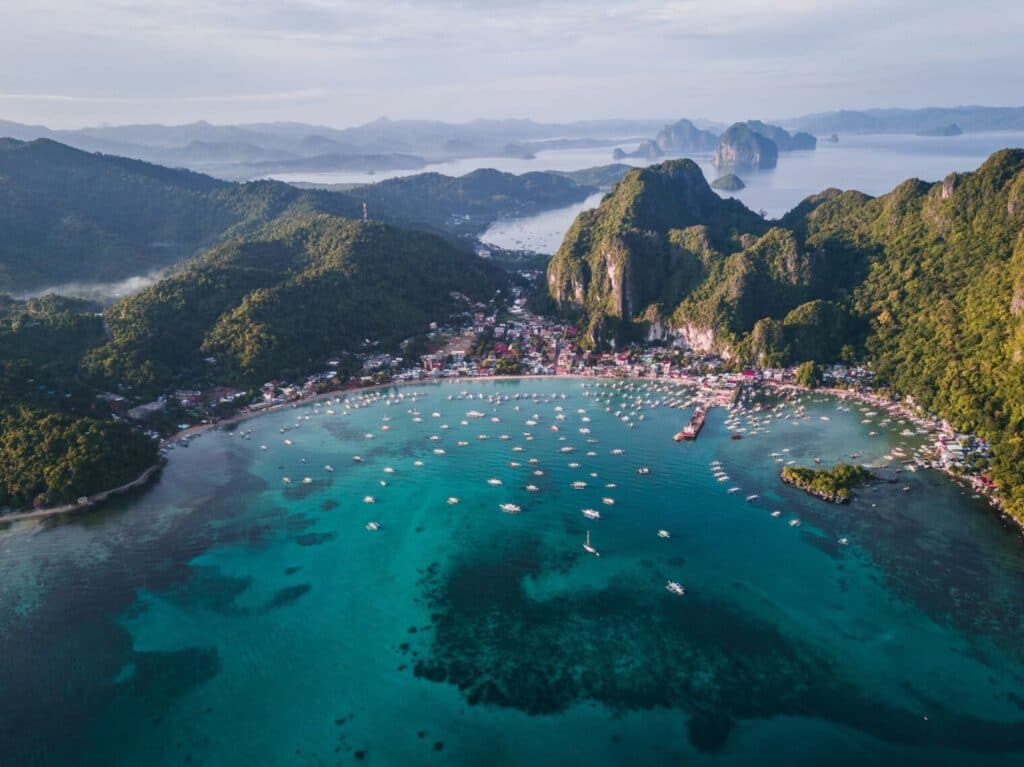 A Digital Nomad Guide to El Nido
El Nido and its mother archipelago, the 1,800-island Palawan, have been consistently ranked among the best island destinations in the world. They effortlessly make it to the lists of best beaches among respected travel magazines like Condé Nast, Travel + Leisure Magazine, and National Geographic Channel. In its most recent nomination this 2020, El Nido once again took the number one spot in Travel + Leisure Magazine's list of Best Islands in the World. Easy peasy? Let's find out why!
Located in west central Philippines in Southeast Asia, El Nido's most striking feature is the 45-island Bacuit Bay. This site is but a small part of a massive protected area in Palawan and is included in the tentative list of UNESCO World Heritage Sites in the country. Condé Nast writers David Jeffreys and Jordi Lippe-McGraw aptly describe El Nido as,
"home to around 50 white sand beaches—it's impossible to choose just one—all of which are set around dramatic limestone formations and boast the finest and whitest sand you'll ever see. The water is so blindingly blue it makes the Caribbean Sea look murky in comparison. And the sunsets? Well, they'll ruin you for life. Consider yourself warned."
These limestone walls form secret passages, enchanting lagoons, and cathedral-sized caves, all surrounded by lovely coves, long white beaches, and vibrant diving sites. Here you'll find turtles nesting on the sandbank, manta rays and baby sharks in the reefs, bizarre birds making a riot in the forest. And if you're lucky, you can spot the rare sea cow called dugong or even the monkey-eating Philippine eagle soaring in the sky with a wingspan of seven feet. It's the stuff of majesty. 
El Nido and its mother archipelago Palawan are some of the most biodiverse destinations in the Philippines. There are very few places like this in the world. To be exact, there are only three others like it in the world: Thailand's Krabi, Indonesia's Raja Ampat, and Vietnam's Ha Long Bay.
What makes El Nido so alluring to digital nomads are the other equally exotic destinations nearby. Just a ferry-ride away is Coron, home to hundreds of gorgeous islands and World War II shipwreck dive sites. About three hours south from El Nido, there's San Vicente's 14-kilometer Long Beach, the longest beach in the Philippines. Meanwhile, a van-ride away to Puerto Princesa is the world's second longest underwater cave system, the Puerto Princesa Underground River.
Nomad Friendly
Value for Money
Internet
Workspace
English
Food
Safety
Health
Transportation
Friendly
Quality of Living
Living in El Nido Overview
| | |
| --- | --- |
|  Meal, Inexpensive Restaurant | $3.30 |
| Domestic Beer (1 pint draught) | $1.20 |
| Cappuccino (regular) | $2.24 |
| Loaf of Fresh White Bread (1 lb) | $1.03 |
| Water (1.5 liter bottle) | $0.85 |
| One-way Ticket (Local Transport) | $0.20 |
| Basic Utilities (Monthly) | $116.74 |
| Internet | $48.02 |
| Fitness Club (Monthly) | $33.02 |
| Apartment (1 bedroom) in City Centre | $500.30 |
[erw_exchange_rates_widget lg="en" tz="0″ fm="EUR" to="EUR,USD,GBP,AUD,JPY,RUB" st="primary" cd="" am="1″][/erw_exchange_rates_widget]
Max Withdrawal: €400
Use of Credit Cards: Widely Accepted
Digital Nomad Personal Experience in El Nido
Of my seven-year-long career as a travel writer, Palawan has got to be my favorite, with El Nido being my homebase for two years. The only reason this place isn't being raved in the digital nomad community is because, for the longest time, the internet in Palawan was painstakingly slow. It wasn't until January 2020 when private telecommunication companies upgraded their telecom towers to now nearly double the internet speed. Today, running up to 80 mbps, this is fast enough to upload videos for several minutes.
Seeing Bacuit Bay on a daily basis, especially at sunset, has made an undeniable dreamy impression on me. Most of my work and leisure time were spent along the beach, either having cocktails, meeting newfound friends and potential business clients, or attending arts and crafts courses. Many business owners here are also in need of online promotional materials, which can be a good stint if you're into website design, search engine optimization, or social media marketing.
While El Nido town proper itself can be annoying with its influx of tourists, there are plenty of quiet areas nearby. The local community itself always makes things exciting for residents and tourists alike. Full moon parties are a regular occurrence along Marimegmeg Beach. Yogis spice things up with yoga and meditation events. Sunset parties, fun arts courses, beach cleanups, and releasing baby sea turtles are some of the other events to try and meet new people.
As for doing the touristy activities, I highly recommend going on a five-day "castaway" island excursion ($650) while sailing on a 74-foot wooden boat with Tao Philippines. You can't do any work here though as the internet can't reach you when you go explore the remote Calamaian group of about 200 islands in between El Nido and Coron. If not, do try all the four regular boat tours, Tours A, B, C, and D (about $30 per tour). Each has a different flavor and offers a unique set of island activities and experiences. There are plenty of other things to do. If you're into nature and relaxed island living, El Nido hits the sweet spot.
Work in El Nido
When exploring Palawan, the most ideal work setup is to get your own Smart Pocket WiFi. You can get it at a local market for around $20 and reload it with LTE data from any convenience store. The latest pocket WiFi from Smart can now combine multiple signals from different cell sites for an improved data connection.
Because not all restaurants and resorts in Palawan have reliable internet, with a pocket WiFi you can still enjoy working from various restaurants without being reliant on the site's WiFi connection. Either way, it's a great backup plan if you're exploring the Philippines for a couple of months. If you're staying for only a few weeks, at least get a local Smart SIM card so you have data on-the-go.
There are two other important things to note when working in El Nido. Power outages do happen in town due to the high demand on electricity. This lasts about a day and occurs up to three times a month. Just be mindful to always charge your gadgets and power bank. The other thing is to always have cash on hand. Not all establishments accept credit card payment and ATMs aren't available all the time.
Best Places to Work in El Nido
Restaurants with fast WiFi in El Nido
When you have a Smart Pocket WiFi, you can work from anywhere in El Nido. While the speed is not that impressive, you can get a lot of work done, unless you need to stream or upload videos regularly. And while there are plenty of restaurants in town, only a handful of them have good internet connection.
Tambok's El Nido
In my two years' stay, the most reliable and comfortable place to work is in Tambok's El Nido. It has the fastest internet to work with, especially if you need to upload videos or make several video calls. Most of us remote workers stay here, if not the whole day, without being forced to leave. The Filipino food is very affordable and they offer unlimited coffee too.
Art Café
The second most reliable restaurant for working online is Art Café. It's one of the oldest establishments in town offering yummy healthy meals whose ingredients come from their own organic garden. Art Café's combination of fast internet and solar power make it possible to work even when there's a power outage in town.
Globy Restaurant Chef
If you wish to work along the beach, Globy Restaurant Chef in Lio has good internet connection while you enjoy Filipino, International, or Asian cuisine. It's a fifteen-minute drive by motorbike from the town proper and has a peaceful atmosphere to enjoy facing Cadlao Island.
Taste Cafe
Two other restaurants with good internet are the coffee shop T-Spot and the vegan restaurant Taste Cafe. I wouldn't stay here very long though because of the limited space and the ergonomics of their tables or seats. But they combine good food and internet if you need a change of workspace.
With a Smart Pocket WiFi though, the most scenic or fun places to work include The Birdhouse Restaurant, Sunset Bar, Las Cabañas, and Panorama Beach Club in Corong-Corong. All of these restaurants are known for their delicious food, lovely ambiance, and great view of Bacuit Bay. If you need peace and quiet, working from any restaurant along Lio Beach is ideal.
A co-working space has yet to be created in El Nido, Palawan.
Best Places to Live in El Nido
Best Neighbourhoods
Note: The rates listed below apply to hotels and resorts only during the COVID-19 pandemic. These rates are subject to change when the pandemic is over. On the other hand, the local rates for apartment rental are pretty much the same, with or without COVID.
The whole town of El Nido is about the size of Rome. It's pretty huge for a town, but only 30% of it is being explored by most tourists. This small touristy area includes El Nido Town Proper, where the popular island tours begin; the charming Corong-Corong village, which faces Bacuit Bay and its mesmerizing sunset; and the upscale Lio Estate, El Nido's most recently developed beach town.
Due to the COVID-19 pandemic, hotel and resort owners have significantly dropped their rates. Rooms at hotels and resorts that were leased daily are now available for monthly rental starting from $300 or Php15,000 and can go as high as $1,500 or around Php60,000 a month. Amenities usually include a swimming pool, beach access or view, and daily room service.
Corong-Corong
The most ideal area to live in, Corong-Corong village faces the epic Bacuit Bay. It's a 10-minute drive south from El Nido Town Proper and is close to the local market and transportation terminal. Corong-Corong essentially is a coastal village and has two main beaches, Marimegmeg Beach and Corong-Corong Beach. This area also has the most dramatic view of the sunset in El Nido.
From here you can swim at the beach any time you want, go paddleboarding to nearby islands and islets, try the zipline, or just sit back and enjoy the bay. Establishments that have high speed internet and monthly room rental include Buko Beach Resort, Blue Mango Resort, Maligaya Beach and Bungalows, and Karuna El Nido. Price starts at $400 a month per room.
El Nido Town Proper
Surrounded by steep limestone cliffs, the town center is the busiest area in El Nido. The streets can be tight and you can hop on and hop off a tricycle to any area for Php10 or $0.20. Its 600-meter El Nido Beach is the starting point to the four island hopping boat tours in Bacuit Bay. While the beach itself is not suitable for swimming, you can rent a paddleboard from here and explore the nearby Cadlao Island and other secret beaches.
Staying in the town proper can be the most convenient option if you're staying for only a few days. Convenience stores, laundry shops, ATMs, money changers, and the majority of restaurants are found here, especially near the beach. Despite its hectic streets, there are several peaceful hotels and resorts in the area that have fast internet connection and monthly room rental. Starting from $300 or Php15,000 a month, you can rent a room at Pawikan Hostel, Frenz Hostel, Sanse El Nido, Fisheye the Shop and Rooms, Layang Layang Home, and Villa de los Reyes.
Lio Estate
A fifteen-minute drive north from the town center, Lio has the ambiance of an exclusive beach town. It is home to El Nido Airport and features a four-kilometer-long beautiful white cove. This area is much more serene than Corong-Corong and the Town Proper, and is more organized and secure. The area features artsy restaurants, bars, and shops, including an artisan village called Kalye Artisano. The only resort with high speed internet and monthly room rental is Seda Lio, whose rooms range between $700 and $1,500 a month. Meanwhile, just outside the estate you can find local rooms and apartments starting from $150 a month.
Find an Apartment in El Nido
The easiest time to find an apartment in El Nido is during the low season or rainy season between June and November. By December, apartments for rent are filled up easily and this can last up to May. While the rates of long-stay room rental in hotels and resorts can change drastically between high and low season, the rates of local apartments are very much the same the whole year round.
The safest bet for apartments are located in Corong-Corong. Of course, the best views are still taken by hotels and resorts. But if you're looking for an apartment here, chances are they will be along the highway, with no views and no amenities to speak of. A room or studio here can start at $200 or Php10,000, while a two to three-bedroom apartment can range between $300 to $800 a month.
Apartments in the town center, meanwhile, are quickly filled up that these places rarely have a few hours to be vacant. The most pleasant area in the town center is in Calaan, which can be found north of the main El Nido Beach. Rates start at $300. If you can't find an apartment in the town center, which is not uncommon, it is best to negotiate your long stay with a hotel or resort owner.
Meanwhile, if you want a more peaceful neighborhood, you can find local rooms and apartments for rent in Villa Libertad (where Lio Estate is located), Lamoro, and Pasadena, starting at $150 a month. Many foreign expats and immigrants from nearby islands live in these areas as well. These villages are fifteen to twenty minutes north from the town proper by motorbike.
The fastest way to find apartments for rent is to join Facebook groups in El Nido and search for the keyword "rent". Otherwise, you can post an inquiry with your desired specifications and locals will be happy to refer you with units for rent. If this does not work, you can always hire a tricycle driver to take you around Corong-Corong, Town Proper, and other nearby villages to hunt for apartments.
If you're going by motorbike, make sure you have a local guide with you. This way, the guide can better communicate with the apartment owner in the local language and can even negotiate a cheaper monthly rental. If all else fails, you can still find more places to stay at www.airbnb.com.
Cheap Places to Stay in El Nido
Local villages Villa Libertad and Lamoro have small apartment complexes where you can find a decent studio for rent starting from $150. You'll get a typical bed and bath in your room, and the kitchen is usually a common area. However, you will have to rent a motorbike if you want to live here comfortably.
If you can't drive a motorbike, local transportation can be a challenge but not impossible. Traveling between El Nido Town Proper and Villa Libertad or Lamoro can be pricey if you're taking a tricycle by yourself. But if you're sharing it with other passengers, the cost is cheap, like $0.50. The only deal breaker is you'd have to wait for the tricycle to be filled up with other passengers.
If you'd like to stay in the town center for convenience, I would recommend the artsy Spin Designer Hostel. With private rooms and dorm rooms, this hostel can be a great place to hang out and meet new people. It also has movies, board games, and a library. Outpost Hostel in Corong-Corong is also a good spot for backpackers, although this place can get wild what with the happy drunks who stay here. Hakuna Matata Hostel beside Art Café is the cheapest by far at $7 a night. You can negotiate long stays with the owner in any of these hostels and pay your rent in advance.
Nacpan and Sibaltan are two remote areas in El Nido where you can enjoy peace and serenity without breaking the bank. Nacpan is 45 minutes away from the town center, while Sibaltan is 1.5 hours away. Nomads who want to avoid loud places and touristy areas will definitely enjoy these off-the-beaten track destinations. Long-term stays here start from $100 a month. The only reason I would think twice about staying here is because of the limited electricity and WiFi spots to work in.
El Nido Visa
Note: In line with the COVID-19 pandemic, VISA issuance and VISA-free privileges have been temporarily suspended until further notice. Please check this website for the latest updates.
Most foreign nationals can stay in the Philippines without a visa for 30 days. Citizens of Brazil and Israel can stay in the country without a visa for up to 59 days. You can check this website how this applies to your country. Here are the requirements for a visa-free stay in the Philippines:
A passport valid for at least six (6) months

Entry and exit flight tickets

Your hotel reservation or a letter from your host

Identification card
If you're planning to stay in the Philippines for more than the allotted VISA-free period, you can apply for a Philippine tourist VISA at a Philippine embassy or consulate. Requirements include:
Passport valid for at least six (6) months

Duly accomplished visa application forms

Passport photos (2 copies)

Proof of bona fide status as a tourist or businessman

Confirmed tickets for the return or onward journey to the next port of destination

Payment of relevant visa fees
Meanwhile, citizens from more than 30 countries also have the option to obtain their visa upon arrival in the Philippines. You may check this page if your country is included.
Once you obtain your Philippine tourist visa, you may extend your stay 30 days at a time up to a maximum of two (2) years at any immigration office. The closest immigration office to El Nido is in Puerto Princesa.
Department of Foreign Affairs
2nd Floor Robinsons Place Palawan
Puerto Princesa North Road, Brgy. San Manuel,
Puerto Princesa City, Palawan
(+63) 48 434 1771
Culture and Food in El Nido
The original inhabitants of El Nido are the seafaring Cuyonon. These people are semi-nomadic in nature and come from the island Cuyo, which is a four-hour sailboat ride from the east of El Nido. These Cuyonon people would travel across the sea to El Nido to plant rice in the mountains during the rainy season, and come back to Cuyo Island after harvest time. Many of these people from Cuyo have settled and thrived in Palawan. They have a rich culture and heritage, aligned with the seasons and the tides.
At the east side of El Nido in the windy Sibaltan Village, you can witness Cuyonon culture firsthand. You can check out a replica of a traditional Cuyonon house and see all the different contraptions they use to catch or bait seafood. Nearby is also a replica of a wooden Cuyonon sailboat, which you can climb in and see the compartments. Once a week they have a cultural dance by the beach where you can witness teenagers in local traditional clothing dance their history into a series of pastoral movements.
Dining at traditional Filipino and local seafood restaurants is a great way to explore the subtleties of Palawan's culture. Recommended Filipino cuisine to try are the chicken inasal and coconut noodles in Tambok's El Nido; the sizzling bulalo (beef knuckles) and goat meat dishes at Kina Pards Resto-Bar; and the 'boodlefight' communal eating experience at BoodleFight Restaurant and Bar. A typical meal in these restaurants costs $4 to $6.
If you feel like having seafood by the sea or by the sunset, you can try Makulay Bar and Restaurant, Last Frontier Beach Restaurant, and Cadlao Resort and Restaurant. Dining in any of these costs around $10 per meal. Cheap eats aren't hard to find in El Nido though! You can easily hunt diners that offer $1 or $2 meals at the town center. Two restaurants that top that list are Giovan's Beef Stew Hauz and Grill and Angel Wish Restaurant.
International restaurants abound in El Nido, if you've craving for something global. Italian pizzas by the beach are a must-try at Bella Vita, while brick-oven pizzas sell like hotcakes over at Trattoria Altrove. The happy vibes, Mediterranean cuisine, and well-selected playlist at Happiness Beach Bar are a unique and fun experience. Meanwhile, the loveliest dining experience comes with healthy yummy eats and a stunning view of Bacuit Bay at the charming restaurant The Birdhouse. Dining in any of these costs around $8.
El Nido Nightlife
Combining the nomad lifestyle with beaches and sunset bars make for a superchill experience in El Nido. It's quite easy and practical to even do your laptop work during the happy hours of the afternoon in some of these bars and spend the rest of the night in good company, slushy cocktails, and awesome music.
In most of the following bars, happy hour and discounted cocktails begin from 4:00 pm and end at 6:00 pm or 7:00 pm. Panorama Beach Club and Sunset Bar in Corong-Corong are two wicked places to hangout while finishing those last touches of work on your laptop. These two offer first-class views of El Nido's sunset and are usually packed at this time.
Other bars where you can work and chill from sundown to evening are Outpost, which sits right next to Panorama, The Beach Shack, Maremegmeg Beach Bar, and Las Cabañas. The last is probably the most notorious place to watch the sunset facing Bacuit Bay, although most people leave after the show is over.
All the bars mentioned above are located in Corong-Corong. You can pretty much hop from one to another along the beach. Panorama and Outpost are the liveliest among them as the night deepens towards the wee hours.
Every full moon of the month, there's a full moon party for three consecutive nights along Marimegmeg Beach, also more popularly known as Las Cabañas Beach. Drinks are overflowing, red-cheeked travelers come and go, while some dance to the music along the moonlit white sand. Combined with the sound of crashing waves, this experience can be intoxicating.
At the town center, SAVA Beach Bar has the most amazing cocktails, mocktails, and shisha in El Nido. You can hang out at one of the bean bags while watching the sun setting behind Cadlao Island. If you feel like dancing to some reggae music, Pukka Bar has live reggae bands, a relaxing atmosphere, and a deck on the second floor if you're up for some stargazing.
For something cozy and romantic, spending the evening along Lio Beach can be a pleasant experience. The large gnarly trees along the sandy beach are lit up with warm lamps. You can also walk down the nicely lit pier and catch sight of glowing planktons — creatures that look like stars floating on the waves around the pier. Along the beach, a live band is playing at Manille Bar, good for when you have a date. The Jungle Bar is the latest addition in Lio, offering a laid-back Ibiza ambiance and lazyboy chairs.
Things to do in El Nido
Go on a five-day Island Expedition with Tao Philippines
The most raved experience in El Nido is getting a taste of raw island living. With Tao Philippines, you can board a 74-foot traditional wooden sailboat that looks like a pirate ship. You'll be exploring the Calaman Island Group, which has about 200 dazzling islands scattered between El Nido and Coron. You'll hop to different islands every single day, tick a bucket list of island adventures from trekking, cliff diving, and snorkeling, to traditional massage, folklore stories and bonfires, and sleeping by the beach under the stars.
See all the islands in Bacuit Bay
If you're spending several weeks in El Nido, you might as well see all the islands in Bacuit Bay. The islands have been regrouped in Tours A, B, C, and D in 2019, making no tour better than the other. Each tour costs around $30 and sets you exploring 4 to 5 islands each for a whole day. The prices of island hopping tours are standard across all tour service providers. They also come with a free buffet lunch. These are all public tours, which means you'll be island hopping in a group of about 20 people.
El Nido Island Hopping Tour A is the quintessential island tour, featuring the Big Lagoon and Secret Beach. You'll be kayaking most of the morning and hanging out at lovely white sand beaches in the afternoon. Tour B is more diverse as you'd be exploring caves, coves, historic sites, and a wild forest. Tour C is a mix of cozy secret beaches, scenic snorkeling sites, and a religious shrine. Tour D highlights Small Lagoon and Cadlao Island, and features the dreamiest beach spots in the bay.
Traveling in style on a yacht can also be an affordable, fun experience in El Nido. For about $100 or Php5,000, you'll be picked up at your accommodation, board a swanky red Catarman in Lio Beach, and sail away to three or four islands in Bacuit while you enjoy yummy cocktails on deck. You can book this experience with El Nido Yachting Club in Lio. Just like the four regular tours, the yacht tour starts at around 8:00 am and ends in the late afternoon.
Paddle to Cadlao Island at Sunset
This is a fun experience to try solo or with a friend. From El Nido Beach, you can rent a kayak for about $14. It's best to try this experience right after lunch. Head out to the island right across the beach and explore the whole island on your own. You can head back at around 5:00 pm and savor the sunset while at it.
Climb the Taraw Cliff via the Ferrata Canopy Walk
For $14 or Php700, you can go on an easy hike to the sharp cliffs in El Nido Town Proper. You'll be equipped with a harness, helmet, and a guide as you take a stroll, climb some ropes, and crawl over a giant spider web stretched over the cliffs. It's quite a scenic spot to experience, with sweeping views of the town and the bay.
Arts and crafts abound in El Nido. It's nice to find cute little trinkets at Art Café, Fisheye, The Little Shop, and Kalye Artisano. Most of these shops are near the main beach in El Nido's town center. You can look out for local sarongs, funky beach hats, handmade jewelry, and watercolor postcards.
Watch the epic sunset at Corong-Corong
Sunset watching in El Nido is a divine experience especially when you're intoxicated with alcohol. The top three best places to experience this fiery scene is from Las Cabañas, Panorama, and Sunset Bar. You just better head to one of these places as early as 4:00 pm to secure the best spot.
Take the 750m zipline to Depledet Islet
Another unique experience is to fly down the 750m zipline in Corong-Corong at sunset. For about a minute, you'll get an incredible view of Marimegmeg Beach and the bay, and land on the little Depledet Islet. The zipline is operated by Las Cabañas and costs $10 or Php500.
Explore Nagkalit-Kalit Falls
During the rainy season, June to November, the surrounding forest of Nagkalit-Kalit comes teeming with wildlife. You'll be trekking for about 30 minutes with a tour guide and witness various animals along the way, from butterflies and geckos to endemic birds and fish. At the end of the trek, you can dip in the cool pool and cascades of the waterfalls. Getting a tour guide costs about $6 or P300, good for four people. If you're going by yourself, you can ask to join a small group or just get a guide for your own.
During the northern monsoon between November and April, surf junkies head out to Duli Beach for its glassy blue waters and steady swells. This surfing spot is also perfect for beginners. You can rent a board for $10 or Php500 or get an hour of surfing lesson for $14 or Php700. The beach is stunningly raw, wide, and empty, except for a small bungalow resort at one end and two or three stalls offering surfboard rental and lessons. If you're not into surfing, it's still an awesome spot to hang out and enjoy the rumbling sound of waves.
Get a dose of lazy days at the windy Sibaltan
Far away from the tourist crowd of the town center, Sibaltan is the most laid-back area in El Nido. During the monsoon season between November and April, winds here are so intense that they sound like the onslaught of a typhoon. You can go to this part of El Nido to try kitesurfing or just beach bumming. Sibaltan offers the cheapest accommodations in El Nido. You can get a room for as low as $4 or Php200 a night or rent a tent and camp at the beach. Many tourists come here to just laze around, enjoy the cool breeze, and even go island hopping.
Best Time to Visit El Nido
Unlike other parts of the Philippines, Palawan is quite lucky. Of the 20 typhoons that pass by the country every year, rarely do they pass by the west side, where Palawan lies. In short, Palawan is nearly typhoon free.
The best time to visit El Nido in Palawan is between December and May when the weather is dry and sunny. The rainy season comes between May and November.
Boat tours and water-based activities are not dependent on the weather, though, but on the monsoon season. The best time to go island hopping and scuba diving is when the water is calm and clear, which is between April and June.
Between November and March, fierce winds come in, allowing activities such as surfing and kitesurfing. During this time, the waves can be so choppy that boat tours are cancelled.
Always prepare for Plan B when your boat tour gets cancelled. Spending the day in Corong-Corong, Lio, or Nacpan is a good alternative.
The average temperature in El Nido is about 28° celsius (82.4° fahrenheit) during the day. It can get really hot, especially during the summer months April and May. It's best to always bring water and an umbrella or hat with you at all times.
El Nido for Families
Families who have recently relocated to El Nido did so for a number of reasons. But the most important one is to allow their children to get in touch with mother nature and be more attuned to their natural instincts and inclinations. The most comfortable, holistic approach to raising children in El Nido is to enroll them in an existing non-traditional Waldorf education program.
Within this Waldorf-driven community, parents follow a curriculum and take turns to teach or supervise their children. They do plenty of various activities in different places in El Nido. Nearly everyday is a field trip, filled with fun, adventure, and surprises. Some of their activities include making pottery, building intricate sand castles, playing local musical instruments, making arts and crafts with fallen leaves and flowers, pizza making, fishing, and stargazing.
As there currently are no daycare centers, playgrounds, or children-centered activities in town, parents usually create their own events and invite other children to come over. After all, the whole town of El Nido is their playground, what with numerous open spaces, beaches, wild jungles, caves, and waterfalls that abound. Most of the tourist activities such as kayaking, paddleboarding, and trekking to waterfalls are also family-friendly.
If you're still tied up with the concept of traditional schooling, there are two local schools in town, El Nido Elementary School in the town center and El Nido National High School in Corong-Corong. Catering to the residents of El Nido, these schools are run by the local government and cost minimal to have a child enrolled.
Living in El Nido
El Nido Transportation
Getting to El Nido, Palawan, is a two-flight process. You'd first have to fly-in to the Philippines via Manila, Cebu, or Boracay. From either of the three, the fastest way to get to El Nido is to book a flight with AirSwift. It's a local airline that offers airbus trips to exotic locations in the country. Booking with AirSwift can be pricey at around $200 per person during the high season. The flight takes about an hour and lands inside the compound of Lio Estate. This is 15 to 20 minutes away from El Nido's town center.
A more popular alternative to get to Palawan is to fly via Puerto Princesa or via Coron. Each route offers a unique experience of its own, although most travelers follow the Puerto Princesa-El Nido-Coron route instead of the other way around. Flying to Puerto Princesa City in Palawan takes about an hour and costs around $100 to $180. Once in Puerto Princesa Airport, you take a van to El Nido. Travel time is 5.5 hours and costs $30 or Php600. The van stops at El Nido Terminal right in front of El Nido's wet market. From there, you can take a tricycle to your hotel.
How to get around El Nido, Palawan
The most convenient way to get around El Nido is to rent your own motorbike. Motorbike rental ranges between $6 to $14 a day, depending on the type of motorbike. You would need to present your driver's license to secure one. The bike comes with a full tank of diesel. You just have to return it on a full tank as well. Gas is around $1.2 per liter. You can get discounted prices if you're renting the bike for several days or weeks. You can scout for the cheapest bike starting from Art Café and then down Hama Street. This runs parallel to El Nido Beach and is hard to miss.
Commuting by local transportation isn't that hard, however. It just needs some getting used to. Traveling within the Town Proper costs only $0.20 or Php10, as you hop on and hop off a tricycle. Going to Corong-Corong by tricycle costs $3 to $4, which you can split up with other passengers if you do find company. If you're going to Lio Estate, there's a free shuttle van beside Ten Knots in the town center. These complementary vans go back and forth between Lio Estate and the town center up until midnight. Taking a tricycle to Lio costs about $5 or Php250.
Heading to the incredibly long white beaches of Nacpan and Duli are best savored on a motorbike. You can book a van transfer to Nacpan at around $14 two-way. It leaves in the morning at around 8:00 am and comes back to the town center at around 5:00 pm. The surfing spot Duli can only be reached by motorcycle. If you take a jeepney, you would still have to walk a long way or hitchhike going to the beach.
If you feel like exploring the kitesurfing spot Sibaltan or the ancient burial sites and caves of New Ibajay, you can just head to El Nido Terminal. Katar Vans can take you to Sibaltan for $400. Without a motorbike, the only way to get to New Ibajay is by jeepney, which leaves El Nido Terminal at 11:00 am.
Fitness and Health
Getting fit and in shape shouldn't be a hard thing to do when you're in paradise. Madness Mixed Martial Arts along Balinsasayaw Road is one of the most fun and intense fitness experience to try in El Nido. For a $40 monthly subscription or a $5 drop-in, you can go deep into your core work and learn muay thai and boxing.
Peak Corner Gym in the town center looks a little run down but still offers some basic equipment for your lifting requirements. Monthly subscription here costs $25, while drop-in is at $2 per day. If you're staying in Lio, there's a small gym called Lift Club Lio at Hotel Covo where you can pay $5 per usage.
Sunset yoga at The Birdhouse can be a wonderful experience in itself, if not a daily practice. The session starts at 5:00 pm in an open air studio surrounded by nature, the bay, and the energizing sunset. Namaste El Nido Yoga and Spa in Corong-Corong can be a soothing and healing experience. The drop-in rate at either is $10 or Php500.
A Word of Caution
Drunk driving can happen El Nido. Please do not drink and drive. The roads in the town center may be flat but the rest run on rolling hills along the coastline. Do take precaution while driving because the nearest hospital is one hour away in Taytay, while the major hospital is 5.5 hours away in Puerto Princesa.
Some tourists also experience stomach problems because of the drinking water in El Nido. If you think you have a sensitive stomach, it is best to have bottled water with you at all times. There are two small clinics in the town center, but they can only treat minor injuries and illness.
El Nido People
Like most places in the Philippines, El Nido was influenced by more than 300 years of Spanish colonization and 50 years of American occupation. Chinese traders used to frequent this place as early as the 10th century. They had high demand on birds' nests, which are thickened with the saliva of sparrows. These nests are taken from the crevices of steep limestone cliffs and are turned into a delicious, nutritious soup. Thus, El Nido's name was born, which is Spanish means "The Nest".
The earliest settlers of El Nido are from the ethnolinguistic groups Tagbanua and Cuyonon. The town's population today is 50,000 people, 15% of which reside in the busy tourist area and the rest in the rural villages of El Nido. Most of El Nido's migrants are from different parts of Palawan and the nearby Visayan island group. There also exists an expat community of people from other parts of the world, especially France, Spain, and the US.
The community in El Nido is pretty solid. Everybody is cooperative and quick to act especially when it comes to improvements in rules and regulations regarding tourism and the environment. Everyone is friendly, helpful, and welcoming. English is widely understood and spoken. The major local language, meanwhile, is Cuyonon. Tagalog and Bisaya are also spoken by some people in town. It is also notable to mention that El Nido is secure, with zero crime rate. Petty can sometimes occur, but these are usually made by outsiders.
When you go out of the busy town center of El Nido to explore the rural parts, the people and the culture are quite different. Folks in these areas are mainly laid-back and reserved but are just as friendly. These natives are simple folk, relying on fishing and agriculture as their main source of sustenance. Many households don't even need to earn a living as nature in their surrounding environment provides all their needs.
El Nido Insurance and Medical Care
There currently is no health or travel insurance provider in El Nido. Nomads and travelers must secure their own prior to their arrival in town. On the other hand, the medical care in El Nido is limited to basic first aid and treatment of minor health injuries or problems in the two small clinics listed below.
There is no hospital in El Nido. Patients with major illnesses or accidents are often taken to the hospital in the next town, Taytay, about an hour away. In extreme cases, patients are taken to the biggest major hospital in Palawan, which is in Puerto Princesa, 5.5 hours away from El Nido.
At this time of the pandemic, the only requirement to enter El Nido is an RT-PCR swab test that proves that the nomad or traveler is not infected with the coronavirus.
El Nido Health Center (clinic)
Lisang St., Brgy. Buena Suerte,
El Nido, Palawan
Palawan Medical City (clinic)
Rizal St., Brgy. Buena Suerte,
El Nido, Palawan
Northern Palawan Provincial Hospital
Alimanguan National Highway,
Taytay, Palawan
Make sure you are fully covered by reading our full Digital Nomad Travel Insurance guide.
Jobs in El Nido
A majority of job vacancies in El Nido are in the tourism industry. Supervisors and managers of hotels, resorts, and restaurants are some of the highest paid jobs in town. These positions normally require a university degree and at least two years of experience. Other lucrative non-digital jobs in El Nido include chefs, experience managers, events planners, and real estate agents. The most widely available job vacancies are receptionists, cashiers, waiters and waitresses, barmen, boat men, and tour guides.
Online marketing in El Nido isn't as aggressive as it is in, say, Boracay, due to its slow internet connection for many years in the past. With the installation of improved telecommunications towers, allowing internet speeds between 20 to 80 mbps, this scenario is going to change drastically in the next couple of years. Establishment owners are open to securing permanent marketing personnel who can update their website, social media accounts, and respond to comments and inquiries, including those on TripAdvisor. You can inquire with owners directly.
Content creators such as photographers and filmmakers are always welcome in town. They can extend their services to posh hotels and resorts or to tour service providers. Visiting yoga and meditation teachers can also coordinate with local yoga studios Namaste El Nido and The Birdhouse, or with studio-equipped resorts such as The View and Qi Palawan, to come up with courses, events, and retreats.
Volunteer work is available in select establishments in El Nido. Nomads and travelers can work for 3 to 5 hours a day in exchange for two or three meals and accommodation. Three establishments that allow this arrangement include The Birdhouse in Corong-Corong and Vue Grande and Erlittop in Sibaltan.
Check out our Digital Nomads Jobs Postings to find the best jobs available for Digital Nomads.
Nomad Friendly
Value for Money
Internet
Workspace
English
Food
Safety
Health
Transportation
Friendly
Quality of Living
Cost of Living El Nido
Living in El Nido can be as cheap or as expensive as you'd want it to be. The easiest setup I made for myself was to get a reloadable Smart Pocket WiFi ($20), a studio at $200 a month, and a motorbike at $200 a month. Because I am vegan, I more often cook my own food and splurge a bit when I am doing laptop work at a restaurant. Cooking most of my meals saves me a lot of money, reducing my total food expenses to $200 a month.
Other nomads I have met in town rented a $300 apartment, a $200 motorbike, and always dined out, thus incurring around $400 on food monthly. Spending on spa treatments, sunset drinks, island activities, and boat tours adds another $300 monthly. A typical nomad with this kind of relaxed spending habit would be needing approximately $1,200 a month to live in El Nido.
If you're willing to spend a little more, I would recommend you arrange your long-stay with a beachfront resort in Corong-Corong so you can make the most out of El Nido's gorgeous bay views. Many of the resorts here have high speed internet that you wouldn't need to always go out and work at restaurants. Some of the best bars and restaurants are just walking distance away along the beach. This can also save you motorbike rental expenses as you can take a tricycle instead when going to the town center.