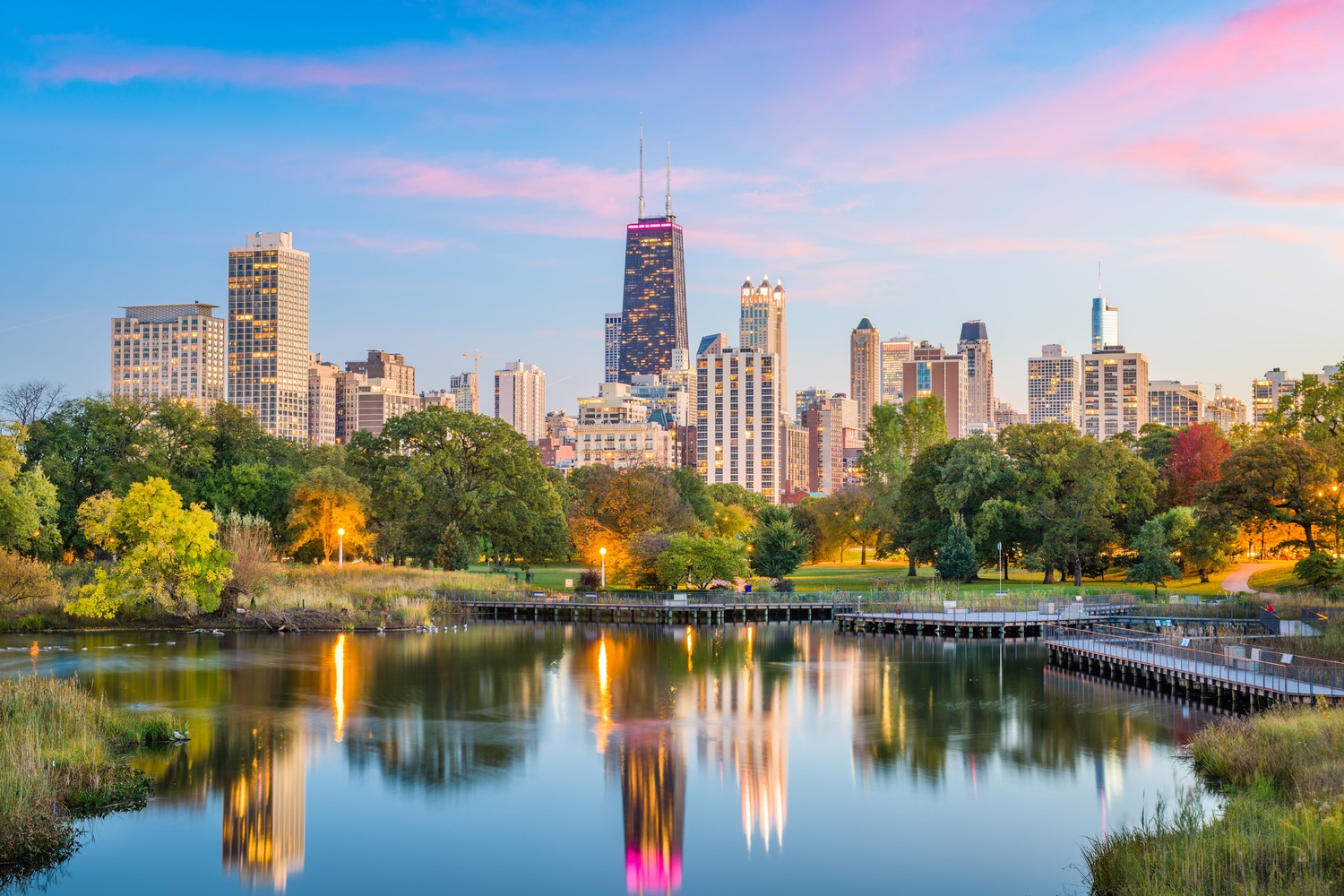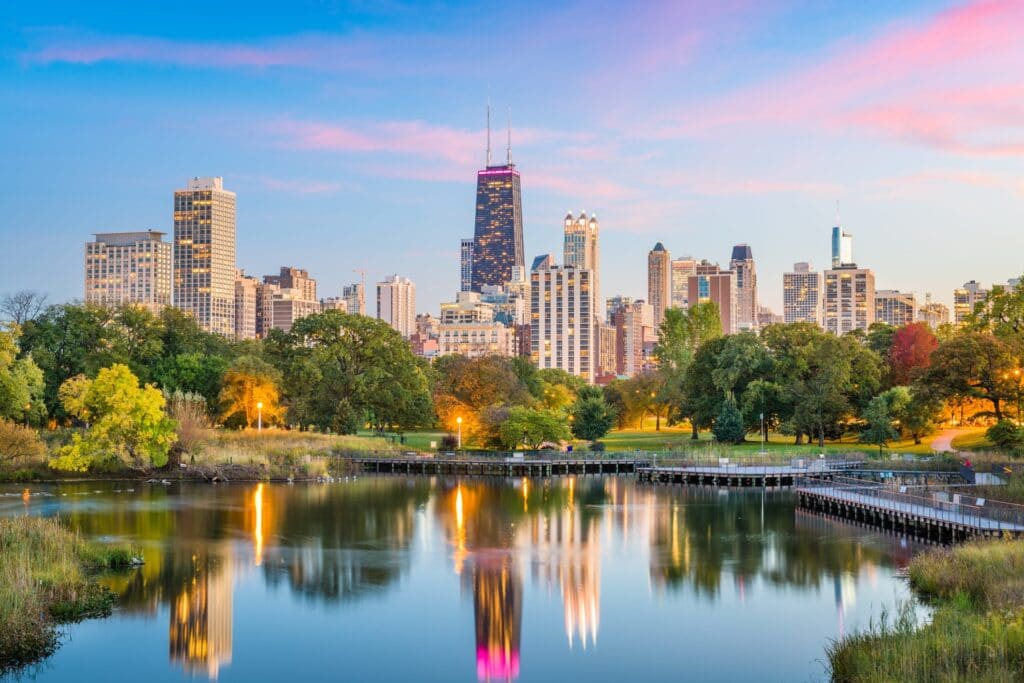 A Digital Nomad Guide to Chicago
Welcome to Chicago, the Windy City that is sure to blow you away! Chicago is just shy of 3 million residents, making it one of the largest cities in the midwestern United States. It is home to 77 unique community areas and is the fifth most populous city in North America. The City of Chicago and its surrounding areas, commonly referred to as Chicagoland, has almost 10 million residents and is the third most populous urban area in the country. Situated on the shores of Lake Michigan, the sprawling city boasts iconic architecture and endless ocean-like views.
Many famous figures and celebrities hail from Chicago, including Walt Disney, Obama's, Robin Williams, and Hillary Clinton. The city has played an important historical role in the United States since settlers first arrived in 1780. Chicago won hosting rights for the 1893 World's Fair Exhibition over other cities like St. Louis and New York. During World War II, the city itself produced more steel than the United Kingdom or Nazi Germany. Though the city is in the Northern part of the country that primarily supported the abolition of slavery and Union efforts during the Civil War, Chicago has a painful history of racial discrimination and segregation. During The Great Migration, many Blacks from the South migrated north in search of economic opportunities and to escape racism. City officials implemented racist practices that legally allowed residents to discriminate against Black people (redlining, blockbusting, public housing), resulting in a racially and economically segregated city. You can still see and feel these divides today. 
Visitors must be intentional in their activities to ensure that they are fully interacting with Chicago's diverse populations because of this unspoken segregation. One of the best ways to do so is by exploring various neighborhoods outside of the downtown area. In 2000, the city's foreign-born population reached over 20% and probably has only increased since then. The city is home to many Bosnian, Irish, Italian, Mexican, German, Assyrians, Romanian, Polish, Czech, Ukrainian, and Greek descendants (to name a few). According to the 2010 census, 45.3% of the population identified as White, 32% as Black, 5% Asian, and 2% two or more races. The city is also home to the third-largest South Asian community in the United States. 
The diversity of Chicago truly is evident in the city's cuisine, cultural activities, and diverse neighborhoods. The city now serves as a modern, historical tourist destination for nearly 60 million visitors each year. It boasts impeccable cuisine, historically rich attractions, diverse neighborhoods, and endless opportunities for digital nomads. Visiting Chicago is always a delight, and the city should be high on your United States bucket list!
Nomad Friendly
Value for Money
Internet
Workspace
English
Food
Safety
Health
Transportation
Friendly
Quality of Living
Living in Chicago Overview
| | |
| --- | --- |
|  Meal, Inexpensive Restaurant | $15.50 |
| Domestic Beer (1 pint draught) | $5.00 |
| Cappuccino (regular) | $4.29 |
| Loaf of Fresh White Bread (1 lb) | $2.59 |
| Water (1.5 liter bottle) | $1.99 |
| One-way Ticket (Local Transport) | $2.50 |
| Basic Utilities (Monthly) | $162.69 |
| Internet | $58.96 |
| Fitness Club (Monthly) | $54.44 |
| Apartment (1 bedroom) in City Centre | $1,842.06 |
Currency: Indonesian rupiah (Rp)
[erw_exchange_rates_widget lg="en" tz="0″ fm="IDR" to="EUR,USD,GBP,AUD,JPY,RUB" st="primary" cd="" am="15000″][/erw_exchange_rates_widget]
ATMs
Max Withdrawal: Rp 3,000,000
Withdrawal Fee: Rp 30,000 – Rp 50,000
Use of Credit Cards: Mostly Cash
Digital Nomad Personal Experience in Chicago
I grew up in a neighboring state just 4.5 hours away from Chicago, so I visited the city as a kid on many different occasions. This may seem like a long drive to some, but 4.5 hours is nothing for many people from the United States! I even chose to drive to the airport in Chicago to save a few hundred dollars on my flights. I frequented the museums, dipped my toes in Lake Michigan, and strolled along Navy Pier at least once a year. 
These visits instilled a love for the city in me, so I decided to do an exchange program in Chicago during my final semester of college. I took two courses that examined the diversity and history of the city while completing a full-time internship. I had so much time to explore coffee shops, book stores, and different types of food all over the city. I visited as many neighborhoods as possible because each one has a unique story, and I participated in community events to foster diversity of religion and race. I experienced the brisk winds of the lake effect, and I downed iced coffees to offset the intense heat. 
I tried to experience the city as both a local and a tourist, so I balanced visiting tourist attractions with exploring lesser-known areas. I have never been bored while I was in Chicago because the city offers endless things to do. I took the water taxi to Chinatown, explored the National Museum of Mexican Art in Pilsen, went for a run through Lincoln Park, enjoyed a torta from my favorite shop in Albany Park, saw the Shameless house in North Lawndale, or discovered my favorite coffee shop with a mission in Hyde Park. If you are bored in Chicago, you are doing it wrong. I hope this guide will help you make the most of your trip and experience all that Chicago has to offer!
Work in Chicago
Best Places to Work in Chicago
The Wing
The city has no shortage of coworking spaces, and one unique option is The Wing located in Fulton Market. It is a women-focused, membership-based location that costs approximately $185/month. The office is home to picturesque working spaces, a café with food exclusively from women-run businesses, amenities for breastfeeding women, and an art gallery and library hosting works created by women. One of the only cons of working at The Wing is that outside food and drink are not allowed, but they offer complimentary coffee. 
WeWork
WeWork is one of the leading international coworking space providers and has eight different locations in Chicago alone. The company offers many services to meet your needs, and hot desk rentals start at $355/month. Most WeWork spaces also have dedicated desk and office rentals. Customers have access to the buildings 24/7, reliable internet, and great locations in downtown Chicago.
Expansive

 
For a more budget-friendly option, Expansive Workspace offers five locations across Chicago. Customers get complimentary espresso, coffee, tea, and access to any Expansive Workspace across the country. You can get a guaranteed workspace within a shared lounge for just $250/month.
Dark Matter Coffee
Dark Matter Coffee is a local coffee chain with eight locations across the city. The company is passionate about social responsibility, and they directly partner with coffee farmers in Latin and South America. They operate coffee shops in the western Chicago neighborhoods, but other shops also serve their coffee. The eclectic decorations create a unique vibe and provide a great workspace for digital nomads. 
Sip of Hope Coffee
Situated on Fullerton Avenue, Sip of Hope is the world's first coffee that donates all proceeds towards suicide prevention and mental health education. The coffee bar is only open in the mornings, but you can feel good about your purchase there. 
Intelligentsia Coffee
Intelligentsia Coffee is a national chain with a few locations throughout Chicago. The shops have a minimalist theme, but they serve a mean cup of coffee. According to locals, the Old Town location is a great place to work because it rarely gets noisy and overcrowded.  
Starbucks

 
In many parts of the city, you can always count on being close to a Starbucks location that offers free Wi-Fi. I lived in a pretty central neighborhood, and I had at least four different stores within a 10-minute walk of my apartment. Chicago is also home to the largest Starbucks in the world, the Chicago Roastery. Located right on the Magnificent Mile, you are sure to find a place to work in the massive five-level building. I recommend supporting local coffee shops instead of Starbucks (which probably have more delicious coffee), but Starbucks provides a haven for digital nomads.
These are just a few of the thousands of coffee shops in the city. If you are adventurous, head out with your laptop and try working at the nearest coffee shop to your accommodation. Who knows, you might find a hidden gem!
Best Places to Live in Chicago
Best Neighbourhoods
Chicago has the 18th-highest income inequality ratio in the nation, primarily due to racist practices (like redlining). The city has also experienced urban flight where many affluent residents flock to the suburbs or areas surrounding city limits. For example, Naperville, a suburb to the west of the city, is the wealthiest city in the midwest. Therefore, many neighborhoods in the city are divided by income. 
The city has a reputation as a dangerous city, and the crime rate is above the national average. Chicago had a violent crime rate of 943 per 100,000 residents in 2019, ranking as the 31st most dangerous city in the United States. The crime primarily occurs in isolated areas, according to data from the Chicago Police Department. Most of the city's primary tourist attractions are in safe neighborhoods, so most visitors need not worry about crime (outside standard precautions). Chicago is home to many different areas, but I recommend the following for people who are not familiar with the city. 
Lincoln Park
Located on the North Side of the city, Lincoln Park is a perfect neighborhood for outdoor activities. The area borders Lake Michigan, making it a prime location for a walk or run along the seashore. Lincoln Park is also home to the Lincoln Park Zoo, Lincoln Park Conservatory, North Avenue Beach, Nature Boardwalk, Chicago History Museum, and Theater on the Lake. According to Very Apt, the neighborhood received a 90 safety score. The population in 2018 was estimated to be just shy of 70,000 residents, and it is easily accessible by public transportation. Downtown Chicago is about 20 minutes away by foot. As one of the city's most affluent neighborhoods, this is a prime location for families, retirees, and young people alike.
Old Town
Just south of Lincoln Park lies Old Town, a neighborhood known for its Victorian-era architecture and comedic roots. Old Town is home to the Second City, an improv club known internationally for alumni like Tina Fey and Steve Carrell. It is one of the most luxurious residential areas in the city and has a safety score of 86. The neighborhood is full of bars and restaurants, and it plays an integral role in Chicago's nightlife.   
Lakeview East/West Lakeview
Lakeview East, situated to the north of Lincoln Park, has it all – the iconic Wrigley Field where the Chicago Cubs play, easy access to Lake Michigan, and buzzing nightlife. Lakeview East forms part of the larger Lakeview area, but it is the more lively side of the neighborhood. Boystown, one of the midwest's largest LGBTQ populations, is in the heart of Lakeview. Restaurants and bars line the bustling streets, and the area comes alive in the evenings (especially if there is a home Cubs game). If sports are not your thing, Lakeview East is home to over 30 local theaters. 
West Lakeview is a bit off the shores of the lake, but it is home to affordable real estate. A majority of the residents are between the ages of 25-34, and the median income is over $110,000. West Lakeview boasts a large shopping district with some longtime businesses still in the area. Shops and dining options line the streets, but it is generally quieter than neighboring Lakeview East. The general Lakeview area is home to nearly 100,000 residents and received a safety score of 74.   
Housing Costs
Monthly rent varies depending on where you live due to the wealth divide in the city. According to RentCafe, the average monthly rent in Chicago is $1,908 with over 35% of Chicagoans paying over $2,000/month. Typically, the closer you live to downtown Chicago, the more you will pay for rent. For example, Dearborn Park is a South Side neighborhood just minutes away from the Shedd Aquarium, Art Institute, Field Museum, and Soldier Field. Residents of Dearborn Park pay the average highest monthly rent of $2,419. Residents of The Island, a small community near the western city limits, pay an average of $608/month. 
The average rent is around $1,825/month in Lincoln Park, $2,118/month in Old Town, and $1,584/month in Lakeview. Even though these neighborhoods are in the same general area, the average rent changes drastically. If you are looking on a budget, consider exploring areas further away from the Magnificent Mile in less sought-after residential areas, like Lakeview. 
Find an Apartment in Chicago
If you have decided to search for an apartment or rental home in Chicago, two of your first few steps should be setting a budget and creating a list of potential areas you would like to stay. Doing so will make your search a bit easier by narrowing down the options based on price and location. There are countless websites to find accommodation, but some of the more common ones include:
Once you have found a place, you need to apply to live there. In the United States, this process usually involves a credit check, application fee, background check, multiple references, pay stubs, and copies of your ID. Each rental property will have a different process, so be sure to consult with the agent/landlord to verify the required documents. The rental owner/manager may request further documentation if your application is approved, and you must sign a lease. Many people in the United States seek accommodation 1-2 months before your expected move-in date, so be sure to plan accordingly. It is also common to rent an unfurnished apartment, so the renter would be responsible for providing furniture. If you do not want to purchase furniture, only tour furnished apartments. 
Anyplace is a booking platform for extended-stay hotels, co-living spaces, or fully-furnished apartments that provides an excellent apartment-hunting alternative for digital nomads. The site offers flexible-term accommodation for people on the move, ensuring that they don't have to deal with landlords, purchase furniture, sign long-term leases, navigate internet installations, or pay municipal bills. The platform is very similar to Airbnb, so guests can view the approximate location and list of amenities before booking. While I have not used Anyplace myself, it seems like a simple option for digital nomads who travel frequently.
Cheap Places to Stay in Chicago
Unlike many other countries, major cities in the United States typically lack hostels or low-budget accommodations. The situation is improving as more options pop up, but we have a long way to go compared to other countries. 
Hostel International Chicago Hostel
During a school trip to Chicago, I stayed at the HI Chicago Hostel in a shared dorm for one night. The hostel boasts a great location located in the Loop neighborhood. It is close to public transportation and some of the major tourist attractions in the city. They offer both shared and private rooms, luggage storage, free Wi-Fi, laundry, and an on-site cafe. When I stayed there, the dorms were very clean and had plenty of lockable storage space for your bags. In the middle of summer (Chicago's busy season), shared rooms start at $40/night, and private rooms start at $116/night. 
Wrigley Hostel
Located just steps away from a handful of clubs and bars in Wrigleyville, the Wrigley Hostel provides low-budget accommodation on the north side of town. The hostel is in a prime location across from Wrigley Field, so it is perfect if you plan to attend baseball games. It is well-connected with a Red Line station right down the road, and you can access downtown in about 20 minutes. This hostel offers shared and private rooms, a common room with games, an outdoor deck, free barbecue pits, and complimentary breakfast. Prices start at $30/night in the off-season (winter) for a shared dorm and $280/night for a private room, though the prices significantly drop in the city's off-seasons. 
Chicago Getaway Hostel
The Chicago Getaway Hostel located in Lincoln Park provides modern, eco-friendly accommodation in a bustling part of the city. Lincoln Park is home to the Lincoln Park Zoo, Chicago's largest park (Lincoln Park), Lincoln Park Conservatory, delicious dining, and countless boutiques. The hostel is near public transportation and offers both private and shared accommodation, free Wi-Fi, a complimentary coffee bar, social events, and computer stations to all guests. During summer, beds in a shared room start at $35/night, and private rooms start at $169/night. 
If you are looking to rent your own space, Airbnb offers accommodation for all budgets, all over the city.
Chicago Visa
Let's be honest – getting a visa to the United States can be difficult. Visitors must enter the US on a valid visa, and they must have a work visa if they want to live and work in Chicago. The United States offers a visa waiver program to citizens of Andorra, Australia, Austria, Belgium, Brunei, Chile, Czech Republic, Denmark, Estonia, Finance, France, Germany, Greece, Hungary, Iceland, Ireland, Italy, Japan, Latvia, Liechtenstein, Lithuania, Luxembourg, Malta, Monaco, Netherlands, New Zealand, Norway, Portugal, San Marino, Singapore, Slovakia, Slovenia, South Korea, Spain, Sweden, Switzerland, Taiwan, and the United Kingdom. You must complete an official Electronic System for Travel Authorization (ESTA) application that costs USD 14. You cannot apply if you have a visitor's visa, plan to stay longer than 90 days, or are traveling for reasons outside of business or pleasure. Most passport holders from Canada, Bermuda, and American territories do not require a nonimmigrant visa when visiting the United States.  
If you are a resident or citizen of a country not on the visa waiver list, you must apply for a visitor's visa at your nearest embassy or consulate. It is best to communicate with them directly to determine the cost, necessary documents, schedule an appointment, and potentially complete an interview to receive the visa. Consult the US Department of State if you are unsure which visa you may need. 
If you're keen to work in the US, you must possess a valid work visa (not a visitor's visa). There are four main nonimmigrant and immigrant visa classifications: temporary (nonimmigrant) worker, permanent (immigrant) worker, students/exchange visitors, and temporary visitors for business. Employers typically must file a petition with USCIS on your behalf, so you must have a job offer before applying for a visa. Select companies within the United States offer visa sponsorship for employees from other countries. Many job posts immediately indicate whether or not a company will sponsor a visa for someone from another country.
Culture and Food in Chicago
Chicago has 77 diverse community areas, and you will find a different vibe and culture in each. Even so, the city has made its claim to fame with a variety of unique, local foods.  Many people around the world know Chicago because of its unique food scene. Chicago is home to over 8,000 restaurants that are as diverse as its population. Publications like Conde Nast Traveler, Bon Appetit, and USA Today all raved about the culinary scene in the city. Visitors spend hours searching for the best local foods, and here are some of the Windy City specialties: 
Deep-Dish Pizza
The city has no shortage of restaurants serving deep-dish pizza, but the million-dollar question remains: which one is the best? 
The answer really depends on who you ask. Two of the more famous options are Lou Malnati's and Giordano's. These staple institutions in the world of Chicago-style pizza are often the focus of the pizza debate. They are both chain restaurants with locations all over the city (and country) and fiercely compete to serve the city's best deep-dish pizza. Lou Malnati's claims to be the oldest family name in Chicago pizza, while Giordano's has Italian roots that reached the South Side of Chicago during the 1970s. 
Other delicious restaurants offer their versions of the infamous pizza pie, including Burt's Place, Pequod's, Gino's East, Pizzeria Uno, and Pizano's. Though I have not tried all of these pizzas, my personal favorite has to be Giordano's. When in doubt, ask a Chicagoan for their recommendation and give it a try! 
Chicago-Style Hot Dog
No one knows the true origins of the Chicago-style hot dog, but locals take their hot dogs very seriously. The Chicago-style hot dog is not merely a wiener on a bun. Oh no, it is much more than that. This famous dish must have a poppy seed bun, yellow mustard, white onions, tomatoes, sport peppers, relish, pickle, and celery salt. Under no circumstances (and I mean absolutely none) is a Chicago dog in ketchup. It is an unspoken rule, but it is best to comply if you don't want to be glared at by locals. You can probably find Chicago-style hot dogs on almost every street, but some of the more famous ones are at Superdawg, Portillo's, The Wiener's Circle, and Dave's Red Hots. 
Garrett Mix
Chicago is also home to great snacks, including the Garrett Mix (formerly known as the Chicago Mix). A female entrepreneur opened the first Garrett Popcorn shop in 1949 using family recipes. Chicagoans loved the taste of the popcorn, so the store's popularity quickly increased. Customers began asking for an extra bag for their popcorn, and they used it to mix the CaramelCrisp and CheeseCorn flavors. Due to high demand, Garrett's officially added the Garrett Mix (called the Chicago Mix at the time) to the menu. Since then, this sweet and savory combination has spread internationally and become a staple Windy City treat. Many other brands offer their take on the Garrett Mix, but you just can't beat a fresh bag from Garrett Popcorn itself.
Things to do in Chicago
Attend a professional sports game

As legend has it, America's favorite pastime is baseball, and there's no better place to watch a game than Chicago. The city is home to two Major League Baseball teams on opposite ends of the city – the Chicago Cubs on the North Side and the Chicago White Sox on the South Side. I have never been to a White Sox game, but I can attest to the fact that going to a Cubs game is a must-do. The North Side of the city explodes with fans decked out in the team's iconic red and blue gear, and the Red Line is jam-packed with fans heading to the stadium. The baseball season in the United States typically runs throughout the summer months, and you can catch a game from April to October.  You can buy tickets at the stadium, through a third party, or from ticket holders themselves, but the best way to avoid a scam is by purchasing them directly from the Chicago Cubs website. Chicago is also home to other professional sports teams if baseball is not your cup of tea. The Chicago Bears are a National Football League team that plays at Soldier Field. You can catch one of their games from September to January of each year. The Chicago Black Hawks are also a team in the National Hockey League that plays from October to April.

Take a selfie at The Bean

One of the most famous tourist attractions in the city is the Cloud Gate sculpture (also known as The Bean) in Millenium Park. The city unveiled the sculpture by Sir Anish Kapoor at the opening of the park in 2004, but he did not complete it until 2006. The mirrored surface reflects the sky and Chicago skyline and bends it down into the shape of a gate (aptly named Cloud Gate). The sculpture serves as an iconic photo location for both locals and tourists alike.

Wine and dine at the John Hancock Building

Right above the Magnificent Mile sits the Observation Deck Chicago that offers stunning 360° views of the city. If you are looking for something more exhilarating, try out TILT, the ride that dangles you 1,000 feet over the city. General admission tickets start at $30, and general admission + a ride on TILT costs $35. The observation deck is also home to a cafe and bar where visitors can sip a cocktail while admiring the views.  If you want to skip the observation deck, you can head straight to the Signature Room on the 95th floor. The elegant restaurant offers 360° views without the observation deck price, and you can enjoy a delicious meal 95 floors above the city. If you are looking for lighter fares or cocktails, head up to the Signature Lounge on the 96th floor. Both of these are great alternatives to the Observation Deck and offer the same stunning views (the best one is from the women's bathroom in the Signature Lounge, btw!) The line can be rather long, but this budget-friendly option is worth the wait!

Step foot onto The Ledge at the Willis Tour

The Willis Tower is one of the most iconic buildings that form Chicago's skyline. It is the third tallest building in the western hemisphere, and there is a sky deck that offers stunning views of the city on the 103rd floor. Visitors can see four states from the building and step four feet over the ground on the world-famous glass balcony (The Ledge). Adult tickets start at $30.

Eat your way through Chicago on a food tour

The Chicago food scene is very diverse, and one of the best ways to explore it is through a food tour with American Walks. The company provides tours that cover desserts, chocolate, donuts, wine, beer, pizza, Chicago foods, and neighborhood cuisines. The tickets start at $50, but you can usually find discounted tickets on the company's website. The price includes samples at each restaurant and covers the cost of the tour guide (but don't forget to tip!) I did the Sweet Chicago Dessert Walk, Hyde Park Neighborhood Food Walk, and Wrigleyville/Lakeview Neighborhood Food Walk when friends and family came to visit. Each tour offers a unique experience, delicious samples, and a look into the history of the Chicago food scene.

Spend the day exploring museums across the city

Chicago is home to countless world-renowned museums, including the Shedd Aquarium ($40), Art Institute of Chicago ($25), DuSable Museum of African American History, Field Museum of Natural History ($26), Adler Planetarium ($19), and Museum of Science and Industry ($22). The city is also home to unique museums that provide visitors with entertaining and educational experiences, including the Oriental Institute Museum (free, suggested $10), International Museum of Surgical Science ($17), National Museum of Mexican Art (free, donations welcomed), and Museum of Contemporary Photography (free, suggested $5). Museums are great ways to get acquainted with the city and are a perfect activity to do on a rainy day. You can make the most of the entry fee by spending the whole day exploring the exhibitions and activities, particularly at the larger museums. Over the years, I have visited the Shedd Aquarium, Art Institute of Chicago, Museum of Science and Industry, Field Museum of Natural History, and National Museum of Mexican Art. They provided excellent opportunities to explore the diversity found within Chicago while learning about people, history, and our planet.

Cruise the Chicago River on an architecture tour

As I mentioned above, Chicago is known around the world for its iconic architecture. You can explore the unique buildings and learn about the city's history on the Chicago Architecture Foundation Center River Cruise aboard Chicago's First Lady. There are various tour operators in the city, but USA Today Readers' Choice 2021 Awards ranked this architecture tour as the #1 in North America! Each tour lasts approximately 90 minutes and explores more than 50 structures along the Chicago River. Daytime tickets start at $48, and evening tickets start at $52.

Try the first brownie recipe at the Palmer House

Chicago is known for many delicious and unique, but perhaps one of the most famous ones is the brownie. The Palmer House Kitchen invented the first recipe for the 1893 Columbian Exposition World's Fair. The hotel still uses the same recipe, and it is most definitely worth the trip to the Palmer House!
Best Time to Visit Chicago
The weather in Chicago varies immensely, but it is typically predictable because it usually follows the pattern of the four seasons.
Summer is one of the best times to visit Chicago because of the warm weather and endless activities. The city is home to countless rooftop bars and patios where Chicagoans spend their evenings from June to August. June is typically the wettest month of the year, and rainfall averages 3.7-4.3". Summer in the Midwest is very humid, but you can find a bit of relief near the shores of Lake Michigan. Temperatures still vary greatly, but they typically range from 78-92°F. Some of the city's most famous events occur during the summer, like the Chicago Blues Festival, Lollapalooza, and Gay Pride Chicago.
If you are not a fan of extreme heat, fall is a great time to visit the city. The temperatures cool down from September to November with average highs between 70-40°F (the temperatures drop closer to winter). The city tends to cool down, while the shores of Lake Michigan remain a bit warmer. The leaves on trees typically change colors, and the average rainfall is between 2.7-3.3". Fall is like summer in Chicago without the humidity, so you can still attend events like the Chicago Marathon and Oktoberfest.
Winter in Chicago can be brutal if you are not used to cold climates, and cold weather clothing is a necessity (sweaters, hats, gloves, boots, scarves, thick socks, and a thick coat). Winter lasts from December to February, though the city can experience cold weather before or after the official winter months. The average annual snowfall is about 37", and the daily high averages 30-38°F. Life in Chicago slows down during the winter months due to inclement weather and low temperatures, so you may find that businesses have different hours of operation in the winter. Despite the harsh weather, there are many winter activities in Chicago, like ice skating, Christmas markets, and holiday lights. 
Springtime in Chicago is perhaps the most unpredictable season – there have been reports of winter lasting through March and April, but the highest reported temperature during these months at one point was almost 100°F. The weather is typically cloudy, and severe thunderstorms are frequent due to the collision of warm air from land and cold air from Lake Michigan. The average rainfall is between 3.5-3.8", and the temperatures reach the 50s in April and the 70s in May. It is advisable to carry around a light jacket in case of rain or colder temperatures. Spring is a great time to view blooming flowers around the city, and the warmer weather starts to bring back the buzzing city life.  
Chicago for Families
Even though Chicago is a hustling and bustling city, it is still a great environment for families and kids. Many of the museums are family-friendly and provide the perfect opportunity to entertain and educate kids at the same time. They also provide rainy-day entertainment as most of the exhibitions are indoors. A few other places to visit with kids are the Chicago Children's Museum, Chicago Cultural Center, Chicago Children's Theatre, and Muntu Dance Theatre. There are also plenty of outdoor activities like walking on the 606 trail, playing at Maggie Daley Park, visiting Navy Pier, and strolling along the Chicago riverwalk. 
The city is also bursting with international, private, and public schools. Chicago Public Schools (CPS) is one of the largest employers in the city and had over 340,000 students enrolled from 2020-2021. CPS operates 638 schools, including district-run, charter, contract, and SAFE schools. The district follows a tier system, so a student's chances for studying at one of the top high schools are affected by where they live. Selective schools have quotas, so the school must reserve the same number of seats for students from both poor and wealthy neighborhoods. Students in the lower tiers are typically from areas with lower income levels and education rates, and students in higher tiers are typically from areas with higher income levels and education rates.  Within this system, there are four different types of schools: neighborhood (must enroll all students in the neighborhood), selective (mostly filled through the tier system), magnet (students admitted based on a neighborhood lottery, use the tier system to fill remaining spots), and charter schools (set their enrollment guidelines). Typically, schools in the United States receive funding based on the neighborhood's property taxes/property values. This means that some schools in poor neighborhoods do not receive the same funding as schools in wealthy neighborhoods, hence the need for a tier system in Chicago Public Schools. 
Before moving to a neighborhood, it is best to check the reviews of the schools in the area. You must also determine if your child would be eligible to study there based on the tier system (but that does not mean they are guaranteed a spot). Most rental websites also provide a brief description and rating for the schools in the area. If you are not keen on CPS, there are also international and private schools across the city.
Living in Chicago
Chicago Transportation
The city of Chicago is well-connected and accessible because of the Chicago Transit Authority (CTA). The CTA operates a mass system of buses and trains in and around Chicago, including the infamous Chicago elevated train known as the 'L.' This vast mass transportation network can connect you to almost any part of the city for a relatively low cost. Each bus ride costs $2.25, and each ride on the 'L' train costs $2.50 (except to the airport). If you plan to use public transportation frequently, CTA also offers passes for up to 30 days for anywhere between $10-105. Visitors do not need a car unless they plan on exploring the areas outside of the city. You can find a bus or train route that will transport you virtually anywhere in the city. The good news is that sometimes public transportation can get you there faster than driving because of the horrendous traffic.
If you plan on renting a car, remember that the US is right-hand drive, and make sure you have a GPS or map to help you get around. If you don't want to bother with driving yourself, Uber and Lyft are two major rideshare companies that can help you get anywhere. Keep in mind that Uber and Lyft are generally more expensive in the United States, so even a short trip can cost around USD 10. Chicago is home to two international airports, Chicago Midway and Chicago O'Hare (the primary airport). The blue line connects directly to Chicago O'Hare for just $5 and takes up to one hour on the train. There are also local taxis, Uber, and Lyft available to and from the airport. 
For a unique way to explore the city, check out Divvy, Chicago's bike-share program. You can find stations all around the city, so it is a perfect way to get where you need to go by bike! Individual rides are $3.30/ride, and day passes are $15/day. This is a perfect way to exercise, see the city up close, and experience Chicago's temperamental weather.
Fitness and Health
Throughout the city, visitors will find many fitness classes, outdoor activities, gyms, and athletic clubs to help them stay healthy. It is easier to find a gym once you have determined the neighborhood you want to live in, but you can start with options like Chicago Athletic Clubs, Crosstown Fitness, Fitness Formula Clubs, and Wicker Park Fitness. Planet Fitness also has multiple locations throughout the city, starting at just $10/month. They also have a no-commitment option that is great for digital nomads who may not want to sign a long-term contract. 
ClassPass is a great option for fitness classes at nearby studios and gyms and spa treatments (customers can also access 4,000 digital, at-home workouts). The app is a subscription-based service that provides customers with credits to attend fitness classes or get spa treatments around the city. Each class or service requires a different number of credits, and those are calculated based on popularity, services provided, and special offers. The cheapest monthly plan is $15 and gives you six credits to book up to two classes, while the most expensive plan is $159/month and gives you 80 credits to book up to 30 classes. There is no commitment, so you can change your plan at any time and roll over unused credits. ClassPass is a great option to explore different studios and gyms around the city without any commitment.   
Chicago People
The midwestern United States has its own non-confrontational style of communication that passes as friendliness, often referred to as "midwest nice." Some people claim that the midwestern United States is the most friendly part of the country, which can be partially attributed to this communication style. Urban Dictionary provides a blunt yet accurate explanation of this concept, "…a manner of non-confrontationally addressing a situation that is somehow annoying in a passive-aggressive manner that is subtle enough to be considered friendly." 
As someone who has spent significant time in the midwestern United States, this description is painfully accurate. We do our best to solve a conflict in a non-confrontational way, usually with passive-aggressiveness. We care far too much about the feelings of those around us, and we often put our needs behind others. We are always willing to lend a hand to someone in need, but we do not handle conflict in a healthy way. 
Chicagoans are a solid blend of midwest nice and big-city individualism. They may seem unfriendly and cold at first, but they will more than likely do anything for you once you get to know them. Some of the best ways to make new friends are through sites (like Meetup and Bumble BFF), fitness activities, volunteer opportunities, nightlife, trivia nights, sports teams, company social events, or local interest clubs (book club, gardening club). The median age of Chicagoans is 35, and over 60% of the population is between the ages of 18-64. The city provides many opportunities to interact with locals of all different ages, races, and cultures. 
Another great way to meet people and cut down on housing costs is by getting a roommate. You can look for potential roommates on Craigslist, roomies.com, roommates.com, and through mutual connections. 
Across the United States, punctuality is vital in both professional and personal life. Try your best to be punctual, but everyone understands that things come up. If this is the case, be sure to alert whomever you are meeting of the delay.
Chicago Insurance and Medical Care
Medical care in the United States is expensive, and the country runs on private insurance (though there are limited government options). Patients are responsible for the cost of any medical services provided, regardless of the passport they hold. Visiting an emergency room in the US can cost you thousands out of pocket, so it is best to prepare before arriving in the country. Whether you are a digital nomad or a resident, patients can opt to visit an urgent care clinic instead of the emergency room (in some non-life-threatening cases) and cut costs there as well. While the United States generally has high-quality healthcare, the high prices make it inaccessible for some. 
If you are traveling to Chicago to work as a digital nomad, make sure your insurance back home provides coverage in the United States before leaving. You can also explore travel insurance or visitors insurance (and make sure it provides medical coverage) if you visit the country as a tourist. 
You can read more about insurance in our Digital Nomad Travel Insurance Guide. 
If you plan to move to the United States for work, obtaining local insurance is a MUST to avoid medical debt. The country has a private insurance network, but most of those plans are very expensive. Most residents obtain health insurance through employer-sponsored plans. In these cases, both the employers and employees pay a portion of the monthly insurance costs. There is no standardized insurance in the US, and each employer will offer a different plan to their employees. Contact HR at your company for more information about the options available to you.  
The US does not require any vaccinations to enter the country, but it is advisable to stay up-to-date on your routine vaccines. As of now, the US requires a negative COVID-19 test no more than three days old to enter the country (regardless of citizenship or vaccination status). Travel requirements also vary by state, and you can find travel requirements for the City of Chicago here.
Make sure you are fully covered by reading our full Digital Nomad Travel Insurance guide.
Jobs in Chicago
Key players in the city's economy include insurance, food processing, financial trading and services, manufacturing, printing, publishing, and transportation. In Chicago, the five largest employers in 2021 included the US Government, Chicago Public Schools, the City of Chicago, Advocate Aurora Health, and Cook County. You can view job postings in Chicago on LinkedIn, Indeed, ZipRecruiter, Monster Jobs, CareerBuilder, and Jobs.com. You can also visit our Digital Nomads Jobs page to explore available positions for digital nomads.
Check out our Digital Nomads Jobs Postings to find the best jobs available for Digital Nomads.
Nomad Friendly
Value for Money
Internet
Workspace
English
Food
Safety
Health
Transportation
Friendly
Quality of Living
Cost of Living Chicago
Rent will probably average $1900/month for a one-bedroom near the city center, depending on the type of accommodation and number of occupants. If you are fine sharing your space, you can reduce your rent by up to 50% each month living with a roommate. Most rent prices do not include internet and utilities, so you can expect to pay an additional $200/month. 
Coworking spaces in Chicago vary in price, but you will need to pay about $350/month if you want a fixed desk at many larger coworking spaces. You can save money by opting for a hot desk or choosing a more budget-friendly option. 
Chicago is extremely well-serviced by public transportation, so your best option is to get a 30-day CTA pass for $105/month. This gives you unlimited rides on both the trains and buses around the city. You may have to use alternative forms of transportation (Uber, Lyft, Divvy bikes) if you are in a rush, going extremely long distances, or feel unsafe late at night. Therefore, you need approximately $200/month for transportation costs. 
An average meal at an inexpensive restaurant in Chicago is around $15-20, and you can expect to pay between $5-10 for a drink. I would budget about $100/week for groceries for one person living in the city. Therefore, you can plan on spending $400/month on groceries and up to $200/month on eating and drinking at restaurants. 
Chicago is full of exciting opportunities, world-renowned shows, and countless activities to keep you entertained…but most of these come at a cost. You can budget $400/month for movies, show tickets, fitness memberships/classes, entrance fees, and classes. 
In total, you need approximately $3,650/month to live and work as a digital nomad in the city. Thankfully, there are many ways to save money, like getting a roommate, exclusively using public transportation, and primarily cooking at home. The cost of living in the United States is generally much higher than in other countries, so Chicago is not the most cost-effective location for digital nomads…
But if you can pay a bit more (it is worth it), Chicago is the perfect city for you! 
If you are looking to save a few bucks in the city, check out the local deals on Groupon before you go. You can usually find discounted vouchers, tickets, or gift cards for various activities, restaurants, services (haircut, massage, etc.), and products in the city.
Another great way to save money while visiting tourist attractions is by purchasing the Chicago CityPASS. For just over $100, visitors get admission to the Shedd Aquarium, Skydeck Chicago, and Field Museum. They can also access two attractions from the following list: Art Institute of Chicago, Museum of Science and Industry, 360 CHICAGO Observation Deck, or Adler Planetarium. The pass is valid for nine days, and visitors can save nearly 50% on box office prices.