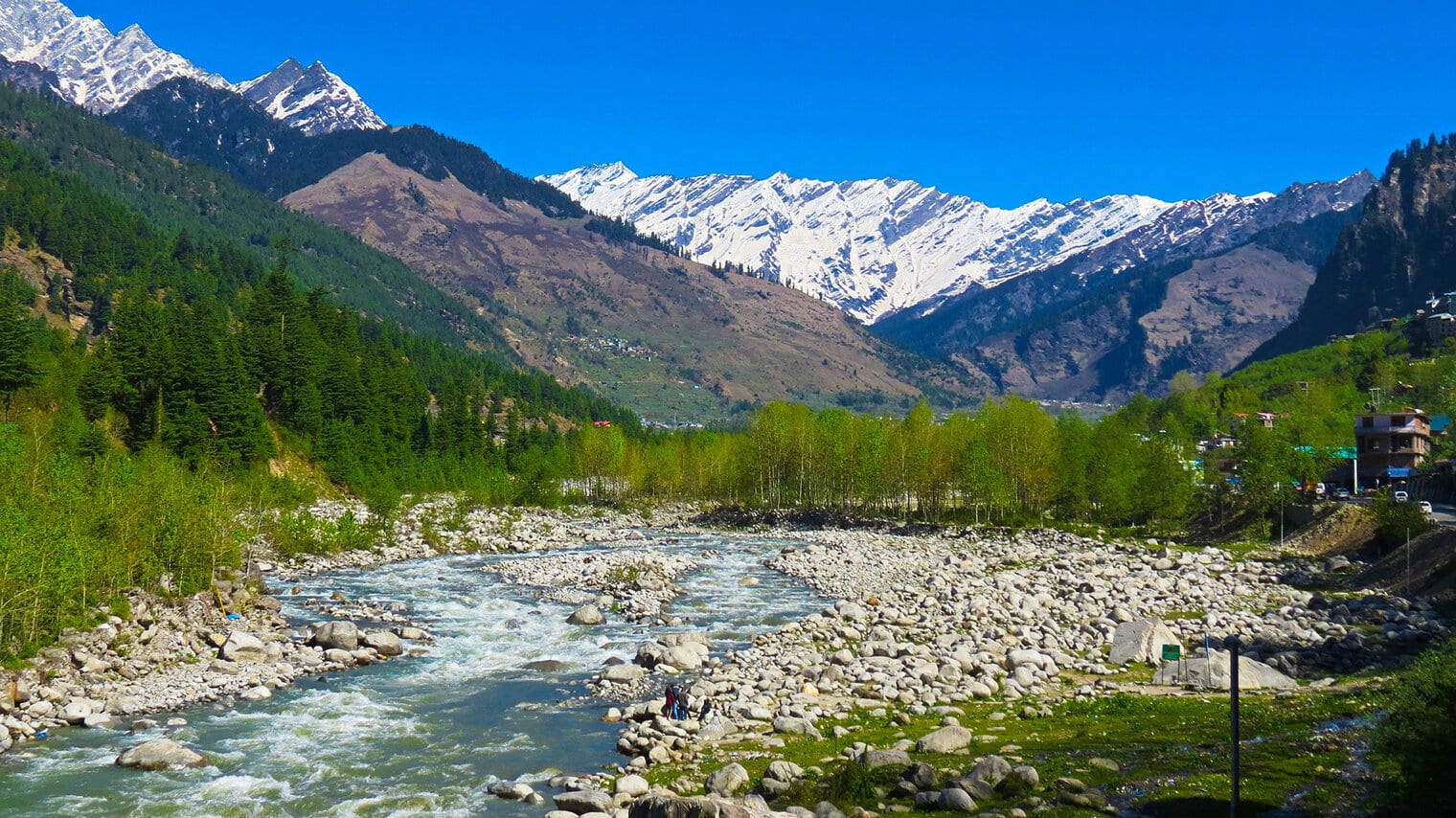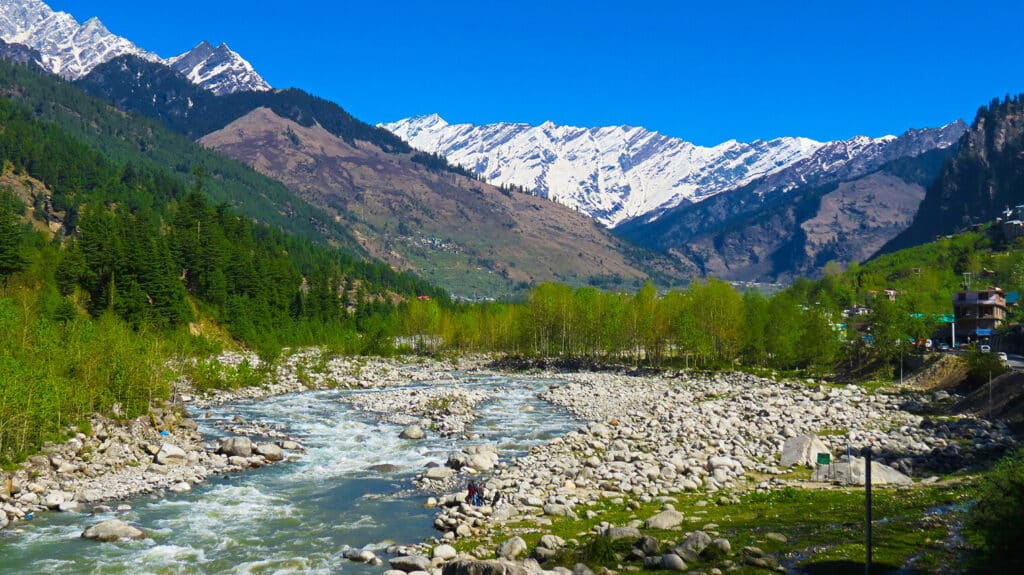 A Digital Nomad Guide to Manali
Have you ever been inside a fairy tale?
You must think I am silly but wait until you visit the town of Manali in India —the spotless mountain slopes with enthralling sceneries, mesmerising streams, fresh fog encompassing petite cottages, and the lingering aroma of the pine forest will charm you in a way no place ever has!
I am not exaggerating when I say that when you're in Manali, it does feel like you're inside your own magical land.
Once called a gift of the Himalayas to the world, Manali is now the honeymoon destination of India. A popular resort town, it is situated on the banks of River Beas in the Kullu Valley district of the state of Himachal Pradesh. The name Manali is termed after Manu, a Hindu sage. According to legends, when a flood engulfed the earth, Lord Manu along with the others were taken to a dry ground by a giant fish who was a manifestation of God Vishnu. It was Manali where they took refuge and recreated life on the planet.
According to the Indian epic, Mahabharata, the Pandavas also stayed here during their exile. Manali also finds its way in another epic, Ramayana and the sacred text, Vishnu Purana. Thus, the locals call it 'the Valley of Gods.' Sometimes when you gaze at the mountains, it feels like they are telling you stories of a collective past that are hidden deep within.
Elevated at an altitude 2050 meters above sea level, this Himalayan town lies 580 kilometres north of Delhi. The breath-taking snow-covered mountain terrain and picturesque location makes Manali a perfect spot for adventure sports. In fact, this is exactly what pulls backpackers from all over the world to Manali. It is a relief from the fierce heat of the open country.
In the 1980s, when tension in Kashmir rose, Manali saw a whirl of increasing tourists too. This eventually transformed the quaint village into a vibrant town. Every tourist season, one will find the mall road gushing with couples on their honeymoon, while old Manali is bustling with foreign visitors. Today, this beloved hill-station also serves as a gateway to offbeat destinations such as Lahaul, Spiti, and Leh.
Rains in the mountains bring with it the fresh smell of the earth along with whiffs of the imminent snow. If you're (un)lucky enough, you'll occasionally witness mild hailstorms in the area too. My first trip to Manali was in September, 2019 which usually is the end of the monsoon season in the country. The weather was perfectly cold with infrequent rainfall. Every landscape that your eyes could glance at was a perfect lush of green.
Nomad Friendly
Value for Money
Internet
Workspace
English
Food
Safety
Health
Transportation
Friendly
Quality of Living
Living in Manali Overview
| | |
| --- | --- |
|  Meal, Inexpensive Restaurant | $2.14 |
| Domestic Beer (1 pint draught) | $1.67 |
| Cappuccino (regular) | $0.87 |
| Loaf of Fresh White Bread (1 lb) | $0.42 |
| Water (1.5 liter bottle) | $0.40 |
| One-way Ticket (Local Transport) | $ |
| Basic Utilities (Monthly) | $16.07 |
| Internet | $8.82 |
| Fitness Club (Monthly) | $26.79 |
| Apartment (1 bedroom) in City Centre | $174.13 |
[erw_exchange_rates_widget lg="en" tz="0″ fm="EUR" to="EUR,USD,GBP,AUD,JPY,RUB" st="primary" cd="" am="1″][/erw_exchange_rates_widget]
Max Withdrawal: €400
Use of Credit Cards: Widely Accepted
Digital Nomad Personal Experience in Manali
I had spent my time in Lahaul and Spiti earlier that week with no network and hardly any civilization. Before heading back to Bombay, I had decided to stay in Manali for a few days. The tour guide in me was not nearly done with being around the mountains. I wanted to explore more and so I did!
I spent my days walking in the bylanes of Manali, around old stone houses, appreciating its architecture, breathing in the fresh air, leaving my worries behind, and just being in the moment. I sat in cafes reading books and eating delicious food for breakfast, lunch, and dinner. When we were not strolling outside, my friends and I would spend our time inside our rooms, looking out the window, talking to each other, playing Bob Dylan and Pink Floyd on our speaker, synching it with the sound of the river flowing by or simply doing nothing. No matter what we did though, it was enough.
In that moment there, embraced by the Himalayas, we knew we were enough. The time we spent in Manali together wandering around the mountains is still etched in our hearts.
Work in Manali
Best Places to Work in Manali
Due to the expansion in social media, every place has internet. In some areas, mobile networks work pretty well too. If you're a digital nomad, looking for coworking spaces, cafes et al to work from in Manali, here are some of the places that you must try! 
Young Monk
Boasting a garden and a lounge, Young Monk Hostel & Cafe is also a coworking space in Manali. The hostel has a beautiful mountain view out front. The property offers a restaurant, a 24×7 front desk, and free WiFi to all those who stay in their premises. Apart from that, Young Monk also hosts some of the best hikes, events, workshops, and gigs in the area. The hostel is always teeming with backpackers, travellers, and digital nomads throughout the year. Even after all the commotion of the people around, you're sure to find a quiet spot in some corner of the property to work from.
Location: C/O Green Forest Guest House, Clubhouse Road, Old Manali
Alt Life
A backpacker's paradise, Alt Life Manali is a hostel nestled in between the snow-capped mountains, and the apple orchards on the banks of River Beas. The place has a 24×7 cafe and a coworking space with strong WiFi that can accommodate up to 70 people. What's more? They have an apple orchard garden restaurant, a travel desk, planned day-and-night activities, bonfire sessions, a good collection of books and puzzles, and a community of impressive backpackers.
Location: Clubhouse Road, Old Manali
Cafe 1947
Cafe 1947 is known to be the most legendary cafe in Manali. From ambiance to WiFi, they have the best of everything. The River Beas flowing right beside the cafe makes the place even more surreal. The views from the window are simply incredible. Lastly, the food on the menu is mouth-watering. This makes it the perfect place for a digital nomad looking for a place to work from or a hub to interact with other nomads.
Location: Near Nehru Kund, Old Manali
Rocky's Cafe
Do you want to enjoy nature's trance in Manali? Head straight to Rocky's Cafe and watch the drama of the Himalayas slowly unfold in front of your eyes! Set up on a small climb, Rocky's Inn and Cafe is a sweet spot for a rejuvenating workcation. The comfort that one feels here cannot be matched! Every nook and corner breathes of Himalayan authenticity. The cafe serves some of the best Himachali dishes. They also provide free WiFi to all their guests! In addition to all that, they have the cosiest corner with a bookshelf which is a perfect spot for a bibliophile. 
Location: Near Manu Temple, Old Manali
Lazy Dog
Manali's oldest and coolest gastro-pub, Lazy Dog, is the perfect place to take a breather. They have a wide selection of international cuisine, lip-smacking desserts, free WiFi, great music, and seating right on the banks of the river.
Location: Manu Temple Road, Old Manali
The Johnson's Cafe
If you're looking for a comfortable workcation, Johnson's Cafe is the place! Nestled in the heart of Manali, it will swift you right off your feet with its timeless beauty. From ambiance to food to connectivity, everything here is top notch. Given the quality of services, the prices are slightly higher than the rest.
Location: Circuit House Road, Siyal, Kullu
Drifters' Inn and Cafe
Drifters' Inn and Cafe is a home away from home for all digital nomads out there! The food will satiate your taste buds, the collection of books will amaze you, and the strong WiFi is best in town. It is also a beautiful place to just chill, sit back, relax, and have a coffee with a friend or a date!
Location: Manu Temple Road, Old Manali
Best Places to Live in Manali
Best Neighbourhoods
Mall Road
The Mall Road is often called the heart of Manali. Famous for its street shopping experience, hustling with tons of activities, Mall Road is the most attractive part of Manali for tourists. You'll find great deals on apartments as well as hotel rooms in this area. The Mall Road has a commercial centre lined up with restaurants, dhabas, and cafes serving a wide range of dishes. The emporiums, and local shops have everything under the sun.
Old Manali
Old Manali lies at the other end of the River Beas, far away from all the hustle and bustle of New Manali. The area is mostly preferred by solo travellers, digital nomads, and young hippies who stumble here looking for a quiet and peaceful surrounding to unwind. The city has a range of hostels, inns, hotels, and apartments that are cheaper than New Manali. They even have a better view of the mountains. The streets are fashioned with restaurants, cafes, and even vegan eateries along with local shops and general stores. The best way to enjoy this city is by walking through its narrow paths and discovering places on foot.
Vashisht
Vashisht (or Bashisht) is a village in Kullu, around a mile north of Manali overlooking River Beas. Generally quiet, it is a compact version of Manali which makes it one of the focal points for travellers. The village is mostly known for a temple by the same name and its natural hot water springs. It has many rest houses, restaurants, and other stores. The local market is also nearby. A slightly higher elevation offers great views of the valley and the river which makes it a perfect neighbourhood for a runaway digital nomad.
Kasaul
Nurtured by River Parvati, Kasaul or Kasol is a popular hub spot amongst backpackers and travellers. Due to its popularity, one can easily find a hostel or a guest inn here for short as well as long term stays. It is called the mini-Israel of India because of the number of Israeli tourists here. Although the place is mostly known for its techno gigs, it is also a base to some of the thrilling treks nearby. Kasaul, a quaint little village with large pine trees and vintage stores, helps you embrace a slower pace of life.
Naggar
Unlike other Himalayan villages, Naggar has a mystic charm attached to it. Maybe it comes from the pine forest that covers most of the land or the snow-capped mountains surrounding the village on all four sides. Whatever it is, it makes Naggar one of the must-stay places in the entire state. From local guest houses to hostels to even apartments, one can find an affordable place to live here. Even though the local markets, some shops and restaurants are nearby, one has to go down the hill to reach the main highway.
Find an Apartment in Manali
First things first, ask yourself these questions: Which neighbourhood do I want to live in? How long will I be staying here? Will someone I know be willing to accompany me? Once you have the answers to at least these questions, it makes your search easier. The next thing is to look for a place.
Now the best way to find somewhere to live is by hunting for places on foot. Ask the locals, shopkeepers, restaurant peeps around if they know of anyone renting out their apartments or houses. You can even ask fellow digital nomads in cafeterias or restaurants. This is mostly because the majority of the population do not know how to list their apartments online. Trust me when I say that this method will help you find some of the best places to live in the area. Another plus side, it will be hella cheap! Although I agree that this way of looking for an apartment is too time consuming.
If you do not want to go by the above method, another way of finding a place is through Facebook groups. The questions that I mentioned before will definitely help here. Post your request on the group or scroll through the feed—either way, you're sure to find some listing that is perfect for you. Therefore, I would definitely recommend spending some time on the groups, commenting on posts, reading other comments, and asking your queries on personal chats. People in Himachal are usually very kind, so if you don't happen to find anything on your own, someone else will definitely come through.
There are some websites that can help you find apartments as well like Magic Bricks, 99 Acres, Vacation Renter, etc.
You can also check out some of the places listed on AirBnB. If you wish to stay in hostels with other travellers, make sure you book your stay either through their own websites or Hostel World, and Backpacker Panda to avail some discounts. You can also check out Zostel, go Stops, and The Hosteller who have a number of hostels in their name in various parts of India.
Apart from that, you can also check out Booking, Make My Trip, Agoda, Kayak, Yatra, Go Ibibo, and Trip Advisor to find places to stay in the vicinity.
No matter where you stay, you'll be asked to submit a copy of your visa, your passport, and some documentation of your identity proof. Some owners may even ask for a security deposit which can vary from 1 to 3 months' rent depending on the duration of your stay. If you happen to find an apartment through a broker or a real estate agent, they might even ask for a nominal fee which is usually one month's rent.
Although February to June is the best time to visit Manali, October to January is the time when you will find the best of places at the cheapest of rates. It is due to the frightening cold in the winter season. Therefore, if you do happen to book your stay during the winters, make sure you have a heater in the room. Sometimes warmers and woollen clothes just don't do it!
Cheap Places to Stay in Manali
Hostels
Hostels like Madpackers, Moustache, Yolo Backpackers, Rockway, The Culture Nation, Backpacker Headquarters and many others offer accommodation for as cheap as $5 a night. You'll find many such hostels in Manali on the websites that I mentioned above. The hostel dormitories in Himachal are categorised into female and mixed, AC and non-AC rooms. They even have private bedrooms. If you wish to stay for a long time, make sure you ask the front desk or the owner of the property about deals on long term stays.
Guesthouses
Orchards House, Eagle Guesthouse, and Timberwolves Guesthouse are some of the popular budget friendly guest houses in Manali. Just like most guest houses go, these, too, come with their own background story. The location of these places makes them ideal for digital nomads who want to be surrounded by nature. The price range of such guesthouses in Manali start as low as $12 per night. Minus the noise that comes with living in a hostel, guest houses become the perfect stay for anyone who can splurge a little extra.
Volunteerships
Property owners of hostels, inns, and guest houses are always on the lookout for volunteers to help them in their day-to-day activities. These include planning hikes, events, workshops, and gigs at the property, socialising with guests and taking care of their needs, along with helping the on-ground staff with their responsibilities. In exchange, the place offers free accommodation and food to the volunteers. The volunteership can be taken up for a month or as long as 6 months too. The scenic locations at which these properties are placed makes this program one hell of an opportunity. You'll easily find such jobs on the property's Instagram account or Work Away.
Manali Visa
Living in the mountains can be fun and exciting but living in India can have its own set of drawbacks. Before you make plans for moving to Manali, make sure you have your basics covered.
Travelling to India is easy. There are more than 5 types of visas available for foreigners who wish to travel to India. The most common one that travellers and digital nomads opt for is the tourist visa.
The application form for an Indian visa is easily available online on the government's website. There is a non-refundable fee that is charged at the time of submission; however, this doesn't guarantee you a visa. The fee depends on the type of visa and duration of your stay. It takes a minimum of three working days for the visa to get approved. The documents that are required for the visa are a valid passport and a photo identity card.
The whole process takes place digitally without you having to make rounds of the visa offices or embassies. Once your visa expires and you still wish to continue staying in the country, you can extend it by applying online.
If you think that the visa procedures are strenuous, you can always out-source the work. There are multiple agencies that can help you obtain an Indian visa. However, they will charge you an additional fee to do the work.
These procedures keep changing depending on the situation. Before making a move, make sure you check the website or with the embassy.
Culture and Food in Manali
Food
One of the dishes you must try when you're in Manali, is an elaborate thali called Dham which is mostly prepared during wedding ceremonies. If you ask the local dhabas around to prepare this extensive plate, they might give in to your request. Make sure you are not half full when you order the dish!
Locally grown red rice, nutty in flavour, is a staple delicacy that you must try. Order it alongside kidney beans or saag (a green leafy vegetable dish). Kadhi Chawal (a spicy gram flour curry with rice) is another mouth-watering dish—once you have it, you always come back looking for more!
Lastly, the Kullu Trout is a treat for all fish lovers! A spicy and tangy flavoured fish, Trout can be eaten grilled, steamed, or served with a curry.
Alcohol
The two kinds of home-grown alcohol are Lugdi/Chang, a crude beer made out of fermented rice and Sharab/Arak which is prepared with jaggery, apples, or any other fruits. Apple Cider is also one of the common spirits made locally due to the vast apple plantations.
Religion
Traditionally, Hinduism has been followed in the town of Manali with significant shrines dedicated to goddess Hidimba and sage Manu. However, in the recent past, many Tibetans have taken refuge in the state bringing with them the religious philosophy of Buddhism. The distinctive monasteries and suspended prayer flags swinging with the breeze is a bewitching sight to see.
Language
Although Hindi is the most common language that is spoken in the entire state, Pahari (a dialect of Hindi) is preferred amongst locals. English is also used amongst regular travellers in the state. 
Festivals
One of the heartily celebrated festivals in Manali is Dussehra. It is a celebration of Lord Rama's victory over evil. The festivities are so grand that they last for the entire month of October. On the other hand, for the local Tibetan community, it is the Losar festival which is celebrated in February. It marks the beginning of a new year for them.
The people of Manali have placed their entire belief system in goddess Hidimba. During the Spring season, locals organise and participate in a fair which is a must-visit festival in town. If you're in town around this time, make sure you make a trip to the Hidimba temple where the festival is usually celebrated.
Clothing
Due to the cold weather all year round, warm and woollen clothes are used in the Kullu valley. Men dress up in Chola which is a long woollen coat with pleats and tight pants called Suthan. They cover their shoulders with Lachhoo (a blanket) or a Chadder (a men's shawl)
One can easily distinguish a local from a tourist by a Topi (also known as Kullu cap now) that is worn by most Pahari men. It is a colourful woollen cap with a Kulluvi design on it. Don't forget to buy one for yourself, when you're in town!
Women mostly dress up in a traditional dress called Pattoo which is worn over regular clothing. It is thicker than shawls and comes in bright colours. This is tied with a cloth belt called Gachchi and a silver chain called Boomini. Like men, women also wear headgear—Dhatu or Thipu which is a square piece of clothing. They also wear Pullas, a footwear made out of hemp and woollen threads to keep their feet warm.
Manali Nightlife
During the summers, Manali becomes the Goa of northern India. Travellers tend to escape the excruciating heat of the South and move to cooler towns like Manali and Dharamshala.
Although in the day, the temperature feels nice and warm, nights can be colder than one is prepared for. If you're not adaptable to such a low temperature, even the most minimal drop in weather can send shivers down your spine. During winters, with temperatures that can freeze you to death, most people prefer to hang inside with blankets and heaters.
But if you're someone who is looking for a night adventure, here are some things that you can try!
Camping
A night away from all the chaos of the city with nothing but the twinkling stars in the sky will make up for an amazing camping experience in Solang Valley. It is around 14 kilometres away from Manali. You'll find various treks and travel companies around Manali that offer this experience. Due to its extremely cold temperature, it is advised to be well-equipped for this adventure.
Clubbing
Although one cannot find many clubs around the mountains, that doesn't mean that one cannot enjoy a night of dancing. Explosion Nightclub and Club Nirvana Cafe are two such places if you want to let go of everything and dance the night away. They have a disco, a DJ, and a bar stocked with good alcohol.
Fine Dining
There are some restaurants with a lounge that are open till late for people who wish to enjoy a quiet night with their friends and family. Khyber, Lazy Dog, and Chopsticks are amongst the few that offer a splendid buffet with international beverages for anyone who enjoys exquisite dining.
Hanging Out
One of the cosiest spots to hang out with your friends or meet new people on your expedition is Dylan's Toasted and Roasted Coffee House. This boho-chic roastery is also the busiest and the most exciting place to be! They not only serve the best coffee in town but they also have some of the delicious cookies that you might have ever eaten! In addition to that, Johnson's Bar and Restaurant is also one of the prominent places to hang out. Don't miss out on their apple crumble with vanilla ice-cream when you're there!
Walking
Himachal Pradesh is one of the safest states in the country, so if you're bored and can't make up your mind to do anything, just take a walk. The streets and the neighbourhood surrounded by the tall and mighty Himalayas and pine trees look even more charming. And as if that weren't enough, the night sky on clear days is studded with millions of stars.
On the plus side, you might come across things that you would otherwise not find at all—a group of friends sitting together around a bonfire singing their hearts out or some local narrating stories of his land to other fellow travellers. After all, these moments are what makes our stay worth it!
Things to do in Manali
It doesn't matter if you're with your family or on a solo trip, Manali will surely have something for you. There are tons of activities that you can participate in. I have tried my best to cover most of the things that you must do while you are here!
Visit the waterfalls

One of the most beautiful things you can do in the mountains is sit back and relax. Let nature work its way into your lives. I think that's an integral part of Pahari (mountain) life. Manali harbours some of the best waterfalls in the entire country. If you're in town during the summers, you must plan a trip. Some of the famous waterfalls that you can visit here are Jogini Waterfalls, Jana Waterfalls, Rahala Falls, and Rozy Waterfalls. Rediscover yourself with the sweet-scented air, dense birch forest, fresh water, and the perfect views!

Try out adventure sports

From skiing, zorbing, paragliding, mountain biking to river-rafting, camping, and cycling, you can try out a plethora of adventure sports here in Manali. Go up to Solang Valley to try out skiing or try the famous river-rafting in River Beas—each one of these adventures will surely give you some serious adrenaline rush! Needless to say, almost all of these activities are offered by tour and travel companies in the area. If you want to try them all, you might even get a good deal on the prices! If you have the time, you can even learn a sport. The Atal Bihari Vajpayee Institute of Mountaineering and Allied Sports offers basic to advanced level courses in mountaineering, rock climbing, paragliding, and other adventure sport disciplines.

Take a road trip with your bike

The best part about Manali is that it is well connected with other tourist destinations like Lahaul and Spiti, Leh and Ladakh by road. If you're up for some mad adventure, you must ride your bike to town. Drive up to Spiti or simply take a day trip to Rohtang Pass, the view is nevertheless going to be spectacular! While you're in Rohtang, you can also visit the natural spring there called the Nehru Kund.

Pay your homage in the temples

Most travellers take refuge in the mountains looking for some inner peace. The temples, churches, and monasteries here have an intriguing aura around them that makes them so appealing. When you're in Manali, you simply cannot leave without paying your respects to goddess Hidimba at the renowned Hidimba Temple, sage Manu at the Manu Temple, and Lord Shiva at the Gauri Shankar Temple. If you visit these shrines during their festivals, you'll surely enjoy yourself in the celebrations. Those are definitely worth attending!

Go into the wild

If you want to truly admire wildlife, visit the Manali Wildlife Sanctuary and Pin Valley National Park. Apart from lush green forests and snow-capped mountains, these sanctuaries are also known for their exotic flora and fauna here—snow leopards, brown bears, red fox, musk deer, Himalayan snow cock, and many more. You can also try yak-riding in Manali Wildlife Sanctuary.

Learn about Tibetan culture

If you've ever wondered about Tibetan history and culture, there's no better place to learn about them than the mountains. Each monastery that you find here has its own story, and if not that, you're sure to find at least one interesting ritual, or tradition. Even its architecture is created with such precision and detail that you'll be left marvelling at it. Manali itself has three such Tibetan monasteries—The Gadhan Thekchoking Gompa, Himalayan Nyingamapa Temple and another one at Aleo on the left side of Beas River. Today, visiting these monasteries is an important part of any traveller's trip here.

Engage yourself in some trekking

Since Manali acts as a base for most hikes and treks, many tour companies organise trips with Manali as a starting point too. While you're here, make sure you at least join one of the long treks. The Hampta Pass trek allows you to enjoy the scenic views of Kullu and Lahaul valley whereas the Chandrakhani Pass trek goes through the mysterious town of Malana and significant peaks like the Deo Tibba, the Parvati range, and the Pir Panjal. You can also try some beginner level treks to Jagatsukh Village, Beas Kund, Bhrigu Lake, or even Gulaba village for that matter. Remember to always check the weather before making a decision.

Take a trip via cable car

Another memorable thing that you'll do in Manali is travel through a cable car and witness some of the most spectacular views from above. This experience makes you feel like you're on the top of the world! This new activity is available in Solang Valley. Imagine being on top of not just one mountain but the entire range without the trouble of trekking up to it. This is perfect for anyone who is looking to do something new in India.

Enjoy the true mountain life in Malana

Despite hashish being illegal in the country, Malana is not only the largest but also the best producer in the world. The economy of the village is entirely dependent on the cannabis plant. When you visit the village, you'll find little children playing with hashish too. Another interesting fact is that the people of Malana think that they are superior to others. One reason for this myth is that they believe themselves to be descendants of Alexander the Great. Many travellers visit Malana in search of these truths and end up being mesmerised by the breath-taking views around.

Spend some time shopping

Take a walk to Manu Market or Mall Road and shop your heart out! These markets are not only famous amongst the locals but also the diverse digital nomads who live here. This is also the best place to put your bargaining skills to some use. You can find everything from Himachali and Tibetan clothing, woollen wear to handicraft, jewellery, and even artifacts. Manali markets also have some of the best hemp products that you'll find in the world.
Best Time to Visit Manali
Manali has the weather of a magical land but in winters, that can turn quickly into a horror film. I am kidding! Although during peak winters, the weather can get really bad. However, this shouldn't stop you from enjoying one of the perfect things about Manali—its climate.
According to me, there are two best periods to visit Manali—October to February, which is the shoulder season and March to June, which is usually the peak season.
Summer begins in March in India but the weather is still cool and pleasant in Manali. During the day, the sun feels warm on your skin but it gets colder in the night. The temperature usually varies between 5°C to 25°C. It is important to at least carry light woollen clothes. This is the perfect time to indulge in adventure sports like paragliding, rafting, and outdoor activities like trekking, and mountain biking. 
Somewhere between mid-June, it starts to rain. Rainfalls in the mountain can be tricky with high chances of landslides during the season. But on the plus side, you can witness the waterfalls in all its glory.
From October, cold starts to set in and months forward, it only gets colder. By December, there are heaps of snow all around. Manali changes colour entirely making it the best time of the year. Temperature drops down below 0°C. Always carry woollen clothes, warmers, mufflers, jackets, sweaters, gloves, socks, and a beanie to cover your whole body. By January, winter activities commence and this is a great time for adventure sports enthusiasts. The Winter Carnival, which is a mark of a new year, is also celebrated around this time.
Overall, every season in Manali comes with its own perks. No matter which season you go in, Manali and its mountains will be ready to embrace you.
Manali for Families
The most fun part about schooling in the mountains is the beautiful outdoors and scenic views. Education in Manali has increased for good over the years. With the advancement of technology, today there is a wide network of government and private schools. Some private schools even provide residential quarters for kids from out of town. Apart from that, there are multiple coaching schools in vocational training, computer learning, music, and sports. Delhi Public School (DPS) and Cambridge International School are amongst the top private boarding schools here. Their annual schooling fees including admission fees cost around $400-$500.
While Manali Public School and DAV Public School are the best government schools in the area, Sambhota Tibetan Schools Society provides schooling and learning to Tibetan refugee kids. In contrast to private schools, public schooling fees range between $100-$200 per annum.
Blooming Buds Play School and Day Care in Model Town is the best day-care centre in Manali that has exceptionally dedicated teachers and practises progressive teaching.
There are quite a lot of things that you can do as a family in Manali. In addition to all the things mentioned above, parents can even enrol their kids in summer camps here. You'll find quite a few of these camping and easy trekking activities for kids on Thrillophilia.
If you're planning to move to Manali with your family, there are plenty of housing options that you can choose from. You can find beautiful cottages around Old Manali for cheaper rates, especially if you consider leasing it for a long term.
Although initially your children might find it hard to cope with the mountain life, years later they'll look back and think of it as the best period of their entire lifetime. After all, how can one not fall in love with the mountains?
Living in Manali
When the first wave took its final steps in India, state borders were opened to tourists and travellers again. The frustration of being at home for a year led many to the mountains, especially Manali. As the second wave still prevails in India, most shops, hotels, and restaurants do remain open for anyone who walks in through their doors with a negative RT-PCR report.
The resort town combined as a honeymoon destination is a backpacking centre, and a melting pot of cultures which makes Manali a perfect place for digital nomads who wish to make a home in the mountains.
Manali Transportation
Manali is well connected to Delhi and Chandigarh via air, roads, and railways. The quickest but the most expensive way to reach the town is by flight. The nearest airport is Bhunter around 50 kilometres away from Manali. Once you land at the airport, hire a cab or a taxi which might cost around $20 to $40. However, considering the shift in weather all the time, this is not the most reliable option.
The cheapest way to reach Manali is via trains. The fare ranges between $5 to $35 depending on your location. Chandigarh is a major railway station that is close by Manali. Once you're there, you can take an overnight inter-state bus or a cab to reach your destination.
Apart from that, Joginder Nagar is another railway station in Mandi that is close to Manali. There is a toy train that leaves from Pathankot, Punjab to Joginder Nagar, Himachal Pradesh. It passes through the Dhauladhar ranges and it is a trip worth taking! However, one might not be able to find many trains otherwise that go to Joginder Nagar station from major cities. If you're lucky enough to find one, you can then take a local bus from Joginder Nagar bus stop to Manali.
Another way to travel to Manali is by road. There are plenty of overnight inter-state buses from Delhi and Chandigarh that leave every day in the evening. This is personally my favourite mode of transport because of the scenic route. The bus travels through various mountains and valleys, through villages and towns. This gives you a sneak-peek into what's awaiting you on the other side.
Within Manali, there are various modes of transport that you can use.
Local and inter-state buses run from Manali to various other tourist destinations like Dharamshala, Bir, Shimla, Spiti, Leh, Ladakh, and so on. This is especially great for a digital nomad who is on a budget trip but wants to explore more places in the state.
Tour and travel agencies also provide taxi services within the town or for inter-city travel. The fare is usually charged by kilometres travelled and costs around $2-$3 per kilometre.
Apart from that, you can always hire a rental car, bike, or a scooter to roam around town. The price per day for a car is $50-$60, a bike is $15-$20, and a scooter is $6-$10 in peak season. This medium of travelling is not advisable if you're not confident with your driving skills because mountain roads can be tricky and sometimes dangerous too.
As for me, I have always found walking to places more convenient. Mostly because it's good exercise for my body that spends most of its time settled on a chair or sofa as I work from home. Secondly, I end up discovering amazing places that I would have missed otherwise. Furthermore, there's something about walking or taking a stroll that helps you remember places well.
Fitness and Health
Locals in the mountains take their fitness very seriously. They believe in walking their way through life instead of riding through it. The major part of their day is spent farming and doing heavy manual labour. If you happen to befriend a local, do ask them if you can tag along. They'll never say no!
But otherwise, simply living in the mountains is healthy enough owing to the fresh air around and less pollution. Taking a regular walk here requires you to climb up and down at least a few mountain slopes which is enough exercise for some of us.
Although in recent times, the number of people determined for a healthier life has significantly increased because Manali has become more commercialised and the prospect of having fresher air has reduced. If not that, some people anyway strive for a fit lifestyle. If you're one of those, there are some things that you can do. For instance, Manali has quite a few fitness centres that you work out of. The monthly fee of these gyms range between $10-$30. Fluid Gym, Okeza Gym, Avenue Manali Fitness Park, and Hadimba Fitness Gym are amongst the top fitness centres in Manali.
On the other hand, one can even try practising yoga in centres like Shri Hari Yoga Ashram, and Open Lotus Yoga.
Manali People
The town of Manali has, of course, progressed a lot in the earlier decades due to globalisation. Many of the locals today are well educated. Some are even involved in various employment sectors. But Manali has a legacy, a past full of rituals and traditions that have been passed onto the next generations. You'll notice that locals, even today, follow them wholeheartedly thus indicating how little of a difference industrialisation makes to the cultural traits of Manali.
It is home to various indigenous tribes. One of the prominent groups in the region is the tribal community of Kinnaur, known as the Kanaura or Kinnara. They are the local inhabitants of the valley. They stand by their egalitarian beliefs till date. Gujjar is another important tribal community in the area which is referred to as the wandering tribe of Manali.
The town of Manali has also been blessed with rich artforms like music and dance. Watching folk dance performances by these tribal groups is one of the unforgettable memories you'll make. Along with their delightful folk songs, the dancers perform with such precision that they almost look like goddesses against the backdrop of the Himalayas.
In terms of their nature, the people of Himachal are welcoming and sweet. They walk the streets smiling at passing strangers and making small talk with their neighbours. If you happen to walk into a local's house, they will make sure you are well fed. They are usually very chatty and that's great! There's nothing more beautiful than listening to a Himachali local tell tales of the mountains while smoking a hashish cigarette. As they inhale one puff at a time, you'll see their eyes gleaming with joy because a passenger in the mountains lent a listening ear to them.
The Tibetan Community of India has also contributed culturally, socially and economically to the state. Their monasteries are architectural marvels and are amongst the top tourist spots in the state. Many travellers who come to India turn towards Buddhism to practise spirituality and find peace. Many are left in awe at the way the monks live their lives in complete absence of materialism.
No matter where they come from or which tribe they belong to, the people of Himachal Pradesh will always make you feel like you're home and you're safe.
Manali Insurance and Medical Care
Health emergencies often come unannounced. In such circumstances, it is best to have yourself insured. Finding health insurance in India is easy but finding a good one is important. Before you finalise on one, research and analyse well. Some of the best health insurance plans are provided by Aditya Birla, Bajaj Allianz, and Bharti AXA. The monthly charges start as low as $5 and they have the best network of hospitals in the country. These plans are available for an individual as well as a family.
While health insurance covers your big expenses at the hospitals, it fails to cover minor problems, mental health, and even COVID. For these illnesses, you might have to see a local doctor or visit a nearby hospital. There are both private and government hospitals that you can get yourself checked in. Here are a few names of private hospitals that you can definitely trust:
Lady Willingdon Hospital

Dr. Behl's Hospital

Civil Hospital

Manu Diagnostic Centre and Hospital

Mission Hospital
Language won't be a barrier as most of them know and speak English. You'll find a pharmacy or a chemist next to any clinics or hospitals.
Manali also has a number of Nursing Homes, Pediatricians, Dieticians, Psychiatrists, and Psychologists around. In terms of mental health, if you are not comfortable with therapists in the area, you can always consult someone online from another city or even someone from your own country.
Make sure you are fully covered by reading our full Digital Nomad Travel Insurance guide. 
Jobs in Manali
Due to the revolution in Digital Marketing around the world, more and more jobs are going virtual and can be done from the comfort of your home. If you plan to be a digital nomad in India, you can easily find such opportunities on LinkedIn.
But if you wish to work in other spheres, here are some professions that are always available:
Teaching: Public schools and colleges in the mountains are always looking for teachers or volunteers from out of town to teach subjects like languages, literature, history, and humanities. If you think teaching is your calling, you must apply to one of these schools and discover the joy of educating kids.

Travel Guide: Do you think you can manage a group on an adventure? Well then, this might be your calling. Usually travel companies hire only professionals who have at least a basic level of training in mountaineering, and trekking. Nevertheless, it's a dream job to pursue.

Adventure Sports Trainer: Adventure sports are a huge deal in Manali as most of the livelihood depends on tourism. If you are an adventure sports lover, do think of learning advanced courses and bagging a job to train others who come to learn here. What's more fun than teaching outdoors? Teaching adventure sports in the Himalayas.

Yoga Instructor: Many digital nomads who come to Manali, come here to relax and unwind. The path most take to do so is through yoga. Being a yoga instructor is not that difficult here. You can either teach through an institute or start your own workshops.

Fitness Coach: The same goes with fitness training. You can train your pupils in a group setting or teach them one-on-one. MMA, boxing, and personal training are some of the preferred areas of fitness that people choose.

Be an Artist: Have you been inspired by the Himalayas? Join the club! Do you want to express this in the form of art? Please do! Music, painting, and dance are three of the most popular artforms that people wish to learn anywhere in the world. So, take that guitar out, hold that paint brush, wear those dancing shoes, and get the ball rolling. 

Photographer or Videographer: The mountains can turn anyone into a good photographer. But if you think that you have a knack for it, go all in! Event organisers, travel agencies, and business owners are always on the lookout for a professional photographer or videographer to capture their events, tours, treks, and even properties.

Admin or Server: The hospitality industry is a huge part of tourism. You can always find a job as a receptionist, administrator, or even a waiter in Manali.

Business Owner: Do you think you're good at sales? Why not open a small business or a shop of your own? Due to cheap rents, more and more people think of this as a good employment option especially during the peak season.

Volunteer: Trade your skills for free stay and food at hostels, guest houses, and even cafes.
Check out our Digital Nomads Jobs Postings to find the best jobs available for Digital Nomads.
Nomad Friendly
Value for Money
Internet
Workspace
English
Food
Safety
Health
Transportation
Friendly
Quality of Living
Cost of Living Manali
Living in India is cheaper than living in most places in the world. One of the main reasons for this possibility is the difference between western currencies and Indian rupee. Now if you are already a digital nomad, who earns in dollars or pounds, think of the cost benefits!
Compared to metropolitan cities, house rents and utility costs are much cheaper in small towns like Manali. This is why, more and more digital nomads are turning to Himachal Pradesh. Complementing the low costs is the breath-taking surroundings, a closely-knit community, and a slow pace of living.
According to my rough estimate, including monthly rent, electricity and WiFi bills, maintenance fees, mobile tariff, transportation, and groceries, the expenditure is not more than $400 in peak season. Accommodation rates tend to go down the rest of the year. Honestly, living in the mountains is perfect and budget friendly for anyone who wants to enjoy their life while they breathe another day.
Accommodation for a room per month: $200-$250

Coworking space: $70-$80

Commute by local transport: $50

Groceries: $150

Leisure & Entertainment: $200