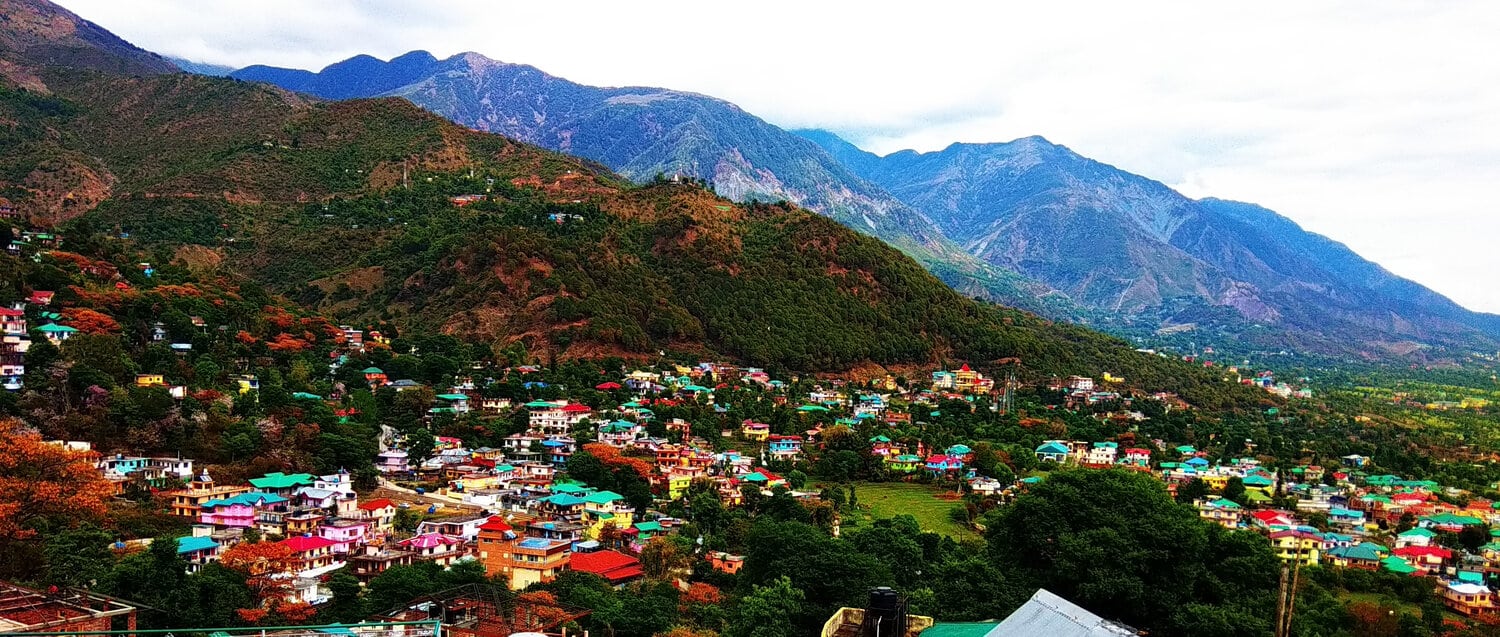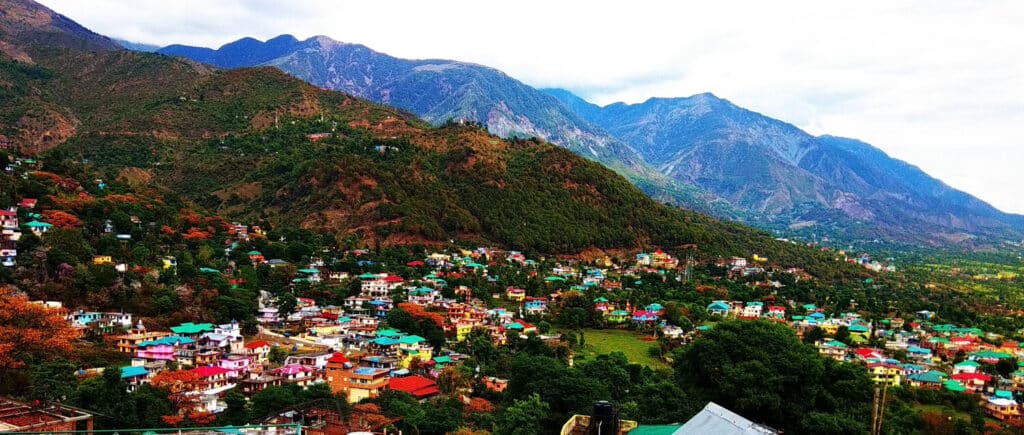 A Digital Nomad Guide to Dharamshala
Dharamshala is a popular hill town located in the foothills of the Himalayas, in the state of Himachal Pradesh in India. It is nestled in the upper reaches of the Kangra valley, at an elevation of about 2,000 meters above sea level. The town boasts of calming views of the mountains, plenty of sunshine, lush green forests, crisp air, and some of the best eateries in the entire state.
Being a mountain town, Dharamshala has a much smaller population compared to the rest of the country. As of 2015, around a little over 53,000 people lived here. However, in recent years, the region has been seeing more and more tourists coming in, with a decent chunk of them staying for long periods of time.
Locals in Dharamshala generally speak Hindi, English, Tibetan, and Pahari—a language commonly spoken in the lower Himalayas. Almost a decade after India achieved independence, Dharamshala came to be a refuge for the 14th Dalai Lama and his government officials, after the failed Tibetan uprising. Since then, thousands of Tibetan exiles have been residing here. Naturally, Dharamshala still has a strong Buddhist influence—it can be seen in the many monasteries in the region, in the momos and the thukpa, and in the various Buddhist meditation centres.
There are many reasons why more and more people are choosing Dharamshala as their next destination for their workcation. The most important of those reasons is the environment and vibe here. People in Dharamshala are the warmest you'll ever meet, and will make sure you feel at home at every point of your stay. What's more, Dharamshala is a great package. It isn't too remote, but not too crowded either. It offers visitors opportunities to relax and simply be, while also offering a variety of adventure activities and treks to embark on.
One of the main questions people visiting or moving to Dharamshala have is this: what's the difference between Dharamshala, McLeodganj, and Dharamkot? Here's the thing: Dharamshala is divided into two parts—lower and upper. Lower Dharamshala is where you'll find the main markets, the big bus stands, and the municipal corporations. McLeodganj and surrounding areas are known as Upper Dharamshala; when a traveller or digital nomad says they're visiting Dharamshala, they most probably mean McLeodganj. Finally, Dharamkot is located on a little hill above McLeodganj. It's relatively quieter and sees a lesser number of tourists.
Nomad Friendly
Value for Money
Internet
Workspace
English
Food
Safety
Health
Transportation
Friendly
Quality of Living
Living in Dharamshala Overview
| | |
| --- | --- |
|  Meal, Inexpensive Restaurant | $2.01 |
| Domestic Beer (1 pint draught) | $1.61 |
| Cappuccino (regular) | $1.46 |
| Loaf of Fresh White Bread (1 lb) | $0.39 |
| Water (1.5 liter bottle) | $0.45 |
| One-way Ticket (Local Transport) | $0.27 |
| Basic Utilities (Monthly) | $51.35 |
| Internet | $5.34 |
| Fitness Club (Monthly) | $26.79 |
| Apartment (1 bedroom) in City Centre | $140.64 |
[erw_exchange_rates_widget lg="en" tz="0″ fm="EUR" to="EUR,USD,GBP,AUD,JPY,RUB" st="primary" cd="" am="1″][/erw_exchange_rates_widget]
Max Withdrawal: €400
Use of Credit Cards: Widely Accepted
Digital Nomad Personal Experience in Dharamshala
I first visited Dharamshala in 2017, as a volunteer at the annual Dharamshala Film Festival. This was also my first ever time travelling alone in India. Naturally, I arrived in McLeodganj with a share of inhibitions. However, I wouldn't be exaggerating when I say that Dharamshala was the safest I've ever felt in India. Right from the time I reached there till the day I left, I was treated with utmost hospitality. That 10-day-trip was not enough to soak in all the beauty that Dharamshala had to offer. Naturally, I kept going back—once as a traveller, twice as a traveller, and finally, as a digital nomad.
My third time, and also my longest time in Dharamshala was in peak winters, which made living in the mountains a different ballgame altogether. I'm from Bombay—a city that enjoys warm temperatures, and a tropical climate throughout the year. Naturally, bearing subzero temperatures for weeks on end was not child's play.
But it was one of the most beautiful experiences I've ever had. My mornings would begin by bathing in the sun hitting my balcony, and a hot cup of ginger lemon honey tea—a commonly-consumed drink in most of Himachal Pradesh. I'd then proceed to finish off my work for the day, with occasional breaks where I'd chill with the furry mountain dogs. Evenings were spent taking walks to the market area, picking up groceries, and enjoying a hot chocolate while watching the sun go down. Life was difficult but slow, and exceptionally beautiful.
Despite being located in the mountains, the internet in Dharamshala is quite good. The town attracts several youngsters, and offers a plethora of opportunities to make friends and build your network. Strangers I befriended during my stint in Dharamshala, remain to be an important part of my life even today. Furthermore, the co-working culture is also picking up at a decent pace in McLeodganj.
I spent weekends in McLeodganj reading at a cafe, going for short treks in the region, or simply cosying up in my tiny room—it had a great view to offer! Although life in the mountains is harder, it taught me how to value the things we take for granted without even realising. If you've always dreamt of living in the mountains, make sure you consider Dharamshala.
This guide will lay out everything you need to know about moving to this Himalayan town.
Work in Dharamshala
Due to COVID-19, most places in Dharamshala remained shut almost throughout 2020. Fortunately, eateries and cafes are finally starting to open up for locals, travellers, and digital nomads alike. The following spaces in Dharamshala offer unhindered internet connection and unobstructed views that will ensure a productive day at work.
Best Places to Work in Dharamshala
The Other Space
Despite being situated in McLeodganj which is bustling most of the time, The Other Space manages to offer visitors some much-needed peace and quiet. If you're someone who can't work in noisy places, The Other Space is the workspace you need—it's a silent zone. Needless to say, they've got ultra-smooth Wi-Fi, fantastic coffee, lip-smacking cakes and croissants, and breathtaking views of the mountains. As if that weren't enough, this co-work also doubles up as an art gallery!
Alt Life
Overlooking the spectacular Dhauladhar ranges on one side and the lush green Kangra valley on the other, Alt Life is a beautiful hostel in the Dharamkot region of McLeodganj. It also offers a spacious co-working space that can accommodate up to 70 people. They've got super-fast internet, a dedicated common area where you can meet fellow digital nomads, and also a travel desk that operates 24/7. What makes Alt Life all the more special is its wonderful community—they host bonfire nights, impromptu music sessions, as well as board game nights to ensure that your days at work aren't too dull.
Ghoomakad
Ghoomakad is yet another co-working space, located in Rakkar village near Dharamshala. It's a simple yet beautiful space, where you get the opportunity to work, ideate, and meet like-minded people. Ghoomakad also has a co-living setup that allows remote workers and digital nomads to stay in Dharamshala economically. What's more, it goes the extra mile by also offering houses made from mud, treehouses, and tents for visitors to reside in. This co-work also boasts of a multi-cuisine restaurant that makes use of freshly grown vegetables from its own organic garden. So, if you're ordering a club sandwich, expect fresh, juicy veggies.
Work-Friendly Cafes in Dharamshala
If you're looking for a more casual environment to work in, consider working out one of the many cafes in McLeodganj—you'll be left spoilt for choice.
Moonpeak Deli
There's no better way to start your workday than a visit to Moonpeak Deli. It's a quaint cafe offering free Wi-Fi, and authentic Himachali delicacies cooked by local experts.
Location: Temple Road, McLeodganj
Common Grounds
Common Grounds is a Tibetan cafe in McLeodganj, that offers extremely comfortable seating for a regular workday. What's more, their menu is extensive with a wide variety of delicious Asian dishes to gorge on.
Location: Sewarg Ashram Rd, Tushita Road
Shiva Cafe
Situated near the popular Bhagsunag Waterfall, Shiva Cafe is frequented by hippies, Bob Marley lovers, as well as digital nomads looking for a quiet place to work out of. What's best about Shiva Cafe is that it dishes out delicious food that won't burn a hole in your pocket.
Location:
Jimmy's Italian Kitchen
One of the top coffee shops in Dharamshala, Jimmy's also serves heavenly woodfire pizzas. The cherry on the cake is the mindblowing sunsets from the cafe's terrace.
Best Places to Live in Dharamshala
Best Neighbourhoods
Since Dharamshala is a really small town, visitors only have limited options when it comes to the neighbourhood they want to stay in. They're all great neighbourhoods to stay in, and it really all depends on what suits your needs best. While some of them enjoy close proximity to the market area, the rest boast of peace and solitude.
In this section, I'm going to lay out all the main neighbourhoods in Dharamshala. And to make the choosing process easier for you, I'll also mention the key pros and cons of each one of them.
Main Square
If you're keen on staying in the hub of McLeodganj, the Main Square would be your best bet. This area is closest to the town's only bus station, and is always bustling with people—mostly tourists. It has a wide variety of eateries, cafes, bars, and even roadside stalls for you to fill your tummy. However, if you're visiting the mountains to live a quiet life, look away. In that case, the Main Square is definitely not for you.
Heeru Village
Heeru Village is where I personally spent months living. For digital nomads looking for the right balance between a happening life and the quiet, Heeru makes for a great pick. It has cafe Illiterati and The Other Space—the co-work I mentioned in the previous section, within walking distance. However, note that in order to pick up daily essentials, you'll have to walk a few minutes from Heeru. There's not much in the vicinity yet.
Dharamkot
Dharamkot is an area highly popular amongst foreigners, digital nomads, and those visiting Dharamshala for a longer stay. The vibe in Dharamkot is bohemian and hippie, and restaurants in the area serve spectacular Israeli food. Step out for a short walk, and you'll be sure to hear the singing of mountain birds, the rustling of Deodar tree leaves, and the distance smells of farm animals. Dharamkot also has a number of backpacker hostels that can sort your accommodation out during the first few days of your stay.
Bhagsu Nag
A few meters above Dharamkot, is another hippie village named Bhagsu Nag. Tourists generally flock to this area to see the popular Bhagsu Nag waterfall. However, do some digging, and you'll see that Bhagsu makes for a great neighbourhood to reside in. Even more remote than Dharamkot, living in Bhagsu will have clouds floating in your room on rainy afternoons, and animals grazing freely in the distance. It's never hard to enjoy a few quiet hours or even days in Bhagsu. That being said, if networking with fellow digital nomads is on your radar, you'll probably be better off staying at one of the first three places in this list.
Naddi
Naddi is a pretty little town located about 3 kilometres from the Main Square in McLeodganj. The area is known for its beautiful sunsets, and its small natural lake—the Dal Lake. Naddi Village offers a myriad of homestays to choose from, most of which are pretty cheap. The area also plays host to a 3-month long fair every year, which is a must-visit if you're here from April to June. Naddi is a great fit if you're a writer, photographer, or someone whose work involves spending time in pretty, quiet destinations. There are chances that you won't see a soul for kilometres here, which is saying something for a place in India!
Find an Apartment in Dharamshala
Finding an apartment in Dharamshala can be pretty straightforward, provided you know the right people in town. The process can be relatively difficult for newcomers. This is because life in the mountains depends a lot on the connections you have. That being said, it is definitely possible to find a great apartment even if you're visiting Dharamshala for the first time. Here's how:
First things first, you must figure out where in Dharamshala you want to settle down. While the options aren't many, they're all quite different from one another. Once you have the location sorted, figure out the rough length of your stay. Generally, long-term contracts in India last anywhere between 6 to 11 months. Short-term contracts, on the other hand, can have a validity of about 1 to 3 months. Needless to say, short-term contracts are much more expensive.
No matter where you choose to stay and for how long, you'll be required to submit documentation such as your visa, a copy of your passport, and a copy of any identity proof. Some house owners may also demand a security deposit worth up to 2 months' rent.
Now, what's the best way to go about the house-hunting process in Dharamshala?
According to me, it is best to simply arrive here with your bags, and figure things out thereon. And don't worry—you'll definitely find yourself a place to stay. Once you reach Dharamshala, check yourself into an Airbnb or hostel. In the next few days, make it a point to talk—to fellow digital nomads, to seasoned travellers, and of course, to locals. Let them know that you're on the lookout for an apartment, and in most probabilities, they'll do their best to help you out with leads.
There are also websites where you can look up available options. Some of them are:
While you're more likely to find better deals in the offline world, there's no harm checking all your options once.
Typically, the best time of the year to rent an apartment in Dharamshala is in the winter months—from November to February. This is when rents are at their lowest, owing to the cold climate. House rental rates are bound to be highest in the summer months since this period attracts tourists from across the world, as well as the country.
The Cost of Renting an Apartment in Dharamshala
Renting an apartment in the mountains in India is exceptionally cheap. If you're looking at a long-term contract, a 1BHK apartment can cost you roughly 150-200USD per month. If you look hard enough, you can even find deals cheaper than this. For obvious reasons, the remoter the area, the lower will rents be. Houses in the Main Square area of McLeodganj are not just more expensive, but also much tinier.
Now, coming to other costs. You'll be responsible for bearing the costs of utilities such as electricity, Wi-Fi, gas, etc. However, these fees are pretty nominal and will barely cost you anything. As with most countries, your landlord will be responsible for looking into bigger issues such as getting pest control done, repairing an appliance, etc.
Cheap Places to Stay in Dharamshala
The good part about leading a life in the mountains in India is that it's exceptionally scenic, while also being super economical. As mentioned above, the best way to find yourself a great apartment is to simply arrive and network. Until you do that and crack a good deal, here are some places you can stay at without shelling out too many bucks, whilst meeting like-minded people. 
The Bunker
Situated in Dharamkot, The Bunker is a wonderful pick for digital nomads. It offers a laid back and relaxed environment and is run by two cheerful travellers. It boasts of lots of open and community spaces to chill, hang out, and meet like-minded people. The Bunker also has a smooth internet connection so that your work isn't hindered at any point.
Price: $7/night for a bed in a dorm
Ghoomakad
Like I mentioned in the above section, Ghoomakad is a co-working space situated in the lap of nature in Dharamshala. What's great is that the space also offers great options for stay—both private and sharing. Living here is like living with a family of digital nomads and travellers.
Price: $30/night for a private bedroom
Volunteering
Over recent years, Dharamshala has developed into a hubspot for volunteering. This is a great option for those who wish to offer some services in exchange for a few days' worth of stay and food. These services can include teaching, gardening, housekeeping, gardening and farming, and so on. Not only is it a great way to learn a new skill, but also to save some bucks and build a local network.
If the idea of volunteering interests you, you can contact Lha Charitable Trust and/or the Tibetan Center for Human Rights and Democracy (TCHRD).
Staying in a Monastery
Anyone can stay in a monastery, regardless of their religion. Here, you can teach English to Buddhist monks, meditate, or even participate in religious activities. Stay is generally offered at extremely nominal prices, or sometimes even free. Gyuto is one of the monasteries in Dharamshala that has rooms for rent for visitors.
Dharamshala Visa
Before you get sold on the idea of living life in the mountains, make sure you're aware of the basics of living in Dharamshala. After all, the mountains can be unforgiving.
Travelling to India is not hard at all. With more than 10 types of visas available, requirements of which are easy to meet, getting here is a breeze.
The visa that's most commonly opted for is naturally the tourist visa, which requires visitors to have a valid passport for at least 6 months. The application form can be found on the Government's website, which needs to be thoroughly filled, following which you've got to pay the correspondent fee. The fees vary depending on where you're from, and the type of visa you're requesting. Your visa processing will most likely take anywhere between 3 to 7 days. Most tourist visas allow visitors to reside in the country for up to 180 days. If you wish to stay longer, you can request an extension online.
Note that the payment is not a guarantee that you'll be granted a visa. It simply ensures that your application will be processed and reviewed. But don't worry, India is extremely tourist-friendly, and in most cases, getting a visa shouldn't be complicated.
Due to COVID, the status of Visa applications and requirements is changing daily. In this light, it is best to check with your embassy before you decide to move to Dharamshala.
Culture and Food in Dharamshala
Dharamshala is a manifestation of Tibetan culture in India. Naturally, this can be seen in the region's food, art, crafts, language, as well as festivals. For the sake of simplicity, this section has been divided into 7 key sections.
Food
Dharamshala is a haven for food lovers. Meals here are generally enjoyed steaming hot, and are characterised by noodles and rice, and lots of ginger and spices. Here are some local delicacies you must definitely try when in Dharamshala:
Thukpa

: Thukpa is a Tibetan dish that is essentially a noodle soup. It is generally made using lots of fresh vegetables such as mushroom, cabbage, and onion, and sometimes, meat. Lots of green chillies, garlic, and ginger also go into the making of thukpa, giving it a lovely aroma and flavour.

Shapta

: Also originating from Tibet, Shapta is a simple gravy dish that is made using stir-fried meat. Despite being made with minimal ingredients, shapta is exceptionally delicious. It is generally served with tingmo (steamed bun) or bao (bread dumpling).

Momos

: Native to Tibet, Nepal, and Bhutan, momos are a type of dumpling that are widely-consumed in North India. It is essentially a thin layer of flour stuffed with vegetables and/or meat. Momos can either be steamed or fried, and are served with a delicious chutney.

Mittha

: If you have a sweet tooth, do try Mittha when you're in Dharamshala. It is sweetened rice garnished with dry fruits, and is prepared and served on special occasions.

Dham

: Dham is one of the most popular parts of Himachali cuisine. It's prepared using rice, rajma (kidney beans), dal, and yoghurt. Dham is not just a dish, but a complete plate of various dishes. To try the best version of Dham, you must visit a festival in Himachal.

Bhagsu Cake

: Make it a point to visit the Bhagsu Nag area of McLeodganj to try the popular bhagsu cake. It's a three-tier cake made using cookies, chocolate, and caramel.
Alcohol
There's not much of a drinking culture in most of Himachal. While the locals do drink booze regularly, they mostly do so to keep themselves warm. Rum and brandy are most commonly consumed because they keep the body warm. You'll also easily find a wide variety of fruit beers and fruit wines at most grocery shops. You can also try lugdi—a local beer made using fermented rice or barley. However, you will be more likely to find this drink in the villages of and around Dharamshala, than in the main market areas.
Religion
Natives in Dharamshala practice Hinduism, whereas Tibetan refugees are strong followers of Buddhism. As per the most recent census, almost 70% of the residents are Hindus, followed by 27.7% Buddhists.
Language
People in Dharamshala typically speak Tibetan and Pahari. However, most of them are also well-versed in Hindi and English, since many of them depend on tourism for their livelihood.
Festivals
Festivals of all kinds are celebrated in Dharamshala with jubilance and vivacity. Here are some that are worth attending:
Buddha Purnima

: the celebration of Lord Buddha's birthday; 26th May.

TIPA Festival

: a 10-day fair that showcases Tibetan dance, music, and other art forms; in the month of April.

Dharamshala International Film Festival (DIFF)

: a 5-day film festival that gives the local community a platform to consume good alternative cinema; in the months of October or November.

Losar Festival

: Losar marks the beginning of the Tibetan new year, during which the mountain town comes alive with celebrations and elaborate decorations; in the month of February and March.
Dharamshala Nightlife
Dharamshala is not a place people visit to party. In fact, some nights here are so quiet, that you might wonder if it has any nightlife at all—this is especially true during the winter months. So, if you're a party enthusiast, Dharamshala might disappoint you.
However, if you do some digging around, you'll find out that there are some places that stay alive even after dark. What's more, there are other experiences you can seek while in Dharamshala—partying isn't the only option, is it?
Eating Out
No matter how you're feeling, a meal in one of Dharamshala's cafes can set your mood to rights. Whether you're looking for a quiet place to dine at, or a lively spot to enjoy a few drinks at, here's a list of eateries and bars that won't let you down:
McLlo Bar and Restaurant:

Situated bang in the centre of the Main Square, McLlo is frequented by tourists and locals alike. It's a great spot to enjoy a pint of beer or 2, devour some delicious food, and even dance a little if you wish!
Tibet Kitchen:

On a cold night in Dharamshala, there's no restaurant better than Tibet Kitchen. As the name suggests, Tibet Kitchen dishes out authentic Tibetan delicacies. Its seating and interiors are cosy, spacious, comfortable, making it a perfect spot to spend a couple of hours enjoying a slow dinner.
Bodhi Greens:

One of the first vegan restaurants in Dharamshala, Bodhi Greens offers a wide variety of salads, smoothies, juices, and stews. Its low indoor tables and bamboo lamps give it a great vibe after sunset.
Woeser Bakery:

If you're craving a good dessert after dinner, head to Woeser Bakery. Tucked in the by-lanes of McLeodganj, this bakery has a range of cakes and desserts that will leave you spoilt for choice.
Live Music
While Dharamshala isn't much into the party scene, it does give music lovers the chance to enjoy live music gigs. Some places that host live music scenes occasionally are:
Labooze Cafe Bar Lounge

Black Magic

Once in Nature

Alt Life
Stargazing
Since McLeodganj is located at an altitude of more than 2,000 meters, it enjoys starry nights on days when the sky is clear. On some nights, it's ideal to light a bonfire, drink hot tea, and gaze at the million stars with your pals. Some gems in and around Dharamshala where the skies are especially starry are:
Triund Valley

Naddi Village

Kangra Valley

Bhagsu

Dal Lake
Stargazing is probably not your idea of a happening nightlife, but when in Dharamshala, you simply have to spend a few nights watching the stars. It's not something you can enjoy everywhere in the world.
Night treks
If you're an adrenaline junkie, consider embarking on a night trek in or around Dharamshala. One of the most popular treks in this region is the Triund trek, which is ideal for both beginners and advanced trekkers. It takes roughly 3 hours to reach the top, and the view is absolutely worth it. What you can also do is to start the trek around 3AM, so that you make it in time for sunrise!
Things to do in Dharamshala
Dharamshala will never let you get bored. With so much to offer, Dharamshala has something for everybody. For those that visit Dharamshala for just a few days, things need to be fastened up. However, as a digital nomad, you'll have ample time on your plate, which will allow you to explore the beauty of Dharamshala slowly—the way it deserves to be explored.
So, on weekends and in your free time, here are some things you can do in Dharamshala.
Visit the Bhagsu Nag Temple and Waterfalls

The Bhagsu Nag temple is an ancient temple where it is believed that Lord Shiva prevailed himself. This is why the monument attracts tourists, and especially Hindus, from across the world. That being said, the temple welcomes people of all religions. There's also a little pool in the temple's premises, where you can take a cool dip. Walk about a kilometre from the temple, and you'll reach the Bhagsu Nag waterfalls. The falls are especially beautiful during the monsoons, for the force of the water is much stronger then. The surroundings are lush green, and the hike to the falls is dotted with a number of local cafes. Note: Since this expedition will require a fair bit of walking, make sure you've dressed accordingly.

Go Trekking

Being located in a mountainous region, Dharamshala offers a plethora of opportunities for trekking. One of the most popular treks, as already mentioned above, is the Triund trek. You can either carry your own tent to pitch or rent one out after reaching the summit. However, note that overnight camping on Triund Hill was suspended by the Forest Department for a few months. Make sure you check what the current situation is before heading up there. If you wish to embark on a more off-beat trek or hike, here are 2 options you can consider:
From Naddi to Kareri Village

From McLeodganj Main Square to Dharamkot
Note: Many of these treks are absolutely off-limits during the winters, due to a high amount of snow.
Learn More About the Tibetans

The Tibetan influence is massive in Dharamshala. It would be a shame not to learn about their culture if you're spending at least a few months in the region. A good starting point for the same is to visit the Dalai Lama Temple Complex. One of the most peaceful places you'll ever visit, this temple complex offers visitors key insights into Tibetan life and culture. Here, you'll see several monks meditating peacefully, and chanting verses that are extremely calming. The complex also houses a museum, where you'll get to learn more about Tibetan history. Note: The museum is closed on Mondays.

Shop in the Markets of McLeodganj

Exploring the local markets is one of the best ways to really soak in the vibe of any place. The markets of McLeodganj are absolutely amazing, and visitors often spend hours on end here. Here, you can find almost everything under the sun—warm clothes, prayer flags, singing bowls, souvenirs, musical instruments, diaries, and so on. The markets here are often great spots to meet hippies, travellers, and artists from across the world.

Visit the Cricket Stadium in Dharamshala

Nestled in the lap of the beautiful Himalayan mountain ranges, lies the Dharamshala cricket stadium. The stadium boasts of a quaint feel, and the main stand has a Tibetan architectural style. With a 360 degree view of the mountains, it is hands down one of the most beautiful stadiums you'll ever see! Visitors are allowed to go to the stadium and explore it even when there's no match going on. There's no entry fee, and it's open from 9AM to 6PM.

Spend a Quiet Day in Dharamkot

While McLeodganj has become quite crowded over the last years, the hippie village of Dharamkot continues to retain its quaint charm. On days that you wish to escape the hustle and bustle of the McLeod, hike up to Dharamkot without thinking twice. If you need to work, you can simply make yourself comfortable at an internet-offering cafe, or even visit Alt Life—the co-working space in Dharamkot. The vibe in Dharamkot is absolutely magical and spiritual, and will help you reboot your body.

Study Meditation to Heal and Learn

Many travellers that visit Dharamshala, do so to study different philosophies, or equip themselves with the art of yoga and/or meditation. Needless to say, these are brilliant practices for the body. There are a number of silent meditation retreats in Dharamshala. While 10-15 days of not talking may seem ridiculous, you've got to experience it before making any judgement. Since you'll probably be staying in Dharamshala for at least a few months, I'd highly recommend signing up for one of these courses!

Go Paragliding

When it comes to adventure sports, you can try your hand at paragliding in a little town called Bir. It is about 2 hours away from Dharamshala, and boasts of the world's second-highest paragliding take-off point. The views are out of the world, and the flight lasts about 15 minutes.  What's more, Bir is supposed to be the safest place for paragliding in India.

Visit the Beautiful Kareri Lake

If you have the stamina and the high spirits required to complete a longer trek, do consider going for the Kareri Lake trek. The trek has many starting points, one of which is Dharamkot. When starting from Dharamshala, the trek is about 11 kilometres long, and can be covered over a span of 2-3 days. The trail is beautiful, with bubbling streams of cold water, lush green fields, animals grazing in the meadows, and towering pine trees.
Best Time to Visit Dharamshala
When it comes to weather, Dharamshala follows that of any hilly terrain in the Himalayas. The average annual temperature here is 16.2°C. However, temperatures vary significantly throughout the year.
The summer season (March to June) in Dharamshala is the warmest, where temperatures range between 23°C and 35°C. Monsoons in Dharamshala (June to August) are dramatic, with very heavy rainfall. During this time, the town often gets covered in a blanket of clouds, and is a real sight! However, travelling in the state is quite risky in the monsoons, since the chances of landslides and other calamities increase drastically. Winters in Dharamshala (November to February) are unforgiving. The air temperature during this time fluctuates between 0°C and 7°C, and the atmosphere is coated with thick layers of frost. That being said, this is the best time to enjoy snow in the mountains—it's beautiful!
The months of September and October are most pleasant in Dharamshala. It's neither too warm, nor too cold, making the town ideal for sightseeing, trekking, and other adventure activities.
Dharamshala for Families
Although Dharamshala has emerged as a popular destination for youngsters and solo-travellers, it is quite family-friendly too. And again, what's better than having your kids grow in the foothills of the Himalayas? Simply living here makes you value the little things in life we often take for granted—a crucial lesson for kids.
Dharamshala is home to a number of schools, the most popular of which is the Tibetan Children's Village School (TCV). It's a charitable organisation that mainly accepts children amongst Tibetan refugees, who are in the greatest need of help. Dharamshala also has a number of international schools, that have great teachers and even better views. However, note that very few of them are in McLeodganj, due to its predominantly being a tourist destination. You'll be more likely to find schools in the lower Dharamshala region.
Note that Dharamshala barely has any creches and daycare centres. One of the very few is Eurokids Preschool Daycare in Sidhpur, in Dharamshala.
Things to Do with your Family in Dharamshala
Most things mentioned in the above 'things to do' section are great activities to engage in with families and kids too. After all, what's better than spending a day hiking through the forests, and camping in the mountains with your partner and/or little ones?
If you're moving here with your family, you can also head up to one of the beautiful cottages in the forests in Upper Dharamshala. These are cosy, isolated, and will give you the opportunity to spend some quality time with your family. One such option is Glenmoor Cottages. A beautiful property managed by a friendly couple, all you can see from here is tall oak trees, an unobstructed view of the mountains, and an occasional cloud or two coming over your cottage.
Growing Up in a Mountain Town is a Great Prospect for Kids
It's a known fact that kids grow up better in the great outdoors. Children in small mountain towns seem to know one another really well, which makes them unconcerned about the social hierarchy that is often observed in urban schools. Growing to love the mountains is hard, and doesn't come overnight. However, when children are exposed to that environment from a young age, it makes it easier for them to love the tough, yet beautiful life that the mountains offer them.
Living in Dharamshala
For starters, Dharamshala lies in the Himalayas, which implies spectacular views, 365 days of the year. This in itself is reason enough for many to pack their bags and move here.
What's more, Dharamshala is more compatible with digital nomads than you may think. Food is great, the internet is even better, and rents for homes are ridiculously cheap! And since more and more people are ditching the city life for a quiet few months in the mountains, you'll always find yourself surrounded by great people—feeling lonely is rarely a possibility.
This is especially true if you choose to work out of a cafe or co-work in Dharamshala.
Dharamshala Transportation
Considering the altitude Dharamshala is located at, internal transport here is pretty good. This makes the hill station an even better choice for digital nomads.
As for getting to Dharamshala, you've got three options. Gaggal is the closest airport to Dharamshala, and Pathankot in Punjab is the closest railway station. However, note that there aren't many flights to Gaggal. This is why the best way to get here is to reach Delhi or Chandigarh, and hop on an overnight bus to Dharamshala. The buses are safe, comfortable, and drop you off at Dharamshala in about 12 hours. Now, coming to travelling within Dharamshala.
By Bus
Himachal Pradesh has a spectacular public transport system, which makes life for both visitors and locals easy, as well as cheap. A number of buses run by the HRTC (Himachal Road Transport Corporation) connect major spots in Dharamshala. Ticket costs are negligible, at close to 0.2-0.3USD for short distances, and about 0.5-1USD for longer distances. Despite the roads being highly challenging, bus drivers across Himachal Pradesh can be trusted completely.
There are two main bus stands in the region—one in lower Dharamshala and the other in upper Dharamshala (close to the Main Square in McLeodganj). The former is much bigger, and has more options when it comes to boarding a bus to other spots in Himachal Pradesh. To get there from McLeodganj, you can simply board a bus from near the Main Square.
For finding out more about the timings and routes of buses in Dharamshala, you can simply ask any local. They're always happy to help!
By Taxi
Finding a taxi in Dharamshala is pretty simple. Most of them are white-coloured Maruti Suzuki Altos. Although these cars look small, they're perfect for the rough roads in the Himalayas. Note that travelling by taxis in Himachal Pradesh can be an expensive affair. This is owing to the landscape of the region, which requires much more fuel.
Covering a distance of 2-3 kilometres can cost you about 2-3USD or more—it really depends on where you want to go. Since there are taxi unions in Dharamshala,  the prices are more or less fixed, keeping you from being ripped. If you have plans of going sightseeing in Dharamshala, you can also rent a taxi for the day, and pay a lump sum amount.
By Foot
Needless to say, moving around Dharamshala by foot is always an option. Most locals rely on this mode of transport, when not commuting by bus. It's a great deal for it gives you your daily dose of exercise, and of course, walking in the mountains is beautiful. What's more, it also helps keep you warm in the cold temperatures of the region.
Note: Self-drive vehicles are extremely hard to find in Dharamshala. Again, this is because of the difficult roads in the region. During my time in Dharamshala, I did not see even one car rental agency.
Fitness and Health
Keeping tabs on your health in Dharamshala is pretty easy. This is simply because getting anything done here requires you to walk for at least a kilometre. Want to head out for a meal? Need to pick up groceries? Want to explore the markets? To be able to do any of this, you've got to walk a fair deal.
This is how most locals in the region maintain their health. My advice to you would be the same—there's no need for you to spend big bucks to tame your body. Simply put on your trekking shoes, and step out of your apartment.
That being said, Dharamshala does have a couple of gyms, too. Some of your options are McLlo gym, X-treame Fitness, and Fitness Plus Gym. All gyms and fitness centres in Dharamshala have professional instructors that will guide you through your daily workout.
Lastly, yoga is also a great way to keep yourself fit. Dharamshala has a number of yoga centres, with trained instructors who will equip you with the ins and outs of this beautiful exercise. In Dharamshala, there is yoga for everyone—from walk-in classes to week-long retreats, you can choose what suits your needs best. Some great organisations for yoga in the region are Bhagsu Yoga Institute, Aranya Yoga, and the Himalayan Iyengar Yoga Center.
Dharamshala People
One of the main reasons why I kept going back to Dharamshala, was its people. People across Himachal Pradesh are the nicest you'll ever meet. They'll go out of the way just to help you out, and keep you safe. In fact, never have I felt unsafe while in Dharamshala, and considering how bad women's safety in the country is, that's saying something!
The indigenous people in Dharamshala are known as Gaddis—a group of people that traditionally lived a nomadic lifestyle. Like already mentioned above, the region is home to a huge Tibetan population. Dharamshala is a beautiful mix of Hindus and Buddhists, and what's rather heartwarming to see is the way people here live in harmony. Festivals of both religions are celebrated by everybody in harmony.
Traditionally, the whole of Himachal Pradesh primarily relied on farming to make a living. However, with the advent of tourism, things have changed a lot. Now, a major chunk of the population derives its income from the huge annual influx of travellers.
People in Dharamshala are extremely hardworking, as is the case with most people living in the mountains. Many of them walk miles just to fetch themselves water. Yet, they do it all with a big smile on their face. Owing to the cold climate, most people here wrap off their days rather early, and head to bed by 9-10PM. 
Himachalis love to talk, and will generally be more than happy to share their stories with you over a cup of chai. While alcohol isn't that much of a deal here, hashish is. Made by compressing and processing parts of the cannabis plant, hashish is smoked by a large number of people in the region. One of Himachal Pradesh's most popular claims to fame is the quality of hashish found here. In fact, there are travellers that visit the region simply to smoke copious amounts of hashish. However, note that marijuana and hashish are not yet legalised in the country. If you do plan on smoking, make sure you do it in your apartment, or in an environment you know is safe. Never smoke in a crowded market area.
People in Dharamshala are also big fans of everything to do with Buddhism. This is because they hold the Dalai Lama in high regard. If you happen to be in the region when the 14th Dalai Lama is visiting, you'll be sure to witness something you've never seen before.
Dharamshala Insurance and Medical Care
You might face the need to seek medical care on various occasions in Dharamshala. To start with, the harsh climate can take a toll on your body, especially during your first days in the region. While simpler illnesses and health problems are relatively easy to get help for in Dharamshala, more serious issues may require some commuting.
Here's a list of some of the best hospitals and healthcare facilities in Dharamshala:
Primary Health Care Clinic

Khanna Clinic & Diagnostics

Men-Tsee Khang (for Tibetan medicines)

Delek Hospital
Since English is spoken by most people in Dharamshala, you won't face a problem getting treatment at any of its healthcare centres. Pharmacies and chemists in the region can be identified with a green '+' symbol. Note that most of the big pharmacies are around the Main Square area in McLeodganj.
In India, foreigners can buy a health insurance policy without much hassle. To be eligible for the same, you need to have a valid passport and visa. Generally, to make any claim, you'll have to wait for anywhere between 30-90 days from your day of purchase. It is also important to note that not all illnesses will be covered by your health insurance. To avoid any confusion, be sure to check all that's covered before finalising the purchase. It is best to compare various health insurance plans online, so that you get a deal that suits your needs best! Make sure you are fully covered by reading our full Digital Nomad Travel Insurance guide.
Jobs in Dharamshala
The tourism industry in Dharamshala is booming, which in turn offers a plethora of job opportunities for locals and digital nomads alike. If you're looking to make a few extra bucks alongside your regular stream of income, these are some jobs you can consider:
Yoga Instructor: Are you well-versed with yogas? Are you certified to be an instructor? If yes, you could try getting a job as a yoga instructor in Dharamshala. As already mentioned, people from across the globe visit McLeodganj to practice yoga amidst the mountains. Clearly, there's plenty of scope.

Tour Guide: Since Dharamshala receives a huge influx of travellers, the need for tour guides has cropped up in recent years. This is especially because Dharamshala has a rich history and culture, to understand which visitors often prefer hiring a tour guide.

Teacher: Dharamshala is home to a number of schools and learning institutes that have the frequent requirement of teachers. You can teach English, and even creative subjects such as music, dance, painting, and so on.

Waiter/Waitress: McLeodganj has a little too many cafes, restaurants, hostels, guesthouses, and so forth. Naturally, in order to function, these places require waiters/waitresses. If you're lucky, you could also find yourself a job as a part-time barista or a chef in one of the nicest restaurants of McLeodganj.

Photographer/Videographer: In today's digital world, the demand for photographers and videographers is only shooting up. If you're someone who can offer these skills, don't refrain from marketing yourself when in Dharamshala.
Pro Tip: Several cafes in Dharamshala have boards on which posters of all sorts are pinned. Here, you can find out about upcoming events in the town, and even jobs. Make it a point to go through them whenever you see one. Check out our Digital Nomads Jobs Postings to find the best jobs available for Digital Nomads.
Nomad Friendly
Value for Money
Internet
Workspace
English
Food
Safety
Health
Transportation
Friendly
Quality of Living
Cost of Living Dharamshala
While most places in India are quite cheap to set base in, Dharamshala ranks really high on the affordability meter. What's more, life in the mountains is basic and doesn't offer as many opportunities to indulge.
This is why Dharamshala continues to be a highly sought-after destination for digital nomads. It's got a wonderful community, while at the same time being breathtakingly beautiful. As if that weren't enough, Dharamshala is super economical to live in, and more so, if you're earning in dollars. In fact, the cost of living in the state of Himachal Pradesh is considered to be 1.22 times less expensive than the country's average, which is already pretty low.
Rough Estimates of Monthly Living Costs in Dharamshala
Rental of a one/two bedroom flat: $150-$250
Utilities (internet, electricity, gas): $25-30
Transportation (provided you're moving around by bus): $50
Meal at an inexpensive restaurant: $3
Cappuccino at a coffee shop: $2
A litre of milk: $0.8
Domestic beer: $1.5
A packet of 20 cigarettes (Marlboro): $4.5