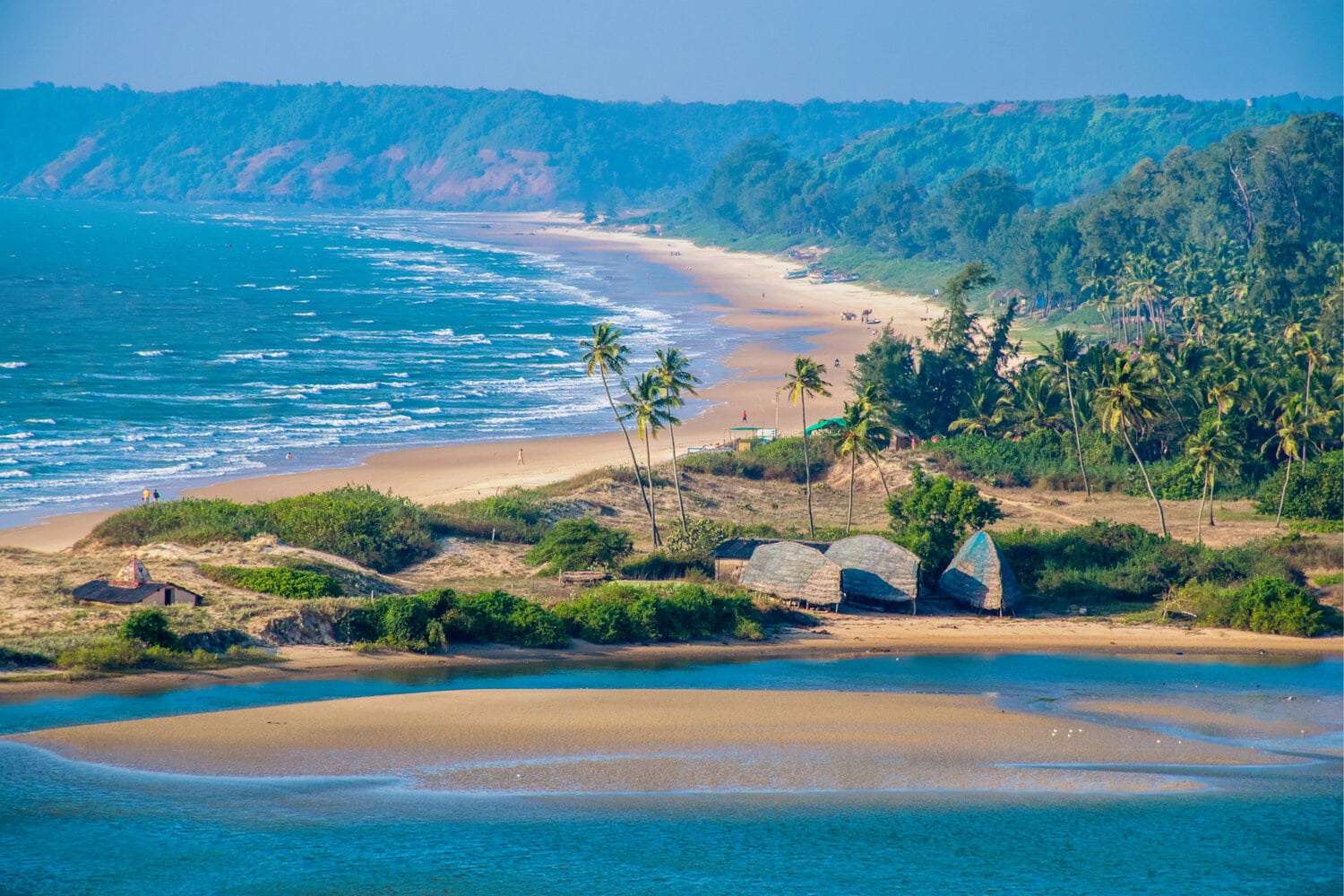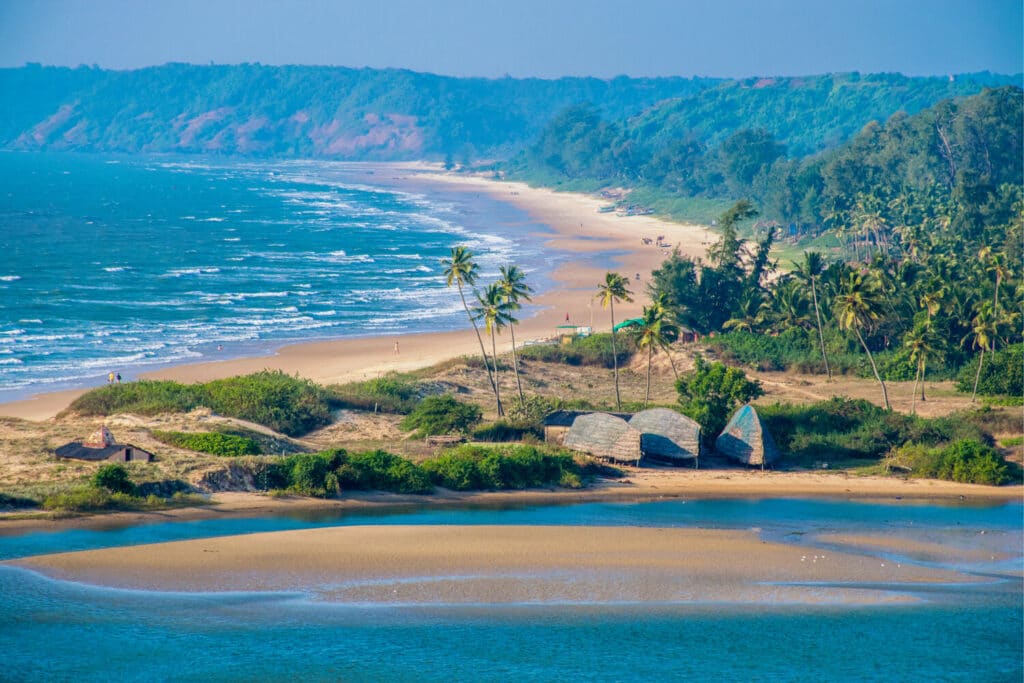 A Digital Nomad Guide to Goa
Goa is one of India's southern states, with coastlines stretching along the Arabian Sea. For years now, this breezy state has attracted all kinds of travellers. It boasts of pristine beaches, lush green forests, uncluttered spaces, and safe neighbourhoods. As one of the very few Indian states that weren't dead through the COVID-19 lockdown, a number of digital nomads from across the world have flocked here, and for good reason.
Goa is situated on the western coast of India, with around 1.5 million inhabitants. The majority of the locals here speak Konkani, followed by Hindi, English, and Portuguese. Due to the Portuguese rule in Goa that lasted for over four centuries, the state is home to people of various ethnic races, regions, and religions. What's more, the Portuguese influence is still very much felt in Goa—you'll see it in the pastel-coloured houses, in the beautifully graffitied walls, and in the blue-tiled nameplates by pretty doors of Goan homes.
There's no doubt that Goa is a great place to be. Life here is laidback, the weather is tropical, and there is a myriad of opportunities for adventure activities and for unleashing your wild side. As if that weren't enough, Goa also boasts of a young crowd that's eager to learn, grow, and explore. This makes networking extremely convenient and exciting for digital nomads.
One of the main dilemmas people moving here are faced with, is whether to turn left (North) or right (South) from Goa's Dabolim airport. Both North and South Goa are distinctively different, and have their own set of pros and cons. While the North is teeming with nightlife, great markets, and liveliness, the South is all about untouched beauty, scenic drives, and tranquility. No choice is a wrong choice, for it all depends on the kind of experience you're looking to have.
Nomad Friendly
Value for Money
Internet
Workspace
English
Food
Safety
Health
Transportation
Friendly
Quality of Living
Living in Goa Overview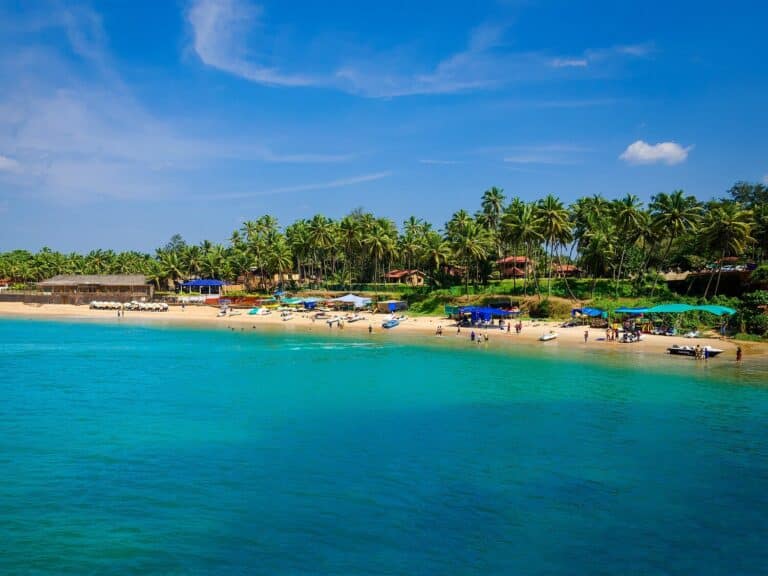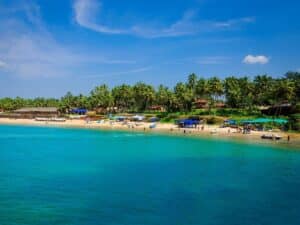 Digital Nomad Personal Experience in Goa
As for me, moving to Goa was not a planned exercise. I spent 7 whole months holed up in my matchbox-sized home in Mumbai. There came a day when I found myself desperate for change. I was craving the sea and the joy that stems from befriending strangers in stranger towns. I took a quick look at the map of India, and decided that Goa was going to be home for the next few months.
Fast forward two months, and I found myself in Goa with 2 suitcases and no plan. I had no idea what to expect from my stay here, and so, I welcomed a myriad of experiences and opportunities with open arms. 
My mornings start with a warm cup of chai (tea), followed by a beautiful hike to the beach. The ultimate way to kickstart your day in Goa is to soak in the warm sun, go for a quick swim, and breathe in the sea breeze.
What's more, Goa is home to a number of work-friendly cafes that offer cosy environments, and high-speed Wi-Fi. This makes it easy for digital nomads to set themselves up for the day and work away in peace. Furthermore, the co-work culture is picking up pretty well, with a number of co-working spaces cropping up in the North of Goa. I frequent some of them a little too often, and have nurtured great relationships in the process.
My weekends are spent exploring popular hotspots, as well as some of the lesser-known destinations in Goa. Never did I imagine enjoying a work-life balance as perfect as this. As compared to Mumbai, life here is of a much slower pace, and that has won me over. It feels new to sit back and relax, to not spend hours stuck up in traffic, and to chat up with like-minded people for hours on end.
Whether you're looking to move to Goa temporarily or for a longer stint, this guide will fill you in with everything you need to know about life in the land of beaches.
Work in Goa
Goa is a paradise for nature lovers, for party enthusiasts, as well as for those looking to spend some quiet time away from the humdrum of big cities. Booze here is ridiculously cheap, and you'll be sure to stumble upon restaurants serving mouth-watering food.
But the question is – is Goa compatible with digital nomads?
The answer is a little more complex than a simple yes or no.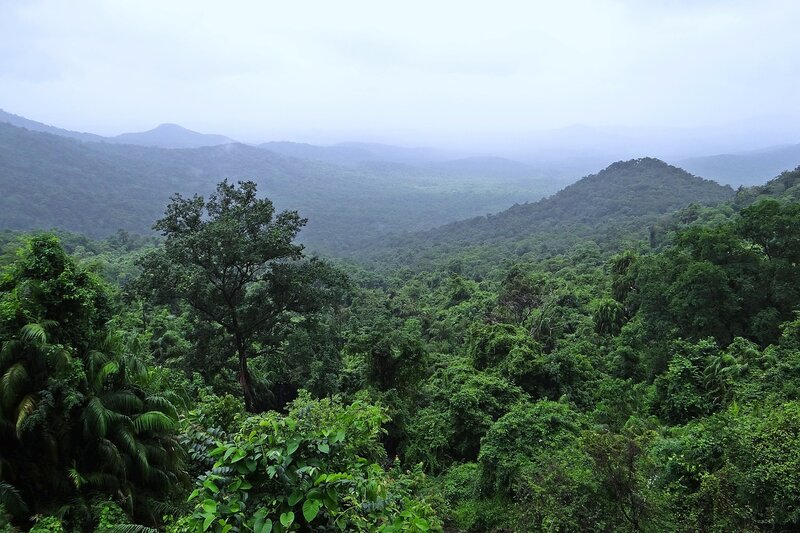 First things first, Goa is seeing a huge influx of digital nomads and/or remote workers. More and more people are ditching their homes for a peaceful life working by the beach. However, one of the main problems digital nomads continue to face here is the internet. Although internet connectivity has improved considerably over the past few years, it still continues to be dodgy.
Many guesthouses, hotels, and Airbnb's advertise that they have Wi-Fi, but in reality, the connection is either too slow to be used, or inexistent. While you do get broadband plans that offer internet speeds of up to 50mbps, you can rarely rely on what they say. What makes things worse is frequent power cuts (on an average, twice a week) which leaves digital nomads with no option but to rely on dongles or phone data.
Fortunately, cellular connectivity in India is cheap, and you can find plans that offer 2GB 4G data/day for a month for under $10! As compared to other providers, Vodafone and Jio offer great network coverage here in Goa.
However, if you want to cut the crap and enjoy hassle-free internet connectivity, the best idea is to work out of a cafe or a co-work.
Nightlife in Goa
Goa is one of the most exciting states in India when it comes to nightlife. Nights here liven up with amazing music, neon lights, and delicious food. As a digital nomad, you can spend your days working, and watch the city come alive once the sun goes down. What's more, Goa's nightlife has something for everybody. Whether you're a party freak or someone who enjoys quiet nights, you'll be spoilt for choice.
Best Places to Work in Goa
Goa boasts of co-working spaces and cafes that let you realise the dream of living here, while also staying on track with your work deadlines. Forget about erratic internet connections, and enjoy a productive day at one of the following spaces in Goa.
[Note: Work-friendly places are hard to find in South Goa.]
Co-Working Spaces in Goa
Clay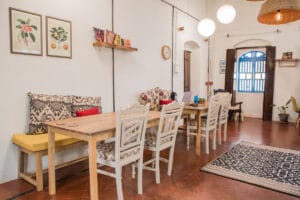 Clay is a collaborative workspace in Goa, specially designed for creative folks. It allows freelancers and digital nomads to work out of a beautiful 90-year-old Portuguese house. They've got super-fast internet and power backup, so that you're not left in the lurch on your regular workday. What's more, Clay dishes out delectable cakes and bakes, and is located a stone's throw away from the beach.
The price for their membership is $7/day/seat and $140/day/seat. What's great is that part of the fee is redeemable on food and beverages.
Rasa
Overlooking the beautiful Mandovi river on one side, and the colourful Portuguese colony on the other is this warm coworking space. Rasa is flushed with comfortable seating, ample natural light, and some tasty delights that keep you going with your work seamlessly. I can personally vouch for their ragi dosa and the vegan smoothie bowl, that will keep you full for hours. Lastly, and most importantly, Rasa has an incredibly fast internet connection, that won't hinder your work at any point.
View this post on Instagram

Access to their desks costs $7/day, all of which can be exchanged for food and drinks.
91 Springboard
91 Springboard is one of India's leading co-working spaces, with one branch in Panjim, Goa. This co-working space fits the schedules of both early risers and night owls, and is a 5-minute walk from the beach. 91 springboard comes as a great respite from noisy cafes and spotty internet connections.
View this post on Instagram

What's best is that they offer a variety of plans, so that you can choose what fits best for your needs. Their day pass starts at around $6/day, and goes up to $125/month/person for a two-people cabin.
Work-Friendly Cafes in Goa
Work-friendly cafes are great picks for a casual day or two of work. It also suits those that are looking to work for just a few hours, and want a space without the necessity of a membership. Given below are some great cafes I've had real fun working out of over the past few months.
Cafe Candolim
A cute, homely cafe with cozy interiors, and speedy wi-fi that will guarantee you a quiet few hours of seamless work.
Location: Candolim, North Goa
Babka
A nugget-sized cafe with graffitied walls on the outside, unique aesthetics, smooth internet, and the warmest owners.
Location: Anjuna, North Goa
This Is It
A cafe with spectacular views of the sea, satisfactory Wi-Fi, delicious dosas (the Indian version of a crepe), and spectacular iced coffee!
Location: Arambol, North Goa
Bombay Coffee Roasters
A lovely cafe offering both indoor and outdoor seating, with great Wi-Fi, and a wide variety of teas.
Location: Panaji, North Goa, and Palolem, South Goa
Best Places to Live in Goa
Like I mentioned earlier, Goa is divided into two key sections—the north and the south.
While the North is more suited to those that like a lively environment, are keen on going for music gigs, and love to party, the South is for those that prefer the calm and the quiet, and being close to nature. However, it is in fact possible to find a balance between both—more on this below.
On a whole, North Goa is relatively easier to live in due to a larger population, as compared to South Goa, where you're generally required to travel a few kilometers to get anything done.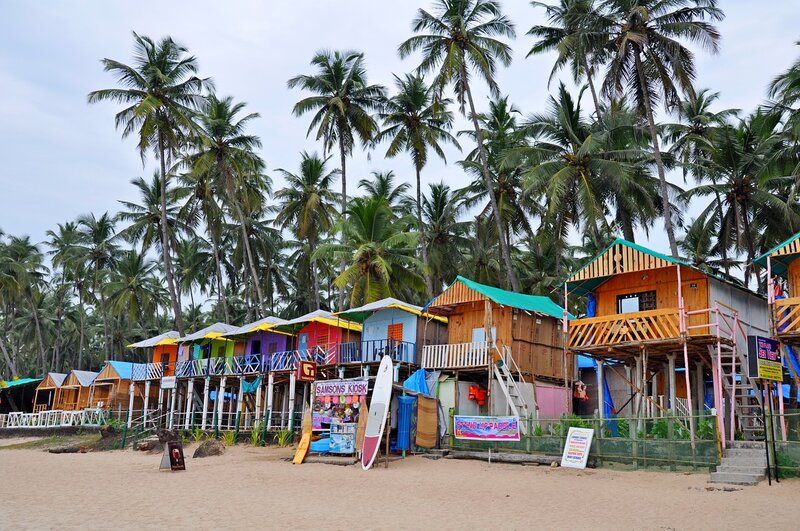 Best Neighbourhoods
Anjuna
If you choose to live in the eventful, fun areas of Goa, Anjuna is your best bet. The young and budget-conscious often tend to reside in Anjuna. This locality of Goa exudes a bohemian vibe, and is host to several art festivals. Anjuna ranks pretty high in terms of the work-friendly cafes and co-working spaces it has—a key factor to consider for digital nomads. The beaches out here are gorgeous, with opportunities to engage in adventure activities such as parasailing and jet skiing.
Should you stay in Anjuna, its neighbour Vagator is also worth checking out. Chronicles, Hilltop, and Origins in Vagator are three of the most iconic party destinations in Goa. 
Parra
Parra is a beautiful village located on the outskirts of Mapusa—a bustling town. A locality that was relatively uncivilised until a few years back, Parra is facing considerable urbanisation in recent times. This is owing to the Hindi movie Dear Zindagi, starring actor Shahrukh Khan that was shot in Goa. One of the scenes in the movie was shot in one of Parra's narrow, gorgeous lanes, lined with coconut trees on both sides.
What's especially great about Parra is its central location. Most places of interest in North Goa are quite easily accessible from here.
Panaji
Panaji is Goa's capital, situated on the Mandovi river. Goa was ruled by the Portuguese for over four centuries, the signs of which can still be observed in parts of Panaji. Fountainhas, the oldest Latin quarter in Panaji, is brimming with houses painted in pastel and fluorescent. The lanes here are gorgeous, walls are covered in graffiti, and there's detail to everything. Panaji on a whole is a real treat to the eyes. You can also visit a casino here! There are also several pristine beaches within easy reach such as Miramar, Bambolim, and Dona Paula. 
Arambol
If you head norther up from Anjuna and Vagator, you'll reach Arambol—a place synonymous with hippie. Arambol is generally flooded with international tourists, which makes it a great location to mingle and network with digital nomads from around the world. It has a laid-back vibe, with many opportunities to enjoy music genres such as reggae, jazz, and electronic, and to sign-up for yoga courses. Every evening, something rather unique unfolds along the shores of Arambol beach. A group of people comes together in a circle, and play a variety of instruments, many of which are unseen and unheard of! People dance to their heart's content, and this is a sight to experience!
Palolem
If you're inclined to live in South Goa, it would be best if you chose Palolem. This is because most other areas are difficult to reside in, in terms of proximity and internet connections. Palolem has a mile-long spotless beach, which has finally started attracting tourists. Restaurants in Palolem dish out delicious and fresh seafood, along with other South Indian delicacies. Venture out on a boat trip a little deep into the sea, and if you're lucky, you'll be greeted by dolphins. 
Palolem also has a few work-friendly cafes, where you can set up your workspace for the day. However, note that while you will find fellow digital nomads here, the chances will be much lesser than in South Goa.
Find an Apartment in Goa
Finding an apartment in Goa is not child's play. It requires a fair bit of planning, without which you might land into trouble. What's more, due to Goa being a popular tourist destination, finding a more permanent home can be a bit of a challenge. That being said, it's not impossible. You simply need to know where to look.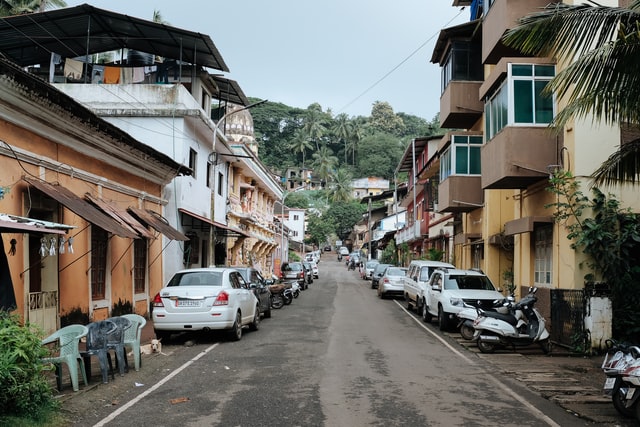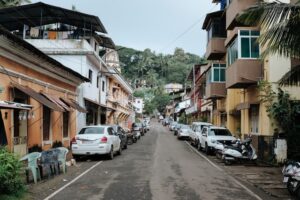 For starters, you must narrow down on the areas you wish to reside in. To be more specific, figure out whether you're keen on settling in the North or the South of Goa. Next, decide how long you plan on staying in Goa. Generally, long-term contracts are for a minimum of 6 months, to a maximum of 11 months. On the other hand, short-term contracts can be anywhere between 1 to 3 months. Naturally, long-term rentals are much more economical than short-term ones.
No matter who you're signing a contract with, you'll be required to submit documentation such as your visa, a copy of your passport, and a copy of any identity proof. Besides, you'll need to pay a security deposit that equates 1 or 2 months' rent. Furthermore, if you find the apartment through a broker, you'll have to pay them their fee, which is 1 month's rent.
As per me, the best way to go about renting an apartment in Goa, is to arrive and temporarily rent an Airbnb or stay in a hostel. Then, spend the next couple of days driving around, and keeping an eye out for boards that advertise houses on rent. You can also try asking locals if they're aware of any apartments that are on rent. This approach is bound to get you the best possible deal, and you will also be able to see the apartment before signing a contract.
Another way to find an apartment in Goa is via Facebook. Facebook groups such as 'Flat and Flatmates Goa' and 'Offbeat Goa' are great platforms to find a house as per your requirements. What's more, you can also find like-minded people to share an apartment with on these groups, making your stay much more economical and enjoyable.
Typically, the best time of the year to rent out an apartment in Goa is from May to June. This is because these months do not attract many visitors, owing to heavy rains in the region. Rates for long-term rental are bound to be highest from November to February, since this is peak-season in Goa.
The Cost of Renting an Apartment in Goa
Generally, costs are relatively higher in the North of Goa. If you're signing a long-term contract, a 2BHK apartment can cost you anywhere between $250-400 per month. Short-term contracts are a little more expensive. On the other hand, if you move down south, you'll have higher chances of bagging a reasonable deal. What's more, houses here are much more spacious.
Now, coming to other costs. As with most countries, you'll be required to pay for utilities—electricity, internet, gas, etc. Most of these costs are pretty negligible, and you need not worry about it burning a hole in your pocket. Your landlord will generally be responsible for fixing bigger issues such as getting pest control done, repairing an appliance, etc.
Cheap Places to Stay in Goa
Currently, rental prices in Goa are fluctuating quite a bit and a large number of people moving here to work remotely. As mentioned above, the best way to crack a good deal is to arrive here, and begin your hunt. Until then, here are some great hostels where you can live in harmony, enjoy high-speed internet connections, and also meet fellow digital nomads.
Dreams Hostel:

Situated on Vagator Beach Road, Dreams hostel is a delight for digital nomads. It offers cheap accommodation—you can pick between private rooms, double rooms, and dorms. The hostel has a great vibe, with colourful walls, instruments, and mandalas. It's a great place to be until you find yourself a more permanent base to move to.


Price: $7/night for a bed in a dorm
Happy Panda Hostel:

If you want to reside in the hippie neighbourhood of Goa, go for Happy Hostel in Arambol. The hostel is teeming with communal spaces to chill, hang out, and meet like-minded people. It's cheap, lively, community-oriented, and also houses a kitchen that serves delectable food! Happy Hostel has also got a great collection of books—a true goldmine for book-lovers.


Price: $6-7/night for a bed in a dorm
Nomadgao:

If you're not too keen on sharing your space with a bunch of strangers, Nomadgao could come to your rescue. Nomadgao is a coworking space in Assagao, in North of Goa. To make life easier for digital nomads, they offer co-living apartments right next to their cowork. From apartments to dorms, occupants have a wide variety of options to choose from. Nomadgao's closely-knit community of digital nomads, freelancers, and remote workers will make sure that loneliness doesn't take over you in your first few weeks in Goa!


Price: $10-30/night for a bed/room/apartment
India Visa for Goa
Travelling to India is not hard at all. With more than 10 types of visas available, requirements of which are easy to meet, getting here is a breeze.
The visa that's most commonly opted for is naturally the tourist visa, which requires visitors to have a valid passport for at least 6 months. The application form can be found on the Government's website, which needs to be thoroughly filled, following which you've got to pay the correspondent fee. The fees vary depending on where you're from, and the type of visa you're requesting. Your visa processing will most likely take anywhere between 3 to 7 days. Most tourist visas allow visitors to reside in the country for up to 180 days. If you wish to stay longer, you can request an extension online.
Note that the payment is not a guarantee that you'll be granted a visa. It simply ensures that your application will be processed and reviewed. But don't worry, India is extremely tourist-friendly, and in most cases, getting a visa shouldn't be complicated.
It is always best to check with your embassy in advance before deciding to make the move to Goa as a digital nomad.
Culture and Food in Goa
Goa is a wonderful cocktail of various cultures, religions, languages, and ethnicities. There's no doubt that this Indian state has a magical charm, a lot of which can be traced back to its roots. Since Goa was ruled by a bunch of colonisers—the Portuguese, the Muslims, as well as the Hindus, the state continues to enjoy a fascinating mix of literally everything under the sun.
Food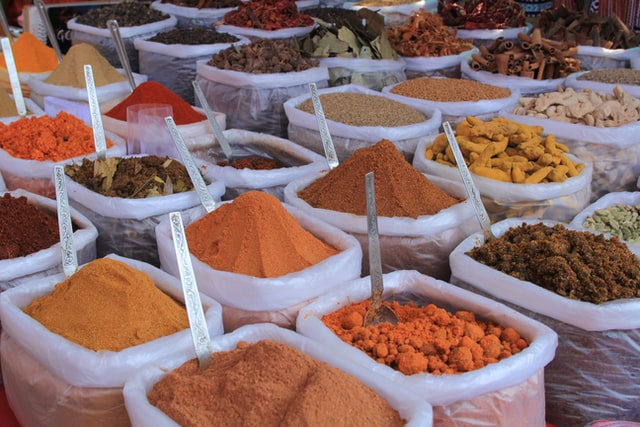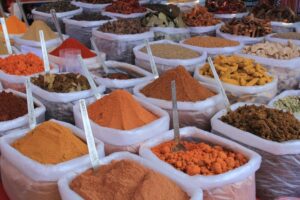 Goans take their food and drinks pretty seriously. Meals here are generally marked by lots of rice, fish, and coconut. Spices are generously used in Goan cooking, which is what makes the food out here as delicious as it is. Due to being close to the coast, Goa is also widely touted for its fresh seafood—if you're a non-vegetarian, be sure to try some prawns, crabs, and lobster while you're here.
Truth be told, there's no end to the number of local delicacies that attract foodies to Goa. However, here's a list of foods you simply have to try when in Goa:
Sorpotel: A dish of Portuguese origin, the main ingredient of which is meat. The meat is cooked in a rich gravy of onions, garlic, masalas, and other spices.

Bebinca: One of the most loved desserts of Goa, Bebina is a multi-layered pastry prepared using flour, eggs, sugar, and coconut milk.

Fish Curry: Fish curry is a staple dish amongst Goans. This delicacy is loaded with spices, along with raw mango, which gives it a wonderful, tangy flavour. The curry is served with a plateful of rice.

Chicken Xacuti: Another classic dish originating from Goa, this curry comprises of chicken, potatoes, onions, chillies, coconut, and other spices. If you like spicy food, you'll be sure to love a serving of chicken xacuti.

Beef Cutlet Pao: This is a popular fast food found at most local stalls in Goa. It is essentially a thin slice of beef marinated in spices, coated in semolina, and fried until crisp. This patty is then stuffed inside a pao—a Goan bread.
Alcohol
Because of exceptionally low taxes, booze is really cheap in Goa. Naturally, a drinking culture has developed in the state. While a variety of fancy cocktails are served in Goa today, the state is popular for its local spirits such as feni. Feni is available in two varieties—while one is prepared using coconut palm, the other is made from cashew nuts. Feni has an extremely strong odour, and might not suit everybody's palette. However, it's definitely worth trying if you're planning on living in Goa.
Arts
Goa has a flourishing arts scene and plays host to a number of museums, exhibitions, and events that pose opportunities for one to experience the real essence of Goa. Some of the museums you should visit to explore Goa's arts are the Museum of Goa, and the Museum of Christian Art.
Goa also has a wide variety of local handicrafts, all of which make for colourful souvenirs. Bamboo craft, woodcarving, metal embossing, and seashell craft are widely practised by the artisans of Goa. The art and craft of Goa is a wonderful example of the beautiful blend of Indian and Portuguese cultures.
Language
Since the Portuguese rule in Goa lasted for over 4 centuries, a variety of languages are spoken here. The state's official language is Konkani. However, most people here speak Hindi and English pretty fluently, since many of them depend on tourism for their livelihood.
Religion
That Goa is a predominantly Christian state is a myth. As per the 2011 census, 66% of the population are Hindu, whereas 25% of them are Christian. What's heartwarming to see is that the state celebrates all major festivals—irrespective of what religion they origin from, harmoniously.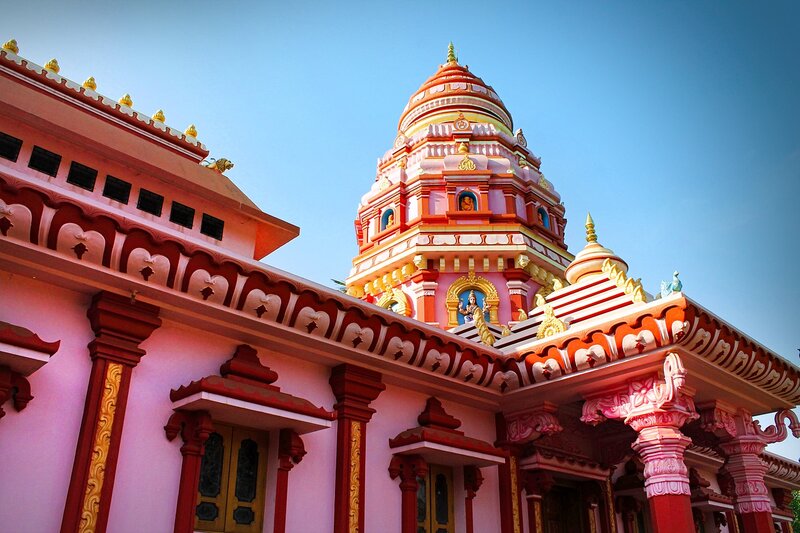 Eating Out
As already mentioned above, Goa plays host to restaurants that serve mind-blowing food. If you're not in the mood for 'doing' much, simply head out to an eatery of your choice, and treat your taste buds.
Goa Nightlife
Clubbing
There are a plethora of party places in Goa, and you'll be sure to discover a new one every few weeks. Groovy music, cheap booze, and yummy snacks draw huge numbers of tourists every year. If you want to go clubbing in Goa, here are some of your best bets:
Tito's Bar and Club

Club LPK – Love, Passion & Karma

Club Cabana

Leopard Valley

Shiva Valley
Music Gigs
Music is an integral part of Goa's culture, and you'll be sure to find live music scenes on most nights here. There's quite literally no difference between weekdays and weekends in this regard. Some of the best places to enjoy live music gigs in Goa are as follows:
Guru Bar

Hopping Frog Hostel

Cohiba

The Rice Mill

Hideaway
Beach Shacks
Most beaches in Goa are dotted with shacks that dish out delicious snacks and drinks. Spending your evening at a shack is a great idea if you're looking for a bridge between a quiet scene and a loud party. Some of the best shacks in Goa are:
Curlies

Thalassa

Rogers

Café Del Mar

Bobby's
Trance Parties
While this may not be for everyone, it's definitely worth experiencing at least once if you're living in Goa as a digital nomad. The raves and trance parties here are unlike anywhere else. These are mostly found in Anjuna and Vagator, but nowadays, areas norther up such as Morjim, Mandrem, and Arambol are also becoming a popular hotspot for trance parties.
Note: Goa is known for its availability of hard drugs, and you might find people offering you the same at such parties. Be extremely cautious of what you're consuming and who you're with at all points.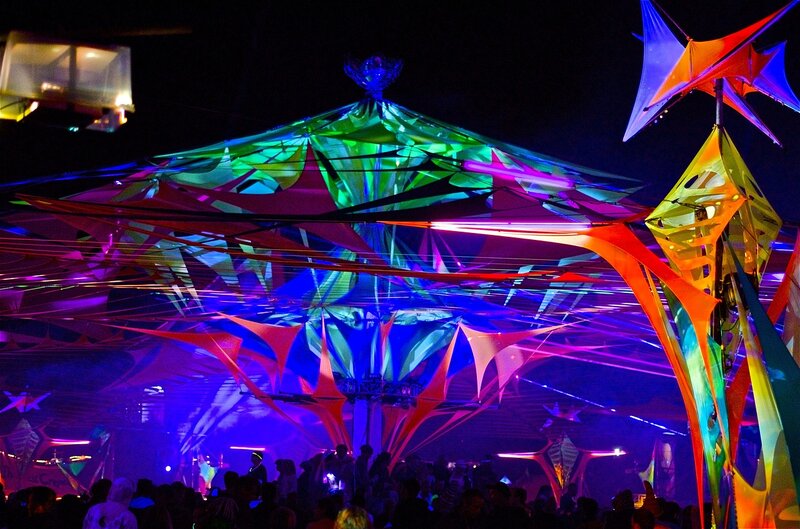 Night Markets
If you're a fan of window shopping, don't miss out on the night bazaars of Goa. These markets are a great way to experience Goa in its true form. Be it chilled beer, good music, dateless antiques, junk jewellery, funky clothes, or a great vibe, Goa's night bazaars have it all.
Casinos
Gambling is fun, legal, and a great way to give yourself an adrenaline rush. Most of India's best casinos are located in Goa. If this sounds like your scene or if you simply want to try something new, head to the Mandovi river. Here, you'll find an array of casinos on boats anchored in the river.
Things to do in Goa
There is no dearth of things to do and see in Goa. In fact, even the most seasoned traveller will find it hard to narrow down on things to do. For people that visit Goa for just a few days, it is impossible to cover even half of the amazing things to do. As a digital nomad, you will have the advantage of having ample time on your plate, so that you can comfortably cover all the places and activities that pique your interest.
Remember that building relationships with locals is a great way to discover unique and off-the-beaten-track things to do in Goa.
Here's a short list of things that you wouldn't want to miss during your stint in Goa.
Visit a Spice Farm

By now, you probably know that Goan food utilises a fair amount of spices. What's cool is that most of these spices are grown and processed locally itself. What's even cooler is that Goa offers you the opportunity to take a closer look at how these spices make it to your plate. Visiting a spice plantation is not just a treat to your olfactory senses, but also to your eyes. Once you pay a visit to one of these spice plantations, you'll look at the food you eat differently. It's an experience you absolutely shouldn't miss out on. Popular spice plantations in Goa: Savoi spice plantation, Sahakari spice farms, Pascoal spice farm.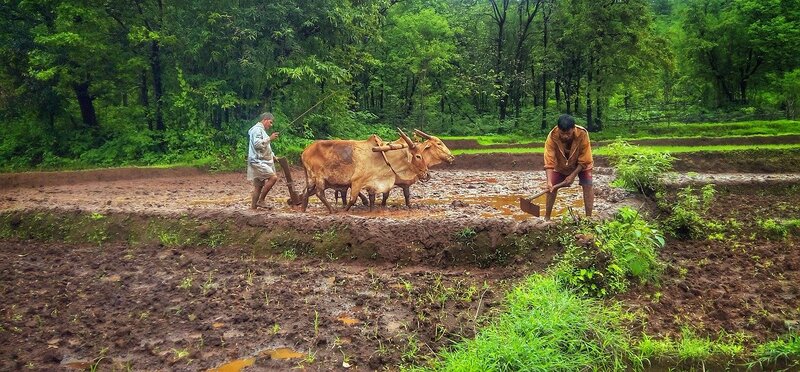 Walk Around Fountainhas

The Portuguese ruled Goa for over 4 centuries. It thus comes as no surprise that their influence is seen and felt in the state even today. In the 19th century, Fountainhas was home to Portuguese administrative officers. Today, Fountainhas—the oldest Latin quarter in Panjim, attracts history enthusiasts, photographers, and travellers alike, and for good reason. The place has a completely different vibe to itself. Houses drenched in pastel and fluorescent shades, pretty nameplates by pretty Goan doors, and beautiful wall art are some of the many things that set this locality apart. Make it a point to visit Fountainhas during your stay in Goa, and be sure to carry a camera!
Explore the UNESCO World Heritage Sites

Although not many know this, Goa is home to several UNESCO World Heritage sites. In fact, it is widely touted as the 'Rome of the Orient,' and rightly so. I'd highly recommend you to think beyond beaches and witness a different face of Goa at these iconic monuments. Some of the most popular ones are the Basilica of Bom Jesus, the Church of St. Francis of Assisi, and the Church of Saint Augustine. Visiting these sites will give you a glimpse into Goa's rich colonial heritage.
Trek Up To Sweet Water Lake

Goa is considered to be a goldmine for nature lovers. If a short trek to a secret spot appeals to you, you absolutely shouldn't miss out on visiting Sweet Water Lake. The sheer adventure that comes from making it to this spot is spectacular! It's pitched on a slight height—on one side is long stretches of white sand and azure waters, and on the other is the only freshwater lake in Goa, surrounded by lush green hills. You can either go for a swim in the water, or simply sit by the lake and take in the calm. Either way, Sweet Water Lake won't disappoint.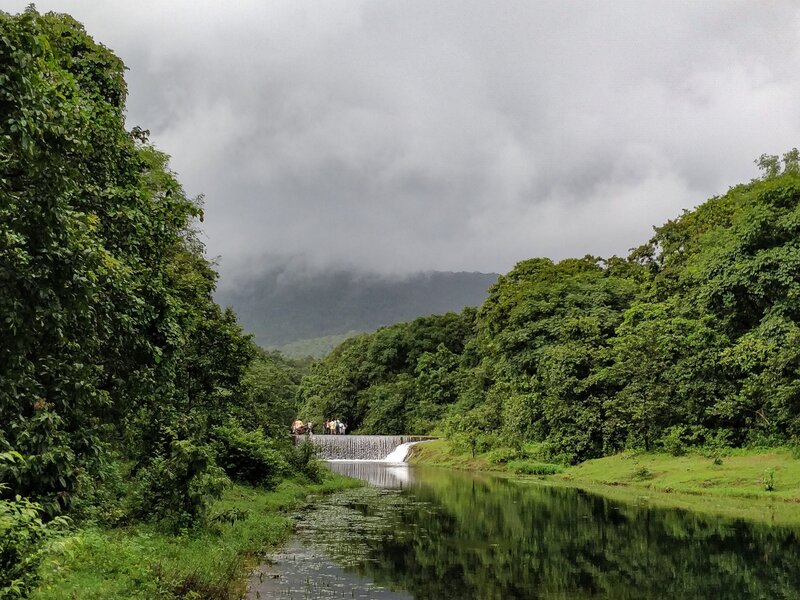 Engage in Adventure Activities

Due to its close proximity to the coast, Goa offers a plethora of opportunities to engage in adventure water sports. If you're a seasoned swimmer and have a deep liking for the ocean, I'd highly recommend trying your hand at surfing. A bunch of experienced instructors offer 3-5 day surfing courses that will equip you with the basics of the sport. However, if you're not looking for something so hardcore, you can try your hand at simpler sports such as parasailing, kayaking, and scuba diving. Note: You can engage in these water sports throughout the year, except in the monsoons.
Divar Island

Located about 9 kilometers from Panjim is an island cut off from the parties and hubbub of mainstream Goa. What makes Divar island so beautiful is that it remains untouched and unscathed by tourism. The island can only be reached by ferry from Old Goa. Once you set foot on the island, you'll be greeted by picturesque landscapes, meandering rivers, and beautiful churches and chapels. The island also boasts of unique experiences such as therapeutic mud baths and feni tasting.
Stay on a Houseboat in Chapora

Contrary to popular belief, Kerala isn't the only destination in Goa where you can experience living in a houseboat. Chapora in Goa offers visitors the chance to spend a few hours on a houseboat. Drift along the backwater of Goa, watch fishermen do their thing, and devour some epic Goan delicacies while basking in the warm sun.
Go For a Silent Party

It's an unreal scene. Hundreds of people dressed to the nines, dancing their night away amidst dizzy neon lights. The only catch is that there's no music. The only sound you can hear is that of feet tapping on the sand and the waves crashing against the shore. Suddenly, the headphones catch your eye. That's when you realise that this party is rather unique. Although originating in Europe, silent parties are becoming popular in Goa, as a way to bypass the noise pollution laws. It's an experience you shouldn't miss out on. These parties take place every on alternate Saturdays, at Neptune Point in South Goa.
Best Time to Visit Goa
There are many reasons that Goa attracts a huge influx of tourists, and one of them is its enjoyable weather. During your stay in Goa, you will enjoy uninterrupted sunshine, and warm temperatures ranging from 25ºC to 35ºC. This of course, depends largely on the time of the year you're planning to visit.
November to February in Goa is the most pleasant, with temperatures rarely soaring above 30ºC, cool winds, and the need for a thin jacket if you're planning on venturing out on a two-wheeler at night. March, April, and May are summer months, making it quite unbearable to step out between 12-4pm. June to August is when monsoons are in full swing, and Goa is covered in a blanket of lush greenery. However, commute during the monsoons becomes especially difficult. Also, note that electricity cuts are much more frequent during this time, which can hinder work for digital nomads.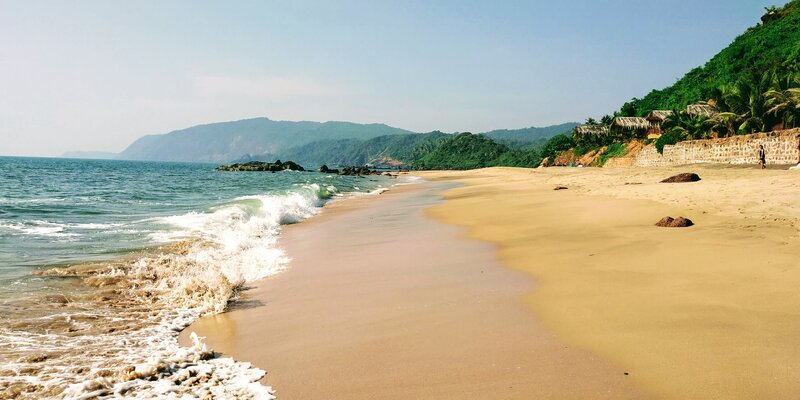 Goa for Families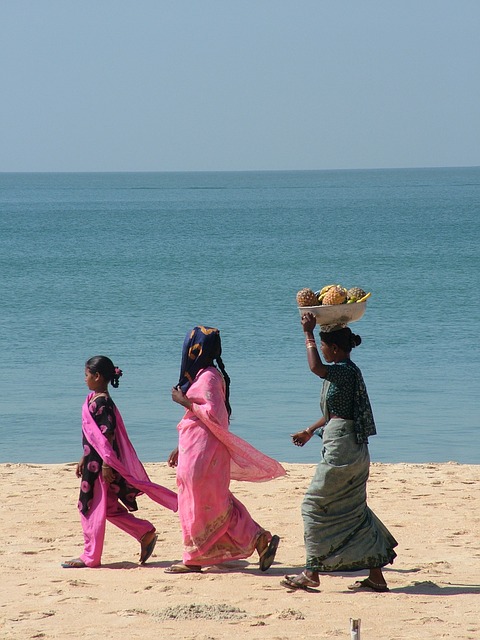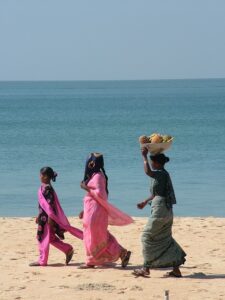 Although Goa receives a huge influx of young tourists and solo travellers, it is quite family-friendly, too. Goa is home to a number of schools, many of which are run by the Government, or are catholic institutions that are government-aided. English is primarily-spoken in most schools, with Konkani as the second language. These schools are ridiculously cheap, and also offer a number of perks since they're associated with the government.
If you're keener on getting your kid enrolled in a private school, your best bet would be to reside in or around Panjim. Here, you'll also be much more likely to find daycares and crèches, than in other areas in Goa. 
Things to Do with your Family in Goa
What's most exciting about living with your family in Goa is the range of activities it has to offer. Besides, what's better than spending a quiet day at the beach with your kids? Some of the top family activities in Goa are:
Dolphin Tours: A number of spots in Goa offer opportunities to go deep into the ocean for some dolphin spotting. The prospects of waiting for dolphins to pop out of the water excites kids and adults alike, making it a great activity to engage in as a family.

Go-Karting: If your kids are not too young, go-karting can be a fun activity to opt for! Arpora in North Goa has a great track, and you can simply use Google Maps to get there.

Hiking: Spending time in nature is always a good idea, more so, for kids. Goa offers multiple opportunities for hiking with splendid views. One personal recommendation is the Sweet Water Lake in Arambol.

Wildlife Sanctuaries: Owing to dense forests, Goa has a bunch of wildlife sanctuaries that are worth visiting. The best time of the year to visit any of these reserves is from May to July, when monsoons are in full swing. Lush green landscapes, and occasional waterfalls will make your trip all the more exciting!
Living in Goa
Goa Transportation
Getting around Goa is not as simple as you'd think it to be. Considering how touristy the state is, one would assume the transport system here to be quite advanced. Unfortunately, it isn't so. Besides, most places of interest in Goa are quite spread out, making transportation a key concern for tourists as well as digital nomads.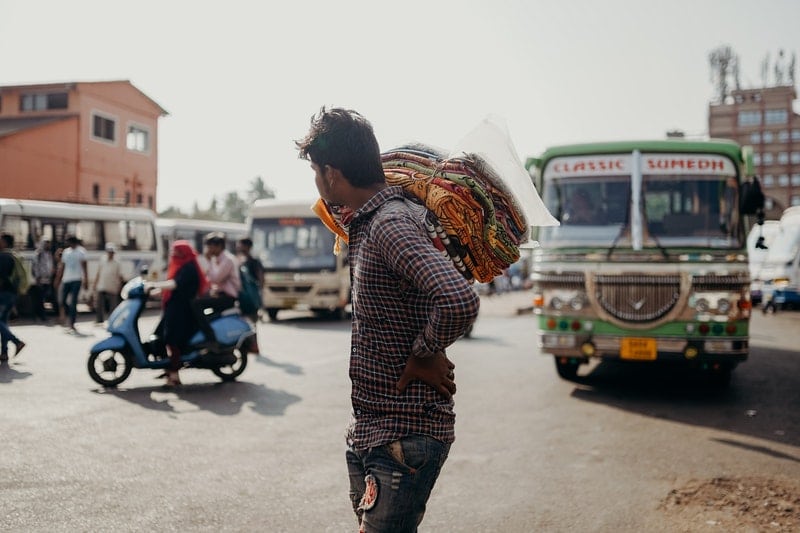 Buses
A number of privately-owned buses ply to the remotest areas of Goa, making moving around in the state easy, as well as cheap. Tickets cost $0.14 for about 2-3 kilometers. However, note that since most of these buses are old, they're not in the best condition, and often get hot and claustrophobic. What's even more important to note is the bus timings. Most of them don't run before 7AM and after 7PM. Bus stops are scattered across the state, and the spots they'll be halting at is mentioned on the front of the bus.
Goa also has a network of buses that is run by the Kadamba Transport Corporation—a government-run agency. However, these buses only halt in major cities such as Panjim, Margao, Mapusa, and Canacona.
Taxis
Compared to the rest of India, taxis are an expensive affair in Goa. This is because taxis in Goa are unmetered, leaving travellers to the mercy of (the often exorbitant) prices pitched by cab drivers. If you don't want to go down this road, you can simply ask your landlord, or any local you trust to book you a reputable taxi operator.
And if you want to absolutely avoid relying on anybody for getting you a taxi, download the application 'Goa Miles' on your smartphone. This is Goa's only app-based cab service—sort of like an Uber. Booking a taxi on Goa Miles is the best way to avoid getting ripped. 
As a note, a taxi from the airport to Candolim should cost you roughly $15-20.
Tuk-Tuks
Tuk-tuks a.k.a auto rickshaws and three-wheeled vehicles, that are ideal if you want to visit a nearby place or cover a relatively shorter distance. These are cheap, petite, and vibrant, and can be spotted easily due to their bright yellow-and-black contrast. Although the government has allotted a fixed price of $0.1 per kilometer for tuk-tuks, this fare is barely followed. So, if you're planning to move around by tuk-tuks, it is best if you have at least a vague idea of routes and distances.
Motorcycle Taxis
One of the lesser-known ways of moving around Goa is via a motorcycle taxi. Popularly called 'Pilots,'  this mode of transport is a better choice than taxis if you're travelling alone. Note that the government has fixed the fares at about $0.1 for the first kilometer, and about half a cent for each additional kilometer.
Renting a Vehicle
Due to Goa being a tourist-heavy state, many private agencies offer scooters, motorcycles, and cars on rent. If you want to cut out all the crap and move around Goa at your own will, renting your own vehicle is perhaps the best option for you.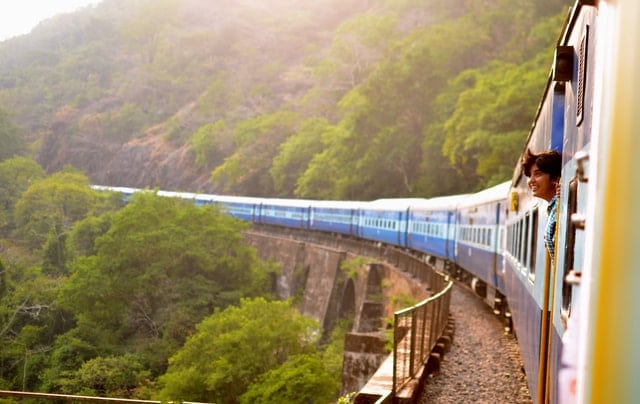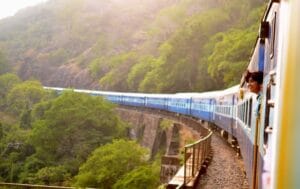 I rented a scooter for myself the very day I arrived here. Since I've rented it out on a monthly basis, it costs me about $50 per month. On the other hand, daily rental prices hover around $4-5.
Self-drive cars are also available on a wide scale, and generally cost about $15/day for smaller cars, and about $30 for a sedan. If you want to rent out a car on a monthly basis, you'll have to do some haggling to get yourself a decent deal.
Pro Tip: If you plan on residing in Goa for 6 months or more, it is best if you buy yourself a second-hand two-wheeler. It is possible to buy scooters in decent condition for $250-300. What's more, you can sell off your vehicle once you're done with your stint in Goa.
Fitness and Health
Goa features a tropical monsoon climate, which means temperatures are warm and humid all year-round. This makes it convenient as well as enjoyable to spend hours outdoors and get sweating.
Most residents of Goa engage in a myriad of water-related activities to get their daily dose of exercise. Naturally, one of the most effective and fun ways to keep your health in check is to go to the beach for a swim every morning. If you're not a swimmer, there are several classes where you can learn the skill for quite cheap! Adventurers also find pleasure in engaging in activities such as surfing, paddle-boarding, kayaking, and more.
However, if you're not a water person, there are a bunch of other options for you. For instance, yoga is widely practised here in Goa, with several instructors offering excellent coaching classes for travellers and long-stay residents alike. This is also a great way to meet fellow digital nomads, and grow your network in Goa. Areas such as Morjim and Mandrem play host to several yoga retreats, and you can sign yourself up for one to stay fit as a fiddle.
Lastly, you can always get enrolled at a gym or a fitness centre, if that floats your boat. There are several gyms scattered across Goa, and any local will be able to guide you with the same.
What's best about staying fit in Goa, however, is that you don't need to shell out money for it. Simply walking by the beach or going for a hike can do the job pretty well!
Goa People
Goans are warm, friendly, and peaceful people who enjoy living a quiet life to themselves. The Goan population comprises of a predominantly Hindu population, followed by Christians, and a small community of Muslims. Goans are exceptionally tolerant about one another's religion, and have lived together in harmony for years now.
The Goan lifestyle reflects a wonderful cocktail of the East and the West. Several locals continue to have Portuguese names even today, which proves how strong the Portuguese influence is. Most locals in Goa speak Konkani—a language that has managed to unify Goans for years now.
A decent chunk of the Goan population relies on fishing for sustaining themselves. Next in line comes tourism and hospitality. Since tourism has picked up incredibly over the past few years, you'll be more likely to encounter travellers, expats, and digital nomads, than locals—unless of course, you visit the interiors of the state.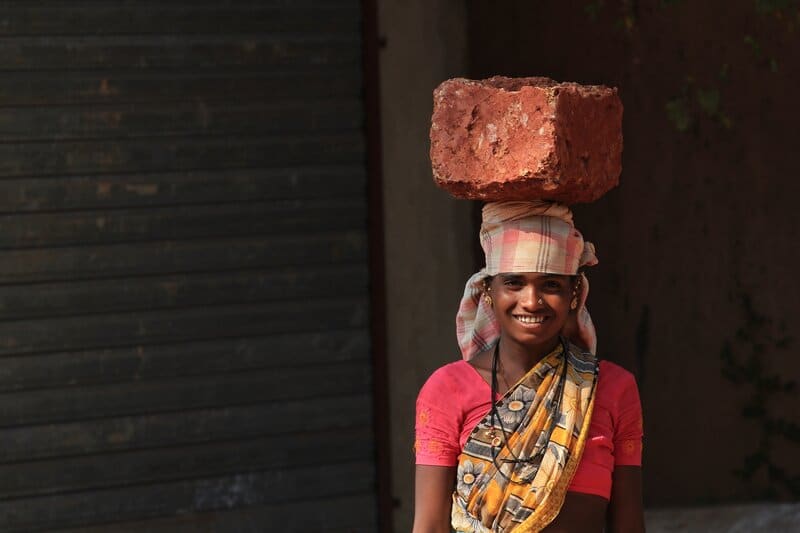 Goans are die-hard music lovers, and most of them can pluck at a guitar or play a tune on the piano pretty effortlessly. Their love of music is pretty evident not only in their homes, but also at festivals and social gatherings. Goans also take their alcohol seriously—you'll be sure to find a line of booze bottles in most of their homes. When it comes to sports, bullfight used to be a highly popular game in Goa. However, due to it being banned, Goans have now shifted to playing football and cricket for fun!
A commonly-used word to describe Goans is susegad—which is derived from the Portuguese word sossegado, meaning 'quiet.' It refers to their perennial state of contentment, their love for afternoon siestas (most shops and restaurants in Goa remain shut from 2-4pm), and their laidback attitude. You'll get a taste of the Goans' susegad way of life right after arriving here.
Goans are known for living life to the fullest, and are extremely proud and protective of the state they call home. What's rather commendable is how they've managed to keep their rich cultural heritage alive. Goans have made sure that the modern times and ever-changing trends do not affect the state's traditions and real roots in any way.
Goa Insurance and Medical Care
Goa offers a plethora of opportunities for engaging in sports and outdoor activities. Naturally, participation in these activities can make you prone to injury. Fortunately, several major hospitals and nursing homes mark both the North and South of Goa. Here's a list of some of the best ones:
Apollo Victor Hospital, Margao

Asilo Hospital, Mapusa

Chikitsa Hospital, Verna

Canacona Government Hospital, Canacona
Most of the staff across hospitals in Goa speak fluent English. What's more, it's pretty easy to find pharmacies and chemists no matter what part of Goa you're living in. As with most countries, places of medical care can be identified with a green '+' symbol.
In India, foreigners can buy a health insurance policy without much hassle. To be eligible for the same, you need to have a valid passport and visa. Generally, to make any claim, you'll have to wait for anywhere between 30-90 days from your day of purchase. It is also important to note that not all illnesses will be covered by your health insurance. To avoid any confusion, be sure to check all that's covered before finalising the purchase. It is best to compare various health insurance plans online, so that you get a deal that suits your needs best!
Make sure you are fully covered by reading our full Digital Nomad Travel Insurance guide.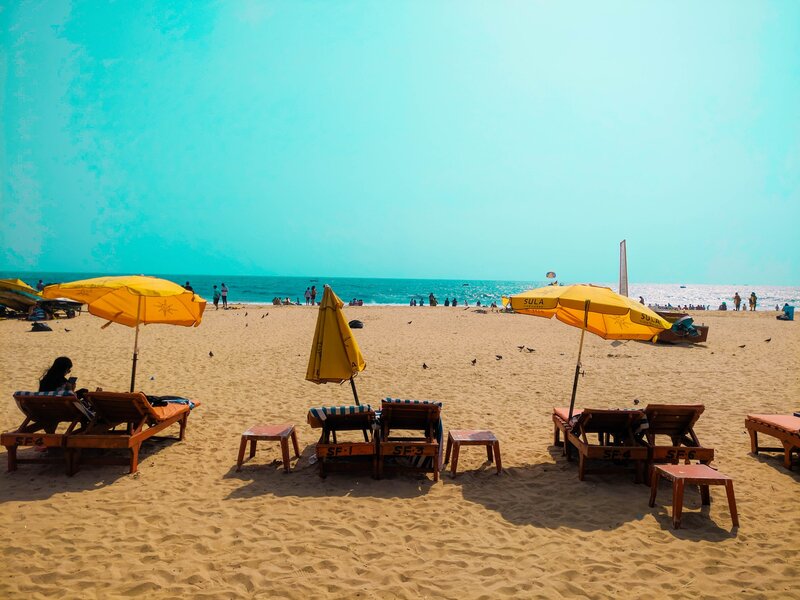 Jobs in Goa
Most of Goa relies on tourism and hospitality for earning an income. So, a variety of jobs are generally available in this sector. If you wish to pick up some extra work alongside your regular online methods of employment, some jobs you can consider are:
Tour Guide: Since Goa is so tourism-heavy, there's a lot of scope for tour guides to make an income here. However, to be able to do this, you'll need to spend some time exploring the state. Goa has a rich history and culture, which you should be aware of in order to excel as a tour guide.

Watersports Instructor: If you're a qualified surfer, diver, kayaker, or anything in between, there's a lot of scope for you to find employment as an instructor. This is also a great way to make friends from across the globe.

Host(ess): Since Goa has any number of restaurants, bars, and co-works, hosts and hostesses are required on a daily basis. However, note that knowing how to speak Konkani might be a requirement at some of these places.

Hotel Employee: Since Goa thrives on tourism, the hotel industry here is big. If you think the hospitality industry is for you, feel free to consider working as a bartender, chef, or likewise.

Photographer/Videographer: As you already know by now, Goa plays host to a fair number of events all the time. Since we're living in the digital age, organisers like having their events being covered on photo and video.
You can also contact hostels across Goa for volunteer opportunities. Most of them offer opportunities to exchange a few hours' worth of work for free stay and food.
Check out our in-depth Digital Nomads Jobs Postings to find the best jobs available for Digital Nomads.
Nomad Friendly
Value for Money
Internet
Workspace
English
Food
Safety
Health
Transportation
Friendly
Quality of Living
Cost of Living Goa
Goa has an incredible lot to offer, at an extremely low price. This explains why it is frequented by travellers from across the world. There are, of course, several other destinations in India that are worth setting up base in. However, Goa continues to remain a personal favourite for several digital nomads, simply because it is a one-stop-shop. It's got beautiful beaches, dense forests, a rich flora and fauna, splendid nightlife, adventure activities, and so much more! As if that weren't enough, Goa is super economical to live in, and more so, if you're earning in dollars.
Rough Estimates of Monthly Living Costs
Rental of a one/two bedroom flat: $250-$300

Utilities (internet, electricity, gas):
Transportation (provided you're renting your own vehicle): $100
Meal at an inexpensive restaurant: $3
Cappuccino at a coffee shop: $2
A liter of milk: $0.7
Domestic beer: $0.8
A packet of 20 cigarettes (Marlboro): $4.5