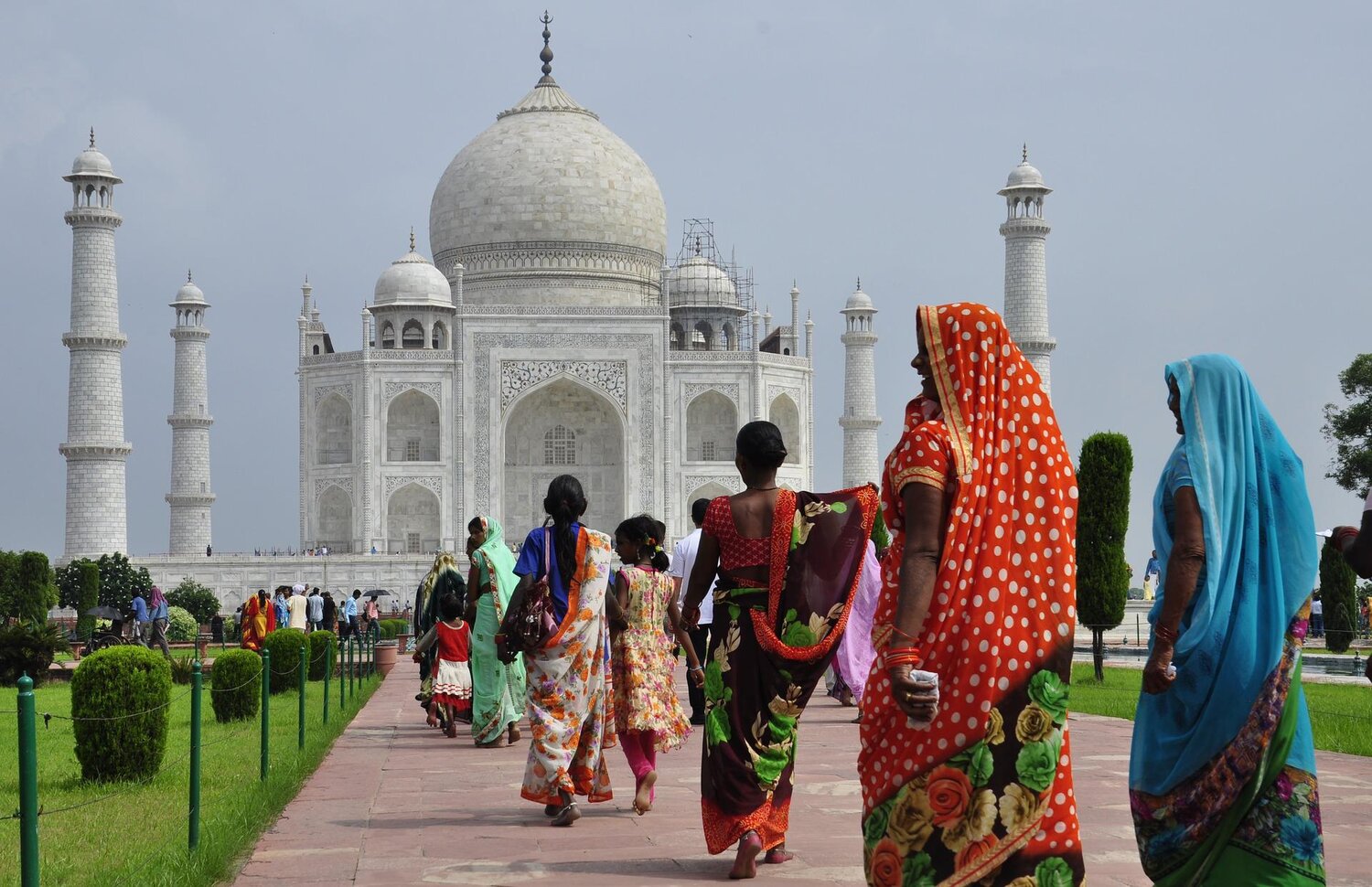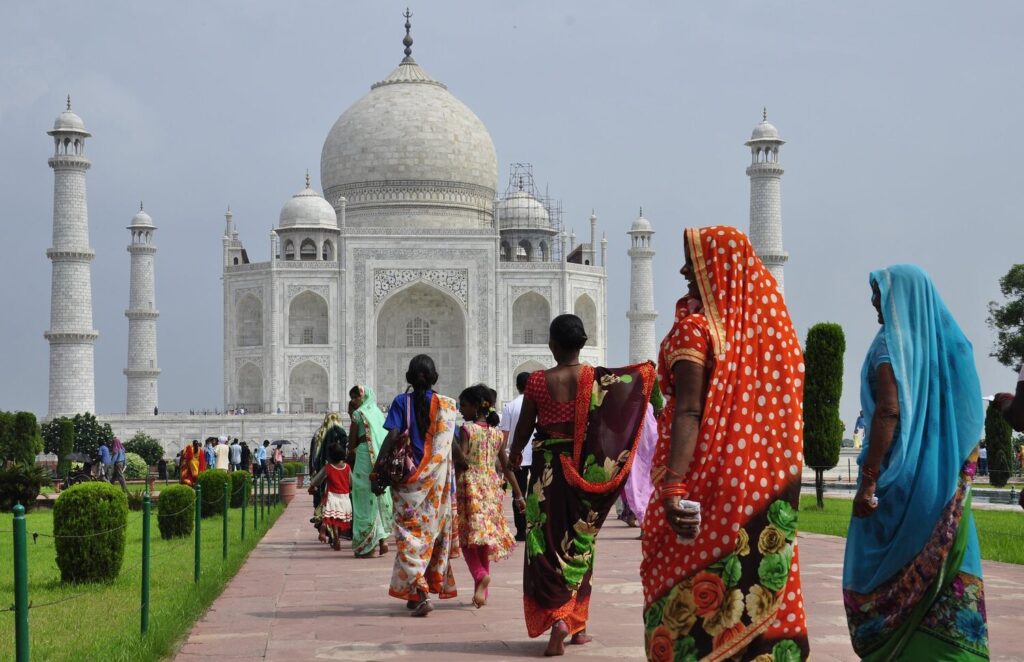 Digital Nomad India Guide
When one thinks of being a digital nomad, India might not strike one as being the first choice. However, being a digital nomad in India is possibly one of the most thrilling adventures you'll ever be on! Think "India" and you'll probably have an image of a riot of colours, spicy food, diverse fragrant smells, and a vibrant culture. Well, you're not wrong! Of course, India is also so much more than what you see in films or read in books. There are unknown (and, of course, known!) gems that are a perfect blend of modern infrastructure and the lively ethnicity that makes up the essence of India.      
There are several advantages to being a digital nomad in India. The biggest advantage in choosing India is the financial side of things. Living and travelling in India is fairly cheap and especially if you get paid for your work in Euros, US dollars, or even British Pounds. You will be able to save much of your income, even if you travel extensively, and rent an entire house with luxuries such as a housekeeper or a cook. 
India is also well-connected in terms of public transport. The entire point of being a digital nomad in India is to be able to see the diverse landscape of the country, without missing out on income. Travelling through the length and breadth of the country is highly economical, especially if you are happy to use local buses and trains. Many cities and towns have steady internet connections, with multiple cafes and restaurants offering free Wi-Fi. Co-working spaces are also becoming very popular and are common in bigger cities like Mumbai, Delhi, Bangalore, and Hyderabad, amongst others.
It is super easy to also get a data package on your Indian SIM card, which means that you can even use your mobile internet connection as a hotspot. Try providers like Jio and Airtel for the best value.     
Intrigued by the prospect of being a digital nomad in India? Let's break down what kind of a visa you'll need and the best spots for digital nomads in the country.
India Digital Nomad Visa
Visas and immigration policies may often be tricky to navigate, and will most likely play an important role in deciding the country you want to be a digital nomad in. However, the good news is that India has several visas that are suitable for digital nomads. The most common of these are tourist visas, as they are usually issued as e-visas for citizens of most countries. This means that, in all likelihood, you will be able to apply for a tourist visa online, thus avoiding the hassle of having to physically visit a consulate, immigration office, or an embassy. 
While applying for an Indian tourist visa, it is essential to note that one is not permitted to work in India while on a tourist visa. Therefore, it would be wiser to focus on the travelling bit of your stay in India if you get asked for the purpose of your visit. The concept of being a digital nomad may not be entirely known to an immigration officer at the airport, and they might misconstrue the situation.
When it comes to the types of tourist visas available to digital nomads, the most common distinction between them is to do with the number of entries permitted on the visa. India offers both multiple-entry visas, as well as single-entry visas. 
A multiple entry e-Tourist visa may be offered as a 1-year visa OR a 5-year visa. Both visas have no cap on the number of times you can enter and exit India, making it perfect for a digital nomad in India who also wants to visit other countries in the Indian subcontinent. Nevertheless, it is essential to note that if you are on one of these two visas, you cannot stay in India for more than 90 days, i.e., 3 months from the date of entry. 
However, this rule does not apply to citizens of the USA and Japan. US and Japanese citizens are allowed to stay in India for a continuous period of 180 days, i.e., 6 months, before they must exit the country. Citizens of the USA and Japan are also eligible to apply for a longer duration 10-year visa. It must be noted that this 10-year tourism visa is only valid for citizens from these two countries.   
It is interesting to note that citizens from countries such as Japan and South Korea are eligible for a visa on arrival. Citizens from UAE who have been previously granted an e-visa or a paper visa to enter India are also eligible for a visa on arrival. 

Digital Nomad Visa for India Details
A single-entry visa is also available, which is issued for a maximum period of 1 month, i.e., 30 days. This is perfect if you are looking to spend only a few weeks being a digital nomad in India before moving on to other Asian or neighbouring countries.     
Tourist e-visas are non-extendable and non-transferrable, as in, they cannot be converted into other types of visas. India currently accepts e-visa applications from citizens of 156 countries. However, citizens of countries like Canada, China, Iran, United Kingdom, and 11 other countries are currently not eligible to apply for e-visas. 
There are a few standard rules to keep in mind while applying for an e-tourism visa to enter India, irrespective of whether you are applying for a 30-day single-entry visa or a longer multiple-entry visa. The most important one is that your passport should be valid for at least 6 months from the date of application for the visa. 
Other important rules include having an onward or return ticket to another country as proof that you will exit the country once your visa expires, or your maximum stay limit is reached. You must also only enter the country via 28 designated airports or through the 5 designated seaports listed on the Indian government's immigration website. Most major airports are part of the list and hence, you are unlikely to face any inconvenience in entering the country once you are granted your e-visa. 
You must apply for an e-tourism visa at least 4 days before the date you intend to travel to India. For multiple-entry visas, you can apply for your e-tourism visa 120 days before the date of travel. In case you are applying for a single-entry visa, you can only apply 30 days prior to your date of travel. One can apply for a maximum of two e-visas per calendar year. 
Applying for an e-tourism visa to enter the country and live your digital nomad dream in India is relatively simple. You will need a scanned copy of the page in your passport that shows your photograph and name. You will also need a clear photograph of yourself against a white or plain light-coloured background, standard to what one would require for official or legal applications.    
In terms of visa costs, the fee ranges from 10 USD for the 30-day visa to 80 USD for the longer 5-year multiple entry visa. The Indian government does not charge citizens of a few countries, like Argentina, Fiji, South Africa, amongst others to apply for a e-tourist visa. The full and exhaustive list can be found here for the exact fee you will be charged while applying for your e-tourism visa to be a digital nomad in India.   
Payment must be made via a credit or a debit card that allows transactions in US dollars or Indian rupees to be processed. Payment via PayPal is also currently accepted. It usually takes 1-2 hours after payment has been made for you to get confirmation that your visa application has been accepted. Once accepted, the status of most visa applications is decided within 72 hours. You will receive an email indicating whether your application has been granted or denied.
An additional amount is charged by the payment gateway as a transaction fee while paying for your e-tourism visa. This is usually a maximum of 2.5% of your visa fee or 3.5% of the visa fee if you are using PayPal to pay for your visa.    
You can start your visa application by clicking here. This link directly takes you to the registration page on the Indian Immigration portal for e-visa applications. The process includes filling your details and the type of e-visa you are applying for, on the first page. Next, you will need to upload your passport and a front facing photograph of yourself where your face is clearly visible. After you pay your visa fee, you should receive an immediate confirmation email with a transaction number. 
Your biometric details will be taken once you land in India. A digital photograph of you will be taken, along with your fingerprints. You may also be asked to sign on a digital screen. The collection of such identifying data is mandatory if you want to enter the country. 
In certain cases, it is possible for you to register these details at an Indian diplomatic mission in your home country. India has close to 152 diplomatic missions that allow you to register your biometric details. Choose a date and time that is convenient for you and complete your biometric enrolment in your home country. This speeds up the process once you land in India and allows you to exit the airport so much faster. It is a complete win-win situation. After all, who wants to stand in long queues, when the digital nomad life in India is waiting for you?
What are the best places in India for Digital Nomads?
Being a digital nomad in India is a thrilling adventure that will always keep you coming back for more. No matter your personality type, there's something for you in India, simply because of the sheer diversity in the natural landscape and culture of the country. While the mighty Himalayas loom over the northern part of the country, the southern parts of India have beautiful coastal regions and beaches. The west has the awe-inspiring Thar desert and the magical and vibrant culture of Rajasthan and Gujarat. If spicy Indian food isn't your thing and you're more than happy to take in life while sitting in the lap of green hills and misty forests, India's north-eastern states may be just the place for you! 
Here are some of the best places in India for you to fulfil your digital nomad dream life. I've included diverse places on the list, so that there are plenty of options for you to choose from. 
Bangalore
Bangalore is one of India's major cosmopolitan cities, and also the hub of most IT companies in India. In fact, the city is known as the Silicon Valley of India. Internet speeds are fantastic here, as are the many charming cafes and restaurants you can work from. 
Bangalore enjoys a pleasant and mild climate throughout the year and the rains here are less harsh as compared to the rest of the country. As a digital nomad in India, travel is probably as important to you as nailing that client brief. Bangalore is the perfect base to explore Southern India. With a major international airport, and a well-connected bus and train network, places like Coorg, Ooty, Mysore, and Wayanad are only an easy journey away. 
English is widely spoken in Bangalore, and you will also find many expats living in the city. Bangalore was the pioneering city of India's pub culture, and you will find dozens of pubs in the city that serve some incredible brews.  
Finding accommodation to rent in the city is relatively easier and affordable. There are many websites that list houses to rent. Alternatively, websites like AirBnB have listings that allow longer term rentals. 
Bangalore's food scene is diverse, with the local cuisine being predominantly favourites like the rice dish bisi bele bhath, and "South Indian" classics like dosas, which are thin and crisp crepes usually filled with a vegetarian stuffing. If you are a practising vegan or vegetarian, the array of choices will leave you and your stomach very happy.  
Goa
Goa is one of India's coastal states, with innumerable beaches that will satisfy the beach bum in you. Being a digital nomad in India may conjure up images of bustling crowds, and while there are crowded beaches in Goa too, you will also find some of the most serene seaside villages here. 
If you are a party animal and can rage into the night after finishing work, North Goa is where you should head to. With dozens of popular beaches, including Calangute and Baga, North Goa has an abundance of things to do, including cheap water sports. Beach shacks are also super common, with the most famous ones being Brittos on Baga beach, and Curlies Beach Shack on Anjuna Beach. Thalassa is a famous Greek restaurant on top of a cliff in Vagator that offers amazing food with jaw dropping views.   
South Goa is for the quieter digital nomad who seeks out peace and serenity after a day's work. If you want to relax over a drink, perhaps go to a spa, and end the night over some fabulous food, listening to the waves crashing on the shore, South Goa is definitely for you. Cheap beach huts that can be rented by the day or week are easily found here. Most beach shacks will have a decent internet connection and lovely staff who will keep the watermelon juice flowing!    
If you're an architecture buff and love to explore old buildings, North Goa, and South Goa, for that matter, have a plethora of quaint churches for you to explore. Basilica of Bom Jesus is perhaps the most famous one frequented by locals and tourists alike. There are also many forts in Goa that offer splendid views of the sea. Don't forget to go explore Fort Aguada in Candolim, and Chapora Fort in Vagator, but perhaps go early in the morning to escape the crowds. 
If you have some time, do a day trip to the Dudhsagar Falls. The name literally translates to 'Sea of Milk' and is an extremely pretty spot to spend the day. One of India's tallest waterfalls, it is even more awe-inspiring during the rainy season. 
Rishikesh
Rishikesh in the state of Uttarakhand is a small town in the north of India. It is considered a holy place for Hindus, as the sacred river Ganga flows through the town. Surrounded by hills and temples, Rishikesh exudes an air of serene spirituality. 
Sit down on one of the many ghats, huge stairs that lead down to the river Ganga, and watch the evening prayer rituals unfold. Whether you believe in God or not, this is an experience that you will be unlikely to forget soon. 
Rishikesh is also home to many yoga retreats. There are a few luxurious resorts that offer yoga classes, such as Ananda in The Himalayas, which is a luxury resort that combines yoga with a world class spa. If you are on a budget, Rishikesh also has many budget hotels and hostels that offer a steady internet connection. 
If you like to work at places with a view, the banks of the river are dotted with little cafes that make for the perfect workspace. Fair warning, in terms of food, it might be difficult to find alcohol and non-vegetarian dishes there. 
The people of Rishikesh, and the state of Uttarakhand as a whole, are genuinely the most hospitable and warm people you will encounter in India. 
Kufri and Fagu
Kufri and Fagu are little towns in the state of Himachal Pradesh. They are about 12 minutes apart by car, or little over an hour on foot. A stable internet connection can be expected as mobile network coverage is fairly extensive throughout the area. 
Both towns offer spectacular views, with Fagu being surrounded by mist and fog almost throughout the year. As far as accommodation goes, while there are a few hotels and luxury resorts in the region, I could suggest trying a homestay to experience the true warmth of the hospitality of this region. The people of Himachal will often go out of their way to be kind and helpful, and this is best experienced by living in one of the numerous homestays in these towns. 
After work, go for walks in the dreamy forests or laze by a fire, the choice is yours. Rest and relaxation are guaranteed both ways! 
Shillong & North-East India
Shillong, the capital of the Indian state of Meghalaya, is an undiscovered destination in the country. Literally meaning "The Abode of the Clouds", Meghalaya is one of North-East India's seven states. Shillong is often considered to be the Scotland of the East with its beautiful surroundings. It is a great base to explore Meghalaya and the other states of North-East India. 
Shillong has its own charms and huge waterfalls, sparkling blue lakes, pine tree forests are only a few of them. Accommodation here is cheap, and the food is out of this world! If you aren't really into spice laden Indian food, you will be pleasantly surprised by the cuisine of North-East India, where the use of fresh ingredients and very little spice is predominant. 

When is the best time of year to visit India?
The beauty of India is that the climate of the country varies from region to region. While India may bring up images of hot, sweltering summers, with cruel and skyrocketing temperatures, it is also a country of extreme variations. 
As a rule of thumb, November-December to March-April is a good time to visit India, as most places will be cool and pleasant. However, I would strongly suggest that you look up local temperatures closer to when you intend to travel. 
There's a reason I say this, and I'll explain with an example. Delhi, the capital of India, is very cold in winters, especially in December and January. The average low in January is about 8 degrees Celsius. Be sure to pack some warm layers if you intend to visit during these months.

On the other hand, Goa is extremely pleasant during December and January. In fact, these two months are often considered the peak season for tourists in Goa because of the beautiful weather. 
If summers are harsh in states like Delhi, Gujarat, and Rajasthan, the same months can be pleasant in the mountain states of Himachal Pradesh and Uttarakhand. Temperatures in these states range from 5 degrees Celsius to around 22 degree Celsius. Nights can still be chilly, and you might even need a light cardigan to ward off the chills. 
Here's a rough guide to the best times to visit some of the most popular places and states in India:
Delhi
The best months are November and December. Avoid the months of March to June, as Delhi gets extremely hot then, with hot, dusty gusts of strong air blowing in from the west.   
Mumbai
Mumbai's proximity to the sea causes it to have a tropical type of climate, without a high fluctuation in temperature throughout the year. The best months to visit Mumbai are January and February.
Goa
Goa is beautiful during the months of November to mid-February. Goa experiences severe monsoons with extremely heavy rainfall and even cyclones in the months of June to September. Travel may be cheaper during this time but is not recommended as most of Goa shuts down during the non-tourist season. 
Himalayan States like Himachal Pradesh, Uttarakhand, Jammu and Kashmir
To experience snowfall in the lap of the Himalayas, the months of December to February are the best. However, if you are visiting India during the summers and want a break from the intense heat in the other parts of the country, the foothills are great during May to November, except perhaps during the monsoon months of July and August. 
North-East India
North-east Indian states like Meghalaya, Manipur, Assam, and Nagaland all experience relatively less harsh summers as compared to the rest of the country. November to May is traditionally considered the best time to visit the seven North-eastern states of India. March to May is an especially good period as the local orchids are in full bloom, especially in Assam. The harvest festival of Assam is called Bihu and is usually celebrated during this time too.   
Western India, including Gujarat and Rajasthan
Western India is a dry region and is also home to the Thar Desert. As such, both Gujarat and Rajasthan receive very little rainfall throughout the year. However, summers can be brutal, while huge fluctuations in day and night temperatures are witnessed during the months of December and January. Hence, the best time to visit is usually the month of November and early December, when the heat has not set in. May to July is usually not recommended as it can get super-hot, and these are the months when the two states get some rainfall.    
South India, including Kerala, Karnataka, Tamil Nadu
The southern part of India includes the states of Kerala, Tamil Nadu, Andhra Pradesh, Karnataka, Telangana, and Puducherry. Most of these states have at least some portion of their border touching the sea. As such, the region experiences a strong tropical climate. 
Depending on your interests, the best times to visit South India vary. For example, if you would like to stick to the more urban areas of the states of South India, visiting during December to February is the safest bet, as the weather tends to be moderate and pleasant during this time. However, if you are interested in trekking in the Western Ghats aka, the Sahyadri Mountain range, it is best to visit just after the monsoon, especially in the month of September, when everything is green and springs to life.
As you will notice from the weather guide above, the one thing you can be sure of in India is that things constantly change from region to region. In fact, even as a local, one never presumes to know everything about the country and its weather! The weather in India is extremely dynamic and can change at a moment's notice.  

What is the cost of living in India?
If you've decided that your next big adventure is to be a digital nomad in India, you are probably looking for information on the cost of living in India. You must have already heard that India is cheaper to live in than most European countries, and definitely cheaper than North America. Well, you haven't heard wrong, but cheap living doesn't even begin to cover the nuances of living in India as a digital nomad. 
We've already covered some of the best places to visit while you are a digital nomad in India. But to keep it simple, let's divide India into a few tiers. This will help you get a fairer idea of what your expenses will look like, should you decide to try your hand at being a digital nomad in India. 
The top tier includes India's top cosmopolitan cities like New Delhi, the capital city, as well as urban centres like Mumbai, Bangalore, Chennai, and Kolkata. There are 8 Tier-1 cities in India. 
The second tier is a list of India's smaller urban centres and has 97 cities on the list, including places like Amritsar, Shimla, Varanasi, Lucknow, amongst others.   
All other cities and towns in India may be considered Tier-3 cities. Here's the Wikipedia entry on the classification of cities by tier, in case you'd like to get a better look at each tier. 
Let's break down the most common expenses in each of these tiers, to give you a better understanding of the cost of living in India. 
Accommodation
In top tier cities like the five mentioned above, accommodation and rent will take up the major chunk of your budget. It is important to note that house rent in India is paid monthly and not weekly or fortnightly, as is common in Western countries. 
Rent in Mumbai is especially high due to the city's housing shortage. Mumbai is the seat of Bollywood, India's thriving movie industry. Thousands pour into the city every day, leading to an escalating need for housing. Of course, there is a huge disparity between rich neighbourhoods and poorer areas. Distance from the city centre may also lead to cheaper rents. A two-bedroom apartment in a good neighbourhood in Mumbai's centre will cost you around 350-500 USD per month. 
Bangalore and Delhi are slightly less expensive than Mumbai, and the average rent of a two-bedroom flat will set you back by about 250-350 USD per month. Hyderabad is cheaper still, with rent for a one-bedroom flat outside the immediate city centre costing around 100-150 USD per month. 
Of course, luxury villas and apartments are also available in all Tier-1 cities, and these will cost upwards of 700 USD to rent per month.
Transport
Transport in India is extremely cheap and versatile. Feeling like some fresh air? Skip the air-conditioned taxis and take a local autorickshaw, a vehicle that is similar to the Southeast Asian tuk-tuk. However, in cities like Delhi, be sure to decide the rate to your destination before you sit in the autorickshaw. Mumbai is much better in this regard, as almost all autorickshaw drivers will switch on their metres as soon as you climb into their gaadhi (Hindi for vehicle. Pronounced as gaar-hi). Auto fares in Delhi are 32 cents for the first two kilometres and 8 cents for every kilometre thereafter. 
Catching a metro train, similar to London's Underground, is also very effective if you need to get somewhere in a hurry. However, these trains are usually pretty crowded, especially during peak office hours. Fares are very cheap and are usually less than a dollar, one way. Apps to find your way across the city can be easily found on the App Store or on Google Play and will make your life much easier. 
It is also common to hire a car and a private driver if you intend to frequently travel within the city and neighbouring areas. Such services can be arranged once you are in the city. Uber in India also offers these services of hiring private drivers on a per hour basis, with most drivers charging about 1.5 USD per hour to drive you around. Catching an Uber in India is perhaps the cheapest form of a taxi service you can get. 
Public transport fares in Tier-2 cities, including autorickshaw fares, are pretty much the same as those of Tier-1 cities. 
Eating and Drinking Out
Here are some examples of prices you may expect while dining out in India. 
A beer, on average, costs less than 2 USD in a restaurant. While buying beer from a retail store, you may expect to spend 1.5 USD.
Similarly, a cup of coffee will cost you about 3 USD in a reasonably upscale café, while a combo at McDonald's will cost you about 3.5 USD. 
A loaf of bread will cost you about a dollar, as will half a dozen eggs. A kilogram of chicken will be between 3-4 USD. 
Utilities
Utilities in India, including the basics like electricity, heating, cooling, water, and garbage pick-up services should cost an average total of 35-50 USD per month. This is of course dependent on the size of the house you rent, as well as your general consumption of utilities like electricity and water. 
It is very common in India to have house help. Most households in India employ the services of a part-time maid, who will dust, sweep, and mop your house for you, as well as wash any used utensils. Your maid will also do your laundry, depending on what you and she agree upon before you hire her. Part-time cooks are also common in India. The luxury of employing house help will cost you an average of 100 USD per month. 
There is no doubt that India is one of the cheapest countries to live in the world. A single person can easily and comfortably live on a budget of 1000 USD, without really having to cut costs on any of the basics. 
Here's a fantastic list of prices per city in different currencies, if you want to dive deeper into the cost of living in India.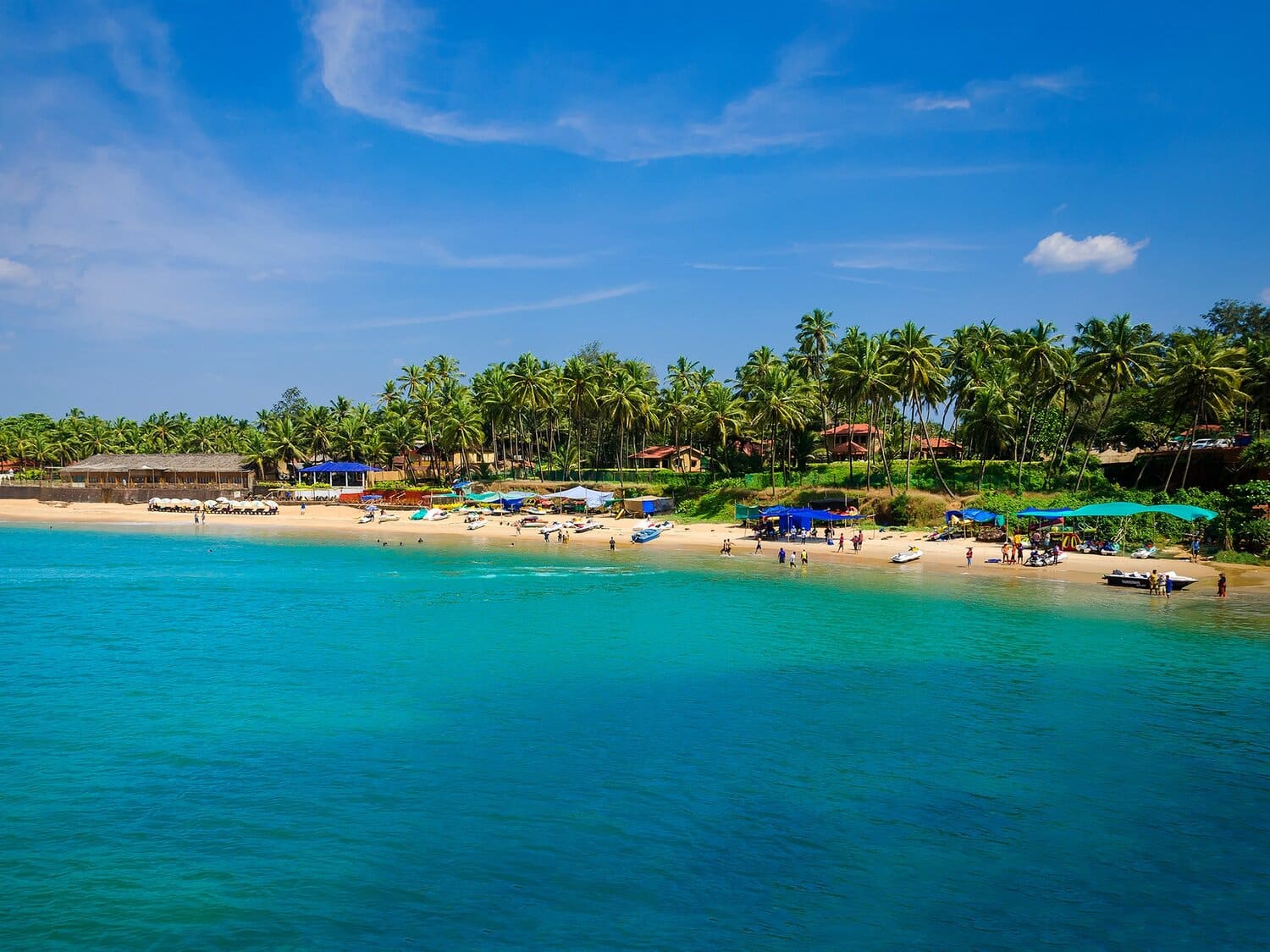 Why is India a great place for Digital Nomads to work remotely?
If you're looking to be a digital nomad in India, here are my top 3 reasons why you should definitely take the plunge!
Culture and Natural Beauty
Very few countries in the world have the vibrancy that India boasts of. Whether it is the diverse landscape, with a desert in the west, to huge mountains in the north, to beaches in the south, and dense forests in the east, India has it all. India also has a rich culture and heritage, unlike any other. No matter what kind of travel excites you, India will most likely have something to satiate your soul. 
India also has so many different cuisines to try, with each region being completely different from the other. While the country is known for its use of spices in its food, each state has its own distinct food that will blow your senses away! 
Cheap Cost of Living
India is as cheap, if not cheaper, as most countries of Southeast Asia. It is definitely cheaper than living the digital nomad life in the USA, UK, Canada, or Europe. It is easy for a person to live very comfortably on a 1000 USD monthly budget. In fact, if one is careful, it is possible to live on far less too. 
Food, and utilities like electricity, water, and house help are all available at very reasonable prices, making your life simple, and your time in India that much better. Internet connections are usually steady and will allow you to work easily from most places. 
Ease of Travel
Being a digital nomad is all about being able to travel on your own time, without having to be stuck to a rigid office job schedule. Making your travel plans so much easier is India's vast and very affordable travel network. Whether it is catching a cheap flight or even travelling local in buses, trains, and shared taxis, every corner in India is connected via some form or the other of public transport. 
While you may have to haggle and bargain over the price of services like hiring a private taxi, there's a certain adventure to doing it all in a country like India. Most drivers will quote a higher price than normal, unless it is from a government fixed-price, pre-paid taxi service (usually found at bus terminals, airports, and railway stations). Bargaining is often a way of them trying to size you up through a bit of harmless fun.

Digital Nomad India Conclusion
While India may not be the first country that springs to mind when people think of becoming digital nomads, it is definitely worth the consideration. I sincerely hope this guide has helped you in your search for what a digital nomad in India should expect in terms of visas required, prices of various daily essentials, and a general perspective of what life in India would be like. 
There are so many places to choose from within the country that even after your time in India comes to an end, I'm pretty certain that you will be left thirsting to explore more of the country. With a culture and history as interesting as India, and a diverse landscape that is sure to enthral you, India is an experience that not many countries can match up to.  
Good luck and until next time, take care and be safe!