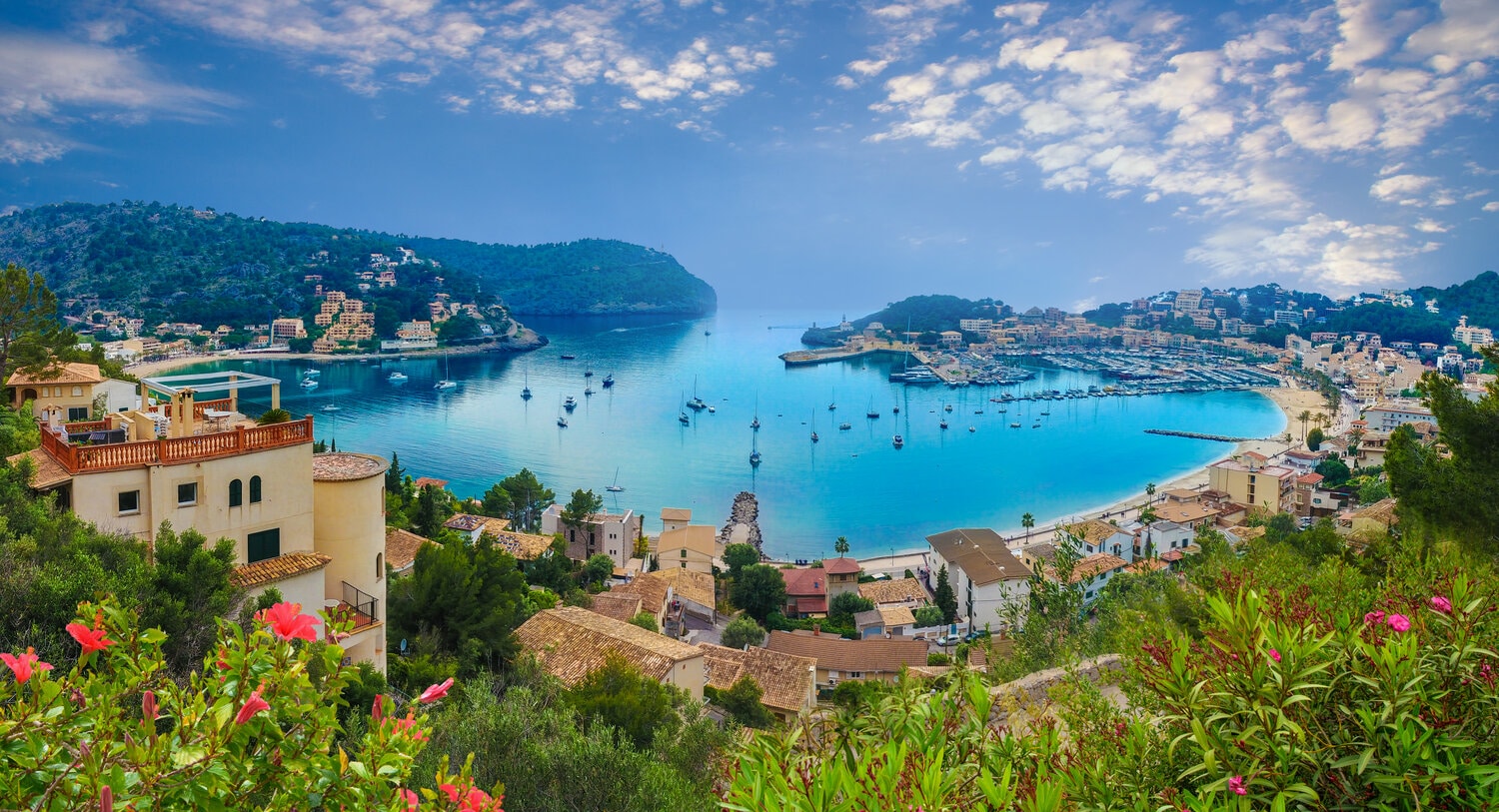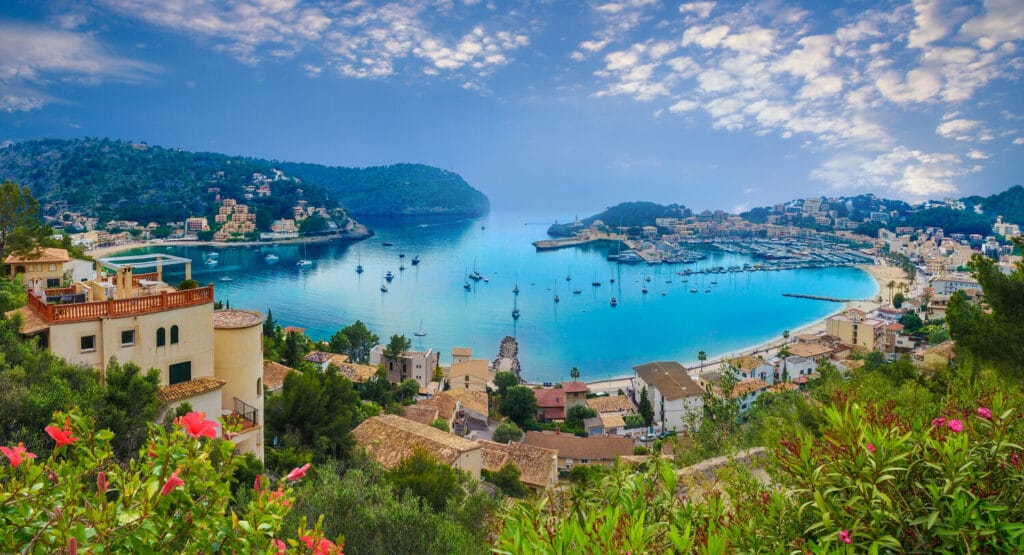 A Digital Nomad Guide to Mallorca
With its numerous of white, sandy beaches, crystal clear waters and inviting mix of culture, cuisine and nightlife, Mallorca has long been a favourite holiday destination amongst tourists from across Europe – but today, it is attracting a whole new crowd, and is fast becoming a favourite choice for digital nomads looking to enjoy a slice of the good life and escape the city.
While capitals of mainland Europe were once the more traditional choice, these days the allure of long, hot summers and some good old R&R is just too strong, and as an island that already attracts a cosmopolitan set of visitors and workers from across the continent and beyond, it's little wonder it's gaining such popularity amongst remote workers looking to make new connections and enjoy the beauty of its natural landscape.
The most populous island of the autonomous province of the Balearics, Mallorca is home to an estimated 900,000 residents and counting, and its international communities are growing. Although the scene for digital nomads is developing more slowly here than in some of Europe's major cities, Palma de Mallorca, the island's capital, is adapting, and with its seafront promenades, bohemian shops and cafes and numerous points of both cultural and historical interest, it makes for a great base for anyone wanting to spend some time living and working remotely on the island. Palma is already home to a large British expat community, and the U.S. consulate is also located here, along with a variety of quality international schools.
Nomad Friendly
Value for Money
Internet
Workspace
English
Food
Safety
Health
Transportation
Friendly
Quality of Living
Living in Mallorca Overview
| | |
| --- | --- |
|  Meal, Inexpensive Restaurant | $15.51 |
| Domestic Beer (1 pint draught) | $2.82 |
| Cappuccino (regular) | $2.20 |
| Loaf of Fresh White Bread (1 lb) | $1.00 |
| Water (1.5 liter bottle) | $0.77 |
| One-way Ticket (Local Transport) | $2.26 |
| Basic Utilities (Monthly) | $128.38 |
| Internet | $49.35 |
| Fitness Club (Monthly) | $50.62 |
| Apartment (1 bedroom) in City Centre | $965.12 |
Currency: Indonesian rupiah (Rp)
[erw_exchange_rates_widget lg="en" tz="0″ fm="IDR" to="EUR,USD,GBP,AUD,JPY,RUB" st="primary" cd="" am="15000″][/erw_exchange_rates_widget]
ATMs
Max Withdrawal: Rp 3,000,000
Withdrawal Fee: Rp 30,000 – Rp 50,000
Use of Credit Cards: Mostly Cash
Digital Nomad Personal Experience in Mallorca
Mallorca is known for its lively party scene, and there's certainly no shortage of raucous clubs and pubs to choose from in some of the major resorts, like Magaluf. But if that's not your cup of tea, then further afield you'll find quaint villages with buzzing weekend markets, and mountainous backdrops, and well-connected towns edged by pretty ports and picturesque rocky coves. Personally, we couldn't imagine living in one of the party resorts, as it just gets too intense during high season – but they're worth a visit on the odd weekend to experience one of the huge events or club nights that have put them on the international map.
Lovers of the great outdoors will have a field day in Mallorca, because the hiking, diving and snorkelling scenes are both excellent, and there are plenty of opportunities to try watersports on the island, too.
We found Mallorca a great place to make friends and mix with locals, expats and digital nomads alike, with the sunny weather and laid-back pace of life seeming to put just about everyone at ease. Although the island can get a little hectic in the high season, April and September – at the beginning and the end – are great times to be here, and international workers and travellers tend to arrive early and leave late, so it's one of the best times to socialise.
If you're a seasoned nomad and are looking for an alternative to the usual big cities, then island life feels like a welcome break from the throng whilst still enjoying your well-earned freedom. Quality of life on Mallorca is higher than in many locations on mainland Europe, so be warned – you might not want to leave.
Work in Mallorca
No doubt one of the first things on your mind when considering a potential move to Mallorca as a digital nomad is whether or not  the internet speed can cater to your needs. When you rely on remote working to earn an income, it's pretty essential – but since Mallorca is a relatively large island, internet speed varies by location.
That said, you'll find the fastest connections in Palma de Mallorca, the island's capital, where they average 40.6 up to 267Mbps. With this in mind, places at the lower end of the scale might not give you the connectivity you need, so consider investing in a wireless dongle to make things a little easier.
The good news is that there are certain places where you can rely on a good connection and fast speeds – particularly some of the island's coworking spaces, which make for a great place to work collaboratively, meet people and get your work done all in one go.
Best Places to Work in Mallorca
Workation Palma
A chic and laid-back workspace owned by a Swedish couple with a passionate belief in the work/life balance, this dog friendly coworking hun encourages its users to make social connections as well as business connections. Its amenities tick all the right boxes, with free coffee on tap, and open-plan seating available at €30 per day, €100 per week or €250 per month, with private desks and offices also available on request. Address: Carrer del Sindicat 74, 07002 Palma / +34 680 578 135
The Hub
Located in the trendy Santa Catalina neighbourhood, The Hub is a unique open-air coworking space with a 9-6 policy. Fully equipped with all the usual mod-cons including high-speed internet (of course!), printers, scanners and projectors, there is also a shared kitchen and chill-out area, with events and workshops regularly taking place after hours. Parking and bike storage is included in your membership, which comes in at a very reasonable €180 per month for a dedicated desk, with general seating rates at €20 per day and €90 per month respectively. Address: Carrer de Caro 70, 07013 Palma / +34 971 179 589
Wohaby
Headed up by Ana Seijo and a team of more than 40 professionals to help guide and assist clients, Wohaby offers high speed internet and all the usual essentials – and the team are also on-call offering services that include design, event planning, writing and cultural communication. There are two locations – one in Palma, and another in Manacor – with rates at €20 per day, €75 per week or a choice of flexible monthly rates. Address (Palma): Carrer del 31 de Desembre 22, 07004 Palma / +34 971 666 161 . Address (Manacor): Carrer de Pius XII 3, 07500 Manacor / +34 629 467 256
WiFi Cafes
Santosha
A friendly cafe featuring good connectivity and plenty of power outlets and a delicious breakfast menu to boot. Address: Carrer del Metge Matas, 07012 Palma
Carpe Diem
A much-loved local cafe in Palma with excellent WiFi and equally excellent coffee. Address: Carrer Foners, 25, 07006 Palma
Cociminia
A cafe and shop in one, expect plenty of seating and the chance to stock up on some fresh goods. The pastries and coffee are on point, too. Address: 60, Carrer del Socors, 07002, Palma
Cafe Placa
A quaint cafe offering up good internet, plenty of power sockets and some of the best sangria on the island – perfect for a post-work drink. Address: Plaza Santa Eulalia 6, 07001, Palma
Best Places to Live in Mallorca
Best Neighbourhoods
As one of the most popular holiday destinations amongst European tourists, Mallorca is perpetually buzzing with life, and its lively atmosphere can, in places, feel overwhelming for those looking for a relaxed pace of life. Places like Cala Millor and Magaluf can feel like a bit too much during the summer months, so digital nomads looking to set up here for a stint whilst still managing to get some work done might prefer to go further off the beaten track to some of the island's smaller market towns, or quieter areas of the city.
Due to demand from tourists, accommodation prices are understandably higher in the main resorts, and it can often prove tricky to secure a long-term let. The good news is that, since Mallorca is a well-developed and established island, almost anywhere you choose to live will be serviced with a range of amenities.
Palma de Mallorca
Mallorca's capital is a hub of history, culture and nightlife and a great place to base yourself while on the island if you're eager to enjoy the best of everything and get a well-rounded experience of all this Balearic beauty has to offer.
Easily reachable from the airport, it's vibrant, cosmopolitan and all-round beautiful, with a range of districts to choose from that cater to all tastes. The bohemian area of Santa Catalina is a great option, and is centred around a vibrant produce market that makes shopping for fruits, vegetables and other foodie essentials easy – and with numerous restaurants and bars to choose from, each one as quaint as the nest, all the amenities you'll need are in easy reach.
The Calatrava district is well-suited to those who enjoy a slice of the quieter life, and with its attractive buildings and pretty, cobbled streets, is centrally located within Palma's Old Town. Also just a stone's throw away from the picturesque Ca'n Pere Antoni beach, amenities here are a little more limited – but you'll still find some cosy cafes (with good wiFi, of course), restaurants, boutiques and art galleries, as well as a couple of vegan shops and one or two web agencies.
If you're a boat owner, then check out the glamorous Puerto Portals, where yachts line the marina and up-market cafes, bars and restaurants with ocean views line the streets
Sóller & Port de Sóller
Set against a breath-taking mountainous backdrop, the sought-after town of Sóller offers a more intimate feel than life in the city, and buzzes with life come Saturday, when the weekly market is in full swing and bustling with locals shopping for fresh produce and flowers.
Offering up a great sense of community thanks to a mix of Mallorcan and international residents and plenty of locally-owned options for dining and drinking, Sóller is active all year round despite a slightly secluded feel, with its winding streets lined with attractive town houses and historic buildings.
if you want to feel like you're living somewhere out of a fairytale then this is the place for you. And, thanks to the nearby Port de Sóller, you're never far from the ocean.
Pollensa & Port de Pollensa
A sleepier area of the island where many shops and restaurants close up for the winter, Pollensa endures slightly harsher weather than elsewhere on Mallorca thanks to its northern location – but that doesn't mean you should rule it out. With beautiful scenery and wild beauty year-round, it is home to many exclusive and luxury properties.
A historic town offering a good selection of amenities and a friendly atmosphere, you'll find a selection of apartments, cottages and fincas on the outskirts, with a compact centre at the heart of the town where you can socialise and meet the locals.
Artà & Capdepera
A pair of quaint hilltop towns located in the northeastern Llevant hills, there is something of a burgeoning German community living in this area of Mallorca. Close to unspoilt countryside and beautiful beaches, if you're looking for a quiet life with good access to everything then this well-served town, with its Tuesday market and good transport links, might just be up your street. Manacor town – which is where you'll find one of Mallorca's main train stations – is easily accessible by road, and will take you directly into Palma in under an hour.
Of course, there are many more options for digital nomads planning on spending some time in Mallorca, since this is a relatively large island – but these are some of our favourites for starters. Whatever vibe you're looking for, you'll have little trouble finding it, as Mallorca caters to all tastes and truly has somewhere for everyone.
Find an Apartment in Mallorca
Finding the perfect accommodation on arrival in Mallorca can be stressful, and even seasoned digital nomads may find it a somewhat tedious affair. But, if you know where to look then the entire process can feel a whole lot easier.
Browsing listings on sites like Craigslist or Apartments.com can be a good place to start, but we recommend doing this prior to arrival. There are few things worse than stepping off the plane in a new destination with nowhere to drop off your luggage and set up home, and since the process can be time-consuming, you're best off giving yourself a head start.
Airbnb is another option, but due to Mallorca's popularity amongst international tourists, many hosts prefer to limit stays to short-term, as taking bookings from holidaymakers staying only a week or two can often prove more lucrative.
Probably the best way for digital nomads and remote workers to secure long-term accommodation is via a digital nomad housing platform, which caters specifically to the needs of working travellers. Anyplace was created by digital nomads, for digital nomads and can connect you up with a suitable living space, with each coming complete with high-speed WiFi and access to co-working spaces. All properties are available with flexible terms, too – which makes it easier to make decisions about your next move on the fly without any red tape.
Accommodation prices vary across the island, but in Palma you'll likely find yourself a smart one-bedroom apartment for around 850-900 Euros, while a three-bed will set you back closer to 1,400. On the outskirts of the city, prices are cheaper, at around 670 Euros for a one-bedroom apartment and 1,000 for a three-bed. Sharing with other nomads or expats is a great way to keep costs low, and is also a good way to make new connections and friends.
Cheap Places to Stay in Mallorca
Son Armadam, Palma
This stylish 15-bed coliving villa is located right next to the beach, and offers up a collaborative living and working style that brings like-minded digital nomads and travellers together under one roof. With two private pools and barbecue facilities, it's the perfect spot to base yourself for the summer months, and features communal living spaces including a chill-out area, gardens, and a yoga and fitness area. Each week, residents have the chance to take part in various different activities, from yoga, diving and hiking to tapas and wine tasting.
Price: 697 Euros p/m 
Find out more at coliving.com
Hostel Sóller
If you're looking for somewhere outside of Palma then the Hostel Sóller is one of the top rated in Mallorca. Set within one of this pretty town's modernist buildings in the historic centre, it's an inspiring and comfortable space that offers high-quality accommodation at a low cost. Set against the backdrop of the picturesque Tramuntana mountain range, it's the perfect base for avid hikers, and with plenty of notable attractions such as the Ferrocarril de Sóller, Sala Picasso y Sala Miro and Museu Soller, Palma is less than 40 minutes away by car.
Price: Around 56 Euros per night.
Find out more and book at hostelworld.com
Mallorca Visa
European citizens of member states of the European Union and the Schengen Area don't require any sort of visa to live and work in Mallorca, or anywhere else in the Balearics or mainland Spain, as you are entitled to do both under the free movement of people law. So, the great news is that you'll be able to stay as long as you like, as long as you have your EU passport and ID card on you.
US and Canadian citizens may also stay for up to 90 days without a visa, and since Brexit, the same now applies to UK nationals, as well as citizens of several other nations globally. Visitors from these nations are permitted to spend up to 90 days in Spain in any 180 day period – any longer, and you must apply for residency. If you're planning on picking up some work while on the island, then you'll also need to apply for a work visa, which can be a complicated process – so be sure to do so well in advance before you arrive. If you're from a country we haven't mentioned, then be sure to check out the country-specific requirements before you travel to avoid any headaches.
While the process of getting yourself set up on the island can be confusing, investing a little time and money into the process to ensure that you get your social security number and empadronamiento certificate (a city hall registration to inform the municipal register where you currently reside), as well as any other paperwork that may be required in your individual case.
Culture and Food in Mallorca
Cuisine
If you're a foodie, then be prepared to bliss out, because Mallorcan cuisine is awash with fresh and delicious flavours, from the subtle to the intense. If you're familiar with Spanish cuisine then you'll know that small tapas dishes and fresh seafood play a central role, and Mallorcan menus are no different in that respect – but it seems to have flavourful flair all of its own. All of the island's cuisine is based on fresh, locally sourced ingredients
These were some of our favourite local dishes we sampled while on Mallorca – and some you shouldn't miss if you're eager to get a real taste of the traditional local fare.
The typical Mallorcan coca is made from a simple dough comprising flour, egg, water, oil, butter and salt. It might not sound very exciting at this point, but wait until you add in the fresh tomatoes, onion, paprika, red and green peppers and a good dash of olive oil. The result is something not unlike pizza, and can be found all over the island – whether in slices from small takeaways, or in their entirety at some of the island's most traditional restaurants.
A vegetarian dish inspired by the island's native produce, Tumbet is a fusion of aubergine (or eggplant) and tomatoes in a rich tomato sauce cooked with olive oil, garlic and salt.
Traditionally made with lean pork or lamb, the Mallorcan frito dish is cooked with onions, potatoes, red peppers and plenty of olive oil, garlic and fennel. Popular across the island, in some places these days you'll find a similar take on the dish which is based around fish instead – and both spins are equally as tasty.
A mouth-watering rice dish that is cooked in a hot, spicy broth, Arrós Brut is a great warming winter dish comprising sausages, mushrooms, spices and an array of other vegetables, all cooked up in a clay pot. A dish that is dark in colour, it has become known as 'dirty rice' – but despite the somewhat unappealing name, it tasted incredible.
A simple vegetable broth comprising peppers and onions, this dish is all topped off with thin slices of rye bread for a cheap eat that is a great choice during autumn and winter.
Culture
Mallorca may be a part of Spain, but it has a distinctive Catalan culture. An autonomous region with its own dialect, customs and traditional dress, evidence of its differences from much of the mainland can be seen almost everywhere.
The island's rich history dates back some 6,000 years, and includes rule by the Phoenicians, Carthaginians, Romans, Byzantines and the Moors.
The capital, Palma de Mallorca, was founded in ancient Roman times, and today its maze of cobbled streets are filled with iconic landmarks including a Gothic cathedral in which many religious relics and works of art can be found – and which was restored by famous Spanish architect Antoni Gaudi at the turn of the 20th century) in a nod to the island's progressive attitude towards the arts.
Bull-fighting is still popular in Mallorca, with events happening throughout the year, and annual festivals such as the Festa de Nostra Senyora de la Victoria, which takes place in Sóller in the month of May offer an intriguing insight into the island's history. Semana Santa, which happens a little earlier in the year ahead of Easter, is the island's Holy Week,  beginning on Palm Sunday and seeing an effigy of Christ carried through the town as part of the La Sang procession on Maundy Thursday.
Mallorca is famed for its unique crafts, and visitors can buy hand-made ceramics and glassware, as well as pearls and shoes, that are unlike any you'll find elsewhere – apart from across the remaining Balearic islands of Menorca, Ibiza and Formentera, where they are also popular.
The island's rich history dates back more than 6,000 years and includes rule by the Phoenicians, Carthaginians, Romans, Byzantines and the Moors. Popular landmarks today include the Palma
The native languages spoken on the island are Catalan and Spanish. English-speakers will enjoy the familiarity of home in the city of Palma which hosts a large British expat community, the U.S. consulate and a number of quality international schools. Many expats and seasonal residents enjoy a relaxed pace of life on the island along with the locals. It is safe to say that living on the Mediterranean island of Mallorca is like a dream come true.
Mallorca Nightlife
Mallorca is perhaps as well known for its buzzing nightlife scene as it is its pristine beaches and seemingly endless sunshine – and from trendy bars to huge night clubs attracting big-name international DJs, there are plenty of options to choose from, whatever your taste happens to be.
The island has a number of resorts to choose from, Palma being the main hub of the action, but Magaluf has made a name for itself as the party capital of the island and attracts a raucous crowd during the high season.
Palma
In Palma, the Paseo Maritimo is where it's at – with a string of pubs and clubs lining the promenade beside the sea. Relatively quiet by day while partygoers are on the beach or sleeping off last night's hangover, the strip comes alive during the early evening with people heading out for dinner ahead of hitting the bars and clubs later on.
Between the port and the cathedral you'll find some of the biggest clubs, perhaps the most notable of which being Tito's. A swanky venue spread across three levels, it is said to have attracted the likes of Frank Sinatra and Liza Minelli back in the 1950s. Although elements of its former glamour still remain, it is a more casual affair these days, with a young clientele and a relaxed dress code.
One of the biggest name clubs in Palma was first made famous in Ibiza, where some of the world's hottest DJs take up residence every summer – and this iteration is no different. A huge club with an exciting party vibe, it operates every night of the week and is a must if you're looking for a big night out.
If a lower key evening is more your style then don't be put off, because Palma also has plenty of great bars to choose from. Garito Cafe, Shamrock Fun Place and XXXX are all great picks and offer a relatively laid-back vibe compared with some of the rowdier options in the vicinity.
The pubs, bars and clubs of Palma aren't limited to the Paseo Maritimo alone, so if you get tired of this particular area then you'll have little trouble finding an alternative place to hang out. If you're easy when it comes to your budget then La Londa offers up some more sophisticated dining and drinking options (blues and jazz fans will love the high-end feel of Bluesville and Jazz voyeur, both of which host live music acts throughout the week) while the iconic Abacanto bar is a must if you're looking for somewhere weird, wonderful and somewhat off the wall.
The old district of Santa Catalina is also a great place to check out in the evening, with a lively village atmosphere and a cosmopolitan mix of places to eat, drink and dance – whatever your vibe happens to be. 
Magaluf
One of the island's major tourist resorts, Magaluf is packed with hotels, holiday apartments, pubs and clubs, and is undoubtedly the most raucous part of the island. If you're truly looking to let your hair down then this might be your cup of tea, but it can feel rather overwhelming during the summer months when it is at its busiest.
BCM Planet Dance is Magaluf's biggest club, attracting big-name DJs such as Calvin Harris and David Guetta to its turntables each year – so if you're the type of person who loves to put their dancing shoes on then don't waste any time heading here on a Saturday night. With capacity for a whopping 7,000 people over its two levels, it has made a name for itself thanks to its breath-taking 3D laser shows and regular theme nights.
HiP-Hop and R'n'B lovers will likely prefer the ambience of Tokio Joe's, while Carwash nightclub caters to an older crowd with tunes from the 70s, 80s and 90s. For cheap drinks and a wacky partner atmosphere, Banana's won't let you down – while those who prefer a night in a bar can still expect a certain level of rowdiness – Coco Bongo's is one of the most popular, but with a free bull ride for stag and hen parties and more cheap drinks, it's not for the faint hearted.
Alcudia
A more family-friendly part of the island, Alcudia – also known as Port d'Alcudia – has plenty to offer, but is somewhat lower key than some of its neighbours. Even so, there are still plenty of bars and clubs to choose from for those who want them. Here. you'll find another Banana Club, while Menta, with its own indoor swimming pool, seven bars and a disco pumps out Spanish club beats every night.
If you need a night off from all the partying or are feeling a little homesick, then try The Fox's Arms – which is a British style pub with a chilled out vibe.
Puerto Portals
The glamorous Puerto Portals is a chic and sophisticated place to spend an evening, its harbour lined with luxury yachts and boats and its streets dotted with upmarket restaurants and bars. A favourite amongst the rich and famous, you might even spot a celebrity while you're here.
Ritzi, which features a luxurious Mediterranean eatery downstairs and a stylish cocktail bar and club upstairs is a great place to set up camp for the evening, and offers breath-taking waterfront views. Meanwhile, BOP Portals serves up Asian-inspired tapas dishes, making it a great choice for a sociable meal with new digital nomad and expat friends, and also overlooks the marina.
C'an Pastilla
Located not far from Palma airport on the south coast of the island, this pretty resort is perhaps one of the trendier and less rowdy areas of the island and features a number of hip bars and restaurants. El Ancla serves up chic cocktails and shishas in a relaxed and laid-back atmosphere, while those looking to carry the night on a little later can head to Uforia nightclub to dance the night away to some of the latest club beats.
Things to do in Mallorca
Renowned for its beautiful landscape, pristine beaches and crystal clear waters as much as for its vibrant nightlife, food and culture scene, there's certainly no shortage of things to do in Mallorca. Here are some of our favourites:
Ruines Romanes de Pollentia

The ancient city of Pollentia will take you on a journey back in time – all the way back to 123 BC, to be precise. Once the capital of the Balearic islands, it remains a popular tourist haunt until today – so arrive early to beat the crowds and the midday heat, and bring plenty of water with you. While you're there, be sure to check out the museum if you're a history buff, where you can find out all about the stories behind the ruins.

Deià

One of the island's prettiest and quaintest villages, Deià is made up of a flurry of cute stone cottages on a hillside, overlooking Mallorca's rugged yet beautiful coastline. Once home to renowned writer Robert Graves, today it attracts high-net-worth individuals and is a popular hideaway for the rich and famous. With its streets lined with chic boutiques and modern art galleries, it's also close to the Cala Deià beach, making it the perfect place to spend the day.

Es Trenc

It's not exactly difficult to find a beautiful beach to relax on in Mallorca; in fact, it's pristine white shores and azure waters are one of its key selling points for digital nomads, travellers and tourists alike. But the cream of the crop has got to be the resplendent Es Trenc – a paradisiacal stretch of powdery white sand with some of the clearest waters on the island. Backed by some epic dunes, it's a protected area and so despite the droves that flock to Mallorca on holiday each year, it has managed to remain beautifully unspoilt. Here, you'll find sunbeds, SUPs and other watersports – as well as a nudist area of the beach.

Ferrocarril de Sóller

Take the centuries-old train from Palma to the pretty countryside town of Sóller for the day to get away from the main throng, which can be overwhelming during the summer. Comprising plenty of shady little squares, it's a great place to relax over lunch or a drink, and if you're up for going a little further, the vintage tram line will take you through orange groves to Port de Sóller so you can explore the coast.

Ruta de Pedra en Sec

The GR221 Dry Stone Route is the perfect place for hikers to get their fix of the great outdoors. Located in the picturesque Tramuntana mountain range, which comprises numerous different walking trails to choose from, each offers up their own brand of breath-taking views and spectacular natural beauty. The Dry Stone Route spans for 170km, and is lined with its namesake dry stone walls, incorporating ancient footpaths, steep cliffs and shady forest to make for a hike you'll never forget.

Miró Mallorca Foundation

Formerly home to renowned Spanish painter Joan Miró, this unique cultural sight offers an intriguing insight into his life and work, and is set within beautiful gardens offering up panoramic views along the coast and dotted with some of the artist's colourful sculptures. In the workshops themselves, the walls are a mish-mash of charcoal sketches, and visitors can partake in a variety of different activities.

Santa Catalina, Palma de Mallorca

The Santa Catalina neighbourhood in Maloorca's capital is a quaint fishing village lined with colourful cottages and featuring a bustling daily market where you can find the freshest fruit and vegetables the island has to offer. In the summer, the area comes alive with flowers and greenery appalling from its balconies, and with more bohemian cafes, bars and art stores than you can shake a stick at, it's a great place to spend a day wandering and soaking up the vibe.

The Cap de Formentor

While visiting a road might not be the first thing that springs to mind when you're looking for things to do in Mallorca, a cruise along the Cap de Formentor is a must. Located at the north-western tip of the island, you'll find a number of spectacular viewing points from which to take some breath-taking photos, with a lighthouse and bar at the end.

Wine tasting in Binissalem

Binissalem is located at the heart of Mallorca's wine-producing region, and is the perfect place to spend a day touring some wineries and vineyards. With many offering wine tastings, some of the highlights include Bodegas José Ferrer, Celler Tiana Negre and ANA Vins, but they're only the tip of the iceberg.

Artà

One of the oldest towns on Mallorca, the arty hillside hideaway of Artà is a quaint stop-off point lined with cute cafes and shops, and offers a level of insight into Mallorcan history you won't find elsewhere. Take the time to wander up to the Sanctuary of Sant Salvador to enjoy some privileged views, then spend the day lunching, shopping and soaking up the atmosphere.

Alfabia Gardens

These shady and verdant gardens offer the perfect place to hide away from the midday heat, and are lined with trees and vegetation which create shady areas in which to lie back and relax with a good book. Filled with the scent of orange blossom and jasmine in the springtime, in summer the homemade lemonade at the gardens' on-site cafe is a refreshing treat you'll want to try.

Puro Beach Club

Much like beaches, you'll have little trouble locating a cool beach club to spend the day on Mallorca, but some are more impressive than others. Puro is one of the oldest, but its charm and sophistication have never faded. With a restaurant, cocktail bar and massage sessions available on site, the real star of the show is its cocktail bar, which serves up the perfect range of drinks to sip as you watch the sunset.
Best Time to Visit Mallorca
As the largest of the Balearic islands, Mallorca enjoys a pleasant Mediterranean climate, with long, hot summers and mild winters.
In Palma, the average temperature ranges from 9.5C (49F) in January and February up to a balmy 24.5C (76F) in August, at the height of the summer season.
In the Sierra de Tramuntana – a mountainous region in the north – the high altitude means that temperatures are somewhat cooler, to the point that the peaks are often capped with snow through the winter.
Thanks to its reliably hot high season, tourists flock to the island for their summer holidays, mainly between June and September, and at a time of year that would otherwise perhaps feel oppressively hot, the sea breeze of this fairly windy island feels welcome. Even so, it's at its windiest during low season – April to October, when the weather can feel cold yet humid all at once, owing to the northerly wind that blows across from France, and making it chillier than the other islands of the Balearic archipelago.
Winter runs from December to February, and despite not being as warm as on the neighbouring islands, is still mild. Expect plenty of sunny days, with periods of rain and wind throughout. In the summer, from June to September, the occasional thunderstorm is likely due to the humidity.
Mallorca for Families
Palma is home to a growing international community, with some 20 percent of the population now thought to be foreign nationals. As a result, a number of quality international schools have opened their doors in the city in recent years, catering to all ages and various different languages and nationalities.
There are also a number of other international schools found elsewhere on the island, in places including Manacor.
Some of the best-rated schools you might want to consider if relocating to Mallorca with children are the following:
Academy International School
Adapted National Curriculum for England/ IGCSE; ages 2-16; co-ed; day; independent; privately owned; 330 students
Originally opened as a nursery school back in 1985, the Academy international School is located 15 minutes from Palma by car, and offers an English curriculum up to IGCSEs. Lessons are taught mainly in Spanish, although there are additional classes in Spanish and Catalan.
Agora Portals International School
Adapted curriculum/ IB Diploma/ Spanish Bach; ages 1-18; co-ed; day; independent; privately owned; 370 students
Owned by Globeducate, Agora Portals is located near the coast at Portais Nous, near Calvia, and offers a choice between the International Baccalaureate Diploma or the Spanish Bachillerato and a full music, sports and arts programme.
American International School of Mallorca
American curriculum/ American High School Diploma; ages 12-18; co-ed; day; independent; privately owned; 150 students
A relatively new school that opened its doors in 2016,  the American International School of America is set in the grounds of the Rafa Nadal Academy in Manacor, and offers a professional tennis programme alongside its curriculum.
Baleares International College
EYFS/ Adapted National Curriculum for England/ IGCSE/ A Level; ages 2-18; co-ed; day; independent; privately owned; 450 students
Located in the city of Palma, this school was founded all the way back in 1957 and has cemented a reputation as one of the best on the island. Comprising two campuses – a large one in Sa Porrassa, which caters to secondary school-aged children, and a smaller one in Sant Agusti, on the outskirts of the city, which takes care of nursery and primary age groups.
These are just a taster of the wide selection of schools to choose from on Mallorca – find out more at Good Schools Guide.
Things to do with children
Thanks to its vast array of beaches, it's not difficult to keep children entertained in Mallorca, and we've outlined plenty of other options in the main 'Things to Do' section – but there are some additional activities that are particularly suited to families that you may also want to consider.
These include:
Palma Aquarium

The Caves of Drach

Bellver Castle
Living in Mallorca
Mallorca Transportation
Mallorca is a relatively large island, but with an efficient network of buses, several trains and a seemingly endless supply of taxis in circulation at all times, it's fairly easy to get around without much stress.
Bus
During the high season, which lasts from May until October, bus services operate to most parts of the island on an hourly basis. The TIB service is reliable, and can get you pretty much anywhere you want to go, with ticket prices ranging from €5-15 and saver tickets also available – but be aware that services are much more limited throughout the winter months. 
In Palma, the EMT service runs every fifteen minutes, with journeys priced between €0.50-€2, running across the entirety of the city centre.
Train
The train services on Mallorca are operated by TIB, and are impressively regular and reliable. You'll find stations in Inca and Manacor (the two main hubs), as well as Binissalem, Sa Pobla, Marratxi, consell, Lloseta, Muro, Santa Maria and Sineu – with three main routes (T1, T2 and T3) operating hourly between these stations. Routes vary in length depending on where you want to go, but you can reach Palma from Inca or Manacor – in under an hour. The price for any journey for non-residents is €4 – while those holding a resident's discount card can enjoy a reduced rate of €2.
Car Rental
With public transport services somewhat more limited throughout the winter months, renting a car is a great option if you want to ensure you have unlimited flexibility when it comes to getting around. Many car rental companies on the island offer discounted deals for long-term rentals from November until Easter of the following year – which is when the high-season kicks off again.
Fitness and Health
If you're looking for a thriving health and fitness scene, then you'll certainly find it here on Mallorca. From yoga classes to fitness bootcamps, there are plenty of options for all tastes and abilities, and several gyms to choose from if you're after a regular membership.
The Body Camp Mallorca
The sister property of the famous Body Camp Ibiza offers up a holistic programme devised by a team of first class personal trainers, chefs and health professionals, and is a fully immersive experience designed to get you feeling back to your best in every sense. Retreats are available for durations of three, four or seven nights, arriving on a Friday, and comprise fitness classes, a healthy menu based around whole foods, and plenty of R&R by the pool. A great chance for health-conscious and fitness-loving digital nomads to make like-minded friends while on the island.
Fit Club Mallorca
A boutique gym and fitness club housing a full range of state-of-the-art equipment, from free weights and cardio to resistance machines, members here can choose from a variety of daily classes including CrossFit and circuits, with plenty of floorspace for those who prefer to follow their own programmes, too.
Sadhana Works
A hub of holistic treatments and courses in Bendinat, Sadhana Works offers regular meditation and Kundalini yoga sessions, plus a range of therapies including craneo-sacral massage and flower essence treatments.
Johanna Janik – personal trainer
If you're looking for someone to whip you into shape while you're in Mallorca, or inspire you to keep up with your fitness routine when fun beckons, then you might want to consider hiring a personal trainer. Johanna Janik is a sports science graduate and licensed PT based in Marratxi, and created custom-made programmes to help clients to reach their individual goals.
Mallorca People
Mallorca is a friendly and cosmopolitan island that is home to more than 900,000 residents in total, and here, you'll have the chance to meet people – including plenty of digital nomads – from all over the world. Many young people in their 20s and 30s relocate to Mallorca to take up jobs in the tourism industry, although some return home for the winter, so things can feel particularly busy with the influx of both tourists and international workers during high-season, and very quiet by comparison come the winter.
Since Mallorca is part of the European Union, it's easy for residents of the Schengen Area to relocate here or spend time on Mallorca as a digital nomad, so it's unsurprising that the international community is largely from across the continent. In Palma – the island's capital – upwards of 20 percent of the population is estimated to be foreign, comprising 151 nationalities in total.
Mallorcans themselves are vibrant, friendly and helpful – so if you're looking to make friends with the locals then you'll have little difficulty striking up a conversation. In fact, you likely won't have to, because the islanders will often do the hard bit for you.
With a variety of hostels and coliving spaces on the island, connecting with other digital nomads and travellers should be just as easy – but don't be surprised if people disappear when the weather cools off around October. Nonetheless, for digital nomads who might be looking to enjoy the natural beauty of the islands without the crowds, it's a great time to be here, so you might want to stick around to find out what it's like without the impact of tourism.
English is widely spoken on the island, but if you can communicate in Spanish or better yet, Catalan, then your efforts will be appreciated. If not, you'll have little trouble communicating and getting by.
Mallorca Insurance and Medical Care
When it comes to healthcare, Spain is a front-runner, offering a world-class system that has an excellent reputation amongst locals and expats alike.
In fact, it is so admired – both nationally and internationally – that it attracts countless medical tourists to the city each year in search of the best possible care, and both the private and public offerings have risen to the challenge to meet demand.
Tourists in Mallorca require some form of travel insurance to cover their medical costs, including any illness or injury during their time on the island. Citizens of EU and Schengen Area member states can take advantage of the European Health Insurance Card (EHIC), which will cover you for any essential medical expenses.
If you don't have insurance (which isn't advised!), you can still pay cash for treatments at the village or town "Punto de Atención Continuada" (PAC), but this can often be a more expensive way to go about it and costs can quickly add up with more complex medical cases.
Residents have more options and can either register for the local health service or take out a private policy, with many opting to do both. In order to become a resident, it is essential that you have a private health insurance policy already, and must pay into the social security system to be entitled to state care.
Mallorca's public health system offers subsidised care for holders of the Tarjeta Sanitària Individual (TSI).
Make sure you are fully covered by reading our full Digital Nomad Travel Insurance guide.
Jobs in Mallorca
Mallorca has been a major tourist destination since the 1950s, so it comes as little surprise that tourism accounts for the lion's share of the island's revenue. If you're hoping to pick up some work while you're here, then jobs in hospitality and catering and hotels can be a great way to earn some extra cash. 
Nonetheless, due to the impact of the ongoing COVID-19 pandemic, the tourism industry on the island has slowed, and with many European nations still locked down it's difficult to predict what lies ahead this summer. However, when things do return to normal, arriving ahead of the summer season is wise if you're eager to secure a role – and with numerous clubs, restaurants, hotels and tour agencies on the island in need of marketing and PR to get their names out there, it's often possible to pick up some freelance work in these areas, too.
On the topic of tour agencies, these can often be some of the easiest places to find summer work, and often no second language is required, as long as your mother tongue is desirable on the island in terms of demand from tourists. Many tour operators will also arrange your accommodation for you, which can save you the headache of doing so yourself – but the downside, of course, is having no control over the quality or who you're sharing with.
Job hunting in Mallorca is best done in person, as things can get a little tricky if you try to do it online. Have a CV prepared ready for your arrival, and be prepared to approach small, local businesses face to face. It's generally easier to secure work with small enterprises like these than with big conglomerates, and a friendly demeanour and a smile can get you everywhere.
Check out our Digital Nomads Jobs Postings to find the best jobs available for Digital Nomads.
Nomad Friendly
Value for Money
Internet
Workspace
English
Food
Safety
Health
Transportation
Friendly
Quality of Living
Cost of Living Mallorca
Life in Mallorca is considerably cheaper than it is in many of the popular European digital nomad cities, and it is this, paired with the excellent quality of life that Mallorca has to offer than makes it quite so appealing. Consumer prices in Palma are a whopping 28 percent less than in London, 31.74 percent lower than Paris, but only 3.68 percent lower than in Barcelona, which is a reasonably affordable city by western European standards.
The amount you can expect to spend each month depends largely on which part of Mallorca you choose to live in, but in Palma de Mallorca, which is one of the most popular digital nomad hubs, you can expect your monthly outgoings, exclusive of rent, to be around 
€650 for a modest lifestyle and including food, utilities and transport.
Of course, if you like to socialise and meet others – as many digital nomads and expats do – then you can expect to spend considerably more. Prices at bars, restaurants have been driven up due to the ever increasing demand from tourism, but even so, they are still relatively cheap and many bars offer some incredible drinks deals for early arrivals, so keep an eye out for them if you're looking to save some cash.
A single-occupancy apartment can set you back anywhere between €650 – €900 per month, depending on where you choose to live. 
A meal at an expensive restaurant will cost around €15 on average, while a cappuccino in a standard cafe comes in at around €2.