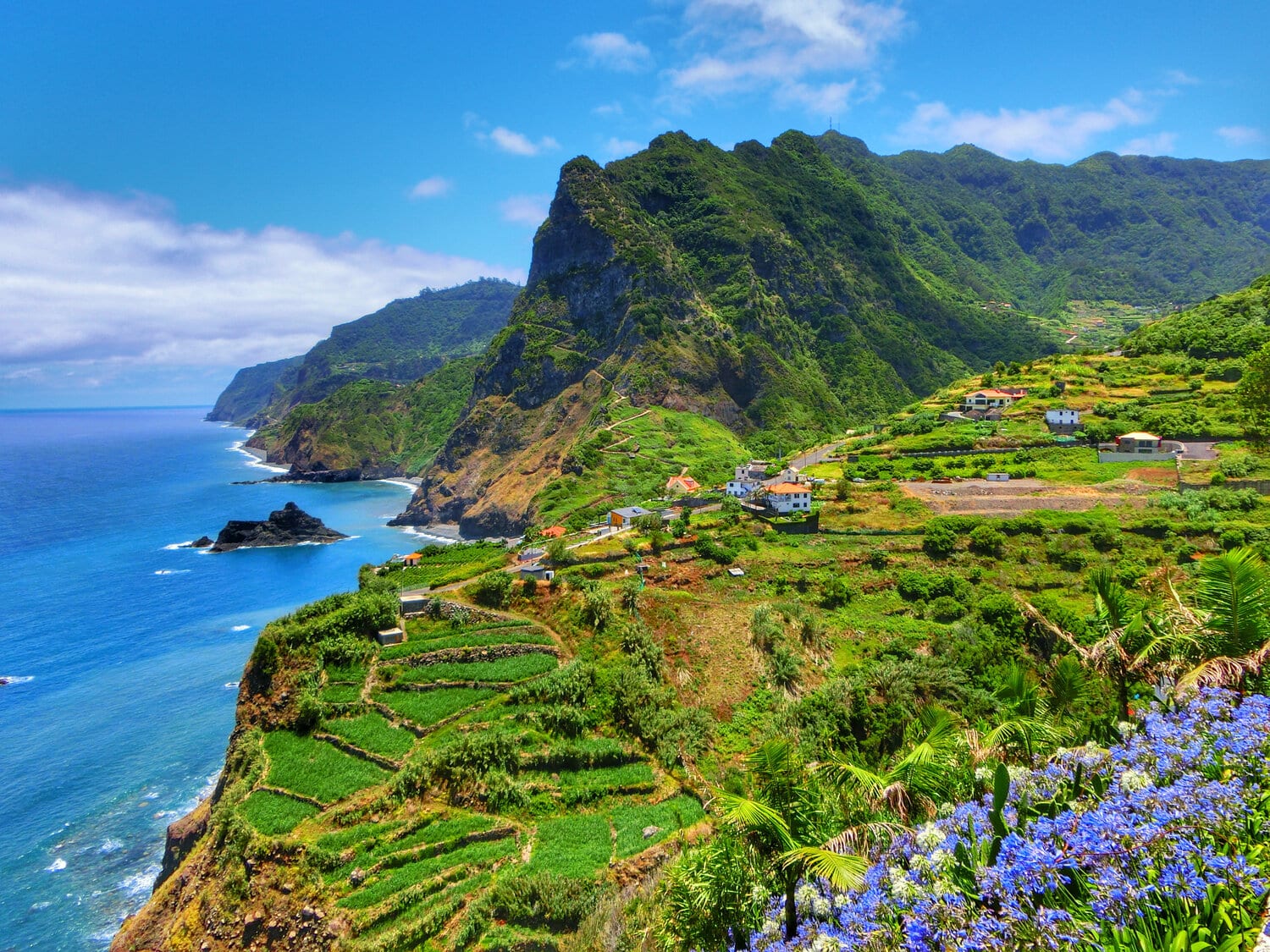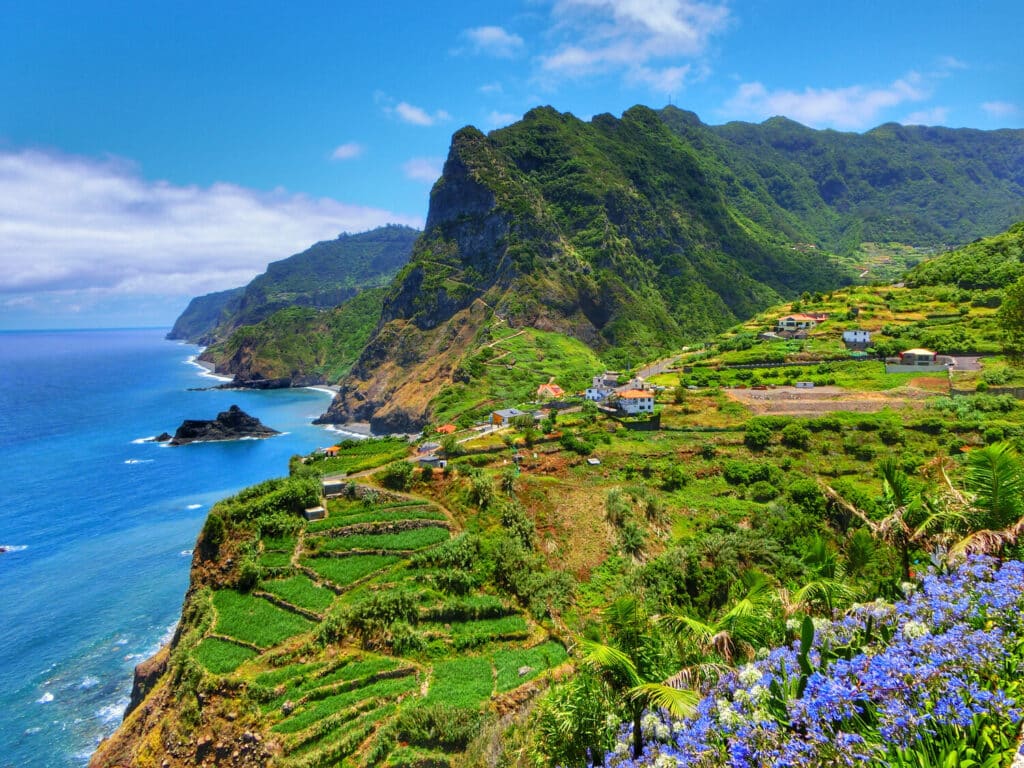 A Digital Nomad Guide to Madeira
Madeira is a group of Portuguese islands located in the Atlantic Ocean just under 400 kilometers (250 miles) north of the Canary Islands. Madeira sits in the region known as Macaronesia and is just 520 kilometers (320 miles) west of Morocco. Although Madeira is technically located on the African Tectonic Plate, it is widely considered European as it is part of Portugal and shares similar cultural aspects to Europe. The archipelago is made up of the islands of Madeira, Porto Santo, and the Desertas. The Portuguese first discovered the archipelago in 1419, and eventually, Portuguese settlers started to live there from 1420.
The beautiful Portuguese archipelago is a nature lover's paradise and is full of natural wonders. Madeira's volcanic island has beautiful black sand beaches and drop-offs, making it a wonderful place for divers in the crystal clear waters. 
When this island was first discovered, it was covered in laurel forests which led to its naming. The island offers tropical flora and fauna fusion with the rugged volcanic landscape, which provides a unique setting for hiking and exploring. Its one-of-a-kind atmosphere has led to the archipelago becoming a UNESCO world heritage site for its natural beauty. This is also how the island got its name from the Portuguese word Madeira, which means wood.
The local dialect is a form of Portuguese, and you will find many locals in the city who can speak multiple languages such as English and Spanish. The currency on the island is Euro.
Nomad Friendly
Value for Money
Internet
Workspace
English
Food
Safety
Health
Transportation
Friendly
Quality of Living
Living in Madeira Overview
Digital Nomad Personal Experience in Madeira
I have been lucky enough to have visited and stayed in Madeira twice over the past decade, and it is an amazing island to be based on. The first time I visited was back in 2014 for a few weeks while I was working on building my online presence as a photographer and artist. The island is located in the Atlantic Ocean, and it is a great place for exploring nature and water-based activities. I spent a lot of time in Funchal, the capital, and staying on a small fruit farm called Fajã dos Padres, around a 45-minute drive away. 
I prefer being based outside the city as I get to experience more of the local way of life and really understood the culture of Madeira. The first time I visited, I stayed during September, which is the grape harvest season, and there were many wine festivals taking place across the country. One of my best memories was visiting a small mountain town and being invited to help crush grapes with my bare feet and drinking in the streets with the locals while celebrating the harvest. For me, these experiences are what make a stay important because I learn something new about a different culture.
Being based away from Funchal allowed me to have access to nature; and I still had stable internet to be able to work from my accommodation. I loved it because I could choose when I wanted to visit the city and see the tourist sites. I had a rental car because I love driving around and having my own freedom to take mini trips.
I remember it being very affordable; local produce was, of course, the cheapest in terms of food and drinks as being an island, most goods are important and therefore have added tax. The second time I visited was by boat, from Spain, which was a fairly short journey across the sea to reach Madeira. It was magical arriving at the island around sunrise, seeing the island from a new perspective in the golden hour light.
Work in Madeira
Madeira is becoming a hotspot for digital nomads, and depending on where you want to be based; you will be able to find facilities to suit your needs. In 2021, the Regional Government of Madeira created a tester project called Digital Nomads Madeira Islands, with the main concept being to attract digital nomads to Madeira by providing a unique experience in the form of what is titled the Digital Nomad Village. The concept is to provide living, coworking, and community for digital nomads on the island. The project began in February 2021 and was on trial until June 30th, 2021, to see if it was appealing to the digital nomad community. Following the success, more digital nomad villages are opening across the island, as of summer 2021, there are three areas. Below is a summary of each location and what is on offer.
Best Places to Work in Madeira
Ponta Do Sol
As part of the digital nomad village setup, there is a free coworking space for anyone who comes to join the village in Ponta Do Sol. The coworking space is located in the John do Passos Cultural Centre in Ponta Do Sol. It is free for anyone who is part of the program to use. The coworking is perfectly located in the center, within walking distance to the restaurants and bars, making it a very convenient place to work from.
Santa Cruz
There are two coworking spaces in Santa Cruz that are run by Hub Remotely under the digital nomad village project. These are Vila Galé and Quinta Splendida. Vila Galé is also a coliving space but is open for just coworking too. A monthly membership will cost around $72 USD, and this includes 24/7 access, an onsite gym, and hot-desking. Quinta Splendida is just a coworking space and will cost around $116 USD per month to have access. Hub Remotely offers great facilities, and these are some of the best coworking spaces to visit for networking. They both offer daily rates, which cost around $14 USD.
Funchal
There are two coworking spaces in Funchal, the capital city, which is the third location of the digital nomad village. Below is a selection of the best places to work from in the city as a digital nomad. 
Cowork Funchal
Cowork Funchal is a great coworking space with excellent facilitates and reasonable prices based in the city center of Funchal. The coworking space is situated in a 300-year-old historical building over six floors with a total of thirteen offices, two meeting rooms, and a great coworking space. They offer a wide variety of memberships, from daily passes to monthly fixed desk memberships. It costs just $14.30 USD for daily entry, monthly hot desking costs $166 USD, and weekly costs just $51 USD. 
Design Centre Nini Andrade Silva
The well-regarded Design Centre Nini Andrade Silva has recently become a coworking café space. If you are looking for a more casual environment to work in, but want fast, reliable internet, then this is the place for you. They have a great selection of food and drink, and to use the space; you have to spend a minimum of around $12 USD in the café. This coworking space has breathtaking views of Funchal and the Atlantic Ocean.
Copass
Copass is a Global Network of Coworking Spaces, and there is one in Funchal. The Coworking space offers hot desks as well as private offices.  The space is located in the city center of Funchal, making it very accessible. Copass is more of a high-end office-type coworking space, so if you are looking for somewhere to get your head down to serious work, then this could be a great place for you. The coworking is surrounded by beautiful natural areas and cafes within walking distance. For hot-desking, it will cost around $16 USD per day.
Best Places to Live in Madeira
Best Neighbourhoods
Depending on where you want to stay on the island will determine the best neighborhood to stay in. It will also depend on the experience you are looking for. Being based in the main city, Funchal will be a very different experience to being based in a village with locals. 
Funchal
Located in the south of the island, the largest city is Funchal, which is home to Old Portuguese colonial architecture, a bustling center, and many activities. The city has an old town area, with the 16th-century Gothic Cathedral and much more. This is the place to be for the history and culture of Madeira.
Santa Cruz
Santa Cruz used to be a small coastal village with its own port from the 15th century. It is located just north-east of Funchal meaning it is close to the international airport, as it is popular with European visitors especially families as the town is great for children. There is a lot to do in the area, from visiting historic churches to a day out at the aqua park.
Machico
This is one of the island's most popular destinations as it has some of the best beaches on the island. In 2008, thousands of tonnes of white sand were imported from Morocco, and the first 'white sand beach' was formed on this island. The Machico River is nearby, and the surroundings are entwined with lush greenery and beautiful forests. There are many bars and restaurants in the area, with a beautiful promenade along the waterfront too. This is a great area for someone who wants to be a little outside the city but still within a good range of facilities. 
Jardim do Mar
Translated in English to mean Garden of the Sea, this is a surfer's paradise. If you are coming to Madeira for the watersports, then Jardim do Mar is the perfect place to be based. Situated on the southwest coast of Madeira is this pretty village by the sea.
Caniçal
This is the oldest municipality on the island, and it takes form as a small remote fishing village on the east coast of Madeira. This is the perfect place to be based if you love hiking and being in a more rural area.
Ponta do Sol
This is the place for beach lovers, and it is situated in the south of the island. The area is made up of picturesque seafronts with pebble beaches and beautiful palm trees that line the promenades. This is a beach lover's paradise as there are four popular beaches in the area for relaxing, which are Anjos, Lugar de Baixo, Madalena do Mar, and Ponta do Sol. It is also home to the first Digital Nomad Village, a concept created and tested in 2021.
Camara de Lobos
Located just a few kilometers from Funchal, this is the perfect place for someone who enjoys more of a relaxed vibe but likes to be within a good distance to the city for occasional visits.
Find an Apartment in Madeira
Finding an apartment in Madeira can be tricky as it is a relatively small island which means that options can be limited. There are the main areas where digital nomads go to stay, such as Funchal, as it is the capital city, or in the new digital nomad villages.
If you are looking for an exclusive digital nomad experience, then the 'Digital Nomad Village' at Ponta Do Sol, Santa Cruz, or Funchal might be perfect for your stay. Due to the hit in the tourism industry in 2020 from the COVID-19 pandemic, a group of digital nomad entrepreneurs approached Madeira with a proposal to repurpose some hotels on the island. The concept was to turn existing hotels that were suffering from lack of business into coliving venues for digital nomads. The project was a success, helping many local businesses to keep afloat as well as accommodating the concept of a digital nomad village. You can find out the different accommodation options on the digitalnomads.startupmadeira.eu website. 
The apartments that are on offer on their website tend to cater to 2-4 nomads, so you can get a great deal if you can team up with other nomads. For example, you can get an apartment to accommodate four guests in Ponta Do Sol for around $1070 USD per month. When split between 4, this is a great deal. In Funchal, you can find small apartments for up to 2 people for around $900 USD per month. At the third location of the digital nomad village, Santa Cruz, you can find apartments for as little as $1000 USD per month.
The best way to find an apartment is by using online search engines or asking around the digital nomad community. Websites such as Air Bnb and booking.com are a great place to start as you can get a rough idea of average costs on the island.
There are typical ways to find accommodation; through Air Bnb and Booking.com; however, you may pay a higher price using these as property tends to be targeted at high-paying tourists. None the less it is still possible to find somewhere nice to stay for your visit, and if you have a slightly higher budget, then this can be a great way of securing something fantastic. The average cost of a one-bedroom apartment in Funchal will be around $2,000 USD per month. 
Other popular search engines are flatio.com and hometogo.com. These tend to have slightly cheaper accommodation options and can often lead to a more local experience. On here, you will be able to find, for example, a studio apartment in Funchal for around $800 USD per month. It may not be close to the city center, so you may need a bicycle or be willing to have a long walk, but it might be worth it if you want to be located just outside the center and spend a lot less.
Another way of finding an apartment is by using one of the more localized rental websites such as madeiradirect.com, gabinohome.com, and idealista.pt. These websites will often have more long-term rental options that cater to digital nomads. Prices can vary dramatically depending on what you are looking for, but it is possible to find a small apartment for around $600 USD per month in the Funchal area.
Cheap Places to Stay in Madeira
Finding low-budget accommodation may be hard as options are limited. Although Madeira is a tourist island that attracts many people from across the world each year, the infrastructure doesn't always cater to low budgets. Being an island means that many things are imported, which often means they come at a cost. This, in some ways, has shaped the tourism of the island, attracting mostly people with a higher budget. That being said, it doesn't mean it is impossible to find low-budget accommodation; it just may involve more searching and perhaps some negotiation.
Coliving
Coliving can be one of the cheapest options for accommodation as it often will combine coworking, which can reduce your overall outgoings. They also tend to have more flexible options, sometimes with shared accommodation. There are two co-living spaces in Santa Cruz. Hub Remotely has a Quinta Medeiros, which is the traditional Madeiran house. It is located within a short walking distance from the center of Santa Cruz and has a selection of bedrooms to rent. This is a great option for couples as the price for double occupancy only increases a small fraction from the single occupancy prices. For example, their cheapest room will cost $690 USD per month; however, if you are a couple, the price will cost just $820 USD total per month. Whether you are by yourself or as a couple, this is one of the best deals in the area as you can also combine your coworking costs, and sometimes coworking is free if you are staying in accommodation suggested by the digital nomad village project.
Exclusive Member Benefits in Madeira
Similar Digital Nomad Destinations
Portugal Visa for Madeira
Madeira has one of the easiest entrance policies in Europe as it is a Portuguese island, so it follows the standard EU entry policies. Anyone who is an EU citizen can enter and roam freely within Madeira; all you will need is a valid passport or ID card that is valid for the duration of your stay, and you can stay for up to 90 days without needing to register with immigration. If you want to stay longer than 90 days, then you will need to register with the local immigration office for temporary residence. If you are from a visa-exempt country, you can stay for a maximum of 90 days, and if you do need a visa, you must obtain it before your arrival.
The best way to find out if you need a visa is to ask your embassy in Portugal or speak with the Portuguese embassy in your home country. This will allow you to find out what you need to do to obtain the correct visa for your stay.
If you plan on working in Madeira and you are not an EU citizen or don't have the right to work, then you will need to obtain a work permit before your arrival. There are many ways in which to obtain a work visa, and this is usually done before you arrive either through the Portuguese embassy in your home country or by the employer or company that will be hiring you.
Culture and Food in Madeira
Madeira is a melting of culture and tradition, with most influences coming from Portuguese and North African traditions. This has shaped and influenced the cuisine of the island to form unique specialties that are associated with the Madeira. From fresh grilled seafood to traditional pork stews, you will find a great variety of dishes in Madeira and something to suit every craving. You will find that each area of the island or each town will have its own unique specialty. It can be really fun to take a day trip to a different village to try something new and unique to the region. 
Traditional Cuisine
Most of the traditional cuisine is made from local produce that can be grown and raised on the island; however, produce is still imported as not everything grows well in the climate on Madeira. The most common ingredient that food revolves around in Madeira is seafood. Whether it is fish from the ocean, trout from the volcanic lakes, or shellfish, there is a huge variety on the island, and it is one of the main sources of food. In the north, you will find 'polvo' (octopus) is very popular, whereas 'Espada' and tuna are popular in the south of the island. In the more central towns, you will find more meat-based dishes, using primarily pork or sometimes trout. 
Seafood
There is a great variety of seafood on the island, from fresh fish on the grill to stewed shellfish; you will find it all. Depending on where you are will depend on what your choices are. Some of the best seafood restaurants in and around Funchal are Restaurante Casal da Penha, which is on the Michelin list, Lareira Portuguesa, Restaurante by the Sea, Restaurante PVP: Pão, Vinho e Petiscos, Franco's Corner and O Fidalgo. You can find fresh seafood across the island, and one of the best ways to scout a good restaurant is to find the fishing villages and check out the restaurants nearby. This is a great way to ensure that there will be fresh, locally caught produce to serve.
Fast Food
If you are craving some fast food in the form of a burger or pizza, then there are a few places on the island to curb that craving other than the typical McDonalds, Burger King, or other chain restaurants. The Snug Smoke House is one of the best restaurants in Funchal, serving up incredible burgers and grilled foods. Other good fast-food restaurants in Funchal are The Red Car (food truck), Esplanada Avenida O Vermelhinho, which is a casual café on the waterfront serving local quick bites to eat, and Do Carmo Snack Bar. 
Vegan and Vegetarian
You will find a great selection of vegetarian and vegan restaurants on Madeira, and most tend to naturally be in Funchal, in the city. It can become more challenging to find restaurants that cater to specific dietary needs the further you get from Funchal. Here are some of the best vegan and vegetarian restaurants on the island; Resturante Olives, Bioforma, Casa Botânica, Taj Mahal Indian Restaurant, Latada do Doutor, Principal Bistro, and Loja do Chá. There are a few vegetarian restaurants just outside the city center that might be worth checking out; Unges Vegan is located just north of Funchal, and Mundo Vegan and MadMarket Restaurant are located just west of the city center, just a short walk along the promenade.
Madeira Nightlife
Madeira has some fantastic options for nightlife, and this is a great way to get to meet new people and explore the country at night. Funchal has the best nightlife scene as it is the main city, so there are bars, restaurants, and clubs providing entertainment all week. Here are some of the best places to go and things to do at night on the island.
Bars
There is a great selection of bars in Funchal, from smart, sophisticated venues to more casual café bars where you can enjoy a more relaxed drink. Some of the best bars in Funchal are Mini Eco Bar, 23 Vintage Bar, Banana's Pub, and Bacchus Bar. You will find many café bars around the island which tend to be more popular with the locals. Drinks tend to be cheaper here, and they carry more of a relaxed vibe. Poncha is a popular drink served on the island, made with aguardente de cana, honey, and lemon juice. 
Nightclubs
There are a selection of late-night bars and nightclubs in Funchal but not so many as you get further from the city. In the more rural areas, the nightlife tends to be more subtle. If you are looking for a night of music and dancing, then GPoint Funchal is a great place to start. Other places that are open later are Babsy Bar, Fortim Do Lido, and Copacabana Disco Bar.
As well as bars and nightclubs there are a number of evening activities that you can do in Madeira. Again most are based in Funchal, but you will find each town and village on the island may have its own smaller evening entertainment options.
Madeira Rum House
Madeira makes some unique and tasty alcoholic drinks, and Madeira Rum house is a great place to go to try a selection of Madeira rums. Located just a short walk from the promenade is the wonderful rum house that offers tasting sessions both during the day and evening, which makes for a great evening activity. 
Sunset Boat Trip
One of the best things to do on this island is to take a sunset boat trip. This is a great way to look back at the beautiful island and to admire the clear horizon as the sun sets behind it. Sometimes it is even possible to see the mysterious 'green flash.' There are many types of boat tours available, but the most common is a three-hour-long catamaran tour which is cost around $40 USD per person.
Things to do in Madeira
Markets

You will find some beautiful markets on the island selling a selection of both local and imported produce as well as traditional crafts and handmade items. Check out the farmers market and the produce market, both within walking distance of Funchal center. If you are there in the winter, there is a Christmas market held on the promenade selling a wonderful selection of handmade gifts. You will find Sunday markets are popular with the locals to do their weekly shopping, and this is a great way to see a bit of local life. Funchal, Santa Porto Moniz, Santa Cruz, Ponta Delgada, and Santo da Serra all tend to have Sunday markets that vary in size, but they make for a nice morning activity. 

Museums

There are a number of museums around the island, showcasing the history of the island, culture, traditions, and achievements. In the northeast of the island is the Old Mill Museum which is a history museum, and Museum da Baleia da Madeira, which demonstrates the history of whaling on the island. On the south of the Island in Funchal, there are over ten museums, all showing something a little different about life on Madeira. Núcleo Museológico, Museu de Electricidade Casa da Luz, Madeira Story Center, Adegas de São Francisco, the Military Museum and more. Museu Etnográfico da Madeira and the Press Museum are located in the southwest of the country.

Art and Culture Galleries

Henrique and Francisco Franco Museum, Sacred Art Museum of Funchal, Museu da Quinta das Cruzes are all located within his region of Funchal, showcasing a great selection of art and cultural history. In the southwest of the country is the Museu de Arte Contemporânea da Madeira, which has a great variety of contemporary art. 

Botanical Gardens

A popular trip to make in Funchal is up to the botanical gardens using the cable car. The cable car provides excellent views across the city and saves a hike to the top where the gardens are located. Jardim Botânico da Madeira is a tranquil garden showcasing a variety of tropical plants and water features. Entrance costs around $15 USD to take the cable car up and enter the gardens. Most people usually hike back down after the visit; however, this is another traditional method of getting back down; by toboggan.

Toboggans

The carreiros do montes (toboggans) are wicker toboggans that are pushed down the hill from the Botanical Gardens. The exhilarating ride was first used in the 19th century by locals as a form of public transport. The basket is pushed by two drivers who hang on the back. A ride down the hill costs around $35 USD for two.

Watersports

There are many watersports activities in Madeira, from sea kayaking to sailing and paddle boarding. This can be done in a casual manner, by simply renting a board at an hourly rate or through a tour. Tours are a great way to see the area as you have a guide and you get a more in-depth experience. However, if you like a daily routine paddle, then perhaps rental is better suited to your needs. It is possible to rent kayaks for around $12 USD per hour for singles and for doubles $18 USD. If you are after a tour, they can vary widely in price depending on how long it is and what is included. For example, a 3-6 hour long kayaking and snorkeling tour will cost you around $40 USD.

Enchanted Terraces Madeira

Being a volcanic island means there are many cliffs and coves, which isn't always ideal for beach days but excellent for adventures. The Enchanted Terraces Madeira is an area of the coastline that is located in the northwest of the island and is a set of coves of water that are generally accessible from the shore. These volcanic pools are very picturesque and make for a great place to spend a few hours swimming in the lush blue waters.

Hiking

Hiking is one of the most popular activities on Madeira as it is a volcanic island which means it has a lot of mountainous terrains with natural waterfalls and beautiful UNESCO forests. The terrain can be difficult to hike, and the weather can change suddenly, so if you are hiking, always make sure to be prepared or go with a guide if you are inexperienced. There are many hiking guide books which you can purchase both before you visit and on the island, so if you are experienced and prefer to guide yourself, then I'd recommend getting one before you go. I was given one by a family member, and it was great to know the different hikes and the levels.

Hike the Levadas

The levadas are an intricate water network designed to transport water across the island for agriculture. These are incredibly well built, and there are around 1,350 miles of levadas on the island. It is popular to hike along them for short or long hikes.

Wine Festival

From the end of August through the beginning of September is the Madeira wine festival. Madeira wine is famous for being a little sweet and thicker than regular wine, and the red is especially good in Madeira. The harvest begins at the end of august, and the country celebrates by hosting carnivals; and this also coincides with European Folklore Week, which makes the atmosphere a unique experience. 

Dolphin and Whale Watching

Madeira is a fantastic island for marine life, and one of the most popular attractions is to go whale watching. You can go on a 2-3 hour boat trip to dolphin and whale watch for around $30 USD. This is a great way to get out on the ocean and witness some of the wildlife that Madeira has to offer.
Best Time to Visit Madeira
Depending on the time of year you choose to visit will determine the weather. Madeira is located in the northern hemisphere, so summer tends to run from June through until September, and then the winter months are December until February. 
I first visited in September, and for me, it was the best time of year to be on the island. It was sunny and still very warm, and we rarely had rainy days, which meant I could hike in the mountains and swim in the sea comfortably. 
The hottest month in Madeira is August, with average temperatures staying around 22.5°C (73°F). The summer months are often sunny and hot, and some days can feel a little humid. If you are looking to take part in watersports, then the best month is September because the average sea temperature is 24°C (75°F). It is also the month with the most daily sunshine hours.
If you happen to be there in winter, then the coldest month is January, where temperatures hover around 16°C (61°F). January is also the wettest month, with an average of 108mm of rain. 
Madeira for Families
Madeira is a good location for families as there is a lot going on in relation to nature and culture, so it is a great place to learn. However, being a small island means that facilitates are limited, and it may not be best suited to every family depending on your needs. Overall the island is very friendly and welcoming to families, and many locals speak English, so it will be relatively easy for your family to fit in.
The best way to find out more information is to ask questions and research on ex-pat websites and pages such as expatica.com or Madeira Expat Community on Facebook. There are two schools which accept foreign pupils which are Escola Internacional da Madeira and The British School and there are plenty of clubs and activities for children to join. There is also the option of hiring a local student as an au pair or nanny to watch your children when they need care.
A challenge for families may be accommodation as it is easy to find apartments and more difficult to find houses to rent that are in good condition and a prime location. Accommodation size may need to be a compromise if you are on a smaller budget.
Living in Madeira
Madeira Transportation
Public transportation in Madeira is limited, but there are some options available. The first time I visited, I rented a car for around two weeks of my stay as it allowed me to have the freedom to explore the island at my own pace and reach the more remote areas. There are a few discount cards and apps that can help reduce your transport costs, such as Madeira Now card, which gives reductions on some transport as well as tourist attractions.
Bus Service
Horários do Funchal is a bus service that runs both within the city of Funchal and across the country. The bus service offers a selection of ticket options, from single journey tickets to prepaid card options, including a Giro pass. The Giro pass can be bought from service points at the bus stations, and the price to obtain a Giro pass is $6 USD. A single which is purchased on the bus will cost you around $2.30 USD, whereas a prepaid ticket costs only $1.60 USD. A day ticket will cost you $5.40 USD, a 3-day ticket $14 USD, and so on. The tickets can vary depending on the service you take and your destination. Rodoeste is the company that runs most of the long-distance bus services between Funchal and towns such as Câmara de Lobos, Ribeira Brava, Ponta do Sol, and Madalena do Mar.
Bicycle Rental
If you prefer to get around by human-powered transport, then there is the option of renting bicycles. This can be a very cost-effective way of combining exercise and transport. There are many rental places around the island, but it is most common to rent one in Funchal. The top bike rental shops are E-Bike Madeira, Happy Bikes, Freeride, 4&2 Wheels, Bike Zone, which are all based in Funchal. Other bike rental shops tend to offer more mountain bike options than road bikes. You must contact the company directly to receive a quote. 
Taxi
There are three taxi apps available in Madeira, and these are Taxiin Madeira, Uber, and Bolt. These are the best ways to get around the city, to and from the airport and sometimes to smaller villages. The reason is that they are a set price, so you know exactly how much the ride will be, and you don't have to worry about carrying cash. Taxis are generally available across the island and should be fairly simple to book, especially with the use of apps.
Rental Car
When I visited the first time, I got a rental car because I prefer to have the freedom to travel where I want and on my own time. This, however, can be a costly option for transport with prices starting at around $500 USD for one week. This is a great option if you are with a group of 4 or 5 other nomads because it will work out to be a little over $100 USD a week, and you have complete freedom. Most car rental companies operate in Funchal Airport, so you should be able to shop around for the perfect deal.
Fitness and Health
There is a good selection of gyms and fitness centers on the south coast of the island, mostly around Funchal. There are a variety of gyms offering a mix of facilities and membership packages. From cross-fit to martial arts, there are all kinds of ways to keep fit in Madeira. 
Some of the best gyms are HUB Fitness Club, MFFitness, Fitness Factory Funchal, Fitness Dream Funchal, and Ginásio 24/7 Anadia. The biggest factor in choosing a gym will most likely be the membership cost. There are many high-end training facilitates that cost a lot more than just a standard gym. Facilities that offer personal training tend to cost a little more, too, as they offer a more high-end experience and service to customers.  An example is the Fitness Factory Funchal which offers a great selection of packages, one which will allow entry for up to one month which is unlimited for just $35 USD per month. This is probably the best-suited package for digital nomads looking to not stay on the island for more than one month. Some of the gyms have outdated equipment so make sure to have a look around a selection before you commit to one.
There are multiple yoga studios and fitness centers that offer fitness classes in Funchal, offering a variety of styles in multiple languages. Centro does Yoga Madeira, Ananda Marga Yoga Madeira, Madeira Yoga, and shiva yoga retreats are the top-rated yoga centers in Funchal, and they offer a variety of one-off classes as well as retreats. If you are based on the east coast, then Emilie Mangoni – Yoga Madeira Island is a great location to visit to do yoga. 
And finally, if you are on a bit of a budget, then there is always the option of making the most of the natural beauty and challenging terrain by hiking, swimming, and running. Trail running is fantastic in Madeira as their terrain is up and down, so you can get in a serious workout. There is also the option of sea swimming and water sports.
Madeira People
The people of Madeira are known as 'Madeirans' or 'Madeirenses,' and they are primarily of Portuguese origin. Portugal was one of the first nations to set foot on the island of Madeira and the surrounding islands, so the locals are mainly of Portuguese descent. Over the years, there have been cultural influences from neighboring countries, such as morocco. The original settlers on the island were mostly farmers, and farming is still one of the largest industries on the island. There are many celebrations 'festas' on the island, and often, they are based around food, harvest, and produce.
Madeirans are religious and follow the rules of the Catholic Church. They are welcoming people, but religion is an important part of daily life on the island, and this must be respected by visitors. You will see many small shrines around the country, particularly in the mountainous regions and on the roads. This is because the locals show respect and pray to God daily, and they are respectful of religion. 
Although Madeirans originated from Portuguese descent, they see themselves as being very different in their dialect, traditions, and crafts. The island has been recognized for its artisan embroidery, which in recent years has been put on the UNSECO world heritage list of traditions.
The locals are passionate about food and drinks, and this is reflected on the island. Each region has its own specialties, which are foraged and harvested from the land. They are also famous for their wine, which has a very different taste to regular wine, being slightly thicker and sometimes sweeter.  
Overall the atmosphere and people of Madeira give a warm vibe to the island and make any visitors feel welcome. Religion is important, but so is culture, history, and preserving tradition through celebration and festivals. This vibrant island has some unique things on offer, and meeting the locals will help you to better understand this island of natural wonder.
Madeira Insurance and Medical Care
Wherever you travel, it is always advised to take out travel insurance to cover medical and your belongings. There are always unforeseen circumstances and accidents wherever you go in the world, so it is advisable to always be insured. Madeira is relatively safe, but if you plan on taking part in watersports or hiking in the mountains, then it is best to make sure your insurance covers you.
Health care in Madeira is good; the standard is perhaps not as high as in mainland Portugal as some services and equipment are lacking and may be dated. There are around ten hospitals/medical centers on the island, most of which are in Funchal, meaning there is little infrastructure outside the city. Madeira is part of Portugal and therefore part of the EU, so almost every insurer will cover healthcare on the island; however, if there are major incidents, you may need to be flown to the nearest hospital in mainland Europe for specialized treatment. Being an island means that sometimes treatment and equipment can be lacking, but most minor issues can be seen to there. 
As for your personal belongings, it is always good to have them insured as there are always unforeseen circumstances. Pickpocketing in crowded places can occur, and sometimes, if items are left unattended, then an opportunity may be taken. So always be vigilant of your belongings and make sure to keep them safe. I never had any problems whilst on the island (both times) and felt very safe across the island.
Make sure you are fully covered by reading our full Digital Nomad Travel Insurance guide.
Jobs in Madeira
Finding a job in Madeira may prove difficult as the island is relatively small and has limited job opportunities, especially for foreigners. If you are looking for a job, then there are many search engines such as glassdoor.com and indeed.com where you can search for jobs on the island. It may be easier to find work if you can speak Portuguese, and depending on your industry and skill set, you might find something to suit your work needs.
Jobs such as teaching English and positions in the travel and tourism industry are the most common form of work on the island, as tourism is a large part of the economy of the island. The best place to find a teaching job is through websites such as teacherhorizons.com, teachabroadjobs.com, and Facebook. Other options are to approach tourism boards and tour companies that operate in Madeira or Portugal. It may also be possible to find casual work at bars and restaurants during peak tourist season, so have a look at the restaurants and bars in Funchal and email to see if they have any positions. You can also go in person once you are there and ask around for work.
Another option for finding work is through volunteering. Although this may not be financially sufficient, it is a way to help reduce costs whilst on the island. There are many opportunities that can be found on websites such as workaway.com that offer accommodation and sometimes food in exchange for your time. Some volunteering opportunities include working with SPAD, a local charity helping dogs, thumbsupforgaia.org is another place where you can take part in volunteering opportunities in their beautiful natural retreat location, and so on.
Check out our Digital Nomads Jobs Postings to find the best jobs available for Digital Nomads.
Nomad Friendly
Value for Money
Internet
Workspace
English
Food
Safety
Health
Transportation
Friendly
Quality of Living
Cost of Living Madeira
The expected cost of living can vary dramatically depending on your lifestyle and budgeting. It is possible to live on a lower budget in Madeira if you are willing to approach life like a local by eating locally and not engaging in high-end tourist activities. However, it is also possible to spend a lot while you are on the island if you want to go on endless boat trips and enjoy eating out at high-end restaurants on a regular basis.
On a lower-end budget, you should expect to be paying around $1,340 USD per month. Broken down, this would be around $690 USD on accommodation to stay at the coliving space in Santa Cruz, which can also include your coworking if you chose to use the space onsite or the free options as part of the digital nomad village. You should expect to pay around $450 USD per month, which is on average $15 USD per day on food, and this would include a lot of home cooking, eating street food, and visiting the local produce markets. Then you can allocate around $100 USD for transport around the island, assuming you have most things within walking distance. You could also rent a bicycle which would combine transport and exercise, so there is no need for a gym membership, or use the gym, which is included in the Hub Remotely coworking space. Finally, you should allocate around $100 USD towards leisure and activities on the island.
If you have a higher budget, then it is possible to spend around $2,106 USD per month. This would be $900 USD for a more luxurious accommodation set up, most likely in the form of a private apartment in Funchal, $116 USD for a good quality coworking space, $600 USD per month, which is on average $20 USD per day on food, assuming you will to eat out daily. If you want to make sure to keep fit, and you prefer to use a gym, then you should expect to pay around $40 USD per month for a gym membership, $200 USD for transport or a rental car, and finally around $250 USD for leisure, assuming you want to take boat trips and take part in some of the more touristy attractions. 
As always, it is possible to keep costs lower if you are willing to compromise. Things like cutting out transport costs by walking, and using running and sea swimming as forms of free exercise will help reduce your costs.