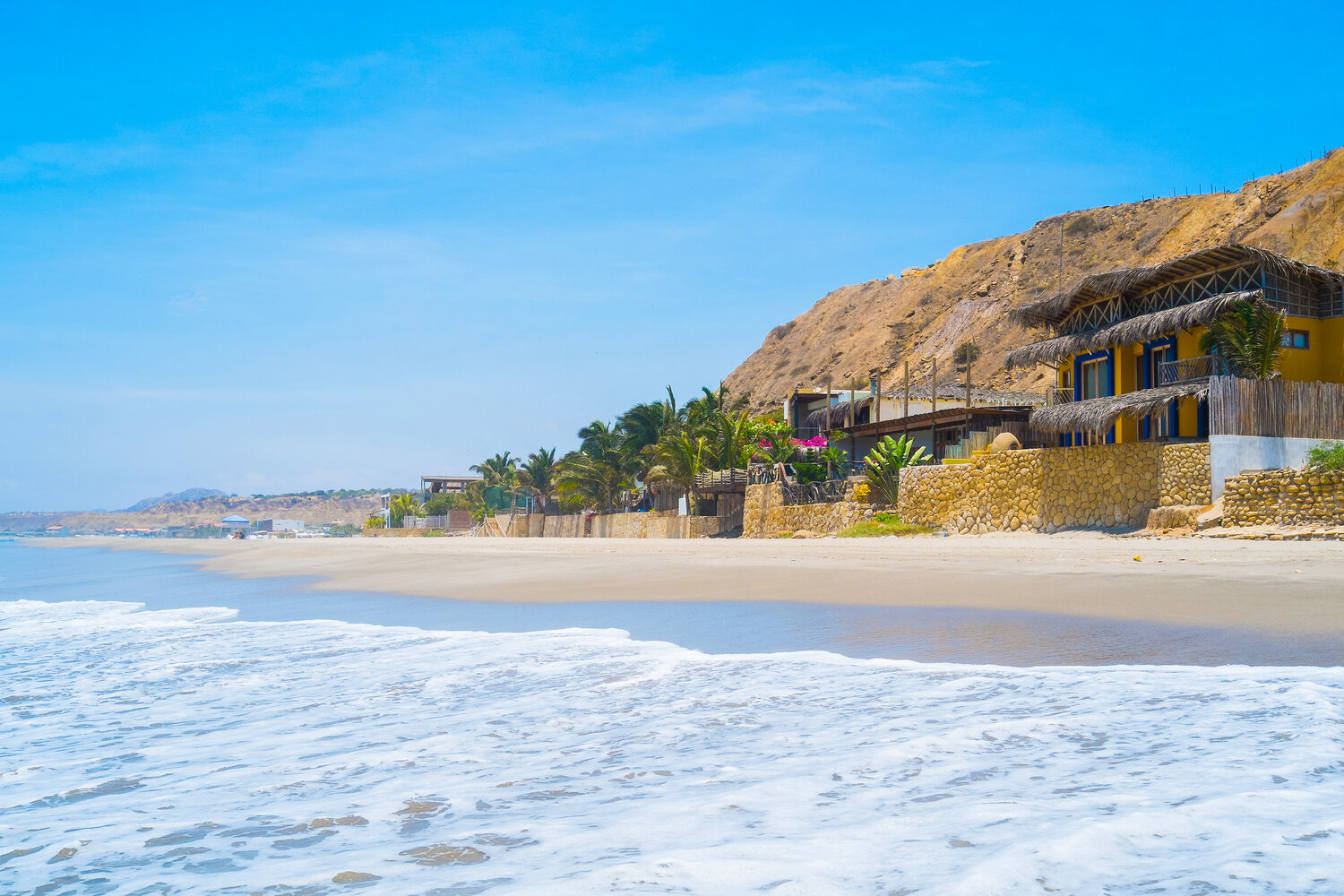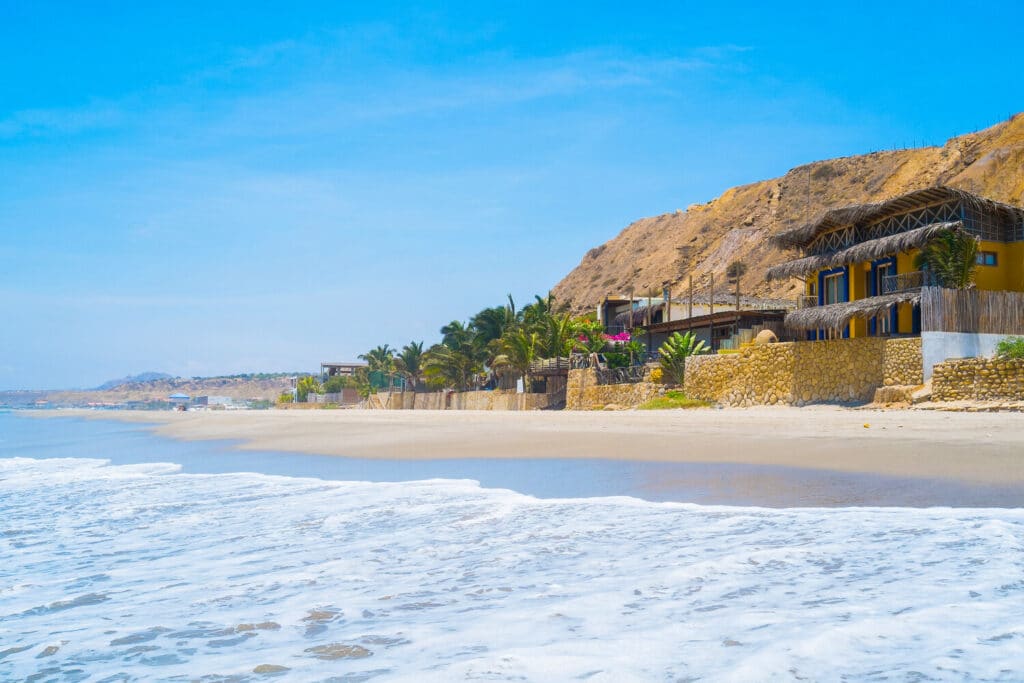 A Digital Nomad Guide to Mancora
Máncora is a seaside area in northeastern Peru, a small tourist city that is located 190 kilometers from Piura and more than a thousand from Lima. Although it continues to be a fishing town, it mostly lives off tourism thanks to its beaches and busy nightlife. The area is known for its sandy beach, the waves of which attract those who want to learn surfing. It is an attractive destination for national and international travelers with a relaxed atmosphere and a warm tropical climate all year round.
If you want a quiet stay, the area has accommodations on nearby beaches such as Las Pocitas and Vichayito where you will have a paradisiacal view with luxury accommodations.
The hotel infrastructure is enormous both in the town and in its surroundings. Although there are quite a few things to do as a family, with your partner, friends or alone, if you are a professional surfing, it would be better to go to Chicama, 600 kilometers away.
The town is not planned to work comfortably online so do not expect a good internet connection or options of places to work comfortably. The best you will find is your own accommodation.
The main street, Avenida Piura, is lined with restaurants and cafes. The bars in the city give rise to a lively nightlife. The Poza de Barro hot springs and mud baths are located to the southeast of the city. Migratory whales visit the waters off the coast and within a few kilometers you can swim freely alongside the giant tortoises of Los Organos.
Whether it's for the party or the nature, this part of Peru is worth the visit.
Nomad Friendly
Value for Money
Internet
Workspace
English
Food
Safety
Health
Transportation
Friendly
Quality of Living
Living in Mancora Overview
| | |
| --- | --- |
|  Meal, Inexpensive Restaurant | $2.50 |
| Domestic Beer (1 pint draught) | $1.25 |
| Cappuccino (regular) | $1.62 |
| Loaf of Fresh White Bread (1 lb) | $0.57 |
| Water (1.5 liter bottle) | $1.04 |
| One-way Ticket (Local Transport) | $0.21 |
| Basic Utilities (Monthly) | $52.22 |
| Internet | $32.49 |
| Fitness Club (Monthly) | $11.25 |
| Apartment (1 bedroom) in City Centre | $140.70 |
Currency: Indonesian rupiah (Rp)
[erw_exchange_rates_widget lg="en" tz="0″ fm="IDR" to="EUR,USD,GBP,AUD,JPY,RUB" st="primary" cd="" am="15000″][/erw_exchange_rates_widget]
ATMs
Max Withdrawal: Rp 3,000,000
Withdrawal Fee: Rp 30,000 – Rp 50,000
Use of Credit Cards: Mostly Cash
Digital Nomad Personal Experience in Mancora
My stay in Mancora was divided between my days in an accommodation in the city and my days in Las Pocitas, on the neighboring beach three kilometers away. Both places were very different and with different pros and cons.
While in Mancora I met a lot of people who changed week by week and I had fun in their endless parties, in Las Pocitas I found the inspiration and tranquility I needed to renew energy and work calmly.
My big battle was with internet speed as I work editing videos and creating content for others. I spent endless hours each week waiting for the files to be shipped. As much as I moved in, the internet connection was still sufficient but not incredible. That was one of the reasons why I ended up leaving the area, although I remember it very fondly.
The most incredible experience I had was not the people, nor surfing, nor the tranquility of Las Pocitas, since I can find all that in other places as well. The most incredible experience was swimming with the giant turtles of Los Organos. At first, I was against doing it because I thought they were caged, but when I realized that they were free in the sea and they were coming because they wanted to, I happily dived in looking for them. How to explain what it is to swim with them? Your chest fills with love and happiness; you feel free, wild and renewed.
In short, it is a place I would return to because I think it will always inspire me to write and smile. If it is for a short or long stay, you will decide it.
Work in Mancora
As you surely know, Mancora is known as a destination for parties and passing through. In general, it will be difficult to work from a hotel room or a house if you are in the center near the clubs and bars. Mancora do not have good options for temporary offices or coworking spaces like other destinations. 
Best Places to Work in Mancora
Selina Mancora
The only coworking space in the area is Selina Mancora (Au. Panamericana Nte. 1215, Máncora) which is a hybrid that adds shared rooms, small rooms, large luxury rooms and a coworking space. It also has facilities in the center and in front of the beach, a bar, movie room, restaurant, swimming pool, terrace for their yoga's classes and live music. Selina's WiFi service offers the highest bandwidth and speed in the area; however, due to local infrastructure and weather conditions beyond their control, guests may experience temporary outages. Average Wi-Fi speed is 15-30 Mbps and the coliving is also pet friendly. Their community kitchen is fully stocked with everything you need to prepare meals, cook, bake, and clean. In addition to silverware, pots and pans, you also have access to a four-burner stove, extractor hood, microwave oven, toaster, kettle, coffee maker, and blender. The prices for the daily hot desk starts at USD 7, the weekly plan starts at USD 40 and the monthly plan at USD 160. However, Selina has CoLive which is a monthly subscription suitable for any period of stay, for a minimum period of 30 days. Through CoLive you pay the same flat rate every month and in return you have access to the accommodation and all other benefits on the site for which you are eligible. The monthly cost starts at 450 USD but you have to bear in mind that in many cases it does not include tax and it will be charged in cash once you arrive at the site (and they do not inform you!). Another consistency issue is co-work availability. It's a frustrating problem to encounter since one of the biggest perks of booking a Selina CoLiving package is access to a comfortable working space.
Besides Selina, your luck will be tied to the season and finding a cafe far enough from the center. But don't expect to find a good wifi connection. Your best option will always be private accommodation with Wi-Fi connection or good hotels.
Best Places to Live in Mancora
Best Neighbourhoods
Mancora, located at kilometer 1165 of the Panamericana Norte, is definitely the beach that attracts the largest number of tourists throughout the year. In the northern limit of the department of Piura, the district of Máncora offers accommodation and restaurants for all tastes and pockets. This is where you will find the greatest variety of bars, discos and restaurants as well as the youngest atmosphere. You can find ATMs, laundries, banks, police, a small hospital, Internet and telephone services, garages and small supermarkets. On its main avenue, the Panamericana Norte, you can see several handicraft stores, clothing boutiques and some surfboard rental venues.
Just 3 kilometers south of the center of Mancora is Pocitas, a beach with a total length of approximately 6 kilometers. At low tide, small natural pools form between the rocks that; together with the beautiful houses and hotels, become a unique sight. It is the most beautiful beach in the area and has a quiet, more exclusive atmosphere, with greater comfort and higher prices. This beach offers accommodation, lodgings and bungalows of good category, some with bars and restaurants with a decent service. Pocitas is an ideal area for those who want to rest between palm trees and the turquoise sea, enjoy a day at the beach with family or your partner.
Los Órganos
Belonging to Los Órganos district, Vichayito is located between the beaches of Pocitas to the north and Los Órganos to the south. Its beach has absolute tranquility and is free of rocks. Here you will find hotels and lodges with restaurants, as well as bungalows, a couple of small stores and a modern beach spa. It is ideal for kitesurfing as the winds blow strong and even between the months of April to November.
Punta Veleros
Los Organos and Punta Veleros, just 13 kilometers south of Mancora, is a good alternative if you are looking for even more tranquility next to a town that has everything you will need. Its busiest beach is Punta Veleros, where there is a small beach condominium with bungalows and rental houses. The Los Organos spa offers good spots for surfing, lodgings, bungalows and restaurants. It also has bus and taxi companies, ATMs, banks, buses and accommodation in the town and on the seashore.
El Ñuro
23 kilometers south of Mancora you will find El Ñuro beach, which is the natural continuation of the Los Organos beach, 7 kilometers away. This small fishing village of no more than a thousand inhabitants, enjoys a spectacular beach where the coastal desert meets the sea. In addition to a pier for local fishermen and several beach houses for rent, El Ñuro has stood out in recent years for its huge sea turtles, an impressive attraction. It is also a good place to surf. When there are waves in Mancora and Los Organos, you will surely find waves here but with fewer people at the beach.
Find an Apartment in Mancora
Mancora is a small and highly touristy area, so finding a furnished monthly accommodation that meets certain comfort requirements, such as air conditioning and Wi-Fi, is not an easy task.
On Airbnb you will find small two-bedroom houses for 1.000 USD and studios between 800 and 1.000 USD. To find luxury houses with swimming pools and facing the sea, you can check vivamancora.com website, which has incredible homes with all the comforts. If your idea is to rent for several months, you can ask them what they have available and how much is the discount since you want a more permanent rental. You can also ask them to lower the price during the low season months, between May and June. The best thing would be to rent somewhere temporarily for the first month and once there start the search for a more temporary place.
If instead you prefer to stay in a hotel near the center with all the comforts and simply go out to eat at a restaurant, the options are many. For example, Don Giovanni Suites consists of spacious rooms with a view to the sea and other internal rooms that are quieter at night. The beach is just one step away, breakfast will start the day in a good mood (scrambled eggs with bread, jam, coffee and juice) and the staff is friendly and attentive. Choose the one with a bed with a mosquito net, it takes you to the tales of The Thousand and One Nights. If what you are looking for are quiet nights and quiet awakenings with a view of the sea, I recommend you look for a hotel in Las Pocitas. It is three kilometers from Mancora's center and a mototaxi costs 3 soles (same price for one person or for three). The Hotel Punta del Mar, for example, has swimming pools and rooms with ocean views and Paraguayan hammocks. I really enjoyed the place but keep in mind that the kitchen closes at five in the afternoon and there are no places with reasonable prices nearby, there is no laundry service and at night only the security guard remains at the hotel. When staying in a hotel for a long time it is always advisable to ask if they have all the comforts one needs and under what terms.
Cheap Places to Stay in Mancora
The cheapest option the camping of Mancora that cost 5 soles (1,30 USD) per night followed by PK's, a hostel on the beach that offers beds in shared rooms for 20 soles (5 USD) per night though it is possible to burgain it for 10 soles (2,50 USD). Although the establishment is quite neglected, it is centrally located and has a kitchen, a large balcony with sea views and armchairs to relax. You will also be surrounded by travelers and near the sea for 150 USD per month. On Airbnb you can also find different options of shared rooms in hostels for 150 and 200 USD per month and for 250 USD a room only for yourself. Once there it is easier to be able to talk to local people and find a room or a house for a cheaper price. Keep in mind that it is an incredibly touristy area so it will not be easy to find something cheap with a certain standard of comfort. My advice is to try between May and June, during the low season.
Mancora Visa
Most of the countries of America and Western Europe do not require a tourist visa to enter Peru, and the maximum length of stay granted by the authorities is 180 days, although it cannot be extended. For a stay for a longer period with other objectives (business, study, work, etc.) it is necessary to previously request the corresponding visa from the Peruvian consulates. Some of the available visas are:
Tourist visa that allows a foreigner to visit Peru for tourism purposes.

Business visa that allows a foreigner to visit and do business in Peru.

Humanitarian visa for Venezuelan citizens who wish to enter Peru, in order to ensure an orderly and safe migration.
To enter Peru, it is an essential requirement to present a valid passport with a minimum validity of six months counted from its entry into the national territory. Citizens of Argentina, Brazil, Paraguay, Uruguay, Ecuador, Colombia, Bolivia and Chile can enter with their national identification document.
On the other hand, people with a passport from Costa Rica, Cuba, El Salvador, Guatemala, Haiti, Honduras and Nicaragua do require a visa to enter Peru and the costs vary according to nationality and can be consulted at the Peruvian consulate.
I always recommend checking in advance the information with the Peruvian embassy in your country of origin as it may change.
Culture and Food in Mancora
In Mancora the options are varied. The most economical are the menus that appear on the posters on the main avenue. There you can eat for 8 soles (2 USD) and choose between 4 starters, 5 main dishes and a lemonade. To enlarge the dishes and lower the price of the menu, just go to eat at the market restaurants. They are less pleasing to the eye but they give you better and bigger portions and the main menu costs only 6 soles (1.50 USD).
La Meche, located behind the market, is a small family restaurant with really good ceviche. Prices vary between 40 and 60 soles per person (10 and 15 USD). It is better to go earlier because this place is crowded after 2 pm. Although, if your intention is to try the best hake ceviche in the area, I recommend going to the Los Órganos pier. There you will find a cevichera called Nirma that prepares it in front of your eyes only for 4 soles (1 USD). Watching her prepare it is a show itself.
Returning to Mancora, Banana's restaurant, just outside a chic clothing store, has prices to watch out for. For example, a large seasonal juice with a ciabatta sandwich for 8 soles (2 USD). The one I liked the most was the vegetarian one: lettuce, tomato, avocado, fresh cheese, mushroom, olive, basil and olive oil. In addition, it also sells fruit cups with yogurt, cereal and honey for 5 soles.
If you have a higher budget, the most pleasant place for a romantic dinner is La Sirena d'Juan, which has a menu with pasta, fish and seafood. They use national inputs such as quinoa and also offer classic dishes with the catch of the day. The dishes are impeccably presented and their desserts are delicious. For example, you should ask for the apple crisp. 
La Mosca en la Sopa has Argentine owners who offer gourmet dishes and warm service. The menu has seafood, pasta and meats, as well as a delicious piña colada. I recommend the smoked tuna.
Café del Mundo, almost at the entrance to Máncora, has French owners who offer healthy food. Their dishes are a French-Peruvian fusion where you will find from ratatouille with garlic prawns and salad to a falafel burger and sea salads. It is an excellent option for a light, delicious and healthy lunch.
Since mid-2005, Antonio Ortenzio created his own Ristorante Pizzeria Volentieri, in the heart of Máncora. Here you can try Italian stone pizzas cooked in a wood-fired oven as well as gnocchi, ravioli, lasagna and tagliatelle in a family atmosphere with the best Italian traditions. ¡Buon appetito!
Mancora Nightlife
The nightlife in Mancora is famous for being fun and crazy. Its night offers good parties in a beachy and relaxed atmosphere. Here you can drink alcohol almost anywhere, from hostels to hotels and restaurants.
Atelier is a good place to start the night with their happy hour and delicious cocktails. Its menu features Peruvian and Latin American wines and a classic cocktail selection. It also has weekly live music shows, which is not a common thing in other places of Mancora.
At the Wild Rover Hostel you will find the only Irish bar in the area with excellent cocktails and a local atmosphere. Their pool parties with guest DJs and live music are famous in the area.
If you want to go to an authentically Peruvian bar, I recommend La Tienda, just to the right of La Sirena d'Juan restaurant. It is a little luxurious bar, with plastic chairs and a local atmosphere that makes you experience another Peru.
The biggest parties in Mancora take place in Loki del Mar. Every night is partying in this hostel full of travelers from all over the world. If you want to have a good time, have fun and meet new people, this is the place.
At Wiracocha Surf Restobar you can enjoy typical cocktails in front of the beach with your feet on the sand. This place is what you need to reconcile with the world. As the sun sets, the music begins and your outdoor bar turns into a party.
Along the beach there is a row of bars with dance floors where you can enjoy the best Latin rhythms of the moment. These bars usually close early in the morning so the vast majority of people end up here to watch the sunrise to the rhythm of the music.
Tip: to alleviate the hangover the next day, drink coconut water.
Things to do in Mancora
El Ñuro pier

One of the adventures in Mancora that generates the most emotions is whale watching. Any agency will want to charge you a fortune for taking you into the sea. A cheaper option is to go to the El Ñuro pier at 6 am and take one of the tourist boats that leave from there. The cheapest I could bargain for it was for 50 soles (13 USD) but it depends on how many people there are for the tour. Perhaps, on the same day the price can be lowered a little more. The whale season runs from the first of August to the end of September / October.

Swimming with Turtles

Swimming with Turtles is one of the most recommended activities. The giant tortoises are completely free inside the ocean but they stay by the dock because the fishermen throw fish at them and take care of them due to tourism. For a comfortable walk you can hire the tour but the place is not far and if you travel accompanied it will be cheaper to go on your own. The round-trip by bus to El Ñuro costs 12 soles (3 USD). Another option is to take a mototaxi (tuc-tuc) for 7 soles (2 USD). To return, to Los Órganos it costs 1 sol (0,25 USD) and from there you can get remises for 4 soles (1 USD). Once on the beach there are two options: pay five soles to enter the pier and go directly to an area with turtles or swim from the beach around the pier where they are scattered. The life jacket costs 2 soles (0,50 USD) but it is not mandatory to use one. On the way back, don't forget to stop by the cevicheras on the Los Órganos pier for a plate of hake ceviche prepared in front of your eyes for 4 soles (1 USD). It was the best one I try in my life.

The Mud Pools

The mud pools, in Quebrada Fernández and Zorritos, are also a good choice to spend the day. The first option is approximately 30 kilometers away from Mancora. I do not recommend it since it only has a small well where so many people go that when you want to grab mud you end up with a lot of other people's hair on your hand. Instead, Zorritos has three pools with different mineral properties. The place is called Hervideros and it is 65 kilometers away. Here you will find more locals than tourists and also the pools are larger. They are filled with the rising of the sea and at low tide the locals enjoy warm water and mud with special properties for the skin.

Manglares de Tumbes National Sanctuary

The tour to the Manglares de Tumbes National Sanctuary costs 80 soles (20 USD) but you should consider that they crowd many people together and sometimes it can be uncomfortable. The boat takes you to visit the different islands with characteristic flora and fauna from Peru, such as the Island of Crocodiles, the Island of Love and the Island of Birds with hundreds of colorful birds flying over it. The sanctuary consists of 2.972 hectares where the fishermen of black shells go to collect them among the roots of the mangroves. In the center of Mancora there are many tourism agencies that show the images of the tour on their televisions so that you can have a better idea of what you will experience on the tour. If you prefer to do activities on the beach and without leaving Mancora, you can take kite surfing and surfing classes. Beginning children and adults can take classes at one of the many schools that display their posters on the beach. For those who already have an idea, equipment is rented at Victors Surf Lessons. When I was there the waves didn't look good to me. All the advanced surfers that I met where to Chicama to surf, a little further south. There you will find "the longest perfect wave in the world", according to the magazines and those cute crazy people who fly on the board. Therefore, I recommend Mancora only for beginners.

Jet Skis

Jet skis and quad bikes are also rented to stroll along the beach. A more interesting offer is that of Eco-Fundo La Caprichosa with a canopy-aeromoto circuit consisting of four lines of cables that run 1.600 meters down the mountain. In addition, along the beach you will see men with two horses that come and go from one end to the other offering rental services. It costs 10 soles (2,50 USD) for half an hour if you bargain enough and you have the option of galloping or going quietly with their owner monitoring you. I recommend considering how well the horse is treated and not encouraging animal abuse.
The good thing about the area is that you can spend a peaceful night away from the center or a crazy night in one of its bars facing the sea. Drugs and alcohol seem commonplace, although it is not always obvious since each tourist is in their own world. The night of Mancora is why most people visit it.
Best Time to Visit Mancora
The geographical position of the area locates the beaches of Piura, Tumbes and Mancora in front of the crossing of the two great marine currents: the cold Humboldt that comes from the south and the warm Equatorial or El Niño current that comes from the north.
The confluence of these two currents creates an excellent semi-tropical and dry climate, with an average relative humidity of 60% and with more than 300 average sunny days per year. Temperatures range from 21 °C to 34 °C. It also has moderate southerly winds and almost no rain, except in exceptional summers.
The ocean temperature varies between summer and winter. In summer (from December to April) it ranges between 22 °C and 26 °C and the rest of the year between 18 °C and 21 °C. The beaches located south of Cabo Blanco have lower temperatures due to the greater influence of the Humboldt Current.
One of the best reasons to visit Mancora and nearby beaches is its amazing climate, which remains almost unchanged throughout the year.
Mancora for Families
Mancora is an ideal place to vacation with children but not to live there mainly due to the lack of a good hospital and good bilingual schools. The local schools have a very low level of education and completely in Spanish. Also, although places like Los Organos and Las Pocitas are quite safe, in the center of Mancora you will see drug use and robberies due to the high turnover of people and tourism.
However, for short stays outside the school period or if you teach your children from home, areas like Las Pocitas have enormous tranquility that will allow them to play in nature. Keep in mind that the friends you make may rotate according to the tourist seasons, although there are many foreigners and locals who live in the area.
Living in Mancora
Mancora Transportation
If you are not yet in Mancora and you are wondering how to get there, the airline with the best deals from Latin America is LaTam. The closest domestic airports are Talara (72 km), Tumbes (102 km) and Piura (190 km). The international ones are those of Lima (1.165 km) and Guayaquil in Ecuador (470 km). All of them have transport agencies (bus, minibus and taxis) that connect with Mancora. From Guayaquil the trip costs approximately 20 USD and from Lima around 30-35 USD.
Some of the long-distance transport companies in Mancora are: Oltursa (www.oltursa.com.pe, 225-4499 / 224-1839), Civa (www.civa.com.pe, 332 5236/423 2755) and Cruz del Sur (www.cruzdelsur.com.pe, 225 6163/215 5031).
Once in Mancora, the town is quite small so a walking tour is ideal. You can take walks along its extensive boardwalk where both during the day and at night there are bars and restaurants to taste the local cuisine. You can also walk through its small pedestrian area full of handicraft and souvenir shops or on its main street where you will find clothing stores, markets, bars and restaurants. You do not need any means of transport to visit these places.
To cover slightly greater distances, you can take a motorcycle taxi, or even public transport to reach more remote points such as Los Órganos beach. For example, the round-trip by bus to El Ñuro costs 12 soles (3 USD). Another option is to take a mototaxi (tuc-tuc) for 7 soles (2 USD). To return, to Los Órganos it costs 1 sol (0.25 USD) and from there you can get remises for 4 soles (1 USD) back to Mancora.
Another widely used option is the private minivan to cover some short trips such as to Punta Sal Beach. The cost is usually per person and you will have to wait for the car or minivan to fill up for the driver to start the car. These minivans are stopped on the Panamericana which is the street with all the businesses, and it will be very easy for you to find them.
Fitness and Health
Among the gyms in the area is the Xserfit Mancora Fitness Center in the town of Mancora and also at Hotel Las Cabañas de Antica in Vichayito. Every Friday they have a class where you work with dumbbells, discs, garters, isometric, localized, box and functional exercises that make the class entertaining, dynamic and intense where you will burn many calories and increase your aerobic capacity to the rhythm of the music. They also have spinning classes, localized, yoga, aquaerobics and the machines area. They are open every day from eight in the morning.
You can also find hotels with gyms such as the Hotel Punta Ballenas Inn. Some of them charge a pass per day to be able to train at their facilities.
Another possibility is to learn surfing, kitesurfing or Stand Up Paddle in some of the schools in the area such as Wild Kite Peru, Inka Warrior Surf School or On Shore Kitesurf School.
Inka Warrior Surf School is located in front of the Mancora surf break. They offer private surf lessons for all levels, surfboard rentals, stand up paddle board lessons and rentals, and surf trips. They open from 6:30 am to 6 pm.
Mancora People
The people in Mancora and in the north of Peru in general are friendly, calm and very traditional in terms of the roles of women and men in the house. Every day they are becoming more westernized but still preserve many of the traditions of yesteryear. For example, the Inti Raymi festival. This is the oldest Peruvian tradition in the Peruvian Andes, and it is an Inca celebration in honor of Taita Inti (the father sun), which takes place on the winter solstice of the southern hemisphere, that is, on the longest night of the year. Nowadays it is also considered a ceremony of tourist interest since it has the presence of foreign visitors.
Also, Peruvians are very Catholic and celebrate Saint John's Day. This is the largest and most popular celebration in the Peruvian Amazon, which takes place between June 21 and 27 every year. This holiday originates from the introduction of Christianity in the region by the Catholic missions, which declared Saint John the Baptist as the Patron Saint of the Amazon. Among the activities that take place on this date are book festivals, handicraft fairs, concerts by musical groups, dances, stoves, the election of Miss San Juan, and the use of parades and typical clothing of the area.
It is also worth making the 500-kilometer trip to witness the Marinera Festival that takes place in Trujillo, between January 20 and 30. The great Marinera contest is one of the most beautiful Peruvian dances, where people of all ages participate with dances full of joy, agility and elegance. In the festival there are also parades and competitions of horses with the famous Peruvian horse that moves in such particular way.
The north of Peru is full of traditions and festivities both Catholic and from the indigenous peoples of the area. Its people are always willing to tell you about their roots and customs since foreigners are not always interested in them.
Mancora Insurance and Medical Care
In addition to a small state hospital that provides basic health care and serves mostly the residents in Mancora, there are institutions and private clinics that have different more specialized health services. In case of more complex problems, you should be transferred to nearby cities such as Piura, Tumbes, Talara or even the capital of the country. I recommend paying a private insurance because even in the largest cities, state hospitals have too basic facilities and medical care that can be inefficient.
Currently there are several pharmacies throughout Mancora. Many of them are pharmacy chains from Peru, with a good assortment of medicines and diapers. They mostly accept credit and debit cards.
Some international media and tourist guides wrongly show Mancora and its surroundings as a zone of yellow fever or malaria. There are no records of such diseases here in recent years. The usual illnesses are mild poisonings and stomach upset, mainly due to water or bad fish. It is always advisable to buy bottled water and avoid food stalls that do not have adequate hygienic measures or that are not very crowded.
Dengue disease also exists in the area, so it is recommended to use mosquito repellent all the time.
Another factor to consider is the sun and skin burns. I recommend the use of sunscreen during the day.
Make sure you are fully covered by reading our full Digital Nomad Travel Insurance guide.
Jobs in Mancora
To work in Peru legally without being a native of the country you need a working visa. However, many employers in different areas operate informally and hire staff without the need for a work permit and without declaring them as employees.
If you are looking for a job as a professional, Mancora is not a good place and it will be more convenient for you to go to Lima or work remotely through internet. In the town you will find mostly low-paying jobs related to tourism and the hotel sector. Keep in mind that the minimum wage in the country is 236 USD per month so don't expect much more than that for a simple job at a hotel or at a restaurant.
Check out our Digital Nomads Jobs Postings to find the best jobs available for Digital Nomads.
Nomad Friendly
Value for Money
Internet
Workspace
English
Food
Safety
Health
Transportation
Friendly
Quality of Living
Cost of Living Mancora
The cost of accommodation varies a lot according to the comfort you choose. You can find a bed in a shared dorm in a house with few amenities for 150 USD a month or a house with a pool for 2.000 USD a month. 
Regarding transportation, a motorcycle taxi (tuc-tuc) in Mancora or Las Pocitas will cost you 1 USD. The round-trip by bus to El Ñuro costs 12 soles (3 USD). Another option to El Ñuro is to take a mototaxi (tuc-tuc) for 7 soles (2 USD). To return, to Los Órganos it costs 1 sol (0.25 USD) and from there you can get remises for 4 soles (1 USD).
The cost of food also varies greatly depending on what you want to eat. Peruvian food is one of the most varied in South America due to the Spanish and Asian influence. The basic ingredients are rice, potatoes, corn and cassava, which are very cheap. They also cook a lot with chicken and pork. Street stalls typically sell take-out for 1 to 2 USD, while simpler street restaurants have menus for 3 to 15 USD. Other random prices: a beer varies between 5 and 8 soles (1,30 and 2 USD), a cappuccino 7 soles (2 USD), a 650 cl bottle of water 2 soles (0,50 USD), one kilo of tomatoes 3,6 soles (1 USD) and one of bananas 3,4 soles. The average cost of a kilo of fruit is 5 soles (1,30 USD).
However, if you want western food like a pizza with beer for one person, the prices go up to between 10 and 20 USD. Gourmet food also has higher prices although they are still cheap for what you get.