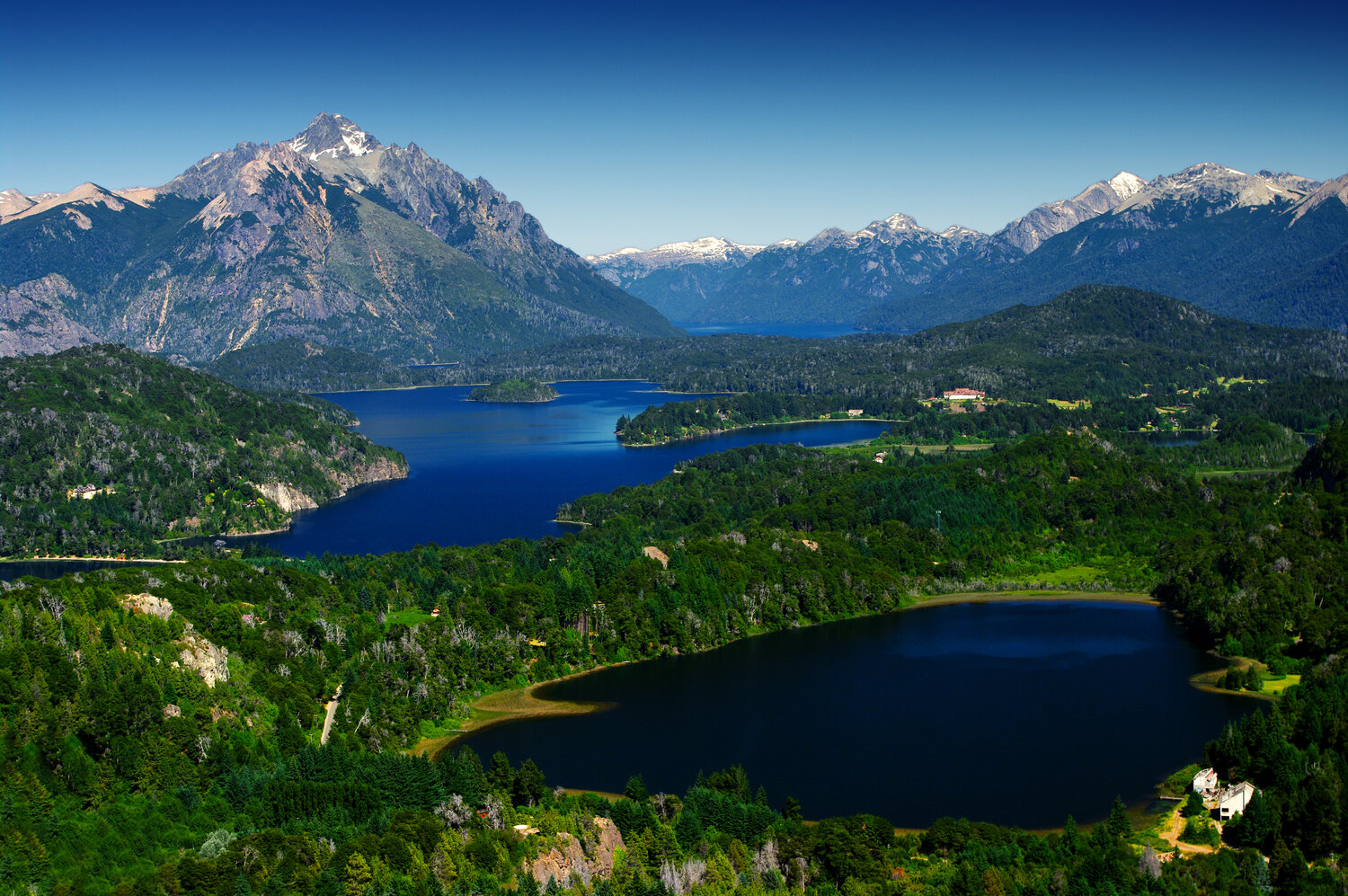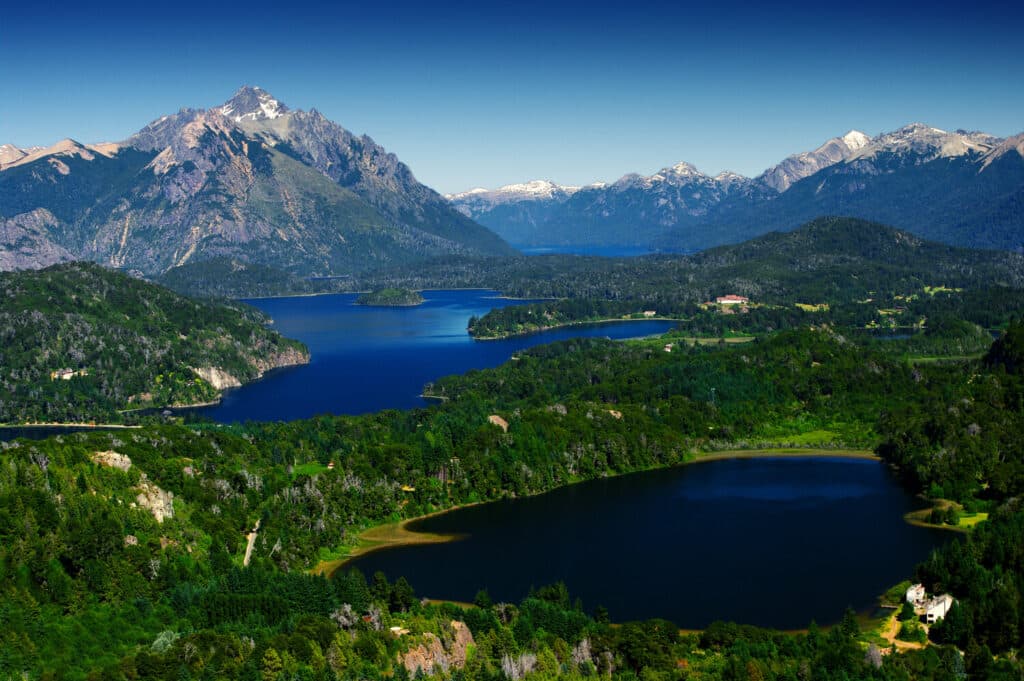 A Digital Nomad Guide to Bariloche
Bariloche is a district within the province of Río Negro, Argentina, located in the foothills of the Andes on the southern shore of Lake Nahuel Huapi. It is located within the Nahuel Huapi National Park. After the development of extensive public works and Alpine-style architecture, the city emerged in the 1930s and 1940s as a major tourist center with skiing, trekking, and mountaineering facilities.
Along the Andes, northern Argentine Patagonia has always been famous for being a European-style lake area. In the words of the Patagonian explorer Francisco P. Moreno, the area around Lake Nahuel Huapi was "a beautiful part of Switzerland in Argentina." The city of San Carlos de Bariloche is the center of this beautiful area.
In front of the north coast of Nahuel Huapi, San Carlos de Bariloche, the capital city of Bariloche, founded in 1902, has gone from being a town on the shores of a lake to the metropolis of lakes (or at least to be the center of distribution and permanence within tourism Patagonian system). The capital of the department Bariloche has 125,000 inhabitants (last sense dates from 2020).
Speaking a bit about the history of the place, it is worth mentioning that the name Bariloche comes from the Mapudungun word Vuriloche which means "people from behind the mountain" (vuri = behind, che = people). The Poya people used the Vuriloche pass to cross the Andes, keeping it a secret from the Spanish priests for a long time.
The area had stronger connections with Chile than with the distant city of Buenos Aires for most of the 19th century, but Francisco Moreno's explorations and the Argentine campaigns of the Conquest of the Desert (1870) established the legitimacy of the Argentine government. He thought that the area was a natural expansion of the Viedma colony and that the Andes were the natural border of Chile. In the 1881 border treaty between Chile and Argentina, the Nahuel Huapi area was recognized as part of Argentina.
Nomad Friendly
Value for Money
Internet
Workspace
English
Food
Safety
Health
Transportation
Friendly
Quality of Living
Living in Bariloche Overview
| | |
| --- | --- |
|  Meal, Inexpensive Restaurant | $4.00 |
| Domestic Beer (1 pint draught) | $1.30 |
| Cappuccino (regular) | $1.90 |
| Loaf of Fresh White Bread (1 lb) | $1.06 |
| Water (1.5 liter bottle) | $0.70 |
| One-way Ticket (Local Transport) | $0.65 |
| Basic Utilities (Monthly) | $ |
| Internet | $30.00 |
| Fitness Club (Monthly) | $20.00 |
| Apartment (1 bedroom) in City Centre | $160.00 |
Currency: Indonesian rupiah (Rp)
[erw_exchange_rates_widget lg="en" tz="0″ fm="IDR" to="EUR,USD,GBP,AUD,JPY,RUB" st="primary" cd="" am="15000″][/erw_exchange_rates_widget]
ATMs
Max Withdrawal: Rp 3,000,000
Withdrawal Fee: Rp 30,000 – Rp 50,000
Use of Credit Cards: Mostly Cash
Digital Nomad Personal Experience in Bariloche
Personally, I am in love with Bariloche, and all of Patagonia! Enter between its mountains, lakes, and warm culture, they fill your soul!
Argentine Patagonia has unique magic, European tints, and the typical warmth of Latin America. An ideal place to travel with friends or with your partner.
In my trip of approximately two months, I was visiting the seven lakes, which link them from San Martin de Los Andes to Bariloche. Following the route that connects them you can get to Ushuaia! And Tierra del Fuego.
But let's go back to writing about what concerns us, Bariloche and its masterful landscapes:
Nestled in the middle of the Nahuel Huapi National Park, surrounded by lush mountains, ancient forests, and crystal clear waters, Bariloche is an Eden for nature lovers. More than 100,000 inhabitants give it the title of the most populated city in the Patagonian Andes; but it was thanks to its intense offer of outdoor activities, charged with adrenaline, that it obtained the title of the national capital of adventure tourism. The city and its surroundings, bathed by eight lakes, complete one of the best landscapes in Argentine Patagonia and South America.
Better not tell them anything about their chocolates, right? (Cuisine and Culture section).
** Information collected from Natgeo travel
It is incredible to be able to see the Andes in winter, snow-capped, the Cerro Tronador, and its incredible glaciers on top of the mountain. In a trek of approximately 5 hours one way (I recommend traveling light).
Seeing the summer transitions is something magnificent, Bariloche also became a summer destination in the country, the number of lakes makes you enjoy them in a unique way (a little cold lol) with a good local beer and some German sausages! (but we'll talk about it later).
Work in Bariloche
Best Places to Work in Bariloche
Let's see how the city of Bariloche is for digital nomads, as always, let's start with coworking spaces!
La Compañia

WorkinBrc

Fab Lab Brc

Roof126 – Shared Work

The Justina

Andean Footprint
As you can see, Bariloche is not the greatest destination in terms of workspaces, but it is the nucleus of the most densely populated point in this part of Patagonia.
These are the best-known coworking points, but it should be noted that most hotels are equipped with spaces with good internet so that we can sit and work remotely.
This magical place also has many bars, cafes, or restaurants where you can work quietly all afternoon, while you consume! The 15 most prominent from my point of view are:
Cafe Llao Llao Lobby Bar (If you manage to spend an afternoon in this beautiful place, you will not regret it! If you regret it, it is because of its prices).

Rapa Nui (very busy. Very delicious coffee and ice cream, later we will talk about their chocolates).

Mamuschka (very crowded. You have to try their "submarines" and we'll talk about their chocolates).

The Coffee Store (very good coffee and very friendly staff).

360 Rotating Confectionery (working with a beautiful view is priceless, although in this confectionery their prices are hefty).

Cafe Delirante (very friendly staff).

Frantom chocolates (very busy).

Du Coin Cafe (Very good coffee).

El Molinito (Very attentive staff. Very good coffee! A very comfortable place).

Restaurant Punto Panoramico (Beautiful views. Ask if you can stay long).

The White Owl (very friendly staff).

Cafe Delirante (Good service, very friendly staff).

Bellevue Bread and Wine Tea & Cheese Salon (Different, incredible views. Ask if you can stay long).

Meiling (Amazing views. Spend an afternoon here! Ask if you can stay long).

Cafe con Ideas slope (very good coffee, in addition to typical dishes).
Now we will talk a little about its typical restaurants! In Patagonia, you have to try certain dishes that will help you complete your experience 100%. (I'll write about them in the typical dishes section).
The 15 most outstanding restaurants for me are:
Patacon By Lucho Remiro Experience (An unforgettable experience, its prices are high, but it's worth it!).

Alto el Fuego (Here they make the best Patagonian lambs I have ever tasted).

Belek (A Patagonian bar, with the traditional food of the place, very attentive and active staff, very good mood, later we will talk about their beers).

Weiss Family (Typical Patagonian dishes, in the center of the city, very good quality and low prices!)

Anima Restaurant (Extraordinary views and a very varied menu).

Quiven Patagonia House Kitchen (If you want to feel Patagonia, go to this homey restaurant).

Native Restaurant (Family, small and cozy, limited menu but very tasty).

La Masia (Very good food, nice view).

La Salamandra Pulperia (Try their salmon and their typical empanadas).

Butterfly (abundant dishes, very rich and well accompanied, very attentive staff).

Stag (Views that leave you speechless and a very good experience of flavors).

Panoramic Point Restaurant (It is the same as in the cafeteria section, but it is that these people comply with everything!).

Caserola (Great place, cozy, good price / Quality).

Cassis (Cheap, varied, highly recommended, unique flavors of Patagonia brought to your plate)

Chimi Bar de Choris (A bar dedicated to beers and choripan, try it!).
Drastically changing the subject, returning to something extremely important and decisive for me when choosing a destination as a digital nomad, the speed, quality, and availability of its internet:
The city government has been implementing different free Wi-Fi points in the different squares and green spaces of the city, it depends a lot on how crowded these points are, but in general terms, their performance is correct (6 or 7 points from my point of view).
It should be noted that being surrounded by mountains, its internet is not the best, and you can lose the signal when you are moving from one place to another, so I recommend that if you have a busy workday, you stay at your hotel or favorite restaurant!
If we get a little more specific, the technical sheet that I could write down about the internet and wifi on our mobiles or computers is the following:
Broadband Speed:38.02 Mbps

Mobile Speed: 24.69 Mbps
Best Places to Live in Bariloche
Best Neighbourhoods
First things first, you must determine the time that you are going to stay in the city if you are passing through or are you going to stay a season!
It is important or at least I recommend that you first travel and stay in a hotel, hostel, or cabins that are relatively close to the center, rent a car and go out to explore the city and its surroundings before deciding on the neighborhood you want to live in.
If you want to stay for one or two months, I recommend Airbnb or there are several groups on Facebook for rentals in Bariloche where offers of all kinds are published. In these groups, you can consult and ask about what you need and there is always someone willing to help.
But if your idea is to stay in hotels or hostels, here is a list of the most recommended by tourists from around the world:
Llao Llao Hotel & Resort, Golf-Spa

Hotel Panamericano

Peninsula Petit

Hotel NH Bariloche Edelweiss

Hotel Tirol

Tangoinn Club Hotel

Cristal Hotel

Aguila Mora Suites & Spa

Concorde Bariloche

Kenton Palace Hotel

Arelauquen Lodge

Design Suites Bariloche

Hotel El Casco Art

Rochester Bariloche

Cacique Inacayal Lake
Another option is to contact a real estate agency, in the city there are several, such as
Los Cerros Properties

Tizado Bariloche

Shanahan Properties

Los Cerros Properties

Escobar Real Estate Businesses

Terra Patagonia
If you want to stay for a long period, in the city there are a wide variety of real estate agencies, you should look for the one that best suits your needs. But we'll talk about that later.
People in Bariloche, since it is a tourist destination, in many cases have an apartment or small cabin (far from the city) that they rent by season, and they will surely be interested in renting them for a longer time.
As for the neighborhoods that I have been able to visit, 2 caught my attention:
Melipal: It is very close to the center, but it is a very natural place, a very nice neighborhood to live in and you have everything at your fingertips. It is very important to know that the internet signal is very good and you have many things close by.
El Faldeo: It is also a neighborhood near the city center, approximately 11 km, with great views of Lake Nahuel Huapi, comfortable, easy access, and good quality of public services and internet.
In Bariloche, it is extremely necessary to rent or buy a car, since the distances are usually long, and the fact of wanting to discover the magical nature and live the adventure is a great incentive to have it at your fingertips.
Speaking of numbers, approximately a rental of a studio apartment in the city center costs about $ 250 + expenses and a duplex or triplex approximately $ 350 + expenses, but the further you move away from the center, you stop getting apartments and you have to see availability in cabins or bungalows.
Find an Apartment in Bariloche
As I mentioned before, getting an apartment in Bariloche is simple! But it is better to know the areas, distances and means of transport well before venturing out in search of a flat.
Without a doubt, contacting a real estate advisor is very important! (remember that I leave you some names in the previous section!)
The key when saving on rent is to contact the owner directly, it goes without saying, with the real estate agency it is easier, since they take care of the paperwork themselves, in Argentina, it is necessary to sign a bilateral contract with the owner and tenant to access the apartment.
Like everything in the country, it requires bureaucratic procedures, the rental of property by contract requires a guarantor or to be able to demonstrate a salary that meets at least the expectation of two months of rent, in case of wanting to break the contract. you will be charged a penalty of one month's rent.
At the time of renting it is necessary as I said before, surety insurance, which is money that you have in your account to demonstrate financial solvency.
In the center of the city, getting a flat can be somewhat tedious, since it is purely touristy, where there are hotels, chocolate shops, restaurants, tourist centers, and the famous civic center, as well as the Gothic cathedral. So the inhabitants of Bariloche usually have their houses on the outskirts of the city (what I would look for if I moved to the city).
If you find studio apartments or duplexes in the center, it is possible that are already furnished, but if instead, you are looking for apartments outside the city that are relatively new (there are many since the construction on the outskirts of the city is growing by leaps and bounds), I doubt that you will find floors already furnished.
You have to know well the areas around Bariloche to know well where the apartments that you are taking into account are located, I am going to recommend two areas of which we have already talked throughout this blog:
Downtown San Carlos De Bariloche:
The San Carlos de Bariloche Center is located next to the shore of Lake Nahuel Huapi.
This lively area has the look of a European Alpine city, with wooden and stone buildings and dark slate roofs (as I told you, it is a very picturesque city, but it does not increase its building capacity).
The life of the center of Bariloche revolves around Miter Street, the main commercial artery of the city, full of souvenir shops, chocolate shops, galleries, and tourism agencies where it is possible to hire tours to the surrounding natural attractions.
The center of Bariloche is a must for tourists and locals and is where important cultural events take place in this Andean city.
Nice beach:
Playa Bonita is a neighborhood located next to Lake Nahuel Huapi, about 8 kilometers west of downtown San Carlos de Bariloche.
Living up to its name, Playa Bonita is a pleasant seaside resort with a beautiful pebble beach and cold waters.
The lakeside beach of Playa Bonita is a great place to relax in the sun during the summer or practice outdoor activities including kayaking, snorkeling, windsurfing, or scuba diving. For all these activities the use of wetsuits is recommended since the waters of the lake are freezing.
The beachside neighborhood is quiet and refined, with several restaurants and shops.
Playa Bonita is one of the best areas to stay in Bariloche due to its beautiful spa, its family atmosphere, and the possibility of outdoor activities, particularly during the summer.
Beyond these two areas, neighborhoods and buildings are under permanent construction on the outskirts of the city so you can choose, as I said before, if you can speak directly with the owner, you will save a few coins!
Cheap Places to Stay in Bariloche
When it comes to finding cheap accommodation in the city, it is necessary to say that prices from May to September triple or even quadruple in value, since we are entering the high season (for a winter destination like this, its hotel occupancy is 100% and the government asks people to have rooms to rent, with a prior control by the agents responsible for the city's tourist management).
So you have to be vigilant when this happens, you can find rooms for $ 25 a night or apartments for $ 40 a night (these prices are in high season and take them out with very little anticipation).
If, on the other hand, we go during times outside of the high season, we will find the same apartments or rooms for $ 17 and up! (Or even a little less, but already moving away from the city).
There are also hostels of all kinds and all prices depending on the services we are looking for, from shared rooms to suites with views of the lakes or the mountains.
The hostels have very similar prices between them that are around $ 12 per night per person, there is less value, but you will not have even good internet quality and I do not recommend it!
Now in times of Covid, it is more common to find very good offers in the accommodation area, since the city is reactivating its economy, and tourism is the economic engine of it, so they give away extra nights (for example if we are staying 4 nights they give you the fifth, or they give you up to 50% discount with a refund on your credit card to spend at the destination, for this you must check the official website of the local or national government).
Bariloche Visa
Currently, there are 4 categories: Temporary Visas, Temporary Residence Visas, Permanent Visas, and Nationality.
In general, both work and student visas must be requested in Argentina by the employer or by the university. You have to be patient because the procedures can take time. In addition, immigration laws are quite complicated, so it is necessary to inform yourself step by step. The most common documents required for visas are:
Passport with a minimum validity of one year, from the date of issuance of the visa

Current passport size photos

A valid birth certificate internationally

A certificate of good conduct issued by the police

A complete medical report

An affidavit that there is no criminal record, which will normally be signed in front of the Consul

The payment of fees corresponding to the visa application.
Regarding Temporary Visas, these will not be necessary for some nationalities, as long as the reasons for visiting Argentina are for tourism or business. They are the most requested and the most widely issued, they are valid for one year, and are issued for the following reasons: work, studies, pensioners, for investments, for medical treatment, or cultural exchange programs.
Tourist Visa: They are issued by the General Directorate of Migration and a series of papers must be presented, among which a completed and signed application, a valid passport, a return ticket to the country of origin, two passport-size photographs, economic solvency, and the corresponding payment of fees.
Visa for artistic, religious, cultural, technical, or professional activities: This type of visa, for those nationalities that need it, is issued for 15 days, extendable to another 15. The required papers are the same as in the previous section, plus a letter from the institution for which they work, specifying the reason why these people are sent to Argentina.
*Information collected from https://vivirenn.com/requisitos-vivir-argentina/
Culture and Food in Bariloche
In Bariloche, you have the ideal combination: unique and exquisite flavors from the Patagonia region and the most natural ingredients. You can choose from hundreds of places where you can taste the regional gastronomy of Bariloche, learn about its history, and experience the exquisite combination, which generates different sensations, such as tasting a salmon or a rainbow trout in front of the incredible landscapes of the lakes that surround the mountains, but that's just the tip of the iceberg.
Artisan smoked cheese fondues ideal for a cold Patagonian night, a spicy and warm goulash (it is a soup or stew of meat and vegetables seasoned with paprika and other spices) and traditional or rainbow trout, wild boar, deer, and smoked cheeses They are worthy of being tasted. Red, white or black meat! sautéed with typical local mushrooms, trout in Papillote, with white wine or black butter, pasta stuffed with local food, Patagonian lamb (without a doubt for me, the best dish in all of Patagonia) grilled or the traditional barbecue expertly prepared, then they leave the place for desserts: mousses, sweet cakes, homemade ice creams, pancakes, and Suzette crepes, colored with natural sauces of raspberries, Boysenberries, blackberries, elderberry, and musket.
Fine wines from cold areas and Cavas from Río Negro are the ideal excuse to learn about the particular characteristics of regional production.
Not to be missed due to the particularity of the preparation is the curanto, cooked underground, on hot stones, and wrapped in nalca or maqui leaves, which allows you to enjoy an ancient tradition of the region.
For breakfast or snack time, you can choose between a stuffed braided bread, a hot buttered roll, and a variety of regional sweets, or luscious slices of lemon tart, mousse tarts, cheesecakes, black woods, or apfelstrudels. homemade. To accompany nothing better than a hot chocolate or a special coffee.
Different, the draft beer, of regional hops, (an incredible trend towards craft beer grew in the city in recent decades, which led Bariloche to be a producer of hops) seduces you to taste a small table of smoked products They share their presentation with regional meats and homemade patés. As a setting, an incredible mountain nature, large windows overlooking the lake, the informal table in front of the heat of a fire, good service, and typically European atmospheres, will serve as a pretext for recreation and relaxation of well-deserved rest in Bariloche.
In the city, chocolate is the most precious, it is characterized by having the best chocolates in all of Argentina, ideal whatever the weather. The most famous houses sell tons of chocolates per day! Imagine eating a bar of tasteful chocolate on top of a snowy mountain overlooking the Andes! Not bad, right?
Bariloche Nightlife
Night tours are the quintessential attraction for tourists arriving in Bariloche. On these tours, you can ride a snowmobile or quad bike to a picturesque mountain retreat where we welcome you for a delicious dinner. These three most desired tours from Bariloche are: "Nordic Night", "El Refugio", "Arelauquen", among others.
If you are more into gambling, the local Casino is your place, from tables of blackjack, poker, and roulette, but do not bet all your money!
 There are tons of alternatives to make your nights in Bariloche as special as your days!
Bariloche's nightclubs are one of the main meeting points for young tourists in search of the most fun nights in the region. In the center of the city, on the shores of Lake Nahuel Huapi, numerous nightclubs offer vibrant music, psychedelic lights, and dance floors for all tastes, so that you know them, here is a list of the best known:
Cerebro
The Cerebro bowling alley has an avant-garde décor with two dance floors. The main track with rock music, pop, and another track with electronic music. It also has four bars, a lounge, reserved, robotic lighting, laser, giant screens, and 16 thousand watts of sound power.
Grisú
The Grisú disco is one of the most beautiful clubs in Bariloche due to its location next to Lake Nahuel Huapi with beautiful views of the sunrises. The bowling alley has different lanes and every night thousands of young people have fun while playing rock, pop, disco, electronic and Latin music.
Genux
The Genux bowling alley is a nightclub with futuristic architecture where live shows are offered. It has a capacity for 1,400 people, digital sound, intelligent lighting, and laser.
Roket
The Roket nightclub has an impressive structure with five floors and three dance floors each with different musical styles. It also offers 5 bars, VIP sector, digital sound, laser, and complex lighting system.
By Pass
The By Pass bowling alley is another of the classic nightclubs in Bariloche. By Pass has two dance floors, three bars, a VIP area, a giant screen, robot lighting, and a unique laser in Latin America.
* Information collected from turismobariloche.com.ar
You cannot leave the city without having done a bar tour of all the craft breweries that inhabit Bariloche, they are all over the city and they all have something special, I recommend a few:
Berlina km12

Patagonia

Manush

Beerland

Kunstmann

Lowther

Wesley

Dagda

Kosten

Punto Birra
The center of Bariloche is the busiest sector to go out at night. A little higher than the Civic Center (behind the Nahuel Huapi National Park Administration building), there is a concentration of bars and craft breweries (Manush, Blest, Antares, Berlina, Bachmann, etc.).
San Martín Street is one of the busiest at night and has several restaurants, where the Bariloche Casino is also located.
Things to do in Bariloche
The simple fact of sitting down to write what can be done in Bariloche makes me feel a strange sensation, southern Argentina has a special magic, as I mentioned earlier.
But to focus a bit on what can be done in this destination, let's start with the winter season.
Bariloche has one of the best-known ski/snowboard and even snowbike centers in the world of sport.
We can found two main ski/snowboard centers in Bariloche Otto hill and Cathedral, I'm going to focus on the second one: 
The hill of the cathedral, has tracks with different difficulties, from beginners to experts; differentiated by colors:
Green

: beginners.

Blue

:

intermediate.

Red:

advanced.

Black

: Experts.
Cerro Catedral has 34 elevators between cabins; double, triple, quadruple, and sextuple chairlifts; magic carpet and drag mean.
As I said, Bariloche is a stay and distribution center, it is a tourist corridor recognized for its ski slopes, everyone uses it as a base for the different nearby Patagonian points.
But it is not the only point of winter sports, very close to Bariloche, in San Martin De Los Andes and in Villa La Angostura, we can find the Chapelco hill (San Martin De Los Andes) and Cerro Bayo (in Villa La Angostura).
Bariloche city is besieged by Lake Nahuel Huapi, the freshwater lake, located within the Nahuel Huapi National Park, which has an area of ​​530 km2, is 770 m above sea level, and has a maximum measured depth of 464 m.
In the summer season, the lake hosts extreme sports and adventure tourism, which makes it an excellent resort. From kayaking to windsurfing to fly fishing, you can do it all on the lake!
The lake depression consists of several glacial valleys carved out along Miocene faults and valleys that were later dammed by moraines.
Its seven branches are called:
Blest (36 km²)

Huemul (21.5 km²)

De la tristeza (18,5 km²)

Campanario (7,9 km²)

Machete

De la esquina

Última esperanza.
 It is connected to other smaller lakes such as Gutiérrez, Moreno, Espejo, and Correntoso. The deep blue waters are home to several islands, including Victoria Island with an area of ​​31 km² and Huemul Island.
* Information collected from NatGeo Travel.
In Nahuel Huapi there is a crazy story that became a myth, the story of Nahuelito:
At the beginning of the 20th century (and following an ancient aboriginal legend) the rumor of a giant creature that lived in the deep waters of the lake was present. The creature is known locally as Nahuelito. The reported sightings predate Nessie and The Lost World (Arthur Conan Doyle).
The local Mapuche called another creature the Cuero (leather) for its soft skin. The neighboring lake Lago Lácar has also been the site of accounts of another creature, more consistent with a plesiosaur, with Aborigines describing it as a sea cow with teeth around it. (Do you dare to go in search of these creatures?).
If you want to go out for a few laps by car, bike, motorcycle, or hitchhiking, I recommend the path of the seven lakes, this is what it calls a section of National Route 40 in the province of Neuquén, Argentina.
The section joins the towns of San Martín de Los Andes and Villa La Angostura in the Province of Neuquén and owes its name to the fact that seven lakes can be seen during its journey.
It has a length of approximately 107 km where the typical characteristics of the Patagonian Andes region can be appreciated: extensive forests, snowy hills, and lakes.
This road crosses two national parks: the Lanín and the Nahuel Huapi.
The lakes that give the path its name, in order from San Martín de Los Andes to Villa la Angostura, are:
Lácar

Machónico

Falkner

Villarino

Lago Escondido

Correntoso

Espejo
In Bariloche we can also find large numbers of both German and Swiss, what's more, there are German neighborhoods and the famous Colonia Suiza, home to the best beer factories in the Andean country.
It is very common for tourists to visit the Llao Llao hotel, in 1999 the hotel became a member of The Leading Hotels of the World and has won many important awards since its reopening, including "The Best Hotel and Resort in the interior Argentine "in 1999.
It has incredible views of Lake Moreno, golf courses, and incredible architecture worth visiting.
You should also take tea at Cerro Otto, which at its top has a rotating confectionery, which allows you to see in detail from a panoramic view the entire city, lakes, highest peaks, and beautiful landscapes worthy of Patagonia.
The city is also known for its clubs, during July, August, and September, it is the headquarters of student tourism from all over the country and parts of Latin America, this undoubtedly made the clubs in the city fashionable. Although they are intended for the youngest, they open every day, a different one, thus creating a vast offer.
Now comes one of my favorite parts, for which I love this city and its surroundings, adventure tourism:
From fly fishing, descent on mountain bikes, kayaking through different waterfalls, and above all eternal trekkings that put you to the physical test, for me it was pure adventure and a moment of ecstasy!
Ascent to the Tronador hill.

Trekking to the myrtle forest.

Victoria Island.

El Bolson.

Cascada Santa Ana.

Espejo Chico.

Playa Yuco.

 Lago Hermoso.

Pileton Del Manso.

Refugio Frey.

Pampa Linda.

Playa Muñoz.

Playa Bonita.

Cerro Capitan.
It should be noted that some of these natural attractions are not found in Bariloche, but it is pertinent to do them, get to know them, and explore them, they are worth every step that is taken in each one of them!
As you can see, in this city and all its surroundings, you will not have time to get bored, it is full of activities to do, from bars, bowling alleys, to fishing in almost frozen waters, a whole afternoon skiing in winter or 13-hour trekking that they place you on the most spectacular peaks you will ever see!
Best Time to Visit Bariloche
The climate of Bariloche is the oceanic Mediterranean, with abundant winter rains in the form of snowfalls, many snowfalls! Cold temperatures that freeze some of its lakes! A low annual temperature range and a high daily range, especially in winter!
However, in summer they usually reach 35 ° C and in winter down to -25.4 ° C.
Summers are dry, mild, and short, with precipitation concentrated in winter in the form of rain, sleet, and snowfall. But the Pacific Ocean winds cool down after passing through the Andes mountain range, also depositing their moisture there, which makes the summers extremely dry!
As the text above explains, summers are super hot! Ideal for water sports! Or make ascents to its highest peaks! In summer it usually gets dark at approximately 9.30 pm.
During May and June, the highest rains occur, reaching monthly averages of about 130 mm.
During June, July, August, and September it is sure to see torrential snow falls that dye the entire landscape in white! The accumulation of snow in the city can vary from 10 cm, reaching 50 cm in the harshest winters.
The month of November stands out for the strong winds, which can have gusts of up to 100 km / h !!
So that you can take the dimension of the cold that can get to be in the city, on July 16, 2017, the lowest minimum temperature in its history was registered at 4:22 in the morning, with an absolute mark of -25.4 ºC, and a thermal sensation of -29 ºC, an absolute historical record.
Bariloche for Families
The city of Bariloche is fully prepared for you to move or visit it with your family!
As I told you in some other post, in Argentina you have public schools, which do not have any registration or enrollment cost or monthly fees, and private schools that do have monthly and registration costs.
It has a large number of kindergartens (the monthly cost of a kindergarten is about $ 65 per month) primary schools or colleges for boys, as well as secondary schools, sports clubs, and extracurricular activities!
I leave you a list of these:
Primary school
College of the Sun
4243 De Los, Av.de los Pioneros 5AV
Elementary School No. 295
August 2, 1404
Nicolás Levalle Elementary School Number 278
La Paz 550
School 320
José María Sobral 180 
Dr. Ángel Gallardo / Middle school
Laprida 1300-1398
La Semilla School, Waldorf Bariloche High School
Av.de los Pioneros 6200
Colegio Castex / Middle School
Almte Brown 99
The prices of elementary and secondary schools in the city are approximately between $ 100 and $ 130 depending on which one you choose!
Universities
Comahue National University / Public university
Quintral 1250
RED Pascal Bariloche / Private university
Gallardo 424
University of Río Negro
Miter 630
National Technological University / Public university
Fanny T. de Newbery 111
21st Century University – CAU BARILOCHE
Bartolomé Miter 434
Balseiro Institute
Av. Exequiel Bustillo 9500 · In Bariloche Atomic Center
CITECDE University Study Center
Villegas 360
As you will see, you also have public or private universities, there are some like Balseiro that offer many opportunities to be awarded a scholarship and to attend, but the others have a cost of approximately $ 150 per month.
Leaving the study area, in Bariloche we find endless activities to do as a family or alone, such as:
Practice skiing or snowboarding

Soccer

Tennis

Golf

Taekwondo

Mixed Martial Arts

Trekking for kids

Climbing

Reading clubs

Language courses

Local flora and fauna courses

Cooking courses for the little ones

Cultural centers for children
Living in Bariloche
Bariloche Transportation
Logically, the means of transport in the city is the car, most of the locals are transported in their vehicles since, the distances in Patagonia are long, you also need it urgently to carry your ski or snowboard equipment when you go to the mountains!
Beyond that, the city is connected by bus lines, with the company My bus or its application you can travel the entire city and connect through different lines to more distant points. The most traveled lines are the following:
Line 10: Bus Terminal – Centro – Colonia Suiza.
Line 20: Bus Terminal – Centro – Llao Llao.
Line 21: Bus Terminal – Centro – Bº Covibar and 2 de Agosto.
Line 22: Bus Terminal – Centro – Peninsula San Pedro.
Line 50: Control1 – Downtown – Villa Los Coihues.
Line 51: Control1 – Downtown – Km. 15,500 of Av. Bustillo (Bº Don Orione).
Line 55: Downtown – Cerro Catedral
Line 70: National University of Comahue – Downtown – Bº Las Victorias.
Line 72: Downtown – International Airport
There is a line called "Pioneers Tour" that connects the entire city and leads to access to the cathedral hill, and its route is as follows:
Bus Terminal, Avda. 12 de Octubre, Diagonal Capraro, Moreno, Morales, Neumeyer, 20 de Febrero, Belgrano, 20 June, Avda. De los Pioneros, Barrio Melipal, Cerro Otto Cable Car, Access Route to Cerro Catedral, Cruce Virgen de las Nieves, Cerro and Villa Catedral.
The good thing about the bus lines in Bariloche is that the cards with which they are paid are SUBE (same as in the capital of the country) so if you have a previous balance in your stay in Buenos Aires, you already have covered by what minus a few trips!
The price of a bus ticket is $ 6.40 but it also depends on the distance you travel. The rate that I just put is that of line 21 that runs throughout the city from the city's airport, so if you use it to move within the city the price will be much lower.
You can also take taxis or remises within the city and move wherever you want, this, being a pure tourist means of transport, is usually expensive, precisely from June, the fare of a taxi went from cost $ 7 to cost $ 9 approximately (in Argentine pesos it cost $ 80 to $ 100).
So my recommendation if you visit Bariloche or any point in Patagonia is without a doubt that you rent your vehicle!
The rental prices of a medium vehicle for 4 people are around $ 25 to $ 38 per day depending on the date since in high season they are higher.
Fuel is another factor to take into account the liter of super gasoline $ 74.30; infinia $ 88; diesel $ 82.50; diesel infinia $ 98.50.
I know that it may not be the cheapest way to move from one place to another, but undoubtedly it's the most comfortable! You can leave your things in the car, or have your timetables! 
* information collected from https://www.rionegro.com.ar
Fitness and Health
Speaking of health and fitness in the area, there are many gyms, they are not extremely necessary, since you can train in the different squares of the city or go to the mountains or the lakes to do extreme or adventure sports, or simply do push-ups and squats. on the shore of Nahuel Huapi!
People in Bariloche are usually very proactive when it comes to staying in shape, you usually see a lot of people running and exercising, in this destination you can do many sports.
 I do not think it is necessary to mention in this section that the sports par excellence are skiing, snowboarding, kayaking, snorkeling, trekking, climbing, and all kinds of water and mountain sports.
But going back to the most everyday sports, you can do everything in the city, such as conventional weightlifting gyms, through yoga gyms and CrossFit boxes, martial arts centers, soccer fields, tennis courts, sports fields. golf, paddle tennis courts, polo fields, skateparks, or incredible bike parks, recently remodeled with views of the lakes.
There are also groups of runners that go out on the weekend, and they do amazing hikes the last few days!
Like bird watching or fishing groups going out for days in search of nature!
I fulfill the obligation to leave you a list of the best-known gyms in the area!
Ada Maria Elflein 336
Phone: + 54294443-1530
Roque Saenz Pena 118
Phone: + 54294443-7717
Exequiel Bustillo 12435
Telephone: +54 9294451-1697
Roland 555
Phone: + 54294442-5027
Club Arrayán, Otto Meiling
Phone: + 54294455-7474
Bariloche Insurance and Medical Care
As we already told you in our previous posts, health in Argentina is public, which makes things much easier at the time of an emergency, but you should also bear in mind that time and comfort will not be on your side if you go to a public hospital, so I recommend that you take out travel insurance or a prepaid one to be more comfortable and safe, in addition to that they cover all the needs in difficult times of pandemic (Covid-19) like the ones we are experiencing.
Moreover, if you feel symptoms related to this disease you should: 
Isolate yourself until the suspicion is confirmed or discarded.

Alert people with whom you have had contact for 48 hours before the onset of symptoms as they must also isolate themselves.

Contact the health system in your jurisdiction.

If the infection is ruled out, you can discontinue isolation.

If the diagnosis is confirmed, you must maintain isolation until medical discharge and follow all the recommendations of the health team.
As always, I leave you a list of health centers in the city if you have any unforeseen medical problems.
Sanatorio San Carlos (Private Hospital)
Address: Avenida Exequiel Bustillo 1000
Pje. Gutierrez 980
Miter 124
Open 24 hours
Phone: + 54294440-9800
SEAS (Public Medical Center)
Address: Vice Admiral O'Connor 730
From 9 a. M. At 3 p. M. (Request an emergency call)
Phone: + 54294452-6100
Zonal Hospital Dr. Ramón Carrillo (General Hospital)
Francisco Perito Moreno 601
Open 24 hours.
Phone: + 54294442-6100
Make sure you are fully covered by reading our full Digital Nomad Travel Insurance guide.
Jobs in Bariloche
The most accessible jobs in Bariloche, clearly are seasonal jobs, ski or snowboard instructor, lifeguard or working in rental houses for snow equipment, or in the ascents of the chairlifts. If you have some of these skills, it will not be difficult for you to find a job, besides being Argentina, they are very well paid.
Speaking with a friend who works as a snowboarding instructor, he told me that in Argentina an instructor usually earns by the hour:
Experienced: $ 18 to $ 22 and a novice from $ 12 to $ 16 depending on the center, also comparing it with Chile, it is still far behind in the consideration since in the neighboring country the hourly salaries are approximately an experienced instructor from $ 24 to $ 26 and a novice $ 15 to $ 17.
The other positions that we can find are very specific to the area, such as mining engineers, civil or industrial engineers, junior engineers in Bariloche have an average salary of $ 1,350 per month according to INVAP (NVAP SE is an Argentine company that provides design, integration, construction, and delivery of equipment, plants, and devices).
The most common salaries, as a cashier in supermarkets or hotel receptionists, have an approximate salary range of $ 800 per month.
As you have noticed, it is advisable to keep or get a remote job so as not to depend on a salary in Argentine peso! It is clearly less than a salary in dollars or euros, and simply visit Patagonia as a tourist or as a freelancer and stay a few months!
Check out our Digital Nomads Jobs Postings to find the best jobs available for Digital Nomads.
Nomad Friendly
Value for Money
Internet
Workspace
English
Food
Safety
Health
Transportation
Friendly
Quality of Living
Cost of Living Bariloche
The cost of living in Bariloche, as you may have noticed, is expensive in Argentina or South America, since it lives off tourism, but even so, it is still relatively cheap concerning different cities in the world. But to be clear, let's make a list!
Accommodation: A studio apartment in the city can cost you around $ 180 if you are lucky if we don't average at $ 200, and if you want to find something furnished, it will surely be around $ 250
Workspace: If you need a fixed place to work, coworking spaces have an approximate fee of $ 50 to $ 100 per month. The coworking company has the following rates:
Private office by the hour or monthly subscription:
$ 4.50 per hour

5-hour subscription per week at $ 50 per month
Workspaces in shared rooms:
 Monthly subscription in shared space 24/7 for $ 75
All services include:
✔Ergonomic chairs:
✔ Fiber optic internet service of 50 megabytes
✔ Printer service
✔Private locker
✔Fully equipped kitchen
✔Terrace
* Information collected from La Compañia-Coworking Bariloche
Daily commute: The means of transport in the city are more expensive than in other parts of the country $ 10 to $ 15 per day depending on the distance.
Food: This is where it will depend on your expectations, if you want to go out to eat every day, you will have an approximate cost of $ 500 to $ 700 per month! But if you buy your food at the grocery store or food fairs, you save a lot of money and spend roughly $ 70 to $ 130.
Leisure: Again, this article depends entirely on you, an approximate cost that seems correct to me is $ 150, but ski or snowboard season passes approximately $ 200 a fortnight, plus mountain refuges ($ 50 a night) and go out to the night to a bar or to dinner as I said, it's up to you!
I hope this post has awakened your desire to know Bariloche! It is a beautiful destination for you to know, regardless of whether you are going to live in it or just come on vacation, my recommendation is that you visit it!