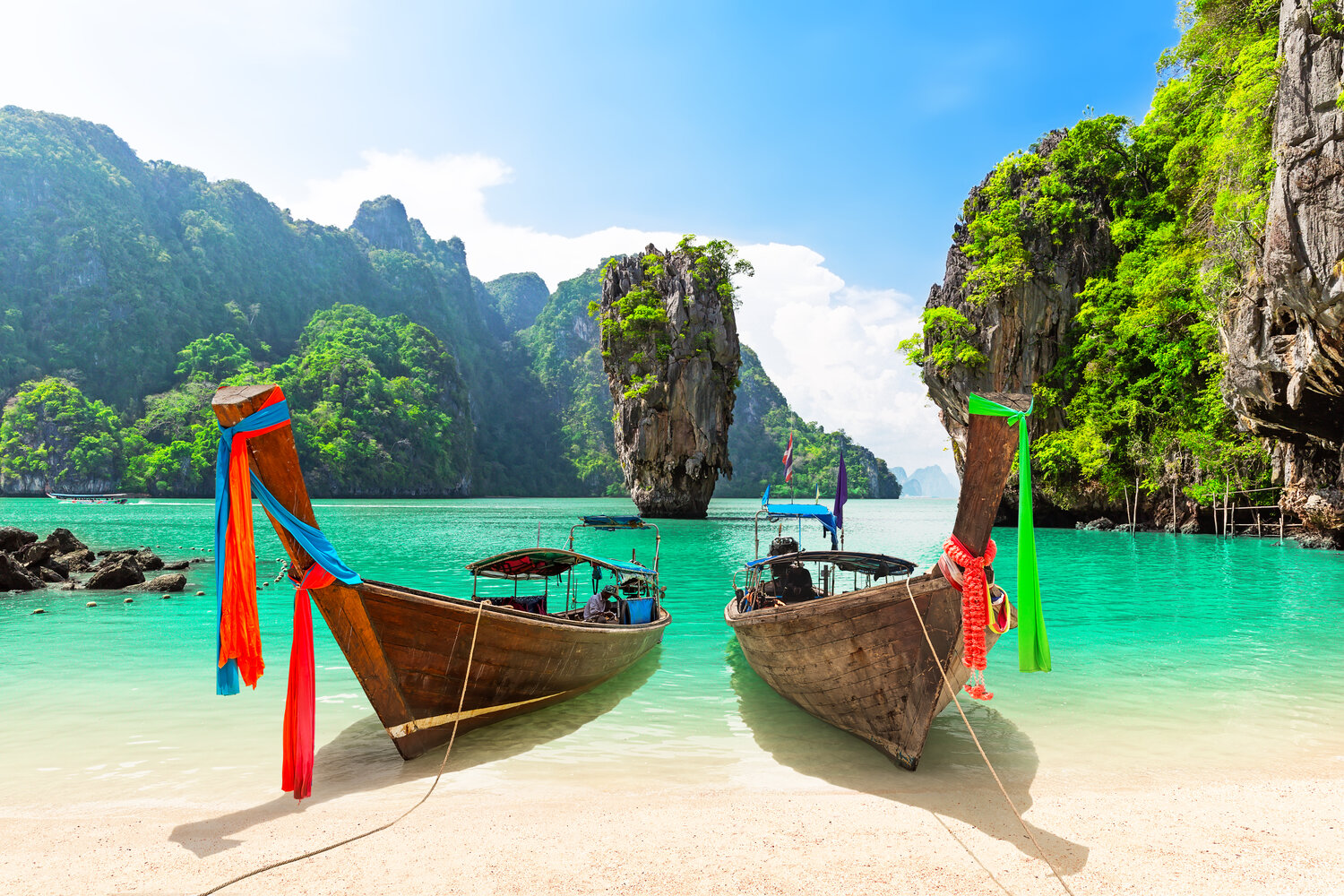 A Digital Nomad Guide to Phuket
The largest island in all of Thailand, Phuket only covers an expanse of 48km long and 21km wide. Don't be fooled by its diminutive size though – this small, albeit vibrant, island is practically bursting with lush, mountainous terrains, scenic beaches, and historical sites. 
Because of its prime position in the jade-hued Andaman Sea, Phuket boasts some of the most spectacular sunsets in Thailand which you can admire from the popular Laem Phromthep viewpoint. 
This tropical island is globally acclaimed for its legendary beaches such as Patong, Kata Yai, Mai Khao, and Karon – as evidenced by the sheer number of tourists it attracts each year. Each of Phuket's 30 beaches features plenty of nautical activities such as Scuba diving, sunset cruises, glass bottom boat rides, parasailing, and Stand Up Paddling.  
It's not just about sun, sea, and sand though – Phuket also happens to be home to sprawling golf courses – many of which have hosted international competitions. You'll also get to explore antique Thai architecture as well as the many hiking trails enhanced by awe-inspiring vistas. 
Digital nomads who would like to soak up the island's rich culture will certainly be spoilt for choice during their stay in Phuket. Because of its strong Buddhist influence, you'll see plenty of temples and classic relics virtually all over the island. The Old Town actually has roads that date all the way back to a century ago when the island was heavily reliant upon the mining industry. 
From Phuket, it's quite easy to hop on a boat shuttle and embark on an island-hopping adventure. Neighbouring islets such as Maiton, Racha, Phi-Phi, and Khai are easily accessible and offer plenty of activities to keep you entertained all day long. It's true that these places can get very crowded during summer, but if you happen to be in Phuket during low season, you might just get these islets all to yourself.
Nomad Friendly
Value for Money
Internet
Workspace
English
Food
Safety
Health
Transportation
Friendly
Quality of Living
Living in Phuket Overview
| | |
| --- | --- |
|  Meal, Inexpensive Restaurant | $3.68 |
| Domestic Beer (1 pint draught) | $2.33 |
| Cappuccino (regular) | $2.24 |
| Loaf of Fresh White Bread (1 lb) | $1.27 |
| Water (1.5 liter bottle) | $0.49 |
| One-way Ticket (Local Transport) | $0.92 |
| Basic Utilities (Monthly) | $53.31 |
| Internet | $19.42 |
| Fitness Club (Monthly) | $55.63 |
| Apartment (1 bedroom) in City Centre | $357.15 |
Currency: Indonesian rupiah (Rp)
[erw_exchange_rates_widget lg="en" tz="0″ fm="IDR" to="EUR,USD,GBP,AUD,JPY,RUB" st="primary" cd="" am="15000″][/erw_exchange_rates_widget]
ATMs
Max Withdrawal: Rp 3,000,000
Withdrawal Fee: Rp 30,000 – Rp 50,000
Use of Credit Cards: Mostly Cash
Digital Nomad Personal Experience in Phuket
As a digital nomad, constantly being on the move is like a second nature to me. There's nothing I dislike more than being in the same place for too long, and I'm always on the lookout for countries to explore while working. The idea of permanently dropping anchor in one place never really appealed to me – until I visited Phuket. 
For some reason, this charming island is the one place that I could really envision myself living long-term. So much so that I ended up going on not one, but two visa runs to extend my stay in Thailand.  The first time that I visited Phuket, I was admittedly overwhelmed by the sheer number of people on this relatively small stretch of land – tourists, expats, digital nomads, and locals all pressed together in the Old Town's narrow lanes, the hectic atmosphere punctuated by engulfing medley of languages and dialects flying on all sides. 
Still, it quickly becomes evident that Phuket's multicultural hub is all part of the island's charm. The solid digital nomad scene means that there's no shortage of networking and collaborating opportunities. 
Another thing that I liked about working in Phuket was how easy it was to explore other Thai provinces. For example, a quick hour's flight takes you to bustling Bangkok while Pattaya is one and a half hour away. Admittedly, it will take you four hours to fly to Chiang Mai from the island, but tickets are very affordable, at around THB 2,000 for a two-way trip during low season.  
Then again, if you don't feel like flying out, there's no shortage of things to do right there on the island. Whether you're after wild parties punctuated by Go-Go dancers or a laid-back afternoon in a traditional Thai-style tea house, you can be sure that Phuket has you covered.
Work in Phuket
With a bustling café scene, cheap accommodation, and some of the fastest internet providers in the world, it should come as no surprise that Phuket is very often hailed as one of the best destinations for digital nomads. If, like me, you like to squeeze in some exploring in between your Zoom meetings, I can assure you that you'll have plenty of options as far as coworking spaces are concerned.  
Best Places to Work in Phuket
BAYACO Coworking Space Phuket
Boasting an industrial, shabby chic layout – think metal ceiling beams and suspended fluorescent lights – BAYACO is found in the trendy capital district of Mueang. This is one of the rare (if not the only) coworking space in Phuket that offers a loyalty points system so you can enjoy discounts and perks. With fast Wi-Fi, this company provides a common working space in an informal setting for THB 150 per day – the cheapest option I've found yet in Phuket. Digital nomads are also treated to a complimentary hot drink. 
You can also rent the Mee Huon meeting room that can accommodate up to 30 persons or merge it with the Kang Poo room to make space for up to 120 people. Located on the first floor of Baan & Beyond Department Store, BAYACO is open from 9:00 to 19:00 on weekdays and 10:00 to 19:00 on the weekend. Because it closes quite early, it may not be the best choice for digital nomads who need to work international hours. 
CocoVille Phuket
Open from 7:00 to 23:00 Monday to Sunday, CoCoWorking Space is another agency that offers both co-living and co-working options. Located in Cocoville Boutique Villas Resort, this company lies in Soi Ta-Iad and features on-site fitness and wellness facilities.
With a daily pass of 200 THB per day, digital nomads will have access to the resort premises, common co-working areas, printer, scanner, high-speed Wi-Fi as well as complimentary tea or coffee. It's also possible to book a weekly pass for THB 1,300 per person, per week.  
Regus – Phuket, Royal Phuket Marina
While Regus did not have the carefree and laidback vibe that most coworking spaces in Phuket are famous for, this was my favourite place to work from. With oversized windows to let in plenty of natural light, Regus is located in the luxurious Royal Phuket Marina complex. This agency offers meeting rooms starting at THB 525/hour or virtual offices for THB 900 per month. A coworking space in the common area will set you back THB 3,107 per person/monthly while a private office costs THB 3,300 per person, per month. 
Like elsewhere in Phuket, you can expect fast Wi-Fi with no interruption. Other amenities include a lunch restaurant, coffee bar, onsite parking, and sandwich service. If you're planning on working from Regus, I would strongly urge you to set up shop on their outside seating area where you can feast your eyes on blissful marina views and soak up the sun while you work. Best of all, Regus is open 24/7. 
Lubd CoWork Phuket Patong
With offices in various regions of Asia, Lubd CoWork is an upscale co-living space that offers independent coworking areas. This company regularly hosts events to help you soak up the very best of Phuket. For example, every Friday night, the company organizes a special Ladies' Night at the Tropics Beach Club, perfect for connecting with other travellers. 
If you would like to simply check the place out, you can always opt for one of their daily packages – the two-hour package cots THB 120 while five hours will set you back THB 190. Alternatively, you can always book a full-day (9 hour) pass for THB 270. Lubd additionally offers full-time packages that entitle you to a 10% discount on food and non-alcoholic beverages as well as complimentary access to the in-house swimming pool. You'll need to fork over THB 1,540 for a week and THB 6,000 for a month. 
The Garage Society
What I really liked about The Garage Society was the fact that it's literally just a stone throw from beautiful Patong Beach. Featuring a laid-back layout, this company regularly hosts academy and community events. Its collaborative environment makes it a prime choice for start-ups and consultants. Because it lies close to numerous spas, you can easily get a massage during your break- something that I indulged in at least once a week! 
Digital Nomads can book the Flexible Seats membership package offering a two-hour access to a Private Desk or a Hot Desk for THB 150. You can also subscribe to the Event and Meeting Room package that starts at THB 400 per hour.
Work Friendly Spots
Now, if coworking spaces aren't really your scene, you can always check out on of the many work-friendly spots on the island. Below are some of my personal favourites: 
Gallery Cafe by Pinky, Cherngtalay:

As soon as you step through the doors, it becomes all too easy to pretend that you're in a quaint Parisian coffee shop. With a European menu and a distinctive rustic décor, this café is open daily from 8:00 to 18:00. I absolutely loved their healthy smoothies sourced from exotic Thai fruits. On the downside, this café can get a bit congested during lunchtime. 
Coffee Brick:

Located in Chalong, this coffee shop draws a sizeable cluster of people, especially during lunchtime. Because it can get quite crowded at mealtimes, I would advise you to head over there early morning or late afternoon if you're looking for some peace and quiet. On the plus side, since it's so popular among travellers, it's the ideal spot to mingle with other nomads. Coffee Brick is especially reputed for its excellent selection of coffees and pastries. 
Spoonful of Sugar:

Nestled in a wooden vintage Thai building, complete with white picket fence and ornate Asian furnishings, Spoonful of Sugar looks like a traditional house that's been frozen in time. Now, the Wi-Fi wasn't super-fast, at least not by Phuket standards, but it was an absolute delight to spend an afternoon there, catching up on work while sipping on a freshly brewed coffee. With an outdoor terrace overlooking Nai Harn Beach, this café is open from 8:00 to 19:00, Tuesday to Sunday.
Myth Coffee Bar & Hangout Space: What I absolutely loved about this Chalong-based coffee shop was the minimalist décor with floor-to-ceiling windows and garden seating. With private or common tables for those who want to connect with other digital nomads, this café looks more like a modern library than an actual coffee shop. Menu-wise, this café is known for its homemade ice cream, waffles, and hot fruit infusions. Wi-Fi is decent and it's open Friday to Tuesday, 10:00 to 18:00.
Best Places to Live in Phuket
Best Neighbourhoods
At first glance, Phuket may seem like a noisy and overcrowded island with plenty of gritty areas. However, I can assure you that the island still offers plenty of quiet idyllic neighbourhoods, as evidenced by the sheer number of digital nomads and expats who move to Phuket each year. 
Now because each neighbourhood has something different to offer, I would strongly suggest that you spend a few days exploring the different regions before deciding where to live. 
For example, if you want to be smack in the middle of a tourist hotspot with lively bars, clubs, and non-stop music throughout the night, Patong Beach on the west coast may be the best option for you. However, bear in mind that because it's the most touristy area in Phuket, real estate prices on the west coast can be quite expensive. While you'll never run out of things to do in Patong, it's not exactly family-friendly since most schools lie a long drive away. 
Phuket Town
Digital nomads who are traveling with their families may wish to check out Phuket Town on the east coast. The least touristy neighbourhood on the island, Phuket Town is dotted with an array of local and international schools. It's also a good area for nomads who would like to mingle with the locals. Real estate prices in this area are fairly affordable too. It may be heavily populated, but Phuket Town also happens to be one of the cleanest areas I've seen in Phuket. 
Kathu
If peace and tranquillity is what you're after, you can always consider the small town of Kathu, located at the centre of the island. Since it's far from the coast, Kathu also has the cheapest rates in terms of real estate. If you're interested in golf, you'll be glad to know that Kathu has some of the best courses in Thailand. 
On the flip side, you'll definitely need a car or a motorcycle to get to the major shopping centres and hospitals. There's virtually no nightlife in Kathu so keep that in mind if you're planning on living there. While very few streets in Kathu have sidewalks, the lack of traffic and better road infrastructure means that it's quite easy to roam about on foot – something that you can't always do in Phuket. 
Chalong Bay
Another neighbourhood that I quite like is Chalong Bay, on the south-eastern coast. Home to the island's largest harbour, Chalong Bay is perfect for digital nomads who would like to indulge in daily nautical activities. In fact, you'll find plenty of scuba diving, boating, boat rental, and catamaran tour agencies in Chalong Bay. 
There's a distinct fitness culture that permeates this town so expect to see your fair share of healthy restaurants and gyms offering Muay Thai classes. While less touristy than Patong, Chalong Bay does attract quite a large foreign crowd, so prices can be somewhat inflated, especially during high season. It does have a large digital nomad community with plenty of sea-facing cafes where you can get work done.
Find an Apartment in Phuket
Finding an apartment in Phuket can be something of a challenge because the staggering range of rental properties can make it hard for you to narrow down your choices. If you're planning on renting long-term, it's also important to know that there's quite a bit of tedious paperwork to navigate through. More importantly, you'll need to watch out for frauds – something that's unfortunately all too common in the Thai real estate market. 
If you have some extra money to spare, it's always a good idea to rent a long-term apartment through reputed agencies such as Thai Residential, Phuket Property, and Pulse. These companies will undoubtedly charge a hefty commission fee but at the end of the day, they'll take care of everything for you. 
Alternatively, you can always comb through Facebook groups such as Phuket-Buy/Sell/Rent, Rent Property Phuket, Phuket Property For Rent or Sell, and Buy/Sell/Rent Phuket. In my experience, these groups will offer the best rates since you can contact the owner directly and possibly bargain on the price but again, be cautious about scams: if something sounds too good to be true, it probably is. 
Like I mentioned above, Phuket Town offers decent-sized apartments at fairly affordable rates, with a basic one-bedroom apartment starting as from THB 13,000 per month. An upscale condo with swimming pool and proximity to shopping centres will probably set you back between THB 14,000 to THB 17,000 per month. Digital nomads traveling in groups or with their families can find two – or three – bedroom apartments for around THB 30,000 to 40,000/monthly. 
More touristy neighbourhoods – especially the ones located on the west coast – can be quite expensive with very basic studios ranging from THB 16,000 to THB 25,000 per month. A one-bedroom apartment on Patong Beach starts as from THB 50,000, but then again, you'll be right by the ocean. Also on the West Coast, Kamala is another popular neighbourhood among digital nomads. An apartment in this coastal village usually costs between THB 16,000 and THB 25,000. 
Now, if you want to rent a place by the ocean without having to deal with the omnipresent hustle and bustle on Patong Beach, you can always check out apartments near Bang Tao Beach. Offering a more laid-back and serene environment, condos at Bang Tao can cost between THB 15,000 to THB 30,000, depending on the number of bedrooms and complex facilities. It's good to know that the northern part of Bang Tao Beach tends to be quieter and less expensive than the south.
Another excellent option for digital nomads who want some respite from touristy areas is Rawai, in the south. Over there, it's entirely feasible to rent a studio with shared swimming pool for as low as THB 8,000 per month. A larger, one-bedroom place can set you back between THB 10,000 to THB 18,000 per month. It's worth noting that while Rawai offers plenty of peace and quiet, it's a remote neighbourhood that's far away from the best shopping centres, pharmacies, nightclubs, and hospitals. On a more positive note, Rawai is famed for its lush beaches and excellent seafood spots.
Cheap Places to Stay in Phuket
The cost of living in Phuket may be slightly higher than elsewhere in Thailand, but it's still entirely possible to find low budget accommodations on the island. If you're on a tight budget, I would strongly urge you to take advantage of low season (May to October) since real estate prices are slashed- sometimes even by half- during this period. 
While couch surfing isn't exactly popular in Thailand, you'll still find around 1,000 hosts willing to open up their homes for free in Phuket. You can also check out Booking.com where you'll find hostels offering beds in a mixed dormitory for as little as THB 200 per night. Additionally, websites such as Expats.com can help you connect with other digital nomads or expats looking for flatmates. 
On Airbnb, you can even rent a room in someone's house for around THB 500 per night, Wi-Fi and other utilities included. PhuketSpace and House Buddy are other excellent websites where you can browse for affordable options, including flat sharing. 
As previously mentioned, some neighbourhoods offer cheaper options than others. In Kathu, for example, a small studio can be as affordable as THB 350 per night, and you'll get the whole place to yourself. Monthly rentals in Kathu tend to run between THB 6,000 and THB 7,000 for studios or between THB 8,000 and THB 10,000 for one-bedroom apartments.
 If you don't mind living in an urban-commercial area, you may wish to check out properties in Tambon Chalong as well. Located in the south, this district is home to the famous Big Buddha Statue on The Hill. Real estate prices in this neighbourhood are surprisingly affordable with rooms in shared apartments running for as low as THB 335 per night.
Phuket Visa
Because of the number of tourists, expats, and digital nomads that the Kingdom of Thailand attracts each year, the visa process tends to be quite straightforward.
If you're planning on staying in Phuket for 60 days or less, you can always apply for a regular tourist visa online. For this visa, you will be required to submit copies of your travel documents, passport-sized photographs, and your return plane ticket. 
Additionally, you may be asked for proof of accommodation as well as a copy of your bank statement to prove that you have sufficient funds to stay in the country for a month (Minimum THB 20,000 per person or THB 40,000 per family).  
Once you're in Thailand, you do have the possibility of applying for a visa extension through the official immigration website. Alternatively, many digital nomads choose to go on a 'visa run' whereby they fly to a neighbouring island before returning to Thailand the following day with another fresh tourist visa. However, this can be quite costly in the long run. 
Recently, the Kingdom also introduced a new concept known as 'Smart Visa' that allows you to live and work in Thailand as a digital nomad. This visa also targets start-ups, investors, and entrepreneurs who would like to set up their company in Thailand. Holders of the Smart Visa will be allowed to stay and live in the country for up to four years. 
While anyone can apply, preference is given to foreigners who specialize in fields such as Environmental Management, Human Resource Development, Nutrition, Automation & Robotics, and Alternative Dispute Resolution, among others. You can consult the full list on the official Smart Visa website. In some cases, it is possible to switch from a tourist visa to a Smart one. 
Digital nomads who would like to integrate the local job market in Thailand should apply for a non-immigrant 'B' visa which allows you to live and work in the country for up to 90 days. You will need to have a valid work permit before being eligible for the 'B' visa.
Another excellent option for nomads who are planning on living in Phuket for a long time is the Thailand Elite Visa which entitles you to five years in the Kingdom. Do keep in mind that while this multiple entry visa is quite practical, it's also quite expensive at THB 600,000. You have the option of upgrading to the Elite Ultimate Privilege visa which costs THB 1,000,000. This visa affords several perks, including spa treatments, airport limousine pickups, and immigration concierge. 
Culture and Food in Phuket
If there's one thing that Thailand is known for, it's the excellent food scene. Indeed, food has always been at the very heart of Thai culture, with various festivals dedicated to the scrumptious local dishes. Phuket features an extensive array of food stalls, restaurants, and small-scale eateries where you'll be able to sample the many delicacies without necessarily burning a hole in your pocket. 
Thai cuisine is globally famous for the sweet, sour, bitter, and of course, spicy notes that generously infuse the carb-laden dishes. I did notice that most places in Phuket do allow you to choose your preferred spice level, something that I rarely encountered elsewhere in Thailand. 
Here are just a few of the restaurants that I can recommend in Phuket: 
One Chun Cafe & Restaurant
This family-owned restaurant is one of the best-kept secrets in Phuket, which is why you won't often see foreigners eating there. Locals, on the other hand, flock to this place virtually every evening. Located in Talat Yai, Phuket Town, this restaurant may not look super elegant, but I can absolutely vouch for its delectable dishes.
I had the yellow crab curry, and while this is commonly served alongside steamed rice, One Chun served it alongside thin rice noodles known as Khanom Jeen. The delightfully creamy and aromatic broth had me coming back to this place over and over again for the exact same dish. 
Kruvit Floating Restaurant
I'll be the first to admit that this place is quite overpriced but it's still worth a visit for the delicious food and unique experience. You'll need to hop on a longtail boat to reach Kruvit Floating Restaurant where you can savour fresh seafood that's literally being plucked out of the ocean while you watch. I can recommend the giant-sized oysters that are usually served with fresh herbs and sauteed garlic and an optional side of fresh chilli. You'll also be given a sour sauce that you can dip your oysters in. 
Kruvit also specializes in classic Thai dishes, such as Tom Yam Goong, steamed whole fish served with a fragrant spiced sauce and fried chillies, battered octopus, and Pla Kao Tom Towchiew, which basically consists of fermented beans and fish. While Pla Kao Tom Towchiew is a firm favourite among locals and adventurous foreigners, you may want to skip it if you don't have an adventurous palate – or a tolerance for pungent scents. 
Joe's Downstairs
Okay, this one is not a local restaurant in the sense that it's run by an American chef. However, I did have a work meeting at Joe's Downstairs, and I would absolutely recommend this place, not just for the food, but also for the jaw-dropping views of Kalim Bay. When the weather's good, which is virtually every day in Phuket, you can always opt for a table on the sundeck and gaze out at the waves while you dine.  
With some of the best wine you'll ever taste in Phuket, this restaurant specializes in gourmet fusion dishes. What I personally liked about the place was how the chef added a distinctive local twist to Western meals. For example, their Spicy Chicken Wings was served with a fresh mango and lime dipping sauce (all made from locally sourced fruits of course), and their Wagyu beef came with a side of Thai-style sesame eggplant. On a less positive note, the meals at Joe's Downstairs do come with an eye-watering bill. 
Markets
While they're not technically restaurants, Phuket's markets are famed for their excellent food stalls where everything is freshly prepared right in front of you. Best of all, those battered, boiled, steamed, and fermented Thai classics only cost a fraction of what you'll pay at a restaurant. As virtually everywhere in Phuket, you'll be greeted by the overly pungent stench of durian as soon as you step into the market. If you would like to give this famous (or infamous) fruit a try, you'll certainly find several stalls offering tiny samples that you can nibble on for free. 
Now if pungent fruit isn't really your thing, rest assured that the markets also offer other Thai staples such as exotic fruit cups, braised duck, meat skewers with Satay, and cold rice noodle served in aromatic broths. At night, you'll often see locals and foreigners buying dinner at the market and enjoying their food right on the street.  
Because food is such a pivotal element in Thai culture, the country hosts several Food Festivals each year. If you're visiting in early November, for example, you can attend the Patong Carnival which marks the beginning of the high season in Phuket. During this time, it's not uncommon to see Patong Beach Road lined with flamboyant stalls, street performances, locals in costumes, and of course, vendors preparing fragrant treats right by the beach. 
In September, digital nomads can attend the Vegetarian Festival, known for its spectacular street parades and eye-catching costumes. One of my personal favourite festivals in Phuket is the Thai New Year – locally known as Songkran – which occurs between April 13 and April 15 of each year. The New Year in Phuket is usually marked by massive street festivities during which revellers merrily smear scented powder and splash water all over each other. 
As such, it's not uncommon to see local walking around with water pistols, hoses, and buckets, ready to splash anyone in sight, so be sure to not wear your best clothes if you're planning to be out and about! 
After the water festivities, locals also hold religious rituals for Songkran, during which they will meticulously clean their Buddha statues and images, don new outfits, and go to the temples with offerings for the monks. Afterwards, they visit the elderly members of their family and sprinkle scented water over their hands and feet as a sign of respect. It's good to know that Songkran is a public holiday that spans over three days so most places will stay closed during that time.
Phuket Nightlife
Phuket may be an island, but it has a distinct city vibe to it and in true city type, it hardly ever sleeps. As such, you'll find that the island demonstrates the same variety of activities at night as it does during the day. While it is true that Phuket is commonly referred to as 'Thailand's Party Island' – just like Ibiza is to Spain – you'll also be able to find more laidback nightly activities in a refined environment if that's what you're after. 
Indeed, the iconic Phuket nightlife does cater to every age, taste, and budget. Below are some of the most popular things to do and explore after hours: 
Go-Go Bars
With French origins, Go-Go bars have now become absolute staples in Phuket's culture and nightlife. Quick note of caution though – those bars aren't exactly known for being family-friendly so you may want to leave the kids at home for that one. 
You'll find Go-Go bars virtually all over Phuket, but Suzy Wong's A Go Go, Harem A Go Go, and Devils Playground A Go Go are the most popular spots among expats and locals alike. These bars are also known for their excellent, albeit half-naked dancers, and extensive selection of beers. 
Beach Clubs
If a strip club-like environment isn't your thing, you may want to skip the Go Go clubs in favour of one of Phuket's many beach clubs. One of my absolute favourite spots is Catch Beach, which just so happens to be among the first clubs that opened on Phuket's sandy shores. Located right on Bangtao Beach, Catch is open daily from 9:00 to 2:00. 
If money isn't an issue, you can also check out the upscale Pine Beach Bar, located in Intercontinental Phuket Resort on Kamala Beach. Boasting its own private beach, this place flares to life on Friday nights, with international DJs and sundowning parties. On the flip side, their drinks and tapas are quite expensive. 
Phuket Night Markets
If you would like to indulge in some retail therapy after midnight, rest assured that there's no shortage of night markets for you to explore. Chillva Market in Phuket Town, for example, has a distinctively bohemian vibe punctuated by brightly coloured shopfronts made up of discarded shipping containers. With low prices and an extensive selection of souvenirs, textiles, or even food, this market is open from 17:00 to 23:00, Monday to Saturday. 
The Phuket Weekend Market, also known as Naka Market, is another popular option among both foreigners and locals. Located near Phuket Town Centre, this is easily the biggest market I've been to in Phuket. One word of advice though – everything is overpriced because the sellers do expect you to haggle. You'll also have to wriggle through massive crowds to explore the stands. Naka Market is open from 16:00 to 23:00, Friday to Sunday. 
Muay Thai 
Okay, whether you're into boxing or not, you just can't leave Phuket without attending at least one nightly Muay Thai match. An integral part of Thai culture, Muay Thai basically refers to Thai-style kickboxing with an eight-point striking system where boxers can also use their knees and elbows. Bangla Boxing Stadium near Patong Beach is one of the oldest Muay Thai venues in Phuket and often pits international boxers against local ones.
I do have to point out that this venue does charge more than others: a regular stadium seat costs THB 1,700 while ringside seats cost 2,000 THB. You can also get a VIP seat for THB 2,500. 
Most other stadiums only charge around THB 1,300 for regular seats. 
Dinner Cruises
Believe me when I say that Phuket's glorious lagoons are just as spectacular at night as they are by day. If you're looking for a soothing and laid-back experience after dark, don't hesitate to book a sunset or dinner cruise to explore the island's hidden coves before savouring a Thai feast onboard. Because it's such a popular activity among expats, you'll find agencies offering night cruises in virtually every neighbourhood. Be careful about the rates to avoid falling into tourist traps – when in doubt, it's always a good idea to compare the prices online. I would also recommend that you only book your dinner cruise through a licensed agency. 
If you've got both time and money to spare, you can always book an overnight stay that will sail past the many islets around Phuket before anchoring near an island for the night. Regular dinner cruises usually cost between THB 4,000 and THB 5,000 while an overnight stay on a catamaran comes with a hefty price tag that ranges between THB 95,000 and THB 125,000 per person.
Things to do in Phuket
One of the (many) things that I like about Phuket was how easily the island caters to various budgets – there's always something for everyone, regardless of how much you're ready to spend. In fact, you'll even find several attractions that you can enjoy for free. 
Phuket is particularly renowned for its pristine, postcard-perfect beaches, all of which are entirely free to explore. It's even possible to set up camp on most of the beaches and trust me when I say that there's nothing like waking up to a glorious sunrise with the Andaman Sea lapping softly in the early morning. 
If you're into outdoor sports, you'll be glad to know that this island is home to scenic hiking trails, mountaineering expeditions, and excellent golf courses that previously hosted some of the biggest tournaments in Asia. 
Here are some of my absolute favourite things to do in Phuket: 
Kata Beach

While Karon, and Patong are among the most famous beaches in Phuket, they can get quite crowded and busy. If you would like to avoid the thongs of excited holiday makers, you can always check out Kata Beach on the West Coast. Bordered by palm and casuarina trees, this white-sand beach is particularly famed for its crystalline waters and excellent snorkelling spots. Right opposite the street from the beach is found an assortment of restaurants and beachfront stalls where you can sample local delicacies such as papaya smoothies. While you're in the vicinity of Kata Beach, you can also check out the nearby Kata Noi Beach, a scenic stretch of fine sand that's something of a hidden gem in the region.

Old Town Phuket

With pastel-coloured colonial buildings, Old Town Phuket lies on the island's south-eastern coast. Offering quaint coffee shops and Sino-Portuguese mansions, the Old Town embodies the very best of Thailand's rich past. In fact, digital nomads who are interested in the local history can always check out Chinpracha House, a Sino-Portuguese mansion with antique Chinese furnishing. The entry ticket costs THB 150. If you're short on cash, you can always check out the many free museums and attractions, such as the Shrine of the Serene Light or the Phuket Baba & Peranakanittat Museum. Because it's quite small, you can easily cover the entire Old Town in just an hour.

One visit to the Phuket Elephant Sanctuary and you'll quickly learn why you should always refrain from riding elephants during your travels. Located in Pa Khlok, this ethical sanctuary offers daily tours that allow you to get up and close with rescued elephants. Spreading across 12 hectares, the Phuket Elephant Sanctuary is not a petting zoo, but visitors will be able to help the staff bathe and feed them, or even enjoy a nature walk with those majestic creatures. The sanctuary offers half-day morning or afternoon tours, complete with a vegetarian Thai meal. Foreign visitors should bring a copy of their travel insurance and passport. An adult ticket will set you back THB 3,000 while a children's ticket costs THB 1,500.

Phang Nga Bay

Famed for its spectacular limestone karsts, Phang Nga Bay is easily among the most picturesque places I visited in Phuket. Because it featured in so many movies, this 400 km-squared bay attracts hordes of visitors each year. I would strongly urge you to visit very early in the morning so you can relax on the sand and soak up the sun without having to deal with noisy crowds. If you would like to explore the entire bay, it's always a good idea to book a tour that includes a boat ride so you can visit the many limestone caves – locally known as Hongs – that dot the lagoon. Most tours include canoe expeditions, snorkelling, lunch, and a visit to the temple cave of the Reclining Buddha. Of course, you can't miss a visit to the world-famous James Bond Island that featured in The Man with the Golden Gun. The entry ticket to Phang Nga Bay costs THB 1,200 while most tours start as from THB 2,500.

Thai Cooking Classes

That was one of the first activities that I very eagerly signed up for in Phuket. Anyone who's been to Thailand can attest to the fact that Thai cuisine is among the best in the world, and luckily enough, it's quite easy to find a cooking class on the island. Because cooking classes are so popular among foreigners, they also serve as an excellent platform to collaborate with other digital nomads or expats. Classes usually cost between THB 2000 and THB 4000 for a three-hour class. Half-day or evening classes may cost a little more.

Similan Islands National Park

One of the most famous national parks in the world, Similan Islands National Park is a picturesque archipelago that consists of 11 islands. Just a heads-up though – there is no direct connection from Phuket to the Similan Islands but in my opinion, it's absolutely worth the trip. You can easily hop on a bus or taxi to Khao Lak where you'll find ferries that will take you to Ko Similan. From there, it's a relatively easy walk to the archipelago. While I wasn't able to soak up everything that the Similan Islands National Park has to offer – after all, there's plenty to keep you busy for days – I would absolutely recommend that you check out Sunset Point in the afternoon for a mesmerizing view of the sun setting over the Andaman Sea. On Ko Similan Island, visitors can hike to several viewpoints. While it was once possible to camp on Ko Similan, overnight stays are now unfortunately banned. If you're on a tight budget, rest assured that it only costs THB 500 for an adult to visit the National Park, but you'll need to pay for extra activities separately.

This is one activity that will certainly get your adrenaline pumping. Located in Kathu, this Zipline Adventure Park offers three courses that you can choose according to your budget and preferences. All three courses include a fruit basket that you can take back with you. Two guides will be with you at all times to ensure your safety. Personally, I opted for the F2 course which cost THB 3,250 and included ziplines, Sky Rail, Spiral Stairways, Abseil Points, Dual Ziplines, and a soothing 20-Minutes Wilderness Walk. The park also provides complimentary transfers to and from your accommodation.

Jet Skiing

If you ask me, there's no better way to explore Phuket's crystalline waters than to jet ski across the lagoon. The good news is that this thrilling activity is far less expensive than elsewhere in the world. A jet ski expedition usually costs around THB 1,000 for 15 minutes and 1,500 for 30 minutes. You'll be able to book jet skis from most major beaches in Phuket, including Bangtao, Surin, Kata, Patong, and Karong. On the flip side, I would urge you to be very cautious about jet ski scams that are unfortunately all too common in Phuket. Be sure to carefully inspect your jet ski before taking it out on the water since some operators rent out damaged equipment and then insist on a large compensation fee when you return it. It's also a good idea to take pictures of the jet ski and carefully read the terms and conditions listed on the contract before paying the rental fee.
Best Time to Visit Phuket
Thailand is blessed with a permanently warm disposition and as such, the kingdom draws crowds virtually all year long. With a monsoonal tropical climate, the island has multiple climatic zones and two seasons: the hottest months are from April to May while the months of September and October are prone to monsoon rains. 
Thanks to its geographical position, Phuket has a temperate weather with a very low risk of being hit by the tropical storms or typhoons that often affect neighbouring islands. Most people choose to go to Phuket between December and March, when the humidity is quite low and the thermostat hovers at a very pleasant 30 °C during the day. At night, the temperature can go down to 24 °C.
Digital nomads visiting Phuket from April through May should prepare themselves to battle the humidity and temperatures that can soar up to 37 °C during the day. This season is also prone to regular thunderstorms which may affect any nautical plans you may have booked.
The period between September to mid-October is generally considered low season in Phuket because of frequent rainfalls. However, this is also the time when all the prices go down so if you want to curb your expenses, you can consider traveling to Phuket then. In fact, even the rainy season is prone to the occasional sunny spells, so there'll still be plenty of chances for you to indulge in tropical activities.
A quick word of caution though – if you're going to the beach during the rainy season, keep an eye out for the red flags that are raised to signal dangerous waves and potentially fatal undercurrents.
Phuket for Families
While I did not travel to Phuket with children, there's no denying that the island caters to all ages. In fact, other than the occasional purse snatching and ATM fraud, Phuket has a very low crime rate. While coastal areas are known for their wild parties and all-night booze fests, most inland neighbourhoods are very family-friendly, with laidback neighbourhoods and (slightly) better road infrastructure. 
The sub-district of Chalong seems to be the prime choice among expat families, most likely because of its proximity to schools, hospitals, and other facilities. Bear in mind that local schools conduct classes in Thai and while most establishments do have English Programs on the curriculum, it's not quite up to Western standards.
 As such, several expats choose to send their families to one of the 14 international, English-speaking schools on the island. These schools can cost anything between THB 120,000 to THB 400,000 annually. Unlike local institutions, international schools place quite a lot of emphasis on extra-curricular activities as well. 
Digital nomads traveling with small children will be glad to learn that the island also has English – speaking nurseries and kindergartens. Indigo Kids (Cherngtalay), Buds (Chalong), and ABC Nursery (Chalong, Nai Harn, and Rawai) are popular options among expat families. 
Because Phuket is so family-oriented, there's always plenty to keep the whole family entertained during the weekend. Here are some of the most popular children-friendly things to do on the island: 
Phuket FantaSea:

This is often considered as one of the best theme parks in Thailand. Stretching across 60 acres, this night park boasts cultural shows with animals, textile and souvenir stalls, a buffet restaurant as well as a theatre with a kid- oriented program. A show with dinner costs THB 2,200 per adult and THB 2,000 per child. 
Splash Jungle Park:

Located on Mai Khao Beach, Splash Jungle Park features a kid's club, nautical activities, a lazy river, a wave pool, and multiple swimming pools to choose from. The entry ticket will set you back THB 1,295 for adults and THB 650 for kids.  
Phuket Aquarium

: Located in Wichit, Phuket Aquarium is open daily from 8:30 to 16:30. Perfect for a day out with the whole family, this venue has over 40 saltwater and freshwater tanks with rare sharks as well as other local marine animals. The entry ticket is priced very reasonably at THB 180 per adult and THB 100 per kid.
Phuket Trickeye Museum: Offering attractions to thrill adults and kids alike, Phuket Trickeye Museum lies within walking distance to the Old Town. With interactive and highly colourful 3D exhibitions to stimulate all five senses, this museum is open daily from 10:00 to 19:00. The entry fee is THB 450 for adults and THB 270 for children.
Living in Phuket
Phuket Transportation
Okay, here's where Phuket may fall short of your expectations – as amazing as this island is for digital nomads, I must say that I was fazed by the state of the roads. Things do get better inland, especially around residential areas, but fatal road accidents are unfortunately all too common in Phuket. This is why it may not be the best idea to rent your own car or motorcycle to get around unless you've properly acclimatized to the local road infrastructure. 
While cars are supposed to drive on the left in Phuket, don't be surprised if you see locals coming in from the wrong direction. Additionally, most roads tend to be narrow and unpaved despite the influx of pedestrians swarming about. 
Luckily, the island is served by both public and private transport options that you can use to get around: 
Tuk-Tuks:

I absolutely adored Phuket's Tuk-Tuks. Not only are those motorised rickshaws fairly affordable – think THB 100 for a five minute's ride – but their small size is perfect for navigating through traffic. Most drivers are also willing to lower their rates if you're brave enough to bargain. You'll find Tuk-Tuks all over Phuket and more often than not, drivers will approach you themselves to ask if you need a ride. 
Ride Hailing:

While there's no Uber in Phuket, you still have other ride hailing options such as Grab. I was surprised to realize that most Grab routes were actually cheaper than Tuk-Tuks. Just like Uber, Grab provides group-oriented services such as larger vehicles as well as airport limousine pickups or drop-offs. It's good to know that the rate can vary according to the model and size of your selected vehicle. 
Song Taews:

Colloquially known as Song Taews, these open-air, double-decker buses are easily recognizable by their bright blue colour. While they're not exactly known for being on time, I would still recommend that you ride in a Song Taew at least once for the experience. These buses are scheduled to run between 7:00 and 18:00, Monday to Sunday. What I did appreciate was that the majority of buses actually have the destination written in English to make things easier for foreigners. Trips usually cost between THB 15 and THB 20, depending on the route. It's important to know that there are no designated bus stops in Phukets, but you can simply stick out your arm to stop a bus whenever you want to hop in. 
Motor-Taxi:

Some may call it a death trap. Others may call it a convenient and (overly) speedy way of zooming around Phuket. But all in all, motorbike taxis can take you from one end of the island to the other in record speed – most likely because their drivers assume that the rules of the road don't apply to them! On a more encouraging note, motorbike taxis are available at various hours of the day or night. You'll find motorbike taxi stands all over the city and the drivers can easily be recognized by their dark green or red vests. 
Taxis:

While public metered taxis are easy enough to find in Phuket, I haven't exactly had the best experience with them. Drivers will greet you in English and might even engage in pleasant conversation with you – until you realize that the meter is off. Of course, I'm sure there must be plenty of honest taxi drivers in Phuket, but the ones that I personally encountered firmly refused to turn on the meter or suddenly forgot how to speak English. Some drivers may also aggressively insist on taking you on a tour so they can overcharge you. As such, it's always best to opt for private taxi agencies that offer a flat rate. I can recommend the agencies below: 

BD Phuket Taxi:

+66 76 524 526

 Alex Taxi Phuket: +66 99 369 4422

Phuket Taxi: +66 63 747 7554

Phuket Taxi Meter: +66 88 111 0171

Phuket Transfer Travel Asia: +66 61 292 1330
Fitness and Health
Unlike elsewhere in Thailand, I noticed that Phuket has quite a health-conscious population. Yes, carbs are present in virtually every dish but then again, so are fresh veggies and fruits. In the early morning, you'll often find locals jogging or having group yoga sessions on the beach. 
Because locals are so health-conscious, it's not uncommon there are upscale Sports and Leisure clubs in practically all residential neighbourhoods. For example, the Thanyapura All Inclusive Health Hub in the south is a deluxe complex offering personal trainers, gym equipment, an Olympic-sized swimming pool, tennis courts, as well as rugby and football pitches. You can even opt for extra packages such as fitness camps or yoga classes. While Phuket's health centres are usually very well-equipped, they do come with a hefty price tag with monthly memberships at THB 4,500 or yearly packages for THB 32,000. 
A more affordable option would be to check out one of the many gyms on the island. As someone who works odd hours, I was pleasantly surprised to realize that several gyms are actually open 24/24 so there's always the possibility of squeezing in a late-night workout before bed. The price ranges between THB 1,500 to THB 2,000 per month, classes included. You can get a daily pass (usually around THB 250-THB 300) to check out the place first. 
Most fitness centres also offer Muay Thai classes but if you would like to really immerse yourself in this cultural sport, you can always register for a Muay Thai training camp. Often hosted by former Muay Thai champions, these camps usually hold two sessions per day and accommodation is provided. The price ranges around THB 400 for a week or THB 800 for a month.
Phuket People
Thailand may be acclaimed as the Land of Smiles, but I would be lying if I didn't admit that the people in Phuket sometimes seemed rough around the edges. This is something that I noticed in touristy areas such as Patong where you do feel like the locals are somewhat fed up with the sheer concentration of foreigners on the island. 
There's a distinct aloofness – if not outright frostiness – that can make one feel quite uncomfortable. Like I said earlier, taxi drivers can be especially unpleasant and/or overly pushy and shopkeepers tend to get impatient if you dawdle or spend too much time fishing for change. 
However, I would like to highlight that the majority of rude locals that I encountered were mainly in touristy neighbourhoods. Elsewhere on the island, like Chalong, Phuket Town, or the Old Town, the locals were quite friendly and polite. They won't exactly roll out the red carpet for you, but they were still pleasant.
I did notice that it was easier to get on their good graces if you greet them in their language. Some good words to know are – Sawatdii (Hello), Khop kun (Thank you), Khot hort (Sorry), Bai (Goodbye), and Sabaaidii mai? (How are you?). When greeting locals, it's also considered good manners if you fold your hands together in a classic 'Namaste' gesture and slightly bow your head. Men usually offer handshakes too, but if you're greeting a local woman, don't extend your hand unless she does. 
Like elsewhere in Thailand, families are patriarchal with several generations living in the same house. Adult children live with their parents until they're married, and it's usually the norm for the daughter-in-law to move in with her husband's parents after tying the knot. Elders are treated with the utmost respect and if you visit a local's house, it's good form to bow to the grandparents first before greeting the others. When eating with locals, try to avoid using your left hand to pass food around since this is usually frowned upon. Locals either eat with chopsticks or with their fingers, but it's perfectly fine to request a spoon or a fork if that's what you need. 
Phuket may be a bustling hub with tourists, digital nomads, and expats coming in droves from all over the world, but the island is still deeply rooted in spirituality. The main population mainly comprises of Muslims (24%) and Buddhists (71%). There's also a small percentage of Sea Gypsies (4%) who have their own religion and dialect. Often considered as Phuket's oldest inhabitants, the Sea Gypsies mainly live in Koh Sirey, Rawai, and Sapham Coast. They don't usually interact with foreigners and have a pretty tight-knit community. 
Despite its spiritual values, I did notice that Phuket was just as liberal as Bangkok – there's a very casual dress code all over the island, even on religious sites. In true island style, you'll often see women walking about in bikini tops and sarongs or crop tops and shorts while men usually go shirtless, especially when the weather is hot. Topless or even nude sunbathing is considered entirely normal in some regions, such as Nui Beach.
Phuket Insurance and Medical Care
Travelers are required to have insurance before heading to the Kingdom of Thailand. It's advisable to keep a copy of your insurance papers on you at all times during your stay in Phuket. 
The good thing about Thailand is that it has a very high level of medical care and Phuket is no exception. Virtually all hospitals have English-speaking staff, and their local doctors are globally acclaimed for their courteous nature. In fact, Phuket happens to be a hotspot for medical tourism in Thailand, so you'll find an extensive number of public and private hospitals specializing in orthopaedics, cardiology, IVF, plastic surgery, and dentistry. The island also boasts plenty of 24-hour emergency clinics and outpatient hospitals. 
While public hospitals are very well-equipped with state-of-the-art equipment, they're often crowded, and you might be in for a long wait. Public ambulances can take quite long to arrive, so in case of an emergency, it's best to reach out to a private clinic. These are notoriously expensive but more dependable than public institutions in the long run. 
Pharmacies and drugstores are readily available all over the island. You'll even find international chain companies such as Watsons and Boots in the major shopping centres. I was pleasantly surprised to see that the majority of drugs were significantly cheaper in Phuket. While most medications are sold over the counter – including antibiotics and sleep aids – it's always a good idea to bring your prescription along just in case. Do remember that the brand names may differ since local pharmacies sell the generic version.
Make sure you are fully covered by reading our full Digital Nomad Travel Insurance guide.
Jobs in Phuket
If you would like to work in Phuket, you absolutely need to have a work permit and a valid visa. Additionally, your occupation should not violate the country's Alien Employment Act. According to the local regulations, certain job categories are only reserved for the locals, such as agriculture, bricklaying, wood carving, hairdressing, stonework, and more. 
As a foreigner, one of the easiest jobs to land in Phuket is teaching English as a second language. Public schools are always on the lookout for foreign nationals with a teaching qualification and degree. Alternatively, many expats offer private after-school tuitions. I must point out that while it's very easy to get snapped up as an English teacher in Phuket, the pay is quite low at around THB 30,000/month. It's good to know that private school teachers earn one or two thousand Bahts more. Because foreign language teachers are only required to work a few hours per day, you'll still have plenty of free time to explore the island.
Surprisingly enough, scuba diving instructors earn more than English teachers. The pay usually ranges between THB 40,000 and THB 60,000. If you're hired by an international hotel, you can also receive complimentary accommodation and meals. Nomads who don't have their PADI certification can always take a four-month course in Phuket for around THB 200,000. 
During your job search, you can always check out websites such as JobCute, JobsDB, Careerjet, and Job TopGun. It's also worth browsing through the classifieds section of local newspapers, such as The Phuket News.
Nomad Friendly
Value for Money
Internet
Workspace
English
Food
Safety
Health
Transportation
Friendly
Quality of Living
Cost of Living Phuket
One of the (many) good things about Phuket is that digital nomads can live very comfortably on the island, even on a small budget. Admittedly, Phuket has a high cost of living by Thai standards but given that 1 Baht equals 0.030 US dollars, foreigners will undoubtedly find it easy to get by. 
Like I said earlier, the cost of your accommodation is influenced by various factors, including the neighbourhood that you live in. For example, a shared apartment in Choeng Thale may cost around THB 15,000 to 16,000 per month while a guesthouse in Patong can set you back THB 20,000 to THB 22,000/monthly. 
A studio in a residential area can cost around THB 18,000 – THB 22,000. Digital nomads who need some extra space can easily find a one-bedroom place in a luxury complex for around THB 20,000-THB 30,000 per month. 
Electricity, gas, and other utilities can hover around the THB 3,000 mark, depending on usage while Wi-Fi usually costs around THB 531 per month for 8mbps. As far as transportation is concerned, you can expect to spend approximately THB 1,000 on public transport. If you're bold enough to face those notorious Phuket streets, you can consider renting a car for around THB 40,000 per month or a motorcycle for approximately THB 2,800 monthly. 
As far as entertainment is concerned, I personally budgeted THB 6,000 per month for eating out, sightseeing experiences, attractions, and museums. I know that this is a bit on the higher side for an entertainment budget, but there's just so many things to do and see in Phuket that it's always a good idea to set aside a little extra. 
All in all, that's a total of nearly THB 31,000 per month, which comes to approximately $940.