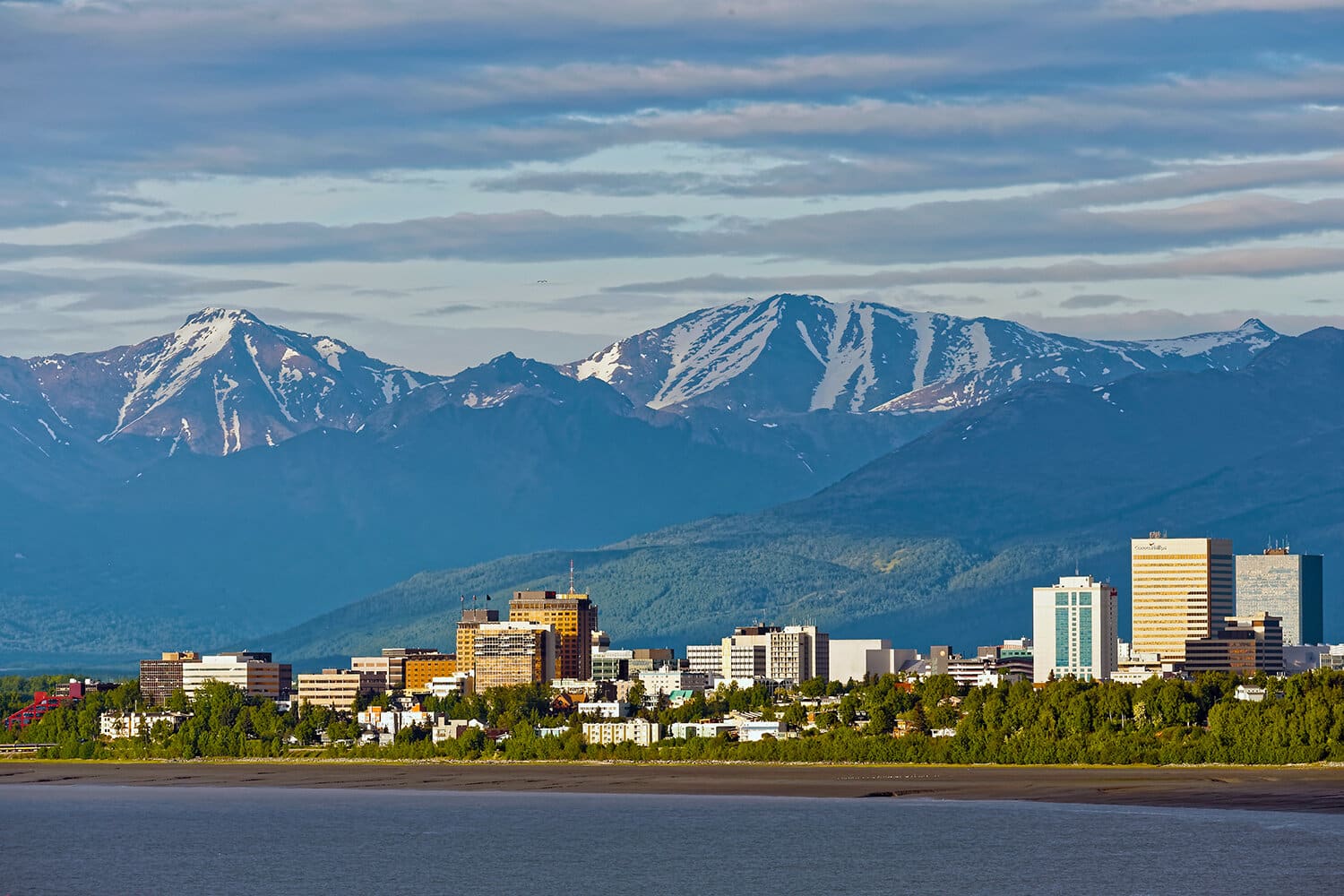 A Digital Nomad Guide to Anchorage
Anchorage is located at the end of a peninsula that juts into Cook Inlet, in south-central Alaska (United States). It is the northernmost city in the country with a population of over 100.000 people, and the largest community in North America located above the 60th parallel. It is also the most populous city in Alaska and constitutes 40% of the total population of the state.
The city began as a frontier settlement that grew in size. Anchorage experienced boom times and recession times, but managed to overcome it all and become the region's tourism and transportation hub. You will find a city full of metropolitan excitement at one of the northernmost corners of the earth, but you will also find a destination with open spaces that is the gateway to the true Alaska.
Anchorage is trendy, with its diverse entertainment options, bars, cafes, souvenir shops and galleries, malls and plazas, old and new mix of things. Active and welcoming downtown Anchorage is its main business district, where you can find a vibrant food scene, arts performance venues, and nightlife spots.
If you are a lover of outdoor activities, you will find 320 kilometers of urbanized trails, of which 193 kilometers are paved. In winter, many of these corridors are used as ski trails. Plus, you can visit icebergs, climb Spencer Glacier, take a dog sled ride through Knik Glacier, kayak to the tidal glaciers of Blackstone Bay, pack raft on the rock-filled rapids of the Eagle River. and skiing at the Alyeska Resort. All of these activities are within walking distance of downtown Anchorage.
Perhaps nowhere else does the comforts of the modern age combine with the freedom and adventure of living on the edge of vast unspoiled nature.
Nomad Friendly
Value for Money
Internet
Workspace
English
Food
Safety
Health
Transportation
Friendly
Quality of Living
Living in Anchorage Overview
| | |
| --- | --- |
|  Meal, Inexpensive Restaurant | $16.50 |
| Domestic Beer (1 pint draught) | $6.00 |
| Cappuccino (regular) | $4.39 |
| Loaf of Fresh White Bread (1 lb) | $3.95 |
| Water (1.5 liter bottle) | $2.30 |
| One-way Ticket (Local Transport) | $2.00 |
| Basic Utilities (Monthly) | $270.28 |
| Internet | $121.00 |
| Fitness Club (Monthly) | $72.90 |
| Apartment (1 bedroom) in City Centre | $1,220.00 |
[erw_exchange_rates_widget lg="en" tz="0″ fm="EUR" to="EUR,USD,GBP,AUD,JPY,RUB" st="primary" cd="" am="1″][/erw_exchange_rates_widget]
Max Withdrawal: €400
Use of Credit Cards: Widely Accepted
Digital Nomad Personal Experience in Anchorage
Anchorage may be the largest city in Alaska, but it has a quiet vibe that is as exhilarating as the views of the mountains. Its residents are an eccentric and laid-back mix of native Alaskans and out-of-town people who love nature and tolerate the cold. Whether you're walking the Anchorage Market on a weekend or the flower-filled Town Square Park, the attitude of taking time out to enjoy the present and life is contagious.
Anchorage surprised me because I had never seen bears and elk occasionally roam the yards and streets of a city before. And even less that that seemed normal to everyone. Wild nature is just a step away from concrete and sometimes intertwines with it. It makes you remember how small we are and how amazing nature and its animals are. Because most of them are huge!
As the "big city" of Alaska, Anchorage offers a good mix of urban living with all the amenities that a midsize metropolitan area has to offer: shops, restaurants, galleries, a thriving music scene, and more. However, even in Anchorage, you are never far from an outdoor adventure. Less than an hour of driving was enough for me to be able to camp, raft, kayak, hike in the woods, fish, or ski.
I really enjoyed its small-town feel, where everyone seems to know everyone. Also, of the anecdotes around the grizzly bears, the hunting season, the search for gold and the usual trips by plane to access the houses on the islands. The conversations were always jovial, friendly and interesting, since everything in their world was new to me.
Alaska seems like a wild and untouched country on its own, as Anchorage as its gateway.
Work in Anchorage
We expand a third of our life at work, so where you work and who you work with is important. For this reason, more and more people choose to use coworking spaces, which are shared office spaces used by groups and individuals. Coworking allows people to find flexible and affordable office spaces in which they can grow.
If you're a telecommuter, entrepreneur, freelancer, small business, startup, or remote worker looking for a shared office, you might want to check out these spaces in Anchorage.
Best Places to Work in Anchorage
The Boardroom
The Boardroom (721 Depot Dr.) is a world-class co-working space in the center of town. They make networking easy by hosting weekly happy hours and kick-off events. Members also have access to an internal member directory and messaging app, and TED-style chatting. It has a pleasant atmosphere, private meeting rooms, shared and private offices in three different sizes, printers, bike storage, mail service, office supplies, free parking, coffee, tea and kombucha. The Internet connection is fast, reliable and secure. Members enjoy 100 + Mbps Wi-Fi speeds and 40 + Mbps upload speeds. The boardroom is secured 24/7, however, members and day pass users have access with digital key to the building. Many memberships include 24/7 access to the building and can use workstations at any time. This provides a complete log of user traffic each day. If that wasn't enough, members get local discounts and complimentary tickets to local activities. The daily pass costs 15 USD, the monthly 225 USD and a private office from 775 USD. 
Alaska Co:Work
Alaska Co:Work (205 E Benson Blvd), another option, also has all the extras you could want or need from an office space. With a combination of private desk and office spaces, group workspaces, group technology rooms, multiple conference rooms, and a large training room, they have a space to meet every work need. It has reception services, free Wi-Fi, parking, design services, professional cleaning services, an outdoor terrace with impressive mountain views, an internal notary and even a cafeteria that offers healthy snacks, meals and, of course, coffee. They offer daily rates of 25 USD, weekly for 100 USD and monthly for 300 USD. A single office cost 750 USD, a double one 850 USD and a 4 seat office 1.200 USD. You can also rent meeting and conference rooms and the training room.
If you need an office every so often, to get out of your house, and you are not bothered by noise, then going to a cafe might be a good option. Like any big city, Anchorage has a multitude of coffee shops that help people stay productive. For example, The Writer's Block Bookstore & Café (3956 Spenard Rd) has a great and cozy atmosphere. It has local art for sale, chairs and armchairs, a good variety of books, and the staff is very friendly. Also, an extensive menu, a full coffee bar, and beer and wine options. There is space for small meetings and to sit down to work comfortably.
All of these options give you flexibility and a cheap price for what is the Anchorage office market. 
Best Places to Live in Anchorage
Best Neighbourhoods
Anchorage is the most populous city in Alaska and is home to 40% of its population. This, of course, means that there are many individual neighborhoods and dazzling communities along it. Some areas are much more remote and others have a true urban feel. It is worth exploring before deciding where to live.
Rogers Park
Rogers Park is a neighborhood that is relatively close to the Anchorage business district, several schools, restaurants, shopping, and entertainment options. Here you can find apartments and smaller houses on moderately sized and inexpensive lots. It is an area for those who prefer to live in a less quiet area but with greater availability of services.
Downtown Anchorage
Downtown Anchorage turns into a bustling food and craft market every weekend of the tourist season. It has views of the Knik Arm River, as well as an abundance of green spaces so you won't feel like you're in a concrete box, and it offers different types of housing options and even condos.
South Addition
South Addition has a more suburban feel, with larger properties and homes. It also has many parks, sports courts, nature trails, a lagoon where you can kayak in the summer or skate in the winter, smaller mid-century businesses, and schools.
Huffman O'Malley
Huffman O'Malley has a low crime rate and proximity to several schools which makes it a family friendly neighborhood. House values ​​here tend to be a bit higher and everyone knows each other here. Home styles vary widely, but moderately sized lots are common. Also, it is close to the shopping area, parks and many restaurants. It is a suburban area with more green spaces.
Portage Valley
Portage Valley offers an easy access to Anchorage, a wilder environment, and a population of just over 200 people. It is ideal for those who like fishing, rowing and wildlife. However, Anchorage is just over an hour's drive away.
Hillside
Hillside is known for its views, especially those at sunset. The area has a lot of wildlife and animals that sometimes roam the house gardens. The neighborhood has good schools and lots of green spaces.
Rabbit Creek
Rabbit Creek has amazing views from most houses due to the height. It's in the area that includes Bear Valley and Potters Marsh, just south of downtown Anchorage. The houses are larger with Goldenview Middle School and Bear Valley Elementary. It is a quiet neighborhood with many families and retirees.
Turnagain
Turnagain, in West Anchorage, is great for families. It has good public schools like Lake Hood and West Anchorage High School, and easy access to outdoor recreational activities. It's easy to love living here being so close to the Ten Stevens International Airport and close to the Tony Knowles Coastal Trail.
Eagle River
Eagle River, about a 20-minute drive from downtown Anchorage, offers a peaceful setting with nearby forest trails, lakes, and picturesque views. You also have access to all the amenities you might need just a five-minute drive away.
Bayshore
is a residential area well known to those who have lived in Anchorage. It is a moderate-sized community with a wide range of home styles. One of the most pleasant features is the landscaping. It also has access to the Bayshore Clubhouse and many homes have views of the Turnagain Arm and the mountains.
Sand Lake
Sand Lake has several smaller developments within it such as Delong Landing, Caravelle, and Westpark. Homes here vary in size and style and you can find single family homes, condos and apartments. It has access to Kincaid Park, several lakes, Sand Lake Elementary Schools, and Dimond Middle School.
College Gate
At College Gate you'll find a large softball complex, Providence Hospital, the University of Alaska Anchorage, and East Anchorage High School. This area is also home to numerous older homes and a welcoming community with many homes for sale.
These are Anchorage's best neighborhoods with great amenities, easily accessible schools, entertainment, and nearby restaurants. Good luck with the search!
Find an Apartment in Anchorage
It is important to note that the housing and rental market in Alaska's major cities is more expensive than in outlying areas, but is still affordable. In Anchorage, renting a three to four bedroom home can cost between 1.800 USD and 2.400 USD per month, while for the rent in a two bedroom condo you can expect to pay around 1.350 USD. The market median monthly rent in Anchorage is around 1.620 USD.
To get an apartment in the city, it is advisable to first go out and explore it and decide in which area you want to live since it is not the same to be in Downtown than in the suburbs and each one has its associated advantages and disadvantages. Once the neighborhood has been decided, the best thing to do is to walk around it and talk to the locals to ask about rental possibilities. An agency will be more expensive so it is always convenient, if you have time, search on your own. Try to spot rental signs that aren't listed on the internet.
Keep in mind that searching for apartments in different seasons may produce different results. Sometimes winter rentals can be cheaper as there are not as many people coming and going in the city.
Internet is your second-best resource and also the local newspapers. Regarding the web portals, look at Craigslist Rentals, Apartments.com, Zumper, Apartment List, Padmapper, Hotpads, Roomiematch, Roomster, and Facebook's Marketplace. 
Another possibility is to join a housing Facebook group to find local options like Anchorage Rental Homes, Anchorage Rental, Anchorage Alaska Apartment Rentals or Alaska Homes for Sale or Rent. Local groups often have apartment listings on a regular basis.
If there is an open house, try to make arrangements to watch it beforehand. Arrive early and have all your personal information ready, such as phone numbers of your employer and former owners, credit reports, offer letters / pay stubs, scanned copy of our driver's licenses and your CV. Also consider that you will need a strong credit score.
There are many rental bargains in Alaska and there is often movement of people, also in part by employees of oil companies, the military and the stationary tourism. It will be a less arduous job if you do it in that order, first selecting the neighborhood according to your needs. I wish you success in your search!
Cheap Places to Stay in Anchorage
If your budget is low, you can search for cheap apartment listings and roommates on Craigslist. Check local listings and use filtering options to narrow your search results based on distance and rental price. Craigslist is often full of affordable deals.
You can also check other websites by filtering by square meters and prices. For example, you can check at https://www.zillow.com, https://www.forrent.com, https://www.apartments.com or https://www.apartmentsearch.com.
Another possibility is to join a low-cost housing Facebook group to find local options like Anchorage Rental Homes, Anchorage Rental, Anchorage Alaska Apartment Rentals or Alaska Homes for Sale or Rent. Local groups often have affordable apartment listings on a regular basis.
Keep in mind that you should look for housing in the suburbs just outside of urban areas. Living on the outskirts of a city can lower your rent. Take a look at the surrounding suburban areas and focus your search on housing in these cheaper areas.
If you need an even cheaper home, you can find a roommate to share the rent with. Post that you're looking for a roommate on your social media, as well as popular websites like Craigslist or Spare Room. Good luck, and happy apartment hunting!
Anchorage Visa
Depending on your nationality or the duration and reason for the trip to the United States, you will need to issue or not a specific visa. A visa waiver program is available for visitors from Andorra, Australia, Austria, Belgium, Brunei, Chile, Czech Republic, Denmark, Estonia, Finland, France, Germany, Greece, Hungary, Iceland, Ireland, Italy, Japan, Latvia, Liechtenstein, Lithuania, Luxembourg, Malta, Monaco, Netherlands, New Zealand, Norway, Portugal, San Marino, Singapore, Slovakia, Slovenia, South Korea, Spain, Sweden, Switzerland, Taiwan and the United Kingdom. The visa waiver is valid for a maximum of 90 days.
In order to use the visa waiver program, you will need to apply for The Electronic System for Travel Authorization (ESTA). ESTA costs 14 USD per person and can take up to 72 hours. If you have visited or a national of Iran, Iraq, Libya, Somalia, Sudan, Syria, or Yemen, you are not eligible for the Visa waiver program.
Passport holders from American territories, Bermuda and Canada may visit without a visa. If you don't have a United States passport expect to be fingerprinted and photographed on entry.
Everyone else can line up at their nearest embassy or consulate to ask prices and needed documents for every kind of visa. Tourist visas start at 160 USD and can take quite some time to sort out. Each consulate has its peculiarities and sometimes they are very hard in terms of the documents they request, it is better to consult with time.
On the other hand, the non-immigrant visa allows you to work and / or travel to the United States for more than 90 days, with the intention of returning to your country when this visa has expired. It includes different types of visa that vary depending on the reason for your trip, your personal characteristics and other aspects, so you should check which visa you need and what specific documents you need to process it.
On this website you can decide what type of visa you need to travel to the United States since at the time of making an appointment for the interview they do not inform you about this issue.
Culture and Food in Anchorage
Anchorage puts the best of Alaska on the menu. Menus include everything from king crab, halibut and wild salmon to other surprising Alaskan food specialties, whether it be fishing, farmed or foraging. Also keep in mind that during the summer the home season begins and the meat is fresh and local.
ORSO Restaurant (737 W 5th Ave) specializes in wild Alaskan seafood with perfectly prepared seafood dishes paired with an extensive beverage menu that includes beers from Glacier BrewHouse, as well as a diverse selection of cocktails and wines. ORSO allows Alaskan diners to sample some of the finest fresh seafood. Specialties include halibut, salmon, cod, and king crab. During the summer, the menu also includes seasonal vegetables that are grown locally. I recommend the Alaskan crusted halibut and the calamari appetizer.
Kinley's Restaurant and Bar (3230 Seward Hwy) is the debut restaurant of Chicago-born chef Brett Knipmeyer, who has won over his diners with his innovative approach. Chef Knipmeyer was selected as a regional semifinalist for the James Beard Foundation award, considered the Oscar of food in the United States. Kinley's Restaurant and Bar also specializes in fresh local seafood. It has a cozy combination of classic cuisine, contemporary rustic decor and very good service.
Ginger's chef, Guy Conley (425 W 5th Ave), is an Anchorage native with a deep understanding of the Alaskan culinary scene. Nominated Best Chef of the Northwest by the James Beard Foundation, Chef Conley offers local ingredients and an experimental fusion of Asian flavors, fresh seafood and meats. I recommend trying the Kalua pork sliders on Hawaiian sweet roll, lobster glazed duck breast and the panang beef curry.
Spenard Roadhouse (1049 W Northern Lights Blvd) is an eclectic and casual venue with a creative take on American classics. I highly recommend trying Spenard Roadhouse's tater tots served with smoked paprika aioli, their jelly bacon burger, and the Alaskan reindeer Polish sausage. Here you will also find the best selection of whiskeys and bourbons in the state.
Another favorite with the locals is Glacier BrewHouse (737 W 5th Ave # 110). This is a famous and elegant restaurant that offers local seafood, wood-fired grilled meats and home-brewed beer. The wood-beamed dining room with ample seating around the large fireplace has a rustic feel that makes you feel truly Alaskan. I recommend the grilled baby back ribs with Jamaican jerk sauce and spicy whiskey BBQ sauce.
In addition, in the center, there is also an old school steakhouse called Club Paris. If you go out, there is another extremely famous place about 45 minutes away in Girdwood called The Double Musky Inn, a Cajun restaurant that is a bastion for locals who want a fun night out. For cheap but good fast food there is Tommy's Burger Stop.
Anchorage Nightlife
To prepare for the Anchorage nightlife, keep in mind that bars throughout Alaska open early and close around 3 a.m. on weekends. Smoking is prohibited in bars and bingo halls, as well as in restaurants.
If you like a more laid-back entertainment, check out the Alaska Dispatch News entertainment section, published on Friday, and the free weekly Anchorage Press (www.anchoragepress.com) which features concerts, plays, movies and an overview of nightspots with live music.
Especially during the winter, the bars fill up in the city. Darwin's Theory is a classic local bar popular with tourists located on G st., In the center of the city. This is a good bar to unwind after exploring the many shops in the area. In addition, it is known to be the number one seller of cinnamon schnapps in the world with a drink called "Red Hot".
The 49th Brewing Co., located on W 3rd, is also a downtown bar. Features award-winning beer and a rooftop patio overlooking the Cook Inlet and Alaska Range. Undoubtedly a place to enjoy the best combinations of Alaska.
Reilly's Irish Pub is a more traditional option. Located on Fireweed Ln., It is known for its cold Irish beers and hot Irish coffee. It gets busy with local people and has a more informal atmosphere.
Midnight Sun Brewery, located in South Anchorage, offers ales and fresh food with a modern industrial twist. They even have a gift shop so that when you wake up you remember what a good night you had.
If you are one of those who prefer to dance, Chilkoot Charlie's (2435 Spenard Road) is one of the most popular nightclubs in Anchorage. The club opened its doors in January 1970 and is located in the center of historic Spenard. It is a huge nightclub with three large stages, three dance floors and 10 bars that host DJs, comedians and live events. Chilkoot Charlie's continued to grow throughout the '80s and' 90s to become the Alaskan nightclub that it is today.
Mad Myrna's (530 East 5th Avenue) is a premier LGBTQ + nightclub and entertainment venue based in Anchorage. It is located downtown, just a 10-minute walk east of the 5th Avenue Mall. It has a bar, restaurant, dance floor, and a variety of live performances. Theme nights are available on Wednesdays and Divas drag shows are held on Fridays. It also has pool tables.
LED Ultra Lounge & Grill (901 West 6th Avenue) is a nightclub with a summer patio, dance floors, VIP areas, and regular DJs. The LED club is a perfect place for all tastes with its multiple dance floor options and fully furnished VIP sections. If you are looking to find the most exclusive and fashionable nightclub in Anchorage, with great music and delicious dishes, this is your place.
Things to do in Anchorage
If you are interested in understanding the local culture, the first place to visit is the Alaska Native Heritage Center that honors its 11 native tribes through exhibits, storytelling signs and cultural performances. You can also go to the Alaska Native Heritage Center to see the six native dwellings on Lake Tiulana.
Because Alaska's northern position half the year is completely covered in darkness, a perfect situation to explore the Anchorage Museum as it will be cold outside and you won't have enough light to enjoy the natural views. It is the largest museum in the state and focuses on the culture and history of Alaska and the Arctic. This multifunctional space ranges from art to ecology, history and science. Exhibits Alaska-related or native works to promote local arts. Here you can enjoy a classic movie during the museum's popular "Celluloid Wednesday" or of the stars in its planetarium.
The Alaska Center for the Performing Arts is located next to Town Square Park and is another interesting point. There are three theaters with varying capacities within the building: the Evangeline Atwood Concert Hall, the Discovery Theater, and the Sydney Laurence Theater. Visitors can enjoy both local and international productions.
If you love animals, don't miss the Alaska Wildlife Conservation Center, about 40 minutes south of Anchorage, near Girdwood. The center cares for injured and orphaned animals, including moose, bears and eagles. You can hire a guided excursion and even help feed one of the animals or meet Dirus, the white wolf.
In Anchorage, helicopters aren't your only chance to fly through the clouds and to the islands. You can hop on small planes for unrivaled views of Alaska, including Denali, the Kenai Peninsula, Cook Inlet, the Chugach Mountains and the Anchorage skyline. The Visit Anchorage tourist office maintains a list of 14 scenic flight companies. In addition, it is very common for the inhabitants of the islands to travel in small planes that work like an air taxi.
The downside to going to Alaska in the summer is that the sky is too bright to see the Northern Lights. But you can get a bit of the big-screen experience at the Alaska Center for the Performing Arts. If you want to brave the arctic climate to see the Northern Lights in the fall, winter or spring, there are several tour companies that will take you to see them and you can even put together a tailor-made trip.
Do you like hiking? You are in the right place. The paved coastal trail spans nearly 18 kilometers of shoreline, from downtown Anchorage to Kincaid Park. It's the most popular trail in town and you might see not just elks, but beluga whales as well, along with views of McKinley Mountain and Denali. If you prefer to ride your bike, there are two rental shops located downtown, on Fourth Avenue. You can also be brave enough to climb Flattop Mountain, about 20 minutes from the city of Anchorage, which is considered the most climbed mountain in Alaska. It is a 5-kilometer excursion, although there is also a shorter route that is wheelchair accessible and easy for children.
More than half a million people visit the Chugach National Forest each year to enjoy some of the best sports and scenery in Alaska and the country. This park offers a diverse landscape of glaciers, mountains, rivers and valleys. To get the most out of it, hire a local tour guide to take you safely to the best places for kayaking, hiking, and commercial fishing. Prince William Sound is popular for watching wild killer whales swimming at the bottom of a frozen ocean. It is advisable to ask at the tourist office which months are best for sightings.
For those who like ice, there are more than 60 glaciers within 80 kilometers of Anchorage. For incredible views from above, you can take a helicopter tour with companies like Chugach Adventures and Ascending Path. The same companies also offer activities such as kayaking and hiking.
The activity that I recommend is to take a tour to the Kenai Fjords National Park which is a national treasure. In this park you can hike and kayak through a mirror-like icy surface, which will allow you to capture many incredible images. You can also observe arctic wildlife, with its otters, sea lions and even whales. It is a safe place to venture into the wild, at least a safer place because Alaska is pretty wild. If you feel like it, you can also hire a boat tour or a guide to tell you more about the flora and fauna of the place.
As you can see, Alaska is relatively small even though it has places that are difficult to access, and Anchorage is a perfect place to explore the surroundings.
Best Time to Visit Anchorage
Anchorage's most enjoyable months go from mid-May to mid-September. During the weeks leading up to the summer solstice in late June, the sun is above the horizon almost 24 hours. The midnight sun gives Alaskans long days to enjoy summer with cool, pleasant weather, perfect for fishing, climbing, biking, gazing at snowy mountains or eating reindeer sausage.
Winters are long, cold, and dark. Anchorage actually has a warmer climate than other cold-weather cities like Chicago or Minneapolis because it is on the ocean. Southeast Alaska stays relatively warm for the same reason. Inside, however, it is very cold. Without the regulatory influence of the ocean, temperatures in inland places like Fairbanks can drop to -30 ° C. In Alaska there are many microclimates and in a one-hour trip in any direction you can experience a temperature change of 30 ° C. Also, there is great variation in snowfall across the state. An average of 2 meters of snow falls in Anchorage each year.
The most important thing to be prepared is not the cold or the snow, but the darkness. Mid-November to late January can be difficult weeks due to lack of daylight. On the winter solstice, the sun rises at 10:14 am and falls at 3:42 pm. And in mid-February, the days begin to lengthen again and you will begin to dream of another great summer in Alaska.
Anchorage for Families
Alaska has one of the highest crimes and domestic violence rates in the country, and Anchorage is no exception. If you have a significant income, you can live in safer parts of the city. For example, Wasilia or Palmer Alaska on the valley or places in the very familiar suburbs that are close to Anchorage with lower crime rates. While you will have a commute, your family will likely appreciate the sacrifice, as well as the peace of mind that a safe area provides. 
The school district has some award-winning charter schools. But they are all lottery based, so if your children are not selected you may end up in a sub-par neighborhood school. Though there are a select few quality neighborhood private schools. Security and prices of food and schools are certainly some of the issues to consider.
But, if you love the outdoors and want to take your family hiking, fishing, camping, kayaking or just on a walk to enjoy nature, it will be a great place for you. You can go out to explore every weekend during the summer and get used to stand the cold on winter excursions.
Living in Anchorage
Anchorage Transportation
The best ways to get around Anchorage are on foot or by car. The compact city center is easy to navigate on foot. However, if you plan to explore the suburbs or live in the suburbs, a car is your best option. Auto insurance premiums vary based on your zip code, driving record, and type of vehicle.
Public transportation is very limited, even in Alaska's largest and most cosmopolitan city. At the city operates a public bus system known as the People Mover, but buses only run once every half hour or once every hour, depending on the route. The routes cover several major tourist sites, including the Anchorage Museum, as well as several of the outlying neighborhoods. Individual rides cost 2 USD per person (remember to bring exact change), but if you plan to use People Mover fairly frequently, consider purchasing a 5 USD day pass.
Finding a cab in Anchorage is not difficult, but you will do your best not to rely on them on a regular basis, as fares are high. The two main taxi companies are Checker Cab and Alaska Yellow Cab. The flag drop is 2.75 USD and each six hundred kilometer of travel costs 2.50 USD.
To get downtown from Ted Stevens Anchorage International Airport (ANC), consider taking a taxi to avoid inflated rates at airport car rental agencies. Taxi fares from the airport to downtown Anchorage generally cost between 20 and 30 USD.
If you are thinking of touring Alaska using Anchorage as a base, according to other travelers one of the best ways to get to know its surroundings is to use the train. The Alaska Railroad offers several train tours that take you from the city's historic reservoir to nearby natural attractions such as Denali and Spencer Glacier and Kenai Fjords National Park. However, there is a limited service between September and May.
Fitness and Health
Alaskans are passionate about the outdoors sports. Soccer, cross-country skiing, cross-country running, basketball, softball, and volleyball are some of the many extracurricular sports programs offered by schools in Alaska's major cities. In summer, places like Glen Alps are in fantastic mountain biking destinations. When the snow comes, ski resorts like Alyeska offer optimal conditions.
If you work during the week and prefer to train in a gym, YMCA of Anchorage (5353 Lake Otis Parkway) is the best buy for a pool and gym in Anchorage. It costs less than 65 USD per month for unlimited access. They are open from early in the morning until quite late at night. They always have at least 2 lanes open for swimming, their treadmills are solid industrial models with cable TV screens, they provide 2 clean towels and a large padlocked locker for free. It has group exercise classes, swimming, basketball games, a family gym, and personal training.
Alaska Functional Fitness (6320 MacKay St) is a well-maintained gym that fosters a sense of community. It features high-performance strength training equipment, Hammer Strength equipment, hammer force movement technology, and much more.
Other training places to consider are Planet Fitness (670 E Northern Lights Blvd), F45 Training Midtown Anchorage (4307 Arctic Blvd), Southside Strength and Fitness (11901 Industry Way Bldg), Crossfit Anchorage (620 E 57th Pl Anchorage) and The Alaska Club – The Summit (11001 O'Malley Center Dr Ste 103), between others.
Anchorage People
In Alaska most cities and towns are small enough for people to get to know their neighbors, and since much of the state is only accessible by ferry or plane, Alaskans spend a lot of time traveling in groups. It is not uncommon to meet at least one person you know at the airport. Alaskans can be independent, but most are also welcoming.
They come from every state in the country, and many were born in Alaska itself. They have a lot of independence of thought and action, and a taste for a good joke. Many are familiar with the borders in other lands and surprising familiar with the world of books. The northern European strain is strong among foreign-born Alaskans; most are Norwegian, Swedish or Finnish.
They all share an interest in preserving the traditions that were in danger during colonization. Schools work to teach children local Native languages ​​and stories, and anyone interested in learning about Native culture can visit institutions like the Alaska Native Heritage Center in Anchorage or the Totem Heritage Center in Ketchikan.
The descendants of the earliest settlers are the Eskimos, Aleuts, and Alaska Indians of today. Most of the natives of the more remote settlements live as they used to, but an increasing number are attending school and university and are engaged in trades and professions. Alaskan Eskimos live in sturdy igloos made of wood or bone and dirt. They market their hunting and fishing products through cooperative stores, which they own and manage under federal supervision. With the furs they make beautiful parkas, mukluks (boots) and other garments. Eskimos are intelligent, with a natural aptitude for drawing, mapping, carving, and mechanical repair. They are honest, adaptable, and fun.
They are a united community with a taste for adventure and the good life. Not all of Alaska is remote and it is possible to live in any of the most populated areas of the state without having to go hunting or give up Wi-Fi. But many Alaskans do it anyway. They enjoy being self-sufficient and many fish, hunt, cut their own firewood and grow their own food.
Even if you move to Alaska without the intention of climbing high peaks, you will probably end up doing it. Alaska offers views like nowhere else, and the best way to experience them is often by kayaking on a trail.
When the days are dark and short, even the most adventurous Alaskans spend more time in their homes. Many Alaskans are self-taught artists or musicians due to the colder months of the year. Some cities even host costume parades, talent shows, and art shows.
Anchorage Insurance and Medical Care
The US public hospitals aren't free of charge. The patient is responsible for his medical expenses even if he has an American passport. The cost of health care is extremely high and a hospitalization could bankrupt a family. The alternative for residents who do not have government support is to take out private health insurance, although it also comes at a high price.
Without purchasing insurance, an emergency room visit can cost up to 6.000 USD, 20.000 USD for a normal delivery, 100 USD for a medical consultation, 300 USD for a specialist consultation, more than 1.000 USD for an MRI, 50.000 USD for intervention for appendicitis plus postoperative attention and 600 USD for an ambulance transfer. With basic insurance the cost is reduced by at least half. Therefore, whoever can afford it chooses to have health insurance, expatriate insurance or travel insurance. 
Alaska has one of the smallest populations of a U.S. state. Still, it offers Alaskans the full range of health insurance options through employers, the private individual market and programs like the Affordable Care Act (ACA), Medicare, Medicaid and the Children's Health Insurance Program (CHIP). Half of Alaskans actually get their health insurance from their employers. Under the Affordable Care Act, companies with more than 50 employees must provide "affordable" coverage that includes various baseline care, like pediatric and dental care. Employers usually pay about 75 percent of the plan's cost.
Medicaid covers one in five people in the state; Medicare, the federal government's health insurance for Americans over 65, covers one in 10; and the ACA (also known as Obamacare) covers one in every 20 residents.
Make sure you are fully covered by reading our full Digital Nomad Travel Insurance guide.
Jobs in Anchorage
Alaska is ranked 20th among the states of the United States in income per capita. Anchorage is among the 10 most expensive cities to live in in the state, and unemployment in Alaska is above the national average. However, Anchorage has the most job openings.
Foreign citizens can work in Alaska as long as they obtain a United States work visa in advance. If you have a work visa, you can submit job applications to employers on AlaskaJobFinder or job seekers like Indeed. If you are looking for work outside of Alaska, beware of advertisements that guarantee "jobs with a lot of money", many of them charges a fee and require you to find your own job. They offer employment services for a fee but are not associated with the Alaska Department of Labor and Workforce Development Employment Services Program.
Another way to find a long-term job that allows you to move to Alaska is to start a temporary or seasonal job in the state. There are hundreds of seasonal jobs available just for the summer. Most are tourism-related jobs and incorrect payments that only last a few months. This provides an opportunity to look for a steady job from there. Most of these seasonal jobs provide room and board. During the winter, many hotels also close and need trusted caretakers.
Some of the fastest growing jobs in Alaska are dental assistant, medical assistant, personal care assistant, home health aide, receptionist, crew member, billing specialist, kitchen butler, and cook. You can also get jobs in oil, aviation, education and government jobs.
Check out our Digital Nomads Jobs Postings to find the best jobs available for Digital Nomads.
Nomad Friendly
Value for Money
Internet
Workspace
English
Food
Safety
Health
Transportation
Friendly
Quality of Living
Cost of Living Anchorage
It is important to note that the housing and rental market in Alaska's major cities is more expensive than in outlying areas, but is still affordable. In Anchorage, renting a three- to four-bedroom home can cost between 1.800 USD and 2.400 USD per month, while renting a two-bedroom condo can cost around 1.350 USD. The average monthly market rent in Anchorage is around 1.620 USD.
Also, the city has many supermarkets. There is a Walmart Supercenter, a Hana supermarket, and a Fred Meyer's branch, so finding places to buy groceries is not a problem. However, a dozen eggs will cost you 3.04 USD and an imported beer of 33cl, 6 USD. It costs about 170 USD to feed a family of four per week. Eating out is not cheap either, a basic lunchtime menu with a drink in the business district can cost 17 USD.
In Anchorage, the average monthly utility bill is 289.73 USD. Expect your winter bills to exceed that amount due to heating and electricity usage due to lack of natural light.
However, the annual dividend from the Permanent Fund helps offset these costs, Alaska has the lowest taxes in the country and is one of the few states that does not have sales taxes.