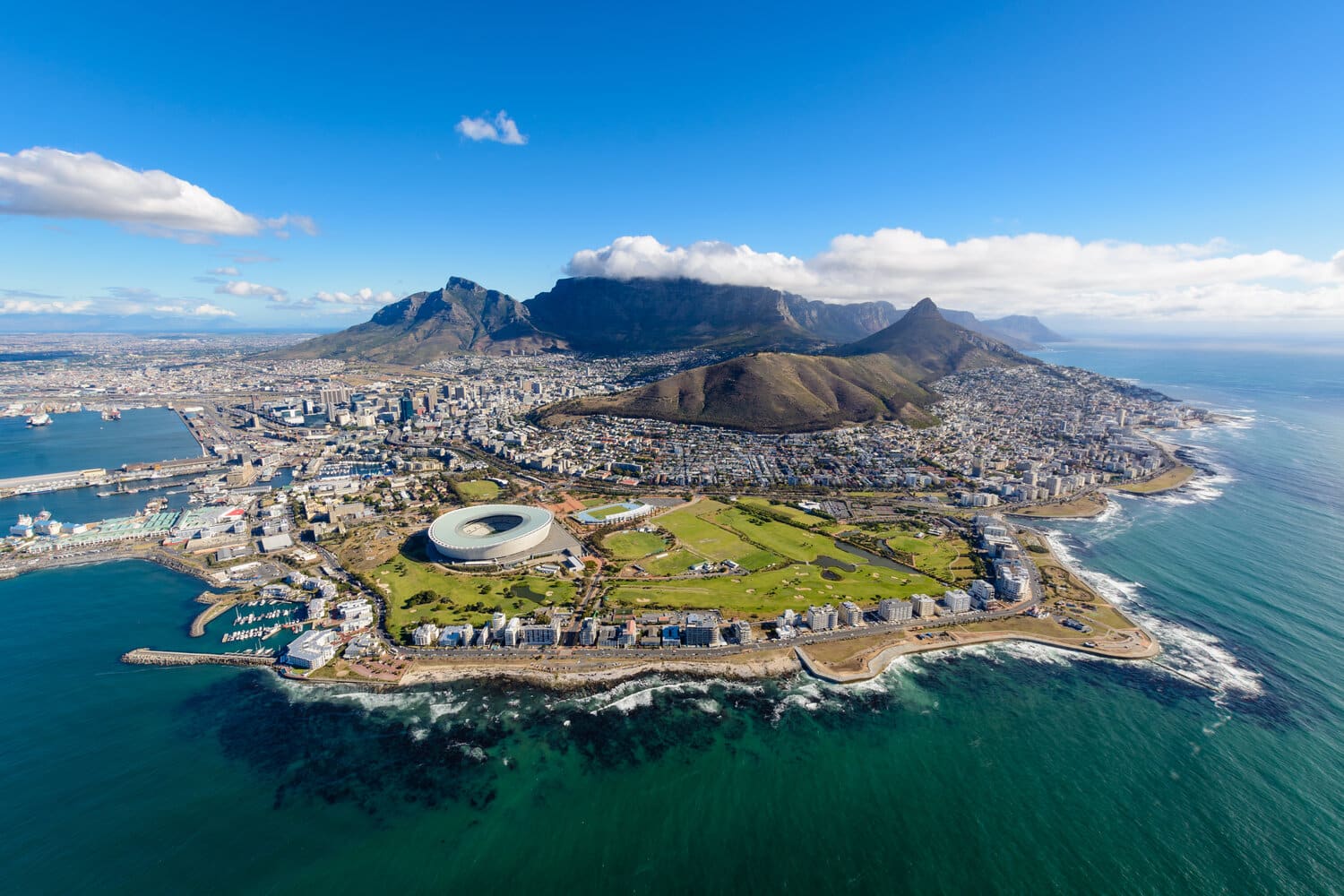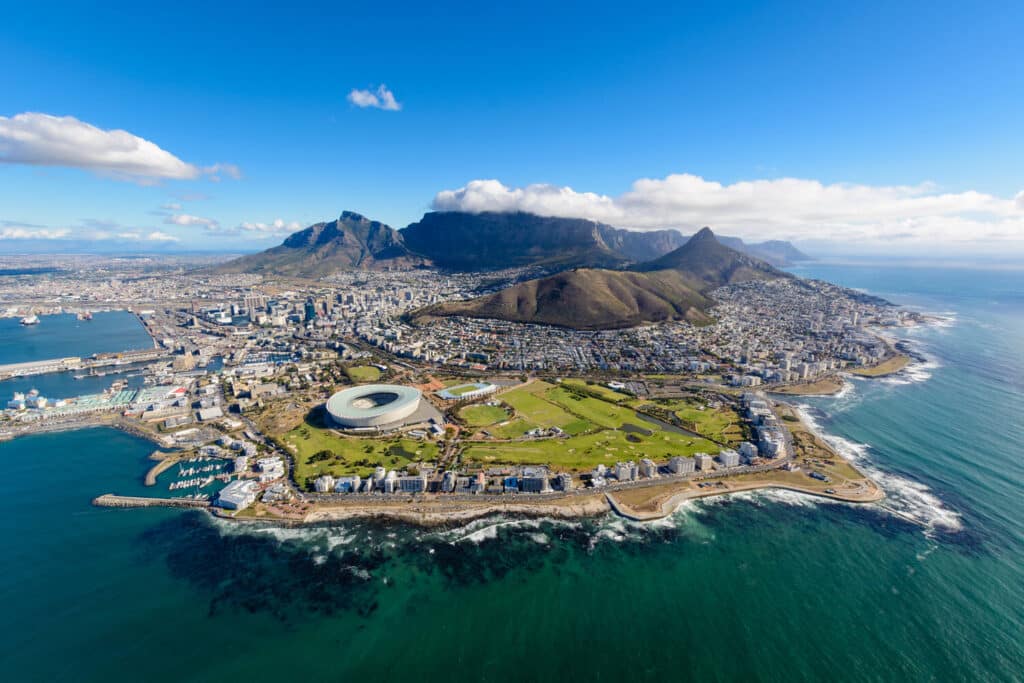 A Digital Nomad Guide to Cape Town, South Africa
'||Hui! Gais'. What a place to be. And no, that's not African slang for 'Hi Guys!'
It's Cape Town's original name. Don't feel bad if you struggle with the pronunciation; it comes from the indigenous KHOI language and means "where clouds gather." It's the perfect name for the area surrounding the iconic Table Mountain. As treacherous as it is beautiful and enticing—this massive table-top-like mountain is not to be taken on lightly by amateurs. Many have tried while visiting the 'Mother City' of South Africa and fell short of breaking a few bones after losing their way on the narrow pathways up the misleadingly easy hiking trails.
Why am I starting our review of Cape Town, South Africa, with such a stern warning? Because like Table Mountain, the entire Cape Town is a gorgeous Delilah with ever-inviting nooks and crannies that you should handle with expert care. She is as dangerous in places as she is beautiful. Fortunately, you'll also find loads of areas that are still very safe to wander the streets alone at night. You just have to know where to find them.  
I have first-hand experience of a large part of the area and will gladly share my experiences and advice with the rest of our nomadic tribe here. Cape Town is my favorite destination for digital nomads in Africa, and if you're interested in living here, you can explore what awaits you. The nomadic digital scene is vibrant, with expats everywhere in the city and the best of them enjoying life and work balance.
A Bit of Capetonian History
In 1652, the Dutch East India Company set up a refreshment station along the shores of Table Bay. With fertile soil and plenty of water, the area served as the perfect halfway point for vessels traveling to and from Asia. 
Jan van Riebeeck's arrival on 6 April 1652 established the VOC Cape Colony, the first permanent European settlement in South Africa. 
Cape Town outgrew its original purpose as the first European outpost at the Castle of Good Hope, becoming the economic and cultural hub of the Cape Colony. Until the Witwatersrand Gold Rush and the development of Johannesburg, Cape Town was the largest city in South Africa.
Colloquially called the Mother City, it is the largest city of the Western Cape province and forms part of Cape Town metropolitan municipality. The Parliament of South Africa is in Cape Town. The other two capitals are in Gauteng (Pretoria is the administrative capital, and the Presidential base. The judicial capital is located in the Free State (Bloemfontein), where you'll find the Supreme Court of Appeal).
The city is well-known for its harbor, it's natural setting in the Cape Florist Region, and for landmarks such as Table Mountain and Cape Point. Cape Town is home to 49% of the Western Cape's population.
Cape Town is the reigning champ for the International Council of Societies of Industrial Design and voted the best place in the world to visit by both The New York Times and The Daily Telegraph. Cape Town has also been a host city for both the 1995 Rugby World Cup and 2010 FIFA World Cup and annually hosts the Africa leg of the World Rugby 7s.
The shore of Table Bay, Cape Town, is the oldest urban area in the Western Cape. The Dutch East India Company (VOC) developed it as a supply station for Dutch ships sailing to East Africa, India, and the Far East. A vibrant city along the Western Cape coastline, you can expect easy friendships and excellent scenery. You can't simply visit Cape Town over a short holiday. Stay a couple of months to experience multiculturalism at its peak. The colorful art and fashion, the buzzing tech scene, and the outdoor lifestyle will get you hooked. 
Table Bay is home to the cultural UNESCO World Heritage Site, Robben Island, where the iconic Nelson Mandela spent years imprisoned before becoming the first president of a democratic South Africa. Just 6.9 kilometers off the coast of Bloubergstrand, you can find this oval-shaped historic gem. Through the 16th and 17th century the Dutch and British fortified the island and used it as a maximum-security prison. This penal colony housed many political prisoners until after apartheid in 1996. 
Anyone who's ever lived and worked in Cape Town will tell you—for life as a digital nomad; this city is a GEM.
Nomad Friendly
Value for Money
Internet
Workspace
English
Food
Safety
Health
Transportation
Friendly
Quality of Living
Living in Cape Town Overview
| | |
| --- | --- |
|  Meal, Inexpensive Restaurant | $8.95 |
| Domestic Beer (1 pint draught) | $2.16 |
| Cappuccino (regular) | $1.78 |
| Loaf of Fresh White Bread (1 lb) | $0.77 |
| Water (1.5 liter bottle) | $0.97 |
| One-way Ticket (Local Transport) | $1.23 |
| Basic Utilities (Monthly) | $94.57 |
| Internet | $51.52 |
| Fitness Club (Monthly) | $33.44 |
| Apartment (1 bedroom) in City Centre | $644.91 |
[erw_exchange_rates_widget lg="en" tz="0″ fm="EUR" to="EUR,USD,GBP,AUD,JPY,RUB" st="primary" cd="" am="1″][/erw_exchange_rates_widget]
Max Withdrawal: €400
Use of Credit Cards: Widely Accepted
Digital Nomad Personal Experience in Cape Town
My nomadic experience started as a sapling. Ever since I can remember, we've been on the move. Don't worry—we're not running away from the law, only the fear of stagnation. 
As a kid, we used to love going to the big city. We'd go to Ratanga Junction, which used to be an amusement park in Century City. 
We'd spend days on end at the Waterfront taking in the breathtaking views and delicious cuisine. 
Sometimes we'd visit the Two Oceans Aquarium, where the diversity of the Indian and Atlantic oceans meet. 
I have very fond childhood memories of visiting Cape Town. 
It's no surprise that I made my way back to the area to start my adult life. It's where I fell in love and had my heart broken for the first time too. I can't think of a better city to have this rite of passage to adulthood occur. 
We watched the sunrise on the beach, attended more concerts than is necessary, and just enjoyed life to the fullest. Capetown wakes up the vibrancy within us, and I'm not sure if it's all the fresh ocean air, but there's an energizing vibe wherever you go in Cape Town and surrounds.
Cape Town combines the beauty of the coast with all the perks of city-living so magnificently—you can hike in the hills this morning, go for a surf this afternoon, and end the day under the twinkling city lights. 
A surfing lesson was one of many firsts in Cape Town. 
Work in Cape Town
Cape Town offers a place where, besides the warmth, sunshine, and beach atmosphere, digital nomads can work. 
There is everything you need to live a comfortable, remote working lifestyle. There is no better place in South Africa to be regarded within the "digital nomad" community than the city itself. 
Getting a freelance job in Cape Town is a breeze if you are a techie. Digital nomads who prefer to work in a café can choose a place that perfectly suits the needs of workers from afar. 
Digital nomads visiting Cape Town can work from their Airbnb apartments or co-working spaces or even in their own homes. 
Cape Town is also an attractive location for digital nomads because of its proximity to Cape Town International Airport and the Cape of Good Hope National Park. 
To make the province even more attractive to travelers, Wesgro, a Western Cape tourism company, has partnered with Airbnb to promote it as an ideal location for digital nomads.
Best Places to Work in Cape Town
Co – Workspaces are the future of office work in Cape Town, and I've compiled a list of our favorite shared workplaces for office workers in South Africa's capital. 
Cape Town Garage
The Cape Town Garage is one of the most popular co-working spaces in Cape Town and promotes collaboration, collaboration, and collaboration between employees, with freelance creatives not excluded. 
Suppose you are interested in being part of a team of up to 10 people in a single office space. In that case, Cape Town Garage offers affordable office space that allows businesses to focus on growing their business. Cape Town Garage: Cape Town Garage is home to South Africa's most innovative and creative companies. 
Seedspace
If you like the idea of a designated space but prefer more privacy than a team, you can secure a seat at Seedspace, one of Cape Town's most famous co-working spaces. If you have a job far away or are looking for a place to do work, check out a co-working space near you. SeedSpace also has offices in locations around the world, including Cape Town. 
The Seedspace office in Cape Town is ideal for start-ups and small businesses, as various co-working spaces surround it, from small office spaces to co-working spaces. 
Whether you are an established company looking for a change of scenery, a co-working office in Cape Town can offer a cost-effective and practical solution for companies of all backgrounds. 
Although there are several benefits associated with co-working, some are universal for renting office space in Cape Town. 
A co-working space offers small businesses, start-ups, and professionals the chance to collaborate with like-minded people in a fresh and dynamic environment, where they can network and make friends. Rising in Cape Town offers various spaces to spread and exchange ideas, where you can share your ideas. You can choose from various office spaces, from small offices to large offices, in most of the employees' rooms. 
Cape Town Workshop17
Cape Town Workshop17 in the watershed is one of Cape Town's most popular co-working spaces and has two locations. The Cape Town office is in the East City district, surrounded by countless shops, bars, and restaurants. 
V&A Waterfront
The V&A Waterfront is Cape Town's flagship tourist attraction and some great co-working spaces here. Here are some of the best co-working spaces on the planet if you want to work in the area. Remote workers can come to work from anywhere in South Africa as long as they are not too far away. This makes it the perfect base to explore the city, with many rooms for staff.
Also known as IC in the city's creative community, this luxurious co-working space is the perfect starting point for your business to grow. Like other co-working spaces in Cape Town, Stoep Startup offers a way to work, escape traffic, and get inspired. Entrepreneurs can also drop by and work together at the Awethu Hubbers co-working space, which will open soon if there is enough space. 
Kelvin's Corner is a co-working space for creatives, designers, filmmakers, and content creators who focus on creative writing, photography, video production, and other creative projects. This is one of Cape Town's most popular co-working spaces for creatives and entrepreneurs and is just a few blocks from the city's principal office. 
Stoep Startup Coworking Space
Stoep Startup Coworking Space members connect with the Cape Town area, and it was a genuine pleasure to watch the community grow and prosper. It describes itself as an office space serving innovative urban businesses that need offices that promote productivity and opportunity. 
Greenpoint Coworking offers a wide range of office space, from small to large, with various offices for many businesses. 
As almost any digital nomad who has ever lived or worked here will tell you, Cape Town is one of the best places in the world to work in a studio. 
It is no surprise that the more straightforward answer to the question of what type of office space is best suited for working together, whether you rent a small office, a large office, or even a full-time office. Cape Town has a variety of different offices, from small studios to large offices, with various work studios in between. 
Café Ki Bok
Café Ki Bok makes it easy to stay online and meet other digital nomads on the go, and if you want to meet like-minded remote workers, you can join the expats at Cape Town Digital Nomad Club. 
Johannes Volkner, the founder of Nomad Cruise, leads this group, and you can also post, connect and organize meetings in the group. 
This is a real community get-together that will inspire you and teach you a lot about the digital way of life of the nomads. Rest assured that you will have the opportunity to meet some of the best and most interesting people globally, from travel bloggers to travel guides to co-working experts.
Inner City Ideas Cartel focuses on creating a space that enables productivity and a positive work experience. There are two locations, both in the CBD. Membership ranges from a day pass to an all-inclusive package that grants access to pools, lounge areas, bars, gyms, and so much more. They designed these gorgeous spaces for entrepreneurs and nomads. 
Best Places to Live in Cape Town
Those who prefer Cape Town as a tourist destination in South Africa often overlook it as a destination for digital nomads in South Africa's fourth largest city. They spoil nomads who set out to Cape Town for choice with tourist destinations in and around South Africa. 
They perfectly positioned Cape Town to take advantage of people living and working far away during the COVID-19 pandemic. One downside of living somewhere in Cape Town can be that the city is very scattered, so the distance you need to travel can be quite long. 
One of the best ways to start your trip to Cape Town is by visiting the Cape of Good Hope National Park, where you can get a first look at one of South Africa's most popular national parks. 
If you want to move to a place that always seems to be a wonderful city for digital nomads, book your ticket to Cape Town right away. This place is full of everything to do with the "digital nomad" lifestyle, from restaurants and cafes to studios and hotels.
The digital nomad lifestyle is all about Work & Life Balance and South Africa is one of the delightful countries to find the right balance. It is a balance between work and life and there are some suitable destinations where you can do it right, such as Cape Town.
Best Neighbourhoods
You can start your journey by spending a few weeks in Cape Town CBD, a great place for remote workers and the perfect place to live, as it offers everything you need and wants as a remote worker in the ideal place. 
And then you can start exploring the surrounding areas till you find your perfect spot in the sun.
Gardens Center
Gardens Center and Woodstock offer gorgeous loft apartments and are perfectly centrally located, close to all the action.
Constantia
If you want to live outside the city noises, you can travel to Constantia or some of the other Southern suburbs where, albeit more expensive to live, the scenery is stunning and the vibe much slower and laid back.
You'll quickly find bachelor's or one-bedroom apartments for more extended lease periods. The general rule of thumb for lease agreements is 12 months, but you can negotiate shorter periods with a real estate agent.
Furnished apartments are more expensive, as they're typically only available to tourists (heavily inflated prices per day.) Always try to negotiate your price with the landlord.
Let's explore what the city offers when you are a Digital Nomad in South Africa. 
Whether you are staying in a hotel or hostel, they give you a good – rounded insight into what hotels and hostels look like and where they stay. We#Ve has created a guide to help you find the best accommodation and stay, whether it's in one of the most popular tourist areas in the country or a cheaper option for people on a budget. 
Whether you are looking for a budget hostel or a boutique hotel, we hope this list will help you. If you have a hostel in Cape Town that you would like to add to the list, please write us an email. We have compiled our list of the best backpacking accommodations in South Africa's capital to help you make your visit an unforgettable experience. 
Backpacking is a fantastic experience with fabulous food, excellent accommodation, splendid views, and a friendly atmosphere. 
If you're looking to get away from it all, check out their list of Cape Town hostels for the best ways to book your hostel quickly and focus on backpacking in Cape Town. 
I consider Mojo Hostel one of the quieter hostels in Cape Town, perfect for couples looking for a relaxed trip. This hostel offers everything you are looking for those who want to be a little more relaxed and seasoned with a dash of sea salt; the Mojo Hosting is also one of the best hostels in Cape Town. 
Fast, free Wi-Fi combined with many seating and work options makes Awesome Backpacker a winner in our eyes. This friendly backpacking hostel also has enough amenities to make your stay in Cape Town worthwhile. 
Awesome Backpacker's prime location gives you the best Cape Town offers, and we are sure you will come back here again and again, making it one of my most popular hostels in Cape Town on this list. 
I love the quality of the food, the friendly staff, and the free Wi-Fi at the Awesome Backpacker. Still, we believe their long-standing reputation as a top-notch backpacker destination has earned them this specification as they are the only ones on our list with a full-service restaurant and excellent bar. 
The Observatory location is fantastic, with magnificent views of the city and a wide selection of restaurants and bars, making it one of the best hostels in Cape Town.
Simon's Town Backpackers is located over 40 kilometers from Cape Town and is a great place to explore the beautiful Cape Peninsula. 
With world-famous beaches, restaurants, bars, and stunning views of the city, Atlantic Point Backpacks is the perfect hostel to explore all that Cape Town offers. This hostel is ideal for exploring Cape Town and offers a wide range of restaurants and bars. 
The staff is friendly and helps you organize trips to the area, making it an excellent place for a day trip to one of Cape Town's most popular tourist areas. You have a wide selection of restaurants and bars for guests and various bars and restaurants within the hostel itself, making it the perfect destination for backpacker trips to the Cape Peninsula. 
Cape Town is full of travelers from all over the world, so choose a great hostel that is designed specifically for solo travelers, and you will undoubtedly meet like-minded people who venture to Cape Town alone. The city welcomes backpackers, and it is easy to make new friends and maybe explore the city together. 
If that's what you're looking for, check out the best hostels in Cape Town that are sure to meet your needs. For several backpacker accommodations in town, read these reviews and comparisons. They are a significant source to help you find the style that suits you best. 
I've looked at some of the best-rated hostels in South Africa, centrally around Cape Town. 
African Heart Backpackers is the perfect place to rest your head, even if it does not offer a full-service hotel or even a private room for solo travelers. This wonderful double room is clean and comfortable and looks more like accommodation than a boutique hotel, making it the perfect place for an evening out on the town. 
The playful design of this modern lodge makes it a brilliant choice for an overnight stay in the city's tourist hotspots. 
Don't be afraid to try new things, explore new cultures, and broaden your horizons in one of Cape Town's best hostels. 
Cape Town Visa
Some exciting developments can make it super easy for Digital Nomads to take a working holiday in Cape Town soon.
"If the City of Cape Town gets its way, South Africa may introduce a Remote Working Visa to attract digital nomads—especially to the Western Cape.
After being voted one of the "Best Places For Remote Working in 2021" and receiving a Safe Travel Stamp from the World Travel and Tourism Council (WTTC), Cape Town is looking to position itself as an ideal "workation" destination in the wake of the Covid-19 pandemic.
While the coronavirus and associated travel restrictions continue to devastate tourism, the City of Cape Town—which attracts the lion's share of South Africa's international visitors—has unveiled a new ten-point plan that includes a big international marketing campaign.
That, it says, will try to leverage its new status as a good place to work from, to attract the suddenly swelled tribe of digital nomads who can work from home, no matter where in the world that home may be."—Business Insider
Until these new provisions are in place, you'll be able to enter South Africa on a tourist visa for up to three months per year. If you plan to make your first trip for a longer period, you'll have to make such Visitor Visa applications before arrival.
Visa Overview for Digital Nomads in Capetown
As a heavily tourist-based economy, getting a South African tourist visa is relatively easy. If you hail from one of the countries mentioned on this list (https://www.dha.gov.za/index.php/immigration-services/exempt-countries), you are exempt from a South African visa for a certain number of days (30 or 90 days). For example, someone with a passport from the United States would receive a 90-day tourist visa stamp upon arrival.
If your country of citizenship is not on the exemption list, you must apply for a tourist visa ahead of time (https://www.vfsglobal.com/dha/southafrica/visitor-visa-section-holiday.html). The application itself is relatively straightforward, but the best place to start is at your nearest South African embassy or consulate. The employees there will advise you on where to submit your application, and they will also be available to answer any questions you may have.
South Africa has a contract with VFS Global, a visa outsourcing company. Therefore, all visa applications within South Africa and select countries MUST be submitted directly through the nearest VFS office. India is one country in which South African visa applications must be submitted through VFS, whereas visa applications from within the United States must be submitted at your nearest embassy/consulate. The visa applications are still processed and approved/rejected by the Department of Home Affairs in either situation, but VFS assists in collecting and returning applications. If you are unsure of where to submit your application, contact your nearest South African embassy/consulate to confirm.
Once in Cape Town, many visitors and digital nomads opt to apply for a visa extension through VFS Global. The awarded time of the visa extension may vary, but this article can help you throughout the process (https://www.theunconventionalroute.com/south-africa-tourist-visa/). If you have further visa-related questions, you can request to join the South African Visa Forum group on Facebook. There, you will find thousands of posts about visa applications and extensions that will help answer your questions. If group members have not previously discussed or answered your question, you can also submit new queries and rely on insightful responses. 
If your visa has expired but you have not gotten enough of the Mother City, there are numerous South African visa options. Unfortunately, if you do qualify for a different type of visa, you are unable to convert your tourist visa to any other type of visa within South Africa except under select circumstances (i.e. spouse or child of a South African citizen or permanent residence permit holder). If you want to apply, you must return to a country where you have residency and apply for a South African visa there.
The South African job market has been tremendously impacted by COVID-19. Throughout the 2020 lockdown, the national unemployment rate touched nearly 50%. This is one aspect that makes searching for formal employment rather difficult in Cape Town. Finding a job is not impossible because the government developed a Critical Skills Visa to fill the labor gap in skilled fields. If you work in any of these industries (https://www.dha.gov.za/images/immigration_critical_skills.pdf), you can apply for the visa with or without a job offer. There is a new list in the works with different categories, but it is not officially published yet. The government has also toyed with the idea of a Remote Working Visa, but there is nothing confirmed yet. 
If you are keen to work in Cape Town, job postings are shared on LinkedIn (https://www.linkedin.com), Career24 (https://www.careers24.com), Gumtree (https://www.gumtree.co.za), Indeed (https://za.indeed.com), Glassdoor (https://www.glassdoor.com/index.htm), Trovit (https://jobs.trovit.co.za), CompuJobs (https://www.compujobs.co.za), SimplyHired (https://za.simplyhired.com), and JobNexus (https://jobnexus.com/southafrica/).
Culture and Food in Cape Town
The Coffee Shop Culture in Cape Town
Alt: Cape Town is known for its 'Coffee Snobs,' and you'll find fantastic coffee shops on every sidewalk
If you love the aroma and taste of excellent coffee, then lingering along Cape Town's sidewalk cafes will become one of the essential parts of your daily life here. 
Cape Town's coffee snobbery has spawned several beautiful and popular coffee shops that produce kick-ass coffee. If you are a coffee snob looking for excellent coffee, there are loads of restaurants worth a visit, but if you are relaxed – and like to get the best coffee in town – you'll also feel right at home in others. 
Cape Town is truly diverse and caters to all. 
It is easy to see why Refuge Coffee has been one of Cape Town's most popular coffee houses for years. With its award-winning cappuccino and blends – you can do more than enjoy coffee, as this is the best coffee industry in the city since 2015. Her coffee is so good that the Daily Telegraph even voted her the best coffee shop in the world for the second year in a row. 
This combination does not make it the ideal place to have coffee and something delicious to eat with friends, but it is undoubtedly one of the best cafes in Cape Town. The bustle of the Stellenbosch and Newlands offices is the perfect place to check emails, work on a project or meet a friend, training partner, or colleague for coffee. 
The staff is super friendly and takes care of their coffee beans, making the best coffee in town. Molten Toffee is your thing in Cape Town if you're looking for excellent coffee, a good meal, and a nice cup of coffee on a hot summer day.
Origin Coffee, one of South Africa's leading coffee bean growers, invites you to taste and experience roasted coffee, which produces and roasts some of the best coffee beans in the world. 
They source roast and mix their beans on-site and serve the coffee in their café at the D'Orsay Hotel in Paris—truly an international taste right at home in Cape Town. Origin Coffee Roasting offers a wide range of coffees from South Africa's leading coffee bean growers and various blends.
Rosetta Roastery is also at the Woodstock Exchange, a design center, and they do all this with a focus on quality coffee and a wide selection of coffees from around the world. 
Rosetta Roastery is one of the best coffeehouses globally. It is on our list of the best cafes in Cape Town because they source only the best coffee from the most prestigious coffee farms in Africa and South America. With several branches in Cape Town, this café has kept its personality and serves some of the best coffee in Cape Town. 
It's one of the best cafes in the city because it houses some of the most prestigious coffee farms in South Africa and a wide selection of coffees. 
The beautiful interior and excellent coffee make this restaurant a must-have for coffee lovers in Cape Town. Frequently referred to as "one of the best coffeehouses in the world," it's a little more expensive, but if you're looking for a good cup of coffee, a good glass of wine, or a good meal, this is probably the only good café in our city for you. 
From roasting your beans to focusing on excellent coffee, the recipes work perfectly for Deluxe Coffee, which is served proudly in Cape Town. You can find their shift presses in all the stores, but you can't get an excellent taste of what they have to say without contacting them on their Facebook page, where they're always looking for new coffee recipes. 
Cape Town has a strong coffee culture and takes it to the next level. To capitalize on South Africa's growing coffee culture, we suggest bookmarking your Facebook page for more information about the city's best coffee houses. 
Cape Town's coffee shops have their fair share of big coffee houses. The decor matches the right tones of classic Cape Town cafes, from coffee to decor, and the coffees themselves are the true showpiece. 
You can go straight into a café with a cup of coffee in one hand and a glass of wine or beer in the other.
Excellent coffee is the most critical ingredient in a great coffee shop, and Truth Coffee has nailed it. The coffee has a soft, full-bodied flavor, with just the right amount of caffeine for a good cup of coffee and a glass of wine. 
With a delicious brunch menu and an ethos that revolves around the best coffee in the city, it's no surprise that Underdog Athens graces our list of the "best coffee shops" around the world. 
Truth is a splendid example of what a good café works for, a must-visit coffee hotspot in Cape Town and one of South Africa's most famous cafes. 
Local Wine Routes with Restaurants to Visit
The Western Cape has some of the best wines in South Africa and the world, especially in its wine regions. The heart of the wine country is at the end of Route 62, near Cape Town, so visitors could easily explore it for weeks. 
Many visitors, however, choose to rent a car in Cape Town and drive the scenic 30-40 minute drive to sample the fine wines of South Africa and the world. It is a short drive from Cape Town, where tourists worldwide have access to the famous Cape wine region and many of its famous vineyards. 
Stellenbosch and Franschhoek are two of the most famous wine regions in South Africa. The other exquisite wine-growing areas to visit are Constantia, Durbanville, and Paarl, although they are the two most famous and popular wine roads in the Western Cape. 
The Constantia Wine Route is a day out in Cape Town where you can visit some of Cape Town's finest vineyards, wineries, and wine-making facilities. If you don't have time to visit the Cape Town wine regions but are looking for a wine tasting not too far from your Cape Town hotel, you can visit and explore the wine routes of the Constantia Valley. 
I consider Klein Constantia one of the best wineries and the closest wine-growing area to Cape Town, just a few minutes from the city center and a short drive from the wine country. 
Vergelegen offers its visitors so much to enjoy, so make sure you visit one of the most prestigious wineries in the country, regardless of the weather. In False Bay on the icy Atlantic Ocean, it is perfect for producing some of the best wines in South Africa and the world and a great place to sample the wines on your trip. 
If you're an adventurous wine lover who likes to venture off the beaten track, here are many wine routes in Cape Town that offer what you need. The tasting list should be a mix of wines from the most famous wineries and luxury estates of the Cape Town wine region. 
Stellenbosch is one of South Africa's most famous wine regions and well-positioned – for wine lovers of all ages and tastes, from young to old. 
With a spectacular selection of exceptional wines on offer, it is no surprise that Beau Constantia is rapidly becoming one of the most popular wineries in Cape Town's wine scene. With a wide selection of wines to buy and a good number of restaurants and bars in the area, this area is undoubtedly the best winery to visit. 
On the beautiful Durbanville Wine Route, De Grendel has established itself as one of South Africa's most sought-after wineries. After the wineries, you can visit the town of course. Being out of town hasn't stopped this prestigious boutique winery from establishing itself. 
Robertson Wine Valley, which includes Ashton, Bonnievale, and McGregor, is one of South Africa's leading wine regions and is in the southern part of Cape Town, just a short drive from the city center. 
We would be remiss if we did not include one of the many wine routes on the Cape, easily accessible from Cape Town. The vineyards of Darling Walker Bay with their beautiful vineyards, wineries, and wine-making facilities, and a magnificent view over the city center.
Cape Town Nightlife
As a world renowned tourist hotspot Cape Town buzzes with an exciting nightlife. 
Once again, there are areas to avoid if you're club-hopping alone. The best place to start a good night in the town is on Long Street, CBD.
The street is a hub of night-time activity and offers you every type of indulgence from fast foods, 5-star cuisine, casual pubs to top-notch nightclubs hosting the best DJs on the circuit.
Things to do in Cape Town
From stunning mountains, world-renowned wine trails, coastal retreats, and the trendiest coffee shop scene—Cape Town is everything you could want. 
As the least expensive city in the region, it's the ideal spot for digital nomads. 
For a Digital Nomad from the USA or UK, you can expect to pay almost 60–70% less than at home for rent and utilities.
So where can you expect to work? You're in luck as there's an abundance of co-working spaces and coffee shops that'll be glad to have you. 
The Cape Town vibe lends itself to a hipster, and in some areas, a HIPPY era. It's normal to find most people gathering in Bistros and Coffee Shops for meetings or getting some online work done. 
 You'll fit right in with your laptop looking for a free Wi-Fi hotspot.
Whether you are an adrenaline junkie or just looking for the next extensive life experience, here are a few extreme sports you can try in South Africa, whether para-gliding, surfing, mountain biking, kayaking, or any other extreme sport. 
Get fresh air and exercise, enjoy the beautiful scenery and find some hidden gems. Try the Surf Camp, as it is one of the most engaging group activities Cape Town offers. 
Experience everything from windsurfing on the beach to a guided kayak tour or even a kayak tour of Cape Town. 
Cape Town offers many exciting activities, but few can compete with abseiling off the cliffs of Table Mountain.
Sandboarding can handle everything from equipment transfer to the rental, and there are many types of exciting options in town and a wide range of activities. 
Day Trippers Downhill Adventure
Whether you are an experienced skydiver, a first-time jumper, or want to learn to dive yourself, you must be careful. For mountain biking adventures, you can contact the Cape Town-based company Day Trippers Downhill Adventure. I can recommend day trips that offer all kinds of bike tours around Cape Town from my experience. 
Cape Town, Gansbaai, and Mossel Bay are some of the most popular tourist destinations in South Africa. Cape Town offers a wide range of mountain biking and mountaineering opportunities. 
In March, the annual Cape Town Cycling Tour takes place on the Western Cape, taking cyclists on a round trip around the Cape Peninsula through breathtaking table mountains and coastal views. 
Day 2 is a day of action with a variety of events for small groups. Runners take to the streets over Easter weekend, while running in Cape Town's international friendship encourages people to get involved in the marathon. 
Cape Town Extreme Sports Adventure
Cape Town Extreme Sports Adventure includes all the equipment you need, from a kayak tour to a para-gliding tour or even a windsurfing tour. Check your waterproofness and head to Cape Town for an hour to experience this exhausting and exciting experience. 
Several Cape Town tours cover many of the city's major attractions in one day. The Cape Town City Pass provides access to all the city's attractions and activities, including a range of special events, tours, events, and activities, as well as a variety of other attractions and events. 
Accredited Cape Town tourism providers include Skydive Two Ocean, which also offers a sizeable 5-day safari that takes you to the Aquila Private Game Reserve. Accredited operators include Flying Tiger Tours, the largest and most popular private tour operator in the world. 
With Skydive Cape Town, you can do nothing wrong, you jump into a harness in Cape Town, and you are ready to go, through the valleys, through forests, the hills, or over the forest. Different options depend on the destination, but you can take a sandboard for a few hours or just a few hours in a helicopter. 
If you are serious about surfing, there are plenty of surf spots to visit, such as the famous surf spot in the South Africa National Surf Park. 
If you are the type who likes to be in the water, you can try so many water sports in Cape Town, such as kayaking, rafting, diving, snorkeling, swimming, and diving. 
Cape Town offers a picturesque landscape and countless exciting activities that will make your adrenaline levels soar. A breathtaking adventure city will be one of the best memories you will ever have, especially if you are a recreational seeker. 
Cape Town Tandem Paragliding Tour
Check out the Cape Town Tandem Paragliding Tour to experience one of the most exciting adventures in South Africa. 
Best Time to Visit Cape Town
Cape Town summers are one of the best times to visit the city (in my opinion). Summer begins in November and lasts until February, providing the perfect escape from harsh winters in other parts of the world. The temperatures usually range from 17 – 29ºC, but the African sun can be excruciatingly intense. There are up to 14 hours of sunlight each day, but the wind also picks up during summer. Rainfall is limited, and it usually rains an average of 3 days a month. 
If you're a person who does not tolerate heat very well, autumn is a perfect time to visit. The temperatures in March and April are not too hot, but they are also not quite as cool as in the winter. The temperatures usually range from 15 – 27ºC, but it is best to carry a light jacket with you. Rainfall is still limited, and it usually rains 2-4 days a month, on average. Autumn is less windy than summer, and you can expect up to 13 hours of sunlight each day.
Though it may surprise you, Cape Town also experiences mild winters. Temperatures drop and range from 11 – 22ºC, so you will see many locals in thick clothing and winter jackets. Winter is the rainy season in Cape Town, so you can expect an average of 10 rainy days each month. The chilly temperatures also bring less sunlight, so you can expect up to 10 hours of light every day. Some areas outside of the city get snow, so make sure you pack a warm coat!
After the winter rains, beautiful wildflowers bloom during spring. The temperatures rise and usually range from 17 – 29ºC. You can expect less rainfall and up to 13 hours of daylight again. This is also a great time to visit the city if you are not a fan of extremely hot or cool temperatures. 
Cape Town weather can be extremely unpredictable and changes rapidly. It is best to always be prepared for cooler temperatures when it is warm, and warmer temperatures when it is cool.
Cape Town for Families
Cape Town is an extremely family-friendly city with many activities to do and a booming expat community. The city offers a variety of private, international, and government schools, though the tuition at each varies. Government schools offer an opportunity to fully immerse your child in the local culture, but private and international schools tend to attract students with higher staffing numbers and improved facilities. The academic year traditionally runs from January to December, with an extended summer break throughout December and January.
Many families who require additional support hire a local nanny to help care for the children. Each family has different requirements, but you can find part-time, full-time, and live-in nannies to meet your needs. Gumtree (https://www.gumtree.co.za) is an excellent place to find nannies available to work, and you can also join the Expat Cape Town Facebook group where some people share posts to seek replacement families for their nannies when they leave Cape Town.
The Two Oceans Aquarium is located in Cape Town at the V&A Waterfront. The aquarium displays a wide variety of marine life found in both the Atlantic and Indian Oceans. The exhibits are completely indoors, making a trip to the aquarium a perfect rainy-day activity. If you plan on visiting the aquarium more than once, you may want to consider purchasing an unlimited annual membership (https://shop.aquarium.co.za/day-tickets-and-memberships).                     
Cape Town is known for its wide variety of outdoor activities, and there is no shortage of family-friendly hiking paths, water sports, or places to mingle with animals. Check out one of the countless hiking trails, swimming pools, gardens, or nature reserves scattered around the city and its surrounding areas. The Sea Point Promenade is also a popular location for families to walk along the water and take advantage of the multiple public play areas. Boulder's Beach is also a popular tourist attraction located southeast of Cape Town in Simon's Town. The beach is home to one of the largest colonies of African penguins, so the kids can familiarize themselves with South African nature while enjoying time at the beach. 
Living in Cape Town
Cape Town People
Capetonians are generally warm people who are ready to go out of their way to help you. You can go into a coffee shop and strike up a conversation with just about anyone. The city itself has such a laid-back vibe, and you will not find the hustle and bustle that is found in other capital cities. You can easily meet people around the city at places like Mojo Market, Oranjezicht City Farm Market, Neighbourgoods Market, a bar on Long Street, or one of the galleries on First Thursday. Hostels in Cape Town also provide extremely social environments that allow you to meet people from all over the world.
If you are keen to meet some locals, the Meetup app will come in handy. Users select their interests and locations, and the app connects them with nearby groups that meet throughout the week. Cape Town has a large variety of groups, such as a writer's club, board game enthusiasts, outdoor adrenaline seekers, hiking groups, and campers. Another great way to immerse yourself in the city is by joining the Expat Cape Town group on Facebook. Members discuss everything on the page from questions about where to live to planning and scheduling hangouts. Some people find it difficult to break into social circles within Cape Town, but these platforms are extremely useful for meeting people. 
Even though South Africa became a democracy in 1994, Cape Town is still a very segregated city. A vast majority of Capetonians live outside the city in informal settlements, also known as townships. The population of Cape Town is over 40% "Coloured," nearly 39% "Black African," over 15% "White," 1.4% "Indian or Asian," and 1.9% "Other." Over 35% of Capetonians speak Afrikaans as their first language, almost 30% speak Xhosa as their first language, and almost 29% speak English as their first language.
Capetonian neighborhoods are heavily segregated by race, and a majority of the areas surrounding the CBD are primarily white neighborhoods according to the 2011 census (https://adrian.frith.dev/images/dotmaps/Cape-Town-2011.png). Once you go further out of the city, you will find predominantly Black African, Coloured, or Indian or Asian neighborhoods. Segregation is one of the lasting impacts of the former apartheid government, and major cities like Cape Town are still feeling its effect today.
This means that there are many different neighborhoods to visit in Cape Town. Bo-Kaap is one of the most famous Cape Town neighborhoods with its brightly colored houses. The area is a hub for Cape Malay culture, and almost 60% of its residents are Muslim. You can explore Cape Malay culture through cooking tours in Bo-Kaap (https://www.bokaapcookingtour.co.za). The Athlone area is heavily populated by Indian/Asian sand Coloureds, and it is a great place to go for Indian food. I highly recommend visiting Baps Shayona and trying their masala dosa. Another important area to visit is District Six. Under the apartheid regime, over 60,000 residents of the District Six neighborhood were forcibly removed after the area was declared a whites-only zone. These people were forcibly relocated to the Cape Flats, but the District Six area remains barren today and serves as a painful reminder of South Africa's dark history. You can visit the District Six Museum (https://www.districtsix.co.za) to learn more.  
Cape Town Insurance and Medical Care
The South African healthcare system is largely composed of both the private and public sectors. A majority of South Africans rely on public healthcare, while nearly 80% of doctors in South African work in the private sector. Public healthcare is rife with staffing shortages, lack of medical equipment, and extensive queues to receive treatment. Two major public hospitals include Groote Schuur in the Observatory area and New Somerset in Green Point. 
The private sector fills in shortages in the healthcare system, but it is primarily used by middle or high-income South Africans. For comparison, the private sector spends about USD 1,500 per head per year, while the public sector spends just $150 per head per year. One of the most famous hospitals in Cape Town is Christiaan Barnard, named after the South African surgeon who performed the first human-to-human heart transplant. Conveniently located downtown, the private hospital is home to numerous specialists, radiologists (a great place to get your chest x-ray for visa extensions), and an emergency room. There are numerous private hospital alternatives in Cape Town, including Mediclinic and other Netcare locations.
The cost of private healthcare can quickly add up, so it is advisable to have full medical coverage. Some policies from your home country may provide international coverage, so it is best to confirm with them before traveling.
Read the Digital Nomad Travel Insurance guide  to ensure that you are adequately covered while traveling.
If you intend to apply for a different kind of South African visa, most visa categories require you to have approved medical aid as part of your application. Two of the primary South African medical aid schemes include Momentum and Discovery Health.
Local pharmacies, like Click's or Dis-chem, are stocked with both over-the-counter and prescription medications. They also provide various types of wellness examinations, and some locations may even do COVID-19 testing. Ampath, IndaloBio, and PathCare are three more laboratories where you can take a COVID-19 test.
Jobs in Cape Town
You won't be able to job hunt while visiting South Africa. The Immigration Laws forbid foreigners to apply for working visas while in the country. 
Check out our Digital Nomads Jobs Postings to find the best jobs available for Digital Nomads.
Nomad Friendly
Value for Money
Internet
Workspace
English
Food
Safety
Health
Transportation
Friendly
Quality of Living
Cost of Living Cape Town
If you're traveling alone, you can make a comfortable living in Cape Town with USD1000 per month. If you're budgeting as a couple or small family, you'll need approximately USD1,400 per month to live comfortably in Cape Town and its surroundings.
One important thing to be aware of as a digital nomad in Cape Town is load shedding. Ever heard of it? Well, consider yourself lucky if not. Load shedding is scheduled power cuts to prevent a complete electrical system blackout. During load shedding, businesses and residential buildings in the affected area are without electricity for scheduled periods. Some buildings have generators to produce power during load shedding. The power cuts are usually scheduled and announced ahead of time so residents have ample time to prepare, but this is not always the case. There are different stages of load shedding which impact how many hours of power cuts there will be each day, and it occurs at different times of the day depending on the area you live in.
One easy way to stay up-to-date with the load shedding schedule is by downloading the EskomSePush app. You need to then determine which suburb/part of the city you are in to view the correct load shedding schedule. The app can send you notifications when your area is about to enter load shedding as well. You can also ask a Capetonian around you if there is load shedding scheduled that day because they are more than likely aware of the schedule. It is vital to know the power cut schedule so you can plan your work, meals, and leisure activities ahead of time if you do not have a generator. If you are looking for a place to go during load shedding, check out Mojo Market in Sea Point. The market is full of various food and drink options, has live music, and uses a generator during load shedding.
If you are looking for the best deals in town, download the Entertainer app (https://www.theentertainerme.com/en-za/johannesburg-pretoria). This app is known for its 2-for-1 discounts on food, spa treatments, activities, and so much more. You must purchase an annual membership that is listed as R595 (South African Rand), but you can get it for a lot cheaper if the Entertainer is running a promo. I used the discounts for both food and massages, and it is well worth the small fee.