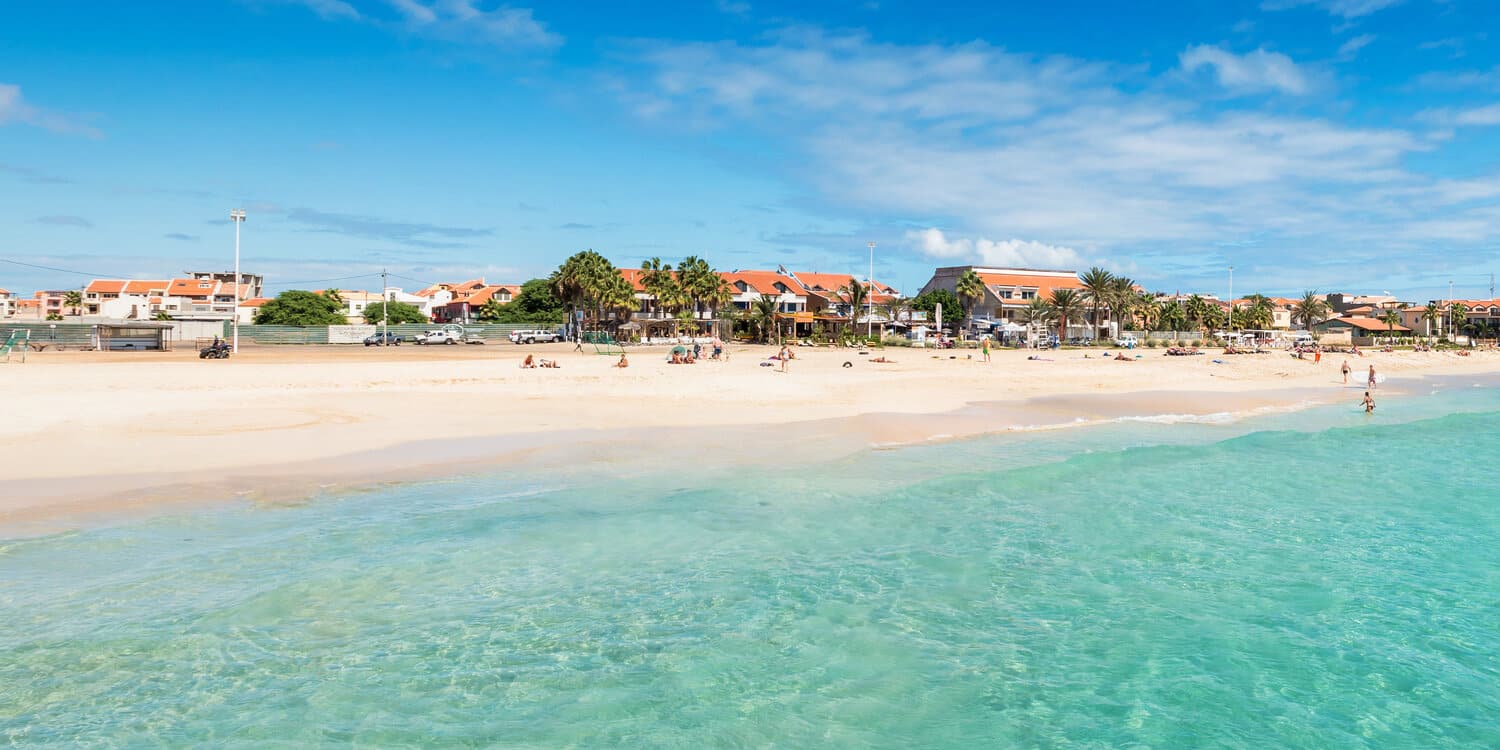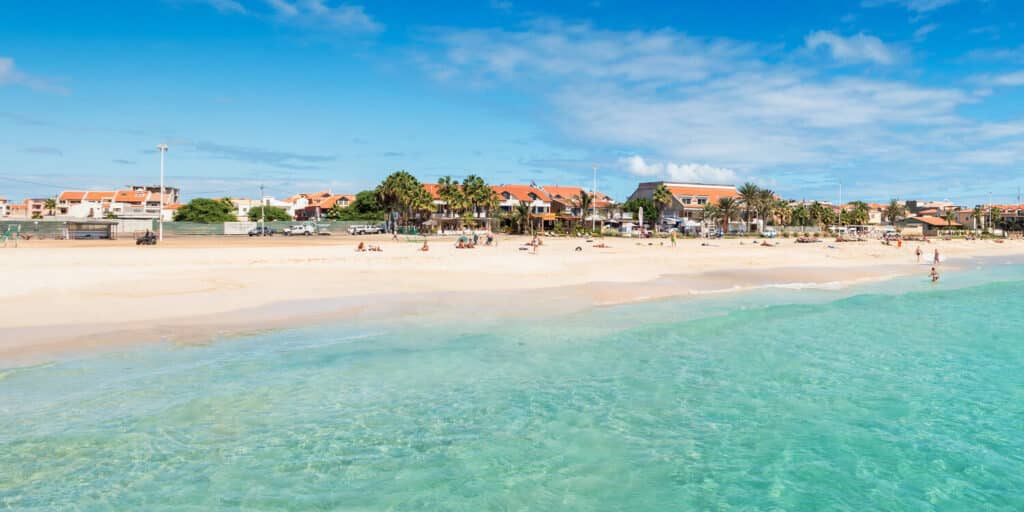 A Digital Nomad Guide to Sal
Sal is one of ten islands known by the name of Cape Verde. They are located very close to the coast of Senegal which is one of the reasons you will find many Senegalese having relocated. The name 'Sal' means 'salt' in Portuguese, which is one of the most important economic activities of the island. Other sources of income are fishing and, of course, tourism. 
Before the invention of the fridge, salt was very valuable and was even called 'white gold'. In current times, salt is still being exported but at a much lower price than a few ages ago. The islands also served as important trading places during the period of the triangular trade.
The group of islands was discovered around the 16th century by Portuguese explorers and gained independence in 1973. The fight for independence began with peaceful protests of independence groups such as the PAIGC (Partido Africano da Independência da Guiné e Cabo Verde) founded by Amílcar Cabral. When the Portuguese however, answered with violence, they had no choice but to fight back. Amílcar Cabral was assassinated a few months before independence was reached.
Sal is, together with some of the other northern islands, considered as the Barlavento Islands or also the Windward Islands. This name originates from the trade wind, making it easier for ships to reach these islands. The other Windward Islands are Santo Antão, São Nicolau, Santa Luzia, São Vicente and Boa Vista. The Sotaventa or Leeward islands are Fogo, Brava, Santiago, and Maio. Apart from Sal, Boa Vista is the other main island known by holidaymakers.
Sal is a small island, with a length of 30 km and a width of 12 km. Its total area covers 219.8 square km. The northern part of the island has a desert, in the middle is the capital Espargos, and in the south is the main resort, Santa Maria. The landscape is quite flat but there are some mountains around the capital.
The local currency is Cape Verdean Escudo (CVE). In Sal, most places also accept Euros.
Nomad Friendly
Value for Money
Internet
Workspace
English
Food
Safety
Health
Transportation
Friendly
Quality of Living
Living in Sal Overview
| | |
| --- | --- |
|  Meal, Inexpensive Restaurant | $3.63 |
| Domestic Beer (1 pint draught) | $3.46 |
| Cappuccino (regular) | $1.81 |
| Loaf of Fresh White Bread (1 lb) | $1.69 |
| Water (1.5 liter bottle) | $0.62 |
| One-way Ticket (Local Transport) | $1.04 |
| Basic Utilities (Monthly) | $117.54 |
| Internet | $59.08 |
| Fitness Club (Monthly) | $46.64 |
| Apartment (1 bedroom) in City Centre | $403.33 |
[erw_exchange_rates_widget lg="en" tz="0″ fm="EUR" to="EUR,USD,GBP,AUD,JPY,RUB" st="primary" cd="" am="1″][/erw_exchange_rates_widget]
Max Withdrawal: €400
Use of Credit Cards: Widely Accepted
Digital Nomad Personal Experience in Sal
When I first heard I was being sent to work in Sal, I had to look up online where exactly it was located and which country it was part of. The words 'Cape Verde' made me dream about watching sunsets on long stretched, white, sandy beaches. 
From the moment I set foot on the island, it became clear I was going to get what I wished for. I arrived in the afternoon at the island's only airport. It only had one runway, and the inside area consisted of just one space with the luggage belt, so it was a very short distance from stepping out of the plane until reaching the exit. From the moment I left the building, I noticed the sea. I would soon find out that wherever I would be on the island, the sea would only be a few minutes away.
I stayed around three months in winter, from the end of December until the end of March and got to know the island inside out. The whole period of my stay, the weather was the same: windy but sunny. My apartment was located within walking distance of the small but colorful village of Santa Maria. Across the street was a pathway to the beach which I would use to reach the village. I enjoyed soaking up the local culture on these walks and admired the laid-back, cheerful attitude of the locals.
At first, I shared a two-bedroom apartment but was soon relocated to a one-bedroom in another block. With our office being just downstairs, I didn't have to go far to start working. Just next to this was a small restaurant where I would stop by to get my daily galão (similar to a latte). I liked it that much that it was even the last thing I did before leaving Sal.
Work in Sal
When you are living in Sal as a digital nomad or remote worker, you will notice that the island doesn't offer any co-working spaces. The only island which has very few coworking spaces is Praia, the capital of Cape Verde.
Sal does however have a variety of bars and restaurants where you can relax and get some work done. At many of these places, you'll have incredible sea views and can work with your feet in the sand. Not many people can say they have an office that marvelous.
The wifi on all Cape Verdean islands is great, which means you can work from anywhere on Sal. The country promotes its telecommunications infrastructure as modern and with a high-speed connection. Another reason the place is suitable for digital nomads is that remote workers are exempt from paying income taxes.
Best Places to Work in Sal
The list below includes the best bars and cafes to do remote work from in Sal. Not many offer free WiFi so I advise you to go to the Unitel T+ shop at the entrance of the village. Take note that this is the only mobile phone shop in town so don't expect to be in and out in five minutes. I remember always having my patience tested while having to wait in line. Also customary is that you might find unavailability for a few days so make sure to go and buy whatever you need upon arrival. A local SIM card with 10 GB will cost you around 30 USD. They also have USB sticks available to put the SIM card in and then plug into your laptop.
Ocean Cafe
Ocean Cafe is connected to the hotel Ocean Suites. The cafe is a popular place to go party at night, but during the day you can get breakfast, snacks, and desserts. Before the party, you can get dinner here as well, most options are fast food. The price range is between 9 to 17 USD. This cafe has free WiFi.
The Dubliner Irish Bar
The Dubliner Irish Bar is another place where you can log on to the free WiFi. It's located just outside the village and has a deck overlooking the ocean. The owners have opened a second location in the heart of Santa Maria. This bar is named Tam Tam and also has free WiFi. Price range is around 12 USD for a meal. They serve Sunday roast at lunchtime so it gets pretty busy. Bear this in mind when you're planning to work from there on a Sunday afternoon.
By Valeria
By Valeria this is the place where I used to get my coffee. Located within walking distance of the town, it's a great place to get some work done in silence. The menu contains options for breakfast, lunch, and dinner. Make sure not to eat too much, so you leave some space to taste one of the freshly baked cakes accompanied by a delicious galão. The price range is around 15 USD.
Cape Fruit
Cape Fruit is one of my personal favorites. This small but colorful smoothie – and juice bar serves an amazing breakfast for just 6 USD. The seats are made of pallets topped with bright and vibrant pillows, the ideal place to plop down and sip on freshly made juice. When you're still around at lunchtime, my advice is to opt for the salmon wrap.
Angulo Beach
Angulo Beach has the perfect location. Attached to it is a surf shop so you can watch the surfers while you work, or even better, hit the waves yourself during a break. You have several seating options such as on the terrace or the open inside area, and if you prefer to work on the beach, they also have sun loungers on the sand. The whole place has a relaxed atmosphere and decent food at around 10 USD.
Best Places to Live in Sal
Best Neighbourhoods
On an island this small there aren't that many neighborhoods. The people of Sal live in our different places, all of them suitable to live depending on what you are looking for.
In the northern part, the desert, there are no neighborhoods. The area is inhabited. All the villages are located between the middle and the south of the island.
Espargos
Espargos is the capital and therefore the biggest area of Sal. All roads of the island lead to Espargos, making it not only the geographical center but also the economical one. The estimated number of people in the city is 6500. I was told the name Espargos was chosen because of the wild asparagus that were growing on Sal. As Espargos is the Portuguese translation of asparagus, I believe that's about right. The highest point of the city is 109 meters high and is called Monte Curral. From the top of this hill, you can enjoy the view of a big part of the island. The desert is visible in the north, the airport with its sole runway in the southwest and the capital just at the foot of the hill. Sadly, it also shows the islands' last slum.
Palmeira
Palmeira is a small village located 3 miles west of Espargos. It's a highly-frequented place for tourists as all island tours pass by this village and all possible boat trips leave from the harbor. All day long, people wander around in the authentic streets of the village to discover the real Cape Verdean life. There are no supermarkets in Palmeira, only small, local shops. If you like to live in a real, colorful Cape Verdean setting, this is the village for you.
Apartments are more scarce in Espargos and Palmeira, and also more expensive than in Santa Maria, where most people live.
Murdeira
Between the airport and Santa Maria, a very small village named Murdeira is located. In the nineties, a private company built a tourist village here. There are apartments and villas. There is nothing else in the area and the place is located approximately 6 miles away from both Espargos and Santa Maria, but the ocean views are amazing here. I remember the ocean being very rough each time I visited this neighborhood.
Santa Maria
The last, and in my opinion best neighborhood to stay in when you are in Sal is Santa Maria. Even though it's not the capital, it's the place with the biggest population. There are more apartments available here and there is one bigger supermarket which almost reminded me of a Western version. In the back of the city is the Mercado Municipal, a covered market where fresh fruits and vegetables are for sale. The village of Santa Maria is always buzzing with people, day and night. You might want to consider this when deciding where to live and look for an apartment a bit further away from the nightclubs and bars. This is possible on the outside streets of the village or, like where I was living, closer to the bigger hotels. The advantage is that everything is always within walking distance and if you're not in the mood to walk a taxi will only cost you a few dollars.
Find an Apartment in Sal
The island is so small, that everyone knows everyone, so the easiest way to find a place is by asking around. Cape Verdeans are hospitable and accommodating people, so it's easy to connect and make friends. They will help you in any way they can and know the best places at the lowest prices. So make sure to go outside and ask around from the moment you arrive in Sal.
Another option is an online search, with websites such as Booking, Airbnb, and Tripadvisor being very reliable. Prices for Santa Maria start around 24 USD per night for two adults. In Espargos, Palmeira and Murdeira the rent per night is 40-50 USD on average. 
You can also opt to use an agency, this way you'll always have a liaison close by. Just take into account that they often charge a fee for their service. Examples of real estate agencies in Santa Maria are Sal Service and Cape Verde Property.
In Santa Maria, you can expect to pay between 488 to 732 USD per month for a small and basic two-bedroom apartment. For this price, you will get a clean and furnished place, often with sea view included as the sea is always close by. In most cases, a deposit equal to the amount of one month's rent is expected.
When you are renting indirectly, without an agency or website, you can always try to negotiate the price, especially if you plan on staying long-term. It goes without saying that it's always a good idea to mention how long you plan to stay before you move in, as some owners prefer to rent out short-term only. It will save you the risk of suddenly having to move out and start the whole search from scratch.
The monthly rental price excludes utilities such as electricity and water. One month of electricity will cost around 50 USD and water approximately 70 USD. These prices are for one person. When leaving, it's common to be asked to pay an additional fee for the cleaning of the apartment. This will cost around 35 USD.
Something to consider as well is that the Cape Verdean government requires all tourists staying at hotels, apartments, etc. to pay a tourist tax of 2.44 USD per person per night, up to 10 nights. You pay this tax at the end of your stay. The money is used to enhance tourism.
On the website expat.com there is a forum where expats in Cape Verde can ask questions, so if you're having trouble finding an apartment, you can always ask for help there. It's also a great place to post if you're looking for a roommate, a great way to keep your cost of living at a minimum. Expatwoman.com shares the same concept.
Another great help to find a place to stay is social media. The Facebook group Expats Cape Verde is a great way to start and to connect to other expats. The group is connected to a website with the same name, where you'll find information on all the islands. There's a blog, FAQ list and you can even sign up for the newsletter.
Cheap Places to Stay in Sal
In Santa Maria, a lot of basic but decent apartments are available for rent. The average rental price per month starts at just under 500 USD, but if you are on a budget, there are some options for you.
Xamedu Sal Hostel is a hostel in the back of the town. The monthly price won't be much lower than an apartment but you'll be able to save some money on utilities and food, as you can cook together and share with the other guests. For around 500 USD, you will get a bunk bed, access to the kitchen and the terrace on the roof, and free WiFi, so you'll also be able to save on your mobile data usage. The terrace is a great place for a digital nomad to work from, so you won't have to go out and spend money at a cafe or restaurant every day as well.
Another great option is Santa Maria Flats. They offer studios of 40 square meters at just under 10 USD per night and one-bedroom apartments of 50 square meters at around 15 USD per night. Here, you have your own room with a shower and kitchenette so you'll be able to enjoy more privacy. Take into account that this place does not have a WiFi connection available. The studios might be a bit small, but have a balcony so you could either sit inside or outside to work. With the weather almost always being good, you'll probably be outside more than at home, so paying less for a smaller place will help you to live on a lower budget. 
Sal Visa
In 2019, the Cape Verdean government decided that citizens from the UK and EU, and some other European countries such as Switzerland, Norway, and Iceland would be exempt from a visa for a short stay (up to 30 days). In 2020 this list was expanded to include countries such as Canada, Brazil, and the USA. 
Citizens of countries without exemption have to pay 30 USD for the short-term visa and an airport safety tax (TSA) of 37 USD. Those who don't have to apply for a visa have to pay a reduced TSA of 1.34 USD.
All travelers, with the exemption of some cases such as babies, people in transit, Cape Verdean passport holders, or people of Cape Verdean origin are obligated to pre-register online and 5 days before traveling. You'll be asked to pay the TSA at the end of the completion of this form.
For longer tourist stays, a visa is mandatory and should be requested through the government website.
If you want to stay long-term and get a job in Sal, you can apply for a resident visa which is valid for one year and can be extended. Obtaining one, however, is not easy as you should start your own business or already have a job offer from a local company upon your arrival. You will also need to be able to prove that you have sufficient funds to take care of yourself during your stay. It's supposed that the paperwork to start your own business doesn't take long to be processed and only costs around 250 USD so this might be something to consider. 
Culture and Food in Sal
When in Cape Verde, you must try seafood and fish. As to be expected on an island, they are caught fresh from the ocean every single day. You can buy your own at the jetty in Santa Maria in the mornings. Straight off the boat to your plate! These treasures of the sea are also often used as ingredients to other traditional dishes such as pastel de atum. These are small pastries that are served as appetizers and filled with Cape Verdean canned tuna and then deep-fried until they're golden. Other examples are bafas (tapas) such as morreia (fried eel), cod croquettes, and lapas (sea slugs).
Barracuda and Chez Pastis are well-known restaurants in Santa Maria. Both places serve exquisite dishes with, amongst others, fish and seafood. They are extremely popular with tourists as well as locals so make sure to book a table in advance. Chez Pastis has very limited seating so don't wait until the end of your stay.
Percebes are also called 'sea fingers' and grow on the rocks of the seashore. They are cooked and served with some drops of fresh lemon juice. You pull the meat out of the body and eat it. Cracas are barnacles that can, like percebes, be found in shallow tidewater. These barnacles are related to lobsters and served boiled or steamed. It's a bit of a challenge to open them, with tools such as a cutter and a needle being necessary.

The national dish is cachupa: a stew including beans, sweet potato, corn, and cassava. The stew can be enriched with fish, meat, or morcela (blood sausage). All ingredients are put in one pot and cooked for a long time, around 4 to 5 hours. Each family has its own recipe and the result is never identical to the previous one.
In almost any souvenir shop you will find and be able to try a sample of Cape Verde's national drink: grogue. The Cape Verdians have been producing this drink for hundreds of years. It's assumed as impolite to refuse the drink when it's offered to you so make sure to have an extensive breakfast or lunch when you're planning on going on a souvenir hunt and on visiting several shops. Also, it's useless to try and make an excuse of health reasons to refuse to drink, the shopkeeper will just tell you the drink has medicinal effects. With the addition of herbs, the drink is still being used to serve as a base for medicine. Grogue, or grogu or grogo, is a rum that is being distilled from sugar cane. With an alcohol percentage of about 60%, it can blow you off your socks quite fast.
On the shelves next to the grogue, you'll find ponche in a wide variety of flavors. Ponche is similar to punch and is made with grogue. Examples of flavors are mango, coconut, strawberry, lime, and various mixes of tastes, making ponche easier to digest than grogue. You can expect to be urged to taste a few of these as well when entering a tourist shop. Both ponche and grogue are great souvenirs to take with you when leaving Cape Verde but make sure to check the baggage limitations on spirits and liquors.
Sal Nightlife
Sal has an extensive nightlife. In the village of Santa Maria, not a day passes by without a party. You will find a mix of tourists and locals on the dance floor, partying until the early hours. The town is filled with small clubs that often get very crowded. Many of them put tables and chairs in the cobblestone streets and the dancing continues there.
There's no movie theatre or theatre in Santa Maria, and the only museum closes at 5 PM so the nightlife doesn't really have a cultural side to it. However, if you like to go out for dinner or a drink, and love to dance, this village is the perfect place for you.
A few years ago, a casino opened under the name of Casino Royale, so if you're looking for an exclusive night out, it might be worth a visit. All the famous table games are available and there are different types of slot machines.
For a magical evening out, you can join an excursion that takes you to go turtle-watching at night. This unique experience takes about 2 hours and you'll be joined by a marine biologist. The nesting season is from June until October. 
The below list includes only a selection of great bars, restaurants, and clubs you can visit on an evening out:
Bikini Beach Club: this club is built in an incredible location and is surrounded by the Atlantic. You don't have to wait until nightfall to party here as they host afternoon pool parties, hip hop, and  80's & 90's music parties. You can prebook packages with sunbeds around the pool and cocktails included and there's a variety of delicious dishes on the menu. On weekdays, they're open until 11 PM and on the weekends until 2 AM.
One Love Reggae Bar: as the name might give away, the DJ mostly plays reggae music at this place. You can enjoy drinks at a reasonable price on the rooftop terrace.
Pub Calema: Experience the renowned Happy Hour at Calema during the early evening, providing an ideal kickstart to your night out. Pub Calema holds a well-deserved reputation as a favorite late-night destination among the dancing community, drawing both locals and tourists. The festivities commence after midnight and continue until approximately 4 am, with resident DJs or occasional live performances ensuring an electrifying party ambiance that will undoubtedly get you in the groove.
Sal Beach Club Restaurant: is a restaurant and sports bar in one. The place is frequented by many British tourists and expats, especially for Sunday Roast. Sal Beach Club is located right next to the beach and has an outside seating area with garden tables. The menu is very versatile and elaborate and the service is always great.
Things to do in Sal
Although Sal is a small island, it has many different activities and points of interest to offer. Some surprising landmarks are truly unique to the island.
Salinas de Pedra Lume

The first one is the salt lakes in a crater of a dead volcano: Salinas de Pedra Lume. In the shallow reservoirs, there is a concentration of more salt than in the Dead Sea. The legend goes, that a dive in this water will make you ten years younger. The biggest challenge is to get back on your feet after you finish floating. The water is so salty that it's impossible to push your feet to the bottom and stand up elegantly. My advice is to wear swimming clothes that can get dirty, the salt might leave some traces on your clothing, and to make sure you don't have any wounds or scratches and you don't rub your eyes, the salt really stings. There is a building with changing rooms, toilets, and showers. The entrance price is 6 USD. The location also offers massages for those who wish to relax completely. Make sure to walk over to one of the mountains of salt and pick up a crystal. It will be a great souvenir to remind you of this magical place.

Buracona

On the north-western part of the island is a magnificent rock formation known as Buracona. This is a natural pool inside a hole that is made of volcanic lava and filled with ocean water. When the ocean is not too agitated. A few meters to the right is another, similar hole. In the summer, around 11:30 AM to 12:00 AM, you have the chance to see what is called 'the Blue Eye' here. When the sunlight hits the water at the right angle, the water changes color. I wasn't lucky enough to see it, even though I was there almost every week. I was always a bit too early and as it was wintertime, so there was a smaller chance already. Even without the Blue Eye, this is an amazing spot to walk on the cliffs and watch the waves crash on the shore. The water has an amazing, almost turquoise color. The entrance fee of just under 4 USD is worth it. There's a restaurant close by with an astonishing view.

Terra Boa

Completely in the north lies Terra Boa, a place in the desert. At this place, you can see the most famous mirage of Cape Verde. From a distance, you just look to the north and you will be able to see the fata morgana. It looks as if there's a pool of water in the middle of the desert which is actually not there. The mirage is also visible in pictures, so you can prove to others that you're not out of your mind and seeing things that aren't there. Sometimes, you have to bend your knees a bit or squat to be able to see the mirage.

Shark Bay

On the island's east coast, there's another exceptional location, called Shark Bay. As the name already suggests, this is a spot where you can see sharks. The lemon sharks that live in this bay are harmless and small, so you have the opportunity to paddle in their proximity in the shallow ocean water.

Palmeira

You can also visit the island's villages and capital. They aren't very big but very authentic and show the real Cape Verdean life. In Palmeira, you will find the harbor, colorful houses, and stunning murals. In Murdeira you have an open viewpoint to the ocean and there's a beautiful coral reef that is popular with divers. In Espargos, the most important highlight is the church on the central square.

Santa Maria

The village of Santa Maria is the most popular one and has the most to offer. The beach is the biggest and nicest of the whole island, and the ocean is also much calmer than anywhere else on Sal, so you will find many people here enjoying the refreshing and clear blue water. Some bigger hotels are located outside of the village where guests are not allowed to enter the sea from the beaches so they also have to deviate to the 'Praia de Santa Maria'. Logically, this is the area where you can find the most water activities and sports such as diving, surfing, and kitesurfing.  Also in Santa Maria is the pier which is well-known for the fisherman arriving here with their small wooden fishing boats and catch of the day every morning. You will see them bringing in all different kinds of fresh fish where they immediately try to sell it. They usually arrive between 10:00 AM and 12:00 AM. If after all the sightseeing, you're in the mood for something a bit more active, you can find some exciting activities on Sal too.

Santa Marilha Manege

One of them is horseback riding and different formulas are possible. It depends on how much experience you have, but the Santa Marilha Manege offers possibilities for riding a horse on the beach and in the ocean for even beginners. They have experienced guides to escort you on foot and with another horse and will teach you the basics on the way. To make the trip more unforgettable, you can book it at sunset and enjoy the view while riding on an empty beach. Packages start at 60 USD.

Electra Electric Bikes

Electra Electric Bikes is a company that organizes city and beach tours in and around Santa Maria. With these practical bikes and a local guide, you can discover the southern part of the island, until the Salinas. As it's easy to ride on unpaved paths, you will also be able to take a spin on the beach. A trip of 4 hours costs just over 40 USD. In case you're looking for something with a bit more speed, you can book a quad or buggy adventure. These adventures take you through the dunes, on wild beaches, and unpaved roads. You have the option between several packages, but a quad tour of 2 hours costs approximately 85 USD for a group of 10 people.
As the island is surrounded by water, there are also a variety of companies that organize different kinds of boat trips. You have the option of different types of boats, such as sailing boats and catamarans. You can choose to spend a whole or half day on the boat and if you want to join other people or have the boat all to yourself on a private trip. Most companies offer trips with drinks, snorkeling material, and a transfer included as all boats leave from the harbor in Palmeira. Small boats will bring you from the dockside to the boat. Prices vary per package you choose.
Best Time to Visit Sal
Sal is an all-year-round holiday destination with stable temperatures and an average of 6 hours of sun per day. On average, April is the month with the most sunshine and July the one with the least.
As the island is located close to the equator, it only has two seasons which are winter and summer. In winter the winds reaching Sal are cool and dry, while in summer they can be more hot and moist. Because Sal is part of the Windward Islands, there aren't many days without wind.
With the wind as one of the biggest causes, it's not safe to dive into the ocean at most places on the island. The often occurring rough waves and strong currents are not the best combinations with the rocky shores. Luckily at the south of the island, on the beach of Santa Maria, the ocean isn't quite as rough, providing a paradise for people wanting to enjoy the water.
Temperatures are always pleasant, fluctuating between an average minimum of 18-24 degrees Celsius and a maximum of 24-29 degrees Celsius. September is the warmest month with temperatures reaching the low 30s.
Sal has a tropical climate with a humidity of 70-75%. Rain can only be expected during the four so-called wet months from August to November. Even then, the rainfall is low.
With most of the citizens living in Santa Maria and so near the coast, the island is very vulnerable to climate change. A rise in the sea level would have disastrous consequences.
Sal for Families
If your children love the beach and the water, Sal is a great place to relocate with your family. If they don't, there are still a few other activities to keep them busy. Examples are horse riding, karate, and volunteering with 'Project Biodiversity' which has several environmental programs.
The most family-friendly location is the beach, where your kids can play as much as they like. The local children are also often found here, so it's a great place to make friends. Another great place is the botanical garden Viveiro a short drive out of Santa Maria. The owners love to share their space with local organizations such as 'Kids of TerraBoa' which is a child center looking after more than 200 children and 'Castelos do Sal', an organization trying to protect children's rights. Besides that, they also host birthday parties and yoga days. Children are free to roll, play and have a picnic on the perfectly green grass. There's also a petting zoo with small animals such as ducks, goats, donkeys, and rabbits.
As most activities and locations are outside, make sure they use enough sunscreen and drink plenty of water. 
There are no international schools in Sal. Education however from 6-12 is free. In Santa Maria, you'll find a primary school and in Espargos is a high school. The secondary school system is divided into two phases: one of three years is followed by one of two years. Universities can be found on some of the other islands, mostly in Praia. The educational system is not on the same level as the one in first-world countries.
There are no daycares available on the island, as locals mostly get help from their families. However, you can always look for a babysitter or nanny. The best way to find one is to post on an online job forum or to ask around.
Living in Sal
Sal Transportation
The whole island only has one asphalted highway-like street. It connects Santa Maria with Espargos and passes by the airport which is located a few miles from the capital. Most other roads are made of cobblestones, and in the north, there are just sand roads.
There is no public transportation with fixed stops and there is no railway or metro system. You will see a lot of tour buses and minibusses that are used by companies to transport their staff. The best way for a digital nomad to get around is to take a taxi. When you arrive at the airport, you will find the drivers inside and outside. They have a system where each takes their turn so they don't have to compete for customers. Taxis are blue with a yellow stripe on both sides and you will notice that the drivers take good care of their cars. A ride from the airport to Santa Maria will cost approximately 18 USD and to get around in the village itself you can expect to pay 2.5 USD. My tip is to agree on a price before you get in, so there are no surprises when you arrive at your destination. The drivers accept payments in both Euros and Escudos. At night, the fares become a bit more expensive, and you will notice you'll have to pay 1.5 USD more. We always used to joke that this was because they had to use their headlights. Luckily it rarely rains in Sal, or they might charge extra for using the windscreen wipers too.
It's possible to rent a car as well and you'll find driving on the island quite easy and safe. Except for the taxis and transport for tourism, there isn't much traffic. The person that wishes to drive has to leave a photocopy of their driver's license, so make sure you take yours with you when you travel to Sal. Insurance only counts for the vehicle and not for the driver, so drive carefully and consider international insurance just in case. In my opinion, it's not really necessary to rent a car, as the island is so small and you'll mostly stay in Santa Maria and taxis are available 24/7. However, if you appreciate your freedom and like to drive yourself, I recommend you rent a jeep, so you'll also be able to drive on the less accessible roads in the north of the island. TUI offers rental cars of which the daily rental price varies between 61 and 85 USD. At the Hertz office, daily prices start at around 85 USD for a 4×4.
Uber is not available in Cape Verde.
I rarely used taxis to get around Santa Maria. The village wasn't that big and the weather was always great so I enjoyed walking. There's not a lot of traffic in the streets and I found it a great way to mingle with tourists and locals. It was easier to soak up the local culture than when sitting in a car. 
Fitness and Health
It will come as no surprise that most sports activities on Sal have to do with water. The ocean, waves and wind combine in the perfect circumstances for surfing, kitesurfing, and windsurfing. Sal is home to kitesurf champions such as Mitu Monteiro, Airton Cozzolino, and Matchu Lopes. There are several windsurf- and kitesurf schools on the island offering both private and group lessons. Prices start at 110 USD for kitesurfing and 50 USD for windsurfing and surfing. If you are experienced, there's also the possibility to just rent the material.
Those looking for an adventure a little less speedy can opt for SUPing or stand-up paddleboarding. When the conditions of the ocean are flat, you can rent a board and take a tour on the ocean. It might look like a relaxing activity but is a workout for your whole body as you need to contain your balance.
If you'd like to take a look underwater, you have a few options. Diving is a possibility and several schools are available which offer various packages, starting at about 50 USD. To go snorkeling you can go to the beach of Santa Maria and use your own gear, or you can book a trip where you'll be brought to the best places on the island. Costs are around 40 USD with gear included. Another option is to book a boat trip so you can go snorkeling from the boat. You can also discover the underwater world with a seabob underwater scooter which will pull you through the water and give you more time to enjoy the view.
People on the island also enjoy yoga, running, and fitness. In Santa Maria, at Angulo Cabo Verde you can find yoga lessons and there's an outdoor beach gym close by, which you can use for free. At Academia Daniel Pina you can join a variety of group lessons such as karate, Zumba, and self-defense. Sal Fitness is a gym in Espargos.
Sal People
The motto of the Cape Verdean population is 'no stress' and they really live life by it. You will find many souvenirs such as bracelets, keychains, and magnets with this daily repeated quote on them. The people in Sal are experts at putting things into perspective and not worrying about the future. Their relaxed way of life suits their surroundings and is one of the reasons why this island is a great place to reside.
It might be the good weather or the motto, but I noticed that the local people were almost always cheerful and in a good mood. I was working closely with a local woman, who always had a smile on her face. She was also never on time, but this didn't seem to be a problem to anyone there.
The citizens of Sal are very warm and friendly to everybody, so as a digital nomad, you'll feel right at home. It's easy to make friends and people will try their best to help you with anything you might need. There's no big digital nomad community but with so many tourists frequenting the island, and the locals being so kind, you have everything you need.
It's not uncommon to experience power cuts on the island and shortages in the shops, but people are used to it and don't complain about it. As all the supplies arrive by boat, sometimes the supermarkets are half empty. Add to that bad weather conditions on the Atlantic and you can imagine that sometimes the boat arrives a few days late. Some things are more expensive due to this way of transportation.
The biggest part of the population is young people that speak both Portuguese and Creole, a language based on archaic Portuegese which has been altered by African and European languages. A study of 2017 shows that the average age was 25.4 years and more than 39% of the population was between 25 and 54 years old. Around half of the population has immigrated to countries such as Portugal, the US, and the Netherlands. Approximately three-quarters of the people living in Cape Verde are Creole.
Music is very important for Cape Verdeans and is often a mix between African rhythms and the expression of feelings. The national music is named 'morna', with  Cesária Évora as the most internationally known singer. That she left a great legacy behind is proven by the fact that her image was printed on stamps in 2003, and in 2014 even on a series of banknotes. Morna is an art form, recognized as World Heritage by UNESCO. Apart from being a music style, morna is also a dance style and forms together with coladeira and funana the three most common Cape Verdean dances.
In terms of religion, the biggest part of the population is Roman Catholic. Statistics by the government show, that 10 percent is Protestant, 2 percent is Muslim and 1 percent define themselves as being non-religious. The constitution states religious freedom so all religions share the same rights.
Sal Insurance and Medical Care
Most people that arrive in Sal, need a while until their intestines are used to the new environment. Tap water is not drinkable, so make sure to always drink bottled water of which the seal hasn't been broken, to wash your hands before touching food, and to only eat thoroughly cooked food that is still steaming hot.
Health care has been improving over the last few years but is still limited. There are not many hospitals and it's not uncommon to encounter a lack of medical supplies. The level of medical care can't be compared to European standards. This is one of many reasons why it's not a bad idea to take out international insurance supplemented by a cover of medical repatriation.
There are two clinics in Santa Maria, one is public and called Santa Maria Clinic. Their equipment includes the one to do scans and there's a dental clinic as well. The other one, Clinitur, is a modern, private clinic so the care here comes at a higher price. This clinic offers services such as 24/7 emergency care and ambulances, a dietician and psychologist, and is equipped with 6 rooms for ambulatory care and surgeries. The main hospital is located in Espargos but is still mostly for ambulatory cases. At the airport, an air ambulance is available which can bring patients to the Canary Islands or Portugal.
Most Cape Verdean islands are not affected by the tropical diseases you can sometimes find on the mainland of the African continent. Malaria for example rarely occurs and is mostly limited to the island of Praia.
Make sure you are fully covered by reading our full Digital Nomad Travel Insurance guide.
Jobs in Sal
Over the last few years, Sal has seen an explosion in tourism. It's mostly because the island is located not too far away from Europe and there's a certainty of sun. Not surprisingly, most jobs can be found in tourism. Other sectors with regular job offers are healthcare and education. Because of the growth of the country, some sectors are improving and more jobs are becoming available. 
It might take you a while to find a job, as many locals are unemployed. The island is quite small, so jobs are limited. 
It's an obligation to have a residency visa if you want to work in Sal. You have to have a job offer before applying as your future employer might be able to sponsor you.
As with everything else, you can ask around to see if anything's available. You can also check with employers such as hotels and tour operators directly. The more languages you speak, the better, and if you know a bit of Portuguese it will increase your opportunities.
You can also do an internet search. There are different specific search engines available. One example is Careersinafrica.com, where you can filter on criteria such as country, employer, and sector. On the Cape Verde forum on Expat.com, you can get more information on working in Sal and Cape Verde in general.
You can also use social media and join Facebook groups to connect with employers and other expats. Make sure you update your Linked In profile as well.
Check out our Digital Nomads Jobs Postings to find the best jobs available for Digital Nomads.
Nomad Friendly
Value for Money
Internet
Workspace
English
Food
Safety
Health
Transportation
Friendly
Quality of Living
Cost of Living Sal
On average, living on Sal and working remotely will not require a massive budget. However, there are a few choices you can make to decrease your cost of living even further. 
You can avoid working at places with expensive drinks and no free WiFi connection and opt to work from home or places with free internet. This way, you can shrink your mobile data bill considerably. A second tip is to use the outdoor gym instead of paying for group lessons or indoor usage. The feeling of working out on the beach and the beauty of the surroundings might even encourage you. Running and jogging, you can do outside as well, and you can get some extra exercise by not taking a taxi but by walking everywhere. If you really need transportation, consider that taking a taxi is cheaper than renting a car. Thirdly, bring your own snorkeling and watersport material (in case you have it) to Sal so you won't have to pay the extra price of renting it each time. You can also save costs on living by renting together with a roommate or choosing a small studio, cause let's be fair: life on Sal is outside anyway. Finally, you can save some money by not eating out all the time, or by looking for low-budget options. Not having to cook will lower your supermarket bill and your electricity usage.
In general, Sal is a great place to live for a digital nomad who considers the ocean and sun as the most important factors in life. On this island, you will be able to find the perfect balance between work and relaxation, and be surrounded by a chill atmosphere with amazing, kind-hearted people.