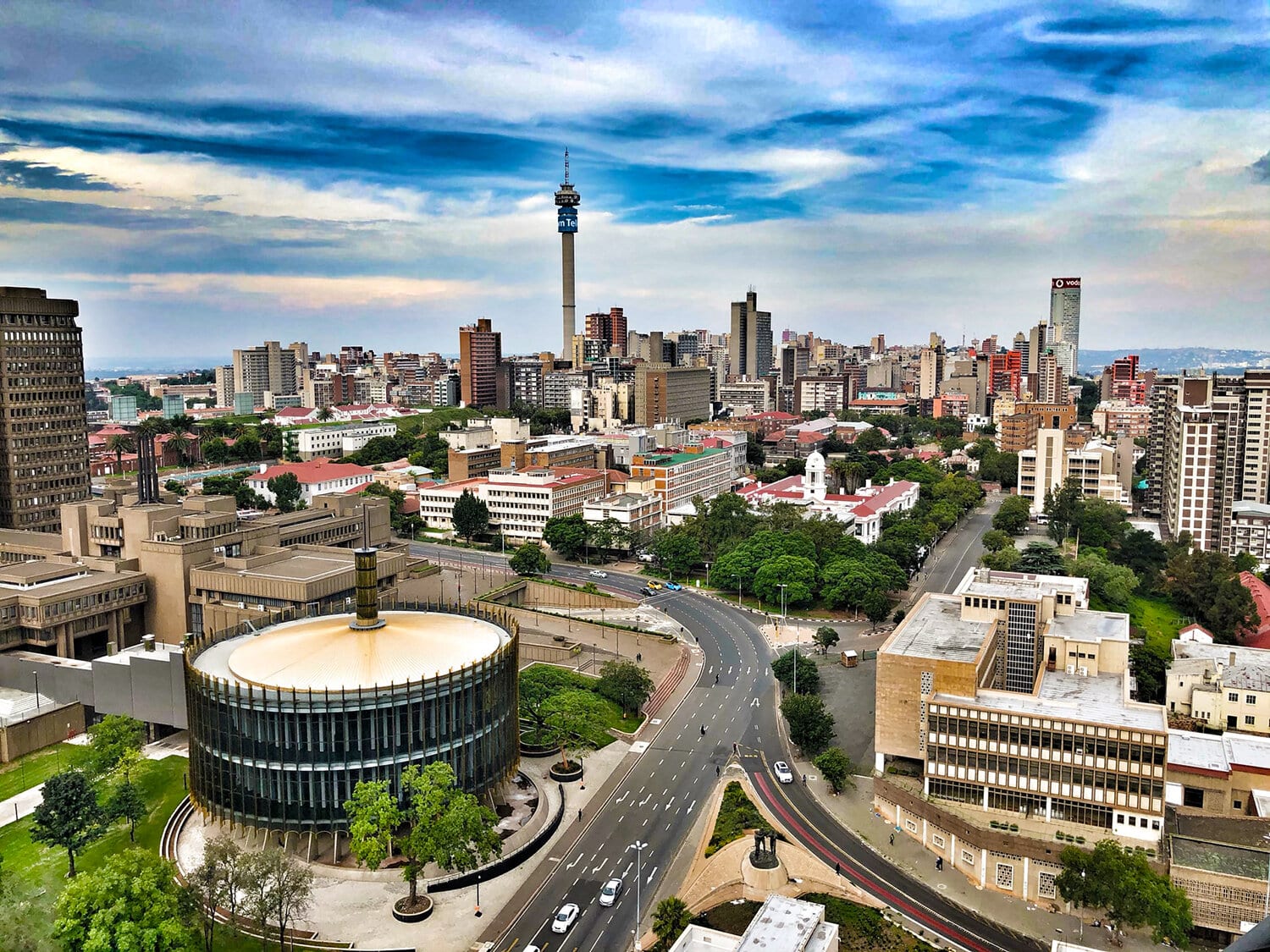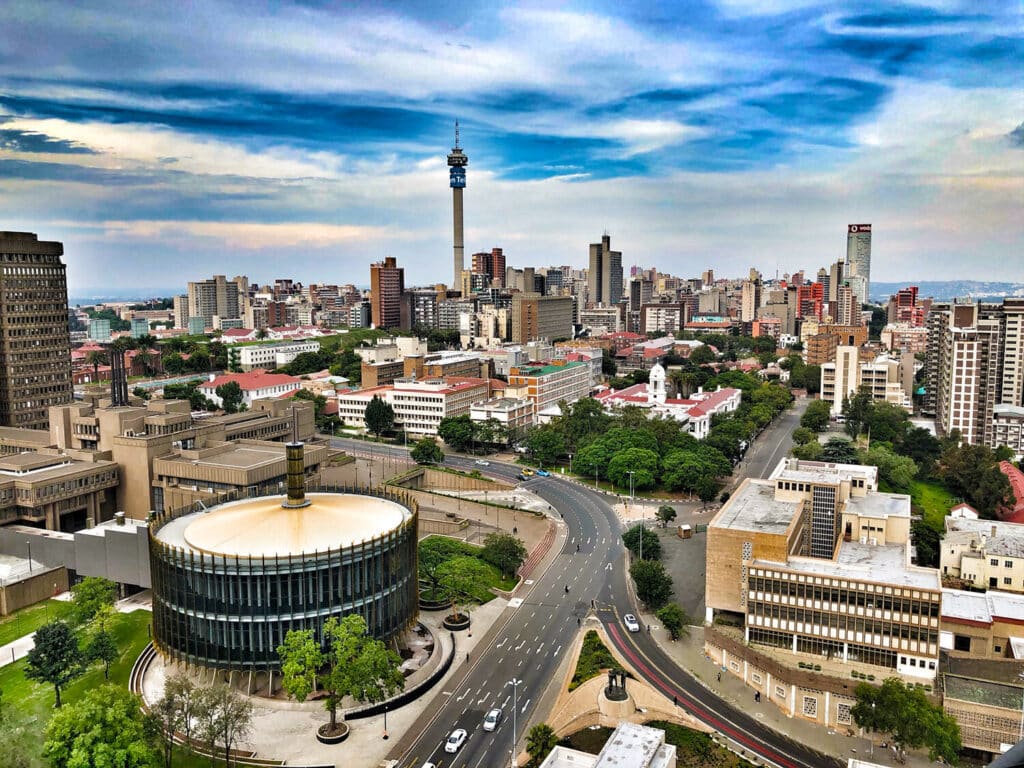 A Digital Nomad Guide to Johannesburg
Johannesburg is the largest and most populous city in South Africa. It is the capital of the province of Gauteng, the main economic and financial center of the country and the fourth largest economy in southern Africa.
Erroneously, it is considered as the capital of South Africa. However, the Constitutional Court is located here: the highest court of the country. It is also a very important city for the history, politics and culture of South Africa. Mandela lived in Johannesburg for many years and part of his struggle was fought there. Desmond Tutu and Gandhi also lived in Johannesburg.
Its growth began at the end of the 19th century, when gold was discovered in the area and it was filled with people, both from within and outside the country, looking for work in the mines.
It is a city with a very strong contrast between the white minority (17%) who live within the parameters of a developed country and a black population (73%) with low living standards. However, its people are usually friendly and smiling making you feel welcome.
South Africans colloquially call this city Joburg, Jozi or JHB. If you are a curious person and you like to visit the less known places, Johannesburg is for you. You are going to enjoy your days visiting the Soweto neighborhood and the exciting Apartheid museum! It is also a great starting point to see the Big Five of Africa at Pilanesberg National Park and Lion & Safari Park. As you can see, it houses infinite possibilities and activities to be carried out.
Nomad Friendly
Value for Money
Internet
Workspace
English
Food
Safety
Health
Transportation
Friendly
Quality of Living
Living in Johannesburg Overview
| | |
| --- | --- |
|  Meal, Inexpensive Restaurant | $9.72 |
| Domestic Beer (1 pint draught) | $1.88 |
| Cappuccino (regular) | $1.83 |
| Loaf of Fresh White Bread (1 lb) | $0.83 |
| Water (1.5 liter bottle) | $0.96 |
| One-way Ticket (Local Transport) | $2.19 |
| Basic Utilities (Monthly) | $129.59 |
| Internet | $57.06 |
| Fitness Club (Monthly) | $31.79 |
| Apartment (1 bedroom) in City Centre | $402.87 |
Currency: Indonesian rupiah (Rp)
[erw_exchange_rates_widget lg="en" tz="0″ fm="IDR" to="EUR,USD,GBP,AUD,JPY,RUB" st="primary" cd="" am="15000″][/erw_exchange_rates_widget]
ATMs
Max Withdrawal: Rp 3,000,000
Withdrawal Fee: Rp 30,000 – Rp 50,000
Use of Credit Cards: Mostly Cash
Digital Nomad Personal Experience in Johannesburg
My trip to South Africa started long before I got off the plane in Johannesburg. I like to research each destination before arriving, to get the most out of the trip. I enjoy it a lot and I feel that I already start to travel from behind the computer screen when I get to know what there is to do in each place.
When I started talking to acquaintances who had already been to South Africa, they all told me that I should skip Johannesburg because there was nothing to do and it was very dangerous. However, the city surprised me for good. Because of its history and how multicultural it is, it has a unique and different vibe. It is felt in the street and in the attitude of its people. It is seen in street art and is expressed in people's looks. 
I was lucky to have friends with a car so on weekends we went to visit the natural reserves with incredible animals that I saw for the first time in my life. Many times, I could see them a few meters from the car, without bars in between since they are free and wild animals. During the week, when I had time, I would tour the historic neighborhoods and museums that gave me another perspective on their history. The Apartheid Museum and various points related to the life of Nelson Mandela, the anti-Apartheid activist and former South African president, are attractions of the city that helped me to better understand what I had previously studied and the social differences that I saw around it. At night I had fun in its incredible bars and clubs with my new friends.
Although I was always careful to follow the social safety rules, nothing ever happened to me and I felt accompanied by its people who opened the doors of their houses to me with affection.
Some cities have a special vibe and Johannesburg is one of them.
Work in Johannesburg
More and more people in Johannesburg are abandoning the classic office model for coworking spaces that offer convenient perks like meeting rooms and free printing, networking events, skills workshops, and plenty of opportunities to socialize with people outside of your industry. For a growing number of people, flexible office spaces and shared desks are the future of workspaces.
Coworking spaces are also particularly attractive to business travelers, and as Johannesburg is the corporate and economic capital of South Africa, this city has many options to offer.
Best Places to Work in Johannesburg
Perch Flexible Office Space
For example, Perch Flexible Office Space (37 Bath Ave, Rosebank) offers over 40 hot desks, 20 dedicated desks, 22 private offices and five meeting rooms as well as team booths, lounges and other breakaway areas for when you need to make a long phone call in privacy. The decor and design is bright and contemporary with comfortable furniture and a collection of artworks by top local artists. The regular schedule of free professional and social events is also a huge plus. For coffee or lunch, there is the Clipboard Society Cafe or the Rosebank Mall. 24/7 dedicated tables are priced from 224 USD per month, hot desking from 140 USD per month, and the daily rate is 18 USD.
Mesh Club
Mesh Club (21 Keyes Ave, Keyes Art Mile, Keyes Ave, Rosebank) is a workspace particularly for those who work in the media, entertainment, and arts and culture industries. It occupies one floor of the iconic Trumpet Building along the Keyes Art Mile, a center for art and design. Mesh Club features public and private areas, small office spaces, meeting rooms, shared desk facilities, a screening room, lounge, dining room, coffee bar, and Mix cocktail bar. Mesh Club has been designed around an outstanding art collection with murals by South African artist Louis de Villiers and Jane Alexander sculpture, Serviceman 1994. A major benefit of membership is the club's reciprocity agreements that also give you access to elegant member clubs in New York, London, Paris, Budapest, Madrid, Stockholm, Singapore, Mumbai and Cape. Pricing for a shared desktop membership starts at 272 USD per month and dedicated desktops from 416 USD per month.
Workshop17
Workshop17 (Firestation Rosebank, 16 Baker St, Rosebank / 138 West St, Sandton Central / 20 Kruger St, Maboneng) has three locations in Johannesburg, in addition to four offices in Cape Town. It operates on a membership model, meaning that Workshop17 members can access any of its many coworking spaces in South Africa. The Sandton headquarters is ideal for anyone looking to be close to the corporate heart of the city while the Rosebank office is very popular with companies looking to establish project teams. Additionally, the Rosebank office is housed in Firestation Rosebank, an elegant remodel of the historic Art Deco Rosebank Fire Station. The building has amazing views from the rooftop terrace and a patio that overlooks tree-lined Bath Avenue. The Sandton branch offers 210 shared desks, meeting rooms, 24 shared silent desks, an auditorium and a lively café-bar terrace. The third location, in the central district of Maboneng, has 120 shared desks. Pricing starts at 20 USD per day, 305 USD for twenty days that can be used as needed, and shared desktops from 155 USD per month.
WeWork
The giant WeWork (Rosebank Link, 173 Oxford Rd, Rosebank) is popular between business travellers who frequently travel overseas for work.
Best Places to Live in Johannesburg
Best Neighbourhoods
Johannesburg is a sprawling city with many suburbs and the largest man-made forest in the world, with more than 10 million trees that earned it a place among the greenest cities in the world.
People here live a wide variety of lifestyles at different costs. Keep in mind when moving out that the economic disparity is huge and therefore there are very unsafe areas. Also, traffic is terrible during rush hour as most people don't walk on the street outside of a safe neighborhood if they can avoid it. For this reason, most people try to live close to where they work and close to schools.
The main areas of employment are the CBD (center of mining, commerce and government) and Sandton, where many industries, including banking and finance, are headquartered.
Midrand
North of Johannesburg, between Joburg and Pretoria, is Midrand. Here you find many of the largest companies, new and affordable properties with large plots and good schools. It is perfect for a family that wants to live in the country and likes horses.
Fourways, Lonehill and Sunninghill
Fourways, Lonehill and Sunninghill are where most expats live. They have closed farms with high security properties, luxury shopping centers and good schools. Dainfern, Fourways Gardens, and Cedar Lakes are some of the largest gated communities to be built around golf courses. The downside of living here is that if you don't work from home, getting to work can take more than an hour.
Sandton
The most expensive place to live in the city is Sandton, Johannesburg's business, financial and hotel hub. It is located near the main shopping center and has a good selection of apartments, houses and farms.
Bryanston
Bryanston is located on the edge of Sandton. It has large properties in small gated communities. Its streets are lined with jacaranda trees and gardens and it has buses to go to international schools within the area. A little further south are Sandown, Hyde Park and Morningside, with elegant homes and luxury apartment blocks.
Randburg and Ferndale
Randburg and Ferndale are close to downtown and range from large single-family homes to small apartments. It also has schools, parks, the Johannesburg Botanical Gardens and the Cresta shopping center that even has a theater.
Melville
Melville is a student area close to the University of Johannesburg (UJ) and WITS (University of Witswatersrand). It has a bohemian vibe and great nightlife with outdoor cafes, second-hand bookstores, smaller properties, and new stores that open all the time.
At the foot of Northcliff Hill, one of the oldest suburbs in the city, is Tilo. It is a traditionally African area that is home to the African government school, large properties, and good views of the city.
Parkview
Parkview, Parkhurst, Parktown North, Greenside, Craighall Park, Dunked West and Saxonwold have large parks, restaurants, and smaller communities. Parkview is a family-friendly suburb that is built around George Hay Park and, like Parkhurst, has good shops and cafes. Greenside and Parkhurst are close to Melville and are famous for their nightlife and antique shops. They are just a short drive from CBD and Sandton so they are ideal areas for those who work there. In Greenside there are many young families and large houses with gardens. Parkhurst has a more European feel and the property sizes are smaller.
Parktown and Rosebank
Parktown and Rosebank are home to three of the oldest schools in the city: King Edward VII, St. John's College, and Parktown High. Their houses are spacious and the Johannesburg Zoo is nearby. Many new bars, shops and restaurants are emerging in Rosebank. In addition to families, many young professionals move to the area.
Bedfordview
Bedfordview is ideally located for frequent travelers as it is close to O R Tambo International Airport. It also has shopping malls, good schools, housing for different budgets and the Gillooly's farm, where you can picnic by the lake.
Melrose Arch
Melrose Arch is a new neighborhood with unique shopping, fine dining, and entertainment. It has apartment blocks, making it an ideal and safe place to live, whether for single people or young couples.
Westcliff
Westcliff is home to all the ancient randlords and it is one of the oldest parts of the city. It has large properties, incredible views, and two outstanding schools: The Ridge (boys) and St Catherine's (girls).
CBD
Johannesburg's central business district, called CBD, is home to the University of Johannesburg. There is a wide variety of apartments available that suit a single person or couples without children. The area has a great selection of bars, restaurants and is famous for its nightlife.
Braamfontein
Braamfontein is located in the center of Johannesburg. It used to be the business district until companies moved to Sandton in search of greater security. However, it is now home to many creatives and entrepreneurs. Also at downtown, Maboneng features art galleries, co-working spaces, a retro cinema, and a market every Sunday on Arts on Main. 
Find an Apartment in Johannesburg
Searching for an apartment in Johannesburg is not difficult. If you are looking for a short-term rental, the best time is during the winter, from June to August, since most people are on vacation during December to February / March.
When starting the search, you should check the online portals and the most popular local search engines. Being in English you will have fewer problems than in other countries, and communication will be easier. Start by looking at Private Property ZA that has a wide variety of properties for all budgets. The second-best apartment website in the country is Property 24. Another site you can look at is My Property ZA, although it is less complete than the previous ones.
You can also consider classified ads in newspapers and lists of real estate agents, although the agents will charge you a commission so it is a good idea to have them as a last option. OLX is considered a worldwide classifieds site with a strong presence throughout the country and in Johannesburg, but you have to be careful with scams. Never pay in advance, always go to see the departments and never go alone.
Gumtree, another available option, is considered the Craigslist of South Africa, containing a large number of classifieds. One of the most famous real estate agents is Pam Golding.
Finally, you can check the search engines for apartments and houses that operate worldwide. They usually have higher prices but allows you to stay for a shorter time and the apartments are furnished. For example, Trip Advisor which is a search engine for vacation rentals or Vrbo.com with properties in all countries. You also find several options to rent furnished apartments for a few days or months on Airbnb.
Cheap Places to Stay in Johannesburg
If you have a limited budget, your best option is to share an apartment. If you are staying for at least a year, find new friends who also need to split the rent or, if you don't know anyone, contact couchsurfing.org hosts to ask if they want to rent a room. If you're staying for a short time, you can also find a room to rent on Airbnb from 220 USD per month. If you prefer to be in a traveling environment, the most economical hostel is Sleek Backpackers (477 Jan Smuts Ave, Blairgowrie) from 7 USD per night, although it is 11 km from downtown Johannesburg. Another option is the Ghandi Backpackers Lodge (15 Doris St, Kensington) 3 km from the center with prices starting at 14 USD per night.
Johannesburg Visa
Depending on the country of origin, some people can stay in South Africa as tourists for 30, 90 or 120 days without having to apply for a visa. It is advisable to check the list of visa-exempt countries of the home affairs department of the Republic of South Africa. If the name of your country does not appear in this list, it means that you must apply for an entry visa.
There are also countries that require a visa to enter South Africa but are exempt from the consular fee such as India, Colombia and Mexico. Please go to the list of countries that require paying a consular fee and if your country is not on that list, it means that you should not pay the visa fee.
If your visit exceeds 90 days or you travel to South Africa to study or work, you will need to apply for a temporary residence visa instead of a visitor visa. You should go to the nearest South African embassy to consult the documents required for the process.
In some cases to enter the country they also ask for the Yellow Fever vaccine certificate.
You must also have your travel passport valid for at least 30 days after returning from South Africa. The passport must have at least 2 blank pages for visas; one page will be used by the Embassy / Consulate to place the visa and the other will be required for the entry and exit stamps of the country.
Culture and Food in Johannesburg
The world's largest gold rush began in Johannesburg, attracting European immigrants and Africans in search of fortune and work. The story of Johannesburg, known as Egoli (city of gold) in Zulu that it is the language and name of the largest ethnic group in South Africa, is that of a city forged by people in search of opportunity. Its various culinary customs were born from this history.
I recommend you to eat vetkoek (fat cake) that comes from Dutch origins, biltong (cure and dry game meat with spices), chakalaka (sauteed canned beans, grated carrots, peppers, tomatoes, garlic, and spices), melktert (delicious baked- egg custard tart made of a fluffy mixture of eggs, milk, and sugar), atchar (blend of unripe green mangoes and chillies) and Malva pudding (cake-like pudding made with sugar, eggs, flour, butter, and apricot jam, and then soaked in a hot butter-cream sauce to serve).
The city also offers other flavors of the continent. At Wombles (Bryanston Johannesburg, Gauteng, 2193), housed in a stately colonial-looking villa, you can sample a tantalizing range of eleven different cuts of meat with recipes sourced from Zimbabwe.
Among the international restaurants is Café del Sol (Olivedale Randburg, Gauteng, 2188), one of the best Italian restaurants in the city. While delicious Italian food satiates your appetite, you can be distracted by the meaningful quotes found all over the place from figures like Buddha and Nelson Mandela.
Koi Sandton (24 Central, Shop No 3, Cnr. Fredman Drive and Gwen Lane, Sandton, Johannesburg), on the other hand, is known for a surprising fusion of Japanese and Chinese cuisine with influences inspired by Western food. Here you can taste excellent sushi.
Mythos (Magaliessig Johannesburg, Gauteng, 2191, South Africa) brings the Mediterranean flavors of Greek cuisine to your palate. The menu offers kleftiko (leg of lamb with roasted potatoes), biftekia (minced meat patties) and pastitsio (baked macaroni), among other things. It has a wide variety of vegetarian options. Mythos, a local franchise, is open at multiple locations in Johannesburg.
Johannesburg Nightlife
Johannesburg's nightlife is almost just as diverse as its cuisine. The city boasts a vibrant nightlife ranging from exclusive clubs to several world class theatres including the Civic Theatre and The Market Theatre. The Civic Theatre is home to the Nelson Mandela Theatre, Tesson Theatre and the Peoples Theatre. Guests can look forward to a range of productions, ranging from local plays to international shows.
Among the trendy bars is Beefcakes (Illovo Muse, 198 Oxford Road, Illovo), with a 1950s flair, is the go-to spot for ladies' nights out and bridal showers. Here you'll find golden classics echoing through the speakers, attentive waiters, and interactive entertainment.
Johannesburg's clubs range from super slick and trendy to a more relaxed atmosphere. Some of these clubs showcase the best in South African music with live bands while others host international DJ's. For example, in the old snake park of Midrand, Truth (Old Pretoria Rd, Midrand) is Joburg's best dance club. Here you can enjoy a wide range of electronic music, with the best local and international DJs. There are several dance floors and the parties continue until the morning.
Carfax (39 Gwigwi Mrwebi St, Newtown) is a cultural studio and event center. It was home to different artists, DJs and musicians. It remains faithful to the diverse history of the place. Carfax is an experience in itself, filled with unmatched creativity and diversity.
Whichever you choose, prepare to have a night without much sleep and lots of fun!
Things to do in Johannesburg
Johannesburg is South Africa's financial and industrial metropolis but also a comfortable safari stopover and a vibrant center for arts and culture. Cutting-edge contemporary galleries and the new Maboneng Precinct are now among the city's top tourist attractions along with the Apartheid Museum and Constitution Hill.
Apartheid Museum

The Apartheid Museum graphically portrays the history of apartheid through photos, artifacts, stories and footage that invite you to reflect through the history of South Africa. If you are interested in history, expect to spend at least two hours here.

Constitution Hill

Constitution Hill is a former prison with provocative displays. Famous former prisoners include Nelson Mandela and Mahatma Gandhi. Today, the old building has been transformed into the Constitutional Court of South Africa, which welcomes visitors who wish to attend hearings and observe the judicial process.

South African Museum of Military History

Continuing with the museums, the South African Museum of Military History tells the story of all the country's military conflicts. It houses fighter jets, WWII bombers, tanks, ammunition, weapons, and medals. I recommend you to see the exhibition on the traditional healing used by the Zulu during the Anglo-Zulu war.

Wits Art Museum

If you prefer art museums, head to the Wits Art Museum which houses a large collection of African art with many works from South Africa, as well as West and Central Africa.

Market Theater

The Market Theater complex, housed in a renovated market building, is also part of the cultural life of the city. It has four live theater rooms, a bookstore, an art and photography gallery and restaurants like Kippie's which is a popular jazz venue. You can combine it with a visit to the Maboneng Precinct, to walk among its modern restaurants, cafes, art galleries, shops and entertainment venues. One of the main attractions here is the weekly Market on Main with food from all over the continent. Arts on Main and Revolution House are two of the first developments where warehouses are transformed into artist studios, galleries and shops.

Gold Reef City

Gold Reef City, eight kilometers from the city center, takes you on a journey back to the days of the Gold Rush through a series of theme park attractions and historical exhibitions. You can walk between reproductions of buildings and businesses of the time and a disused well of one of the richest gold mines in the world. There are also games for children and a roller coaster.

Pretoria

About 55 kilometers away is Pretoria, the administrative capital of South Africa. It is worth a visit due to its historical buildings, monuments, museums and jacaranda-covered parks such as the Pretoria National Botanical Garden and Freedom Park.

Soweto

Another interesting idea for the weekend is to take the one-day tour of the city of Soweto, which was the cradle of the struggle for democracy. Located 20 kilometers to the southwest, it was a planned segregation area where black workers lived far from the center in shacks made of corrugated iron. With your guide, you will safely visit the slums, the famous Vilakazi Street, the exhibits of the Apartheid Museum and the former homes of two Nobel Peace Prize winners: Nelson Mandela and Archbishop Desmond Tutu.

Walter Sisulu National Botanical Garden

If you want to escape the bustle of the city, the Walter Sisulu National Botanical Garden is one of the nine National Botanical Gardens in South Africa. It features red rock cliffs, the Witpoortjie waterfall, a river and hiking trails that weave through manicured gardens teeming with abundant birds, including black eagles.

Lion & Safari Park

At the Lion & Safari Park, you can meet the famous wild animals of Africa less than an hour's drive from the city. They allow you to touch lion cubs and feed the giraffes by hand. You can choose to join a guided safari in the park's vehicles to see lions, cheetahs, zebras, ostriches, hyenas and antelopes. You can also enter with your own car and be your own guide.

Cradle of Humankind

The Cradle of Humankind is a UNESCO World Heritage Site and one of the most important paleoanthropological areas in the world. It is located an hour from Johannesburg and here you can visit the Stalactites Caves of Sterkfontein which consist of six underground chambers connected to a lake at a depth of about 40 meters. Archaeological excavations unearthed the skull of a humanoid creature known as Australopithecus africanus, which is estimated to be two million years old. The excursion lasts eight hours.

Pilanesberg National Park

The Pilanesberg National Park, two and a half hours away, is one of the most visited game reserves in South Africa. Here you have the opportunity to see the Big Five of Africa (lions, leopards, buffaloes, elephants and rhinos), sable antelopes, zebras and more than 300 species of birds. On the full-day private tour, a guide tracks the animals you want to see and explains about the park's wildlife and ecosystems. As you can see, Johannesburg and its surroundings have all the charms of city life as of the wildest part of the continent. Enjoy it!
Best Time to Visit Johannesburg
Johannesburg has a subtropical climate, with a mild and sunny winter (but with cold nights), and a pleasantly warm summer but with a few storms in the afternoon. The city is located near the Tropics, but its climate is mitigated by the altitude, so it is pleasant although unfortunately the city is very polluted. Rainfall reaches 700 millimeters per year, and is concentrated between October and March.
Winter, from May to August, is mild and sunny during the day, but with cold nights. In the coldest months, June and July, the minimum temperature is close to zero degrees. However, during the day the maximum temperatures are around 18/20 °C.
Summer, from November to March, is pleasantly warm, with cool nights, and showers and thunderstorms in the afternoon or evening. It is rare that it is very hot as it rarely exceeds 30 °C.
The intermediate seasons are mild and sunny, although sometimes in April and September it can be cold at night.
The best months to visit Johannesburg are probably April, September and October, as they are less rainy and less cold months.
Johannesburg for Families
One of the top priorities for expat parents in Johannesburg is the safety of their children. I am not going to lie, it is not a safe city in which you can relax but by acquiring some habits and knowing the areas well, your children will be safe. Parents should know the whereabouts of their children in public places, make sure they memorize their phone numbers and home address, they should not use public transportation and depending on the area they may or may not play in public parks. The positive side is that expat families with houses in the city's suburbs are likely to have a more spacious garden than in other cities.
In addition, Johannesburg has a wide variety of neighborhoods and government, private and international schools. Many expats choose to live in the northern suburbs like Fourways, Dainfern, Lonehill, as this is where many of the international schools tend to be.
International schools have higher staff and community turnover and often a high price. You may want to look at a local South African school where your child will be exposed to South African sports and cultural activities, and can develop longer-term friendship groups.
The academic year runs from January to December and all schools have a long summer vacation during December / January. They usually start at 7:30 am until 2:30 pm with sports and other activities in the afternoon.
Living in Johannesburg
Johannesburg Transportation
In Johannesburg, the urban life tends to spread across several suburbs, each with its own identity and style. The distances are long and much of the city is not designed for pedestrians. In addition, many areas are not safe and even in the safest ones it is advisable to be careful with valuables, avoid poorly lit streets and don't walk alone during daylight hours.
While I recommend having your own car as it is safer and makes life easier, Johannesburg has a great public transport system although it does not go everywhere.
The Gautrain express train and the Rea Vaya bus service are safe, efficient and relatively easy to use. The Gautrain links downtown Johannesburg (Park Station) with the major northern business districts (Sandton and Rosebank) and beyond with Pretoria and O.R. Tambo International Airport. To use the train, you must buy a Swift Card at any station and fill it with money at the kiosk or vending machine inside the station. You can visit their website gautrain.co.za to see when the next train is leaving. Additionally, at each Gautrain station there is a network of buses that connect the nearby suburbs. There are route maps and schedules at all Gautrain stations and bus stops. Buses usually arrive every 20 to 40 minutes depending on the time of day, only from Monday to Friday (the bus service does not run on weekends).
The Rea Vaya bus rapid transit (BRT) system links the city center with Soweto and the western suburbs such as Auckland Park. It has bus lanes and special closed stations with elevated platforms and security personnel. To use the bus, you will need to purchase a smart card for R30 at the Park Station or Carlton Centers stops. It is advisable to load money in advance. We recommend having a minimum balance of R50 to make sure you can make at least one long return trip if you need to. Most trips cost around R12 to R15. One-way tickets costing R21 are also available.
Privately owned minibuses are the most widely used public transportation option but can be very confusing without the help of a local. Unlike other countries that use these minibus systems, there is no published list of destinations or prices so you will need to rely on your travel companions for this information. Be careful at the stops as they are frequented by pickpockets.
Another option is Uber that became the preferred transportation system as it is safe, reliable, and much more competitively priced than regular taxi companies. Uber's main competitor is Bolt's local rideshare service, which is cheaper but has a lesser reputation for customer service.
Fitness and Health
The three most popular mainstream sports in the country are soccer, rugby, and cricket, reflecting its early British colonial influence. Some of the places where they are practiced are the Joburg Cricket Club (Bertrams Rd, Johannesburg, 2198) and the Union Rugby Club (cnr 11th and Forest Street, Johannesburg South, 2136).
The city also has several golf clubs such as Observatory Golf Club (Steyn St, Johannesburg, 2198) and Parkview Golf Club (Emmarentia Ave, Johannesburg, 2193).
In addition, among the best gyms is Body Conscious Gym, in the heart of Randburg. It offers cardio, weightlifting, spinning, Brazilian Jiu Jitsu and submission grappling. They also have a bio kineticist on site to help with rehabilitation or injuries, as well as a massage therapist and a café.
Fit X-Treme, on the other hand, offers cardio, weights, swimming, yoga, aerobics, kick-boxing, judo, nutrition and a steam room. It has two locations: Benoni and Olivedale. The team will complete a full-body assessment and supply you with a tailored training programme just for you. 
BDA Gym has a super circuit, cardio, weights, boxing area, functional training and a steam room in Bedfordview. There's also an established sports medicine unit with physiotherapy, biokinetics, a GP and a dietitian opposite the gym.
Shapes For Women, in Vanderbijlpark, has an only-woman-circuit workout that takes only 30 minutes, which they recommended you attend three times a week. This really is a great option for the modern woman who is time pressed.
Body Mechanix, in Craighall Park, is one of the largest private health studios in the country. It's a qualified Body Arts Science International (BASI) Pilates teacher training centre that offers pilates, gym, gyrotonic classes, a chiropractor, massage therapists and physical rehabilitation to help you achieve your goals.
Johannesburg People
In Johannesburg you will find a green city with many parks and a good work-life balance. The climate is mild which allows you to enjoy weekends outdoors almost all year round, unlike the rest of the continent. Also, people are very passionate about rugby and cricket and watching a game is a great way to get involved in the community.
On the other hand, the country and the city have one of the worst income disparities in the world, which at first can be shocking. You may wonder why there are certain jobs that seem to be only for people with a certain skin color and why there is so much wealth and so much poverty but little middle class. Apartheid has left its mark on the country and, although it ended more than 20 years ago, its impact will continue for many more generations.
Johannesburg is also ranked as one of the most dangerous places in the world. You regularly hear of people being robbed. That is why gated communities are also the norm and not the exception. However, there are many walkable areas that are safe.
There is a great mix of cultures in the city, with many different languages ​​being heard on the streets and wherever you go. Although the official language is English, people regularly converse in their mother tongues: Sotho, Zulu, Tswana, Afrikaans, etc.
People are very kind, friendly and they usually smile a lot. If they trust you, they quickly include you in their social life and invite you to a dinner at their house. They really like to have fun and hang out with their friends. Make friends and you will have fun weeks.
Johannesburg Insurance and Medical Care
South Africa has a public health system largely assisted by the government and a private system. Up to 80% of South Africans use the public health system when necessary. However, due to insufficient resources and adequate funds, public hospitals lack the latest medical equipment and highly trained staff that is available in private hospitals. Public hospital staff members are overworked and there are always long lines of patients waiting for treatments.
The private system serves mainly middle- or high-income families in the country. Private hospitals are better equipped and maintain a high standard of care. Because these treatments can be expensive, expats are advised to purchase health insurance that covers private hospital visits and treatment costs. For expats, insurers offer many health insurance plans in South Africa. Some of these plans cover transportation by ambulance and some hospitals, while other plans may not cover all types of medical expenses.
Pharmacies in the city are adequately stocked with all kinds of drugs. Those who live or travel to rural areas can find only basic medicines. If you are on a trip I suggest you pack all essential medications before traveling to remote or rural areas and bring a record of the prescription.
Make sure you are fully covered by reading our full Digital Nomad Travel Insurance guide.
Jobs in Johannesburg
South Africa has high unemployment with a rate of around 27%. As a result, it can be difficult to find work as a migrant in South Africa unless you have the specific skills and qualifications required. Semi-skilled and unskilled jobs are hard to come by and employers prefer to hire unemployed locals. My advice is to have a job offer before moving to the country.
However, South Africa has skills shortages in sectors such as engineering, executive-level finance, healthcare, managerial executive, executive-level mining, and risk management. Other key sectors in South Africa are manufacturing and chemicals. Also, if you have experience and skills in teaching science, math, and technology, you may be able to get a teaching job in a rural area.
Keep in mind that the average gross monthly income of non-farm workers in South Africa is around 1.500 USD and compare it to the cost of the lifestyle you want to have.
By law, all jobs in South Africa must be advertised nationally and will only be open to international applicants if a suitable South African citizen is not available to perform the job. However, in practice, it doesn't work like that.
To look for work, check the classifieds in local and national South African newspapers, such as Mail & Guardian and The Times South Africa. Additionally, jobs are often advertised on employment and hiring websites such as: Best Jobs, Career Junction, Careers24, EmploySA, Find a job in Africa, Indeed, JobMail, Zigo, SAGovJobs, LinkedIn, Indeed, Glassdoor, Google Careers, CareerJet, PNet, JobVine, Bizcommunity, SimplyHired, CompuJobs, JobNexus, Trovit and Jobted South Africa. 
Check out our Digital Nomads Jobs Postings to find the best jobs available for Digital Nomads.
Nomad Friendly
Value for Money
Internet
Workspace
English
Food
Safety
Health
Transportation
Friendly
Quality of Living
Cost of Living Johannesburg
Johannesburg is not an expensive place to live, but not really cheap either. It is the financial capital of Africa and should be viewed as such. If you want to live in the CBD near Sandton, you can expect to pay very high rents compared to living 30 minutes outside of town. On average, a studio in City Centre cost around 600 USD while a studio outside the center can cost around 430 USD. A 3-bedroom apartment in the City Centre cost around 1.000 USD while one outside around 750 USD. Also expect to pay around 120 USD for basic utilities (electricity, heating, cooling, water, garbage) for a 85 square meters apartment and another 65 USD for internet (60 Mbps or More, Unlimited Data, Cable/ADSL).
If you like exercise, the monthly fee for a Fitness Club cost around 33 USD per person and running on the street is not always a possibility. 
A meal for one person in an inexpensive restaurant cost arounf9/10 USD while a meal for two in a mid-range restaurant will cost you around 42 USD. 500 grams of white bread cost 1 USD, 1 kg of rice 1,60 USD, 12 regular eggs 2,30 USD, 1 kg of chicken fillets 5,50 USD and 0,5 liters of domestic beer at the supermarket cost around 1,50 USD.