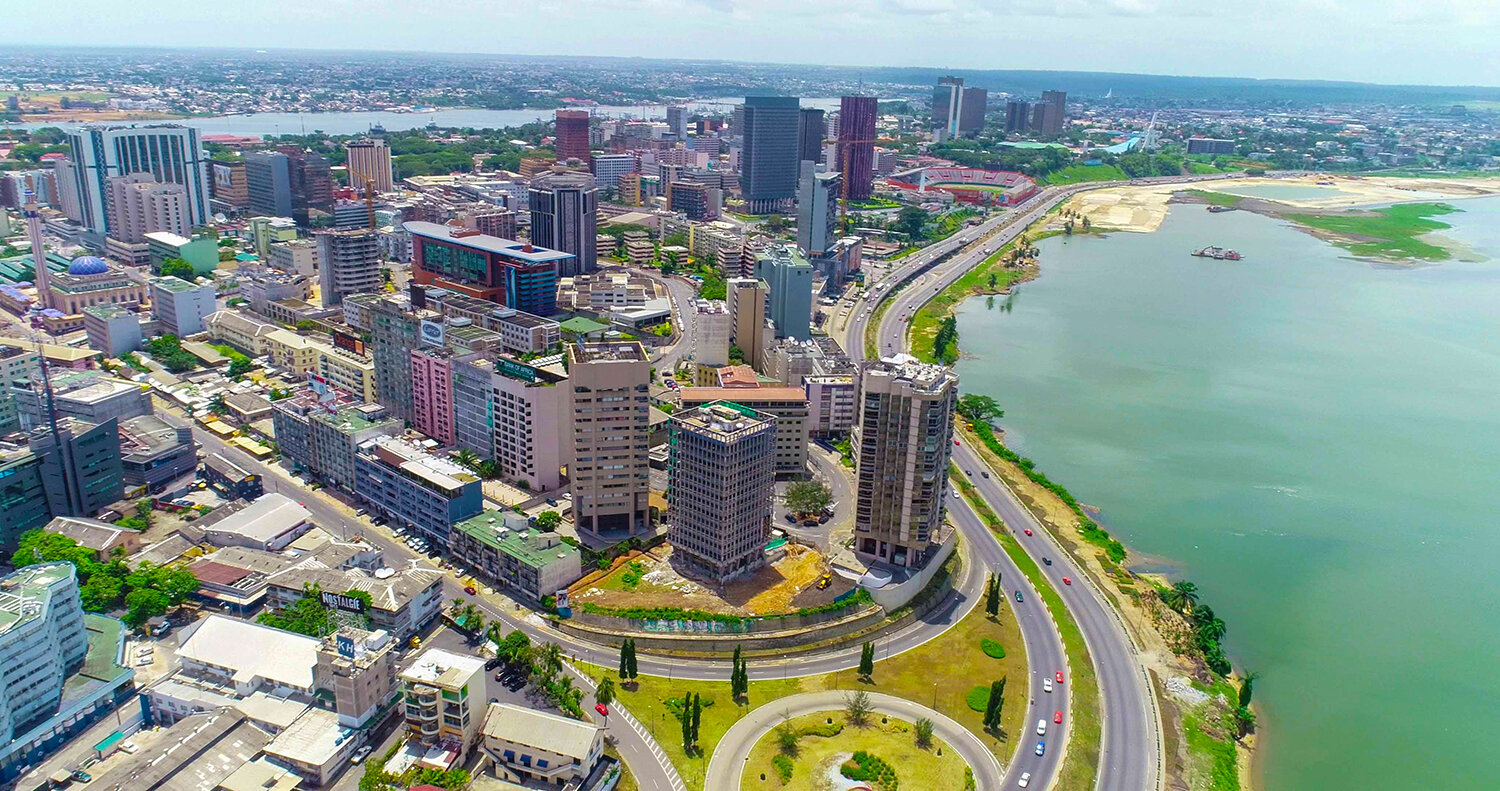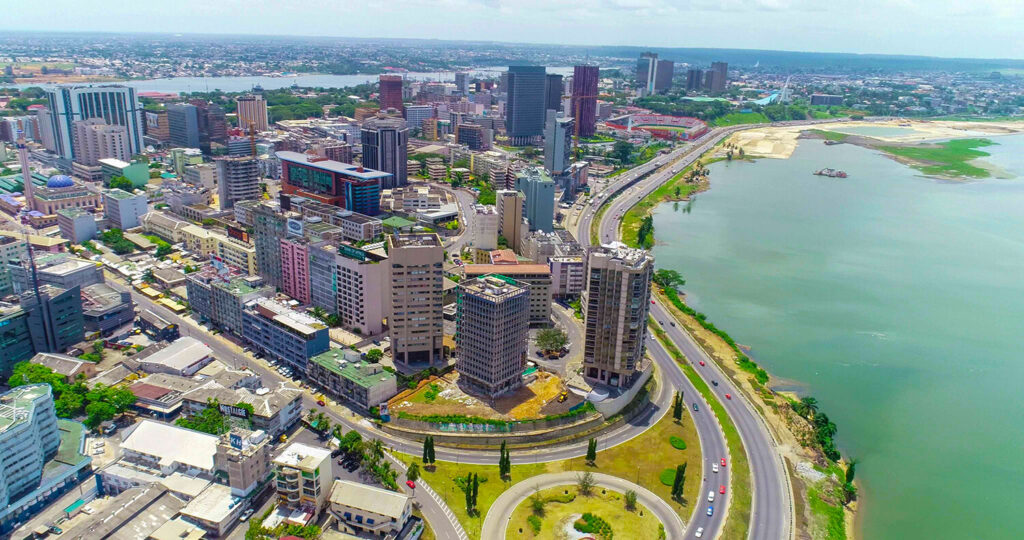 A Digital Nomad Guide to Abidjan
Located on the southeast coast of Ivory Coast, Abidjan is one of the largest and most populous cities in West Africa. Due to its status as the economic capital of the country, it has more than 20% of the entire population of Ivory Coast. Almost 5 million people live here.
Abidjan is also the expat capital of the area and is home to many expats and foreigners from all over Europe and Africa. It is particularly popular with the French as the official language is French, although many local residents also speak one or many of the 78 languages ​​of the region.
Although Abidjan was designated the capital of the Ivory Coast when it was under French rule, it is now simply the economic capital, as Yamoussoukro was named the official capital after gaining independence in 1960.
The city is a testament to what the country was and what it could be again. This is evident in places like the Hotel Ivoire, which was built in the sixties on the edge of the Ebrie Lagoon and where the mix between French luxury and African charm is evident. Also, the tall buildings of Le Plateau, the center of the city, are evidence of the most prosperous time of the Ivory Coast.
Visitors can expect things to move reasonably quickly in this business-minded city, where they will find designer brands, large supermarkets, stylish restaurants, and other modern conveniences.
Characterized by strong industrialization and booming urban development in comparison with other capitals of Northwest Africa, its transportation, media and size make it an ideal city for business tourism.
Nomad Friendly
Value for Money
Internet
Workspace
English
Food
Safety
Health
Transportation
Friendly
Quality of Living
Living in Abidjan Overview
| | |
| --- | --- |
|  Meal, Inexpensive Restaurant | $3.47 |
| Domestic Beer (1 pint draught) | $0.87 |
| Cappuccino (regular) | $2.29 |
| Loaf of Fresh White Bread (1 lb) | $0.55 |
| Water (1.5 liter bottle) | $0.87 |
| One-way Ticket (Local Transport) | $0.35 |
| Basic Utilities (Monthly) | $177.13 |
| Internet | $70.07 |
| Fitness Club (Monthly) | $54.90 |
| Apartment (1 bedroom) in City Centre | $606.84 |
Currency: Indonesian rupiah (Rp)
[erw_exchange_rates_widget lg="en" tz="0″ fm="IDR" to="EUR,USD,GBP,AUD,JPY,RUB" st="primary" cd="" am="15000″][/erw_exchange_rates_widget]
ATMs
Max Withdrawal: Rp 3,000,000
Withdrawal Fee: Rp 30,000 – Rp 50,000
Use of Credit Cards: Mostly Cash
Digital Nomad Personal Experience in Abidjan
Moving to Abidjan can have both positive and negative aspects. Despite being a dynamic city, Abidjan's reputation has been marred by insecurity. In my opinion, if you're careful, nothing should happen to you. I traveled almost all the time on public transport and in almost every neighborhood and always felt safe during the day. During the night it is advisable to take reliable taxis because the streets are so badly lit that level of security change.
On the other hand, the capital city is home to several popular, very residential and luxurious neighborhoods with almost everything one wants to find. Cocody, for example, is home to many private companies and universities, as well as cultural centers. Marcory, meanwhile, is primarily a residential area, home to numerous shops. What I like about Abidjan is that the houses are not usually within closed neighborhoods like in Acrra or other capitals in the region. Here I had also the feeling of being more in a city but at the same time I could enjoy the beach, which was relatively close, and different African cultures.
Ivorians are generally well-educated, and they always helped me even when I don't speak French or understand how public transport works. 
Lebanese immigration brought with them supermarkets with imported products, restaurants with good culinary quality, ice cream shops, bakeries and other types of shops that make life in Abidjan more comfortable.
Being one of the most developed cities in North West Africa, many large companies have their African headquarters here and therefore the community of foreigners from European countries and other continents is also large. The good thing about it is that there is always something to do with friends that understand your culture: a party, a birthday, going to the club pool, getting together to play board games or watching the football game. In Abidjan, you will not get bored!
Work in Abidjan
Abidjan is one of the most developed cities in West Africa and it has a large number of coworking spaces to offer in comparison with other countries in the same region. 
Best Places to Work in Abidjan
Africaworks coworking
Africaworks coworking is an innovative coworking brand with offices in several African countries. It offers innovative workspaces inspired by Africa, for Africa and built around the experience of their community members. The office space includes high-speed internet connection, unlimited drinks, reception, lobby, terrace, creativity rooms, meeting rooms, phone box, quiet work spaces and administrative support such as mail, installation assistance, domiciliation and accounting. Here you can rent private offices, shared spaces, hot desks, executive offices and dedicated workstations for large teams and fully-equipped meeting rooms and event spaces with modern furniture and bright colors. Prices start at 280 USD per month.
Le Phare Coworking
Le Phare Coworking has modern and elegant decorations with comfortable furniture for achieving your goals at work. The colors around are black, white, without much distractions. It comes with high-speed internet (optic fiber), operational assistance, scanning and printing machines, security 24/7, coffee space and parking between other services. It has an open work area, private offices, personalized spaces for large companies, a modular and connected conference room, meeting rooms, a welcoming area to relax and a rooftop. Le Phare is officially a TedX host and has been named the best coworking space 2019 in Abidjan by the Coworker site, which brings together a network of 11.500 spaces around the world. Prices start at 180 USD per month.
My Address Coworking
My Address Coworking is a coworking space created by entrepreneurs for entrepreneurs, project leaders, and associations in order to promote a new way of working and promote a certain ease during their working time. Their services include mail management, call reception services, domiciling your head office with them, concierge service, meeting room, a dedicated telephone set to receive and make your business calls, three well-appointed VIP offices in order to offer you more privacy, high-speed Internet access, a printing department and hot desks with modern and comfortable furniture. Prices for open spaces start at 220 USD and for private offices at 372 USD.
Seedspace Abidjan
Seedspace Abidjan is a hub for entrepreneurs, freelancers, consultants and other stakeholders interested in the positive impact in emerging countries. They offer shared offices, coworking spaces, dedicated offices, access 24/7, daily cleaning, high-speed internet, free good quality coffee and tea, equipped kitchen, meeting room, air conditioning, printer and scanner, safety lockers, car and bike parking, outdoor terrace and a meeting room. Prices start at 75 USD per month. They also offer a full co-living experience in furnished apartments for at least 55 USD a night.
The Royal Work Club
The Royal Work Club offers a premium space to organize all your private or professional events. Their elegant setting includes lounge areas, a cigar lounge, a bar area with catering options and an auditorium. Whether you are looking for an everyday workspace, need occasional access to the Club for important meetings with clients, or even need a place to develop side projects after your workday, this could be your ideal place. They also offer private and semi-private offices, meeting rooms, printers and internet, among other services.
Regus
You can also check Regus. Their serviced offices have everything taken care of, from the furniture to the high-speed WiFi, and with flexible terms allowing you to rent office space from an hour to years, so you can focus on driving your business forward. They offer furnished private offices with high-quality furniture and services included, private office spaces tailored to your business and also renting spaces per hour. The prices of the custom offices start at 272 USD.
Best Places to Live in Abidjan
Best Neighbourhoods
Abidjan is divided into two parts: North and South which are separated by the Lagune Ebrie and connected by 3 bridges. There are many safe residential areas throughout the city, although traffic can be a problem during peak hours, so it is better to choose a house near your job or your community.
Most expatriates live in Cocody or Marcory, two of the safer districts.  However, some traditionally working-class neighborhoods such as Yopougon, Koumassi and Port-Bouet have houses that meet expatriate criteria.  
Cocody
 You will find most of the Ivorian elite, expatriates, foreign embassies and international schools in the Cocody neighborhood. It is well known for its residential areas like Plateaux and Riviera. Also for the University Félix Houphouët- Boigny as well as some other private universities. The housing here is diverse ranging from apartments and small villas in the 2 Plateaux Vallons section, to large villas, many with swimming pools in the Riviera area. You can find shopping options like Cap Nord in Riviera, and many restaurants and businesses around Plateaux 2 area. Cocody Proper area is its more exclusive part as many government ministers and diplomats live here. Riviera 1 or Riviera Golf is a quiet and secure area with mostly apartments and is right across from the lagoon.  Riviera 2 has more villas/houses available.  It is also a family neighborhood. Riviera 3 is a very suburban neighborhood and there are many spacious homes to rent. Riviera 4 or Beverly Hills is the area of many diplomats and officials due to its large luxurious homes. Riviera 5 & 6 are the newest areas that are still mostly under development. Palmeraie is also relatively new and is made up of new and affordable apartment buildings and villas. 
 Le Plateau
Le Plateau neighborhood is known as the Business District of Abidjan and it is the administrative, commercial and financial center of Ivory Coast. The majority of residences in this area are high-end and mid-range luxury apartments. Some expats who work in the business district choose to live here to avoid the traffic during rush hour. This district is extremely busy during business hours but empty on weekends.  
Abobo
Between the not recommended neighborhoods of the north part are Abobo and Adjamé. Abobo neighborhood is the second most populated one in Abidjan. It houses many refugees and working-class migrants. It is not a recommended area for expats.
Adjamé
Adjamé neighborhood is small, with security risks and sanitary problems. A big number of commercial activities take place here. It has the city's largest market that houses a realm of shops and a bus station that feeds bus lines which travel throughout the country and neighboring countries. 
Yopougon
 Yopougon is the largest and most populated commune of Abidjan. It has many industrial and residential areas. It is home to the research station ORSTOM, Pasteur Institute and a University Hospital.   
Marcory
Marcory neighborhood, in the south, was initially built as an industrial area.  However, that has changed over the years and is now the most popular district for young expats. It offers many restaurants, nightlife, and western conveniences.  It is also close to the airport.  However, there are not many schooling options here and it can get risky during the night. It may not be very suitable for a family lifestyle.  Marcory neighborhood can be divided into three smaller sub-sections. Marcory Residentiel area is the most residential part of Marcory and it has nice houses, manicured lawns and shopping malls nearby. Zone 4 area has developed with many western restaurants and bars alongside new luxury high rise apartments. Bietry area is still very industrial but it has some nice apartments with views of the lagoons.
Treichville
Between the not recommended neighborhoods of the north part are Treichville and Koumassi. Treichville neighborhood houses the Port of Abidjan, its industrial area and many shops. There is also the State pool of Treichville (PET), the palace of sports Treichville, the Palace of Culture, Rue 12 and The Abidjan racetrack.  It is a very popular neighborhood with west African tradespeople who sell their goods in the many local markets.
Koumassi
Koumassi neighborhood has an important industrial area and its intersection that leads to Koumassi's large market is one of the widest boulevards of Abidjan. 
 Port-Bouet
Port-Bouet is a working-class neighborhood near the airport and it hosts an industrial area close to the sea.  Its beaches are busy every weekend, although the ocean there is very rough. 
Good luck choosing your new neighborhood!
Find an Apartment in Abidjan
Rental prices in Abidjan generally vary from area to area and are particularly higher the closer you get to the city center. I recommend to be careful with the demands of the owners and to leave everything in writing. Also, it is best to seek the help of a real estate agency if you are not familiar with the local real estate market and to ask about the neighborhood security. Prices range from 700 USD to 2.000 USD depending on the area, the size of the home, and the level of comfort. Additionally, furnished houses and villas can be even more expensive, reaching 4.000 USD per month.
You will likely find many offers on specialist housing and real estate agency websites. You can check the directory of real estate agencies in Abidjan or websites like kerawa.com, www.leportail.ci, immo.ci and ivory-coast.realigro.com. 
You can also check Facebook groups like Résidences meublées Abidjan, Annonces Immobilières Abidjan, Résidences meublées à louer Abidjan, Location de Maison Abidjan and ACTUALITÉ IMMOBILIÈRE ABIDJAN-COTE D'IVOIRE. Or you can ask for help to other expat at the city in Expats Abidjan or Expats Abidjan Officiel.
Another option is to walk through the different neighborhoods to identify vacant houses or ask the managers of the buildings if they know of any apartment or house in the area. As in the case of a job search, networking between expats could also help in Abidjan to find your perfect apartment or house.
Cheap Places to Stay in Abidjan
If your budget is low, you should search on your own.  You can check Facebook groups with cheaper properties or a good assortment of apartments such as Location de Maison Abidjan. Or you can try sharing an apartment by searching for a room in Colocation à Abidjan/Flatshare Abidjan or by asking other expats at en Expats Abidjan or Expats Abidjan Officiel. Another option for looking for a roommate is to contact other expats living in the city through Couchsurfing.org and asking them for any good opportunities. Expats in Abidjan often help each other.
You can also walk through the different neighborhoods to identify vacant houses or ask the managers of the buildings if they know of any apartment or house in the area. Try to avoid neighborhoods such as Cocody and Marcory, as they will be more expensive.
Abidjan Visa
If you plan to travel to Ivory Coast, check the related procedures in advance at the corresponding embassy as the information may change over time and varies depending on your specific situation. In general, the visa requirement applies to most foreigners who wish to relocate to Ivory Coast.
Nationals of some countries do not need a visa to travel to the Ivory Coast. Therefore, diplomatic, official or service passport holders can enter the country if they come from one of the following countries: South Africa, Austria, Brazil, Gabon, Israel, Iran, Uganda. In addition, citizens of the following countries holding a passport can travel to the Ivory Coast without a visa: Benin, Burkina Faso, Cape Verde, Central African Republic, Gambia, Ghana, Guinea Bissau, Liberia, Mali, Mauritania, Morocco, Niger, Nigeria , Philippines, Republic of the Congo (Brazzaville), Seychelles, Sierra Leone, Singapore, Senegal, Chad, Togo, Tunisia.
There are different types of visas in Ivory Coast depending on the duration and purpose of the stay. Therefore, you can choose between three types of visas, regardless of the category: the transit visa that is valid for a maximum of 3 days, the short-stay visa that is valid for a maximum of 3 months, and the long-term visa duration that is valid for one year. The reason for the stay is usually indicated on the visa: business, studies, mission, private visit, tourism and leisure, etc.
To apply for a visa first, you need to apply for a visa application form at the Ivory Coast consulate in your home country or on the websites of SNEDAI and the Ivory Coast National Police. Fees must be paid on the SNEDAI website. Then an appointment code will be issued. This code will be valid for three months from the date of payment. To apply for the visa, you may be asked for the following documents: the original online payment receipt, the statement of the appointment, a duly completed and signed visa application form, a passport-size identity photo, your passport valid for at least 6 months, a copy of the first three pages of your passport, your international yellow fever vaccination certificate, a copy of your return tickets.
Other documents will also be required depending on the type of visa and the purpose of the stay, such as proof of hotel reservation, proof of sufficient funds, a letter of invitation or evidence related to your qualities as an entrepreneur, among other documents.
In addition, it must be considered that these visas do not allow you to work in the country, for this you must apply for a work visa. Some pages of interest are www.snedai.com, www.rdvvisas-ci.com and the list of foreign embassies and consulates in Ivory Coast: embassy.goabroad.com.
Culture and Food in Abidjan
Without a doubt, Ivorian food is one of the best cuisines in West Africa. As a capital city, Abidjan has amazing places to enjoy very tasty African, European and international food.
Maquis (open-air restaurants) are typical of West African and Ivory Coast culture. Maquis can be found almost anywhere in Abidjan and is the ideal meeting place for everyone. These restaurants are a favorite with locals when they want to relax with friends, family or colleagues after a busy day. The Maquis are considered humble places where people of all kinds of life and nationalities sit shoulder to shoulder while enjoying a good meal. The service at the Maquis is quite slow and the locals eat with their hands rather than using utensils. Waiters often offer a bucket of soap and water to wash their hands before and after the customer eats. Some of the most authentic Ivorian dishes you should try in a Maqui are alloco (fried plantain served with a spicy sauce) and grilled fish or chicken served with yam (fermented yucca). Here you will experience the real Ivory Coast's culture. 
If you prefer a Western-style place, Restaurant La Terrasse is one of the posh places in the capital. It offers authentic Lebanese and international cuisine with a stunning ocean view. It's a bit pricey compared to other restaurants, but it's definitely worth it if you're looking for a good dining experience. Keep in mind that they don't serve alcohol here.
The Di Sorrento restaurant is among the best Italian restaurants. It is a fairly simple place but they offer very good services and tasty meals. Their menu includes pizza, beef, salad, fish, lasagna and more, in a quiet and elegant setting.
 La Pagode Restaurant specializes in Vietnamese cuisine and offers varied and delicious meals at reasonable prices. The place is not very big so it can be crowded most of the time. It is advisable to book before going to avoid waiting. Alternatively, they also do home delivery.
If you're wondering where to find great seafood in Abidjan, Le Grand Large restaurant is the perfect place. It is a French restaurant that offers a variety of tasty meals in a location with a beautiful and sophisticated decoration. The place is perfect not only for business or private occasions, but also to have a good time with family and friends.
Located in the residential areas of the capital, Le Montparnasse Restaurant is one of the best restaurants in the city. It offers a wide variety of food in a very pleasant environment. The cuisine is mainly French specialties. Also, the staff and waiters are friendly and very professional.
Another amazing restaurant that offers excellent Lebanese cuisine is Le Mechoui Abidjan. The staff provide good service to their customers and the menu includes the great mezza, as well as the traditional grilled haloumi, fish, mtabel and other specialties.
Abidjan Nightlife
Abidjan, the economic capital of the country, is considered the mecca of nightlife in the sub-Saharan area. If you are to enjoy the night, you will not lack for fun.
You can go for drinks with friends at Le Seven, a small club with a comfortable living room with large leather sofas, a lounge bar with stools and a dance floor. The staff are charming and welcome you with the Akwaba, the particular way of receiving a foreigner in Ivory Coast.
Le Saint Germain, opened in 1998, is one of Abidjan's most popular nightlife spots. Located on the Boulevard de Marseille, it is the most popular and luxurious nightclub in the Ivory Coast. If you want a drink in a serious and safe bar, with good songs, air conditioning and a charming billiard room, go to Le Saint Germain.
Le Che Café is worth a visit for its interior decoration. The name of the nightclub comes from the Cuban revolutionary Che Guevara whose effigy hangs in the main entrance along with a Chrysler car embedded in the wall. Le Che Café is very cozy and known for its originality. It has a lounge bar, tables, comfortable sofas so you can have your drink, a pool table and a stage for live concerts.
Le Music All is all about jazz music. This is a place where you can have a drink while listening to jazz. The music can be played by a famous local band in concert. Be careful, you can lose track of time here.
The L'Ebène Night Club recalls the mysterious side of Africa. It is a romantic place to go as a couple for a drink and a chat. This typical African night club offers customers some meat dishes and, above all, drinks at cheaper prices.
Le Havana Café is a nightclub located on Avenue Pierre and Marie Curie. The lounge bar, the tables and seats, the flowers, everything seems to be planned to perfection. Le Havanna Café is really a good place to drink and have fun with friends or alone. The nightclub staff is nice and friendly. What are you waiting for?
Things to do in Abidjan
Abidjan is not known as a tourist destination but a business destination. However, there are a couple of interesting places to visit.
A good place to start your tour is Le Plateau. Le Plateau is the commercial and administrative heart of Ivory Coast, home to several iconic buildings, shopping centers and parks. Often nicknamed Little Manhattan or Little Paris, the area serves as the headquarters for many national and international companies. Here you will see some tall buildings that were built during the 70s and 80s. It is the only district that makes you feel in a city and gives you the feeling that it is a strange mix between a western and an African city. In Laza De la Republique you can go to the tourist information center in the Air Ivoire building where they will give you a good idea of ​​what to see in Abidjan and the distances. From there, you can walk to Blvd De la Republique. You will pass the flea market on the left side of the road and you will find places to eat.
If you stay on this path you will arrive at St. Paul's Cathedral. This modern and imposing cathedral is undoubtedly one of the main landmarks of Abidjan. Designed by Italian architect Aldo Spirito with 4.500 square meters, this cathedral is supposedly the second largest church building in Africa and can host more than 3.500 people. Pope John Paul II inaugurated the cathedral in an opening ceremony in August 1985. The tower itself is said to be a figure of Saint Paul, while the buildings behind the tower depict his robes. The interior of the cathedral includes a series of beautiful stained-glass paintings.
The National Museum is a short walk from the Cathedral. You can also learn about the history of the Ivory Coast and its traditional values ​​at the Musee des Civilizations de Cote d'Ivoire. The museum, dating from 1942, has several collections with more than 1.5 million objects of great value to the national heritage. These include archaeological and ethnographic elements, as well as photographs and pieces of contemporary art. Here you will see wooden and bronze statues, traditional masks, musical instruments, clothing, pottery, and more.
One of the largest Muslim religious sites in the country, Grande Mosquee du Plateau remains unfinished, but open to visitors. Begun in 1996 to create a place of worship for the Plateau's Muslim population, the mosque features a richly decorated facade and tall minarets, along with a blue dome and marble floors inside. Only men can enter the mosque.
At the Amani Gallery, which displays paintings and home décor by local artists, you can discover contemporary African art. The gallery has a wide collection of tables, chairs, mirrors, benches and statues, mostly handmade. Each piece is for sale, so you can take your favorite piece home with you.
You can also visit CAVA – Center Artisanal de la Ville, a town of artisans with workshops that sell a variety of handicrafts. Here you will find Korhogo cloth paintings, batiks, loincloths, jewelry, and folk art. It has countless stalls, cabins, galleries and souvenir shops. Keep in mind that you will see local art pieces alongside those from Ghana, Mali, Nigeria and other African countries.
If you are looking for some entertainment in Abidjan you should head to the Treichville area, a small commune located in the southwest of the city. Filled with bars and restaurants, plus a racetrack, swimming pool, and sports park, this is the area where you are most likely to find other city-based tourists or expats. While you should inquire about the security situation before heading out for the night, Treichville is definitely the place to go if you want to sample some of Abidjan's surprisingly vibrant nightlife. Also, the market is worth visiting during the day.
If you're a golf fanatic, Ivoire Golf Club offers exactly what you need, with its clean, well-organized lawns, as well as full equipment rentals. You can also take a break to relax in the hotel pool and sample the specialties in the clubhouse restaurant. It also has good recommendations regarding spas and leisure.
42 km from the city center is the Musee National des Costumes where you can learn about the clothes and culture of the peoples of the Ivory Coast. Founded in 1981, the museum exhibits a variety of traditional clothing and crafts from all the ethnic groups that have lived in this territory. On the first floor you will find mannequins modeling colorful clothing, while the second floor has a collection of old photos and postcards of local history. The Musee National des Costumes and many more Grand Bassam attractions are found in Inspirock's Grand Bassam travel app from which you can plan your itinerary.
Just 14 kilometers from Le Plateau you find the National Park Bank. Escape the urban bustle of the capital to enter a threatened world of natural rainforest. The national park, a center for research, education and recreation, has survived deforestation and urban development thanks to staff conservation efforts and regular security patrols in 4×4 vehicles. Here you can take a safe and adventurous hike or a guided tour through ancient mahogany forests, where you can come across exotic birds, primates, and other indigenous animals. There is no food or electricity available so it is advisable to bring water as it can be hot and humid.
If you want a day trip through nature, Abokouamekro National Park is 280 kilometers from the city. The park covers more than 21.000 hectares of green meadows, crossed by rivers and dotted with towering trees. It is also an important game reserve, offering refuge to the region's threatened wildlife. Visitors can keep an eye out for rhinos, giraffes, buffalo, hippos, monkeys, and other animals.
Best Time to Visit Abidjan
Ivory Coast has a tropical climate in the south and along the coast, including Abidjan. Temperatures range from 26 °C to 40 °C. However, considering the humidity that remains fairly constant varying between 80% and 90%, the temperatures feel high throughout the year. The least humid month is January and the wettest month is August.
 The seasons are identified by rainfall: the long dry season goes from December to February, the short dry season occurs during August, the short rainy season goes from September to November, and the long rainy season from March to July. During long rainy seasons, it may rain continuously for many days in a row and very heavily for hours. It is also common for roads to be flooded and mobilization difficult.
If dry weather is what you are looking for, the months with the least likelihood of significant rainfall in Abidjan are January, February and August.
The hottest months are March, April and February. The warmest time of year is generally mid-April, where maximum temperatures hover around 33 °C and temperatures rarely drop below 25 °C at night.
The wind in Abidjan is usually calm. The windiest month is October, followed by June and July. Average wind speed in October of around 6.5 knots which is considered a light breeze.
Abidjan for Families
When moving to Abidjan you have to keep in mind that your children will need to be supervised at all times in order to keep them safe while they are away from home on the street. However, since Abidjan is one of the economic centers of North West Africa, you will find many families of foreigners with children, international schools and safe clubs for them to interact with other kids without the need for supervision.
Ivory Coast follows the old French educational system where there are six years at the primary level, four years at the secondary school and three years at the upper secondary school. You will find many private and public schools, especially in the city center. 
The public education system in Côte d'Ivoire does not have the same level as most Western countries. This is why many expats living in Abidjan send their children to an international school. As the economic capital of the country and a popular destination for expats, Abidjan has some of the best international schools in West Africa, which will teach the French, English or American curriculum. One of the most prominent international institutions is the International Community School of Abidjan. Abidjan also has several universities, including the Université Félix Houphouët-Boigny, a local elite university in Abidjan founded in 1964, and the Université de Cocody. Both teach only in French and in turn most children speak this language so it will be vital for them to start speaking it.
Living in Abidjan
Abidjan Transportation
In Abidjan distances are long and expats often travel big distances between different parts of the city. Although there are buses, taxis and the train, Abidjan's public transport system can be difficult to understand and does not have fixed schedules so it is very difficult to calculate arrival times. The vast majority of expats buy a car in order to be independent.
The capital's road transport network is managed by the Société des Transports Abidjanais (SOTRA – www.sotra.ci). There are different types and classes of buses in Abidjan. Some of these are faster than others and therefore the fees vary. However, most fees are usually between 0,20 and 1 USD. Buses operate along fixed routes in Abidjan, but they are often overcrowded and robberies are frequent. In general, foreigners do not use buses, so people will be surprised if you get on one.
Ferries cross the lagoon from one side of Abidjan to the other, and go to Plateau, Treichville, Yopougon and Cocody Blockaus via the Ebrié lagoon. Ships carry not only goods but also passengers. Transportation services are provided by SOTRA and by private pinnaces which are a common type of ship in Africa. Fares are fairly inexpensive, ranging from 0,20 to 0,30 USD per trip. However, the seaway can sometimes be dangerous as most operators tend to overload their vessels. It is always safer to travel by land.
Abidjan has a single train network that runs to Ouagadougou in Burkina Faso.
Mobile app taxi services like TaxiJet are also an option for travelers looking for comfort and safety. Furthermore, there are several different kinds of taxis in Abidjan. Orange taxis operate throughout the city and are the most expensive option, but also the safest. Fees typically range from 1 to 3 USD. Taxis of other colors operate only in specific areas, are generally shared, and tend to be much cheaper. However, these usually start only once they are full. In addition, taxis often do not have a meter and a rate must be negotiated before getting into the vehicle, so it is convenient to know in advance how much the trip usually costs. Motorcycle taxis also operate in Abidjan and although they are cheap, they are best avoided for safety reasons.
Fitness and Health
If you want to stay in shape in Abidjan, there are few good gym options. Equinox, located at Rivièra 3, is one of the best gyms in Abidjan. Even if you have to pay for a round trip taxi, it is worth it, as it is difficult to find such a complete gym in the city. Although expensive, the facility is excellent and well-maintained, serving a crowd of expats. Equinox has weights and machines, Zumba and Pilates classes, bikes, treadmills, stair masters, a basketball court, and a pool. Due to the size of the place, it is always spacious and it is rare to find someone who is already using the machine you are looking for. A monthly membership costs around 75 USD and a day pass 11 USD.
In Le Plateau, the city center, you find the Traning Center gym whose owner was a bodybuilder. It's a more local, less pretentious gym. The gym is located on the corner of Avenue Houdaille and Rue Augustin de Tessières. Membership fees are around 47 USD per month or around 6 USD per day. The place has many machines, weights, benches and mats to do sit-ups. There is a chin-up bar and three bench press stations. The Training Center is open Monday through Saturday. They also offer fitness classes and personalized coach sessions. Please note that most gyms in Abidjan are not air-conditioned, so it is very hot. Bring lots of water and prepare to sweat.
You can also check out the Gym Club Ligne et Equilibre at the Sofitel Hotel Ivoire with prices starting at 75 USD, ISPA-Hotel Ivotel (Plateau Rue Gourgas), Le Calao (Marcory, Biétry, near Sécurité Service), Cascade Fitness (Cocody Deux Plateaux 7ème Tranche) and Soulmotion (Cocody Riviera golf within Ivoire Golf Club).
Abidjan People
Côte d'Ivoire has a great cultural richness since around 60 ethnic groups coexist here in peace, each with its own cultures and rituals, characterized by rhythmic dances to the beat of drums. There are many local traditions and customs. The oral tradition is still very strong in the villages, where the griots (a traditional communicator in West Africa) tell the stories. They are considered as the "memory of people". Finally, "the tree of the word" is the tree under which the wise men meet to resolve conflicts or other family problems.
Music is an important part of Ivorian culture and to this day many locals still gather as the griots use drums when telling their tales. One of the most anticipated music festivals in this country is the Mask Festival that takes place every November. It is celebrated in the Man region, east of Abidjan, as locals pay tribute to the spirits.
By nature, Ivorians are known for being humble. The locals deeply respect people who admit their shortcomings and show a genuine interest in learning. Furthermore, family is the core of Ivorian society and they appreciate it when you ask them about the health and well-being of their loved ones.
Public displays of affection are also rare in Abidjan. Ivorians believe that the display of emotion between lovers or married couples should be done in private, but holding hands, hugging and kissing are now common, especially among young people. Only a handful of Ivorians believe in gender equality. To this day, men continue to play the role of breadwinner and head of the family, while women often take on the role of homemaker.
Ivorians are generally well-educated and proud; however, there are tensions linked to nationality and citizenship. African expatriate visitors may encounter some hostility related to popular resentment towards the large number of expatriate Africans in the country.
The company culture is influenced by French traditions and the dress code is still formal. The corporate culture is also mostly formal and hierarchical. Age demands great respect and Abidjan's top executives will generally expect to deal with older male executives.
Soccer is the most important sport in the country and practically all men know the fashionable soccer players from other countries. Les Éléphants, the national soccer team, won the African Cup of Nations in 1992 and again in 2015, both by beating Ghana on penalties. Didier Drogba, the Abidjan-born forward remembered for his dominance at Chelsea, is an important figure. He was captain of the national team for eight years starting in 2006 and retired as the nation's all-time leading scorer. But soccer is not his only sport. The only Olympic gold won by the Ivory Coast was in Taekwondo in Rio 2016 by Cheick Sallah Cisse.
Abidjan Insurance and Medical Care
As an expat, you are eligible for healthcare in both the public and private sectors. In either case, it is always convenient to be subscribed to health insurance since you will probably have to pay for health care services in the country.
The public health system is supported by the State through subsidies and financial donations. Most of the country's public hospitals date back to the 1970s and 1980s. They also tend to have poor care, are poorly equipped, and poorly managed. In addition, ambulance services are limited and drug stocks may be insufficient or even unavailable in some public hospitals. However, Abidjan is one of the best cities in West Africa after Dakar (Senegal).
You also have to consider that the Ivory Coast is quite vulnerable to some contagious diseases such as HIV / AIDS and tuberculosis that are widespread in the local population. It is also a malaria and dengue area so it is advisable to use repellent frequently to protect yourself from mosquitoes.
In the private health system, it is considerably better than the public one and can be paid in cash or through medical insurance. There are many insurance companies to choose from in Ivory Coast, depending on your needs and budget. Some of the major health insurance providers are: Allianz Care and Cigna Global.
For more information you can check the page of the Ministry of Health: www.sante.gouv.cia.
Make sure you are fully covered by reading our full Digital Nomad Travel Insurance guide.
Jobs in Abidjan
Its developing economy and the many opportunities available are one of the key factors of Ivory Coast. Its economy is mainly based on agriculture. The country is also a major oil and gas producer, contributing on a large scale to the local economy. The secondary sector, which includes food, textiles and construction materials contributes 22% to the national GDP. Finally, services, including telecommunications, contribute 55%.
There are two types of employment contracts: the fixed-term contract and the indefinite contract. In the case of a fixed-term contract, it must be sealed by the Labor Inspectorate if it lasts for more than three months. The employment contract must be sealed by the Agence d'Etudes et de Promotion de l'Emploi (AGEPE) before the confirmation of your hiring and you must complete the corresponding form that is available on the AGEPE website. Once your employment contract is confirmed, you must apply for a nominative employment card within three months. You can get more information from AGEPE.
You can start looking for jobs on websites such as www.agepe.ci, www.careersinafrica.com, unjobs.org, www.bayt.com, www.everjobs.ci, www.infomine.com and www.rmo-jobcenter.com. You can also check the classifieds in your local newspapers. Keep in mind that new companies in Côte d'Ivoire have to post their current vacancies at AGEPE for one month to hire a maximum of local professionals. Once this period has expired, foreign citizens are eligible to apply for these jobs.
In addition, it is also important to note the presence of many foreign companies in the country, which is considered a real advantage for trained and qualified expatriates. Many times, it is convenient to apply from abroad to achieve a better salary agreement. Also, keep in mind that it is necessary to speak fluent French and, depending on the job, English.
Check out our Digital Nomads Jobs Postings to find the best jobs available for Digital Nomads.
Nomad Friendly
Value for Money
Internet
Workspace
English
Food
Safety
Health
Transportation
Friendly
Quality of Living
Cost of Living Abidjan
The cost of living for expats in Abidjan is cheap for the lifestyle you can obtain but at the same time expensive compared to other cities in the world since there is very little intermediate offer and the facilities are usually either luxury or of a quality too low for an expat.
The median unfurnished expat apartment rent is around 700 USD per month for a studio and 2.000 USD for three bedrooms in a central location OR 1.300 USD in a suburban location, excluding utilities. 
The average price of an Internet subscription to the standard monthly plan is 64 USD although you can also buy a dongle with unlimited recharge at around 75 USD per month.
The average annual fee for the international private school (not including extras) is 21.843 USD for elementary school and 24.400 USD for secondary school.
The average grocery price in a major international retail store for 1 kg of apples is 2,60 USD, 1 kg of oranges 2,94 USD, 1 lettuce 1,73 USD, 1 kg of potatoes 1,96 USD, 1 kg of chicken breast boneless and skinless 10,69 USD, 1 kg of cheddar cheese 15,08 USD and 1 dozen large eggs 2,88 USD.   
 The average cost of medical care for a private medical consultation for an uninsured patient is 50 USD, and a private hospital stay per day that includes nursing care, medications, diagnostic tests, food, and related costs is 1.500 USD. 
The cost is very high for items such as books, movie tickets, sports, and theater. The average price of a latest release international movie ticket is 9,87 USD, and an international fitness, recreation or sports club membership cost for an adult is 75 USD per month.
When it comes to eating out, prices vary a lot if you go to a market, a local street stall, or a store or restaurant of international standards. The average price of a cappuccino at a western-looking venue is 3,21 USD, a hamburger 9,35 USD, and a mid-range international restaurant meal for two can cost 40 USD. However, on the street you can find rice and fish or chicken menus for between 3 and 5 USD.