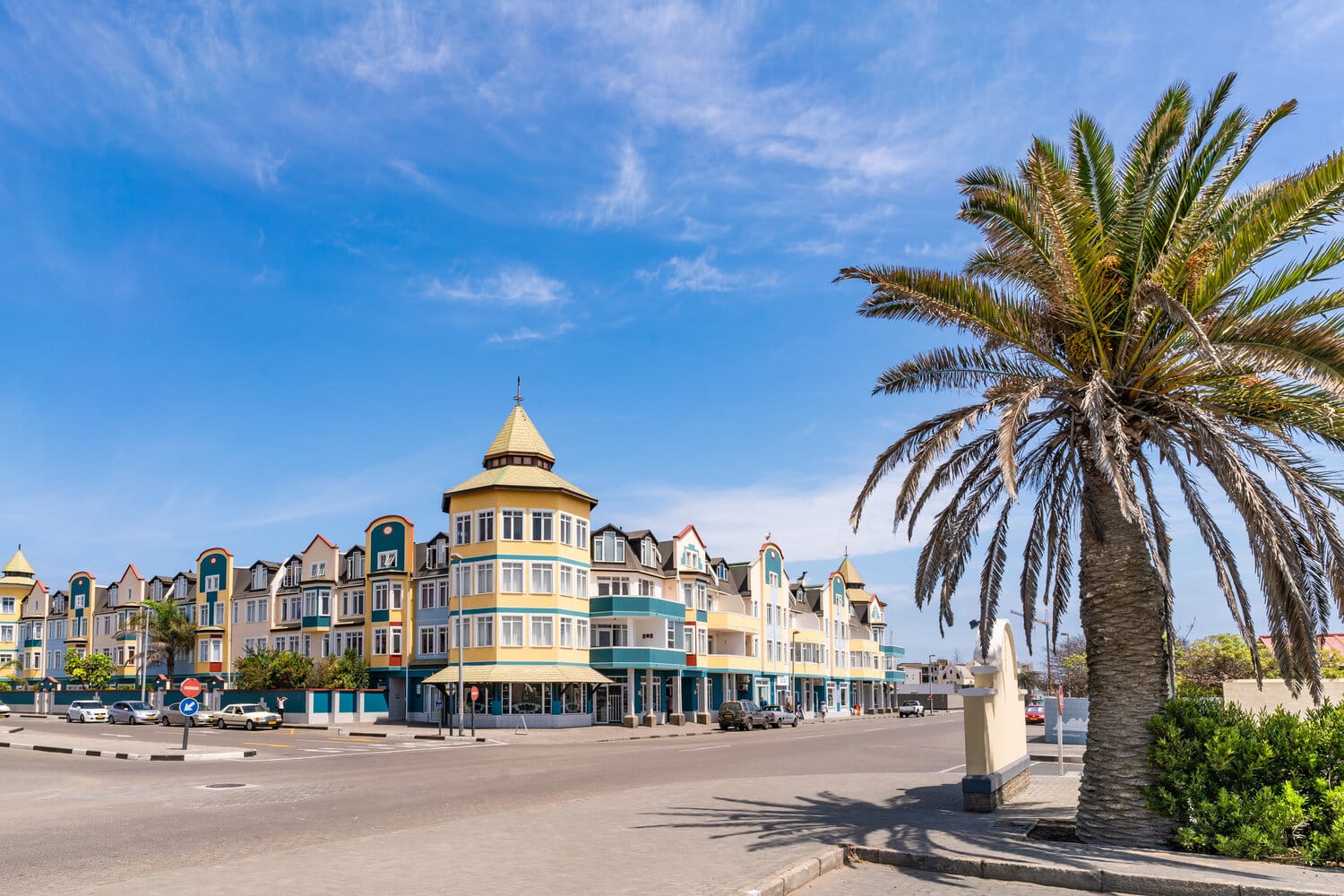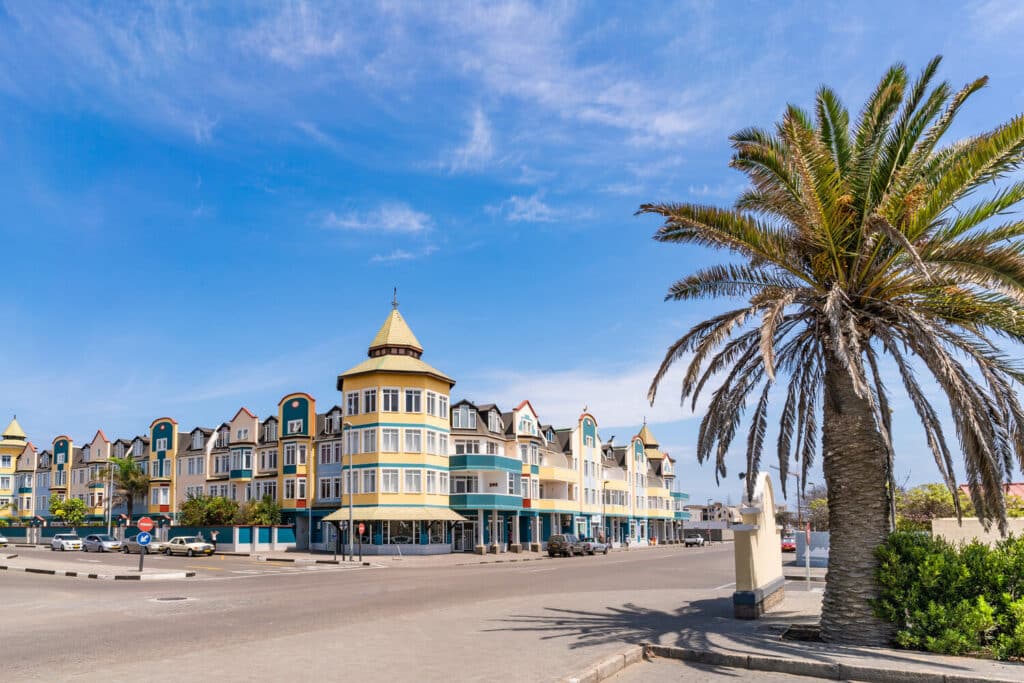 A Digital Nomad Guide to Swakopmund
How does a quick surfing break from work sound? How about a hike up beautiful dunes? If these sound like ideal experiences, then the gorgeous town of Swakopmund should be on your list of places to see. 
Its origin dates back to 1892, as a main German harbour in South-West Africa. Today, you'll find the vast majority of the locals still have German as a first language. While the town's history is evident in its buildings and cuisine, this cosmopolitan town showcases various tribes and cultures.
As a tourist-driven economy, it's an ideal destination for breathtaking views, ideal for scenic photography. Swakopmund is a popular destination among filmmakers, showing off her spectacular beauty in films like Mad Max and 10,000BC. 
The laid-back locals reflect the town's vibe. There's nothing they enjoy more than an outdoor adventure or visiting with friends and family. Don't be mistaken; this is not a sleepy little town. It has all the modern luxuries that you might enjoy, including a five-star casino and movie theatre. In all honesty, these features are more tourist attractions than for local delight.
The local currency, the Namibian Dollar, is linked to the South African Rand value 1:1. The exchange rate with the US$, however, fluctuates regularly but mostly settles at an average of around 1:15. For every US$100, you will receive N$1,500. For Namibian transactions, you can use all major credit and debit card services such as Visa, Mastercard, and Maestro. Unfortunately, the banks in Namibia don't accept global e-wallets like PayPal or Payoneer. If you receive your payments via one of these services, you'll have to keep using your bank of origin to cash out any funds. Transactions using cryptocurrency are also not legal in the country yet.
Nomad Friendly
Value for Money
Internet
Workspace
English
Food
Safety
Health
Transportation
Friendly
Quality of Living
Living in Swakopmund Overview
| | |
| --- | --- |
|  Meal, Inexpensive Restaurant | $11.67 |
| Domestic Beer (1 pint draught) | $1.30 |
| Cappuccino (regular) | $1.62 |
| Loaf of Fresh White Bread (1 lb) | $0.59 |
| Water (1.5 liter bottle) | $0.78 |
| One-way Ticket (Local Transport) | $ |
| Basic Utilities (Monthly) | $77.77 |
| Internet | $63.51 |
| Fitness Club (Monthly) | $ |
| Apartment (1 bedroom) in City Centre | $291.64 |
[erw_exchange_rates_widget lg="en" tz="0″ fm="EUR" to="EUR,USD,GBP,AUD,JPY,RUB" st="primary" cd="" am="1″][/erw_exchange_rates_widget]
Max Withdrawal: €400
Use of Credit Cards: Widely Accepted
Digital Nomad Personal Experience in Swakopmund
Having come here from a big city, Swakopmund truly felt like the middle of nowhere at the beginning. However, its charms and relaxed environment have welcomed me with open arms.  The people with their diverse cultures all have one remarkable common trait, which is friendliness. The locals are happy and enjoy the outdoors and nature much more than gathering in restaurants, pubs, or clubs.
Having settled in Swakopmund for an extended period, my family quickly found a cozy three-bedroom house to call home. Our rental includes utilities such as water and an alarm system with armed response, totaling US$510 and payable in advance by the first of each month. As an international visitor, the providers could ask you to pay a 10 – 20% deposit when you sign a lease. The rental agents or owner keeps these funds in a trust account until the termination or expiration of your contract. When you vacate the property, upon inspection, you'll receive your deposit back.
Our additional monthly costs cover prepaid electricity, which totals around US$90, and a stable Wi-Fi connection of around US$100. The service is relatively reliable, suitable for working online. 
As an extrovert and lover of the coffee culture, the sidewalk cafes are one of my favorite attractions. I love grabbing my laptop and parking at a coffee shop for a few hours. You get to enjoy the fresh air and see all the exciting people that call Swakopmund home.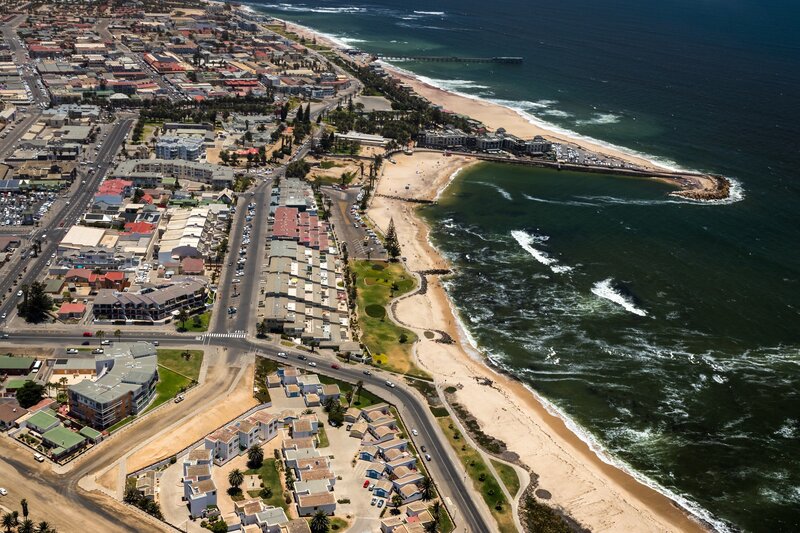 Work in Swakopmund
Best Places to Work in Swakopmund
Swakopmund may be a small coastal town on Africa's southern edge, but it's buzzing with activity and life. It's where the ocean meets the desert, and if you enjoy photography, it's a paradise of opportunity for landscape shots. There are also significant opportunities for cultural portraits of some exotic and beautiful local tribes with a very diversified cultural background.
Unfortunately for locals, tourism has ruined the opportunity to be welcomed into smaller cultural communities. As soon as the merchants detect an accent, you'll find hefty prices on local goods. You can negotiate for lower prices on most items on sale, but don't be unfair in the price you offer. Most local crafts are exquisite handmade wood and leather memorabilia and worth the asking price in terms of time spent manufacturing it.
It's an ideal destination for digital nomads, culture hunters, and thrill-seekers alike. Whichever area you prefer to be in, you'll find an extensive selection of backpackers accommodations available. These are suitable for a single person or group visiting the town and are reasonably priced. 
Many of the backpackers or self-catering accommodations around town have free Wi-Fi available and available work areas. If you'd like a change of scenery, coffee shops and restaurants offer free Wi-Fi connections. You may even find a gem that provides bottomless coffee too! 
However, it would help if you considered that staying for longer than three to four hours is deemed lousy etiquette. Of course, if you're ordering food the entire time, that's another story, but it can become expensive then. However long you stay at one of these locations, remember the customary gratuity of at least 10%. There are cozy local spots where you'll always feel welcome to stay for extended periods. Some of these places include Village Café, Brew and Bristle, and Café Mole. 
While Swakopmund doesn't have any real internet cafés around, it has recently joined in accommodating digital nomads. Desert & ocean is the first co-working space of its kind in the town. If you thrive off others' creativity, then the open area office is an excellent option for you. It also has a private area for a more secure environment as well as a boardroom. The space offers high-speed Wi-Fi, secure parking, an equipped kitchen, printing facilities, and 24-hour access. Another spot for nomad co-working space is at the Atrium in the town-center. Also, Startup Namibia is a modern facility with all the utilities needed for a productive day's work. 
If you're one to appreciate the outdoors more, all you need is a mobile internet connection and a charged laptop to take your workday to the beach or dunes. Namibia has three service providers available. Here are a few of the pricing options. Keep in mind that these price plans are an estimate as the offers change regularly.
MTC 4G:

1GB for US$3 and valid for one day

5GB for US$6 and valid for three days

10GB for US$11 available for seven days
Unfortunately, MTC only offers uncapped connections on a contract basis. Fiber Optics are not available yet, so LTE is the only viable solution with this service provider.
TN Mobile:

US$21 monthly for a 2048kb/s uncapped prepaid connection with a one year contract

US$70 for a monthly 60mb/s prepaid uncapped connection
Paratus:

5GB of prepaid data, valid for 30 days for US$7

Uncapped connection for US$102 monthly and initial contract fees for a two-year contract

Paratus offers fiber optics in most of Swakopmund.
Best Places to Live in Swakopmund
Best Neighbourhoods
CBD
There isn't much separating the different neighborhoods (barring the informal settlement) in terms of quality of life. If you prefer getting around on foot, then the CBD is an ideal living area. Purely for the convenience of having most amenities close by. You'll likely pick up on the German architecture when walking around in town. It speaks to the German colonial history of Swakopmund.  Whether you're itching for a shopping spree or a relaxed restaurant, you'll find what you need in your walkabout town.
Venita and Kramersdorf
Venita and Kramersdorf are great if you're looking for a quiet environment. This area offers big yards and spacious houses. These neighborhoods don't experience much traffic. You'll find that many of these houses are relatively old and catered for the staff in the mines and their families. Some of these properties even contain multiple units, catering to smaller families or single residents. While Kramersdorf is set further from the town's amenities, you'll find the only mall in Swakopmund, Platz Am Meer, in Venita. It may not have the full convenience of living in town but makes shopping for necessities much easier.
Ocean View and Mile4
Finally, there's Ocean View and Mile4 if you prefer more isolated surroundings. These areas are generally preferred by water sports enthusiasts and anglers, considering their proximity to the beaches. If you opt for this area, it's best to ensure that you can access private transportation or budget for the taxi services' additional cost. There are a few small stores around for buying groceries and other essentials.
When choosing an area to live in, you should consider your needs. Of course, if you have access to a vehicle, the convenience of town central wouldn't be your biggest concern. If you're keen on enjoying the beach, areas like Kramersdorp won't appeal to you. It's best to do some thorough research on which locations cater to your preferences.
Find an Apartment in Swakopmund
The rental procedures in Swakopmund are relatively straightforward. The most comfortable platform to search for is Facebook. Search according to your preferences (house, apartment, backpackers lodge) and browse the results until you find something you like. Of course, you could also contact various real estate agents around town directly. In many cases, you can tell them what you need and, if they don't have anything available, they'll hunt for you. Not all agents take this initiative for potential business, so you'll need to ask. 
Here are the main accommodation categories to consider for an idea of the rental prices in Swakopmund:
Family House
If you're coming to Swakopmund as a digital nomad with a family, consider renting a child-friendly house.
An average unfurnished two-bedroom apartment in the CBD could have a rental tag of around US$510 and seldom has additional utilities included.

If you'd prefer a larger house in Venita or Kramersdorf, the rental may be cheaper, but they also come at the cost of some convenience. The average monthly price for a three-bedroom house in these areas is approximately US$580. 

Finally, areas like Ocean View and Mile4, close to the beach, have exquisite views and price tags to match. The average rental for a two-bedroom townhouse is close to US$545.

 
Single or Small Group
If you're planning on coming to Swakopmund on your own or with a friend, you could consider an apartment or shared house instead. Renting a single room in a furnished shared house with all essentials covered would cost approximately US$310. You could also find an apartment with the rental price ranging from US$310 to US$410. It depends if the agreement includes utilities or not. You also often have the option to acquire a furnished rental for an additional US$35 per month.
Remember that most rental agreements require a full security deposit matching one month's rent. If you're signing a lease agreement with a real estate agent, you'll often find an initial contract fee added of around US$110.
Cheap Places to Stay in Swakopmund
If you aren't planning on staying too long, a short-term rental is ideal. In this case, a backpacker's lodge or self-catering accommodation is a better fit for a more limited budget. The town is full of these budget-friendly options, though these are a few of the top choices to consider:
Salty Jackal Backpackers and Surf Camp – A surfer's paradise located in town and close to the most famous surf spot. The staff is readily available to share their stories and local knowledge. Prices range from US$20 to US$50 per person or room, depending on your privacy preference.

Swakopmund Municipal Rest Camp

offers comfortable accommodation, especially if you're sharing with a friend. Units vary in size, and prices range from US$20 to US$40 per day. You may enquire regarding the option for a longer-term rental option.

Skeleton Beach Backpackers

offers private, or dormitory accommodations with breakfast included. Prices range from US$15 to US$35 per person.
As a very famous tourist destination, Swakopmund's best times are during the "off" season. You'll find cheaper accommodation during this time than if you arrive from March to May and October to December. These months are peak season, which is when prices for everything seem to soar.
Swakopmund Visa
You may legally visit Namibia as a tourist for 90 consecutive days per year without the need for any prescribed visas. Should you wish to extend your stay, you could call the Ministry of Home Affairs' small satellite office in Swakopmund. Present proof of income when you apply for an extension on your visa to prove that you're not working illegally in the country. 
As a freelancer, a six-month statement of your Paypal, Payoneer, or similar account is sufficient. They send your application to the capital city, Windhoek, and approval takes approximately 2 – 4 weeks. Ensure that you plan your timing on this well, as you should do it before your visitor's entry visa expiry date.
Suppose you plan to stay on a Namibian tourist visa or need a business or volunteer visa. In that case, you must obtain the relevant documentation via the Embassy of Namibia in Washington D.C.
Culture and Food in Swakopmund
As mentioned earlier, Swakopmund is an eclectic mix of various cultures. Being a neighbor of South Africa, you find many of the same traits between the two countries. The cultures of the native Namibian tribes are also evident in the local crafts and traditional attire.
Staying true to its historical background, Namibia also has a rich German culture, reflected in its architecture and cuisine. May restaurants and pubs in Swakopmund have a range of German foods and customary beer. A top pick for many is Eisbein, sauerkraut, and a beer boot.
Of course, there's one thing that all the cultures of Namibia can agree on – the value of a good braai (barbeque). No local can resist the opportunity to gather around the open fire with good company and even better food.
Swakopmund Nightlife
The nightlife culture isn't something that thrives in Swakopmund, as the locals prefer enjoying each other's company at home. That said, there are a few attractions for those looking to enjoy a night out.
Mermaid Casino: This small yet satisfying casino has a variety of games available for every preference. The casino offers free coffee and tea to players on the slot machines and other drinks to those enjoying the tables. If you get peckish while playing, it also has a snack menu available. The entertainment center also hosts the Atlantic Cinema for movie enthusiasts.
Restaurants: As a town focused on tourism, finding a place to eat is no challenge at all. The biggest problem is deciding which establishment to visit. Sites like Kückis, Altstadt, Brauhaus, and Fachwerk are favorites for authentic German atmosphere and cuisine. Of course, being a coastal town, seafood restaurants like Ocean Basket, Fish Deli, and Blue Grass are top choices to visit. Any local would direct you to one of the most iconic spots in town, the Jetty 1905 Restaurant. There's undoubtedly something for every taste bud.
Bars and clubs: The variety of noteworthy nightclubs around town are limited to Salt, Infinity, and Club Naps. If you're keen on live entertainment, top spots to visit include Desert Tavern, Sound Garden, and Bar Zonder Nam. However, many locals recommend Tiger Reef or Würstbude for a good meal and fantastic sea views while you enjoy a sundowner.
Things to do in Swakopmund
As you'd expect from any tourist destination, Swakopmund has tour companies in abundance. If you're keen to see the town from the ground, you could enjoy a fat-bike tour or go eco-gliding around the jetty.
For a bird's eye view of the breathtaking town, scenic flights, and hot air ballooning is a fantastic option. For the ultimate thrill, head over to the Swakopmund airstrip for a skydiving adventure with one of the certified companies.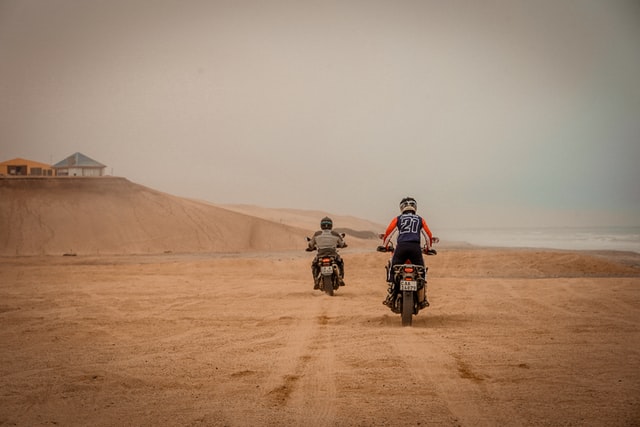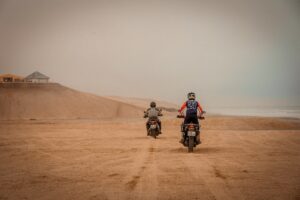 Businesses like Dare Devils and Desert Explorers take you on an exciting adventure to experience the magnificent Namib dunes on a quad bike. While there are options to rent a quad bike and explore the dunes on your own, it's best to go with an experienced tour guide. The dunes are more than giant heaps of sand and could pose significant risks if not explored safely.
Just outside of town, you'll find the breathtaking Rössmund Golf Resort and Lodge. Enjoy a round of golf, a few swings at the driving range, or mini-golf topped with a delicious meal overlooking the stunning resort. You may even spot a herd of Springbok grazing on the course.
For more laid-back activities around town, you could visit the wide variety of curio and antique shops and craft markets. Swakopmund doesn't only cater to those seeking a thrill. Enjoy a more relaxed experience of eating, drinking, and relaxing on the exquisite beaches.
Best Time to Visit Swakopmund
Swakopmund's weather can be erratic. Many locals joke about experiencing four seasons in a day as you never know what you're going to get at what time. It's seldom possible to predict what the day holds, so locals recommend dressing in layers. Some days the change is as drastic and instantaneous as turning a corner. 
Swakopmund often experiences misty mornings with sunny afternoons. The best part is the general lack of air pollution in Swakopmund.  
The town experiences some of its hottest days during what should be its winter months. During this time, we see a phenomenon referred to as "East Weather." This phenomenon happens when the heat and dust from the desert blow over the cool coastal town, creating something similar to a dust storm. During this time of strong winds and unbearable heat and dust, it's best to stay indoors with rolled-up damp towels blocking all windows and doors as the mica gets in everywhere.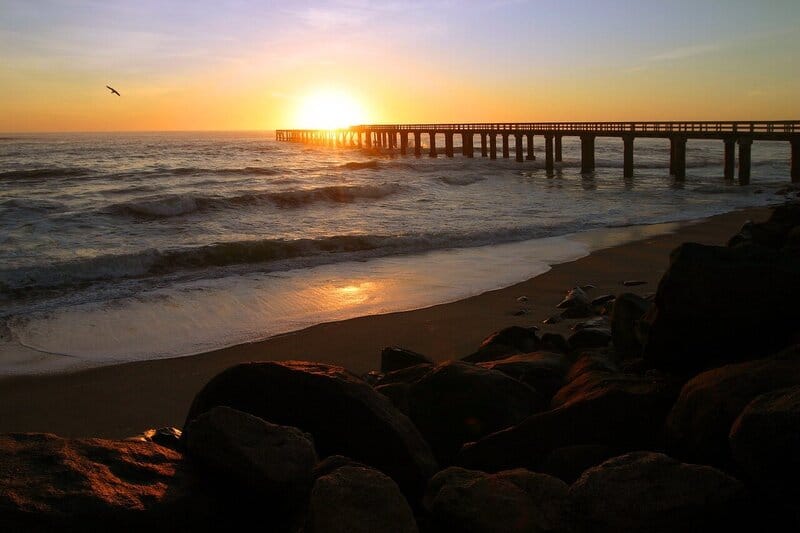 Swakopmund for Families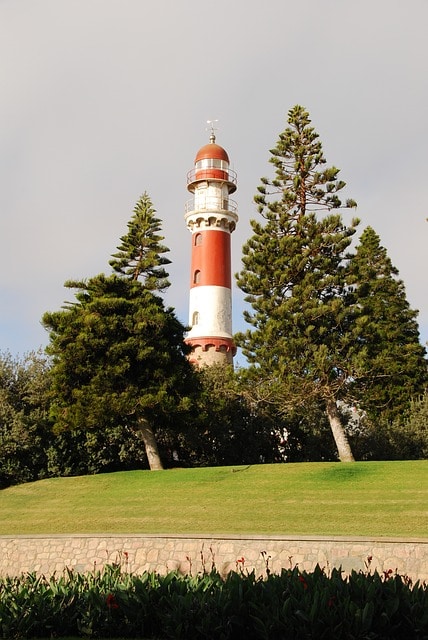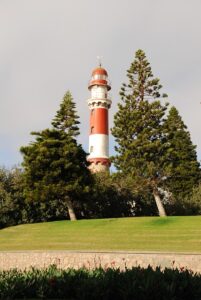 Being a digital nomad with children can be a challenge when considering schooling. If you're planning on a more extended stay, there are various private schools available. The town has government schools, though I must say, the quality of education is questionable. In all honesty, homeschooling could be your best option if you don't want to go to private establishments. 
For the little ones, daycare facilities are plentiful and certainly have a passion for helping little minds develop. The staff at these centers are known for their love of children and going the extra mile. This is where you see that it takes a village to raise a child as these caretakers often develop a loving bond with their children.
When going out to eat, spots like Monkey Puzzle, Spur, and The Courtyard offer playgrounds for your children to enjoy and burn off some energy. Restaurants like Village Café and Bojo's even cater to your fur babies with a particular puppy menu. There is a little something for the whole family.
For an enjoyable family excursion, there's a fully equipped kids' play area at The Dome. Let the little ones run wild while you enjoy some delicious coffee. At Platz Am Meer, you'll find an arcade for the older kids or a play area that even hosts birthday parties. If you're not keen to drive out of town, make a turn at the Swakopmund Paintball Centre and Adventure Park for a game of mini-golf or paintball. 
For a more relaxed way of exploring the dunes, you could go on a camel ride at Desert Explorers. Of course, if you're up for the hike, grab a few boards and go dune boarding. It's such a fun adventure for everyone to enjoy.
Living in Swakopmund
Swakopmund Transportation
As mentioned earlier, depending on where you're living, most amenities are within walking distance. There are also a few bike rental services around town where you could rent one for around US$20 per day. If you're planning on a more extended stay and traveling will be a regular occurrence, you may want to consider purchasing a second-hand one for around US$140.
If you don't have a car, there are private taxi services available for door-to-door transportation. Depending on the points of your trip, you could pay between US$1 and US$4 per person. As with many other services around town, the prices could include as soon as they detect an accent. There's also the safety risk in some sporadic cases. I'd recommend that you don't use a taxi unaccompanied unless you're familiar with the town and the standard rates.
You could also opt to rent a car for the duration of your stay. Services like Swakopmund Car Hire have options starting at aroundUS$40 per day with around 125 miles free. To rent a car, you must have a valid driver's license, be at least 18 years of age, and provide an acceptable form of payment. 
I find that walking or cycling is the best way to get around town. It's the perfect opportunity to explore and enjoy all Swakopmund offers as a tiny town with relatively safe areas. At night I opt to use the local taxis, which have proven to be safe so far.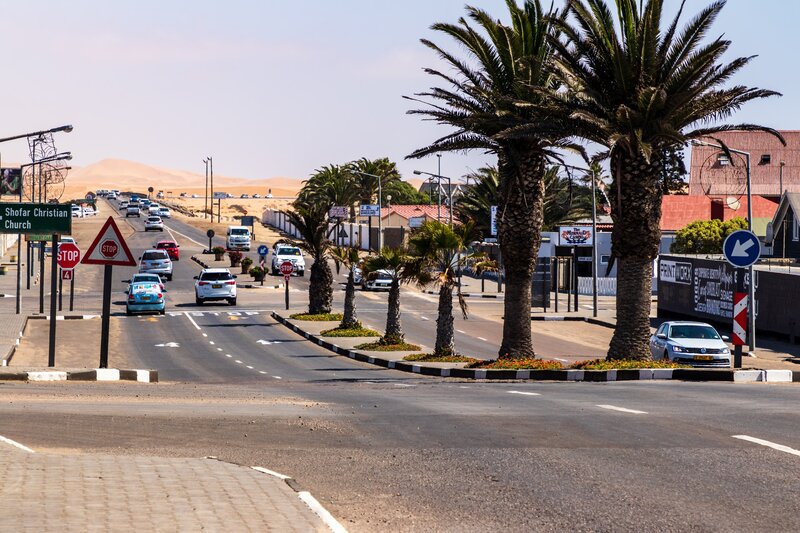 Arriving in Swakopmund
Swakopmund has a small local airfield, but it's only for leisure activities such as skydiving rather than commercial air traffic. The closest international airport is a quick 30-minute drive away in Walvisbay and very easily accessible. There's both a tar road and a more adventurous gravel road through the desert between Swakopmund and Walvisbay.
There are multiple connecting flights daily that land at Walvisbay Airport from Namibia's capital city, Windhoek, and from the two major international airports in South Africa. You'll quickly find available flights via Windhoek, Johannesburg, and Cape Town directly to and from Walvisbay International Airport. If you're flying via Frankfurt, you can catch a direct flight to Windhoek and hop onto the connecting flight to Walvisbay.
The small but efficient airport offers everything you need to get going on your trip, including transfer shuttles to Swakopmund and car rental agencies. The leading telecommunications provider, MTC, also has a small kiosk at the airport where you can purchase a local SIM card and airtime for mobile data. It's imperative at this stage to keep in mind that Wi-Fi is not freely available in all public spaces. It's advisable to invest in your own Sim card and mobile data when you arrive. 
If you want to explore and sightsee on your way to Swakopmund, you can consider disembarking at the Windhoek International Airport and rent a car for the 4-hour drive to the coastal town. The Windhoek airport is well equipped and offers everything you need to prepare for your road-trip to the coast. You can spend a night in the capital city that offers a wide variety of cultural entertainment to welcome you to the land of the brave.
Fitness and Health
This coastal desert town is a treat for the fitness junkie with its incredible views. For the avid cyclist and runner, enjoy the stunning views on the dedicated lanes along the beach. The Dome Sports Complex boasts world-class gym facilities and an indoor swimming pool. Some other sporting facilities include The Dance Factory and Swakopmund Football Club. The Swakopmund fight club, in the industrial area, offers training facilities and lessons for MMA, Krav Maga, boxing, and karate. If you prefer working out outdoors, you'll find a newly built public gym on the beach.
Swakopmund People
As mentioned earlier, the people are friendly and courteous, always ready to strike up a conversation wherever they go. The locals mostly have a reputation for being honest and hard-working individuals. You find a wide variety of faces from the many local tribes to 5th and 6th generation German and other European immigrants all around town. The tourists around Swakopmund come from all over Africa, Europe, and Asia.
Since Swakopmund is a major tourist hub, petty crimes are a problem in the town. The secret is to blend in and not arrive in your khaki suit and camera around your neck. If you go for a walk around town, leave your valuables at home. It's unnecessary to look over your shoulder continually, but you should be vigilant while exploring this beautiful town. Stick to busy areas that are typically flooded with pedestrians as there is safety in numbers. 
Namibia's mainstream culture is a beneficial one, and you'll find people willing and eager to assist you should you need directions or help. Be open to making friends with the locals at every opportunity, allow them to show you all the hot-spots that are considered dangerous or less desirable. As with all African countries, the communities are well-diversified, and you can't restrict any specific area as safe or not. 
It's always best to familiarise yourself with the areas and be alert at all times so that you can make wise decisions when out and about. If you prefer not to make friends, it's advisable to hire a tour guide for a day or two to show you around town.
Which Languages Are Spoken in Namibia?
English is the nationally accepted language of communication, although it has a rich cultural background with more than 11 national languages. If you speak German, you'll easily communicate with most of the local shops and restaurant owners. With tourism being the largest GDP contributor and 1 out of every five locals working in the tourism industry, you'll find that most people speak three or more European languages with ease.
Swakopmund Insurance and Medical Care
If you don't have medical insurance, the public health care facility in Swakopmund is sufficient at best. The service may not be the most welcoming, but they do a decent job keeping their patients alive. If you're looking for warm and fuzzy treatment, government care is certainly not for you. 
If you can, I'd recommend finding a medical plan that offers medical travel insurance from your home country. Ensure that you have this in place and that you understand the available coverage before visiting Swakopmund. It's the best way to ensure that you don't end up at the public hospital should you have a medical emergency. 
Private healthcare isn't as expensive as in many other countries, even if you pay out of pocket instead of insurance. The average cost for a general practitioner's visit as well as medication comes to around US$50. 
Make sure you are fully covered by reading our full Digital Nomad Travel Insurance guide.
Jobs in Swakopmund
According to Statistica, as of October 2020, Namibia's unemployment rate is at an unfortunate 20.6%. With many companies shutting their doors in 2020, this number has likely doubled. Many uneducated locals lack the skills required to work online and cannot find employment during economic turmoil, especially with the country's tourism industry taking such a significant hit recently.
Working in Namibia without a Visa is strictly prohibited. Vacancies tend to fill up rather quickly in this small town by people who are more familiar with the business owners directly. As a digital nomad, secure clients online to ensure income or savings before traveling to Swakopmund.
Check out our in-depth Digital Nomads Jobs Postings to find the best jobs available for Digital Nomads.
Nomad Friendly
Value for Money
Internet
Workspace
English
Food
Safety
Health
Transportation
Friendly
Quality of Living
Cost of Living Swakopmund
For a single person, the average cost of living can work out relatively affordable. Remember that these rates vary, and there are many ways of reducing the cost. If you choose your preferred area wisely, you could eliminate commuting expenses. Of course, if you don't live in town, you could save on transport by investing in a bicycle.
Grocers also have amazing deals sometimes running that could significantly reduce the cost of your food. Shop around for bulk buying specials; this is where you'll find the most value. 
Here is a breakdown of the estimated base cost for a single person living in Swakopmund:
The average rental for a one-bedroom furnished apartment: US$210 – US$280
Groceries and toiletries: US$105 – US$138
Uncapped Internet (If not included in accommodations): US$70