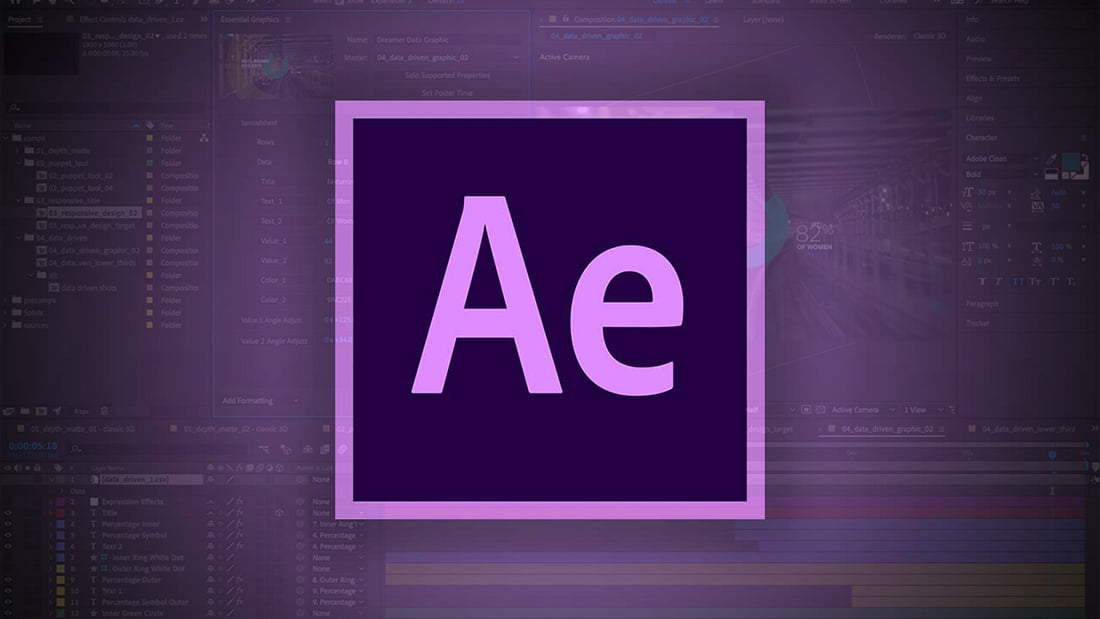 What is After Effects?
Adobe After Effects is the industry standard motion graphics and visual effects (VFX) software. You can build informative videos, create animations, and add a professional edge to your videography work using After Effects. This is where you can really show-off your creativity in video projects. The options are endless.
After Effects is also used for building a 3D design space. This makes it popular in game design and even with photography. After Effects can make static images more dynamic which can then be used to enhance websites and social media content. Getting a solid grasp of all the tools on offer can really broaden your creative horizons.
Adobe Creative Cloud (CC) is a famously well-integrated suite of programs, so After Effects also has great functionality with other software. You can edit the coloring and lighting of a clip in Photoshop, sort out visual effects in After Effects, and then piece it all together in Premiere. It's common for animators and motion graphics designers to create their materials in Illustrator before moving them over to After Effects. This gives you massive scope for creating impressive design materials.
More and more businesses are looking for professionals that know how to use Adobe After Effects. Motion graphics are standard practice when it comes to online video content. The additional functions also open up your horizons and can set you apart from the competition in similar roles. If you already have a solid understanding of Adobe CC, learning After Effects is the ideal next step.
How common is using After Effects amongst digital nomads?
It depends on the industry, but knowledge of After Effects is lower than other software in the Creative Cloud suite. Why? Well, it's also one of the hardest to learn. There are so many different tools, and most projects will require you to use at least one other program. It takes a lot of time to properly learn After Effects, especially if you want professional quality.
We still think it's totally worth it. Really, it's only an extra few months, but since not as many people know how to use it, you'll really stand out from the competition. There's a growing demand for After Effects skills across a number of industries meaning it is also one of the best compensated skill sets across the entire Creative Cloud.
This does also mean it's getting more popular to learn, so you'll have to get your foot in the door early. More and more people have a basic understanding of the programme, but for truly impressive graphics, you'll need to be pretty advanced. The sooner you start learning, the quicker you'll pick up the necessary skills.
Finally, it's also worth keeping in mind that you'll probably need to pay for full Creative Cloud access in order to learn how to use After Effects. It doesn't come with any packages like the more popular software. It's also best used alongside the other programs anyway. At the very least, you'll need to have access to Premiere and Illustrator, but Photoshop also helps.
What jobs/professions require you to use After Effects?
Anything involving video production! It's not good enough to know how to smash some clips together anymore – you need to have a solid understanding of animation, motion graphics, and design to land yourself a video production career. Everywhere you look there are motion graphics and visual effects. It's impossible to get by in the industry without at least a basic understanding of how to create them.
Beyond that, you'll also find it pretty useful for photography and game design work. The 3D functionality means you can bring still photos to life. This is particularly impressive with landscape photography, allowing you the ability to create flythroughs of flat scenery. 
Whilst After Effects certainly isn't necessary for a social media job, it will definitely help. Even just learning the basics will result in improved content for your client's channels. The more practice you have, the quicker it is to create eye catching graphics.
Where do I start if I want to become an After Effects expert?
It's a pretty intensive software, so we actually recommend taking a short intro course to get a feel for the software. This structured approach will give you the chance to see everything you can do with the software before deciding what to specialize on. The more you learn the better, but when you're first starting out, picking a specialism will help you stay focused.
Once you've got the basics nailed, there are some great tutorials available across the Internet. YouTube, Instagram, and even TikTok are packed with informative content about After Effects. Its growth in popularity also means there is now a burgeoning learning community – perfect for learning the application on the road.
Learning Adobe After Effects is a great way to enhance your Creative Cloud skill set. You'll need to learn Photoshop, Premiere, and Illustrator first, but adding After Effects to your toolbelt will see your earnings shoot right up. It's also a great way to express your creativity in a dynamic format.