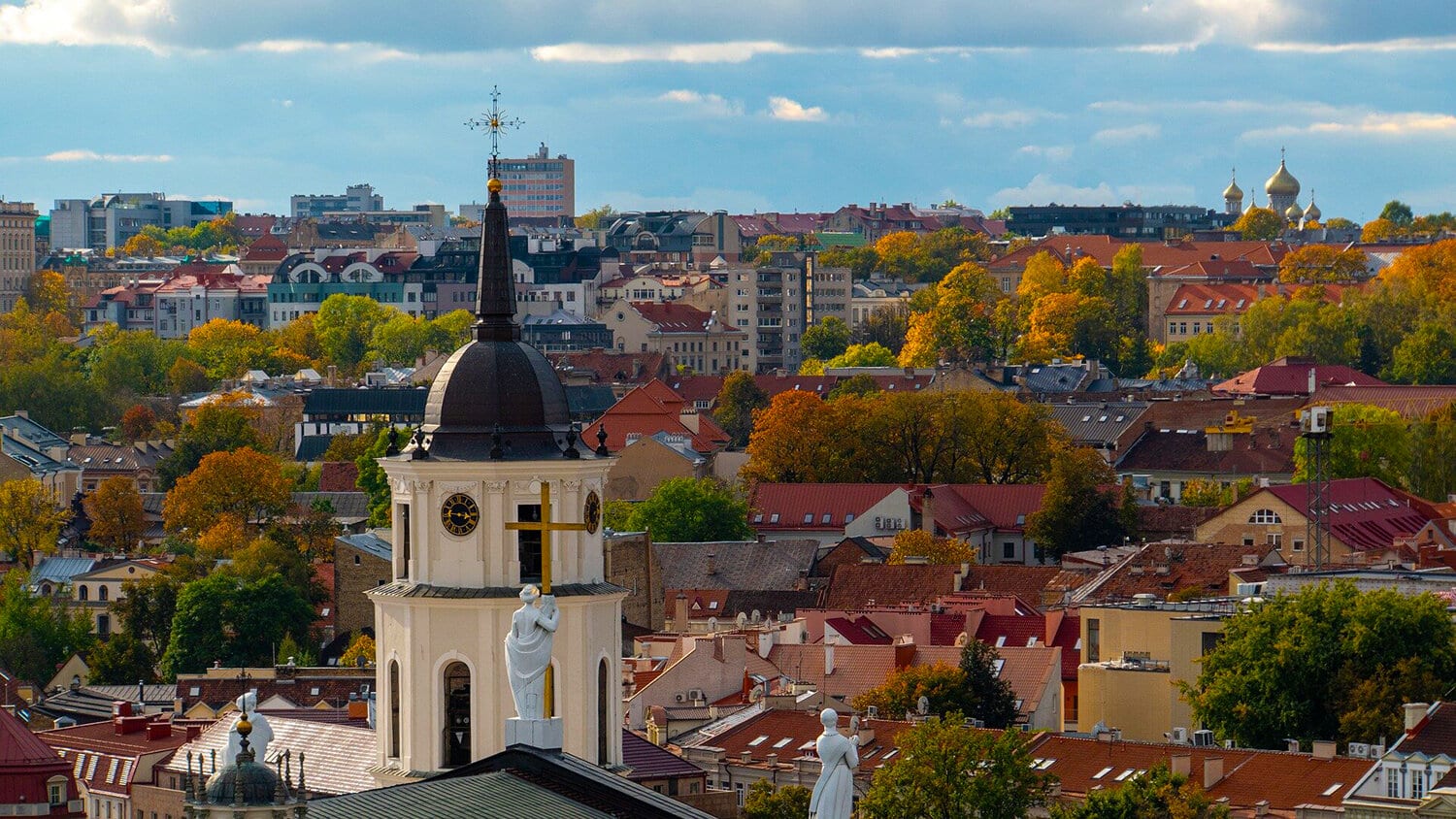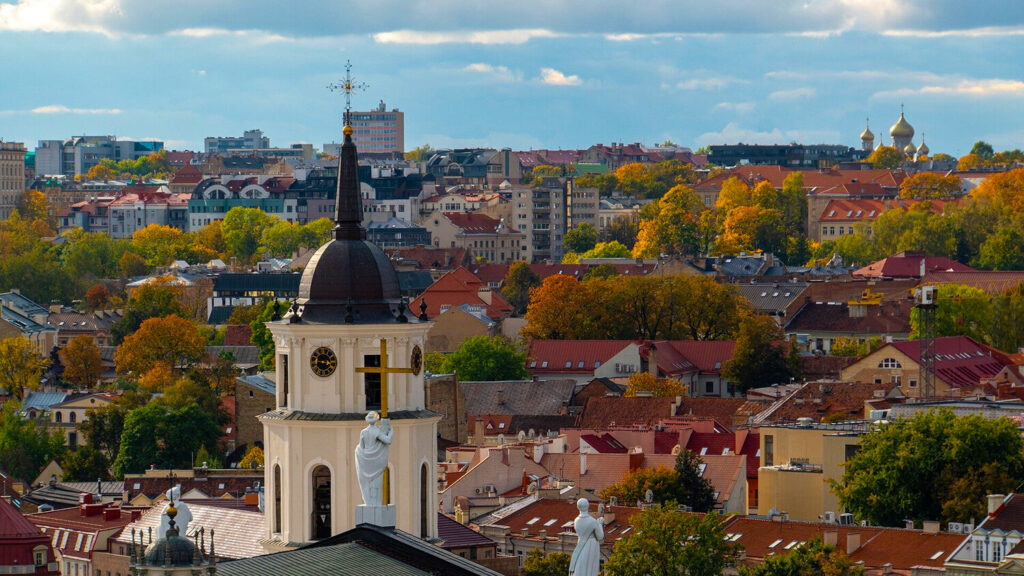 A Digital Nomad Guide to Vilnius
Vilnius is the capital and most populous city of Lithuania with 588.412 inhabitants. It is located in the southeast of the country, about 30 km from the border with Belarus, at the junction of the Vilnia and Neris rivers. It is also the second city in terms of population in the Baltic countries, after Riga.
Vilnius is of importance in terms of national media, art, fashion, research, technology, education and entertainment industries. It stands out for a growing technological and entrepreneurial industry, with a large number of new companies dedicated to information technology.
It is an innovative city with great business freedom and affordable housing. Offering one of the fastest public wi-fi upload speeds in the world and a low cost of living, the city has become an attractive business center. Along with its modern facilities and high environmental quality, Vilnius has a rich historical background that remains an important part of the city's identity. Its historic center is one of the largest and best-preserved medieval neighborhoods in Eastern Europe and was considered a World Heritage Site by Unesco in 1994. 
Vilnius is famous for its warm history, bewitching architecture and bustling cafe culture. Business or leisure, no matter what your reason is to visit Vilnius, this city will entrance you.
Nomad Friendly
Value for Money
Internet
Workspace
English
Food
Safety
Health
Transportation
Friendly
Quality of Living
Living in Vilnius Overview
| | |
| --- | --- |
|  Meal, Inexpensive Restaurant | $10.55 |
| Domestic Beer (1 pint draught) | $4.22 |
| Cappuccino (regular) | $2.99 |
| Loaf of Fresh White Bread (1 lb) | $1.38 |
| Water (1.5 liter bottle) | $0.78 |
| One-way Ticket (Local Transport) | $0.79 |
| Basic Utilities (Monthly) | $205.45 |
| Internet | $14.57 |
| Fitness Club (Monthly) | $33.03 |
| Apartment (1 bedroom) in City Centre | $774.18 |
| | |
| --- | --- |
| Child Friendly | |
| Cultural Tolerance | |
| LGBTQ Friendly | |
| Traffic Safety | |
| Nightlife | |
| Large DN Community | |
| Young Community | |
| Proper Hygiene | |
| Clean | |
Emergency Numbers
Police
112
Ambulance
112
Fire-fighters
112
Money Handling
Currency
Euro (€)
Max ATM withdrawal
€250
Tipping
Yes
Communication 
Languages
Lithuanian
Calling code
+370
Time zone
UTC+02:00 (EET)
UTC+03:00(EEST)
Health
Tap Water
Non Drinkable
Vaccinations
Yes
Digital Nomad Personal Experience in Vilnius
Vilnius is a city that did not exist until 1.300 when the Grand Duke of Lithuania dreamed of it, while taking a deep nap. Usually, in Europe, there were more practical or political motives behind choosing the location of a city. Building a city on a whim, just because you had a dream is something quite unique, and this dream come true origin gives Vilnius a unique fairytale atmosphere that I only felt once, some time ago, in Scotland.
Here everything that has to do with technology works well, the prices of rents and food are cheap in relation to other countries on the same continent and life is calm and peaceful if you want. You also can find great restaurants and a lively nightlife. 
Most foreigners stay in the center, but Vilnius offers many cheaper and more welcoming neighborhoods.
Public transportation works well and they also have several companies that offer shared transportation, from cars to electric scooters.
People are polite at first but they seem cold and distant, they don't smile at you and they rarely pay attention to a stranger. But as soon as you make friends, they radically change their attitude and become friendly. Although it may take a while since they are reserved with their friends.
If you are coming to live in Vilnius, prepare for the cold and rainy weather. Besides that, it is a beautiful city where you can have a lot of adventures.
Work in Vilnius
Lithuania is considered to have one of the most active startup scenes in the Baltic region, with more than a hundred startup events each year. This country is becoming a popular destination for freelancers, startups and digital nomads. That is why you can easily find a big amount of coworking spaces in its capital.
Best Places to Work in Vilnius
Vilnius Tech Park
Vilnius Tech Park (Antakalnio g. 17) It is the largest hub in the region for tech startups, venture capital funds, and creative entrepreneurs. It is an inspiring co-working space with a community that you can work in and work with. It has a good mix of style, comfort and functionality. It offers access to an exclusive network of business partners and services, private offices, desk on a first-come-first-serve basis and permanent desk. Members can also enjoy free public services, conference center, meeting rooms, printer and scanner, kitchen, lounge spaces, cafeteria, community garden and pub. It has access 24 hours a day, 7 days a week. Monthly packages range from 125 EUR to 175 EUR. Office spaces between 6 and 11 EUR per square meter per month.
Fridge
Fridge (Kauno g. 16 – 304) is located downtown, right next to the Uptown Bazaar. It is a joint workspace of a friendly and business-oriented team in the fields of photography, videography, graphic design, event management, business development and programming. Facilities include printer and scanner services, free coffee and tea, lounge and chill-out area, and high-speed internet. They have video games, pizza nights and table tennis to create a pleasant atmosphere. Dogs allowed. The monthly package is available for 119 EUR.
Uma workspace
Uma workspace has offices in Estonia, Lithuania and Finland. In Vilnius it has two locations: UMA GO9 in Gedimino pr. 9 and UMA OZAS in Technopolis / Delta, J. Balčikonio street 9. UMA offers shared workspace and service solutions for companies of all sizes. Their locations are based in business districts. In their workspaces you can work efficiently and flexibly, either in the privacy of your own serviced offices or as part of their open working community. The co-working space offers workstations, meeting rooms, relaxation rooms and work rooms. Facilities include: ICT equipment, restaurant, cafeteria, storage space, printer, lockers, showers, video conference room, and parking, all organized to provide an inspiring work environment. You can purchase your membership with the UMA app. It has access 24 hours a day, 7 days a week. Monthly packages vary from 120 to 300 EUR.
Work'inn
Work'inn (Saulėtekio al. 15) is located inside the Sunrise Valley Science and Technology Park, which it hasmore than 50 companies. Work'inn has comfortable work areas, meeting rooms, coffee and lounges. Work'inn members enjoy the infrastructure and endless coffee, free events, cozy kitchen, office services, meeting rooms and bike parking. There are regular events for freelancers and businesses and you will have access to your space 24 hours a day, 7 days a week. Monthly packages vary from 40 to 85 EUR.
Workland
Workland (Didžioji 18) is located on Didžioji Street, right next to the City Hall in the heart of Vilnius Old Town It benefits from being surrounded by various hotels, restaurants, shops, as well as cultural objects and landmarks. It provides highly flexible solutions from private offices to workstations in the architecturally unique coworking space. Workland offers short or long term fully furnished offices, with fiber optic internet, reception and administrative support, fully equipped kitchen, coffee/tea, common areas, lounge, daily cleaning, security, office management and 24/7 access. They offer monthly packages from 220 EUR.
You can also check Coffice, ISM Innobase and Creative industries centre Pakrantė, among others.
Best Places to Live in Vilnius
Best Neighbourhoods
Very often foreigners living in Vilnius hardly know any areas of Vilnius other than Old Town, New Town, Zverynas and Antakalnis. But Vilnius has much more to offer.
Vilnius Old Town
Vilnius Old Town is walkable and covers an area of less than 4 square kilometers full of architectural beauty, churches, city atmosphere and excellent beer pubs. The main street in the old town is Pilies. Also striking is the narrow street in the old Ghetto district (Antokolskio, Stikliu, Gaono). The old town is also full of tourism so it is good to keep that in mind if you want to move here.
Center of Vilnius
In the center of Vilnius you can find everything you need. The main street is Gediminas Avenue. In this area you will find the Parliament (Seimas), the National Library and the KGB museum.
New Town
The New Town and the Station District is actually one of the oldest districts of Vilnius. These neighborhoods used to be rather poor, dirty and neglected in the past years, but now experience a real spring. The aesthetics of half-abandoned industrial monsters suddenly became trendy, and the old factories are rebuilt into lofts, trendy hostels, cafes and concert venues. It is here you will find the best coffee spots. Get a cuppa in Crooked Nose and Other Stories or Backstage Cafe.
Uzupis
Uzupis was popular with artists for a while, and as it often happens with those forgotten districts near the city center, some years ago it was suddenly "remembered" and the property prices went high up. In 1997 the district proclaimed its independence from Vilnius and Lithuania altogether and called itself the Republic of Uzupis. The Republic has its sheriff, ministers, a flag and a Constitution. The district of Uzupis is often compared to Monmartre in Paris or Christiania in Copenhagen.
New Centre
The financial center and Vilnius Municipality, creating the new skyline of Vilnius, are called the New Centre. The best way to admire it is probably from across the river, as those buildings are huge. If you walk behind the buildings, you are in the different world: the micro-district of Snipiskes, which is nicknamed Shanghai. In almost the middle of the city you will find old wooden houses with small gardens, outdoor toilets and street water pumps. The main street of Snipiskes is Kalvariju street, one of the biggest and busiest streets in the city. Here you can find the Church of Archangel Raphael, the Planetarium and the famous Kalvariju Market, the biggest Market in town. In spring you can also admire the blooming sakura garden, and in summer have a picnic by the river near the VCUP mall.
Zverynas
Zverynas is one of the most central, greenest and as a result most elite district of Vilnius. Until the 19th century it was more of a forest reservation for animals, established for hunting purposes. In Zverynas you will find many beautiful and once-colorful wooden villas, two churches and the only praying house of the Karaite community of Lithuania. You will also find one of the entrances to the Vilnius' biggest park: Vingis park. The main street of Zverynas is Kestucio.
Rasos
In Rasos district, you will feel transported 100 years back. It is a weird mix of stone-paved streets, railway and private stone houses with gardens, a couple of churches and a monastery, a hospital, a prison and a cemetery. 
Markuciai
Not far, it is the Markuciai district with trendiest newly-built loft houses, overlooking Vilnele river, a couple of tall Soviet blocks of flats with shared kitchens, and some private wooden houses with water and toilet facilities outside. And, if you look the map, you are really close to the city center. 
Pavilnys
Pavilnys is a small and under-explored area in the South of Vilnius, just some 15 minutes away from the Old Town. It consists of two main parts: Lower Pavilnys and Upper Pavilnys. The former consists of houses, which were initially built for the railway workers, and the latter of villas of citizens, who came here for the summer holidays. Pavilnys has experienced a sudden spike of growth, with many citizens turning their cottages into residential houses. In wider circles Pavilnys is best known for the Pavilnys Regional park, and in smaller ones. The villas are rapidly disappearing, being exchanged with the modern houses, but the ones left are unique and beautiful. It is a quiet and nice residential area close enough form the city center.
Naujoji Vilnia
Naujoji Vilnia used to be an independent town, and in spirit it remains so until now. Its history starts with factories in 17th century. The town grew in the 19th century because the Saint Petersburg railway was built and went through the area. During the mass deportations of Lithuanians to Siberia under the Soviet occupation this railway station became the last stop in Lithuania before the long journey. The factories closed down in 1990s, and the district now has one of the highest levels of unemployment in town, and as a result some of the cheapest flats too. So, if you are on a budget, this is probably the place to look for apartment. 
Antakalnis
Antakalnis is one of the oldest and the biggest areas of Vilnius. Antakalnis was elite since the beginning. It used to belong to the nobility, and this nobility has built parks, palaces and villas all over the places. During the Soviet times the existing planning was enriched with some hospitals, universities and housing blocks. Along the river it has an interesting mix of different architectural styles, starting from palaces, to Soviet blocks to modern Nordic design. It is a good neighborhood for families that can cost the prices.
About the area: Zirmunai and Siaures Miestelis are the neighbourhoods right across the river from Antakalnis. During the Soviet times the area of Siaures Miestelis was used for military purposes and was a no-entry zone for the common citizens. In the meantime, the Lithuanian architects developed the urban plan for the district of Zirmunai, which received one of the highest architectural prizes in the USSR. Now you find most of the trendiest restaurants of the city. The main street is Zirmunu, but you can explore the small streets and the riverside to get a better feel of the area.
Lazdynai microdistrict is located in a green area near the river of Neris. This micro-district was planned in the 70s and at that time was a true pride of the urban architects. The district became much less prestigious with time, and now you can look for a rather cheap property there.
The Soviet micro-districts of Vilnius have practical huge blocks of flats. The blocks are often built in a way to create a sheltered inside yard with the entrances of the houses being on the outside, but the windows of most of the flats looking on the inside. This way not only can you have a quite bedroom, but it is also very practical to be able to watch your children playing outside. 
You can also find a lot more of micro-districts close to the city center but they are in general poor areas, industrial zones and green areas like Verkiai. You can also find Santariskes, where most of the hospitals of Vilnius are located.
Find an Apartment in Vilnius
Whether it's an apartment in the center or a house in the suburbs you're after, you'll find that Vilnius real estate market has what you are looking for. If you want to buy a house, prices start at around 1.150 to 1.750 EUR per sq. meter. If you're looking to rent, there's plenty to choose from cozy central studios to big houses on the outskirts surrounded by wild nature. It's best that you avoid searching in August and September where prices go up. This is the beginning of the University academic year and the market is flooded with students. You should start looking at the beginning of the year, or late summer.  
Rental prices vary across the city and depends mostly on the area and amount of rooms. To rent a nice apartment in the center con cost between 500 to 1.000 EUR. On the suburbs, the prices drop quite substantially.   
Apartments in the city are divided into 1, 2 and 3 room apartments. This doesn't mean bedrooms, but all rooms. So, if you're looking for two bedrooms, you'll need to search for a 3-room apartment. 
You can search for flats and homes online using the following platforms: Aruodas, Domoplius, Rebaltic, Busto nuoma.  Alternatively, you can also contact an agency. On the Lithuanian Association of Real Estate Agencies website you will find the contact information of all the main legal real estate agencies. 
Before you sign any kind of lease or rental agreement, make sure you have clear information on any utilities or other associated costs you may need to pay. For a lot of buildings, you'll find that you need to pay a monthly bill for the maintenance of shared spaces (stairwells, doorways, exteriors, etc.).
Never give any money to a landlord prior to signing a contract. If you pay before signing a contract, you will have very little security for your deposit. Always make sure you have the final, signed agreement before making any payments.  Also, you'll need to keep a copy of the contract once it has been signed. Be sure to have a copy in English as well as Lithuanian.
Every resident of Lithuania (including foreigners with residence permits) must declare their place of residence in the county. If you are living in a rented apartment, your rental agreement (only the ones registered at SE Centre of Registers) will count as the owner's consent for you to register your place of residence in this apartment. Otherwise, the owner will need to provide their written consent for you to register in their property.
Cheap Places to Stay in Vilnius
If you have a low budget, look for apartments in the cheapest areas like Naujoji Vilnia and Lazdynai micro-district. The factories in Naujoji Vilnia closed down in 1990s, and the district now has one of the highest levels of unemployment in town, and as a result some of the cheapest flats too. On the other side, Lazdynai micro-district became much less prestigious with time, and now you can look for a rather cheap property there. So, these are probably the areas to look for your next home.
If you would prefer to share an apartment, there are plenty of sharing options in Vilnius. This kind of offers are especially popular among young people in the city, and are a great way to meet new people and learn more about different cultures. You can check for opportunities in FB groups.
Another cheaper idea is to rent a room in a co-living space. There you will have a place to sleep and also to work and meet interesting people. You can try your luck, for example, in Coliving Vilnius.
Lithuania Visa for Vilnius
Visa requirements can change at any time. Before making travel plans, check with the nearest Lithuanian embassy or consulate.
Citizens with passports from the following countries can freely enter Lithuania: Germany, Austria, Belgium, Bulgaria, Cyprus, Denmark, Slovakia, Slovenia, Spain, Estonia, Finland, France, Greece, Holland, Hungary, Ireland, Iceland, Italy, Latvia, Liechtenstein, Luxembourg, Malta, Norway, Poland, Portugal, United Kingdom, Czech Republic, Romania, Sweden, Switzerland.
Passport citizens of the following countries can travel to Lithuania, and can stay in the Schengen area for a maximum of 90 days in any 180-day period: Andorra, Antigua and Barbuda, Argentina, Australia, Bahamas, Barbados, Brazil, Brunei , Canada, Chile, Vatican City, South Korea, Costa Rica, Croatia, El Salvador, United Arab Emirates, United States, Guatemala, Honduras, Hong Kong, Israel, Japan, Macao, Macedonia, Malaysia, Mauritius, Mexico, Monaco , Montenegro, Nicaragua, New Zealand, Panama, Paraguay, Saint Kitts and Nevis, San Marino, Serbia, Seychelles, Singapore, Uruguay, Venezuela.
Visitors with passports from other countries, or travelers who wish to stay for longer periods or work in Lithuania, should go to the embassy or consulate of Lithuania in the country in which they are located to obtain an appropriate visa.
Culture and Food in Vilnius
The food is one of the things I love about Vilnius. This is a city where it's possible to eat traditional Lithuanian cuisine that dates back centuries as well as modern dishes created with blow torches and tweezers. Some Vilnius restaurants honor the city's past Jewish and Soviet cultures while others blaze forward by serving vegetarian, middle eastern and even Indian food.
National cuisine of Lithuania consists of meat and potatoes in all possible and impossible variations. For starters, try potato pancakes or Zemaiciu pancakes. Wash it over with local beer or non-alcoholic fermented bread drink called gira. And of course, taste some coffee. It's not a local drink, but somehow Lithuania has achieved a close-to-perfect art of it. 
If you are looking for traditional Lithuanian food in Vilnius, go to Etno Dvaras (Pilies g. 16). It is one of the best and cheapest restaurants in the city. It is not the greatest for vegetarians and vegans, however. Their traditional dishes are the first dishes to have been certified by the Lithuanian Culinary Heritage Fund. Meat, herring, and potatoes seem to be the favorite ingredients here and they offer different regional specialties. 
Bistro 18 (Stiklių g. 18) is one of the nicer, more upmarket restaurants in Vilnius without being too exclusive or expensive. It's a French-style bistro offering a more intimate dining option with several small dining rooms and a lovely interior.
Gaspar's Restaurant (Pylimo g. 23-3) has made quite an impression among locals and expats. Nowadays, it is one of the top restaurants in Lithuania's capital. Its menu includes halloumi salad, creamy polenta, duck, and much more. 
To find a bit of Scandinavia in Vilnius, head to Dublis (Dublis, Traku g. 14), which serves a delicious Scandinavian-inspired seasonal menu with a selection of wine to elevate the meal even further.
Sweet Root (Uzupio g. 22) is one of the most highly rated restaurants in Vilnius. It offers a seven-course tasting menu that includes a welcome drink, coffee, and additional small tasters. Their menu is so creative that it is a unique experience. 
Chef Martynas Praškevičius serves a range of beautiful sharable dishes in at Džiaugsmas (Vilniaus g. 28), a bistro and natural wine bar. The menu changes on a daily basis based on items available at Tymo Market in Vilnius' Old Town. Diners looking for a full experience can opt for the restaurant's tasting menu priced at 60 EUR.
Šturmų Švyturys (Užupio g. 30) is the only Vilnius restaurant that serves wild Lithuanian fish caught in the Curonian Lagoon. It offers a tight menu designed for pescatarians and whole food eaters. In addition to wild fish, they source products grown naturally in Lithuania. The full menu cost 35 EUR and offers fish soup, two starters, one main dish and dessert; but you can also order specific dishes.
Grey (Pilies g. 2) has a sun-drenched room and eclectic menu with updated Lithuanian classics and colorful cocktails. Here you will find global dishes like nachos and kebabs, but also a local tastes section on the menu. If you want to try something new I recommend the cold pink soup served with potatoes, meat-filled zeppelin topped with sour cream and deep-fried potato pancakes layered with smoked salmon and curd cream.
Vilnius Nightlife
Vilnius never sleeps, so join the party. Once the sun goes down, the stage for nightlife is set. Be it a pub-crawl, dancing until dawn or just a chill night out on the town, Vilnius is a city buzzing with people, chatter and fun.
If you are looking for a bar, go for a walk to Vilniaus street. Here you will find Gringo Pub (Vilniaus str.31) with an informal atmosphere reminiscent of an English pub. If you like watching live sports, this is your place. 
Alchemikas (Islandijos 1) has some of the best cocktails in town. The bartenders are professional mixologists ready to delight you with exotic flavor combinations. 
King and Mouse (Trakų 2) is a whiskey bar. You can take part in a tasting event or just ask the bartender for something new. The bar also has its own whiskey that you can't get anywhere else. 
Alaus Biblioteka (Trakų g. 4), with a name that means "Beer Library", you can expect book shelves and beer shelves. There are a dozen beers on tap and about 300 bottles from all over the world. 
Bambalynė (Stiklių g. 7) is ideal for you if you like local craft beer. There are about 700 types of Lithuanian beer and you can definitely get to enjoy some of them here. 
SkyBar (Konstitucijos 20), at the Radisson Blu hotel, offers great cocktails and the best views of any bar in Vilnius on the 22nd floor. 
If you want to dance, check Loftas (Švitrigailos 29). Loftas opens up the season with the only urban music festival in the Baltics in September with some of the freshest electronic and indie sounds. It is situated in an old factory but still has a modern club vibe. 
In Opium Club (Islandijos 4) you can dance house and techno music. It attracts different contemporary performers from all over the world each week, so have a look at the line-up. 
Bardakas (Vilniaus 22) they have a great selection of food for brunch as they run until afternoon. Here the crowd is welcoming and the cocktails are on point. 
With three halls, two bars of sheer class, and some excellent DJs, Pabo Latino (Trakų g. 3) is another option. On some nights there are lessons on how to dance Latino-style, but late on weekend nights the music is as electro as it is Latino.
Salento DiscoPub, in the Old Town, brings an Italian and Spanish disco-bar feel to Vilnius. Tuesday is Erasmus night, the biggest student party in town, Thursday is for indie rock, and expect cool DJs at weekends.
Club Tamsta is where the best live music concert happens. The music changes every night, and if you are looking for something that is diverse and can meet your expectations, then this is the place. There are live bands from different parts of the world playing at the club every day.
There is dozen of options to expend your night in Vilnius, enjoy the night!
Things to do in Vilnius
Vilnius is a relatively small city and touring its historic center can take just one afternoon, but getting to know all its important monuments while enjoying the process takes at least three days. They say that it is one of the most beautiful cities in the Baltic. The network of small streets and alleys in the historic center of the capital of Lithuania forms the largest baroque old town in Eastern Europe, recognized as a UNESCO World Heritage Site in 1994. To walk through the center of Vilnius is to take a trip to the old Italian cities where the baroque was born. Theater, ballet and music are also fundamental pillars of the cultural scene of the Lithuanian city.
A good place to start touring Vilnius is the Cathedral Square, which serves as the nerve center of the city and where the Cathedral of Saint Stanislaus and Saint Vladislav is located, guarded by the Bell Tower that form the most photographed picture of Vilnius. Behind the cathedral is the beautiful Palace of the Grand Dukes of Lithuania and the statue of Grand Duke Gediminas, who is considered the founder of Vilnius and Trakai.
From here you can go up to the Castle and the Tower of Gediminas through the Serikiskiu park. From the top of the hill you can admire a large part of the old town of Vilnius protected by a lush forest. On the other side, you will see the so-called new Vilnius which is a modern neighborhood full of skyscrapers and contemporary buildings. You can go down the hill via the funicular that will drop you off at the National Museum of Lithuania. The building is guarded by the monument to Mindaugas, the first Grand Duke of Lithuania, the work of the Lithuanian sculptor Regimantas Midvikis.
Having returned to the same starting point, you can now head to Vilnius University, a wonderful architectural complex in which the Baroque style predominates. It was created by the Jesuits in 1579 and is the oldest university in eastern Europe. It is made up of a set of buildings concentrated around various courtyards, all white, among which the church of San Juan Bautista stands out.
Very close to the University is the Presidential Palace, a classic building that was the official residence of the city's bishops and, under the Soviet Empire, the home of the Governor General of Lithuania. Tsar Alexander I, the French King Louis XVIII and the Emperor Napoleon Bonaparte, who always declared himself a great lover of Vilnius, passed through this beautiful place.
The historic center of Vilnius is divided into two streets. On the one hand, there is Pilies street that from the Plaza de la Catedral runs from north to south through the old part of the city until it reaches the beautiful Plaza del Ayuntamiento. Pilies Street is the most touristy in the city. There you will find many restaurants, bars and gift shops. The extension of Pilies street ends at the Puerta del Amanecer, the only gate of the city wall that remains, where you can see the painting of a virgin to whom believers attribute miracles.
The other street is Gedimino Prospektas that also starts from the Cathedral Square to Neris river. There are the most expensive shops in the city and some of its most prominent administrative buildings such as the Lithuanian Parliament and the Post Office building. Nearby you can find the Genocide Museum, also called the KGB Museum, because the former and feared Soviet organization had its headquarters here.
Vilnius also has a large number of churches to visit all located in its historic center. Among those that you will see, there are two that stand out the most. The first is the Gothic church of Santa Ana which was built with more than 33 different types of bricks. The church served as a refuge for French troops. Nearby are the churches of San Francisco and San Bernardino. However, the second one that you cannot miss is the Church of San Pedro y San Pablo, the most beautiful in the city. It is a baroque apotheosis from the 17th century in which more than 2.000 figures are found inside.
Finally, the Republic of Uzupis is a neighborhood of the city where artists and bohemians reside who have adapted it to their liking. They say it's a mix between Parisian Montmartre and Copenhagen's Christiania neighborhood. This neighborhood declared itself independent as The Republic of Uzupis on April 1, 1997. They have their own Constitution, president, currency, flag, an army made up of 20 people, seven bridges and two churches. The sovereignty of this Republic is not recognized by any government and it is not clear if it is intended to be serious or humorous. However, the neighborhood is declared a World Heritage Site by UNESCO. Some of the great times to visit Uzupis can be 1st of April (the independence day of Uzupis) and St Patrick's Day, when the river of Vilnele is dyed green.
Best Time to Visit Vilnius
Average temperatures in Vilnius vary drastically. Considering humidity, temperatures feel cold for about half of the year and otherwise nice with a chance of rain or snow throughout most of the year. 
The hottest months are July, August, and then June. The warmest time of year is generally late July where highs are regularly around 25,3 °C with temperatures rarely dropping below 14,1 °C at night.
The months with the lowest chance of significant precipitation in Vilnius are April, March, and then September. By contrast, it's most likely to rain or snow in mid-June.
Weather stations report large amounts of snow likely to be deepest around April, especially close to early April. The best time to ski is often around mid-December when fresh powder is deepest. 
Vilnius has some extremely humid months. The least humid month is April (57.1%), and the most humid month is November (89.8%).
Spring goes from March to May. During these months humidity and temperatures combine to make this season feel moderately cold. Highs range from 20,8°C and 2°C with far warmer temperatures in the later months. Spring is also the slowest for tourism.
Summer goes from June to August and it has comfortably cool weather with high temperatures. This is when you have fewer chances of rain and more sunshine. It is the busiest season for tourism in Vilnius, so lodging and other accommodations may cost more than usual. 
Fall goes from September to November. The temperature ranges from 19 °C to 1,6 °C, which will feel chilly given the humidity and wind. It rains or snows a significant amount. 
Winter (December through February) is far too cold. The average high during this season is between 2 °C and -3,9°C. These times of year are the second busiest with tourists.
Vilnius for Families
If you have small children, there are lots of kindergarten options on offer, and instruction is available in a number of languages.
The majority of pre-school educational institutions in Vilnius are municipally funded. Pre-school (nursery and kindergarten) education in public and municipality kindergartens receives partial public funding amounting to 4 hours per day or 20 hours per week. To register a child in a pre-school institution, you should first fill out an application. You can usually fill out an application online or submit your application in person to the kindergarten.
Private kindergartens will accept admissions all year round, so you'll not need to wait to enroll for the new semester in September. Every kindergarten has its own rules regarding how long it is open each day. To qualify, you need to provide a declaration of residence proving that at least one parent is a resident of the municipality. The municipality provides a € 100/month per child subsidy for families that choose to send their child to a private kindergarten. Prices range from € 170 – € 1600/month.
Education is compulsory in Lithuania for children from 7 to 16 years of age. Municipal schools are free of charge, while the price of private schools may vary. School enrollment is a straightforward process but you need to be aware of the steps involved, which may vary from school to school.
You can also find international schools in several languages.
Living in Vilnius
Vilnius Transportation
Vilnius prides itself on being compact and easily navigable, so shorter distances can be covered on foot fairly quickly.
The last two years have seen a huge jump in people using electric scooters to get to work. And these days you don't even need to have your own, as you'll find that Citybee and Bolt both offer electric scooter sharing options on their apps.
If public transport is your thing, the city offers a fully integrated bus and trolley bus network. There is available E-Ticket (Electronic ticket, "Vilniečio kortelė"). Vilniečio kortelė is credited with an appropriate amount of money and/or the selected public transport tickets. With a valid ticket in the card, properly activated on board of public vehicle, if necessary, it is possible to change the public transport for free and for unlimited number of journeys. A 30 minutes ticket 0,65 EUR and a 60 minutes ticket 0,90 EUR. You can also buy a one (5 EUR), three (8 EUR) or ten days ticket (15 EUR). There is always an option to buy ticket from the driver of public vehicle that costs 1 EUR. This ticket is valid till the last stop of the route.
One of the first things you need to do when you get to Vilnius is to install the Trafi app on your phone. This all in one app will give you live traffic and public transport updates and info, helping you choose the fastest way to your destination every time. From public transport, car (integrated platforms like "City Bee" and "Spark") and bike sharing, to taxis, Trafi covers everything, and you can even use it to buy tickets for public transport.
For those that prefer the convenience of a cab, Vilnius has a lot of dependable and reasonably priced taxi options available. From the global giant Uber to more local providers Bolt and E-taxi, you'll find there's a number of apps available that you can use to hail a cab 24/7. 
And if driving is your thing but you are not so keen on buying a car, you'll find Citybee and Spark apps, two awesome car sharing apps. Citybee and Spark are car sharing apps designed to give you maximum convenience with minimum impact on the environment. All you need to do is download the app, and it'll tell you where to go to pick up your car, then you just drive and leave it at your destination. Citybee has a lot of cool car models to choose from. Spark meanwhile, offers only electric sustainable cars.
Fitness and Health
Vilnius has a high amount of indoor gyms to work out your body. 
Lemon Gym Europa is located in a shopping mall near the city center. It is one of the most popular places to work out in the city, as it offers a lot of equipment for all goals and interests. The stretching zone offers convenient equipment for warmup and cooldown. The zone with power trainers offers heavy barbells, weights and racks, and you can also find more weights as well as resistance machines in the free weight zone. The cardio zone offers elliptical trainers, rowers and bikes, while the large functional area has tons of open space, a turf, TRX, kettlebells and power ropes.
Get Fit Academy is part of Delfi Sport's center. It's a functional fitness facility which also offers diverse classes such as Circle and Cross training. There is something on offer for every level of fitness. You can ask also for non-CrossFit classes such as Pilates and Yoga. You can try it out once for free and if you want to go again without monthly subscription than it will cost 10 EUR per day.
TURBOFIT gym offers the cutting-edge Amplitrain equipment that uses electrical impulses to maximize muscle activity. This unique workout opportunity combined with a great location and easy access with TrainAway. It is designed for those who don't have time for traditional gyms or want to boost their results.
Other gyms to consider are: Impuls Vienuolio right next to the Opera House, Lemon Gym Antakalnis, MyFitness Kalvarijų and Leofita Gym, among others.
Vilnius People
Lithuanians are fond of nature and have a strong feeling of a shared culture that begins as early as primary school, where folk music, national traditions, and holidays play an important role. Among those who remember life under the Soviet regime, pride in surviving a period of repression and difficulty is a focal point of the national culture.
The official language is Lithuanian, one of two remaining languages in the Baltic branch of the Indo-European languages. Lithuanian is spoken by nearly everyone in the country except for a few Russians and Poles in Vilnius and in the extreme east and south. It is a language with many words to describe a single idea. There is an abundance of nature words, probably because the people are so fond of the outdoors. 
Lithuania is mainly Roman Catholic (90 percent), with some Lutherans and a few members of other churches. The Jewish population, was almost completely erased between 1941 and 1944.
Families usually have close ties with parents and immediate relatives, and much of everyday life focuses on this relationship. Lithuanians often use the term "acquaintance" and grant the title of "friend" only to someone who is very close and like a member of the family.
They are a reserved people with respect for tradition. They generally will not go out of their way to greet someone they do not know; people on public conveyances do not look directly at someone else unless they are friends and generally give up their seats to their elders.
People often bring a small gift of candy or flowers when they visit someone. Hosts are generous and do anything they can to make a guest comfortable.
Men always shake the hands of male friends when they meet in a café or on the street but never inside a door. This is one of many superstitions, which include not whistling indoors for fear of calling little devils and not sitting at the corner of a table if one wishes to marry soon.
Hugging is not common here and accepted only between very, very close friends – even that not always. Kissing on good-byes is absolutely not happening and may freak people out, with exception of people related to you.
Lithuanians are not aggressive and most of the times not rude at all, they just natural or indifferent to you if they don't know you. If you happen to meet them more personally, Lithuanians change. They start joking, smiling to you and may even tell them stories of their life. There is when you will start feeling they are amazing people.
Vilnius Insurance and Medical Care
Lithuania has an excellent modern state healthcare system. All employers must register employees to the scheme, and their family members will then automatically be covered. Disadvantaged groups, such as the elderly and the long-term sick, do not have to contribute but are still covered. Healthcare, including emergency treatment, is free at the point of delivery, with the standard system of GP referrals for non-urgent cases. European citizens carrying the EHIC card can get free access to healthcare in Lithuania on production of their card and their passport.
The general standard of healthcare facilities in Lithuania is improving as the government prioritizes funding for health. Naturally, the private healthcare facilities, especially those aimed at the medical tourist market, are even better.
Doctors train for six years and have to undertake at least one year's internship before they are fully qualified and can specialize. Many medical staff, especially doctors, have trained overseas in the US or Western Europe.
Private healthcare is rare for Lithuanians, with few locals able to afford the cost; however, private clinics for medical tourists are a growing industry in the country. These clinics have to be of the very highest standard to compete with multi-lingual staff. 
Cosmetic surgery is the most popular treatment for visitors to Lithuania, with many also making the trip for low cost dental work (around 80% of Lithuanian dentists are in private practice).
Make sure you are fully covered by reading our full Digital Nomad Travel Insurance guide.
Jobs in Vilnius
Lithuania is a relatively new country that got independent from the Soviet Union in the 90's. After, Lithuania change its economy, in 2004 became a member of the European Union and adopt the Euro single currency.
Most opportunities for foreigners are in the IT and telecommunications sector. Many western companies have offices in Lithuania, since labor costs and taxes are well below Western European standards. 
Getting a job for a non-EU foreigner is fairly easier in Lithuania than in Europe, when it comes to skilled jobs. Many jobs will not require any knowledge of the Lithuanian language. If you are an EU citizen you don't need a work permit to start a new job in Lithuania. If you are a Non-EU Citizens, you will need a residence permit for work, which is most often arranged by your employer. Its relatively easy to get a job as a non-EU foreigner if you have language or IT skills. 
The best sites to start looking for a job are: cvonline.lt with many offers in English available, en.cvbankas.lt, European Job Mobility Portal, CV.LT (one of the Lithuanian job portals with the highest number of offers), cvmarket.it, LinkedIn, jobs.workinlithuania.lt and startupcv.lt.
Check out our Digital Nomads Jobs Postings to find the best jobs available for Digital Nomads.
Nomad Friendly
Value for Money
Internet
Workspace
English
Food
Safety
Health
Transportation
Friendly
Quality of Living
Cost of Living Vilnius
Rental apartment prices vary across the city and depends mostly on the area and amount of rooms. To rent a nice apartment in the center con cost between 500 to 1.000 EUR. On the suburbs, the prices drop quite substantially.   
Basic utilities (electricity, heating, cooling, water, garbage) for 50m2 apartment cost around 150 EUR per month.
Regarding public transportation, a 30 minutes ticket cast 0,65 EUR and a 60 minutes ticket 0,90 EUR. You can also buy a one (5 EUR), three (8 EUR) or ten days ticket (15 EUR). There is always an option to buy ticket from the driver of public vehicle that costs 1 EUR. This ticket is valid till the last stop of the route. You also have a monthly pass for 29 EUR.
A meal menu in an inexpensive restaurant can cost 8-10 EUR while in a good-ranked restaurant prices can go up to 60 EUR.
A cappuccino cost around 2,40 EUR, 0,5 liter of domestic beer 3,20 EUR, 12 eggs 1,75 EUR, 1 kilo of chicken fillets 4,80 EUR and 1 kilo of oranges 1,30 EUR.