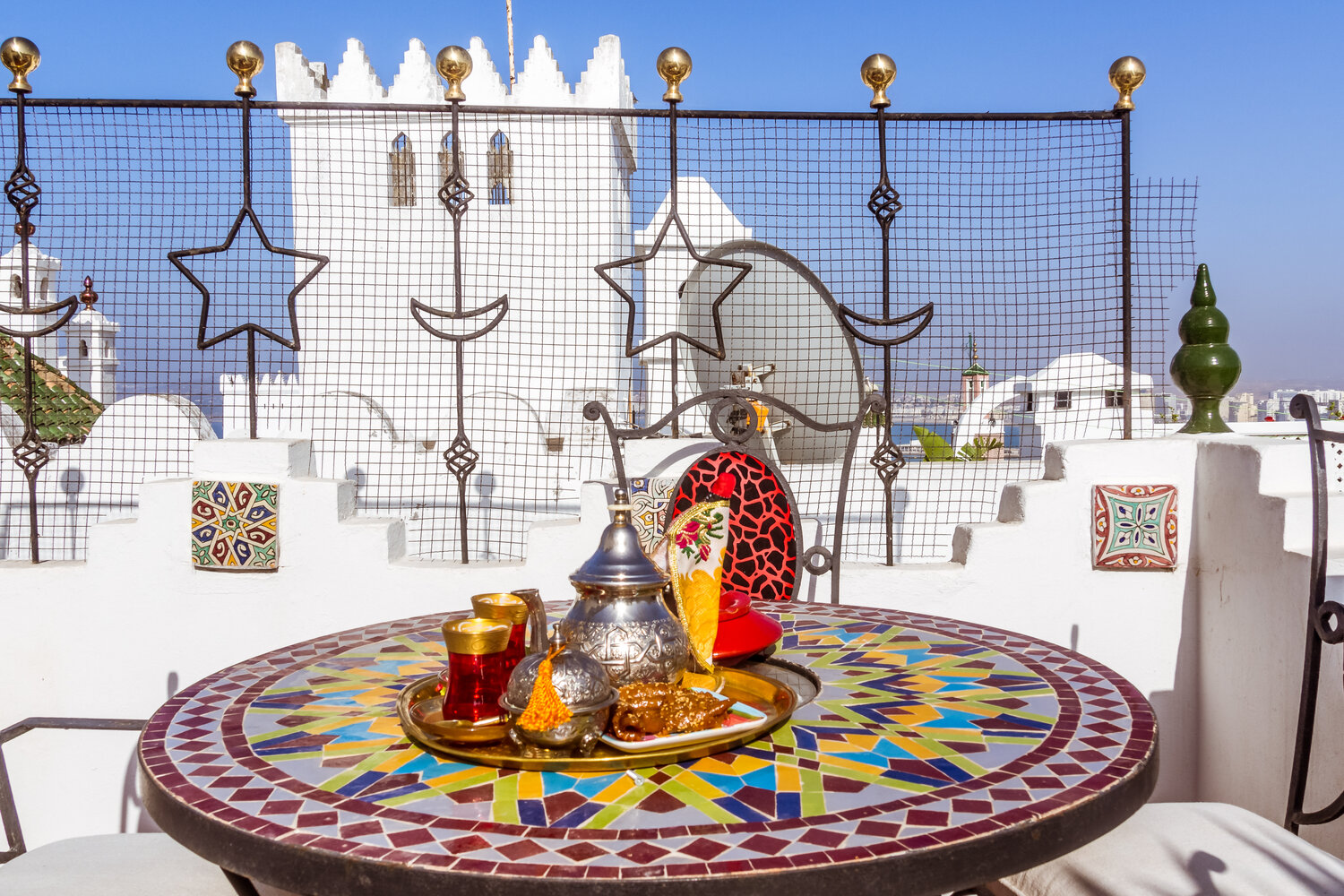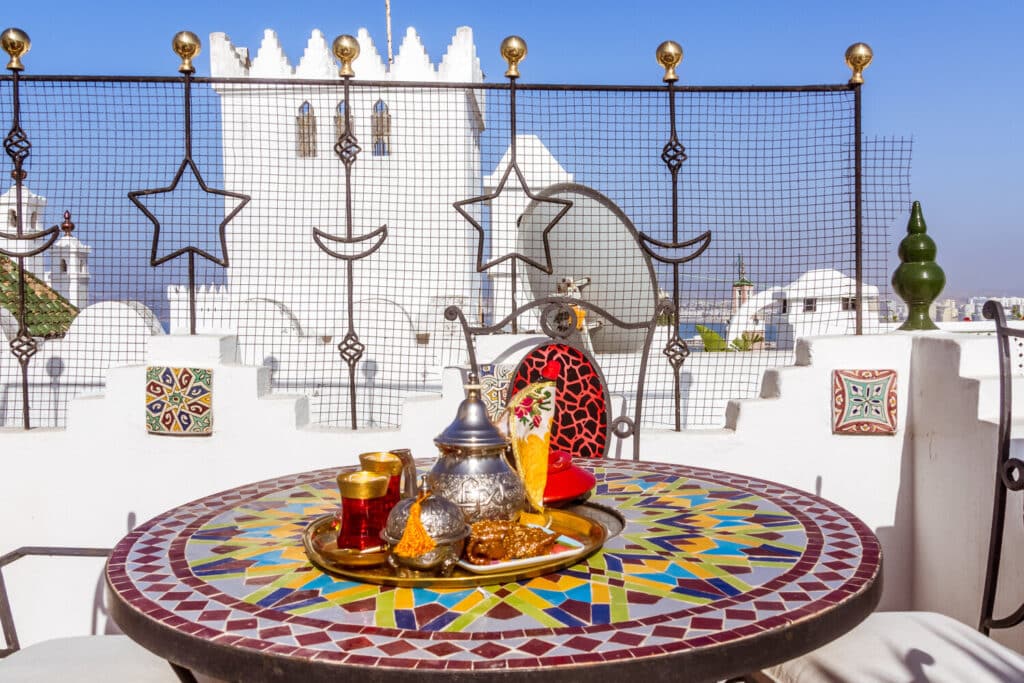 A Digital Nomad Guide to Tangier
Tangier is a city in northern Morocco, located near the Strait of Gibraltar. Bathed by the waters of the Atlantic Ocean, it is the capital of the Tangier-Tetouan-Alhucemas region. During part of the 20th century, it constituted an international protectorate called the International Zone of Tangier, until the incorporation of the city into Morocco with the independence of the country.
The city of Tangier has been throughout its history a meeting place between Muslim, Jewish and Christian cultures. In the ancient world, the Greeks, Phoenicians and Romans always had a prominent presence in the city. In addition, Tangier had Byzantine, Arab, Portuguese, British, Spanish and Moroccan governments, and all of them had an influence on its culture and history.
In the 1940s and 1950s, while the city was an international zone, it served as a haven for artists, as a party zone for eccentric millionaires and as a meeting place for secret agents and all kinds of scammers.
Many artists from all over the world were fascinated by this city. Paul Bowles, William Burroughs, Jack Kerouac, Tennessee Williams, Henri Matisse, Eduardo Haro, Brion Gysin, Francis Bacon, Jean Genet and Leopoldo María Panero were some of the great artists who visited or lived in Tangier. Californian artist Richard Diebenkorn was directly influenced by the captivating colors and rhythmic patterns of Matisse's Moroccan paintings. The city is also known for its native authors, such as Mohammed Chukri, considered one of the most controversial and widely read North African writers.
Today, Tangier is the second industrial center of the country, and its educational system offers five types of primary education and several university courses. The economic activities are mainly related to the cultivation of cereal and the textile, chemical and naval industries. Its markets also provide a commercial outlet for all kinds of artisans, mainly leather and silver workers.
Nomad Friendly
Value for Money
Internet
Workspace
English
Food
Safety
Health
Transportation
Friendly
Quality of Living
Living in Tangier Overview
| | |
| --- | --- |
|  Meal, Inexpensive Restaurant | $3.78 |
| Domestic Beer (1 pint draught) | $4.86 |
| Cappuccino (regular) | $2.32 |
| Loaf of Fresh White Bread (1 lb) | $0.82 |
| Water (1.5 liter bottle) | $0.61 |
| One-way Ticket (Local Transport) | $0.38 |
| Basic Utilities (Monthly) | $49.17 |
| Internet | $45.65 |
| Fitness Club (Monthly) | $25.00 |
| Apartment (1 bedroom) in City Centre | $351.36 |
Currency: Indonesian rupiah (Rp)
[erw_exchange_rates_widget lg="en" tz="0″ fm="IDR" to="EUR,USD,GBP,AUD,JPY,RUB" st="primary" cd="" am="15000″][/erw_exchange_rates_widget]
ATMs
Max Withdrawal: Rp 3,000,000
Withdrawal Fee: Rp 30,000 – Rp 50,000
Use of Credit Cards: Mostly Cash
Digital Nomad Personal Experience in Tangier
Tangier has one of the ports that connect with Spain, so it receives many foreigners, although most are passing through. This connection with Europe and the diversity of cultures and ethnicities made Tangier a multicultural city.
Personally, the Moroccan way of life was a great change from everything I was used to. In Morocco, religion is at the forefront and, depending on the neighborhood you live in, you can hear the call to prayer five times a day starting before sunrise. This made me live my life mainly during daylight hours and makes me admire the perseverance and effort that Islam teaches, but I was also surprised to learn that things like homosexuality and sex outside of marriage are illegal.
Morocco pushed me to rethink some of my priorities and values ​​due to the interaction with people who live, look, dress and think many times differently than I do. It made me stop giving importance to things that change with culture (like table manners) and rethink what words like freedom, love and happiness mean to me.
In my time in Tangier, I also took advantage of the hammam, a Moroccan public bath where you can clean all the dirt from your day and immerse yourself in the steam giving you some time to yourself.
The port allowed me to be only an hour away from Spain, making it possible to make short weekend trips to the European coast. Something that sometimes needs it in order to breathe the same culture and come back to the adventure of a new one with an open mind.
However, it was the little things that made Tangier memorable as the slowness of life there compared to big cities like Buenos Aires or New York, being close to the sea and a step away from Spain, getting used to using mostly taxis or getting around by foot, make the Moroccan tagine the main dish of my daily diet, the colors everywhere you look and the friendliness of the people. 
I like Morocco and Tangier is a good point to live as it is a city with all the services you need and the connection point to Europe.
Work in Tangier
Best Places to Work in Tangier
Alpha Coworking
One of the newest coworking spaces in town is also one of its best. With friendly staff, a calm environment (creating a space for super productivity), comfortable chairs, and WiFi speeds of up to 200 mb/s, Alpha Coworking is sure to offer you a great place to work while you are in Tangier.
Friends Coffee
Another option is Friends Coffee (94 Avenue de Fès). In the heart of Tangier, this café offers university and professional clients a relaxed atmosphere with good music to carry a laptop and spend the afternoon working peacefully. At this cozy proposal, you will find a good Wi-Fi connection, plugs everywhere and various menus for breakfast, brunch, lunch and takeaway meals. However, beware of national and international important sports days because they are projected on their televisions and may not be the environment you are looking for. As of June 2023, this space is temporarily closed, so please call ahead or visit first before planning to work on-site for the day.
TinyTetouan
If driving for an hour is not a problem for you, TinyTetouan (Centre Commercial Wilaya, Oficina #52, av. Ali Yaata 196, 93040 Tetouan) may be another option to consider. It is located in the new business district Center Commercial Wilaya, with easy access from the Tetuán ring road and the Fnideq-Tetuán highway. It has a comfortable workspace with wooden work tables and chairs that meet ergonomic standards to focus for hours without being tired. Also, high-speed Internet connection with fiber optics, Wi-Fi, secure parking, black and white or color printers and photocopiers, telephone with free national calls, whiteboards, and a cafeteria in case you need to stay awake or have breakfast. Here you can even use a computer with free access. Its simple interior design is tempting. It is open from 9am to 9pm. The monthly pass costs 142 USD, the weekly pass 44 USD and the daily one 11 USD.
Best Places to Live in Tangier
Best Neighbourhoods
Playa
If you are wondering which neighborhood to choose, among the most prominent ones is Playa neighborhood, which has houses with access to the beach and a fascinating view to the Marina. It also has a quiet environment and access to different services. The houses are located in the center of the city but away from all the noise and polluted air, in a safe area. Many of the apartments come well equipped and modernly furnished. There are several restaurants, cafes and two shopping centers nearby: Ibn Battuta Mall and Tanger City Mall, which include two large supermarkets where you can buy almost everything you need. The advantage of living in such an area is that it is not necessary to speak the Moroccan dialect to communicate. Almost everyone speaks primarily English and Spanish.
Boulevard
Boulevard is the local French name for downtown Tangier, another neighborhood to consider. Boulevard is moderately luxurious, cheaper than Playa although not as cheap as other areas since it is central. Here you will find supermarkets, mini-markets, hairdressers and all kinds of other services, restaurants, cafes and even spas. Taxis are easy to find and distances are short so you can easily go to any shop by foot. It is a safe area with apartments that are usually well cared for and with 24-hour security. Being a central area, those who live here take care of their own affairs, and your privacy will be respected. However, consider that it is a noisy area with considerably more pollution.
Al-Kasbah
Al-Kasbah is a more traditional area to live, where you can appreciate the beauty and authenticity of the Medina (walled old city) every morning. The Medina is full of foreigners from all continents who live next to Moroccans. The area is safe both by the police and by the consolidated protection between neighbors. The cost of living is not very expensive, although for a traditional place, it is a bit high due to the popularity of the neighborhood among foreigners. The houses are spacious compared to the houses in the center but a lot of them come with traditional furniture. Here you can enjoy cultural events, restaurants and cafes. You will also find grocery stores, Moroccan Turkish baths and souks. However, fewer people speak English and don't expect a modern style of life.
Boukhalef
Boukhalef is the most affordable area because it is full of students, as this is where most of the universities and schools are located. You will not find almost expats or luxury apartments in this neighborhood, but you will find good rental prices. It has both furnished and unfurnished apartments, simpler and smaller. Buses are an inexpensive alternative to taxis and you can find several going through Boukhalef.
Find an Apartment in Tangier
Relocating to Tangier is going to be an exciting adventure, especially finding a property to rent. The best way to find accommodation in the city is through word-of-mouth; ask friends, your employer and asking around. It is also a good idea to ask shopkeepers in the area if there are any open apartments in the buildings. However, if you don't speak Arabic or French, this task can be a challenge.
Real estate agents, often known as simsaar, are another possibility but the cost will be about one month's rent and they very rarely speak English. You can also check classified ads in local newspapers, Facebook groups such as "Tangier Expats" and the internet. The biggest online advertisement website in Morocco is Avito.ma. You can also check Bastet Property, Espace Maroc, Sarouty and Maisons Maroc. Alternatively, there are some useful social media groups available, such as Bewildered in Morocco.
In general, prices depend on the facilities, rooms and neighborhoods. Apartments can be rented starting at 250 USD. We can find three-bedroom furnished apartments starting at 600 USD, as well as larger apartments for 900 USD. Studios are not very common, and beachfront villas can throw us some nice surprises with prices starting at 900 USD. Luxury apartments can cost even more. Remember that negotiating the prices is part of the culture.
You are likely to find that many of the cheaper properties in Morocco are quite bare. Many are not even painted before tenants move in. They may also not have a refrigerator, stove or oven, and bathrooms may not have Western toilets. Before going to check a property, it is a good idea to ask for photos of every room involved in order to decide if it is a good fit for you.
Lease terms vary depending on the type of property you are renting, where it's located, and who you are renting it from. Generally, rental leases on a month-by-month basis are quite popular in Morocco, and more often than not, you will need to pay a 10% deposit. Many locals do not bother with contracts. If you are renting a room in a house, then this shouldn't present a problem. However, if you are looking to rent your own property, I advise you to get a rental contract.
Business is most often conducted in Arabic, and so you will likely need to enlist the help of a translator when it comes to rental negotiations and your contract. Contracts need to be notarized at a local town administration building to be considered valid. 
A foreigner who wants to get a property in Morocco will first have to open an account in Dirhams at any local bank. Then you will need to find a notary with a good reputation in the area. The notary will ask you to provide your Residency Permit and the property's title and plan, among other documents. You should always opt for properties that are titled, even when not all of them are. Finally, you sign a contract with the owner and relax in your new home.
Consider that you may also need a lawyer and a translator, if you don't have any local friends or relatives that can explain how things work and translate/negotiate for you.
Cheap Places to Stay in Tangier
If you have a low budget for accommodation, start looking in non-central areas and avoid modern neighborhoods. Boukhalef area could be a good choice as it is full of students, and therefore cheap. Here is where most of the universities and schools are located. You will not find almost expats or luxury apartments in this neighborhood, but you will find good rental prices. It has both furnished and unfurnished apartments, simpler and smaller. 
Prices also depend on the facilities: the less luxury you get, the less you expend. Try to look for apartments without aircon or wifi and with more Moroccan style. 
Finally, it could be a good idea to look around and talk to people about the possibility of renting a room in a family house. Maybe you are lucky and you end up living as a local. You can try your luck also at Facebook groups like Tangier Expats and also web pages like Roomlala and Mubawab.
If you are in for a short period in Tangier, maybe it would be a better idea to search for a budget hotel to return to at the end of a busy day. Check the Medina Hostel (rue Abaroudi n 14) with its amazing terrace view, Pension Safari (125 Rue de Hollande) and Hotel Marrakech (Place 9 Avril Quartier Smarine Rue Toualine No 30).
Tangier Visa
Passport holders from the following countries do not need a visa to enter Morocco as a tourist for a maximum of 90 days: Algeria, Germany, Saudi Arabia, Argentina, Andorra, Australia, Austria, Bahrain, Brazil, Belgium, Bulgaria, Canada, Chile, China, Cyprus, Democratic Republic of the Congo, South Korea, Ivory Coast, Czech Republic, Croatia, Denmark, Spain, Estonia United Arab Emirates, United States, Slovenia, Slovakia, France, Finland, Philippines, United Kingdom, Greece, Guinea (Conakry), Hungary, Hong-Kong (stay limited to 30 days), Indonesia, Ireland, Iceland, Italy, Japan, Kuwait, Libya, Liechtenstein, Lithuania and Luxembourg, Mali, Malta, Monaco, Mexico, Niger, Norway, New Zealand, Oman, Netherlands, Peru, Puerto Rico, Poland, Portugal, Qatar, Romania, Senegal, Singapore (stay limited to 30 days), Sweden, Switzerland, Tunisia and Turkey. If you plan to remain in Morocco beyond 90 days you will need to request an extension of stay.
Travelers who plan to reside in Morocco must obtain a residence permit (Certificat d'Immatriculation). Applications should be submitted to the Bureau des Étrangers of the Prefecture de Police or Commissariat Central. There are a number of ways you can apply for a residency permit in Morocco whether you're a student, married to a Moroccan, employee or pensioner. It's best to inquire directly at the immigration office in your district about what exactly you'll need. Expect to go through a lot of bureaucracy while you're sorting out your paperwork. 
You will more likely have to submit the following documents: copy of your passport and the original, birth certificate, copy of your job/student contract and original, 6 passport photographs, proof of sufficient funds (bank statements), a medical certificate from a local doctor, criminal record check, application forms and a stamp. They could also ask you for a rental contract and a police form, and to translate some of these documents into Arabic or French. You will be issued a 3-month temporary residence permit while you are waiting for your official permit (from 2 to 4 months).
Culture and Food in Tangier
The rich and tasty Moroccan cuisine is another integral part of the local culture. Among its ingredients are fish, meat, vegetables, fruits and many spices. One of its main dishes is pastilla, a puff pastry made with filo dough stuffed with onion, pigeon or chicken meat, parsley and almonds. Another traditional Berber dish is couscous, made with wheat semolina, vegetables, chickpeas, and red meat or chicken.
The most popular in the country is the tajine, a meat stew accompanied by fruits or vegetables. This Berber dish is cooked in a clay pot with a conical lid that maintains steam during and after cooking. It can be made with chicken, tuna, beef, lamb or simply vegetables with a mixture of spices that achieve a unique flavor.
Restaurants abound in Tangier. However, keep in mind that, in most of them, it is not possible to get alcohol and when they offer it, it is at a high price.
The best restaurant in town is El Korsan (at El Minzah Hotel), located near Pasteur Boulevard, which specializes in Moroccan food at European prices. In the same area, you will find the Dawliz Complex and Le Coeur de Tanger for tapas on Rue Anoual.
On Av Mohamed VI, I recommend choosing the restaurant for quality and hygiene. The best are Layali, for Moroccan cuisine, located in Mövenpick Hotel, near Malabata, and La Brasserie de Paris for French cuisine.
In the medina, the most recommended are El Morocco Club for international cuisine, A L'Anglaise, and Le Bistrot du Petit Socco with a mix of Moroccan and French cuisine. 
Tea is a drink that accompanies the inhabitants of Morocco on a daily basis. You can taste it anywhere and even in some shops and public places they will invite you for free. The specialty is mint tea with a good amount of sugar. In traditional cafes, you will see mostly men since it is an activity to get together with friends just as in Western culture it is to drink beer. Keep in mind that women tend to take care of the house and children while men have more freedom in this regard. The Café Hafa stands out, known for its incredible views of the Bay of Tangier. Open since 1921, it preserves the decoration of this period, which gives it a vintage atmosphere. Iconic bands like the Rolling Stones and The Beatles visited this cafe. Besides a culinary experience, it is also a cultural experience.
In the area of the French consulate, Av. De Pasteur, there are also magnificent patisseries for Moroccan tea, natural juices and assorted sweets. La Española, Vandalucia and La Giralda coffee shop stand out, the last one in front of the viewpoint with magnificent views to enjoy during the afternoon.
Tangier Nightlife
In Tangier, many festivals are held during the summer and other months of the year such as Tanjazz and Mouliudiat Tanja, among others. There you can meet very different people and they are held in the Plais des institutions Italiennes, in public squares like Sahat al Oumam, and even in the many associations such as Tangier Acceuil, Tanja al Madina and the Mouhamed Choukri association.
On the other hand, Tangier's nightlife is livelier than during the day but, after the destruction of all the clubs in its bay, it is no longer characterized by the debauchery of the 1950s. You can't expect the same kind of nightlife either that you would find on the Costa del el Sol (Spain) or in the tourist centers of Greece.
An example of a small bar that is popular with tourists and locals is Tangerinn (1, Hotel el Muniria, Rue Magellan). Tangerinn, located by the sea, is a historic nightclub with a 1950s ambient and decoration of American beatnik writers. This bar used to be frequented by Allan Ginsberg, Jack Kerouac and William Borroughs.
El Morocco Club (Place du Tabor, Kasbah) is a restaurant with a bar area, where its unique atmosphere will remind you of James Bond movies. With a pianist playing all night long and extremely professional service, this is the perfect place for a night out if you like classy and elegant places.
La Bodega de Tanger (35 Rue Allal Ben Abdellah) is a little hidden gem in Tangier with Moroccan decor on the outside and a 1950s American vibe on the inside. Here you find stills of Audrey Hepburn, Marilyn Monroe and Jimi Hendrix. The cook shows off his delicious dishes and the music finishes creating a perfect atmosphere.
London's Pub (15 rue Mansour Dahbi) is a typical English pub made entirely of wood, with beer, food, and generally a lot of people. The decoration is simple but makes you feel like you are in London. It is a small refuge for Europeans who long for their culture.
555 Famous Club Tanger (Complex 555, Ave Mohamed VI) is one of the best clubs in the city. It features modern European-style décor and plays commercial music. Ladies get free admission and free drinks all night, groups can reserve a table with drinks and a VIP treatment, all for a decent price.
Things to Do in Tangier
Grand Souk

The first place you can visit in Tangier is the Grand Souk, which is located between the Medina and the new part of the city. This market usually has a lively atmosphere where you can buy all kinds of fresh products daily. Berbers from nearby villages come to Tangier to sell their colorful products and handicrafts, sometimes on their donkeys. Every Sunday and Thursday, an outdoor farmers market is held in the streets near the Church of San Andrés where you can buy all kinds of truly artisan products.

Petit Souk

In the surroundings of the Grand Souk is the Petit Souk, a smaller market where you can also walk through its alleys smelling of spices, handicrafts and straw crafts such as hats and baskets. In ancient times it was known for being a place of drug traffickers and prostitutes but today it is a safe place to visit, except for the pickpockets that every so often take advantage of foreigners. Here you can take the typical Moroccan tea with fresh mint leaves and sugar that manage to become a pleasure for the palate.

Medina

Another place that you cannot miss is the Medina, the old walled city. Full of countless alleys with numerous bazaars and local products, it forms a unique and ideal experience to get to know the essence of Morocco and the old traditional houses. Families still live in the Medina, following many of the Moroccan ancestral traditions.

Sour Al Maâgazine

Sour Al Maâgazine, also known as Faro Square, used to be a meeting place for friends and lovers, so there are numerous love songs dedicated to this place. In the summer, this avenue is always full of people who enjoy a breathtaking view of the port and the bay of Tangier. It is located on Pasteur Avenue, just 7 minutes by foot from the Grand Socco.

Dar el Makhzen

If you like history, the Museum of the Kasbah, known as Dar el Makhzen which translates as The Palace of the Sultan, was the residence of the Portuguese governors between 1471 and 1661. Today it houses a collection of archaeological and ethnographic remains, most of which come from northern Morocco. On the other hand, the Museum of the American Legion is also a cultural center and research library with historical and artistic remains. It was, in fact, the first American public property outside USA.

The Cervantes Theater

The Cervantes Theater, built in 1913 by the Spanish, was considered one of the most prestigious theaters in North Africa. The interior is currently closed to the public for renovations, but the exterior is worth a visit due to its beauty. The theater is located on Rue Anoual, easily accessible on foot from anywhere in the city center.

The Libreria des Colonnes

The Libreria des Colonnes, located at 54 Boulevard Pasteur, used to be a place for Spaniards to obtain the books banned by the dictator Franco. It is a place full of history and charm where you can find your favorite books and new editions.

The Anglican Church of St. Andrew

The Anglican Church of St. Andrew was consecrated in 1905. Its vegetation-covered gardens in the cemetery are home to the graves of many historical figures. The entrance to its interior is free. You can ask the guard to give you a tour of the gardens and the chapel, painted by the famous French artist Henri Matisse. The guard knows many of the historical details of the church.

Cave of Hercules

Among the places near the city is the Cave of Hercules to which you can even go by taxi. According to legend, after separating Europe from Africa, Hercules landed in Les Grottes d'Hercule, a pair of caverns along the ocean west of Tangier. It is an amazing place, with various formations and a large opening overlooking the sea. This opening has the shape of Africa upside down. It is interesting to visit it with a guide, as he will explain the meaning that the shapes of the rocks in the cave have for the locals.

Dalia Beach

You can also visit Dalia Beach, which is considered one of the best beaches in Tangier and one of the most visited during the summer, both by tourists and locals. Here you can enjoy the fine sand and clear turquoise waters. You can immerse yourself in its waters or just take a pleasant walk through it.

Cafe Hafa

Cafe Hafa is pretty much a historic Tangier institution and is a must-see for anyone visiting the city. This outdoor cafe will fill up in the evenings with locals and tourists playing music or playing cards. The cafe has existed since 1921 and is located on a cliff with a breathtaking view of the Mediterranean Sea. It is an ideal place to rest from the heat, enjoy the sea breeze and relax before returning to the city.

Phoenician Tombs

Lastly, the Phoenician tombs are located between Cafe Hafa and the upper entrance of the ancient Kasbah. The upper part of the cliff where the tombs are located offers very nice views of the city and the port. Expect to find quite a bit of rubbish, although it is worth it due to the sunset views.
Best Time to Visit Tangier
Tangier's climate is characterized by mild temperatures all year round, with an annual average of around 20 °C and with some possibility of precipitation in winter. Even in summer, although temperatures rise, the thermal sensation is still pleasant, thanks to the fact that the city is located between the Mediterranean Sea and the Atlantic Ocean.
The average maximum temperature in Tangier is 28 °C in August and 15 °C in January. The water temperature goes between 18 °C and 25 °C. In spring and autumn, the temperature changes little throughout the day. During summer, temperatures rise to around 30 °C, but always maintaining a good thermal sensation. In winter, although temperatures drop, they are usually not below 10 °C during the day. At night it gets colder.
The best time to travel to Tangier in Morocco is from May to October, where you have a pleasant climate or warm weather and little rainfall. However, you can travel to Tangier at any time of the year without major worries. My only recommendation is to bring a jacket for the winter months, especially at night. Also, keep in mind that the first month of spring and the last of autumn there is a probability around 30% that it will rain, so it is advisable to bring an umbrella if you travel at that time.
Tangier for Families
While your daily expenses may be reduced when you move to Morocco, I recommend considering that your children are going to have a culture shock at first. This could or not be positive, depending on the children. 
To enroll in the school, families must register with the Ministry of Education and provide documentation that they are Moroccan residents. Arabic and French are the main languages ​​taught in schools. Sometimes private schools teach a third language (English or Spanish) but I advise you to lower your expectations as most of them have a basic level of English.
Most people prefer private schools to public ones. Public schools are considered insufficient and overcrowded. The school does not give you any materials. Expect to pay at least 150 USD per year for school supplies. Children attending public school must also buy their textbooks and supplies, although they are cheaper.
Private schools require an enrollment fee that can range from 50 USD to a few thousand dollars if you opt for an international school. Thereafter, there is a monthly support fee starting at 70 USD per month.
School hours are from 8 am to 12 pm and then the children go home for lunch, returning to school from 2:30 pm to 5:30 pm. While private schools provide transportation, most public schools do not.
Some of the schools to consider are: American School of Tangier (149 Rue Christophe Colomb), Anglo Moroccan School (Km 5.5, Route de Rabat), Lycée Regnault (13 Allal Ben Abdellah) and Colegio Español Ramón y Cajal (Rue Sidi Bouabid).
Living in Tangier
Tangier Transportation
The most recommended places to visit are very close and can be explored on foot but also by taxi.
The taxi is the means of transport per excellence, both for tourists and for local people. The price is surprisingly cheap since its rates are aimed at the Moroccan citizen whose salary is generally much lower than that of an expatriate. Consider that they do not usually have rear seat belts and it would be an anomaly if they had baby seats or airbags. There are two types of taxis in Morocco: Grand Taxis and Petit taxis. The grand taxis are all white. They have a capacity of five passengers without counting the driver, using the passenger seat for two people. They only move between cities. As they are private long-distance services, their cost is higher, and it is advisable to establish a strategy to get a good price. The most effective thing is to get more travelers to share expenses. In times of low demand, you can bargain the price. If you have a full taxi the price will be between 1 and 2 USD per kilometer, although sometimes the grand taxis cover journeys from or to the outskirts of cities, with an established rate. Petit taxis circulate only in the city and admit a maximum of three passengers per vehicle.
If you take a bus instead, you should understand that in Morocco, as a general rule, people are not in a hurry. It is the cheapest means of transport and the one chosen by Moroccans for medium-long distances. In addition, they are usually not well maintained and can even break down in the middle of the route, forcing passengers to wait for the next one. Therefore, it is only recommended as an alternative option for routes where the train or taxi is not possible. City buses usually cost around 0,40 USD.
To move between cities there is also the Moroccan national train company (ONCF), which on its website indicates routes, schedules and prices (only in French). It also allows you to book online, but, unfortunately, it is necessary to have a Moroccan credit card: https://www.oncf.ma/. It has the disadvantage of being slow and unpunctual, but it is more comfortable than the bus or taxi. It has two categories (first and second class) with a difference of approximately 30% in the value of the ticket.
Fitness and Health
If you are in the city and want to exercise in addition to jogging on the beach or riding a bike, you can also go to one of the modern gyms that the city has. The city has several options, from more basic cheap gyms to expensive gyms with everything you can expect to work out how you want. For example, Power Club (Hay Nejma Residence Imran Val Fleuri, Av. Moulay Rachid) offers bodybuilding, fitness, aerobics, aqua gym, dance classes, a fitness area, high-end weight machines, and a pool just for you, among other services and activities. It is run by an experienced team at the service of your well-being.
Medina Gym (91 Avenue Ibn Abbar Marshan) is one of the best hardcore gyms with bodybuilding, fitness, bodybuilding, cardio machines, stationary bikes, and a sauna, among others. 
Top Gym (N 17, Residence Fadoua, Rue d'Algesiras) Top Gym is a chain of gyms with its headquarters located in the heart of Tangier. Top Gym offers bodybuilding, fitness, CrossFit, kickboxing, among others. Top Gym is a gym for women and men and children.
City Club Tangier, located on Boulevard des Forces Royales N1 near the CAMPO, offers a set of services and activities such as aqua gym, cardio water, aqua stretch, yoga, body balance, pilates, swimming, bodybuilding, fitness, boxing, zumba, Afro dance, oriental dance, functional, functional fit, cardio, functional boxing, kick-boxing, MMA, Body step, body combat, body attack, body pump, CAF, TBC, among others. City Club Tanger is one of the most complete gyms for both women and men.
Tangier People
As the intersection of Europe, Africa and the Middle East, Morocco has been an ethnic melting pot for centuries. The locals have adopted many dialects and traditions and here you will find Europeans, Berbers, Africans, Middle Eastern and more.
Arabic is the official language of the country, although Spanish and French are also useful languages. In Morocco more than half of the population is Arab, and the main religion is Islam. You can also find many other religions and a harmonious mix of cultures and traditions.
It will not be difficult to interact with Moroccans and adapt, except perhaps in rural regions, but it is still recommended that you learn some Arabic before moving in.
Culture shock upon arrival is almost inevitable. The laid-back Mediterranean lifestyle is truly different from the energetic city lifestyle. Moroccans tend to be very respectful, honest, quite curious and open-minded, at least compared to what most people imagine. They often give gifts or offer help without expecting anything in return.
But despite the fact that Moroccan society is multicultural, its customs are very different from those of Western culture. You will have to accept your social tag for better integration. I recommend that you avoid criticizing religion or the King in public, it can be very offensive to Moroccans. Note that homosexuality is prohibited and it is also unacceptable for a couple to live under the same roof without being married. You should also do your research on the celebration of Ramadan and avoid eating and drinking in public during these days. It is forbidden by religion.
When greeting the Moroccans, they are formal and usually ask about the state of health and family. The right hand is used to greet as the left hand is considered impure in Islam. Kissing on the cheek is allowed between members of the same sex but not the opposite sex unless they are close relatives.
Another custom is to take off your shoes before entering a house to take care of the carpets. Also, most of the inhabitants don't drink alcohol as it is considered a bad behavior in Islam. You will find some restaurants and bars that sell alcohol anyway, although not all of them.
Even when most people are friendly and honest, the country has many scams. But don't think they are trying to fool you if in some places they charge you a bit more. Foreigners pay more even in museums.
Tangier Insurance and Medical Care
No specific vaccination is recommended for Morocco, but you must be up to date with vaccines like tetanus, diphtheria, typhoid, hepatitis A and B, cholera, polio and rabies. 
Be aware that water and food-related diseases such as traveler's diarrhea, typhoid, and intestinal parasites are very common in Morocco. Do not drink tap water and be careful about eating uncooked food. 
The Moroccan healthcare system is not very developed. There is universal public healthcare as well as a private healthcare system. I recommend avoiding public hospitals as the wait times are very long and the care is usually pretty bad. 
There are some health insurance plans in the country to help with costs and some will accept international insurance plans. Consider subscribing to health insurance in your country before starting your expatriation project. Some of the leading health insurance providers are: Allianz Care and Cigna Global. If you don't have insurance, an office visit can cost around 15 USD, medications a few dollars, and surgeries start at 500 USD.
There are general practice physicians and specialists. Some doctors only work with appointments, while others take walk-ins. If you need an X-ray or blood analysis you will leave the office, go to a special location that does this, wait for the results a few hours and then bring it back to the doctor. 
If you need to go in for a procedure or surgery, you will need to supply almost all of your own things (drinking cup, bottled water, towels, sheets and pillows). Also, nurses don't help patients very often. Someone will need to buy your medication at the pharmacy, give you the pills at the right hour and help you with anything you need.
Follow-up care is often included in the hospital bill. Make sure to ask about this and expect to pay cash.
Make sure you are fully covered by reading our full Digital Nomad Travel Insurance guide.
Jobs in Tangier
The city of Tangier is the second economic center of Morocco after Casablanca. Local authorities often turn to foreign labor to guarantee the economic growth of the area because the local supply is often not trained.
There is a large concentration of industrial activities, especially in textiles, chemical and metallurgical products, mechanics and shipyards. Tangier is also one of the most important tourist centers in the country, with modern hotel infrastructures. In addition to these sectors, many jobs have been created in transport, construction and agriculture.
Keep in mind that salaries are quite low. A secretary earns less than 600 USD, a beginner professor in the private sector around 800 USD, a beginner engineer of the IT sector over 1.100 USD and an engineer with five years of experience 2.500 USD.
In order to work in Tangier, it is indispensable to have good knowledge of French, almost 80% of jobs require it. English and Spanish could be also required. Arabic can be an extra asset but it is not mandatory.
If you are moving to the city, I advise you to look for a job beforehand. You can also check classified ads in local newspapers or job postings on the Internet. Hiring an agency could help you find the position that best suits your profile. You can also try on web pages like Learn4good, m-job, marocemploi.net, www.bikhir.ma, www.marocannonces.com, emploi.menara.ma, www.offres-emploi.ma, ma.jobrapido.com and tanger.vivastreet.ma. 
After being hired, you will have to sign an employment contract. In general, there are three types of job contracts in Morocco: CDD (limited period), CDI (normal contract) and Freelance.
Check out our Digital Nomads Jobs Postings to find the best jobs available for Digital Nomads.
Nomad Friendly
Value for Money
Internet
Workspace
English
Food
Safety
Health
Transportation
Friendly
Quality of Living
Cost of Living Tangier
Although Morocco is far from being the cheapest country in the world, expats enjoy greater purchasing power if they earn in US dollars or euros. The median salary here is about 400 / 500 USD a month, but while it is possible to live on little money, it would not be comfortable by Western standards. It all depends on your income and the lifestyle you want.
If you want to rent an apartment, prices depend on the facilities, rooms and neighborhoods. Apartments can be rented starting at 250 USD. We can find three-bedroom furnished apartments starting at 600 USD, as well as larger apartments for 900 USD. Studios are not very common, and beachfront villas can throw us some nice surprises with prices starting at 900 USD. Luxury apartments can cost even more. Also, count on 90 USD for utility charges. If you work remotely and you need the highest speed internet to work, expect to spend 100 USD per month on internet and cell phone plans. You will expend around 250 USD for food if you like meat and pampering yourself with some Western products, and another 80 USD if you like to have someone cleaning your house twice per week.
Taxis, the means of transport you will use the most, cost between 1 and 2 USD per kilometer. In contrast, city buses usually cost around 0.40 USD but are slow and unreliable.
A menu of the day in the expensive part of the city costs around 8 USD, a bottle of wine 11 USD, a romantic dinner 22 USD and a pint of beer in a bar around 4 USD.