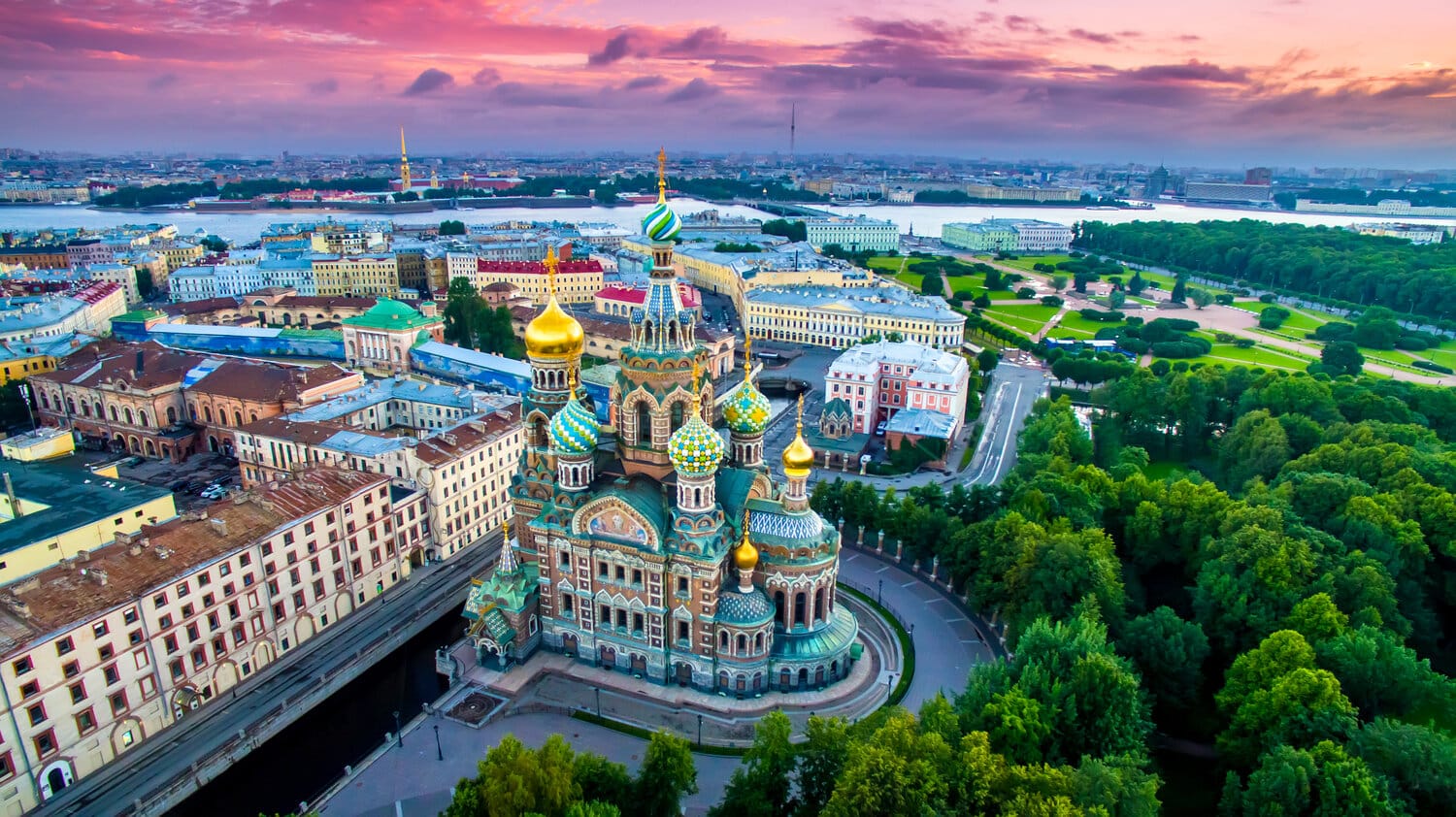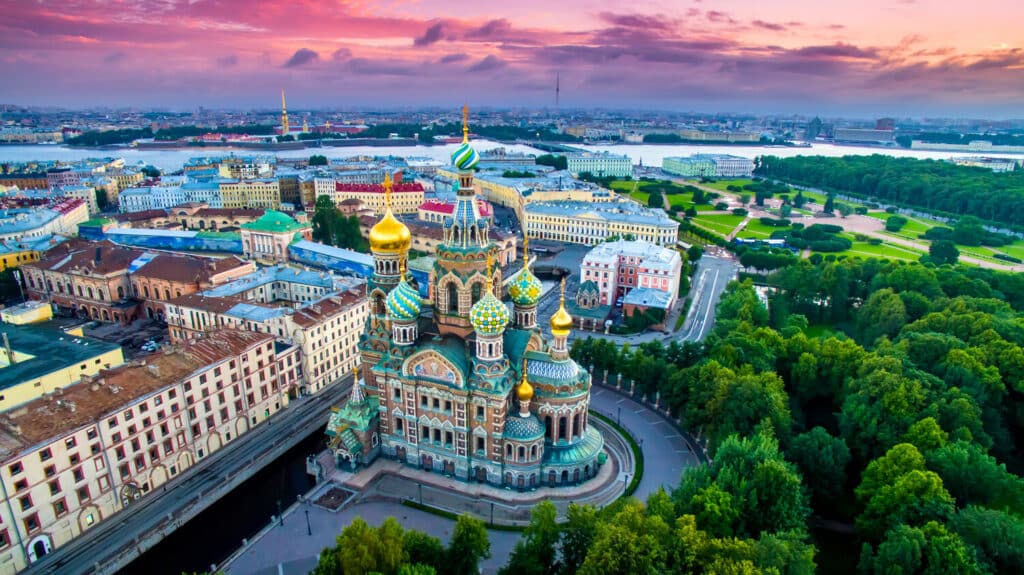 A Digital Nomad Guide to Saint Petersburg
Saint Petersburg is the second-largest city in Russian Federation known for its cultural and historical heritage. It is also known as the former capital of the Russian Empire founded and built from scratch by enterprising monarch Peter The Great at the beginning of the 18th century.
Saint Petersburg is situated at the Gulf of Finland on the Baltic Sea in the northwest of Russia. It is only 400 kilometers away from the capital, Moscow.
Russians divide into two fan groups: the ones who prefer Moscow and those who prefer Saint Petersburg. They oppose each other in a joking way because of the unspoken competition between two cities for the title of the best and most beautiful city in the country.
Certainly, I would relate to the fans of Saint Petersburg. As for me, the northern capital is sharing more cultural vibes and is more laid back than its "busy sister". It seemingly has more explicit possibilities of enjoining the artistic expression of so many creative individuals from all over the country and Europe. Though Moscow also doesn't lack individuality and culture, its rushiness and business-oriented core is a better fit for people interested in the world of money and real deals. 
The population of the city is quite numerous and makes up to 5 million people, where 80% is recorded as Russian ethnic and other 20% consist of other ethnic groups: Ukrainians, Moldovians, Finns, Georgians, etc. 
Saint Petersburg is considered a tourist hotspot and everyone coming to Russia for a vacation has it on the list. The popular tours usually include such sights as The Bronze Horseman Statue, the Menshikov Palace, Kunstkamera Museum, Peter and Paul Cathedral, the Winter Palace, Hermitage Museum, Nevsky Prospekt Avenue, the Church of the Savior on Blood, and many others. 
Geographically, Saint Petersburg is located on the 60th North latitude which lines it up with some Scandinavian cities of Norway, Sweden, and Denmark and makes it one of the most populated northern cities of Europe. Also, it gives a reason for the famous so-called "White nights" – a phenomenon when the summer nights remain bright as during daylight.
Nomad Friendly
Value for Money
Internet
Workspace
English
Food
Safety
Health
Transportation
Friendly
Quality of Living
Living in Saint Petersburg Overview
| | |
| --- | --- |
|  Meal, Inexpensive Restaurant | $8.16 |
| Domestic Beer (1 pint draught) | $2.72 |
| Cappuccino (regular) | $2.11 |
| Loaf of Fresh White Bread (1 lb) | $0.71 |
| Water (1.5 liter bottle) | $0.57 |
| One-way Ticket (Local Transport) | $0.75 |
| Basic Utilities (Monthly) | $114.88 |
| Internet | $6.87 |
| Fitness Club (Monthly) | $28.95 |
| Apartment (1 bedroom) in City Centre | $583.87 |
Currency: Indonesian rupiah (Rp)
[erw_exchange_rates_widget lg="en" tz="0″ fm="IDR" to="EUR,USD,GBP,AUD,JPY,RUB" st="primary" cd="" am="15000″][/erw_exchange_rates_widget]
ATMs
Max Withdrawal: Rp 3,000,000
Withdrawal Fee: Rp 30,000 – Rp 50,000
Use of Credit Cards: Mostly Cash
Digital Nomad Personal Experience in Saint Petersburg
I was lucky to spend almost all my student life and some time after in beautiful Saint Petersburg. So now it is a great pleasure for me to share all the tips for living and working there. There was not a greatly developed digital work culture during my student life yet, and the demand for online workers was not huge. However, I met some expats who already experienced a full-hand digital life in Saint Petersburg and told me a lot about it. 
At the moment I first arrived, the city blew me away with its splendid architecture, the fine net of canals with old ornamented bridges, and captivating history. It is almost impossible not to fall in love with all the beauty that surrounds you! For Russians, the city is an embodiment of European style and grace, but for most Europeans, it might be more common, as in its fundamentals was the idea of the European standard and many architects were from Scandinavia or Italy. 
Coming from a small ordinary Siberian town I readily took advantage of Saint Petersburg as a big international megapolis. It was a perfect "playground" for intercultural exchange. I was making friends with foreigners in bars or time-cafes and using social networks like Facebook, Vkontakte, and Couchsurfing. I was convinced that it was the best opportunity to practice languages and to see life from others' perspectives. Not vainly, Saint Petersburg was called " window on Europe" – the metaphor implies that the city was built to knit Russia closer to the outside world.
Since 2015 the city has been changing for the better. Now it is continuously building up a tolerance and the new generation is bringing a fresh look to the urban lifestyle.
The wonderful years in this city of changeable amazing and hard times significantly contributed to my personal growth and life perspectives. Seeing it developing new areas of social and cultural sides makes me happier.
Work in Saint Petersburg
Saint Petersburg is a progressive European megapolis and as expected it has a quite developed center with plenty of cafes, workspaces, coffeeshops, time-cafes, lofts, and other places compatible with online working. 
Despite the notable modernity and blossoming tourism Saint Petersburg was never shaped for digital nomads and until the pandemic circumstances, there had been no culture of branchless work. As the popularity of online work is growing slowly among locals, some new places might convert their space into more online work-friendly. However, most of my friends and I still find working from home more convenient and reasonable and I will tell you why now.
First of all, the cafes and restaurants in Russia are places where people spend their leisure time with friends and loud background music is very common. So, if you are required to concentrate and work in silence it might not be that easy to find something quiet. 
The second concerns regular coffee shops and cafes – they are not necessarily equipped with sockets for customers.
Thirdly, Saint Petersburg is a huge city and unless you live in the center you might need to commute to your stomping ground regularly. If the first two points don't bother you it will not be hard to find a cozy place with stable WIFI in almost any area. Saint Petersburg or Piter (a nickname in Russian) has plenty of coffee shops of different sizes and prices. I would call it the capital of diverse cafes and restaurants.
Best Places to Work in Saint Petersburg
Here are some most liked places to work online:
Context
Coworking Space "Context" is located in the heart of the city just a few minutes walk from "Petrogradskaya" metro station. The workplace has several spacious rooms arranged for meetings, skype calls, private office, and teamwork. The amenities include high-speed WIFI, free water, coffee and tea, lounge zone, English-speaking staff, and 24-hour access. The monthly payment is approximately 12,000 RUB (USD 168) and per one day is 800 RUB (USD 11).
Yasnaya Polyana
Coworking Space "Yasnaya Polyana" – a very good alternative to a home office, which is located in the city center. It is modern, stylish and ample. There are 5 shared rooms with designated or open seats (depending on your package). Each room has its volume limit: from zero noise to loud conversations. The minus is a high cost: 17,000 RUB ($ 237 USD) per month and 1,500 RUB ($ 21 USD) per day. 
Biblioteka
cafe-restaurant "Biblioteka" – a bohemian-looking place on Nevsky Ave, just next door to the "Nevsky Ave" metro station. It is a spacious cafe and restaurant where many tourists and locals come to enjoy meals and the view from the window on the busy central street. It is not specified for online work but it is quite possible to spend some days working online in a far corner. 
Considering the internet, it is never a problem with speed or reception. Almost all cafes and restaurants have WIFI. Also, your phone provider must have an offer of hotspot internet on your phone data. All you need to do is to choose the right package, so your internet hotspot is unlimited and you can distribute it to your phone and other gadgets. It is a very convenient option as I believe, I have been using it for good to work online at any place I want: in a park, at home, at friends', outside the city or even on the road.
Best Places to Live in Saint Petersburg
Best Neighbourhoods
Saint Petersburg is quite expanded, due to the progressing urbanization of the adjacent suburbs. For simplicity, locals split the city into two tremendous parts – northern and southern which are geographically divided by river Neva.
There is not so much contrast between the south and north living, although the significant one is the inconvenience of getting at night from the center to the northern part and reverse due to the bridges' opening. And if you are living in the north some late go-outs after 12-1 a.m can become a problem. People usually stay in the center till 5-6 a.m. waiting for the bridges over Neva to close again. Where the south doesn't face the same thing.
Of course, the city center is the best renting option for any foreigner. There are no issues of getting around and Saint Petersburg is a quite walkable city. You can walk everywhere and sometimes it will be faster than using transportation of any kind, especially during rush hour. Also, the central buildings are pretty and colorful. So it has its charm to living in a house dated back to the 18th or 19th centuries. However, some downsides are that buildings are old and some of them are literally crumbling. There are no lifts inside and domestic people are quite suspicious of any new faces. The most obvious downside is the price. In the city center, as usual, the prices are the highest, especially in the nicest and cleanest houses with tidy "paradnaya" (entrance and hall beside).
The neighborhood is a very tangled topic and can be discussed endlessly. I would recommend staying in the city center to any foreigner with a sufficient budget, and there are 3 top central areas you can live in:
Petrogradka
"Petrogradka" (Petrogradsky area) – an island with main metro stations: "Petrogradskaya", "Gorkiy", "Chkalovskaya" etc. It is a central northern area just one stop from Nevsky Ave and it is very beautifully framed with the architecture of old times. There are no skyscrapers or ugly tatty buildings. Also, you can find anything you need: supermarkets, theaters, shops, coffee shops, fancy restaurants, and coworking spaces.
Chernyshevskaya
The area around Chernyshevskaya metro station – a very good location, central and beautiful as well. It has narrow streets and not so much open space but it has all the facilities that are needed. Besides, it is a 15 minutes walk from Nevsky Ave and there are no opening bridges. Nightlife is vibrant here and it is of any sort and for any taste. The prices are high for accommodation as it is a precious "bite" of the city.
Vasilyevsky island
Vasilyevsky island – a popular area among tourists. It is also a central area of ​​the city and it is quite convenient in terms of infrastructure and urban life. The island is big enough to include different neighborhoods where buildings are old-fashioned in the central part (which is next to Vasilevsky metro station) and more remote complexes with tall Soviet buildings.
The secret of Saint Petersburg is that there is no distinct center as it is in Moscow and many other cities. The center is a broad concept and not only limited by one Nevsky Ave.
Find an Apartment in Saint Petersburg
Thanks to such great popularity Saint Petersburg overflows with rental offers. All conceivable ways of accommodation hunting are welcome here except hunting on red rent signs in the streets.
If you know where to look online it will not be hard to find good accommodation even in 1-2 days especially during summer. Summer is a season when tourists come and enrollers crowd the city wishing to enter the best universities in the country. So landlords become also very active in competing for new tenants. The rental conditions are usually very advantageous compared to many other world megalopolises. The average monthly cost for a one-room apartment is quite low – approximately 30,000 RUB (USD 416).
 Another great bonus is that the deposit is usually one month's rental cost or sometimes a half of it or not even requested at all. The period of tenancy is contracted for 1 year but if necessary it is possible to negotiate on a decrease. On the contrary, landlords will be pleased to have a solvent rentee for longer than a year. The only possible obstacle is the language. According to statistics, only 46% of Saint Petersburg's population can speak English well enough to communicate. Therefore, some help from a Russian-speaking friend can be very handy. 
There are several websites to look at to find an accommodation in short terms:
Firstly, Cian.ru is a considerably new tool in the real estate market. It is convenient in use – all offers you can see on the city map and filter them in the way you need. Instantly you can contact landlords in a chat or call. It is free, fast, and efficient. No frauds are detected because Cian.ru has strict rules for its users.
Secondly, some popular Facebook groups like "Flats for friends Spb". This group has decent recommendations and people really try to help each other. It is for the ones who let out as well as for seekers. There is also another group with the similar name "Flats for friends" which is used for Moscow rent. 
The old and reliable Airbnb.com is also helpful in Saint Petersburg. It is definitely more expensive but at least it is in English, and the rental period is more flexible if you need a shorter than 1-year stay.
Short-term bookings are searched on websites Booking.com and Tvil.ru. If you need to stay for a couple of weeks it can be a good option. There are many hostels, hotels, and homestays you can find. Though for Tvil.ru you might need some Russian because many landlords are private owners.
In my recent research, the cheapest apartments are possible to rent for about 20,000 RUB (USD 277) per month. Renting an apartment near a metro station is more expensive and the rate starts from 30,000 RUB (USD 416) per month.  A nice apartment with a fresh design for one person or a couple is available for 35,000 RUB (USD 485) per month and an apartment in good condition in the city center might cost 40,000-45,000 RUB ($ 555-624 USD) per month.
If you are registered in Vkontakte (Russian version of Facebook) you also can find some groups for rent in Saint Petersburg but in case of that, a good understanding of Russian and scam detecting intuition are certainly required.
Cheap Places to Stay in Saint Petersburg
To my expat knowledge and experience, the accommodations in Saint Petersburg are indeed low budget, especially for long-term stayers. There are lots of offers on the online markets and the down line seems to have no limit. 
Let's say, if you plan to stay for a short term and enjoy the city as much as possible then hostels are the cheapest option like almost everywhere in the world. On the flipside, for a comfortable long stay is better to look for a room or apartment and, as you might have found out above, they are not very expensive and the pool of options is huge. So, using one of the websites like Cian.ru can help. 
The hostels can be found on Booking.com or Hostelworld.com. Some of them are at the price of 500 RUB (USD 7) and higher per night. Here are the recommended ones:
Roommates Hostel – located in the city center, close to Chernyshevskaya and Ploshchad Vosstaniya metro stations. The price for a bunk bed starts from 600 RUB ($ USD) per night.

Forever Young Hostel – not far from Tekhnologichesky Institut metro station. It costs around 700 RUB (USD 10) per night.

Tapki Rooms Pushkinskaya Hostel – a central hostel a few minutes away from Ligovskaya metro station. One night in this hostel can cost 800 RUB (USD 11).

Life Space Hostel – a hostel on the Petrogradskaya island (a central area of the city). The walk to the nearest metro station Petrogradskaya takes approximately 5 minutes. For one night you can pay around 1,000 RUB (USD 14).
Saint Petersburg Visa
As a Russian citizen, I was unaware of the visa process of my home country till the time I struggled to invite my foreign friends over. Then I discovered how difficult the process of applying to visit Russia can be for some nationalities!
However, there is positive news according to which from August 2021 there will be a new 6 months tourist visa. It is a very significant change in international politics because by now many nationalities could stay only for 3 months maximum as a tourist. 
On the other hand, if you are looking forward to studying or working in Russia you are eligible for a student or work visa and their terms are different. With a student visa, you can stay for 3 up to 12 months, whilst the work visa gives a permit to stay for a year. Though there are some other visa options like business and short-term work visas they still are not the easiest ones to get.
The extension of a stay is possible but it strictly depends on the immigration law concerning a particular nationality. I met people who during several years had to do visaruns to Lithuania or Estonia to apply for a new tourist visa and then come back. And from the words of these digital nomads, "it was unreasonably expensive and inconvenient, moreover, it took a lot of time to travel".
So, before traveling to Russia or booking a flight, check the entrance rules for your nationality on the official website of the Russian Embassy in your country. It will clarify what option fits you best and probably saves your time.
Culture and Food in Saint Petersburg
Fairly enough Saint Petersburg is called the capital of Russian culture – home to many phenomenal masterpieces, where significant art events usually take place. The city has a mix of famous museums and theaters and many international connoisseurs strive to visit them. 
Walking in the central streets of Saint Petersburg is already satiating for the eyes. The city architecture is very remarkable and each building has its unique character. Some of them represent the Baroque epoche, others – Soviet period. Also, you can spot Neoclassical structures and buildings in Style Moderne. 
Saint Petersburg is a rather walkable city and if you want to make the most of your day take an e-bike or e-scooter that is almost at each corner in the center. It will help to roam around and see more beautiful colorful buildings of the 18th, 19th, and 20th centuries. 
One interesting fact about the city locals love to mention is that Saint Petersburg is bright in comparison to many other European towns. The reason is that it was conceived to bring positive vibes to its citizens who live most of the year under the grey sky. And truly it has its effect on a mood when you see so many pretty blue, green, pink, and yellow houses around. 
Here and there you can find museums dedicated to famous people or art. The classic must-visits include The State Hermitage Museum – a complex of museums of fine art and history; The State Russian Museum – one of the greatest museums of fine art; The Peter and Paul Fortress Citadel – a permanent exhibition of Russian history of technology, etc.
Here people like to spend their time in fancy restaurants and bars in the central area: in Rubenstein street or Nevsky Avenue. The cuisines variety is almost endless, I believe, like in any megapolis. Though true Russian cuisine might be harder to find. To indulge in national gastronomy, I would recommend going to the following places: Sadko restaurant, Gogol restaurant, Gusari cafe-bar, Mama Na Dache family restaurant.
Most likely, in all Russian restaurants and cafes, you will find famous "Borscht" – a well-known beetroot soup with vivid purplish-red color. Though borscht is from Ukraine, it is still considered a traditional Russian dish. The less famous national analog of it is a cabbage soup called "Shchi". Another famous soup is "Uha" (fresh soup) – a delicious soup made of pike. It is light and salty, with vegetables – one of the favorites for the holiday table. Apart from liquid dishes, you can try specialties like stuffed pike, cow tongues, "Pelmeni" with meat (Russian dumplings), "Vareniki" with different sweet or salty fillers (Russian ravioli). Common lunch at the Russian table is a plate of buckwheat with meatballs and gravy, sided by a light summer salad made of cucumbers, tomatoes, onions, and some olive oil. The Russian cuisine is quite simple and, in my opinion, it serves more as fuel rather than pleasure. Nevertheless, some delicacies are worth trying to complete the definite picture of Russian culture in which food has an important role. Many foreigners believe that Russians admire drinking and that the most beloved strong beverage here is vodka. Though I will not agree with it as it is just a part of a stereotype people like to associate the whole nation with.
Saint Petersburg Nightlife
Saint Petersburg is made for night go-outs! Especially, during June and July when the nights are "white", which means that the sky is bright as during the day. It is certainly the best time for all party lovers and even if the nightlife is not your favorite I strongly recommend going at least to a few vibing and thriving places of the bunch!   
During the time I lived there, my preferences of a place to go depended on my mood and Saint Petersburg could definitely satisfy the pickiest person. For instance, if you feel like a crazy night with cheap drinks and a loud crowd you must go to Dumskaya street. It is a top place for this kind of night after which you struggle to remember: heaps of bars and clubs, drinking strangers are guaranteed here. Barcrawling is super easy in Dumskaya street because every little corner has at least 2-3 new venues.
For a calmer set jazz bars fit the best. My most-liked places for chilling, listening to live music, and sipping wine are The Hat Bar and The EtoBar: unforgettable atmosphere, dancing people, and saxophone makes them the best. These bars have jam sessions almost every night and invite wonderful musicians to their stages. The crowd is very motley and you can easily find beau-monde of artists, dancers, musicians, and other folks. It is also a popular place among expats. Concerning entrance The EtoBar is free and The Hat Bar charges for the entrance 300 RUB (USD 4) after 11.00 p.m. which goes to the deposit for one drink. 
For the plan to dance the night out there are popular dance floors in Tantsploshchadka Bar, Union Bar, and my favorite hidden The Third Place. The Third Place is a spacious open-air dance floor with a DJ and a bar. It has bonfires in the middle and is decorated with colonnades, wall fretwork all around, and sandy patches around the fires. It is cozy and warm, made for dancing or a slow chat with friends. 
Another favorite summer spot – art space Sevcable Port also throws amazing parties with live music on the seafront with fantastic views. It is worth visiting at sunset when the burning glow comes down to the dance flow and makes it magical!
Finally, for the relaxing mode, the great find is Rubenstein Street. It has lots of fancy and stylish restaurants and bars with terraces. You can enjoy a late meal with a beer or a glass of wine watching passersby and cherish this moment of your life. 
In the end, I would like to highlight two streets where nightlife is always blooming: Rubinstein street – for a refined late dinner, Dumskaya street – for all-night wild parties, and Belinskiy street – where also many good bars and restaurants are located.
Things to do in Saint Petersburg
Saint Petersburg is the best event manager and you risk getting in the endless flow of events! The city was made to entertain and enchant its visitors and believe me, it feels never enough and sometimes you wish to appear in two places simultaneously! 
The guides of popular sights are similar and include the most classic attractions like museums, parks, and palaces. Indeed they are worth visiting but there is always something hidden from the eye of a regular tourist. Saint Petersburg has everything to satisfy all seasoned expats with its diversity.
My first tip is to download the Telegram application that has several channels about city life and includes some afiches as well. My favorite chats are "Fiesta.Ru ", "TripSoup Pro Piter ", and "Kudago.com". Though they are all in Russian with the help of a translator it is possible to check the nearest events and, most important, free deals, special offers, and underground parties! Once in "TripSoup Pro Piter" I saw a post about a free-of-charge day of the biggest forest ice rink not far from Saint Petersburg. It was a true holiday for everyone who loves ice skating! 
For real touristic experience in Saint Petersburg, you must schedule such top activities as:
Visiting The Hermitage Museum. Probably the biggest museum complex of the city with mazes of endless exhibitions where you can definitely get lost for a day or two. It has modern art as well as classical art. Before the pandemic time, the museum expressed great generosity by giving away entrance tickets every last Thursday of the month, but during the pandemic, the free deal was temporarily stopped. 
Taking The River Cruise – a standard point on the tourist bucket list. Seeing the city from the river is worth it! As I mentioned before the city is laced with narrow canals and they serve as pathways for boats and SUP boards. In recent years SUPs tours are becoming even more popular and many locals and expats prefer them.
Climbing St. Isaac's Cathedral
Climbing St. Isaac's Cathedral. All-time I had the pleasure of calling Saint Petersburg my home, the cathedral was closed for renovation and I never had a chance to see it from inside. However, the dome was always accessible for visitors, and climbing the highest point of the beautiful cultural heritage monument has its own undeniable charm.
Rooftop Tours has something similar to Climbing St. Isaac Cathedral because of the stunning view to enjoy but it has a different concept. In Nevsky Avenue you find dozens of barkers alluring people to buy their very "unique" rooftop tour. In my student years, my friends and I found several open roofs and we had romantic sunsets with bottles of wine overlooking the Neva River. Now open roof hunts have become more popularized and tours – more common. 
Spending time in Art Spaces. Saint Petersburg wouldn't be a capital of culture without having some contemporary art venues. The well-known ones are Etagi in Ligovsky street, Sevcable Port, Fligel Creative Cluster, Nikol'skiye Ryady, and the exciting New Holland Island. The last one has to be the first to visit. The best of New Holland is its central location, chill vibes, and big green lawn for a picnic.
Getaway to the city suburbs. The suburbs of the city are not small gloomy villages at all; they are part of the historical heritage. Many Russian dukes and duchesses lived in their country residences a century ago and left their palaces and parks for us to explore nowadays. One of the most popular is Peterhof Palace, a royal family palace with 64 fountains in huge gardens! Sestroretsk and Sosnovy Bor towns are great places for beach leisure. Repino is a beautiful village with a sandy shore, good for a forest walk and beach fun. Kronshtadt Island is called " the pearl" of Saint Petersburg. It is connected to the city with fine lines of motorways across the Gulf of Finland.
Annenkirche – a modern Lutheran church popular among the younger generation. It runs several projects at once: a museum of the Lutheran religion, a concert hall for daily musical events, and Lutheran worship. Weekly they invite people to have a meal with them and talk about relevant topics.
Krestovsky Island – a heart of nature in the concrete jungle! Getting to the park is a piece of cake: take the metro and go out on the eponymous station "Krestovsky island". It is great for feeding ducks, squirrels, and some forest birds as well as for a picnic or sport. Krestovsky Island also has a sandy beach with volleyball courts, seaview restaurants, and other nice things.
Overall, Saint Petersburg won't let you get bored. There are many more to explore and see but for that, you need months and even years! I spent 3 years in total living my best life in this city and there are still blank spots on the map for me. However, the lifestyle is very individual, and many people are satisfied with just a standard set of entertainment. Here I have just included my personal favorites and I hope you will enjoy them while staying in Saint Petersburg!
Best Time to Visit Saint Petersburg
"What's the weather like today?" – not just British beloved topic to talk about, people in Saint Petersburg also love to discuss forecasts.
The weather in Saint Petersburg can be a roller coaster but generally, it sticks to the European standard, where summers can be scorching and winters – freezing! Meanwhile, the most popular state of the weather here is endless rain or overcast. As was mentioned earlier, the gloomy weather was compensated with colorful facades of the buildings to cheer the citizens up.
Thanks to a humid continental climate Saint Petersburg has short and warm summers and long cold wet winters. The average temperature of the summer is 20-23°C degrees and the hottest month is July. The average winter temperature is -8-12°C degrees and the coldest month is January. Though it seems not cold enough for a Russian stereotypical climate, the winds from the Gulf of Finland bring a lot more to freeze out. The humidity is quite high and -8°C feels like all -20°C  if not lower.
The extreme scorching heat in summer also happens in this northern city and it is not a rarity. So while getting ready to go to Saint Petersburg it is very important to work on your outfit and choose it according to the season. 
Last but not least is the rainy weather in Saint Petersburg. The humidity is approximately 78%. Statistically, there are at least 165 overcast days each year so the sun is like gold dust for locals: a sunny day is almost a holiday.
Saint Petersburg for Families
Living in Saint Petersburg as a digital nomad can be very satisfying. Most of the foreigners interviewed by me admitted that the expenses are not high and out of all Russian cities Saint Petersburg is the most foreign-friendly, but what is it like to raise children in this city?
First of all, Saint Petersburg, like other European cities, is multinational and there are enough cross-cultural families which inspire locals to open international schools and kindergartens. 
For expat parents, it is very important that their child is understood and taken care of properly in the new environment. Here is the list of kindergartens with English-speaking staff that have a perfect reputation: The Enfant School, The International Montessori School, The International Pre-school of Saint Petersburg.
If you have middle- or high schoolers, education becomes a serious topic. The crucial fact about education in Russia is that it doesn't have international recognition of the high school diploma. For that reason, it is very important to choose the right institution. Here are some certified international schools of Saint Petersburg that let graduates enroll in any university in the world: The Brookes Saint Petersburg International IB School, The International Academy of Saint Petersburg, The British School of Saint Petersburg.
The northern capital also has a lot to offer for spare time with children. The activities differ from season to season as Saint Petersburg has quite hot and windy summers and cold snowy winters. So the best activities in summer for children are riding bikes on Krestovsky island, visiting the amusement park there, also, fountain splashing in Peterhof is great! Winter fun in Russia is the good old ice skating, skiing, and snowboarding. The all-inclusive venue for winter sports is the ski resort 'Ohta Park' which is located just 10 kilometers from Saint Petersburg. While skiing and snowboarding are out-of-town, ice skating is possible in many city spots like The New Holland Island, The Moskovsky Victory park, The Laplandia Park. The less active entertainment and all-year-round possible ones are The Leningrad Zoo, The Dolphinarium, The Bolshoi State Circus, The Planetarium's Observatory, The Grand Market of Russia, and The Oceanarium.
Living in Saint Petersburg
Saint Petersburg Transportation
Since Saint Petersburg is a giant conglomeration with some very distant areas and almost 5 million inhabitants it had to develop an efficient public transport system that could satisfy everyone. Although, cars are still a preferable kind of transportation for locals, more and more people have found it reasonable to change to public transport in recent years.
As not being a car owner I had to take public transports a lot during my years in Saint Petersburg and I must admit, it was always convenient especially with making routes in advance with map applications. I  wouldn't certainly recommend Google maps because it might not be as reliable in Russia as it is in other countries. Most of the time the application suggested to me nonexistent buses and minibusses on the route. It is most likely to happen due to the periodic changes in the routes or numbers of the buses, so you must be careful with it. The map application I used is Yandex maps. Yandex is a Russian corporation with lots of Internet products including browsers, translators, emails, carsharing, taxi, delivery, and maps as well.
The most obviously used public transport in Saint Petersburg is the metro. It is an extensive system of 5 lines and 72 current stations and more to come. Locals love their metro and praise it with the firm assurance of an art owner. In fact, some metro stations in Russia are true art objects like Avtovo metro station that often becomes a background for professional photoshooting or filming. The metro's 5 lines have different colors and 4 of them go from the north to the south while the orange one can take you from the city center to the eastern area. For foreigners, it is commonly challenging to learn, understand or pronounce the long names of the stations like Dostoevskaya, Chernaya Rechka, Devyatkino, etc. The names are normally transliterated into English but more often you see them in Cyrillic which is dramatically different from Latin. The one-way fare in the metro costs less than $1 and it is incredibly cheap in comparison to other big cities' metros.
Other popular kinds of transportation are buses and marshrutka (minibusses). They have a fixed route over the city and normally stop at every bus station on the way. The fare is lower than the metro's fare. Usually to pay for a ride you need some cash or a travel card that you can buy in advance. 
There are also tram and trolley systems in the city. They are less popular because they don't cover all the neighborhoods but they have their own charm of Soviet times.
Nowadays more and more people prefer carsharing over taxis due to its comfort and freedom in use. The only things needed are a driving license and a mobile application like Delimobil, YandexDrive, or others. However, if you have none of that a taxi is also a good option. The most-liked taxi applications in Russia are Yandex Taxi, Uber, DiDi, City Mobil. They are all safe and have more or less similar prices. A long time ago it was possible to flag down taxis along the road, but now it is not recommended for safety reasons.
Fitness and Health
As a digital nomad, I believe that there is nothing better than to have a stretch or a good full workout after (or before) a long day. Undoubtedly, in such a big city as Saint Petersburg, there are plenty of fitness clubs and gyms of all sizes and prices! And as it is a quite extensive city there are two sides of the same coin. It happens that it is not hard to find a well-equipped gym but usually not behind the corner. Unfortunately, condominiums, where you can have a gym, a pool, and laundry, are not yet a popular concept in Russia. So you need to do a little effort to actually start doing a physical effort. 
However, there are many great gym chains located in different areas of the city: Alex Fitness, Fitness House, A-Fitness, Fitness 24, and others. The prices might vary but the idea is always the same. They don't differ from international gyms and usually have a pool, all necessary equipment, saunas, and personal trainers. Some expats use personal workouts with a trainer as an opportunity to practice their Russian. 
I am not a big gym lover and for me, the outdoor activities are more enjoyable. The good thing about Saint Petersburg is that it is considered a green city that has many parks, gardens, and alleys. Some of the parks are huge and they perfectly suit doing yoga, jogging, or working out. For me, it was a free-of-charge alternative to overcrowded fitness clubs.
Saint Petersburg People
Saint Petersburg has its charm and it naturally conveys to its people. The first impression of the city brings the idea that the city is inseparable from European neighbors: not only the facade reminds of the Old World's decor but the weather and people as well. I am sure many Russians would agree if I called Saint Petersburg the best-mannered city and locals love to support this idea with any minor gesture: striving to be educated and polite is usually taken here for granted. Frequently in the underground, you see posters with social advertisements calling people on speaking correctly and making correct stresses in words. It states " Let's speak like true citizens of Saint Petersburg!" which implies that if you are local you have a class and your speech must be clear and proper with no exceptions. Of course, it doesn't mean that there is no lower stratum of the population but it certainly boosts common self-awareness and gives people confidence in their exclusivity.
People of Saint Petersburg are usually friendly, responsive to strangers, especially to foreign tourists that crowd the city every summer. I believe they feel some responsibility for a good impression of the city and understand the importance of this economical fraction. Another responsibility which Saint Petersburg bears is the "face of Russian culture": most visitors precisely come only to Saint Petersburg to be introduced to the whole country and never go beyond because realistically Russia is too huge for one tour. So in some ways, it must be nice to feel so special as a citizen of such a popular city as Saint Petersburg. 
The downside of the whole experience of interaction with locals is that languages are not their strength. Not many people can have a proper conversation in English with foreign guests, many are just shy but generally, it might be a challenge to meet a stranger in the street who could clearly explain directions or something else. The younger generation is commonly more open and willing to try but among the older crowd, the understanding can be complicated. And yet, Saint Petersburg is still the second-most English-speaking city in Russia evidently giving away the first place to multilateral Moscow.
The favorite stereotype about Russians is that they are serious and not smiley. I guess it crushes at the first time being in contact with them. People find it very prestigious to have foreign friends – it shows your ability to communicate well in a foreign language – so most of them will smile and be polite. They might not invite you home straight away or call you a friend but want to know you more is very possible. The funny thing, some expats shared with me, is the defined gradation of friendship in Russia. You can be only an acquaintance after the first or even twentieth meetup but friendship means a deeper level of connection that nobody can really foresee. Therefore, if you become a friend, trust me, it will be for a lifetime.
Saint Petersburg Insurance and Medical Care
While visiting Russia the insurance is in the list of visa requirements but, in the fact, it is not strictly implemented and only you decide if you need it. However, nowadays it might certainly change due to the pandemic situation in the world.
I would recommend purchasing one of the international insurances for travelers just in case of emergency. Some days it really saved my life in other countries where I could not speak the language and if you don't want to struggle explaining to a Russian doctor your symptoms the international insurance might help. However, I met long-term expats without any insurance and their solution was to go to private clinics. These clinics are quite pricy but the quality of service is high and the staff surely speaks English. The high-rated private clinics are The American Medical Clinic, The Euromed, The Medem International Clinic, and Hospital. 
In case you are employed your Russian company is responsible for your health insurance but it normally covers just the emergency cases. 
If there is no need for professional assistance, a minor problem you can heal with some medicine – there are pharmacies everywhere in the city. The Russian sign for pharmacy is "АПТЕКА" (Apteka) usually with a cross. There are many 24-hour pharmacies in the city, the most spread is 36.6, Raduga, Ozerki, and Planeta Zdorovya.
Make sure you are fully covered by reading our full Digital Nomad Travel Insurance guide.
Jobs in Saint Petersburg
Though Russia cannot compete with European salaries in most fields, it is still a desirable place for living for many foreigners. Saint Petersburg is the second economically significant city in the country and the presence of the trade and manufacturing giants as well as the international port make it quite prospective. In no case, Saint Petersburg can compete with the capital in the attractiveness of the labor market. More often expats and Russians prefer getting employed in Moscow where salaries are the highest in the country.
However, if you are looking for a work contract in Saint Petersburg I suggest checking such websites as GlassDoor.com, LinkedIn.com, HH.ru, Expat.com, and Facebook expat jobs' groups. Due to a constant business flow with Europe and other countries, Saint Petersburg always requires specialists with English fluency in many fields. Language became a quite necessary attribute for many Russian workers and because of that, there is also a big demand for English teachers. Though the wage of teachers in regular language centers is not competitive it might not require a degree in teaching and experience is often enough. The better conditions for professional teachers are in international schools where salaries can reach the European level. 
Another quite popular job among foreigners is au pair for rich families. Many Russian rich families are looking for full-time or part-time tutors or au pairs who could babysit and help their child to speak a foreign language fluently (not necessarily English). 
Many foreigners seek job opportunities to obtain a work permit and consequently – a work visa which is given for 3 months at first and after – for one year.
Check out our Digital Nomads Jobs Postings to find the best jobs available for Digital Nomads.
Nomad Friendly
Value for Money
Internet
Workspace
English
Food
Safety
Health
Transportation
Friendly
Quality of Living
Cost of Living Saint Petersburg
I am sure that many expats would agree with me that life in Saint Petersburg is pretty cheap. Thinking of all advantages it seems like an expensive place but actually, you can get by with 1,000 USD per month including rent! For such a nice city as Saint Petersburg, the rent here is extremely cheap: with only 500 USD it is possible to get an apartment in the center. 
There are also little things like coffee that you can enjoy at a less price than in many other countries. Coffee is almost a religion here and the brewery is taken seriously. A cup of great coffee in a nice coffeeshop costs about 3 USD only. 
Another pleasing bonus is inexpensive taxis. I know some expats that prefer to travel only by taxis and they find it extremely cheap. The ride varies on the distance but normally it is about 3-6 USD. So it makes sense to save time not money sometimes!
In comparison to Europe eating out in Saint Petersburg is quite affordable. The average check for a meal is 6-8 USD in a nice restaurant. While "stolovaya" (Russian eatery) is even cheaper and costs about 4 USD for a full course.
The unexpected regret is fruits and vegetables in supermarkets or outdoor markets. The north of Russia has not a favorable climate for agriculture and simple foods like apples, tomatoes, grapes, cucumbers, aubergines are costly. Though down south in the Krasnodar region where almost all Russian crops are cultivated the prices are two-three times lower. Perhaps it may serve as a motivation for some people to explore some more of Russia one day. 
Overall, there are more positive sides than negatives in terms of the living expenses in Saint Petersburg and it is definitely worth the highest rating.