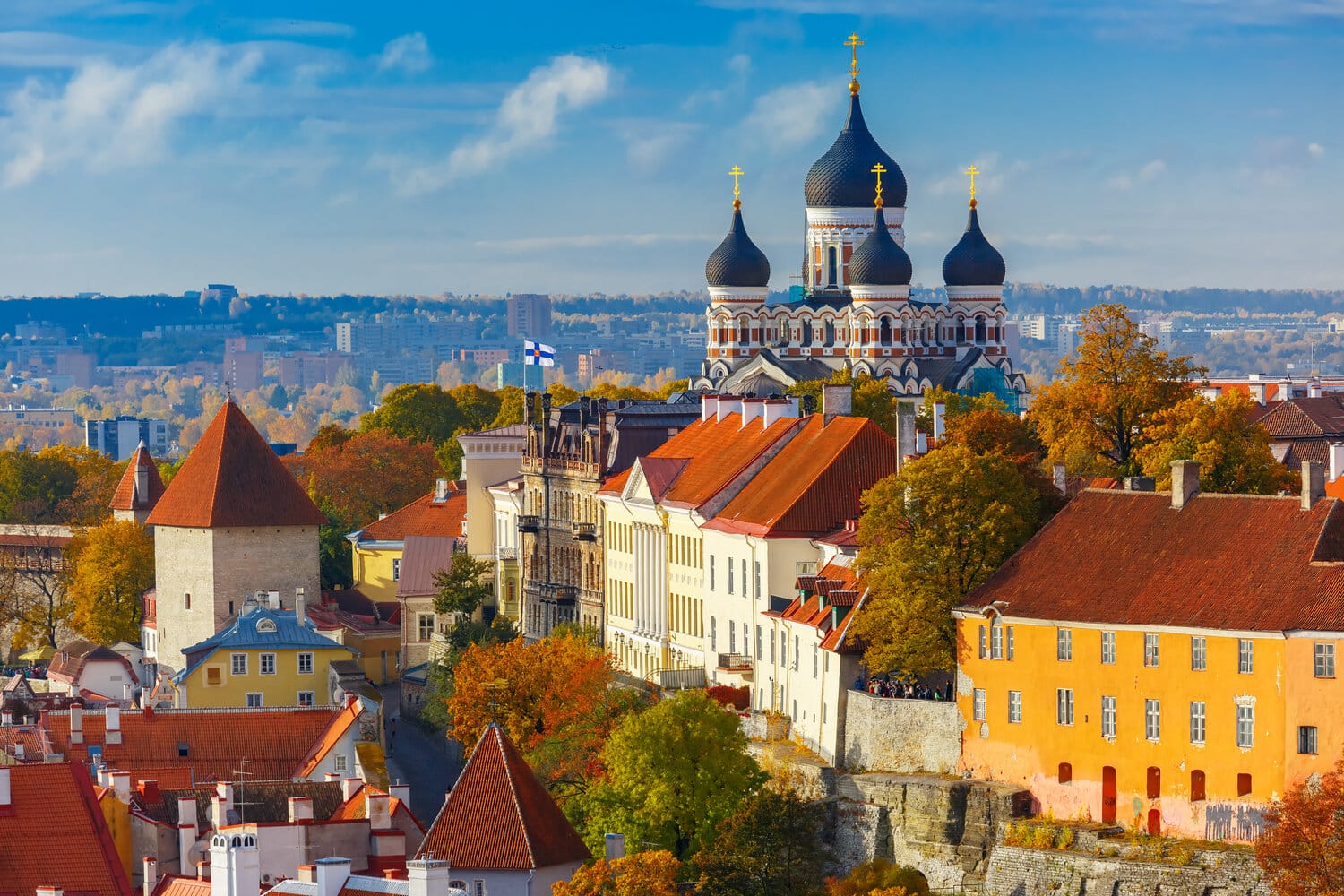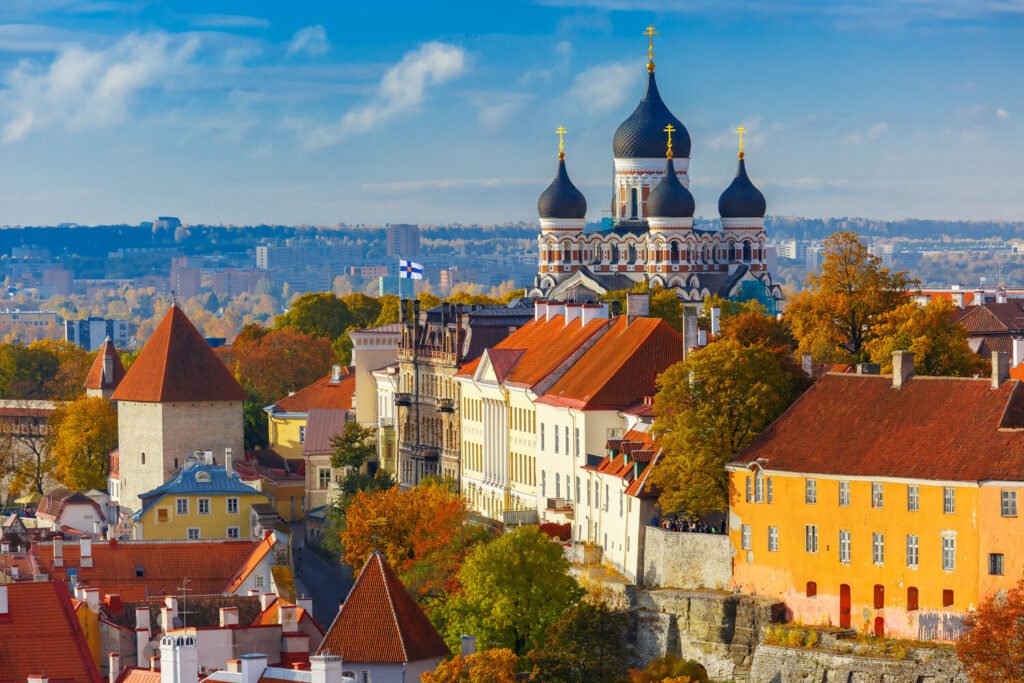 Digital Nomad Estonia Guide
For digital nomads seeking a more restful retreat, Estonia is one of the most underrated countries in Europe. The most northerly of the Baltic states, it has one of the lowest population densities in Europe, with an estimated 50% of the country covered in forest. 
Striving to reassert its individual identity after decades of Soviet rule, it has aimed to position itself as a forward-thinking nation in the 21st century, introducing swathes of digital reforms to back up its ambitions. Estonia has more start-ups per capita than any other country in Europe and ranks highly globally, too, thanks to policies designed to make it easier for entrepreneurs to set up shop within its borders. 
The nation also has the freest Internet in the world behind Iceland, according to Freedom House, which scored it highly based on a lack of obstacles to access, few limits on content and limited violation of users' rights.
With fast, reliable, widespread internet and a welcoming working environment, Estonia has the practical tools necessary for digital nomads to set up shop, but it also has plenty of attractions for outdoorsy types. 
From winter pursuits like skiing, skating and snowmobiling, to hiking and camping across the lake-dotted landscape in spring and autumn, to sunbathing on beaches in the summer. There's plenty to do in terms of pursuits – and plenty of time to do them if you visit during the months around June, when the days boast 18 hours of light. 
Despite having one of the best-preserved medieval old towns on the continent, capital Tallinn has all the trappings of a modern, multicultural city. Other areas retain a more distinct Estonian identity. The locals are often described as brusque and unintrusive, though helpful and transparent. Its long ties to Russia mean that Russian is a second language for many, though English is widely spoken, particularly amongst the younger generations.
Estonia can't boast the buzz and bustle of other digital nomad hangouts. But for those looking to escape for some peace and quiet in gorgeous countryside, what could be a better than a nation that prides itself on having good Wi-Fi connection, even though it's deep in a forest?
Estonia Digital Nomad Visa
Estonia is a pioneer of the Digital Nomad Visa (DNV). When the country launched the programme in August 2020, just as the full impact of the Covid pandemic was being felt, it was the first initiative of its kind in the entire world.
If you're a citizen of the European Union, the European Economic Area or Switzerland, this may not be very interesting news, since you can work visa-free for up to three months in Estonia, and after that register as an Estonian resident. For everyone else, however, the DNV can be extremely useful.
Just as with other Schengen Area countries, you could work under the radar as a tourist for up to 90 days in a 180-day period. Though this would be technically illegal unless you meet one of the terms of the visa-waiver system, which encompasses journalists, attending business meetings, inspecting a company facility or going to trade shows, among other specific activities.
The Estonian DNV, on the other hand, allows you to stay in the country for up to a year with the full approval of the authorities.
Who is the Digital Nomad Visa for?
The DNV is designed for a couple of different groups. First, it is for people who have an employment contract with a company that is registered outside of Estonia. For example, if you work full time completely remote for a business headquartered in the Netherlands, then you would be eligible to apply for a DNV.
It is also targeted at both people who run their own companies that are registered abroad and at those who work as freelancers. Bear in mind that the visa specifies that your clients should be predominantly outside of Estonia for it to be applicable.
What Kinds of Digital Nomad Visas are Available?
There are two types of DNV, which allow for different lengths of stay. The first is the Type-C visa, also known as the short-stay visa, which allows you to work in Estonia for up to 90 days and costs 80 euros. 
Essentially, this is a souped-up tourist visa, but since Estonia is more liberally minded than other EU countries, they don't mind if you've come to work or play, as long as you provide the correct documentation.
The second is the Type-D, also known as the long-stay visa, which allows you to work in Estonia for up to a year and costs 100 euros. While you can't exactly renew a long-stay visa, you can apply for two consecutively that will allow you to reside for up to two years, though you cannot exceed 548 days in the country within the 730-day period. Beyond that, you'll need to apply for a temporary residence permit.
All applications have to be submitted to your local Estonian embassy in person. The process can take up to 30 days, so plan accordingly.
Both Type-C and Type-D visas allow you to visit other Schengen Area countries during their validity for up to 90 days in a 180-day period.
What documents do I need to apply for a short-stay visa?
To apply for the Type-C visa, you need a valid travel document issued within the last decade and containing at least two blank pages. The passport should be valid for at least three months after the expiration date of the visa (i.e., if you're visa is for 90 days and it expires on June 1, your passport should still be valid until around September 1).
You'll also need to fill in the fairly simple application form (available in English, Estonian and Russian), supply one photo of dimensions 35mm by 45mm, and have a health insurance policy with coverage for at least 30 euros that is valid for the duration of your stay.
The Estonian authorities might also request additional supporting documents, such as evidence that you have sufficient income to support yourself while working in Estonia (i.e., bank statements), proof that you have accommodation booked, details of a return flight or onward travel itinerary, as well as any relevant documentation about the purpose of your journey. 
As a digital nomad, you should be able to prove your status as either a remote employee of a business (via a letter from the business stating the fact) or prepare a signed statement that confirms you can work independently of location as a freelancer. Even if you don't have a contract with any company, you should be prepared to show some sort of evidence that you have regular work coming in.

What documents do I need to apply for a long-stay visa?
The requirements for the Type-D visa are almost identical to those for the Type-C visa, except you'll need longer-term health insurance and to fill out a more detailed application form. You should also expect to be questioned more thoroughly about your ability to work remotely and supply the appropriate documentation. For example, you may be asked to supply details of your professional life up to the present.
One further DNV stipulation is that you need to provide evidence that your income is above the minimum threshold for the six months preceding your application. This monthly threshold is currently set at 3,504 euros gross (i.e., before tax). 
It's also worth noting that there are certain professions or work cases that may require specific additional documentation, even though you are using your skills digitally for clients predominantly outside of Estonia. For instance, if you are working in Estonia as a specialist, advisor or consultant in a technical field, as a researcher or as an online tutor or teacher.
Do I have to pay taxes?
You will not have to pay any taxes if you are in Estonia for less than six months. After 183 days, however, you will be counted as a tax resident and be subjected to the country's flat tax rate of 20%.
What if I want to stay longer as a digital nomad in Estonia?
If you fall in love with life in Estonia, you'll need to apply for a temporary residence permit. This will allow you to work for a period of up to five years in the country.
What are the best places in Estonia for Digital Nomads?
As a fairly small country of approximately 45,000 kilometres squared and a population of just over 1.3 million, Estonia is not the place to go if you want to live in an enormous, buzzing metropolis. In fact, only three cities have more than 50,000 people residing within them. However, that doesn't mean there isn't diversity when it comes to the options for places to live.
Tallinn
Boasting a (comparatively) whopping 430,000 people, Tallinn is the capital of Estonia and where almost a third of the population live. Naturally, that also means it's where the most coworking spaces are. You can generally hot desk at places like LIFT99 and Spring Hub for about 20 euros per day, with monthly prices hovering at around 200 euros, though you can expect to fork out slightly more if you want a fixed desk.
In your free time, you can explore the city's Old Town, which is touted as having the best-preserved medieval city remnants in Europe and has been inscribed on the list of UNESCO World Heritage Sites. Its cobblestone streets wind through orange-roofed houses, enclosed by impressive stone walls. In the Town Square, the gothic, early 15th-century Town Hall with its sky-piercing spire is a focal point around which many a quaint tavern or eatery lures in passers-by.
In the upper Old Town, the Alexander Nevsky Cathedral with its multiple bulbous domes testifies to Estonia's complex history with Russia – ethnic Russians continue to make up the nation's largest minority group. Built at the end of the 19th century, it sits atop Toompea Hill, a good place to get your bearings during your first days in Tallinn. 
It's also where you can visit the Toompea Castle, originally a stone refuge for holy knights but today a rose-coloured baroque palace, thanks to the efforts of Catherine the Great. Today, the building houses the Riigikogu (Estonian parliament).
Outside the Old Town, the Kadriorg sub-district hosts some of the most fashionable addresses in town, including the Estonian president's official residence and the impressive Kadriorg Palace, both of which are ensconced in extensive public parkland.
For a livelier and more bohemian atmosphere, Kalamaja (literally 'fish house') was once a harbour. Things have changed since the 14th century, however, and it is now one of Tallinn's most modern areas. 
Former factories built during the industrial boom have been converted into museums, galleries, offices for start-ups, boutique shops with contemporary Estonian design, laidback cafes and trendy restaurants. At its heart is Telliskivi Creative City, where you'll find events from street food festivals and street art tours.
Tallinn is a very walkable city, but you can also rely on the city's network of trams and buses if you're in a hurry. 
When tourist seasons hits its peak, you can always escape to nearby Lahemaa National Park, where you can wend your way along wood-plank paths through a landscape of bogs or lay back on sandy seashores. Plus, Helsinki is just a couple-hour ferry ride away!
Tartu
Estonia's second city, Tartu is known for being a university town with all the carefree creativity that comes with a sizable student population. Considerably smaller both in population and in size than Tallinn, it has fewer than 100,000 people and can be walked across in just a couple of hours, though there are also e-bikes and buses available as part of the city's public transport initiatives.
Despite not having quite the same magnetic appeal to start-ups and entrepreneurs, it still hosts a small number of modest coworking spaces, including Mobispace, where desks start from 25 euros per day, and sTARTUp HUB, which rents desks from 180 euros a month.
Like Tallinn, Tartu has its own picture-perfect Old Town – which actually isn't that old. In fact, it mostly dates from the late 18th and early 19th century, as the city had to be almost completely rebuilt following a devastating fire. 
Dominated by the baby-pink Town Hall, the main square is bordered by relaxed cafes and contains, at its heart (pun intended), the famous Kissing Students statue, a monument to the city's centuries-old university and the dream-filled intellectuals it continues to attract. The neoclassical buildings of Tartu University itself also lend the Old Town a picturesque air.
Both to the north and south of the Old Town are formerly poor areas that are now undergoing a slow process of gentrification. Ironically, the wooden houses that define Supilinn ('Soup Town') and Karlova, erected because they were cheap to build, are exactly the reason so many people now find the areas so appealing. Certainly, they hold more attraction than the rather grim, utilitarian Soviet blocks of the Annelinn district.
Outside Tartu, you can follow the comically named Onion Route, a path through a series of villages where so-called Old Believers (a branch of Russian Orthodox Christians who refute certain reforms) continue to live in the traditional style, dining on fish and, of course, the local onions. Running along the shores of Lake Peipsi, the area now offers traditional handicraft workshops.
Tartu is undeniably provincial, but that has its own appeal. Surrounded on all sides by nature, with the Emajõgi River flowing through the middle, it's often described as more large town than small city, with just enough creative activities taking place to keep a modest tempo of vibrancy.
Pärnu
Pärnu is Estonia's resort town. Located in the southwest of the country, in a cosy bay that shields it from the chill of Baltic Sea, it is famous for its sandy beaches and mild waters. It's so popular with locals during the hottest months of the year that it's also known as Estonia's summer capital, where people flock not just to bathe but also to enjoy the spas and saunas.
We're not going to lie, facilities in Pärnu are limited. You don't come to Estonia as a digital nomad and live outside Tallinn unless you're seeking a quieter, more isolated style of living. On the other hand, if you love doing water sports such as canoeing, kayaking and water skiing in your spare time, you couldn't wish for a better spot.
Away from the beachfront, Pärnu is littered with pretty wooden houses in an assortment of colourful hues. Further outside of town, there are numerous all-year hiking routes, including in the wetlands of Sooma National Park. Alternatively, you can spend days off work relaxing on Kihnu Island, which is reachable via a short ferry ride from the harbour, or make a longer expedition by boat to Ruhnu island, which lies off the coast of Latvia but is part of Estonia.
Unlike Tallin, which has a rather notorious reputation as a cyclist-unfriendly city, the region around Pärnu is great for exploring on two wheels. While you can rent these from local shops, bear in mind that, like much in Pärnu some places only open for business during high season.
When is the best time of year to visit Estonia?
There's a fairly hefty difference in temperature depending on the time of year you're planning to live in Estonia as a digital nomad. In the summer, average temperatures reach 20.9 degrees Celsius, with the warmest month being July. In winter, the average temperature is -5 degrees Celsius, with the coldest month being February. There is some variation across the country, but between, say, Tallinn and Tartu, it's normally only a couple of degrees.
It's a similar story when it comes to differences in precipitation, as both Tallinn and Tartu experience more rainy days in winter but heavier rain in the summer. Pärnu, however, tends to have better weather all-round.
If you're someone who can't deal with short days, avoid the winters. Due to Estonia's northerly position, sunlight can be as little as six hours during the solstice. On the other hand, in June, days can last almost 19 hours, with sunrise just after 4am and sunset just before 11pm. 
Tourist season generally begins to pick up during May, when the country begins to thaw out of the snowy months (which, incidentally, can include October to April). It's also when the country is at its driest, before things start to get a little rainier. While autumn is beautiful in terms of foliage, it's also when cold and rain combine for the most challenging weather.

Winter
Of course, if you enjoy cross-country skiing and want to see the thinly populated landscapes of Estonia covered in a thick carpet of snow, winter is the ideal time to visit. It's also the only time you can undertake the unique experience of driving across Estonia's ice roads: official, marked roads that traverse the thick winter ice and connect the mainland to islands such as Hiiumaa and Vormsi, replacing the normal ferry routes. 
And that's not the only active activities the nation offers: there are also 'safaris' across frozen lakes, kick sleds, ice skating and snowmobiles. However, it's worth repeating that the days are short, so if you are planning to work from Estonia in the winter, you'd better be someone who doesn't mind curling up in front of a fire with an improving book or dozing in the sauna for long periods at a time.
Spring
Spring, as we've already noted, is the driest season, but it's also the best season for birdwatchers – and Estonia happens to be in a great location if you're something of a twitcher. The region around Pärnu, including Matsalu National Park to the northwest of Pärnu and the aforementioned Sooma National Park, is particularly famous as a migratory rest stop. 
Summer
Music festivals flood the country during the long, languid summer days, from modern rock and pop, to traditional folk, to classical and opera. Jazz enthusiasts head to the small island of Muhu for the Juu Jääb Festival at the beginning of July, while the sleepy town of Viljandi hosts a folk music event at the end of the month. 
If your principal aim as a digital nomad is to absorb local culture, Tallinn's Old Town Days event is an annual celebration of the medieval quarter's historical roots, taking place at the beginning of summer. On the other hand, if gastronomy is your favoured pursuit, Tartu's three-day food and wine festival puts local producers front and centre in the first week of August.
Pärnu, as discussed earlier, is a resort town, so if you want to enjoy sunbathing and swimming, you'll obviously want to come when it's warmest. Having said that, the beaches and surrounding environs make for wonderful walks all year round.
Autumn
Autumn is considered a bit of damp squib when it comes to weather, but for those that don't mind the cold and the rain, it's also when Estonia comes alive with rich orange and brown hues. The expansively wooded nation – an estimated 50% of the country is covered in forest – is really stunning during September and early October, making it the perfect time for nature walks (in waterproof apparel, naturally).

What is the cost of living in Estonia?
Estonia is cheap – hardly surprising, given the low salaries doled out to the local population. Bearing in mind that, as a digital nomad, you won't be tied to the Estonian wage, however, you'll probably find the cost of living very pleasant. In fact, Tallinn was ranked as the 22nd best city for expats in the world by social networking organization InterNations, beating out nearby Stockholm and Copenhagen almost solely on the basis of its affordability.
Rent and utilities
The average monthly rent across the country ranges from 300-500 euros and is most expensive in the capital. In Tallinn, you can expect to spend between about 450 euros for a studio flat somewhere in the suburbs, compared to 600 euros in the city centre. 
Having said that, there are still bargains for the patient hunter, and you can even find an unvarnished but functional two-bedroom apartment for 500 euros in Kadriorg, Tallinn's most exclusive neighbourhood. 
Vanalinn, even though it is conveniently located, tends to be cheaper because it is considered relatively unfashionable. Bear in mind that Tallinn is easy to traverse, so being further away from the city centre doesn't really mean being that far away from the action. 
That's even more true for Tartu and Pärnu, which can really be crossed on foot unless you have a pressing engagement or are in a hurry to get home. In Tartu, outside the city centre could mean as little as 300 euros, rising to about 450 to 500 euros for a one-bed in the heart of things. 
As a resort town, prices in Pärnu naturally fluctuate enormously, but a ballpark figure would be around the 300-euro mark per month.
Airbnb prices for the capital, meanwhile, hover around 40 to 60 euros a night on average for a one-bedroom place. The difference is that for that price in Tallinn, you'll be looking at functional basics, whereas in Tartu and Pärnu, you'll be looking at style and comfort.
Due to the large fluctuation in temperature in Estonia, utilities are likely to set you back anywhere between 100 to 200 euros, though this can be even higher if you've got the heating dialled up during the winter.
Transport
Public transport is joyously cheap, even in Tallinn, where a one-hour ticket cost 1.50 euros, a one-day ticket costs 4.50 euros, a three-day ticket costs 7.50 euros, a five-day ticket costs 9 euros and a month-long ticket costs 30 euros.
As one would expect, it's even more affordable in Tartu, where a one-hour ticket is 0.83 euros, a one-day ticket is 2.11 euros, a 10-day ticket is 7.03 euros and a 30-day ticket is 15.34 euros. 
For resort-centric Pärnu, however, a one-hour ticket costs 2 euros, a day ticket costs 5 euros and a five-day ticket is 15 euros. However, given the size of the place and the ease of walking or cycling, it only really makes sense to purchase transport passes if you're renting way out of town.
Food and drink
If you budget around 250 to 350 euros a month on groceries in Tallinn, you'll be able to enjoy a nice mix of fresh fruit, meats and other staples, plus a few beers thrown in.
While everyday foodstuffs aren't necessarily a lot cheaper at the supermarket than other places in Europe, eating out tends to be very affordable, with inexpensive meals starting at 10 euros and rising to about 50 euros for a nice three-course meal with a glass or two of wine. 
If you plan to hang out in the cozy cafes in which Tallinn abounds, a cup of coffee is usually between 2 to 3 euros.
On average, you can expect to pay less in student-heavy Tartu and off-season Pärnu than you will pay in Tallinn.
Travel and tourism
Inter-city travel within Estonia is extremely convenient and fast. Even if you get tickets last minute, you shouldn't expect to pay more than 12 euros to traverse the country, from Tallinn to Tartu, via either a two-hour train ride or a two-and-a-half-hour bus ride. Getting to Pärnu, meanwhile, is slightly faster and cheaper thanks to the shorter distance.
One of the great benefits of being a digital nomad in Estonia is that you can really see everything the country has to offer on a small budget. Almost nothing is too far away from Tallinn that it will cost you much more than 10 euros to get there. Nearly everything can be done as a day trip – though naturally there are plenty of places you'll want to explore for longer. 
Other popular cities to visit in Estonia include the seaside town of Haapsalu and the forest ensconced Viljandi, as well as free national parks like Lahemaa and Sooma.
If you want to visit the little-explored islands of Saaremma and Hiiumaa, again, budget about 10 to 15 euros for bus and ferry fare. 
Even travelling to other countries in the Baltic states is cheap. Riga, the Latvian capital, is reachable for just 12 euros from Tallinn (less from Pärnu, which has a direct bus route), while Lithuania's main city, Vilnius, way on the other side of Latvia, can be reached for a mere 20 euros. 
And don't forget the Tallinn to Helsinki ferry, which connects Estonia to Finland in just two hours. Prices fluctuate based on demand, and can be as little as 17 euros during quieter periods but as expensive as 60 or even 70 euros in high season.
Depending on your penchant for museums, there's a diverse offering of specialisms, from propaganda to toys. Tallinn's Estonian Open Air Museum, where you can get a feel for what a traditional Estonian village would have been like, complete with regional handicrafts, costs 12 euros for an adult to enter, while Tartu's interactive Science Centre AHHAA costs 17 euros. 
Much of what makes Estonia charming is its medieval streets and pretty old architecture, but if you want to venture inside some of the country's most popular impressive monuments, the 700-year-old Narva Castle entry fee is 15 euros, while Kuressaare Castle, which houses an exhibition on the history of Saaremma island, charges 8 euros.

Why is Estonia a great place for digital nomads to work remotely?
Wi-Fi is free
That's right, you can find free Wi-Fi across Estonia, open and available for all to use. The citizens like to boast that you can even get good 4G coverage right in the depths of the forests. It's not that surprising, when you consider that the country has been an early adopter when it comes to turning everything digital, from banking and paying bills, to transport and voting. 
The country also pioneered the so-called e-Residency: a government-issued digital identity that means entrepreneurs all over the world, no matter where they are resident and operate from, can start an EU-based company by being digitally incorporated in Estonia. 
Cheap rent
It's worth reiterating just how much cheaper rent is in Estonia compared to nearby Scandinavia, let alone Western Europe. While the most affordable one-bedroom flats in, say Germany or Finland average out at around 700 euros, in Estonia, you can expect to pay as little as 400 euros in the capital Tallinn and about 100 euros less elsewhere – or even more if you are really on a budget. 
While it may seem challenging to access the property market initially, check out Rendin, KV.EE and City24 to get you started. It's worth taking time to sniff out the best deal, as the more money you save here the more money you can spend on dining out!
Highest brown bear density in Europe
Estonia has an estimated wild brown bear population of 700, which isn't anywhere near as large as Russia or Romania, but they're all packed into a much smaller area. Digital nomads searching for nature scenes can head to Alutaguse National Park, in the northeast of the country, during the late spring and summer period. 
This area is home to more than half of the brown bears in Estonia, meaning that you've got a good chance of catching a glimpse of these enormous but shy creatures. Nature tours in the park also take in raccoon dogs, elk, otters, roe deer and red foxes – and, in fact, Estonia generally is a haven for wildlife, which can hide out in its wooded landscape, dotted with bogs and lakes, that make it so attractive for mammals and birds alike. 
Digital Nomad Estonia Conclusion
For digital nomads looking for shorter getaways, Estonia is unreservedly a great place to visit. From the enchanting cobblestoned medieval streets of Tallinn to the neoclassical monuments of Tartu, there's plenty of local architectural flavour to drink in. Outside the cities, the grand vistas of forested countryside are a nature lover's paradise, dotted with villages that still preserve traditional Estonian culture and crafts.
Unlike some other European countries, the authorities couldn't make digital nomads feel more welcome, as the nation continues to actively seek to attract remote workers, digitally savvy employees and tech entrepreneurs, promoting its fast internet (a third of the country already has access to 5G), reasonably priced coworking spaces and mercifully uncomplicated visa procedures.
Those who like to get a feel for a country over several months should take careful note of the seasons. While the summer seems to be teeming with cultural, musical and gastronomic festivals, that's at least partly because the days in Estonia can be incredibly short from November to January. As daylight dips around the winter solstice to just six hours a day, you will, by necessity, be spending a great deal of time indoors.
Estonia is a country with one busy city and several smaller cities that realistically feel more like towns – at least for anyone coming from places where metropolises generally exceed a couple hundred thousand people. Tallinn is far and away the largest city with an estimated 440,000 people, while most places struggle to break the 50,000 barrier. 
What that means for digital nomads is lots of wide, open spaces and relying on yourself and nature for entertainment. For some, that may seem like a frightening prospect but for others, the peace and quiet will be a dream come true.