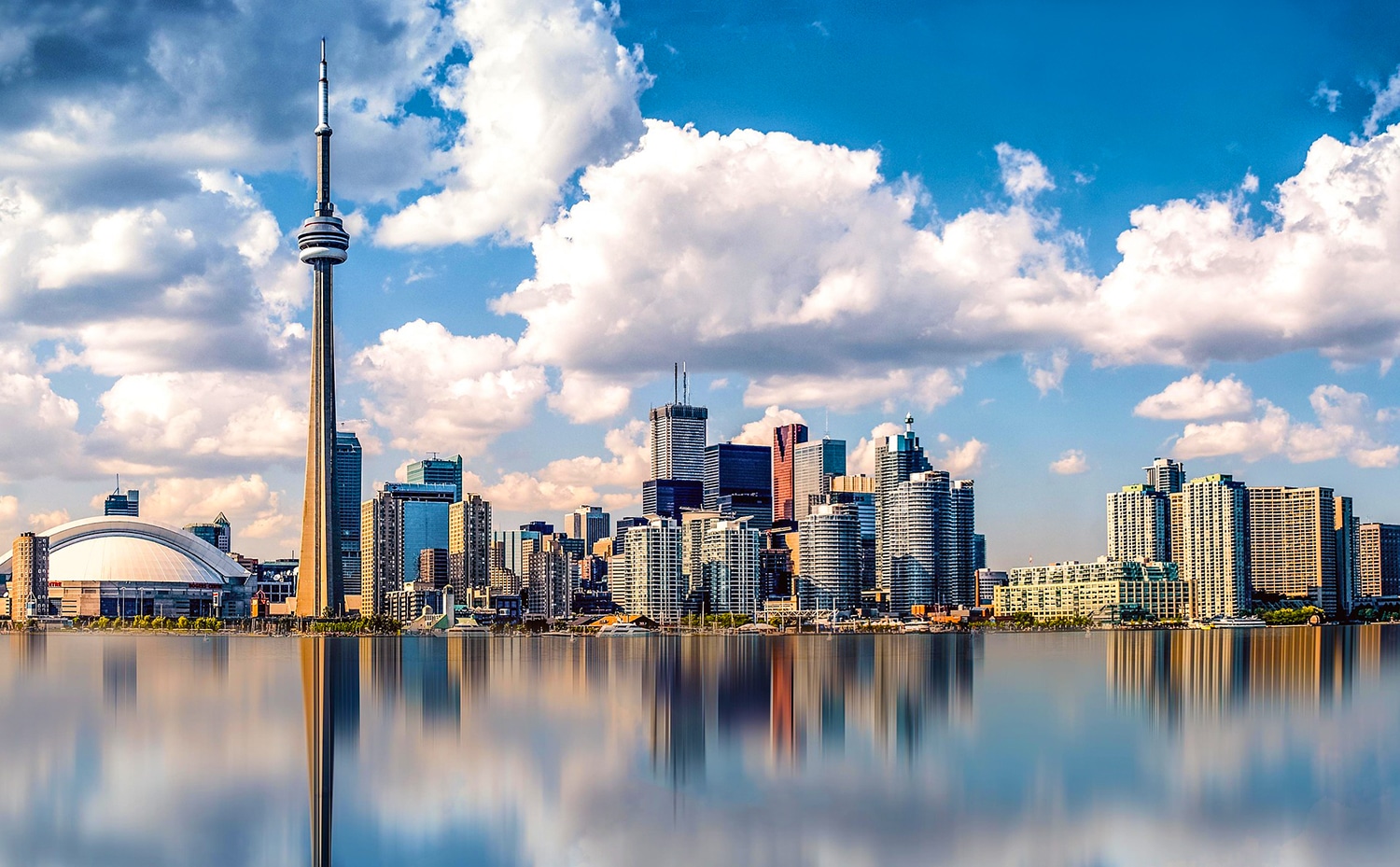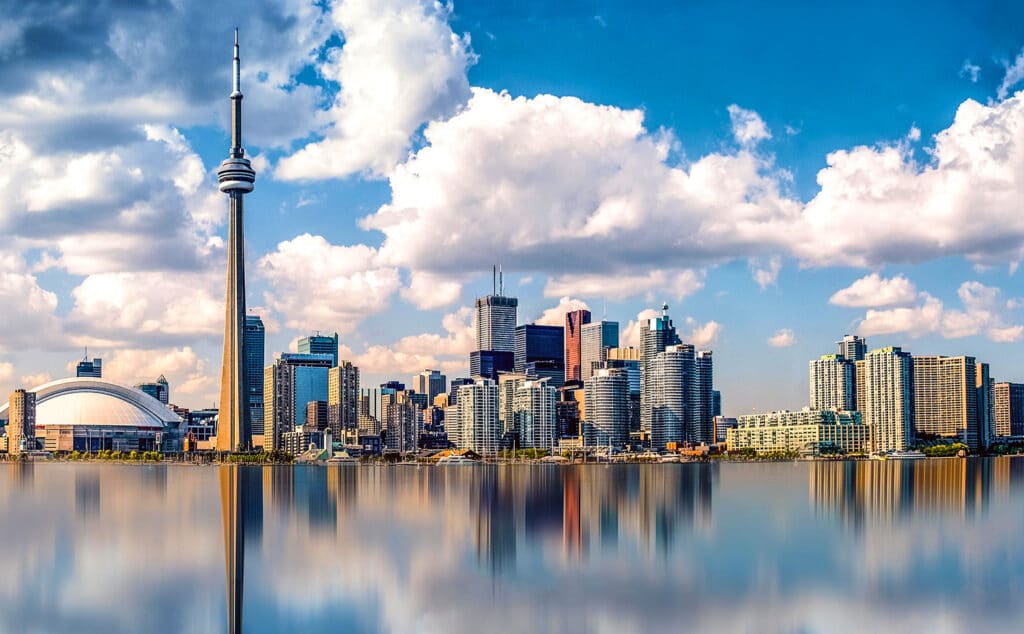 A Digital Nomad Guide to Toronto
Toronto, Canada's largest city with a population slightly under three million, combines what we love about Canada with the perks of an international metropolis. In Toronto you will discover vibrant multicultural communities and access to global businesses and all the networking perks they bring for digital nomads. 
For this reason, despite it being one of the more expensive places to live in Canada, the digital nomad community in Toronto continues to grow. However, it can take you a while to get your bearings. 
The unique layout of Toronto, spread east to west, can make you feel far away yet so close all at the same time. There are streets, like King and Queen, that run parallel to each other from one side of Toronto to the other. Within this boundary is a bounty of neighbourhoods with starkly different personalities – from the Beaches community in the east end with cute cafés, lush parks and of course, white-sand beaches to Liberty Village in the west with high-rises, pumping pubs and restaurants. 
While you may feel you are a distance from downtown, each district and neighbourhood is its own slice of Toronto and a piece in the puzzle that makes the city what it is. This is great news for those who may not be able to afford to live in the very heart of Toronto, but it can make choosing that perfect neighbourhood an interesting challenge.
Toronto as a whole can be an expensive place to live, but some of the most exciting aspects of its community won't blow a hole in your pocket. From an abundance of thrift stores near Kensington to delicious cheap eats in The Annex, there is plenty for you to see, do and taste.
Nomad Friendly
Value for Money
Internet
Workspace
English
Food
Safety
Health
Transportation
Friendly
Quality of Living
Living in Toronto Overview
| | |
| --- | --- |
|  Meal, Inexpensive Restaurant | $15.70 |
| Domestic Beer (1 pint draught) | $6.08 |
| Cappuccino (regular) | $3.79 |
| Loaf of Fresh White Bread (1 lb) | $2.12 |
| Water (1.5 liter bottle) | $1.49 |
| One-way Ticket (Local Transport) | $2.55 |
| Basic Utilities (Monthly) | $122.73  |
| Internet | $57.59 |
| Fitness Club (Monthly) | $48.72 |
| Apartment (1 bedroom) in City Centre | $1,590.60 |
Currency: Indonesian rupiah (Rp)
[erw_exchange_rates_widget lg="en" tz="0″ fm="IDR" to="EUR,USD,GBP,AUD,JPY,RUB" st="primary" cd="" am="15000″][/erw_exchange_rates_widget]
ATMs
Max Withdrawal: Rp 3,000,000
Withdrawal Fee: Rp 30,000 – Rp 50,000
Use of Credit Cards: Mostly Cash
Digital Nomad Personal Experience in Toronto
Life in Toronto brings along with it a variety of challenges, perks, joy and frustration. It is a love-hate relationship that can sometimes change on the daily. Having lived through the peaks and troughs that come through the warm summer months and the gloomy winters that follow, keeping busy is the best way to enjoy your time living here.
Rent in the city fluctuates dramatically and can push you out into the far neighbourhoods. However, that doesn't have to be a problem, since each little corner of the city has something to offer. From the second you leave downtown and cross the Don River or head a few blocks west, the skyscrapers disappear. Small and large community parks pop up, worldwide cuisine is well represented and apartments are switched with multi-story town homes. 
Toronto feels incredibly busy which may have a lot to do with the city's notorious traffic. The atmosphere is high paced, whether it is getting the last spot on the rush-hour train or simply getting out of the bitter temperature.  
From the time the sun doesn't get so high in the sky and the first Canada Goose jackets make their appearance, the vibe of the city shifts. You may well get to your workspace in the dark and leave after the sun has gone down. Of course, if you grew up in a similar environment, it may not pose a worry. However, for someone who had barely seen a lick of snow in their life, it was a major hurdle to jump and something all prospective digital nomads should keep in the back of their mind.
The sigh of relief is palpable and heard around the city when the warmth begins to reappear. The outdoor spaces are flooded with joyous faces, who may miss the beauty of winter but welcome the thought of time under the sun with friends.
Work in Toronto
Toronto – similar to major cities like New York, London and Paris – is full of coffee shops and makeshift workspaces. Internet in the city is the best in the country and stacks up with international standards. So seeking out good Wi-Fi will not be a difficult task, and you will have enough cafés to provide a different view for every day of the week.
If you find your local café to be a bit too noisy, you can head to one of Toronto's 100 public libraries. These are spread evenly throughout the city, some with their own desktop computers for you to use. This is a free system provided you are able to show you live in Toronto.
Alternatively, you can use the largest academic library in Canada at the University of Toronto. There are desks to make use of, Wi-Fi for connectivity, and if you are at the main campus, you will be in the centre of Toronto. 
Best Places to Work in Toronto
When you are looking for a digital nomad community, you should check out any local coworking spaces. Co-work spaces are popping up around Toronto in great numbers. Many are found in old warehouses and factories and give a point of difference to the standard café workday. Here are some of the best Co-work options in Toronto:
WorkHaus
Workhaus offers a diverse number of offices placed around Toronto, so you may find one close to your new residence. They each have their own aesthetic, so there is an office for you if you are at the beginning of your digital nomad journey or further along.
The vast majority are located within the downtown business district, great for networking with local clients and being close to public transport. A street car stop will just be a few steps out the door.
Memberships are available on a month-to-month basis for shared spaces and dedicated desks. Workhaus is also the best option in the city for teams in need of professional office spaces.
East Room, Riverside
Right across the Don River that splits Riverside and Downtown Toronto is the East Room. A combination of shared and private workspaces, the East Room is a membership-based co-work hub that aims to promote life 'beyond the four walls' as much as it does within. You can choose between open spaces that are great for networking or dedicated desks and private offices.
Beyond business, the East Room curates experiences for its guests including music, design and development programs. Memberships start at $245 a month. 
Croissant
Croissant provides a point of difference on this list and may quickly become your go-to the longer you spend in Toronto. Croissant is essentially the AirBnb of co-work spaces. It allows you to look on their app and book a last-minute desk.
Rather than book by the day or the month, Croissant gives you access to a certain number of hours depending on your membership. The basic membership allows for 10 hours of use at any available space in Toronto for $32 a month. 
Croissant is the perfect option for those that enjoy working in public spaces, but like having the option of a workspace in their back pocket.
WeWork
You can't find many major cities in this day and age that haven't been touched by the WeWork phenomena. Toronto is no different, and there are a total of ten workspaces to choose from. 
WeWork buildings are located downtown and in the north and west parts of the city. Either way, they are all close to public transport. WeWork offers refreshing workspaces, baristas, mother's rooms and are even dog friendly. 
However, you will be paying a high price to work in this environment with hot desks starting at $370/month and dedicated workspaces costing around $530/month
Best Places to Live in Toronto
Best Neighbourhoods
Toronto is broken up into many different sections with their own personalities. As much as Toronto's public transport can be a daily frustration, it is still the best way to get around the city. Therefore, proximity to trains, buses and streetcars should be kept in the front of your mind.
Annex
As a digital nomad, being close to co-work spaces will allow you to a shorter daily commute and more time to enjoy the city. Many of the co-work buildings in Toronto are placed on the west side of downtown, if not within downtown itself. This makes living in The Annex one of the best places to be.
The Annex enjoys great access to public transport as it has the trifecta of buses, trains and streetcars. You will find yourself only a few stops on the train from the heart of downtown, sports stadiums and entertainment. Meanwhile it has some amazing local restaurants, youthful pubs and bars, along with cute community parks right on your doorstep. 
Danforth
Danforth is known as Toronto's Greektown, which you will notice right away thanks to the huge welcome sign at each end. The bustling neighbourhood is a mix of young and old with amazing views towards the downtown skyline. 
Danforth has everything you need from local markets, well-known chains and, of course, a main street packed with international cuisines. Danforth is also a major train and bus intersection which makes it easier to get to the different parts of Toronto.
Community parks and fields are numerous, so finding a way to stay active outside of work won't be an issue. The nearby Evergreen Brickworks, a former brick factory that has been reborn into a showcase for green design, is the place to be for farmers' markets or going for a run. Just like the Annex, Danforth is a good neighbourhood to be situated without having to pay exorbitant rent. 
Queen West
Queen West is a combination of a number of small neighbourhoods and a mix of all the good things in Toronto's western end. From shopping to art studios and live music venues, your evenings and weekends can easily fill up with activities and events. 
Liberty Village
Liberty Village is a part of the Queen West district. The former industrial area has been recreated into a popular and self-sustaining neighbourhood of high-rise buildings, pubs, and grocery stores. Another perk is having the home of Toronto's CFL and MLS teams just minutes away. 
Beaches
From one end of the city to the other, we have the Beaches. Toronto's east end can feel a world away from downtown and sometimes the half-hour streetcar commute can put people off. However, away from the skyscrapers is a leafy neighbourhood of town homes, apartments, a quieter way of life – it's the place to be in summer.
Find an Apartment in Toronto
Now that you have a better idea of some of Toronto's best neighbourhoods, let's take a look at finding your new home in the city. Toronto has a competitive housing market that can make the going tough for those new to town. Apartments downtown can replace tenants very quickly, while trendy new buildings can be snapped up months before the opening date.
Getting some short-term accommodation locked away through platforms like AirBnb will be a lifesaver in the long run. Toronto can, at times, be a difficult place to make friends, especially outside of work, spending time on the ground and picking the right area for you will go a long way to helping you fall in love with Toronto.
This can mean jumping on the Queen Street streetcar and enjoying a trip from one end to the other. Take note of how the city quickly changes from houses to small apartments to skyscrapers and back the other way as you leave downtown. Initially, you may think that you must have an apartment in the Entertainment District and have all the city action right on your doorstep. However, the neighbourhoods that flank downtown, to the east, north and west come with cheaper rent, unique local hangouts and subcultures along with higher WalkScores.
According to Rentals.Ca (https://rentals.ca/national-rent-report) and Numbeo (https://www.numbeo.com/cost-of-living/in/Toronto), with data compiled by Toronto residents, the average cost of a standard one bed apartment in the city centre is around $1550 a month. Keep in mind that these buildings will usually come with gyms and pools included.
As you move out towards The Annex, Queens West, Danforth and The Beaches, high-rise apartments are replaced by multi-story homes. For those on a lower budget, renting a room in one of these homes will not only save you money but open up a world of new social opportunities. From either end of the city, you are also rarely more than 15 minutes away via train and a half hour by streetcar. 
One of the most common ways for newcomers to find an apartment or a room to rent is on Kijiji (https://www.kijiji.ca/b-apartments-condos/city-of-toronto/c37l1700273). Kijiji is the equivalent of Craigslist and is the best free resource for anyone looking for a place to live in Toronto. You can compare prices, locations and get in touch with potential landlords for a visit. Especially for a website like Kijiji, it is important to see your prospective home with your own eyes.
Joining the Facebook group Toronto Home Zone (https://www.facebook.com/groups/bunzhomezone/) is another great way to get in contact with future roommates and landlords. This group has over 120,000 members and received over 30 new posts per day. Once inside the group you will be able to chat directly with potential roommates and get a better understanding of the pros and cons of each home.
You can cast an even wider net during your search by enlisting the help of a real estate agent. If you have something specific in mind or are excited to put down some solid roots, agents will do all the dirty work and set you up in a home that's right for you.
Cheap Places to Stay in Toronto
Living downtown on the water's edge sounds like a dream, but it's unlikely to be on the cards for those coming to town on a budget. While Toronto is by no means a cheap city to live in overall, those arriving from other major international cities won't be in for a rude shock.
The beautiful aspect of Toronto is how mixed the city is with the 'suburbs'. Mere blocks away from the city centre are regular homes with backyards, albeit small ones. If you are crafty or experience a bit of luck, you may be able to find a room to rent for relatively cheap within certain close neighbourhoods. These include The Annex, the wonderful Cabbagetown, and Kensington. Rent costs fluctuate but with patience you will find rooms available from around $750 per month.
Moving further out of the city into genuine suburbs like Scarborough, North York and Etobicoke is another way to further decrease your monthly rent. These homes may come with desks of their own, however they will definitely bring a longer commute to co-workspaces in the city. 
A positive for those looking to save money on accommodation in Toronto is the lack of security deposit. Tenants will only have to pay first and last month's rent. No more forking out additional money and worrying if you'll even get it back.
Toronto Visa
With over 50 countries in Canada's visa waiver program, it is quite easy for some to travel to Canada as a tourist where you can stay for up to 90 days. Of course, while you can't work on this visa (online work remains a grey area and is technically breaking the rules), spending time in Toronto before you officially move is a smart idea. Before you arrive in Canada, you will have to complete an eTA, which is an online form that confirms your eligibility. Don't worry, it is super convenient and stress-free. 
There are a variety of temporary work visas and permanent residence visas that will allow you to migrate and settle in Toronto. Which one you choose will be based on your personal circumstances such as family connections along with qualifications and age.
For those under the age of 30 (35 for some countries), the International Experience Canada (IEC) is the most common choice and allows you to stay and work in Canada for up to two years. This visa can be renewed, and you may have the option of transferring to a permanent residency visa.
Temporary work visas and permanent residency visas are generally granted based on qualifications. You can apply to companies directly who can then sponsor your visa. Alternatively, you can join a pool where if your skills meet a certain threshold you will be chosen to receive a residency visa.
Culture and Food in Toronto
Toronto is a microcosm of Canada, a diverse and multi-cultural nation. Toronto is the fourth largest city in North America and has an amazing number of residents born overseas. The city has been recognized by the United Nations as the most multicultural urban hub in the entire world. 
Over 140 languages are spoken within the Greater Toronto Area (GTA) with more than 30% of Toronto speaking a language other than English or French. This has helped rebuild Toronto's once unstylish reputation and allowed it to grow into a cosmopolitan city where arts, nightlife and cuisine are found in abundance. 
The waterfront, which was once a bit too far away to bother with, has seen wonderful development through skyscrapers, businesses and restaurants. Smaller neighbourhoods, once downtrodden, have also undergone a revitalization. Old warehouse and industrial buildings have made way for 'indie' coffee shops, thrift stores, chic graffiti alleyways and fantastic cuisine. 
What's left for you to see today is a great mix of afternoon fun, fine dining, rugged pubs and luxury cocktail bars which makes finishing up your work day early a constant temptation. 
World-renowned festivals and entertainment come to Toronto each year. The International Film Festival may be the biggest of the lot, and it becomes a major topic of conversation throughout its 10 day visit. In the warmer months, music festivals like NXNE and Canadian Music Week take place. While in the winter, Torontonians stay warm ice-skating and sipping on hot cocoa during one of the many Christmas-themed events. 
With so many people coming to Toronto from all around the world, it was only a matter of time before their favourite foods became a staple in their new home. The city is eclectic and with so many influential cuisines settling in Toronto, infusion of flavour and style occurs on a daily basis.  
Walking home from work or taking the streetcar through the city with the window down will invite an abundance of smells, especially as you go through Koreatown and Chinatown. Chinatown is located alongside Kengsington, which comes with its own street of cheap eats from the famous Rasta-Pasta, (Jamaican jerk-chicken and pasta) to Seven Lives Tacos and Nguyen Huong's banh mi.
Koreatown runs along Bloor Street West, near the Annex, and cooks up all the usual favourites, including hot pots and Korean BBQ. However, you will also find restaurants where Korean and American cuisine is delightfully mixed.
It can be a pretty daunting exercise trying to wrap your head around exactly what Toronto cuisine is. The city opens the door to not only delicious meals on the daily but also the ability to sample cuisine from all around the world.
Toronto Nightlife
Nightlife in Toronto is the most lively in the country outside of Montreal, but like anything in Canada, it ebbs and flows with the seasons. There is, however, enough happening in the winter months for those who brave the cold. Yet, witnessing flooded patios and courtyards in the early hours of August is a thing of beauty. You will find every kind of nightlife here in Toronto, from lazy pubs showing sport to pumping nightclubs with seriously good DJs.
Finding a pub, dive bar or nightclub near your home isn't a hard task, although the main nightclubs tend to be in the west downtown area. Keep in mind that entrance to any of these establishments will require a driver's license or passport ID to gain entrance. As for the legal drinking age in Toronto, you'll need to be at least 19 years of age to order yourself a pint of Molson. 
Pubs and dive bars are the most common type of place to grab a drink with friends whether that be for a quick beverage before heading to a Raptors' game or a brief stop for one on your Saturday evening bar crawl. There are a number of great neighbourhoods for a laidback night out, while the Entertainment District is one of the places to be when you want to take things up a notch.
Ossington Avenue, on the west side of Toronto's centre, is a lively strip of bars and pubs that has made it one of the best places to grab a drink and an evening snack. Places to hit up include Sweaty Betty's and Dakota Tavern. To visit multiple pubs without walking far, it's hard not to go past Liberty Village with its establishments numbering in the dozens. Some of the best include the Local, a rowdy pub that packs out before and after soccer games and the Liberty Commons. A pint of beer will run you around $7-$9 here which is pretty common throughout Toronto.
For more colour and excitement, you'll have to make your way closer to downtown. Church Wellesley Village is the home of Toronto's LGBTQ+ community and offers some of the best nightlife in the city, from cocktail bars to dance parties and drag shows. Cover charges are common and can range from $8 to over $20.
The majority of pubs and clubs in Toronto shut at 2:00 in the morning. This is a major drawback for a lot of people and remains a contentious issue particularly when compared to cities like New York. The subway closes down at 1.30 which means if you are catching public transport home, your evening won't extend much past midnight. 
However, if you are on certain streetcar routes, you will be able to catch a ride home at any hour of the morning. However, keep in mind that the number of services available diminishes at 2:00, so knowing the time that your streetcar leaves will help save you from an annoying end to a fun night.
Things to do in Toronto
Spend the Day at Trinity Bellwoods Park

There are many great parks in Toronto, including the massive Hyde Park and Christie Pits (known for its summer movie nights and winter snow sledding), but Trinity Bellwoods is a go-to for many as soon as the sun comes out. With over 36-acres of green grass and shady trees, there is plenty of room to spread out and enjoy your BYO picnic. Tennis and softball are common sights in the summer, while in the winter bring your skates and enjoy the ice rink.

Catch a game

A great way to learn more about what makes Toronto tick is to watch one of its many professional teams play. Toronto loves its sport and is home to the iconic ice-hockey team, the Maple Leafs. Tickets to these matches are pricey, but it is a quintessential Toronto experience. Other popular teams include the Toronto Raptors in the NBA and Blue Jays who play in the MLB. Basketball and baseball are played so regularly that you are likely to see the teams' colours on a daily basis. For those on a budget baseball tickets can be dirt cheap, and under $20. Make sure to grab yourself a hotdog from the many carts around the stadium before you wander in.

Hike the Scarborough Bluffs

If you are headed to the Beaches for a day of sand and sun, drive a little further to the Scarborough Bluffs. On the edge of Lake Ontario, you will find a nine-mile (14.5km) stretch of cliff that stands tall against the crashing waves. The natural beauty of the Bluffs is also evident in the 11 different parks that provide a beautiful backdrop. Hiking is the go-to activity here, although you can drive pretty close to the Bluffs to shorten your walk. Once you have reached the cliff's edge you can look out over Lake Ontario or head down to the sandy beach at Bluffer's Park.

Summit the CN Tower

If you ever get lost in Toronto, you can always look up and see the CN Tower. It is the most memorable building in the city's beautiful skyline and a great way to reset your bearings. The CN Tower stands at over 1800ft tall, (550m) and if you thought looking up at the tower was impressive, imagine the views from the top? You can head inside and make your way to the highest point for an unforgettable view of Toronto and Lake Ontario. If you're lucky, you may even catch a glimpse of the Blue Jays baseball game playing below. Prices are based on activities, with the premier CN Tower EdgeWalk, costing $160.

Explore Casa Loma

Casa Loma features a rich history within its walls. First opened in 1914, it became a museum 23 years later and quickly rose to become one of the best attractions in Toronto. Built in style of Gothic revival, Casa Loma immediately stands out as soon as it comes into view. For this reason, it has become a common location for filming and was even featured in X-Men. You can explore the castle and its many secret passageways before heading out to the stables underground pool and gardens. Come back at Halloween when things go to another level. Admission into the museum is $27 for adults.

Visit the St Lawrence Market

St Lawrence is an historic market that is still serving some of the best produce in Toronto after 200 years. It is easy to spend a whole afternoon walking past each stall and trying to pick between the best pastries, fruit and cheese. Aside from the delicious treats on sale, the building itself is one to be admired. The architecture is beautiful and has stood the test of time. There are events held during the year that include cooking classes where you shop the market for your ingredients.

Ferry to the Toronto Islands

If you have made your way down to the waterfront, you would have caught a glimpse of land just off in the distance. What you saw were the Toronto Islands, a 820-acre paradise without any traffic. 600 people call the islands their home, but it's a popular place to visit on a sunny day or a weekend. There are multiple beaches to relax on, sprawling green parks with concession stands and lots of hiking and biking paths to enjoy. Getting there is easy thanks to the ferry that runs regular throughout the day. Adult tickets cost $7.

Wander the Art Gallery of Toronto

In a city known for its art and culture, you can't live here without visiting at least one gallery. So why not go to the best one? Come and see over 90,000 items in the Art Gallery of Toronto's encyclopaedic collection. These rare artefacts can date back as far as 2000 years ago. A highlight for visitors is the gallery's amazing collection of Indigenous art and iconic work by the likes of Vincent Van Gogh, Rembrandt and Claude Monet. Tickets cost $21 for those 25 years and older. For everyone else, you can get in for free.

Have an Evening in the Distillery District

If you are looking for a place to go that has it all, then head downtown to the Distillery District. What began as place to create whiskey, the old warehouses have been transformed into a place to eat, shop and have a drink. There are breweries to enjoy, multiple high-end retail stores and plenty of restaurants to sample. The Distillery District also holds festivals and events, the biggest one being the exciting Toronto Christmas Market.

Step into the Hockey Hall of Fame

If you want to truly know what it is to be a Torontonian, then you must visit the Hockey Hall of Fame. Here you can see the Stanley Cup Trophy, last won by the Maple Leafs in 1967. However, it's best not to remind your new friends in Toronto. You can learn all about hockey, its history and famous players which just might help you understand a few more conversations.  Admission for adults comes to $16.50.
Best Time to Visit Toronto
The best time to visit Toronto is in the spring and early summer. From May to July, the atmosphere around the city is exciting. The beaches pack out and the outdoor dining spaces are alight with activity. Temperatures rise to a balmy 20C in May and up to an average of 27C in July. You can comfortably leave the house in shorts and t-shirts, although born and raised Torontonians won't have to wait until May to do so. 
Although the impending winter is around the corner, the warmer temperatures stick around until early October. The beginning of fall in Toronto is a magical time of year, as the leaves change colours in the park, the evenings are the perfect combination of warm yet refreshing and the excitement slowly builds for the first snowfall of the winter.
Come late October the temperatures quickly drop and the goosedown jackets come out for the first time since April. From December until the end of February, the daily high will be above freezing only a handful of times. With average temperatures landing exactly on 0C.
The winter in Toronto is a long one for most. In January there are only 10 hours of daylight, yet on average less than three hours of sun makes its way through the clouds. Staying active and social is the best way to beat the winter blues.
Toronto for Families
Depending on where you choose to base yourself, Toronto can be a very family-friendly city. Outside of the busy inner city, traffic diminishes, and life isn't nearly as noisy which makes family life much more manageable. 
The majority of residential areas that flank the downtown district are family-oriented and come with easy access to Toronto's core. So you can be close to the city itself without giving up the family perks of suburban living and maintain a healthy work/life balance.
Like anything in life, you get what you pay for. The neighbourhoods with a strong family-friendly reputation tend to have a higher price tag. Understanding what you can afford, including the cost of your commute, will help paint a better picture of what life will be like in Toronto. 
Depending on where you decide to live, having a car to get around will come in handy, especially if you want to get out of the Greater Toronto Area and explore the rest of Ontario. Having said that, the public transport system is an easy way for a family to get around during the day. Buses to school is the prevalent mode of transport for students, however it is common for teenage students to use the subway. 
Toronto offers events in abundance, most of which are child friendly. These include fun seasonal activities like ice-skating, Halloween and Christmas events along with drive-in theatres, zoos and concerts in the summer. 
Public and private education in Toronto is at a high standard and families can enrol into public schools for free if you arrive in Toronto with a work permit. For public schools, preference will be given to students who live within the school's neighbourhood, so choosing an area with a good school is a priority for many new arrivals.
Living in Toronto
Toronto Transportation
The Toronto Transit Commission runs the public system within the Greater Toronto Area. Public transport in Toronto has gained a reputation for being frustrating, but overall, it is an effective and efficient way of making your journey around town. Other than using the city's bike lanes to manoeuvre through traffic, jumping on a streetcar or train will save yourself the hassle of seeking out parking once you have made your way downtown. 
If you are within walking distance of a streetcar or subway stop, you could easily spend your time in Toronto simply taking public transport. However, a lot of Toronto doesn't have direct access to these types of transport and residents need to jump on a connecting bus in order to link up. When you are in a rush or living through the dead of winter, adding another cog to your work commute isn't ideal. In this case, it can be handy to have your own car to get to downtown or another neighbourhood. 
The subway system itself is basic compared to other major international cities. Comparing the subway map of Toronto to the colourful web that connects New York or London will show you just how simple the Toronto subway system is. As we mentioned, there are many dark spots on the subway transit map. So catching a bus to a station, taking a subway ride and then jumping on another bus isn't exactly a rare occurrence for Torontonians. 
However, if your start and end point is within the train limits, it is the easiest way to get around. Essentially, there are two major routes. One line from east to west (a second line going east to west is expected to open in 2022) and another that creates a 'V' between the north and south. Depending on how close you are the to city centre, your ride can take around 20 minutes. 
For spontaneous travellers, a train ticket will cost you $2.65 one way. Rather than buying a ticket each time, consider picking up a Presto card. You can set the card up to reload automatically so it is ready to go whenever you need it. If you are looking at using the subway consistently, the monthly pass option will be the way to go. This will cost you $128 and comes with unlimited use of trains, streetcars and buses. 
Speaking of streetcars, these are a great way to journey around Toronto while also doing a bit of sightseeing. The streetcar system in Toronto is extensive and helps to fill the gaps in places the trains fail to reach. The slow pace of the cars gives you time to enjoy the sights and pick out a new neighbourhood to explore while also being the simplest option for short journeys from A to B. 
Toronto is home to a great number of Ubers. Ride sharing is another popular way of getting around the city and it's a more affordable option than taxis. If you're out late, consider jumping in an Uber for the trip home.
Fitness and Health
Staying fit and healthy in Toronto is an easy thing to do, especially if you are able adaptable by nature. There are literally hundreds of parks to enjoy when the sun is out. With loads of nature trails and running paths, it won't be difficult to create a weekly run to get your legs moving.
If you are new to Toronto, one of the best ways to kill two birds with one stone is to sign up for Jam Sports (https://toronto.jamsports.com/keepplaying/?gclid=CjwKCAjwwqaGBhBKEiwAMk-FtNMAuPRpOKsIdhapHDSmEfBpnLnUvA-dBcdAbUYGbgsCVCwEKFZcGRoC2yYQAvD_BwE). You can join a local team, learn a new sport, stay fit and make friends all in one evening after work. Don't worry about the snow either as some fields in the winter are covered by semi-permanent domes that will keep you dry and warm while the games continue on. These domes are also a great place to run when the paths outside are icy.
Signing up for a local gym is a great way to keep fit at any time of the year. There is no shortage of places to get the arms pumping and the legs moving with plenty of classic gyms that represent a solid budget option along with more expensive new-era studios.
Planet Fitness is the go-to for many who want to save a dollar or two. Memberships start at $8 a month and include access to your local gym. Pay double and you will be able to use any Planet Fitness gym around Toronto.
Toronto People
Toronto locals are welcoming, which is no surprise seeing that it is one of the most multicultural cities in the world. Over 140 languages are spoken in Toronto and half of the city's population was born overseas. 
As much as Toronto mingles together, there are still a lot of notable international communities to connect with if you wish to retain some of your roots. Greektown and Koreatown are some of the more well-known international communities featuring a fusion of local and overseas culture. Then there is Chinatown – it may surprise you, but there are a total of six Chinatowns in the Greater Toronto Area. Other notable communities include Little Italy, Portugal, Jamaica and India.
If you are coming from another western city, you can expect Toronto to be similar in a lot of ways. Nevertheless, any city can fast become overwhelming for newcomers or those that have arrived from a quieter, rural area. As much as locals are welcoming, Toronto can just as easily be a place where you feel alone in a crowd of 100, especially as you work to create new friendships.
If you arrive in the city by yourself, networking at co-work spaces or joining social sports teams are a sure fire way to immerse yourself in the community and quickly develop a social circle. Other ways include joining Meetup and Facebook groups. As much as Torontonians are a friendly bunch, they can be guilty of being 'cliquey', so don't be afraid to make the first move, and you will soon be feeling right at home.
As we have mentioned often, life in Toronto changes greatly in-line with the seasons. When the city awakes from its winter slumber, it comes to life with a spring and summer full of festivals, events and sport. Socially it is easy to not only find things to do, but have opportunities to connect with those around you. However, these opportunities can quickly fade as the city slows down again. 
Dealing with the bitter cold and lack of daylight can make living in Toronto during the winter an acquired taste. Even those who have battled their way through many can find it hard to put a smile on their face as they wait in negative temperatures for the streetcar to arrive. On the weekends, you may find yourself being quite available yet a lot of people will prefer to remain indoors. If you have a strong social circle, this won't be much of an issue. However, for those who don't, the lack of social opportunities can make winter in Toronto difficult.
Toronto Insurance and Medical Care
Healthcare in Canada is of high quality, and for residents and citizens it is mostly free with some extras such as prescription drugs coming at a lower cost than a lot of countries around the world.
Canada has a universal healthcare system that residents and citizens can use. Depending on the visa you arrive on, you will be able to apply for a health insurance card on the day you land. Once you have sent off this application, however, you will have to wait for three months before you are eligible for free healthcare. It is advisable that you seek out private health insurance as you wait. 
For digital nomads who are in Canada on a tourist visa, unfortunately you won't be able to tap into the country's free healthcare system. However, access to private health insurance is easy to find and is the preferred cover for temporary visitors to Canada. This insurance can quickly become expensive, so it is best to do as much research as possible to see what is right for you.
The majority of prescription drugs can be found in one of Toronto's many pharmacies. However, if you have a regular prescription, it might be worth bringing what you can before seeking it out in your new city.
Make sure you are fully covered by reading our full Digital Nomad Travel Insurance guide.
Jobs in Toronto
If you hold an IEC visa or a work permit, you are eligible to seek employment in Canada. Keep in mind that some visas will only allow for you to work with your current company. If you have an open work permit you will find plenty of opportunities in Toronto.
Toronto is the heart if Canada's economy, with many of the country's major industries choosing to base themselves within the GTA. This, of course, attracts many skilled workers from around Canada and overseas, so the labour market in Toronto is very competitive. Finding a job can be just as much about who you know. 
If you want to supplement your online work with some extra income, the hospitality industry is the way to go. The dining and nightlife scene in Toronto is thriving (outside of COVID) and presents an easy entrance into the local workforce. 
Of course, co-work spaces offer the perfect networking opportunity for digital nomads who want to grow their online business or seek out local employment. Meeting and mingling with those who have lived in Toronto for a long time is a dependable way to remain financially solid during your time in the city.
Check out our Digital Nomads Jobs Postings to find the best jobs available for Digital Nomads.
Nomad Friendly
Value for Money
Internet
Workspace
English
Food
Safety
Health
Transportation
Friendly
Quality of Living
Cost of Living Toronto
Living in Toronto on a budget isn't a walk in the park, but it isn't exorbitantly expensive either. Being smart with where you live and how you get around will afford you a much better lifestyle and more opportunities to enjoy this great city. 
A nice high-rise apartment in downtown Toronto can easily cost you around $1800 per month. A few blocks west or east of the downtown core will have townhouses renting for $800 a month, although you will likely have roommates of your own. On the outskirts of Toronto in places like Scarborough or Etobicoke, rent can drop even further to $600.
Of course, living further away from downtown will increase your dependence on public transport. However, you are likely to still save money overall. A monthly pass is $128 and will get your wherever you want to go. 
Enjoying Toronto's amazing food scene, and its abundance of pubs and bars will increase your cost of living. Your social life will include a lot of hanging out over a drink or a meal, so having enough spending money to enjoy yourself will help you feel at home.
You could happily live off $1500 a month in Toronto including rent if you are smart about how you spend your money.