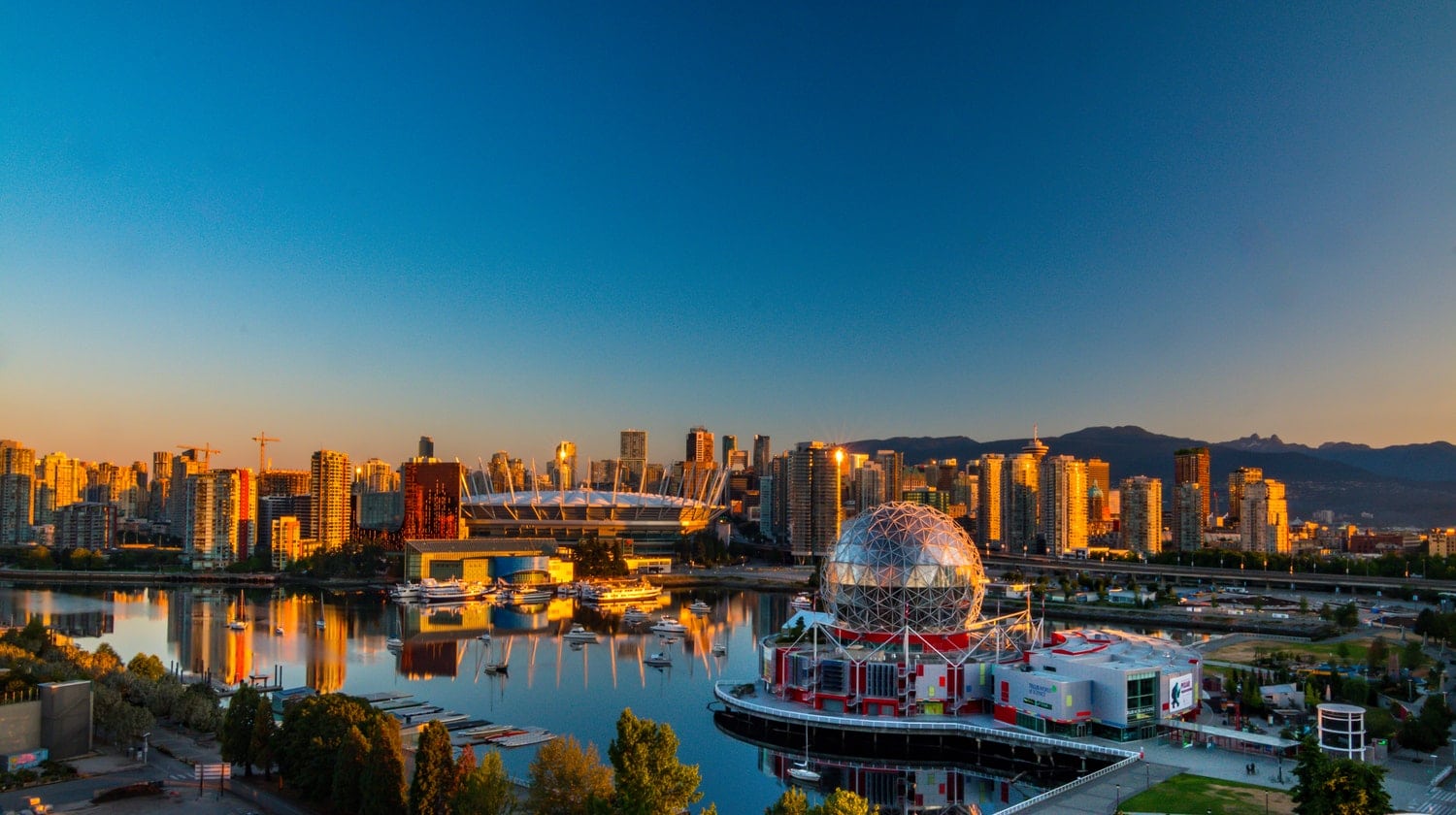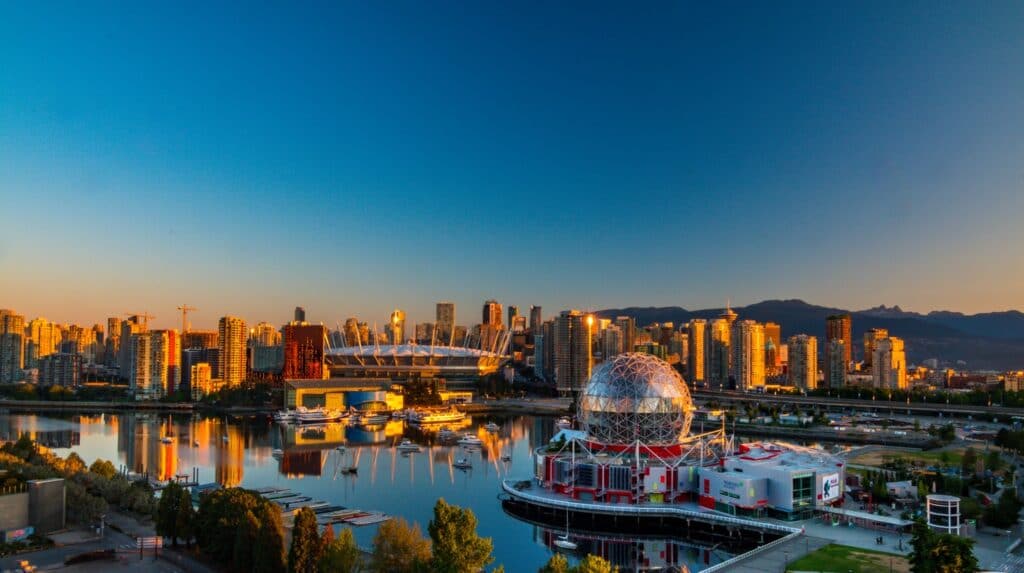 A Digital Nomad Guide to Vancouver
Vancouver, located in southwestern British Columbia, is one of Canada's most ethnically and culturally diverse cities. It is home to more than 2.4 million people, making it the third largest metropolitan area in the country behind Toronto and Montreal.
It has consistently been named as one of the top worldwide cities for livability and quality of life and it was among the top ten of the world's most well-living cities for five consecutive years.
Known for its friendly people, its cultural and culinary diversity, its artistic offering and its extensive parks, it also offers a unique combination of sea, beach, mountains and modern city.
Here Digital Nomads can go to a nudist beach every day, become a professional mountain biker, do water sports, eat until you can't move (but still smiling), develop as a finance professional and have some of the best city adventures in one of the most liberal cities in the world.
No matter who you are and from what walk of life you come, Vancouver welcomes everyone with open arms.
Nomad Friendly
Value for Money
Internet
Workspace
English
Food
Safety
Health
Transportation
Friendly
Quality of Living
Living in Vancouver Overview
| | |
| --- | --- |
|  Meal, Inexpensive Restaurant | $15.71 |
| Domestic Beer (1 pint draught) | $5.50 |
| Cappuccino (regular) | $3.82 |
| Loaf of Fresh White Bread (1 lb) | $2.44 |
| Water (1.5 liter bottle) | $1.95 |
| One-way Ticket (Local Transport) | $2.36 |
| Basic Utilities (Monthly) | $74.09 |
| Internet | $67.83 |
| Fitness Club (Monthly) | $45.46 |
| Apartment (1 bedroom) in City Centre | $1,634.25 |
Currency: Indonesian rupiah (Rp)
[erw_exchange_rates_widget lg="en" tz="0″ fm="IDR" to="EUR,USD,GBP,AUD,JPY,RUB" st="primary" cd="" am="15000″][/erw_exchange_rates_widget]
ATMs
Max Withdrawal: Rp 3,000,000
Withdrawal Fee: Rp 30,000 – Rp 50,000
Use of Credit Cards: Mostly Cash
Digital Nomad Personal Experience in
Vancouver
Vancouver surprised me with its cultural diversity, the open mind of its inhabitants about most subjects and the incredible amount of green spaces it has. Even in the center you will find community gardens that provide a corner of fresh air.
The mixture of mountains with buildings and green spaces at first impacted me in a positive way. Over time I got used to having parks nearby, the beach and at the same time the financial district with its tall concrete buildings.
Its remarkable different seasons can change the activities you partake in throughout the year turning your life into an endless number of varied activities that will not give you time to get bored.
As soon as I arrived I felt welcome and at home thanks to the friendly treatment of its inhabitants, who were often not Canadians. I learned a lot about countries like China, Japan, Australia, Chile and Uruguay, among other corners of the world. Thanks to the cultural interaction of the city, I broadened my panorama and planned new trips to places that previously didn't interest me.
When I landed I noticed a distinct smell throughout Vancouver that, over time, I realized it was weed. It was legalized in 2018 but there has not been a change in the liberal attitude towards smoking. There are shops everywhere, and smoking marijuana is often more accepted than cigarettes. I confess that I had to get used to it because I don't smoke, but it also made me understand and accept a different way of seeing life.
Supermarkets have self-check-out desks which what I was pleasantly surprised. People mark their food appropriately and no one tries to steal merchandise. It is an organized and trustworthy society.
I know many cities in the world. However, there are few that I would return to and Vancouver is one of them.
Work in Vancouver
Best Places to Work in Vancouver
Canada is a country that follows innovative things prematurely and sets the trend. That's why it doesn't surprise me that the number of Coworking spaces in Vancouver has doubled over the last year.
L'atelier Van
Between the best ones you will find L'atelier Vancouver, located in the Gastown area. It operates as a shared office for artists, designers, content creators, marketers and other professionals. A Day Pass costs around 28 USD, 40 hours will cost you 119 USD, monthly unlimited access to hot desk 200 USD and a full time 24-hour dedicated desk around 355 USD. 
The Network Hub
The Network Hub is located inside a heritage building in the Downtown and it has people from big corporates like Facebook, Google and Dell as their clients. Pricing plans start from 4 USD per hour. Monthly passes start from 200 USD.
Hive Vancouver, BC
Hive Vancouver, BC, is a community of over 150 people with a cafe-like studio culture. They provide a kitchen area, front reception, meeting rooms and bike storage between other services. Hot desk options start from 39 USD for 5 hours per month and an interior dedicated desk costs 394 USD.
VanCubers
VanCubers, based in the main downtown area, is another great coworking space. Owned by a software company, they offer office space at affordable prices. A hot desk is 20 USD per day, a monthly plan for 111 USD, a dedicated desk around 315 USD and a private office space will cost you 993 USD per month for 3 to 8 people.
WeWork Burrard Station
The coworking space chain most well-known around the world also has a space in Vancouver: WeWork Burrard Station. It provides 5 floors with common areas, conference rooms and printing services between other things. Prices start at 355 USD per month for a dedicated desk. If you think it is expensive, check the services and the place first. 
You will easily find a coworking space in any of Vancouver neighborhoods. Some of them are so cheap and include so many services that are a better option than working in a coffee shop. Check them out!
Best Places to Live in Vancouver
Best Neighbourhoods
Vancouver is a large city, with large green areas and high quality of life that make it one of the best places to live. Each area has its price range and its differences, so it is convenient to visit them and evaluate not only the proximity but also if the personality of the place combines well with ours.
I don't advise you getting accommodation from your country because you could be the victim of a scam. Sometimes the accommodation doesn't exist or the reference photos may be false. Once in Vancouver, you can look for a place to live.
Downtown
Downtown is one of the most popular and expensive areas with apartments between 1.300 USD and 3.600 USD; and rooms for 900 / 2.500 USD. Here you will find luxury boutiques, museums, theaters and restaurants. During the night it is filled with music, bars and discos.
West End
West End is a nice residential neighborhood just minutes from downtown and with a wide variety of clothing stores, cafes, bars and restaurants, mostly from the LGBT community. It is also close to Sunset Beach and Stanley Park. West End is one of the best neighborhoods in Vancouver for young professionals and it has a wide variety of homes, including heritage homes, condos, and apartments. Rentals range from 1.400 to 2.900 USD.
If you want to be close to downtown, another option is the old Commercial Drive community. It is a commercial area with a wide range of bars and restaurants. The cost of an apartment is around 1.500 USD and a room around 900 USD.
Fairview
Another option is Fairview. Most of the main roads in downtown go through the neighborhood. Here you will find many of the most famous restaurants and numerous shops.
The Asian community is concentrated in the residential neighborhood of Richmond. If you like oriental food, this is your place. As it isn't central, prices drop considerably. To go downtown you can take the Skytrain and in 30 minutes you will be there.
Strathcona
Strathcona, with a rich historical and architectural heritage and quick and easy transportation to downtown, is reasonably priced. It is one of the oldest neighborhoods in the city and one of the most culturally diverse. It is also clean and has all the businesses you need for everyday life.
South Vancouver
South Vancouver is perfect for those looking for a quiet and familiar place. It is a family-friendly neighborhood with a lively community atmosphere and affordable rental housing.
Kitsilano
Kitsilano is also home to many young families and students. It has a bohemian, beachy and laid-back vibe. It is located along the southern shore of English Bay and has two of Vancouver's most famous beaches: Kits Beach and Jericho Beach. In addition, you can find here many lively restaurants and bars that provide a great nightlife. The rental prices are similar to those in the West End although they are reduced slightly to the west or south below West Broadway Street (9th Ave).
West Point Gray
West Point Gray is known for its Point Gray Village shopping district. It is located on the west side of the city. It is one of the oldest neighborhoods in Vancouver and is close to two beaches: Spanish Banks and Jericho Beach.
Burnaby
Burnaby is another quiet, residential suburb. Here are a wide variety of parks and outdoor spaces.
Yaletown
The old warehouses of Yaletown were converted into cozy restaurants with outdoor terraces that produce the best nightlife. The neighborhood is located in the southeastern area of ​​the center but houses are expensive because it is one of the most modern neighborhoods of the city.
Coal Habour
Coal Habour, also with high prices, is close to downtown and has views of the marina and mountains. It is one of the best places to live due to its ideal location and easy access to Stanley Park.
If you want affordable prices you have to move a bit away from Vancouver towards the periphery. For example, Burnaby is 45 minutes away using the Skytrain. Crossed from east to west by two train lines, the city borders Vancouver and has everything that a large metropolis can offer. It has large companies, hospitals, supermarkets and excellent parks to enjoy with the kids on weekends. Plus, rental costs start at 1.200 USD.
Find an Apartment in Vancouver
Accommodation is one of the most difficult points to manage in Vancouver as it is expensive and scarce. I recommend renting an Airbnb for at least the first two weeks. Finding an apartment in less than two weeks is almost impossible and reserving it online without seeing it beforehand can lead you to be a victim of one of the many scams in the city. Your Airbnb home should be close to a Skytrain to be able to move within Vancouver without wasting too much time.
The two most used sites for searches are Craiglist and Kijiji which have mostly Chinese properties. They both run ads constantly, so check multiple times a day.
It is convenient to know in advance the areas you prefer. If you want to live downtown, for example, the most affordable areas would be Chinatown, Main Street and the West End. To find a house or apartment in West End, it is convenient to walk around the area and call the different agencies that manage each block to ask about the available apartments and the price. Older blocks are cheaper and can be rented from 1.000 per month onwards.
The great disadvantage of renting in Vancouver is that the apartments are usually empty and you have to furnish them. Also, the minimum rent is one year.
Other recommended websites are Caprent, Gottarent, Viewit.ca, Aptrentals.net and uvrentsline.  Additionally, you can check the classifieds. It may not sound very millennial to you, but hundreds of landlords run ads in the newspapers. At the end of the day, you could find the ideal place to live in Vancouver.
Cheap Places to Stay in Vancouver
If you don't want to spend so much money and you find yourself alone, rooms in shared houses or in basements are the best option you can find in Vancouver. Keep in mind that it is much easier to find a room for one person than for two. Most houses don't want couples and if they accept they may charge you double price. It is convenient to prepare a small presentation message explaining the number of people, what is your situation in the country and other details that you consider pertinent to send to the accommodations that interest you. This is so you can know in advance if they would accept you and the price.
Another very popular type of accommodation in Vancouver is the Mannor: residences where the room is rented (sometimes with a private bathroom and sometimes shared) and where the kitchen and other common areas are shared. In general, they are usually in very bad condition but not always.
Beware of ads that sound too good to be true. Sometimes you find ads for downtown rooms in buildings with a pool and gym at a relatively reasonable price. They are usually part of a mafia in which the owner has one or two bedroom apartments and subdivides them with cardboard walls or curtains in such a way that many people can live in it. Once you visit one of these apartments you realize that the price is excessive for the conditions (800 USD per month). They usually have contracts that force you to stay a whole year or pay the rest of the rent to complete the year. It is always advisable to check the department before signing a contract.
Finally, the websites to find a room or a bedroom are the same as those for renting an apartment: Craiglist, Kijiji and Roomster.
Vancouver Visa
The type of visa you must apply for will change depending on the purpose of your visit and how long you want to stay in the country, your nationality, your academic training and your level of English.
The student visa costs 150 CAD and allows you to combine study with a job if your studies are for a university diploma or higher. You can work part-time (20 hours a week) during the school period or full-time during the holidays. If you have a partner, he or she may request a work permit, which will allow him/her to work while you study, as long as you are enrolled in a public college or university.
Another option is the Working Holiday visa that is used to study and work in Canada for one year. For this visa you must be between 18 and 35 years old and have a passport from the countries that participate in the International Experience Canada (IEC) program. You can request it directly through the Government of Canada, which awards them by lottery.
If you are looking to visit Canada as a tourist or do short-term studies, what you need is a tourist visa.
The following travelers need an Electronic Travel Authorization (eTA) to board their flight to Canada: Andorra, Australia, Austria, Bahamas, Barbados, Belgium, British citizen, British National (Overseas), British overseas citizen (re-admissible to the United Kingdom ), Anguilla, Bermuda, British Virgin Islands, Cayman Islands, Falkland Islands (Malvinas), Gibraltar, Montserrat, Pitcairn Island, Saint Helena, Turks and Caicos Islands, Brunei Darussalam, Bulgaria, Chile, Croatia, Cyprus, Czech Republic, Denmark, Estonia, Finland, France, Germany, Greece, Hong Kong, Hungary, Iceland, Ireland, Israel, Italy, Japan, Republic of Korea, Latvia, Liechtenstein, Lithuania, Luxembourg, Malta, Mexico, Monaco, Netherlands, New Zealand, Norway, Papua New Guinea, Poland, Portugal, Romania (electronic passport holders only), Samoa, San Marino, Singapore, Slovakia, Slovenia, Solomon Islands, Spain, Sweden, Switzerland, Taiwan (it must have an ordinary passport issued by the Ministry of Foreign Affairs in Taiwan that includes the personal identification number), United Arab Emirates, United States, lawful permanent resident of Vatican City State. However, these travelers do not need an eTA if entering by land or sea.
The following travelers need to obtain a tourist visa by any method of travel (plane, car, bus, train, or cruise ship): Afghanistan, Albania, Algeria, Angola, Antigua and Barbuda, Argentina, Armenia, Azerbaijan, Bahrain, Bangladesh, Belarus, Belize, Benin, Bhutan, Bolivia, Bosnia-Herzegovina, Botswana, Brazil (note: some Brazilian citizens may be eligible for an eTA if they meet certain requirements), Burkina Faso, Burma (Myanmar), Burundi, Cambodia, Cameroon, Cape Verde, Chad, China, Colombia, Comoros, Democratic Republic of Congo, Republic of Congo, Costa Rica, Cuba, Djibouti, Dominica, Dominican Republic, East Timor, Ecuador, Egypt, El Salvador, Equatorial Guinea, Eritrea, Ethiopia, Fiji , Gabon, Gambia, Georgia, Ghana, Grenada, Guatemala, Guinea, Guinea-Bissau, Guyana, Haiti, Honduras, India, Indonesia, Iran, Iraq, Israel, Ivory Coast, Jamaica, Jordan, Kazakhstan, Kenya, Kiribati, Korea, Kosovo, Kuwait, Kyrgyzstan, Laos, Lebanon, Lesotho, Liberia, Libya, Macao, Macedonia, Madagascar, Malawi, Malaysia, Maldives Islands, Mali, Marshall Islands, Mauritania, Mauritius, Micronesia, Moldova, Mongolia, Montenegro, Morocco, Mozambique, Namibia, Nauru, Nepal, Nicaragua, Niger, Nigeria, Oman, Pakistan, Palau, Palestinian Authority , Panama, Paraguay, Peru, Philippines, Qatar, Romania (holder of a non-electronic passport, such as a temporary passport), Russia, Rwanda, Sao Tomé e Principe, Saudi Arabia, Senegal, Serbia, Seychelles, Sierra Leone, Somalia , South Africa, South Sudan, Sri Lanka, St. Kitts and Nevis, St. Lucia, St. Vincent and the Grenadines (St. Vincent), Sudan, Surinam, Swaziland, Syria, Taiwan must have a passports other than ordinary passports issued by the Ministry of Foreign Affairs in Taiwan that include their personal identification number, Tajikistan, Tanzania, Thailand, Togo, Tonga, Trinidad and Tobago, Tunisia, Turkey, Turkmenistan, Tuvalu, Uganda, Ukraine, Uruguay, Uzbekistan, Vanuatu, Venezuela, Vietnam, Yemen, Zambia, Zimbabwe.
Culture and Food in Vancouver
Vancouver has a long Pacific coastline that makes it an emporium of marine resources, beautiful scenery, and world-class cuisine. The city offers everything from street food to gourmet cuisine and everything in between. There is a wide range of menus to suit every type of budget, with some restaurants boasting tasty 5 CAD main courses.
I recommend you try a smoked meat sandwich, pate chinois (mashed potatoes, ground meat, corn, peppers and onions), artic char (fish similar to salmon that is usually cooked roasted, sautéed or grilled), butter tart, trempettes (hot cakes with maple syrup), maple syrup and maple syrup glazed salmon (my favorite).
In addition to the typical foods of the country, Vancouver also offers culinary mixes derived from its cultural diversity. With 65% of the population coming from Asian countries, it is a real gem in terms of Chinese or Japanese food. Sushi fanatics always enjoy a taste of Vancouver life, as there are sushi places on almost every block, especially around Robson Street. 
Noriki Tamura, the creator of Japadog foodtrucks, offers fusions between hot dog and Japanese cuisine. If you like sweet and sour food, I recommend Kurobuta Terimayo which consists of pork sausage, teriyaki and nori seaweed.
The Blue Water (1095 Hamilton Street, Yaletown) offers a taste of the texture of a jellyfish, the incredibly tasty kumi oyster, salmon and popular spot prawn shrimp.
For lovers of gourmet cuisine, I recommend Hawksworth Restaurant, inside the Rosewood Hotel Georgia (801 W Georgia St). In its glamorous and relaxed atmosphere, you can sample traditional British Columbia contemporary cuisine. Their tasting menu includes wild salmon garnished with nori seaweed and spices or an incredible wagyu beef.
Typical Vancouver food is blessed with succulent seafood, sweet maple syrup, and cultural diversity. Bon appetit!
Vancouver Nightlife
Nightlife in Vancouver is typically pretty quiet as the city has very strict licensing and health & safety laws. Regulations against standing in bars and capacity limitations severely hinder the social life of the city. Most of the craziest parties are held in private homes and drinking on the beach or a BBQ with friends are the most common options.
Most Vancouver nightlife and bars are concentrated into five nightlife districts, each with their own unique vibe, including downtown Vancouver's Granville Street, Gastown, and Yaletown.
The Entertainment District on Granville street mainly attracts teenagers and people in their early twenties. The nightlife seeps into Gastown which has a good mix of cafés, bars and trendy clubs. Yaletown offers a more trendy, pretentious option with many expensive restaurants and discos.
Between the best alternatives you will find Opus Bar (147 E Pender St, 7:00 am to 2:00 am), an in-house bar at the Opus Hotel with a dance-worthy ambiance, thanks to the city's best DJs and amazing gentry.
The Fortune Sound Club (147 E Pender St, 10:00 pm to 1:00 am) is known for its epic sound system. It is also famous for the awe-striking concerts performed in different genres of music.
The Cobalt (917 Main St), founded in 1911 as a cabaret, nowadays offers live concerts and different artistic events. Its calendar is worth checking.
If you're looking for dance clubs, then you should consider visiting Celebrities Nightclub (1022 Davie St, 10:00 pm to 3:00 am). Its excellent music sets the whole vibe. It used to be a gay club but now is trendy for straight tourists and locals as well.
Fivesixty (560 Seymour St) is well known for its music and international DJs. It is all about electronic music, psychedelic lighting and dancing all night long. Be prepare for a unique night and two days of sleeping after it.
Things to do in Vancouver
Vancouver offers mountains, sea, beaches, art, museums, gastronomy and a cosmopolitan and calm society. Here you will always have something to do and the endless possibilities of Vancouver are suitable for all tastes.
Gastown & Steam Clock

To tour it, you could start in Gastown, the oldest part of Vancouver with classic architecture and wide, tree-lined sidewalks. There you will find the Steam Clock (1977), a curious clock of Victorian design that makes a steam cloud every 30 minutes. It was originally manufactured to cover a street steam grill.

Canada Place

I also recommend visiting the Canada Place building, one of the most peculiar buildings in Vancouver with its roof in the shape of five ship sails. It is a nautical terminal from where cruises to Alaska depart.

Stanley Park

If you keep walking west, you will find Stanley Park, the largest urban park in Canada. It has two lakes, replicas of original totem poles carved by the natives of the region, about 200 species of native fauna, and trails for cycling or walking. You can rent a bike in the same neighborhood for 5 CAD per hour.

Queen Elizabeth Park

Another green bend is the Queen Elizabeth Park, full of gardens that are a work of art. It also has views from the heights and the Bloedel Conservatory, a glass dome that recreates a tropical landscape with more than 120 free exotic birds and 500 plants and trees.

Grandville Island

One of the most charming neighborhoods is Grandville Island, formerly an industrial area converted into a leisure space. Its food market is a perfect place to spend the day among a wide variety of food stalls.

Richmond Night Market

Another popular market is the Richmond Night Market, one of the city's Asian neighborhoods. Open only from May to October, it is worth the wait. Here, they say, you can eat the best sushi outside of Japan.

Kitsilano Beach & English Bay

During the hot months, one of the best places to relax is Kitsilano Beach. The water is so calm that it looks like a pool of salt water. In front you have the chain of buildings with the green mountains behind. Another beach is English Bay in the city center. Here is the Inukshuk monument, symbol of Canadian Inuit, and the Celebration of Light is held annually.

Chinatown

Chinatown will welcome you with the famous Millennium Gate and its Chinese Garden, created by Chinese landscapers in 1985. You will think you have changed continents.

Science World

If you are a lover of history and science, the Science World will enchant you. It is an interactive science museum in a spherical building that lights up at night. I also recommend the Museum of Anthropology, which has a large collection of historical objects from Canada and other countries and continents, and the Vancouver Art Gallery, one of the greatest exponents of modern art in the country.

Yaletown & Vancouver Lookout

The Yaletown neighborhood is ideal for a night out, in its old converted industrial warehouses where restaurants, bars with lively outdoor terraces and trendy boutiques now reside. In the LGTB area you can take your Instagrammed photo with the colors of the Rainbow Crosswalks. And if you want a panoramic photo of the city from 168 meters high, go up to the Vancouver Lookout. This viewpoint is located on a skyscraper similar to a UFO from where you can admire the city and the port.

Grouse Grind Hike

If you like nature and trekking, you can do the 2.8 kilometers of the Grouse Grind Hike trail that connects North Vancouver to the top of Grouse Mountain. The mountain is home to a popular sky station and a haven for wildlife. You can also go up on the chairlift.

Capilano Bridge Park

Another excursion, if you do not suffer from vertigo, is the Capilano Bridge Park with a suspension bridge more than 130 meters long and 70 meters from the Capilano River. The Lynn Park Canyon also has a suspension bridge and more than 250 hectares of land full of lush vegetation. It is a good free option for hiking.
Best Time to Visit Vancouver
Vancouver enjoys a privileged location, with coastline and mountains, which are key aspects to understand its type of temperate climate.
Summers are short, comfortable and partly cloudy and winters are long, very cold, wet and mostly cloudy. During the course of the year, the temperature generally ranges from 2 ° C to 23 ° C and rarely drops below -4 ° C or rises above 26 ° C.
Summer runs from June to mid-September. Warm, sunny days are the most common, with temperatures between 20 ° C and 26 ° C.
Autumn, from September to November, has a diverse and rainy climate. In mid and late November, it usually rains almost every day. And from mid-November to the end of February, during winter, the days are cool and humid with lots of drizzle. Temperatures in Vancouver range from 6 ° C to 9 ° C.
It only comes to snow from mid-December to mid-January. Usually, the snow melts quickly from the heat of the city.
From March to the end of April the days are sunnier with temperatures between 10 ° C to 18 ° C. The cherry blossoms appear throughout the city, making this month a true natural spectacle.
Vancouver for Families
If you move with your family, you may want a quiet area, not as expensive as downtown but that provides all the services you need. You will find all this in Greater Vancouver, which is also connected by extremely efficient Vancouver's public transport. It is primarily responsible for connecting those cities to each other and providing comfort to the families who live there.
All buses and trains are prepared to transport bicycles and baby carriages. That's why Great Vancouver's favorite cities for families are Burnaby, Coquitlam (30 minutes by Westcoast Express train), Surrey (50 minutes by train), Richmond (26 minutes by subway) and New Westminster.
Regardless of the region you choose to live in, what is not lacking in Greater Vancouver are low-cost cultural spaces, extensive green areas, leisure areas and parks equipped with games and multi-sports areas.
If you enroll in a community center you will have access to recreational, social and cultural activities. They usually have a gym, pool, arts and crafts and dance classes.
You can also take advantage of the free activities offered in the libraries. The kids can learn more about Canadian culture through play, reading, art activities, music, and recreation. They also offer conversation classes to improve your English and make new friends.
The Strong Start program, offered by some elementary schools at no cost, is intended for parents of children ages zero to five. It offers different learning opportunities based on games, reading, music and physical activities as well as showing parents how they can improve their children's development. In Vancouver there are 19 StrongStart Centers operating in elementary schools during the class period.
Living in Vancouver
Vancouver Transportation
There main forms of transport in Vancouver are the Skytrain (rapid transit trains), the bus network, commuter rail (West Coast Express) and sea ferry (SeaBus) between North Vancouver and Vancouver. As much as everyone complains about them, they are reliable, punctual and clean 90% of the time. 
The Compass Card allows passengers to pre-load money onto their cards. It can be purchased at a vending machine, transit station or one of the many drugstores and convenience stores. Tickets are valid for 90 minutes, and can be used across buses, SkyTrain, and SeaBus. This means that for the same fare you can start a journey on one method of transport and complete your journey on a second service.
For SkyTrain and SeaBus, the metropolitan area is divided into three zones. The SeaBus travels between downtown Vancouver and North Vancouver. Your fare will depend on how many zones you travel through on your journey. Monthly passes are also available for unlimited travel on SkyTrain, SeaBus, and buses. The cost 98, 131 and 177 CAD, depending on how many zones are required. You can find more information in translink.ca and nb.translink.ca.
There are also many car sharing options like Evo, Car2Go and Modo. Traffic and parking are concerns for every driver, especially if you're travelling in the busy downtown core. These car-share programs are convenient for one-way trips, and offer a lot of parking options.
If you like cycling, you will love the city and probably travel faster in downtown. Drivers are cognizant and tolerant of cyclists, plus it's cheap and good for you.
Fitness and Health
Vancouver cracked the top five healthiest cities in the world, according to a report from TravelSupermarket.com. From health food shops and vegan option restaurants to green spaces, fitness studios, gyms and sunlight hours, the city offers a wide variety of options in each of its neighborhoods.
The emphasis on being the perfect fit healthy picture and the proximity to both the beach and the mountains, mean that a lot of social life revolves around skiing in winter and swimming in summer. Maybe that is one of its reasons. 
You will easily find full-service fitness centers offering all kinds of fitness classes, top of the line gym equipment, air-conditioned, personal training, childcare available and a wide range of membership options.
It also has one of the lowest obesity rates in North America and very few people smoke tobacco. Recently enforced bylaws now make it illegal to smoke in bars, restaurants, and most parks. Although, marihuana is legalized and you will associate its smell with the city.
Additionally, Vancouver is very cycle-friendly with a network of dedicated bike lanes. By law, cyclists must wear a helmet and have a bell on their bicycle. Be sure to lock up your bike as bicycle theft is common. If you don't have one, bike-share program Mobi is a good option.
Vancouver People
Vancouver is one of the most ethnically diverse cities in Canada. People of English, Scottish, Irish and German origins were historically the largest ethnic groups. Over the last 30 years, however, immigration has dramatically increased and almost 30% of the city's inhabitants are of Asian backgrounds. 
About 50% of the city of Vancouver's residents and 44% of Metropolitan Vancouver's residents don't speak English as their first language. Here is no real sense of belonging and therefore everybody mostly just gets along. Here you can find small communities from different parts of the world and feel at home while expanding your panorama.
British Columbia was the second Canadian province (after Ontario) to legalize same-sex marriage. Therefore, the city has a large gay community and hosts one of the country's largest annual gay pride parades. If you are from the LGTB community, you will feel welcome here.
Vancouver's people are mostly friendly and polite. Although Vancouverites are rather reserved and difficult to become good friends with. It takes time but I am pretty sure you will find the way to get to their hearts. 
Vancouver Insurance and Medical Care
Canada is consistently ranked as one of the countries with the best healthcare system in the world due to its care and quality. However, it has free public health care only for citizens and permanent residents and only for medically necessary treatments.
Therefore, if you are an expat without permanent resident status, you should make sure that you are covered by some type of international health insurance; otherwise, the costs of medical services can be extremely high. For example, a non-resident can pay up to 5 3.750 USD per day of hospitalization.
Even if you are a resident, most of the medications required for treatment require payment. If the treatment is not considered medically necessary, it will not be covered by the public system. A large proportion of Canadians have health or employment plans that partially or fully cover the costs of medicines necessary for treatment.
Expats looking into making Canada their permanent home, can apply for a medicare card as soon as they register as residents. The card will take on average 3 months to be issued. In the meantime, you should supplement with private healthcare.
There is also limited coverage on things like mental and oral health, some forms of therapy, assistive devices, and sex reassignment surgery.
Another con of the health system is the waiting times to see a doctor. Compared to other developed countries, Canada has the longest average wait time. Hire a private insurance and be prepared to spend a lot of time in waiting rooms.
Make sure you are fully covered by reading our full Digital Nomad Travel Insurance guide.
Jobs in Vancouver
To work in Canada, the first thing you need to have is a work permit and a social insurance number (SIN). In Vancouver it could to be really hard to find a job before you arrive. Ones you are there, you will need to Canadianize your CV and be prepared to write some cover letters.
To get you started on your hunt for a job in Vancouver, check out out LinkedIn, Workopolis, Monster, Eluta, Indeed, Wowjobs, recruitment agencies like Goldbeck and Robert Half. You can also check Craigslist, Working.com, Human Resources and Skills Development Canada job bank, BC Government jobs, Federal Government jobs and BCJobs.
If your idea is to find a temporary job, you will find fast. If you are looking for a job in hostelry, catering or shops, it is best to take a walk through the center and leave your CV in each place you see with a sign saying they are looking for staff.
Also, there are many temporary work agencies in Vancouver. For example, Nasco focuses on events, conventions, concerts, and shows. You can register online. Then you must present the CV in the interview. The job offer system is by text message. If you are interested in the offer, you answer by message and they immediately confirm if you have been selected. Another company of this type is Destination One, which mainly offers work in warehouses. You can also look at Miles Employment Group, Angus One and UBC Staff Finders.
If you want to work 7 days a week with morning, afternoon and night shifts in Vancouver you could do it. Many Canadians do not value these types of jobs, so if you are responsible, you could end up as a supervisor or group leader. And that means more money!
Check out our in-depth Digital Nomads Jobs Postings to find the best jobs available for Digital Nomads.
Nomad Friendly
Value for Money
Internet
Workspace
English
Food
Safety
Health
Transportation
Friendly
Quality of Living
Cost of Living Vancouver
While it is never a good idea to make sweeping generalizations about a city, especially when it comes to the cost of living, it is fair to say that Vancouver is one of the more expensive Canadian cities to call home. In terms of housing, the average cost to rent a one-bedroom apartment in Vancouver is around 1.500 USD without including any expenses, and rarely goes down 1.300 USD. Basic utilities will cost you about 70 USD, adding internet costs an additional 70 USD on average per month.
Phone plans are notoriously expensive in Canada. An unlimited talk-and-text cellphone plan with 5 GB of data costs an average of 85 USD. And those that needs to go to work by public transportation, will expend at least 73 USD (the monthly cost of the Translink for one zone). 
According to Numbeo, a website that compares costs of living in global cities, Vancouver's residents spend an average of 167 USD on groceries per person per month. I would calculate 300 USD if you like to eat expensive fruits, cereals and some meat. A dinner for two at a mid-range restaurant is 50 USD and 80 USD if you add some drinks. 
There are many ways to keep fit for free but the city also offers plenty of options of fitness classes for around 60 USD per month.
Besides the costs, Vancouver is truly a great place to live. I hope not excessively expensive for your pocket.