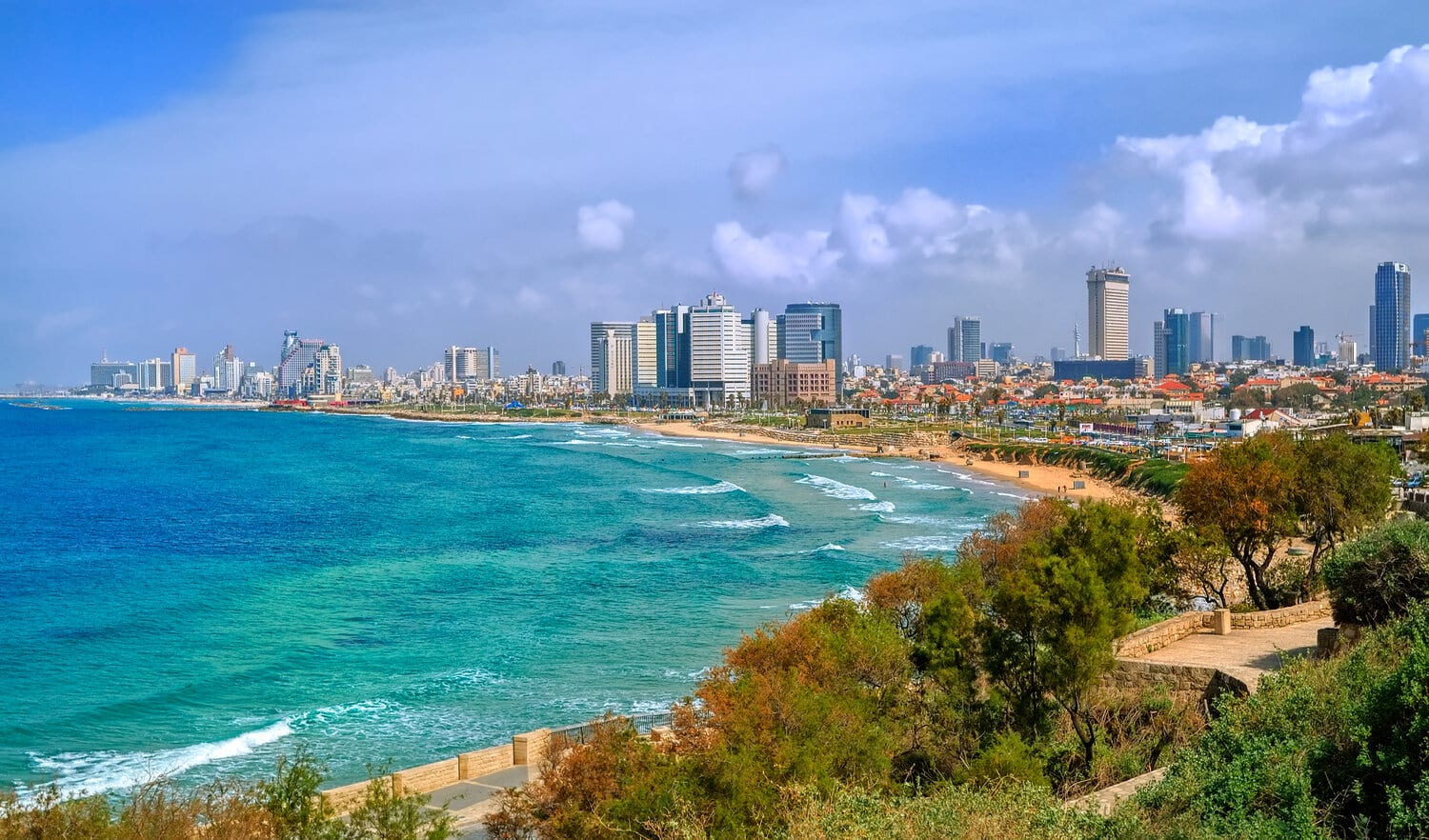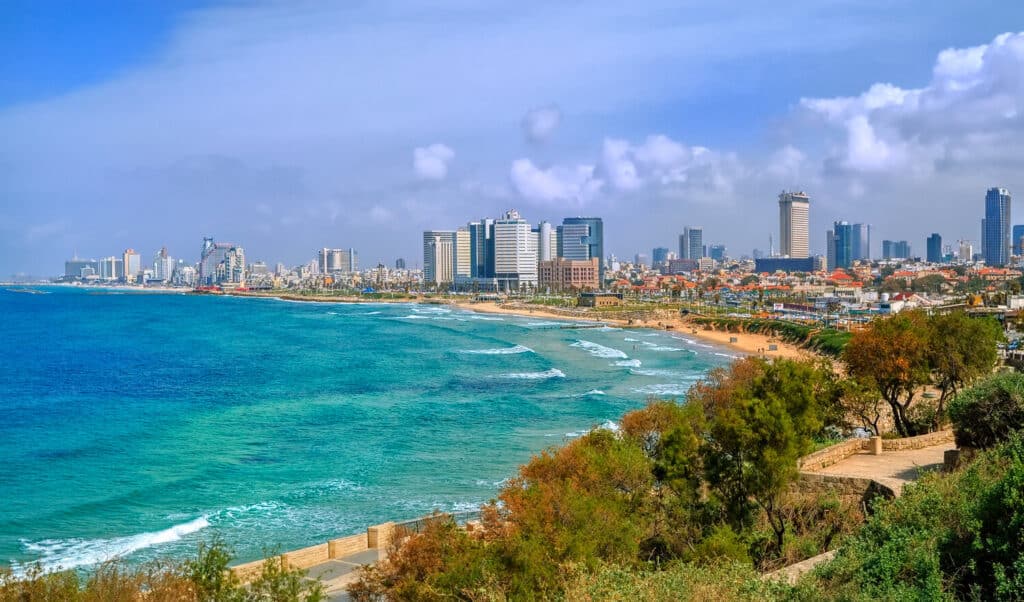 A Digital Nomad Guide to Tel Aviv
Tel Aviv, located on the Israeli Mediterranean coast, was ranked as the best smart city by the Smart City Expo World Congress, one of the best beach cities in the world by National Geographic and an exceptional culinary destination by Saveur magazine. In addition, it is considered the most expensive city in the Middle East and it is home to one of the most prominent centers of technological development in the world.
The city is cosmopolitan, modern and with a vibrant arts and nightlife. It is one of the main points of destination for expats that come to study and work. But not everything is business. With miles of white sand beach; kilometers of green park surrounding the Yarkon River to enjoy a sunny day; cafes, restaurants, clubs, a high lifestyle and a wide range of events of all kinds, it is also considered by many to be the cultural heart of Israel.
Furthermore, Tel aviv has a history to discover. In 2003, the United Nations declared the White City of Tel Aviv, a concentration of more than 4,000 buildings designed in the Bauhaus or International Style of Architecture, as a World Heritage Site.
Tel Aviv offers a relaxed and informal environment with educational achievement rates above the national average and a comparatively low crime rate. The city is already a popular destination for expats and it's easy to imagine settling into a new life in this culturally diverse place.
Nomad Friendly
Value for Money
Internet
Workspace
English
Food
Safety
Health
Transportation
Friendly
Quality of Living
Living in Tel Aviv Overview
| | |
| --- | --- |
|  Meal, Inexpensive Restaurant | $21.06 |
| Domestic Beer (1 pint draught) | $9.72 |
| Cappuccino (regular) | $4.52 |
| Loaf of Fresh White Bread (1 lb) | $2.28 |
| Water (1.5 liter bottle) | $1.86 |
| One-way Ticket (Local Transport) | $1.94 |
| Basic Utilities (Monthly) | $269.99 |
| Internet | $33.09 |
| Fitness Club (Monthly) | $96.24 |
| Apartment (1 bedroom) in City Centre | $1,749.94 |
Currency: Israeli Shekel (₪)
[erw_exchange_rates_widget lg="en" tz="0″ fm="ILS" to="EUR,USD,GBP,AUD,JPY,RUB" st="primary" cd="" am="1″][/erw_exchange_rates_widget]
ATMs
Max Withdrawal: No Limit
Withdrawal Fee: Depends on your Bank
Use of Credit Cards: Widely Accepted
Tipping Etiquette: 10%
The Bird app gives you access to shared power tools (scooters) that can be picked up and left anywhere. Use the Bird on your way to work, school, with friends, or just to spread your wings and enjoy the air! How It Works: -Download the Bird app -Create the account for you -Find and Scan Bird -Drive safely to your destination -Lock the Bird and finish the ride
What is important to us at Wolt is to make sure you always have something delicious to order. How does it work and why is it so easy to order deliveries with us? Simple: enter Wolt, choose a good place in the city or discover new and recommended places, choose what you want this time, book and wait (but really little). From there we will update you on how the order is progressing, when the courier left and… This is it, we have arrived!
How does bubble work? Choose your pick-up and drop-off point and book a ride. We will fit you with a vehicle that will come towards you. Our algorithm will select for you the bus stop where the bubble driver will meet you, so that the vehicle and passengers on it will not deviate from their route. bubble Collects passengers efficiently, without delays and with a fixed travel cost.
Digital Nomad Personal Experience in Tel Aviv
As part of modern Israel, it can be said that Tel Aviv has a visibly multinational character, with a cosmopolitan air that you will have no problem adapting to. Although it is ideal to master some of the Hebrew language, it is not something that is essential since in the city you find an important presence of Spanish and English speakers. I was very surprised by the ability that locals have with languages ​​and for recognizing nationalities.
Tel Aviv is by far the most expensive city to live in in the entire Middle East, especially when it comes to renting a flat. However, if you work online abroad, it may not be so expensive, although it depends on the country you come from.
During my stay in the city I was very happy with the contagious joy of local people, how frequently strangers invited me to private parties and my days at the beach. It also seems that doing sports is trendy and it is easy to find a nearby square or beach with free exercise machines.
However, the constant conflict between Israel and its neighbors made me feel not free at all and has even confused me in certain situations. They understand that we are not from there and we have other customs, however it can cause discomfort when passing through any of the controls at the bus station or at the airports (police can get quite rude). Beyond that, I really enjoyed my time in the city and would return to continue learning about the many cultures it houses.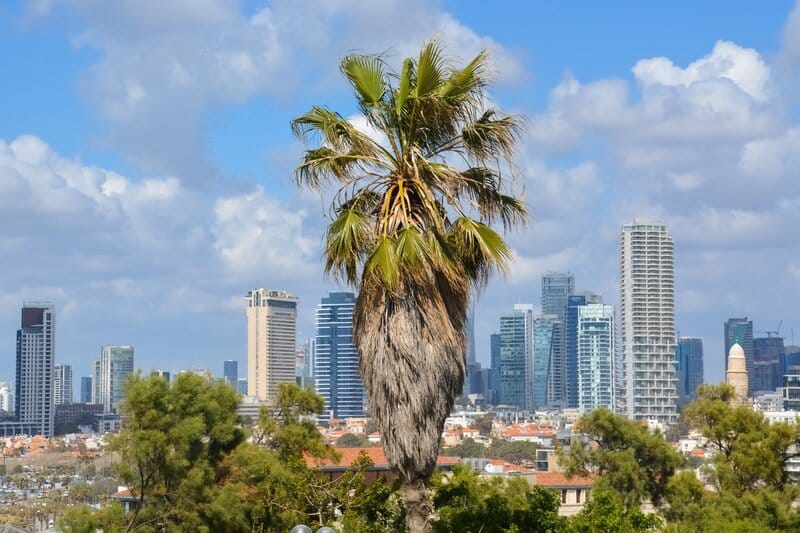 Work in Tel Aviv
Tel Aviv has lots of coworking spaces that make it a great city for digital nomads. Open workspaces and private office spaces are available in creative, comfortable and modern environments. Some of them are open 24/7 and you can also find free ones. 
Best Places to Work in Tel Aviv
Mazeh9
Mazeh9 (9 Mazeh Street) is a coworking space for young entrepreneurs and students. It's a subsidized municipality project in a renovated building at the center, and therefore free. It's often busy, so you may have to wait for a free spot and the Internet sometimes is slow. Nothing is perfect!
Yefet 83
Yefet 83 (83 Yefet Street) is another subsidized municipality project. It has a lot of power outlets, desks, sofas, fast internet and a quiet and pleasing ambient. It is also open until late.
Florentin Community Centre
Florentin Community Centre (74 Abarbanel Street) it's located inside a building on the first floor. It has a large room, plenty of desks and fast internet. 
If you prefer to have a safe spot with a place for you, you can try with the paid ones. For example:
WeWork HaZerem
WeWork that has mastered the coworking game. WeWork HaZerem (HaPelech St 7) is a massive shared space with a large outdoor area. The onsite cafe is a great place to grab coffee or pastries. There is no doubt that they continue to prove themselves as the leaders in the field. If you want in, you'll first be put on their waiting list.
CityHub
CityHub (Ahad Ha'Am St 28), in the center of Tel Aviv, has a sleek modern design in a renovated building, a happy and quiet atmosphere and all the necessary features and facilities to get your work done. They do not offer open work spaces; only private offices are available.  Office prices start at 540 USD per month. It also hosts lectures and workshops, so it is worth checking their page.
Urban Place
Urban Place (Rothschild Blvd 3) is a comfortable coworking space with amazing views of the Mediterranean Sea, a really simple design and the right ambiance for concentrating on your work. If you work in the world of high tech, you'll fit in very fast. This community is mostly of programmers and designers. Their open space price goes around 415 USD per month.
MIXER
MIXER (Rokach Blvd 101) has modern offices, comfortable lounges, sunny open spaces, outdoor nooks, and a state-of-the-art kitchen that are all mindfully created to support an invigorating work experience. The offices modular design is ideally suited for tailoring to team size. From startups, midsize companies, entrepreneurs, freelancers, to fortune 500 companies. On top of all this, the location is easily accessible by train or car.
Rise Tel Aviv
Rise Tel Aviv (Ahad Ha'Am St 54) is provided by Barclays Bank with top-quality facilities and networking opportunities with notables in the industry. It is located in the middle of the city, right next to financial institutions like the Israeli Stock Exchange.
Ayeka
Ayeka (Elifelet St 26) offers furnished studios, big cozy suites, shared desks, a swimming pool, gym, broadcasting studio, library, showers and an outdoor patio. Go to check its stunning design and optimal setting for inspiration.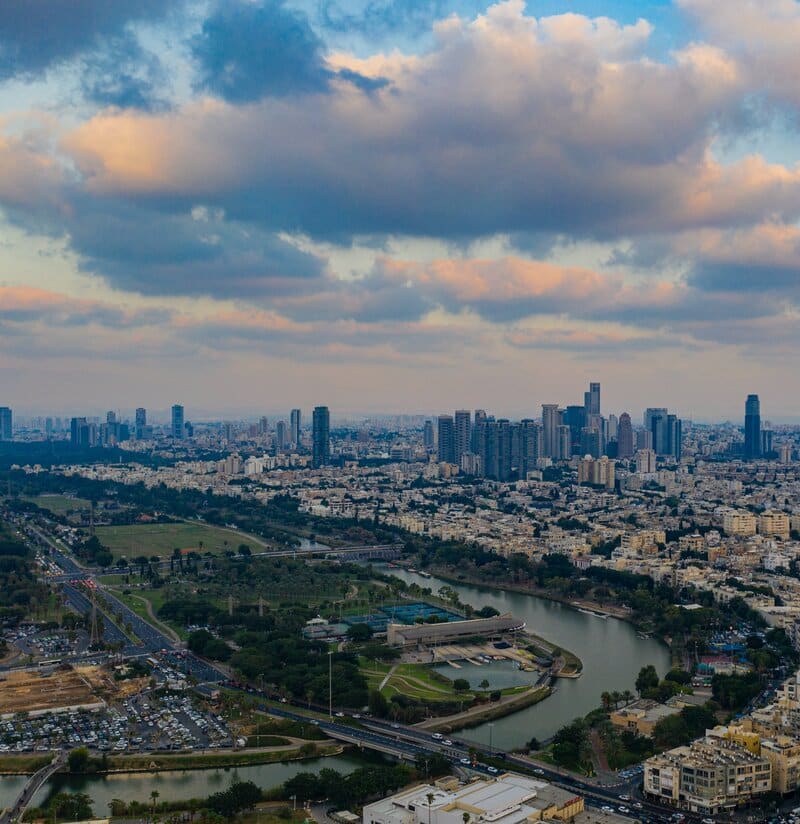 Best Places to Live in Tel Aviv
Best Neighbourhoods
Tel Aviv is the second largest city in Israel, after Jerusalem. It is considered the youngest and most modern city in Israel after Jerusalem, which is more conservative and religious. It is a great economic center and the richest city in the country, therefore, it is comparatively expensive.
The City Center
Among the best districts to live in the city for at least a medium term, is The City center, Tel Aviv's financial center that stretches from Rothschild Avenue and Allenbi Street. Here, many of the old buildings have been renovated and turned into business centers.
Neve Tzedek
Neve Tzedek was the first Jewish neighborhood established in Tel Aviv. It is a quiet, cheap, crazy suburban area with good public transport connections, street art, popular bars, restaurants and local entertainment. Its old buildings of various colors give it an artistic and historical touch. Today many of them are boutiques, jewelers, cafes and old-fashioned cinemas. Also from Neve Tzedek you can access Florentin and Jaffa on foot.
Ramat Aviv
On the other hand, Ramat Aviv is an elegant neighborhood and more popular with families with children. Here you will find Tel Aviv University, the Eretz Israel Museum and the Tel Aviv Mall.
Florentine
Florentine, to the south of the city, is a young neighborhood with a captivating nightlife, lots of street art and interesting bars and restaurants. It is often compared to Soho area in New York. During the day, you can visit the Levinsky Market, an old Persian bazaar where they sell spices, nuts and other types of local products. It is more affordable than Jaffa or downtown, and it is not touristy at all.
Hatikva
The Hatikva neighborhood has historically been the working-class zone and is located in the southeastern part of the city. If you have a low budget, you may want to ask about apartments in this area.
Jaffa
Jaffa is the oldest part of Tel Aviv, and where the city began. Today it is largely a tourist spot. It is bustling and vibrant, with flea markets, cafes, and markets everywhere. Here you will also find hostels with backpackers from all over the world and some hotels like the W.
Yemenite Quarter
The Yemenite Quarter is home to the Carmel Market. It is an old, central and cheap neighborhood that you can also consider if you like to feel the old vibe of the country.
Find an Apartment in Tel Aviv
Tel Aviv has the highest cost of living in the Middle East for expatriates. It was ranked the 18th most expensive expat city, according to a report by the consulting firm Mercer. For this reason, it is better not to wait until the last minute to find a home. With time, perhaps you can find a cheaper apartment.
Consider that here they count the living room as a room, so if you want 2 bedrooms, you will need to look for 3 bedrooms (2 bedrooms + living room).  
A good place to start looking is the local newspapers on Tuesday or Friday. Hebrew newspapers usually have several advertisements in English although not all are in this language and it is convenient to speak both. The real estate sector is also handled by word of mouth. If there is an area that you like or that you were recommended, go and walk around the neighborhood, talk to the shop owners and see if there are any signs for rent.
The least economical but easiest option is to go to a real estate agent. Normally they will charge you the equivalent of one month's rent for their services. If you speak to more than one real estate agent, be careful not to visit the same property with both of them because in that case you will have to pay both of them if you rent the property.
Some real estate agency websites are:
You can also check the apartment rental websites. Sometimes they also charge a consultation fee. Some of them are:
On the other hand, if you are looking for a temporary vacation rental, you can check at Airbnb or on websites such as:
Good luck with the search!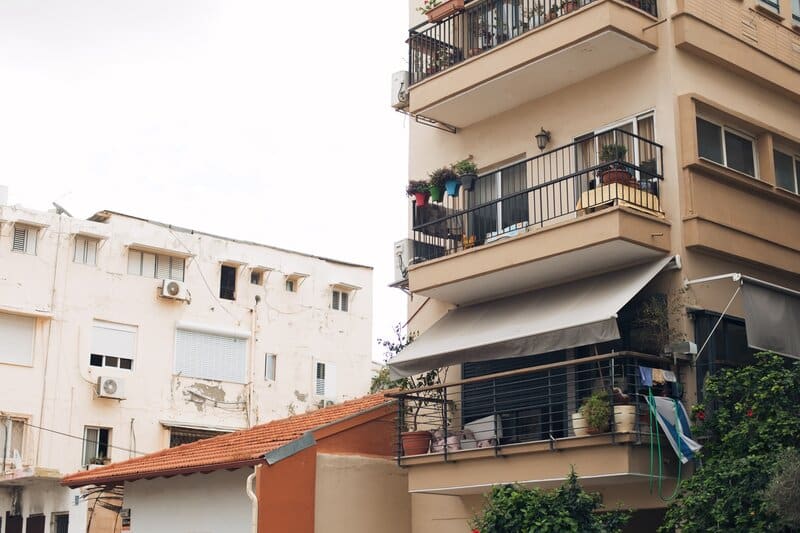 Cheap Places to Stay in Tel Aviv
Tel Aviv can be a tricky destination for those on a budget, especially when searching for inexpensive accommodation. If you look at Airbnb, the prices for a studio with air conditioning tend to be around 1.000 USD. I recommend youalways look in local sources and in neighborhoods like Neve Tzedek, Hatikva or the Yemenite Quarter. Also try to socialize and ask people in these neighborhoods if they know about any good renting deal.
If you are in town for a short time, check Hotel 75 that is located in the epicenter of Tel Aviv's nightlife and culinary scene. Offering free Wi-Fi, air conditioning and flat-screen TVs in each room, Hotel 75 may not be the cheapest in town but it is comfortable and convenient. 
If you need something cheaper, you can share a room at JAAM Hostel & Bar. Located 400 meters from Gordon Pool and 600 meters from Dizengoff Square, the property offers a bar and a garden. It also has a kitchen equipped for guests, air conditioning, internet, laundry service and they even offer wellness facilities with massage service. Also, if you rent a private room, your pet will be welcome.
Tel Aviv Visa
Travelers normally receive a free, three-month tourist visa upon arrival in Israel, which may be extended. You can check if you need or not to ask for a visa in advance in the Israel Ministry of Foreign Affairs.
You will need a passport with a minimum validity of six months at the point of entry into Israel. Israel does not routinely stamp passports with an entry stamp, and instead provides all travelers with an entry card, although they reserve the right to stamp the passport. All travelers should retain this entry card throughout the duration of their stay in Israel as proof of lawful entry; the entry card is often requested at hotels and car rental companies. Although not required for exit, travelers are advised to keep their entry card with them to avoid delays when departing Israel.
The best way to obtain residence in Tel Aviv is to apply directly to the Ministry of the Interior. Most residency visas are granted to those who are eligible under the Law of Return. This law favors those with Jewish heritage settling in their homeland. Residency is also possible through a work permit and a work visa, which can be upgraded to a temporary residence permit after a period of no less than one year and no longer than 18 months. Furthermore, Israel grants student and tourist visas.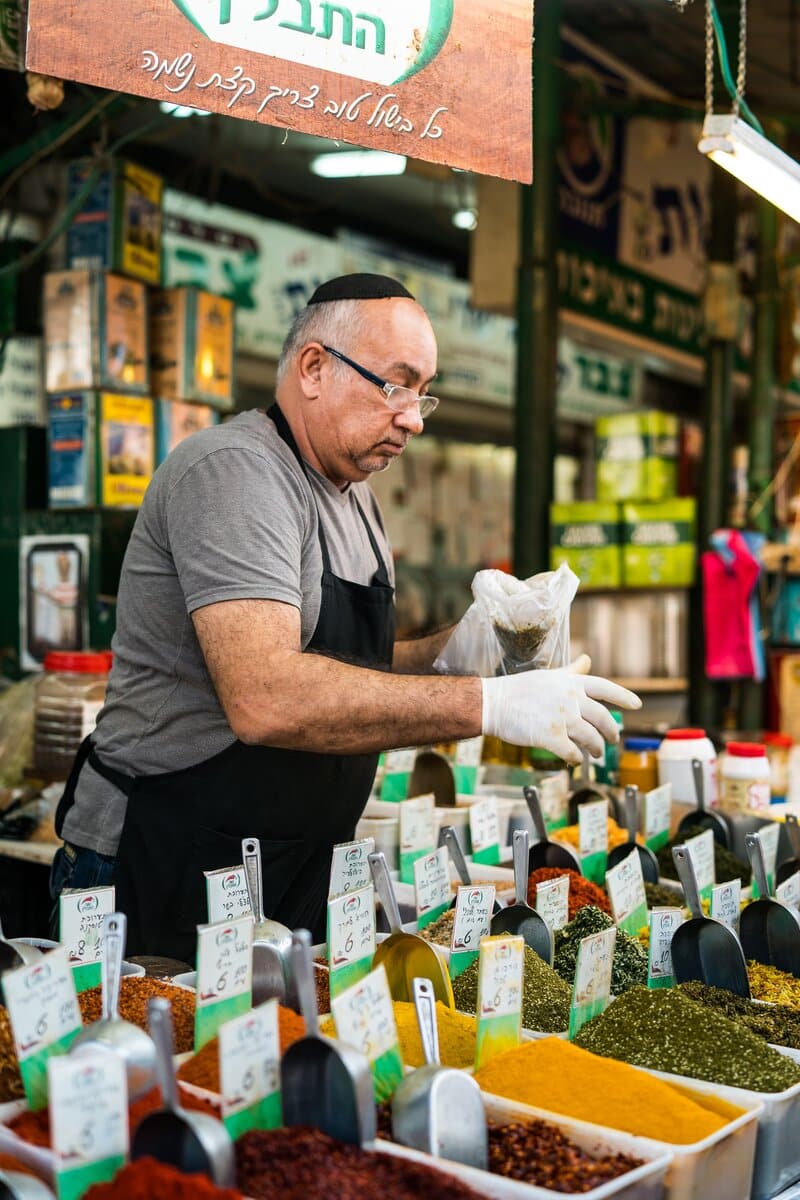 Culture and Food in Tel Aviv
If there is one feature that characterizes Israel, it is the mixture of cultures and religions that is also seen in its gastronomy. Israeli cuisine is characterized by the fusion of Arab cuisine, Jewish traditions and Mediterranean ingredients along with recipes from other countries such as Iraq, Yemen and even Spain.
The Talmud and the Torah, the holy books of Judaism, establish food and cooking standards. Although only the most conservative Jews follow these doctrines, you will surely find restaurants in Tel Aviv and products labeled as kosher or "pure foods". It is forbidden to eat shellfish, fish without scales or derived from pork. You also cannot mix meat with dairy products.
Most of the dishes that make up Israeli cuisine are vegetarian, with hummus (chickpea cream with spices) as the highest international representative of Israel's gastronomy. Other typical dishes are falafel (vegetarian meatballs made from crushed chickpeas), shakshuka, sabih (pita bread stuffed with eggplant, boiled egg, tomato, olives and hummus), shawarma, mujaddara (lentil salad), burekas (fried pie) and halva (dry nougat prepared with sesame seeds and spices), among other dishes.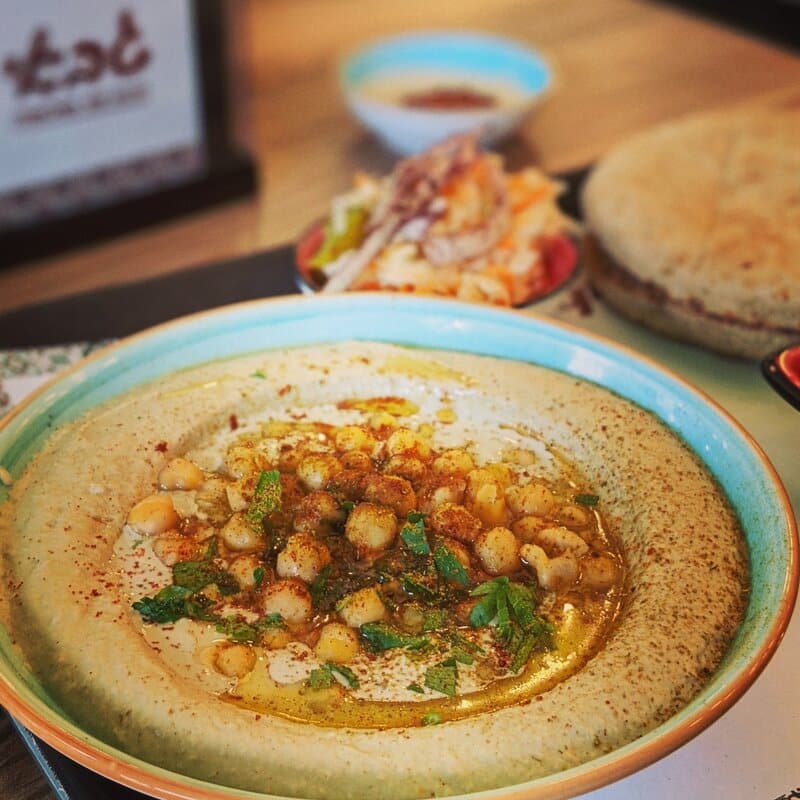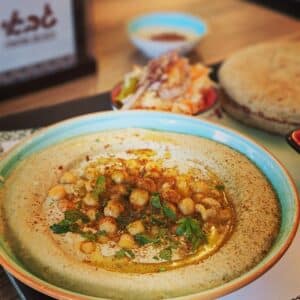 In Tel Aviv, street food continues to be one of its greatest culinary references. The best area to try street food is the Carmel Market, although if you want a better variety, go to the Sarona Market where you will find all kinds of food, sweets and drinks. On the other hand, the Levinsky Market is the favorite of many locals, with many shops that sell spices, nuts, baked goods and small places to eat something on the go.
Another of the best areas to eat in Tel Aviv is Jaffa as it houses many restaurants, both traditional and avant-garde.
The avant-garde cuisine is led by chef Eyal Shani in Miznon where we recommend you try the chraimeh (fish bathed in spicy tomato sauce) or the roasted beet and cauliflower carpaccio.
Chef Yossi Shitreet from the Mashya restaurant in the city center is at a similar culinary level. While for sophisticated traditional dishes you should try chef Meir Andoni's creations at Blue Sky on the terrace of the Ritz Carlton hotel. They have a kosher menu that includes fish, olives, cheeses and vegetables.
Aria offers a lounge-bar in the lower part and a restaurant in the upper part. Here chef Guy Gamzu prepares his dishes with local ingredients.
If you prefer vegan food, without cheese or meat, you should head to Nanunchka  to try their stuffed vegetables. Be careful, they could convince you to move to the city for good.
Tel Aviv Nightlife
The Great Synagogue of Tel Aviv, built in 1926, is not only a place of prayer but also a neighborhood with restaurants and bars. Remarkably, the temple is surrounded by one of the areas with the greatest gastronomic diversity in the city. In this neighborhood is Tailor Made (Allenby 99), a stylish cocktail bar on busy Allenby Street. Located around a picturesque courtyard, it has a secret garden where live shows, readings, exhibitions and small weddings are often organized. The cocktail menu is extensive and original, with an impressive list of excellent wines from Israel and the world. The drinks are accompanied by generous tapas. It is open every day from 8pm until the last customer leaves.
Tucked inside the Imperial Hotel and named the "Best Bar in Africa and the Middle East" by Drinks International magazine, the Imperial Craft Cocktail Bar (HaYarkon St 66) is the place to visit if you are looking for artiste cocktails. Its gastronomic offer has Asian colonial inspiration accompanied by a wide range of music that ranges from jazz to rock n 'roll.
Another option is 223 (Dizengoff St 223) which was founded in 2008 by one of the most famous bartenders in the world: Ariel Leizgold. Here you can try the cocktail that earned Leizgold an international cocktail bar title: Passion Fruit 2006 made with vodka, ginger, apricot brandy and passion fruit. 
Aria's ground floor lounge (Nahalat Binyamin St 66) offers a cocktail bar along with dishes from the chef accompanied by live performances by top local and international DJs until midnight. This exclusive place in the center of Tel Aviv is the place you are looking for an elegant party.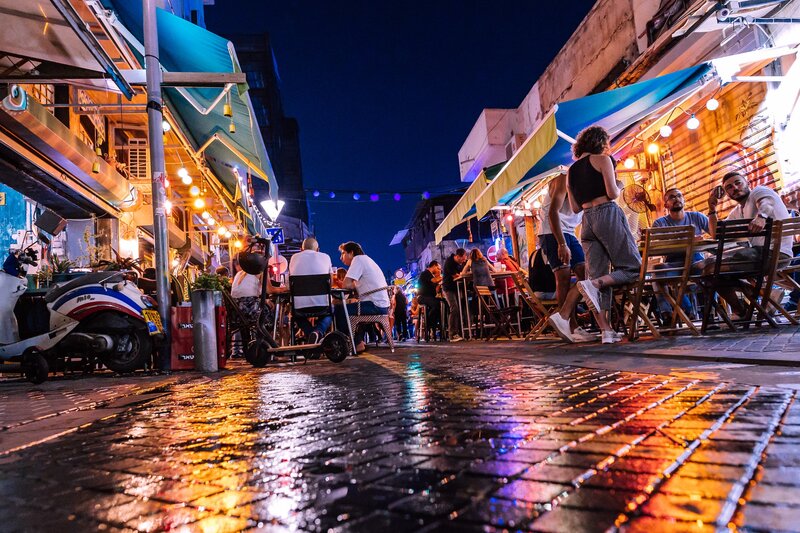 Among Tel Aviv's best nightlife clubs is The Block (Shalma Rd 157), reopened at the famous central bus station. It is an underground club with a state-of-the-art analog sound system and world-renowned DJs every weekend. The Block party is hard to beat.
Alphabet (Ahad Ha'Am St 54), just off Rothschild Boulevard, renews its DJ schedule on a weekly basis. The darkest and most intimate dance floor makes this place one of the most beautifully designed mini clubs in the world.
From dark 80s body paint parties to rock and roll circus nights, Bascula (HaRakevet St 72) guarantees fun. You can also go to Bootleg (King George St 48) in what used to be the old Maxim Theater. The music ranges from deep house, progressive trance, and techno within this underground club with a modest yet vibrant atmosphere.
Things to do in Tel Aviv
Bathed by the waters of the Mediterranean, Tel Aviv is a totally different city from the rest of the country. Here you will leave cultural visits aside a bit to enjoy more leisure activities. However, it does have some charming and historic sites.
In the 8 kilometers of the Promenade, which goes from Tel Baruch beach to old Jaffa, you will see people walking or doing sports. From this walk you have access to the best beaches and some of the most fashionable terraces and chill out areas in Tel Aviv.
By walking the entire Promenade you will arrive in half an hour in Jaffa, one of the oldest ports in the world. This more than 4.000-year-old port city was not part of Tel Aviv until 1954. Its beautiful and narrow pedestrian streets are lined with art galleries and designer shops that occupy the old places where fishermen kept their gear. 
At Jaffa you can also see Rehov Ruslau, one of the 7 towers ordered to be built in Israel in 1903 by Sultan Abdul Hamid II to commemorate the 25th anniversary of him at the head of the Ottoman Empire. 
In Kikar Kedumim there are several restaurants and cafes, a fountain with the symbols of the zodiac, as well as the Church of St. Peter, one of the most beautiful to see in Tel Aviv whose bell tower is the highest point in the old city of Jaffa. You also find the Egyptian Gate of Ramses II which antiquity dates back to 1.400 BC. It was the gateway to the city when it was in the hands of Egypt.
From the Port of Jaffa you can see the famous Andromeda Rock, where according to Greek mythology, Princess Andromeda was chained until Perseus, son of Zeus, rescued her from the sea beasts.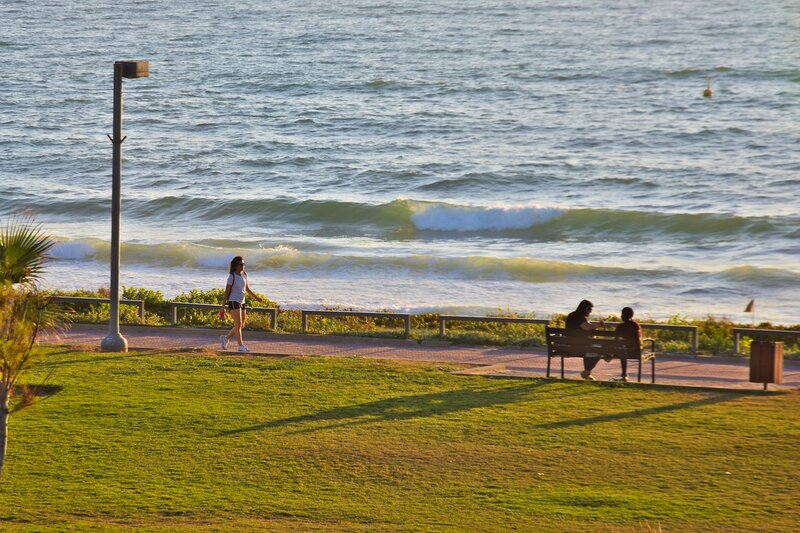 The Carmel Market or Shuk Ha'Carmel, located near the Neve Tzedek neighborhood, is the most important one in the city. It is a bustling street market, full of color and smells, where you can enjoy the gastronomy of Tel Aviv. On Friday mornings all the stalls are open and you can find everything from food and sweets to souvenirs.
Another of the most important markets is Sarona, the largest one in the country. It houses around 40 restaurants and plenty of stalls selling typical products such as spices, cheeses, meats and imported specialties from all over the world.
You can also visit the Flea Market located in Jaffa, just a few meters from the famous Clock Tower. It is an antique market where you can find all kinds of second-hand objects, works of art, old books, menorahs, rugs and musical instruments.
The picturesque and bohemian neighborhood Neve Tzedek, was the first Jewish neighborhood built on the outskirts of Jaffa in 1887. At the end of the 20th century it became one of the fashionable places of the city full of cafes and designer stores, clothing stores vintage, restaurants, art galleries, murals and graffiti. Much of the businesses are at the foot of the European-style buildings of Shabazi Street.
Tel Aviv's long summers and its 14 kilometers of coastline make the beaches one of its great attractions. Among the most famous ones are the Hilton Beach with its gay scene and water activities, the crystal-clear waters of Banana Beach and Mezizim Beach for families.
The White City, a World Heritage Site, is a set of more than 4.000 Bauhaus-style buildings characterized by curved lines to shade the small windows and functional white facades. They were built since 1930 by Jewish architects of German origin who emigrated when the Nazi party came to power in Germany. The most famous Bauhaus areas are Sheinkin Street, Dizengoff Square and Rothschild Boulevard.
Yarkon Park, with its 35.000 square meters, is the largest and most important park in the city through which the Yarkon River crosses. Opened in 1973, it has sports facilities, a water park, skating rinks, concert halls, seven restored flour mills and six gardens each with a different theme. Here you can fish, go boating, practice outdoor sports, walk, have a picnic, attend concerts or simply learn about the daily life of Tel Avivians. Being a bit far from the center there are usually no tourists.
On the contrary, Dizengoff Square is usually very visited by foreigners. This two-level square surrounded by several Bauhaus-style buildings such as the Cinema Hotel, is located in the center of the city. In 1986, what today is its main attraction was added: a dynamic multicolored fountain, the work of Yaacov Agam, called "Earth and fire".
Best Time to Visit Tel Aviv
Due to its coastal position, Tel Aviv has a Mediterranean climate with hot summers, humid winters, and pleasant and sunny springs. Even during January, the coldest month of the year, the average daily temperature is 18 °C with a minimum temperature at night of 8 ° C. During February, on the other hand, the temperature is around 20 ° C.
If you go for a short time, I advise you to avoid the months of July and August, which are the hottest with average temperatures of 32 °C that rise during the day. The months with a better climate during the year go from April to June and it is also not high season so there will be less tourism and lower prices.
Also, if you want to avoid the rains, do not visit the city between November and March. Residents can expect a maximum of 74 days of rain per year, compared to more than 3.000 hours of guaranteed sunshine each year.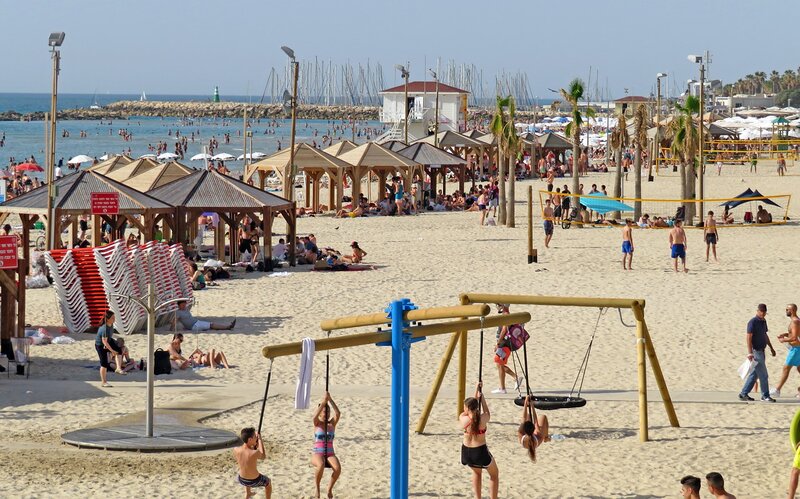 Tel Aviv for Families
Israel offers free and compulsory education for all children from the ages of six to 18. Although tuition is free, it is generally necessary to purchase textbooks and school supplies. 
Though the public education system is really good, many expatriates do not enroll their children in public schools as the language of instruction is Hebrew. Schools in Israel are generally more informal and principals and teachers are named by their first names. The curriculum emphasizes mathematics, science, foreign languages, civic values, technological and analytical skills, and knowledge of Jewish heritage. It is important to note that the academic calendar year follows the Hebrew calendar.
There are some private English schools in Tel Aviv, which could be an attractive option for expat children who don't speak Arabic or Hebrew although private schools can be very expensive for those earning a local salary. Private schools can be highly competitive and many require rigorous testing before admitting a student.
Israel has a total of eight major universities, most of which are based in Tel Aviv and Jerusalem. Almost all courses are taught in Hebrew, however, some of them are taught in English. Universities also offer accelerated learning programs for the Hebrew language.
An advantage of Tel Aviv in everyday life is that the day starts earlier and ends earlier. Most people in Israel enter work at 8 am, finish at 4/5 pm and arrive home at 4:20/5:20 pm because distances are usually short. This makes a big difference in terms of scheduling after-school activities, having play dates, and making dinner.
Finally, another point to keep in mind is that there are no summer camps like in other countries. But your children may be very busy in the summer with their friends. 
Living in Tel Aviv
Tel Aviv Transportation
The Rav-Kav is a smart card that is used as the main method of payment for public transport in Israel. It can be used to take the train or the bus. If you take the bus, it is the only accepted method of payment. The train connects Tel Aviv with major locations in Israel, while the buses cover a wide range of locations, both inside and outside of Tel Aviv. At train stations, you can also buy printed tickets through the machine or from a ticket agent.
There is a personalized and an anonymous Rav-Kav card that can be purchased for a one-time payment of NIS 5 at tourist information centers, train stations and the airport. You can also buy it on board any bus for NIS 10.90 including one trip. The card is loaded using the "HopOn" and "Rav-Kav Online applications or at available charging locations throughout the city. At NIS 5.90, you can take as many buses as you like within Tel Aviv as long as you don't exceed a 90 minute time period.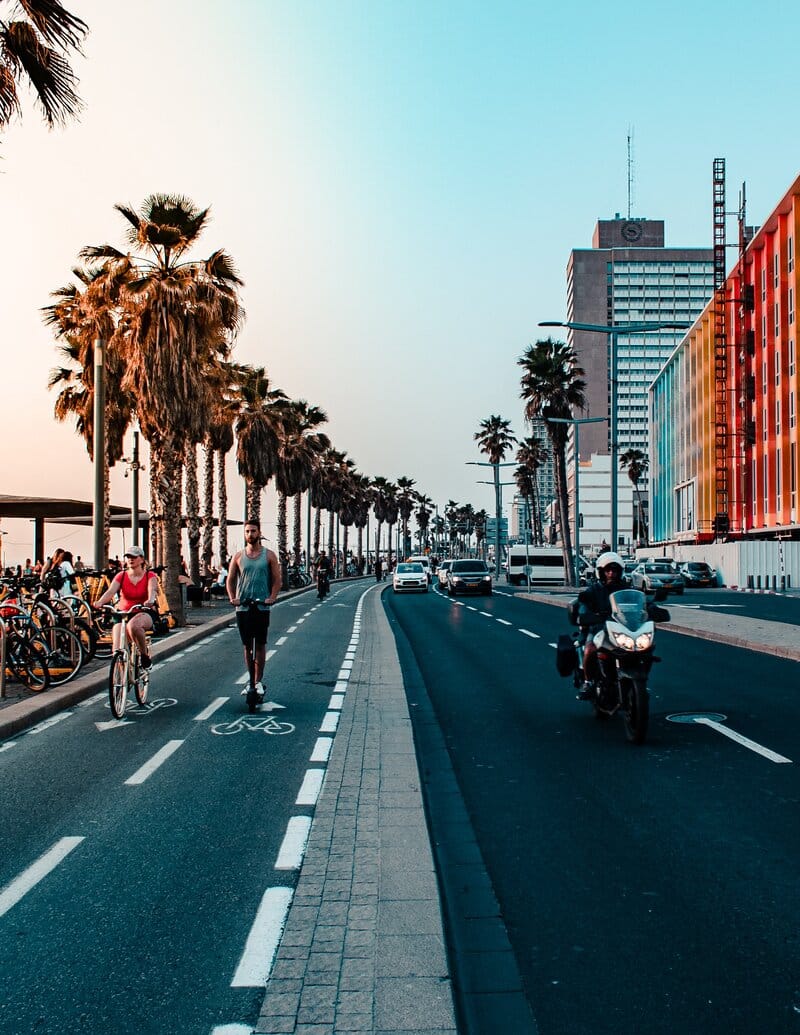 Tel Aviv has free transport services that operate on Shabbat (Saturday) in the city and the metropolitan area on Fridays between 6:00 p.m. and 2:00 a.m. and on Saturdays between 9:00 a.m. and 5:00 p.m. At this stage, the transport service will be offered free of charge and passengers will be able to move freely from one bus line to another.
Service taxis, called Moniyot Sherut in Hebrew, are minivans that function like shared taxis. They are generally yellow in color, with numbers on the windshield indicating their route, and can carry between 10 and 12 people at a time. Sherut taxi fares are a fixed price and similar to bus fares. They generally get to their destination faster and tend to be less crowded. The Sheruts operate routes both between cities and within the city and can be easily accessed from outside the central bus station.
Local and intercity taxi services are available to and from anywhere in the country. Rates within cities are according to the meter. Intercity taxi service rates are standard rates established by the Ministry of Transportation. It is recommended to check the fare before getting into the taxi. There are also additional charges for phone orders and for each bag. Night rates, Saturdays and holidays are 25% more expensive than the normal rate. There is also an additional fee for a trip to the airport. Tel Aviv recommends that you download any of the Taxi phone apps to book a taxi wherever you are. The most popular applications are: Gett, Raxi and Yango.
Trains are a fast and comfortable alternative to buses for many destinations. Train routes connect Tel Aviv-Yafo to Haifa and Be'er-Sheva, as well as to many smaller cities and to Ben-Gurion Airport. A new high-speed line between Tel Aviv and Jerusalem has recently started operation, with an expected travel time of just 28 minutes. Keep in mind that trains tend to be crowded during rush hours, especially on Sunday mornings when soldiers return to their bases and students to their universities.
The Night Lines are public transport lines that run from residential areas to entertainment centers and return at night. The Night Lines fare is the same as that of regular public transport and can be paid through all means of payment. During the summer holidays and all other school holidays, most night lines operate every day except Friday. During the school year, night lines operate on Thursdays and at the end of Shabbat.
Fitness and Health
Tel Aviv has a strong fitness culture. You will find many well-equipped gyms and fitness centers with a variety of classes. Fitness, health and exercise are part of the daily life of the Israelites so you will also find exercise machines in many squares and beaches of Tel Aviv. In addition, many tend to travel the city by bicycle.
Among the recommended gyms is Gordon Gym and Pool (Eliezer Peri St 14) with a pool, great personal trainers, classes and the best equipment.
Holme's Place counts with two locations: Dizengoff Center and Azrieli Center.It is a big and luxurious gym with some of the best equipment, a spinning room, pool and changing rooms with spa.
CrossFit Tel Aviv (HaYarkon 167) has regular CrossFit classes, olympic weightlifting, personal training and a sense of community.
Fit Studio (Dizengoff 158), a Pilates studio, is your place if you're looking to sculpt long, lean muscles with slow and controlled movements. This is a great spot for those looking for more than just run-of-the-mill low impact workouts. 
Liky's (Tel Aviv Port) offers a fat-blasting HITT workout. Its luxurious style extends to the locker room where you will find a rotating selection of high-end products for clients' use.
You should also check F45 (Building 23, Tel Aviv Port and Yigal Alon 94) for functional training, Orangetheory (Rodensky 5 Tel Aviv) for another HITT-based format training and 305 Fitness (Se'Adiya Gaon 24), a dance-inspired workout that came to Tel Aviv by way of Miami.
Tel Aviv People
Israelis tend to be informal at work and it is common to have meetings or investment offers in a cafe on the beach with casual clothes. But don't be confused: hard work, responsible and punctual people are highly valued. Punctuality is one of the important factors within business organizations.
Israelis are also known for being direct. People are not afraid to give an opinion, both good and bad. Talking about religion and politics is not taboo and it is part of the culture. Don't be surprised if they ask what you think of the Palestinians or if they give you an unsolicited opinion.
Tel Aviv is a liberal city inside a very complex part of the world. Many locally consider Tel Aviv to be a country apart. Tel Aviv's youth are outspoken people and are more likely to lean politically to the left.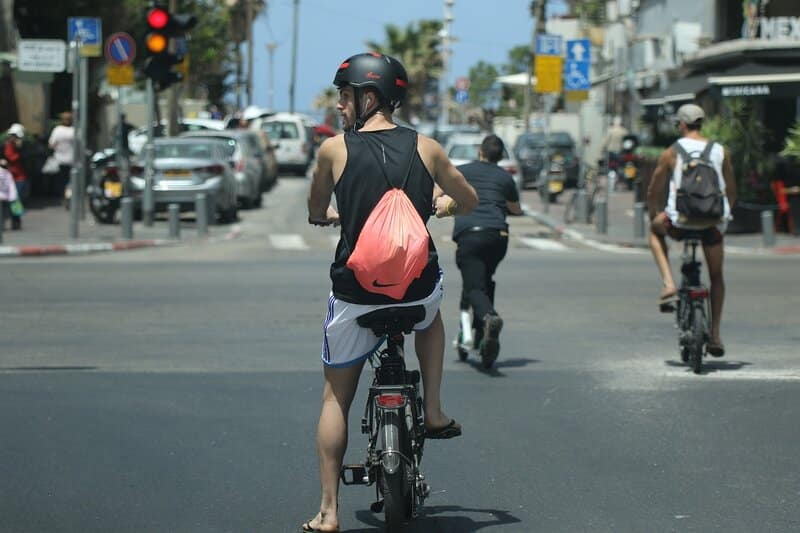 Most of the people you meet in Tel Aviv will speak excellent English. It is a highly educated and very diverse population. Although, it is always good to learn some Hebrew to get around. However, if you want to travel around the country, speaking Hebrew will be much more useful. If you speak Arabic, it is not that useful in the city, compared to other cities like Akko or Nazareth, where you can practically only speak Arabic.
Tel Aviv is home to all the ethnic and religious groups you'll find in Israel, although there are more Ethiopians and Sudanese and fewer Arabs than elsewhere in the country. This is reflected in the demographics of workplaces and in the food that you will find in restaurants and supermarkets.
Security is usually high, when entering places such as shopping malls or bus stations, they will check your bag and an armed guard will ask you if you are carrying any weapons. Do not answer if you do not understand the question, you should simply express that you do not understand Hebrew and they will ask you again in English. On the streets you might see people dressed in civilian clothes with military firearms, in general these are probably off duty soldiers who can be called to work even though they are on a day off. Do not be alarmed, they are just like any young civilian, and if you smile at them they will smile back and possibly invite you to a party.
Tel Aviv Insurance and Medical Care
Health care in Israel is universal and mandatory. All Israeli citizens are entitled to the same benefits package, controlled by the government, regardless of the organization they belong to and their financial means. Foreigners also enjoy all the advantages of the country's health system, for which they only have to join one of the health funds available in the city.
Health funds offer supplemental health insurance programs for an additional fee. Each fund has its own range of additional services and their web pages usually have this information in English.
You can also choose to purchase private health insurance that will fill gaps in services provided by public health funds and will also provide medications that are not provided but the public system. 
Once you are affiliated with a health fund, you must choose your family doctor from the list of doctors provided by the fund. Not all medical clinics are well organized. In some clinics you will be assigned a number and then you will have to wait. Sometimes the list of shift times is displayed in the waiting room but other times not, which can lead to discussions about who comes first.
You must pay a nominal quarterly fee for the doctor visit, regardless of the number of appointments you have with him. If you want to change doctors in the middle of the trimester, you may have to pay an extra fee. Visits to specialist doctors cost a little more. There is also a participation fee for outpatient services, home visits, other therapies and treatments. Check with your Health Fund and verify its rules and regulations.
Also, the Health Fund may only pay for a specific number of visits but if you want additional care you must go privately. Keep in mind that you are not entitled to the Health Fund discount on drugs prescribed by a private doctor. However, by dealing with private doctors, it is possible to speed up treatments and surgeries.
As for the language, most Israeli doctors speak English!
Make sure you are fully covered by reading our full Digital Nomad Travel Insurance guide.
Jobs in Tel Aviv
In Israel the workforce is competitive and well qualified. To work in Tel Aviv you will need a work visa and an Israeli identity card called Teudat Zehut, work experience and knowledge of Hebrew, although you can find jobs for which fluency in English is more important. Salaries often depend on experience. If you have a college degree, even better.
The best way to find a job depends on your field. Every Friday you can check the job ads in the Maariv and Yediot newspapers, especially if you work in technology. Also, many employment agencies and recruiters have websites. For example:
For interviews it is better to dress more conservatively, although in general Israelis are more informal. You should also bring a copy of your college degree, previous recommendations, data from former employers and any other material that may support your application.
Check out our Digital Nomads Jobs Postings to find the best jobs available for Digital Nomads.
Nomad Friendly
Value for Money
Internet
Workspace
English
Food
Safety
Health
Transportation
Friendly
Quality of Living
Cost of Living Tel Aviv
Tel Aviv has the highest cost of living in the Middle East for expats. Everyone complains that Tel Aviv is expensive but for visitors, Tel Aviv is still cheaper than many parts of the world such as Europe.
Renting a furnished 85-square-meter flat in a normal area of ​​Tel Aviv costs around 2.000 USD, while in an expensive area it goes up to 2.700 USD. For the costs of electricity, water and electricity for 2 people you will pay around 210 USD. On Airbnb, a studio with small air conditioning costs around 1.000 USD but with expenses included.
Eating at a street stall (burekas, shawerma, falafel, hummus) costs between 5-8 USD per person. In a cheap restaurant between 15 and 20 USD per plate. A normal coffee costs about 5 USD because most people drink Turkish coffee that costs less. 500 grams of chicken breast costs 6 USD, 12 eggs about 4 USD and a kilo of tomatoes 2 USD. For a cocktail in a club or disco in the expensive area you will pay 15 USD while for a half-liter beer in a neighborhood bar you will pay 8 USD.
And the Gym? The monthly subscription to a gym in the expensive area can cost up to 80 USD.