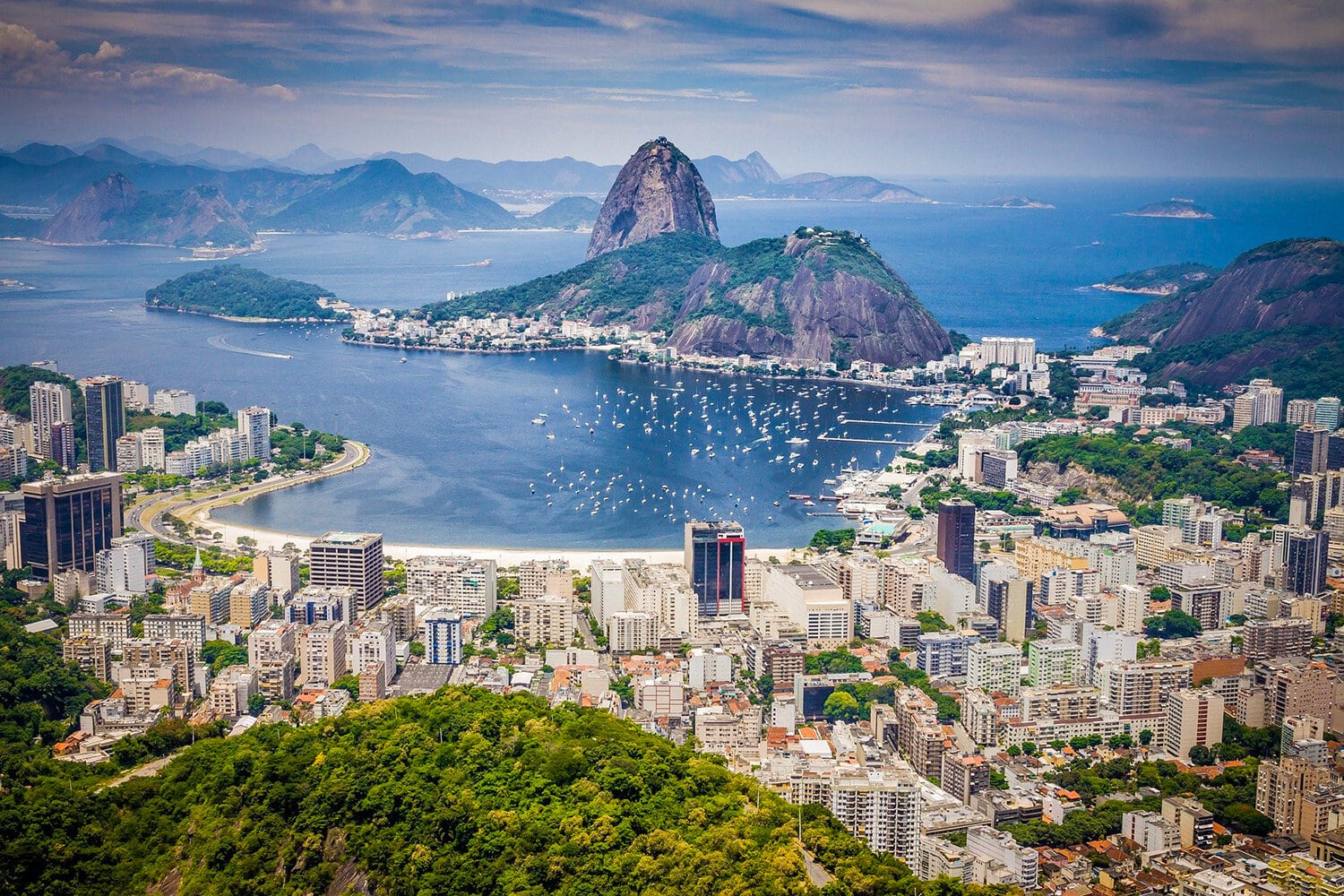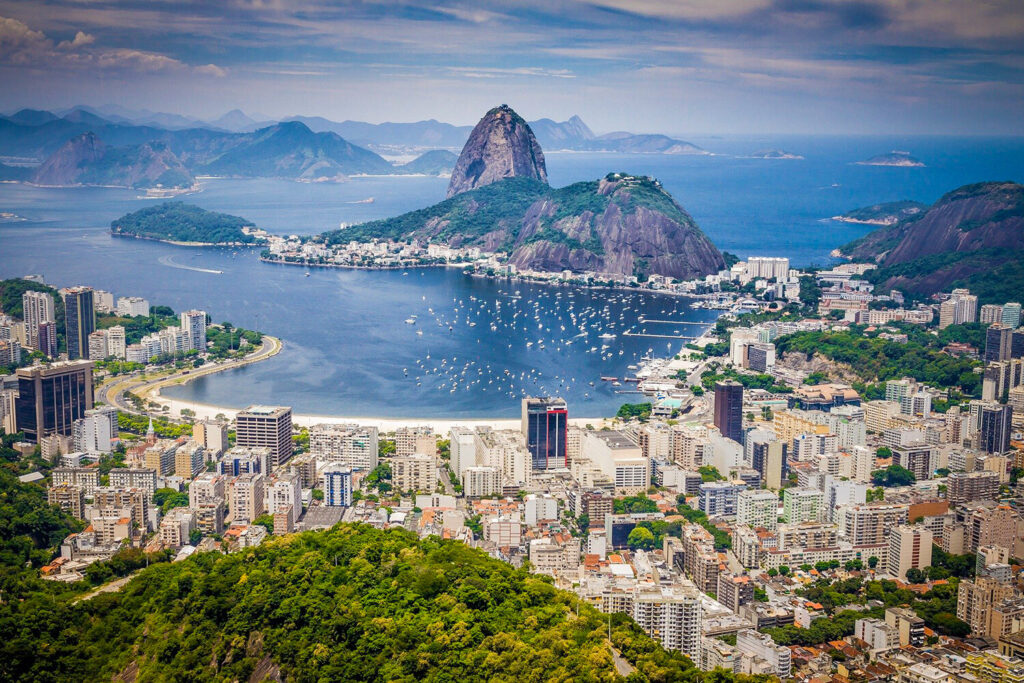 A Digital Nomad Guide to Rio de Janeiro
From the excitement of carnival to its breath-taking beaches, Rio de Janeiro has made a name for itself as one of the world's most captivating cities – and with hot, sunny weather year-round and an awe-inspiring cityscape comprising high-rise buildings set against a backdrop of mountains and sea, it's just one of those places that you can't help but fall in love with the very moment you arrive.
There are few other places where you can find such a heady mix of nature, culture and fun, and from the days spent wandering the leafy Jardim Botanico to evenings partying in the city's nightlife hotspot, Lapa, it's a city that takes you on a constant journey of discovery.
A nation known for its love of football, samba, and the beach lifestyle, here you can expect a laid-back pace of life and inviting locals who will ensure you feel right at home. Although Rio is still developing in terms of its digital nomad scene, recent years have seen a number of coworking and living spaces springing up, attracting a vibrant crowd of remote workers from across North and South America, Europe and beyond. Many people in the city speak English, and many Cariocas – Brazilians from Rio – will be delighted to have the chance to use their linguistic skills on you – although if you can pick up a little of the local lingo then it certainly helps.
 There's no denying that Rio is, at times, place to kick back, relax and sip on an ice cold beer or two on your days off, and many digital nomads and expats alike opt to come here for a taste of the beach lifestyle – but with rich culinary and arts scenes and a good dose of history thrown in, too, there's a lot more to this city than it might seem at first. Add to that it's thrilling and vibrant street parties and regular pop-up events, and it's certainly a place that keeps you guessing – so if you're planning on an extended stay, then you can be certain you'll never get bored.
It's not all rainbows and butterflies, though, and with some of Brazil's most dangerous favelas located just a stone's throw from the city's main throng, it's important to get to know your way around and keep your wits about you to avoid any unsavoury situations. While it's mainly a matter of common sense, taking a wrong turn could land you in trouble – so be sure to do your homework before you arrive, and chat to the locals for advice.
Nomad Friendly
Value for Money
Internet
Workspace
English
Food
Safety
Health
Transportation
Friendly
Quality of Living
Living in Rio de Janeiro Overview
| | |
| --- | --- |
|  Meal, Inexpensive Restaurant | $5.29 |
| Domestic Beer (1 pint draught) | $1.41 |
| Cappuccino (regular) | $1.40 |
| Loaf of Fresh White Bread (1 lb) | $1.24 |
| Water (1.5 liter bottle) | $0.54 |
| One-way Ticket (Local Transport) | $0.88 |
| Basic Utilities (Monthly) | $77.51 |
| Internet | $19.73 |
| Fitness Club (Monthly) | $26.87 |
| Apartment (1 bedroom) in City Centre | $345.56 |
Currency: Indonesian rupiah (Rp)
[erw_exchange_rates_widget lg="en" tz="0″ fm="IDR" to="EUR,USD,GBP,AUD,JPY,RUB" st="primary" cd="" am="15000″][/erw_exchange_rates_widget]
ATMs
Max Withdrawal: Rp 3,000,000
Withdrawal Fee: Rp 30,000 – Rp 50,000
Use of Credit Cards: Mostly Cash
Digital Nomad Personal Experience in Rio de Janeiro
From personal experience, it isn't as scary as some might have you believe – and as long as you steer clear of dangerous areas and avoid walking around dripping in jewellery and expensive cameras, you'll likely have a hassle free time. But nonetheless, it's wise to make use of the safe at your accommodation, take only registered taxis, and avoid buses where possible, as their routes often venture into the favelas
There has, over recent months, been much political unrest in relation to the handling of the Covid-19 pandemic and the corruption within the government opposition and high court, so it isn't uncommon for protests to take place on the streets. It's advisable to stay indoors when events like these are happening to avoid getting drawn into any potential trouble.
Now that we've covered the necessary stuff, let's take a look at just why Rio is fast becoming one of the most appealing cities in the world for digital nomads. Despite its ever-growing cosmopolitan communities, it still has a distinctly Brazilian feel, so our advice is to go sooner rather than later (when travel restrictions allow!) to enjoy it in all its authenticity.
Work in Rio de Janeiro
While Rio lacks the easy, breezy digital nomad scene that can be enjoyed in much of Europe, there has been a steady increase in the number of co-working spaces across the city over recent years. While remote working might not yet have become mainstream for Brazilians, the nation's larger cities – Rio and Sao Paulo – have adapted quickly to cater to growing demands. You might have some trouble finding such a set-up elsewhere in Brazil, but if you're eager to find yourself a base from which to soak up the local culture, enjoy the beaches and immerse yourself in a hedonistic party scene then Rio is just the place.
Best Places to Work in Rio de Janeiro
Tribo Coworking
Set just a block from Rio's iconic Copacabana beach, the trendy Tribo coworking space is unsurprisingly one of the city's most popular. As well as featuring 23 hot desks and additional meeting rooms, it offers a variety of lectures and courses for those looking to grow and develop professionally – and couldn't be better placed for those days when you fancy a post-work dip or perhaps a caipirinha to get you into the evening mood. Prices start from R$235 per month.
Address: Avenida Nossa Senhora de Copacabana, 1072 – Cobertura, Copacabana / Telephone: +21 2257 9007
EDX Co-working
One of the most centrally located co-working spaces, EDX can be found in Rio's downtown area and is strategically located just a stone's throw from the Santos Dumont airport, which is the main hub for domestic flights.
A rather compact offering, the communal working space has capacity for up to 14 people, so it's wise to reserve your desk for the day ahead of time to avoid disappointment. EDX also comprises a meeting room and training room, and provides free water and coffee to keep you going throughout the day.
If you're looking for a strong and reliable WiFi connection and an intimate, friendly feel, then this place has you covered, and with prices starting from R$65 a day, if you're looking for something a little more long-term then you can choose a monthly plan, which is often more cost-effective.
Address: Av. Rio Branco, 124 – Centro, Rio de Janeiro / Tel: +21 2178 9696
Space Coworking
Located in the vibrant neighbourhood of Botafogo, which comes alive at night for those who like to round off the working day in style, Space Coworking is a cosy and creative hub with space for up to 15. Just a stone's throw from the district's bus station, it's an accessible spot to get to from elsewhere in the city, and offers a range of flexible packages to suit varying needs. Prices start from R$1963 per month.
Address: R. da Matriz 93 – Botafogo, Rio de Janeiro / Telephone: +21 3576 6370
My Office
Over in the commercial district of Barra da Tijuca, My Office is set against an appealing backdrop of beautiful, golden-sand beaches and streets lined with giant shopping malls. If you're looking for a larger co-working space that offers better opportunities to network and make connections, then look no further, because My Office has capacity for up to 40 people each day, and as it's open 24-hours a day, it suits all kinds of schedules.
Prices start from R$226 for 20 hours a month.
Address: Centro Empresarial Città, Av. das Americas, 700 – Barra da Tijuca, RJ / Tel: +21 2132 7979
We Company
Also inBarra Tijuca is We Company –  a spacious and modern office space which is open from 9am to 9pm. With prices starting from R$90 per day, it's certainly on the pricier end – but offers a vibrant and sociable atmosphere that's just perfect for networking and making friends. Conveniently located in the area's downtown shopping mall, it's right in the heart of the shops, restaurants and bars, so it's perfect if you like to get out and about during the day.
Address: Bloco 9, Shopping Downtown – Av. das Américas, 500 – Lojas 129/130 – Barra da Tijuca, RJ / Tel: +21 2025 5700
WIFI CAFES
Internet cafes are common in Brazil, and in Rio de Janeiro, you'll find many – so if your laptop lets you down or you fancy getting a bit of work done on the fly then look for one of the city's many 'LAN Houses', many of which can be found around Copacabana (Avenida NS Copacabana) and Ipanema (Visconde de Piraja) in particular. As Rio is a city in which it's important to keep your wits about you, you might actually prefer this set-up as opposed to walking around with your laptop – you can always leave your personal equipment in your safe back at your accommodation on those days when you'd prefer to be out and about, but be aware that LAN houses can get quite busy, and that you might not always get the privacy you need for virtual meetings, and will set you back between R$5-9 per hour.
Of course, if you'd rather stick to the tried and tested then there are plenty of cafes and restaurants across the city that offer reliable WiFi connections – below are a few of our favourites.
Sofa Cafe
A trendy and cosmopolitan cafe located in the heart of Copacabana, Sofa unsurprisingly offers plenty of comfy sofas and a mouth-watering brunch menu. The cakes and coffees are a must, and the WiFi is fast and reliable.
Address: 300 Avenida Nossa Senhora de Copacabana, Copacabana, RJ
Livraria da Travessa
This cute bookstore on Ipanema's high street features shelf upon shelf of literature to look through downstairs, while upstairs, you'll find reliable WiFi and a delicious menu, all in sophisticated surroundings. It's not the most budget-friendly option of the bunch, but it was still one of our favourites, and offers the perfect setting in which to catch up on some work over an afternoon coffee.
Address: 572 Rua Visconde de Pirajá, Ipanema, RJ
Gringo Cafe
Given its name, it's perhaps unsurprising that this cafe caters to an international crowd. It's American-run, so you can expect to see plenty of American classics on the menu, including waffles, pancakes and burgers. If you're feeling homesick, then this is a great place to head to for an afternoon, and enjoys a privileged location in Ipanema.
Address: Rua Barão da Torre, Ipanema, RJ
Cafe Secreto
A hidden gem in Catete, you'll find Cafe Secreto tucked away down a narrow alley – the perfect off-the-beaten-track spot if you're eager to escape the tourist throng. For coffee, cake and a cosy yet exclusive feel, it should definitely be on your list to check out.
Address: Casa 8, 6 Rua Gago Coutinho, Catete, RJ
Plage Cafe
If you're looking for a more exotic location, then head to Rio's Jardim Botânico, where you'll find the sophisticated Plage Cafe. City life can be stressful, but here, you'll find nothing but serenity and tranquility. Serving up a trendy lunch menu and a selection of coffees and alcoholic beverages, it's a must-visit during your time in Rio.
Address: 414 Rua Jardim Botânico, Parque Lage, RJ
Best Places to Live in Rio de Janeiro
Best Neighbourhoods
The vibrant city of Rio de Janeiro has so many options to offer when it comes to the best neighbourhoods to live in that you'll be spoilt for choice. Nonetheless, there are some you'll certainly want to avoid, too, as those located close to the city's favelas can sometimes feel a little unsafe. These are some of our top picks if you're looking for the perfect mix of beach and city life, with plenty to see and do right on your doorstep.
Botafogo & Flamengo
Located close to the iconic Sugar Loaf Mountain and a giant shopping mall too, Botafogo is an area that is popular with students thanks to its lively nightlife scene, and neighbouring Flamengo is equally well equipped with an excellent selection of restaurants and bars. Both are well connected to the city's beaches via their metro stations, and make for a great base for digital nomads wanting to stay in the thick of the action, meet the locals, mix with other travellers and make new friends. Of all Rio's neighbourhoods, this is definitely one of the most sociable, so if that's your scene then you'll love it.
Copacabana
Ahh, the iconic Copacabana. If you're looking for unrivalled views along Rio's main beach, with breath-taking vistas of Sugar Loaf and Christ the Redeemer, then look no further. From here, you'll be just a few steps from the sand, which in the summer months (December to March), is invariably teeming with life. Shoulder to shoulder with locals and holidaying Brazilians in teeny bikinis and speedos, but with a distinctively cosmopolitan feel thanks to the mix of visiting tourists and digital nomads from across the globe if you want to truly immerse yourself in the local culture then this is the place to do it. With five kilometres of powdery white sand flanked by verdan mountains to explore, there truly is nowhere quite like it – and along the front, you'll find an endless variety of kiosks selling fresh coconuts, cold beer and caipirinhas. Nevertheless, it's worth noting that if you're looking for the best food and drink in the city, then Copacabana probably isn't the place to find it.
Ipanema
Just along the front from Copacabana, you'll barely notice where one turns into the other, but this famous beach, which inspired the classic bossa nova song, 'Girl from Ipanema', is another sight for sore eyes. Nearby, on one of the backstreets, you'll even find the bar, now called Garota de Ipanema, where it was written by musical icon, Antônio Carlos Jobim – who was inspired by a local beauty who walked by each day. Although some might say it is a must visit, it is rather underwhelming today. Nonetheless, the related memorabilia that adorns its walls is worth swinging by for a quick look at.
In Ipanema, you'll find that there's a rather more exclusive feel than in Copacabana, with the beach informally split into sections according to social groups. If you're hoping to take surfing lessons or get out on your board while in Rio, then Ipanema also enjoys some of the best waves on offer – but beware of strong undercurrents, which can often make emerging from the sea afterwards tricky.
Dining options in Ipanema are much better, too – although be prepared to get your wallet out, as restaurants here aren't cheap.
Jardin Botanico
Looking for a more serene and secluded place to base yourself whilst living the digital nomad life in Rio? The Jardim Botânico has got you covered. This leafy and tranquil residential neighbourhood is home to the city's beautiful and expansive Botanical Gardens, where you'll see toucans, macaws and many other colourful birds perched in the trees and a wealth of pretty tropical plants and flowers lining its paths. Offering a welcome break from the relentless heat of the beachfront area, this tourist hotspot also offers plenty of excellent dining options to choose from, so if nightlife isn't your thing and you enjoy a more relaxed pace of life, then you might consider this bairro as your base.
Leblon
Just along the front from Ipanema, Leblon is home to some of the city's best restaurants, a string of lively bars, and yet another stretch of picture-perfect, white sand beach, making it one of our very favourite neighbourhoods to be based in while in the city. Separated from Ipanema by a narrow canal, it has an exclusive feel that has driven accommodation prices up – but given the strength of the British Pound, the Euro and the American Dollar against the Real, prices are still pretty reasonable for outsiders. The beach here, which sits at the foot of the iconic Dois Irmaos (Two Brothers) mountains, is somewhat quieter than the main throng, too – so if tourist season starts to get the better of you, then this place offers some welcome respite and a more relaxed, laid-back feel. 
A place to see and be seen, Leblon is home to some of Rio's most beautiful people and immaculately presented properties, and attracts a wealthier crowd thanks to its string of quality international restaurants, where you'll find everything from Italian to Japanese.
Lapa
Anyone who may have visited Lapa some years ago will tell you that despite its reputation for fun nightlife, venturing here during the daytime was something of a no no. With its crumbling buildings, it once felt rather unsafe – but in recent years, it has undergone a transformation that has seen it become the city's biggest hotspot for those searching for samba – and a must for visiting tourists and digital nomads looking to experience an authentic dose of Brazilian culture. Here, you'll find a selection of relaxed bars and restaurants serving local cuisine – try one of the many 'a kilo' self service restaurants, where you can fill your plate with as much rice, beans, protein and veggies as you like for just a few reais, or opt for a 'prato feito' – which is a similar meal in which the food is pre-dished up for you.
Set at the heart of Rio de Janeiro's historic centre, expect to see streets lined with tall colonial buildings, punctuated by the iconic Arcos da Lapa (Lapa Arches aqueduct) that this particular bairro is recognised by.
Santa Teresa
Not everyone heads to Rio de Janeiro for its beaches, so if you're more of a city slicker or would prefer to immerse yourself in a more authentic side of it, then Santa Teresa could be just the ticket. Set on the hillside just above the city and flanked by dense, jungle-type vegetation, this quaint neighbourhood is the artistic heart of Rio, and with its narrow, winding cobbled streets and cute restaurants and guest houses, it has a magical appeal that makes it quite unlike anywhere else in the city. It's also one of the best places to experience authentic Brazilian cuisine – and from meaty Minas Gerais favourites to traditional Bahian snacks, as well as some of Rio's finest, you'll find it all here for a very fair price.
Accommodation here is also some of the cheapest in the city, so for digital nomads looking to stay for an extended period and wanting to save on cash, if you can bear being a little further away from the beaches then this lovely budget-friendly bairro would be our top pick.
Find an Apartment in Rio de Janeiro
Arriving in Rio is an assault on the senses, and as a digital nomad in Brazil, you'll likely want to spend as little time as possible stressing about finding accommodation so that you're free to dive into the experience head first. One of the major issues with locating accommodation in Brazil is that the country is still making its way into the digital age – which means that many of the best deals can be found simply by wandering your preferred areas and looking for 'alugar-se' signs, then calling the accompanying phone number to arrange a viewing – or, by making friends with the locals and asking around. But let's face it; nobody has time for that when they've just stepped off a long haul flight, and thankfully, there are some easier ways.
Try Anyplace
The best way to secure an apartment or a room in shared housing is with a reputable and internationally recognised site like Anyplace, which connects nomads with flexible term, fully furnished housing, with rent prices including a fully furnished space, utilities, WiFi and additional amenities.
Website: https://www.anyplace.com/
Join local Facebook groups before you arrive
There are many Facebook groups worth perusing for those looking for somewhere to live in Rio. 'Aluguel Apartamento – Rio de Janeiro' is one of them, and contains over 77,000 people both advertising and seeking short term rental accommodation in the city. As scams are common in Rio, it's wise to go for a property viewing in person before parting with any cash – but all in all, it can be a handy way to land yourself a reasonable deal, and a great place to network with other digital nomads in Rio. You never know – you might just find yourself some new housemates.
Join group: https://www.facebook.com/groups/320637194747667/
AirBnB
If you're looking for a quick and easy solution to your accommodation needs while in Rio, then head over to Airbnb. You'll be unlikely to get the best rates, but it's a simple way to secure a suitable spot while you get settled and prepare to search for somewhere a little more long term. If you don't mind splurging, then you'll find some glorious apartments located along Copacabana, Ipanema and Leblon offering spectacular ocean views and awe-inspiring silhouetted cityscapes by night.
Website: https://www.airbnb.com
Cost of accommodation in Rio de Janeiro:
In the popular areas mentioned above, you can expect to find a one or two bedroom apartment from RS1,000 – RS$1,500 per month in total, which includes both the basic rent and the 'condominio' – a fee paid by all property owners within a condominium complex to cover ongoing maintenance costs, and which is commonly passed onto tenants to cover.
Cheap Places to Stay in Rio de Janeiro
If you're looking to save a few bob during your time in Rio, then the good news is that there are some great low budget options for digital nomads.
Selinas
If you haven't yet heard of Selinas, are you even a digital nomad? This trendy co-living and co-working chain offers a lifeline to travellers and remote workers across numerous countries around the world, and Brazil is no different. In Rio, you have two to choose from.
Selina Lapa attracts an international crowd and is located just steps from the iconic Selarón mosaic steps. Home to its own South-American inspired restaurant, rooftop terrace, yoga deck, cocktail bar and movie room, its cowork space features a number of hot desks, communal areas and of course, that all-important strong WiFi connection – with the whole package setting you back a wallet-friendly $8 per night for a communal room,  or $24 per night for a standard twin.
Selina Copacabana, meanwhile, enjoys the perfect central location and is just steps away from the sands of the city's most iconic beach. With its very own cinema, library, communal kitchen, beachfront restaurant and a rooftop bar offering beautiful ocean views,  it's priced at just $11 for a communal room or $36 for a private single or twin.
Rio de Janeiro Visa
British, American and many European nationals can normally enter Brazil without a visa as a tourist, and may stay for 90 days in total. At this point, they may apply to extend their stay for a further 90 days.
On arrival in Brazil, you'll need to satisfy the Federal Police (the Brazilian immigration authority) with your intended purpose of visit and – in theory – demonstrate that you'll have enough money for the duration of your stay, although from personal experience, the latter is rarely required. Nonetheless, it's wise to always be prepared should you be asked – and you'll also be asked to provide details of your accommodation or the address you'll be staying at, so be sure to have this arranged before you fly, even if accommodation is just for a night or two.
Your passport will need to be valid for a minimum period of six months from the date of entry into Brazil.
Culture and Food in Rio de Janeiro
Brazil is a rich and vibrant nation that is well known for its traditional love of football, Carnaval and good food – and as a nation that has brought together the cultures of Indigenous Indians along with the African, Portuguese, Italian and German influences as a result of three centuries of colonisation following its discovery, it offers an interesting mix of Brazil acquired its main language, religion and many of its customs from the Portuguese, but depending on where you are in the country, you'll see some other dominant influences at play. In the east, where many families are of Italian descent, Italian cuisine has infiltrated the menus of many restaurants, as well as the cookbooks of many families cooking up mouth-watering dishes at home. From lasagne to cappelletti, think of the kind of hearty, comforting cuisine we all love.
In the south, which enjoys a cooler climate in the winter months, German influences are notable (strudel, anyone?), while in the north east, African customs are evident in many things – from traditional dress, to cooking (rice and beans; popular Bahian dish acaraje – crispy bean and onion cakes stuffed with a flavourful  mix of shrimp, crab, nuts and coconut milk known as vatapá), popular music and dance. Commercial and cultural imports from Europe and north America have, at times, competed with and influenced Brazil's own cultural output, which has led some to argue that the country's own cultural identity is being watered down – but in a nation that is already such a vibrant mix of influences, some might say that this is all part of its unique appeal.
Brazil is a religious country where around two thirds of the population are Roman Catholics. Catholicism was introduced largely by the Portuguese Jesuits who arrived in 1549 with the mission of converting indigenous people, but this was further cemented with the subsequent Italian colonisation later on.
With this in mind, it's worth noting that the spectacular annual Carnaval for which Brazil is internationally known for  is more than just a big party, and has a religious significance, too. Held 46 days before Easter each year, it's believed to have derived from the pagan festival of Saturnalia – which, when adapted to Christianity, became recognised as a way to say farewell to the bad, practice repentance and prepare for Christ's death and resurrection. One of the most internationally recognised elements of Brazilian culture is its music. Samba is perhaps the most obvious of genres this relates to, but let's not forget the chic and sophisticated Bossa Nova, the emotional Choro and dancers' favourite Forró – the latter two of which are derived from European Folk genres between the 19th and 20th centuries. All of these kinds of music go back a long way, but are ever-present in Rio de Janeiro and wider Brazil until today – so you'll have little trouble finding something to suit your taste, whatever it happens to be.
Rio de Janeiro Nightlife
Rio is known for its rich nightlife, but upon arrival in the city, it can be difficult to figure out how and where to find it. While the samba bars of Lapa are a mainstay and should undoubtedly be one of your first ports of call if you're looking for a vibrant and authentic experience, those seeking out a more hedonistic party scene will need to keep their ears to the ground. Many of the city's best nights out can be found by tracking down one-off pop-up festivals and events, with the neighbourhoods of Santa Teresa and Cosme Velho often playing host to some of the most exclusive. In Rio, it's not always what you know, but who you know – so don't be afraid to chat to the locals, make new friends and get the skinny on all the best places to see and be seen.
Rio Scenarium, Centro
It would almost be rude not to seek out a live samba show while in Rio, and the stylish Rio Scenarium is the place to see one of the best. Its walls lined with shelves upon shelves of unique antiques, it has become as popular amongst tourists as it is with locals over the years – but it has managed to retain all of its original authenticity nonetheless. With samba legends past and present taking to the stage at the weekends and a string of renowned DJs behind the decks in a second room for those seeking out a more international vibe, if you have only one night out in Rio, then make it here.
Website: rioscenarium.com.br
Circo Voador, Jardim Iracema
This iconic music venue is something truly special indeed, and regularly plays host to international underground bands from around the world. Whatever your musical preference, this place is certain to have something lined up that will tick all the right boxes – from 50-strong samba band Monobloco to 80s cheese band Ploc, both from Brazil – and an equally eclectic array of acts from further afield, too.
Website: circovoador.com.br
Comuna, Lapa
Recently moved to Lapa from Botafogo, Comuna offers a laid-back vibe set within a stylish music, bar and cultural space. Once home to regular and raucous all-night parties, it has had to smarten its act up over the years due to noise complaints from neighbours and disputes around licensing, but nonetheless, it still plays host to bands and live DJs throughout the week. The perfect place to mix with locals and travellers alike, and refuel with a burger washed down with an ice cold beer or a caipirinha.
Instagram: comuna
Things to do in Rio de Janeiro
If there is one thing there is no shortage of in Rio, it's things to do. There's a reason this vibrant and exciting city has won itself a reputation as one of the biggest bucket list destinations in the world, and from its spectacular beaches and local landmarks to its string of museums and thriving foodie and adventure scenes, you certainly won't get bored here. These are some of the best things you'll want to tick off your list while living in Rio – with something to suit all tastes.
Go to 'Carnaval'

If you manage to time your stay in Rio right, then it might just coincide with 'Carnaval' – a huge and iconic annual festival that takes place in February, just before lent, and that is considered the biggest carnival in the world. With more than two million people per day taking to the streets to watch the city's biggest and best samba schools battle it out to be crowned winners of this world famous competition, the colourful floats, bold costumes and awe-inspiring dance routines are an unforgettable experience that has made Carnaval a huge bucket list must for travellers and digital nomads from all over the world.

Head to Rio's iconic beaches

Perhaps we're stating the obvious here, but one simply cannot spend time in Rio without visiting its beautiful beaches, which sit at the heart of the city's action and punctuate some of its most appealing neighbourhoods. From Copacabana and Ipanema to Leblon, each of these sandy stretches offers up an authentic serving of Brazilian life, with scantily clad locals playing football and volleyball on the sand, and kiosks serving up fresh coconuts, ice cold beer and salgadinho snacks throughout the day. Head to Copacabana to indulge in a spot of people watching, mosey along to Ipanema to learn to surf, or beat the crowds at Leblon, where you can kick back and relax with a good book. Heat can feel oppressive in the city during Brazil's summer months, so you'll no doubt appreciate the opportunity to cool off in the sea after a hard day's work. And, with each of the city's beaches offering stunning views of the surrounding mountains and local landmarks – from SugarLoaf to Christ the Redeemer – being on the beach in Rio is an experience you won't want to miss.

Take the cable car to SugarLoaf Mountain

One of the most iconic sights in all of Rio, the Pão de Açúcar – otherwise known as Sugar Loaf Mountain – is another that you'll want to have at the top of your list. Accessed via cable car, this towering rock can get very busy with tourists during the summer months, so if you're planning on visiting it at this time of year then be sure to arrive as early as possible. This impressive peak rises 396 metres above the ocean below, and offers spectacular bird's eye views over the city below. If you're coming, then don't forget your camera, because it makes for an awe-inspiring sight you'll want to capture forever.

Visit the Botanical Gardens

Rio's leafy Jardim Botanico offers a welcome break from the throng of the beachfront and more central areas of the city, and is the perfect place to while away an afternoon wandering its shady paths and taking in a breath-taking array of flora and fauna. As well as a plethora of colourful, tropical birds flying through the trees, you can spot monkeys chattering overhead, too. The perfect place for a quiet stroll, or to relax and soak up the peaceful atmosphere with a good book.

See Christ the Redeemer

It's almost impossible not to catch the occasional glimpse of this towering statue whilst walking around Rio, but there is nothing quite like seeing it in all its glory. This 98-feet tall figurine – created in collaboration by French sculptor Paul Landowskiand Brazilian engineer Heitor da Silva Costa, sits atop Mount Corcovado and is accessible via a scenic tram ride from Cosme Velho. Another spot that is popular with tourists, arrive at opening time to get the best photos. Once again offering incredible panoramas of the city below, it's an experience you won't want to miss out on while in Rio.

Go behind the scenes at Mangueira's Palácio do Samba

One of Rio's oldest samba schools, the Palácio do Samba holds an impressive 19 parade prizes from over the years, and with good reason. Visit late in the year to get a sneak peak of preparations for Carnaval, or secure your seat for one of the regular evening performances that take place year round. If you're keen to get the complete inside scoop, then opt to book yourself onto a behind-the-scenes tour of the school's practice halls and workshops, where you'll see dance routines and parade floats beginning to take shape.

Explore Santa Teresa

Take the tram to Santa Teresa and immerse yourself in this authentic slice of Rio life. Here, winding, cobbled streets are lined with charming, family-run eateries and quaint boutique B&Bs, with shops selling handmade wares that make for the perfect souvenirs and gifts. Quite unlike anywhere else in the city, this hillside neighbourhood is the perfect place to while away an afternoon wandering the streets, chatting to locals and sampling some of the most authentic and traditional Brazilian fare you'll find in the city.

Cool of in the Museum of Tomorrow

When all that sunshine gets too much, you might find yourself looking for an air-conditioned indoor activity or two, and the Museum of Tomorrow has to be one of the coolest in both senses. One of the most successful legacies of the 2016 Olympics, when Brazil played host to this prestigious global event, it's a science museum set in a neo-futurist style building that dives deep into geology, smart cities, and everything in between. Ultimately, it's a look at what the future could hold for mankind, with an emphasis on sustainability and eco-powered by solar panels.

Immerse yourself in musical heritage at Pedra do Sal

If you fancy immersing yourself in Rio's vibrant musical heritage, head to Pedra do Sal. Heralded as the original birthplace of samba, here you can soak up live music set against a backdrop of colourful street art – and all washed down with a cheap caipirinha or two from one of the many stalls that line the pavements. Come down on a Monday or a Friday for a free street party and enjoy a fun and frenetic carnival vibe.
Best Time to Visit Rio de Janeiro
A hot and sticky tropical city, humidity in Rio is high all year round. Summer, which runs from December to March, sees the highest temperatures, but also the most rain – and when it's nearing 40 degrees celsius, the downpours offer a welcome break from the often oppressive heat.
June to September, is for many, a more pleasant time to visit. Skies are blue and clear, sunshine is plentiful, and the temperature sits somewhere around the 25 degree mark. From September to December, things cool down further and the rain slowly but surely begins to creep in. Temperatures can drop as low as 20 degrees as cold fronts sweep up from the Antarctic, so you might want to wear a light jacket in the evenings.
Despite the heat, Rio can be quite a cloudy city, which can make sightseeing frustrating. If you're looking to get clear photos of iconic monuments and landmarks like Sugar Loaf Mountain and Christ the Redeemer then early morning from June to September is your best bet.
Rio de Janeiro for Families
If you're planning on travelling to Brazil with children, then rest assured that they will be made to feel welcome in Rio. Brazil is a very family-centric country, with many children continuing to live at home well into their twenties and until they get married, so it's safe to say that they understand the unbreakable bond between parent and child as well as anyone.
Professional and wealthy Brazilians, who commonly have housemaids to clean and care for their homes, also often have nannies (known as babás) for their children, but given the excellent exchange rate from the British Pound, European Euro and American Dollar into Brazilian Reais, you certainly don't need to be wealthy to take advantage of such services when visiting if you're busy with projects, meetings and deadlines at points. A full time nanny's salary is around $415 per month.
International Schools
There are a variety of quality international schools catering to all ages to choose from in Rio, so if you're planning on staying longer term then you might consider enrolling children for the duration. These are some of the best:
American International School (Escola  Americana do Rio de Janeiro)
With a new and impressive unit located in Barra, this school caters to all ages and is the only one in Rio that is officially classified as being 'international'.
Adapted American curriculum/ Exame Nacional do Ensino Médio (ENEM)/ American High School Diploma/ IB Diploma; ages 3-18.
British School, Rio de Janeiro
Spread across three separate campuses, nursery age children can attend the botafogo unit, which also caters to children up to the age of 11. The Urca campus, at the foot of the Sugar Loaf Mountain, caters to ages 11-18 and teaches the IPC, NCFE, IGCSE and IB Diploma Programme. The third campus, in Barra da Tijuca, accommodates all ages and offers the same programmes as the others.
International Primary Curriculum/ adapted National Curriculum for England/ IGCSE/ IB Diploma/ Brazilian curriculum; ages 2-18
Living in Rio de Janeiro
Rio de Janeiro Transportation
Like most cities, Rio is best explored on foot – as this is always one of the best ways to get a feel for it, catch your bearings and see things that you would otherwise miss. Thankfully, much of the city's most note-worthy neighbourhoods are located around the beachfront and so are easily walkable, although if you're heading from one end to the other in the daytime heat, then it can sometimes feel a bit much.
Shuttle Buses
Thankfully, there are regular air-conditioned shuttle buses running up and down the Copacabana, Ipanema and Leblon strip – simply flag one down, and let the driver know where you'd like to get off. It's a fairly straightforward route, since it goes only up along the beachfront and back down again on the opposite side of the road, so there is little chance to get lost. Expect to pay less than $1 for a one way trip.
Taxi
If you're planning on heading further afield, perhaps to the likes of Lapa or Santa Teresa, you might want to take a taxi – although again, these are still reachable on foot for those who prefer to take the scenic route. However, if you need to get to Santos Santos Dumont – the city's airport for domestic flights – or take an international flight from Rio de Janeiro International Airport – then you'll certainly want to prebook a taxi. This way, you can avoid venturing into any of the unsafe favelas – where many bus routes will take you – and arrive at your destination as promptly as the heavy Rio traffic will allow. Starting price is around $1.20, with an additional $0.60 charged per kilometre.
The Metro
Rio's metro system is relatively efficient, and consists of five stations operating on a single line. Serving 41 stations spanning 58 kilometres, it will take you to most of the main neighbourhoods of the city – but can get busy, crowded and extremely hot. For this reason, many of the locals prefer to walk – but it's an option if you're in a hurry or have yet to get your bearings enough to find your own way around. A monthly pass, at under $40, will save you money in the long run.
Fitness and Health
From hiking to cycling, swimming to surfing, there are few better backdrops against which to enjoy your favourite outdoor fitness pursuits than Rio de Janeiro – and with its often hot and sticky climate, you'll certainly work up a sweat. Sports and exercise are a fundamental part of the Carioca culture, and you'll see locals running, cycling and rollerblading along the beachside promenade on the daily. Add to that the regular impromptu games of beach volleyball and football you'll see taking place each week, and opportunities to meet and mix with the locals abound – but if the thought of working out in such warm temperatures doesn't exactly fill you with enthusiasm then you'll be glad to know that Rio is home to plenty of quality gyms and fitness centres, too. Here are some of the best:
Bodytech, Copacabana
Built around the concept of lifestyle and wellness, this trendy and modern fitness centre is fully-equipped with all of the latest equipment and offers members a packed timetable of fitness classes, too – including yoga, pilates, circuit training, Muay Thai and jiu-jitsu.
Website: https://www.bodytech.com.br
Smart Fit, Copacabana
One of the cheapest gyms in Brazil – which is great news for digital nomads on a budget – Smart Fit is still fully-equipped with a selection of modern equipment, and there are always well-qualified professional fitness instructors on hand to provide advice. In Copacabana alone, there are four branches to choose from, with a further 256 scattered across Brazil.
Website: https://www.smartfit.com.br
Open-air gyms
Wander the promenade stretching from Copacabana to Leblon and you'll spot several open air gyms along the beachfront. Cariocas adore working out in front of the ocean, and while the equipment is a far cry from the high-tech offerings you'd get at a professional gym, it's certainly enough to work up a sweat. You'll find cross-trainers, pull up bars, sit-up benches and more. At the far end of Copacabana, at Praia dos Diabos, you'll even find a selection of free weights, making for a novel outdoor fitness experience you have to try out at least once.
Rio de Janeiro People
The second largest city in Brazil, Rio is officially home to a population of 7 million, but when you include the metropolitan area, this could in fact stand much higher. 
People from Rio are known as 'Cariocas', and speak with a distinctive accent that makes them instantly recognisable from Brazilians from elsewhere in the country. Of course, not everyone who lives in Rio is a native Carioca, with many people from across the country opting to relocate here in search of a better life. Sadly, this isn't always the case, and those who can't afford the city's prices may end up living in its favelas – the sprawling hillside shanty towns that Rio has become notorious for.
Cariocas tend to be extremely friendly, and are almost always happy to cross paths with gringos. At the very least, it's a chance to practice their English skills – but you can expect a warm reception and an invitation into the family home for lunch if you make a particularly good impression, and some sound advice about the best local bars and restaurants should you only manage a quick chat.
Like most Brazilians, Cariocas love to socialise over food and ice cold beer and are often extraverted characters who will certainly make an impression. They invariably enjoy a slice of the good life, working to live as opposed to living to work, and tend to be very proud of their city – although many continue to feel disillusioned by the ongoing political landscape in Brazil, which has been marred by corruption and scandal for some decades.
Nonetheless, many Cariocas dislike the common stereotypes with which they are associated, and although it's true that many adore Carnaval, football and spending time at the beach, this is not always the case – and when it is, there is much more to them than those things alone. Take the time to get to know them, and you will likely make some great friends for life – don't be surprised if you're going back to visit them in years to come, as their friendly and communicative nature often makes keeping in touch a cinch,
As a digital nomad or expat, you'll be made to feel welcome. Note that most Brazilians will assume you're American unless you tell them otherwise – but they'll be equally glad to meet you nonetheless.
Rio de Janeiro Insurance and Medical Care
Anyone travelling to Brazil is advised to take out comprehensive travel insurance, to include medical costs. Public health services in Rio tend to be poor – although the major city hospitals are home to some of the best trauma teams in Latin America – so you'll want to make sure you'll have access to private healthcare during your stay should you need it.
Private healthcare in Rio is thankfully very good – in fact, you can expect the level of care you receive to be the equivalent of the standard you'd receive across North America and much of Europe. Many medical staff speak English, too.
Many doctors and clinics have arrangements with some of the best-known international medical insurance providers, which enables payments to be made directly and can save any unnecessary headache.
If you're thinking more along the lines of elective surgery than emergency medical care, then Rio has become a hotspot for those in search of affordable cosmetic surgery, attractive people from across the globe who are looking for a quick nip or tuck. This, of course, will not be covered by any kind of medical insurance and is entirely at personal cost!
Make sure you are fully covered by reading our full Digital Nomad Travel Insurance guide.
Jobs in Rio de Janeiro
Rio enjoys a diverse culture spanning finance, manufacturing and tourism amongst its developing sectors. Rio benefits from a huge amount of natural resources – from granite to coffee, wood to tropical fruits – which continues to create a huge number of jobs, and with Brazil's population now nearing 220 million, there is plenty of scope for scalable businesses.
If you're considering seeking out a job while in Rio then it's important to make sure you are both eligible and legally allowed to do so. In order to work legally, you'll need both a residence permit and a work visa, so the standard 90 day tourist visa won't suffice. In most cases, you'll need to secure a job offer before you can apply for the work visa, but must not yet have commenced working. Your prospective employer will be able to start the process with the Ministry of Labour.
Mining, oil and gas are large industries in Rio and so engineering jobs are often available. Qualified education professionals are also highly sought-after, including English teachers, who can work at one of the many language schools in the city – while corporate jobs in the finance sector may also be secured with one of the many multinational companies that have a presence in Rio.
If you're looking for something a little more short term, then try hostels, hotels and bed and breakfasts – but be aware that wages in these areas tend to be low.
Check out our Digital Nomads Jobs Postings to find the best jobs available for Digital Nomads.
Nomad Friendly
Value for Money
Internet
Workspace
English
Food
Safety
Health
Transportation
Friendly
Quality of Living
Cost of Living Rio de Janeiro
Considering the cost of living in Rio is estimated to be around 57 percent lower than in London, and 74 per cent lower than in New York, suffice it to say that Brazil is a very affordable country to spend some time in if you're coming with money from outside (or making some along the way). Unfortunately, Brazilian salaries tend to be low, so it can be expensive for Brazilians.
You can expect to pay around $350 per month for a one-bedroom apartment in the city centre, including the sought-after areas of Copacabana, Ipanema and Leblon, with household bills, including internet, coming in at under $100. And a monthly pass for the metro or the bus network will cost you just shy of $40.
A domestic beer will set you back around $1.50, and a cappuccino $1.40 – while a meal for two in a mid-range restaurant, including drinks, shouldn't amount to more than $30 – so leisure comes pretty cheap.