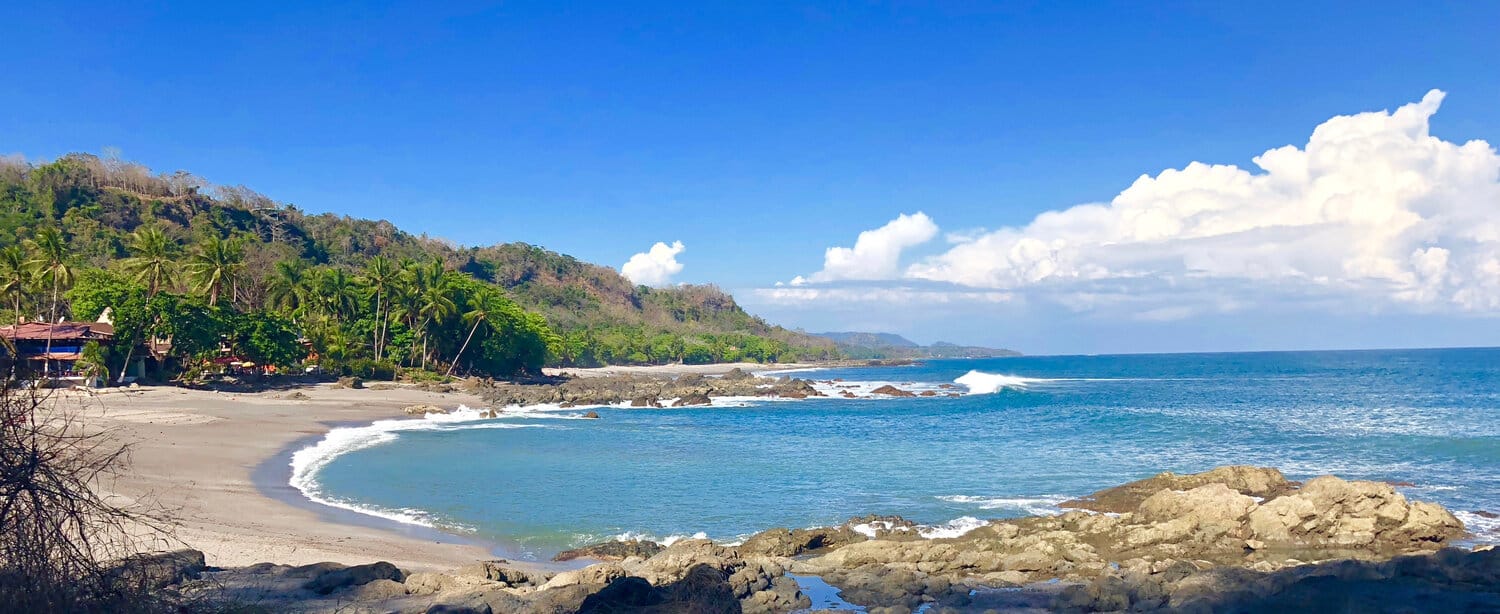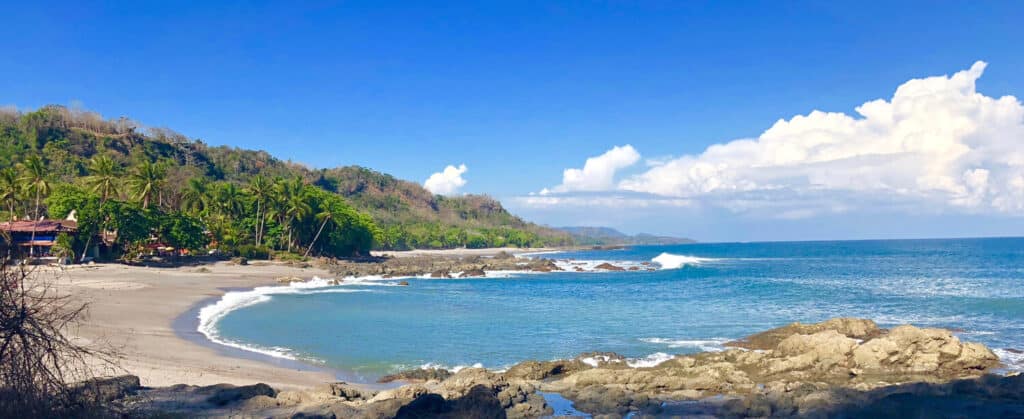 A Digital Nomad Guide to Santa Teresa, Costa Rica
For digital nomads who have grown tired of the stresses and strains that often come with big city life, Costa Rica, with its verdant jungles, mountainous landscapes and breath-taking sandy beaches lined with palm trees is a breath of fresh air. And, although this tiny nation, located in Central America and bordering both Nicaragua and Panama, is a relative newcomer to the remote working scene, it's also one of the most up-and-coming destinations for nomads in search of a slice of the good life.
While more developed tourist spots such as Tamarindo, on the Nicoya Peninsula, and Puerto Viejo, over on the Caribbean coast, have been attracting intrepid online entrepreneurs and freelancers for several years now, the new place to base yourself in Costa Rica for sun, sea, surf and a sociable digital nomad scene is Santa Teresa. A small town in the Puntarenas Province, on the Nicoya Peninsula, this increasingly popular bolthols is located around 150 kilometres west of the capital of San Jose, and although not the easiest to access, is well worth the effort to get to.
Having started life as a remote fishing village relying on agriculture, cattle ranching and small scale fishing, Santa Teresa has fast become the destination of choice for those looking to achieve that all-important work / life balance in Costa Rica, and facilitates days filled with just as much sunbathing, smoothie bowl eating and surfing as it does hustling, networking and making new connections. Some of the town's favourite coworking spots are located just steps from the sand too – so it couldn't be easier to enjoy the best of both worlds.
Nomad Friendly
Value for Money
Internet
Workspace
English
Food
Safety
Health
Transportation
Friendly
Quality of Living
Living in Santa Teresa Overview
| | |
| --- | --- |
|  Meal, Inexpensive Restaurant | $6.76 |
| Domestic Beer (1 pint draught) | $1.87 |
| Cappuccino (regular) | $1.96 |
| Loaf of Fresh White Bread (1 lb) | $0.96 |
| Water (1.5 liter bottle) | $1.84 |
| One-way Ticket (Local Transport) | $0.53 |
| Basic Utilities (Monthly) | $51.22 |
| Internet | $43.68 |
| Fitness Club (Monthly) | $27.98 |
| Apartment (1 bedroom) in City Centre | $446.97 |
Currency: Indonesian rupiah (Rp)
[erw_exchange_rates_widget lg="en" tz="0″ fm="IDR" to="EUR,USD,GBP,AUD,JPY,RUB" st="primary" cd="" am="15000″][/erw_exchange_rates_widget]
ATMs
Max Withdrawal: Rp 3,000,000
Withdrawal Fee: Rp 30,000 – Rp 50,000
Use of Credit Cards: Mostly Cash
Digital Nomad Personal Experience in Santa Teresa
If you're used to the facilities and amenities that come with fast-paced city life, then be prepared to take a different approach during your time here. Located along a long, dusty road, if you struggle to cope without convenience and mod cons then being based here might take some adjusting to – particularly when it comes to getting around (which we'll cover off in the transport section). But if you love nothing more than a simple, alternative and all-round easygoing life comprising beautiful surroundings and equally beautiful people, then in Santa Teresa, you'll fit right in.
The digital nomad community in Santa Teresa is growing by the day. In light of the ongoing COVID-19 pandemic, Costa Rica has been one of the few nations to throw its doors wide open to travellers without restrictions or mandatory quarantines in recent months, which has seen the population of remote workers in the country skyrocket. With Santa Teresa hotly tipped as Costa Rica's rising digital nomad destination, it's little wonder that this small beach town has seen a sizable influx of people looking for somewhere to lay low for a few months and enjoy life until the pandemic blows over, blowing one of Central America's best-kept secrets wide open and heralding the beginning of a new era for this previously sleepy beach location.
If you're looking to make friends and connect with other nomads, then you won't find it difficult here. If you're staying in hostels, surf lodges or coliving spaces then it's almost impossible not to find allies, and everyone has a story to tell and a four-pack of beer to share on the beach. You'll likely bond over the surf or shared travel experiences with relative ease – because Santa Teresa, Costa Rica, is just one of those places where you feel instantly at home. It's the locals, though, who will really make you feel welcome, so be sure to take the time to get to know them. They'll be happy to share some insider information about the best cheap eats and hidden surf spots in the town, which you likely won't find out about elsewhere.
Work in Santa Teresa
There's a reason that Santa Teresa is becoming so popular, and it goes far beyond the fact that Costa Rica has remained one of the few accessible nations during the pandemic. It's almost impossible not to fall in love with the laid-back vibe and the infectious appreciation for the great outdoors that just about everyone you'll encounter here exudes, and with a health and sustainability conscious crowd who like to be close to the ocean and get back to the basics of a simpler life, it's all very much a peace and love vibe.
As the digital nomad and expat community has grown, the town has developed to meet demand, and today you'll find a selection of coworking and coliving spaces that cater to the working traveller.
There are plenty of WIFI spots in Santa Teresa offering great WIFI, which might come as a surprise considering its relatively remote location and rustic feel. Nonetheless, the nation as a whole isn't known for being especially well connected, and with an average speed of 5mbps in most restaurants, bars and hotels and occasional cut outs during the rainy season, it's certainly not as fast or as reliable as you might find in some of the popular digital nomad cities across Europe.
The good news is that many of the town's coolest cafes and restaurants have adapted quickly to cater to our nomadic needs, and most will offer up free WiFi alongside your breakfast or brunch. During the day, when everyone heads to the beach, the cafes on the main dirt road running through Santa Teresa remain fairly quiet, making them great options for getting some work done without the monthly fee of a coworking space – but if you can't stand to be any further than glancing distance away from the ocean, then you'll find plenty of choices closer to where the action is, too.
There are a few different options for places to work in Santa Teresa, including several coworking spots and numerous cafes offering some of the best WIFI in town. With such an influx of new digital nomads to the town, particularly over the past year when Costa Rica has been one of the few countries to keep its borders open to international travellers and has implemented few restrictions when it comes to social distancing, it's likely that we'll see some more coworking spaces opening their doors over the coming years. The pandemic, it seems, has put Santa Teresa firmly on the map, paving the way for an exciting future for remote workers.
Best Places to Work in Santa Teresa
Coworking spaces
Skyloft
Skyloft offers plenty of natural lighting and an uplifting work environment that comes complete with sweeping views of the ocean. 
Skyloft takes a holistic approach to coworking, taking both body and mind into consideration – and with sunrise and sunset meditation classes to help you ensure you start and finish your day the right way, it's a stress free and social environment which is likely just what you came to Costa Rica for.
Swinda Coworking
Set amongst beautiful tropical gardens to offer a serene and calming working environment, the vibe, albeit away from the ocean, is similar at Swinda. This simple workspace offers high-speed Wi-Fi, free coffee and plenty of colourful bean bags for chill out time between tasks.
Selina Santa Teresa
Offering coworking and coliving for digital nomads in destinations all over the world, you've likely already stumbled across this brand on your remote working journey. Its Santa Teresa branch offers up office space that is bathed in natural light, with all the usual amenities, and is just a five-minute walk from the beach.
Outsite Santa Teresa
Another brand you've likely encountered before in digital nomad cities, Outsite offers coworking and coliving in a beautiful jungle villa, with internet speeds of 75mbps and sweeping views of the pacific ocean.
Coffee shops with WIFI
This cute Italian-style cafe, located on Santa Teresa's main road, serves up mouth-watering pastries and top-level espressos during breakfast time. And, with excellent WiFi and a chilled atmosphere with plenty of seating, it's a great place to set yourself up for a productive day while the masses head to the beach.
For beautiful smoothie bowls and avocado toast, head to Cafca – but arrive early to secure a seat, because space is limited and the cafe gets busy over brunch. The afternoons tend to be quiet, too – so if you prefer to squeeze in a morning surf before logging on to your laptop, then this is the perfect place to head to.
This beachside cafe has a distinctly antique vibe to it, but its menu and internet connection are anything but. Head here for fresh burritos and tacos, great coffee and pineapple pastries while getting some work done, and a vibrant social scene if you feel like chatting to some new people in between.
As its name suggests, Cafe Social attracts a friendly crowd and serves up some of the best coffee and breakfast options in town. And the WiFi isn't too shabby either, so arrive first thing to beat the competition for space.
Creative types will love Zwart Cafe, which is set in between an art studio, gallery and small workspace. If you're looking for inspiration, then you'll certainly get it here.
Best Places to Live in Santa Teresa
Best Neighbourhoods
Since Santa Teresa is a beach town, and a relatively small one at that, most accommodation options are located along the seafront or along the main dirt road that runs through the town – although if you don't mind going a little more off the beaten track then you can find some spectacular rental properties up in the hills that offer sweeping views down over the coast.
For convenience, you'll likely want to be located in the centre of Santa Teresa, as this will give you easy access to the shops, cafes, restaurants and coworking spaces the area has to offer. It's often possible to find apartments and house shares along the town's most popular beaches – Playa Santa Teresa, Playa Carmen and Playa Hermosa, and there are also several coliving spaces in the town that offer the perfect set-up for digital nomads – many of which go hand in hand with the coworking spaces we mentioned earlier on.
Find an Apartment in Santa Teresa
Rental prices in Costa Rica have historically been cheap, with a fully furnished one-bedroom apartment coming in at just $400 per month a couple of years ago – but as the digital nomad community has begun to cotton on and the area has seen an influx of tourists, travellers and remote workers thanks to its laid-back lifestyle and traditionally low cost of living, prices have started to rise. Now, you could expect to pay closer to $1,000 per month for the same kind of centrally located accommodation – although it's possible to get a good deal if you shop around, talk to the locals and make friends with the residents, as they'll often be happy to share some insider information. 
There are still some rustic house shares available for around the $500 mark that are a bit more of a trek away, so it all depends on what type of accommodation you're looking for and whether or not you have your own transport.
AirBnB is one of the easiest places to find accommodation prior to your arrival in Santa Teresa, but it can be difficult to get a good understanding of exactly where you'll be located – so often it's better to book into a hostel or surf lodge for your first week and search for longer-term accommodation from there. Not only will you be able to scope out the area, but you stand a better chance of landing a cheaper deal, too.
The 'What's on Santa Teresa' Facebook group is a great place to find out if any accommodation is up for grabs locally, and another good option if you're hoping to secure a discounted rate for long-term rental.
Cheap Places to Stay in Santa Teresa
Coliving spaces are always a good option for digital nomads looking to make friends, form connections – and of course, save money.
Outsite Santa Teresa
Outsite Santa Teresa offers up serviced coliving accommodation at a large tropical villa fringed by jungle, and is located just a two minute walk from Santa Teresa beach. The perfect hub for digital nomads and remote workers, it's set back from the town and offers beautiful views of the Pacific Ocean, with eight bedrooms and private bathrooms and a fast Wifi workspace inside the house for the utmost in convenience.
Selina Santa Teresa North
Most digital nomads will have come across a Selina at some point in their travels, and Selina Santa Teresa North doesn't disappoint. With a distinctly bohemian vibe and surrounded by golden sand beaches and nature, it attracts an artsy crowd – and with an on-site coworking space, bar, outdoor pool, communal kitchen, restaurant and even a cinema room, it's got all of your needs covered. Not only that, but you'll also be able to take advantage of the Selina surf school, with classes for all abilities.
Santa Teresa Visa
North Americans, British nationals and citizens of EU member states do not require a visa to enter Costa Rica, and may remain in the country for up to 90 days on a tourist visa waiver. If you plan to stay for a longer period or are hoping to pick up some casual work while in the country, however, then you'll need to obtain the relevant visa for your circumstances, so check  the requirements with the Costa Rican authorities either before you arrive or well in advance of your 90 days being up.
If you're coming to Costa Rica under the tourist visa waiver, you'll need to have proof of onward travel with you, or you may be refused entry. The authorities here are surprisingly strict when it comes to overstayers, with fines of up to $100 per month and restrictions on return able to be applied under local law.
You'll need to ensure that you have had the yellow fever vaccine prior to entering Costa Rica, a minimum of ten days before you fly.
Currently, there are no entry restrictions or mandatory quarantine periods being imposed in Costa Rica in relation to the ongoing COVID-19 pandemic. However, if you think you might have contracted the illness while in the country then you'll need to call 1322 for instructions on what to do next.
Culture and Food in Santa Teresa
Culture
A vibrant blend of indigenous heritage and Spanish colonial influence, Costa Rican culture is difficult not to fall in love with. A nation that lives by the motto 'pura vida' – which you'll see embellishing all sorts of gifts, souvenirs and even road signs during your time here, the people are laid-back and seem perpetually happy – and it's infectious.
The official language of Costa Rica is Spanish, but large proportions of the population speak English, Creole Mektaleyu, Bribri and Mandarin Chinese as their first language. The influences of these cultures can be seen throughout the country, with a distinctly Jamaican feel on the Caribbean coast, where Reggae music is popular. 
Costa Rica disbanded its armed forces back in 1949, and is proud of the fact that it still has not reconvened them to this day.One of the wealthiest and safest regions in Central America, it has benefitted hugely from the influx of American tourists, which has driven up standards and boosted the economy. The infrastructure of the country has improved dramatically, making life easier for everyone including the locals – and with a long history of public services, including education and healthcare available to all, suffice it to say that life here is pretty good.
Cuisine
Costa Rica enjoys an abundance of locally grown fresh produce, which means that tropical fruits and vegetables are plentiful, and this is reflected in the typical daily diet of the locals. Rice and black beans are staple foods, and are served up as part of breakfast, lunch and dinner – so if you're the type of digital nomad who likes to eat like the locals do, then you'll have to hope to like them. For breakfast, they are cooked with onions, garlic and cilantro to form the breakfast dish of 'gallo pinto', which is usually served up with eggs, avocado and hot sauce Salsa Lizano – while for lunch and dinner, they might be served up alongside meat, fish and a selection of different vegetables.
The capital city of San Jose is home to a relatively cosmopolitan population, and a variety of different cuisines can be eaten here as a result. From Peruvian to Japanese, these influences are gradually spreading across the country, and in popular digital nomad and tourist hotspots like Santa Teresa, thanks to an influx of westerners opening businesses in the area and due to the demands of tourism, you'll find a variety of American, European and Asian-style eateries. 
You'll never be short of different options to choose from – but eating at a typical Costa Rican soda is a great way to keep costs down. A full Costa Rican breakfast can often cost just a couple of dollars, while you might be paying four times that amount at a western-style cafe.
Santa Teresa Nightlife
For those who enjoy the chilled kind of night out, Santa Teresa doesn't disappoint. There are plenty of hip bars lining the sand of the main beach and located along the main street to suit most tastes, with DJ sets and ocean beats guaranteed.
The evening in Santa Teresa kicks off at sunset, when the masses head down to the beach to enjoy a cocktail or local beer or three as they watch the sun dip beyond the horizon. Make no mistake; the sunsets here are of the epic kind, and are something that will likely become a part of your daily ritual whilst in Santa Teresa. After that, head out to dinner or make your way along the shore to some of the town's liveliest bars for the perfect opportunity to mix with travellers and other digital nomads and make new connections and friends. 
Here are some bars to check out first:
Banana Beach Club
Banana Beach Club is where the action is at on the main beach, and serves up fruity cocktails in front of the ocean. Customers can lie back and relax on a hammock or sun lounger, or take up residence in a sofa fashioned from an old boat. After dark, things get a little livelier, with lively beats and dancing on the sand until late.
Habaneros
Another trendy bar located right on the beach, Habaneros serves up some of Santa Teresa's finest cocktails – the mango and jalapeno margarita is a must. With a nightly happy hour, with drinks available on a two for one offer, and great Mexican-style tacos and seafood, this place has got all of your evening needs covered.
Discobar lora Amarilla
Reggae fans should head to this cute little bar, where great music and cheap drinks are a given. It's also a great place to meet with the locals, which every digital nomad knows is the key to getting the best out of any destination. They always know the best-kept secrets that travellers often don't, so come down on a Thursday night for party vibes and a great mixture of Costa Ricans and international expats and travellers to connect with.
Vista de Olas
Speaking of sunsets, there are some gorgeous and more exclusive-feeling spots to enjoy them from if you're not feeling the hustle and bustle of the main beach – which can get pretty busy with groups and young travellers at peak times. Vista de Olas is one such hidden gem, and features a swim-up bar and opulent infinity pool with sweeping views down over the ocean below.
Brisas del Mar
Another steep climb from the beach , Brisas del Mar offers some of the best coastal views in town – and a great selection of drinks and cocktails, too. If you've got the energy after a day of coworking in town, then you won't regret making the ascent.
Things to do in Santa Teresa
Surf Lessons

One of the main reasons people head to Santa Teresa is to make the most of the excellent surf – and whether you're a seasoned pro or a complete novice, it's the perfect place to get a slice of the action. There are numerous surf schools located along Santa Teresa's beaches, including the lively La Point Camps and the always fun Funky Monkey Surf Lodge, each catering to various different ability levels and offering up some great opportunities to meet fellow surfing enthusiasts and make friends. Head to Playa Carmen or Playa Hermosa for some easier breaks to get to grips with. If you prefer to go it alone, then hire a board and head to some of the more advanced surf locations in the vicinity. Suck Rock, La Lora and Playa Santa Teresa all offer a more challenging experience.

Montezuma Falls

Costa Rica is known for its breath-taking waterfalls, and nearby Montezuma Falls is easily accessible by ATV (which can be hired from various providers in the main town) during the dry season. There are three waterfalls in total, and you can have fun climbing and jumping into the natural pools below. If you're staying in Santa Teresa during the rainy season, then ask for information locally before renting your ATV, as the smaller dirt roads you'll need to take to access the waterfall can sometimes get washed out when conditions are bad.

Cabo Blanco Nature Reserve

Nature lovers can take a trip to the nearby Cabo Blanco Nature Reserve, located just south of Montezuma for some breath-taking hiking trails and the chance to spot all kinds of wildlife, including monkeys, sloths and birds. Cabo Blanco was Costa Rica's very first nature reserve, created back in 1963, and those willing to navigate the challenging hike through thick, tropical forest will be rewarded with a pristine, golden-sand beach at the other end – usually with no-one else around.

Organic Weekend Market

There's no denying that the restaurants and cafes of Santa Teresa serve up some pretty fantastic food options – but if you prefer to save some money by cooking at your accommodation then be sure to head to the town's  weekly organic produce market, which takes place every Saturday from 3pm. Here, you can stock up on fresh fruits and vegetables, local Costa Rican coffee, fresh bakes and crafts. It's not just about the shopping though, and the lively music and fun vibe that come with it make it a great place to just head down and hang out for the afternoon.

Yoga classes

Yogis won't have far to look to get their fix in Santa Teresa, and many of the quaint and rustic hotels along the beaches come complete with their own yoga shalas and a daily schedule of classes. Check out Vajra Soul Yoga Adventures and the Horizon Yoga Centre & Tea House – or make your way down to Casa Zen for open-air yoga classes in jungle-like surroundings. It's about as serene as it gets.

Montezuma

The Bohemian beach town of Montezuma is located just a stone's throw from Santa Teresa, and offers an artsy vibe and plenty of great veggie and vegan eats. Its unspoilt beaches and jungle backdrop make it another charming spot to visit whilst staying nearby, with snorkelling boat trips also leaving from here to the breath-taking Isla de Tortuga.

Canopy Tour

Just along the coast from Santa Teresa is Malpais – another hip surf town, and home to several canopy tour companies that offer the perfect pastimes for adventurers and adrenaline junkies. The Malpais Canopy Tour takes you on a journey through the treetops on a sprawling farm, which features more than 200 different tree species and is surrounded by rich, tropical forest that is alive with wildlife and birds. The canopy route is nearly a mile long in total, and comprises eleven platforms set high in the trees, allowing you to whizz over creeks and canyons on a network of zip lines for the ultimate thrill seeker's adventure.

Isla Tortuga

There are various different tour companies in Santa Teresa that offer snorkeling boat trips to Isla Tortuga – a pristine and unspoilt island located around 45 minutes away by speedboat. The volcanic rock reef that surrounds the island is home to all manner of colourful marine life, including angelfish, porcupine fish, morays, spotted eagle rays and many more. Most tour operators will provide snorkeling gear and serve up a delicious barbecue fish or vegetarian lunch on the island, where you'll have the afternoon to relax and meet the resident pig, as well as spotting wildlife, renting a kayak or taking a siesta on the beach!

Bioluminescent kayak tour

Monteverde Tours runs this unique tour of the waters of the Gulf of Nicoya, which takes you on an evening paddle to spot some of the region's famous bioluminescent algaes. Emitting a blueish-green light that illuminates the waters and makes the fish that swim by look like shooting stars in the night sky, they provide a breath-taking and magical experience you should definitely make time for if you're looking for a unique way to spend an evening during your time in Costa Rica.

Scuba Diving

Whether you're an experienced open water diver or are looking to get your PADI, there are several dive tour operators in Santa Teresa. Iguana Divers offers PADI courses all the way from entry level to professional certifications and will take you out to various locations around Costa Rica's beautiful Pacific coast to explore the underwater world.

SUP

There are plenty of places to hire SUP boards in Santa Teresa, and some of them offer lessons if you're new to the sport. Monkey Adventures offers stand up paddle tours and also offers packages that include accommodation, food, surf lessons and daily yoga classes, too.
Best Time to Visit Santa Teresa
Costa Rica is unique in that it is made up of many different climate zones, which means that there are various different microclimates within the country.
The year is divided into two different seasons; the rainy season lasts from May to November (with notable exceptions on the Caribbean coast)  while the dry season, which is considered to be the summer by Costa Ricans, spans December to April.
Even so, there is not a true winter season in Costa Rica, and even throughout the rainy season the days are mostly sunny. You can expect tropical rain to fall mainly in the afternoons, for a couple of hours at a time – so if you're planning on visiting during this time of the year then there will still be plenty of good weather to enjoy either side. The most rain falls in September and October, and there are consistently around twelve hours of sunlight across the country for the entire year
The average annual temperature in Costa Rica is between 12 and 27°C, with September to November typically the coolest, while February to April enjoy the warmest temperatures.
In Santa Teresa specifically, the driest time to visit if you're eager to avoid the rain is from January to March – the latter also being the sunniest month of the year with an average maximum temperature of 35°C. On the other hand, May is the coldest month, with an average maximum temperature of 31°C.
Santa Teresa for Families
There is plenty for families to see and do in Costa Rica, making it suitable for children of all ages. From surfing and snorkeling to canopy tours and ziplining adventures, there's something to suit all tastes, and with endless beaches and breath-taking nature surrounding you every day in Santa Teresa, it's a great place to get back to basics and enjoy the simple things in life, and of course, the great outdoors.
Santa Teresa is safe (although as with most places, common sense and caution is still required), family orientated and offers up a relaxed and slow-paced vibe that for many nomadic families comes as a breath of fresh air after navigating the hectic capital cities of Europe and even Asia.
Due to its relatively remote location, however, international and bilingual schools in and around Santa Teresa are limited – although you'll find plenty elsewhere across the country, and particularly in the capital of San Jose.
International & Bilingual Schools
The Falcon Institute, Puntarenas is a multi-language school that caters to children from early childhood up until twelfth grade, teaching a US curriculum,and is fully accredited by the Costa Rican Ministry of Education.
Tel: 506-2637-7400
Tuition Rates: $3,950 – $6,250 per year
The Peace Academy Costa Rica, Puntarenas is a bilingual school that supports self-directed learning with highly-qualified teachers.
Tel: 506-8682-4475
Tuition Rates: $2000-$6000 depending on chosen program and grade level.
Living in Santa Teresa
Santa Teresa Transportation
The rustic beach town of Santa Teresa is not the most easily accessible of digital nomad destinations, so let's get that one thing straight. The town is set along a dusty dirt road, which can make transit times from one place to another considerably longer than they would otherwise be – but by turning up armed with the right information and well-prepared for the adventure, there is no reason you can't make it work for you.
Getting around the town
The easiest way to get around the town itself is either on foot or by bicycle. There are plenty of bicycle rental places along the main road of Santa Teresa, so you won't have much trouble finding one – try Ollie's Adventures, which offers bicycle hire at $10 per day, or a discounted rate of $50 for the week (if you're looking to secure one for a month or more, then don't be afraid to negotiate further).
In the rain season, the roads can become treacherous, leaving some parts of the town difficult to access – but thankfully, there are also several places to hire ATVs in the town if you need to navigate them. Plus, it's a pretty fun way to get around at any time of year – though at around $70 per day, it can make for a pretty costly expense. Savannah Tours, located on the main road, offers a discount if you're hiring for three days or more, with the opportunity to combine your rental with various zipline and canopy tours if you're in the mood for a little bit of adventure.
At this time of year, most types of car will also struggle on the roads, so if you're buying or hiring one then make sure it's a four wheel drive – you'll need it to get up the hills and over the puddles. Taxis will cost you between $4-$8 to get around within Santa Teresa, but can be very limited during the wet season.
Getting in and out of Santa Teresa
Getting in and out by local bus can be quite the mission. The local bus schedule can be somewhat unreliable and change often, but as service times for the buses coming to and from San Jose are designed to coincide with the Puntarenas ferry – which will bring you across from the Pacific coast to the Nicoya Peninsula – these tend to remain regular.
If you want to take the bus to San Jose from Santa Teresa, then you can simply head to the main road, wait for it to appear, then wave as it approaches to flag it down. They do things pretty casually in Santa Teresa, so don't expect bus shelters and roadside timetables!
To get to Santa Teresa from San Jose, it's a more organised affair. The direct bus leaves from Terminal 7-10, and will get you to your destination in just shy of six hours. Alternatively, book a shared or private shuttle bus, which can often make for a much more comfortable journey. Departing at various times throughout the day, it'll cost you $40 or $200 respectively, with travel in an air-conditioned minibus. Check out Tropical Tours Shuttles for more information.
Fitness and Health
Santa Teresa is known for its holistic approach to health and wellness, and with its numerous surf schools, yoga classes, meditation sessions and health food cafes, it offers up a great scene for those who like to look after themselves in mind, body and soul.
For those looking to keep fit while in Costa Rica, there is plenty of choice, too – starting with these gyms and fitness classes:
Gimnasio Guardavidas
A semi open air gym featuring plenty of free weights and some basic resistance machines, Gimnasio Guardavidas is located just off Santa Teresa's main beach.
FlorBlanca
A beautiful rustic resort which runs yoga retreats, FlorBlanca also offers regular vinyasa yoga and pilates classes in its open air shala and on the beach.
Real Box
To keep up with your CrossFit and HIIT classes, head down to Playa Carmen to Real Box.
Santa Teresa People
Costa Rica is home to a population of just under 5 million – that's only slightly more than the population of New York City. Around 76 percent of the population identify as Catholic, and the religion has impacted many of the nation's laws – including the prohibition of abortion and the death penalty. 
Less than 1 percent of the population is of indigenous ancestry, while more than 90 percent have some European heritage. Costa Ricans are known as 'ticos' (or 'ticas', if female), and are known to approach life with a laid-back attitude. This can also mean that things happen a little slower than you might be used to – so if you're planning on sticking around for a while, then you'd better get used to 'tico time'.
In Santa Teresa, the community is primarily a mixture of locals, Americans and Europeans. It's becoming increasingly common for Americans to relocate to Costa Rica in search of a simpler life by the sea, and as the town is becoming more and more popular with bohemian travellers and digital nomads alike, it's a cosmopolitan place where you'll likely meet people from just about all corners of the world.
Everyone has a story to tell and a beer to share, so you'll have little trouble mixing and making friends. Surfers, yogis and health enthusiasts make up a large proportion of the travellers and nomads you will find here, and everyone seems to have an online business they can't wait to chat to you about. Thanks to the laid-back atmosphere and beachy lifestyle, Santa Teresa is one of those places where everyone has time for you – which can feel like a welcome departure from the big city vibe, where everyone seems to always be in a rush.
The locals are warm, friendly and always eager to help you out in any way they can, so be sure to take the time to stop and chat to them when you can. Around 92 percent of the Costa Rican population speaks some level of English, so if your Spanish is rusty then you should have little trouble – but they'll certainly appreciate it if you start a conversation with them in their own language. On the odd occasion that there is a language barrier, Costa Ricans will still do their best to communicate with you as best they can – it's in their nature, and their culture to do so, and they are very welcoming of foreigners.
Santa Teresa Insurance and Medical Care
In Costa Rica, all citizens and residents have access to a universal healthcare system, and the high standards are a pleasant surprise. Costa Rica has one of the highest life expectancies in the world, and is constantly investing in both its public and private healthcare systems to improve them further – so much so that it has been ranked as the number one healthcare system in Latin America, and in the top 20 globally.
The public healthcare system offers 100 percent coverage for all medical procedures and prescription drugs through the public hospital and clinic system for a small monthly fee, and this is available to visitors as well as citizens and permanent residents. If you're considering becoming a permanent resident, then you'll be required to pay into the 'CAJA' (healthcare system) as part of the immigration process.
In private healthcare facilities, many of the medical professionals have been internationally trained and therefore tend to speak a good level of English, which can make life easier if Spanish isn't your strong suit.
As always, however, it is recommended to take out full travel insurance before you travel to ensure that any unexpected costs are covered should an accident or injury occur. The National Insurance Institute (INS in Costa Rica) is backed by the Costa Rican government, but other foreign private health insurance is also an option.
When receiving healthcare, be aware that hospitals and private doctors will expect payment upfront, even if you already have health insurance. For this reason, many people opt to head to Panama or Mexico for treatment instead – although even in Costa Rica, most treatments still cost only a fraction of what they do in the States.
Mosquitos can be a problem in Costa Rica, particularly on the Caribbean coast, so if you're planning on heading over there during your time in the country and particularly spending some time in the jungle, then you might want to consider asking your doctor to prescribe quinine tablets to protect you from malaria. Dengue fever is also prevalent, and is spread by day-biting mosquitoes, so be sure to wear repellent throughout the day and night.
As mentioned previously, the yellow fever vaccine is required prior to entering Costa Rica if you're coming in from an 'at risk' country – check the government's website for the latest advice.
Make sure you are fully covered by reading our full Digital Nomad Travel Insurance guide.
Jobs in Santa Teresa
The majority of people don't come to Santa Teresa looking for work; they come instead for the work / life balance afforded to them by their online business or remote working set-up. Even so, if you're looking to make some extra cash while here then you may find work at one of the many hotels, restaurants and bars in the town as a receptionist, server or another hospitality related role.
As there are many surf and SUP schools located along the beaches here, work as a watersports instructor is also a possibility if you have the relevant skillset. Tour companies in the area are often looking for guides, too, and may hire you to run boat tours, zip lining adventures and snorkeling trips.
There are few well-paying jobs, however, and getting a work permit in Costa Rica can be difficult – to the point where you'll need to hire a lawyer to prove that your role could not be filled by a Costa Rican.
Even doctors have been known to be refused work visas in Costa Rica on these grounds – so you're better off coming with your own stream of income already in place rather than expecting to rock up and be able to find work to fund your stay.
That said, foreigners ARE legally permitted to work for up to 30 days without a permit, which is deemed to be 'occasional employment' so if you're after a short-term fix for your financial situation then you might get lucky.
Check out our Digital Nomads Jobs Postings to find the best jobs available for Digital Nomads.
Nomad Friendly
Value for Money
Internet
Workspace
English
Food
Safety
Health
Transportation
Friendly
Quality of Living
Cost of Living Santa Teresa
Santa teresa is ranked in the top 37 percent of the least expensive cities and towns in the world, and 3 out of 9 – but nonetheless, the recent influx of tourists, digital nomads and businesses has driven living costs up.
The estimated monthly living costs for a single person is around $655 exclusive of rent. If you're travelling with family, then you can expect to spend around $2,350, including leisure activities and a couple of meals and drinks out here and there.