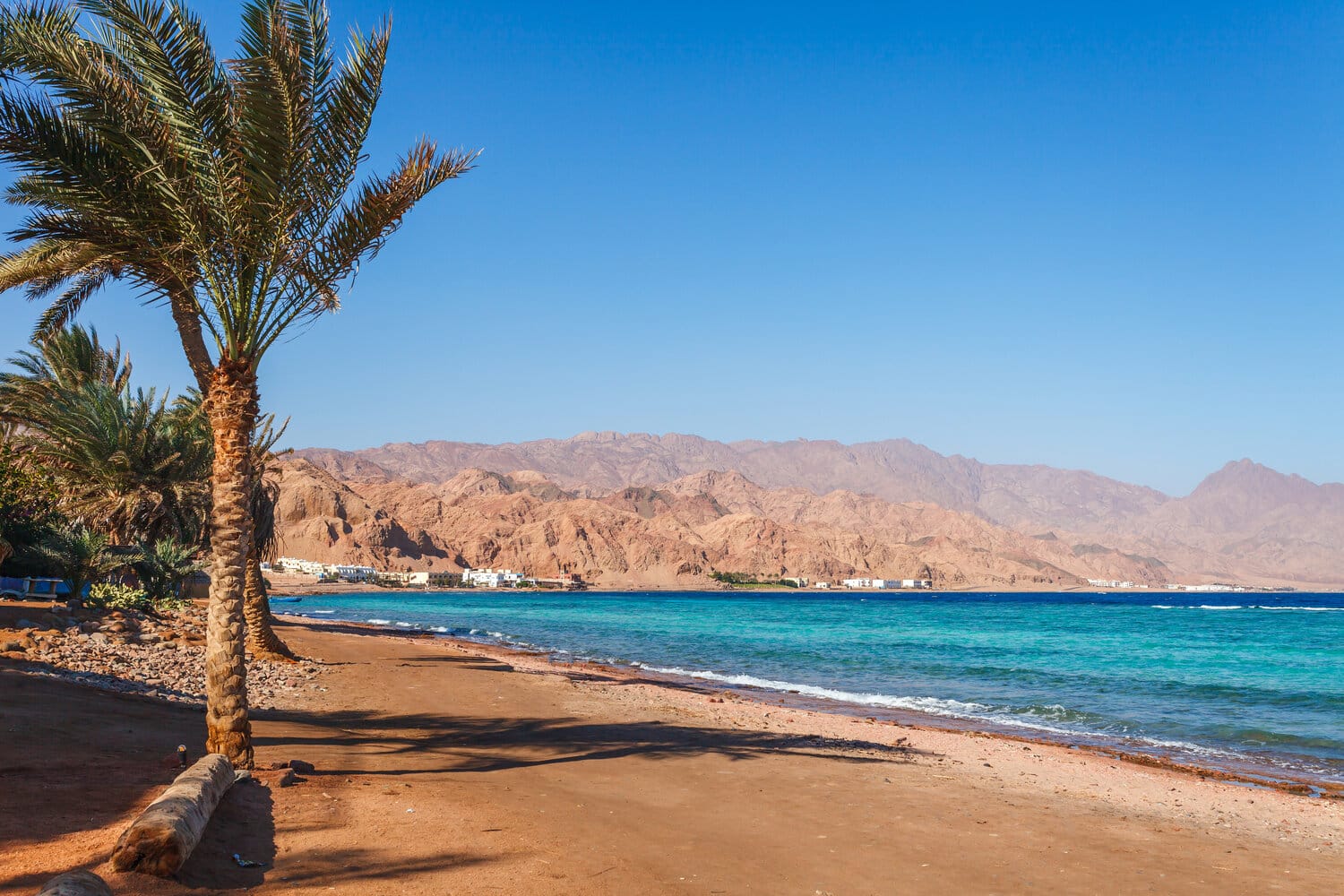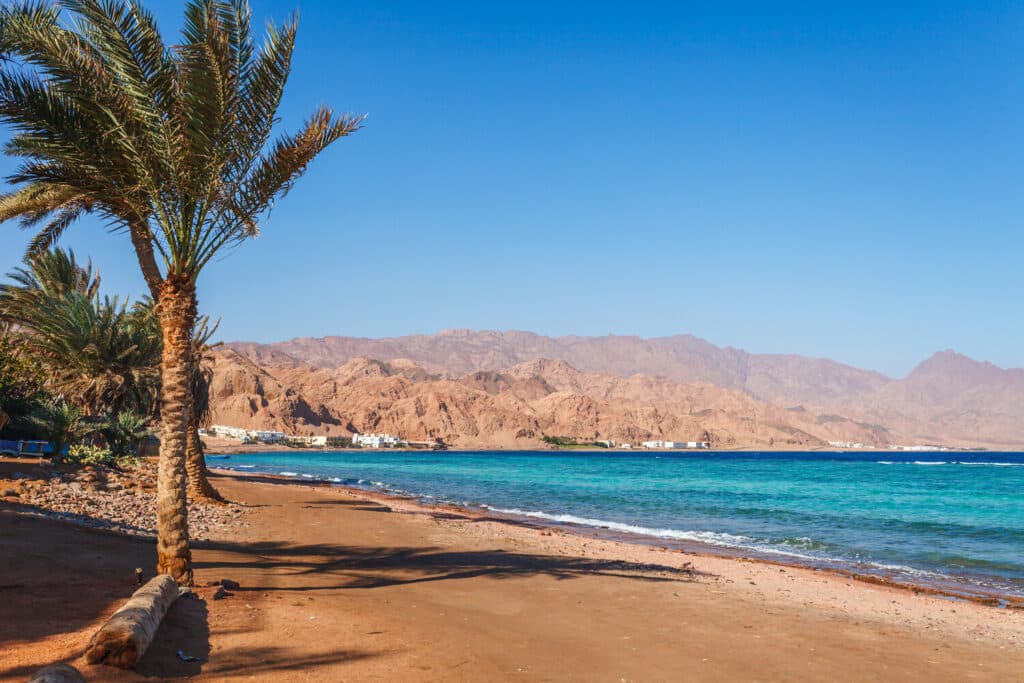 A Digital Nomad Guide to Dahab
Located on the southeast coast of the Sinai Peninsula in Egypt is no other than the fabulous city: Dahab. Dahab is situated around 85 km north of Sharm El Sheikh and 175 km South of Taba making it a fantastic location on one of the most magnificent seas in the world: the Red Sea. 
While Dahab used to be known as a fishing spot, it is a famous international diving spot where people from all over the world come to explore its fabulous marine life and incredible diving spots. The name Dahab means 'gold' in Arabic and this name was used due to its phenomenal golden, sandy beaches. 
Dahab is rather a small city with an area of 1,130 square kilometres. It is only 135 km away from Eilat in Israel and was once under their rule before it was restored to Egypt after the Egypt-Israel Peace Treaty in 1982. 
While Dahab is a popular destination that welcomes foreigners and Egyptians alike, it is home to around 15,000 inhabitants making it a great holiday and nomad destination. 
Dahab is the second most famous city in Sinai right after Sharm El Sheikh and is a cheaper option for diving, snorkelling and numerous activities making it a popular and great place to be. Because of its hot climate, it is a popular destination all year round even during the hot summer months due to its famous water activities.
Nomad Friendly
Value for Money
Internet
Workspace
English
Food
Safety
Health
Transportation
Friendly
Quality of Living
Living in Dahab Overview
| | |
| --- | --- |
|  Meal, Inexpensive Restaurant | $3.82 |
| Domestic Beer (1 pint draught) | $2.39 |
| Cappuccino (regular) | $1.91 |
| Loaf of Fresh White Bread (1 lb) | $0.87 |
| Water (1.5 liter bottle) | $0.37 |
| One-way Ticket (Local Transport) | $1.00 |
| Basic Utilities (Monthly) | $21.64 |
| Internet | $14.64 |
| Fitness Club (Monthly) | $15.91 |
| Apartment (1 bedroom) in City Centre | $244.02 |
[erw_exchange_rates_widget lg="en" tz="0″ fm="EUR" to="EUR,USD,GBP,AUD,JPY,RUB" st="primary" cd="" am="1″][/erw_exchange_rates_widget]
Max Withdrawal: €400
Use of Credit Cards: Widely Accepted
Digital Nomad Personal Experience in Dahab
The first time I set foot in Dahab, I instantly fell in love with the city and never wanted to leave. Dahab has this relaxing, laid-back and bohemian vibe to it that makes one leave their worries behind and just enjoy the incredible scenery. For any digital nomad looking for a place to relax by the sea, there's no better destination. 
The first time I decided to go to Dahab, I had heard about its infamous beaches and wanted to overcome my fear of the water. In Dahab, I went snorkelling for the first time and the experience that the Blue Hole gave me made me fall in love with the fascinating marine life under the sea.  
Dahab is a city that is a safe haven and paradise on earth for a digital nomad. Working by the beach with incredible views of the mountains, the sea and an atmosphere that spreads happiness through your veins makes it a fantastic destination that digital nomads head to in flocks. During any time of the year, you're bound to encounter a bunch of digital nomads from all over the world who have left their countries to explore the beauty of Dahab and live an adventurous life while learning to dive, surf or just sit back and relax. 
Another thing you'll realize once you're in Dahab is how pet-friendly it is. Every few metres, you'll find dogs and cats sleeping on the floors and the locals treating them as one of them. 
One of the advantages of living in Dahab is that it is roughly an hour away from Sharm El Sheikh, which besides being another stunning beach city in Sinai also has the advantage of having an international airport. Sharm El Sheikh airport has some of the cheapest low-budget flights to numerous destinations in Europe that makes it ideal for digital nomads looking to explore Europe as well or even those originally from Europe and wishing to visit family and friends every once in a while. 
No matter what the reason you decide to visit Dahab, you will instantly feel at home, feel a connection with the place and always be a city you need to come back and visit. In Dahab, you'll find yourself, make the best friendships and have life-changing experiences. 
Work in Dahab
While Dahab is an incredible destination, one problem you will face is the crappy internet connection. For many people, the solution usually lies in renting an apartment with a reliable internet connection or even getting a portable WiFi connection with a telecom network such as Vodafone, Orange or Etisalat. In most places in Dahab, Vodafone does not work well, and so it is better to opt for the other two. While this might not be the ideal plan, mobile internet packages in Egypt are rather cheap and a lot more reliable and practical making it an option to consider if you'd like to work while sitting in front of the beach. 
However, if you're looking for other places that offer WiFi connection, you could check out the following places in Dahab: 
Best Places to Work in Dahab
Tim's Munch
With the internet being quite problematic in Dahab, the owners of Tim's Munch have been trying to work on making Tim's Munch is a great spot to work remotely. Located on top of H20 Dive Centre, it has spectacular views, an array of great food, but is mostly outdoors making it too hot or too chilly on some occasions. 
Ghazala Hotel
Ghazala Hotel Located at the very end of the mamsha lies one of the popular hotels in Dahab. There, you'll find a Bedouin-like seating area right in front of the sea where you can sit back, take out your laptop and enjoy the fantastic views. 
MOJO coworking cafe
MOJO coworking cafe Not only does MOJO have an incredible sea view, but it also has one of the best internet spaces in Dahab. It's very close to the sea and allows you to take a break, go for a dip and enjoy the rest of your workday. Another advantage is that it is air-conditioned, which is essential during the hot summer months. Wherever you work in Dahab, you'll find the place filled with other digital nomads enjoying the remote life by the sea, but MOJO is definitely one of the most popular. 
MIRAGE
MIRAGE Mirage Dahab Hotel is located on the beach north of Dahab between Eel Garden and the Lighthouse area. Not only does it host incredible views, but offers different facilities for what you're looking for. While it is a hotel and scuba diving centre, you can also find super calm places with good food, reasonable WiFi without paying too much. 
Eel Garden
Eel Garden This restaurant offers ground floor and first floor spots for you to choose from based on the view and mood you're looking for. Not only does it offer incredible food, but is also great value for money with a great host that will make you feel welcome. 
Shells
Shells Taking a walk by the sea anywhere in Dahab, you'll find a place where you can set up and work with an incredible view, but with Shells, you'll also get great food, a friendly atmosphere and can even grab a beer as you work.
Shark
Shark This restaurant located by the sea is everything any digital nomad can dream of. With excellent service, mind-blowing food and a spectacular view, it's absolutely perfect for remote work. However, they do play some really good loud music if that bothers you. 
Flat White
Flat White What do you need for work besides good coffee, and a place with WiFi? Being directly on the sea, Flat White also offers a relaxing view that will get you in the mood and enjoy going to work every day. With nice, welcoming people and good food, you'll always find digital nomads typing at their keyboards here. 
Vegan Lab
Vegan Lab It's not easy being vegan in Egypt, but with Vegan Lab, you can find everything you need along with a place to work remotely. Located in Fana Street in the Lighthouse, this is a hidden gem in the heart of Sinai that offers healthy food and a selection of artisan coffees, smoothies and delicious food. Everything here is made in house with high-end ingredients making it a wonderful place to grab a bite as you concentrate on your remote work. 
Ladybird – Golden Europe hotel rooftop lounge
Golden Europe hotel rooftop lounge There's something about rooftops that makes working remotely feel a lot more chilled, laid-back and relaxed. Add a sea view to that equation and you've got a fantastic setting for any digital nomad looking to enjoy the nomadic lifestyle. It's a quiet and calm place where you'll be able to focus o your daily tasks without too many distractions. 
Everyday cafe
Everyday cafe One of the most popular cafes on the mamsha is no other than Everyday cafe. Because of its bohemian and hippie interiors, many tourists stop by to take photos and enjoy the spectacular views it offers. While it is usually quite busy, if you can plug in your headphones and cancel out the noise, it is an ideal place to work. 
Coffee Wheel
Coffee Wheel Is it even possible to work remotely without coffee? At the Coffee Wheel in Dahab, you'll feast yourself with the best coffee in town as well as a calming atmosphere. If you work until the sun sets, you're in for a treat! Isn't that the perfect way to end your workday? 
Diamond
Diamond Just a few steps away from Eel Garden, this diving centre and hotel is a great spot to get some work done. With its own private beach, you can enjoy working quietly, grab a bite at the restaurant and go for a dip, too. 
Best Places to Live in Dahab
Best Neighbourhoods
El Mamsha
You can't be in Dahab and not hear of 'El Mamsha'. Because Dahab is a small town, one of the most popular streets is no other than El Mamsha. Here, you'll find numerous camps, hotels, cafes, restaurants and bars overlooking the sea. Living in this neighbourhood is ideal for someone who wants to be in the heart of the city and where all the action is happening. 
Al Mashraba
The extended area of El Mamsha is known as Al Mashraba. While it might not be a pretty sight, it is in the heart of the city with cheap accommodations, within walking distance to everything you might need and an entire bazaar, or marketplace where you can buy gifts, souvenirs and traditional bohemian Dahab wear. Even though this is a very popular area it gets quite busy and noisy at night, so be sure to consider that when choosing your neighbourhood. 
El laguna
The laguna area offers some of the best views in Dahab as you get to see the breathtaking view of Sinai's mountains in the background at the end of a bed of sea blue water. The beach in this area is very calm and looks more like a natural swimming pool or lake making it such a fantastic place to live. Most of the best hotels are located in this area and have private access to the beaches. It's only a 5-minute drive to the centre of the city making it a good place to live.
Lighthouse
At the end of the Mashaya is one of Dahab's most popular neighbourhoods: The Lighthouse. In this neighbourhood, you'll find many hostels, camps, diving centres and even mid-range and fancy restaurants. It is still considered to be in the heart of the city and offers everything a digital nomad could need in terms of facilities, accommodation and incredible views. 
Assala
One of the most popular destinations in Dahab and where many expats choose to live is Assala. Here, you'll find cheap places to rent as well as hostels and other accommodations. In Assala, you'll find lots of Bedouins ad Bedouin houses as well as goats and other farm animals wandering about, making the neighbourhood itself unique, authentic and a great place to live. 
Find an Apartment in Dahab
Many people who visit Dahab tend to stay in camps or hotels as they do not know how long they're staying. However, if you're looking for an apartment in Dahab, there are a few Facebook groups where local estate agents post apartments per night or month based on your preference. You can also find the numbers of these agents on their post and call asking for other properties they might have available. These groups and pages are: 
Dahab Accommodation 

Dahab Hotels & Apartments 

Dahab for sale and rent 

Easy Accommodation in Dahab 

Dahab Rent & Sell 

Dahab Stories 
You can also check the following websites: 
The average range of a 1-bedroom apartment in Dahab is usually between EGP 3,500- EGP 5,000/ month depending on how close to the beach you are and the furnishing of the apartment. You can also consider sharing an apartment, choose a different location and find yourself bringing down the cost. 
If you're staying long-term (more than 3 months) chances are you'd be able to negotiate with the owner or agent as the turnover in Dahab is quite high. There's definitely no harm in trying. Just be careful that Egyptians tend to try and take advantage of foreigners and offer touristic prices, so be sure to make them know you're quite familiar with the prices and to be charged as a resident. 
However, with this super cheap accommodation, you can easily find an apartment in Dahab. While this is what you're expected to pay to the landlord or agency, you will still need to factor in the additional costs and bills you'll be adding. These will include the following: 
Utility bills such as electricity, heating, cooling, water and garbage will cost around EGP 450/ month for a studio or 1-bedroom apartment. 

ADSL internet: EGP 300/month 
Cheap Places to Stay in Dahab
While Dahab already offers low-budget accommodation, if you're looking to stay for a few nights somewhere cheap until you figure things out, there are numerous low-budget camps and hostels in Dahab. While they are cheap, they still offer an excellent location, sea views in most cases and all the facilities you could need. 
Here are some low-budget accommodation in Dahab to consider: 
Deep Blue Divers Dahab – $6/night

Oasis Fighting Kangaroo – $16/night 

The Spot chalets – $31/night 

Volunteers House Mini Rooms – $3/night 

Charlie House El Mashraba – $6/night 

Elrayga Camp Dahab – $8/night

Alaska camp and Hotel – $13/night

Lagouna loft – $19/night 

Lite HOUSE – $20/night 

Ali Baba Hotel – $20/night 

Neptune Hotel – $25/night

Roared Dahab Studio & Villas – $25/night 
Another option is to check the above Facebook groups to see if anyone is looking for a roommate or flatmate allowing you to cut down on costs tremendously. You can also check the following Facebook group for insights on low-budget accommodation or even roommate inquiries: Dahab Digital Nomads. 
Dahab Visa
Most foreigners are allowed entry in Egypt with an e-visa or a visa on arrival allowing them temporary stay between 3-6 months based on nationality. However, it is still possible to get an extension if you find yourself falling in love with Dahab and wanting to stay longer. While the procedure isn't as straightforward and is open to changes, this is what most foreigners residing in Dahab do to get an extension on their visa: 
Head to the visa office in Naqb, outside Sharm El Sheikh. 

You can only apply for a 6-months visa extension if you got the visa-on-arrival at the airport. It is a single-entry visa in most cases, unless you work or own a property in Sinai. 

Get a taxi going from Dahab to the visa office for around EGP 600. In most cases, if you post on groups like Dahab-Sharm car pool or Digital Nomads in Dahab, you'll find someone to go with you and you can split the costs. 

Bring with you a passport-photo, copies of your passport info pages as well as a copy of the $25 visa sticker with the entry stamp. 

When you arrive at the visa office, ask for a form and make sure you write down that you want a 6-months visa and that the purpose of residency is tourism.

You'll pay EGP 15 for the form and receive a receipt that will tell you when to come back, which is usually the next day. 

When you return to the visa office the next day, hand the officers your receipt and wait for them to call out your name. They'll hand you a bill of EGP 555 and instruct you where to pay it.
Double check that the immigration officer adds the correct stamp on the visa sticker page and not any other page or you could end up paying a fine of EGP 1,160. 
In most cases, it is also possible to do the same procedure at another visa office: El Tur. However, sometimes the officer might not agree based on your location. 
Culture and Food in Dahab
In Dahab, it is very easy to forget that you're in Egypt as it offers an entirely different culture. The whole vibe and atmosphere boosts relaxation and a laid-back and peaceful ambience. For example, you needn't worry about what to wear in Dahab as you'll find that everyone resorts to comfort over style. Expect to find Dahabians roaming the streets in swimsuits, flip flops and coverups or even dressed in the most popular loose patterned trousers and sherwals being sold in Dahab. The locals and expats living in the area are very friendly, helpful and looking to have a good time and so, expect the general atmosphere to be merry, inviting and one that allows you to have an absolute blast. 
During the day, the city's water activities and beaches are the highlights and where you'll find everyone. From sitting by the beach, snorkelling, diving and kitesurfing, the days in Dahab are filled with fun in the sun. 
Most Bedouin tribes still follow their traditions and rural way of living and still rely on sheep, cows and goats for their dairy products and meat intake. In Dahab, most Bedouins work as divers, tour guides, camel riders and guides or sell merchandise in local shops or stores. The Bedouin women not only take care of their homes, but they also make artisanal crafts and stunning handmade items that you can easily find being sold in the bazaar. These traditions and customs heavily add to the strong heritage of Dahab that compliments the city and brings forth a perfect mix of old and new that every digital nomad will truly appreciate. 
As for the cuisine, because Dahab is a blend of numerous cultures, it does not have a specific cuisine but offers a wide variety of culinary options that cater for expats, Bedouins and locals alike. In Dahab, you'll find seafood is a huge hit with fresh daily fish being provided on a regular basis. Ali Baba Hotel is one of the seafood delicacies that is an absolute must-try. 
However, what makes Dahab truly fabulous in terms of cuisine is its diversity. One of the best Italian restaurants in Egypt resides in Dahab and is Lakhbatita Ramez & PaolaRestaurant as well as Dai Pascatori Dahab which offers authentic Italian cuisine straight on the beach. You'll also find heavenly Russian cuisine at Red Cat restaurant as well as one of the finest bakeries and a traditional Dahab breakfast at Ralph's German Bakery. 
While the food in Dahab is not your typical Egyptian cuisine, it is bound to satisfy your taste buds and add to your incredible experience in Dahab. 
Dahab Nightlife
While Dahab is more of a day-time activity and filled with wonderful views and experiences in the morning, you'll still be able to enjoy your nights in Dahab. The nightlife is not filled with clubs and bars that you can hop around from one to the other, but that doesn't mean that you won't find a place to drink or to dance if that's what you crave. Here are a few things to do at night in Dahab to make sure you have a blast: 
Tota Downtown
Tota DowntownIf you're looking for a night out and not just sipping a beer at the beach, this iconic ship-shaped bar is the place to be. Located in the Mashraba area, Toota offers a sea-view, music and dance and is where most of the expats will be during the night. 
Yalla Bar
Yalla Bar Another famous nightlife location in Dahab is Yalla Bar. With comfortable seatings, cocktails and drinks, good music and friendly staff, it's one of the nightlife highlights in Dahab that you should definitely check out. 
Churchill's
Churchill's Looking for a sports bar or pub-like atmosphere where you can watch the game playing while enjoying a drink or two? Churchill's is definitely the answer to your query. With a large screen to make sure you never miss a game or a rooftop terrace to enjoy the night overlooking the Red Sea, you're in for a treat at this bar. 
Bedouin Dinner at Twilight Mountain
Bedouin Dinner at Twilight Mountain If you're looking for a different kind of nightlife, then we've got just the thing for you. At Twilight Mountain you can enjoy a Bedouin dinner with the famous Arabic floor seatings, a fire show or other performances that will definitely make your night a unique one. 
Dahab Camping
Dahab Camping Another popular night activity in Dahab is of course camping. Whether you're looking to camp on the beach or in the desert, Dahab offers different options that will give you the camping experience. In some cases, they can be combined with a bedouin dinner, bonfire night or other local performances that will blow your mind away. 
Hike St. Catherine mountain
Hike St. Catherine mountain Because the best time to climb the mountain is at night, it is definitely an experience you should do at least once. You'll find different trails you can take depending on the difficulty level and how much time you would like to spend on the actual climb. No matter how tiring, exhausting or long the trip up is, the view from the top as you watch the sunrise is absolutely stunning and will fill your heart and soul with a sense of euphoria that is difficult to describe. 
Take a stroll on the mamsha
Take a stroll on the mamsha When all else fails, you can always enjoy taking a stroll on the mamsha, sitting in any of the restaurants, cafes,bars or clubs available there. Or you can go shopping and enjoy hanging around with the locals and seeing what merchandise they have to offer. You can always tell so much about the city from its locals and here you can make friends that will help you get the best out of Dahab during your stay. 
Things to do in Dahab
Because Dahab is a coastal city, it has so many exciting, adventurous and beautiful things to do. Whether you're looking to sit back and relax or have the adventure of a lifetime, you'll be able to enjoy Dahab. 
Learn to kite surf/windsurf

Because Dahab is known for its watersports, it is a very common kitesurfing and windsurfing destination. Here, you can choose to treat yourself to a discovery session, beginners course with some of the best instructors or even rent out the equipment and enjoy the Dahab waters from a different perspective. 

Go diving

Dahab has some of the most beautiful underwater scenery you can find in Africa and is a top diving destination where people from all around the world come to. Here, you can see a whole colourful world under the sea and be mesmerized with the different species as well as the beautiful corals that will take your breath away. One of the reasons many people come to Dahab is because it is one of the cheapest places in the world to become a certified open water diver and so, why not make use of the prices, and take up diving? 

Go snorkelling

If diving deep blue seas and being under water scares you, but you'd still like to encounter the incredible marine life evident in Dahab, then snorkelling is your best bet. Not only will you get to take a dip in the Red Sea and feast your eyes on some amazing views, but you can also find numerous snorkelling spots in Dahab that you absolutely must experience. These include the Blue Hole and 3 pools, The Canyon, Ras Abu Galloum, Eel Garden, Lighthouse reef and many more. 

Visit the Blue Hole

You cannot be in Dahab and not visit the Blue Hole. It is a worldwide popular diving and snorkelling destination. Because the sea is very deep, the blue colour is something else. It's an excellent trip to spend the day and enjoy the fascinating views, go for a swim, snorkel or dive. You can also enjoy eating at one of the cheap restaurants that overlook the area. 

Take a boat to Ras Abu Galoum

North of Dahab, you'll find the spectacular area known as Abu Galoum. Here, many people take a boat ride, stop in the middle of the sea and spend the day snorkelling, diving or even hiking up the mountain.  

Go on a Camel Safari/ horseback

Why tour the beautiful deserts and coasts of Dahab on foot when you can do that on horseback or even on a camel? The experience itself will be exciting and you'll get to feast your eyes on some of the best views that Dahab has to offer. 

Enjoy the sunset in any of Dahab's sea-view restaurants

If Dahab is famous for one thing, it is the mesmerising views that boost relaxation and peace of mind. If you're looking for a place to chill, you can head to the mamsha and choose any of the restaurants or cafes that are straight on the beach. You'll even find a few with swings that are in the water and make for excellent photographs to keep as memories of the wonderful Dahab. 

Climb Mount Sinai

While this is not in Dahab, there are many day trips you can organize that take you to hike mount Sinai. This is usually done over night in order for you to reach the top by dawn and watch the sunrise. There's nothing more beautiful than seeing the spectacular views of Sinai when the sun rises. Just make sure that you dress heavily as it can get very chilly at night and wear comfortable shoes. 

Enjoy a Bedouin night

Because Dahab is filled with Bedouins, it is very easy to arrange a night in the desert, situated around a bonfire with folkloric music, performances and festivities that last all night. This is a great experience that you'll not only enjoy but remember for the ret of your life. 

Visit the bazar

Located in the heart of Dahab, you'll find small stores and street stalls filled with Bedouin crafts, souvenirs, swimming/snorkelling and diving equipment as well as traditional Dahab clothing that offer the laid back and comfortable attire you'll find everyone wearing in Dahab. You'll also find artists displaying their work and many tourists coming to this bazar at night to buy souvenirs.
Best Time to Visit Dahab
Dahab has a desert climate, which means it is mostly hot all-year-round. However, because it is a coastal city, the wind and breeze offered by the sea helps make the weather a bit more bearable than usual. 
Summer
The hottest months in Dahab are obviously during the summer which start from May-September. This is also the driest weather and the months with the most humidity, too. During the summer, the temperatures are quite high with highs of 30-35 degrees Celsius and lows of 25-26 degrees Celsius at night. August is usually the hottest month of the year and one that is quite difficult to bear unless you're in the water all day long. 
Spring
Spring in Dahab is the best time you can visit and enjoy all the Dahab activities. Starting from February-May, the sun shines and being in the water is a phenomenal experience. During this time, expect to find a temperature of highs of 21-28 degrees Celsius and lows of 15-22 degrees Celsius. While the sun is still out, you'll probably find a slight breeze during the day that will make you enjoy just sitting by the beach, too. At night, it could get a little chilly, but still warm enough to enjoy going about your day. During Easter, you'll find many Egyptians and foreigners vacationing in Dahab as it is the perfect spot to be in that weather. 
Winter
The weather in Dahab is moderate during the winter but that doesn't mean that it doesn't get cold at night. During the winter, there are some people who find it too cold to take a dip in the water as the weather offers highs of 19-21 degrees Celsius and lows of 14-17 degrees Celsius. While the coldest month is usually January, on many days, you'll still find the sun shining and at noon feel it's possible to head to the beach. 
Autumn
Another favourite time amongst locals and foreigners alike is during the autumn season. From September-November, the weather is absolutely fantastic. You can enjoy the activities in Dahab without getting sunburnt or feeling suffocated, but still be wearing summer clothes. Another busy month in Dahab is October as there is an official holiday in Egypt on the 6th of October that many people like to bridge their weekend with and enjoy Dahab's gorgeous weather. During this time Dahab offers highs of 24-30 degrees Celsius and lows of 17-25. 
Dahab for Families
Dahab is not your typical family destination and is not ideal for a digital nomad looking to stay with family. However, if absolutely necessary, you will find a couple of schools and daycares in Dahab as well as a whole lot of activities and fun things to do with children. 
Just keep in mind that educating your children in Dahab could really compromise their education, especially that most schools in Dahab offer a national curriculum which not only requires them to understand Arabic but also might not be accredited abroad. Here are a few national schools in Dahab. 
Futures Dahab School 

School Ibn Abi Taleb Secondary Dahab 

El Kabany Language School
International Schools in Dahab
The only international school in Dahab available that offers an IB curriculum is Notion International School. However, it only offers education for primary and middle school students. 
If you're looking for daycare, there are a few services you can find: 
Habiba childcare

This nursery provides childcare services for toddlers aged 1 and over on weekdays from 7.45 am – 2.15 pm.

 
Dahab Activity House

Adopting the true Dahab vibes, this daycare centre doesn't believe in traditional classrooms or following a standard syllabus. Instead, it focuses on learning groups based on every stage offering a more hands on approach to what they're ready to learn. 
Living in Dahab
Dahab Transportation
Because Dahab is a small city, getting around is pretty easy, but heavily depends on where you're staying as well as what kind of activities you're planning. In Dahab, you'll find three main transportation methods: 
Cycling
One of the first things most digital nomads do when setting foot in Dahab is find a bicycle. You can choose from various options of renting a bike per day, per month or even go all out and decide to buy one yourself. Before you invest in a new bike, be sure to ask around if any of the digital nomads know of someone leaving and selling their second-hand bike. 
Once you get familiar with the locations and where everything is, you'll find cycling makes everything easier. Just be careful when cycling on the mamsha as it can get pretty busy with pedestrians and cyclists. 
Walking
Another popular alternative is walking. When you live in the heart of the city, most daily excursions will be within walking distance or offer a spectacular view that makes walking actually fun. However, during the summer, the weather can get pretty hot and humid taking away any enjoyment that comes with a stroll. 
Pickup taxi service
Instead of seeing cars and cabs running the city, one of the most common means of transportation in Dahab is using a pickup truck. As soon as you arrive, you'll encounter a local, digital nomad, foreigner or someone who has the number of a pickup truck driver who will drive you around. Depending on how many people are in your group, you can sit right next to the driver at the front, or take a seat in the back open-spaced area. Drivers are very friendly and will give you their number to call them when you need to get back or head to a different location. Transportation is actually quite cheap and could cost you from EGP 10-20 per person for every ride depending on the distance. 
If you're looking to head to Sharm El Sheikh, Nuweiba' or other close destinations in Dahab, you can arrange with a taxi service. Most hotels in Dahab have taxi services or connections that can help you get what you need. 
Fitness and Health
It comes as no surprise that the main form of fitness and fitness activities in Dahab will be related to water activities. If you want to take on fitness on your own, then swimming will be an activity you can do pretty much all year round. Other water sports such as paddling, canoeing, kayaking and kite/windsurfing are also popular that will offer fitness while having a whole lot of fun. But that doesn't mean that the water is your only option for getting fit in Dahab, here are a few other fitness activities you can do:
Yoga
Yoga is actually quite popular in Dahab. With the amazing serenity and peaceful vibes that Dahab offers, it is a popular yoga-retreat destination. Many expats and nomads living in Dahab also offer regular yoga classes that you can enjoy on the beach or with a sea-view. Nour Wellbeing Dahab, Routh Yoga Studio, Eel Garden Yoga, Blue Beach club as well as many others offer yoga classes where you can drop in or sign up for a full package. 
Running
Taking a run during sunrise or sunset by the sea is bound to get you fit when in Dahab. Not only will you be getting the exercise and cardio you need on a daily basis, but this routine will allow you to enjoy an incredible setting and make use of living by the beach. 
Cycling
Since its the best form of transportation in Dahab anyway, why not use it to your advantage and incorporate it into your day as a form of exercise, too? You'll also find cyclists riding together, going on rides and organising cycling events that will help you stay fit and on top of your game. 
Qi Gong
Looking to try out a group workout that you've never tried out before? Why not try the ancient Chinese practice of Qi Gong? This low-impact workout is a form of meditation and can be practiced on the beach. 
HIIT
High intensity interval training is an excellent way to start your day, get you all pumped up and release any anxiety or negativity you might have. Working out in a group is always an optimum solution if you're looking for a high intensity workout. You can find classes available at Coral Coast and Fantasia Divers Dahab. 
Gyms
However, if you're looking for a gym you can sign up with the equipment you need, then you can checkout some of the below gyms in Dahab. Some of these gyms offer classes and other fitness workouts to do, while others only offer a membership/subscription to be able to use the equipment on the premises. 
Planet Gym Dahab

Soldinej

Shape Shifters

Blue Beach Club

Nour Wellbeing Dahab

Hammer Gym

Sharkfit Dahab
Dahab People
One of the best things you'll enjoy in Dahab, apart from the sandy beaches and gorgeous views, is the people. The people in Dahab are one of the things that make it a gorgeous place to live in. Dahab is composed of Bedouins, locals and foreigners who chose Dahab as their home. Because the general atmosphere in Dahab is laid-back, anyone who falls in love with Dahab and chooses to stay here adopts the same chill vibe that is utterly contagious. 
In Dahab, the locals are very helpful and will be willing to help you in anyway they can. Whether it's giving you tips and tricks on where to stay, helping you find accommodation, giving you info on where to eat, get your supplies or even best places for water activities, you'll find a bunch of people at your service whenever you need be. Because the city is small and the inhabitants are not that much, it is very easy to make friends in Dahab. Seeing the same faces on a regular basis, you'll be greeted with warm welcomes and even be invited for the occasional cup of tea that Egyptians are so famous for. 
The Bedouins in Dahab are part of what make it so special as they hold so much weight to Dahab's heritage and culture. While they have their own primitive ways and hold on to their heritage, they are still laid-back,easy going and accustomed to living around foreigners. The Bedouins have a tradition of the male being the man of the family and is responsible for making the family income while the woman is responsible for tending to her family, taking care of the animals (as most Bedouins rely on cows and sheep for dairy and milk) as well as getting creative with bedouin crafts and traditional artwork that can be sold in the markets. 
As for the foreigners, many people who live in Dahab had initially come for a visit and just couldn't leave. That 1-week holiday easily extends to a month or 6 making the expats and digital nomads in Dahab great company. Everywhere you go, you'll find other digital nomads interested in the same things as you as well as willing to experience different Dahab activities making it very easy to have a social life and enjoy your stay in this dazzling city. 
Dahab Insurance and Medical Care
Since Dahab is a small city on the Red Sea, it's medical care is far from top-notch. But that doesn't mean that you won't get any medical care. Located in the Mashraba Street, you'll find Dahab Medical Care Hospital with all kinds of facilities and services. From multi-lingual physicians and professionals who can communicate with most digital nomads, Dahab Medical Care Hospital is able to provide highly qualified health care to digital nomads and tourists in the city when they're in need of emergency care, surgeries, check-ups or even following up with chronic diseases.
 If you're in need of an emergency ambulance in Dahab, call the 24/7 hotline on 00201223486209. 
Because most digital nomads staying in Dahab already have travel insurance, just make sure from your insurance company that your travel insurance covers your entire stay and will be accepted in Egypt. In some cases, travel insurance only covers emergencies and you'll have to pay for any check-ups, but unless you're undergoing a surgery, medical care shouldn't be too expensive in Egypt. 
Make sure you are fully covered by reading our full Digital Nomad Travel Insurance guide.
Jobs in Dahab
Many nomads who find themselves in Dahab tend to pick up a few jobs that are very suitable for the area: 
Scuba Diving instructor: after living in Dahab for a while, many foreigners fall in love with the marine wildlife so much that they want to turn it into a profession. Becoming a Padi instructor allows you to live in Dahab, make money, enjoy marine life and get paid for having a whole lot of fun. 
There are a few Padi instructor courses you can find, some that allow you to teach theoretically, others that allow you to teach safety and equipment and finally courses that allow you to dive with your new divers. Courses start from € 1265 and can go all the way up to €1699. 
Requirements to become the next IDC
18 years old or above 

PADI DM or Dive Leader 

95 dives minimum (60 for AI) 

Open water certified for at least 6 months 

Yoga or fitness instructor

Another common job if you have the experience is becoming a yoga or fitness instructor. Since many digital nomads come to Dahab and decide to stay, the need to take care of one's health is always important. That's why the demand for fitness and health instructors is always necessary. If you are a certified yoga instructor, you can easily find a job or start your own class by the beach. This can be done by making an agreement with one of the hotels, dive centres or studios in Dahab or even just advertising it on the many Dahab groups on Facebook. 

Artist

If you've got any sort of artistic talent, you can really hone your skills and make money out of it in Dahab. Whether you decide to sell your artwork in the bazaar or make an agreement with a store to display your work, you can capitalise on your talents when in Dahab. 
Check out our Digital Nomads Jobs Postings to find the best jobs available for Digital Nomads.
Nomad Friendly
Value for Money
Internet
Workspace
English
Food
Safety
Health
Transportation
Friendly
Quality of Living
Cost of Living Dahab
Living in Dahab is one of the cheapest places you can live by the beach. Compared to Cairo and other major cities in Egypt, the cost of living is a lot less as the city itself is quite rural and does not have the luxurious feel that other resorts or beach areas have. That's why Dahab is a great location for a digital nomad looking to get away for a few months without spending too much money. Here's the expected cost of everyday items in Dahab: 
Cappuccino: EGP 27.50 

1 litre of milk: EGP 16.50

A loaf of bread: EGP 12.00

1 kg of rice: EGP 19.00

A dozen eggs: EGP 18.80 

1 kg of cheese: EGP 83.75

1 kg of chicken: EGP 71.25

1 kg of beef: EGP 190 

1.5 litres of water: EGP 7.00

Bottle of wine: EGP 150 

Domestic beer: EGP 28.75 

Imported beer: EGP 35.00

A pack of cigarettes: EGP 40

Preschool per month: EGP 900

International primary school: EGP 25,500