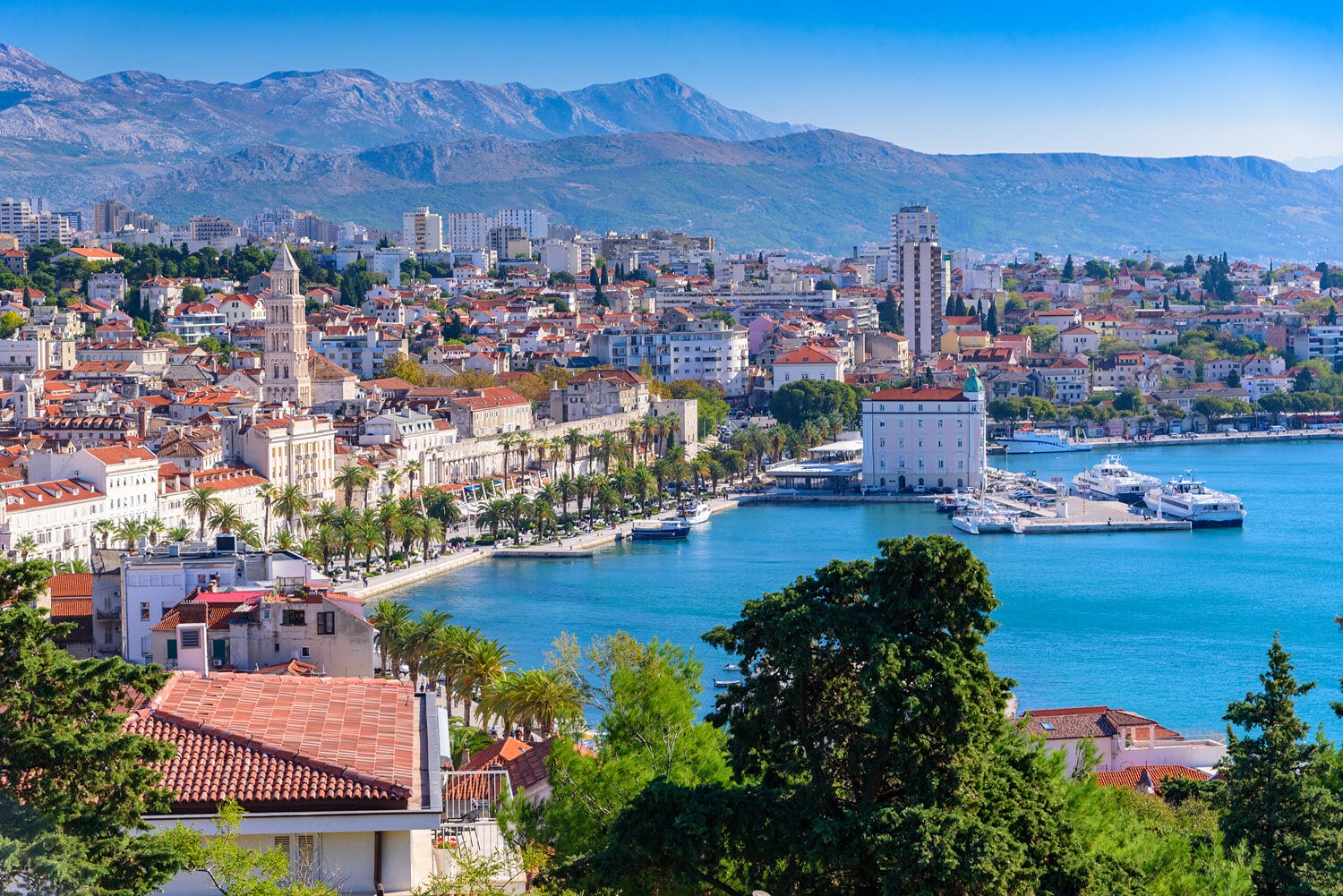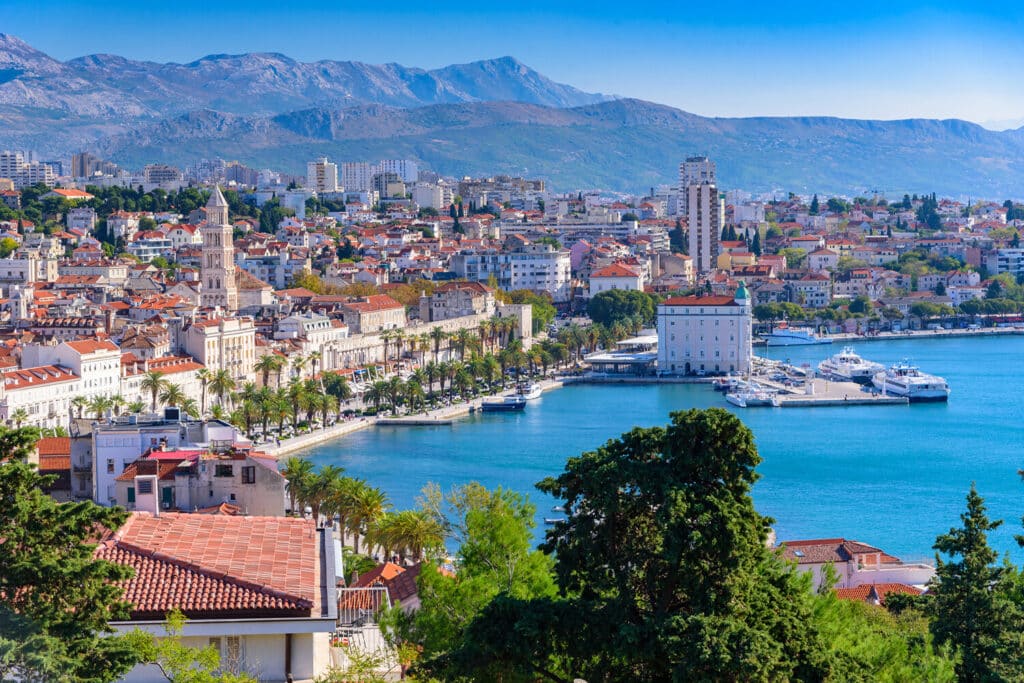 A Digital Nomad Guide to Split
Croatia has become a popular tourist destination in recent years, mostly due to its natural beauty, its golden beaches, and its links with the famous T.V. series Game of Thrones. Croatia has been under the rule of many surrounding countries and was once part of Yugoslavia until it declared independence in 1991. Croatia is a beautiful country to visit, and it is rich in natural beauty as well as unique architecture. The currency is Croatian Kuna, but you will find that euros are also accepted in tourist areas. And the main language is Croatian. 
Split is a coastal city located along the east of the Adriatic sea and is the second-largest city in Croatia and the largest city in the Dalmatia region. It is located on a peninsula, making the majority of the city surrounded by water. The city was founded in the 2nd or 3rd century B.C. as the Greek colony of Aspálathos. Split is a multicultural city with influences from surrounding countries. Due to its complex history of change, the country has a fusion that is seen primarily in its architecture and cuisine. You will notice Italian and Greek influence in the buildings, particularly in the Old Town, as well as traditional Croatian culture across the city.
The people of Split are proud of their region, their specialties, and their unique corner of Croatia. The city is known for its rich culture and history, and this drives the passion of the locals. The Cathedral of Saint Domnius is registered as the world's oldest Catholic cathedral that is still in use which is also located in the UNESCO site of the Old Town, which is just one of eight UNESCO sites in Croatia.
Nomad Friendly
Value for Money
Internet
Workspace
English
Food
Safety
Health
Transportation
Friendly
Quality of Living
Living in Split Overview
| | |
| --- | --- |
|  Meal, Inexpensive Restaurant | $9.40 |
| Domestic Beer (1 pint draught) | $2.78 |
| Cappuccino (regular) | $1.89 |
| Loaf of Fresh White Bread (1 lb) | $1.01 |
| Water (1.5 liter bottle) | $0.90 |
| One-way Ticket (Local Transport) | $1.53  |
| Basic Utilities (Monthly) | $114.98 |
| Internet | $25.52 |
| Fitness Club (Monthly) | $37.12 |
| Apartment (1 bedroom) in City Centre | $494.06 |
| | |
| --- | --- |
| Child Friendly | |
| Cultural Tolerance | |
| LGBTQ Friendly | |
| Traffic Safety | |
| Nightlife | |
| Large DN Community | |
| Young Community | |
| Proper Hygiene | |
| Clean | |
Emergency Numbers
Police
112
Ambulance
112
Fire-fighters
112
Money Handling
Currency
Croatian kuna (kn)
Max ATM withdrawal
2,000 kn
Tipping
Yes
Communication 
Languages
Croatian
Calling code
+385
Time zone
UTC+1:00 (CET)
UTC+2:00 (CEST)
Health
Tap Water
Drinkable
Vaccinations
Yes
Digital Nomad Personal Experience in Split
I have visited Split multiple times, and each time I have stayed, I have only had great experiences. The laid-back vibe that spans the coastline of Croatia is unique to the region. I first visited Split in 2016 and thought it was nice, but I was more interested in visiting Dubrovnik as it was more talked about then. However, as the years have gone on and Dubrovnik has become saturated with Game of Thrones tourism, it has made Split more appealing. I visited again in 2019 and loved my time there.
The Old Town is especially beautiful and full of quaint cobbled streets. For me, it was a great place to be as you have history and culture on your doorstep, combined with the calm blue ocean. It is a great place to be based if you like variation, as you have conveniences of a large city, the cute cultural aspects of the Old Town, and the fun that comes with being by the ocean. One day you could be running errands in the city, the next chilling on the beach like an exotic escape. There is so much going on and so much to see, and with the variation, it is hard to get bored. You can be in a historic town and then a secluded sandy beach. The contrast of old meets new, mixed with a natural Mediterranean vibe makes Split a great place to be located.
Another fantastic part of being based in Split is that it is very easy to visit other parts of the country for a day trip. I was able to drive from Split to Dubrovnik in a day and enjoy the afternoon and evening there. It is also possible to take shorter road trips for 2-3 days to other parts of Croatia.
Work in Split
Best Places to Work in Split
When most tourists head to Croatia, they often head for Dubrovnik or Zagreb, but more spots along the coastline have become tourist-friendly, and Split is one of those. There are a few coworking spaces in the city, but you will find many cafés to work from too. Here is a selection of the best places for digital nomads to work in Split.
The Works
What makes this space unique is its multicultural atmosphere. Most coworking spaces have visitors from around the world, but it isn't often that you get locals using the spaces too. The Works has a large number of members who are locals that use the space for start-ups and remote work. The membership for one month costs $170 USD per month, which includes all the basics such as high-speed internet, hotdesking, and use of communal areas and meeting rooms. This is a great space for hosting events as they have large open areas which convert nicely into event spaces. There is desk space for over 30 digital nomads with a selection of stand-up desks and couches. 
Coworking Space Split Meridien Ten
This is one of the smaller coworking spaces, and it was set up by professionals in the travel and tourism industry. This is the perfect coworking space if you prefer something a bit more cozy and homely rather than office-like. It also has a small, tight-knit community which is sometimes preferred by long-term digital nomads. They have a great selection of packages, with their monthly membership starting at $169 USD per month. The price drops considerably the longer you are a member.
Re.Split Coworking
Re.Split Coworking in Cvite Fiskovića 4, is a one-of-a-kind coworking space in Split where professionals may thrive in an inspirational setting. The area promotes creativity and productivity by emphasizing biophilic and creative design. It was established by seasoned IT industry professionals and is in the heart of the University Campus in Split.
The coworking facility has reliable and secure internet connection, offices, open areas, and a semi-open workspace, as well as a conference room. It can accommodate a variety of events, including presentations, training sessions, workshops, and team-building exercises. Receptionists guarantee a warm welcome, and air-conditioned rooms with IT resources, comfy furnishings, and relaxation books and games. A tastefully decorated coffee shop serves premium espresso as well as a selection of drinks and pastries.
Pricing varies according to services and duration, ranging from 22€ /day and 300€ /month for a flydesk to 26€ /day and 375€ /month for your own desk. Re.Split is a unique coworking space that supports professional development and a sense of community.
Best Places to Live in Split
Best Neighbourhoods
Old Town
If you are into history and enjoy being situated amongst historic streets, then this is the place for you. The Old Town was built around Diocletian's Palace, and it is made up of typical Mediterranean-style buildings. It is a great place to stay if it is your first time in Split as it is the heart and soul of the town.
Radunica
Radunica is located just east of the Old Town, and it is a beautiful downtown area of Split. It is a charming district, with medieval buildings and some of the oldest architecture in Split. This is also a great area to stay in if you are on a lower budget as it is located slightly out of the touristy center.  
Bacvice
This is where the nightlife is, and it is known as the party district. This is the place to stay if you enjoy going out to bars and nightclubs on a  regular basis. It is possible to rent a one-bedroom apartment here for as little as $850 USD per month. It is located in the southeast of the city. 
Meje
Meje is known as the 'hip' or 'cool' place to stay and is located to the west of the city. It sits between the beautiful coastline and Marjan hill. This is a great place to be if you like artsy, hip places to stay.
Veli Varoš
Located to the west of the Old Town, Veli Varoš is a traditional Croatian neighborhood. This area is great for families as it is a little quieter but still within a good distance of the city and attractions. It is possible to find studio apartments here for around $845 USD per month.
Find an Apartment in Split
Finding an apartment in Split is pretty simple; you just need to know where you want to be. There are many websites where you can book accommodation, such as Airbnb, Booking.com, and many more. Here are some of the best ways to find an apartment in Split. Hometogo is a great resource for finding any apartment for rent in Split as it puts together information from multiple websites, so you don't have to search on each one individually. 
Airbnb
Airbnb is a great way to find reliable accommodation in Split, and it is preferable if you are visiting during the summer months when it is hot, and you are more likely to be using more electricity on things such as air conditioning, etc. Bills are always included in the price paid for an apartment on Airbnb, so this is a great option if you are worried about having expensive bills. You can find apartments on Airbnb for as little as $850 USD per month across the city. 
Home to Go
This is a great website for finding short-term lets that have the least amount of commitment. When finding an apartment, it is good to consider the amount of time you plan on staying because this will affect your choice of accommodation. Hometogo is great because it works similarly to Airbnb, where all bills and fees are included in the price, no deposit is required, and you can be flexible with your move-in and move-out day. The average prices on hometogo tend to be a little higher, with the average costing around $1,850 USD. The accommodation on hometogo tends to be a little more upmarket and is aimed towards someone on a higher budget. 
Holiday Homes
Holidayhomes.com is a great place to find an apartment as prices are very affordable. You can find one-bedroom apartments for around $1,800 USD per month. This is a great place to find accommodation for multiple people. If you are traveling with a friend or perhaps even traveling as a family, then there are some good options on here for multiple-room apartments or even villas. For example, a small villa that sleeps six costs around $3,340 USD per month, which is a great option for a family looking for their own quiet space. 
Split.gg
This is a local website that collects all information in one place for people who are looking to visit Split. They have a section on their website dedicated to accommodation that focuses specifically on apartment rentals. They also list apartments that are for rent in different areas of the city, including ones with special features such as a private pool, etc. 
Co-Living
Saltwater Nomads is one of the best coworking spaces in Split, and they also offer accommodation. If you prefer to have an apartment to stay in, then get in contact as they work with local apartment owners to match renters to landlords. They also have a great service where for around $304 USD, you can be matched to share an apartment with someone else at the coworking space. This is the total cost for 28 days, so if you are looking for an apartment but don't want to be on your own, then this is a great way to stay in Split.  
Apinelo Hostel
This is a fairly new hostel with a modern and minimal interior. They only offer private rooms with both double and single beds. Prices here start at around $85 USD per night, which will cost a total of around $2,550 USD per month. This is a great option for someone who is looking for a coliving space but wants to keep some privacy too. Rooms have their own private bathrooms, and some have desks too.
Cheap Places to Stay in Split
There are many low-budget accommodation options for Split, and this is usually in the form of a hostel. Below are some of the best value low-budget options for staying in Split. 
Beach Hostel
This is the place to be if you love being by the ocean and living on the beach. After its name, Beach Hostel is located on the coast in Bacvice, so you are guaranteed some great nightlife and a daily swim. The hostel is located just off the only beach, which is safe for swimming in the area, and it is a great place for beach life. They offer beds in dorm rooms with prices starting at around $14.50 USD per night, which totals around $440 USD per month. 
Outlanders Tribe Hostel
Located just a ten-minute walk from the city center, Outlanders Tribe is a great place to stay and has one of the highest hostel ratings in Split. With its funky and colorful interior, this hostel is a great place to be if you like hanging out with like-minded travelers and are looking for a community to be part of. A bed in a dorm room here is a little more expensive at $17.60 USD per night, which will cost you around $528 USD per month, but it is totally worth it. The accommodation is pretty basic, but it's all about the community vibe here. 
Split Guesthouse
For eight years in a row, Split Guesthouse was rated as one of the top hostels in the area on Hostelworld. If you are looking for somewhere that feels like home, then this is the place to stay. With fantastic communal areas and a welcoming vibe, you can stay here for around $14 USD per night will total $419 USD per month, making it one of the cheapest hostels in Split. 
Other hostels to check out are hostel Dioklecijan, Tchaikovsky Hostel, Old Town Hostel Split, and Downtown Hostel Split.
Exclusive Member Benefits in Split
Similar Digital Nomad Destinations
Croatia Visa for Split
Croatia is part of the E.U., so entering is fairly simple for most nationalities. There are a variety of visa options depending on your nationality, and it is always advised to check with your embassy before planning a trip. Make sure you know how long you can stay and what you need to prepare beforehand.
If you hold a passport from an E.U. country, then you can enter visa-free; you just need to show that your passport is valid for three months from the entry date. You will be able to stay for 90 days, and you can work and have the same rights as you do back home in your E.U. country. After 90 days, you will need to register with immigration to obtain a residency card if you plan on staying for longer than 90 days.
There are a number of countries that also get visa-free entry into Croatia for 90 days, and this includes the majority of countries in Europe, Australia, North, Central, and part of South America. If you plan on staying longer than 90 days, then you may need to obtain a category D visa for an extended stay. This is usually obtained from a Croatian embassy in another or your home country before your arrival. 
All other nationalities will need to obtain a visa from the Croatian embassy in your home country before your arrival. A full list can be found at onlinevisa.com.
Culture and Food in Split
Croatian culture and cuisine have been shaped by their varied history and continuous influence from neighboring countries. You will find mostly Italian-style cuisine on the coast, especially around Split, and there are many dishes that are based around seafood. Split is situated on the Dalmatian coast, and cuisine is typically Mediterranean with an Italian influence. Seafood is a staple in the area, and there are endless choices of what to eat. As well as seafood, there are a number of delicacies found along the coastline. Here are some of the best dishes and places to eat in Split. Some specialties of the region include crni rizot (black risotto), Paski sir (famous sheep's milk cheese), fish stew, and Rozata (traditional Dalmatian pudding). If you are a lover of food, then why not try one of the food-based walking tours of the city; see the ancient sites while enjoying some tasty treats.
Traditional Restaurants
'Konoba' is the word for the local taverns, and these are the best places to find traditional cuisine, and they are often very affordable. You tend to find the best taverns in the old city as this is considered more of the touristic area and where restaurants like to showcase traditions. Some of the best Konoba's in Split are Tavern & bar Makarun, Konoba Otprilike Ovako, Konoba Matoni, and Konoba Fetivi.
Seafood
Split has some of the best seafood in Croatia, from grilled fish to stuffed squid; they have a really good selection of seafood delights. Traditional seafood dishes include gregada, which is a fish stew served with potatoes, Salata od hobotnice, which is an octopus salad; and Mydia or dagnje na crvenu buzaru, which are muscles often served as an appetizer. Another dish to look for is Hobotnica ispod peke. Some of the best places to eat seafood are PiNKU fish & wine, DeListes restaurant Split, PORTOFINO Steak – Pasta – Seafood, Bokeria kitchen & wine bar, and Konoba Otprilike Ovako. 
Fast Food
As well as the typical fast food places such as McDonald's or KFC, there are a variety of fast-food stands and shops selling some Croatian specialties. These can be some of the cheapest places to eat, and you will find many of them on street corners or close to the beaches. Some of the best fast food served in Split is burek and soparnik pie which can be found at Keko Bakeries across the city. Other places to grab fast food are Popay Fast Food, Fast Food Gricko, Sandwich Bar Rizzo, Pasta2Go, and Upcafe.
Vegan and Vegetarian
There is a great selection of restaurants in Split, and many of them offer specialty dishes to cater to dietary needs. Split is the second-largest city in Croatia, meaning that its food scene is well adapted to the modern age and dietary needs, as well as showcasing a wide variety of traditional dishes. Some of the best vegan and vegetarian restaurants in Split are Upcafe, Kat's Kitchen Deli, Vege vegan street food restaurant, To Je Tako, Veg, Pandora Greenbox, Matoni, Articok, and Fig Split.
Split Nightlife
Split has a great nightlife scene with a wide variety of things going on to suit all budgets and interests. From guided nightlight walks to partying it up on the beach, there is something for everyone in Split. Here are some of the best things to do in the evening, from the best bars, tours, and nightclubs to visit.
Bars
Hedonist and Hemingway Bar are both chilled-out stylish late-night bars. These are both very trendy bars that are popular with youthful locals as well as hip tourists too. Vanilla is another classy bar, which is the perfect place for some sophisticated pre-drinks or a relaxing evening of feeling fancy. If you are looking for something a little lower key and quirky, then To Je To caffe bar is a great place to go. Located close to Diocletian's Palace, this little gem is great for the craft beer lover or anyone who wants to enjoy a casual drink with like-minded people. Another quirky bar is Marvlvs Library Jazz Bar. This cool and chilled-out bar is another fantastic place for a casual drink whilst listening to jazz. Other good bars to visit are Cocktail Bar GAGA, NOOR Fine Spirits and Cocktails, The Daltonist Craft Bar, AVE Café Bar, and Fabrique Pub.
Night Tours
There are a variety of activities to do at night in Split other than going to bars, restaurants, and clubs. One of the most popular tours to do at night is the city walking tour to admire the nighttime lighting. This is a great way to see the city at night with a group and learn about the history of Split. Seeing the historical buildings at night gives a different perspective and allows you to have a unique experience. Walking tours can cost anything from $40 USD to $100 USD depending on your group size and what is included. Other night tours include sunset boat trips, nighttime stand-up paddleboarding, bar crawls, and island parties. Night-time paddleboarding experiences start from around $40 USD, and all-night parties on the island of Hvar cost around $100 USD, including transport.
Nightclubs
If you are looking for a fun night out of music and dancing, then there is a great selection of venues to visit. If you prefer the alternative-Rock scene, then Quasimodo is a great place to be. With live bands and a chill vibe, this venue is fantastic for a night of live music. Other alternative clubs are Jungla (hula hula), Kocka, Judino Drvo, and Legends Bar. For mainstream nightclubbing and drinking, then Tropic Club, Central the Club, Shotgun Shooters Bar, Moon Bar, and Disco Club 305 A.D. are the best to visit. 
Things to do in Split
From wandering the ancient streets of the Old Town to having a relaxed beach day, there is plenty to do in Split to keep you entertained, and there is something for everyone. Here are some of the most popular things to do in Split, including surrounding areas and cities that you can visit whilst in Split.
Diocletian's Palace

If you are into history and architecture, then you have to check out the UNESCO world heritage site that is the Diocletian's Palace. It is free to walk around the palace grounds, as it makes up most of the city, however, to go inside some of the buildings you will need to buy a ticket. For $17 USD, you can go on a walking tour of the Palace, which includes entrance into some of the buildings, such as the church. This is a great way to get more background information on the Palace and why it was built.

Riva Harbour

The bustling waterfront that is the Riva Harbour is a great place to hang out with friends, grab a bite to eat, and admire the boats. This is a hotspot for tourists, and it makes for a great afternoon or evening wandering along the waterfront and enjoying the abundance of cafés and restaurants.

Grgur Ninski Statue

Seeing the statue of the medieval bishop makes for a nice afternoon activity. The statue is located amongst greenery and marks an important person in Croatian history. Gregory of Nin introduced the Croatian language to the church so that Croatian Christians could understand services. This was the catalyst for the introduction of Christianity in Croatia.

Markets

There are a number of markets in Split, from produce markets selling fresh fish and locally grown vegetables to handcrafted items and textiles. Some of the best markets to visit are Pazar Split, Split Fair, and Hrvojeva Street Market.

Sustipan hill

If you want a break from the city, then visiting Sustipan hill is a great afternoon activity. The tranquil garden is located on the Southwestern cape of the city, and it is a great place to take a book or a picnic to relax in the shade of the pine trees. It is located next to the ocean and is very peaceful.

Bell Tower of St. Domnius

The bell tower is a must-visit in Split as it gives you some amazing views across the city. After being rebuilt many times, the bell tower had its final reconstruction in 1908 and has stood proudly over Split since. Entrance into the building costs $2.45 USD, and it costs extra if you want to go up the bell tower itself.

Aqua Park Bacvice Split

Located on one of the best beaches of Bacvice is the unique aqua park. During the summer season, you will see the floating playground. The inflatable aqua park is suitable for kids and adults and pretty much anyone who wants to have some fun.

Kaštelet beach

Just a short walk from the town is the Kaštelet beach which is like being on an island in paradise. When it is not during high tourist season, this secluded beach is a great place to go if you just want to be somewhere different next to the ocean. It is also a great place for nonswimmers as the water is very shallow here. It is more of a natural beach, so there aren't parasols to rent, so make sure to bring sun protection.

Meštroviceve Crikvine-Kaštilac

This is home to one of the most famous Croatian sculptors, Ivan Meštrović's work. It is an exhibition space located southwest of Split, and it is a great place to visit for culture and history.

Marjan Park

Marjan park is located on the peninsula of Split, and it is a beautiful forested hillside park. You can follow the jogging trails, admire the view from the lookout points, and stroll around the botanical garden. This is a great place to go for some nature and quiet space.

Museums and Gallieries

There are many museums and galleries in Split and here are some of the best. For historical museums, the Archaeological Museum, Ethnographic Museum Split, City Museum of Split, and Croatian Maritime Museum are the best to visit to learn about the history of the area. If you want to see some art or creativity, then the best art galleries are Gallieries Galerija Mestrovic, Museum of Fine Art, Jaksic Gallery, and Jaman Art Center.

Excursions

The beauty of being located in Split is that there are a number of places to visit on a day trip or small excursion. Here are some of the best day trips from Split.

Dubrovnik

Known for its links to Games of Thrones, Dubrovnik has become quite a tourist destination in Croatia. The beautiful old town boasts ancient architecture and beautiful cobbled streets. If you visit during the off-season, then you will have a great time wandering around admiring the unique and quaint buildings. During the summer, it can get extremely busy, but it is still nice to see.

Plitvice Lakes

Located in the Plitvice National Park are the famous Plitvice lakes and waterfalls. It is only a short drive from Split and can easily be visited in a day. Most excursions from Split cost around $80 USD for transport, park entrance, and a guided tour.

Sibenik

Another great day out is to visit the Krka Waterfalls and the town of Sibenik. Located just north of Split is the ancient town of Sibenik, which is a beautiful alternative to visiting Dubrovnik. I have visited multiple times, and I love the relaxed vibe and less touristy atmosphere here. It is also really close to the Krka waterfalls, which makes for a great day out.
Best Time to Visit Split
The weather in Split is generally good all year round as it is located in Southern Europe. Split, Croatia is located in the northern hemisphere, so the summer months tend to run from June/July through until September. July is considered the hottest month in Split, and the average temperature during the day is around 25°C (77°F). If you plan on taking part in watersports and want to enjoy a swim in the sea, then the summer months are the best time of year to visit. August has the highest daily sunshine hours averaging around 13 hours of sunshine per day, and the highest water temperature. This is also the peak tourist season, so it will be busier than other times of the year. 
The winters in Split run between December and March, with the coldest month being January, where temperatures drop down to around 7°C (45°F). The wettest month in the winter is December, so it is better to avoid this month as it can make your stay less enjoyable. Snow is very rare in Split as it is a coastal town, and temperatures don't often drop low enough; however, it isn't unheard of. Sometimes there can be one to two days of snow which is caused by the bura wind.
Split for Families
Split is a great city for families as there are lots of things to do, great facilities and services that are child and family-friendly. Split is the second-largest city in Croatia; therefore, it has a good selection of daycare services, schools, and general facilities that families may look for in a city. 
The best way to obtain information is from expat families already living in the area, as they will be able to share useful resources and experiences with you. The best way to find these communities is on Facebook, such as the 'Expats in Split' group. Here you can ask for recommended schools, daycares, and facilities. 
There are a number of expat websites where you can also check for resources to help your stay be as enjoyable as possible. internations.org/split-expats is a great place to meet expats before you head to a city and obtain information. 
Living in Split
Split Transportation
Split has a small number of public transport options, but this doesn't mean that it is bad. Split has a good bus network, and this is the main form of public transport in the city. As well as buses it is possible to walk if you are based near the center or Old Town, and it is easy to find taxis in Split. Here is some more detailed information about the transport options in Split. 
Bus
The bus network is operated by Promet Split, and they have around 20 different bus lines operating both during the day and at night. Tickets can be purchased on the bus or from the Promet Split kiosks, which are located at some stops. Tickets usually cost around $1.80 USD for a single journey. Bus times and schedules are printed at every stop, and they can be found on their website at www.promet-split.hr.
Taxi
Taxis in Split are readily available, and there are both local taxi services as well as taxi apps. Uber is currently in use in Split and is the most reliable way of catching a taxi as the price is set before you ride. Using local taxi services may lead to overcharging, and it may be difficult to communicate with drivers due to language barriers. There is also the limitation of taxis only waiting at designated areas, so if you want a taxi, you may need to go to a taxi rank to get one. This being said, you can still use local taxis but be aware that it might be more difficult than using a taxi app.
Bicycles
Companies such as Lime have not yet opened in Croatia, but there are many local bicycle rental stores. So if you are looking for a way to keep fit whilst commuting, then this will be a good option for you. One of the best bicycle rental shops is Rent A Bike Split, and they have a great selection of bikes. Depending on the type of bike you want to hire, it will cost a different amount; however, most bikes start at around $21 USD per day if you rent the bike for seven or more days. They have city bikes and mountain bikes, so make sure to get the best one that suits your needs.
Rental Car
Both times I have visited Split I have had my own car which although I didn't use in the city itself, I used a lot to visit surrounding areas in the country. If you like a road trip or a small adventure to a neighboring town, then you can get a rental car. Some companies offer rental cars for as little as $9 USD per day. This is a great and cost-effective option if you have a small group that wants to visit somewhere a little out of town.
Fitness and Health
There are a number of ways to keep fit in Split, from going to the gym, having a go at some watersports, or taking a run around one of the beautiful parks on Split. Depending on your style, you will find a form of exercise to keep you fit during your stay.
Gyms
There are a number of gyms in Split, all offering a variety of services and facilities. Here are some of the top-rated gyms in the area and the average costs to expect when joining a gym. Olimpijski Centar/Marjan Fitness is one of the top-rated gyms in Split. Their basic monthly membership will cost you around $33 USD, and you will be expected to pay a further $8 USD as a registration fee. This means you can have limited access for around $40 USD per month. Other gyms include Fitness Bazeni-Poljud, Champion Gym, and Olympic Center.
Fitness Classes
Split has a great selection of yoga studios and martial arts schools, so you have a great selection to choose from when it comes to fitness classes. Most gyms also offer fitness classes too which can be paid for individually if you don't want to use the gym. Some of the best yoga studios are Studio ONE, Ananda Yoga Studio, Yoga and Art House, Divota holistic spa & yoga garden, and Ashtanga Yoga Split. Most studios require you to enquire about prices, and as they are currently closed due to Covid-19. Some studios have been offering an online session for $17 USD per month, so if you do visit and they aren't yet open, then check this out as an option. For martial arts, the top centers to train are Checkmat Split Jiu-Jitsu, KICKBOXING KLUB MEJAŠI SPLIT, and Marjan Taekwondo. Make sure to contact them to see what languages they can provide lessons in as not everywhere offers English-speaking classes.
Watersports
From paddleboarding to snorkeling, there are many ways to keep fit on the water in Split. adriatic-sup.com is the best place to rent a paddleboard from in Split, and prices start at around $18.50 USD per day with a minimum rental for three days. You will also find many companies renting kayaks too, so have a look around to see what suits your needs.
Free Activities
Being located on the coast means that you have the ocean and most likely promenades, which make for great forms of free exercise. Simply taking a run along the promenade or going for a daily swim in the ocean is one way to keep fit without worrying about your budget. 
Split People
The people of Split are unique in Croatia, and they even have their own name, known in Croatian as Splicani. The locals in Split are known for their sociable and talkative traits, as well as being welcoming and friendly to tourists. The locals are very proud of their city, and they differentiate hugely between being born there or not. If you are born there, you are a true Splicani. 
Split is a city of history and energy because the people love music and singing and are passionate about good food and drink, and are huge sports fans. The local football team is called Hajduk, and the stadium in Split was once labeled the happiest football stadium in Europe with the best atmosphere. This is something the locals are very proud of as Hajduk is the most supported team in Croatia. There is a relaxed vibe in Split, and the locals have created a chilled-out environment for tourists to enjoy. They have a love for the sea, for both watersports such as picign, a water-based ball game often played on Bacvice beach, as well as for the abundance of seafood. 
Although the city is very Croatian, it is a multicultural city, with immigrants from around the world. It is the second-largest city in Croatia, so it draws many people from across the world. The majority of the population is Roman Catholic, and the Catholic Church has been an important part of life in Croatia. With years of instability, with invasion from surrounding Orthodox and Muslim countries, the Catholic Church has been a steady constant amongst years of uncertainty. The LGBTQ+ community is accepted in Split, and there is an annual Pride festival which is often held in May/June. There is a tolerance and acceptance from locals that have taken a few years to build, but anyone who is part of the community will feel welcome in Split.
Split Insurance and Medical Care
Wherever you travel, it is always advised to take out medical insurance as accidents can always happen. Split is the second-largest city in Croatia, so access to health and medical care is fairly simple. 
If you are in Split for a small period of time and don't plan on registering with a local doctor and you have a medical problem, then it can sometimes be beneficial to visit a 'poliklinika.' These are larger facilities or clinics that will most likely have a doctor on-site to help with a variety of issues and the chances of them speaking English are greater. These are considered private clinics and may cost a little more than the public doctors and hospitals, but the service is more likely to be of better quality, and you may be seen faster. You can also find a list of English-speaking surgeries on most embassy websites. As Croatia is part of the E.U., the standards of healthcare are to a good level in major cities. 
As well as medical insurance, it is advised to take out insurance for your belongings too. While Croatia is a relatively safe country and many tourists visit yearly without problems, there have been reported cases of petty crime. During high tourist season in busy or crowded areas, there could be pickpocketers, so it is best to be vigilant of your things. There is always a risk wherever you go, and accidents can always occur, so it is advised to have insurance before you travel. 
Make sure you are fully covered by reading our full Digital Nomad Travel Insurance guide.
Jobs in Split
Finding a job in Split can be fairly simple, depending on your industry and skills. One of the biggest job sectors in Split is the tourism industry and anything in relation to travel. If you already work in the industry, then you may have a contact there or find a way to work through a preexisting contact. There are many seasonal jobs that are advertised to foreigners, so make sure to search online. Facebook is a great way to find work, especially seasonal or casual work, as there are many groups that will post jobs before the season is about to begin.
Some of the best websites or search engines for finding work in Split are Adorio, Bika, Danas Radim, Freelance.hr, Jooble HR, PickJobs and Posao. These are popular search engines in Croatia, some of which are offered in other languages, too, which will help make your job hunting a bit smoother. 
Another way to find a job is to approach companies before arriving in Croatia. If you know of a company that you would like to work for and have the correct skillset, then email them in advance to see if they have any positions available. Another option could be getting a transfer with a company that you already work for, so make sure to check if there is an office in Split.
If you can't find a job before going to Croatia and have to obtain a visa for work, then volunteering may be a great alternative option for you. There are many volunteering projects in Split, and the best way to find these are through websites such as workaway.com, goabraod.com, and expatincroatia.com. 
Check out our Digital Nomads Jobs Postings to find the best jobs available for Digital Nomads.
Nomad Friendly
Value for Money
Internet
Workspace
English
Food
Safety
Health
Transportation
Friendly
Quality of Living
Cost of Living Split
The expected cost of living in Split can vary dramatically depending on your needs as it is possible to live very cheaply if you are happy with more basic services. Below is a breakdown of the expected living cost for a lower budget and for a higher budget.
For a lower-end budget, you should expect to pay around $1,115 USD per month. This can be broken down into $440 USD per month on accommodation in the form of a bed in a dorm in a hostel, $300 USD per month on food which is an average of $10 USD per day. Other costs would include $145 USD on a cheaper or part-time coworking space, $60 USD on transport in the form of occasional use, and mostly walking. $20 USD for exercise, assuming you are happy to include free exercise such as hiking, sea swimming, and running alongside a couple of exercise classes. Finally, you should budget around $150 USD for entertainment and leisure.
On a higher-end budget, you should expect to be paying around $1,927 USD per month. Broken down, this will be around $850 USD on private accommodation in the form of a studio or one-bed apartment, around $287 USD for a high-end coworking space, $450 USD per month on food which is around $15 USD per day, but this will vary depending on how much you cook. Other costs to consider are a gym membership which is around $40 USD per month, $100 USD for transport which would be two rides a day on public transport, and around $200 USD on leisure. 
As always it is possible to live for less if you are happy cooking in and eating street food as well as sharing accommodation.