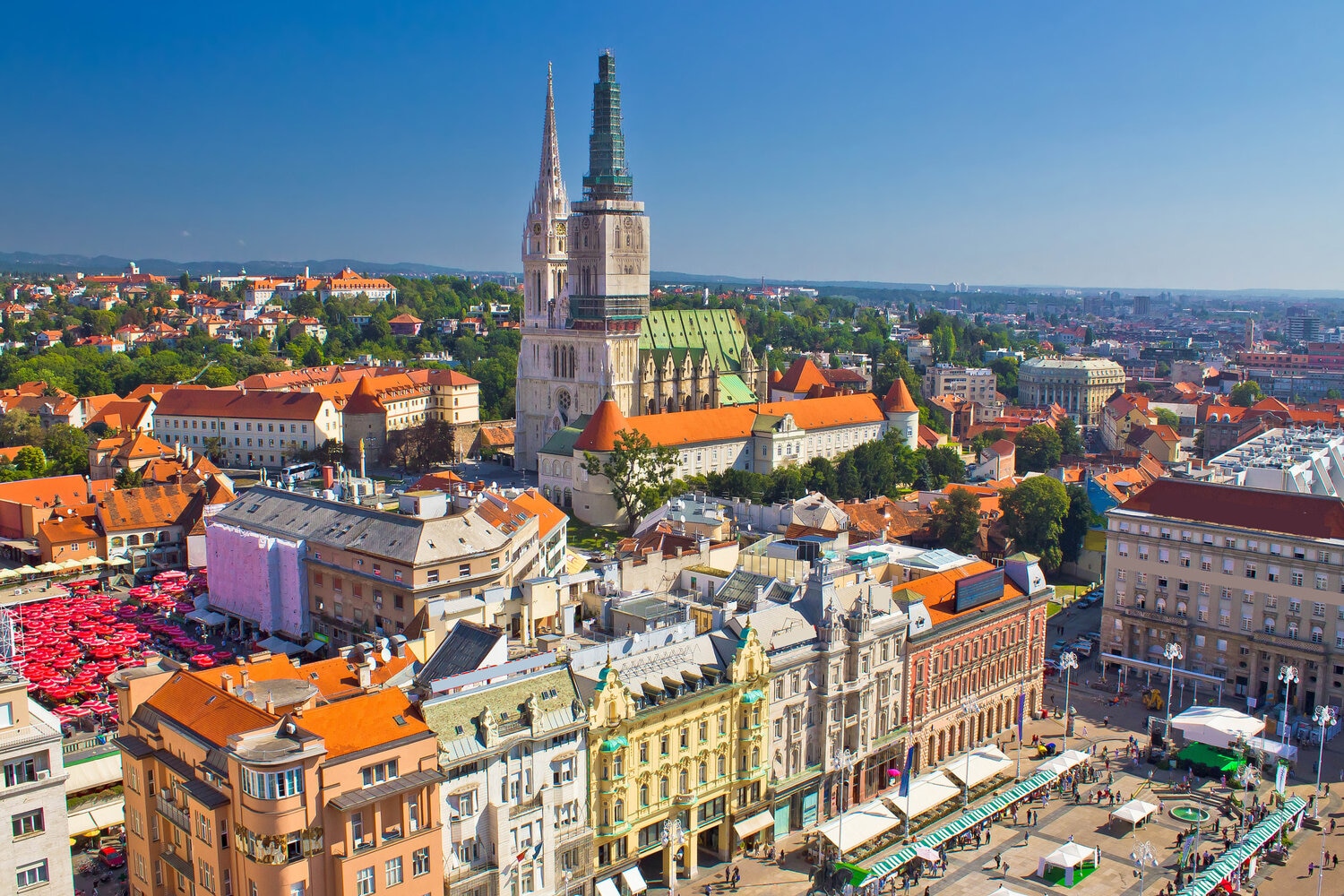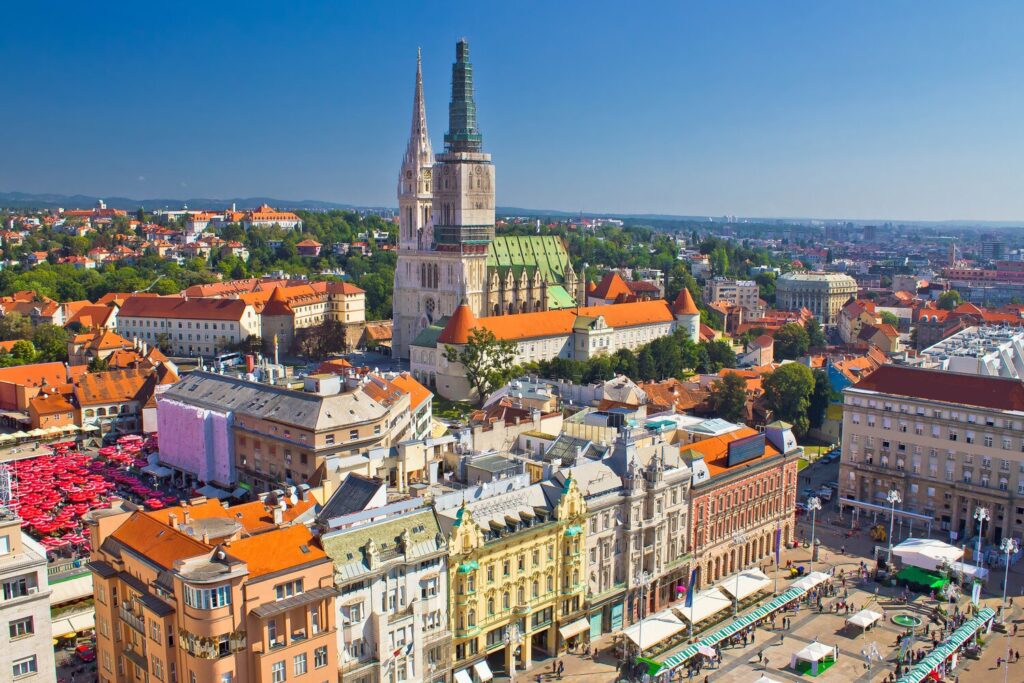 A Digital Nomad Guide to Zagreb
Croatia is known for its spectacular coastlines, crystalline waters and pretty pebble beaches, with historic destinations like Dubrovnik and Split having long been popular with digital nomads thanks to an affordable cost of living and plenty to see and do. But Zagreb, the nation's capital, is often overlooked, despite being one of the most vibrant and interesting destinations the country has to offer.
In recent years, the capital has slowly but surely started to see an influx of foreign travellers, expats and digital nomads looking for a taste of the real Croatia, and as such, has responded to the increased demand by opening a number of co-working spaces and remote-worker-friendly coffee shops and cafes to accommodate their needs.
A quirky city that is steeped in rich history, it is fast becoming one of the most up-and-coming nomad cities in Europe, and thanks to the nation's introduction of the new residence visa, which aims to attract remote workers to Croatia, spending some time living here is now more of a possibility for some than it ever has been.
The largest city in Croatia, Zagreb is situated in the northwest of the country and enjoys a privileged location along the Sava River. Home to a plethora of iconic landmarks and spectacular viewing points, its dimly-lit alleyways and winding, cobbled streets mean see it exude just the kind of quaint European charm we all love, and with a great food and nightlife scene and good connections to the rest of the continent via its international airport, it's safe to say that Zagreb ticks all the right boxes.
Although it isn't located along Croatia's breath-taking coastline, it still has plenty to offer and in many ways, it serves up a more authentic experience of modern Croatian life. The locals are polite and friendly – although they will take their time in getting to know you – and there's a great events scene throughout the year, with festivals, live music events and more making for a packed calendar throughout spring, summer and the lead-up to Christmas.
Nomad Friendly
Value for Money
Internet
Workspace
English
Food
Safety
Health
Transportation
Friendly
Quality of Living
Living in Zagreb Overview
| | |
| --- | --- |
|  Meal, Inexpensive Restaurant | $7.21 |
| Domestic Beer (1 pint draught) | $2.16 |
| Cappuccino (regular) | $1.77 |
| Loaf of Fresh White Bread (1 lb) | $0.93 |
| Water (1.5 liter bottle) | $1.03 |
| One-way Ticket (Local Transport) | $0.58 |
| Basic Utilities (Monthly) | $200.99 |
| Internet | $26.86 |
| Fitness Club (Monthly) | $41.18 |
| Apartment (1 bedroom) in City Centre | $524.20 |
Currency: Indonesian rupiah (Rp)
[erw_exchange_rates_widget lg="en" tz="0″ fm="IDR" to="EUR,USD,GBP,AUD,JPY,RUB" st="primary" cd="" am="15000″][/erw_exchange_rates_widget]
ATMs
Max Withdrawal: Rp 3,000,000
Withdrawal Fee: Rp 30,000 – Rp 50,000
Use of Credit Cards: Mostly Cash
Digital Nomad Personal Experience in Zagreb
Life in Zagreb is pleasant for people of all ages, and it feels safe enough to raise a family should you feel compelled to stay! There is a selection of international schools and kindergartens, and with plenty of zoos, parks and other entertainment venues on offer, every age is well catered to.
It's a walkable city, too – which makes exploring on foot a cinch. Every digital nomad knows that it's the best way to get to know a city, and if you're the type who enjoys getting lost in narrow, winding alleys and discovering secret viewing spots that take in stunning vistas of the city below, then you're in exactly the right place.
First impressions can be deceptive, so don't be put off when you first arrive in Zagreb. The journey from the airport will take you through something of a concrete jungle, with ugly, graffiti-covered communist-era buildings marking the way towards the centre – but once you've given yourself time to settle in, you'll begin to see the city for what it really is.
Sure, it might lack the endless world heritage sites, picturesque islands and endless sunshine of its coastal counterparts, but it more than makes up for them in other ways, serving up a cafe culture not too dissimilar to that of Paris and a cosmopolitan vibe it's impossible not to be charmed by.
Living and working in Zagreb offers up a unique chance to get to know and appreciate the city in a way that many tourists overlook. While travellers commonly keep an eye out for beautiful buildings and landmarks, they also miss some of the intriguing history that lies beneath those that don't have the same level of 'wow' factor, so basing yourself here as a digital nomad, for a more extended period of time, promises an insight into this intriguing city you might otherwise never have had.
Work in Zagreb
If there's one thing Zagreb is known for aside from its rich history, it's its cafe culture – which is great news for digital nomads looking for a caffeine hit and a relaxed and informal place to do some work. Here, you'll find plenty of trendy and quirky cafes serving up great coffee and mouthwatering cuisine, and most offer up excellent free WiFi, too.
Best Places to Work in Zagreb
Velvet
A place to see and be seen, this sophisticated coffee shop is the perfect spot for indulging in a spot of people watching, and is popular amongst locals and tourists alike. Thankfully, the majority of them sit outside where they can smoke, which means inside usually offers up a quiet and relaxed atmosphere – with plenty of power plugs and a speedy connection.
Cogito
For coffee enthusiasts, Cogito is the go-to spot and serves up some of the best brews you'll find in the city. Add that to its cosy seating, stylish interior and fun working atmosphere and it's an excellent choice for digital nomads looking for a space both to work and socialise.
Botanicar
When it comes to the most Instagrammable coffee shops in the city, look no further than Botanicar. Filled with plants and greenery, it offers up a fresh and enlivening vibe, with more good coffee and some great beers to crack open when you're ready to clock off.
QUAHWA
Another favourite amongst digital nomads in Zagreb, QUAWAH offers up a vibrant social scene for those who want it – but head inside during the day for a quiet and calming environment with soothing music when you need to get stuff done. When you're finished for the day, head out to the terrace and mingle – you might just make some new connections you'll be glad of in a new city.
Co-working spaces
Prefer somewhere a little more formal to set yourself up for the working day? There are plenty of modern and exciting coworking spots to choose from. Here are some of our top picks:
Impact Hub
Are you even a digital nomad if you haven't yet heard of Impact Hub? This brand is in just about every notable European city at this point and is the ideal space for networking with like-minded creatives. Impact hub Zagreb offers excellent internet speeds and a cosy and inviting atmosphere – perfect for maximising productivity without compromising on your social life.
Hub 385
Comprising a variety of office spaces and conference rooms, at Hub 385 you can drop in and out as a hotdesker or sign up for a monthly membership if you plan to be here consistently. Voted 'Best Coworking Space' in 2017 by the Central European Startup Awards, it remains a leading venue in the city and promises the perfect set-up for all sorts of remote working business professionals.
BIZkoshnica
If yours is the kind of business that tends to require event space from time to time, then BIZkoshnica has you covered, with several options to choose from alongside a variety of desk spaces, private offices and meeting rooms. You'll also find networking events happening here throughout the year, so if you're looking to form some new connections whilst in Zagreb then this is one of the best places to do it.
Best Places to Live in Zagreb
Best Neighbourhoods
Zagreb is considered a safe city to live in, and almost every neighbourhood offers access to some great cafes and coffee shops, popular local restaurants and other essential amenities. Of course, with any city, there are several that stand out as being the most attractive to digital nomads, and in Zagreb, these include:
Donji Grad (Lower Town)
Located in the centre of the city, Donji Grad is one of the most vibrant and lively neighbourhoods, and is slap bang in the middle of all the action. Here, you'll find a thriving social scene comprising both locals and travellers alike, with plenty of great spots to grab a bite to eat and some sprawling green spaces to escape to when you need to reinstate a sense of calm.
Maksimir
On the topic of green spaces, Maksimir is home to the oldest public park in Zagreb and enjoys a privileged location from which both the buzz of the central city and the tranquility of nature are on your doorstep. It's also a great choice for football fans, with a football stadium also located here – if you're an avid follower of the sport, then why not treat yourself to a season ticket?
Šalata
If luxury is more your vibe then the upscale neighbourhood of Šalata could be just what you're looking for – although be prepared to pay a premium for accommodation here. Known throughout the city for its festivals – which include the Šalata Open Air Festival and INmusic festival, there is also a thriving events scene, with world-famous artists and bands includiNg Morrisey, Faithless and Franz Ferdinand having featured in previous years.
Outside of these three neighbourhoods, affordable accommodation can be found across the city in almost every area. Dubrava is perhaps best avoided when compared with some of the other options as it can be very busy and at times, overwhelming – but don't be afraid to explore the city for yourself to see where you like the feel of the most before securing a longer-term rental.
Find an Apartment in Zagreb
Thankfully, finding accommodation in Zagreb – and indeed, elsewhere in Croatia – is a fairly hassle-free affair. There are numerous hostels, hotels and guesthouses to check yourself into for a shorter-term stay while you get your bearings, and AirBnBs are popular here for short to mid-term bookings. With such a diverse array of options to choose from, you'll have little trouble in finding something to suit your budget and tastes.
Some of the easiest ways to secure a place to stay prior to arrival are on sites like Booking.com and HostelWorld.  Facebook groups like Expats in Zagreb [Official] are also handy for finding short-term apartment shares, which can be a great way to meet other digital nomads in the city and start making some connections.
Longer term apartment rentals can be found across the city and will ensure you have the privacy and security you need to establish a life for yourself in Zagreb. And with average monthly rental prices ranging from just €400-€550 in the city centre and only €300-€400 on the outskirts, value for money is guaranteed. Croatia might be pricey for tourists, but the general cost of living here is appealingly low – which goes some way towards explaining why the country is starting to see a digital nomad boom.
It may also explain why average rental prices have risen dramatically in many Croatian cities in the past few years – including in Zagreb, where they soared by 8.4 percent before taking a 9 percent tumble following the 2020 earthquakes. Still, they remain some of the most affordable in Europe and in most cases will leave you with plenty of disposable income for the fun stuff.
Some of the easiest ways to find long-term apartment rentals in Zagreb include word-of-mouth and scanning the local newspapers for ads – but if you don't have the time to spend doing so then there are a few places to look for a quicker win.
Njuškalo.hr is Croatia's largest online advertisement website and connects thousands of buyers and sellers through its marketplace daily, so it's worth making it one of your first ports of call. The real estate section, which covers both property sales and rentals, can be found here.
The following are some other popular websites for finding apartment rentals in Zagreb and across Croatia as a whole:
The Croatian language Facebook group Najam stanova Zagreb lists apartment rentals in Zagreb, but you may need to enlist the help of a local to decipher what is on offer if you don't speak the language yourself.
Cheap Places to Stay in Zagreb
As Zagreb becomes increasingly popular with the world's digital nomads, it stands to reason that we'd see an increase in the number of affordable coliving spaces on offer. Communal living areas such as these provide low-cost and convenient accommodation choices that offer up a great opportunity to mix with other travellers and digital nomads from across the globe, and in Zagreb, there is plenty of choice.
Zagreb Cohousing and Coliving is a beautiful  house on a hill in the western part of the city, where carefully hand-selected residents can enjoy cooked meals provided throughout the week and access to a range of amenities including a sauna and gym. There's also a heated winter garden, a summerhouse with a barbecue, and a small party room and wine cellar. Prices range from just €160 – €220 per month, depending on which of three packages and accommodation choices you decide to opt for.
Apply for your space at https://www.anyplace.com/co-living/hr/zagreb
Hostel Swanky Mint, set in a former 19th century textile factory on a commercial street, is one of the coolest hostels in Zagreb and is less than a five-minute walk from the city's main Ban Jelačić square and 16km from Zagreb airport. Featuring ten private rooms, two studio apartments and eight quirky dorm rooms, it takes an eco-friendly approach to its operations and its staff are friendly, helpful and on hand to support you 24/7.
Book via https://stayswanky.com
Exclusive Member Benefits in Zagreb
Similar Digital Nomad Destinations
Zagreb Visa
Most visitors do not require a visa to enter Croatia, and generally speaking, it is possible to stay in the country for most visitors to remain in the country for 90 days within an 180 day period without holding a visa or paying any sort of fee to do so. This applies to EU nationals, who can exercise free movement of people across other member states, as well as to nationals of a number of other nations – but exceptions to this rule include citizens of China, Russia, South Africa, Ukraine and Turkey. Individuals travelling from these countries will need to apply for a visa beforehand.
Recently, Croatia has recognised the unique needs and requirements of digital nomads and made moves towards making extended stays in the country easier. Just last year, Croatia passed a new Foreign Nationals Act which allows digital nomads a temporary stay in Croatia of up to one year. Currently, it's not possible to extend this type of visa and a new application can be submitted only six months after the expiry of the previously granted stay.
It is also now possible for close family members of a digital nomad who has been granted a temporary stay in Croatia may join them for this time. To be granted the visa, you must not have a criminal record, and an employment contract with an employer outside of Croatia is essential. You'll also need to prove that you have sufficient means to support yourself during your stay and produce a bank statement that shows you have a minimum of HRK28,800 (€3802) available for a period of 12 months.
If you're unsure which set of circumstances apply to you and your individual case, then be sure to do your research before you travel to avoid running into any obstacles. Relevant and detailed information can usually be found on your country of origin's government website.
Culture and Food in Zagreb
Culture
Croatia's culture is unique and interesting, bearing influence from a variety of different ethnicities that have encompassed the country over the years. Mainly made up of Croats, there are also a number of national minorities, which include Serbs, Slovenes, Bosnians, Czechs, Hungarians and Italians.
Most Croats are Roman Catholic, while the Serbian population mainly belong to the Serbian brand of the Eastern Orthodox Church, with a variety of other small religious minorities also present.
Dating back almost thirteen centuries, Croatia is steeped in rich history and carries many literary, musical and artistic traditions. The country's national music is influenced by sounds from the Mediterranean, the Balkand and Central Europe, with folk, pop and a combination of the two some of the most popular and listened-to genres today.
Zagreb, as a city, came to be back in 1904, after years of opposition between the two neighbouring settlements of Gradec and Kaptol, from which it is formed. Later, it went on to be named the nation's capital in 1945.
Cuisine
Perhaps unsurprisingly, Croatian cuisine has been influenced by the flavours and ingredients of many of its surrounding countries, with mainland cuisine closest to Hungarian, Turkish and Viennese. Heavy roast dishes, rich cheeses and Osman-influenced recipes are prevalent, while on the coast, you'll find plenty of fresh fish and seafood.
Just like Vienna, Croatia is known for its numerous high-quality coffee houses, which can be found across the country and in high concentration within Zagreb itself. It is also famed for its excellent wines, with some of the most famous whites being Malvazija Pinot, Pošip, Kujundžuša and Muskat and the nation's finest red wines including Merlot, Teran, Opolo and Plavac, all of which are typically produced along Croatia's coastal regions.
In recent years, the gastro scene in Zagreb has flourished, and while affordable fast-food classics like hot sandwiches and kebabs are still a staple, you'll now find a range of international restaurants to choose from including Italian, Asian, Lebanese and Macedonian.
The city's snack bars are a great pitstop for an affordable bite to eat, with meals available from between 20 and 40 kunas (3-6 Euros). Here, you can try typical Croatian stews, hearty bean dishes and tasty fried fish. And down at Dolac Market, which will likely become a regular haunt while living in Zagreb, you'll find plenty of fresh, local produce to cook with at home.
Zagreb Nightlife
Night owls will find plenty to keep them entertained on an evening in Zagreb, with a lively live music scene and plenty of bars that transform into small clubs as the night gets on. These are some of our favourite spots to check out for a taste of real Croatian nightlife and a chance to mix with both locals and expats alike.
Aquarius
Located on the scenic Jarun lakeside, this sprawling, 2,000 capacity venue is spread over two floors and has been one of the liveliest nightlife venues in Zagreb since it first opened its doors back in 1992. With two different ambiences on any given night, you'll find a host of local and national DJs spinning sets at the weekends, with genres ranging from Goa trance and RnB to cutting-edge house and electro.
Spunk
Tucked away beneath Zagreb's opulent National University Library, Spunk is a favourite coffee spot during the day, its walls adorned with quirky comic book murals and vintage movie posters – and is often frequented by students taking a break from their studies. After dark, the vibe transforms and Spunk becomes a bohemian alternative music bar, making it the perfect spot for getting on those dancing shoes and indulging in some of the local wines and beers.
Boogaloo
Just a stone's throw from Zagreb's central train station, this 1,500 capacity club is set within the confines of a former cinema and cultural centre and hosts a packed calendar of retro-style parties, with live international metal acts, techno DJs and other niche and alternative music nights happening throughout the year.
AKC Medica
This non-profit collaborative is one of Zagreb's most famous night spots and was born of the city's anarchist movement. Today, it retains its rebellious feel and regularly hosts punk gigs and dub-reggae DJs, as well as film evenings run by visual arts association Otomptom. If grunge, grimey, raucous and fun is your scene, then look no further – because AKC Medica ticks all of those boxes and more.
Funk Club
This unassuming cafe-bar is one of the city's most deceptive, and might not look like much to begin with – but after dark, this cafe-bar transforms to become a lively venue pumping out house, electro and broken beats throughout the week. It closes on Sundays and Mondays to give its regulars a chance to recover from the weekend's excesses – then throws open its doors on a Tuesday evening, ready to do it all again.
Bunga Bunga
A place to see and be seen, Bunga Bunga is one of Zagreb's most stylish and sophisticated night spots. Head here if you're looking for an authentic Croatian night out with a soundtrack of Croatian and Balkan dance pop and even the chance to rub shoulders with the occasional local celebrity.
Things to do in Zagreb
The Upper Town

Croatia's cities are characterised by their narrow, winding cobbled streets and historical buildings, and Zagreb's Upper Town is no different. This steep area of the city is reachable via a funicular or a steep set of stairs and promises to transport you right back to times gone by. If you're up for the hike, then you can expect to take in some sweeping views along the way, with the very best vistas right at the top. Look out for St. Mark's church and its colourful roof.

The Zagreb Eye

For more stunning views of the city below, take a trip on the Zagreb Eye.  Here, you'll get to enjoy 360 degree panoramas from the 16th floor, taking in the higgledy-piggledy rooftops which comprise a mixture of towering high-rises and historic buildings. Don't forget to take your camera, because these are the kind of views you'll want to remember long into the future.

Dolac Market

A stroll around the city's Dolac market is a must if you're eager to get a taste of local life, and if you're planning on staying in Zagreb for a while then you might just become a regular. Here, you'll find an abundance of fresh, locally-grown produce, including fruits, vegetables, meat and fish. You'll find it tucked away just behind the main square – get set for a bustling and vibrant atmosphere and a chance to rub shoulders with Croatians of all ages.

Zagreb Cathedral

Perhaps one of Zagreb's most iconic landmarks is its historic cathedral, which was previously known as the Cathedral of the Blessed Virgin Mary. This impressive piece of architecture has been transformed into a neo-gothic monument thanks to a string of reconstructions and upgrades through the ages. The twin towers, which can be spotted from all over the city, are one of the most notable elements of the building.

Maksimir Park

As the oldest public park in Zagreb, Maksimir Park is bound to make it onto your radar during your time spent living in Zagreb, and so it should. The perfect place to take a breath of fresh air away from the hustle and bustle of the central city, it's a sprawling green space punctuated with verdant meadows, pretty lakes and streams, and a stroll through it is a chance to spot some of Croatia's native birds and wildlife.

Mali Medo

Fan of a good beer? Then you're in the right place. The Mali Medo bar, located on Tkalčićeva Street, is a favourite amongst both tourists and locals alike, and serves up local favourites including Cma Kraljica and Mrki Medved. It also happens to be a great place to sample some tasty Croatian fare at a reasonable price – so expect to want to come back here often while living in Zagreb.

Mimara Museum

There are plenty of interesting museums and art galleries to explore in Zagreb, one of the most interesting of which being the lower town Mimara. Named after 20th century art collector Ante Topić Mimara, the permanent exhibits here were donated by Miramar, who was linked to infamous art theft during the Second World War – and features works from the likes of Canaletto, Holbein, Velazquez, Rubens, Monet, Renoir and Degas to name but a few.

Museum of Broken Relationships

Looking to do something a little more unusual? The museum of Broken Relationships is a unique and interesting attraction that you must visit at least once. Filled with heart-wrenching displays telling emotional stories of love and loss through the ages, it's not one for the faint hearted, but if you're a sucker for romance and aren't afraid to show some emotion then be sure to book your tickets.

King Tomislav Square

This impressive city square, named after the first Croatian King, is bound to play a central role during your time in Zagreb as a digital nomad, and is the perfect place to relax over a glass of local wine and some Croatian cuisine and simply people-watch. If you're arriving by train, then you'll step straight into it when you disembark – be sure to bring some ice skates if you're coming in winter, when it becomes a seasonal wonderland.

Jarun Lake

Zagreb can get hot during the summer months, at times, unbearably so. And as it's not on the coast, Croatians have to look elsewhere in search of places to cool off, namely the picturesque Jarun Lake. Here, you'll find a plethora of leisure activities available to take part in – from paddle boarding and kayaking to competitive rowing. Flanked by pretty pebble beaches, its banks also play host to the internationally-renowned INmusic festival, which takes place in late June and has previously seen headliners including the Pixies, PJ Harvey and Wilco. The perfect place to relax and unwind away from the stresses and strains of the city in warmer weather, it's certain to become a favourite.
Best Time to Visit Zagreb
The Croatian interior enjoys a continental climate that is defined by very hot summers, which can be unbreakable at times due to the lack of sea breeze. This contrasts somewhat dramatically with cold winters and regular snowfall – while down on the coast, the country enjoys a more Mediterranean climate, with hot, sunny and dry weather throughout the summer months and milder, wetter winters.
In Zagreb, temperatures can soar towards 30 degrees celsius in July and August, often topping out at around 28 or 29. Conversely, the mercury can dip below -3 degrees celsius in January, which is the coldest month, closely followed by December. July is the rainiest month by quite some way, although May and August also experience a higher level of precipitation than most.
Throughout the year in Zagreb, there are 29 snowfall days on average, the majority of these occurring from January to March and also in December, which sees the highest concentration of any single month at 6.7 days. There are 135.6 rainfall days, and 840mm of precipitation in total.
The best time to visit Croatia tends to be in April, May, June and September, which are seen as the shoulder season. At these points in the year, the weather is pleasant and not too hot, and you'll also be avoiding peak tourist season – plus spring rains, in the case of the former three, make the warm weather more bearable.
Zagreb for Families
Schools and kindergartens
In Croatia, schools are a range of schools, including public and private, with 12 international schools across the country offering programs in languages including English, Chinese, French, Spanish, German and Italian. If you have children but don't plan on staying in Croatia permanently, then these are a good option to keep their schooling up to date, although if you're considering making Zagreb a more permanent base then you may want to consider enrolling them in a Croatian-speaking school or kindergarten for greater immersion.
Many of the international schools in Croatia offer specialist curriculums based around technology, sports or the arts.
Zagreb currently has ten international schools and kindergartens. These include:
Playgroups
For something a little more informal, local playgroups are a great choice and take place at some central community halls across the city. At roughly 30 HRK per session, they provide an opportunity for toddlers and parents to get together in a Croatian and English speaking environment to socialise and play. 
The International Women's Club Zagreb is a great place to start for meeting like-minded parents, many of whom have children and will be able to advise you of the best and most current bilingual playgroups happening across the city (venues and schedules tend to change from time to time).
Babysitting
If you're looking for the occasional babysitter for your children while living in Zagreb then you can expect to pay around 25 HRK per hour for an experienced sitter. The best way to find one is word of mouth –  again, members of the IWCZ will likely be able to make recommendations. If you're from the U.S, the embassy in Zagreb also circulates a regular newsletter featuring up-to-date contact details for trusted babysitters and nannies currently offering up their services in the city.
Living in Zagreb
Zagreb Transportation
As with any new city, the best possible way to get your bearings is to walk as much as possible, and thankfully,  Zagreb lends itself well to getting around on foot. Within the city centre, you're never more than 20 minutes from where you want to be – which is no small feat in a capital city and can save you money as well providing the opportunity to get to know this exciting city inside out.
That said, if you're in a hurry, or the weather is bad, then the good news is that the public transport options are pretty reliable and won't eat too much into your monthly budget.
Buses
A 30-minute journey on board a local bus will set you back just 4HRK, which equates to around $0.60 USD. A longer journey is actually better value for money – expect to pay about 7 HRK ($1.50 USD) for a 60-minute schlep across the city. If you plan on using Zagreb's buses often, then you may want to consider getting a monthly pass at 400 HRK / $60 USD.
Trams
Tram tickets are known as "tramvajska kartas", and can be bought at any of the city's newspaper kiosks as singles which must be validated when you board the tram. Tickets cost 4 kunas, and once validated can be used as many times as required within a 30-minute window. You may also purchase a ticket from the driver, but it isn't a cost-effective way to travel, as doing so will cost you far more at 6 kunas.
Taxis and Ubers
Taxis in Zagreb tend to be expensive, so if you need to travel privately then consider using Uber instead. The service is quick and efficient, and rates are reasonable – a 15-20 minute ride, such as the journey from the airport to the city centre, will cost you in the region of about 95 HRK by Uber or 100-150 Kunas or so (about £11.50 – £17/€13.50 – €20/$15 – $22) by taxi – which reflects the decreased rates drivers have had to implement in recent years in order to compete.
The funicular railway
If you're looking for a quick way to reach Zagreb's Upper Town without climbing a multitude of steep stairs, then the funicular railway is just the ticket. It will elevate you to the required 66m in a timely fashion, just as it has done since 1890, costing you 4 kuna for the privilege – and the views from the top are more than worth it.
Fitness and Health
Staying in shape as a digital nomad can be challenging, but joining a gym when staying in one location for an extended period can be a great way to get back on top of things. The gyms in Zagreb might not, unfortunately, be some of the best in Europe and many tend to be quite small and offer limited equipment – however, there are a couple that are better than the rest, so make sure to have them on your radar.
Fitness Forma is centrally located and membership is moderately priced at 260 HRK ($39 USD) per person, per month. If you're travelling or living with someone else who wants to join, then a family membership will give you the same for 400 HRK ($60 USD) per month for the two of you, which works out cheaper. In the gym, you'll find a variety of modern exercise machines and free weights, along with a regular calendar of classes happening each week.
The Health Club at Esplanade Zagreb is another good option and is located in the five-star Esplanade Hotel. Head here for private personal training sessions, an excellent range of equipment and a sauna and steam room for afterwards.
If yoga is more your thing, then the Dharma Yoga Zagreb should be your first port of call. Masterclasses, workshops and retreats are held here regularly by owner Sandra Pintarić , who brought the concept to the city back in 2011, with a range of weekly classes including hatha-raja and bhakti yoga making up some of the best on offer in the city.
Zagreb People
Croatia is a small country that is home to just four million inhabitants, around 807,000 of whom reside in Zagreb. Although not all Croatians speak English, many of them do, and more often than not, will be friendly and only too happy to help you should you need it during your time spent living in the city as a digital nomad.
Generally speaking, Croatians are friendly and open, and many have a great sense of humour which makes them easy to spend time with. They will almost always be ready to greet you with a smile, and interactions at shops, cafes and restaurants across the city will ensure that you, too, leave a smile on your face. Expats and digital nomads are made to feel welcome here, which is perhaps one of the many reasons more and more are beginning to choose it as a base.
Should you be lucky enough to be invited to a local's home, then you can be sure of an enjoyable experience. Croatians are hospitable and will go out of their way to make you feel welcome – spoiling you with food and drink and asking plenty of non-invasive questions to keep the conversation flowing.
Most Croatians are very culturally aware, so you'll have little trouble finding subject matter to chat about should you accept an invitation to join them for a drink or dinner. In fact, you'll likely find them to be ahead of many other Europeans, with an up-to-the-minute knowledge of the latest hit films, musical releases and plays. Cinemas, theatres and music venues in Zagreb are widely attended by locals, and the younger generations will almost always have a packed diary of events and shows lined up at any given point in the year.
In a nation that is home to such vast expanses of natural beauty, it's refreshing to find a population that appreciates it. Croatians tend to be very proud of this element of their country, and rightly so – with many choosing to spend their weekends immersed in nature and exploring walking trails, spotting waterfalls and swimming in the sea.
Of course, you won't just find native Croatians living in Zagreb, and this is precisely one of the things that makes it so interesting. Residents have a mixed heritage, including Serbian, Slovenian, Bosnian and Czech – and with a growing number of digital nomads from North America, Australia, India and across Europe – as well as many other nations around the world – it makes for an interesting place in which to meet a diverse range of people.
Zagreb Insurance and Medical Care
As with any new country you intend to spend an extended period of time in, it's wise to take out comprehensive travel insurance before you arrive in Croatia. If you're an EU national, then any essential state-provided medical care here will be covered by your European Health Insurance Card – but there are certain things it doesn't cover, including private treatment and repatriation, so be sure to read the small print and take out a separate personal insurance policy to fill in any gaps. Safety Wing is a good option for health and travel insurance for digital nomads.
In February of this year, the Croatian government passed amendments to the law on the compulsory health insurance and healthcare of foreigners entering or living in the country in order to regulate digital nomads' right to healthcare. These allow all digital nomads to exercise their rights to healthcare without the need to register for compulsory health insurance, but they are obliged to cover the costs of healthcare themselves if they do not hold a suitable policy through which they can claim.
In Zagreb, you'll find quality private healthcare and the costs are low.
Make sure you are fully covered by reading our full Digital Nomad Travel Insurance guide.
Jobs in Zagreb
If you're in Zagreb on a digital nomad visa then you won't be permitted to look for work locally during your stay – so you'll need to ensure that you have regular work coming in that is guaranteed by a contract before you apply, and complete the process ahead of travel.
If, however, you wish to apply for a working visa in Croatia or are a member of an EEA state then picking up some extra work may be possible. Having said this, the jobs market in Zagreb, and in Croatia as a whole, at present, is not particularly strong, particularly in light of theG ongoing Covid-19 pandemic. With many small businesses, including shops and restaurants – forced to close their doors for extended periods over the past eighteen months, and tourism all but grinding to a halt until more recently, many sadly haven't survived, which means demand amongst Croatians for jobs is high.
Tourism operators have similarly struggled, so it's not a good time to look for work in this field. However, those with specialist skills that lend themselves to other professions and industries may have more luck, and native speakers of foreign languages, including English, remain in high demand. Positions for teachers, proofreaders and editors often open up throughout the year. Jobs in manufacturing and agriculture – two of Croatia's biggest industries besides tourism – may also be secured with the right approach.
Once you have your CV prepared, here are some places to look:
Search engines: Moj Pasao and Posao allow users to keyword search jobs listing in Croatia – and better yet, you can set up email alerts to ensure that you're always one of the first to know about new openings. A great way to get ahead of the game.
Classified sites: Head to Njuškalo or Plavi Oglasnik for recently listed job opportunities across Croatia. But as adverts are all in Croatian, you might want to make friends with a local first!
Euraxess: An international initiative designed to support both European and non-European researchers seeking careers in their field within Europe, including Croatia.
Newspapers: It may be old school, but many Croatian job opportunities continue to be listed in local newspapers. Pick one up daily, and make the most of the opportunity to brush up on your Croatian – or enlist the help of that local friend once again to make the entire process less stressful.
Recruitment agencies: If searching alone proves fruitless, then check out some of these agencies, who may be able to help:
Check out our Digital Nomads Jobs Postings to find the best jobs available for Digital Nomads.
Nomad Friendly
Value for Money
Internet
Workspace
English
Food
Safety
Health
Transportation
Friendly
Quality of Living
Cost of Living Zagreb
One of the main reasons Croatia is fast becoming a popular choice amongst digital nomads seeking out their next medium-term base is the excellent and affordable cost of living. The price of a monthly apartment rental is less than half that of many other European expat hotspots, so it's the perfect spot for those looking to hunker down and save some money whilst enjoying an interesting and diverse cultural experience.
Of course, as with all countries and cities, how much you spend in Zagreb will very much depend on your budget. While those looking to conserve funds can get by on relatively little, those who don't mind splurging can secure some great accommodation and enjoy a slice of the good life day to day, but unless you're extremely extravagant, it should still be doable without breaking the bank.
Here are some examples of what you can expect to spend on the essentials while living in Zagreb, with a few added extras to make life more fun:
Monthly rent for an apartment in the city centre: 3,383 – 4,135 HRK ($522 – $638)
Monthly rent for an apartment outside the city centre: 3,007 – 3,759 HRK ($464 – $580)
Monthly utilities: 1.357 HRK per month ($209)
Monthly pass for bus and tram: 360 HRK ($55.57)
A litre of milk from the supermarket: 6.54 HRK ($1.00)
A loaf of bread from the supermarket: 6.84 HRK ($1.05)
Coffee in a local cafe in the centre: 9.50 HRK ($1.51)
Continental breakfast at a cafe in the centre: 34 HRK ($5)
Meal in a mid-range restaurant: 45 HRK ($7.15)
A sandwich and a cake from the bakery: 30 HRK ($6.30)
A takeaway kebab from a fast food outlet: 30 HRK ($4.50)
A bottle of local beer: 14 HRK ($2.22)