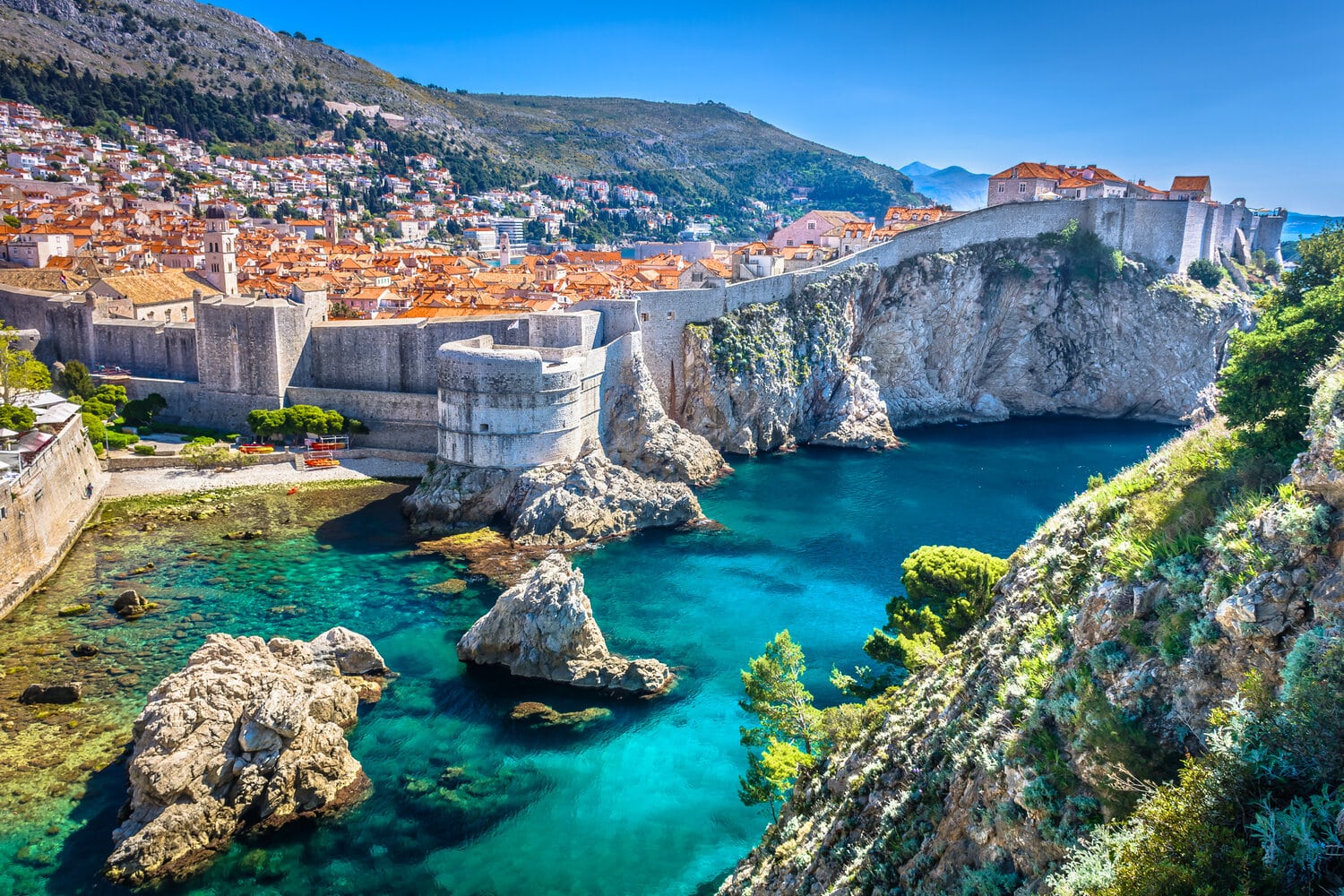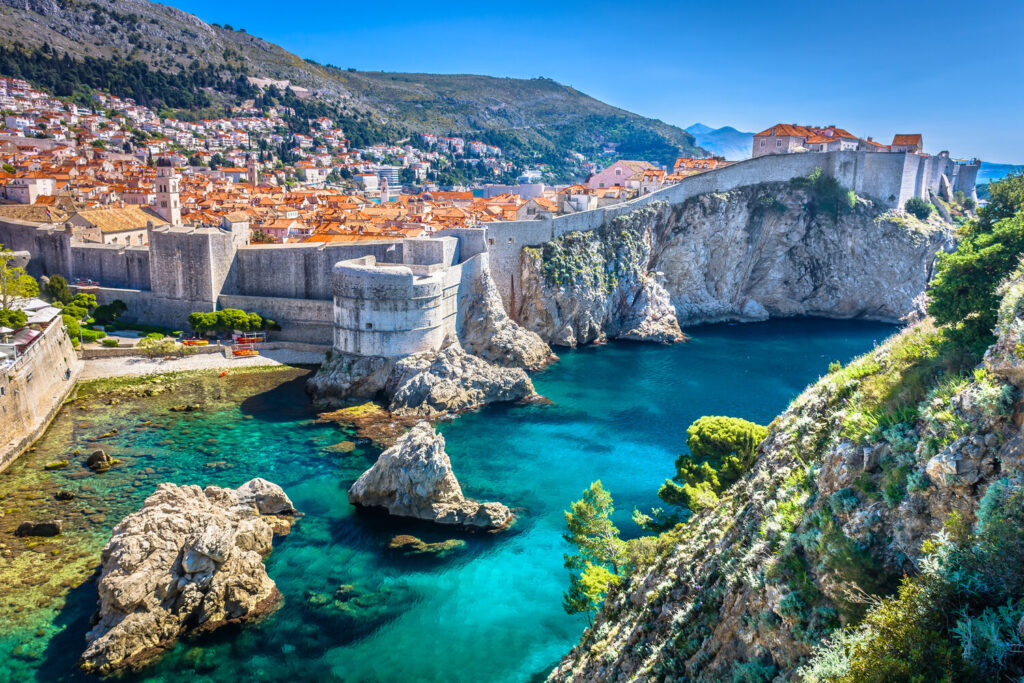 Digital Nomad Croatia Guide 
Why are digital nomads talking about Croatia all of a sudden? It might largely have something to do with the Croatia digital nomad visa that was launched in 2021, but that's not the only reason workers are venturing here. Croatia is located in one of the best spots in Europe, right on the Adriatic, surrounded by Hungary, Slovenia, Bosnia, Herzegovina, Serbia, and Montenegro. Visitors come from around the world for the ancient walled cities, thousands of kilometres of beaches and to sail around the 1244 islands. The Croatian economy heavily depends on tourism with around 20% of its revenue coming from foreign visitors during the summer. The mediaeval walled cities of Dubrovnik and Rovinj almost completely depend on tourists. Maybe this explains why Croatia was one of the first European countries to drop most of its pandemic measures. Many from the US made Croatia their first visit back to Europe post pandemic.
Croatia's lifestyle is a huge draw for many, with a" work to live," not "live to work" attitude ruling the people. The population of 4.11 million mostly live in large cities like Zagreb, Split, and Rijeka. There are two climate zones in Croatia: The middle of Croatia is dominated by a temperate climate and is partly mountainous, while the Adriatic coast has a pleasant Mediterranean climate with around 2700 sunny hours per year and sea temperatures that do not fall below 20°C in summer. Safety is also an important aspect of this vibrant country's allure. Global Finance determined that Croatia is the 22nd safest out of 128 countries in the world. It's also an affordable place to live, compared to much of Europe, and is rapidly becoming more cosmopolitan with the influx of foreign visitors.

Croatia definitely tops the list for ease of entering as a digital nomad. After checking basic requirements like your passport (must have been issued within the past 10 years and must be valid for at least another three months after you plan to leave Croatia), you just need to work out your visa. Croatia is not a hard place to enter but it does depend on your nationality and length of stay, even so there are no legal or lengthy procedures for stays up to a year which is more than adequate for most digital nomads.
Staying up to 90 days
Croatia is a member of the European Union, meaning it has similar visa requirements to many EU countries. They have also reached "visa waiver agreements" with several countries so many can stay for up to 3 months visa free, but some nationalities will still need a visa. Up to 90 days in a 180 day period? This is known as a short stay and no visa is required for most western countries including the UK, EU, the US, Canada, Australia, and New Zealand. Travellers from countries such as China, South Africa, Russia, Ukraine, and Turkey will need a visa.You will just need a valid passport with 3 months validity to enter, for all other citizens you must apply for a visa from the nearest Croatian Embassy or Consulate in person as e-visas are not currently available. This process can take several weeks, you must take a Croatian tourist visa application form and a range of supporting documents to an embassy interview, and pay a processing fee before the application can be approved.
Longer stays
If you are from the EU/EFTA or Switzerland you can continue to stay visa free, but after 90 days, you will need to register with immigration to obtain a residency card. For everyone else you will need to get a long stay visa. This process also includes anyone who is exempt from a short-stay visa. The three standard types of Croatian long stay visa are: 
Croatia Work Visa – This allows you to live and work in Croatia. You must already have a Croatian employer before you apply for a visa as well as a work permit, which your employer has to obtain for you in Croatia. 
Croatia Student Visa – Issued to foreign nationals who want to study in Croatia. Please note before you get a Croatia Student Visa, you must be enrolled in a Croatian educational institution, as foreign or online education is not accepted. 
Croatia Family Visa – This visa is for non-EU family members of Croatian citizens or legal residents with family members in Croatia.
Croatia is not yet part of the Schengen zone, but is looking to join in 2022, so you will not have free travel access to other European countries in the Schengen zone if you do not have an EU passport; the EU Right of Free Movement means anyone with a European passport can move freely between countries. Non EU residents that do not meet any of the above criteria will need to get a digital nomad visa for stays exceeding 90 days.
Croatia Digital Nomad Visa
In January 2021 Croatia joined a growing trend of countries and introduced the Croatia digital nomad visa program. This visa allows you to stay in Croatia from 6 months up to a year. Then you must leave the country for 90 days after the visa ends. After this period, you will need to start a new application for a new visa as there are no options for extension, or move on to another country. Unlike some other countries, the Croatian digital nomad is actually a 12 month Croatian residence permit.
How to get a digital nomad visa in Croatia
To be eligible to get a digital nomad visa you must meet the following criteria: are a non-EU/EEA citizen and have a monthly income (including pension/investments) of 16.907,50 kuna per month (€2,250 approx.) OR proof of funds totalling 202.890,00 kuna (€27,000 approx.) and are working for a company based outside of Croatia, or are self-employed with clients outside of Croatia. For additional family members an extra 676,30 kuna income per month will be required. The required documents for getting a digital nomad visa for Croatia are as follows: Valid passport, proof of income, proof of purpose (contract of employment or self employment in a foreign country), health insurance valid for entire stay, criminal background check, temporary address in Croatia (can be a hotel to begin with), and a completed application form. 
How much does a Croatia digital nomad visa cost
You can complete the application online from abroad or within Croatia, you can submit it to a Croatian embassy or consulate abroad with the following fees: Temporary Residence – 420 HRK ($66 USD), Visa – 460 HRK ($73 USD), Residence Card – 310 HRK ($49 USD). You can also apply in person at the local police station near your temporary residence in Croatia saving yourself $84. To do this you will need either a rental contract, a letter from your landlord, a title deed, or a hotel/hostel confirmation. You will then need to go back to the police station with Croatian sized passport photos to obtain your biometric residence card.
Online/ Embassy – 1190 HRK / 188* USD / 157* EUR
Local Police station – 660 HRK / 104* USD / 87* EUR
*based on exchange rates at time of writing
When to apply for a Croatia visa?
Apply for a Croatian visa within 15-90 days from the time you intend to travel. Anything over 3 months is too early while any applications under 15 days may incur additional costs or not be accepted by the Croatian embassy or consulate. You will need to allow between 3 to 5 weeks for the digital nomad visa to be approved if applying before entry into the country. You can also apply when already staying in Croatia under the 90 day short stay tourist entry visa.
Paying tax while a digital nomad in Croatia
As the digital nomad visa does not allow you to work for Croatian clients, you will not be charged any income tax by the Croatian government. You will therefore just need to pay your taxes wherever you have tax residency. Although the Croatian government is not likely to check your tax affairs, it is important to keep them in order if any issues arise.

What are the best places in Croatia for Digital Nomads?
Zagreb
Zagreb is one of the most popular places to stay for digital nomads in Croatia. So much so that they even have events dedicated to nomads; the first Zagreb digital nomad week was a 7-day conference in 2021 dedicated to the most important topics for remote workers. Zagreb is Croatia's capital and largest city, with a population of over 750,000. The community in the capital knows that many entrepreneurs, freelancers, and professionals come to the country to work. It's a great source of income for them and it is opening up the city to new business opportunities like international cafes and entertainment. The coworking spaces in Zagreb are continually growing and expanding, so it's the perfect place to stay if you want to be in the middle of it all.
That being said, geographically it isn't very close to the tourist hotspots that you don't want to miss while living in Croatia. But it is easy to visit nearby Slovenia, Hungary and even Austria or Italy if visas allow. Some nomads have reported the city is not very LGBT+ friendly though, and you will need to carry cash as card machines are lacking. But it is generally very well set up for working internationals. For great coworking spaces in Zagreb try BIZkoshnica and Wespa Spaces. You can also work in some of the best coffee shops in Zagreb including Amelie and Booksa – why not have your cake and eat it, too? 
Zadar
Zadar is home to the very first digital nomad village in Croatia. The village is just a 30 min walk from Zadar's downtown, and right next to the beach. To stay, prices start at €130 per week (two week minimum). For a month, the price is €520, which is actually cheaper than the typical flat rental plus you get lots of additional extras like free WiFi, coworking spaces, and a community of like minded people from around the world. You can also stay at a nearby hostel, like HI Hostel, from just 150 HRK (approx €20) per night. If you'd rather stay with locals the city has plenty of options, from long term AirBnB rentals to short let apartments, it's not hard to find a place to stay in Zadar. 
For coworking spaces try COIN Coworking Zadar, its a popular spot with 365 square metres of coworking space and 30 places to work. There's also Code Hub located in the University of Zadar. Like Dubrovnik though, Zadar can get pretty quiet in winter as the tourists leave. Just an hour and a half drive north from Zadar you can find one of Croatia's most famous beauty spots, Plitvice Lakes National Park, one of the oldest and largest national parks in Croatia. In 1979, Plitvice Lakes National Park was added to the UNESCO World Heritage list, due to its stunningly picturesque lakes and caves intertwined with waterfalls. It's especially mesmerising in winter when there are less crowds and parts of the falls are frozen, creating great stalactite-like icicles from the waterfalls. 
Split
Split is another great place for digital nomads. 200km north of Dubrovnik, Split is best known as an access point to island hotspots like Hvar and Korčula, but it's a destination in its own right. Less touristy than neighbouring cities but still in the centre of it all, Split is a great place to stay for a while and explore the surrounding islands. It's also just an hour away from Krka National Park, famed for its seven travertine waterfalls: Bilušića buk, Brljan, Manojlovac slap, Rošnjak, Miljacka slap, Roški slap, and Skradinski buk. Its sheer size and beauty needs a full day to be explored and, unlike Plitvice lakes, here you can also swim in the waters to cool off on a hot summer's day.
Split started life as the Roman Emperor Diocletian's retirement palace by the sea, and it's not hard to see why he liked it so much. Split is made for sipping coffee, strolling through the old town, and relaxing on the beaches of Kašjuni, Ježinac, and Bačvice. Sure you may have to fit some work in, but what better backdrop is there than this chilled out little city? In winter the crowds dwindle and Split is, once again, just for locals who take long coffee breaks and walks along the beach to recover from their busy summer seasons. There's plenty of free wifi spots and the internet speeds are usually pretty good. Some great places to work remotely in Split include D16 Coffee, Cafe Kala, Teak, and KaKantun. If you want to work with a sea view, try Basta. For a great place to have a few drinks try, The Daltonist. It's sure to become your new local haunt with its tasty craft beer and good vibes.
Where should you stay as a digital nomad in Split? Varoš is much quieter and cheaper to stay in than the old town, which can get quite busy in peak season. It's just a 10-minute walk away, so you don't need to worry about transportation and still have access to all of the amenities. A great place to find apartment rentals is njuskalo.hr (you will need to use Google translate!).
Dubrovnik
You can't talk about Croatia and not mention Dubrovnik, but it is more geared towards tourists than location independent workers. Dubrovnik doesn't have any coworking spaces available in the old town. It's an absolutely beautiful city and it can get very busy in high season with streams of Game of Thrones fans and British sunseekers. There are however some out of the way spots that make Dubrovnik a great place to spend some time in. Take a ferry to the island of Mljet, it's one of Croatia's eight national parks. It was one of the first marine protected areas in Europe as it's home to the Mediterranean's largest coral reef. Mljet is the perfect spot to get away from the crowds and enjoy spending time in the Adriatics' stunning scenery. But don't expect to get much done here, with few amenities and a severe lack of wifi Mljet is a quiet place to relax, unwind, and escape into nature.
Of course there's no shortage of choice regarding where to stay in Croatia, and with a year on your hands why not try somewhere else? Cities like Rijeka, Osijek, Pula, Sibenik, and Slavonski Brod all have good infrastructure and offer a true glimpse into Croatian life. Or if its the beach you're craving, why not visit the Adriatic oasis of Sakarun on Dugi Otok, the Golden Horn Beach (Zlatni rat) on the island of Brac, or escape to the Kornati islands? You can even rent out an entire island if you're feeling partial to a spot of isolation! Wifi might be limited but who wants to work when there's a pristine beach to be explored right?

When is the best time of year to visit Croatia? A month by month guide
January is both the coldest and the cheapest month to visit Croatia, it's the only time the south can get a bit chilly and the north can see some heavy snowfall. After the first week of January restaurants, bars, and shops close down anywhere from a week to over a month as many of the owners and workers take their break in this quiet time of the year. You need to be prepared to fend for yourself especially if staying somewhere more rural or away from the city centres.
February is still cold and quiet, and it can be hard finding flights during the tourist off season. March starts to see the weather warm up a bit and locals return to the streets. But strong winds batter the coast at this time of year with gusts of up to 75 mph. It's best to avoid the coast and head inland, and avoid the mountains as well. Bura is a wind that blows from the North East which means it blows from the land to the sea, gaining strength from the mountains before hitting the water and disappearing into the sea. It is a dry, cold wind with powerful gusts that can reach incredible speeds.
After Easter in April, the tourist season resumes at a leisurely pace, people are rested and friendly, the weather is warm but not too hot and the prices remain fairly low. May continues with warmer weather allowing for some sunbathing opportunities and (cool) swims. It's the perfect time to be in Croatia, everything is open but not crowded and everything is relatively cheap. Spring is a time of celebration and festivals like Sveti Duje Day – the feast of St. Domnius celebrated on May 7th in Split. It's a day full of joy, fireworks, celebrations, and dancing and isn't to be missed.
June starts to get warmer and busier, with early June being better than late June to visit Croatia to avoid the heat and the crowds. Not everywhere is busy though, inland Croatia and Istria are quite temperate and great places to explore a little. July and August are the same in Croatia as much of Europe; hot and crowded. Forget about eating at a restaurant in a hotspot without queuing or a reservation, be prepared for traffic, noise, and extortionate prices (at least in Croatian terms) in all of the Croatian cities and best beaches. Now is the time to explore off of the beaten track in Croatia, find somewhere with good wifi and aircon and get a lot of work done!
Things start to settle down again in September, warm summer evenings are plentiful, and prices and crowds start to drop to manageable levels in many of the major destinations. The sea is warm, the weather is generally quite good and everyone is more relaxed. October marks the end of the season for the coastal towns but many cafes stay open despite the less reliable weather. Leaves are changing colour and it's the perfect time to visit one of Croatia's eight national parks, like Plitvice or Krka. Less busy than in the summer but arguably more beautiful, while you may not want to swim in the water, the lakes are stunning at this time of year. Thunderstorms are intense but usually short lived and can easily be seen out in a cafe or bar. 
November starts to get colder and alot of places close down for winter, stay in Zagreb, Rijeka, or Split for any signs of life. By contrast, Croatia in December is an undiscovered European Christmas market destination. Not a lot of people know how busy Zagreb gets with Christmas markets and festivities, even Split has a smaller version to celebrate. The weather may be nippy but there's always mulled wine and fritule (tiny donuts) to warm you up!
Of course it all depends where you are going to stay in Croatia as well as what you want to do while you are there. The best time of year to visit Croatia to avoid the heat and crowds, but still have everything open and not too cold, is the same as much of the rest of Europe. The shoulder season; April to May or September to October, are great months to visit Croatia if you're only going to be there for a short while. You can still visit all of the sights and take in the chilled out culture without having to queue for hours or find that everything has already closed. But really anytime of year is a good time to explore this country, you may just have to be more careful where you choose to stay if you want to avoid the winds or wait out the crowds.

What is the cost of living in Croatia?
So we know the entry requirements and visa costs for coming to Croatia, but how much does it actually cost to live? The good news is that if you are from a western country the likelihood is that you will find it quite cheap. It isn't at India or Thailand levels of cheap places to be a digital nomad, but for Europe, Croatia is an affordable place to live. Of course it depends on where you stay, your spending habits, and what time of year you visit. As with any European country it's much cheaper to stay out of the old town in cities (think Split, Dubrovnik and Zadar) and out of peak season (late June to end of August). Of course your own spending habits will have a massive impact on your cost of living, but if you're a coffee addict do not fear! The average cost of a Cappuccino in Croatia will only set you back just $1.87!
The official currency used in Croatia is the Croatian Kuna. The current exchange rate of the Kuna is 1 Kuna (HRK) equals 0.14 USD or0.13 EUR (*at time of writing). Unlike in many other European countries, the Euro is not accepted here as payment. Some places may offer to take it, but the rate won't be favourable. In Croatia you can get charged heavily with ATM fees. It's possible to get charged up to $10 for just one withdrawal! OTPbanka has lower fees, and make sure to use a travel card, like Wise (formerly Transferwise), so your own bank can do the exchange rate rather than the ATM. Most of the larger and more expensive places in Croatia take credit cards, like restaurants, supermarkets, and large chains. But smaller, local-run places like cafes, bars and shops usually take only cash (Kuna, not USD). So it's advisable to carry some cash at all times, and only use the ATM for big withdrawals when you can get the lower fees.
Croatia recently ranked 67th out of 197 countries by cost of living and the 39th best country to live in. Compared to many western countries Croatia is on the lower side of living costs. While it may not be as cheap as some countries in the Balkans, like Albania, it definitely undercuts many of its Northern European rivals. According to the site Expatistan.com the cost of living in Split is 50% cheaper than in Sacramento, Zagreb is 49% cheaper than in Sydney, and Dubrovnik is 10% cheaper than in Madrid. Average monthly living costs can vary hugely, sometimes by up to $550+ per month, depending on where in Croatia you call home. The cost of living in Split, Zagreb, Hvar, or Zadar is around $1000 plus per person per month, whereas lesser known cities come in at a much lower cost. With Bjelovar's monthly living costs at $787, Osijek costing $736, and Slavonski Brod at just $669. Dubrovnik unsurprisingly tops the list, costing on average $1236 per person, per month (figures taken from livingcost.org).
Accommodation
A one bedroom apartment in a popular city centre can cost around $500 per month. Whereas a hotel or AirBnB averages at $70 per night, but of course varies hugely depending on rating and season. For example, for a low budget hotel in low season you can expect to pay around 20 EUR per night; a high end hotel in high season will set you back 200 EUR per night. The same goes for private accommodation, although there is less of a difference for long term stays. A budget room in low season can cost around 10 EUR, whereas a five star apartment would cost 40 EUR at a minimum (prices are per person, per day in a full 2 or 4 person unit).
Eating out
The same applies to eating out in Croatia, there are some amazing food options when it comes to Croatian cuisine and you will always pay more for imported or "foreign" food. Must-try local dishes are Borek; a cheesy spinach pie that goes with just about anything, and Cevapi, also known as Cevaps, or Cevapcici, the ultimate Croatian street food which involves stuffing pork and beef sausages into a thin flatbread with peppers, onions and tomato sauce. For a sweet snack, try a Fritule, a Christmas snack that can be eaten at any time of year. It's basically a donut covered in sugar or drizzled with chocolate and it's delicious. When going out for a drink in the evening, it is helpful to know that vodka, gin, rum etc. are normally available in two variations, the global brands like Smirnoff and Bacardi, or local variations, called Domaci rum, Domaci gin etc. This simple trick will effectively halve the costs of your drinks. You can expect to pay around $2 for a beer, $1.25 for a coffee, enjoy a basic meal out for $8, and have dinner for two in a restaurant for around $40.
Wifi and mobile data
The wifi is good in many major destinations in Croatia. There are lots of free wifi spots in public places and most accommodations will provide it free of charge. Croatia is part of the EU and there should be no roaming costs if you already have a sim card from Italy, Spain, France, the UK, or Germany for example. It also works the other way around, a prepaid sim card for Croatia will work for travelling onwards to other European countries. You should be able to use your data at no extra cost as well. If you do need to buy a sim there are three mobile internet operators in Croatia: T-Mobile Croatia (reported to have the best coverage), A1 Croatia, and TELE2 Croatia. All of these offer Croatia prepaid sim cards for tourists but it's best to get them from city centre phone shops rather than at the airport as prices are inflated. Expect to pay 80kn a week. T-Mobile Croatia also has a special prepaid sim card for tourists costing 85 HRK ($14) unlimited data + 5 HRK calling credit but, be aware, this bundle is only valid in Croatia. There is also 5G in Croatia and it is pretty good.
Some other costs that may be helpful to consider are as follows. You can rent a car for one day from 40 EUR, gasoline per litre costs around 1.48 EUR, one litre of milk in a store costs 0.8 EUR, a loaf of white bread 0.9 EUR, a haircut costs 10 EUR. To put all of these facts and figures into perspective, the overall cost of living for a local is around $1000 whereas the average for a digital nomad living in Croatia is estimated at $1,959 per month (Nomadlist). As you can see, how much it costs to live in Croatia can widely depend on your own personal circumstances and spending habits, but all-in-all Croatia can be a cost effective place to live and work as a nomad.
Why is Croatia a great place for Digital Nomads to work remotely?
With Croatia's recent addition of the digital nomad visa, a warm climate, and friendly English-speaking people it's not hard to see why so many Digital Nomads have chosen to make it their temporary home. It feels safer than nearby countries like Serbia and Albania, but remains a much cheaper destination than the more well-known European countries like Austria or Italy for example. Croatia is a great place for outdoor activities, including hiking and adventure sports. Living here lends itself to having an active lifestyle and, if that's not your thing, there's always the beach! The relaxed mediterranean culture makes it easy to dedicate time to the little things in life, like making time to eat good food and enjoying being with friends. Croatia doesn't take itself too seriously and you aren't going to have to speak fluent Croatian to get by here, as people value visitors and have a mutual respect for different cultures.
The only downsides to being a digital nomad in Croatia are that some places can get crowded with tourists in peak season. The focus of many beach resorts and cities like Dubrovnik still heavily relies on tourism and vacationing so there aren't many coworking spaces set up yet. Businesses look to make as much money as possible in the short window of opportunity that is the summer season, and you can't blame them as that is historically how tourism has operated in Europe. The beauty spots are often packed and it's hard work visiting any popular sights at peak times, it's best venturing out into lesser known parts of the country to find a real window into Croatian life. But things are changing, especially in places like Split and Zadar. The local people are seeing the benefits of having a year round visitor who is more interested in sipping lattes than downing tequila shots. And this is only likely to increase with more and more digital nomads calling this part of the Adriatic home, bringing with it a merge of cultures and a more open and tolerant Croatia. 
Digital Nomad Croatia Conclusion
As you can see, there are plenty of reasons to visit Croatia as a digital nomad. Whether you choose to stay for just a month or a full year, Croatia offers endless natural beauty and a wonderfully warm welcome to everyone that visits. Experience nature at its best, fresh Mediterranean air, and an azure blue sea, and make sure to visit a few national parks before you leave to experience Croatia's true heart. There is a rich culture, history and food scene that means you will want to take time out to explore, making Croatia worth so much more than a quick city break or short beach holiday destination. Croatia is a fantastic place to set up and stay for a while. The wifi is good, the coffee is exceptional, and the long evenings on the beach with friends is what being a digital nomad is all about. Learn a little of the language (Hello is "Dobar dan" or "Bok" to get you started), find a cosy apartment to settle into, and enjoy spending time in this amazing country.