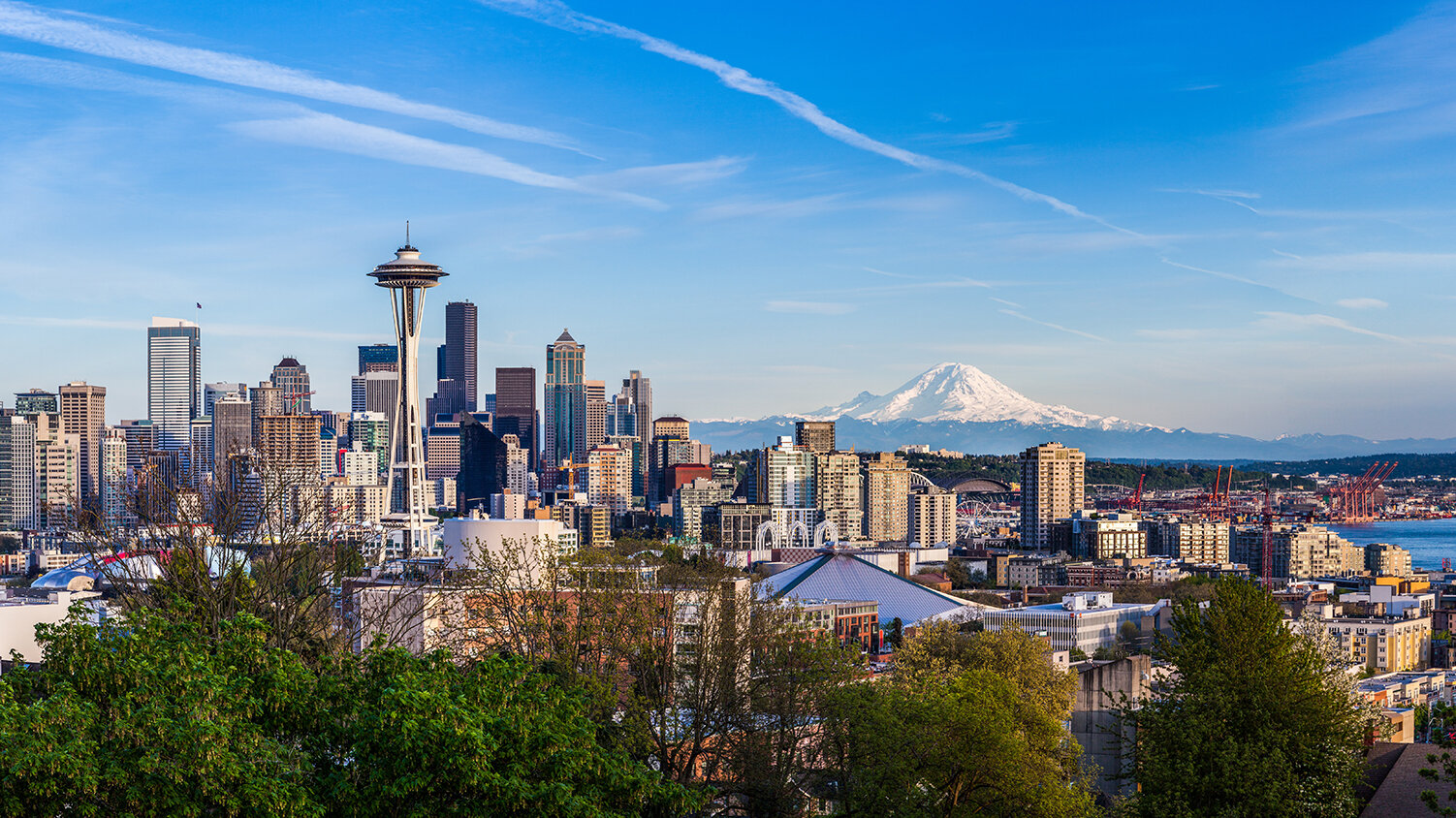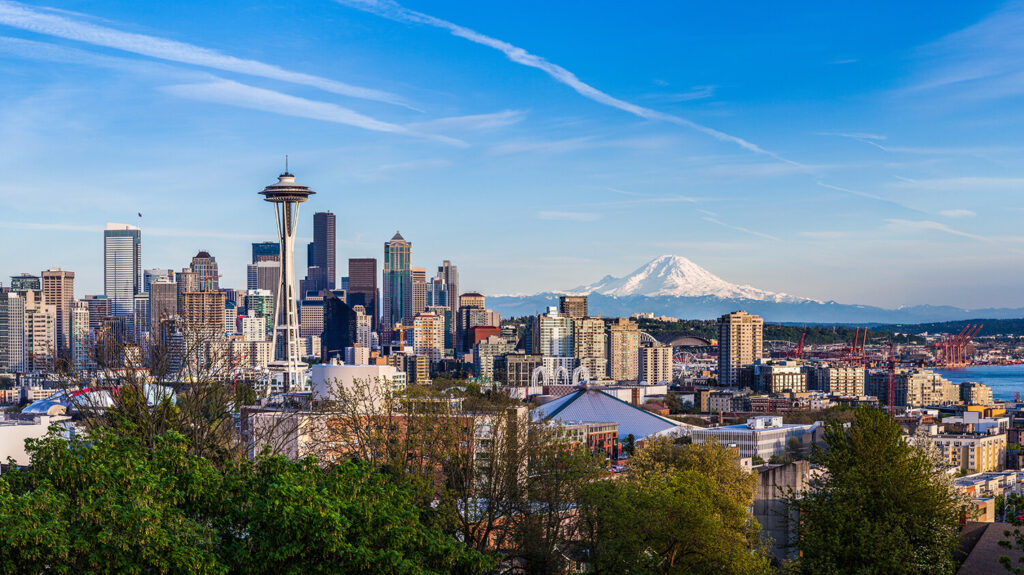 A Digital Nomad Guide to Seattle
Seattle is the largest city in Washington State in the USA, and it is famous for being the home of the world's first-ever Starbucks and for its recognizable city skyline with the iconic Space Needle. Located on the pacific northwest coast, Seattle is a seaport city situated on the west coast of the United States, and it is known for its lush greenery. The area was inhabited by Native North American tribes for around 4,000 years before the European settlers arrived. The city has changed over the years, from experiencing the Great Seattle Fire, which destroyed most of the city, and the new city was built directly on top, meaning there are some remnants of a city below Seattle.
Seattle is a great city for any digital nomad who enjoys being by the sea as the majority of the city is located on Puget Sound and is surrounded by water. It is a wonderful place for anyone who likes to escape in nature as you have Olympic National Park just a short ride away and Mount Rainier within eyesight of the city. 
Being one of the most famous American cities and the largest in northwest America means that infrastructure, internet speed, and coworking spaces are readily available, so you won't have to worry about not having adequate facilities around you.
Nomad Friendly
Value for Money
Internet
Workspace
English
Food
Safety
Health
Transportation
Friendly
Quality of Living
Living in Seattle Overview
| | |
| --- | --- |
|  Meal, Inexpensive Restaurant | $20.00 |
| Domestic Beer (1 pint draught) | $6.00 |
| Cappuccino (regular) | $5.06 |
| Loaf of Fresh White Bread (1 lb) | $3.30 |
| Water (1.5 liter bottle) | $2.14 |
| One-way Ticket (Local Transport) | $2.75 |
| Basic Utilities (Monthly) | $218.99 |
| Internet | $61.91 |
| Fitness Club (Monthly) | $54.69 |
| Apartment (1 bedroom) in City Centre | $1,944.76 |
Currency: Indonesian rupiah (Rp)
[erw_exchange_rates_widget lg="en" tz="0″ fm="IDR" to="EUR,USD,GBP,AUD,JPY,RUB" st="primary" cd="" am="15000″][/erw_exchange_rates_widget]
ATMs
Max Withdrawal: Rp 3,000,000
Withdrawal Fee: Rp 30,000 – Rp 50,000
Use of Credit Cards: Mostly Cash
Digital Nomad Personal Experience in Seattle
At the beginning of 2020, I was lucky enough to spend a few weeks in Seattle, and this was my first time visiting. I was in the area as I had a friend's wedding to go to, so I thought I might as well make the most of the flight over and stay for some time before and after the wedding. I stayed close to Port Orchard, located close to Bremerton, just a short boat ride from Seattle. It was nice to be located outside of the city, but commuting into Seattle took up a lot of my day, so I booked an Airbnb in Seattle for a few nights to reduce my commute. 
Seattle is an extremely modern city, with everything you need on its doorstep while still feeling like you can escape in nature. It has a good balance of culture, museums and city life crossed with easy access to nature. Being a coastal city means you can take long walks along the promenade, boat trips are common, and you feel like you have a sense of fresh air when you are by the ocean. Simultaneously you can get lost in the city and explore its historic buildings, the famous public market and a great selection of museums.
I really appreciated the ability to be able to escape into nature whilst having all the conveniences on my doorstep. There is also so much to do on weekends in the area, such as taking a ferry boat to Victoria B.C in Canada, hiking in Olympic National Park, and experiencing whaling season. I would go back to live as a digital nomad in Seattle any day as it was an amazing place to be based. The only drawback for me is the expense, it is very costly to live in certain cities in the US, and Seattle is one of them.
Work in Seattle
Seattle is one of the most famous cities in the United States that draws thousands of tourists every year, and it is starting to really focus on the needs of digital nomads. There are nearly twenty coworking spaces in Seattle, so you have a great choice when it comes to picking the right place for you.
Best Places to Work in Seattle
The Pioneer Collective
The Pioneer Collective has two coworking spaces, one in Seattle and the other in Tacoma, which is south Seattle, closer to the airport. The prices vary between the two locations; Seattle will cost you $225 USD per month for an unlimited membership, whereas the Tacoma membership will cost you $175 USD per month. There are many perks to a monthly membership at The Pioneer Collective, and it is one of the best spaces in Seattle. With high-speed internet, conference rooms, and a modern work environment, this is a great place to work from. 
West Seattle Coworking
This is one of the best coworking spaces, and it has a business feel about its design. Set up to resemble a traditional office space, West Seattle Coworking is the perfect space for those who want more of a quiet space to work from. Monthly memberships cost $299 USD for unlimited use, and it is possible to buy into a 12-month package.
Knack Coworking
This is one of the funkier spots in town, with its modern design, wall art, and creative use of space. Basic monthly memberships at Knack Coworking will cost you $375 USD per month, which can be upgraded by $75 USD per month to have 24/7 access. This is a fantastic space for the creative digital nomad as it offers a less rigid work environment. 
Cloud Room Seattle
Cloud Room offers a great variety of packages to suit every need, from daily passes to full-time fixed desk spaces. Their monthly membership, which would be best suited to digital nomads, costs around $390 USD per month.
Expansive (formerly Novel Coworking)
With a new rebrand, this coworking space is part of a chain across the USA, and it is one of the cheaper coworking spaces available in Seattle, with their membership costing $249 USD per month. They have great facilities from an espresso bar, high-speed printers, and a community app.
Collective Chemistry
This coworking space is really unique as it is really community-driven and focuses on the importance of everyone having access to and being part of a community. Being a digital nomad can become a little lonely as sometimes, if you work by yourself, you have minimal interactions. That's where Collective Chemistry comes in as they believe that despite working alone, everyone should be able to feel like they are part of something. Their monthly memberships vary depending on your needs, but their cheapest is $250 USD which is for a hybrid membership of part-time access to the coworking space for work but full access to events. Their full resident membership will cost $395 USD per month and allows you unlimited access to the space. 
Other top-rated coworking spaces in Seattle are Office Nomads, which was one of the first coworking spaces in Seattle, Industrious, Think Space, Works Progress Cooperative, and WeWork.
If you prefer to work from cafés, then there is a great selection of coffee shops in Seattle, and being home to the world's first Starbucks, there is a slight obsession with coffee shops in the city. Here are some of the best coffee shops for digital nomads; Café Racer, Fremont Coffee Company, Jibe Espresso Bar, Lost Lake Café and Lounge, Miro Tea, and Empire Espresso. You may find that buying a coffee every time you work ends up costing a similar amount, if not more than booking a coworking space.
Best Places to Live in Seattle
Best Neighbourhoods
Seattle is a large city, and there are many places to choose to live as a digital nomad. The fantastic thing about Seattle is that each area has a different vibe, so if you prefer to be set a little outside the city, within nature, then it's possible to do so in Seattle. If you like being in the heart of the city life, then there are lots of places to choose from. 
Central Seattle
This is the center of the city, and being located here is fantastic for digital nomads who like to have everything on their doorstep. There are many apartments available in this area for around $3,000 USD per month. This is probably the most expensive area of Seattle because you are paying for convenience. Pike and First Hill are two districts within central Seattle that are popular places to stay.
Capitol Hill
This is the area where large companies such as Amazon are based. Amazon has one of its main hubs in Capitol Hill, and it is known as one of the business districts. It is also known as the LGBTQ area, and it is an area that is historically associated with the music scene. Capitol Hill is located just North East of Central Seattle. 
North Seattle
This area is better for families as it is a little quieter than the center of Seattle, and there are lots of schools in the area. It is also popular with students as the University District is located here. This is a great place for digital nomad families as well as younger digital nomads who are looking to be in a lively district but at a lower cost than being in the city center. Some of the best neighborhoods in this area for families are Ballard, Ravenna, and Wallingford. It is also great for lovers of the outdoors as you can kayak on Lake Union, and there are plenty of outdoor activities on your doorstep.
South Seattle
The south of Seattle is quite popular with expats as it is within a good distance from the city center and it is more peaceful. Popular expat neighborhoods are Columbia City, Mount Baker, and Seward Park. Columbia City is the commercial hub for South Seattle, so if you want to still be immersed in city life but not be in the center of Seattle, this is a great option. 
West Seattle
Located South of the Center but on the most westerly point is Alki which has a gorgeous beachfront. This area is popular with beachgoers and lovers of the ocean. Life is a little more relaxed here as it is out of the center and more focused around the ocean and beach. 
Bremerton and Port Orchard
If you want to be within a 1-2 hour commute of the city and prefer town life, then Bremerton or Port Orchard may be a great place for you. Life is slower-paced, and it is only a 1-hour boat ride into Seattle from Bremerton. You can easily go on hikes on days off and even work from some of the small cafés in the area instead of being part of a coworking space.
Find an Apartment in Seattle
There are many ways to find an apartment in Seattle, and different search engines are suitable for different budgets. Seattle is an affordable city to live in in the US, but it is a little higher than other digital nomad hubs in other countries. 
Airbnb
This is a great way to find an apartment because you won't have to pay a deposit, bills or have to worry about signing a contract. All costs are covered in the price supplied by Airbnb, which is convenient as Seattle is quite an expensive city to live in, so not having to worry about bills is a bonus. The average price of a one-bedroom or studio apartment on Airbnb starts at around $2,090 USD per month. This is a good price for Seattle as most rentals will cost around $3,000 USD per month. It is possible to find private rooms in other people's homes, which can cost as little as $1,112 USD per month. Whilst this is cheaper, you will most likely have minimal facilities or shared communal areas. 
Anyplace
Anyplace advertises slightly more upmarket apartments and the average prices are generally higher than what you find on Airbnb. The properties listed on Anyplace generally are a little more classy, with high-end furnishings in great central locations, but they have a high price tag that comes with the luxury. Most apartments start at around $3,400 USD per month. It is possible to find offers as some listings will reduce the monthly price if it closer to the date, so it is worth having a look to see what discounts you can get if you are taking a last-minute trip to Seattle. 
Landing
This is a great website for long-term rentals, and it works with buildings that have multiple rooms to rent, rather than individual landlords renting their own apartments privately. This means it is easier to get an average price for a month-long stay, and you can choose a building and then see if they have studios, one or two-bed apartments. You can find studio apartments on here located just south of the city center for around $1,900 USD per month, which is fantastic for Seattle. You will also see one-bedroom apartments for as little as $2,055 USD per month. This is one of the better sites for finding a nice apartment for a reasonable price. 
Common
Common Anderson is a community apartment building in Seattle located close to Capitol Hill, and it is the future of co-living. With everything on site taken care of, access to facilities such as laundry and a community app, Common has everything that anyone looking for co-living could ever dream of. They have a great selection of studio apartments, starting from as little as $854 USD per month, which is incredible for the city. The only downside to using Common is that they have a minimum duration length of stay, so this might not be such a great option for a temporary one-month stay in Seattle. But if you are looking for a community and looking to stay for a longer time, then this is a great option.
Cheap Places to Stay in Seattle
Seattle is one of the most expensive cities to live in in the USA because it has become a popular hub for business, and the city has developed in a way that has made the cost of living rise. It is still possible to find cheaper ways of living, especially if you intend on staying for a short period of time. The cheapest form of accommodation would be hostels, but also room shares are a good way of living on a low-end budget.  
Hostels
Hostels are probably one of the best ways to find cheaper accommodation in Seattle. Two of the cheapest hostels available are HI Seattle at the American Hotel and Green Tortoise Seattle Hostel, which are both located in the center of Seattle. Green Tortoise Seattle Hostel offers a bed in a dorm room for around $44 USD per night, which is $1308 per month. They also have private rooms too so you can enquire about prices and lengths of stay. Some hostels will not let you stay longer than 14 nights; however, Green Tortoise allows you to stay for up to 30 nights. HI Seattle allows maximum stays of up to 14 nights and charges around $37 USD per night for a bed in a dorm room, which works out to be around $523 USD for a two-week stay. 
Room Shares
Craigslist is a popular way to find cheap short-term rentals or private rooms. Always make sure to ask questions before committing to a room to make sure it suits your needs. Bungalow is a great website for finding room shares, and you can find some great deals for Seattle on here. Most prices advertised don't include bills, but you can find a private room in a house or flatshare for around $670 USD per month. This is a great option for someone on a budget and who enjoys communal living. By pitching in with others, bills are cheaper, and you can end up living in a high-end apartment for very little when compared to just renting by yourself.
Seattle Visa
The USA, in general, is not an easy country to get into with its high security and need for visas. Passports from most countries across the world will need to obtain a visa before arrival, and many are just an evisa which is done very easily online. 
There are a few visa-free countries that can enter the USA, such as Canadian citizens, so anyone with a Canadian passport can enter the USA quite easily. Some other neighboring countries of the USA can enter visa-free, but it is best to check the USA government website to confirm if your passport is included in this.
Most European countries, Australia, and neighboring countries will need to obtain an evisa before arrival, which allows you to enter for tourism purposes. This is known as an ESTA, and the process can all be done online and costs around $15 USD per application. This will allow you to stay in the USA and its territories for up to 90 days.
If you are not from one of the countries on the ESTA list, then you will need to apply for a visa before arrival from your nearest American embassy. It is best to contact your nearest embassy for more details as they vary between countries.
Culture and Food in Seattle
Seattle has a great selection of restaurants and places to eat. You will find many traditional restaurants, street food, and young hip cafés serving up creative fusion cuisine. Seattle has many coffee shops serving up sandwiches and bagels, but you will also see a selection of hipster venues experimenting with all sorts of cuisines serving full meals. There is a huge Asian influence on cuisine in the area, so make sure to check out the incredible fusion venues in Seattle. 
Restaurants
There are many restaurants around Seattle, and I found that the best were located around Pike Place Market as this is where the locals cook dishes using locally sourced ingredients, and you will get some of the freshest food in town here. The most popular venue is The Athenian Seafood Restaurant and Bar which is a casual restaurant serving food from the market. Some of the best places to go to are Red Cedar & Sage, Place Pigalle, Alibi Room, and JarrBar. You will find many whilst walking around the market, so have a wander and see what draws you in. I didn't have time to visit them all, but I'd love to go back and try them.
Fast Food
Being an American city, you will always be able to find typical fast-food chains, but Seattle is home to some really creative fast food venues. Emerald City Fish & Chips, Katsu Burger, and Pike Brewing Company are all unique to the area, and they serve up some great fast-food style dishes. 
China Town
If you like Asian cuisines, then you need to head to Chinatown. As well as having amazing grocery stores such as Uwajimaya Seattle, there are some fantastic restaurants. My favorite restaurant in the area is Samurai Noodle Shop. They serve up some of the best ramen I have ever tried, and there is a nice hipster vibe in the restaurant. 
Vegan and Vegetarian
There is a good selection of vegan and vegetarian restaurants in Seattle, and you will find that most restaurants are able to cater to dietary needs such as gluten allergies and lactose intolerances. Some of the best vegan and vegetarian restaurants in Seattle are Wayward Vegan Café, Café Flora, Sunlight Café, Harvest Beat, Veggie Grill, Blossom Vegetarian, and Kati Vegan Thai.
Seattle Nightlife
Seattle has a fantastic nightlife scene, from cabaret shows to dive bars, gaming bars, or high-end clubs; Seattle has something for everyone. There is so much going on in the city, and it is famous for being a music hotspot for the USA, so you will likely find live music events every week. There is a more lowkey vibe to Seattle's nightlife scene, but that doesn't mean you won't have fun.
Nightclubs
The majority of nightclubs are located in the city center, either by the waterfront, downtown Seattle and Pike Place, or towards the central district. Some of the top nightclubs are Q, Vue, Ora, Kremwerk, and the Baltic Room. Most will require you to be on a guest list or pay a fee to enter. 
Bars
Seattle has a great selection of bars, some more casual than others, but none the less there is something to suit every personality. There are many classy cocktail bars, pubs, and dive bars across the city, so the best way to find a place to suit your vibe is by searching online or asking around communities that share similar interests. Here are some of the quirky and fun bars that are worth a visit. Flatstick Pub in Pioneer Square is a great place for games such a beer pong, and it is a lively pub; Bathtub Gin & Co. is a quirky basement bar serving up a selection of prohibition-style cocktails. Rumba is a 1950s Caribbean-style bar serving over 200 different rums in a quaint library-style venue. The Hideout is a popular bar with those who like to sip on creative cocktails whilst surrounded by artworks. The Hideout, as suggested in its name, can be difficult to find and is not so impressive from the outside, but as soon as you enter, you are in a creator's world. 
Live Shows
There are a number of small theatres in Seattle, and you can see some of the best burlesque and cabaret shows here. I had the opportunity to watch a show at the Can Can Culinary Cabaret for a friend's bachelorette party, and it was so much fun. Sometimes shows can be a little on the expensive side, with tickets costing around $50 USD, not including dinner, but it is totally worth it. If you are into musical theatre or burlesque, then make sure to check out one of the quaint theatres in Seattle. It is a great way to celebrate a birthday, or just have a girl's or guy's night out on the town. 
Gaming Bars
If you are a fan of video games and drinking, then make sure to check out one of Seattle's gaming bars. My favorite of the many gaming bars in Seattle was Raygun Lounge. It has a great selection of video games, board games, and retro arcade machines. The prices are very reasonable, and there is a warm, friendly atmosphere. Other highly rated gaming bars in Seattle are Gamma Ray Games, Shorty's, and Jupiter Bar.
Things to do in Seattle
Seattle is a city rich in history, culture, and nature, which means that there is a lot to do. From hiking in nature to enjoying typical city life and to visiting museums and galleries.
Pike Place Market

The Public Market is one of the most iconic things to experience in Seattle, and it is one of the world's oldest continuously running markets after starting up in 1907. The market is famous for the fish throwers, and if you are not familiar with this, then look it up on youtube! At various times during the day, the fishermen throw the fish across the market stands to each other, and it has become a popular stunt to watch. The market is also home to some of the best local produce and handmade goods. It makes for a nice relaxing afternoon activity.

Museums

There is a good selection of museums in Seattle, some showcasing history and some just for fun, experimentation, and curiosity. Here are some of the top museums that you should visit in Seattle. To better understand Seattle, the Museum of History & Industry (MOHAI) is a great place to start. National Nordic Museum is another historical museum that is great for those interested in life before European settlers arrived. Burke Museum of Natural History and Culture, Pacific Science Center, and Wing Luke Museum of the Asian Pacific American Experience are other great museums to better understand Seattle and its multicultural history.

Art Galleries

There are a number of creative galleries in Seattle and here are just a few of the top ones to visit. The Museum of Pop Culture is a great place to visit for musical history as the museum is inspired by many musical artists; Seattle Art Museum, Frye Art Museum, and Seattle Selfie Museum are also fun to visit.

Underground Tour

Seattle suffered from the Great Fire, which destroyed most of the city. As a consequence, a new city was built on top of the old, which is Seattle today. But there are special tours that take you below the city to walk the streets that once made up the city. Tours can vary in price, but they tend to cost around $22 USD per person. You can also go in the evening on a ghost night tour too, which makes for a spooky experience.

Space Needle

The Space Needle is probably one of the most iconic structures in Seattle, and it is a popular building to go up. There are a variety of tickets for entrance, but the most simple visit costs $35 USD for an adult ticket which allows you to go up the tower. If you are on a budget, then you can still walk around the base and explore the cultural area where it is located.

Boat Trip to Victoria B.C

Seattle is situated on the border to Canada, so you are able to get there fairly easily, providing you have the correct visa and a valid passport. The ferry varies in price but generally costs around $145 USD for a round trip from Seattle to Victoria, British Colombia. The ferry takes just under three hours, and it is a very picturesque ride, crossing the Sound and along the coastline up to Canada. It is a little expensive but it a great way to get to Canada.

Olympic National Park

One of the USA's most unique national parks is Olympic National Park, and it was made famous by the Twilight series as a lot of the filming took place here. The National Park sits on the coastline and is home to a number of unique animal species, and has a very damp climate. This means that it can sometimes become humid, and there are some areas that are referred to as jungles. Even if you just drive around the Park for a day, it is a beautiful way to soak up some of the wildlife. It is also possible to camp or stay the night in a cabin, so make sure to check out the National Park's website for more details.

Olympic Game Farm

This is a wonderful nature park, where you can take yourself on a safari to see a wide selection of both native and nonnative animals. You generally have to take your own vehicle, and it costs $17 USD per person. Why not get a group together and go on a day excursion to see some of the beautiful natural wildlife of the Pacific Northwest.

Lavender Farms

If you happen to be in Seattle during the summer from around June to July, you can visit the lavender farms as they are in full bloom and will be approaching the harvest season. There are a number of lavender farms around Seattle, but one of the best is Purple Haze Lavender Farm which has an entry cost of around $12 USD.

Mount Rainier

Seattle is surrounded by national parks, and Mount Rainer is one you can see from the city. The famous snowy peak towers over the skyline of Seattle, and it makes for an epic backdrop. It is possible to take tours up to the National Park, and on a clear day, if you hike up to the peak, you can have some incredible views of Seattle. Check out the national park website for more information.

China Town

If you want a break from the hustle-bustle of the city, then why not head down to China Town, where there is a slightly more relaxed vibe and an Asian community. There are some fantastic grocery stores here as well as Asian restaurants serving some of the best food in Seattle.
Best Time to Visit Seattle
Seattle is known for its dull and grey weather, but it isn't always doom and gloom. Although winters can be harsh, summers are beautiful, and temperatures rise to comfortable levels. Seattle is located in the Northern Hemisphere, so the winter months generally span from November through until March, and the summer months are from June until September.
The summers in Seattle are the best time to visit as the days are long, dry, and warm, which means you can be outside and really enjoy exploring the city and surrounding areas. The hottest months and most popular times with tourists are from July to August. The average temperature in summer reaches around 22 C (73 F), and it rarely drops below 12 C (55 F). although the summers don't get particularly boiling hot, they do hold a nice average temperature making outdoor sports very pleasant and not too sweaty.
Winters in Seattle can be harsh, with short days and a lack of sunlight. It is also the time of year when Seattle experiences a lot of rain and, in the mid-winter, even snow. January and February are the coldest months, with temperatures dropping as low as 2 C (36 F). February is the only month to see snowfall throughout the year.
Seattle for Families
Seattle is a great city for families as it has pretty much every facility you could ever want, it has a lot going on, and it is a city close to nature. This means that you can balance family life with the great outdoors whilst still have comforts and services close to home.
Goodmigrations.com and expatica.com are great websites for expats and families as you can get a good idea of what life is like for families in Seattle. There are international schools, daycares, and after-school activities for children, so you don't have to worry about the lack of facilities available to you. As for entertainment, Seattle has a lot of attractions that are children friendly such as the Olympic Game Farm, national parks, museums, Woodland Park Zoon, and the Seattle Aquarium. 
If you are unsure whether to relocate to Seattle, then make sure to check out expat groups on Facebook as you can ask people directly about their experiences as a family moving to Seattle. This is where you will get true honest advice directly from people there. As the cost of living is quite high, you may find that living just outside Seattle is more beneficial.
Living in Seattle
Seattle Transportation
There is a good selection of transport options in Seattle, from bus services, ferries, taxis, and a monorail. Depending on how you prefer to get around, you have plenty of options that connect the city in a convenient manner. Seattle has a transport card called the ORCA card. It can be purchased for just $5 USD, and then you can top it up as you go. They can be used on a variety of modes of transport in the city; however, the ferries are not included, and it is best to check when buying it where you can use it. An all-day pass can be loaded onto the card for $8 USD, or you can pay for single journeys, which usually cost around $3.50 USD. 
Streetcars
These are similar to the monorail service, but they run along a different line. There are two lines; the First Hill line and the South Lake Union neighborhood line. A single adult journey will cost $2.25 USD, and this can be paid in cash or using the ORCA card. You can also buy day passes for $4.50 USD. This is a great way to get around the city, especially if you are located just outside; however, they don't always run late and have different operating times depending on the day, so make sure to check the timetable.
Seattle Center Monorail
This is possibly one of the most iconic transport methods in Seattle, and it runs from the Westlake Center, which is in downtown, to Seattle Center, which is at the base of Queen Anne hill. I only took this once when in Seattle as it serves more of a purpose for tourists rather than being useful for commuting. Only one-way tickets can be purchased, and they cost $2.50 USD. 
Buses
King County Metro Transit is the bus company that runs the buses across Seattle. Timetables and schedules can be downloaded using their app. Bus tickets tend to cost around $2.75–$3.25 USD using the ORCA card.
Taxi
Getting around Seattle is very easy, and there are multiple taxi apps that work in Seattle. Uber and Lyft are the best apps for rideshares, whereas curb and flywheel are good for private rides as their rates are very reasonable. Seattle Yellow cabs app is a taxi app specifically designed for use in Seattle, and it is the best way to get a local cab.
Lime
An increasingly popular way of traveling around cities is to use the Lime electric scooters or city bicycles. Lime charges $1 USD to unlock a bicycle and then charges you for time/distance, depending on if you are using a scooter or bicycle. There are also Jump bicycles which are free to unlock and then only charge $0.15 USD per minute.
Ferry
If you want to visit Bremerton or one of the surrounding areas across the water, then you can take the ferry. The ferry generally can't be paid for using the ORCA card and requires you to buy a separate ticket for journeys. The prices vary dramatically depending on the route you are taking; some are just passenger ferries, and others allow vehicles too. For the Seattle to Bremerton ferry, which is most popular, it costs around $9 USD each way.
Fitness and Health
Seattle has a wide variety of gyms, yoga centers, leisure, and sports facilities, and outdoor sports activities, so you have a large selection to choose from to help you keep fit. The most common form of exercising is going to the gym as it is easiest, but you will find more options in Seattle that might change your preferred form of exercising.
Gyms
There is a large selection of gyms in Seattle, so the best way to find the perfect one for you is to look in the area that you are planning on staying in. Each district has a great selection, and here are some of the best in the city; Rival Fitness, which costs $95 USD per month plus tax and a signup fee, Seattle Strength and Performance, which is $99 USD per month membership or $29 USD for drop-ins, Anytime Fitness and Flow Fitness. Gym memberships can vary between places, but they generally start at around $100 USD per month.
Yoga
There are a number of yoga studios and yoga classes in Seattle, and here are some of the top-rated. Be Luminious Yoga, Sanctuary, DRIFT Yoga Juice Bar, and Seattle Yoga Arts are all top-rated yoga studios and offer a variety of classes and memberships. Most studios charge around $22-$30 USD per session for drop-ins, but with memberships, the average price of classes can drop to around $10-$15 USD per session.
Climbing
There are a number of climbing and bouldering centers in Seattle, and this is a great form of exercise. Most centers often have a great community vibe too, so if you want to make some friends outside of your workplace, then this is a good place to start. Most climbing centers offer monthly memberships, and they tend to cost around $75 USD per month, including a start-up fee. Others offer day passes which cost around $20 USD. There is also lots of natural climbing in the Seattle area, so if you are experienced and are there in summer, then why not ask around for a partner to climb in the wild with. Some of the best bouldering and climbing gyms are Half Moon Bouldering, Seattle Bouldering Project, and Stone Gardens Seattle.
Free Exercise
If you are on a lower budget but still want to exercise, then a great option is to go for runs in the city. There are many trails along the waterfront, and this is a great free way to keep fit. Alongside this, you can also walk and hike as another free form of exercise.
Seattle People
Seattle has a very chilled-out vibe for a city of its size, and its people mostly follow this way of life. Many residents are relaxed and welcoming as it is a tourist city, so people are used to seeing foreigners in the city. This means that they are not only tolerant but go out their way to help you. I have only had great experiences when in Seattle, and I always felt like there was a warm vibe amongst its people.
However, this being said, it is different depending on the area you are in the city. In the business district and the areas that are dense with people working the hustle-bustle lifestyle, there is slightly less tolerance as people are busy at work. I think this is a common theme amongst large cities, and unless you are there for business, you most likely won't be hanging around these areas much.
Outside the city and on the islands in towns such as Bremerton, you have more of a small-town vibe, so there can be some resistance to foreigners, but you are also very welcomed in the more touristy areas. I never had any problems, and I really enjoyed every area of Seattle. I felt warmly welcomed, and I really enjoyed my time there.
Seattle Insurance and Medical Care
It is always advised to take out travel insurance wherever you go as accidents can always happen. It is especially recommended to take out medical insurance in the USA because the cost of healthcare is one of the highest in the world. Most insurance companies will cover you in the US but make sure to check before as you really don't want to have it invalid in the USA. The cost of simple treatment in the US can be up to ten times higher than when compared with other westernized countries in the world. It is also possible that if you don't have insurance, you may not be treated if you can't afford it. So this is why it is so important to have insurance in place. Luckily I have never had any issues when in the US, but when I was traveling with a friend from the UK, they needed stitches in their finger for a deep cut, and it cost them around $2,000 USD. They were able to use their insurance to help with the claim, but it wasn't a simple process, and it was very expensive for a minor injury.
As for your belongings, it is advised to have insurance for your items as you never know what might happen. While Seattle is a pleasant city with a very low crime rate, incidents still happen, so it is advised to always leave your belongings in a safe place and to always be vigilant of your bags and personal items.
Make sure you are fully covered by reading our full Digital Nomad Travel Insurance guide.
Jobs in Seattle
Finding a job in Seattle may prove difficult as working as a foreigner in the USA requires a work visa. To obtain a work visa, you will need to have a job in place, and the employer will act as your sponsor for your work permit. You will need to apply for and arrange a job before you go or perhaps get a transfer with a company that you are already working for in your current country. 
There are very strict policies for working in the USA, so make sure to check that your employer knows where you are from and they know they will need to get you a visa. The best way to find a job is online, and there are a number of websites that are great for finding a job. Typical search engines such as indeed.com, glassdoor.com, and LinkedIn are great for finding work in Seattle, but there are other methods such as using the official USA government website to find jobs for foreigners.
If you want to just volunteer in Seattle, then it will be easier for you to work and find a position. This has its benefits as while you may not be being paid, sometimes costs are covered, such as accommodation and food. Workaway.com volunteermatch.org, seattleworks.org, and seattle.gov are good resources for finding volunteering opportunities.
Check out our Digital Nomads Jobs Postings to find the best jobs available for Digital Nomads.
Nomad Friendly
Value for Money
Internet
Workspace
English
Food
Safety
Health
Transportation
Friendly
Quality of Living
Cost of Living Seattle
The expected cost of living in Seattle can vary dramatically depending on your needs and where you end up staying in the city. Seattle is one of the more expensive places to live in the US because it has become very popular over the years with big companies such as Amazon, and it draws thousands of tourists from around the world every year.
If you are on a low-end budget, then you should expect to be paying around $1935 USD per month. That is broken down into $900 USD on accommodation in the form of a room share or studio out of the city center, $20 USD on food per day which is around $600 USD per month. If you are hoping to have some form of transportation, then you could combine using the bicycle share scheme and taking some buses should you should budget $60 USD for transport. This could also count towards exercise; if you were to combine running, hiking, and walking, you wouldn't need a gym membership. The cheapest coworking space would be $175 USD per month, and then you should allocate around $200 USD for leisure. If you were to cook at home and work from your accommodation, then this price could be lower.
On a higher-end budget with private accommodation and access to top-end facilities, you should expect to be paying around $3,450 USD per month. That is broken down into $1,900 USD on accommodation in the form of a private apartment. $30 USD per day on food which is $900 USD per month, which is based on you eating out most days, $100 USD for a monthly gym membership, $100 USD on public transport, $200 USD on the use of a workspace and around $250 USD for leisure. 
As you can see, your budget can really vary depending on your wants and needs, and this is just a rough guide. If you are happy to visit Seattle to live and to not take part in some "touristy" activities, then it will be cheaper to live.