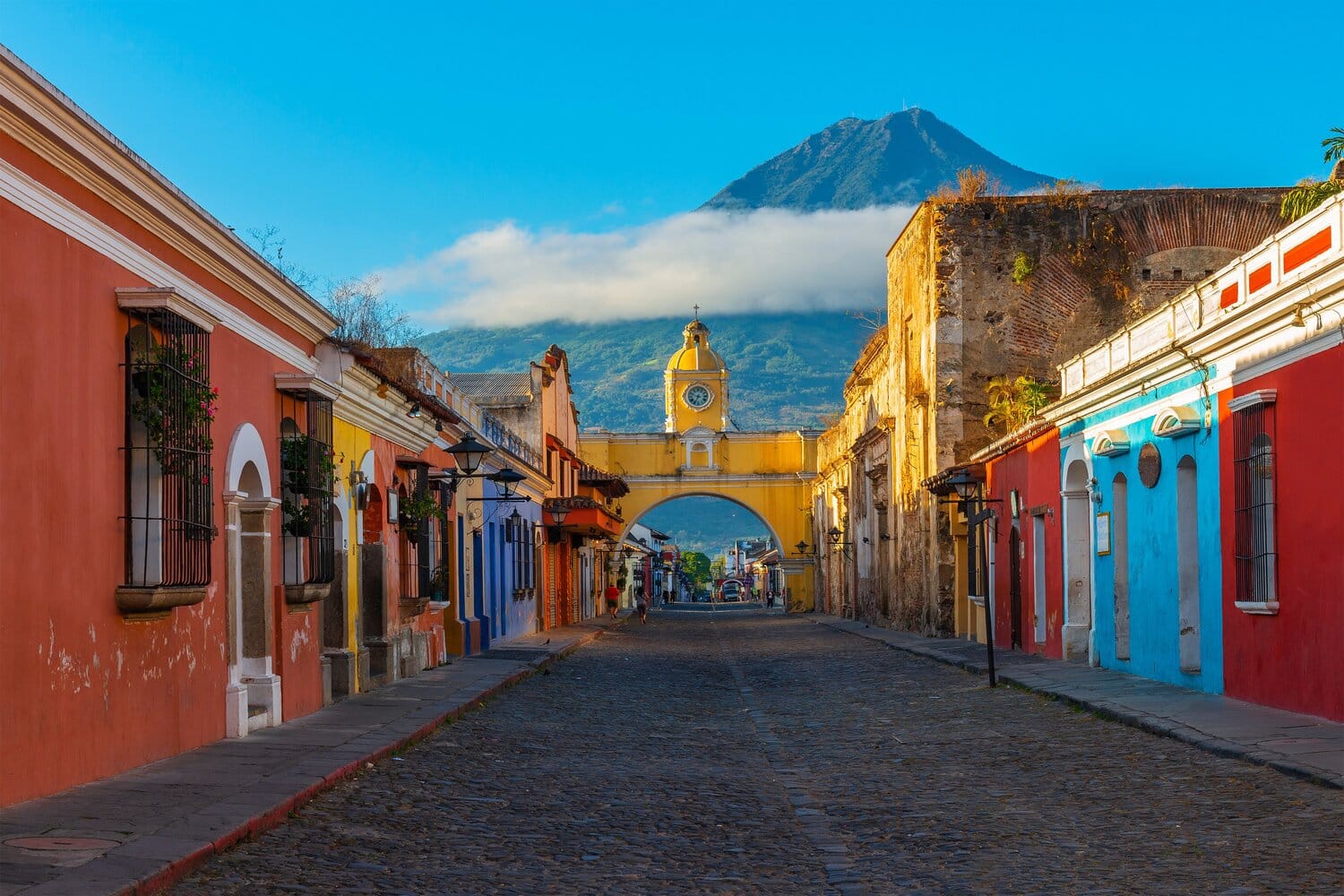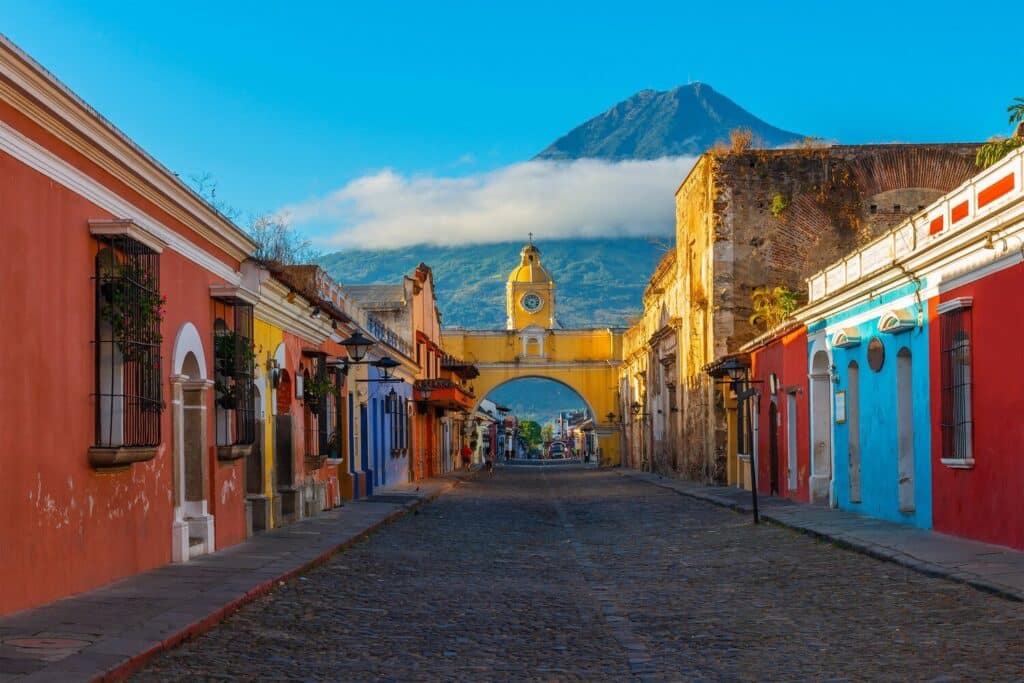 A Digital Nomad Guide to Antigua, Guatemala
Guatemala is a country situated in Central America between Mexico, Belize, El Salvador and Honduras. This beautiful country is covered in tropical jungles, volcanoes and stunning mountain ranges.
This ancient Mayan country has much to offer, from exotic flora to some of the world's rarest animal species so it is a great place for the nature lover. Guatemala is still a developing country with infrastructure developments in the process which means it is easy to find an authentic way of life across Guatemala.
The currency is the Guatemalan quetzal and it is named after their unique bird species the quetzal, which has become an endangered species. The official language in Guatemala is Spanish however you will find many mountain regions have their own languages which come from the Mayan language.
Antigua served as the capitol of Guatemala until 1773 when the town was destroyed by earthquake Santa Marta and it was decided that the capitol should be relocated to form what is now Guatemala City. Antigua is now a UNESCO world heritage site for its ancient ruins, as well as its historical importance in Guatemala. Antigua was formed in the 16th century and is situated 1,500 meters above sea level. It is famous for its religious ruins, as many churches, a convent and other religious structures were destroyed in the earthquake in 1773.
Nomad Friendly
Value for Money
Internet
Workspace
English
Food
Safety
Health
Transportation
Friendly
Quality of Living
Living in Antigua Overview
| | |
| --- | --- |
|  Meal, Inexpensive Restaurant | $5.71 |
| Domestic Beer (1 pint draught) | $3.24 |
| Cappuccino (regular) | $2.34 |
| Loaf of Fresh White Bread (1 lb) | $2.03 |
| Water (1.5 liter bottle) | $1.69 |
| One-way Ticket (Local Transport) | $1.04 |
| Basic Utilities (Monthly) | $41.88 |
| Internet | $52.92 |
| Fitness Club (Monthly) | $38.59 |
| Apartment (1 bedroom) in City Centre | $438.14 |
[erw_exchange_rates_widget lg="en" tz="0″ fm="EUR" to="EUR,USD,GBP,AUD,JPY,RUB" st="primary" cd="" am="1″][/erw_exchange_rates_widget]
Max Withdrawal: €400
Use of Credit Cards: Widely Accepted
Digital Nomad Personal Experience in Antigua
I spent a little over one month in Guatemala, with the majority of my time at San Pedro and Antigua. Guatemala is a colourful country with many natural wonders and it is the perfect destination for a digital nomad or backpacker. I really fell in love with the food, the crafts and natural beauty of the country as there was always something new in each region I visited.
Getting around the country can be difficult as the infrastructure isn't fantastic and roads are not always complete; however there are buses that run across the country. For a developing country my experience was magical, I felt welcomed by locals and I would love to go back again. 
During my stay I hiked Volcano Pacaya, leant about the history of Antigua and the history of Mayans, as well as enjoying the natural beauty and temples that surround the area. I was very lucky in the fact that I had driven in from Belize so I really got to see and experience every corner of the country and not just the tourist areas.
Antigua is a beautiful city and has pretty much everything you would need on your doorstep. It is surrounded by incredible mountains and the Agua Volcano. Whilst I was there the volcano started erupting over a few days which was a little scary but an incredibly unique experience for me and one I will never forget. I remember sitting on a rooftop bar and hearing what sounded like thunder, followed by a faint orange glow in the distance when the volcano was erupting.
I spent my evenings drinking mezcal, enjoying local treats like tacos and listening to live music at some of the local bars. Café No Sé was my favourite little spot to go to in the evening and the quirky venue was great for meeting likeminded travellers.
I also got the chance to visit Tikal, Flores and Semuc Champey which are beautiful places to see combining history, nature and everyday life.
Work in Antigua
There isn't a huge selection of co-working spaces in Antigua, but there are some and this is the place to be for the more relaxed small town vibe. As well as a couple of co-working spaces there are a good selection of cafés, bars and hostels to work from. When I was visiting internet speed was not fast, however technology is always developing. I bought a local SIM card with a phone company called Tigo, which was great because it also worked in Mexico too and other parts of Central America. Signal was in and out but it worked for the most part.
Best Places to Work in Antigua
Impact Hub
There are two main co-working spaces in Antigua and the most popular is the Impact Hub. Impact Hub is a global chain of co-working spaces designed for digital nomads. A day pass with cost you $8 USD and it includes Wi-Fi, hot-desking and free tea and coffee. They also offer weekly passes costing $45 USD which offer more benefits than the daily pass. Finally their monthly packages start at $115 USD and go up to $145 USD for unlimited options. More information can be found here antigua.impacthub.net/ratesbenefits. This is a great co-working space to be at as they run events and have a great community for you to immerse yourself into.
Selina Co-working
Another of the best co-working spaces in Antigua is Selina which is a co-working co-living space. This tranquil setting is great for a more relaxed working vibe and they have various packages to suit your needs. Daily passes are a little cheaper than the Impact Hub at $7.25 USD and weekly passes being $33 USD. Their monthly passes cost around $118 USD depending on your needs. This is a great option for combining co-living and co-working and Selina provides everything you need under one roof, from workshops to community, Selina is the place to be for simplicity. 
As well as co-working spaces there are many cafés and hostels with relaxed hangout areas. Some of the best cafés for digital nomads that have free Wi-Fi are listed below.
Rainbow Café
This cute and quirky café is popular with foreigners in Antigua and is a great place for working as a digital nomad. There is a small book shop, stage for live music and regular events are held here. The internet is good here and you can sit inside or in the courtyard with a variety of comfy sofas and tables and chairs to work from. Coffee costs around $1.20 USD, so it is a great place for someone on a low budget.
Bella Vista Coffee
Bella Vista Coffee has a beautiful rooftop seating area, with views of surrounding volcanoes and on a clear day it is a great place to work. As well as rooftop seating there is seating inside in the café on various floors. Not only coffee is served, they sell small pastries too, so it is a great place to work for a half day or so. There is a relaxed vibe here, with chilled out tunes, good Wi-Fi and there are some power points too.
Café Barista
This café is located in the main square and resembles a Starbucks type coffee shop however it is a local company. There is a great variety of seating, ok free Wi-Fi, power points and they serve breakfast. The coffee isn't highly rated but it is affordable and there are often many people here on laptops.
Fernando's Kaffee
Fernando's Kaffee is a colourful and vibrant café with a beautiful courtyard area, serving both local and international delights. This is a great place to work from as the Wi-Fi is good; there's power plugs and a great vibe.
Another option for working space is in your hostel or private accommodation, however it is recommended to ask for internet speed before booking, as internet can be a little unreliable in Guatemala in terms of speed.
Best Places to Live in Antigua
Best Neighbourhoods
Guatemala is a beautiful country with a lot to offer, and choosing somewhere to stay can be challenging if it is your first time in the country. Guatemala has become very popular with tourists and backpackers and as a consequence some areas have become more designed to suit tourists and as a result become a little less authentic. There are both positives and negatives to staying in areas like this and it really is down to what you feel most comfortable with.
Antigua is a relatively small city that could be classified as a town, so it is fairly simple when choosing the best neighbourhood to stay in. Three areas that attract tourist or backpackers are Barrio de La Concepción, Santa Ana and El Caseo, but they are all very different.
Barrio de La Concepción
Barrio de La Concepción is right in the centre around the central park and it is the place to be for convenience. It is in the heart of the historical buildings, restaurants and cafés and there are a few places to stay here. It is a little quieter at night as it is more popular during the day.
El Caseo
El Caseo is the best place to be for the social and explorative type as it where all the bars are and during the day it is home to the museums and historic sites. This is the most popular place with backpackers to stay as it is where the life of the city is. You will find plenty of places to stay in this area and this is where you are most likely to meet other digital nomads or backpackers. 
Santa Ana
For a slightly more authentic experience Santa Ana which is just outside the city centre is a good place to stay as it is where the locals live. It is a slightly more affordable area that shows more of the traditional lifestyles in Guatemala. 
Find an Apartment in Antigua
Finding an apartment in Antigua is fairly simple; however there aren't many reliable sources to book on other than on booking.com and Airbnb. This is partly due to the ever-growing city as it is still very much a small town and is not an advanced city. Many people go here for an authentic experience of Guatemala and it has more of a relaxed town vibe than a bustling city. 
On Airbnb there are many studio apartments available, starting from around $700 USD per month and they can go up to around $1700 USD per month, but these tend to be whole properties. It can be difficult to find apartments as most will tend to be studios that have been converted from people's homes, or you will find hotel rooms for long term rent.
Facebook groups such as Houses & Apartments Antigua Guatemala will give you more of a direct contact with locals in the area for long terms rents. They also tend to be a lot cheaper this way as you are avoiding the tourist prices. Apartments on here tend to go for around $350 USD.
Whilst you might find that accommodation seems expensive for the country, sometimes it is worth paying the extra in the long run. Guatemala, like other sub-tropical countries often experience power blackouts, which will not only mean internet is down, but any form of electricity too. So it is worth staying in a place that you know you can reliably charge up your equipment. 
Security can also sometimes be an issue, so bear in mind the type of place you are staying and how to be discreet with your belongings. It might be worth paying an extra $10 USD per night if it means your belongings are in safer hands. 
Before booking make sure to message the advertisers for proof of internet speed, they can use websites like speedtest.com to get the actual upload and download speed to send to you before you arrive. Free Wi-Fi doesn't always mean good Wi-Fi.
Cheap Places to Stay in Antigua
There are plenty of hostels in Antigua, as well as a co-working co-living space. You can book beds in dorms in hostels for as little as $7-8 USD per night. Some of the best value and top rated hostels in Antigua are Hostel Antigueno, Tropicana Hostel, Hostel Antigua and The Purpose Hostel. These can all be booked via Hostelworld.com. This is a great platform for finding cheap and reliable accommodation and you can even read reviews from previous guests. Most of these offer private rooms too for around $25 USD per night but you may find that you can get a deal with them directly if you are booking for longer periods of time.
For someone on a lower budget then Selina is another hostel which is also a co-working co-living combined space for tourists which is great for a low budget. Their package prices start from $400 USD per month for a bed in a dorm. For a private room, prices start from $680 USD per month per person. This is a great way to save money as you are combing your work and accommodation into one package which is discounted compared to organising the two separately. There are also other benefits to this other than just finances. Having everything under one roof means no commute cost and a close knit community of likeminded travellers literally on your doorstep.
Antigua Visa
Guatemala offers visa free travel to a handful of countries and it is part of the Central American Border Agreement. This means that anyone with a passport from the EU, UK, Canada, Australia or USA can enter Guatemala visa free for up to 90 days. You will not need proof of exit either, however due to the CA-4 agreement you can only spend a maximum of 90 days between countries in the agreement. If you do not have one of the passports mentioned then it is advised to contact your embassy in Guatemala to find out your requirements as it is different for every country.
Once you are in Guatemala it is possible to apply for a visa extension of 30 days if the application is made before your 90 days is up. You must submit your application to the Migration Directorate in Guatemala City. Overstaying your visa or your allocated total of days will result in a penalty fine which must be paid before you leave the country.
If you do need to obtain a tourist visa before entry then a single entry visa will cost around $25 USD, multiple entries will cost $50 USD and for a business visa it will cost around $50 USD. But please check with your embassy for country specific information. 
It is also possible to apply for a long term visa for 2 years, however the process is very complicated and you will need a Guatemalan guarantor with your application. The best way to obtain this is by finding a job and your employer will apply for you.
Culture and Food in Antigua
Guatemala is known as the heart of Mayan culture and this is dominant within their cuisine. There has also been a huge Spanish influence on cuisine since colonisation. This fusion has created some of the world's most unique dishes. I found that the best place to experience true authentic cuisine was at the markets and street food stands as this is where you will see the locals eat. Some of the most popular things to try in Guatemala are tamales, Pepian, Kak'ik, Elote loco, Hilachas, Atol, Tostadas and Pupusas.
Street Food and Markets
Guatemala has some of the world best street food and it is so affordable. If you are on a tight budget then you will most likely be living from the food stalls in Antigua as they offer great authentic, freshly cooked treats. You will find stands will be placed close to busy areas, such as the central park and open spaces like by the Iglesia de La Merced. They will mostly sell small snacky food like Elote loco which is sweet corn topped with spices and sauce, tostadas which are small taco sandwiches and tamales which are delicious stewed meats cooked inside a corn meal shell and then steamed in corn husks.
Local Restaurants
Some of the best restaurants for local specialities are El Criollo, Rincón Típico and Por Qué No? Café. All serve Guatemalan food at affordable prices. If you are looking for real authentic then the best place to try is the main market.
Fast Food
Surprisingly you will find a few recognisable fast food chains in Antigua and although I wouldn't choose to eat at them as I prefer to try local cuisine, sometimes they are worth a visit just to look. Brands such as Little Caesars and McDonalds have restaurants in Antigua and they are nothing like you would find in other countries. Something oddly fascinating is how fast food chains present themselves in other countries and in Antigua you will find that the McDonalds is quite fancy, with a private garden with its own fountain creating an oddly tranquil setting for a McDonalds. It is worth a look just to see something different, however there is so much choice for food in Antigua, you won't need to eat there!
Vegetarian and Alternative Diets
Meat is a huge part of the Guatemalan diet, however as Antigua is a tourist destination there have been many alternative eateries popping up in more recent years. This means that there is plenty of choice for vegetarians, vegans and those with certain dietary requirements. Some of the best vegetarian and vegan places to eat are Wachuma and Samsara which are more takeout based. La Bruja, Once Once and Saberico Delicatessen which serve more local style dishes that are vegan friendly. Toko Bura, Union Café, Rainbow Café, Y Tu Piña Tambien, Sobremesa and Amanecer Juice Bar are also great places to find vegetarian and vegan food.
Antigua Nightlife
Although Antigua is a relatively small city, it has a buzzing night vibe and you will find something to entertain on every corner. From live music, bars and enjoying a few drinks with friends, the selection is good for a city of its size. There aren't really any large nightclubs in the city, but there are plenty of bars and cafés that stay open late.
Nightclubs
There aren't nightclubs as such in Antigua but there are many late night bars with dance floors. Las Vibras de la Casbah is probably the closest to a nightclub in Antigua, playing EDM and having multiple dance floors. This venue is also known for being an LGBTQ friendly spot. 
La Sala is known for its Latin vibes and they even hold salsa classes some evenings. This is the place for the keen dancer and they also have happy hour most days. Another spot to try is Le Sin Ventura which is another popping place with a lively dance floor, drink offers and it is where most of the local youth go for a night out. So if you want to mingle and dance with the locals whilst listening to reggaeton then head here for a vibrant night. Le Sin Ventura also has salsa nights too!
Bars
There are many bars and places to drink in Antigua so choosing where to go really depends on the vibe you are looking for. Places such as the El Barrio have trivia nights, board games and even an onsite tattoo parlour! There are cocktail bars like Ocelot Bar, Ulew Cocktail bar and Vudu bar, which all have classy vibes. You will also find bars that are more like taverns and have a more casual atmosphere such as Lucky Rabbit, El Illegal, The Londoner Pub and Reilly's Irish Tavern.
Antigua Brewing Company
This was one of my favourite places to go in Antigua for some really good beer and it is a great venue. Antigua Brewing Company is a great place for a beer enthusiast although their prices are quite a bit higher than other local drinking spots. You should expect to be paying around $9 USD per beer, but rest assured you are paying for excellent quality. They also have a great rooftop to enjoy sunset and it's great for admiring the surrounding volcanoes. This micro-brewery also runs events such as live music, so it is a great place to spend an evening. 
Café Bars
Café No Sé is a great little spot for live music and drinking mezcal. Mezcal is a local drink, similar to tequila and made from the agave plant. This quirky venue is where you will find all the hipsters and it is a really cool place to hang out in the evening.
Another cute café is Café Por Que No? which serves beers and a selection of drinks and is a great place to hang out with friends for a couple of evening drinks. Other chilled out bars and lounges include the Whiskey Den and Coffee Bar, 
The best way to find somewhere in Antigua is by walking the streets and seeing what draws your attention, as there are plenty of lively bars as well as more relaxed café bars that generate more chilled vibes. 
Things to do in Antigua
Antigua is well placed in Guatemala and as a result there are so many things for you to do whilst staying there. One of the best things about being in Guatemala is that you will always find something entertaining and something affordable to do.
Ruins

Antigua has some incredible ruins to wander around and is a place rich in history. These ruins were once glorious churches and sacred buildings built in the 16th century, but sadly many were destroyed in the earthquake in 1773. Today they stand amongst some of the newly built city and they still remain glorious in their own way. A great way to spend the afternoon is wandering around these towering ancient ruins. Some are free to look around and other require a ticket which is a few dollars. 

Museums

There is a good selection of museums in Antigua as it is one of the most historical towns in Guatemala. The historical museums in Antigua showcase Mayan culture and traditions and the best places to learn about this aspect of life are Museo del libro antiguo, Museum St. Tomas De Aquino, Museo de Arte Colonial and ChocoMuseo. Most museums cost around $5 USD entry, however they all vary slightly.

Food Tours and Cooking Classes

Guatemala is a fantastic country for gastronomy tourism and Antigua has some of the country's best places to learn about traditional food. There are food tours in Antigua which will lead you through the food markets and street food stalls. Most food walking tours include all the food you eat within the ticket price which is usually around $30 USD per person. There are many cooking schools and classes available in Antigua so once you find one that takes your interest make sure to shop around to get the best deal. De La Gente is a local tour company offering cooking classes for around $13 USD per person.

Free Things to do

Cerro de La Cruz is a great viewpoint to admire the city of Antigua from. It is only a short walk from the city and it really is worth the hike for the beautiful views. Another thing is to wander the city, admire the ruins, markets and see the famous Santa Catalina Arch. It was built by the convent and has a secret passageway inside which connects the buildings on the west of the street to those on the east.

Markets

Guatemala has a very unique craft history and you will find many traditional crafts for sale at the local markets. Popular artisan crafts include ceramics, textiles, basketry and wooden crafts. Guatemala is recognised for its vibrant textiles which are traditionally made by the women. Each region uses its own colours and patterns which have descended from Mayan culture and they are really beautiful and unique pieces of work. Even if you don't want to buy anything it is really nice spending a quiet afternoon wandering the markets to see how the locals live and to understand Guatemalan culture.

Volcanoes

Antigua is surrounded by three volcanoes; Aguga, Fuego and Acatenango. It is possible to take guided hikes around these volcanoes however due to the eruption in 2018 of Fuego, tours may be limited or non-existent for a while. Volcano Pacaya, which is located 25 kilometres south of Antigua, is a popular volcano to hike up as it is an active volcano that you can see lava coming from. It is also quite hot in some areas so there are tours that specialise in taking you to designated areas where you can roast marshmallows. Volcano hikes can vary dramatically in price and it is always recommend taking a guide as you are walking unknown terrain. Most tour companies offer day trips to Pacaya for around $12 USD per person but this only includes the journey there and back, and the guide. Park entry costs around $7 USD and food and drinks are paid for on top. Hiking tours to Volcano Acatenango tend to cost quite a bit more with most tours starting at around $130 USD.

Lake Atitlan

Lake Atitlan is Central America's deepest lake and is a very touristy destination that is popular with backpackers and expats and it is a great place to spend a weekend. There are various villages around the lake and the most popular are San Pedro and San Marcos. It is possible to take a shuttle bus from Antigua to the lake for around $15-20 USD. Once you are there you can stay in hostels, rent kayaks, take a boat trip on the lake and enjoy being surrounded by incredible mountain ranges. There are many day trips and excursions offered in Guatemala and lots of tour companies in Antigua that you can enquire from.

Festivals

Guatemala is a very traditional and holy country that loves to host some of the world's most colourful festivals on a regular basis. Make sure to see if there are any festivals happening during your stay, as they are spectacular sights to see and you will experience an atmosphere like never before. The festivals tend to reflect the countries blend of Mayan, pre-Hispanic, Afro-Caribbean and Catholic culture. Some of the top festivals to see are that are country wide are Ascension Day on May 9th, Independence Day September 15th,Coban National Folkloric Festival end of July and Revolution Day October 20th. You will also find that every town in Guatemala has its own patron Saint and every town has a day of celebration for their patron Saint so make sure to check if the celebration co-insides with your stay. Here are some examples of great festivals held in or near to Antigua.

Coffee Harvest Festival

The coffee harvest festival which usually occurs the first week of February and you will find a carnival with street food stalls that is held in Guatemala City.

Semana Santa Guatemala

This is also known as Holy week or to Easter and the celebration takes place between March and April, depending on when the day falls. Antigua is the heart of this celebration as it is one of the oldest colonial towns and you will find the streets lined with carpets and processions.

Festival of San Pedro

In the town of San Pedro La Laguna located on Lake Atitlan on June 24th you will see a colourful celebration for the town's patron saint. You will find live music and local specialities which truly creates an authentic experience. 
Best Time to Visit Antigua
The weather in Guatemala is warm all year round, with the wet season being mostly overcast and the dry season being sunny and mostly clear. Generally the rainy season is from May until October and the dry season is from November to April. The seasons are very distinct in Guatemala which helps when it comes to deciding when to visit.  
Guatemala is a very mountainous country with its highest point being the Tajumulco Volcano at 4,220 metres (13,845 feet). This means that the weather can vary dramatically across the country and can be unpredictable and hugely varied. It is often said that the weather in Guatemala on the Atlantic ocean is more unpredictable than the rest of the country, so the weather predictions aren't always reliable for such areas. 
During the rainy season access to some of the more remote places, mountains areas and rainforests such as Petén can become restricted as these areas tend to experience the highest level of rainfall and roads aren't well maintained.
The best time of year to visit Guatemala is between November and mid-April as this is when you will have the best weather and more of a pleasant stay. If you want to be outdoors enjoying Guatemala's nature, then this is the best time of year to go. Average dry season temperatures are around 22 C (72 F) and they will rarely drop below 18 C (64 F).
In summary May is the hottest month, January is the coldest month, September is the wettest and January can be the windiest, so choose your time accordingly. 
Antigua for Families
Antigua is a great place for families as there is a lot going on and it is a great place to spend time with your family.
There are many unique things to do with the kids, such as making chocolates whilst learning about Mayan culture at the Chocolate museum, hiking Pacaya Volcanoe and roasting marshmallows on the lava or ride a mule around Finca Filadelfia coffee plantation. As well as these unique activities there are museums, ruins, markets and a sculpture park.
As for accommodation it is best to find somewhere with great facilities such as a pool and onsite entertainment. The best hotel for families is Porta Hotel Antigua, as it has a great pool and outdoor facilities as well as spacious modern rooms. Prices start at around $60 USD per night but can vary depending on the type of room. There is also the option of renting full houses or apartments on Airbnb and you will find these start from around $1500 USD per month.
For schooling it is always best to check on expat forums for guidance, especially when it comes to smaller towns like Antigua. There is an international school; however your child may find integration difficult if they don't speak Spanish. There are large expat communities in Guatemala and there will be a bigger selection of schools in the capitol Guatemala City, which is 1-2 hours away. Again there are day cares and preschools in Antigua such as KikiriKids, however you will need to enquire about language options.
Living in Antigua
Antigua Transportation
Guatemala doesn't have many forms of transport due to its rugged terrain, and you will find that buses are the lifeblood of the country. This is the most common form of transport and as well as buses there are small coaches and mini busses too. The country is well interconnected through this mode of transport and you will find that you can get anywhere you want to at very affordable prices.
Often referred to as "chicken busses", these are brightly coloured ex-school buses that are used within villages and generally used by locals for smaller journeys. You won't miss these as each driver will decorate their bus in their preferred colour or pattern and they really stand out. You will find that they become very crowded at peak times which might result in standing in the aisles. These are very cheap and they give you an authentic experience of life like a local. There aren't always designated stops and the buses will pretty much stop wherever on demand. Please be aware that sometimes, as they can get very crowded, these are the prime place for pick pockets and these occurrences happen frequently. So if you do use them make sure to not have valuables with you or keep them hidden and close by. 
There are also first class buses where you can reserve a seat, but these tend to run between major cities. Similarly there are shuttles too that are smaller mini buses and you can purchase tickets for as little as $10 USD one way. This is a great way to get from Guatemala City airport to Antigua. Websites such as the official tourism board visitguatemala.com are the best places to check timetables and to even book tickets, as they will provide official companies to book through.
Taxis
Taxis come in various forms in Guatemala. Mostly cars are used for long journeys but you will often see Tuk-Tuks being used by the locals as taxis and they are great for going small distances. You can take a Tuk-Tuk taxi ride for a few dollars and it is great fun, however be warned that they can easily flip and some drivers don't always take care.
Fitness and Health
Antigua is a good place to be when it comes to health and fitness; however you will need to accept that there isn't a huge selection of gyms in the town. The best ways to stay fit in Antigua are by more natural forms of exercise such as hiking, walking, running, swimming and exercise classes but you will find some small gyms too.
Antigua is a well-established town, and due to the popularity with tourists, exercise classes have become a common way to keep fit. As well as classes gyms have set up too, Antigua's Gym, Health Club offers monthly memberships for $34 USD, with an induction fee of $7 USD on top. You can also get weekly passes for $15 USD. 
Other gyms in Antigua are Scandinavia Gym, La Fabrica, U.F.S Gym and SISTEMA Fitness. You will find many offer similarly priced packages but they may specialize in certain areas of exercise. 
There are multiple Yoga studios; some of the best in the town are Shakti Shala and YogAntigua. Classes tend to be around $10 USD per session however you can get discounts if you book in bulk. You will also find that places such as Selina co-working space offer yoga classes and many hostels have yoga studio space offering weekly classes. As well as yoga there are lot of salsa classes in the evenings, which are often held at bars and restaurants, so it is best to check when you are there for timetables.
Another way to keep fit is through hiking and walking, the city is surrounded by nature, volcanoes and mountains, so if you are on a smaller budget and want to see more of the countryside then walking is a great way to combine the two.
Antigua People
Guatemala is known as being the heart of the Mayan world and you will see that this ancient culture still lives on across Guatemala. Their cultural fusion of Mayan, European and Caribbean influences has created a very unique, vibrant and respectful population. Traditions from all parts of their heritage play important roles in everyday life and this is celebrated through carnivals, festivals and food.
Although Spanish is the official language of Guatemala, there are around 22 different languages that are spoken around the country. Most of these derive from Mayan culture and many of them are still used in the more mountainous and remote regions of Guatemala. Each language comes from an indigenous Maya group. The population of Guatemala is evenly spread between indigenous Mayan groups, mestizos who are a mix of Mayans and Europeans, Europeans and finally ladino's who are of Mayan decent but choose to dress and live a westernized lifestyle.
Antigua is a melting pot for all these groups and you will find a variety of people in the city. The people are generally very friendly and welcoming to tourists. Antigua has been a popular tourist destination for many years, attracting people from all over the world. This is mostly due to its historic value and important annual festivals at Easter and during Holy week. The people of this city are happy and are passionate about sharing their culture with visitors.
I found from my time in the city I had a good balance of an authentic experience, meeting locals at the markets and seeing what real life is like in Guatemala, as well as mingling with the youth of Guatemala to learn more about modern day life in this beautiful country. 
There is a good level of English spoken in Antigua, mostly due to its reputation as being a tourist hotspot, but you will still find that many locals will only speak Spanish. As well as locals you will find a large ex-pat community, some of which run various bars, restaurants and hostels in Antigua. When I was there I visited bars opened by British, Americans and El Salvadorians, as well as Guatemalans and this city really is a very multicultural place in terms of its people. This means there is a good mix of old, new, authentic and fusion, throughout the restaurants, cafés and bars.
Antigua is a fairly safe place to visit but as always be aware and try to avoid walking alone at night and be vigilant for pick pocketing. As it is a developing country you may find that a situation will be taken advantage of, so make sure to always be sensible. For example, I had my phone stolen at Lake Atitlan, however I left it on the side in the room and I didn't lock the door, so it was a situation that was taken advantage of. I don't believe you will find much crime in Antigua but if an opportunity is there, it will be taken as some of the population is very poor.
Antigua Insurance and Medical Care
As always it is advised to have travel insurance for both medical and belongings and I would advise having it for Guatemala. As mentioned before whilst the country is pretty safe, pick pocketing and having items stolen is quite common. I was able to use my insurance when my phone was stolen so I think it is always worth having it if you have expensive items on you.
For medical care again it is suggested to take out insurance for Guatemala. This is mostly due to the lack of access to healthcare and reduced services due to the country's infrastructure. Whilst you will find that minor problems are easily taken care of, bigger issues may result in being flown to a neighbouring country for treatment.
You will also find that most doctors, or specialists are based in Guatemala City, so although it isn't too far from Antigua, it is possible you will have to travel to get a problem properly fixed. There can also be problems with language as the most common language spoken by doctors is Spanish, so if you need help take a translator with you.
From personal experience a friend who I was travelling with broke their arm whilst we were up in the mountains in Semuc Champey and although it was a long drive to the nearest city, they were taken care of and a cast was put on for around $40 USD (not including transport to the city). Although this was a few years ago now there are basic hospitals outside of Guatemala City that can help at very affordable rates.
It is advised to always carry a small first aid kit with you with essentials as resources are lacking in Guatemala. Make sure to check that the medication you are taking with you is legal in the country as some "over the counter" medicines are not allowed to be taken into countries like Guatemala without a prescription note. Always carry mosquito spray and protect yourself from mosquito bites as they can be carrying a variety of diseases in Guatemala.
Make sure you are fully covered by reading our full Digital Nomad Travel Insurance guide.
Jobs in Antigua
Guatemala has many options for finding jobs; however it will most likely be in the form of voluntary work. There are some paid jobs in the tourism sector because it is ever-growing and the need for workers in this industry and in particular within hospitality is exponential. The best place to look for jobs within the tourism sector is via websites such as goabroad.com, tecoloco.com.gt, overseasjobs.com and opcionempleo.com.gt/.
You will find many jobs in teaching English; however you must be a native English speaker. Websites such as transitionsabroad.com /workinlatinamerica and eslemployment.com are good places to look for teaching jobs.
Generally once you have a job lined up then your employer will apply for your residence permit and that should be in place for your arrival. You must make sure that you have the correct visa if you are taking on a paid position.
As for volunteering, there are many projects in Guatemala that require volunteers and it is a great way to contribute and give something back to a country of its beauty. There are multiple conservation projects, various educational charities and you will find a lot of volunteer programs through websites such as workaway.info, volunteerworld.com as well as visiting the Guatemala Tourism board website for registered volunteer programs.
You may find more causal forms of volunteer work with hostels and bars, but it is advised to only work with reputable businesses with recognised volunteer programs.
Check out our Digital Nomads Jobs Postings to find the best jobs available for Digital Nomads.
Nomad Friendly
Value for Money
Internet
Workspace
English
Food
Safety
Health
Transportation
Friendly
Quality of Living
Cost of Living Antigua
The expected cost of living in Antigua will vary depending on your preferences so you should look at options to see what suits you best. It is possible to live in Antigua on a very low budget because it is an inexpensive place to be, however if you like your luxuries or want to take day trips then the costs will soon mount up.
For the ultimate budget experience, $640 USD will be enough to live in Antigua for one month. That is $240 USD accommodation at a hostel, $10 USD per day for food which is $300 USD for a month, and from this you can include ordering coffees whilst working in cafés and $100 USD for excursions or luxuries.
For a mid-range budget you should expect to be paying around $850 USD for one month. This would be $400 USD for a bed in a dorm room at Selina co-working. This will include your co-working costs and some exercise classes offered by Selina. $300 USD which is $10 USD per day on food, walking everywhere and taking the occasional chicken bus will mean little to no expenditure on transportation and $150 USD on entertainment and excursions. It could be possible to lower this if you were to eat from the markets and street food on a regular basis as you can get meals for around $2 USD.
For a more comfortable budget and with the options of eating out more frequently you should be looking at spending around $1430 USD for one person per month. The price break down would be $680 USD co-working space and accommodation in the form of a private room at Selina Hostel. Then a budget of $15 USD per day for food, which is $450 USD for the month, $50 USD on transportation and $200 USD on excursions and entertainment and then $50 USD for gym memberships and exercise classes. On this budget you will have a very comfortable and lavish stay in Antigua.