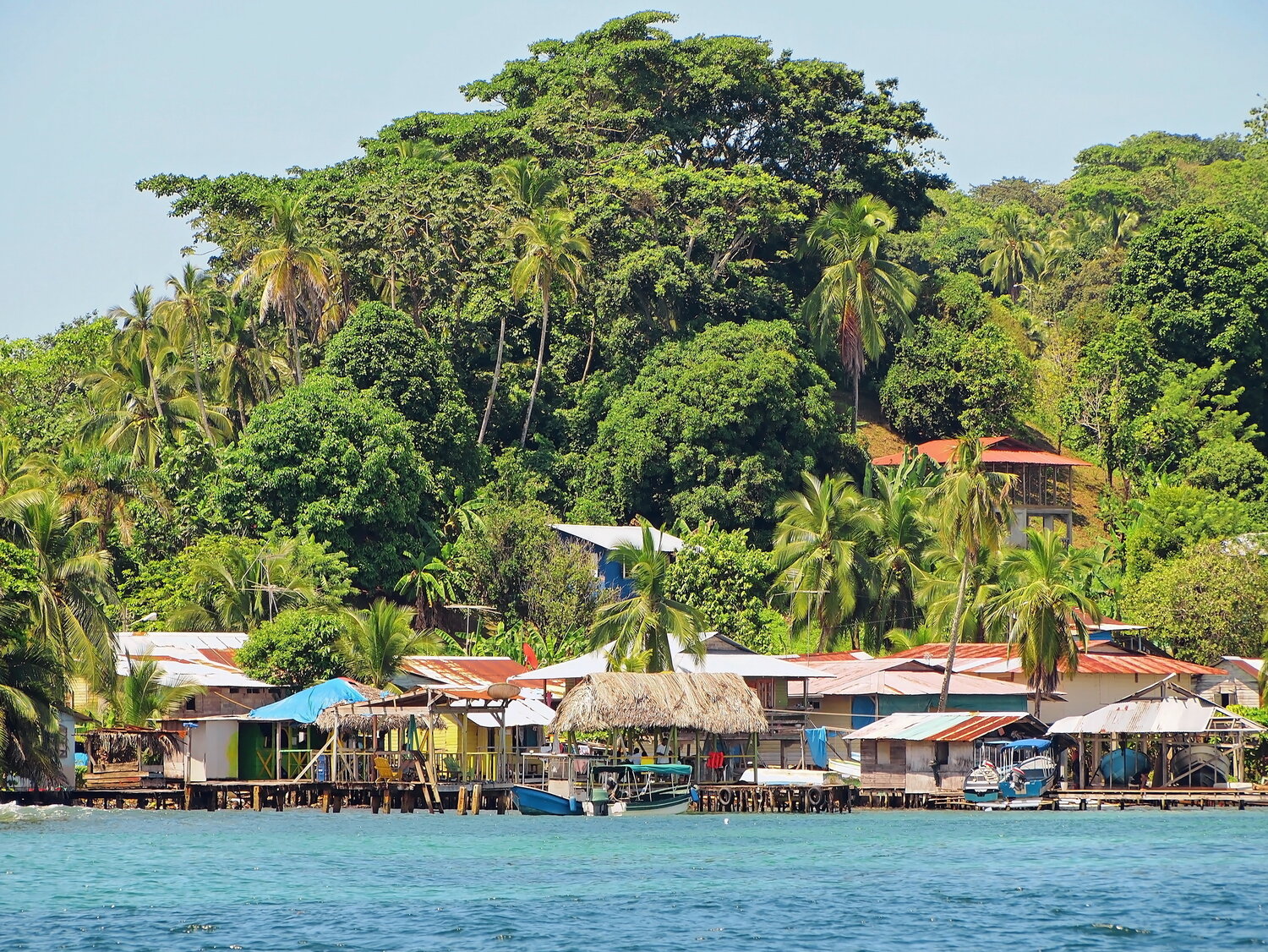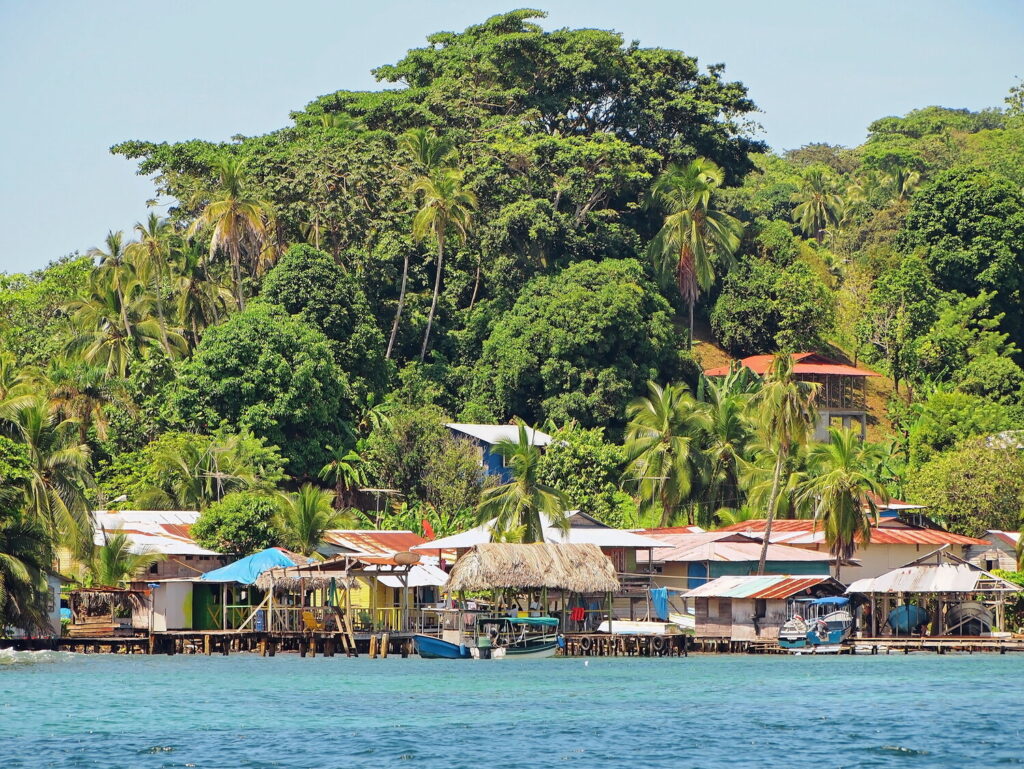 A Digital Nomad Guide to Bocas del Toro
Loosely translated as "Bull's River Mouths", Bocas del Toro is a small archipelago located on the Caribbean side of Panama. The archipelago sits between Almirante Bay and Chiriquí Lagoon which separates it from the open Caribbean Sea. Because the area is still quite underdeveloped, digital nomads will be able to work in a laid back atmosphere punctuated by a beachy-bohemian vibe. 
The main town is home to Panama's very first Mission Blue Hope Spot, a project that aims to both rehab and preserve the local marine and jungle ecosystems. As such, you can expect to see plenty of wildlife such as monkeys, the woolly opossum, the strawberry poison frog, geckos and lizards, the leatherback sea turtle (the largest and most endangered species of turtle in the world), toucans, caimans, seahorses, eagle rays, dolphins, and much more.
For a long time, Bocas was the main spot for trading bananas and chocolate. Over time, it also became known for its excellent surfing conditions. In fact, this charming Panamanian archipelago was even ranked as the 11th best beach break in the world. Bocas is also a famous scuba diving spot due to all the coral reefs and dive schools available. You can find 95% of the Caribbean's coral reefs around the islands.  
The islands themselves are covered in lush jungle, enchanting mangroves, rugged mountains, and of course, beautiful beaches. Tourism is definitely the number one form of income there, and because of this, the town is relatively safe for tourists. Not unlike other countries in Central America, the most common type of crime in Bocas del Toro is petty theft. Still, it would be wise to avoid walking around by yourself at night, especially if you've had too much to drink. 
Island hopping is a way of life for most tourists visiting Bocas del Toro and water taxis are more common than ground taxis. Despite its laid back atmosphere, Bocas del Toro is also known for its many parties, most of which feature live music and dancing. 
Additionally, the archipelago is home to the Isla Bastimentos National Marine Park which has been named a UNESCO World Heritage Site. Broken up into nine main islands, 52 cays, and hundreds of tiny islets, Bocas del Toro certainly offers plenty in terms of natural beauty and outdoor exploration.
Nomad Friendly
Value for Money
Internet
Workspace
English
Food
Safety
Health
Transportation
Friendly
Quality of Living
Living in Bocas del Toro Overview
| | |
| --- | --- |
|  Meal, Inexpensive Restaurant | $7.00 |
| Domestic Beer (1 pint draught) | $1.50 |
| Cappuccino (regular) | $1.75 |
| Loaf of Fresh White Bread (1 lb) | $2.26 |
| Water (1.5 liter bottle) | $1.50 |
| One-way Ticket (Local Transport) | $0.60 |
| Basic Utilities (Monthly) | $40 |
| Internet | $79.82 |
| Fitness Club (Monthly) | $ |
| Apartment (1 bedroom) in City Centre | $260 |
Currency: Indonesian rupiah (Rp)
[erw_exchange_rates_widget lg="en" tz="0″ fm="IDR" to="EUR,USD,GBP,AUD,JPY,RUB" st="primary" cd="" am="15000″][/erw_exchange_rates_widget]
ATMs
Max Withdrawal: Rp 3,000,000
Withdrawal Fee: Rp 30,000 – Rp 50,000
Use of Credit Cards: Mostly Cash
Digital Nomad Personal Experience in Bocas del Toro
If you are a digital nomad who loves to surf or dive, Bocas del Toro could be your heaven on earth. The area has a definite backpacker vibe, especially in Bocas Town located on Isla Colón which just so happens to be the archipelago's main island. Digital nomads generally like to be right where all the action is and may wish to find a place in Bocas Town. On the other hand, if you're looking for a more serene atmosphere, you may wish to check out places like Isla Bastimentos.
Most hostels, airBnBs, and cafes offer Wi-Fi, so there are plenty of places where you can settle down for a day's work. In fact, I would say that the hardest thing about being in Bocas is actually getting work done because of all the other things there is to do. Unlike most islands in the vicinity, Bocas del Toro mainly houses small, family-owned hotels which only serves to amplify the laid back culture that permeates through the archipelago.
Like I said, there are a few public hotspots, but I wasn't exactly satisfied with the quality so you may wish to get your own internet plan – especially if you're going to be there for more than a few days. Some of the highest-rated providers include Panetma, which is my personal favorite, as well as Mobil Net, Mas Movil, Don Chichos, and Claro, which happens to be the least expensive option. Since mobile data isn't really all that common on the archipelago, I would strongly urge you to get a Claro Internet Stick which will provide adequate coverage throughout Bocas del Toro. Available at various stores, these cost between $30 and $50.
Work in Bocas del Toro
Bocas del Toro is an upcoming paradise for digital nomads. Many hostels, hotels, and cafes offer Wi-Fi and there are a few co-working spaces popping up. Some of my personal favorite places to get work done include:
Best Places to Work in Bocas del Toro
Tres Palmas Cafe
Located right behind Simon Bolivar's Park in Bocas Town, Tres Palmas Cafe is open from 8.30am to 4.30pm from Tuesday to Saturday and 9am to 4pm on Sundays. Now, while this was undeniably an excellent place to work from, I wouldn't recommend that you go there at mealtimes because it can get exceptionally packed with locals and foreigners alike. On the other hand, if you don't necessarily need a quiet place to work, you might just enjoy the café's many networking opportunities.
The Wi-Fi was surprisingly decent, although Zoom video calls can get choppy at times. In terms of food, vegans will be pleased to know that Tres Palmas Cafe has an extensive selection of offerings. You'll also find plenty of healthy eats such as smoothie and Buddha bowls, but I must admit that the carnivore in me went absolutely crazy for their bacon, prosciutto, and avocado sandwich. 
Selina CoWorking Space
If you ask me, there's no better way to soak up Bocas del Toro's mesmerizing sights than to set up shop at Selina coworking space. Located right by the ocean's edge, Selina offers 24/7 access with packages starting from $200 per month. Alternatively, you can also get a daily pass for $10 or a weekly one for $50. This is one of the rare few places in the archipelago which offers fast and consistent Wi-Fi, perfect for digital nomads who often need to hop on video calls. 
In keeping up with the soothing waterfront surroundings, this particular coworking space offers an on-site yoga studio and a chill-out area where you can soak up the sun during your lunch break. Water, coffee, and tea are complimentary, and you'll also get to attend regular networking events. Digital nomads traveling with their furry companions will be glad to learn that this coworking spot also happens to be pet-friendly. Additionally, Selina offers comfortable co-living spaces for those who wish to drop anchor there. 
Cosmic Crab
Another waterfront establishment, the Cosmic Crab Restaurant is undeniably busy in the evenings, but you may be lucky enough to bag yourself a seat during the day, especially if you head over there in the off hours. Their staff was exceptionally friendly and one of their waitresses even went through the trouble of making sure that my favorite corner table was always available. Because I was never rushed to leave, this was one of the few places where I could easily spend half a day typing away at my laptop. 
To get there, you can easily get a water taxi from Bocas Town for just $1. Now, I will say that their menu is more expensive than most restaurants on the archipelago, but if you can afford to splurge, it is absolutely worth it. The restaurant even offers a private beach, complete with fishing options and swings perched right above the ocean. If you're not watching your budget, I can also recommend one of their air-conditioned overwater cabins for a quieter, less bustling work environment. 
Nowhere Remote Work Escape
Located on Bluff Beach Road, Nowhere Remote Work Escape is a relatively new establishment that was founded in 2020. Offering both coworking and co-living options, Nowhere places you right at the heart of a lush forest. With a strong emphasis on environmental sustainability, this company offers both outdoor and indoor seating options. Digital nomads who would like to stay there can check out their quaint, mushroom-shaped pods nestled right on the forest floor. 
I must admit that when I heard about their forest setting, I was quite skeptical about Wi-Fi reliability, especially since Bocas del Toro isn't exactly known for its speedy internet. However, I was pleasantly surprised to discover that their high-speed Wi-Fi was extremely reliable and consistent. There's also a gym with a yoga deck, and if you don't want to fumble with the local currency, rest assured that Nowhere also accepts Bitcoin Cash. In terms of packages, you have the possibility of choosing between a table in the common area or a private office with floor-to-ceiling windows to let in plenty of natural sunshine. For a list of their prices, you can always send in a query through their website's contact form. 
JJ's
Okay, I'll admit that this isn't exactly quiet or conductive to artistic projects that usually require plenty of peace. But if you're able to work in bustling and energetic environments, you will be glad to know that JJ's food truck is the ideal place to network and possibly collaborate with fellow nomads. 
Open from 8am to 6.30pm, Monday to Saturday, this food truck has plenty of dining decks, but my favorite place to work was on their over-water dock where I could catch up with my projects while soaking up the sun and sipping on one of their signature smoothies. Wi-Fi wasn't too reliable though so you may wish to bring an internet stick along.
Best Places to Live in Bocas del Toro
Best Neighbourhoods
Bocas Town/Isla Colon
Bocas Town can be found on the biggest island, Isla Colon. This main town is a great option to stay in as a digital nomad because you can find all your amenities and it's close to the airport. There are markets and grocery stores and ATMs. This is the most populated island with both locals and tourists so there is plenty to do when you need a break from work. The best and most popular places to stay are:
Isla Solarte
Just a short water taxi ride from Bocas Town is Isla Solarte. It used to be known as Nancy's Cay when pirates, traders, and people were looking to settle in the area. The island was also home to the region's first and primary hospital compound, built by the United Fruit Company, which you can visit on the west side of the island. 
Isla Solarte is very different from Isla Colon. On this island, things are still virtually untouched. There are only a select few accommodations and restaurants, leaving the rest of the island covered in jungle and mangroves that back right up to the pristine beaches. If you're looking for something quieter and locally based, the best places to stay are:
Isla Bastimentos
Isla Bastimentos is popular with adventure seekers. This incredible island is home to Parque Nacional Marino Isla Bastimentos and the Ngöbe-Buglé village of Quebrada Sal (Salt Creek). Isla Bastimentos is one of the largest islands in Panama. Some of the best places to stay are:
Find an Apartment in Bocas del Toro
You can find some pretty epic Airbnb options and houses to rent throughout the islands. Many places offer long-term and short-term rentals. When looking for accommodation, don't forget to take into account which island you're looking at and what amenities might or might not be around. Useful websites include:
Along with these websites, I would strongly urge you to stroll down the streets and keep an eye out for 'Se Aquilla' signs that translate to 'For Rent'. Word of the mouth advertising is still very much a thing in Bocas del Toro, so don't hesitate to chat with the locals either. You may also wish to browse through adverts in local newspapers such as El Visitante and Bocas Breeze. 
Because most contracts are in Spanish, Panama's official language, I would also recommend that you hire a translator to ensure that you properly understand all the terms and conditions before signing anything. Bear in mind that for long term rentals (3 months or more), you'll be required to pay for Wi-Fi and other utilities separately. 
In terms of pricing, I would say that Bocas del Toro's real estate market is certainly more affordable than other neighboring islands. Apartments in or near Bocas Town will definitely cost more – think $950 to $1,200 per month – but the further away you get from the main town, the more affordable accommodation gets. For instance, it's entirely possible to find a basic apartment or condo for as little as $550 – $700/month, including Wi-Fi. I also noticed that apartment owners were more willing to discount their prices for longer term rentals.
Cheap Places to Stay in Bocas del Toro
Hostels are a way of life in Bocas and there are plenty to stay in no matter what your style is. Each island has a different vibe, and some are more tranquil than others. Take this into account when looking for accommodation, especially if you decide to stay for a longer time period.
If you're watching those purse strings, you may also wish to check out Couchsurfing. While not exactly popular on the archipelago, you'll still find around a hundred hosts willing to open up their homes to digital nomads. Alternatively, you can consider work exchange programs such as World Packers and Workaway. 
In terms of affordable accommodation, you'll find that websites such as Booking.com feature guesthouses and hostels for as little as $12 per night. On Airbnb, it's also possible to book a room in someone's house for around $30 per night, Wi-Fi and other utilities included.
Bocas del Toro Visa
As you fly into the country and go through customs, most tourists are granted a 90 to 180 day tourist visa. If you intend to stay longer, you'll need to find a way to extend your visa. Many people do this by crossing the border into a neighboring Central American country before returning to Panama. 
In 2021, the government introduced a new Short Stay Visa specifically aimed at digital nomads. With this visa, you will be able to work remotely and live anywhere in Panama for up to nine months. You also have the possibility of requesting a one-time extension that will provide an additional nine months in the country. 
Digital nomads should meet the following criteria to be considered for this visa: 
Employed or owning a company registered out of Panama 

Annual income of minimum $36,000

No criminal record 
You'll also need to budget around $75 to apply for this visa. Any document that's been issued out of Panama should be either legalized or apostilled. If you're self-employed, you will be asked to prove that you do own a company outside the country.
Culture and Food in Bocas del Toro
Bocas del Toro offers up a mix of several different cultures, perfectly blended for a unique and unforgettable paradise. Early in the 20th century, the area was best known for its banana plantations and people from all over the continent flooded the area to work in the banana industry. Now, the area is home to a mix of expats, travelers, indigenous, and other local communities. Among the native villages, Ngäbe village of the Salt Creek, the Meri Ngobe village of Popa Dos, the towns on the mainland at Bonyic y Sieyic, and villages around Cristobal Island are still thriving. 
In terms of cuisine, Bocas del Toro has strong Spanish and Caribbean influences that blend harmoniously with the local tropical vibe. Given the bountiful ocean that surrounds it, you can expect plenty of gloriously fresh seafood at just about any restaurant or eatery that you visit. I did notice that Panamanian dishes tend to be less spicy than Caribbean ones. Most local meals include ingredients such as yuca, plantains, wheat flour, fresh corn, rice, and various cuts of meat. 
 Some dishes that I can absolutely recommend include: 
I discovered this lip-smacking delicacy completely by accident while visiting a family-owned, hole-in-the-wall type of eatery in Bocas Town. The menu was in Spanish, and I'll admit that my Spanish reading skills weren't exactly up to par, so I decided to be adventurous and point at the most interesting-sounding dish which just so happened to be Guacho. 
When my food arrived, I must say that I wasn't exactly thrilled by how it looked: not a soup, not a stew, it rather looked like a watery rice meal with boiled vegetables and a haphazard assortment of seafood. But I must say that while it doesn't look all that appealing, Guacho ended up being my go-to lunch in Bocas del Toro. Fragrant, hearty, and yet light enough so it doesn't sit in your stomach, this dish is commonly topped by seasonal veggies and either seafood or meat, all on a base of soupy rice and yuca. Some variations include freshly-grated coconut. 

While I know that Empanadas need no introduction, believe me when I say that you haven't tasted the real thing until you've had an Empanada made by a Spanish grandma. Mine were lovingly prepared by my local friend's grandmother when I was invited to their place for lunch and while these deep-fried snacks are absolutely bursting with calories, the spectacular, toe-curling burst of flavor that meets your tastebuds right from the first bite immediately cancels out any thought of healthy eating from your mind. 
Even more morish when served piping hot from the fryer, Empanadas basically refer to savory pastries stuffed to the brim with cheese, potatoes, or ground meat. While not all that common, it's also possible to find the sweet version: the one that I tried was stuffed with sweet cheese, topped with molten chocolate, and a light dusting of icing sugar. 
Okay, I know this isn't technically a meal, but it would be unfathomable to talk about Bocas del Toro's cuisine without mentioning this heavenly dessert. Featuring a local spin on the classic Snow Cone, Raspao consists of thinly shaved ice – most of the time by hand – that's been generously drizzled with local syrups. But it doesn't stop here: after the syrup, sellers add a few more drizzles of condensed milk to tie the whole thing together and bring an ice-cream like texture to the cone. Believe me when I say there's nothing like lying in front of the sparkling ocean to enjoy this exceptionally refreshing treat with the sun blazing overhead. 

Arguably one of the most popular dishes in Bocas del Toro, the Panamanian Sancocho also happens to be the country's national meal. In fact, locals love it so much that they commonly serve it for breakfast. Encompassing all the elements of a hearty comfort meal, Sancocho basically refers to a clear soup made up of whole chicken breasts, corn on the cob, and juicy chunks of root vegetables. It's commonly drizzled with olive oil right before serving and enjoyed alongside a slice of crusty baguette. Coastal restaurants often substitute the chicken breasts for fish fillets, gambas, or mussels. 
Culture
Having traveled throughout Panama, I was surprised to realize that Bocas del Toro's culture was quite different from the rest of the country. To begin with, the archipelago has its own local slang known as 'Guari-Guari' which borrows dialects from indigenous tribes, Spanish, and West Indian English. 
If there's one cultural festival that Bocas Del Toro is particularly known for, it's undoubtedly the Feria del Mar, a four-day event that draws locals from all over Panama. Celebrated in mid-September of each year, this festival aims at honoring the local fishermen and the Caribbean Sea that supplies them with food all year long. Expect plenty of parties all through the archipelago with street dances and live Salsa, Reggae, Bachata, as well as Calypso music pulsating through every corner of Bocas Del Toro. During this festival, you'll also get to partake in watersports at reduced prices. 
If you're a fan of carnivals, you will be glad to learn that Bocas Del Toro hosts a carnival at least once a month. In fact, digital nomads who would like to properly soak up the archipelago's rich culture may wish to head there in November and December, where they'll get to attend between ten to fifteen festivals and carnivals, most punctuated by firework shows.
Bocas del Toro Nightlife
Bocas has an undeniably great nightlife. There is always live music and dancing late into the night so if you're looking to party there are plenty of options. You may wish to check out the following spots: 
Yes, I know. A bookstore doesn't exactly scream nightlife. But trust me when I say that this is one of Bocas del Toro's best kept secrets and most interesting night spots. This bookstore bar is open 24/7 and is known for its extensive range of drinks. I can absolutely recommend their fish tacos washed down with a pint of their local beer. 
This cavernous establishment additionally features live entertainment by local artists, jam sessions, as well as themed parties. Of course, if you're not into the party scene, you can always just curl up with one of their books while enjoying the music. 
This has to be one of the most unique nightlife experiences I had in Panama. Not unlike a pub crawl, the Bocas Pub Cruise takes you on a boat ride across the best waterfront bars in Bocas Del Toro. During the pub cruise, you'll get to spend around half an hour to forty minutes in each bar and you can expect to explore at least five establishments. 
The Bocas Pub Cruise usually departs from Isla Colon with stops in Isla Carenero, Isla Bastimentos, and Isla Solarte. You'll need to pay for your own drinks of course, but the good news is that most of the pubs do have a happy hour. This cruise costs around $20 per person. 
Open from 10pm to 4am daily (except Wednesdays and Sundays), La Iguana Surf Bar is located on Third Street. This hip pub draws quite a young crowd and is particularly known for its all-night parties. Most of the time, select drinks are complimentary to ladies. With live music and quite an extensive assortment of tapas, this Surf Bar is also known for hosting international DJs. The official closing time is listed as 4am, but on both occasions that I've been there, the bar actually stayed open until past 5am – perfect for night owls! 
Barco Hundido Bocas describes itself as an 'adult wonderland surrounding a sunken boat' and after checking out the place, I must say that I entirely agree with them. An adult wonderland indeed, this dance club lies on a wooden platform perched right on top of the ocean. As such, you'll have the perfect vantage point to explore the various fish, starfish, and even the remains of an ancient sunken ship. 
Their parties are known for being loud and raucous, animated by local and international performers alike. Barco Hundido on warmer nights, which is nearly always the case in Bocas del Toro, patrons also like to jump into the ocean right from the diving platform that's been set up a short distance from the shipwreck. While it does offer an excellent selection of cocktails, I absolutely loved their hand stretched pizzas baked in a classic wood-fired oven. The club is open Wednesday to Sunday, 6pm to 4am.
Things to do in Bocas del Toro
Bocas del Toro is an adventurer's paradise. Indeed, when you're not working, rest assured that there's always plenty that you can do to experience the best of the archipelago. 
A few of my favorite Bocas del Toro activities include: 
Scuba Diving

Bocas del Toro is one of the number one dive spots in the world. People come from everywhere to get their diving certifications and it's easy to see why. There are numerous reputable dive schools in the area and if you're already certified, there are dozens of places to go diving. Well known spots include:

The Wreck – This ship was intentionally sunk over ten years ago and has since become home to local marine life. The old ferry sits about 40 feet (12 meters) below the surface.

Mangrove Point – This is a shallow reef that both beginners and experienced divers enjoy. There is plenty of marine life to photograph and you can even go night diving at this spot.

Casa Blanca – This spot is one of the deepest in the area and is appealing to people with its Advanced Open Water certification. There are loads of coral reefs and several schools of fish swimming around.

Casa Verde – Similar to Casa Blanca, Casa Verde is a shallow reef and great for beginners. You can see loads of marine life as well as coral reefs.
Surfing

Bocas del Toro is also a world-famous surfing destination. There are various spots ranging in difficulty. Whether you are learning to surf or come as an expert, Bocas offers something for every type of surfer. The best time of year for waves is from December to April. However, the months of July and December are known to have the biggest waves. Surfing beaches include:

Paunch – This spot is known as a reef break. It makes getting into and out of the water a bit tricky but it is said to be the best wave in Bocas. When the surf is small the spot can be pretty user-friendly, however, when there is swell in the water and the waves are big, it is best left to the more experienced surfers.

Dumpers – This is a fast wave and mostly surfed by locals. It is also over a reef and pretty inconsistent. But when it's working, it's a good wave.

Bluff – This is an expert-only wave because it breaks in super shallow water. 

Black Rock – This wave is perfect for beginners, however, you can only get to it by boat. 

Punta Carenero – Another super famous wave in Bocas Del Toro, this break is just for intermediate to expert surfers. The spot can get super crowded, but the waves break left and right, letting the crowd spread out a bit.
Bat Caves

Located on Isla Bastimentos, this cave system is home to thousands of bats. You can take a tour from Old Bank which includes a 30-minute boat ride through the mangroves where you can see some other animals like sloths. The hike in the cave requires sturdy shoes and you'll be provided helmets with flashlights.

Located in Bocas Town, this unique attraction was first developed by Robert Bezeau in 2016 to reduce plastic waste. Trust me when I say that this charming little town, complete with its plastic-bottle houses is quite a sight to behold. Be sure to check out the Castle Inspiration which stands at 50 feet and is made of over 40,000 PET bottles. Rest assured that it's entirely possible to explore the interior which consists of guest rooms spread across the first two stories, a dining room on the third floor, and a viewpoint on the last floor which boasts an excellent vantage point over the town.

Parque Nacional Marino Isla Bastimentos

Spanning across 132 square kilometers, this marine park was first established to protect Bocas del Toro's 130 islands. If you have the time to spare, I would absolutely recommend that you get a permit to camp in the park overnight while enjoying the wondrous sights to the fullest. For just $10, you can easily obtain a camping permit from one of the Ministerio de Ambiente offices in Bocas Town. An important nesting sight for turtles, the Parque Nacional Marino Isla Bastimentos is also home to plenty of crocodiles, caimans, sloths, monkeys, and mangrove forests. You'll also find over 250 species of marine animals and fish. If you want to explore the park's various islets, rest assured that it's quite easy to do so via inexpensive water taxis.
Alternatively, you may also wish to check out some of Bocas del Toro's local experiences such as: 
Take Spanish Classes

–

There are loads of places where you can take Spanish classes, both in private or a group setting.

Island Hopping

–

You can take different boat tours to all the islands that make up the Bocas del Toro archipelago. 

Filthy Friday Island Crawl

–

If you're in the party mood, the Filthy Friday Island Crawl is for you. This all-day party has you going from island to island as you dance and drink the day away. 

Sun Bathing

–

Whether you are by a pool or on one of the many beautiful beaches, getting a nice golden bronze is easy to do.

Brewery

–

If you're into craft beer, then going to the Bocas Brewery is a must. Located in Isle Colon, the brewery offers Happy Hour from 4-6.

Cacao Plantation

– A fun place to visit and see how chocolate is made. 

Fishing

– You can charter a boat trip and experience the thrill of fishing. 

Starfish Beach

– You can take a bike ride to starfish beach if you're staying in Bocas Town. There are hundreds of starfish you can see in the clear, shallow water. 

Visit the Plastic Bottle Village

– This museum/hotel has a castle, jail, and several houses. It is made from over 40,000 plastic bottles.

Markets

Bocas del Toro is not a highly praised destination for shopping, though they do have some great little shops and food stands. Some shops to look out for are:

Artisans Bri Bri

  – this shop sells a little bit of everything. From clothing to jewelry, hammocks, paintings etc. 

Mr Mentawai

– this is the local surf shop if you're in Bocas del Toro to surf and need anything surf-related then this is your shop.

Island Market Deli and Grocery – you can find most food and drink needs here.
Best Time to Visit Bocas del Toro
Bocas del Toro experiences humid, tropical weather all year round. Bear in mind that the archipelago is known for its high temperatures, so it's always a good idea to arm yourself with plenty of sunscreen, water bottles, and comfortable clothing. February is known for being the coldest month with lows of around 20-23 degrees Celsius and highs of 28 to 30 degrees. 
It's important to know that Bocas del Toro does also have a wet season, with September to December being the rainiest months. On the other hand, because these months don't see a lot of tourists, you'll be able to benefit from reduced rates, especially in terms of accommodation. 
High season normally runs from March to June since these tend to be the warmest and driest months.
Bocas del Toro for Families
Bocas is probably not the most ideal place for families, especially if you have young kids since most people basically go there to party. There are still a few family-friendly activities such as zip-lining, swimming, snorkeling, and boating that you can indulge in with the kids. 
Examples include: 
Jellyfish Lagoon:

If you ask me, there's no better way to discover Jellyfish Lagoon than by kayaks. Located just off the coast of Tranquilo Bay, Jellyfish Lagoon is especially known for its calm and clear waters, perfect for spotting the hundreds of jellyfish under the surface. If you would like to kayak across Jellyfish Lagoon, rest assured that it's entirely possible to rent family-sized ones. 

Wizard Beach:

You'd be hard-pressed to find a kid who's not going to be thrilled by a visit to Wizard Beach. Boasting a rugged landscape with silky soft sands and a turquoise lagoon, this beach doesn't receive a lot of visits. As such, you can grab some food and drinks and set up camp for the day on your very own private islet. Getting there is quite easy: you can simply hop on a water taxi to the dock and enjoy a refreshing stroll through the jungle that leads directly to the beach. If you're lucky enough, you may even spot herds of wild horses galloping down the shoreline. 

Turtle Hatching:

Like I mentioned before, there are plenty of turtle nesting spots throughout Bocas del Toro. Digital nomads who visit the archipelago between March and November will be able to witness at least four types of turtles hatch: the Green Sea turtle, the Loggerhead, the Hawksbill, and the Leatherback. Some of the best nesting spots where you can take your kids include Zapatillas Cays, Long Beach (found on Isla Bastimentos), and Bocas del Toro-Bluff Beach. 
In terms of schooling, digital nomads who travel to Bocas del Toro with their children often resort to home schooling since there aren't any international, English-speaking schools on the archipelago, with the exception of Tangerine International School. This establishment holds classes in both English and Spanish. 
Alternatively, if your kids happen to be proficient in Spanish, you may wish to consider local schools such as Sabi Abrego Becker, Escuela Boca de Drago, Habla Ya Spanish School – Bocas del Toro Campus, and Panama Dive School. It's good to know that most schools in Bocas del Toro are found in Bocas Town. 
Now, while I did not personally travel to Bocas del Toro with kids, I noticed that drugstores and supermarkets easily catered to the little ones and as such, products such as diapers and baby formula should be quite easy to find. The local cuisine is also child-friendly since most dishes tend to be quite mild, with plenty of scrumptious desserts on the menu.
Living in Bocas del Toro
Bocas del Toro Transportation
Water Taxi
In my opinion, this is easily the quickest and least expensive way of exploring the many islets in the vicinity. Indeed, these taxis seamlessly connect all the islands and ports which makes it easy for you to travel from the mainland and back. Most round-trip tickets only cost around $1 to $3. 
Bicycle
During my time in Bocas del Toro, I noticed that locals prefer to travel by bicycles. The archipelago has very flat terrain, so it's quite easy to bike your way around. Most rentals cost between $5 and $8 per day or between $1 and $2 per hour. Now, Bocas del Toro is quite a safe place, but I would still recommend that you lock up your rental bike when not in use, just in case. 
Digital nomads who are planning on staying on the archipelago long term can also consider buying their own second hand bikes. These usually cost around $30-$70. 
Yellow cabs
Public taxis in Bocas del Toro look just like New York's iconic yellow cabs. Unlike the Big Apple, however, taxis in the archipelago are very affordable with most rides costing between $1 and $2 for short distances or $3-$10 for longer trips. Taxis are rarely metered so be sure to agree on a price beforehand. Unlike elsewhere in Panama, I did notice that most taxi drivers in Bocas del Toro are extremely honest and will rarely overcharge you. 
Shuttles
To explore provinces outside Bocas del Toro, you can easily grab a shuttle from Bocas Town. Popular companies include: 
Fitness and Health
People are generally happy and healthy here. There are plenty of outdoor activities to keep you in shape. You can go swimming, hiking, surfing, SUPing, etc, all of which will keep you in great shape. Fresh fish and other seafood are popular here and you can find vegan and vegetarian options too.
The archipelago also has a distinct yoga culture so it's not uncommon to see groups of foreigners and locals alike indulging in some early morning stretches on the beach. Despite its diminutive size, Bocas del Toro also has quite a few fitness centers that you can choose from, namely: 
Despite what the name suggests, this is not an underground fight club. Specializing in martial arts, the Bocas Fight Gym is found on Isla Colon and is open Monday to Saturday, 9am to 8pm. The only martial arts academy in Bocas del Toro, this establishment offers Muay Thai and Brazilian Jiu Jitsu classes. It also regularly holds retreats by former champions. 
Located in Bocas Town, Genesis Yoga and Massages offers fitness classes to patrons of various fitness levels. Open daily from 6am to 7pm, this place is perched right above the ocean and offers an assortment of holistic activities, including dance and yoga lessons. After your workout, you can also reserve a soothing body massage on a deck overlooking the sea. 
Like I previously mentioned, surfing is practically ingrained in the local culture. As such, locals and digital nomads alike like to keep fit by taking surfing lessons. Located in Bocas Town, Mono Loco school boasts group and private lessons alike. You can either book a lesson for $60, three lessons for $140 or five for $225. If your group includes 4 to 5 people, the price goes down to $45 per person for one lesson.
Bocas del Toro People
The people in Bocas are a mix of expats, locals, indigenous, and travelers from all over the world. Most people you come across are super friendly and full of information. The islands all have the quintessential laid-back, beach vibe which is only punctuated by the locals' carefree attitude and determination to stay positive, no matter what. 
It didn't take me long to realize that in true Panamanian fashion, there's a very strong sense of community in Bocas del Toro. Locals are always watching out for each other: indeed, as a foreigner, I was absolutely astonished by the lengths they would go to help one another and by the trust that exists between them. For example, if you visit one of the markets during lunchtime, it's not uncommon to see one vendor keeping an eye on his or her colleague's empty stall – money box and everything – while the latter goes out to lunch. 
There's no denying that family lies at the very core of Panamanian society, with multiple generations living under the same roof. Surprisingly enough, for an archipelago that's so centered around family, it's rare to see everyone at the table at the same time. Instead, when I was invited to a local friend's house for dinner, I noticed that the grandparents eat early while the kids carry their dishes upstairs to eat in their respective rooms. After feeding the kids, parents usually balance their plates on their laps in front of the television. 
While I've been subjected to my fair share of scams and touts elsewhere in Panama, I didn't encounter any such issues during my stay in Bocas del Toro. Locals rarely take advantage of tourists, and they'll never hesitate to go the extra mile to help you out, even if it means giving you a free ride to your destination.
Bocas del Toro Insurance and Medical Care
There are no insurance or major hospitals around Bocas del Toro. There are some clinics around but it's a good idea to be traveling with travelers' insurance. The small clinics – or dispensaries as they're called in the archipelago – offer limited services and it's quite rare to come across English-speaking nurses, although most doctors are fluent. 
Major injuries or situations are usually transferred to a nearby city called Changuinola which is found nearly two hours away. While there are plenty of drugstores around Bocas del Toro, prescription drugs are often out of stock so you may want to take any important medication along.
Make sure you are fully covered by reading our full Digital Nomad Travel Insurance guide.
Jobs in Bocas del Toro
Your best bet of landing a job in Bocas del Toro is to apply for a position in the hospitality industry, especially if you're bilingual or proficient in two or more languages. Given the lack of big-name, international hotels on the archipelago, you probably won't be paid a lot though. Like I mentioned earlier, you may also find a job through work placement programs where you will be required to work for a few hours per day in exchange for rent or food.
If you would like to work in Bocas del Toro – or anywhere in Panama for that matter – it's crucial that you get the proper permits, otherwise your visa may be permanently revoked. It's also recommended that you brush up on your Spanish, unless you're specifically applying for an English-speaking position. 
Digital nomads who plan on working in Bocas del Toro may wish to check out job hunting sites such as Glassdoor, Jobzella, and Tiptopjobs.
Nomad Friendly
Value for Money
Internet
Workspace
English
Food
Safety
Health
Transportation
Friendly
Quality of Living
Cost of Living Bocas del Toro
There's no denying that Bocas del Toro is among the cheapest Panamanian provinces that you can live in. Depending on where you decide to live, rent can cost anywhere between $450 to $1,200 per month. Utilities such as gas, electricity, water, and trash pickup (often bundled up with the water bill) can set you back between $50 and $100, depending on air-conditioning and other similar factors. 
Groceries may cost around $100 per month while transportation can set you back $40 monthly. Because there was so much to do and so many restaurants to discover, I personally allocated myself an entertainment budget of around $450 to $550 per month. All in all, it's entirely possible to live comfortably in Bocas del Toro for approximately $1,500 to $2,000 monthly.