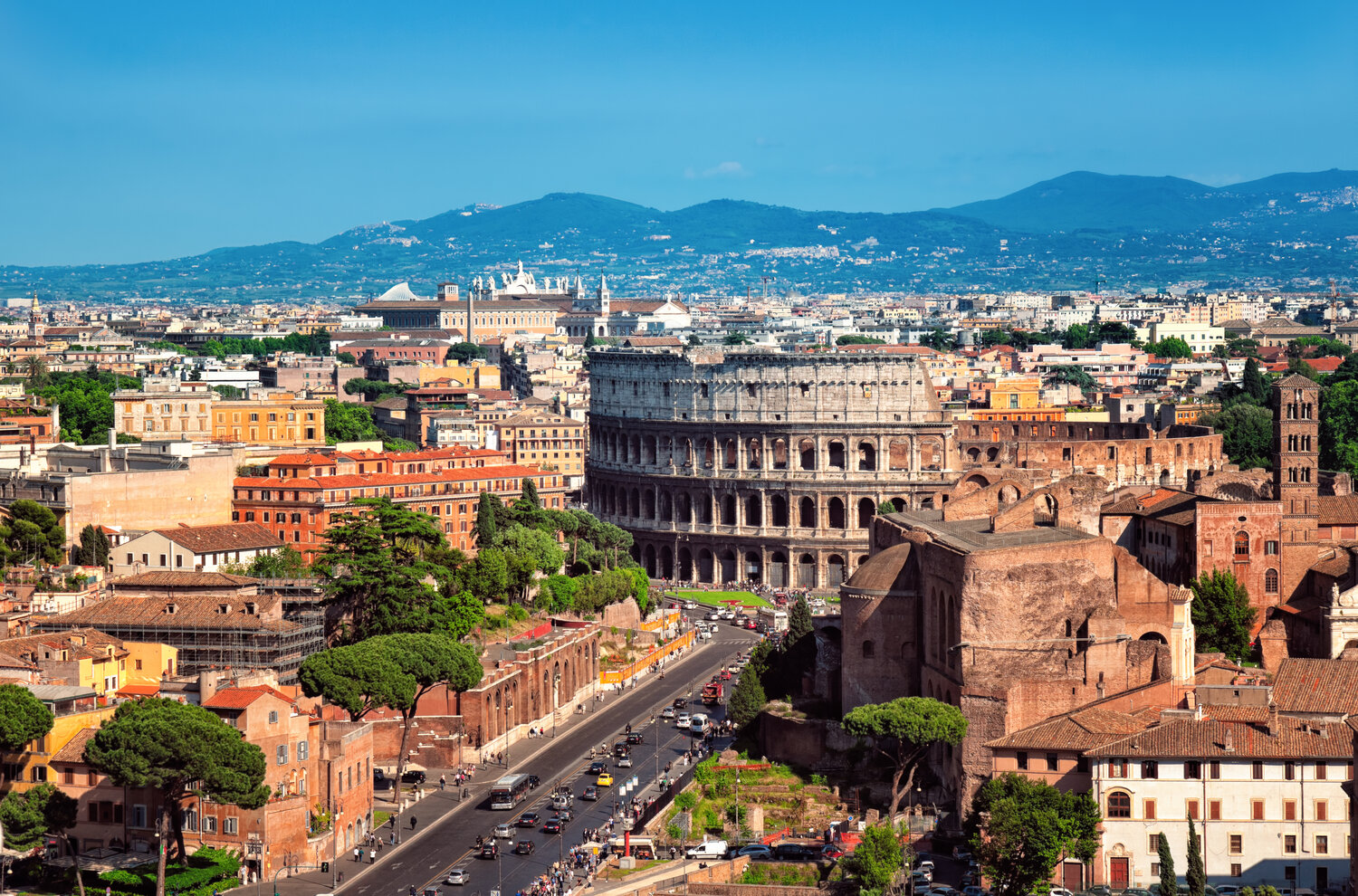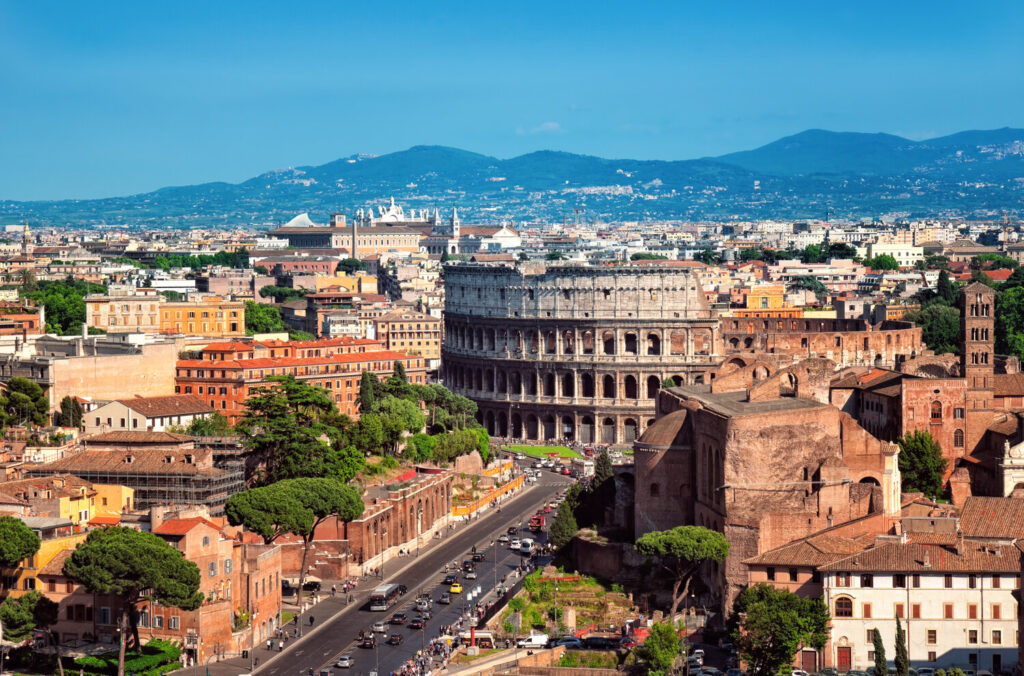 A Digital Nomad Guide to Rome
Rome is the capital of Italy and is home to some of the most historical and magnificent monuments in the world. Filled with statues, fountains, ruins of the Roman Empire, ancient churches and incredible architecture that dates back to ancient times, Rome is a popular touristic destination and one of the most visited cities in the world. In fact, Roman has 280 fountains and over 900 churches making it an open-air museum.
Located on the central part of the Italian peninsula, Rome spreads across 1,285 square km with a population of 4.27 million citizens. Not only was Rome the capital of the Roman Empire, but it was also one of the major cities of the Renaissance due to the artistic, architectural and cultural influence that came from this incredible city. Because many artists, sculptors, painters and architects took an interest in Rome and made it the subject of their artistic creations, Rome was filled with masterpieces making it the incredible city that it is today. 
The Roman Empire was not only one of the most powerful empires of the world, but it was also one of the ones that lasted the longest. That's why Rome was the origin of many systems and structures which influenced many other countries in the European region and beyond such as roads, freshwater systems, public toilets and baths and sewage systems. 
Today, Rome is still one of the most visited cities in the world and is known for its historic sites such as the Colosseum, Trevi Fountain and Vatican City as well as many other monuments and UNESCO World Heritage Sites.
Nomad Friendly
Value for Money
Internet
Workspace
English
Food
Safety
Health
Transportation
Friendly
Quality of Living
Living in Rome Overview
| | |
| --- | --- |
|  Meal, Inexpensive Restaurant | $17.04 |
| Domestic Beer (1 pint draught) | $5.40 |
| Cappuccino (regular) | $1.46 |
| Loaf of Fresh White Bread (1 lb) | $1.67 |
| Water (1.5 liter bottle) | $0.73 |
| One-way Ticket (Local Transport) | $1.70 |
| Basic Utilities (Monthly) | $217.41 |
| Internet | $33.29 |
| Fitness Club (Monthly) | $61.95 |
| Apartment (1 bedroom) in City Centre | $1,137.57 |
Currency: Indonesian rupiah (Rp)
[erw_exchange_rates_widget lg="en" tz="0″ fm="IDR" to="EUR,USD,GBP,AUD,JPY,RUB" st="primary" cd="" am="15000″][/erw_exchange_rates_widget]
ATMs
Max Withdrawal: Rp 3,000,000
Withdrawal Fee: Rp 30,000 – Rp 50,000
Use of Credit Cards: Mostly Cash
Digital Nomad Personal Experience in Rome
Stepping in Rome for the first time is literally like walking into a museum or travelling back in time. Around every corner is a magnificent artistic or architectural creation that will absolutely leave you in awe. The city has such a unique character with a historical charm that makes it difficult to fall in love with. Because Rome is used to having tourists visit from all over the world, it is one of the most English-speaking cities in Italy as compared to the rest of the country.
However, while the city is a cultural and artistic hub, it is not always a pretty sight. In fact, there are certain areas in Rome where you forget you're in a European city due to the behaviors of the people. Rome is one of the most chaotic, crowded and dirtiest cities in Europe. As you walk away from the centre and the historical sites, the city starts to lose its charm and the behaviors start to change. Italians are known for their charm, but also for being quite aggressive, loud and hot-tempered and Romans typically fit that description. This didn't stop me from falling in love with the city as well as the people. 
One of the best things about Rome is that you can never get bored. If you spend your entire life in Rome, you'll still find something to do, something new to see and a new reason that makes your heart tingle. To me, Rome is the heart of Italy and clearly shows where the Italian culture comes from in every aspect. I was lucky to visit Rome after being familiar with the Italian culture already and knowing how to get the best out of Italians making my experience extremely positive and quite memorable. 
Italians are known for their incredible cuisine, especially when it comes to pasta, pizza, gelato and coffee. But let's just say that it's quite difficult to watch your weight while in Rome as its food finds its way straight to your heart making it addictive.
Work in Rome
Because Rome is built on culture, history and traditions, it has not been common for Italians to adopt the working remotely lifestyle and working from a cafe or co-working space could be the source of quite a few glances and stares. That is prior to COVID-19, of course. However, as the country tries to welcome more and more tourists and encourage their lifestyles, many cafes and co-working spaces are catering towards digital nomads offering a work/study environment. Just keep in mind that public WiFi might be unsafe and try to connect to only private networks.
Best Places to Work in Rome
Ex Circus
This cafe is a hidden gem for digital nomads looking for a quiet, hip and cozy place to work that offers great coffee, food and snacks. Here, you'll find coffee tables, couches, power outlets and other digital nomads working or studying in peace. 
Ex Circus is open from Monday-Thursday from 8 am – 10 pm, Friday – Saturday from 8 am – 2 am and Sundays from 10 am -10 pm. 
Chiostro del Bramante
If you want to remind yourself you're in one of the most beautiful cities in the world as you work, then this Cafe will offer a scenic view as it overlooks the main courtyard of the museum. 
This cafe is open Tuesday – Sunday from 10 am – 8 pm. 
Pimm's
If you're looking for a more lively location and aren't bothered by a crowd or noise, then Pimm's will be a great place to meet locals, expats and other digital nomads as it is a charming restaurant that attracts any passer-by. Its live music and lights along with their delicious food and cocktails make it an ideal place to work or just hang out as it has free WiFi. 
Pimm's is open daily from 10 am – 2 am. 
Anti-Cafe
One of the best things about this co-working space is that it offers a comfortable, creative and stress-free place to concentrate, focus and actually get work done. With an hourly fee of 6 euros, you get to access the entire place, use the plugs, get a cup of coffee and enjoy working with other like-minded people in an area that allows you to create. 
Anti-Cafe is open on Monday – Friday from 9 am – 10 pm and Saturday – Sunday from 10 am – 10 pm. 
Materia
This Scandinavian style cafe is so cozy that you'll feel like you're working from the comfort of your own home or your own personal office. The only difference is that it's home to other digital nomads or students looking for a great spot to hit the books or work peacefully and has a bright atmosphere and great coffee and food to keep you nourished while working. 
Materia is open on Mondays from 8 am – 3 pm, Tuesday – Saturday from 8 am – 3 pm and re-opens from 6.30 pm – 12 am and on Sundays from 9 am – 3 pm. 
Cafe Letterario
This cafe/co-working space/ live concert/ library and appetitive spot are about to become your go-to spot when in Rome. Not only are they known for their live concerts making it a hit spot to be at night, but the inside library makes it one of the best places to check out books, DVDs and find a quiet seat to work away in peace. 
This cafe is open on Tuesday – Friday from 10 am – 2 am, Saturday – Sunday from 4 pm – 2 am. 
Yeah!
If you're a music lover, you'll definitely fall in love with Yeah! The moment you set foot inside. The walls are covered with music legends and you can find an entire collection of vinyl records where you can play the music of your choice. Not only is the vibe itself extremely welcoming, but the couches and seatings are laid-back making it a great place to work during the day. 
Yeah! Is open on Monday – Saturday from 7.30 am – 12 am. 
Coaster Coworking
This coworking space is a great place to grab a coffee, have a business meeting or stare at your laptop while boosting a productive working atmosphere. A monthly subscription to work at Coaster Coworking starts from 180 euros/month. 
This coworking space is open on Monday – Friday from 8.30 am – 8 pm and Saturdays from 9.30 am – 1.30 pm. 
Vineyards Co-working
Located in one of the most beautiful buildings in Rome can be quite a motivation to be productive and get work done. At Vineyards, you can choose between hot desks, dedicated desks, rent your own private office or just a meeting room for the day. 
Vineyards is open on Monday – Friday from 7.30 am – 6 pm, Saturday – Sunday from 9 am – 5 pm. 
Impact Hub Roma
Being one of the networking hubs for entrepreneurs, digital nomads, it is a place to meet like-minded, life-changing and impactful people. It is filled with a positive vibe and a society of people who are looking to change the world. If you're looking to expand your network, meet some of the most interesting people and be in the heart of the startup scene, then Impact Hub is where to be. 
Impact Hub operates on Monday – Friday from 9.00 am – 7.00 pm.
Best Places to Live in Rome
Best Neighbourhoods
Trastevere: Not only is it a picturesque neighbourhood, but it is one of the areas that always has something happening to make it the heart of Rome and one of the best places for expats to live. It is part of the historic city with beautiful sculptures and artistic scenery around every corner, but it is also home to so many bars, restaurants and cafes to keep expats and digital nomads entertained and busy. However, keep in mind that its popularity comes from being the life of the party meaning that it is quite a crowded and noisy area to live in at night. 
Prati
If you're looking for a calmer area that still offers most of the same advantages as Trastevere, then Prati would make an excellent choice. Located North of the Vatican, many digital nomads choose this area as it is within walking distance of the heart of Rome, home to the best shopping areas and has many good restaurants. However, the nightlife here is not as vibrant or alive as Trastevere making it a quieter and more friendly neighbourhood. 
Testaccio
This neighbourhood used to be one of Rome's working-class districts giving a feel to the true Rome. However, it has lately been a hub for expats and young professionals looking for a cheaper neighbourhood that is still within close proximity to Trastevere and the historic centre. At Testaccio, you'll also find some of the best nightclubs and bars making it quite a lively place at night. 
Aventino
If you're looking for a quiet area within the historic city, there is no other neighbourhood that will be more suitable than Aventino. The quietness makes it an ideal place for a digital nomad coming to Rome with family and is home to some of Rome's most important Medieval churches. It is also a great spot for expat families as several international schools can be found in this neighbourhood. However, because of its excellent location and high demand, it is rather on the expensive side. 
Monteverde
Many digital nomads with families like to stay away from the crowd and look for a quieter, less central location to raise their kids. If this sounds like you, then Monteverde is one of the best neighbourhoods in Rome for you. Located on Gianicolo Hill, Monteverde is filled with greenery, parks and families as well as many good schools. However, due to the hilly landscape, getting around can be quite tricky. 
Historic centre
If you're a digital nomad who has moved to Rome to marvel at the magnificent art scene, then living in the heart of it all is where you should be. While you'll feel like you're living inside a postcard, it is almost impossible to have a car in this area and parking is extremely difficult. With most of the area being a pedestrian area, the best form of transportation will be a bike or scooter.
Find an Apartment in Rome
One of the things you will definitely struggle with as a digital nomad is finding an apartment in Rome. However, knowing which neighbourhood to stay in and where to look for an apartment is a pretty good start already to make the entire ordeal as hassle-free as possible. While speaking Italian will be difficult at least there are a few terms you need to start recognising to help you find a place to rent in Rome. These include 'affito' which means 'rent', 'Casa' which indicates a home or apartment while 'Stanza' means ' room'. Whatever you do, before you come to Rome DO NOT send anyone a payment to book the apartment without seeing it or verifying that it is what you signed up for as many online scammers take advantage of expats coming to live in the city. Here are a few websites to help you find an apartment in Rome: 
Renting in Rome does not come at a cheap price. Here's an estimate to help you get an idea of average rental prices based on these neighbourhoods: 
Trastevere: A one-bedroom apartment for rent in Trastevere will cost on average 800 euros/ month while renting a private room in a shared apartment would cost around 500 euros/month. 
Prati: A one-bedroom apartment for rent in Prati can cost around 1000/month   While renting a single room in a shared apartment will cost around 500 euros per month. 
Testaccio: Renting a room in this area can actually be more expensive than renting an apartment in this area due to it being a high demand for students. Renting a room per month costs on average 470 euros per month while renting a one-bedroom apartment can cost around 600-650 per month. 
Aventino: The prices in this area can vary greatly based on the size and location of the apartment, but a one-bedroom apartment will cost on average 1000 euros per month and a room in a shared apartment will cost around 500 euros per month. 
Monteverde: A studio apartment in this area can cost around 600euros per month while renting a room in a shared apartment in Monteverde can cost around 400 euros per month.
Cheap Places to Stay in Rome
One of the best things to do when you arrive in Rome is book a low-budget accommodation for a week or so until you find a proper apartment. This gives you the ability to actually go to a viewing, avoid scams and make a decision based on real-life images and other factors you wouldn't have taken into consideration if you hadn't visited the place in person. While a long-term low-budget accommodation would usually include renting a room in a shared apartment, the best short-term low-budget accommodation would be staying in a hostel. Here are a few hostels in Rome along with their average prices per night: 
Sunshine Hostel – €11 / night 

Happy Rome – €11 /night 

New Golden House – €11 /night 

Roma Gondola SRLS – €12 / night

Rome Experience Hostel – €13 /night 

Hostel beautiful – €13/night 

Yellow Square – €13 / night 

Youth Station Hostel – €13 / night 

Zidan Guest House –  €14 / night 

Hostel Trastevere 2 – Ostello – €15 / night
Rome Visa
In order to stay in Italy for longer than 3 months, you need to apply for a temporary residence permit in Italy, also known as permeso Di soggiorni within 8 days of when you enter the country. If you're a citizen of a non-EU country, here's what you should do:  
The process is divided into two parts: the post office and the Questura. 
How to get an Italian residence permit application kit: You can pick up the application kit at any local post office with a Sportello Amico counter. The forms are in Italian and so it is best to have a translator or a friend who speaks Italian to help you out in filling them. 
After you've completed the form, you should head to any tabachheria and buy a March da Bollo (duty stamp) worth €16. 
Once your application form is ready, you should head back to the post office you received the kit form and submit your documents including any copies of documents showing your reasons for your long stay. 
Do not sign the application beforehand as you'll need to sign it only after the officer reviews your application and give you an appointment at the Questura as well as a receipt that works as a temporary residence permit. 
Questura: Bring the originals of the following documents with you on the day of your appointment: 
Four passport-size photos

An original copy and photocopy of your passport, including a visa entry stamp if required

Documents to show your long term stay in Italy 

Any documents you submitted when you applied for a visa in your home country. 

Health insurance
If your documents are in order, you could receive a residency between 6-12 months which ends to be renewed a month in advance.
Culture and Food in Rome
A huge part of the Italian and Roman culture revolves around its mouth-watering cuisine. In fact, one of the things you'll fall in love with is the love and respect they have for food and how much weight they give to it.
When living in Rome, you'll get used to restaurants and bars being crowded at precise timings of the day: lunch and dinner time. Most companies and universities even take into account lunchtime allowing students/employees to head out at around noon to grab a bite. During this time, most bars and restaurants take advantage of the crowd and offer discounted rates for lunch. Dinner is usually at 7 pm and while many people like to dine out or even grab an 'apperitivo', most Italians will go home to dine with their families, loved ones or flatmates. Dinner usually has a certain tradition and is at least 2 courses, if not three or four. 
Primi
It is the norm for Italians to start with a 'primi' which is translated into the first course. This course usually does not contain any red meat and more often than not it consists of some sort of pasta such as gnocchi, pasta, lasagna or even risotto or soup. 
Secondi and contorni
The second course, or what we considered to be the main course usually consists of a form of protein such as chicken, beef, pork, turkey or even seafood options. The side dish accompanied with the secondi is known as the contorni and is usually vegetable-based. 
Just like any Italian cuisine, Rome is known for its incredible pasta and pizza dishes. However, one of its specialities is Cacio e Pepe and Carbonara. Be sure to try them out if you're in Rome and you will not be disappointed! 
It is quite rare to find dinner not being paired with a glass of wine. Italians enjoy their wine and most cities have their own breweries. This goes to show the importance of the simple pleasures in life for Italians and how most things revolve around food. In fact, once you've become good friends with an Italian, expect to be pampered by being invited to their home, taste exquisite dishes and meet the entire family. 
As for the culture, Italians aren't usually foreigner-friendly, mostly because of their lack of English-speaking abilities. However, once you become familiar, they'll open their hearts and arms wide open and you'll consider them as your second family. 
One time to stay away from Italians is when an important football match is being played. Italians usually wear their hearts on their sleeves and are quite hot-tempered when supporting their football teams. It's definitely an interesting experience, but expect to hear a lot of cursing, yelling and most likely a fight to break out between the two team's fans.
Rome Nightlife
Italians have a great spirit and it is no surprise that you'll find quite the nightlife scene in Rome. However, because Italians really love food, you'll find many of them enjoying a glass of wine or two with an impeccable, heart-warming meal. If you're looking to dance a night away, you'll find the eternal city filled with clubs that will truly give you a memorable experience. However, to make it easier for you to get in if you're a male, it's better to go in a group with other women, always dress appropriately and stay away from anything shabby and be aware that clubs will start their evenings after midnight. Here are some of the best nightlife options in Rome: 
Agaveria La punta
Whether you're looking for a great place to dine, a bar with some of the most best cocktails, or both, you'll find that all and more at Agaveria La Punta. 
This authentic Mexican bar is located in the heart of Trastevere. Here you'll find some of the most exquisite tacos, seafood ceviche, guacamole and an impressive array of mescal cocktails. 
Akab
One of the most popular nightclubs in Rome is no other than Akab. Popular for its fascinating live entertainment and different music tastes across the night. Akab is located in Testaccio and starts with live rock or jazz music until 11 pm and then the beats transform into dancing music to open the floor up for anyone wishing to dance the night away. Expect the music to alternate between house, dance, disco, funk, reggae, aid jazz and funk. Just be sure to go early on the weekends as it can get really crowded on the weekends. 
The Jerry Thomas project
The excitement of going to a secret bar is something that will make the entire experience truly unique. The Jerry Thomas project is the first of its kind in Rome and requires a booking, along with a password and a whole lot of preparation to get in. The Jerry Thomas project is a team that travelled the world and researched different cocktails until they came up with their very own. The dim lights and the cozy ambience along with the secrecy and mean cocktails will definitely make it a night to remember. 
Freni e Frizoni
Trastevere is one of the best places to be at night and this mechanic shop-turned hipsters' bar is quite the place to be. Popular for their 'aperitivo' along with drinks makes it a perfect place for happy hour. It gets packed with locals, tourists and a mixed crowd of hipsters making it possible for a digital nomad to interact with all kinds of people. Just be ready to spend the night standing as there's not much room for anything else. 
Salotto 42
Located in the heart of the historical center, this tiny bar is the hip place to be for locals as the atmosphere is quite inviting with a modern interior and comfortable, fashionable sofas and chairs. You'll find the walls marked with contemporary art and design as well as fashion books which makes the vibe quite intriguing. 
Toy Room
When it comes to clubs, this internationally renowned club ranks high on the list. Wit flashing pink neon lights a modern and a DJ that plays the top hits, the place is on fire with a lively spirit of locals, tourists and youngsters dancing to the beats beside the teddy bear mascot that Toy Room is known for. 
Goa
Electronic and techno lovers will fall in love with Goa. This club is one of the leading scenes in Rome due to its insane DJ hosts and musical programs. Here, you'll find a buzzing crowd that will be dancing the night away up until dawn. Don't miss this night scene when in Rome! 
Sheket
If you're looking for something new and different, Sheket should be on the top of your list. This top-notch bar hosts some of the best bartenders, DJs and even live music gigs that really make the dance floor come alive. What makes Sheket so special is that it's a fusion between a cocktail bar and a Parisian club, giving it an exclusive vibe and unique vibe that you definitely won't find anywhere else. Expect to dance the night away to international jazz, funk and blues tunes. If this sounds like your kind of night, you're bound to have a blast. 
Profumo Spazlo Sensoriale
If you're in search of a more Italian, authentic night in Rome, then you've come to the right place. This restaurant/club is packed with locals who meet up for a good meal ready to sing and dance the night away. With a garden venue as well as indoor space, it's the kind of place you'll feel comfortable to be in all year round. It's packed with locals looking to have a good time and party all night long. 
Raspoutine
While there are so many places to enjoy a night out in Rome, Raspoutine is a legendary Parisian club that made its way to the top of the nightlife scene in Rome. The venue itself is breathtaking with an outdoor pool and garden and is absolutely perfect for summer nights. With international DJs playing the top hits, the vibe is energetic, lively and contagious. Definitely worth checking out.
Things to do in Rome
As mentioned before, Rome is an open museum and the amount of historic and artistic places to visit in Rome is endless. One of the best things to do is to just walk around, enjoy the city and encounter Rome's treasures by accident. However, there are a few things you absolutely have to do: 
The Colosseum

One of the top attractions in Rome is the Colosseum. This is where the famous gladiator battles took place during the Roman Empire. It is one of the wonders of the world due to the importance of its structure and the weight it held in Roman history. Today, it is still a fascinating sight to see. It is best to purchase skip the line tickets online in advance as the queue can get pretty long.

Vatican Museum and Sistine Chapel

If there's one thing you shouldn't miss in Rome, it is definitely the Vatican and Sistine Chapel. The Vatican is a UNESCO World Heritage Site not only because its link to the history of Christianity but also because of its exemplary religious and palatial creation of the Renaissance and Baroque art and its influence on the development of art in the 16th century. The structure of the Basilica of Saint Peter, the Belvedere Court, the cupola of Sant Peter, Saint Peter's colonnade and the Baldachinno of the Basilica are all architectural wonders of some of Italy's most famous artists. Architects flock from all over the world to study their structures and are imitated in different forms. The Sistine Chapel is absolutely mesmerizing with the incredible ceilings painted by Michelangelo which is one of his greatest achievements and some of his incredible work. The intricate details, colours and the size of the artwork o cross the ceilings is truly amazing and just leaves you in awe.

Trevi fountain

While there are many fountains in Rome, this fountain should not be missed. It's one of the oldest water sources in Rome as it dates back to Ancient Rome. The statue of the Aqua Virgo Aqueduct was the source of water for Roman baths and transported water to the fountains of central Rome. It was designed by Nicola Salvi in 1762 and is considered a lake Baroque masterpiece. Throwing several coins into the Trevi Fountain has become a tradition as the first coin guarantees that you return to Rome, the second gives hope for finding love and romance while the third coin will ensure that you get married.

Spanish Steps

Another important place to visit when in Rome is the Spanish Steps. These steps were built since 1723 and connect Piazza di Spagna with Piazza di Spagna. What makes these steps so special is that they were used as a meeting place for famous artists due to their unique, Baroque inspirational design. There are 135 steps and the view from the top is absolutely breathtaking as you get a bird's eye view of Rome.

The Pantheon

Not only is the Pantheon one of Rome's famous attractions, but it is also one of the best-preserved Roman buildings in the world. Due to its location in the center of Rome, it is one of the highlights that you just can't miss. When entering the building, you'll find a spectacular dome that allows light to enter the building in the most magnificent way.

Roman forum

You'll find spectacular historical sites everywhere in Rome, but the Roman forum is by far one of the most important ruins in Italy as many temples, squares and arches stood here that you can still identify.

Piazza Navona

Walking through the city, you're bound to stumble upon one of the most important Piazzas in Rome: Piazza Navona. It's a great place to be as it gives you an impression of what Rome is all about as you'll find artists, street vendors and beautiful statues and fountains all in one place.

Trastevere

This area is an absolute must-visit when in Rome as it's one of the few places where you can experience authentic Roman life and visualise how the city and locals live. It's a great place to take a stroll due to its beautiful cobbled streets, ancient houses ad the character that stands out like nowhere else. Trastevere is also home to some of Rome's best pubs, restaurants, cafes and is popular for its intense nightlife, too.

Ponte Sant Angelo

This bridge doesn't just offer a beautiful view of the River Tiber, but it also leads to the Castel Sant'Angelo. The bridge is known for its 10 angel statues that are situated at the top of the ramparts and are filled with intricate details, each one holding a different object of significance. If you're looking for a scenic view to commemorate your stay in Rome, this bridge is definitely the place to be.

Tour the city in a retro fiat

Those small fiat cars are seen all over Rome and are quite iconic. In Rome, you can get the opportunity to tour the city in a retro fiat 500 and experience the hottest attractions like a true Roman.

Go gelato hopping

No place in the world makes gelato quite like Italy and Rome is the place where you should discover the glorious flavors that they offer. One of the absolute highlights is the pistachio gelato flavor and is an absolute must-try. My personal favorite was a ricotta cheese and pistachio flavor and is like nothing I've ever tasted before. While you're waiting for your gelato, be sure to try the thickest hot chocolate you'll ever have and expect your tummy to be quite happy with the experience.

Eat, eat and eat some more

You cannot be in Rome and feast yourself on their exquisite food. While most of Italy offers incredible food, the flavors and dishes in Rome are something else. Be sure to try the Cacio e Pepe pasta as it is a Roman speciality. Even better, go on one of the many Roman food tours and experience the Roman delights for yourself. Just expect that your motto in Rome will be 'Eat now, lose weight later'.

Visit the food market

Romans are known for their food markets and the quality of the products and produce you can find there. But Campo Dei Fiori is an absolute highlight and a paradise for any foodie. It is the oldest food market in town and is a great place to feast your taste buds on Roman street food. Here, you'll get to meet a lot of locals, experience the city's culture and people like nowhere else.

Pasta making workshop

If you're staying in Rome for a while, it's time to learn the art of pasta-making and learn the Roman secrets when it comes to food. Taking part in a pasta-making workshop isn't just a whole lot of fun and something you can use for the rest of your life, but will also be a great way to meet interesting people and other nomads and foreigners.
Best Time to Visit Rome
Because Rome is in the Mediterranean region of Europe, it usually boasts warm, sunny weather. However, there are severe weather changes throughout the seasons. Here's what to expect: 
Winter: While it rarely snows in Rome, winter is quite a rainy season. However, if you have an umbrella and raincoat you're good to go. Because the temperature isn't extremely cold, it is easy to enjoy Rome in the winter despite the rain as it becomes a lot less crowded. Expect highs of 13 degrees and lows of 4 degrees during the winter months. 
Spring: The weather in Rome in spring is a lot similar to the weather in winter, but just not quite as rainy. Because the sun comes out in Rome all year round, it is evident in all seasons, but spring is fairly chilly during the evenings and will need a bit of layering up. During this time, the weather does gradually start to get warmer and by May, the temperature will rise to highs of 24 degrees Celsius and lows of 12 degrees Celsius. 
Summer: Summer in Rome is very hot, humid and quite stuffy. It can be quite unbearable especially during the month of August as the weather reaches highs of 31 degrees Celsius and lows of 19 degrees Celsius. Due to the weather, most Italians tend to fee from Rome during these hot summer months. 
Autumn: Autumn in Rome is actually one of the best times to visit. During September and August, you still get the warmth and sunny days, minus the extreme heat and humidity making it absolutely delightful. Expect highs of 27 degrees Celsius and lows of 12 degrees Celsius during these months.
Rome for Families
If you're moving to Rome with family, prepare yourselves to learn Italian as it would be quite difficult to bring up children in this city without speaking the language. While the public schools are all in Italian, here are a list of international schools in Rome: 
American Overseas School of Rome: 

Curriculum: IB, American, Advanced Placement, AP, IB Diploma

Ages: 3-18 

Fees: 10,410 – 26,670 

Core International School: 

Curriculum: Internationl 

Ages: 3-11

Fees: 8,500 – 10,400

Little Genius International:

Curriculum: British and international 

Ages: 2-11 

Fees: 7,900 – 10,390 

A Brit International School 

Curriculum: IB 

Ages: 3-14 

Fees: 10,812 – 20,355

Marymount International School Rome: 

Curriculum: IB, American, Catholic 

Ages: 2-18 

Fees: 12,250 – 23,950 

Ostia International School: 

Curriculum: British, Italian 

Ages: 2-11 

The New School Rome: 

Curriculum: British 

Ages: 3-18 

Fees: 10,450 – 18,900 

St George's British International School: 

Curriculum: British, IB

Ages: 3-18 

Fees: 11,100 – 21,400 

German School Rome: 

Curriculum: German 

Ages: 3-18 

Fees: 5,863 

South lands International School: 

Curriculum: British, IB

Ages: 3-18 

Fees: 7,525 – 18,950
Living in Rome
Rome Transportation
Depending on where you're located, one of the best and easiest ways to get around in Rome is on foot. Especially if you're located in the Historic city, you'll find that the walking experience is an absolute delight. Every few steps, you'll encounter a monument, site, sculpture, fountain or historical artifacts that will take your breath away. Because this area is a pedestrian zone, it's best to be on foot and wander around taking in the beauty of the manmade structures that makes Rome so beautiful. 
However, when you head out to check out other areas, there are a few public transportation systems you can use that are easy to use, well-connected across the entire city and cheap: 
Metro
While the metro system is quite small in Rome, it can be used to get you around most of Rome's top attractions. While the Romans have tried to expand their metro network, it is always so difficult as they constantly discover new archaeological sites whenever they dig up a tunnel. 
Currently, three metro lines operate from 5.30 am – 11.30 pm on weekdays and 1.30 am on Fridays and Saturdays. Tickets can be found at most newsstands and corner shops or any metro station. Here are the different tickets you can get: 
One-way ticket
Known as a BIT ticket, this ticket allows you to move around from one transportation method to another within a 75 mins period. However, you can only use it once on each transportation method within that time frame. This ticket costs 1.5 euros. 
Day pass
If you're looking for a day pass across all public transportation methods, then you should opt for a BIG ticket. This ticket allows you to ride as many stops and transfers as possible until midnight of the same day for a fare of 6 euros. 
Week pass
If you're looking for a weekly pass to save yourself the hassle, you can use it across all forms of transportation for a period of 7 days. This ticket costs 24 euros 
Monthly pass
However, the most cost-effective option is the Abbonamento Mensile Personale (Personal Monthly Pass) which allows you to use different transportation for unlimited times for the duration of the calendar month. This ticket cots 35 euros and can be bought from tobacconists and newsagents until the 5th day of the month. After that, it is only possible to purchase it at the ATAC ticket offices found at the stations. 
Bus
Busses are usually the most used form of transportation as the metro access is rather limited. With over 350 bus lines, it is very well-connected and can transport you all across Rome. However, with traffic being an issue, the buses tend to get delayed and are not the most punctual form of transportation. The fare system above applies to buses as well. 
Tram
Another alternative to buses are trams. They're less crowded, but not as frequent or well connected. While they don't get to the city centre, they are sometimes more convenient for travelers or can at least be mixed with a bus to get to your destination. Keep in mind that trams operate from 5.30- 12 am and then are replaced by night buses. 
Taxis
It's best to avoid the taxi service in Rome as they can be a real rip off. Taxi drivers don't exactly have the best reputation and tend to overcharge foreigners. In all cases, the fares are quite expensive, making it an inconvenient option. 
The minimum fare on weekdays from 6 am -10 pm is 3 euros, on holidays it's 4.50 euros and at night is 6.50 euros. 

For every km, the flat rate is 1.10 euros for weekdays, 1.3 euros for holidays and 1.6 euros for night fare. 

If you're carrying luggage, each suitcase will be charged for 1 euro. (Keep in mind that each passenger is only allowed 1 suitcase.) 

Taxi reservations by phone cost an additional charge of 3.50 euros 

If the taxi will be waiting for you, 1 hour of waiting costs 27 euros.
Fitness and Health
For fitness lovers, Rome is a great place for outdoor cycling or running as it has a dedicated route for cyclist and runners along the Tiber River, making it quite the scenic route for exercising. Otherwise, there are gyms you can go to that offer classes or machinery for you to get your exercise dose of the day. 
EasyFitClub
One of the biggest gyms in Rome is located in Trastevere. It has an indoor pool, jacuzzi, Pilates studio as well as machinery and fitness classes. Another advantage of heading to EasyFitClub is that it opens at 6 am on weekdays making you able to hit the gym before you start your workday. 
Health City
If you're looking for a gym with an accessible location, Healthy City will top the list. Because it's located at Termini station, it is very accessible by metro or bus. Here, you'll also find fitness classes such as Zumba, spinning, hip hop and Aerodance making it a lot more exciting if you're bored from your usual workout routine. 
Moves
At Moves, you'll find your usual gym equipment/machinery available to conduct your fitness routine, but you'll also find another section dedicated to classes. These classes can be a lot of fun as they offer Zumba Pilates, Funk Dance, Yoga, Thai Chi-Qi Gong and many others. This gym operates at 8 am on weekdays, 9 am on Saturday and 10 am on Sunday. 
Dabliu Barberini Fitness Club
Located in the center of Rome, this gym is not only well-equipped but also has fitness courses you can attend all day long. Here, you'll find spinning, boxing, TRX Kettlebell workouts and many more. If you're looking for a more relaxing experience, you'll also find a sauna, Turkish bath and a jacuzzi to suit your mood. Another advantage is that this gym is open from 7 am – 10.30 pm on weekdays allowing you to choose your preference depending on your working hours. 
CrossFit Villa Albani
If you're more into CrossFit training style and high-intensity training, then you should definitely hit this gym offering HIIT and weight training management. The group workouts usually allow a maximum of 15 people, making it easy for the instructor to keep an eye on everyone without anyone getting injured. Working out with a group regularly can be a great option for a digital nomad as they create a fitness family and the bond gets really tight when you see the same people every day. 
Palaestra all'aperto
The best thing about this gym is that it is absolutely free! It's outdoors, rustic and a public gym. However, the weather on super humid or rainy days can make accessing this gym a constraint. If you're just in Rome for a while, definitely pay this outdoors gym
Rome People
Italians are loud, friendly, warm and hospitable people – once they get to know you. Unfortunately, most Italians do not speak English very well and their fear of embarrassing themselves by saying something incorrect makes them reserved and distant amongst English speakers. However, once they overcome their fears, Italians will welcome you into their homes, take pleasure in feeding you the most delicious home-cooked meals and adopting you as part of their families. 
Italians have a love for food and winemaking them a focal point in their lives where families gather around the dinner table every day. You can tell a lot about a culture from their cuisine and the Italians show warmth and love through every meal. 
Another thing you'll notice about Italians is that they are hot-tempered and easily provoked. They are very passionate beings who wear their hearts on their sleeves, making being in a relationship with them entertaining and somewhat of a roller-coaster ride. 
However, Italians value life and having a good time more than anything and take work-life balance seriously. Once they leave the office, they are ready to leave their worries behind and start their nightlife with food, wine and dancing if need be.
Rome Insurance and Medical Care
The public healthcare system in Rome provides citizens and residents with free or low-cost healthcare. However, as a digital nomad, you will struggle to find an English-speaking doctor and will have to wait to get the health care you need. That's why for expats, it is always best to opt for private healthcare if possible as it does come with a hefty price tag. Just keep in mind that the public health care system covers medicines, doctor's visits and hospitalization if needed. It would be a good option to mix and match between the two to avoid the heavy costs. Here are a few private hospitals in Rome: 
Salvator Mundi International Hospital 

Rome American Hospital

Aurelia Hospital 

Grimaldi Medical Group 

International Medical Care
Make sure you are fully covered by reading our full Digital Nomad Travel Insurance guide.
Jobs in Rome
Finding a Job in Rome if you don't speak the language will not be an easy task. In fact, there are very limited jobs as the country is not known for its English-speaking abilities. However, there are a few advantages that English speakers can take advantage of: 
Teaching: because of the lack of English speakers, teaching English in Rome is actually quite easy and doesn't require strict certifications like other countries. To teach English, you'll need: 
A bachelor's degree (in any field, not necessarily education)

Native English proficiency 

TEFL or TESOL certification (in some cases) 

Experience is a plus but not a must

In rare cases, some schools may require a degree in Education. 
However, keep in mind that a salary as a teacher will allow you to earn between 900-1600 based on your experience. 
Tour guide: another option for English speakers who have fallen in love with Rome and are willing to learn its historic details by heart is a tour guide. Because Rome is a city that attracts tourists, guides of all languages are always needed. It does seem like quite a difficult job for someone who is not familiar with the immense details and history that this beautiful city holds.
Check out our Digital Nomads Jobs Postings to find the best jobs available for Digital Nomads.
Nomad Friendly
Value for Money
Internet
Workspace
English
Food
Safety
Health
Transportation
Friendly
Quality of Living
Cost of Living Rome
While Rome is not the cheapest city to live in, it is still considered a lot less expensive than other cities in Europe. Here are a few prices of everyday items in Rome to give you an idea of what to expect: 
1 liter of milk: € 1.5 

A loaf of bread: €1.77

1 kg of rice: € 2.3

A dozen eggs: €3.69 

1 kg of cheese: € 13.69 

1 kg of chicken: € 8.78 

1 kg of beef: €16.18

1.5 liter water bottle: € 0.69 

Domestic beer: € 1.25 

Imported beer: € 1.79 

20 Pack cigarettes: € 5.65 

1 month subscription at the gym: € 60 

A meal at an inexpensive restaurant: € 15 

A meal for 2 at a mid-range restaurant: € 60

Cappuccino: €1.25 

One-way transportation ticket: € 1.50

Monthly transportation pass: € 35 

1 liter of gasoline: € 1.48 
Sending a child to daycare or preschool for a full day will cost around €500 per month.
One other cost to factor in is that you'll be expected to pay utility bills for electricity, heating, water and garbage at an average cost of  €185 for an 85 m2 apartment.