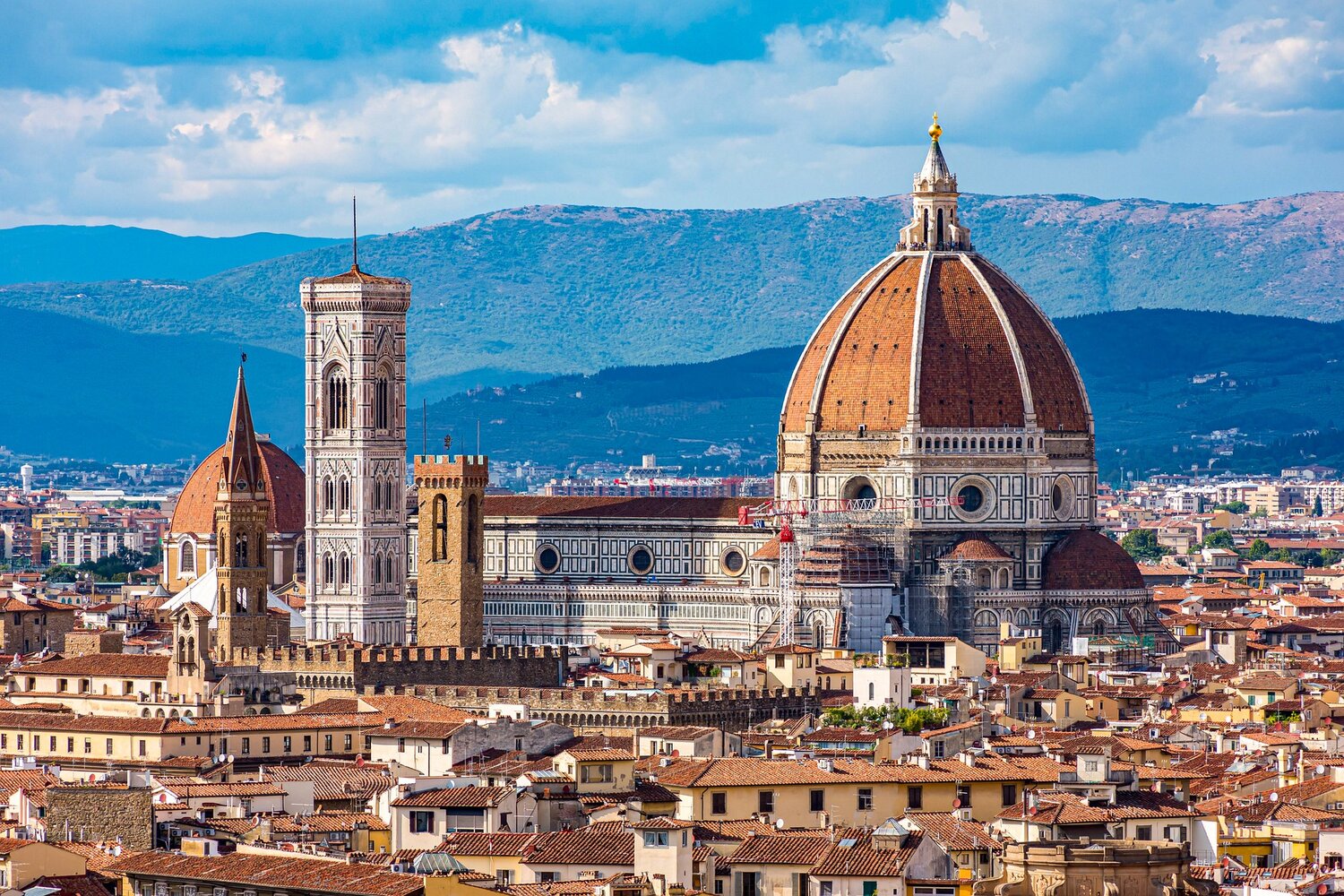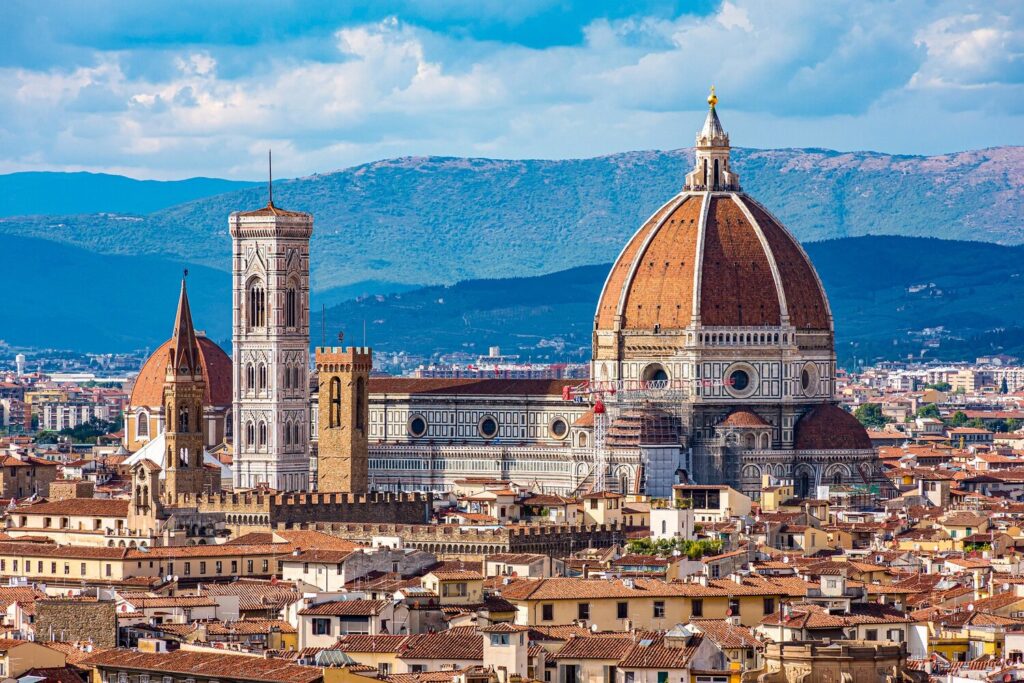 A Digital Nomad Guide to Florence, Italy
Italy is known for its magical cities, awash with a heady blend of art, history, culture – and of course, great food. Florence is no different, and is one of the busiest and most popular tourist spots in all of Italy, as well as drawing in a reasonable crowd of digital nomads and longer-term expats each year who flock in in search of a slice of the Italian good life.
There are currently around 400,000 people living in Florence, and that number continues to grow. The capital of the verdant region of Tuscany – which is home to other cities of note including Pisa and Siena, as well as the wine region of Chianti – the city's historical centre has been recognised as a UNESCO World Heritage Site since the '80s, making it a location of great cultural importance, and its architectural beauty is impossible not not be blown away by upon your first visit, and every day after that, too.
The birthplace of the Italian Renaissance, it is attractions such as the Uffizi Gallery and Galleria dell'Accademia – home of Michelangelo's iconic 'David' – that draw in such huge crowds to the city each year, sometimes making it feel a little overwhelming for those who live here. But with a thriving tourist scene and a buzzing atmosphere, there's a lot to love about it, too. 
Florence's pretty riverside location and alluring foodie scene are some of them, as are the bustling weekend markets happening across the city, and if luxury shopping is your cup of tea, then you'll find just about every big-name designer boutique here under the sun.
Nomad Friendly
Value for Money
Internet
Workspace
English
Food
Safety
Health
Transportation
Friendly
Quality of Living
Living in Florence Overview
| | |
| --- | --- |
|  Meal, Inexpensive Restaurant | $16.88 |
| Domestic Beer (1 pint draught) | $5.63 |
| Cappuccino (regular) | $1.47 |
| Loaf of Fresh White Bread (1 lb) | $1.61 |
| Water (1.5 liter bottle) | $0.50 |
| One-way Ticket (Local Transport) | $1.69 |
| Basic Utilities (Monthly) | $163.76 |
| Internet | $34.76 |
| Fitness Club (Monthly) | $65.92 |
| Apartment (1 bedroom) in City Centre | $855.46 |
[erw_exchange_rates_widget lg="en" tz="0″ fm="EUR" to="EUR,USD,GBP,AUD,JPY,RUB" st="primary" cd="" am="1″][/erw_exchange_rates_widget]
Max Withdrawal: €400
Use of Credit Cards: Widely Accepted
Digital Nomad Personal Experience in Florence
We spent a few weeks here as digital nomads, and enjoyed our stay to the fullest – it was plenty of time to explore the city and dig beneath the surface a little more to find out how the locals live. Some of our favourite bars and restaurants we discovered here were hidden away off  the tourist track, and we would never have known about them if we hadn't taken the time to stop and chat to our accommodation host – so to really get the most out of this city, be sure to do the same.
Florence is a great base from which to explore further afield, with the wider Tuscany area easily accessible from here, but with internet speeds often slower than elsewhere in Europe and long queues and crowds for just about everything, you'll need to have plenty of patience if you're planning on staying for the long-term. Prices, too, are considerably higher than the likes of Lisbon, Barcelona and other European cities favoured by digital nomads, so be prepared to get your wallet out.
Work in Florence
Best Places to Work in Florence
Internet Speed
First things first; let's talk about internet speed. In Florence, this averages 19mbps, which is relatively fast, but be aware that it can be patchy. When it comes to your accommodation, it's always wise to check out the particular service you'll be provided with here, as many will come only with a mobile box that offers patchy and unreliable connectivity at best. Nevertheless, the city's co-working spaces and cafes offer faster and more consistent connections, so there will always be somewhere you can get your work done.
Co-working
Like most popular digital nomad cities in Europe, Florence is home to a variety of trendy co-working spaces that offer the perfect set-up for a productive day, many of which offer flexible membership options as well as the option to occupy desk space on a more sporadic basis.
TSH Collab
TSH Collab As chic and sophisticated as you'd expect from a city like Florence, TSH Collab, located just a five-minute walk from the central Santa Maria Novella station, is a popular choice amongst digital nomads and locals alike, combining an elegant professional space with a distinctively Florentine twist.
Offering a full-service co-working environment, here you'll have access to one of the fastest WiFi connections in the city,  as well as extra leisure perks including a gym, games area, bar and restaurant.
Located just a stone's throw from some of Florence's most frequented cafes and shops and priced at just $20 for a day pass, it comes highly recommended by us.
Impact Hub Florence
Impact Hub Florence Show us a European capital city that Impact Hub hasn't made it to yet – we'll wait. Longer term nomads will no doubt already be familiar with the trendy and well-equipped co-working spaces it offers, and this iteration, which can be found in the Rifredi district of Firenze, features extensive desk space, private offices and laboratories, as well as offering up event space for hire conferences and larger scale meetings and receptions.
Multiverso Co-working
Multiverso Co-working Located close to the city's well-known Freedom Square, Multiverso is a creative and innovative coworking space that offers up a relaxed and laid-back vibe. With branches in nine different Italian cities, if Florence isn't your first port of call in the country then you may well have encountered a Multiverso before. If so, you'll already be accustomed to its chilled vibe.
Best WIFI cafes in Florence
Ditta Artigianale
A favourite cafe of ours to set up base in during the working day was Ditta Artigianale – a contemporary coffee shop and bistro that is renowned throughout the city for its gourmet, ethically sourced coffee beans. If you're a self-confessed coffee snob, then look no further – because here, you'll find the best of the best. Importantly, you'll find a wide variety of non-dairy milks to choose from (something which can be surprisingly hard to find in Europe if you don't know where to look) – and when it comes to a strong and stable WIFI connection and plenty of power sockets, this place has got you covered.
Address: Via dei Neri 32r, 50122    Hours: Mon – Fri 8am – 12am, Sat + Sun 9am – 12am
Shake Cafe
Health junkies won't be disappointed with the range of trendy cafes that line the streets of Florence, and while you may have to search a while to get beyond the tourist traps eateries that surround many of Florence's piazzas, with a little persistence, you'll find just what you're looking for. Shake was one of our favourite cafes in the city, serving up freshly pressed juices and a mouth-watering menu of organic food with a Tuscan twist. A small and cosy spot with great WIFI, it's as popular amongst the locals as it is with digital nomads and expats, so arrive early to secure your power socket and get logged onto the WIFI.
Address: Via degli Avelli 2r, 50123  Hours: 7am – 8pm, every day
Le Vespe Cafe
If you're a brunch enthusiast and can't get enough of a good Bloody Mary, then you'll want to check this place out during your time in Florence. Alcoholic beverages may not exactly be conducive to a productive working day, but they are certainly a great way to round one off – and for those working for themselves, an early morning start before finishing over a late and sociable brunch is one of the perks of being able to choose your own hours. Of course, if you prefer to stick to a more traditional schedule then the evening cocktails are also great, as are the iced coffees. Be sure to arrive early if you want to get anything done here, and avoid weekends like the plague if you have your laptop with you, because although a work-friendly space during the week, come Saturday, it's a different matter.
Address: Via Ghibellina 76r, 50122  Hours: Mon – Fri 9am – 3pm, Sat – Sun 10am – 3pm
La Ménagère
A shop and cafe combined, La Ménagère sources its coffee from the afore-mentioned Ditta Artigianale – so if you can't get a spot for the day at the city's best coffee spot, then this place is a great alternative. The rear dining room is a quiet space in which to ramp up your productivity during busier afternoons, and you can pause at the concept store for fresh flowers or some decor to spruce up a more permanent base in the city before you head back to your digs.
Address: Via de' Ginori 8r, 50123  Hours: 7am – 2am every day
La Milkeria
A compact cafe with a cosy atmosphere, La Milkeria features shabby chic decor and is adorned with twinkling fairy lights that make this place a winter favourite in Florence. If you tend to rely on a sugar high to get you through the day, then you won't be disappointed here, with a decadent menu of crepes, pancakes and waffles on offer and an incredible smell filling the air all day as a result. On a diet? This place might be best avoided, although with its rows of small tables, great WIFI and welcoming environment, it's still a good place to get through some of your work.
Address: Borgo degli Albizi 87r, 50122  Hours: Mon – Thurs 8am – 7:30pm, Fri + Sun 8am – 11:30pm, Sat 8am – 12:30am
Best Places to Live in Florence
Best Neighbourhoods
Florence is a busy and buzzing city that is one of the biggest tourist hotspots in Europe, so if you're planning on moving to Firenze then brace yourself for the throng. Central areas of the city can be particularly crowded, but further out, you can find some quieter and more peaceful areas in which to base yourself while still enjoying easy access to the centre.
As with most cities in Italy, rental prices are  higher here than in most countries across Europe, with prices driven up by tourism and an increased demand for apartments and other properties from international students, expats and of course, digital nomads.
Santo Spirito
A hip, up-and-coming neighbourhood found on the south side of the river, Santo Spirito had to be our favourite neighbourhood in Florence, and is the perfect place for a digital nomad to base themselves while living in Florence. Comprising narrow, tree-lined streets and plenty of unique shops, it's a favourite amongst Florence's artists and designers, and with a great selection of markets, bars and restaurants to choose from, is also in easy reach of the city centre. Since it's a little off the well-beaten tourist trail, Santo Spirito offers a tranquility you won't find in the heart of the city, but buzzes with an alluring vibe all of its very own.
Historical Centre
It would be rude to come to Florence and not take some time to soak up the culture, and with its many historical museums and sights, there's no shortage of things to see and do here. If it's your first time in the city, then finding accommodation located in the historical centre will put you in prime position for exploring them all on foot.
With the iconic Duomo, Ponte Vecchio and the Uffizi Gallery all within easy walking distance as well as a plethora of designer shops, restaurants and coffee shops, you'll spend little on public transport if you live here, if anything at all. The many piazzas in the historical centre are often packed with tourists though, making them a less than ideal choice if you're hoping to get some work done. Nevertheless, they're a great place to chill and enjoy the magic of the city – just be sure to find a spot first thing in the morning, as later, in high season, the crowds can become overwhelming.
Oltrarno
Located on the southern back of the Arno river, Oltrarno is a popular neighbourhood amongst those who are partial to a good bit of art. Here, the streets are lined with quaint artisan shops and antique stores, and the area is also home to the relaxing green space of the Boboli Gardens Park, which backs onto the Pitti Palace.
Novoli
For a taste of the authentic local life while in Florence, consider making Novoli your base. Far from the overwhelm of more central areas and free from the crowds that accompany it, this district is still reasonably accessible, requiring only a 15-minute tram ride into the Historical Centre.
Although mostly a residential district, you'll find everything you need in the Novoli neighbourhood itself, so if you prefer to avoid the centre all together then you'll have no problems in doing so. There are plenty of coffee shops, cafes and bars scattered throughout the area, and with many university students in this part of the city you can be sure to find a party vibe for a night out when you want it. You'll also find a large shopping centre, cinema and gym here – all you could possibly need to facilitate your day to day life.
Campo di Marte
Another neighbourhood located outside of the central area of Florence, Campo di Marte is the perfect place for sports enthusiasts to base themselves. It is home to the Artemio Franchi, where the Fiorentina football team is based, so you'll be well located to attend any of the regular matches that take place here. And, with the Costoli lido just a stone's throw away, it's also a great place to soak up the sunshine and cool off in the summer. If you're a fan of concerts and events,  Nelson Mandela, also in Campo di Marte, hosts a packed calendar in normal years.
Find an Apartment in Florence
Finding accommodation for your move to Florence – or anywhere else in Italy, for that matter – can prove challenging, because many of the available properties are not listed online. This means you'll need to do a little digging and investigating in order to find your perfect place, but don't worry – there are some tried and tested ways that will make your quest a little easier.
Accommodation in Italy doesn't come cheap, and given Florence's popularity, here, they can be even higher. Living on the outskirts of the city will help you to save some money on your rental property, as those in the historical centre tend to be in high-demand and often cater to tourists as short-term lets.
Airbnb
If you're planning from afar, then it's definitely worth booking your accommodation online through Airbnb before you arrive – although you won't necessarily find the cheapest options here, it's a quick and convenient place to start you off – and you can always look into the other options once you've arrived in Florence. There is no shortage of options to choose from, that's for sure – and as more and more Italians look to invest in rental properties, the quality and variety is ever-increasing.
If you do decide to take this route, then be sure to ask your host a few questions before confirming your stay to ensure that the set-up is going to suit your needs. Internet connections can be unreliable in Italy, so be sure to ask about what kind of service they have, as well as the average speed –  a mobile box, with less than 1GB of bandwidth, just won't suffice, and could end up leaving you in the lurch if you don't know what you're getting beforehand.
Once you're here, you can look into the alternative options for a longer-term base. Florence Accommodation is a good place to start. 
Co-living
Co-living can be a great way to save money – check out local bulletin boards or enquire through universities to see what is on offer (you don't have to be a student to do the latter).  
It's also a great way to meet people, form new connections and make friends during your time in Florence – we all know how lonely living a nomadic life can be, but co-living makes for a social and often fun set-up with the kind of flexible rental arrangements that will make it easier when you don't know exactly how long you'll be staying. It's also a good way to get a nicer property in a better area of the city, without breaking the bank, and you won't need to worry about setting up utilities yourself, either.
Check out Anyplace Florence – a platform which hosts some of the top co-living spaces in the city. All spaces include furniture and amenities, and you can browse a variety of different properties online.
Prices
Rental prices in Florence, for the most part, will include utilities and for a one-bedroom apartment or flat in the city centre, you can expect to pay around €750 Euros per month, while a larger, three-bedroom space will cost roughly €1,500. 
If you are willing to live a little further afield, however, then you can get the same type of accommodation for around €600 and €1070 outside of the city centre – and given how hectic life can be in the heart of the city, this is something we'd recommend.
Cheap Places to Stay in Florence
SC Co-working offers both co-living and co-working, all in one space. Located in the heart of Florence, on the second floor of a historical building on Piazza della Repubblica, it's a great spot if you want affordable convenience in the centre of Firenze. 
A stylish hostel with a retro vibe, Tasso features a cosy sitting room filled with vintage armchairs and old-school furniture, and great facilities including bike hire, laundry service and a pretty courtyard and garden. It also offers a great social scene, with a bar and regular DJ sets encouraging guests and residents to mix.
Academy Hostel Florence is set right in between Michelangelo's David and Il Duomo, so location-wise, it doesn't get much better than this. Rooms are bright and sunny, and the plant-filled terrace is the perfect place to set up for the day with your laptop.
Has a variety of affordable co-living spaces available, often in great locations, and you can search according to the specific dates and amenities you require.
Florence Visa
If you're travelling to Italy as an EU / EEA national then you'll need only to present an identification document – a passport or ID card – to enter, since Italy is a member of the Schengen Zone. 
For non EU Nationals / EEA residents, passports must be valid for at least three months beyond your planned leaving date, so if you're unsure how long you'll be staying in the country then ensure that you have plenty of leeway. You may also be required to present a visa to enter, and may also face questions at the Italian border to clarify the purpose of your visit – as well as where you plan to stay and how long you plan to stay.
Americans do not need a visa for stays in Italy of up to 90 days, but you'll need to apply for one if you wish to stay longer or gain resident status. The process can take several weeks, so if you know before arriving that you want to stay for longer then it's best to apply in advance.
Those travelling from third world countries which have not reached a liberalisation agreement with the Schengen states will be required to obtain a Schengen visa to enter Italy and any other member state.
Culture and Food in Florence
Arriving in Florence is like taking a trip back in time, so it's unsurprising that its historic centre was added to the UNESCO World Heritage list in 1982. It's not just the iconic works found within its numerous galleries and museums that are masterpieces, but the buildings themselves, too. 
The passion for art, power and money amongst the wealthy is still very evident in Firenze today, with some of the city's biggest cultural giants including the likes of Michelangelo, Leonardo da Vinci, Galileo and the Medici family, who ruled for generations.
Despite its small size and relative lack of political and military power, Florence has been surprisingly influential across Europe and beyond. It has enjoyed similar influence within Italy itself, with the Florentine language eventually becoming what we know today as 'Italian'.
It was here that the Renaissance period began – something that is abundantly evident just about everywhere you go. The city remains an important cultural, political, economical and artistic influence until today and thanks to its location at the meeting point of transport lines connecting Northern and Southern Italy, it has also become a market centre.
Cuisine
Tuscany is known for its mouth-watering cuisine, and Florentine dishes, in particular, are some of the best. Drawing on fresh, local produce and simple recipes, you can be certain of a hearty meal should you find yourself dining with a local, or trying out one of the small traditional restaurants loved by Florence's residents, which are often hidden away off the well-beaten tourist trail.
Popular local dishes include a Tuscan stew of white beans cooked with sage and olive oil, Steak Florentine and roasted or wine-braised game, with grilled meats and mellow cheeses also featuring heavily on the menu.
Tuscany is the home of Chianti wine, so you can expect to find it on just about every restaurant and bar menu. A trip out of Florence to visit this iconic wine region and indulge in a spot of tasting is a must.
There are four fundamental ingredients of Florentine cooking; plain, unsalted bread, extra-virgin olive oil, grilled meat and of course, red Chianti wine.
Where to eat the best local food
This small and friendly family-run spot is a great place to try the famous Bistecca alla Fiorentina for yourself. You'll find four of them located around the city centre, each with a relaxed atmosphere and great food.
 This place offers a great place to grab some local food while on the go – the schiacciata (Florentine sandwich) comes stuffed to the brim with mouth-watering local ingredients and is always worth the pitstop.
Of course, if all you want is a good old slice of pizza, then there are plenty of options available on every corner. We liked Misterpizza, where you can get a great Pizza Florentine. Topped with garlic, tomatoes, mozzarella and spinach and finished off with an egg, it's one of the tastied topping choices we've tried.
Hidden away below street level, Cantina Barbagianni is one of Florence's hidden gems and offers some of the tastiest Tuscan cuisine in the city. A place favoured by locals and largely undiscovered by tourists, it's a must.
 Head here to enjoy some of the best pasta and pizza in the city in an idyllic setting that you won't want to leave. The speciality of pear-filled pasta with a taleggio cheese and asparagus sauce will almost certainly keep you coming back for more.
Florence Nightlife
Although Florence is largely considered a more cultured city than a place to party, the presence of university students means that nonetheless, you'll have little trouble finding a good bar or event to head to on a Friday or Saturday night. The city comes alive with parties and events during the summer months, with al fresco drinks firmly on the agenda and party-goers filling the local piazzas before heading to some of Florence's best bars and nightclubs. 
From chic lounges with live music to clubs featuring international DJs to theme nights, there is no shortage of things to do in Florence after dark. These are some of our favourite bars and clubs in the city that are worth checking out if a night on the tiles is your cup of tea.
BARS
A nod to the speakeasy culture of times gone by, Rasputin is a vintage couture lover's dream. It also happens to be Florence's first secret bar, which for a time, was reserved for a select few, and is still tricky to wheedle your way into today. Even so, that's all part of its appeal, and it has become known as one of the most exclusive and intriguing spots in the city as a result. If you're one of the lucky ones who do make it inside, you'll find a dimly lit interior with modern twists on classic cocktails being served up to perfection at the bar.
Wine connoisseurs will enjoy an evening jaunt to Vineria Sonora, which unlike many of the city's stuffy and overpriced wine bars, offers up a relaxed and laid-back atmosphere that has made it popular amongst the younger student crowd. Even so, it remains a great place to go to sip on natural wines and craft beers, and serves up some great bar snacks, too. We loved the warm toasts, which come with a selection of different toppings and are a cheap and easy way to line your stomach before heading on elsewhere.
To step into Manifatura Tabacchi is to step back in time to the 1950s and offer up a taste of Italy in times gone by. Here, you can enjoy some of the nation's best classic cocktails, from bellinis to negronis, which go perfectly with the small menu of tapas-style dishes on offer, including old-school vitello tonnato – Tuscan ricotta and spinach dumplings with pecorino fonduta.
Manifattura Tabacchi feels like a glam bar in a chemistry lab, complete with Italian music from the '50s. A made-in-Italy theme emphasizes Italian-made spirits and liqueurs, classic drinks like Negronis and bellinis, and riffs on cocktails like the Sazerac. All drinks are served with olives and toasted chickpeas, and you can also order curated plates of old-school dishes—including our favourites, Tuscan ricotta, and spinach dumplings with pecorino fonduta.
Head over to San Frediano to experience one of Florence's most laid-back bars. Mad Souls & Spirits has little aesthetic appeal, so if you're looking for an Instagram-worthy drinks spot, then this is not it. Even so, what it lacks in visual charm, it makes up for with a fun and lively atmosphere and an impressive themed and ever-changing drinks menus which keep things fresh and interesting.
NIGHTCLUBS
Located directly opposite Piazzale Michelangelo, Flo Lounge enjoys a privileged location, with breath-taking panoramas of the city. The atmosphere is upmarket and elegant, with a dress code to match. The club regularly plays host to some great DJs from across Italy and beyond, with music genres spanning everything from funky house to hip-hop.
Perhaps what sets it apart from the crowd the most is the aperitivo rinforzato – a decadent Italian-style buffet served up alongside your drinks from 8-11pm, Wednesday to Sunday.
If you're eager to get your dancing shoes on then there is nowhere better to hit the dance floor in Florence than at Tenax – which has been hosting some of the city's biggest live music parties since the '80s. It's not just the hottest DJ sets being served up here, and names to have graced the venue over the years have included Radiohead and Daft Punk. Located outside of the city centre and close to the airport, you'll need to take a taxi to get here – but it's worth the cost for a special occasion and  promises a night to remember each and every time.
If you prefer to keep your nights out a little more central than Rex Cafe, set in the historic centre of Florence, starts the evening off as a lively lounge and transforms into a late-night club after hours. Modelled on a luxury Italian ocean liner, expect a nautical theme, great drinks and nightly entertainment ticking off everything from live jazz to old-school DJ sets.
Things to do in Florence
There is certainly no shortage of things to do in Florence, and no matter how long you decide to stay for, there will almost always be another art gallery or museum just waiting to welcome you in. Nonetheless, Firenze is about just more than the art and history it is famed for, and only by spending some time living in the city are you truly able to get to know it.  No doubt, when you first arrive, you'll want to check out some of the main cultural sights, but by mixing with the locals and frequenting the places they do, as well as meeting up with other digital nomads based in the area, you'll get a real feel for the beauty of Florentine life, and start to understand it in a way that short-term tourists simply can't.
Here are some of the key spots to add to your 'to do' list.
Admire the Cattedrale di Santa Maria del Fiore

Best known as Il Duomo de Firenze, the Cathedral of Saint Mary of the Flower is the centrepiece of Florence, and one of the most iconic sights to see too. It's almost impossible to visit the city without seeing it – whether by accident or intentionally – so if you're spending an extended amount of time in Florence as a digital nomad then you can expect to get very familiar with it. The largest dome in the world until 1881, a 463-step climb will take you to  the lantern at the very top, where you'll get to enjoy some breath-taking views of the city. Of course, the irony of this is that the best views of Florence include Il Duomo itself, but nonetheless, it's worth it for the alternative viewpoint. There are also some great vistas from the adjacent bell tower (Giotto's Campanile), which you can enter on the same ticket, as well as the Opera Duomo Museum, which has recently been updated and features iconic works from renowned Italian artists including Michelangelo, Donatello and Verrocchio.

Stock up on produce at the Mercato Centrale

It won't take any self-confessed foodie in Florence to sniff this place out, and we challenge you not to become a regular! Here, you'll find some of the best fresh produce in the city for cooking up some tasty meals at home, and upstairs, in the food court, a plethora of mouth-watering dining options to cater to just about every taste. Fresh pizzas and pastas and Florentine specialities meet vegan cuisine and Asian fusion food, with a luxurious truffle bar and some of the best gelato in the city all available for relatively reasonable prices. This place gets incredibly busy at peak mealtimes though, so buck the trend and go in between.

Take in the wonders of the Uffizi

A haven for art-lovers, the Uffizzi is a must to take in some of Italy's most famous Renaissance pieces – but be warned, because in high season the queues can border on extreme, so be sure to book your ticket in advance rather than just turning up on the day, and the earlier you can arrive, the better. Here, you'll find The Birth of Venus – one of Botticelli's most famous pieces – but with so many other captivating pieces to see, allow yourself a whole morning or afternoon to get the most out of your visit.

Meander along the Arno River

The famous Arno River is instantly recognisable and has long been known as one of the most iconic spots to visit in Florence. Wander up at sunset or sunrise to take some great photos from the Ponte Vecchio bridge, or on sunnier days, hire a paddle board to escape the oppressive heat of the city and spend a few hours wandering down the river to your heart's content. Many of Florence's best restaurants and bars can be found along the river, and with views like these, there are more than enough excuses to work your way through them, one by one.

Peruse the Galleria dell' Accademia

Home to Michelangelo's David – his most famous work of art – it would be rude to set up base in Florence and not visit this popular museum. As you'd expect, this is another spot where those queuing without pre-booked tickets can find themselves waiting for hours to get in, so once again, a skip-the-line advanced ticket is a must. If you own some good quality camera equipment then be sure to take it along with you, as photos of David are now permitted. There are plenty of other works to see here too, but truth be told, David well and truly steals the limelight, and is far more impressive in real life than you could imagine.

Visit Piazzale Michelangelo

The perfect spot for soaking up Florence's buzzing atmosphere and taking in some breath-taking views, Piazzale will no doubt become a favourite spot during your time as a digital nomad in Florence. Set just across the river from the main throng, here you can observe all of the city's main sights from a distance, including Il Duomo, the Arnolfo Tower and the Palazzo Vecchio. Head up at sunset to watch the sky turn various shades of pink and purple, and for some of the best photos of Florence.

Go leather good shopping

A quick stroll through the centre of Florence will quickly reveal to you the city's penchant for leather, with numerous market stalls and luxury leather goods stores on seemingly every corner. Renaissance Florence was famous for its leatherwork, and it's a tradition that persists until today. Head to the stalls of San Lorenzo street for a great new jacket, or make your way over to the leather school behind the Santa Croce church to stock on accessories s=uch as belts, wallets and handbags.

Eat Gelato

Anyone who has visited Italy will know that it just so happens to be home to some of the best ice cream in the world, and the Vivoli Gelato shop in Florence has won itself a reputation for serving up some of the most delicious varieties in Tuscany. Open since the 1930s, it's still going strong today – but if you want our honest opinion, most of the other gelato shops in Florence are now stiff competition – so anywhere you choose to get your fix is bound to please.

Relax at the Giardino Bardini

When you live in a busy city like Florence, the chance to escape to some green space and take a break from the crowds is always welcome, and the Giardino Bardini gardens are the perfect place. Here, you'll find the beautiful staircase you can spot from the River Arno, wander through an olive grove and in the spring, see the purple Wisteria archways in full bloom. There also happens to be a bar here where you can stop for a chilled aperitif – the perfect spot to sit and watch the world go by while sipping on an Aperol Spritz.

Piazza Santo Spirito

Over in Florence's trendy Oltrarno district, this popular piazza is home to numerous markets, cafes and bars, and is a favourite spot amongst the locals. Up at the Hotel Palazzo Guadagni, you can take in some great views of the city below, while down in the main square itself is a great place to immerse yourself in the cosmopolitan atmosphere the city is known for, pause for a bite to eat or drink, or simply indulge in a spot of people-watching.
Best Time to Visit Florence
Tuscany enjoys a temperate climate, with mild weather year-round, but as Florence is located in a valley, temperatures here can differ from elsewhere in the region. The weather, as with most locations in Europe, is warmest from June to September, and July and August can get particularly hot and sticky, averaging 25°C daily – but Florence is often much more empty at this point in the year as Italian city dwellers opt to take their summer holidays on the coast,  with most restaurants, bars and shops outside of the historical centre shutting down for at least two weeks, if not longer. However, the historical centre is moving with the times and remains open, despite being a little quieter than usual.
Spring and autumn in Florence enjoy many pleasant, sunny days, but rain showers are common throughout. Temperatures from May to October range from 20°C to 25°C, making any time within this window a great time to be living in the city as a digital nomad or expat.
December and January are the coolest months in Florence, with temperatures falling to a daily average of 6°C, while October and November see the most rainfall.
Florence for Families
Schools
There are a selection of international schools in Florence, so if you're planning on bringing your family here for a longer stay then there are some options to explore. Even so, there are fewer here than in many European capitals, including Italy's own – and for a greater variety, you'll need to look across the broader Tuscany area.
Canadian School of Florence
Canadian School of Florence  This centrally located school teaches the rigorous Ontario curriculum, with the prestigious  Ontario High School Diploma at the end of it.
Canadian curriculum/ Ontario High School Diploma; ages 14-18; co-ed; day and boarding; independent; privately owned; 120 students
International School of Florence
International School of Florence Approximately 40 per cent of the students here are Italian, with the remaining 60 per cent made up of children from 35 different countries worldwide. The school is spread over two campuses, with seniors attending the central one and juniors required to make their way to a second campus in a villa located 10km outside of the city.
PYP/ adapted curriculum/ IB Diploma/ esame di stato; ages 3-18; co-ed; day; independent; private non-profit; 520 students
Lycée Francais Victor Hugo Florence
Lycée Francais Victor Hugo Florence Teaching in three languages – English, Italian and French – this centrally located school offers a choice of either the French Baccalaureate or the EsaBac.
French curriculum/ Brevet/ French Bac/ EsaBac; ages 2-18; co-ed; day; independent; private non-profit; 400 students
Kindergartens and pre-schools
The Canadian School of Florence is set to open its Kindergarten offering this year.
Things to do with children
There aren't many options when it comes to fun activities for children in Florence, although older kids might enjoy wandering around the city's historical sights and all will no doubt love stopping off for a pizza or a gelato at some point along the way.
While there are no major family-friendly attractions, there are, however, several playgrounds and amusements to keep them entertained. Here's our pick of the best of them:
Giardino alla Carraia Playground
Giardino alla Carraia Playground This large outdoor space, at the end of Via dell'Erta, is one of the city's hidden gems when it comes to families, and offers an opportunity for children to mix with Florentine kids and make new friends – regardless of any language barrier.
Lungarno Santa Rosa Playground
Just west of Ponte A. Vespucci along the River Arno, this one is a nice playground for children of all ages.
Carousel at Piazza della Repubblica
Found near the Duomo, a ride on this pretty and traditional carousel costs just €1 per ride.
Living in Florence
Florence Transportation
Central Florence is relatively small compared to many European cities, so it is easy to navigate on foot. By walking to your chosen co-working space or lunch meeting, you'll see more of the city and get your bearings faster, too – but there are plenty of options if you need to go a little further or are feeling worn out from a night out with some of the other digital nomads in Florence and need a fast and easy solution.
Bicycle
Bicycles are available to rent in front of the Stazione di Santa Maria Novella, as well as numerous other locations across the city. Florence by Bike is a great option and is a shop that offers a wide variety of different types of bikes, as well as suggesting itineraries and running organised tours if you don't want to go it alone.
Public Transport
The public transport network in Florence, which comprises both buses and trams, is efficient and easy to use. Buses are run by ATAF, with the majority starting and terminating their routes opposite the Stazione di Santa Maria Novella. A ticket for a single journey will cost you €1.50 if bought from the ticketing office inside the station, and are valid for 90 minutes. Expect to pay a little more – around €2.50 – if you're buying your ticket on board. Monthly travel passes can help to cut travel costs during your time in the city, and are available for €14. Don't forget to stamp your ticket each time you board a bus to avoid any risk of being fined.
Trams are another option for getting around Florence, with tram line T1 crossing the entire city from one side to the other, while T2 will take you to Florence Airport. If you're carrying luggage, you'll need to purchase an additional ticket if it weighs over 10kg – anything over 20kg, and you won't, in theory, be permitted to take it on board. Visit www.gestramvia.com for more information and to plan your trip.
Taxis
Unlike many largest European cities, in Florence, hailing a taxi on the street is not an option – instead, you'll need to book in advance over the phone or head to one of the taxi ranks at the train and bus stations. If you're not near a rank, then call 055 42 42 or 055 43 90 to arrange a pick-up and one will be with you before long.
Cars & Motorbikes
If you're planning on driving to Florence, then we'd advise against it – parking in the city is extremely limited and can make getting around far more stressful than it needs to be. Non-resident traffic is banned entirely from the historic centre from 7.30am – 7.30pm Monday to Friday and 7.30am – 6pm on Saturdays, with fines issued for anyone breaking the rules.
Fitness and Health
After all the pasta, pizza and fine wine that comes as part and parcel of life in Florence, you'll no doubt be eager to implement a regular fitness routine, and might be relieved to know that there are around ten gyms located just in the centre of the city alone. So, you'll have no shortage of options when it comes to working off last night's dinner, wherever you happen to be based.
Here are some of the best gyms to check out while you're here.
Florence Fitness
Florence Fitness Located in Via dei Fossi and open daily from 10am to 9pm, this modern and well-equipped fitness centre also offers a packed schedule of classes, including pilates, yoga, body sculpt and step.
Palestra Ricciardi
Palestra Ricciardi Head downtown to Borgo Pinti, and you'll find this hidden away gym and fitness space, which offers CardioKombat, and piloga (a fusion of pilates and yoga).
Swan
Swan Found where Via de Pepi meets Via dell'Ulivo, close to the Sant 'Ambrogio market, this fitness centre is spread over two floors and offers everything from circuit training and body sculpting to kick-boxing and zumba.
Klab
Klab If you're looking for somewhere that offers a little more than just gym facilities and classes, Klab will not disappoint. There are two locations – one in the centre of Conti, and another in Marignolle, and is home to a swimming pool, hot tub, spa and sauna. However, at 35 Euros per day for entry, you might want to make this one an occasional treat.
Florence People
Italians are known for being passionate, and use their hands and body to communicate – you can always tell how they are feeling thanks to their expressive body language. Despite the hustle and bustle of busy Florence, the pace of life here, as with everywhere else in Italy, is slower than you might expect – and a far cry from the fast, face-down walking of capital cities like London and Paris.
Take note; there is a reason Italians move more slowly – and that's because they take the time to appreciate the journey, as opposed to just rushing to their final destination. And in Italy, it has to be said, there is plenty to stop and admire wherever you happen to be,  and in a country as beautiful as this one, it would be almost rude not to.
If you're not able to parla Italiano while in Florence, then you'll be able to get around just fine here by communicating in English – but that's no reason not to try to brush up on your language skills, and more often than not, the locals appreciate it when you do try to speak to them in a little Italian. 
If you're planning on travelling outside of Florence, be aware that English speaking is more limited in the more remote parts of the country – you'll find several language schools in Firenze itself if you'd like to attend some Italian classes, which at the very least will make ordering your food in restaurants and booking taxis a little easier. It's also an excellent way to get to know and appreciate the Italian culture a little better and enjoy a more immersive experience while living in Florence as a digital nomad or expat.
Florence Insurance and Medical Care
Italy enjoys an impressive standard of living and quality of life for the majority of its population, with life expectancy here topping 79.6 years for men and 85.1 for women. The regionally-based national healthcare service – the Servizio Sanitario Nazionale (SSN) covers both citizens and foreign residents universally, and is mostly free of charge – so if you're an EU citizen living in Florence then this will include you. In fact, most digital nomads and expats who are employed within Italy itself will benefit, although it's wise to check with your nearest Aziende Sanitaria Locale. Here, you can register with a doctor and, if eligible, will be provided with a health card and number, which will allow you to access the free healthcare available to you.
Nonetheless, it's a good idea to set up a health insurance plan before coming to Italy, no matter where you come from. Not all hospitals here are created equal, and some simply won't meet the standards you might be expecting, so it is always wise to have a safety net.
EU nationals can apply for an E111 three weeks or more prior to travel to enjoy reciprocal healthcare agreements with their home country, while those from elsewhere will need to have private insurance cover, which you must present at a police station within eight days of arrival.
Make sure you are fully covered by reading our full Digital Nomad Travel Insurance guide.
Jobs in Florence
There's no denying that Florence is an easy place to fall in love with, so it's little wonder that some digital nomads decide to make their stay here a little more permanent and become full-time expats. The good news is that there are plenty of opportunities here, as although the regional labour force was somewhat impacted by the global economic crisis in 2008, the reverberations haven't been felt quite so much here as in Northern and Central Italy.
Even so, given the current COVID-19 pandemic, it's understandable that unemployment is on the rise, and how this city – and the rest of Italy – will recover remains to be seen. Florence's economy is based largely on tourism, so this will need to pick up again substantially for things to return to some semblance of normal. Many jobs across catering and hospitality have been lost, but once the floodgates reopen for visitors to begin flooding in, we can likely expect Florence to bounce back.
If you're hoping to pick up some work here then under usual circumstances, tourism would be the obvious choice. There are a plethora of hotels, restaurants and tour agencies which often have a high staff turnover, so positions are often up for grabs. 
Bilingual English speakers tend to be in particular demand, especially in high season, and those possessing such skills can also often find work in translation or teaching in language schools, as well as real estate and property management.
Manufacturing also plays an important role in the Florentine economy, and the city's artisanal culture means that finding work in the production of leather, ceramics, jewellery and other items sold locally is another possibility – and the more technical skills you happen to have in any of these areas, the better.
With numerous farms and vineyards spreading across the Tuscan countryside, you may also find opportunities in agriculture and viticulture, if this happens to be your area of expertise.
To find jobs in Florence, check out Linkedin, Indeed and Glassdoor – as well as local classified ads in titles such as The Local and The Florentine. It's also worth joining an agency who will help you to find the kind of work you're looking for and put you forward for opportunities – Trenkwalder Italia is a good place to start.
Check out our Digital Nomads Jobs Postings to find the best jobs available for Digital Nomads.
Nomad Friendly
Value for Money
Internet
Workspace
English
Food
Safety
Health
Transportation
Friendly
Quality of Living
Cost of Living Florence
The cost of living in Italy is in some ways its downfall – at least, when it comes to attracting digital nomads. While you'll certainly find a fair few living in Florence, other European cities, such as Lisbon and Barcelona, offer a far more appealing level of value for money, meaning few choose to stay here long-term and instead head off to pastures new – and cheaper.
Even so, if you stay away from the main tourist traps and live and eat where the locals do, you can keep costs down to an affordable level, and shopping for fresh produce at the city's many markets and cooking at home where possible will certainly help.