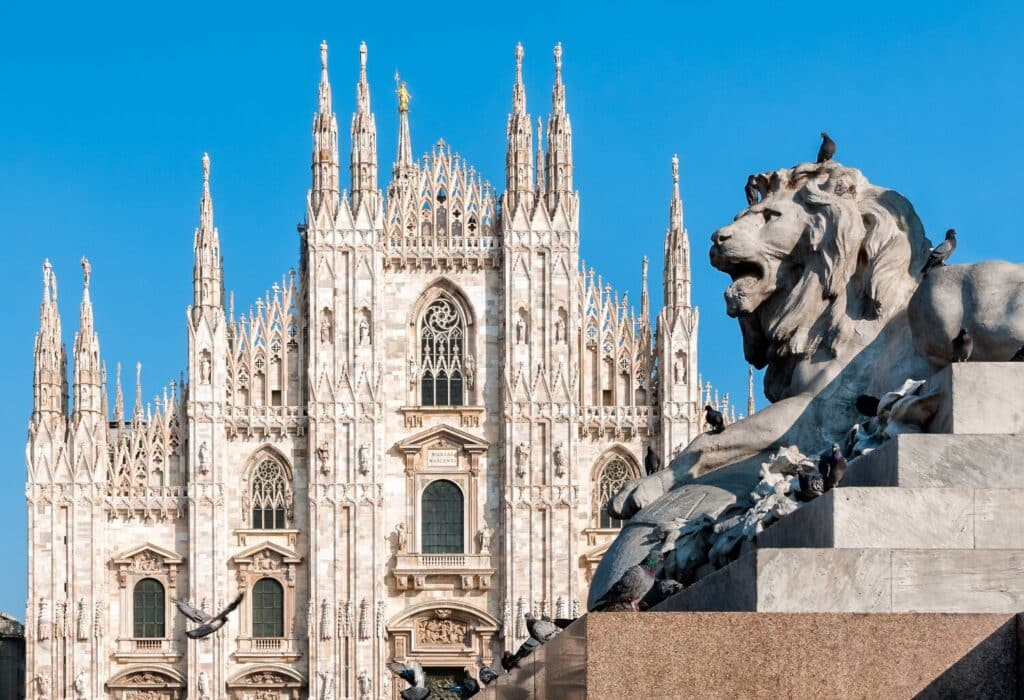 A Digital Nomad Guide to Milan
Milan is one of the most popular Italian cities, known for its rich fashion and art culture that makes many people flock from all over the world to get a glimpse of the latest that the city has to offer. Milan is considered the most industrial city in Italy and home to numerous financial headquarters making it the leading financial center and the most commercial city of Italy. 
Geographically, Milan is located on the North side of Italy and is the capital of the Lombardia region. Milan holds the second-highest population in Italy after Rome with a population of 1.4 million inhabitants. The city is stretched over an area of approximately 182 km2 with an elevation of 120 m above sea level. 
Milan is also considered one of the major design and fashion capitals of the world. Each year, Milan holds a design and fashion week making it a popular design destination in both industries. It has always been a city rich in art and culture where many famous artists reside and where monumental pieces are on display such as Leanardo Da Vinci's 'The Last Supper'. Milan is also home to an array of monuments as well as churches and buildings that add to the city's glamour. With many historical palazzos, churches and statues across the city, there is a lot to see and experience in terms of art, culture and history. 
Because of its strong international presence, many ex-pats are living in Milan, making it an interesting destination for a digital nomad. In terms of geographical location, Milan offers many trips nearby such as Turin, Lake Como and even the Alps which are only 131 km away.
Nomad Friendly
Value for Money
Internet
Workspace
English
Food
Safety
Health
Transportation
Friendly
Quality of Living
Living in Milan Overview
| | |
| --- | --- |
|  Meal, Inexpensive Restaurant | $17.04 |
| Domestic Beer (1 pint draught) | $6.25 |
| Cappuccino (regular) | $1.82 |
| Loaf of Fresh White Bread (1 lb) | $1.85 |
| Water (1.5 liter bottle) | $0.52 |
| One-way Ticket (Local Transport) | $2.27 |
| Basic Utilities (Monthly) | $211.82 |
| Internet | $32.82 |
| Fitness Club (Monthly) | $73.76 |
| Apartment (1 bedroom) in City Centre | $1,346.24 |
[erw_exchange_rates_widget lg="en" tz="0″ fm="EUR" to="EUR,USD,GBP,AUD,JPY,RUB" st="primary" cd="" am="1″][/erw_exchange_rates_widget]
Max Withdrawal: €400
Use of Credit Cards: Widely Accepted
Digital Nomad Personal Experience in Milan
Having heard so much about Milan's importance in the design and fashion world, my expectations of Milan were quite high. However, the moment you step into Milan, the confusion starts. First of all, for a city with a strong international presence, the use of English is almost nonexistent making it difficult to communicate or get basic help. In Milan, I quickly learned how unwelcome anyone who doesn't speak Italian is and how important it is to be familiar with the language in order just to get by. 
Unlike the rest of Italy, Milan is not a pretty sight. As it is an industrial city, most of Milan gives off that cold, industrial vibe, except for the heart of Milan and a few other neighbourhoods. For the first few months, my experience in Milan was an absolute nightmare from Italians being unwelcoming due to the communication barriers to the difficulty of finding an apartment. It took me three months to find a place to stay due to landlords not wanting to offer their apartments out to non-Italians or those who did not speak the language. However, once the whole accommodation issue was resolved, the city starts to light up and show you its hidden charm. 
Milan is one of those cities that you have a love/hate relationship with making it difficult to stay away from and finding yourself feeling at home regardless of the unfortunate events that may occur. Once you start getting familiar with the city, the people and how to get by, Milan quickly enters your heart because it has so much to offer. From endless design, fashion and art events constantly happening in the city, to incredible food, shopping and historical culture that makes the city quite special. 
Unlike most European cities, Milan is a city that doesn't sleep which is evident in its active nightlife scene. Here, it is very easy to meet other expats living in the city and make friends easily. You'll never feel alone in Milan and it is always guaranteed to have heaps of fun once you get over the initial obstacles. When Milan enters your heart, it stays there for good. 
Work in Milan
Milan is a city that has a small cafe, bar or restaurant around every corner. With most of them offering free WiFi, it is pretty easy to find a place to work that offers everything you need. Another option to keep in mind is that mobile internet packages in Milan are rather cheap. You could get up to 20 GB a month for as cheap as 10 Euros, making it quite easy to tether internet to your laptop wherever you decide to work. However, to get you on track as quickly as possible, here are a bunch of places for a digital nomad to work based on location: 
Best Places to Work in Milan
COWO Coworking Che Conta
Not only is this office space located in the heart of the city, but it also offers a real-life office experience. In this historical building located just a few steps from the Duomo, you can reserve a workstation for single use by day, month, quarter or year. While renting a day can cost you 30 Euros + VAT, the prices are reduced when booking for longer periods.
Saving Caffe
If you're looking for a place to work with an extravagant view, then you've definitely come to the right place. As a digital nomad, this is a great place to meet people as it is located in the mesmerizing area of Galleria Vittorio Emanuella. As you use their free WiFi, you can enjoy eating some of the best shortbread Milan has to offer or a variety of sandwiches. Given the posh location, it will cost you quite a bit but is definitely a place you need to check out. 
Arnold Cafe
If you're looking for a more down to earth, American style coffee place, then Arnold cafe is just what you need. Here you can order a variety of flavoured American coffee, lattes and shakes as you use their free WiFi. The atmosphere isn't as cozy or relaxing as other places in Milan, but it will definitely suffice for a day's work. 
EXKi
Located in Via Torino, this little cute cafe is a great place to work if you're looking for a quiet place to work that is connected to the busy area as soon as you step outside. As you work, you can indulge in some of their healthy snacks, sandwiches, salads or even desserts. And when you're on a break, you can go shopping in one of the best shopping areas in Milan.
Pave
Italian bakery is not to be missed especially if you need to get a lot of work done. At Pave, the aroma will make you feel like you stepped into your grandmother's home and welcome you with open arms. Along with a comfortable and cozy seating area as well as a large shared co-working table with plugs, you can socialize, work and make sure your tummy is satisfied. 
Mag Cafe
One of those small, vintage-like places to work in a positive atmosphere is Mag cafe in Navigli. Not only is Navigli a beautiful area, but it is also filled with many things to do for youth. With free WiFi, and access to electricity to charge your laptop, this is a great, small place to enjoy a quiet atmosphere for work while having a snack. 
Base
A combination of a pop-up shop, co-working space, event space and restaurant fills this unique location with an eccentric vibe that makes any digital nomad come alive. If you're looking to stumble across innovative and creative beings, this is ideally the place to be. Here you can enjoy walking in peace, deciding to play around with the installations at bay or just enjoy a snack as you work. 
MAIO bar & bistrot
Located inside Central station, this is a great location to work as it is commonly connected to most parts of the city. Not only does it offer a positive atmosphere, but you can also grab a bite to eat as you work. You can even find a private meeting room that accommodates up to 15 people if need be. After a long day at work, you can also grab a drink at the bar. One of the advantages of this location is that it is open from 6.30 am every morning (except 7.00 am on Sundays) making it extremely convenient for early birds.
Open
After living in Milan for a while, you'll soon find that Porta Romana is one of the hipster locations of the city. That's why it is no surprise that this bookstore/co-working space and bar all in one can be found in this location. Because of its unique combination, it is a great place to suit multiple types of digital nomads and different styles of working. The co-working space which is shared with multiple people across the area can be rented for a day, week or even a year. 
Coffice
The name is not the only great thing about this place, but it is also a cozy and comfortable area that makes you feel right at home. You'll find many digital nomads or students studying, working or even just relaxing making it a great opportunity to meet like-minded people and make a few friends. The best thing here is that you can rent per hour for just 4 euros and enjoy unlimited coffee as well as access to sweet and savoury snacks. However, after the first hour, every additional hour costs 1.5 euros. 
Upcycle bike cafe
In this area lies one of the main campuses of Politecnico di Milano, making it a hub for youth. That's why it's come as no surprise for Upcycle Milano Bike Cafe to be located in this area. The vibe here is a lot more energetic, friendly and very easy to meet people. If your work doesn't require 100% focus and peace and quiet, then this could be a really fun place to spend your days. Many people hold meetings and discussions on art, travel, sustainability and other interesting topics making it a go-to destination to enjoy speaking to others living in the city. 
Santeria
While this space is more of a cultural space that organizes events, concerts, exhibitions, during the day it is a quiet place where you can sit down and focus while you enjoy the atmosphere. Given the youthful area and the nature of the location, it is quite a popular spot where you're bound to meet other digital nomads, expats or Italians willing to make new friends. 
Anche Bar
The most hipster location and creative hub in town are located in this area making it extremely unique and filled with young, energetic people. If your job allows you to enjoy a drink or two while on the job, then this location is perfect for you. Otherwise, you can always enjoy the exquisite Italian cuisine offered in their breakfast, lunch and dinner menu or just proper Italian coffee as you work. 
Aspirin Lifestyle bookstore
This cute bookstore isn't just a great place to pick up something to read, but is also an interesting place to work. Here you'll find books, food, drinks, pets and even art exhibitions happening. If you have a furry friend, they will be welcome here making it a special place to be. You can also follow their social media accounts to be aware of the art events, exhibitions, film festivals as well as language exchange happening at this bookstore. 
Corso Como
California Bakery: An entire street filled with cafes, bars, restaurants and boutiques in a party pedestrian area makes this street quite a trendy place to be. One of the lively places in the area is California bakery. While it is usually quite busy, they do offer exceptional cakes, pastries and drinks that make it a suitable place with free WiFi to work from. 
Best Places to Live in Milan
Best Neighbourhoods
One of the reasons Navigli is one of the most popular destinations to live in is because of its incredible energy. As it is home to Milan's two major canals Naviglio Grande and Naviglio Pavese, the area is beautiful, relaxing and full of life. However, the reason it is popular amongst expats, digital nomads, as well as Italians, is because of the incredible nightlife it offers. In Navigli, there are so many things to do to enjoy your stay, meet people and enjoy the scenery, too. That doesn't mean that it is always a buzz. On the contrary, what makes it so special is that during the day it is a calm neighbourhood filled with cafes, bars, restaurants and boutiques. On the last Sunday of the month, Navigli also transforms into an antique market where you can pick up some really unique items as well as enjoy taking a stroll along the canal with checking out what the locals are displaying. 
Porta Romana
The location and proximity to the centre make Porta Romana one of the coolest places to live. Because of its split personality, you can find the posh area of Porta Romana with unique residential areas as well fine-dining spots and fashion avenues that make it seem quite grand, as well as the other side which is a lot more down to earth and youthful. The vibrant and energetic part of this neighbourhood is packed with bars as well as craft and pop-up shops which attract a lively crowd to the area. Being able to choose the style that suits you best or even combine a bit of both in the same neighbourhood makes this area quite special and a favourite among youth, expats and digital nomads. 
Centrale
While centrale itself is not a pretty neighbourhood and the safety of it can be quite questionable, one of the reasons why it is considered a good neighbourhood to live in is because of the main central station. Here, you can easily get a train to another city, to the airport as well as find connections within the city. If you're a frequent traveller who takes late and early morning flights, living in centrale will be a great benefit for when you need to reach the airport at hours where transportation is difficult. However, if you feel that the area is not to your liking, you could choose to stay one-stop away at Sondrio, where the neighbourhood is a lot nicer and still quite accessible to the transportation advantages of centrale. 
Citta Studi
Based on the description of the places to work in this neighbourhood, you can already tell why it would make for a great place to live. As a university area, the neighbourhood is filled with expats, youth and many events happening. From concerts, exhibitions, discussions, nightlife and a pool of energy, it is a popular neighbourhood where many expats choose to live. 
Isola
Home to the creative and innovative hub of Milan, every square of this neighbourhood is a place to explore. From boutiques, pop-up shops, second-hand shops and some of the best nightlife spots in the city. While this area used to be looked down upon, when artists and entrepreneurs started to flock to Isola in hopes of lowering their rents and expenses, the neighbourhood completely transformed into what it is today making it a unique and must-visit destination in the city. It's proximity to Garibaldi and the connection to transportation and the rest of the city also gives it more points when thinking of a neighbourhood to live in. 
Brera
Taking a stroll in Brera will make you feel like you're in Italy – a feeling you don't get often in Milan. The cobblestone streets and the pedestrian-only areas make it an exceptional location that takes your breath away. The buildings in this area hold a lot more history, making them easy on the eyes instead of the industrial look you find in other neighbourhoods. While Brera is a place that is easy to fall in love with, it is one of the more expensive and posh neighbourhoods of Milan. From here, you can easily enjoy your walk to the centre and surrounding areas giving it an advantage for tourists, expats and digital nomads. 
Porta Venezia
Known as the art hub where artists meet regularly, enjoy their nightlife as well as exhibit within this neighbourhood. With beautiful parks and bold art galleries, it is a romantic and lively area to live in. Porta Venezia is also known to be a spot for the LGBTQ community as it offers many gay bars, too. This has also made it an attraction for younger generations and expats. 
Find an Apartment in Milan
Finding an apartment in Milan can be a horrific experience, especially if you're looking for something cheap. One of the easiest options to consider that will make a huge difference in facilitating the entire process is going to an agency within your desired living location and having them help you find an apartment. However, this does come with an extra cost as you will pay an agency fee that can make the hefty price tag that comes with Milan rentals even more expensive. The best thing to do when deciding ongoing for an agency is to take a stroll in the neighbourhood until you find a place displaying rental properties and prices indicating that it is an agency. 
Advantages of renting through an agency
Facilitate legal documents and contracts 
With an agency, there will be someone in charge of organizing the paperwork and making sure everything is legal.
Hold the landlords accountable 
With an agency, the landlord is bound to the contract and the agent acts as a neutral third party that guarantees that you get what you were promised. 
Finding someone to speak English in Milan is quite difficult, but in most agencies, you will be able to find at least one person who can communicate with you as well as with the landlord without having to face language problems. 
Most landlords in Milan are wary of tenants and do not like to offer long-term rent to just about anyone. This makes it really difficult to secure a home. However, using an agency ensures that the landlords are serious about their offers. 
Disadvantages of using an agency
As mentioned before, most agencies will take a commission or fee which could be equivalent to up to two months of rent. However, keep in mind that some agencies are open to negotiation on these terms. 
Apart from using an agency, there are other ways to find an apartment in Milan. The first is by searching through online rentals. While some of these might be agencies, some of these platforms offer direct rentals displayed by the owner. Here you can browse based on area, price range, whether you're looking for furnished or unfurnished options and find something you like. However, you need to be aware that many scammers take this as an opportunity and post non-existent apartments with really cheap prices in hopes of attracting tourists or expats who are not familiar with the scam. To avoid this, remember that cheap properties for immaculate apartments do not exist in Milan. 
Here are a few websites to help you find an apartment in Milan: 
There are also Italian websites that offer accommodation: 
Costs of apartment in Milan
Apartments and renting in Milan will take a huge chunk of your expenses. Prices can vary greatly from one area to another but in general finding rent is one of the most costly expenses in Milan. If you're not too picky about the area, you could find a bed in a shared room ranging between €250-350 per month. Or you could find a room in a shared apartment between €500-600 euros per month. Studio and one-bedroom apartments depend a lot on the neighbourhood as well as the area of the space but could start from €600.
 If you do head out of Milan towards the suburbs, rent becomes a bit cheaper. However, you'll most likely pay the difference in price in transportation costs anyway. To help you get an idea of prices within certain neighbourhoods, here's roughly what you pay for rent: 
Citta Studi:

You could find a studio apartment of around 40 m2 in Citta Studi starting from

€

600 with another

€

150-200 in bills. However, a private room in a shared apartment could cost around

€

500 with an extra

€

100 roughly in bills.

Centrale:

Because of the location, this area can be quite expensive despite the horrible neighbourhood. A studio apartment as small as 25 m2 could cost

€

700 with an additional

€

100-150 to be paid for bills. 

Navigli:

A studio apartment of 45 m2 in Navigli can cost

€

650-800 with an additional

€

100-150 in. 

Brera:

Because of the posh neighbourhood, apartments are quite expensive in Brera and can cost around

€

2000 for a 60 m2 1-bedroom apartment. 

Isola: A private room in a shared apartment in Isola can cost around

€

500 with an additional

€

50-100 in bills, whereas a studio or one-bedroom apartment could start from

€

690 excluding bills. 

Porta Romana:

A small studio apartment of 30m2 in this popular neighbourhood could cost around

€

700 whereas a room in a shared apartment could cost

€

500 excluding bills.  
Cheap Places to Stay in Milan
One of the best things to do when arriving in Milan is to book low-budget accommodation for a few nights first until you manage to secure a long-term rental. There are several options to consider for low-budget accommodation which include the following: 
Hostels
Milan Hotel –

€

8

Milano Hostel –

€17

Lucca TR – €18

HI Ostello Milano – €18

Affittacamere Scacco Matto – €20

Combo Milano – €21

Koala Hostel – €22

Star Hostel – €22

Ostelzzz – €24

Panda Hostel – €24

Milano Ostello – €25
Airbnb
Finding a private room on Airbnb can also be a good option to start with, especially because it allows you to interact with the host or other tenants living there and get their help on apartment hunting. 
Facebook groups
Several Facebook groups offer entire apartments up for rent as well as tenants look for flatmates and roommates. Here are some of the groups you could join: 
Milan Visa
If you're planning on staying in Milan for more than 90 days you need to apply for a residence permit (permission di soggiorno) within 8 days of your arrival. The process is divided into two parts: the post office and the Questura. 
How to get an Italian residence permit application kit: You can pick up the application kit at any local post office with a Sportello Amico counter. The forms are in Italian and so it is best to have a translator or a friend who speaks Italian to help you out in filling them. 
After you've completed the form, you should head to any tabachheria and buy a March da Bollo (duty stamp) worth €16. 
Once your application form is ready, you should head back to the post office you received the kit form and submit your documents including any copies of documents showing your reasons for long stay. 
Do not sign the application beforehand as you'll need to sign it only after the officer reviews your application and give you an appointment at the Questura as well as a receipt that works as a temporary residence permit. 
Questura: Bring the originals of the following documents with you on the day of your appointment: 
Four passport-size photos

Your passport

Documents to show your long term stay in Italy 

Any documents you submitted when you applied for a visa in your home country. 

Health insurance
If your documents are in order, you could receive a residency between 6-12 months which ends to be renewed a month in advance. 
Culture and Food in Milan
Italian cuisine is one that is hard not to fall in love with. While in Milan, you have to visit one of the restaurants that make pasta from scratch right in front of your eyes. One option is Miscusi near Cadorna metro station. As they have an open kitchen, you get to see the chefs rolling out the dough and turning it into heavenly pasta with a variety of flavors that will make your taste buds come alive. 
Italians are also very high on wine, especially with dinner. Not only does their wine taste good, but it also goes really well with the flavors of Italian food. 
It's commonly known that Italians are the masters of Pizza, but instead of the thin crust pizza that is commonly identified around the world as Italian pizza, the Napolian pizza will blow your mind away. The dough is a lot thicker around the crust, freshly prepared and will definitely keep your tummy happy. 
While all this is known, there are a few things you need to understand when it comes to Italian cuisine. Italians take food very seriously. Most universities, offices and homes have exact timings for food. Lunch break is usually around 12-1 pm and that's when you'll find all the bars, cafes and restaurants offering meals. Dinner is usually at 7 pm when everyone gets back and where the whole family dines together. If you're dining in a traditional Italian home, then be prepared to eat a 3-course meal as Italians do not put different foods on the same plate, but distribute them into courses. For example, many Italians tend to start with a soup or pasta, risotto, lasagna or casserole and is referred to as a 'primo' or first course. 
After that comes the secondo (second-dish) also known as the main dish which consists of meat or seafood served together with a contorno (side dish) of vegetable or a salad. Italians make exceptional seafood, especially in the areas close to the sea. Bread is usually served along these dishes to be used to scrape up any remaining sauce on the plate, too. 
Finally, the last course of the meal includes dessert and coffee. Coffee is considered to be the cherry on top for Italians and what they need to end a meal. Some of the finest Italian desserts and an absolute must-try in Italy are trimasu and pina cotta. 
Italians love to eat, love to cook and will invite you into their homes to meet their entire family over dinner if you find your way into their hearts. If you're a favourite amongst Italians, you will be fed some of the most delicious home-made food you've ever tasted. 
If you're planning to live in Milan or any part of Italy for that matter, you need to get familiar with the Italian culture when it comes to holidays. Most companies do not allow their employees to take holidays during the year, but instead, the entire country is given a 3-week holiday during Christmas and almost a month holiday in August. In Milan especially, during the summer the city turns into a ghost town with very few places even open for groceries. Keep this in mind when planning your holidays, as it can get quite difficult during these times. 
Milan Nightlife
Milan isn't just a cosmopolitan city known for its fashion and design hubs, but it is also one of the most famous Italian cities when it comes to nightlife and entertainment. Whether you're looking for a place to grab a drink, dance the night away or grab a bite with some friends, you'll find events organized by clubs and bars all over the city. 
Once you step foot in Italy, you'll hear the word 'apperitivo' being tossed around when it comes to nightlife. This is a tradition that Italians created where many bars and clubs offer finger food along with a drink for usually around 10 euros or so. These events open their doors at 7- 9 pm. However, you are charged for every other drink you add. This makes it a great hangout with friends and something you can easily do even on weeknights in Milan. 
If you're looking to try some of the best spots in Milan that offer apperitivo, be sure to head to Corso Como, Corso Sempione and Navigli. There, you'll find streets filled with bars and cafes offering different cuisines, music and styles according to your liking. Because Italians love their nightlife, even during the week you'll find them quite busy. Be sure to try one of the Milanese classical drinks 'Negroni' which is a combination of Campari, Gin and vermouth Rosso. 
Whether you're looking for discos and clubs, or apperitivo, here are a few districts to head to, although you'll find something to do in pretty much every district in Milan: 
Isola
Starting at 7 pm, you'll find Isola packed with youth looking to have a good time. While most of the bars and pubs offer apperitivo, the most common destinations would be Frida, Isola della Birra and Soho Cafe. But what makes Isola a nightlife area is that it is home to one of Milan's most famous clubs: Alcatraz. Here, you'll find live concerts and music events happening regularly. Another club to check out would definitely be Blue Note which is famous for its jazz musicians. 
Garibaldi and Corso Como
This area is filled with trendy bars and is a popular destination to find a decent apperitivo. You'll almost always find the street packed with youngsters looking to have a good time, expats and even older Italians having a drink with their friends. Among the best places to try in this area would be Pitbull Cafe, 10 Corso Como and Fiat Execute Lounge.  
You'll also find some of the most famous and elegant nightclubs in Milan such as Hollywood, Tocqueville 13, Loolapaloosa and The Club.  
Corso Sempione
As soon as you exit Parco Sempione onto Corso Sempione, you'll find these cute little bars with outdoor seating where you can start the night away with the infamous apperitivo. Be sure to head to the Old fashion club for both an apperitivo and a dancing party or just visit Roialto, the Leopard Cafe or Serendipico for a great time with friends. 
Navigli
One of the busiest areas at night is no other than Navigli. Many youngsters head to this area because of the beauty of the canal and the numerous bars overlooking it that offer apperitivos. Here, you'll also find a few discos, taverns and bars to ensure that you have a night to remember. 
San Lorenzo and Porta Tcinese columns
Instead of heading to a pub, bar or nightclub, many youngsters flock to the popular meeting point at the Columns of San Lorenzo. This informal meeting point will be filled with hundreds of youngsters grabbing their own beer and just chitchatting while sitting on the floor. It is definitely a nightlife you have to experience in Milan to get the vibe of the people. 
Things to do in Milan
Milan is a city with endless attractions, historical architecture, an incredible fashion and design scene making it full of things to do for all kinds of tourists. For a digital nomad planning on staying in the city for a while, Milan will be absolutely perfect as there is always something new happening. However, there are a must-see and top attractions in Milan that everyone needs to cross off their list. 
Milan Cathedral (Duomo)

In most Italian cities, you'll find a cathedral in the heart of the city that is one of the top attractions to see. Milan is no different in this sense but its cathedral is truly magnificent in terms of architecture. Having taken over 600 years to be built, the monumental building is an attraction that cannot be missed when in Milan. The gothic style architecture with towers and statues used for decoration is a picturesque scene that you can gaze at for quite a while in awe, or be used as a background for your travel photos. You could also take a tour of the interior as well as the rooftop and see the magnificence in architecture, artwork and interior. However, even if you decide against it, there's something about the Duomo that attracts people to it making it truly the heart of the city. On the weekend, it is a popular destination for Italians and tourists to grab a coffee and a bite and just sit on the surrounding steps to enjoy the view. Here, many street performers play music making the entire ambience extraordinary and an experience you don't want to miss.

Galleria Vittoria Emanuele II

Just a few steps away from the Milan cathedral lies the entrance to one of the oldest and most extravagant shopping malls in the world. When you set foot inside the Galleria, you'll feel like you've walked into a theatre or palace because of its mesmerizing details. The mall is designed as a crossed shape with several entrances leading into it. The ceiling is made of glass panels that allow the sunlight to beam through it filling it with warmth to add to its beauty. Because of the incredible architecture of the high-end shopping stores and the ceiling, it is a commonplace for tourists to visit making it one of the top attractions in Milan.

Pinacoteca di Brera

Because Italians are known for their masterpieces when it comes to art, it is no surprise that Milan holds one of the finest art galleries with a large collection of Italian art. While it used to be a convent and a national library, it was transformed into a museum in the 19th century. The art gallery holds some of the most prominent Italian artworks such as The Last Supper by Rubens, Marriage of the Virgin by Raphael and Pieta by Bellini.

Leanardo da Vinci National Museum of Science and Technology

Da Vinci was more than just an artist, but his works show how much of a genius he was in terms of science and innovation, too. In this museum, you can find a large collection of his work displayed as well as drawings to model cars, reconstructions of flying machines as well as blueprints and sketches that make you realize what an incredible scholar this historical figure was.

La Scala Opera

La Scala isn't just an opera that holds some of the finest performances from artists all over the world but it is also a monument in itself. Guided tours are arranged to see the magnificent architecture and interior of the auditorium and the grandeur of the seating and stage. Whether you choose to purchase a ticket to see an incredible show or take a guided tour inside the building, La Scala will not disappoint.

Take a stroll down the Naviglio Grande

There's something about a water bed that makes any place feel breathtaking. This holds true to taking a stroll down the Naviglio Grande, especially with many small bars, cafes, restaurants and boutiques surrounding it. At night, all these places light up making it seem quite magical. This area comes alive offering quite the nightlife making it essential for any nomad to visit.

Parco Sempione

This park is one of the biggest in Milan and holds a trail path for biking, walking and any other sports you'd like to do. Here, many people meet to do group fitness activities, picnics or just hang out with a drink or two. The landscape is relaxing, breathtaking and perfect for a Sunday picnic or just an escape from the hustle and bustle of the city.

AC Milan San Siro Stadium

If you're into football, you absolutely must watch a match at the San Siro stadium. Not only will you get to see AC Milan or Inter Milan play live, but you'll also be visiting one of the most well-known stadiums in the world. With its iconic circular towers that hold the colossal tiers, it is an incredible architecture sight. You'll also find a museum that shows the history of both Italian teams on the ground.

Brera District

One of the most prominent districts in Milan is the Brera district. With its cobbled stoned streets, small bars and restaurants, art galleries and academies, this district is absolutely charming. Whether you decide to go for a walk and take in some of its charm, visit the art galleries or just dine or have a drink at one of its restaurants, it's a place you should check off your list when in Milan.

Castello Sforzesco

This 15th-century castle is located in central Milan and is surrounded by gardens and fountains. Not only will the size of the castle amaze you, but there's also a brick wall lined with battlement and frame that acts as a guard tower to give it even more elegance. You'll also find small museums that contain numerous artifacts and interesting historical data about the castle.

Markets

Milan is known for its street markets. Once or twice a week, you'll find most areas transforming into a pedestrian area with booths set up selling all kinds of things. From food markets that offer some of the finest fresh produce you can find antiques and craft markets where you can find some of the coolest arts that Milan has to offer. Check the markets in your area and be sure to visit different ones around the city. The most popular is Navigli's antique market that happens on the last Sunday of every month. 
Best Time to Visit Milan
Milan's weather offers hot, humid summers and cold, foggy winters. 
Summer in Milan: During the summer, most people living in Milan escape the humid levels to other parts of Italy that are a bit more bearable. The temperature reaches highs of 30 degrees Celsius and lows of 20 degrees Celsius across July and August making it quite suffocating.  
Winter in Milan: However, from December-February, Milan becomes quite cold with many rainy days. The average temperature is highs of 7 degrees Celsius and lows of 2 degrees Celsius. While it doesn't snow frequently in Milan, it can snow on occasion. Unlike other European cities, Milan's cold weather is quite bearable due to the low wind speed which makes the temperature feel less than normal. 
Spring in Milan: The spring is usually the best time to visit Milan in terms of weather as the sun comes out, but is not too hot. In spring, the flowers start to bloom and the greenery looks refreshing, to say the least. During March-May, Milan's temperature varies from highs of 14-23 degrees Celsius to lows of 7-14 degrees Celsius. 
Autumn in Milan: As the leaves start to go orange, yellow and red before they fall, Autumn in Milan becomes such a pretty sight. You can expect highs of 18-24 degrees Celsius and lows of 11-16 degrees Celsius during September-November making it a great time to visit Milan. 
Milan for Families
Milan offers some of the best schools in the world when it comes to universities making it quite a popular destination to get a Bachelor's or Master's degree. These include Politecnico di Milano, Bocconi University, University Of Milan, Domus academy, IED Istituto Europe Di Design and Marangoni Institute Milan. 
While public schools in Italy offer a good education, they teach in Italian making it essential for digital nomads and their families to consider international private schools. 
British schools
Coming from an English speaking country or wanting your children to follow a certain curriculum isn't that difficult in Milan. You'll find quite a few British schools across the city. These include the following: 
The British School of Milan – Sir James Henderson: €12,675 – €19,975 per year.
ICS Milan International School: €10,500 – €16,250 
Andersen International School: €10,000 – €15,550 
Vidura College Milan: €2750 
St. Joseph International College: €2850 – €4750 
IB system
The British School of Milan – Sir James Henderson: €12,675 – €19,975 per year 
Bilingual European School: €9950 – €12300 
St. Louis School: €13170 – €23010 
International School of Monza: €9070 – €20480 
Canadian School of Milan: €10600 – €16400 
You'll also find a few German and French schools available in Milan. 
Living in Milan
Milan Transportation
Transportation in Milan is actually very convenient as their public transportation system are well-connected, efficient and reasonably quick. In Milan, the central station offers multiple high-speed trains to other cities at a relatively low price. There are two main Italian trains: Italo (privately owned) and Trenitalia (governmentally owned). Both trains offer multiple destinations and timings and are quite easy to book for relatively low prices. However, keep in mind that booking tickets in advance can save you a great deal when it comes to prices. 
As for transportation within Milan, the metro is the most common and most connected to various areas within the city. It is also reasonably priced with a single ticket which is valid for 90 minutes costs €2 whereas a 24-hour ticket costs €7. You can also buy a 10-pass carnet for €18 and use it on the metro, bus or tram. 
The metro operates from 6 am until 12.30 am each day making it essential that you look for alternatives when staying out late. There is usually the 90 and 91 bus that operates around most of the city. However, be wary of pickpockets as many incidents have been reported. 
The other alternative is to use a tram which takes longer, doesn't arrive as frequently, but will still get you to your destination. 
Unfortunately, Uber does not operate in Milan, but only offers UberX which is a more luxurious super expensive service. 
Taxis in Milan are quite pricey, too and only to be used in emergencies. The basic fee of a taxi tariff is  €3.40 between 6 am -9 pm and €6.7 between 9 pm – 6 am. For every kilometer, the meter adds €1.12-1.68. 
Another option that can come in quite handy if you have an international driving license that permits you to drive in Milan is using car-sharing services. You can easily download an app from companies such as enjoy, share n go or car 2 go and check if there is a car parked near you that you can drive home. Fares start from €0.19 per minute making it a relatively cheap option to consider. And the best thing is that you can just leave it at your destination and not worry about having to give it back. 
Fitness and Health
Getting fit in Milan will vary greatly depending on your budget and whether you want to do something on your own or in a group. However, here are a few options to get you started. 
Cycling
There are quite a few bike sharing options in Milan that make cycling an excellent form of exercise that is relatively cheap. You can even use it as a form of transportation and incorporate exercise into your daily routine without even going out of your way. Download the Bike Mi, MoBike or Ofo apps and start bike-sharing at low costs. 
Gyms
 There are so many gyms with countless machines that can help strengthen your muscles or lose weight. But most of these gyms also offer classes such as Pilates, dance, interval training, functional training and fun workouts that make exercising a lot more exciting. The most popular gyms with numerous branches around Milan include Get Fit and Virgin Active while the most budget-friendly gyms would be 20 Hours and La Wellness. 
Running
Many running groups in Milan help motivate you to get in shape. These can be a perfect opportunity to meet people while getting fit. Most of these offer free workouts or free group activities making it an excellent way to exercise while getting to know new people. These groups include Running Milano, Urban Runners and Women in Run. 
Milan People
Italians are loud, friendly, warm and hospitable people – once they get to know you. Unfortunately, most Italians do not speak English very well and their fear of embarrassing themselves by saying something incorrect makes them reserved and distant amongst English speakers. However, once they overcome their fears, Italians will welcome you into their homes, take pleasure in feeding you the most delicious home-cooked meals and adopting you as part of their families. 
Italians have a love for food and wine making them a focal point in their lives where families gather around the dinner table every day. You can tell a lot about a culture from their cuisine and the Italians show warmth and love through every meal. 
Another thing you'll notice about Italians is that they are hot-tempered and easily provoked. They are very passionate beings who wear their hearts on their sleeves, making being in a relationship with them entertaining and somewhat of a roller-coaster ride. 
However, Italians value life and having a good time more than anything and take work-life balance seriously. Once they leave the office, they are ready to leave their worries behind and start their nightlife with food, wine and dancing if need be. 
Milan Insurance and Medical Care
Healthcare in Italy is of relatively good quality in both the public and private options. However, many expats living in Milan decide to choose private healthcare options to avoid language barriers and find an English-speaking doctor who would be able to communicate properly with them. 
To be able to stay in Milan as a resident, you need to provide proof of health insurance making it best to obtain health insurance coverage before your arrival in Milan. EU residents will be able to use their European Health Insurance Card (EHIC) and UK residents will be able to use their Global Health Insurance Card (GHIC) for short-term stay but will be required to apply for an Italian health card once they get their residency. 
When living in a new city it's always best to get familiar with hospitals within your area and emergency medical services available. The emergency telephone number in Milan is 118. Here are a few hospitals in Milan: 
Make sure you are fully covered by reading our full Digital Nomad Travel Insurance guide.
Jobs in Milan
Unless you speak Italian, finding a job in Milan will prove quite difficult. However, there are some English teaching jobs as well as babysitting or au pair jobs. Most schools will hire native English speakers to work as ESL teacher. While some schools will require a teaching license or degree, others will find a TEFL, TESOL or CELTA sufficient. 
You could find fashion and design jobs in Milan, even though the competition is quite high, but speaking Italian will be an essential requirement. 
Another option to make money on your own schedule and exercise both together is working for cycling delivery food companies such as Deliveroo, Uber Eats, Just Eat and Glovo. While it does require a basic conversational level of Italian, it is possible to get by on very little doing one of these jobs. The average rate is €4-€6/h and you get to choose the hours you'd like to work, making it a relatively flexible job. 
Because Milan is a popular destination for tourists, another job you can get as an English or native speaker would be working as a tour guide. There are a few companies that offer walking tours. However, this would require a thorough amount of history knowledge and Italian culture on your part. Keep in mind that most of these walking tours are based on a 'tip' fee which makes it difficult to get a fixed income.
Check out our Digital Nomads Jobs Postings to find the best jobs available for Digital Nomads.
Nomad Friendly
Value for Money
Internet
Workspace
English
Food
Safety
Health
Transportation
Friendly
Quality of Living
Cost of Living Milan
Living in Milan is actually relatively cheap, except for the lump sum of rent. However, apart from rent, you will be expected to pay an average of €100-150 in bills. When it comes to groceries, you can easily get buy on €40-50/ week if you're eating at home every day. If you'd like to eat out, the average meal could range between €6-15 depending on where you dine. Just keep in mind that you can save a great deal eating out if you choose to lunch rather than dine in a bar or restaurant. 
To get a monthly transportation card, you will pay €35 and enjoy unlimited trips within Milan on the metro, tram and bus. 
Enjoying a night out can cost you as low as €8. Here are a few items and their prices in Milan to help you wrap your head around average costs: 
Milk: €1.24

Beer: €1.54

Coffee: €1

1 kg of meat: €17.65

1 kg of chicken: €9.84

1 loaf of bread: €1.75

12 Eggs: €3

Water: €0.45

Cigarettes: €5.85