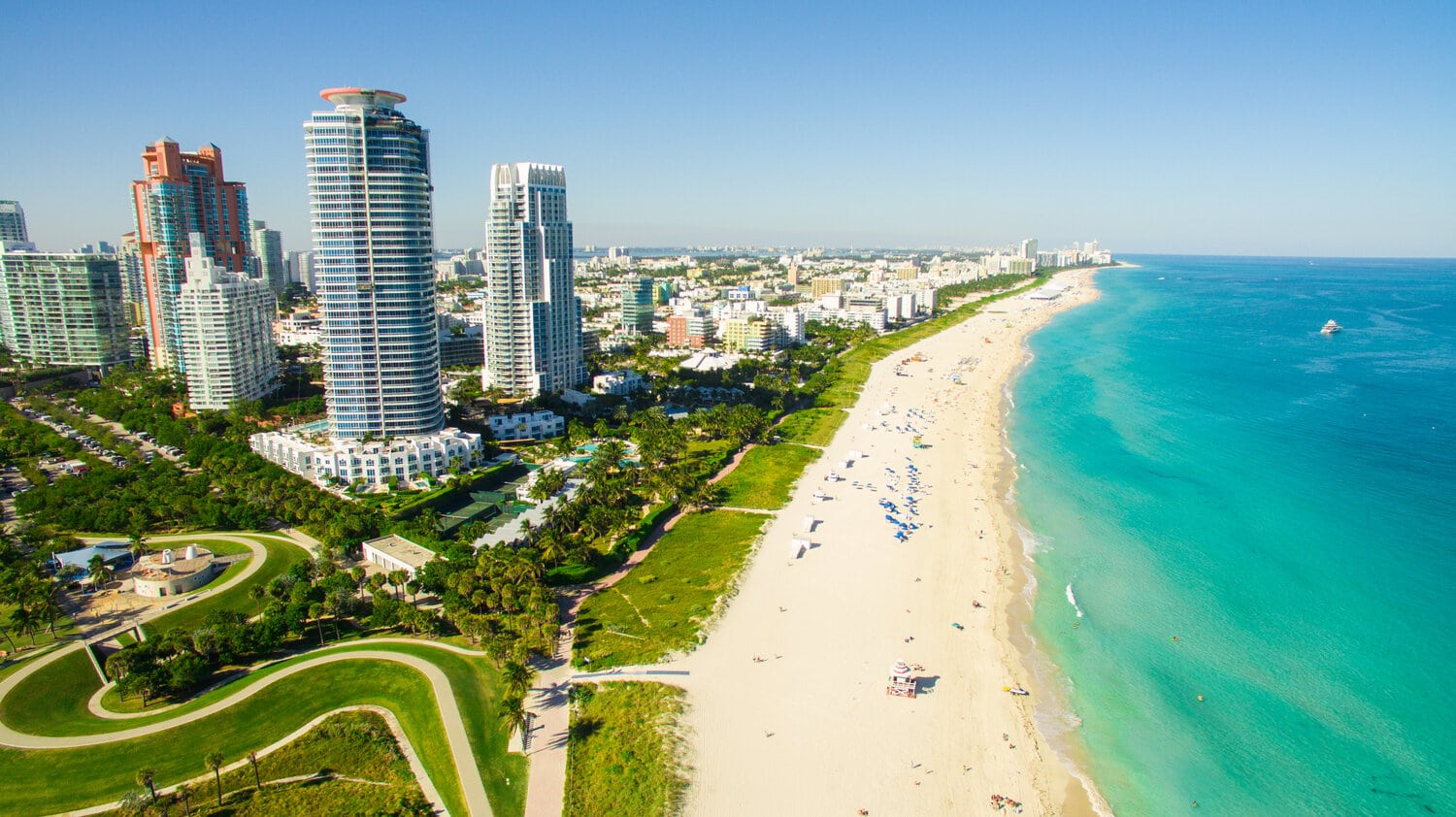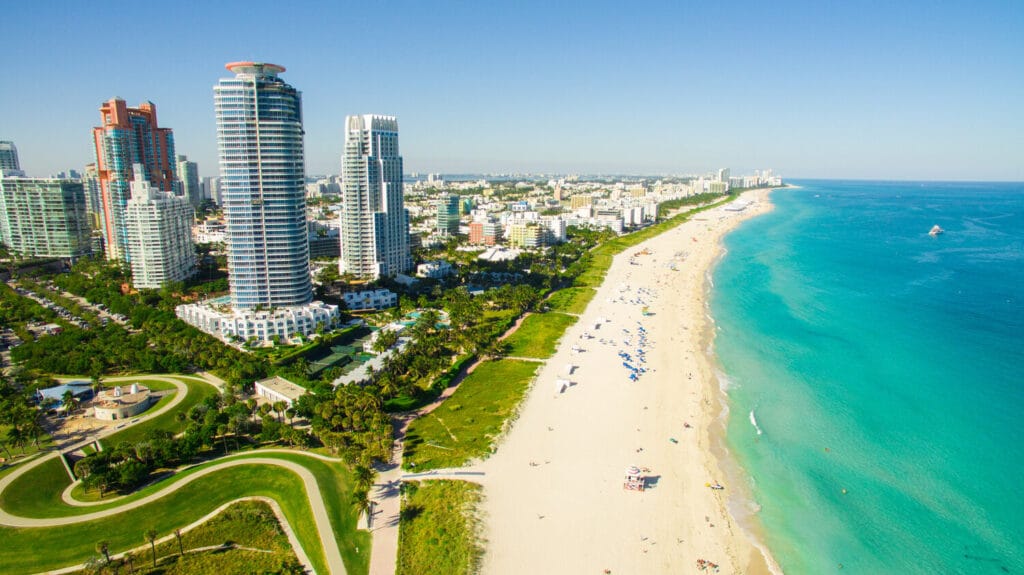 A Digital Nomad Guide to Miami
Miami is located in the south of the US state Florida. Miami has about 460,000 inhabitants making it a relatively small city compared to other larger ones in the United States. The name Miami is derived from the Native American word "Mayaimi", which means "big water". The city is located at the outlet of the Miami River into Biscayne Bay, which is part of the Atlantic Ocean. Miami combines latin American with American culture creating a unique blend you won't experience anywhere else. Come to Miami for a laid back atmosphere and vacation feeling perfect for digital nomads looking to combine beach life with work.
Miami is considered an important centre for finance, culture, commerce and international trade, as well as arts. Downtown Miami is home to many international and national banks and major companies which means there is an abundance of office space and coworking spaces. Several million tourists from both within and outside the country come to Miami every year making it a major vacation hotspot. Its location by the ocean makes Miami very popular with surfers or families looking for a weekend getaway.

Miami is a great city for digital nomads although it is not the most affordable. You'll have to keep your budget tight if you want to live in Miami long term especially if living in a central location is important to you. If you earn enough to splurge on a bayfront apartment you'll love the beauty of this incredible city and all the things there are to see and do. Enjoy life on the water with boat tours, days by the beach and water sports. Miami has incredible nightlife and there is always something going on. If you like a warm climate and big city life you'll love Miami.
Nomad Friendly
Value for Money
Internet
Workspace
English
Food
Safety
Health
Transportation
Friendly
Quality of Living
Living in Miami Overview
| | |
| --- | --- |
|  Meal, Inexpensive Restaurant | $15.25 |
| Domestic Beer (1 pint draught) | $6.00 |
| Cappuccino (regular) | $4.66 |
| Loaf of Fresh White Bread (1 lb) | $2.71 |
| Water (1.5 liter bottle) | $1.68 |
| One-way Ticket (Local Transport) | $2.50 |
| Basic Utilities (Monthly) | $139.39 |
| Internet | $68.42 |
| Fitness Club (Monthly) | $50.50 |
| Apartment (1 bedroom) in City Centre | $2,018.60 |
Currency: Indonesian rupiah (Rp)
[erw_exchange_rates_widget lg="en" tz="0″ fm="IDR" to="EUR,USD,GBP,AUD,JPY,RUB" st="primary" cd="" am="15000″][/erw_exchange_rates_widget]
ATMs
Max Withdrawal: Rp 3,000,000
Withdrawal Fee: Rp 30,000 – Rp 50,000
Use of Credit Cards: Mostly Cash
Digital Nomad Personal Experience in Miami
Miami is unlike any other large city in the US. Living here feels like you're on vacation permanently so it can be easy to forget about work altogether. Make sure you have your work-life balance sorted before you move to Miami. The city makes it tempting to spend your days by the beach or sipping drinks at a rooftop lounge instead of being productive.

One thing to keep in mind is that life in Miami is expensive. If you want to live somewhere close to the water then you'll be spending a lot. For more affordable options you'll be so far inland that it won't feel much different than other places in Florida. Make sure you adjust your expectations before you go so you're not left with disappointment on arrival.

I really enjoyed my time in Miami mostly because of its beautiful beaches and of course the nightlife. The city is all about having fun and there is always something going on. In places like New York or Chicago, everyone is always focused on work and their career but Miami is a lot more relaxed. This is not the place to go if you want to work hard for a few months but more a city for those trying to unwind and let go.

Absolutely make sure you drive down to Key West during your time in Miami. The scenery down there is incredibly beautiful and well worth a weekend trip. As a digital nomad, I always try to live in places where others spend their vacation so Miami will always be one of my favourite US cities. The beaches, the atmosphere, the central American influence and of course the warm climate make it an incredible place to live even for a longer amount of time if you can afford it. New York is not made for settling down but Miami could be somewhere you might find yourself staying for a while.
Work in Miami
Best Places to Work in Miami
LAB Miami already has over 130 companies in its varied portfolio. These include all business sectors, freelancers, non-profit organisations and corporations, as well as some start-ups that are looking for connections in the world of business. Here, particular emphasis is placed on the members developing new ideas together and thus taking a step forward as a team. The monthly fee at LAB is $300 for a flex desk, which already includes high-speed internet, gated parking, 24/7 access and use of the communal kitchen. Of course, there are many more features you can access for free including the use of bicycles or longboards to explore the area during your lunch break. For more information, take a look at their website and decide for yourself if this is the right coworking space for you.
Büro Miami has six different locations across the city which you can choose from. They all have high-speed internet, mailing services, unlimited water, coffee and tea and access to modern meeting rooms included in their membership. The only extra you have to pay for is printing, monthly parking and optional phones that are available upon request. The monthly price for flex desk is $249 and gives you 24/7 access to all six locations. In addition, each member gets exclusive access to regular workshops and networking events designed to strengthen the community.
The Miami Shared coworking space offers high-quality amenities such as high-speed internet, modern facilities and 24/7 access to the workspace. A communal kitchen and various conference and event rooms are available for use. Members include companies of all sizes as well as start-ups from all sorts of different sectors in the business world. A monthly hot-desk membership costs $250 which is a fairly average price for coworking spaces in Miami. A virtual membership, as well as a fixed desk or even a private office membership, are also available.
WeWork has several locations in Miami so choosing one close to you is easy. Each location is priced differently, however, which means you only get access to the location where you have registered. What the different locations have in common are modern facilities, a car park (can cost extra), outdoor space and modern meeting rooms. Monthly fees for the hot desk area range from $290 to $450 depending on the location. For socialising, there are common areas in each workspace and a kitchen that can be used for free. For more detailed information about the individual locations take a look at the website.
Pipeline Coworking Space has four different locations in the Miami area. You'll find both small and large companies here as well as start-ups from all industries who use this coworking space to exchange ideas together. All locations are equipped with facilities like printer services, free coffee, tea and water as well as a full time staffed reception available for questions at any time. The hot desk area costs $199 per month in each of the four locations around Miami which is one of the more affordable options. As a member, you have 24/7 access to the office buildings. Virtual memberships, as well as fixed desks and private offices, are also available at different rates.
At Tambo Works, you can rent a workspace for an hour, a day, a week, a month or whatever you require. The membership is incredibly versatile and perfect for digital nomads who are new to Miami. Everything at this coworking space is very relaxed and flexible, just like the access, which is available 24/7. A flex desk costs $275 per month and offers everything you need to work productively. Unfortunately, you'll have to pay a little extra to reserve a meeting room, as well as join in on social events and workshops. Private and virtual offices are also available upon request.
Best Places to Live in Miami
Best Neighbourhoods
Miami Beach
Miami Beach is of course Miami's most famous and desired neighbourhood. It is located on an island and is home to some of the best beaches in the area. This neighbourhood is known for true luxury. Here you'll find large apartment complexes, gated communities but also single-family homes which will cost a small fortune. As a digital nomad, this is a fantastic place to live if you have the budget. You'll be very close to the beach and a lot of amenities. If you value coworking spaces and nearby office space this might not be the best choice for you though unless you're okay with a daily commute. Miami Beach definitely has some of the best views around though and is the perfect spot for those looking for upscale accommodation options.
Downtown Miami
Downtown Miami is where you'll find the city centre and financial areas of the city. If your focus is work then this is a fantastic place to live. You'll find a great selection of high-rise apartment buildings here with beautiful views over the bay and the nearby islands. Downtown has everything you will need including gyms, restaurants, bars, coworking spaces and shopping options. If you enjoy convenience and want to avoid wasting time on your commute this is the place to go. Downtown can be expensive though especially if you're renting in a large apartment building. Make sure your budget is sufficient before you start looking for apartments here.
Edgewater
Edgewater is located north of downtown and has some amazing riverfront properties popular among young professionals. This is a great area for parks, museums and tons of culture. Prices are high but still relatively affordable compared to Miami Beach or Downtown. Located close to the Arts' District this is fantastic for those interested in truly experiencing the local culture.
Overtown
Overtown is located away from the water but shouldn't be overlooked by digital nomads coming to Miami. Prices here are slightly lower and there are some fantastic new developments in this area. You'll love how walkable everything is and the proximity to the city centre without the crowded streets of downtown. This is definitely an upscale area with lots of green spaces and luxury real estate.
Coconut Grove
Coconut Grove is located a little south of downtown Miami and is a great spot to escape the hustle and bustle of the city. This is a hotspot for the younger population who appreciate the laid-back atmosphere and vibrant nightlife. Located by the bay this neighbourhood is stunningly beautiful and has a fantastic quality of living. 
North Miami
North Miami is a great choice for digital nomads wanting to live by the water but still avoid the steep rent prices of Miami Beach. You'll find options for all budgets here with plenty of things to do nearby. Getting into the city will take a while though and you might need a car if you want to be flexible. This part of Miami is a lot quieter than the city centre and very attractive if you want to have value for a lower price point.
Find an Apartment in Miami
In most cities, it's advisable to find an apartment online but in Miami, your strategy should be different. Real estate agents actually work for landlords here so renters don't have to pay any fees for their services in most cases. This means you can have a professional go house hunting for you which is easy and convenient. An agent will keep all your requirements and of course your budget in mind when looking for rental properties and will give you the ones they think could be a good fit.

That doesn't mean that you get to sit back and relax though. Definitely make sure to do your research before you hire or get in touch with an agent and decide which neighbourhoods could be a good fit for you and what your budget is. Keep in mind what you value, whether that is a lot of floor space, a central location or great amenities. Look at Zillow or Realtor.com for a real estate agent or letting agency that fits your needs. In most cases, it's highly advisable to have an agent help you find an apartment especially if you're unfamiliar with the local laws and regulations. This way you can avoid expensive fines and possible miscommunications with landlords which will cost you in the end.

A one-bedroom apartment in the heart of Miami will easily cost 1,500$ per month or even more for rentals in Miami Beach. Apartments of this price range will often be located in modern high-rise buildings with beautiful views and great amenities. This could include a parking spot, an in-house pool, a full gym and even rooftop terraces and a doorman. Living in such an apartment block is definitely worth it if you want everything in one place and favour convenience over affordability.

If your budget is tight you should consider moving away from the coast further inland where you won't find as many high-rise apartment blocks but smaller family homes instead. Here you'll get a lot more square footage for your money which is especially good for families with children. A one-bedroom apartment a little bit outside of the city centre of Miami could cost you somewhere between 800-900$ per month which is a lot more manageable than in Miami Beach. A two- or three-bedroom house or apartment will cost around 1500-2000$ although you should expect to pay more rather than less. Miami is definitely not a cheap place to rent so keep that in mind before you decide to move there as a digital nomad.

If you're not willing to give up that ocean-front location look at rentals further up or down the coast. You might not have a central location but you'll find more affordable options closer to the ocean.

Make sure you discuss your budget with your real estate agent and let them know in advance how much you can afford to pay. That way you'll ensure you're only going to be seeing places that are actually within your budget.
Cheap Places to Stay in Miami
Rent will be your largest expense in Miami especially if you're on a tight time schedule for finding an apartment. The best way to reduce this cost is to either find a roommate or look at rentals further outside of the city. You could most likely find a small studio apartment for around 700$ somewhere in a neighbourhood in the suburbs. However, factor in the commute and the downside of being outside of the city. If you want to regularly work in a coworking space you'll have to consider how long it will take you to get there and the money you'll have to spend on transportation. It might be worth it to just spend this extra money on an apartment closer to the city centre.

The cheapest way to rent in Miami is if you get roommates to share the cost with you. Use sites like roomies.com or roommates.com to find a good match. Always make sure you meet in person though before you sign any contracts or pay a deposit. There are always scams and you need to be careful when finding a place to rent online.

It's also a good strategy to find some Facebook groups for locals or expats in Miami. There are a few focused on finding roommates or apartments so keep an eye out for new listings.

For a room in an apartment with a decent location you could pay as little as 600-700$ per month or even less than 500$ for places in the suburbs. Definitely consider finding a roommate if you want to save money while living in Miami.
Miami Visa
Visa rules for the US depend a lot on which country you are from. A large number of nationalities are eligible for a so-called ESTA which is essentially a visa that can be applied for online. ESTAs let you stay in the US for 90 days although they do not give you permission to work and are only valid for tourist purposes. You do not have to go to an embassy or go through an interview process with an ESTA so it will make your process of moving to the US as a digital nomad a lot easier.

Those who are not eligible for ESTAs need to apply for a visa through an American embassy. This process is usually more tedious and takes longer but it could get you a visa of up to 180 days which might be a better option for digital nomads who want to stay in Miami for a while.
Obtaining a working visa for the United States is complicated and nearly impossible for those who are not working for a large international company abroad. If you want to stay in the US longterm you will have to find a local job which will make you eligible for residency. Again, the US is very strict with this and they rarely grant residency without a reason. In most cases, you will have to have local family or a job that requires you to work in the US long term which can be difficult to find.
Culture and Food in Miami
Miami's culture is very different from that of the rest of the US. The majority of the population are actually Hispanic making it a melting pot of Latin American cultures which all blend together. The city is also known for its art and museums which make it the perfect place for those who appreciate a diverse culture and environment.

Miami is a vibrant city with a large selection of neighbourhoods that are grouped according to nationality such as the famous Little Havana. These areas feel like an entirely different city altogether with Cuban music, restaurants and bars making you feel like you've left the United States. There is also Little Haiti which is a great spot to come for shopping and eating out.

Miami has a dedicated art and design district full of little art galleries, artists' studios and home to a unique community. You can find impressive architecture here, great shopping opportunities and of course galleries and museums. Some people claim that this is the real Miami, not the partying spring breakers that populate the many beaches. Both design and fashion are especially popular in Miami and you could spend hours discovering new little galleries and shops.

Due to its large Cuban influence, the cuisine in Miami includes many Hispanic dishes and food items. You should definitely check out some of the Hispanic supermarkets located around the city which offer a wide variety of goods you normally wouldn't find anywhere else.

You need to try the traditional dish Chicharron which is fried pork skin that is beyond delicious. You'll love how crispy it is and the unique flavour it brings. This is a great dish to order as takeout or try in a little traditional restaurant.

Then there is the Arepa, a stuffed bread-like dish that is an absolute favourite amongst locals in Miami. You can find this dish in many different forms but it's most commonly eaten with pulled pork and cheese and sometimes also beans. Versions of the Arepa can be found in the Colombian and Venezuelan cuisines but it can only be found in Miami in this form.
You might know ceviche from other countries like Peru or Mexico but Miami's ceviche is unique and an absolute must-try if you're new to the city. This raw fish is served with lemon juice, garlic or chilli and makes the perfect light lunch on a hot day. You'll find ceviche on most menus of restaurants around town and it's a popular dish amongst locals and tourists alike.

Florida is world-famous for its key lime pie, a tart made from lime juice, condensed milk and egg yolks. Anyone that's from Miami will rave about key lime pie and how you need to try it at least once. You'll find whole cafes who specialise in these pies and they might just become your new favourite dessert. Maybe you can even take a day-trip down to Key West where you'll find the best key lime pies around.
Miami Nightlife
It's no secret that Miami is a party city. If you're looking for quiet nights this is not the place for you. Miami is all about clubbing, rooftop bars and of course nights by the beach. Many students come here for spring break and the city is busy with partygoers year-round.

You'll find the largest clubs in South Beach and Downtown which are definitely the place to go if you're looking for a night out. Club Space is one of the most well-known clubs in the city and is even open 24 hours at times. Come here for loud techno and house music and enjoy the incredible top floor terrace. LIV Miami is another notorious club best-known for attracting b-list celebrities who come here to let loose. The entrance fee will be high but if you want the full Miami experience a trip to LIV is a must-do.

Clubs like E11even set Miami apart from other cities in the US. This venue is incredibly large and stretches over multiple floors with impressive laser shows and sound systems. There is even a rooftop terrace with a full restaurant so you can come to E11even at all points of an evening and find the perfect place to chill or party the night away. Of course, this larger-than-life club is open 24 hours so there is never an excuse not to go.
Then there is the Wynwood Factory which is a large outdoor venue popular for music festivals or special events. The grounds are large and hold thousands of people so expect it to be crowded. This is a hotspot for famous DJs who come to Miami just to perform here.

Of course, there is no shortage of bars in a city like Miami. Whether you want to have drinks with friends or just enjoy a more relaxed night out instead of going clubbing then there is a fantastic selection of bars and rooftop lounges to choose from. Head to the Sweet Liberty Drinks and Supply Company for delicious Pina Coladas and affordable happy hour deals. This is one of the most well-known and beloved bars in town so make sure you come early if you're visiting on a weekend to get a good spot. The Broken Shaker is another great choice with excellent drinks and reasonable prices. Both these bars are known for their lively and laid back atmosphere that will make you want to stay there all evening.

E11even has a fantastic rooftop lounge but the atmosphere there is still closer to a club than a bar. Head to Sugar or Terras instead for incredible views, upbeat music and just overall a fun experience. Drink prices will be slightly more expensive here but it's worth it if you enjoy high-quality cocktails and an impressive venue. Area 31 and Astra are two more rooftop lounges with beautiful views but a more upscale atmosphere. Sit at tables and have food while you enjoy the view instead of the lounges or bar stools you might find at Terras. This is a great spot for a date or a meetup with new friends.
Things to do in Miami
Visit Little Havana

One of Miami's most famous neighbourhoods is Little Havana which has a considerable Cuban population. Little Havana is known for its cultural flair and offers plenty of things to do and see. Amidst joyful Latino music and impressive street art, there are many small restaurants and family-run businesses offering specialities from Cuba. Calle Ocho Plaza is the centre of Little Havana, but the neighbourhood has long since spread to the side streets. If you like Cuban specialities such as cigars or rum, you will definitely find what you are looking for here.

Spot alligators in the Everglades National Park

Just a quick 30-minute drive from downtown Miami you will find the Everglades National Park.  The 1.5 million hectares of marshland are home to alligators, crocodiles, snakes and many different species of birds. The best way to experience nature and get a tour of the Everglades is by airboat which lets you feel like you're flying over the swamps. A tour will not be not cheap but well worth the money as the tour guides sometimes jump into the water with the alligators to impress the tourists. A more pleasant way to observe the animals from close up is a canoe or kayak tour. Here you can paddle through the swamps at a leisurely pace and observe the alligators from a distance without disturbing them in their natural habitat. Alternatively, there are a number of hiking trails and boardwalks throughout the area, which can be used free of charge.

 Stroll through the Bayfront Park in Downtown Miami

The Bayfront Park is a great spot for a picnic or a weekend walk. Stroll along the promenade, past the beautiful flowerbeds and palm trees or marvel at one of the many monuments. If you are out and about with your children, the Bayfront Park also offers plenty of activities for the little ones. There is a large playground with a pirate ship with slides, opportunities to climb and run around. The newest attraction is the Sky Views Miami Ferris wheel. It offers a great view of the bay, the park and downtown Miami.

Right next to Bayfront Park is the Bayside Marketplace. With over 150 shops, restaurants and cafes, this is a must-visit during your time in Miami. In addition to the many small fashion boutiques, speciality shops and cafes, there are also larger chain stores such as Gap, Victoria's Secret and thee Hard Rock Cafe. Regular live performances by local musicians attract many visitors every day, who can enjoy a few drinks by the water with good entertainment.

Take a trip to Key West

Probably the most well-known island chain in the USA are the Florida Keys, with more than 200 interconnected coral islands stretching for around 290 km. The last island is called Key West and should be the destination of your trip across the Florida Keys. The sunsets here are incredible and you'll feel like you're on a Caribbean island. This is definitely an upscale area so make sure your budget is large enough if you're planning on staying for a few days. With many restaurants, bars and things to do you should definitely plan to stay in Key West for at least a weekend. For the drive across the island chains, you should allow around five hours, possibly more if you're going to be stopping for a photo or two along the way.

 Visit Jungle Island

Jungle Island is a popular attraction in Miami. The eco-adventure park is located on Watson Island, which is only a few minutes away from downtown Miami. The park is a unique protected area and is home to many different plant species as well as around 110 different animal species such as flamingos, orangutans, several parrot species, crocodiles and many more. There are various activities for all ages on site. You can choose from escape rooms, pop-up water slides, zip lines, a nerf battle arena, a wind tunnel and much more. Entrance fees are around $60 but definitely worth every penny for a day of action and fun. Definitely come to Jungle Island for a day if you're living in Miami with children.

Stop by at the Ocean Drive

Ocean Drive runs along Miami's oceanfront directly through the Art Deco District with its historic buildings. Ocean Drive is a popular tourist destination by day and by night. With its numerous hotels and restaurants along the promenade of South Beach, it is always inviting for a refreshing drink or a delicious meal with a view over the sandy beach. Although a visit to one of the restaurants won't be cheap, it really is a great place to watch the hustle and bustle of the street for a while.

Stroll through the Art Deco district

The Miami Beach Architectural District or just Miami Art Deco District is a historic neighbourhood near South Beach. With approximately 960 historic buildings along Ocean Drive and the surrounding streets, the district contains the largest collection of Art Deco buildings in the world. Even the world-famous fashion designer Gianni Versace had his villa here. Visit the Miami Beach Art Deco Museum and learn more about the building boom of the early 1940s.

Take a break at the beach

The best thing about cities with a waterfront location is probably spending the day on the beach. If there's one thing Miami has going for it, it's the beach and the water. If you're planning a beach day, come early to secure the best spot, as it can get quite crowded around noon. If the beach is too crowded for you, you're sure to find a great spot at one of the many beach clubs scattered along the length of South Beach.

The Freedom Tower in Miami was built in 1925 as a reminder of Cuban immigration to the USA. At that time, the 78-metre skyscraper was the tallest building in Miami. Among other things, it was used as the headquarters of the Miami News & Metropolis newspaper. Today, it is considered a monument of international cooperation and houses numerous offices as well as a museum, a community hall and a library. Occasionally, the Freedom Tower is also used as an art gallery. Admission is $12 and the tower is open from 1:00 – 6:00 pm Wednesdays, Fridays, Saturdays and Sundays; and 1:00 – 8:00 pm on Thursdays.
Best Time to Visit Miami
Miami's climate has hot, humid summers and dry, warm winters. It is wintertime in Miami from late December to mid-March which means less rain and comfortable temperatures. While the rest of the US is cold, Florida is pleasantly warm at around 25°C during the day. This is the peak season in Miami, as many domestic tourists want to escape the cold weather and make Miami their winter holiday destination.

Late March to mid-June marks the shoulder season in the Miami region, with temperatures averaging between 27°C and 31°C. At this time, however, there are more rainy days, which usually only provide short refreshments. The water temperature averages a pleasant 26°C throughout the year, which is perfect for swimming but does not really cool down any further due to the tropical climate.

The time from the end of June to the end of September is the hottest season in Florida and can bring temperatures of up to 32°C. This time is also known as hurricane season and can bring many tropical storms. Miami residents are usually well-prepared for this and the storms usually do not hit the city itself but only the outlying and unprotected islands. 
In the time from October to November, it cools down only slightly with temperatures of 25°C – 27°C. The number of rainy days decreases dramatically during this period, with an average of only 5 days in December. The humidity in Miami averages a tropical 73%, which makes the temperatures feel even hotter most of the time. You definitely need to dress in light clothing during the day to cool yourself down. In the evening, it can get a little cooler, but a long-sleeved sweatshirt or shirt will be more than enough. No need to pack winter clothes for your time in Miami.
Miami for Families
Life in Miami takes place outside which makes it a great place to move with the entire family. Just keep in mind that this area of the US is quite expensive which will mean even higher expenses if you have children.

It's highly recommended to have a car if you're coming to Miami with the entire family and getting around without one will be quite tricky. Larger cities in the United States are rarely suitable for life without a car so definitely factor this in before you plan to go to Miami.

Miami has a decent selection of international schools as well as other private school options. Since the spoken language is English you'll have a lot of schools to choose from and could even consider public school options for your children. The main benefit of international schools is the standardised curriculum which will differ greatly from that of a public school. However, tuition fees can be quite expensive and could go as high as 12,000$ while public school is free in most cases. Have a look at the Mater International Academy or the International School of Miami for some more details on the curriculum and tuition prices.

The beach is obviously one of the main attractions in Miami and the perfect spot for a family day. Go for a swim or maybe even a boat tour and explore the nearby islands. For older children, Jungle Island is a great spot to spend a day with lots of activities and things to do. The Miami Zoo, the Phillip and Patricia Frost Science Museum and the Seaquarium are also fantastic for children of all ages. You'll love how versatile Miami is and its many green spaces and parks. There is always something to do for the entire family.
Living in Miami
Miami Transportation
If you're living in the United States it's almost always recommended to have a car. Once you leave the city it will be difficult to get around as the US doesn't have a great long-distance transport network. There are some buses but driving will always be the most convenient option.

That being said you might actually be okay living in central Miami without having a car. The public transport system in the city is quite extensive so if you don't want to leave the city except for the occasional day-trip this might be an option. Parking can be tricky to find in Miami but fortunately, most high-rise apartment buildings offer a parking spot in a dedicated garage. This tends to cost more though so keep your budget in mind.

The Miami Metrorail is a popular way of getting into the city from the airport. It runs above ground on elevated tracks similar to a monorail. A ride costs around 2$ and will take you from one end of the city to the other. You can also buy weekly or monthly tickets which will be far more affordable and are a great option for commuters. 
If you're living in the city centre of Miami on a budget you should use the Metromover which is a free bus service that operates in loops around the city. Just hop on and off as needed and enjoy the many sights along the way. The Metromover is especially popular among tourists but can be really useful to navigate downtown. It stops at many sightseeing hotspots and will let you see the most important places in Miami on a budget.

The free bus is a great choice but the routes are unfortunately very limited. To get to the suburbs and more specific locations around the city you should use the city bus system. There are almost 100 different routes to choose from and the city buses work seamlessly with the Metrorail. Make sure you get yourself an EASY ticket or pass which lets you use both interchangeably. There is also a mobile app you can download that will make payment quick and easy from your phone. A ticket usually costs 2.25$ for one ride which is quite affordable. Again, have a look at the unlimited weekly and monthly passes for more budget-friendly options.
If you can't get somewhere by public transport you should consider downloading a ride-sharing app on your phone like Uber or Lyft. These are very popular and widespread. In most cases, you'll be able to find a driver within just a few minutes which is far easier than a taxi. Ride-sharing services are also known to be a lot more affordable than regular taxis and since their prices are closely monitored you're less likely to overpay. Especially if you're going home late at night you should avoid walking alone or taking public transport and an Uber will be a much better choice. Waiting times for drivers can increase in the evenings or at night when requests are high so keep that in mind.
Fitness and Health
Miami's favourable climate means that the city is all about spending time outdoors and living a fit and healthy life. Miami is fantastic for those who enjoy running and working out outside. Even if you don't usually run you should give it a try since it's a great way to get to know the city and explore the beachfront. Head to bayfront areas or the city's many parks for the best experience.

Of course, there are plenty of gyms to choose from in Miami. You can find options for all budgets and needs. Large gym chains such as Xtreme Total Fitness, Anatomy and Legacy Fit are of course represented in the city. Prices range from around 20$ per month up to 250$ depending on the equipment and quality of the gym. The most affordable deals are available for annual contracts and sometimes a joining fee of up to 100$ needs to also be paid which is important to keep in mind.
If you're living in a large apartment complex there might even be an inhouse gym available to you. It will most likely be quite small but can be a great way to save money and make working out a lot more convenient.
Miami is the perfect place to get into a new sport. Why not try your hand at basketball or American football, both of which are very very popular in the United States. There are public basketball courts in some places around the city and also sports clubs you can join to learn how to play.

Of course, Miami is located by the ocean so going for a swim can be a part of your daily routine. You can also get into paddle boarding or surfing but that depends on the local wave conditions.
Miami People
Miami is a multi-cultural and open city which is welcoming to all nationalities and backgrounds. Miami Beach especially is known for its considerably LGBTQ representation and diverse community. Miami has large pride events and is famous for its open-ness and inclusivity.

With just under 450,000 people Miami is actually not a very large city compared to others in the United States such as New York or San Francisco. It is actually in 42nd place for size according to population and many expats moving there are surprised it's not larger. The majority of people in Miami are Hispanic and only around 19% is African American which is quite low for large American cities. The Hispanic culture definitely has a large influence on Miami and around 60% of the population speak Spanish. If you've been considering learning to speak Spanish this is a great place to do it. You'll find some good language schools in the city and can get plenty of practice in Hispanic neighbourhoods such as Little Havana.

There is no need to worry though if you do not speak Spanish. English is, of course, the main spoken language and you'll be able to communicate just fine with basic English.

Miami is all about nightlife, having fun and enjoying oneself. With incredible weather and the beach at your doorstep, it's very hard to focus and be productive all the time. This fact is definitely represented in the Miami community and the lifestyle many people here live. Spend your evenings by the beach or go on a weekend trip to the nearby Bahamas. Nothing seems to be impossible in Miami and you'll find it difficult to integrate back into life in other large cities after having spent time here.

Most people in Miami are either young professionals, partygoers or families who tend to stick to the outskirts. With wild beach parties and alcoholic escapades, this city is known for its diverse nightlife and is a popular destination for spring break trips of bachelor parties. Just because the city is small doesn't mean it's going to be a quiet experience. If you enjoy nightlife this is definitely the city for you but if that is not the case maybe reconsider whether you should move here as a digital nomad.

The digital nomad community is decent as remote workers from all over the world are recognising the appeal of living in this beautiful city. However, many still shy away from the high prices and also the difficult visa conditions of the US. Those without a US passport have difficulties staying in the country for longer periods of time so most international digital nomads are only able to stay in Miami for a few months at a time. The standard of living in Miami is high but prices are as well which means costs can quickly add up and make living here quite expensive. However, Miami's loose lifestyle and growing community also need to be considered and many digital nomads are making the move here.
Miami Insurance and Medical Care
Miami is a large, international city so the level of health care here is very high. There is a good selection of renowned hospitals with various specialities that are available in case you need medical treatment. When travelling to the US, it is very important to know that health care here is incredibly expensive and difficult to access at times. Even simple doctor's appointments can cost hundreds of dollars and basic medication can be very expensive if you do not have insurance. Under no circumstances should you move to Miami as a digital nomad if you do not have health insurance. If you are in an emergency situation you'll have to pay thousands which is a high risk to take. Make sure you have international health insurance from your home country which covers the United States. Many insurance policies exclude the US and you may have to purchase additional cover to your regular policy. Always double-check with your insurance company before you decide to move to a new place.

If you do have insurance the American healthcare system is far easier to manage. Appointments are usually fairly easy to obtain and doctors are eager to help. Wait times at emergency rooms can be very long so make sure you only go in case of an emergency. In milder cases, a regular doctor's appointment will be a better choice. Sometimes you might have to show proof of insurance or funds before treatment so always carry an insurance card or identification with you.
Make sure you are fully covered by reading our full Digital Nomad Travel Insurance guide.
Jobs in Miami
Finding a job in Miami should be easy if you have the right work permit. If you are not a US citizen you need a green card to work locally. Greencards are not easy to obtain and will usually only be given to those working a skilled job for a large company. Fines for working without a green card are high and can sometimes even result in deportation. Always make sure you have the right work permits before starting to work in the US.

Make sure you can fully sustain yourself with remote work before you move to Miami. The city is not the most affordable and finding a side-job will not be possible if you aren't an American citizen or resident.

If you do have an American passport or hold a green card you won't have much trouble finding a job in Miami. There are always vacancies in the hospitality or retail industry if you just want to make some money on the side but there are of course also professional jobs available. Check local job boards or ask around. Coworking spaces are always a great place to network and potentially find remote job options.

If you want to find a professional job in Miami look for large companies that are hiring. You might be able to obtain a work permit and long term visa if the job is highly skilled. Always be transparent with your visa situation before you are hired to avoid legal problems.
Check out our Digital Nomads Jobs Postings to find the best jobs available for Digital Nomads.
Nomad Friendly
Value for Money
Internet
Workspace
English
Food
Safety
Health
Transportation
Friendly
Quality of Living
Cost of Living Miami
Miami is one of the most expensive cities in the United States and you should think twice about moving here if you're on a budget. The best way to keep costs low is to reduce your rent which means moving out of the city centre and possibly even finding roommates. This could reduce your monthly accommodation expenses considerably and might get you a place for as little as 500$.

Still, groceries, bills and public transport will add up and combined with things like nightlife or day trips you'll easily be spending at least 2000$ per month living in Miami as a digital nomad. Make sure your finances are in check before you make the move to Florida and adjust your expectations. You will most likely not be living in a beachfront apartment and your commute might take a while if you want your rent to stay below 1000$. However, with a slightly larger budget, life in Miami will be a lot of fun and an incredible experience. Keep these expenses in mind before you make the move to Miami and live and work as a digital nomad there.
Sample expenses for one month in Miami
Essential costs
1200$ basic one-bedroom apartment
200$ bills for water, gas, electricity, wifi 
100$ public transport
250$ groceries 
40$ cell phone plan
_________________
≈ 1790$ total per month
Optional costs 
400$ eating out and nightlife
200$ membership at a coworking space
100$-200$ health insurance (varies greatly according to country)
400$ budget for day-trips
40$ gym membership
150$ gasoline