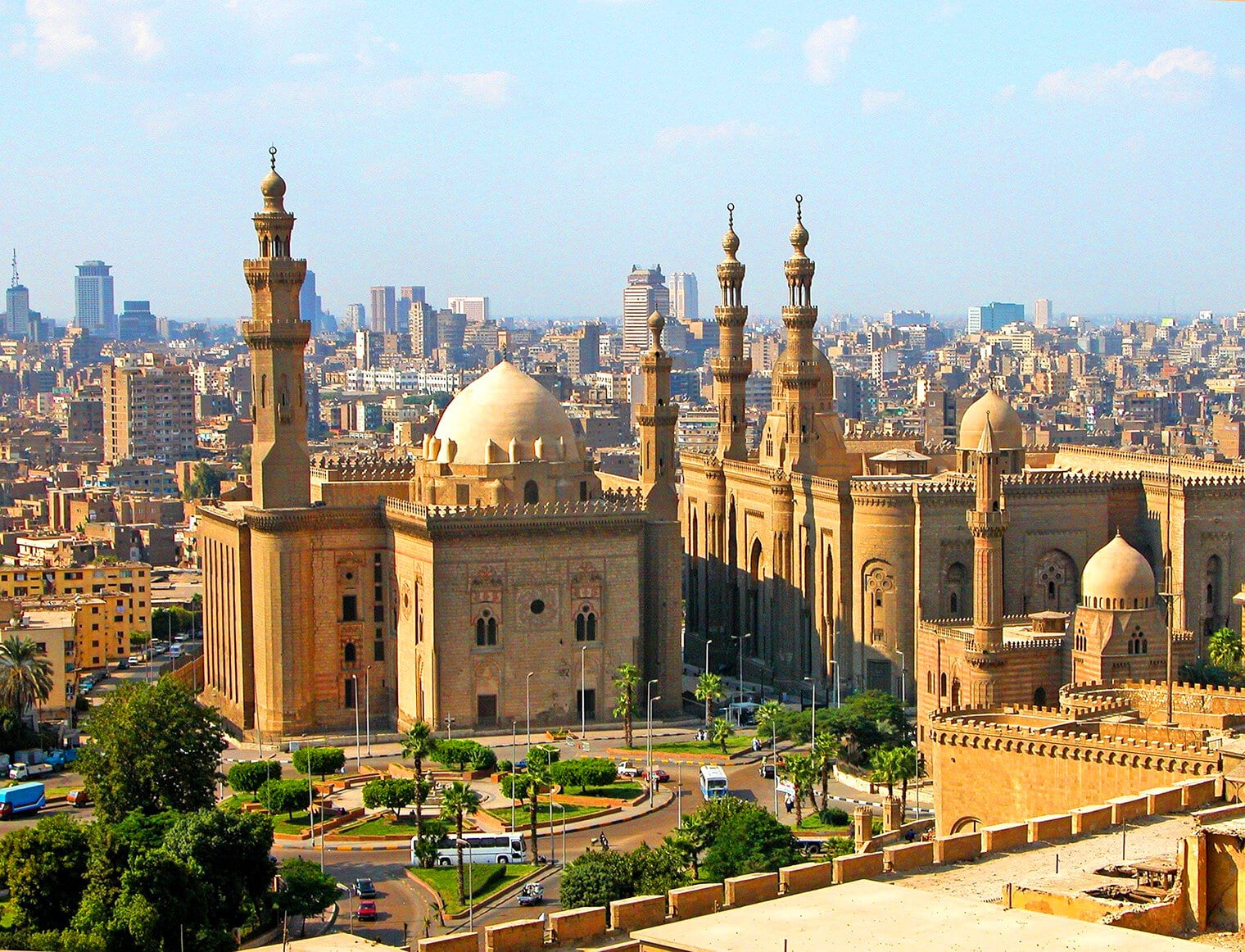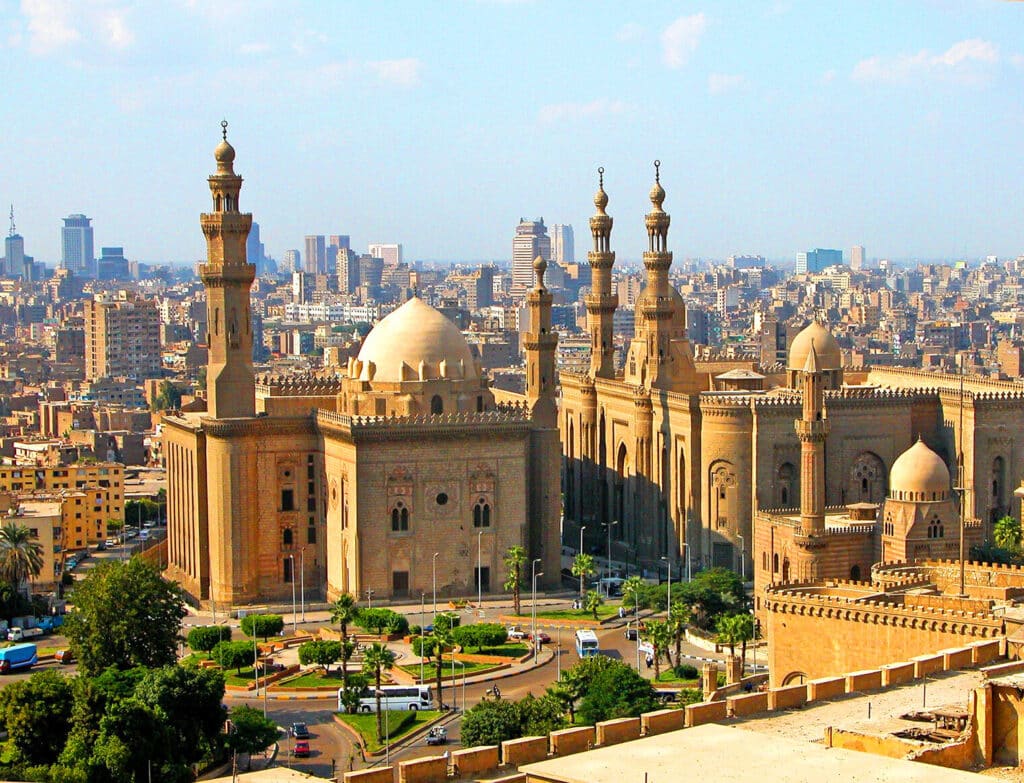 A Digital Nomad Guide to Cairo
Cairo, also known as The City of a Thousand Minarets is the capital of Egypt rich in culture and history. It is the biggest city in Egypt with a population of over 9 million spread over 3,085 square kilometers. Home to the Egyptian Museum, the Cairo Tower and the Nile River flowing across its land, Cairo is a must-visit for every travel enthusiast.
With a hot climate for 9-10 months of the year, it is a great escape from the cold, harsh winters in other countries. Just a 10-20 mins drive away lies one of the seven wonders of the world: The Giza Pyramids. There, along with the statue of the Sphinx, the ancient Egyptian history that marks this famous city comes to life teleporting you into history.
The city is diverse not only its distinct character but also in the roots it holds from the Roman, Greek, French and British occupation. This can be evident in the buildings and architecture especially in the Downtown area, as well as the vocabulary and slang used commonly in today's Egyptian Arabic language.
The city is home to many ex-pats due to its incredible climate all year-round and its excellent geographic location making it easy to travel around Egypt or even to neighboring countries in Africa, the Middle East and Europe.
Cairo is a city that never sleeps and that's just one of the things that makes it absolutely fascinating. As a digital nomad, regardless of your working hours, you'll find something interesting to do in your free time. During the day, you can see, feel and experience the city's culture in every street. Whether it's in the endless traffic, the chaos or the humorous conversations and interactions with the locals, the city -and its people- are welcoming and always has something exciting and new to offer.
Nomad Friendly
Value for Money
Internet
Workspace
English
Food
Safety
Health
Transportation
Friendly
Quality of Living
Living in Cairo Overview
| | |
| --- | --- |
|  Meal, Inexpensive Restaurant | $4.77 |
| Domestic Beer (1 pint draught) | $1.91 |
| Cappuccino (regular) | $2.05 |
| Loaf of Fresh White Bread (1 lb) | $0.68 |
| Water (1.5 liter bottle) | $0.32 |
| One-way Ticket (Local Transport) | $0.32 |
| Basic Utilities (Monthly) | $42.97 |
| Internet | $21.09 |
| Fitness Club (Monthly) | $29.55 |
| Apartment (1 bedroom) in City Centre | $237.61 |
[erw_exchange_rates_widget lg="en" tz="0″ fm="EUR" to="EUR,USD,GBP,AUD,JPY,RUB" st="primary" cd="" am="1″][/erw_exchange_rates_widget]
Max Withdrawal: €400
Use of Credit Cards: Widely Accepted
Digital Nomad Personal Experience in Cairo
One of the things that made me fall in love with Cairo, despite its heavy pollution, is the diversity it offers. In Cairo, you'll find an abundance of cultural and historical artifacts that will blow your mind away. If that's not your cup of tea, then spending the day overlooking the river Nile will offer scenic views that are ever so relaxing. If you're more of a foodie, then experimenting with the Egyptian and Middle Eastern cuisines will leave your taste buds in awe, or you can even find a variety of other cuisines from all over the world in Cairo's hidden gems.
But that's not it, in Cairo, every day is a new adventure. From underground music events and art exhibitions to countless cultural experiences and workshops, Cairo is the kind of city where you'll never get bored. If you're looking for nightlife, the city comes alive at night and will definitely give you a night to remember. But if you were to ask me what makes Cairo so special to me, I'd tell you that there's something about the locals or the bonds you make in Cairo that bound you to each other and the city for life. Once you live in Cairo, you fall in love with how hospitable, funny and generous Cairenes are. There's nowhere in the world where you'll make friends who treat you like family, go above and beyond and find their way into your heart quite like Egyptians. 
However, living as an ex-pat in Cairo doesn't always prove easy, especially if you're a female. Walking in the streets of Cairo on your own is not recommended for females, especially at night, but as soon as there's a male around or you're not alone, the danger of harassment disappears. Another difficulty that is commonly faced in Cairo by ex-pats is that locals try to overcharge you for everything. However, with a few words of Arabic, the knowledge of the actual prices and a local friend, you'll be able to get by without a problem and enjoy a luxurious life in Egypt due to its cheap prices.
Work in Cairo
As a digital nomad, one of the most important aspects to look for in a city is places to work with free WiFi. Because Cairo is sunny pretty much all year round, working remotely is an advantage that you don't want to miss. However, no matter where you go, at any time of day, you'll find crowds of Egyptians pretty much everywhere. Here are a few places that are work-friendly and perfect for a digital nomad to work based on your neighbourhood: 
Best Places to Work in Cairo
Maadi district
Maadi Yacht Club
One of the best places to work in Maadi is Maadi Yacht club. Not only does this place have a fascinating view overlooking the Nile, but you can also choose to sit indoors or outdoors based on the weather. While there will be people around during the morning, it is still a calmer option allowing you to get more work done. Here, you can choose to get a coffee or a light snack or even get lunch while you eat. Their WiFi will allow you to get things done, but internet packages in Egypt are pretty cheap allowing you to use a MiFi or even tether to your laptop from your own personal mobile data package.
Espresso Lab
If you're a coffee addict then you need not think twice about where to work. Espresso Lab is always filled with freelancers working away. It is designed to support digital nomads with plugs beneath every table and a large co-working space set up for those who prefer to be around others staring at their screens. Their speciality coffee is one of the best in Cairo and one you can easily get hooked on.
Grecco
Road 9 is a landmark in Maadi filled with cafés and restaurant. One of these cafés is Grecco. Here you'll find a range of coffee and non-coffee options as well as freshly baked pastries that are to die for. Their outdoor area is small, but you'll usually find a good spot to work indoors.
Road 9 coworking space
While the above are great options, this place is one of the many coworking spaces in Maadi that are specifically designed for digital nomads and freelancers looking for a place to focus. The atmosphere is comfortable, quiet and equipped with high internet speed to make sure you'll be productive.
New Cairo/ Tagamo' district

 
Because there are so many places in New Cairo that are work-friendly, here are just a few options to get you started.
Two Spoons
Located in Cloud 9 Mall, Two Spoons is a quitter option with high internet speed for those looking to work from a Café in New Cairo.
Brioche Doree
Located in Downtown Mall, Brioche Doree is a perfect outdoor area for when the weather permits you to work outdoors. Downtown Mall is a great choice as it is situated at the beginning of New Cairo, is well connected to the entire area and is a lot more low-key than other malls. You'll find plugs on every table and an array of French pastries and beverages to keep you company. 
Be Good to You
Located in Katameya Heights Residence, Be Good to You is a café that offers healthy food. Instead of munching on pastries and cookies as you work, their healthy alternatives will keep you nourished and in good shape.
Zamalek district
Diwan
Being one of the finest bookstores in Cairo, Diwan's café is very work-friendly. Surrounded by books and people looking to read, it offers the ambience and atmosphere perfect for working remotely.
Beano's
Regardless of the district, you live in, if there's a Beano's café around you it will always be a good working-option. The Beano's café in Zamalek does not have an outdoor area, but its indoor area is large and offers high internet speed.
Al Musriah Al Lubnaniah Bookstore
This new bookstore is not only a sight for sore eyes, but is also an excellent choice for someone looking to work remotely. Located in Iconia Zamalek, the building itself offers several options to work from, but this one is by far the prettiest and quietest option. 
Sheikh Zayed/ 6th of October
Galleria 40 Mall
Once you enter Sheikh Zayed, you'll find Galleria 40 Mall with several cafes and restaurants to work from depending on your choice of mood, cuisine and atmosphere.  
30 North
Located in both Capital Promenade and Mall of Arabia, this café offers speciality coffee as well as Wifi connection making it a favourite amongst freelancers.
Costa
Found in Americana Plaza, coffee and work go hand-in-hand. At Costa, you'll get your needed coffee fix as well as free WiFi to get you connected to the rest of the world.
Because Cairo is such a large city, there are countless places to work from remotely based on your location. However, the above options are some of the most common districts as well as the best choices to work from.
Best Places to Live in Cairo
Best Neighbourhoods
Maadi
One of the best things about Maadi is that it is packed with ex-pats. It is one of the very few neighbourhods in Cairo where you can take a stroll in the streets and actually enjoy the area. Filled with greenery around every corner, it is difficult not to fall in love with Maadi. As a digital nomad, you'll find Maadi accessible to everything you might need as it has an array of restaurants offering cuisines from all around the world such as Japanese, Thai, Chinese, South American, Lebanese and many more.
Around every corner, you'll find a supermarket, pharmacy, and numerous pubs/bars as well. There are also quite a few co-working spaces, cafes and restaurants that offer free WiFi for you to work and everything you might need to make your stay easy. One other advantage that can't be overlooked is the close proximity to the river Nile which not only offers a stunning view, but also a place to relax, breathe and recharge. 
Zamalek
Second on the list of best neighbourhoods to live in Cairo comes Zamalek. Zamalek is a small district in Cairo that offers everything you might need. Surrounded by the Nile from multiple directions, the atmosphere is usually chill, relaxed and offers mesmerising views. However, there has been quite a lot of reconstruction happening in Zamalek lately as a new underground system is being built, making it difficult to operate. Once it is finalised, transportation to other places in Cairo will be easy, hopefully decreasing its traffic and making it an even better location to live .In Zamalek, you'll find fine-dining, restaurants, cafes, pubs, art galleries and many small boutiques that give you the true essence of Egypt. 
Downtown Cairo
If you're looking to live in an area with beautiful architecture inspired by the Roman/Greek influence. However, what makes downtown Cairo truly unique is how local it is, giving a digital nomad a taste of different cultures. While downtown Cairo is very busy, it is the kind of place that never sleeps. It is filled with qahwas ( an Egyptian cafe style that offers shisha) and where you'll find locals relaxing with friends playing tawla (the Egyptian version of backgammon) or playing cards over a cup of tea and shisha. Transportation is relatively accessible to and from downtown as it is literally in the heart of Cairo. However, the safety for a foreigner is quite questionable, making other areas such as Maadi and Zamalek more convenient to live in.
New Cairo

 
Many nomads in Cairo tend to work as teachers making New Cairo an excellent option as it is where most of the top international schools reside. While New Cairo is located on the suburbs of Cairo, it is a lot less crowded and offers multiple accommodation options with greenery and even pools to make your stay more luxurious. However, the facilities in New Cairo are not as common as other districts as everything needs a car to go to. This can be an obstacle for nomads as driving in Cairo is an absolute nightmare. 
Sheikh Zayed

 
On the West side of Cairo lies Sheikh Zayed which offers pretty much the same thing that you'll find in New Cairo. It even comes with the same obstacles. However, living in these districts tend to make you quite loyal to them as you don't really have to leave. While a car is needed, you'll still find schools, universities, offices, restaurants, cafes, co-working spaces, pubs and even shopping malls. 
Find an Apartment in Cairo
Finding an apartment in Cairo is quite easy as the Market is huge. Because Cairo is such a big city, the rent may vary immensely based on the location. To narrow down your search, you need to pick the location first before looking for an apartment or else it could get completely out of control. If you're in Cairo for work, it is recommended that you reside in the same district as your office as traffic can make your stay an absolute terror. 
To help you find an apartment, here are a few websites to check: 
In each of these websites, you can filter your options based on the type of accommodation you're looking for, area, budget and whether it's furnished or unfurnished. However be wary that the price will differ greatly even within the same area. It is always advised to refrain from booking anything online before you arrive to ensure that the pictures and description posted online are legit. 
Once you get to know a couple of locals or expats in Cairo, they'll know someone who knows someone who has a place that you can rent. While this might seem difficult at first, it is pretty much how everything works in Cairo. That's why booking a temporary accommodation for your stay until you get to know a few people who can help is always the best option. 
Estimate rental costs for each location
As mentioned before, the cost of living can change based on your needs. However, you can find a range of prices from lowest to highest below depending on each location: 
New Cairo: Renting a one bedroom unfurnished apartment in New Cairo can start from 2000 EGP ($127) and can reach up to 20000 LE ($1270) for a furnished studio in a compound. The location and condition of the apartment can really affect the price range. 
Maadi: An unfurnished 2-bedroom apartment in Maadi can start from 2000 EGP ($127) or you could opt for sharing an apartment with the cost of a private room amounting to 1500 EGP ($95). However, a furnished 3-bedroom apartment in Maadi can cost 25000 EGP ($1600).
Zamalek: A studio apartment of 35 m costs 5500 EGP in Zamalek ($350) whereas a 2-bedroom furnished apartment could reach up to 30000 EGP ( $1900). 
Downtown Cairo: An unfurnished 2-bedroom apartment in downtown costs around 4000 EGP ($255). However, the cost of a 3-bedroom furnished apartment could cost around 13000 EGP ($830).
Sheikh Zayed: The price of a one-bedroom unfurnished apartment in Sheikh Zayed estimates to 2000 EGP ($127) whereas a 3-bedroom furnished apartment in a luxurious compound such as Beverly Hills could cost 37000 EGP ($2350). 
Cheap Places to Stay in Cairo
While accommodation in Cairo is relatively cheap, there are a few low-budget options you'll find without having to deal with third-parties. These are usually found on Facebook groups that are dedicated to help locals and ex-pats find locations in certain areas. These options will offer private rooms in shared apartments or even entire apartments up for rent. Here are a few groups to help you get started: 
Just like anywhere else in the world, the cheapest accommodation you can find will be in hostels. While the quality you'll face might not live up to your standards, the price is definitely appealing as it can start from $6/night. Be sure to read reviews before you book in order to know what to expect. Here are a few hostels that offer low-budget accommodation for your stay in Cairo: 

Freedom Hostel – Downtown Cairo 

Miami Cairo Hostel  – Abdeen 

Kings Palace Hostel – Abdeen 

The Australian Hostel Cairo – Abdeen 

Heritage Hostel Cairo -Downtown Cairo 

Agata Hostel – Al Azbakeya 

Holy Sheet Hostel – Abdeen 

Deluxe Australian Hotel Cairo – Abdeen 

Sun Hotel Cairo – Abdeen 

Cheers Hostel Cairo – Abdeen 

Dahab Hostel – Downtown Cairo 

Bella Casa Hostel – Downtown Cairo 
Cairo Visa
 Obtaining a tourist visa to Egypt is pretty straight-forward. Depending on your nationality, you can either apply for an e-Visa or receive a tourist visa on arrival once you reach the airport. This will allow you to stay in Egypt for 30 days and will cost 25 USD. 
If you're planning on working with a company in Egypt, the company will take care of the work-permit. In most cases, all they'll need is a valid passport, but should they need anything else they will ask you for it. 
If you're looking to stay in Egypt for a longer duration, obtaining a work-permit or an indefinite stay in Egypt would be quite difficult to get as an individual. However, it is possible to renew your tourist visa from Mogmma El Tahrir once your visa expires. Most expats living in Egypt tend to overstay their visa and just end up paying a fine at the airport. 
Culture and Food in Cairo
When it comes to food, the Egyptian cuisine is quite rich. At first, it will be quite shocking as it is very oriental and Middle Eastern with a lot of ghee and butter involved making the food an absolute delight. For a nomad wishing to get a taste of authentic Egyptian food there are a few dishes that are an absolute must: 
Fool (Fava beans)
 a typical Egyptian breakfast usually involves fool marinated in a white creamy sauce known as tehina cooked with vinegar and olive oil. It comes with different herbs and different flavours and is definitely the most common Egyptian breakfast. 
Koshary
 If you're a fan of carbs, this is about to become your favourite dish. Koshary is a mixture of pasta, rice, lentils and chickpeas topped with fried onion flakes, tomato paste and a garlic-vinegar dressing. 
Molokhiya
 Egyptians are very high on vegetables, but by far the best is molokhiya. Don't judge a book by its cover because it tastes a lot better than it looks. Molokhia is similar to a green, thick soup made from the leaves of Jute leaves and is also known as Jew's Mallow. It is eaten as a main dish with rice, chicken or rabbit meat. 
Mahshi
Stuffed vegetables are very popular in Middle Eastern cuisines. In Egypt, the most common vegetables are zucchini, aubergine and green bell peppers. These veggies are filled with a mixture of rice, herbs and minced meat. 
There are many more aspects of the Egyptian cuisine that are an absolute delight, especially when it comes to fish, poultry and meat but it's better to try it yourself at one of these authentic Egyptian restaurants: 

Kebdet  El Brince 

Sobhy Kaber

Abou El Sid Restaurant 

Kababgy 

Farahat 

Arabiatta 

Tabaly

Koshary  Eli Tahrir

Asmak

El Borg 
Cairo Nightlife
While Cairo is not considered a go-to destination for its nightlife, you'll definitely find options to have a good time. As Egypt is considered a Muslim country, it is not high on drinking and partying as the culture and religion prevents that. However, part of the population still partakes making it available in several locations. Here are a few places you can dance the night away in Cairo: 
Cairo Jazz Club
One of the most popular destinations to enjoy dancing to the beat and a few drinks is CJC in Agouza. They hold events every night of the week and share their schedule on their website as well as their Facebook page. You'll find bands playing covers, Egyptian folkloric music, underground DJs and musicians displaying their talents as well as certain nights dedicated to a type of genre. Check the calendar and enjoy the kind of music you like. 
The Tap
 Located on both the east, west, north, and south sides of Cairo, The Tap has quickly become a hit in the party scene in Cairo. Any night of the week, you can head over and grab a drink while listening to good music, playing fooseball and just having a good laugh. The Tap also holds events on certain nights of the week and is a lot more crowded on the weekend. 
Sass
 Feel like hitting a club that's on the Nile? Sass is a docked Nile boat that overlooks a fascinating view. This is a great location to enjoy a drink or two in a cozy amoshphere before the music turns up and everyone starts dancing next to their table at night. 
Pub28
 One of the most popular bars is located in Zamalek and can get really packed. While this pub is a great place to encounter locals laughing and having a good time, it can get a little too stuffed and smokey. 
Downtown Cairo
If you're looking for something a bit more Egyptian, then Horreya cafe in Downtown is the answer.In downtown, you'll find several local bars within waking distance that offer a more chill and relaxed atmosphere and only serve local alcohol. Because of their close proximity to each other, it's perfect for a pub crawl. 
The Atrium
Located in Maadi, this cool pub offers darts and billiards and is easy to make new friends over an informal game and a few drinks. 
Cheers
Another common pub where you can grab a drink, watch a match or just hang out is Cheers. The first branch that opened is located in Maadi, but there are several branches around Cairo. 
Zone 100
Located in Heliopolis this restaurant/nightclub is an excellent place to both dine in and party afterwards. It's a great place to spend your weekends and enjoy the company of locals drinking and dancing the night away. 
Red Onion
Located in Maadi, this pub is a low-key place to spend a relaxed night in Cairo and is perfect for weekdays. It offers drinks as well as music for anyone who wants to dance. Keep in mind that this has become a spot for seniors who also go for a drink and a cozy dance or two, making the atmosphere more laid-back than your typical active, loud pubs. 
Things to do in Cairo
Cairo has so much to offer due to its rich history, amazing culture and endless activities that every digital nomad will absolutely love. While the list is endless, here are the things you must do in Cairo: 
Pyramids of Giza

You cannot be in Egypt and not visit one of the 7 wonders of the world: The pyramids of Giza. While the area is not much taken care of, it will still leave you in awe to see how massive the pyramids are. While you're there, you can enjoy a camel ride or even go horseback riding in the desert.

Sail a Felucca on the Nile river

The Nile river is a mesmerizing view at any time of day but it is a breathtaking sight during sunset. Taking a felucca (a sail canoe boat) and being on the Nile as the sun sets is not only romantic, but an experience you'll remember forever. In fact, any Nile cruise will leave you in awe. If you'd like to add a meal to your night, there are Nile cruises that offer a dining experience such as Fel Felucca in Maadi.

Egyptian museum

The Egyptian museum previously located in Tahrir square is home to ancient Egyptian artifacts that will leave you in awe. However, for the past couple of years it has been moved to a new upgraded and renovated spot that is supposed to open in 2021. The Grand Egyptian museum is said to be the largest archeological museum in the world. It will hold numerous ancient Egyptian artifacts as well as the entire Tutankhamen collection.

Coptic and Islamic Cairo

A walking tour in Old Cairo is an absolute must. As you stroll by the incredible architecture and historical sites, you'll come across the Hanging church, the Coptic Museum, the Babylon Fortress and many other churches that encompass the historic aspects of Cairo. Old Cairo is also home to mosques that will leave you in absolute awe. These include AlAzhar Mosque, Al Hakim Mosque which is known for its soaring minarets, Al- Sultan Hassan Mosque and Al Rifa'i mosque. Khan El khalily: Markets are a huge part of the Egyptian culture, but this area is a market like no other. Here you'll find an array of handmade Egyptian products from spices, tea stalls, jewellery, slippers, scarves, papyrus art and many others.

Moez Street

In the same area as Khan el Khalily, Moez street is located and is an absolute must if you're looking for something authentic, oriental and absolutely stunning. This pedestrian street is filled with mind-blowing medieval and Islamic architecture. Not only will you find beautiful mosques, but you'll also come across a few buildings that are historical sites and even hold must-see traditional cultural and dance events such as the Tanoura show which is held at Wekalet el Ghouri cultural center.

Cairo Tower

Located in Zamalek, the 187 meter tower offers a panoramic view of Cairo as it overlooks the Nile, too. It is an incredible view and is especially pretty at night when the city lights up and comes alive. This site is the second most popular attraction in Cairo after the pyramids.

Water activities on the Nile

While riding a Falouka is a relaxing activity to do in Cairo, there are several fun water sports that are held on the Nile, too. These include kayaking, rowing and even windsurfing. However, it is always best to check the weather first to make sure that it is windy enough to windsurf.

Street food

Egypt is a country known for its incredible street food and is something every foreigner should experience to understand how food is such an important part of the culture. Around every corner, you'll find food stalls that offer kebda, mokh and fried shrimps sandwiches that are made the Egyptian way. You'll also find oriental desserts such as Zalabya, sakalans, feteer and many other Egyptian delicacies you'll absolutely fall in love with. There are several tours that offer food tours around Cairo.

Art galleries tour

Egyptians are creative and talented by nature. That's why you won't be disappointed when visiting art galleries in Zamalek and Downtown. Underground Egyptian art, workshops and events can also be found in Darb 1718 or even screenings of aspiring filmmakers at Zawya or Room Art space.

Go on a picnic

Because Cairo offers excellent weather most of the year, a picnic is something you can enjoy on numerous occasions and is a great way to spend a day with the family. This can be done in Al Azhar Park with vast greenery as well as Family Park where there is also a kids area as well as animals for the children to pet and play with.

Historical buildings

The architecture in Egypt in certain areas is breathtaking. A historical building that is an absolute must would be Al Manial Palace where Prince Mohamed Ali once resided. It is now an open museum that has been preserved as an antiquities council due to its incredible architecture and interior. Another historical building with numerous myths and stories surrounding it is Baron Empain Palace in Heliopolis. The palace was designed by a Belgian architect and was inspired by the Hindu temples of South India. Just recently, it has opened to the public and is possible to take guided tours inside which also explains the myths around the palace.
Best Time to Visit Cairo
The weather in Cairo is sunny the majority of the year. In fact, during the summer, the temperature is usually between 30-40 degrees Celsius and can sometimes be a bit too much. During these months, most Egyptians flock to the North Coast by the Mediterranean Sea where the temperature is more bearable and the summer breeze on the beach is absolutely fascinating.
If you're coming from a colder country, you'll appreciate the sun in December and that the cold winter only lasts for a month from mid January-mid February. 
During the winter, the sun will still probably come out in the morning with highs of 15-20 degrees and lows of 7-12 degrees. While that sounds like spring in many places in the world, the greatest problem is that the houses are not equipped to keep out the cold and so a heater is absolutely essential indoors to stay warm. 
It doesn't rain much in Cairo, but when it does, the streets get flooded due to the poor infrastructure. While the weather all-year-round is fantastic in Cairo, the spring and fall (April-June and September-November) are the months with the best weather in Cairo. 
During the month of March, Cairo usually encounters sandstorms and very dusty unstable weather known as the Khamaseen. For the rest of the year, the weather in Cairo is usually an absolute delight and waking up to a bright day is something any digital nomad can quickly get used to. 
Cairo for Families
Schools
There are many international schools and day care centres available for kids according to the curriculum you'd like to follow. However, in comparison to the cost of living in Cairo, a decent education can be quite pricey. Schools accept children starting the age of 4.6 years. 
American educational systems
 The most popular schools include AIS (American International School), MET (Metropolitan School), CAC (Cairo American College), AISE (American International School in Egypt). 
British educational system
The top-notch British schools in Cairo include MES (Modern English School), BISC (British Internatonal School in Cairo), NCBIS (New Cairo British International School), MBIS (Maadi British Intrnational School) and MCE (Malvern College Egypt) 
German educational system
 While there are not that many German schools in Cairo, the ones available offer an excellent education. These include DEO (Deutschland Evangelische Oberschule), Europa Schule Kairo and DSB (Deutschland Schule Dee Borromarinnen). 
French educational system
French is considered to be a third language in Egypt which makes many families decide to follow the French educational system. Schools following this system include Lycee Francais du Cairo, Concordia – Lycee International Francais en Egypte, Lycee International Balzac, Ecole Oasis Internationale, College de lA Saints Famille (Jesuites) and College du Sacre-Coeur.
As for nurseries, there are so many in each district as most people choose a daycare centre based on proximity. However, each school does have a list of nurseries that they approve children from making it essential to enroll your child in a certain nursery if you're opting for a specific school. In this article, you'll find a list of nurseries with prices in New Cairo as well as a list of German nurseries around Cairo. 
As a family, there are a lot of things you can do together. From spending the day at a park and having a picnic at Al Azhar park or family park or visiting one of the animal-friendly places in Cairo such as Kidzoo, Nemo Farm, Sakkara country club, Dondon park and Africa park. There are also many activity centres such as Ski Egypt where the family can go skiing, snowboarding or just play with the penguins. Or you could go to one of the many escape rooms or paintball destinations in Cairo. You'll also find several restaurants that offer play areas for your child to play as you dine. 
Living in Cairo
Cairo Transportation
If you're thinking of driving in Cairo, think again. Not only is traffic horrendous in Cairo, but nobody follows any safety and driving rules. It is quite normal to find Egyptians creating 4-5 lanes on a two-lane street. Accidents are very common on the streets of Cairo as well as cars breaking down making it a norm to get stuck in traffic. 
Metro
When it comes to transportation, the Metro system is the most-connected, most-reliable form of transportation that connects a large part of Cairo together. However, during the rush-hour you'll find it extremely packed to the extent that you will be glued to the person next to you. 
When using public transportation, keep your belongings safe as there are many pickpockets who take advantage of the crowds. For female digital nomads, always choose the female-only carriages to avoid any form of harassment. Ticket prices vary based on destination amounting to 5 EGP ($0.3)  for 1-9 stops, 7 EGP ($0.45) for 9-17 stops and 10 EGP ($0.64) for 16-40 stops.
SWVL
 Over the past few years, there are several companies who have launched more reliable, less-crowded transportation options at a higher standard. SWVL, a private bus company, offers rides all over Cairo and can be booked through their app. Prices can start from EGP 25 ($1.25)  per ride with the possibility of signing up to packages of multiple rides for a cheaper price. 
Uber
 One of your best bets of moving around in Cairo at your own pace is of-course using Uber. The fares are relatively cheap in comparison to international prices and are available frequently in every location. 
Taxis
 While taxis are easy to find, they tend to take advantage of foreigners and surge their prices. So, before getting into a taxi, ask them to use their meter for pricing, if they refuse, avoid getting into that taxi. 
Fitness and Health
The fitness scene in Cairo has been growing immensely for the past decade. You'll find countless fitness groups that offer group training in every location. The most popular ones that have facilities all over Cairo are BeFit, Ignite Egypt, and HIT. Their prices vary but can start from $40/month. 
Gyms can be found scattered in every street and due to their relatively cheap prices in comparison to Europe for instance, it can even make more sense to get your own Personal Trainer. The most popular gyms are Gold's Gym, Smart Gym, Hers Gym (Ladies only) and many others. If you're staying for a while, it would make more sense to get a monthly subscription as they are a lot cheaper. Most gyms and fitness centres make huge discounts on their packages during Black Friday and New Years. 
Trying out a new sport or activity can be something to add to your list of things to do and is also a great way to meet new people. Boxing, MMA, swimming are available per session for you to test out as well as other activities such as rock climbing, paddle tennis and rowing. 
Cairo People
Egyptians are very friendly, hospitable and welcoming by nature. You'll feel their generosity when you make friends and will instantly feel that you've become part of their family. However, when it comes to the culture, it is important to understand that Egyptians are somewhat conservative and live in a mostly patriarchal society. This is extremely evident in the way men treat women in all aspects. Egyptian men like to take care of females and whether they become a friend, partner or colleague, they will feel the need to have some sort of authority over you as a form of protection. 
Because the culture is religious and conservative, there are many limitations when it comes to the general public. Greetings do not involve any form of physical contact and it is advisable to refrain from hugging or kissing as a greeting. Some stricter sects will not even shake hands. However, there are many Egyptians who are a lot more open-minded and will welcome nomads with open arms. 
The common language spoken in Egypt is Arabic, but because of the foreign occupancy in Egypt most people can get by with a few words of English. That being said, the second language in schools being taught in Egypt is English and many schools and universities have a strictly English curriculum allowing middle and upper class locals to speak in fluent English. 
Egyptians are humorous, fun and tend to be sarcastic all the time. Don't take it personally if they start making fun of you, it's just their way of being friendly.
When it comes to Egyptian males, their temper can easily get out of control, especially when it comes to family, culture or honour. However, they are one of the most loyal and charismatic nationalities due to their humorous characters, their welcoming of others and how they'll stand by you through thick and thin offering their guidance and support in any way they can. Once you've made an Egyptian friend, they become a friend for life. 
Describing an Egyptian in a nutshell would come down to, funny, sarcastic, brave, loyal, hospitable and short-tempered. One of the greatest traits of Egyptians is their insane problem-solving abilities due to the many obstacles they face in life. That's just part of the reason that makes them highly creative beings that always think out of the box. 
Cairo Insurance and Medical Care
The public healthcare system is of low standard as a result of lack of funding. This is because the government investment in healthcare in Egypt is only 1.5% of the country's GDP. For that reason, most Egyptians who can afford it resort to private healthcare. 
Like everything else in Egypt, insurance will be difficult to obtain as an individual, especially if you do not have any documents permitting your long-term stay. That's why it is best to obtain international insurance from your home country, allowing you to get the medical care you need in Cairo. Otherwise, there are health insurance companies such as Buppa, Allianz, AXA and MetLife that offer several types of individual medical insurance according to the plan you're willing to buy. 
The Medical care in Egypt is not one of the best, but you'll find everything available. One of the cheapest care you can get in comparison to Europe is dental care. Even though it is considered relatively expensive in Egypt and is rarely covered by insurance plans, it is still manageable when compared to Europe. 
If you're in need of a hospital, be sure to pick one of the hospitals with a better reputation as there are less risks when it comes to cleanliness, hygiene and general healthcare accidents. These include Dar Al Fouad Hospital, Cleopatra Hospital and Saudi German Hospital. Many hospitals also offer outpatient clinics with some of the best doctors in Egypt. 
Make sure you are fully covered by reading our full Digital Nomad Travel Insurance guide.
Jobs in Cairo
One of the easiest and most lucrative jobs to get for a foreigner living in Egypt would be teaching, especially if you're coming from the UK, USA, Canada or Australia and are a native english speaker. International schools value native speakers allowing a digital nomad to make anywhere between $2000-3500 depending on the school as well as your experience and qualifications. 
Depending on the language you speak, call centres and customer service as well as translating are also in high demand. Most other jobs will require experience and qualifications, but you could find jobs on the following portals: 
The entrepreneur world is rapidly growing in Egypt with still much room for new startups. Whatever idea you have, it is quite easy to set up a social media account dedicated to it, send out a few gifts to influencers in Egypt and quickly gain recognition if you offer something cool or trendy. Because of that, social media skills as well as content creation are always in demand in Egypt and advertising agencies are always looking for fresh blood and new ideas to reach a wider audience. 
Most jobs that are not desk jobs will require speaking the language as well as understanding the market, making it difficult for a foreigner to fit in. However, Egyptians highly value foreigners and will be willing to hire anyone just to add value to their company. 
Check out our Digital Nomads Jobs Postings to find the best jobs available for Digital Nomads.
Nomad Friendly
Value for Money
Internet
Workspace
English
Food
Safety
Health
Transportation
Friendly
Quality of Living
Cost of Living Cairo
While living in Cairo is considered relatively cheap, the cost of living can easily add up if you're a social butterfly. Because Egyptians tend to go out every night, you could easily find yourself spending $20-100 per night depending on the places you go and what you do. However, for digital nomads who decide on maintaining a reasonable lifestyle, living in Cairo while getting paid in any foreign currency will give you the ability to save up big time. To help you get an idea of what you'll be spending on average, here are a few essential items and their average costs: 
Cup of coffee: 40 EGP($2.5)
Bottle of water: 4 EGP ($0.25)
Can of soda: 4EGP ($0.25)
Domestic beer: 27 EGP ($1.7)
Imported beer: 39 EGP ($2.5)
Pack of cigarettes: 45 EGP ($2.9)
1 litre of milk: 15 EGP ($0.9)
Loaf of bread: 10 EGP ($0.6)
12 eggs: 18 EGP ($1.15)
1 kg of Local cheese: 50 EGP ($3.19)
1 kg of chicken fillet: 70 EGP ($4.5)
1 kg of beef: 135 EGP ($8.6)
Dinner at a mid-range restaurant: 200-300 EGP/person ($13-$20)
Dinner at an expensive restaurant: 600 EGP/person ($38)
Fast food: 20-100 EGP/person ($1.3-$6.5)
When trying to calculate an estimated cost to add on to your fixed costs, an average amount per person at the grocery store will include 1000 EGP/ month ($65). As for utilities, the basics for a one bedroom apartment will be around 600 EGP($38).