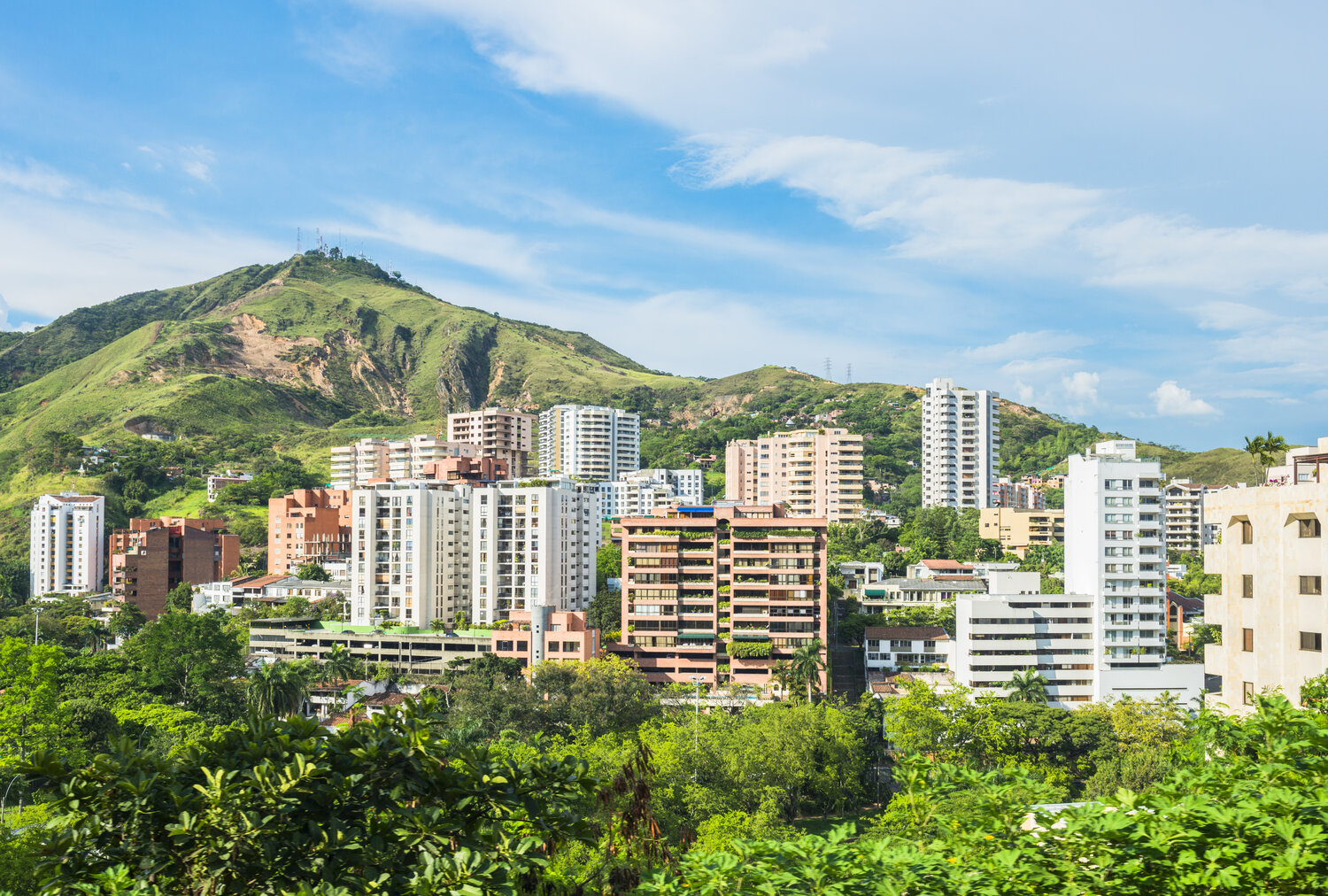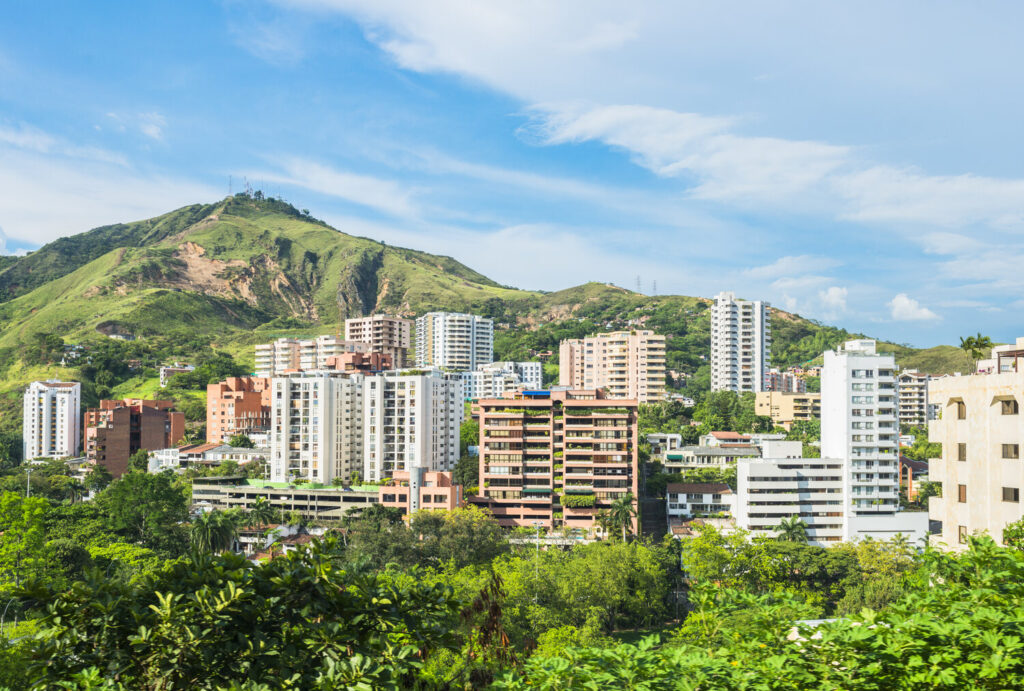 A Digital Nomad Guide to Cali
Cali is the capital of the department of Valle del Cauca and the third most populous city in Colombia. Geographically, the city is located in the Cauca River Valley formed by the western mountain range and the central mountain range of the Andean Region, with an average height of 1000 meters above sea level.
It was founded on July 25 1536, which makes it one of the oldest cities in America. In addition, it is the only large city in Colombia that has quick access to the Pacific Ocean.
Cali is also one of the main economic and industrial centers of Colombia, in addition to being the main urban, cultural, economic, industrial and agrarian center in the southwestern part of the country and the third nationwide after Bogotá and Medellín.
It is one of the main sports centers in Colombia, highlighting the organization of important sporting events such as the 1971 Pan American Games and the 2013 World Games. 
At the same time, it is known as the world capital of salsa and for being a happy city with a high degree of insecurity but also kindness among people.
Nomad Friendly
Value for Money
Internet
Workspace
English
Food
Safety
Health
Transportation
Friendly
Quality of Living
Living in Cali Overview
| | |
| --- | --- |
|  Meal, Inexpensive Restaurant | $2.51 |
| Domestic Beer (1 pint draught) | $0.75 |
| Cappuccino (regular) | $1.06 |
| Loaf of Fresh White Bread (1 lb) | $0.79 |
| Water (1.5 liter bottle) | $0.74 |
| One-way Ticket (Local Transport) | $0.55 |
| Basic Utilities (Monthly) | $53.45 |
| Internet | $25.64 |
| Fitness Club (Monthly) | $17.99 |
| Apartment (1 bedroom) in City Centre | $183.49 |
Currency: Indonesian rupiah (Rp)
[erw_exchange_rates_widget lg="en" tz="0″ fm="IDR" to="EUR,USD,GBP,AUD,JPY,RUB" st="primary" cd="" am="15000″][/erw_exchange_rates_widget]
ATMs
Max Withdrawal: Rp 3,000,000
Withdrawal Fee: Rp 30,000 – Rp 50,000
Use of Credit Cards: Mostly Cash
Digital Nomad Personal Experience in Cali
Cali is a cheap city to live in, being able to decide between a life full of luxury or a simpler and cheaper one. Food, public transportation and basic services are also cheap and good.
Although it is not a safe city, Caleños, as their people are called, tend to take care of each other. In addition, security also depends on the neighborhood where you are and there are many completely safe gated neighborhoods. While I saw several robberies with violence, I never experienced one even using public transportation and walking its streets every day. It is a matter of luck but also of liveliness.
The temperature in Cali is ideal and one of the reasons that made me stay a long time. It varies between 19 ºC and 26 ºC during the year, being stable and allowing you to have only summer clothes. It rains a lot anyway, so be prepared to get wet.
The city is also a good place to learn to dance salsa and to enjoy its nightlife. Here even men enjoy dancing, regardless of who. There is an innumerable offer of bars and clubs. Also, restaurants with national and international food and with rich traditional dishes that you will only find here like the champús that I will tell you more about later.
It also has several hills, green spots and viewpoints to enjoy the weekend, such as the Sebastián de Belalcázar viewpoint.
However, what I enjoyed the most about the city is its people. They have an innate joy even on bad days that is contagious and makes your life happier. There is always something to do, you will always count with their support and their joy.
Work in Cali
Best Places to Work in Cali
Cali has numerous coworking spaces where you can meet new entrepreneurs and have a functional office without having to put it together from scratch.
Coworking Tequendama
Coworking Tequendama ( (Cl. 6b ## 43-05, Cali) is located in a quite popular area where you can enjoy various entertainment points once the work day is over. It also offers high speed internet and Wi-Fi, free coffee, locker with keys, correspondence management, conference room with capacity for up to 30 people, green areas, cafeteria and kitchen.
Casa O
Casa O (Cra. 23b # 3-56, Cali) opened its doors to the public in 2015 and since then it has been one of the most popular in the city. It has five private offices with internet, desk and printers. It also has a common reception, a lounge with hot-desks, a meeting room with 17 enabled seats, free coffee, tools to develop 3D modeling workshops, 3D printer manufacturing and Wi-Fi connection. Their 5-day plan is the most used and costs 120 thousand Colombian pesos (32 USD).
El Lab
El Lab (Cl. 4b ## 35a-11, Cali) is one of the largest Coworking spaces in Cali. Its design is quite flexible and innovative, its rooms can be converted into ones for individual workstations. It has a capacity for 80 people with a total of 65 workstations designed for the comfort of those who use them. It offers free coffee and water, Wi-Fi connection, virtual office and conference room, among other things. Packages are offered by day, hour or month. The smallest is worth 88 thousand Colombian pesos (23 USD) plus taxes for 20 hours per week.
Instant Offices
Instant Offices is located in the best area of ​​the northwest of Cali, just 10 minutes from the city center, with immediate access to public transport, close to restaurants, supermarkets, parking lots and the main gym in the country. Although it is not the cheapest, once you enjoy its services you will notice how pleasant it is to work in its facilities. In its shared space it has capacity for 20 seats with comfortable chairs. It also has private offices, meeting room with interactive videobeam, air conditioning, rest area with pool and garden, kitchen, coffee and wi-fi. With the fixed rate you can enjoy all the services without any additional price. Among the rates they offer, a small office with all the above services included costs from 555 thousand Colombian pesos per month (146 USD).
Insight coworking
Insight coworking (Cl. 3 Oe. ## 3A-10, Cali) offers shared workspaces with floating positions, private offices, meeting rooms, negotiation tables, conference rooms, bean bag area to relax or get inspired, meeting room waiting, kitchen, messaging and computer services, coffee and snacks, high speed internet, printer, photocopier, scanner, smartTV and much more. In addition, it is located in a historical area with a wide gastronomic and artistic offer.
With these five suggestions you will be able to realize that the city has several and very complete possible offices for an accessible price. Visit them and decide which one best suit your needs.
Best Places to Live in Cali
Best Neighbourhoods
Cali is the third largest city in the country and in recent years it had an important development in the real estate sector, which makes it an attractive option for all those looking for a place to start a family or improve their quality of life. But, which neighborhood should you choose?
Pance
Pance is a coveted neighborhood located in Comuna 22. It is one of the most exclusive sectors of Cali at the south of the city. Its buildings and houses are characterized by being large and modern, with swimming pools and green areas to enjoy the sun every day. In addition, it is located near the emblematic Pance River, a traditional meeting place in Cali. 
Ciudad Capri
Ciudad Capri, located in Commune 17, is characterized by being a residential neighborhood, but with a great variety of commercial offerings in the periphery. In the center of the neighborhood you can find a beautiful park. Among its areas of interest there are two shopping centers that will allow you to have close access to entertainment and commerce without leaving the area. Another of its most notable factors is that it has good access roads so that you and your family can move easily.
La Flora
La Flora is a mainly residential neighborhood with a quiet atmosphere. Here is the most important gastronomic destination in Cali, in the Granada area. In addition to being one of the oldest and most traditional neighborhoods in the city, it has a growing gastronomic offer with more than 65 gourmet and international restaurants serving Japanese, Mediterranean, Italian and Mexican food, among others. This area of ​​Cali also offers an excellent nightlife. Additionally, it has a good range of playgrounds and green areas for the recreation of all members of the family.
Santa Rita
Santa Rita is located near the Cali River, and has a quiet environment and uncrowded roads. It maintains a good balance between the proximity to the city center, but without losing its environmental qualities. This neighborhood has more than 70 years of history and a great cultural offer since there is La Tertulia Museum, the first museum of modern art in the city. Santa Rita continues to be a very residential area, with quiet streets and a natural environment due to the fact that it has a thousand ornamental plants in its territory.
Valle del Lili
Valle del Lili is a neighborhood located in Commune 17. It is located in a residential, quiet and peaceful area. In addition, you can find many complexes and buildings with green areas and swimming pools to enjoy the hot weather with your family and friends. It is characterized by being surrounded by rivers. The warmth of the neighbors, the excellent public transport service, security, green and quiet areas and the offer of educational institutions make this neighborhood a highly coveted area.
El Ingenio
El Ingenio, a neighborhood located in Commune 17, has 300.000 square meters of green areas, including Parque del Ingenio, the largest in the city. It is ideal for going for a walk, walking pets, playing sports and clearing the mind. It is characterized by being quiet, with little noise and by being close to important universities and colleges, health centers and shopping centers. It is the residential area preferred by families who love nature and want to enjoy cleaner air.
El Caney
El Caney, in Commune 17, is a residential sector with many relatively new buildings and houses. It has the best roads in the city. It is close to shopping centers, supermarkets, soccer fields and parks; It is a strategic place that has an increasing influx of projects, especially elegant buildings, equipped for large and small families.
San Fernando Viejo
San Fernando Viejo has business areas with restaurants, cafes and bars. In addition, it has hospitals, sports complexes, schools, universities and parks. It is a very diverse and cosmopolitan neighborhood, as many of its inhabitants came from Switzerland, Spain and Germany.
Find an Apartment in Cali
Expats need to consider factors such as cost, security and location. As a result of the country's economic disparity, there are prices for all budgets. However, expats are generally limited to a fairly small selection of middle to upper-class neighborhoods that offer security and proximity to different services.
Costs vary depending in location, size, number of bedrooms and amenities. There are several luxury apartments available as well as many more economical apartments with fewer amenities. If you want to rent an apartment with furniture you will pay more but you will have more flexibility with a shorter contract. You find studio rents ranging from 360 to the incredible amount of 3.000 USD per month, 2-bedroom apartments with rents starting at 400 USD and 3-bedroom apartments with rents starting at 600 USD.
In addition, many furnished apartment rentals in Medellín require a security deposit. The security deposit charges ranged from 100 to 500 USD. The average is 215 USD.
Also, most furnished apartment rentals in Medellín require a cleaning fee. The cleaning fees ranged from 5 to 99 USD.
There are two main websites to find furnished apartment rentals in Medellín. Airbnb with thousands of furnished apartments listed around Colombia and Nestpick that also has hundreds of furnished apartments.
Furthermore, some real estate companies have furnished apartments available and they tend to list their apartments in Airbnb. If you go directly to a real estate agent, ask final prices with commissions included and all kinds of taxes.
If you rent through a website like Airbnb, always choose properties with at least 5 long reviews because the short ones mean that the property was not that good. Also, always ask for the exact location because the host has the ability to move the map location on Airbnb anywhere they want after you have already booked it.
The best way to get an unfurnished apartment is by walking around the area, talking to people in the neighborhood and looking for "se arrienda" or "for rent" signs. Many apartments and houses are rented directly by their owners and not by real estate agencies.
Colombian real-estate agencies require background credit checks. This may prove difficult for expats without a credit history in the country, but a salary slip or bank statement will usually be accepted. Leases Expats will need one or sometimes two Colombians to co-sign the rental agreement. These cosigners will generally need to be property owners and will be responsible for payments should the tenant default. 
Unfurnished rental contracts in Colombia usually last 12 months. This can be negotiated though, depending on the landlord. Also, insurance companies function in place of deposits. A landlord will draw up a contract with an insurance company. This company will offer security against arrears and damage to the property. The cost of the policy will be written into the lease agreement. 
You also should be sure to confirm that the property has hot water. It is usually the tenant's responsibility to pay for services such as water and electricity. The person responsible is stipulated in the rental contract and you can ask about how much you will pay for utilities.
Cheap Places to Stay in Cali
If you have a limited budget, you should rent a room, even for a long period of time. However, finding a well-maintained furnished room to rent can take time. In general, when an apartment has several rooms, many times the smallest rooms without a private bathroom are the cheapest but not the most comfortable.
To find a room you can use Airbnb or one of the local options that are cheaper. CompartoApto.com is a Colombian website that has many furnished rooms available for rent. The biggest downside to this site is that most of the owners don't speak English. There is no fee to join CompartoApto for a basic membership. But if you are a basic member and the owner of the room is also a basic member, you cannot communicate. The cost of a higher membership is less than 5 USD per week. Room rental rates range from 140 to 600 USD per month.
Another option is Roomster.com, a roommate search service that operates in 192 countries and is in English. Roomster has a free version that allows users to use the site but without access to the mailbox and social networking features. A subscription or full membership in Roomster gives you access to the mailbox to be able to contact others. Rates start at 5.95 USD for a three-day trial subscription and 14.95 USD for two weeks. You do not have too many room options so it is always advisable to look at what they offer before paying for the service. Prices range from 80 to 500 USD per month.
Another option to find a room for rent is through Facebook groups. Usually the listings on Facebook tend to be higher end properties but you can sometimes find deals for furnished room rentals.
Cali Visa
Citizens of some countries need to present a visa to enter as tourists, which can be obtained at the Colombian consulates.
People with passports from the following countries don't need a visa to enter and stay temporarily as tourists: Albania, Germany, Andorra, Antigua and Barbuda, Former Yugoslav Republic and Macedonia, Argentina, Australia, Austria, Azerbaijan, Bahamas, Barbados, Belgium, Belize, Bolivia, Bosnia and Herzegovina, Brazil, Brunei Darussalam, Bulgaria, Bhutan, Canada, Czech (Republic), Chile, Cyprus, Korea (Republic of), Costa Rica, Croatia, Denmark, Dominica, Ecuador, El Salvador, United Arab Emirates, Slovakia, Slovenia, Spain, United States of America, Estonia, Fiji, Philippines, Finland, France, Georgia, Grenada, Greece, Guatemala, Guyana, Honduras, Hungary, Indonesia, Ireland, Iceland, Marshall Islands, Solomon Islands , Israel, Italy, Jamaica, Japan, Kazakhstan, Latvia, Liechtenstein, Lithuania, Luxembourg, Malta, Mexico, Micronesia, Moldova, Monaco, Montenegro, Norway, New Zealand, Netherlands, Palau, Panama, Papua New Guinea, Paraguay, Peru , Poloni a, Portugal, Qatar, United Kingdom of Great Britain and Northern Ireland, Dominican Republic, Romania, Russia (Federation of), Saint Kitts and Nevis, Samoa, Saint Marino, Saint Lucia, Holy See, Saint Vincent and the Grenadines, Serbia , Singapore, Sweden, Switzerland, Suriname, Trinidad and Tobago, Turkey, Uruguay, Venezuela. Holders of Hong-Kong passports – SARG China, the Sovereign Military Order of Malta, Taiwan-China, Nicaraguan nationals who prove that they are natives of the Autonomous Region of the North Caribbean Coast and the Autonomous Region of the Caribbean Coast South.
Nationals of Cambodia, India, Nicaragua, Myanmar, the People's Republic of China, Thailand and Vietnam can enter Colombia and remain temporarily in the national territory without a visa and provided that they prove:
Be holders of a residence permit from a State of the Schengen Area or the United States of America.

Be holders of the Schengen visa or the visa of the United States of America with a minimum validity of 180 days at the time of entry into the national territory.

For Nicaraguan nationals, this permit also applies if they prove that they are Canadian visa holders or have a Canadian residence permit.
People with passports from the following countries require a visa to enter Colombian territory: Algeria, Armenia, Bahrain, Benin, Belarus, Botswana, Burkina Faso, Burundi, Cape Verde, Cameroon, Chad, Comoros, Congo, Ivory Coast, Egypt , Eritrea, Ethiopia, Gabon, Gambia, Ghana, Guinea, Guinea Bissau, Equatorial Guinea, Haiti, India, Kenya, Kyrgyzstan, Kiribati, Kosovo, Kuwait, Lesotho, Macedonia, Madagascar, Malaysia, Malawi, Maldives, Mali, Morocco, Mauritius , Mauritania, Moldova, Mongolia, Namibia, Nauru, Nepal, Nicaragua, Niger, Oman, Central African Republic, Rwanda, Sao Tome and Principe, Senegal, Seychelles, Swaziland, Thailand, Tanzania, Tajikistan, East Timor, Togo, Tonga, Tunisia, Turkmenistan, Tuvalu, Ukraine, Uzbekistan, Vanuatu, Vietnam, Zambia, and Zimbabwe.
If the traveler's reasons for entering the country are study or work, he must apply for a visa or permit at the Colombian consulate accredited in his/her country of origin.
Before traveling, it is recommended to consult with the closest consular or diplomatic agent, the procedures and requirements demanded by Colombian laws in each case, since the information may change.
Culture and Food in Cali
Cali will surprise you with its exquisite food. The gastronomic area is located in the Granada neighborhood, although if you go on a budget I do not recommend it so much. Another traditional place to eat in Cali and more favorable for your pocket, is the Alameda Gallery, a popular and simple place with a gastronomic offer focused on seafood. In the same way, throughout the city, there is a varied offer of typical restaurants as well as national and international food at a very good price.
The most popular recommended dishes are: Sancocho de gallina, pork chop, Arroz arroz atollado, empanadas, aborrajado valluno, pandebono, pandeyucas, marranitas, manjarblanco, lulada, champús and cholado. Champús are my favorite ones. It is an acidic drink, made from pineapple and lulos pulp, which is not completely whipped, so it contains pieces of fruit.
Among the best places to eat is El Escudo Del Quijote (Calle 4 Oeste no 3-46). Her cook, María Claudia Zarama, cooks from the heart. Here you can enjoy a beer with green bananas stuffed with pork rinds and chili with yogurt from the Andean farm. Also, grilled octopus with native potatoes and smoked trout tortellini.
At Donde Basilia (Calle 5e no 42a-53 – Galería Alameda), Basilia prepares some of the most traditional dishes from her native Choco. Among those recommended is the spicy and moist Clavao Rice.
Platillos Voladores (Av 3 norte no 7-19) has that identification with the tastes, secrets and techniques of Cali. Among those recommended is the "asofrinada" shrimp soup with coconut, coastal cheese and pasta shells. Also, the fillet covered in chontaduro sauce and chili jam.
Antigua Contemporanea (Carrera 10 Calle 2 corner, San Antonio) has an exotic decoration shop where you can dive among oriental sculptures, small bridges, huge fountains and Buddhas. The restaurant, behind, has a mix of Asian, African and European design in a colonial style house with a beautiful garden. Here I recommend you to try the fresh salmon from the house.
Pura Casta (Calle 16a no 123-00, Pance) is possibly the best meat restaurant in town. It is one of the most acclaimed restaurants in Cali, with 27 years of serving the best cuts of meat. In the background, behind the grill, Manuel Orbes directs the barbecue.
Authentic and deep flavors of these lands are served in the wooden dishes at Domingo Mercado de Vereda (Calle 4 Oeste no 50). I recommend you try the spiced chicken and the pork belly in pastrami that will surprise you the most.
If what you prefer is a rich Colombian coffee with the traditional pandebono, you can go to KUTY Panaderías (Calle 27N Avenida 6).
Bon Appetit!
Cali Nightlife
The party air is mostly felt on Sixth Avenue (Sexta Avenida). Here you will find many bars and clubs to dance salsa, merengue, cumbia, tropical music and bachata. But Cali is a city that has options for everyone, those who like rock, pop and electronic music will also find places to have a good time. Some of the more traditional nightclubs are: Brisas de la Sexta, Baiaio Disco, Cuba Libre, Fandango, Las Cascadas La Sexta, Le Monde and Mango Biche.
Among the bars, Kabaret Bar (Avenida 9 N # 14-17, Barrio Granada) specializes in popular music and boleros. This music may be romantic, but the atmosphere at Kabaret is absolutely fun. It's basically the kind of place that people go to sing their voices out.
Maui Sports Bar and Brewery (Calle 78 No. 18-21) is a sports bar and brewery. There you can have a beer while enjoying a good football game on the screen projector.
La Tiendita (Carrera 4 # 2 Oeste-2) is a small place with five spaces, between a terrace and three internal rooms. The predominant music is Crossover. You can also enjoy a wide variety of food and spirits.
Bar Roset Restaurant (Carrera 2 # 1-14) is one of the most luxurious restaurants and bars in the city. This place is inspired by the desire to travel the world. Therefore, it has the most exotic decorations from different countries around the globe.
Among the clubs you will find, Rain Club (Calle 15 AN Norte n ° 8 – 53) with modern equipment in terms of lights and sound, is an excellent dance floor and a bar with all kinds of drinks. Within the musical selection you can find hip-hop, electronic music, reggaeton and pop, all in Spanish. Here, fun is guaranteed.
In Sagsa (Calle 15 Norte n ° 9 – 16) you will find a dance floor where you can dance salsa, vallenato, merengue, reggaeton and electronica, among other rhythms.
Zambomba (Avenida 9 Norte N ° 15 – 02) is one of the most famous entertainment venues on the city and the interesting thing is that here you can find the best typical dishes of the region, all the drinks you can imagine and a dance floor in which you can dance the rhythm of current hits, classics and live music every Thursday.
The largest salsa audition in the city takes place on the first Saturday of each month, with a free event in which salsa lovers gather to enjoy live music. If you have the opportunity to go to the Delirium Tent, it is something that you will not forget in your life, since it is a unique show in the world. There, a large number of dancing artists leave everything on stage in a show in the best Broadway style with a mixture of salsa, circus, rhythm and poetry.
Things to do in Cali
The first activity you can do in Cali is to walk and look at the buildings in its historic center. You can visit the Plazoleta de San Francisco, the church and archaeological museum of La Merced, the famous Calle de la Escopeta, Plaza de Caicedo, National Palace, Poets Park, Jorge Isaacs Theater, La Ermita Church, Coltabaco Building and the Ortiz Bridge. Most of these sites have been declared a National Monument, due to their great historical and architectural value.
You can also visit Boulevard del Río which has a series of cat sculptures. Located on the banks of the left bank of the river, is the famous River Cat, which is a giant sculpture of a cat that has become an icon of the city. It measures 3,50 meters high, 3,40 meters wide and weighs 3 tons. The sculpture is accompanied by 15 other figures of cats distributed in this walk, which were made by different artists.
In the plaza Jairo Varela you will find a giant trumpet, in which if you stand under his cones you can hear the best-known salsa songs from Jairo. Jairo Varela is the greatest exponent of salsa, who, despite not having been born in this city, developed his entire musical career there. The area is also full of cafes and restaurants to rest after a day of walking.
The Cerro de Cristo Rey is located on the road to the sea and was inaugurated in 1953. From there you will have the opportunity to see one of the best panoramic views of the city. It has a large image of Christ with a height of 26 meters. Once up the hill, in addition to the monument there is a chapel, a restaurant, a parking lot and various stalls of crafts and traditional food.
The Cerro de las Tres Cruces can be climbed on foot. There are several points to climb but it is recommended to do it from the entrance of the Bataclan ecological park and preferably on Sunday because it is safer. On Sundays a lot of people go there to work out. The journey on foot is approximately half an hour and the distance is 1,5 kilometers. You can also go up in private transport.
Located on the hill of the same name, Mirador de Sebastián de Belalcázar is a place to observe the city from above. On weekends you will find musicians and artists.
San Antonio neighborhood, located in the west of the city, is an area that is characterized by its colorful houses of colonial architecture with windows and wooden balconies and an art deco design from the 30s. The chapel of San Antonio is one of the architectural jewels of the city. It is located in the middle of a square, with a terrace with panoramic views. I recommend going at sunset to observe the colors of the sky and enjoy the breeze. If you go on the weekend, you can enjoy the shows of storytellers who delight visitors with their stories between 7:00 pm and 10:00 pm. In the neighborhood there are also many cafes, bars and restaurants serving traditional and international food.
La Loma de la Cruz, located on the hill of the same name on 5th Street between Carreras 14 and 16, is an artisan park in which there is a complete exhibition and sale of handicrafts from both, Colombian and Latin American artists. It has 3 squares, in which in addition to the sale of handicrafts, you can enjoy workshops and cultural, musical, folkloric and children's presentations. It is an ideal place to visit with the family.
If you are in Cali between December 25 and 30, you can go to the Cali Fair. With activities such as bullfights, gastronomic fairs, salsa festivals, international concerts with the greatest exponents of this rhythm, a parade of classic cars, among other things, the fair attracts a large number of tourists every year eager to know one of the most important musical events in the world.
You can also leave the city to get to know Dapa, in the municipality of Yumbo, about 45 minutes from the city of Cali. It offers beautiful landscapes to relax, a pleasant climate and a variety of restaurants. Among the activities that can be done in Dapa are horse riding, bird watching and children's games.
To change the weather, 30 minutes from Cali is Km 18 where there are several restaurants and hotels. Here you can drink the famous hot panela water with cheese, since compared to the capital it is quite cold. Km 18 is one of the most visited sites by locals on Friday and Saturday nights.
If you like to enjoy nature, I recommend San Cipriano. It is a nature reserve with several trails and two waterfalls that are part of a spectacular river with crystal clear water. San Cipriano Nature Reserve is located in the Córdoba sector, three hours away from Cali by car. It has 8.564 hectares and approximately 3 kilometers of conservation areas. To get there, once in the access sector, you must take a transport called "brujitas". It is a rudimentary transport, since they are tables with wheels dragged by a motorcycle, in which they take you through the rails of the train. Day trips depart from Cali that include transportation, food, entrance, guide and walk.
From San Cipriano you can travel 17 kilometers more to Buenaventura and take the boats to the beaches of the Colombian Pacific. In the beaches of Juanchaco and Ladrilleros you can enjoy the sea and the sun.
Best Time to Visit Cali
One aspect of Colombia that surprises foreigners is the uniformity of its climate throughout the year. This is because the country is located in the equatorial zone, so the hours at which the sun rises or night falls do not change so much, and the four seasons are not experienced as in most countries in the world. The climate of Colombia consists of dry seasons, which go from December to January and from July to August, and rainy seasons, from April to May and from October to November.
Cali has the tropical savanna climate. It is hot every month, both in the dry and wet seasons. The average annual temperature in Cali is 20,5 °C and the precipitation is 3.298 mm. Cali has a significant amount of rain during the year with an average humidity above 80%. July is the month where it rains the least, May the hottest and November the one with the most rain and the least hot. However, during the year, average temperatures vary only by 0,7 °C.
Prepare your luggage with summer clothes and raincoats!
Cali for Families
If you move with children to Cali, you will have two main concerns: their safety and education. Being a cheap city, the expenses to consider are mainly those of imported products that you want for them, private health insurance and the bilingual or international school.
As in other cities on the continent, your children must be supervised at all times when they leave their home. It is convenient to live in secure gated communities where they will have the freedom to walk the streets alone. However, they can also play with their new friends at their houses as social invitations are common.
State education is in Spanish and does not have a good level. Being one of the largest cities in the country, Cali also has bilingual and international schools in different languages, although especially in English. Although they will be more isolated in a sector of society, they will receive a first-rate education.
Living in Cali
Cali Transportation
Cali offers the possibility of moving easily with its transportation system. Keep in mind that Colombian cities are not 100% safe, so it is always advisable to move from one place to another one with legal or verified means of transport.
The MIO is a means of transport made up mostly of buses, which operates within the city through already established routes. It is without a doubt the most efficient form of transportation in Cali. It currently has 8 different routes that cover most of the city and its vehicles look quite new. The cost of a single trip costs about half a dollar. I recommend you, if you are going to use this system, to first study the map of the city and familiarize yourself with the routes and the different areas. To enter the stations or board a bus on the street, you must have a MIO card recharged with the value of the ticket. The system allows you to integrate with other buses that enter all neighborhoods or integrate your trip with the MIO CABLE that covers the hillside area or other places that are difficult to access.
There is always the option of taking a taxi, which is an easy way to make short trips within the city. The taxis in Cali are yellow and they have a taximeter machine that tells you how much you need to pay for the journey. The taxi meter starts at 4.800 Colombian pesos (1.25 USD). It is possible to approach them on the street but it is not recommended. It is safer to call the company that coordinates them and you will receive a verification code, the driver's name and the license plate of the vehicle that will pick you up at your destination.
For longer journeys, the land transport terminal is located in the north of the city and brings together the best inter-municipal transport companies and more than 3.500 buses. Some companies even provide transportation service to other countries such as Ecuador and Peru to connect with other international destinations.
The remodeled Alfonso Bonilla Aragón international airport is located outside of Cali about 30 minutes from the city center, it has important well-known airlines such as Avianca, Latam, American Airlines, Copa and the new low-cost airline Viva Colombia that offers cheap national and international flights. It is a pretty small airport with not much to do in. Close your suitcases well with padlocks because every so often one arrives open and with half of the belongings and it is difficult to make claims.
Fitness and Health
Colombians are sports lovers and you can find a wide variety of activities from trekking to mountain biking. However, if you prefer to stay within the city, you will also find a large number of well-equipped gyms.
Spinning Center Gym (48-177, Av. Joaquín Borrero Sinisterra # 48-1, Cali) is a network of gyms that provide exercise services, machines, tapes and weights among other things. It also has exclusive services for medical consultation, sports doctor and nutrition.
Fitness Point Cali is a Gym where customer service is the priority. There you will find suitable facilities to attend the area of ​​bodybuilding, Functional and CrossFit.
Fitness Point (Carrera 85A # 14-11 Pisos 2 Y 3 B, Cali) has group classes of various exercise activities, physiotherapy and other services. It also has a cafeteria, lockers and private parking.
Fitness24Seven (Av. 6a # 24 Norte – 41, Cali) is an important national network of gyms with three locations in the city of Cali. They provide various services ranging from weight machines to personal training with an instructor. They also have group routines.
BODYTECH (Cale 5 # 69-9, Cali) is a great network of gyms located nationwide that has infrastructure, machines, and especially specialized personnel for the athlete.
Thomas Gym (Local 78, Carrera 56 # 18A-80, Cali) is a physical conditioning center that offers a variety of services such as TRX classes, crossfit, aerobics, rumba, spinning, abdomen, Pilates, jump, among others.
You can also try Gym Pro (Carrera 30 ### 7-22, Cali), Atletic Fitness Gym (Carrera 66 # 2c46, Cali) and Gimnasio Olimpya (Calle 13 Nte. #Cll 13N # 6N – 21, Cali), all with modern machinery and adequate facilities.
Cali People
The culture of Valle del Cauca is the result of a long history, many changes and a special mix between the races and customs of the pre-Hispanic indigenous people, African slaves, Spanish settlers and immigrants from other Colombian departments.
Since colonial times, an identity of its own was formed among the inhabitants of the territory, regardless of their origins. Valle del Cauca has taken on customs typical of other departments, brought by immigrants from Antioquia, Tolima and Nariño.
Salsa, both as music and dance, is the most notorious cultural representation of this region. There they live a true passion for salsa, which springs from the moment they learn to walk. Caleños are classified as the best salsa dancers and Cali is known as the Salsa Capital of the World.
The food, the rivers, the sauce, the climate… There are many reasons that make Caleños smile every day. Despite the daily problems of living in a city that is growing more and more, the capital of Valle del Cauca is, without a doubt, a city full of happiness. In addition, the cultural mix from which the people of Cali are the result generates a greater predisposition to receive other cultures. Here you will notice that most people smile at you and fill you with joy. However, be careful because just as there are good people there are also hitmen and thieves that you should be careful of. Always have your belongings in a good grip and be careful with small motorcycles with two passengers.
Equally, they tend to be confident but live in the culture of magical realism that is so much talked about. The attachment to live in community and family is stronger than in other regions of the country and you will see that they usually visit the family every week as well as their friends. Community Life is extremely important to them. However, they welcome newcomers with open arms and it is not difficult to join a new group.
In addition to being happy, Cali people love to party, dance and nightlife; therefore prepare to sleep little, work less and enjoy more.
Cali Insurance and Medical Care
Colombia is known in Latin America for providing good health care at a relatively affordable price. It has more than a thousand hospitals and clinics. They provide more than 53.000 hospital beds and perform more than 772.000 surgical procedures. The country's hospitals can be divided into public and private, with 68% public hospitals and 32% private.
When ranked against all countries in the world for its health care, Colombia ranks as impressive 22nd in a World Health Organization (WHO) ranking. However, the public system has many shortcomings and it is recommended to pay for a private plan.
Although the best hospitals are in Bogotá, the recommended hospitals in Cali are: Clínica Centri Imbanco (Carrera 38 N. 5A-100), Clínica De Occidente (Calle 18 no 534), Clínica Fundación (Valle de Lili Carrera 98 N. 18 -49).
In 1993, Colombia ratified a new constitution that made health a basic human right for both Colombians and foreigners. This provides three types of health coverage:
El Sistema de Selección de Beneficiarios para Programas Sociales (SISBEN): This is free medical care that is subsidized by the government and is only available to very poor Colombians.

Entidades Promotoras de Salud (EPS): The EPS is mandatory for all residents.

Prepaid Medicine: To take advantage of the private health system or to be able to pay for extras, it is recommended to take out private insurance.
Therefore, medical care in Colombia is only free for residents who need it the most, everyone else must pay the national system and decide if they want private insurance.
The EPS, which must be paid by both Colombians and residents, has a monthly premium of 12.5% ​​of a person's gross monthly income. If you have no Colombian income, the cost of using EPS is that percentage of the minimum wage, which equates to around 36 USD per month. For employees of a Colombian company, the company must pay 2/3 of the premium, while employees are responsible for 1/3.
EPS only provides individuals with the most basic health care services, and it is recommended that supplemental private insurance be purchased as well. However, many private plans require you to have EPS to purchase the private plan. Private plans range from 150 to 350 USD, and the cost depends on many factors, including age and health.
Make sure you are fully covered by reading our full Digital Nomad Travel Insurance guide.
Jobs in Cali
The average salary in Colombia is 237 USD per month therefore it is not a popular destination to find a job. In addition, most of the international companies that you can apply to from abroad are located in Bogotá and Cali is not usually an option.
However, speaking English bilingual can guarantee a salary of more than three times the average. Likewise, the Colombian service sector is constantly in need of bilingual or English-speaking workers. From hostels to B2C and B2B, employment options are wide.
Some of Colombia's more cosmopolitan cities like Medellín, Cali and Bogotá are now becoming tech startup hubs. Although if you are a developer it will always be more convenient to work remotely from Cali to employers from other countries.
However, the most popular job among foreigners in Cali is teaching English. Private and international schools are the ones that pay the best and also working for them is relatively easy to get a working visa.
There are a host of job websites containing a range of Spanish and English speaking jobs in the area like Computrabajo (a leading job portal in Latin America in Spanish), Indeed (it has some bilingual jobs and it alerts you when new opportunities arise by email), XPATJobs (it offers useful tips on adapting your CV to suit what employers are looking for).
Check out our Digital Nomads Jobs Postings to find the best jobs available for Digital Nomads.
Nomad Friendly
Value for Money
Internet
Workspace
English
Food
Safety
Health
Transportation
Friendly
Quality of Living
Cost of Living Cali
Living in Cali is as cheap as you want but keep in mind that living cheap comes with inconveniences. If you want to live with a good standard of living including hot water, you can find studio rents ranging from 360 to the incredible amount of 3,000 USD per month, 2-bedroom apartments with rents starting at 400 USD and 3-bedroom apartments with rents starting at 600 USD. In addition, many furnished apartment rentals in Medellín require a security deposit. The security deposit charges ranged from 100 to 500 USD. The average is 215 USD. Also, most furnished apartment rentals in Medellín require a cleaning fee. The cleaning fees ranged from 5 to 99 USD.
Regarding public transport, it usually costs around 0,50 USD per trip. If you prefer to take a taxi, the taxi meter starts at 4.800 Colombian pesos (1,25 USD) and most rides will cost between 3 and 10 USD.
If you like cooking, PriceSmart Supermarket has good prices for many items as well as some hard to find imported items. In addition, Tiendas D1 and Justo y Bueno have good prices for many items too. 500 gr of chicken cost around 2 USD, 12 eggs for 1,50 USD, 1 potato kg for 0,60 USD and 1 bottle of wine for 10 USD. 
Here are several "menú del día" lunch specials at small restaurants that range in price from 3 to 5 USD.  The menú del día normally includes a soup or salad, a main course of meat, chicken or fish plus sides of rice and/or potatoes and a drink. If you would like to go to a fancy restaurant, expect to pay 40 USD for dinner for two.