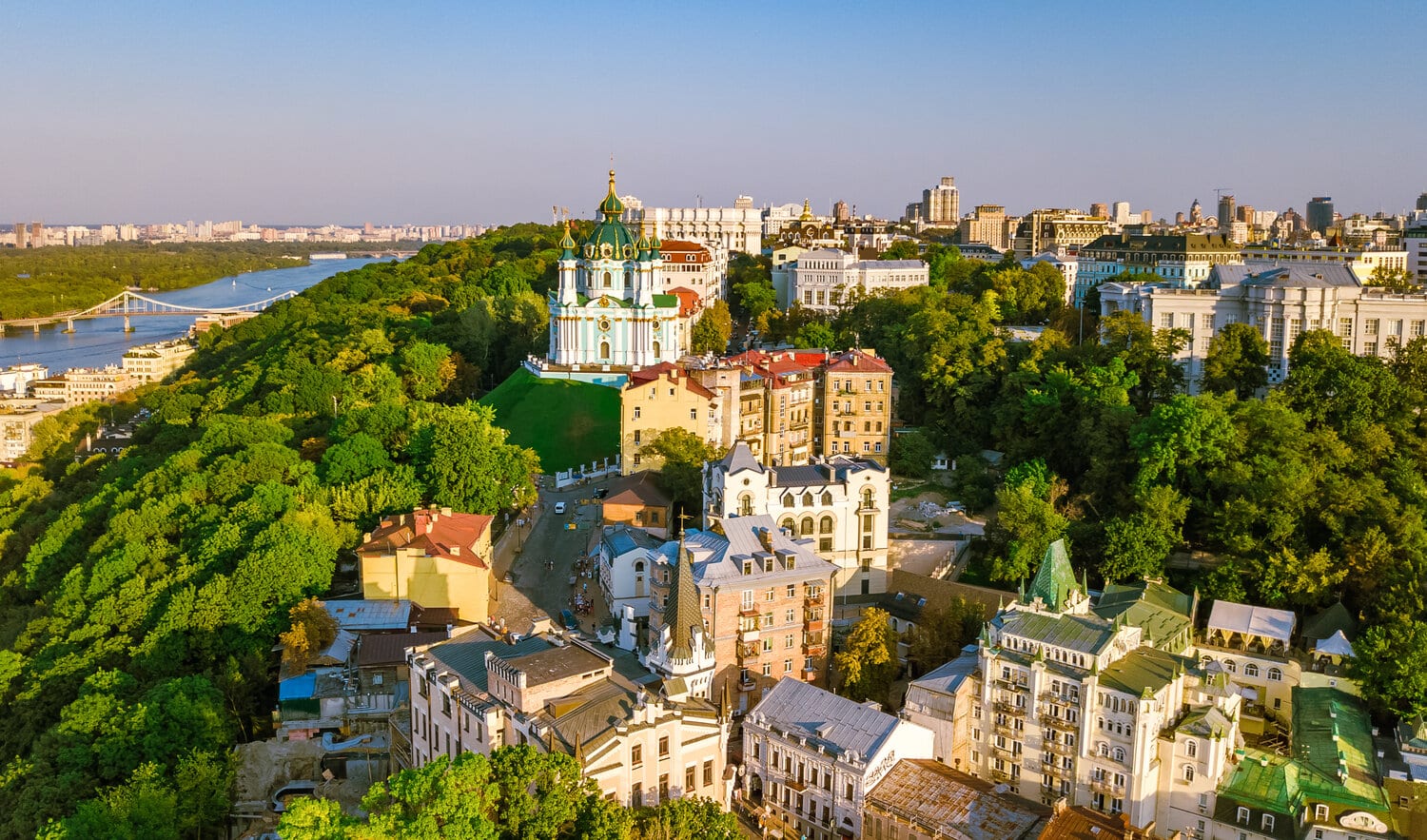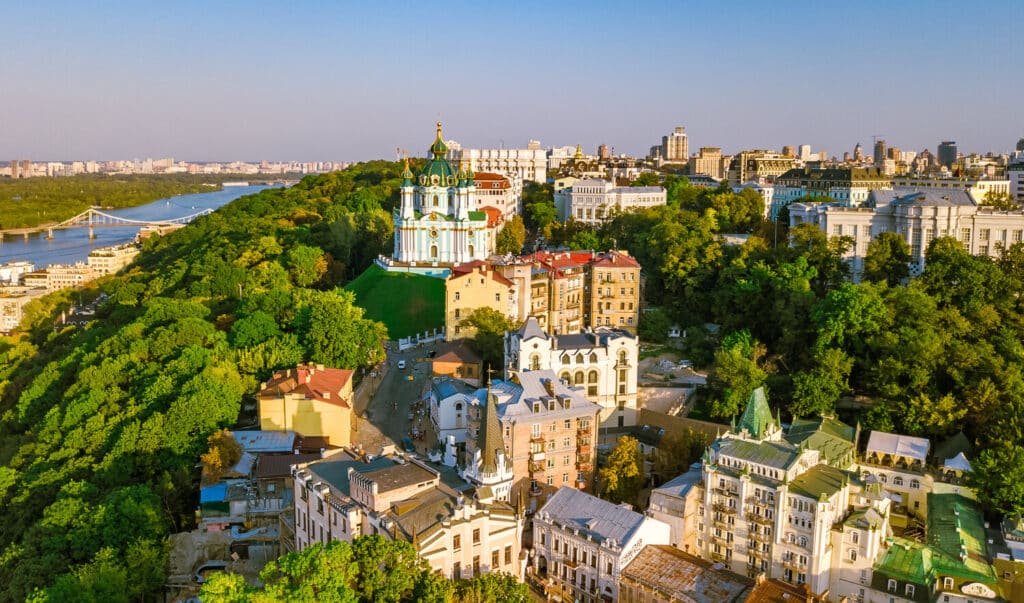 A Digital Nomad Guide to Kyiv, Ukraine
Ukraine is situated to the north of the Black Sea. It shares one of its borders with Russia and belonged once to the Sovyet Union. The country's landscape is characterized by preserved nature reserves, forests, and swamps. One of the most famous areas of Ukraine is the abandoned city of Chernobyl. 
Due to political tensions and unfamiliarity, the country isn't often the first choice for tourists and expats. Unjust as it is filled with ancient monasteries, majestical cathedrals with shiny golden domes, and lively squares. The whole city is a well-balanced combination between historical buildings and landmarks and modern improvements such as brand new businesses, trendy bars, and fancy nightclubs. In the last few years, the country has gained popularity with travelers with an interest in history and nature.
Kyiv is not only the capital of Ukraine but also the country's biggest city. It's built-in the north along the river Dnieper, which cuts right through Eastern Europe. Due to this favorable location, it has fulfilled an important trading function since the year 800 and even became the capital of the Kiev Empire between 900 and 1200. It's no surprise that Kiev is one of Europe's oldest cities.
The name Kyiv originates from one of the four founders of the city, Kyi, whose statue can be found at Navodnytsky Park. Big parts of the city were destroyed during previous wars and captures but the city has been rebuilt and has so much to offer. You can discover art and architecture, go on a shopping spree in one of the malls and enjoy mouth-watering dishes at one of the numerous local restaurants.
In a city of this size, you will feel like an explorer while discovering its many and are bound to cross paths with some very interesting people.
Nomad Friendly
Value for Money
Internet
Workspace
English
Food
Safety
Health
Transportation
Friendly
Quality of Living
Living in Kiev Overview
| | |
| --- | --- |
|  Meal, Inexpensive Restaurant | $7.14 |
| Domestic Beer (1 pint draught) | $1.07 |
| Cappuccino (regular) | $1.42 |
| Loaf of Fresh White Bread (1 lb) | $0.69 |
| Water (1.5 liter bottle) | $0.51 |
| One-way Ticket (Local Transport) | $0.29 |
| Basic Utilities (Monthly) | $113.50 |
| Internet | $6.02 |
| Fitness Club (Monthly) | $27.73 |
| Apartment (1 bedroom) in City Centre | $675.33 |
Currency: Indonesian rupiah (Rp)
[erw_exchange_rates_widget lg="en" tz="0″ fm="IDR" to="EUR,USD,GBP,AUD,JPY,RUB" st="primary" cd="" am="15000″][/erw_exchange_rates_widget]
ATMs
Max Withdrawal: Rp 3,000,000
Withdrawal Fee: Rp 30,000 – Rp 50,000
Use of Credit Cards: Mostly Cash
Digital Nomad Personal Experience in Kyiv
My first time in Kyiv I had no idea what to expect, but from the moment I arrived, I was pleasantly surprised by how green the city is. This in combination with the colorful buildings made it seem as if I was walking through a painting. The city is filled with culture and history which felt like I took a journey through time. Not only me but several famous artists and writers have become enchanted by the beauty of the city. Digital nomads looking for a place that offers plenty of variety will feel right at home.
I spent some time in Kiev between September and October and during this time, I realized how I had underrated the city before. Most of the time, I stayed at the apartment of my friend's friend but the last few weeks I switched to a guest house. My wooden cabin was located just a few kilometers from Holosiivskyi National Nature Park and I enjoyed the quiet area. The closest bus stop was only a five minutes walk away so on days I missed the city rush it was easy to reach. I discovered the cutest cake shop behind this bus stop so every afternoon, I walked there to order a cake and cappuccino, which cost me around 3 USD. I had access to free Wifi in my cabin so mostly worked from there.
The thing I loved most about Kyiv were the islands of the river Dnieper as this was the place where locals would go to chill or work out at the large outdoor gym. I frequently visited Hidropark to relax on its sandy beach. My favorite pastime was watching people take a refreshing dive in the river and try local dishes at one of the food trucks. The beach could get quite busy but on those days, I transferred to the islands' perfectly green park.
Work in Kyiv
Kyiv is a developing, modernized city that is buzzing with energy. It welcomes travelers, businessmen, and start-ups so as a digital nomad you will fit right in. 
Kyiv houses a wide variety of co-working spaces and cozy cafés to work from. The following places are just a selection of the large availability, depending on your personal needs.
Best Places to Work in Kyiv
DataHub
This co-working space has multiple locations all over Kiev. An advantage is that you can choose how long you will be renting, whether it's a day, a month, or more. The memberships start at 107.5 USD a month and include access to the kitchen with free snacks and drinks. It's possible to opt for use of a printer and scanner. 
Sad
The Ukrainian word "sad" translates to "garden" in English and immediately gives away the biggest reason why this co-working space is one of my favorites in Kiev. While working I feel much more productive when I am surrounded by plants, which is exactly what Sad offers. Starting at 1.80 per hour and just over 5 USD per day you get all the regular options such as the internet connection and buffet but you even can include accounting and legal services.
Tceh
Tceh does not only have locations in Ukraine but operates in three countries. The biggest advantage of this co-working space is its 24-hour availability. If you are a night owl you can enjoy the amazing view over the city from the bar. Memberships start at approximately 125 USD per month.
BiblioTech
This co-working space doesn't only focus on the work you have to get done but also on the well-deserved breaks in between. Many games are available, including an Xbox and table football. A one-day membership costs 3.55 USD and gives you access to high-speed WiFi, coffee and water, and the chill-out area.
Creative State of Senator
Creative State of Senator offers beautifully decorated spaces which undoubtedly will make working in them more pleasant. When you are tired of sitting down, you can switch to one of the standing desks. They provide a whole menu of optional services. Memberships start at 250 USD a month.
Kiev doesn't only offer co-working spaces but flocks of digital nomads can also be found in cafés. Understandable as many offer decent Wifi, reasonable priced food and drinks, and a more relaxing environment. There are so many locations to choose from but the following are my favorites.
ONE LOVE coffee
Out of several locations they have around the city, I prefer the one just above the Pinchuk art center. There are several reasons such as the view, the central location, the great service, … but what's most important to me is a workplace where I don't get too distracted. The cafés sleek design and plenty of seating places have fulfilled that need.
Kharms
At Kharms you can find a secluded place to work as you will find yourself between books. Alongside being a café, it's also a book store. Kharms offers a strong Wifi-connection, great coffee, and stunning plates of food. It is located at the House of Scientists.
Lviv Handmade Chocolate
Being born in Belgium I have high demands when it comes to chocolate but Lviv Handmade Chocolate really has the best chocolate in Kiev. When walking through the door of one of their several locations in the city you will imagine yourself in chocolate paradise. It might be considered more a café than a place for remote working, but some people pull out their laptops while feasting on dishes filled with chocolate. As many people love chocolate, the place can get crowded sometimes making it hard to focus on what you are working on. I mainly went to this place on days I gave in to an unstoppable craving for sweets but still wanted to get some work done.
Best Places to Live in Kyiv
Best Neighbourhoods
Kiev is divided into several bigger districts. The following districts and their neighborhoods are on the left bank of the river and closest to the city center.
Shevchenkivskyi District
Shevchenkivskyi District is a vibrant area where many historical landmarks are located. The three most important churches of the city are in this district. This is also the student quarter with several universities and many student bars. The famous indoor Bessarabsky market of more than 9600 square feet is also in this district. Well-known streets in this neighborhood are Yaroslaviv Val street and Sichovykh Striltsiv street. While walking through you can see the different architectural layers all mixed in a small area. Art is always around with big murals that can be found on facades. Although this district is right in the city center, a maze of graffiti sprayed passageways leads to little parks and surprising courtyards. If it's your first visit to the city, the district's central location is perfect, but if you are looking for a quiet and remote area, this neighborhood might not be the best choice for you. Nyvky is one of the areas of this district with the Nyvky park boosting its popularity as one of the best places to live in Kiev.
Pecherskyi District
Pecherskyi District is located on the right bank of the river, just under the Shevchenkivskyi District. It also includes some historical landmarks such as the Motherland Monument and the Independence Square and holds the city's administrative heart. Banks and political institutions such as the parliament and the president's office are housed in this neighborhood. Apart from that, you will find the more luxurious and high-end shops in this area. The district also has a few parks such as Mariinsky park which are well maintained and a perfect place for people living in Kiev to get fresh air. A well-liked neighborhood in this district is Lypky, where the political buildings can be found among attractive areas of housing.

Holosiivskyi District
Holosiivskyi District is the neighborhood with the biggest areas of green, such as the Holosiivsky National Park. This makes it a perfect area for families with kids as you will have plenty of opportunities close by to go out and about. The district is located further away from the city center but has its own variety of restaurants and cafés serving flavourful food. Inside the district lies Demiyivka, an area characterized by high apartment building blocks and new real estate projects, making it a popular place to live.
Podilskyi District
Podilskyi District is the most stylish neighborhood located right on the river bank. The district includes the area Podil which is one of the oldest neighborhoods in the city and has picturesque streets with beautiful, stately houses and stunning views. One of the main streets is called Andriyivski Uzviz and has a European feel. On weekdays the area is quite calm but on the weekend there is a more upbeat atmosphere. Vozdvizhyenka is another area in the Podilskyi district. The colorful facades of the luxury estates and the streets that often seem empty are often a source of inspiration for photographers. This neighborhood is a bit more expensive but is the city's most popular district. Kurenivka is another liked and historical area in this district.
Find an Apartment in Kyiv
Finding a place to stay in Kyiv is not very difficult. On online booking sites such as Booking.com and Airbnb, you can get a general idea of what you can get for your budget. If you are planning to stay long-term you can ask a broker for help but bear in mind that their services also come at a cost, so calculate this in your budget.

Apartments can be rented on a daily, weekly, monthly basis, or longer. The longer you rent, the cheaper it will be. By renting your own place or room you will be able to get in contact with the local culture and it will be cheaper than staying at a hotel or hostel.
As in many other European cities, rent prices have risen over the last few years. Before you start your search, there is one thing you need to be aware of. What Ukrainians describe as a one-bedroom apartment is actually a studio where the bed is placed in the living area. The kitchen is most often separated by a wall with, in some cases, a door. A so-called two-bedroom apartment with furniture and located not too far from the city center will cost you between 700 and 800 USD per month. The one-bedroom apartment will come cheaper around 500-600 USD.

Utilities are usually not included in your monthly rent and will cost around 100 USD per month with outliers in the winter months as you will be using the heating more. Obviously, during the summer months, you can expect your costs to be lower.

The biggest part of your budget will go to rent. You can share an apartment to save costs. The website Expat.com has a forum where people can post when searching for a roommate. This message board also contains other questions concerning housing in Kiev and can be a great source of information. Another website that helps you find a roommate is iroommates.com where you can select locations with the aid of a city map.
Once you have found the perfect place, try to get a contract for the rental agreement. This is not always the standard. This will protect you from sudden price rises and breaches of the agreement. Read through the renting conditions and negotiate for what you'd like. Most contracts will for example be on a one-year basis but if you don't plan on staying that long you might want to add a clause to the contract that allows you to leave earlier. Expect to be asked to pay 2 months rent as a down payment.

Logically, apartments closest to the city center will be more expensive than the suburbs. But, even there you can find differences in prices based on the proximity to a metro station. If you would like to keep the cost down, you might want to consider renting further away and use services like Uber to reach the closest metro station.
Cheap Places to Stay in Kyiv
When you're on a low budget, the best options are guest houses, hostels, and co-living. Airbnb and Hostelworld are trustworthy sites and are filled with great options. A bed in a dormitory starts at 7 USD per night and private rooms start at just over 20 USD per night. Most are located close to the city center but make sure to check the distance to your selected place of work (either co-working, café, or another option) so you don't end up with extra transportation costs. Guesthouses cost around 20 USD per night but are mostly located further from the city center.

A-Hostel is a good example of getting value or money. It scores great on cleanliness and is located in the heart of the city. The hostel has a gym and even a co-working space, which you can use for a small additional fee. Inside the Globe Runner Hotel & Hostel Kyiv City Center, you will experience one of the most striking characteristics of the city: the well-balanced clash of different styles. Behind the elegant facade, you'll discover a blend of old aspects and modern designed furniture. There is a wide range of rooms to choose from with the dormitories being the cheapest option. Separate dorms for women are available.
On Anyplace you can check different options of flexible-term co-housing. The Vilnyy co-living space offers co-housing together with co-working for young people. The age limit is from 17-27 years. The minimum stay is 3 months for 130 USD per month.
Ukraine Visa
Ukraine has 3 types of visas:
B type or transit visa: this visa allows you to transit through Ukraine. The period of transit should not exceed 5 days.

C type or short-term visa: this visa allows you to stay in Ukraine for up to 90 days per 180 days.

D type or long-term visa: with this visa, you can apply for a temporary residency permit, which permits you to stay more than 90 days.



The long-term visa is automatically a multi-entry visa. The other two can be single-, double- or multi-entry.

A few countries are exempt from the need for a visa to visit Ukraine. These countries are Armenia, Azerbaijan, Georgia, Moldova, and Uzbekistan. Citizens with a passport of over 60 other countries can enter Ukraine without a visa and stay the same amount of time as with a short-term visa. Among these countries are the EU members, Russia, Canada, and the USA. In addition, another 44 countries can apply for an electronic visa. Examples are China and South Africa. Check the website of the Ministry of Foreign Affairs of Ukraine to find out which procedure applies to you.

If you are eligible for the e-visa, you can complete the application through an online form. In case you are a passport holder of one of the countries which need a visa to enter Ukraine, you can visit the Ukrainian embassy or consulate in your country to start the application process.

The visa fee at an embassy or consulate is 65.00 USD. A single-entry e-visa costs 20 USD and a double-entry e-visa 30 USD.
Culture and Food in Kyiv
Aside from being warm, authentic, and welcoming people the citizens of Kiev are also very flexible. They get creative and adapt to what works, which is why you will find many restaurants that are not strictly Ukrainian culture.
An example is the Kiev food market which is a place with various restaurants under one roof. The building has two floors where different foods are being sold side by side with an open area seating. In case you can't decide what you are in the mood for, you can have it all at the Kiev food market.
The Ukrainian cuisine is quite substantial but really delicious. There are various typical dishes of which the following are just a selection.
Syrinki: an airy, sweet dish usually served for breakfast. The main ingredients are cottage cheese, egg, flour, and sugar. They are mostly eaten with jam, honey, or sour cream on the side.
Chicken Kiev: breaded chicken breast filled with butter which is fried. Side dishes are potatoes and salad.
Kholodets: cold, jellied meat dish topped with mustard and horseradish. No artificial gelatin is used for this dish, the jelly is usually made of a broth of pork legs which takes many hours to prepare.
Salo: pork fat which is served as an appetizer or full portion. This is a very traditional dish love by almost all Ukrainians.
Borsch: a hearty soup with red beetroot. Borsch is usually served with a spoon of sour cream which you stir in before eating.
Banosh: a main course with cheese, polenta en pieces of fried pork fat. 
Varenyky: dumplings with a variety of fillings. Savory fillings can for example be potato or meat while cherries are an often used sweet filling. Sour cream is often served as a side dish.
Uzvar: a traditional Ukrainian beverage with dried fruit and berries.
Nalisniki: thin type of pancakes with many possible fillings such as cottage cheese, jam, or sugar.
Golubtsi: cabbage rolls stuffed with rice and minced meat, often topped up with sour cream.
Deruny: a local version of rosti. The potato pancakes can be enhanced by meat, onions, mushrooms, or herbs.
Kiev cake: is a brand of dessert cake made with several layers of light sponge. Between the layers are a crunchy hazelnut meringue, jam, and buttercream. 
At the self-service restaurants of the chain Puzata Hata you can try many types of traditional Ukrainian food for a small price.
Street food is becoming more and more popular and many different places are popping up all over the city. Apart from the typical snacks such as hamburgers and noodles, there are also spots where traditional dishes are prepared with a modern twist. Places like Kyivska Perepichka, St. Georgia and Vegano Hooligano are worth a visit.
When making up your food budget, you can estimate to spend around 9 USD daily on food. When going out for dinner you can expect to pay 3-5 USD per person. You can find scrumptious street food starting from 1 USD only.
Kyiv Nightlife
Kiev is known for its vibrant nightlife. Many exquisite restaurants are tempting you to a tasty dinner, hip bars inviting you to meet up with friends, and funky clubs where you can dance the night away.
Bars
Syndicate Beer & Grill is a great beer bar where you can taste locally brewed beer while enjoying live entertainment. Parovoz is a hidden cocktail bar as it's one of many speakeasies in Kiev. Its location in a closed movie theatre makes it a quite special place to visit. BarmanDictat is another cocktail bar and is one of the best in the city. The very popular bar stands out by the interior. One of the walls is completely covered by a display of alcohol bottles. Another plus side is the live music by DJs and bands. Make sure to book a table as this place works with a reservation-only policy. 
On the roof of the Hyatt Regency, you can visit Bar on 8. Although it's not the only rooftop bar in the city, it's probably the one with the most amazing views. Enjoy your drink while watching Saint Sophia's Cathedral. Malevich wine bar is an intimate and cozy bar in the heart of the city. In case you're not a fan of wine, they're also praised for their excellent coffee and tasty desserts.
One of the most special drinks is available at Palata No. 6. It involves wearing a helmet that is put on fire. That's all the entertainment you need for a fun evening!

Night Clubs
Depending on which music style you like, there are various clubs available. Visit Shooters for house and techno, and Alchemist in case you're more a hip hop fan. Azhur will take you back in time with the best songs from the sixties to the eighties. One of the best beach parties is at UBK. Some of the clubs have strict entry rules, so dress to impress.

Tours
Several companies offer tours around the city, which often make a selection of popular bars. Together with one of their guides, you hop from one bar or club to another, experiencing the night like one of the locals. These tours cost approximately 45 USD. In case you want to discover the city in style, you can even book an evening tour in an oversized limousine for 145 USD per 8 people.

Culture
If you prefer to spend your night in an enriching way, you can visit the Taras Shevchenko National Opera and Ballet Theatre of Ukraine. The opera house is an alluring building with two winged women embellishing the entrance. They symbolize the mythic patrons that support artists in their challenges.
Several days per week there are shows at the opera house such as ballet, concerts and of course opera. The shows usually start at 7 PM.
Cultural evening entertainment is very accessible in Ukraine. A ticket to the opera costs between 5-20 USD, depending on which type of seating you want to book.

Other entertainment
Other examples of evening entertainment are cinemas, ice rinks, billiards, and bowling. Most spa centers are open until 10 PM so even an evening spa treatment is a possibility.
Things to do in Kyiv
Arsenalna Metro Station

A visit to the world's deepest metro station at Arsenalna Metro Station. It will take you about 7 minutes by escalators to go all the way down to 346 feet deep. Across from the entrance, you will find the old factory where an art gallery is located. The facade of the factory is riddled with bullet holes from WW2.

A walk through Andriyivski Uzviz

This charming street winds up from the area Podil on the river bank towards a higher located part of Kiev. Locals compare this street with Montmartre in Paris as you will find artists and lovely stalls with souvenirs and cute trinkets. While strolling through the street you will be amazed by the beautiful buildings and can take a break at one of the cafés for a refreshing drink or energizing coffee. At the end (or the beginning) of the street, you will find the impressive Saint Andrew's Church. When walking around in this area it feels as if you've entered another city where there's a laid-back, relaxed vibe.

Independence square (Maidan Nezalezhnosti)

As the name might reveal, this is the square where the protest against the communist leaders originated in 1989. As a result, the then Prime Minister resigned and the statue of Lenin on the square was overthrown. In 2004, the square was again the starting point of protest during the "Orange Revolution". Nowadays, the magnificent square is a popular gathering place with a huge shopping center under it. In summer the square is filled with thousands of people having a drink and enjoying the sun at one of the outdoor cafés. On the square is not one but six fountains, one of them dedicated to the founders of the city.

The Kyiv Pechersk Lavra

Also known as Kiev Monastery of the Caves it is one of the most famous of the city and UNESCO heritage. The site contains several beautiful churches, a bell tower, and a monastery. Inside lies one of the largest museums of Kiev, with collections including metals, crucifixes, chalices, textile, and embroidery.
The monastery consists of two parts, the lower part consists of a labyrinth of caves and burial sites and is free while the upper part is ticketed. The price is around 1.80 USD per person. Make sure to climb the stairs of the Lavra Bell Tower. The tower's 316.6 feet height rewards your effort with a stunning view of the city and its shimmering golden domes.

Fun near the Dnieper

The many islands with their sandy beaches are perfect places to chill but there is more you can do than just take a refreshing dive in the water. If you want to spend your day more thrillingly, there are several companies offering water sports such as wakeboarding, water-skiing, and fly-boarding. A boat trip on the river is a great way to end a fun afternoon. There are river cruises available that pass by some of the city's most important landmarks in nearly 2 hours.

The Motherland Monument (Rodina Mat)

When looking at Kiev's skyline the statue stands out immediately, with its 335 feet it is higher than the Statue Of Liberty in New York. The massive figure represents a woman with a shield in one hand and a sword in the other. There are 2 observation decks, the first at 120 feet which is open for visitors older than 6 years, and 3.58 USD. Reaching the second deck, at almost 300 feet, is only for 18+ and will be accompanied by an instructor. You need to be physically fit as there is some ladder climbing involved. The cost is roughly 18 USD. When planning your visit, take into consideration that both decks are closed in case of bad weather. If you want to climb to the second platform, I suggest you go at the opening time (10:00 AM) when the metal statue hasn't warmed up too much yet in the sun.

At the feet of the statue, you will find the National Museum of the History of Ukraine in the Second World War. On the outside area is an exposition of various military vehicles and inside collections don't only display the Second World War but also the war between Ukraine and Russia. The entrance fee is just under 2 USD. My advice is to rent an English audio guide (there aren't that many available) as not all the signs inside the museum have a translation to English.

Park Landscape Alley

Escape reality at this park filled with bizarre, colorful artwork and some funny benches. Most of the works are made by the artist Konstantin Skretutskiy such as the playground with the characters of Alice in Wonderland. An extension of the park is Kiev Fashion Park where visitors can observe modern Ukrainian art.

Saint Sophia's Cathedral

Another UNESCO World Heritage Site and one of Kiev's most impressive churches is the Saint Sophia's Cathedral. It's the oldest, fully preserved Christian church in Eastern Europe and named after the Hagia Sophia in Istanbul. The inside is decorated with mosaics and frescos that are over a thousand years old. The outside area is invitingly green and perfect to have a stroll or enjoy the scenery from one of the benches.
A ticket of just over 7 USD gives you access to the whole complex such as the bell tower and the cathedral grounds.

Rope jumping from the Parkovy Pedestrian Bridge

The Parkovy Pedestrian Bridge is a suspension bridge that is more than 1307 feet long. As it's the city's only pedestrian bridge over the river there are always people around. It's a perfect place to watch the sunset against the skyline of the city. Adrenaline junkies can try their hand at a rope jump from the bridge for 12 USD.

National Museum of Folk Architecture and Life of Ukraine

This open-air museum is located outside the city center. The expansive domain shows the different regions of Ukraine, each with its specific buildings. You have the choice to visit on foot or to rent a bicycle at the park. As the museum is so vast it is best to opt for the second option, this way, you are sure you will be able to visit the complete park.
I advise you to rent one of the English-speaking guides which you will find at the entrance of the museum. Your visit will be nicer when you get some explanations about what you are looking at.
Best Time to Visit Kyiv
Under influence of the neighboring land Russia, the weather in Ukraine can get capricious. The biggest part of the country has a moderate continental climate. The southern part has a country climate and the Crimea peninsula has a partial marine climate due to the influence of the Black Sea. Except for the north, most areas in Ukraine are quite dry. The weather is very unpredictable, especially in spring and autumn.

In Kiev, you will clearly notice all 4 seasons. 
Spring: the first month of spring, March, is still really chilly with temperatures of 43°F (6°C). In April and May, the temperature starts to rise significantly from frosty to a mild 60-70°F (15-21°C). 

Summer: June, July, and August are the hottest months with average temperatures around 83 °F(28.5°C).

Autumn: while during the first month, September, enjoyable temperatures of 69°F (20.5°C) are still reached, are the next months already quite chilly with 54.7-43°F (12.5-6°C). 

Winter: starting from December, temperatures start to plunge and can go below 32°F (0°C). The next months' temperatures tend to stay subzero at averages of 20.7-31.6°F (-0.2 – -6.3 °C).
January is both the coldest and most humid month. The warmest month is July and in August the humidity is the lowest.
In winter you will find the most snow and in spring it often rains, with March being the wettest month.
Kyiv for Families
Kyiv is a great place to stay with your family. There are good schools and many activities and clubs, especially for children.
International schools
One of the best schools for foreigners in Kiev is the British International School which has three different grounds in the city. All lessons are in English except the 2 hours of Ukrainian per week.
The Pechersk School International has students of over 40 nationalities. It's a preferred school for both foreigners and locals. The main language is English but students are helped to develop multilingual skills.
Lycée Anne de Kiev is an officially recognized French-speaking school. The school is very popular among English and French-speaking foreigners.
At the Deutsche Schule Kiew, the main language is German but Ukrainian and English are also taught on a high level. The school prepares its students to study at high-level universities and colleges.
Annual tuition at international schools varies between 10 000 and 30 000 USD, often depending on the age of the child.
Daycare centers are widely spread around the city both local and international. Experienced nannies and babysitters are also available.
In the summer months, great family activities can be found at the National Museum of Folk Architecture and Life of Ukraine. Archery, pottery, horseback riding, and craft workshops are only a small selection from the range of activities.
When you have kids that like animals the Kyiv Zoo is worth a visit. It's located inside the city and the entrance fees are very reasonable. At the Oceanarium Sea Fairy Tale you can marvel at the fascinating underwater world. The small but beautiful aquarium is based further away from the city center.
Throughout the city are several parks where children can play on the perfectly green grass or hide behind the trees. A great park is Park Landscape Ally with its whimsical playground. At Shevchenka Park you can also find a playground.
The Museum of Water is an educational museum where children learn about water resources and supplies interactively. They can sit on a giant toilet, play with bubbles and meet an exotic fish.
Living in Kyiv
Kyiv Transportation
An obvious way to get around in the city is by walking. Most parts of the city have sidewalks and pedestrian areas. However, not all of them are in mint condition so pay attention to where you walk. In some streets, the balconies of older buildings start to crumble and fall on the walkways. In an attempt to warn pedestrians, tape is sometimes placed under a collapsing structure leading them around it. Here and there you can also see metal barriers installed on the walls, which prevent the bigger pieces of debris from falling. Try to avoid walking on the covers of street vents as well, as sometimes the ground around it starts to sag.
The same can be said of the condition of the roads. If you do decide to use a car, make sure to be good at avoiding the holes that exist in the road. Obviously, this also leads to road works being completed in many places which often leads to traffic jams. In the heart of the city, it regularly gets so busy that pedestrians move faster than cars. Car renting prices start at roughly 90 USD per month. The cost of a taxi outside the city center is inexpensive at around 0.36 USD per half a mile but rise within the historical center to between 1.44-2.16 USD per half a mile. 
Uber is the cheaper choice with 2-3 USD for a ride of approximately 3 miles. The service has improved over the last few years, where before it would take around 10 minutes before your ride arrived it now mostly only takes a minute or two.
The public transport in Ukraine is the cheapest in Europe, however, this has as a consequence that the city busses, trams, and 'Marshrutka' vans are often uncomfortably old and without AC. A ride will cost about 0.30 USD and you can also buy monthly passes. The easiest to use are the e-tickets such as the Kyiv Smart Card on which you can add money online in advance and scan whenever you need to pay for a ride. They are valid for the metro, city buses, trolleybuses, trams, and the funicular. The card is available at the ticket office of metro stations and the card itself will cost you 1.80 USD. Once you have the card, you can add the number of rides you want. Buying in bulk will allow you to save money, up until 9 rides you pay 0.30 USD per ride while for 50 trips and more you'll pay only 0.23 USD on average.

The fastest and easiest way to get around inside the city is the metro. The city is very well connected by different lines and you never have to wait long at one of the stations. Apart from having the deepest station in the world, Kiev also has some amazingly decorated stops. Examples are Slavutych metro station with its gleaming golden columns and Zoloti Vorota which is decorated by impressive chandeliers and mosaics.

To travel from Kiev to other cities, the best way of transport is the train.

Another type of transport popping up all over the city is electric scooters. Both Kiwi and Bolt have released APPs making it possible to remotely rent scooters. Scootkyiv lets you rent a bulkier kind of scooter and organizes guided tours where you drive one around the city.
Fitness and Health
Kiev has a range of diverse health clubs with different types of activities, from gyms to yoga and CrossFit sports clubs. For every budget, there is an option.
It can be a real challenge to find a gym. Some places don't offer day passes but only month-based memberships and these can get quite pricey. When you're planning on only staying a short amount of time in Kiev or don't plan to work out regularly, these gyms will not be the best choice for you. Some places only offer group lessons, without the option to use the devices by yourself. Others include the use of a swimming pool or a spa which will increase the price of your membership. Make sure you are well-informed before signing any contracts.
In case you are on a budget, you can look for a gym in the residential outskirts of Kiev. Prices tend to be lower further away from the city center. If you're planning to stay long-term, subscribing to a 3-month based membership will be cheaper than the month-by-month version. Another piece of advice is to opt for a membership where you can only work out between 7 AM and 17 AM, perfect in case you're an early bird or don't have a fixed work schedule.
In case the above options don't work for you, there are also a few open-air gyms that are free to use. Kachalka outdoor gym at Dolobetskyi island is one of the most popular, attracting many local fitness fanatics but also those who work out less often. The location is magnificent, with the river close by for a swim to cool off.
The Fitness Life gym is a chain with great gyms, the prices vary based on the locations. Sportlife has a network of gyms in the city with qualified trainers and up-to-date equipment. Everyday fitness offers gym use, group lessons, and the use of the swimming pool.
CrossFit Banda has both an indoor and outdoor area where it provides group lessons for general physical training. DOG & Grand CrossFit combines CrossFit with fitness, Pilates, yoga, and more.
At Be Happy yoga studio, experienced members, as well as beginners, are welcome. Different types of yoga and Pilates are available. Kiev Yoga Studio has three locations and focuses on yoga, offering a wide variety of yoga classes.
Kyiv People
Although people in the streets of Kiev don't always walk around smiling and wishing you a good day, Ukrainians are warm and friendly once you get to know them. Of course, some people can be hard but which nationality doesn't have those. They tend to be very helpful and love to give you tips on where to find good food or accommodation.

The young people are strong, passionate, and flexible coming up with new business ideas and concepts. They often speak English and sometimes even other languages and have versatile knowledge thanks to a well-rounded education.

The elderly babooshkas (woman) and dedushkas (men) often still remember the Sovjet days. Many of them can be found on the streets selling vegetables and fruits to earn some extra money to get by as the pensions they get are very low. There's a lot of poverty and only a small middle class.

Even though both Russian and Ukrainian are used simultaneously, Russian is spoken more than Ukrainian. There is a push by the schools towards Ukrainian. Not everyone speaks English, so my advice is to try and learn a few words in either Ukrainian or Russian. Locals mostly really appreciate you making an effort to try and explain something in their language.

Life in Kiev is not too strict. There are of course rules, such as traffic regulations, which are mostly followed. However, if you would find yourself cycling in the wrong direction of a one-way street, as long as you aren't bothering anyone, nobody will care. Ukrainian people are very tolerant.

Corruption is very common on many levels. An example is health care, where you often have to pay just to be able to get an appointment with a doctor, even if the care is supposed to be free. When you're planning on starting your own company one day, you have to be prepared to face many obstacles.
As for religion, Ukraine still is a religious country. Studies made in 2015 showed that almost half of the population was Eastern Orthodox. The rest of the religious landscape is pretty versatile with smaller groups including Catholics, Protestants, Jews, Muslims, and more.

People in Ukraine tend to be very superstitious. Apart from the well-known example of a black cat crossing your path and causing you bad luck, there are a few less typical examples. Some Ukrainians believe that whistling inside the house means you will lose money, dropping a fork is a sign that guests are coming to your house, and throwing out the trash after sunset will have negative consequences. Another example is that when two friends are walking in the street and face an obstacle, they should pass it on the same side. If they don't, it means they will get into a fight in the near future. Luckily, one of those friends can still go back around the obstacle to then take the same way the other previously took to avoid the repercussions.
Kyiv Insurance and Medical Care
When traveling, it's always recommended to get insurance beforehand. The health care facilities in Kiev can provide acceptable care for routine issues but you will often have to pay before receiving treatment in case you are not insured.

There's no comparing the standard of care to Western European hospitals and a shortage of supplies is not that uncommon. To be safe, it's best to take out insurance which includes repatriation. This way, in case you get critically injured or ill you don't have to worry about the extremely high costs of medical evacuation.

Kiev is in general a safe city and has several hospitals and medical centers. Most facilities are owned and funded by the government. Patients are free to choose the doctor they want and the system is not divided strictly into primary and secondary care, which means people can visit a specialist without an earlier referral. Doctors get a fixed salary so they don't have to steal patients from each other. Health care is supposed to be free for Ukrainian citizens but the reality shows that patients are often charged for several costs such as drugs, examinations, medical supplies and even washing powder and fuel for the ambulance.

It's no unnecessary luxury to take an interpreter with you to overcome any language barrier which might occur at one of the public clinics.

Private healthcare facilities are also present in Kiev and they often provide a better level of care. However, they often charge a higher fee making it too expensive for most people.
Make sure you are fully covered by reading our full Digital Nomad Travel Insurance guide.
Jobs in Kyiv
There are many available jobs in Kyiv. The easiest way to find work is to search online. There are several search engines such as Glassdoor, Expats.com, and Work.ua. Some sites let you specify remote jobs, and with those that don't, the use of explicit words can enhance your search.

A great way to network is by joining Facebook groups, both for locals and expats. Another approach is of course to get out there and connect with people face-to-face. Make sure to have your Linkedin profile up to date so you can expand your contacts. It also has a search function so you can use it to find the job you need.

Another way to find expat jobs is to join the network InterNations. They have job boards and career forums in several countries and even more cities. The site also has a board about housing, Q&A and there's even a marketplace.

To be able to work for a Ukrainian company, you'll need to have a permit. Some groups of people are exempted including professors at universities, refugees, and those who have acquired a permanent residency status.

If you're looking to work in Ukraine, here are some tips:
In case you don't speak any Ukrainian or Russian, make sure to guide the attention to the language(s) you do speak and point out how this could be useful for the employer.

Dress classy and not too casual for your interview.



Vacancies for foreigners
Expats often find work in the following domains: 
Education: in case you speak several languages, you can look for opportunities to become a language teacher

Interpreter and translators: another possibility for multilingual expats

Call centers: some international companies are located in Kiev and are often looking for English-speaking staff and other languages
Check out our Digital Nomads Jobs Postings to find the best jobs available for Digital Nomads.
Nomad Friendly
Value for Money
Internet
Workspace
English
Food
Safety
Health
Transportation
Friendly
Quality of Living
Cost of Living Kiev
Kiev is the most expensive city in Ukraine but one of the cheapest capitals in Europe. The budget you will need depends on your lifestyle. If you make monthly around 1500 USD as a digital nomad you'll be able to live comfortably. 
Depending on your choice of accommodation around a third up to half of your salary will be spent on rent. Another part of your budget will go to groceries and food, which again will be as cheap or expensive as you make it. If you prefer to dine out every day, you can expect to pay around 4 USD per person. Having 3 meals at home will cost around 9 USD for two people so is the cheaper option. Another inexpensive way to get food is to visit one of the various street food locations which often serve food around 1-2 USD.
Leisure activities such as cultural visits and museums are generally quite accessible. One of the hobbies which can cause you to push up your budget is gyms. Yet again, here you also can use cheaper alternatives or decrease the prices.
Families that wish to send their kids to an international school have to take into account that the annual fees are very high.
Other expenses you might have to consider are health insurance, hairdresser and manicures, shopping, and travel outside the capital or country.
To summarize, Kiev is a great city with many options. You can either choose to live a more inexpensive and cheaper life or opt to have a more luxurious life. Everything will depend on your budget.