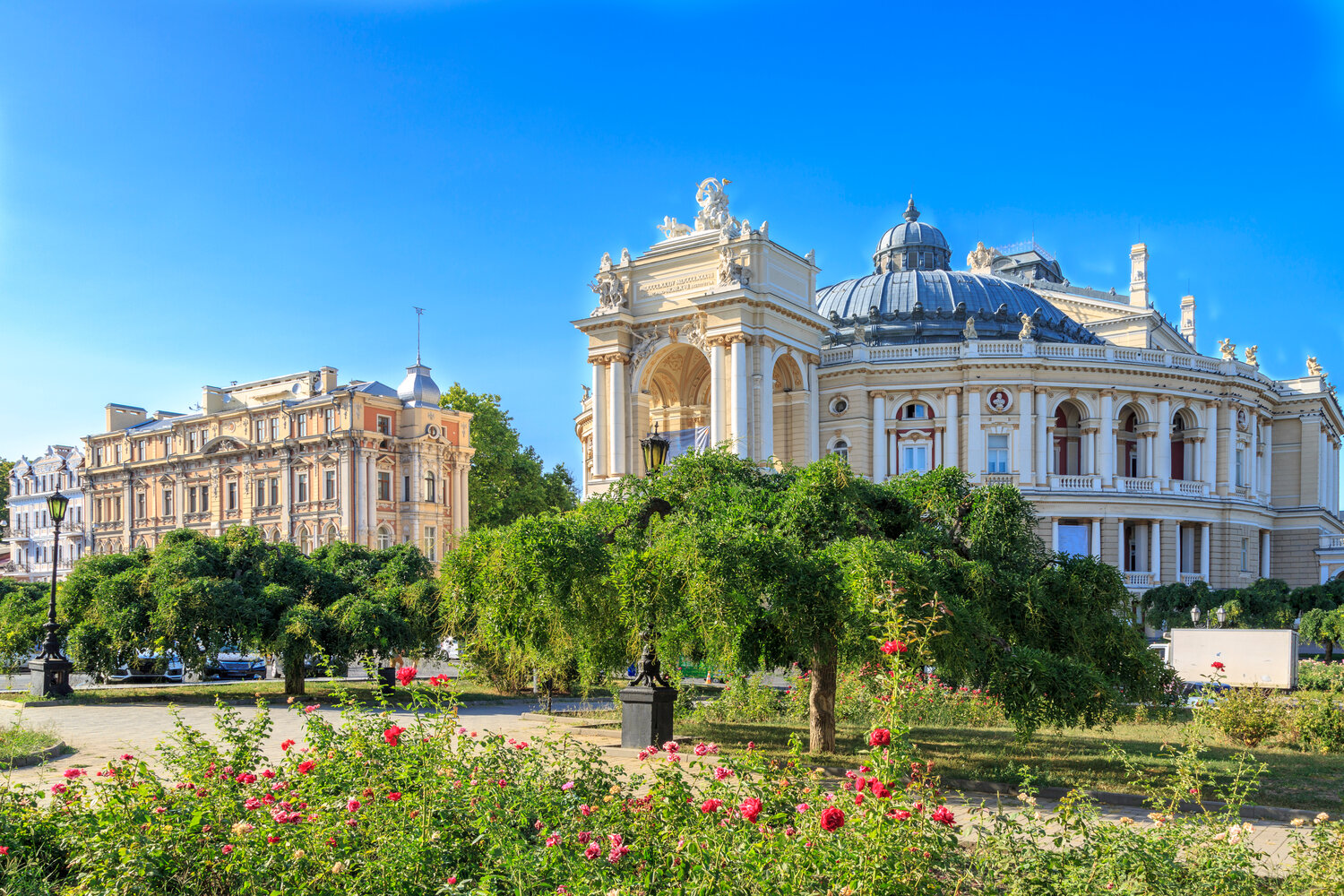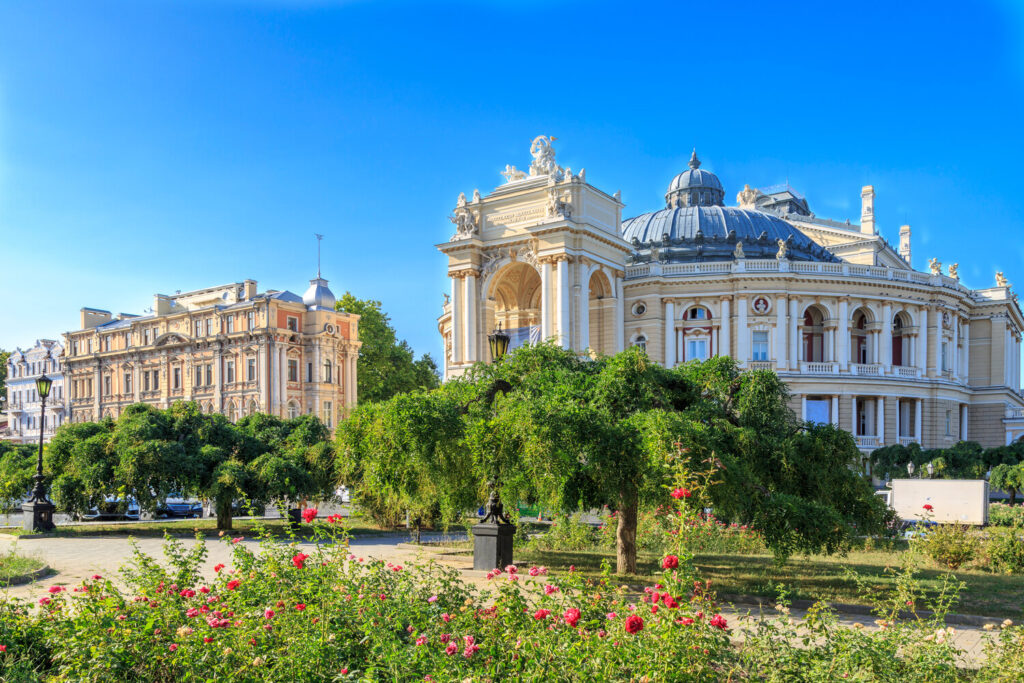 A Digital Nomad Guide to Odessa
Odesa is a unique historic town on the coast of the Black Sea that was founded in 1794. Located in Ukraine, Odesa is around the fourth largest city. Ukraine borders Russia, Belarus, Romania, Moldova, Poland, Slovakia, and Hungary.  Odesa is known as the sophisticated historical city that serves as a popular vacation destination for both Ukrainians and tourists from around the world. The language is Ukrainian, which uses the Cyrillic alphabet, but Russian is also a commonly spoken language, and the currency is the Ukrainian hryvnia.
Odesa is a unique city as it is home to some of the world's most intricate architecture, partly due to its complex history of leadership, which has shaped the city into what it is today. Although Ukraine was bombed during WWII, and many cities like Odesa were destroyed, there are many elements that survived, and much work has gone into the preservation of this historical time capsule. It is famous for its port, the Opera and Ballet House, and the vast amount of monuments that scatter the city. Being a port city means that its culture has been majorly influenced by trade across the Black Sea, which means that Odesa has become a melting pot for cross-culture life.
The Black Sea coastline is rich in wildlife and nature, and there are parts of Odesa that really showcase this natural beauty. This is seen along some of the more rugged coastlines and golden beaches that Odesa has to offer. Odesa is a great place to be if you like cities that lie on the coast, as you get the hustle-bustle feeling whilst still being able to escape and experience a chilled vibe on the beaches.
Nomad Friendly
Value for Money
Internet
Workspace
English
Food
Safety
Health
Transportation
Friendly
Quality of Living
Living in Odessa Overview
| | |
| --- | --- |
|  Meal, Inexpensive Restaurant | $7.32 |
| Domestic Beer (1 pint draught) | $1.05 |
| Cappuccino (regular) | $1.38 |
| Loaf of Fresh White Bread (1 lb) | $0.56 |
| Water (1.5 liter bottle) | $0.48 |
| One-way Ticket (Local Transport) | $0.26 |
| Basic Utilities (Monthly) | $102.55 |
| Internet | $6.66 |
| Fitness Club (Monthly) | $21.65 |
| Apartment (1 bedroom) in City Centre | $355.46 |
Currency: Indonesian rupiah (Rp)
[erw_exchange_rates_widget lg="en" tz="0″ fm="IDR" to="EUR,USD,GBP,AUD,JPY,RUB" st="primary" cd="" am="15000″][/erw_exchange_rates_widget]
ATMs
Max Withdrawal: Rp 3,000,000
Withdrawal Fee: Rp 30,000 – Rp 50,000
Use of Credit Cards: Mostly Cash
Digital Nomad Personal Experience in Odessa
I stayed in Odessa back in 2018, and I had a wonderful time in the city. I am drawn to cities with unique architecture, and this was certainly one of those. Although it is a very large city, it feels like a quaint place with lots of character, ranging from the historical Russian-influenced architecture to the modern city buildings. I stayed in a guest house, which was located closer to the beach and only a short tram ride from the city center. I was captivated by Odesa's sophisticated buildings and chilled-out beaches. 
It was very affordable staying in Odesa, with the accommodation being under $10 USD per night and food for around the same. I like to eat street food when I visit somewhere, as I feel like it is the best way to understand the locals and local culture. I would mostly eat street food for lunch, and it would cost around $2-3 USD.
Sadly I didn't get the opportunity to visit the Opera whilst there, but this is something I would like to return for, as it is one of the most prestigious venues in the world and it is so affordable. There is an air of sophistication in Odesa, and that combined with great museums, buzzing nightlife, and a great nomad and backpacking community, makes a fun place for digital nomads and backpackers alike. I loved the atmosphere in the bars, and I did really enjoy the varied cuisine in some of the restaurants. Odesa served some of the best seafood in Ukraine, and again it was very affordable. 
Odesa is the perfect city for the curious type and for those who enjoy something a little bit different. It is also a great place for a lower-end budget as it is very good value for money. I would spend my afternoons wandering around the city admiring the contrast between the old and new, the abandoned and the restored.
Work in Odessa
Odesa is an up-and-coming place for digital nomads to retreat to, with a great selection of co-working spaces and an energetic atmosphere. As well as co-working spaces, you will find many cafés, bars, and hostels that you can work from. The average internet speed in Ukraine as of 2020 is approximately 64 Megabits per second (Mbps). Here is a selection of the co-working spaces that are available in Odesa.
Best Places to Work in Odessa
Impact Hub
Impact Hub is a global brand of co-working space that is popping up in major cities across the world. They are a great space for connecting with a community and having access to fantastic facilities. Impact Hub is more of a professional space where you can host events, book meeting rooms, and meet like-minded digital nomads and entrepreneurs. Their membership costs $125 USD per month for unlimited use of the space, or they offer a two-week package which costs around $75 USD for unlimited use of the space, free coffee, WiFi, and access to the library.
Terminal 42
This is one of the best co-working spaces in Odesa and will cost you around $90 USD per month for 24/7 unlimited access. There is a more relaxed vibe here whilst having a professional workspace and a hardworking atmosphere.
CocoHub
This is a global community and network for digital workers and entrepreneurs. With around 57 bases in different cities across the world, this is a great network to be part of. However, their sign-up process is a little longer as you have to create a profile before you can find out information about the community. So I would suggest visiting in person when you arrive to see what the space has to offer and if it is for you.
It may be possible when you visit that you find new co-working spaces appearing as the city is ever-changing. There are a few co-working spaces that have closed due to the COVID-19 pandemic; however, these may reopen as time goes on and the concept of being a digital nomad grows. There were many co-working spaces such as 4City, Books and Cups, and IQSPACE that have closed but may be repurposed, so keep an eye out when you plan your trip.
There are plenty of cute cafés in Odesa to work from, and many have great WiFi and power outlets. Here are some of the best-rated cafés for digital nomads. Traveler's Coffee, Minimalist, Foundation Coffee Roasters, and Tishina. All have a great atmosphere, plenty of space to work and good WiFi. There is also Atelier. Design & Coffee, which has a great creative vibe, however finding power sockets can be difficult, so make sure to fully charge your electronics or bring a battery pack. You will also find typical chain coffee shops in Odesa, which reliably offer WiFi and generally have a selection of tables and sofas to work from.
Odesa also offers a great selection of smaller coffee shops that are more authentic and cozy cafés such as Zheto, Unit Café, and Good Mood Coffee Bar. Situated a little way out of the city center is a small café called The Roastery by Odessa, and this is a great place with a very hip vibe and would make for a cute spot to work from.
Internet cafés are also another popular form of workspace in Odesa, with the two best or most popular being Mouse Club and Internet Planet.
Best Places to Live in Odessa
Best Neighbourhoods
Primorskyi district
This area is most popular with tourists as it is in the heart of the city. Primorskyi is where you will see the best architecture of Old Odessa. Although it is one of the more expensive places to be in the city, you really have everything on your doorstep, from Odessa National Academic Theatre of Opera and Ballet to the famous Potemkin Stairs. Another great thing about this area is that you have a great selection of beaches a short distance, offering some of the best restaurants and bars in the city.
Kievskyi district
This district is considered the second most beautiful in Odesa, and it is also very popular with tourists. If you love history, then you will appreciate being in this area as the museum complex is located here, and there is an important war memorial located here. There is also great access to the beaches, and there are many shopping malls and modern developments. 
Malinovskyi District
Malinovskyi district is located a little out of the city, and it is considered to be more of a residential and business area. The unique aspect of this district is the lack of high rises, and many of the residences here are small cottages. It is also a lot cheaper in this area, so this might be a great option if you are on a lower budget.
Suvorovskyi District
This is the furthest district from the city center, which means it is a lot quieter, and it is close to the beach resort Luzanovka. Usually, it would take around 40 minutes by public transport to get to Luzanovka beach resort from the city center, so if you want to be located closer, then Suvorovskyi district is a great option for you.
Find an Apartment in Odessa
The best way to find an apartment in Odesa is online using websites such as Airbnb and booking.com. There are also a few localized websites such as Dobovo.com, Odessastay.com, and house-ua.com. As of 2021, there aren't any coliving spaces in Odesa; however, it is an upcoming place, so I wouldn't be surprised if they start to appear in the coming years.
On Airbnb, you can find a modern, well-equipped studio or one-bedroom apartment close to the city center starting from around $411 USD for one month, but they can go up to anywhere in the region of $828 USD per month. This all depends on the facilities and location so make sure to check it has what you need before booking. It is always worth checking with the host the internet speed before you book if you intend on working from your accommodation.
Booking.com also has a great selection of private apartments, and you will be able to find one on here with everything you need. Apartments in the Primorskyi district cost around $1010 USD per month. Expedia is another search engine that is popular in Ukraine, and apartments can start as low as $900 USD per month located in the Primorskyi district.
Dobovo.com is a great website for finding apartments as they will often reduce the price of apartments as it gets closer to the rental start date. This is a fantastic way for a digital nomad to grab a deal, as, most likely, you will be moving around often, and it may possibly be a last-minute choice to go to Odesa. You can find really spacious apartments on here for around $980 USD for one month. With the last-minute offers, you can find apartments for as low as $630 USD for one month close to the city center. Odessastay.com is another local website for finding places to rent, however, their selection seems to be a little dated, and their prices are quite high for the facilities that are being offered. 
If you prefer to be located out of the city center and closer to the beach and more chilled out areas, then RainBow Arkadia Apartments might be a great option for you. Located south of the city center, Arkadia is a popular area with holidaymakers as it has some of the best beaches. The RainBow Arkadia Apartments are very modern and have everything you need; however, they have a higher price tag due to their convenience. Apartments in this complex can be booked via Expedia or booking.com for around $1,000 USD for a small apartment.
Cheap Places to Stay in Odessa
For a smaller budget, there is a great selection of hostels in Odesa. The best way to find these is through Hostelworld, as they showcase all the top hostels in the area. Some of the top-rated hostels in Odesa are Hostel 51, Mama Hostel, TsaTsa, Old Courtyard Hostel, and Krovat Hostel Odesa. Make sure to check if it is possible to stay for your desired duration as some hostels in Odesa will have a maximum stay, some being for up to a maximum of two weeks. 
For a bed in a dorm room, prices can start as low as $4 USD per night, and this is a common price. For a private room, prices can go up to $20 USD depending on location and facilities. 
There is also the option of using a local website called OLX. This is a second-hand platform similar to Gumtree and Craigslist, and you can find apartment rentals on here directly from the owners. This means you cut out fees and can possibly make a deal as you are dealing directly with the property owner. Many apartments are advertised for around $400 USD, but you have more chance of bargaining a deal on here than on platforms such as Airbnb.
Another possible option for trying to find cheaper accommodation is by finding part-time work or volunteering opportunities that may offer accommodation. For example, some TEFL jobs will offer reduced-price accommodation, so you may find that exchanging a few hours a week could knock off a chunk of your accommodation costs.
Odessa Visa
Ukraine is a very welcoming country and does not require many countries to obtain a visa before entry. There are around 80 countries, including the European Union, that can enter Ukraine without needing a visa. Visitors from these countries can stay for up to 90 days within a 180 day period; however, there are some restrictions to certain countries on this list. Please check with your embassy in Ukraine to see if your country is on this list and if there are any differences regarding your entry. If you are not from a visa-exempt country, then you will need to obtain a visa. The next level of entry is an e-visa, which can be purchased for $20 USD and will allow a single entry and up to a 30 day stay for either business or tourism. You can pay $30 USD if you would like a double entry. There are around 45 countries that qualify for this type of visa.
There are some countries that Ukraine asks to apply for a visa before arrival and will require biometric control measures once you enter the country. If you are from one of these countries, then you will be required to participate in taking fingerprints and a photo upon arrival.
Culture and Food in Odessa
Odesa has some of Ukraine's best cuisine, and there is a great selection of restaurants and bars to experience this. Being on the Black Sea, you will see many seafood restaurants, and there are many regional dishes that you must try when in the area. This was one of the things I enjoyed most about being in Odesa, as you get to see firsthand the creative side of the country and how locals have experimented with the culinary scene. The gastronomy industry has boomed in Odesa in recent years, and you will find a huge selection of cuisines from across the globe.
Traditionally Ukrainian cuisine revolves around meat and bread, as these are staples of diets in this region of the world. Rich, hearty meals such as stews and soups are very traditional in Ukraine.
Traditional Ukrainian Food
If you want to try local dishes, then the best restaurants are Molodost and Kompot. Molodost is a cute restaurant serving lots of traditional Ukrainian specialties served in a fun way. Their beer comes in mason jars, and the food is served in alternative and unique dishes, which make the presentation special. One thing that makes this restaurant stand out is the attention to detail of how they serve the food, so if you are looking for traditional food served in a unique way, then this is the place. If you are looking to try traditional food on a lower budget, then Kompot is another good place to eat traditional Ukrainian specialties. It is a lower-end restaurant, but the food tastes great! Finally, there is Kumanets which is a very touristy restaurant and can become very busy during the peak tourist season; however, they serve a great selection of local specialties. 
Seafood
Odesa is a hub for seafood, as it is located on the Black Sea, which is a fruitful ocean full of a wide variety of aquatic life. Being a port city means that it has become one of the main fishing hubs of the Black Sea for both trades locally and internationally. Some of the most popular seafood dishes are mussels in cream, Bichki Bullfish, fried shrimp, fish soup, and shellfish known as rapani. Some of the best seafood restaurants are Kotelok Mussel Bar, P1 Prosecco Bar, Fish&Kish, Katran Club, and Bar Ustrichnaya. 
Fast Food
You will find some chains that you may recognize in Ukraine, such as McDonald's and KFC, but these can be extremely overpriced when compared with local fast food options. You will find many "American" style diners and burger restaurants in Odesa. Some of the best local fast food places to eat are American 50s Diner, Don Kebab, Mr. Chef, and VLAVASHE.
Street Food
Sometimes street food can get a bad rep, but I think it is one of the best ways to understand a country and its people. Generally, this is where you will see locals eating, especially if you find street food stalls at the markets. Pryvoz Market is the oldest produce market in Odesa, and you will find many vendors cooking up local treats as well as selling local produce. If you want to try something different and authentic, then head here. You will find bread, pastries, and other small snacks here. Deribasovska Street is another popular place to head for street food, and there is a good selection of places to get snacks here.
Vegetarian, Vegan, and Dietary Needs
Odesa has a good selection of restaurants and cafés that offer specific dietary-friendly foods. There isn't as much choice here as being in the capital; however there are still some options. Some of the best vegetarian restaurants are Vegano Hooligano Odessa, Vegano Hooligano Odessa, Wild Sandwich, True, Jerusalem Hummus, Punjabi café, and Vitary. Websites such as happycow.net are great networks for finding vegetarian and vegan restaurants in a city that you are heading to.
Odessa Nightlife
Odesa is a bustling city with some of the best nightlife in Ukraine. There is something to suit everyone; whether you want to hang out at a chill wine bar or you want to dance the night away at one of the many clubs, there will be something that appeals to your taste. 
Nightclubs
Odesa has a buzzing nightlife scene with a variety of nightclubs, offering various packages and vibes. If you want to dance there are nightclubs or if you want to sing there are karaoke bars and if you want to party on the beach there are beach clubs too. There is an endless choice in Odesa, and here are some of the best-rated nightclubs in Odesa. Praetoria, Bright Club & Karaoke Rooms, Palladium, Morgan Club, and Itaka. 
Bars
If you are looking for somewhere to have a few chilled drinks in a venue that has character, then Claret is a great place to go. This vintage French-style bar offers a large variety of drinks and cocktails, and it is located close to the city center. This little gem is a nice spot for a unique evening, and the prices are very affordable. For an alternative bar, Steam Bar is highly rated as an alternative place with a "Steam Punk" theme. It is also an LGBTQ-friendly space too. It is also highly rated for its friendly staff and great hookah. This is a great place to go to have a few drinks in a funky space. Other popular bars are The Flacon and the Fitz. 
Opera and Ballet
Odesa is famous for its opera house, so one of the most popular things to do in the evening is to go to the Opera. This beautiful and prestigious venue offers some of the world's best Opera and ballet shows for a price that you can't say no to. Their tickets start from as little as $1.80 USD to watch a show, which is an incredible price considering the average cost of watching a show in other countries is over ten times the cost. Tickets and performances can be found at operahouse.od.ua/.
Walking Tours
There is a great selection of tours in Odesa, from bar crawls to food tours and city night light walking tours, so you will not get bored in this beautiful city. The best way to find a walking tour is by visiting the tourist information center once you arrive, and then you can see what is available. 
Beach Clubs
The best beach clubs are located on the beaches just south of the city center, and there is a huge selection to choose from. Many are great lounge spots during the day, and by night they turn into great beach nightclubs. Some can be very expensive because they are located directly on the beach, offering a very stylish venue to party the night away. Mantra Beach Club is one of the most popular beach venues as it brings in DJs from around the world, and the parties run until 6 am on weekends. Other beach clubs include Ibiza Beach Club, Bono Beach Club, and Mafia Rave Terrace Club.
Things to do in Odessa
Odesa is full of things to do, from visiting museums, enjoying a walking tour to admire the grand architecture, or swimming in the Black Sea. You will find so much on your doorstep to keep you entertained. 
Museums and Gallery's

There is a great selection of museums and galleries in Odesa, showcasing the rich history and culture of Ukraine. If you are a history fan, then the best museums that give you a window into the history of Ukraine are Odesa Archeological Museum, Odesa History Museum, Museum of heroic defense of Odesa, Odesa Numismatic Museum, and the Holocaust Museum. The best museums for art, art history, and literature are Odesa Fine Arts Museum, Odesa Museum of Western and Eastern Art, Odesa Pushkin Museum, and Odesa Literature Museum. As well as traditional museums, you will find museums that are dedicated to specific industries or crafts, such as the Cognac Museum, the Chocolate Museum, the Museum of Sound, Museums of Smuggling, and the Maritime Museum. Most museums will cost under $5 USD for entrance, but they do vary.

Walking Tours

Odesa offers a wide variety of walking tours. The city has endured a complex past, which is often witnessed through the buildings and architecture. Walking tours come in varying forms, and prices can range from being free to costing up to around $30 USD. You will find many tour operators offer free city walking tours, which operate on a tip-based system. The tour is free, but you are expected to tip your guide at the end. This is a great option for someone on a lower budget who wants to learn more about the city, as you can choose how much you pay. Always remember to be fair when tipping. There are specific tours dedicated to certain themes, such as music and culture tours, gastronomy-focused tours, and of course, standard walking tours the focus on the buildings and history of Odesa.

Underground Odesa

Similarly to some other major cities, Odesa has its very own underground city and catacombs. You can get a guided tour of the labyrinth that lies beneath Odesa for around $19 USD, and it is a really unique experience. Most guided tours include items such as torches and a professional guide who will explain the history as they take you through the hidden maze that is a lesser-known attraction of Odesa.

Gastronomy Attractions

For the foodie, Odesa is a great city to be located, as it is on the Black Sea, which provides a diverse variety of seafood dishes, as well as traditional Ukrainian specialties. There are many food-related tours, and many are walking tours where tasters are given at each stop. These types of tours tend to cost around $30 USD, but they can go up to around $60 USD depending on the amount of food included. There is a great selection of cookery classes offered in Odesa. From cheese-making to learning how to make traditional dishes such as borsch and varenyky. You will be able to find a cookery class that appeals to you. Cookery classes tend to start at around $23 USD, but they can also go up to costing around $90 USD.

Beach Day

For someone who likes to be mindful of their budget, then a simple beach day is a great way to enjoy being in Odesa without having to spend a fortune. Although having said that, it is possible to use one of the beach clubs to rent sun loungers which will cost. There are many beach areas which are free and if the weather is great then why not take a picnic and a book and relax for a while. Many beach clubs operate along the seafront, offering sun loungers, umbrellas, and drinks services for a fee. Some of the most popular beaches are Lanzherone Beach, Dolphin Beach, and Wild Beach.

Opera House

Odesa is a city that has a rich musical history, and it is famous for its grand opera house. Even if you don't make it to see an opera, just admiring the building makes for a great afternoon. The opera house was built in the 1800s by Russian architect Thomas de Thomon. If you do want to see an opera, tickets sell for as little as $2 USD.

Famous Monuments and Statues

As well as the Opera House, there are the Potemkin stairs, Statue of the Duc de Richelieu, the Sailor's wife monument, Monument to L. Utesov, and the wings of victory. Why not rent one of the nextbikes and take a self-guided tour around all the monuments of Odesa.

Markets

The best produce market in Odesa is the Privoz Market (Pryvoz Market). It is Odesa's largest and oldest farmers market, and you really get to experience the hustle and bustle of daily market life in this area of the city. It is located just outside of the city center and should take around 20 minutes to walk from the center. This is also a great place to get fantastic local produce at a low price.

Day Trips and Excursions

There are many excursions from Odesa, so if you want to escape the city and head to the countryside, then you should look at your options. Belgorod Dnestrovsky fortress is a popular destination for a day excursion to learn about Ukraine's history in defense. Kyiv, the capital city, is a five-hour drive away from Odesa, so it is a little far for a day trip, but it is common to go for a few days or a long weekend. The Sukhyi estuary and ecological park is a popular destination for a day trip, especially if you are craving being in nature.
Best Time to Visit Odessa
Odesa is located in the northern hemisphere on the coastline of the Black Sea, so it has an oceanic climate. It rains all year round with around 180 dry days and the best time of year to visit is between May and September. The summertime is when you will have the best weather, warmest temperatures, and mostly clear skies. The highest average temperature in Odesa during the summer is in July, and temperatures reach as high as 28°C (82 F). 
Temperatures and seasons begin to change around September, October time and you will notice a drop in temperatures as Odesa enters the autumnal months.
The winters are quite mild as Odesa is on the coast, and on average, the lowest temperatures are in January, and they can get down to as low as 2°C (35 F). However, it is quite normal for temperatures to drop down to -1°C (30 F) at night.
During the summers, the water temperatures can also reach up to 28°C (82 F), which is pleasantly warm for an ocean in Europe. At their lowest, the water temperature can drop to 6°C (42 F) at night and during the winter months.
Odessa for Families
Odesa is a great city for families as there is a lot to do as it is a developed city with a variety of services, schools, daycares, and activities. There is a very small ex-pat community, so you may find it difficult to find other foreign families in the city, as most ex-pats head to the capital city Kyiv; however, there are some in the area. It is always best to speak with ex-pats who have moved over so you can really understand what life there is like as a foreign family. 
The best accommodation for families is to rent is an apartment, through companies such as Airbnb and booking.com as you are more likely to find a reliable form of accommodation. Alternatively, it is suggested to rent from a hotel as there may be advantages such as daycare services and facilities such as an onsite pool. Most apartments on Airbnb will cost around $1,800 USD for two bedrooms but make sure to shop around as you may find a hotel willing to charge a similar rate.
There are a handful of international schools in Odesa, teaching a variety of ages in multiple languages; however, these tend to be private rather than state schools. The British International School is one of the best in the city that teaches and looks after children from nursery school up to secondary education, following the British educational system. Another international school that teaches in French exists in Odesa, and it is possible that as demand grows, more appear. It is best to ask on ex-pat forums for information on schools in the city as this is where you can speak directly with people in Odesa. 
There is a great selection of activities to do with children in and around Odesa, from playing on the beach, admiring the museums, or letting off some steam at one of Odesa's water parks. If you are visiting during summer, then you can really make the most of the outdoor and aquatic activities. Tickets cost around $14 USD for children and $21 USD for adults. Another great way to keep the kids entertained is at Odessa Dolphinarium Nemo. Here you can watch dolphin shows and even swim with some of the aquatic life.
Living in Odessa
Odessa Transportation
There are many ways to get around the city, and you will be able to find many affordable options to suit your needs. 
If you are keen to take taxis in and around the city, then you can use taxi apps such as Uber, Bolt, and Uklon. It is advised to use taxi apps rather than the taxis in the city. This is because you will get a fixed price whereas a lot of the taxis that run on meters will change the price and often make it three times higher if you look like a tourist. For a reliable and non-expensive ride, then make sure to use taxi apps. Also, you will not be able to hail down a taxi, they will only collect you from specific areas such as stations or the airport, and this makes using the taxi apps more beneficial as they will collect you from where you are.
There is a good selection of public transportation in Odessa, all at very low prices, but there are a few things to bear in mind before using. Most drivers will not speak other languages, so make sure you know where you want to get off. I usually use Google maps to help me plan my route as it will often tell you the exact line or bus number that you need to take. They will also only accept cash, so make sure to have change on you, and there is no city travel card system currently in place. Journeys can cost as little as $0.25 USD, so make sure to have small change.  The three main public transport options are the tram, trolley-buses and marshrutka's, which are mini buses. Be aware that they won't always run to a specific schedule, so be prepared to wait a while. If you do find yourself stuck, then visit eway.in.ua/en/cities/odesa/routes as this has live updates of services and information on breakdowns and accidents. Another negative to using public transport in Odesa is that it can often become overcrowded during busy times, which not only makes the journey uncomfortable, but it makes a prime location for pick picketers. 
If you prefer to combine exercise with travel, then the nextbike might be a great option for you. Like most cities, Odesa has a bike-sharing scheme called nextbike. Prices and sign-up options can be found at their website nextbike.ua/en/Odesa/prices/. You can get a month-long pass for $9 USD, which allows you unlimited use of the bikes for journeys less than one hour long. This is a very affordable method of transport; however, please bear in mind that there aren't designated cycle lanes in the city, so make sure to be safe, wear a helmet and always be vigilant. Alternatively, if you prefer to just rent a bicycle, then there are many rental shops across the city, offering bicycles at affordable prices.
Fitness and Health
There is a good selection of gyms in Odessa, offering a variety of equipment, classes, and facilities. You will find that most are within walking distance of the city center, and there are at least ten that have high ratings, a great selection of equipment that is within a 15-minute walk. Some of the top-rated gyms in the city are Power Gym, Fitness Stadium, Yes Fitness Premium, SkyFit, and Strekoza.
For a one-month membership at Power Gym, it will cost you around $22 USD. Sky Fitness is the best place to go if you like to diversify your workouts as they have four studios and offer a variety of yoga, Pilates, and fitness classes, as well as personal training and diet planning.
If you are staying closer to Arcadia beach, then you will find a few gyms in the area, but these tend to appeal more to those who enjoy cross-fit. Some of the top-rated gyms in this area are CrossFit Marine Bay and Sportkhhab. 
There is a great selection of yoga studios and classes in Odesa that are very affordable. It is possible to find classes for as little as $5 USD drop-in. Dao Place is rated as one of the best yoga studios in Odesa, offering not only drop in classes but also packages and multi-day passes. Their most expensive month-long membership is around $65 USD, which gives you access to 24 classes over the duration of one month, which is only $2.70 USD per class. Other yoga studios close to the center of the city include Mantra Loka, Makharadzh, and Namaste.
As well as gyms and fitness classes, there is always the option of sea swimming, but please be mindful of the areas you swim in due to pollution from the city and boats. Always check that you are swimming in a designated swimming zone.
Odessa People
Odesa is home to a mix of people from a variety of different backgrounds as it is a port town, and its culture has been influenced over hundreds of years. It was once part of the Ottoman Empire and the Soviet Union, so the place, as well as its people, has created a blend of multiple cultures. The city is often referred to as "Odesa Mama" by the locals, which is a nice little saying and sign of respect for their beloved town. 
The people are very friendly overall and have come from a mix of backgrounds and countries, which has created a very accepting multicultural city. As it is a port city and industrial town, there is a very strong work ethic, and in more recent years, the city has been attracting more global trade and has become one of the biggest business hubs in Ukraine. 
The main religion in Ukraine is Eastern orthodox, although you will find some people are catholic, and some areas of Odesa are quite religious. Particularly more so with the older generations, and you will find there is less tolerance from them for things such as the LGBTQ community. However, younger generations that have grown up since the collapse of the Soviet Union are less religious and more accepting. Older generations are also more likely to speak Russian as a second language, whereas younger generations are more encouraged to learn other languages such as English. As English is a more recent addition to education, not many people speak English, particularly public transport drivers and shop assistants; however, the number of English speakers is growing. 
People live in Odesa for different reasons, so this means that there are many types of people. As a beach resort city, you will find people who are more interested in a beach lifestyle, whilst those who work at the port are more into industry and trade. The city attracts many businessmen and women due to its high volume of trade.
Odessa Insurance and Medical Care
It is advised when traveling anywhere outside of your home country to always have travel insurance in place. There are many companies offering travel insurance specifically for digital nomads and backpackers. Ukraine often appears on the list of countries covered by standard travel insurance. Healthcare in Ukraine is not to a high standard, and this is something to be aware of. The quality of care is lower than in other places in Europe, but it is existent. It is possible that in some cases of emergency care, you will need to pay upfront before being treated, so always make sure to have some savings that can then be claimed back via your insurance.
Not all hospitals speak English or foreign languages, so always make sure to find an English-speaking clinic or take a translator with you. The best clinic for foreigners is the Clinica Medeya, which is one of the only foreign language medical centers in Odesa. Although Odesa is the fourth largest city in Ukraine, most bilingual doctors are based in the capital Kyiv. 
As for your personal belongings, it is always advised to take out gadget insurance, and Odesa is a place recommended to have insurance. Although crime rates aren't too high, there are a high number of reported pickpocketing cases across the city. Always make sure to keep your expensive items close by and hidden to reduce attention. It might also be advised if staying in a hostel to take a padlock with you to use on lockers for your expensive items.
Make sure you are fully covered by reading our full Digital Nomad Travel Insurance guide.
Jobs in Odessa
Finding a job in Odesa may be a little difficult, and it will depend on the industry you work in and at what time of year you intend to visit. The most common job for foreigners is teaching English as in more recent years; there has been a surge in demand for learning English. ESL Employment, Total ESL, Learn 4 Good, and ESL Café are the best websites for finding English teaching jobs in Ukraine. 
Once you have found a job that ticks your boxes, if you are accepted for the position, then you will need to apply for a residence permit if you don't have the right to work in the country. You should check with your embassy before you apply to see if you will need a visa or residence permit to work in Ukraine. Your employer should sort out your visa for you before your arrival. The best websites that advertise jobs for foreigners are Work.ua, Glassdoor, Jobs.ua, career jet, and jobble.com.ua. 
Another option for working is volunteering. Although it isn't paid, you will find there are opportunities that offer discounts or freebies in return for your time. This may not appeal to everyone, but for those who want to access a local community and want to help out a local cause, then this is a great option. volunteerinukraine.com is a great resource for finding volunteering opportunities. There are many other websites such as goabroad.com, anyworkanwhere.com, and workaway.com.
Check out our Digital Nomads Jobs Postings to find the best jobs available for Digital Nomads.
Nomad Friendly
Value for Money
Internet
Workspace
English
Food
Safety
Health
Transportation
Friendly
Quality of Living
Cost of Living Odessa
The cost of living in Odesa can vary depending on your needs, but overall it is a relatively cheap city to live in. If you are happy to work from home, exercise for free by swimming and running, and eat street foods, then you will reduce your costs anywhere in the world, so here is the lowest possible expected cost of living, compared with a more high-end experience. 
For a lower-end budget, it would be advised to budget around $619 USD per month. That would be for a bed in a dorm room of a hostel which would be an average of $4 USD per night or $120 USD for a month—then budgeting $90 USD for a co-working space, $9 USD to rent a bicycle for one month which would also count as exercise, and then $300 USD on food which would give you a budget of $10 USD per day. If you wanted to keep it low, then you could still enjoy the museums and explore the city for around $100 USD per month for leisure.
For a higher range budget that would make for a luxury stay, you should be looking at spending $1286 USD per month. That breaks down as $125 USD for co-working, $411 USD on a studio or small apartment on Airbnb, $40 USD, which would get you multiple daily journeys using public transport, Taxis, and the nextbikes. Then $60 USD for gym membership, $200 USD for leisure, and then finally a budget of $15 USD per day on food which would be $450 USD per month.